If you're looking for the most delicious low carb high protein meals, you're in the right spot! Now, there are lots of low-carb, high-protein recipes out there, but we hand-picked each one of these muscle-growing meals one by one.
And we want to try them all!
So first, we have a keto shrimp and grits recipe. Then there's creamy lemony chicken thighs and even jalapeno popper casserole. But best of all, you'll find the most perfect scrambled eggs you've ever had! So, are you ready?
Let's dive in!
By the way, check out these high protein snacks and high protein breakfasts, and high protein lunches.
33 Low Carb High Protein Meals
Whether you're following a keto, Atkins, any other low-carb diet, or no special diet, you'll love this delicious list of 33 low carb high protein meals. It's a diverse list that includes dinners, salads, and even breakfast. It's just a great list of tastiness. We've tried an egg recipe and kalua pork, and we can't wait to try more. Enjoy!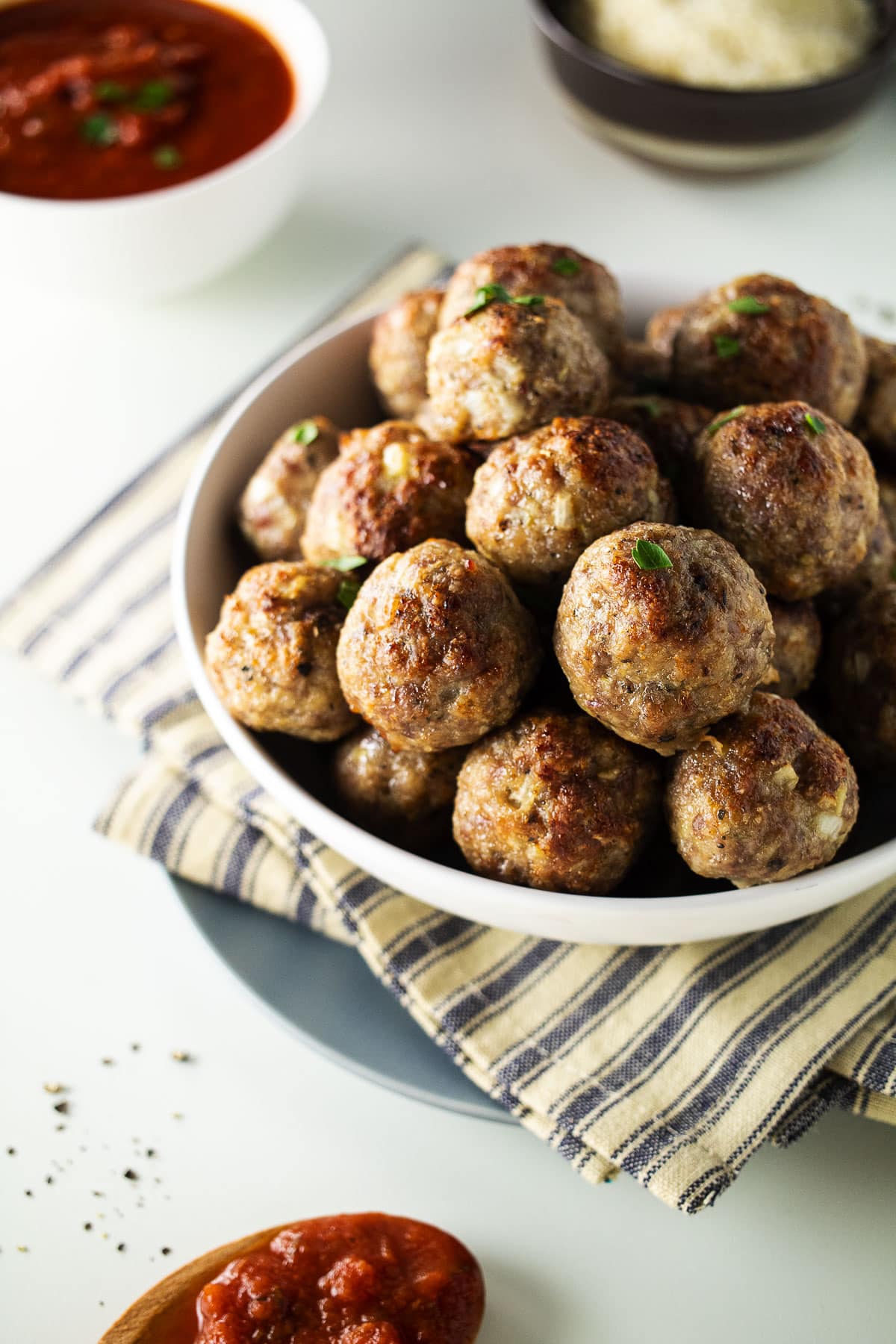 Try our best low carb meatballs recipe if you're looking for a quick, healthy, and flavorful meal that's packed with protein but low in carbs. You'll want to make them no matter your diet. They are that good! But best of all, each serving has a whopping 25 grams of protein and just nine grams of carbs.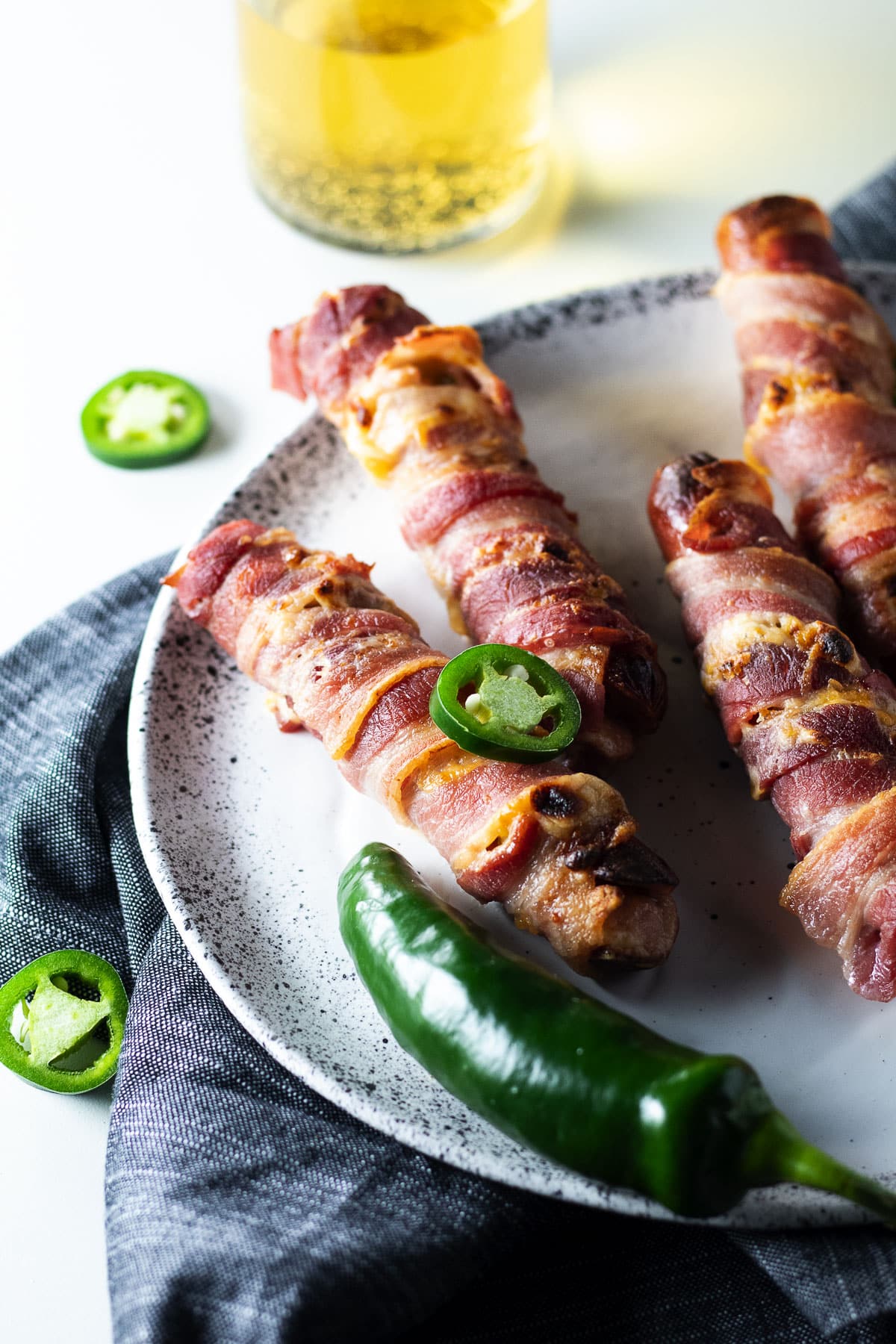 You're going to love our bacon-wrapped jalapeno popper hot dogs. They're easy to make with just three ingredients, including hot dogs, jalapeno popper dip, and bacon. It's high in protein and low in carbs as long as you skip the bun.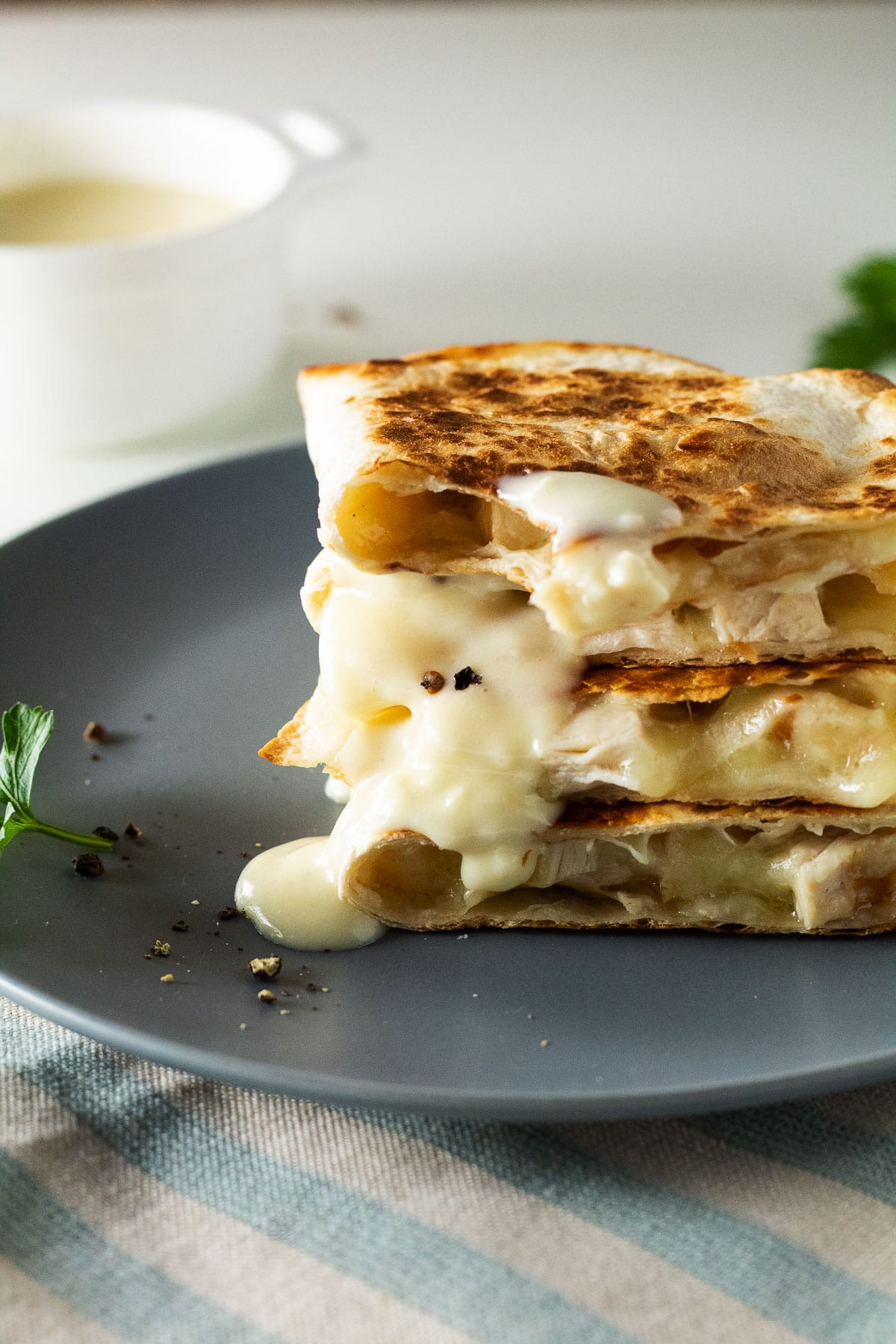 Our low-carb chicken Alfredo quesadillas are the best. They are stuffed with high-protein chicken, low-carb tortillas, and Alfredo. Also, they're easy to make in just minutes. You'll want to make it today!
Zucchini Lasagna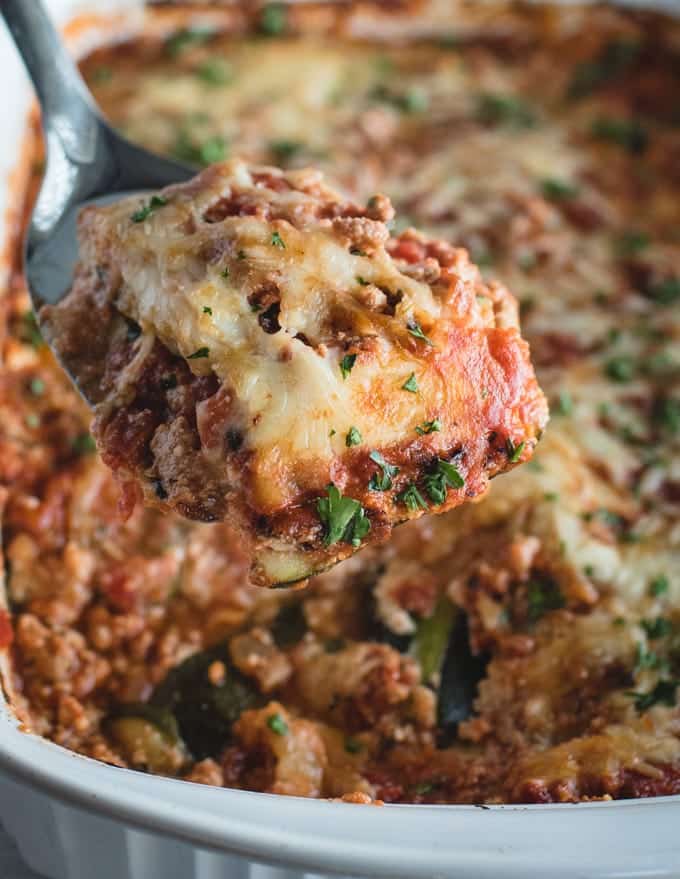 Christy of Feasting Not Fasting brings us this delicious naturally keto zucchini lasagna with protein-packed ground turkey and plenty of gooey cheese.
But that's not all. There's flavor lurking in every bite with basil, onions, garlic, pepper, and oregano. Yum! How can a keto, Atkins, or low-carb dieter resist?
But is this a quick recipe? Is it an ideal midweek meal?
Well, that depends on your time. It takes about an hour and 15 minutes from start to finish. So, you may want to save it for a weekend. But it's so worth it! It reheats well, and you get a whopping 33 grams of muscle-feeding lean protein in every serving.
Visit Feasting Not Fasting for the recipe.
Keto Shrimp And Cauliflower Grits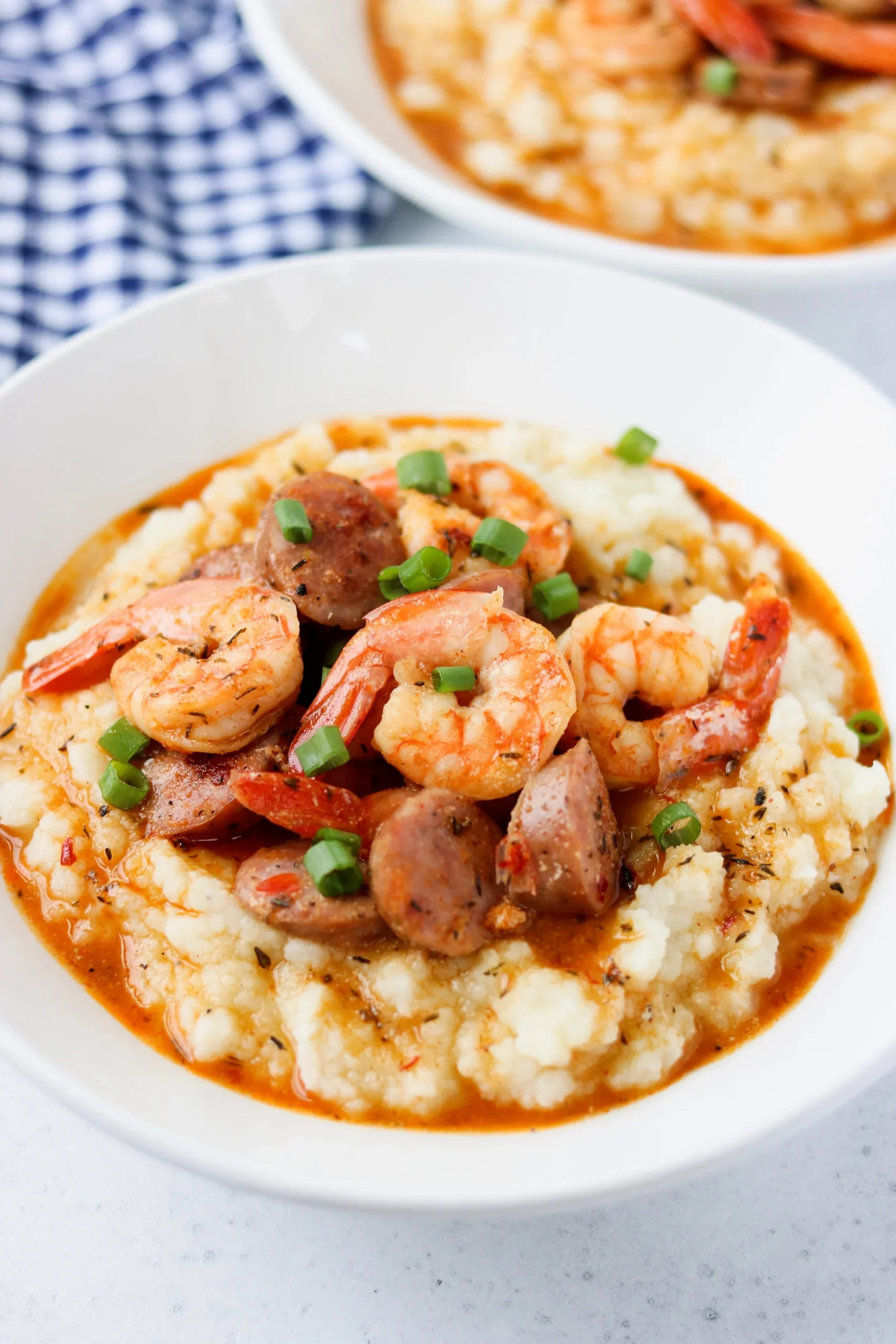 Shrimp and grits are a delicious classic breakfast (or lunch or dinner) dish typical in the Lowcountry region of South Carolina with roots extending to Africa.
While traditional grits are cornmeal, the "grits" in Mary's Whole Life' version are mashed cauliflower. It's a wonderful replacement for those on special diets like Keto.
But for Mary, this version is her healthier approximation of the downhome plate she fell in love with while residing in the Palmetto State.
She welcomes you to a wonderfully seasoned delicious meal with a mixture of shrimp and sausage. It's lightened up for dietary restrictions but still dreamy.
Visit Mary's Whole Life for the recipe.
Low Carb Vegan Dinner Bowl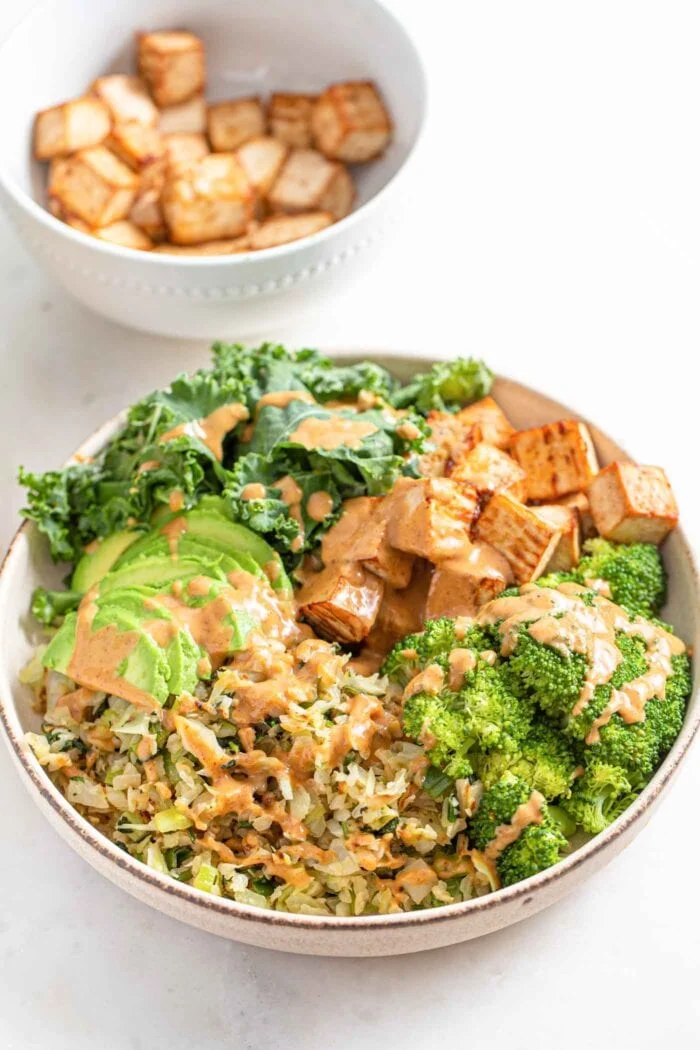 Deryn of Running On Real Food proves that delicious, high-protein meals don't need meat. For example, this dish has a whopping 23 grams of protein, mainly from the tofu.
But you also get loads of fiber from broccoli, cabbage, and kale. Then you have healthy fats from the avocado. And don't worry. This isn't just some simple salad. It's packed with flavor.
The tofu is well seasoned, and the satay sauce, made with sriracha, soy sauce, and rice wine vinegar, brings everything together.
Visit Running On Real Food for the recipe.
Creamy Lemon Chicken Thighs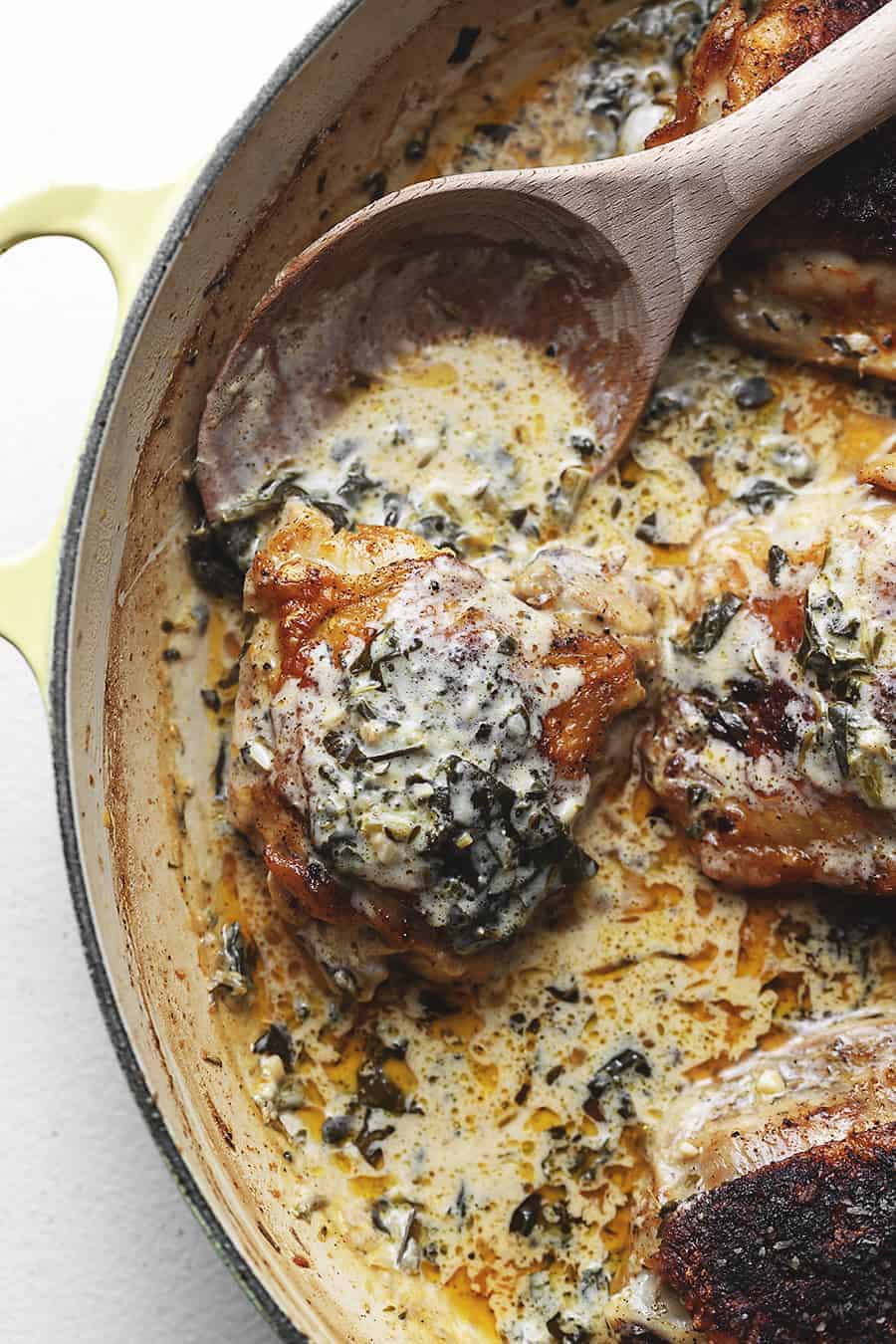 Awaken your taste buds with these one-pan lemon chicken thighs from Jennifer Banz's blog.
This simple recipe starts with you seasoning flavorful chicken thighs with smoked paprika, salt, and pepper. Then you brown the chicken in a skillet.
Next is the fun part. Add butter, garlic, cream cheese, lemon juice, thyme, and chicken broth to the pan and simmer. Mmmm, delicious! So much flavor!
Finally, add spinach to the pan and bake until the chicken is cooked through. And that, my friend, is a low-carb dinner the whole family will love.
Visit Jennifer Banz for the recipe.
Air Fryer Frozen Salmon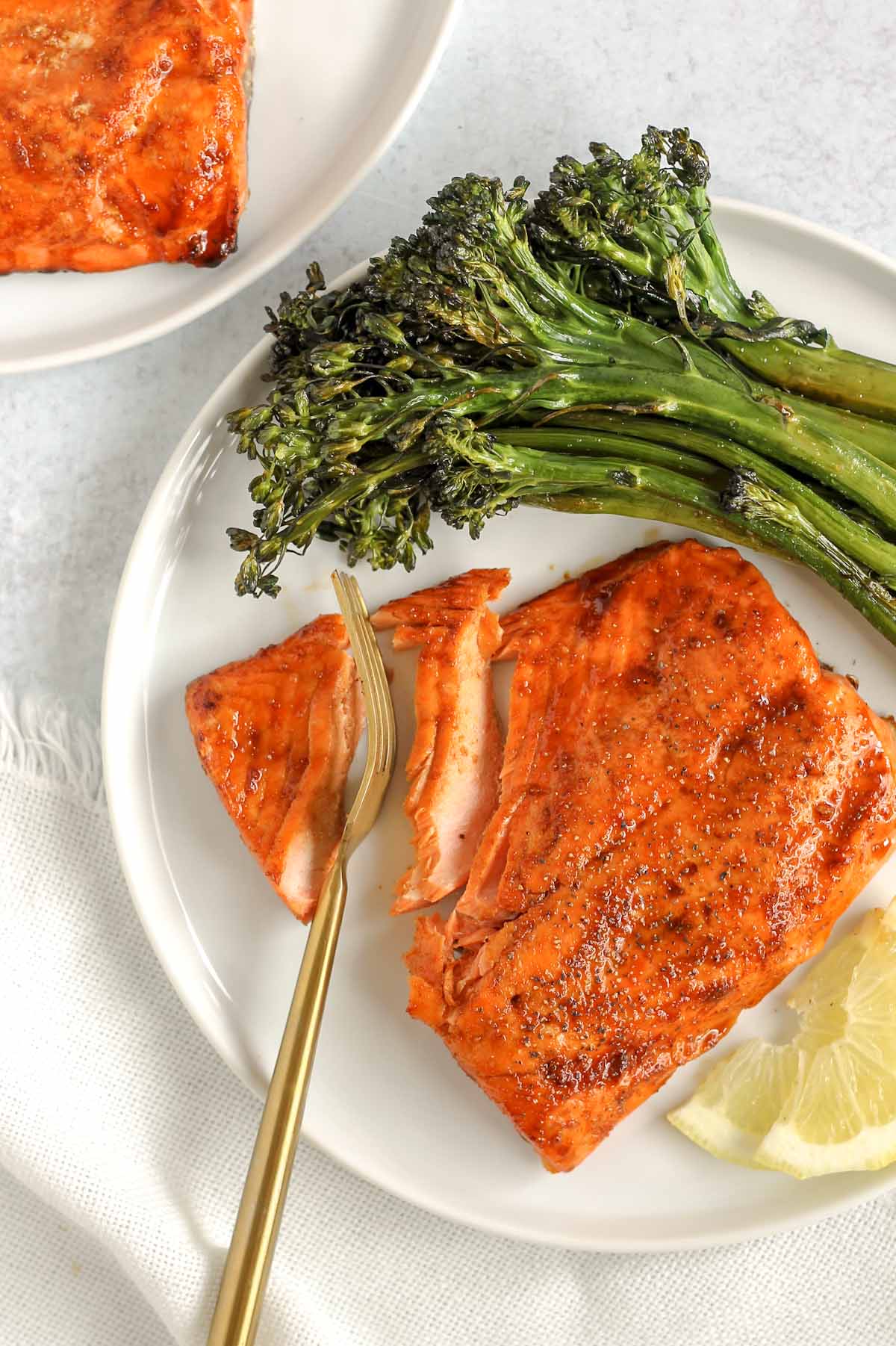 Sara of Clean Plate Mama shows us how easy low-carb recipes can be with this air fryer frozen salmon.
In just 12 minutes, the salmon will go from frozen to tender, flaky, and irresistible. Then, all you have to do is pop it in the air fryer.
But it gets better! There's a sauce. It's a delicious mixture of honey and garlic, which you brush on about halfway through.
So let's see, in less than 20 minutes, you can have a healthy and flavorful meal on the table that's sure to please. What's not to love?
Visit Clean Plate Mama for the recipe.
Low Carb Broccoli Cheese Stuffed Chicken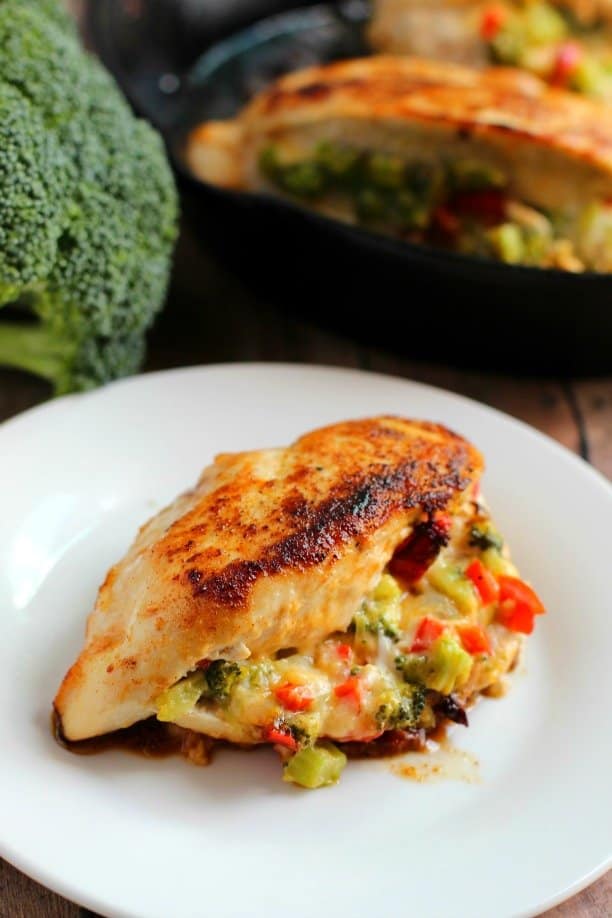 If you need a variety of easy low-carb meals on busy weeknights, add this broccoli cheese stuffed chicken to your rotation.
It's super tasty and super easy to make this supper from Karen of When Is Dinner. It starts with a juicy chicken breast stuffed with broccoli, red peppers, and cheese.
Then you sear it in a pan and bake it in the oven. The result is smiling faces and frequent requests. But the best part is this meal is a tasty addition to your low-carb diet.
Visit When Is Dinner for the recipe.
Chicken Cobb Salad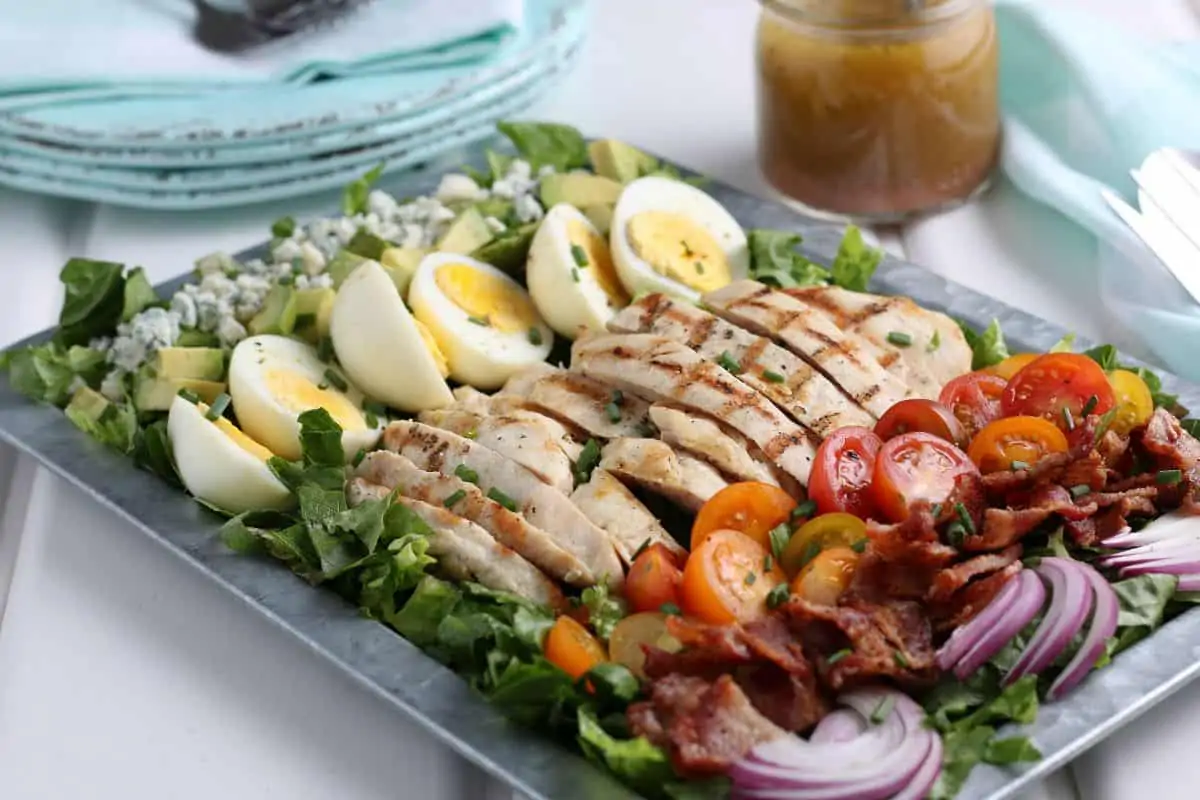 Finally! A salad the whole family will love.
But this low-carb Cobb salad from Kristie of Saving Dollars And Sense isn't your run-of-the-mill produce section bagged salad.
It's got muscle mass building, tender chicken breasts, blue cheese, red onion, and tomatoes. Oh, and the best part, bacon!
And finally, to bring it all home, there's a delicious homemade dressing – a light vinaigrette with red wine vinegar, oregano, and dijon mustard.
Visit Saving Dollars And Sense for the recipe.
Keto Jalapeno Popper Casserole
The first thing you'll notice when you check out this jalapeno popper casserole recipe from Jasmine of Stylish Cravings is that it's been shared over 500k times.
So, yeah, it's safe to say it's a hit!
And for a good reason. It's so tasty that even non-dieters will crave it. It has everything you could ever want in a low carb diet recipe. There's lots of chicken, cheese, bacon, and heat from the jalapenos.
And with a 40-minute total cooking time, it's a great weeknight option.
Visit Stylish Cravings for the recipe.
Paleo Beef Short Ribs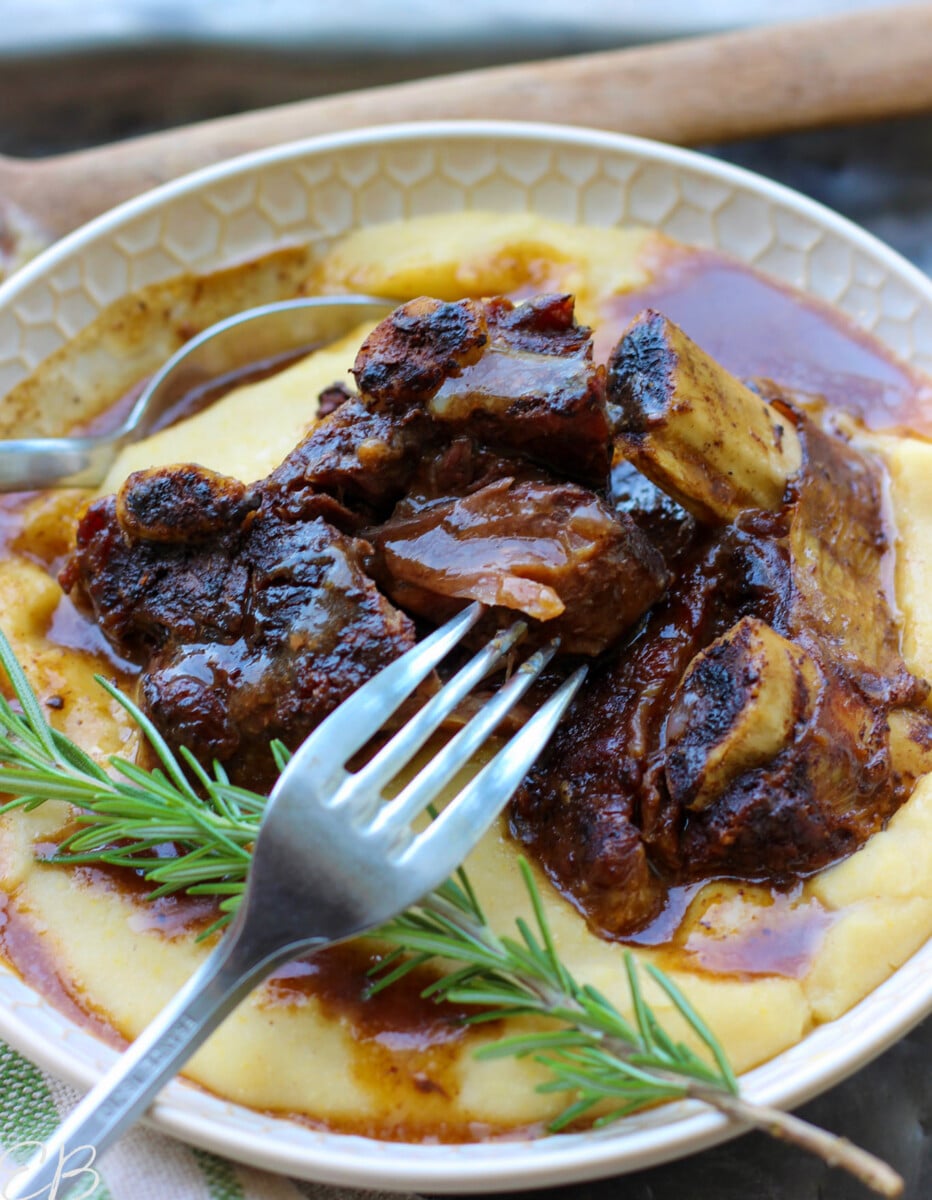 We were surprised to discover that this beef short ribs recipe from Megan of Eat Beautiful fits so many different diets.
For example, paleo, keto, gluten-free, whole30, and more. Yeah, more! But it's also nightshade free (no tomatoes), wine free, and still completely delicious.
It's flavor-packed by way of coconut aminos or real soy sauce and maple or low-carb brown sugar.
Plus, this simple four-ingredient recipe is a protein powerhouse, with 32 grams of the muscle-building macro. Lastly, serve with cauliflower rice or zucchini noodles to make it a meal.
Visit Eat Beautiful for the recipe.
Tequila Marinated Pork With Zesty Tropical Salsa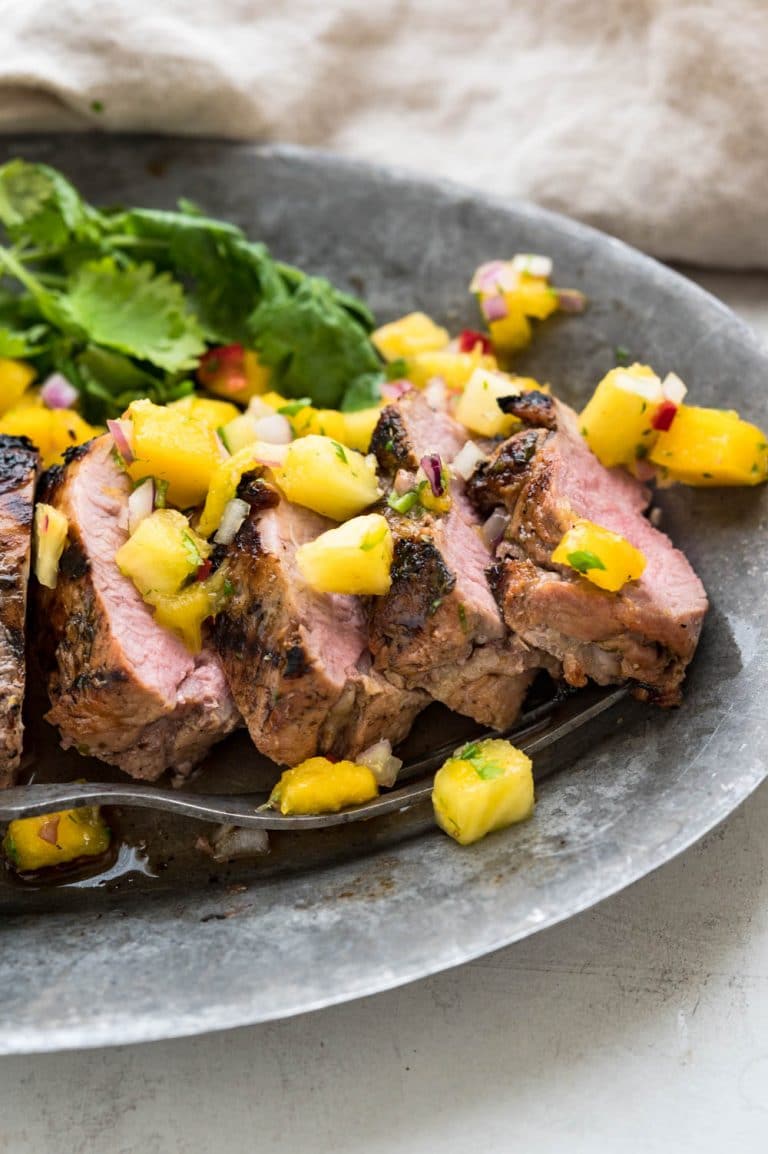 This tropical tequila marinated pork from Lisa of Garlic & Zest is a zingy shot of life. Just what you need to give your taste buds a break from the monotony of ordinary dinners.
And with lime zest and juice, tequila, mango, pineapple, ginger, honey, jalapeno, and more, you won't be wanting for flavor.
Lisa shows you how to lovingly cook pork tenderloin on the grill so that it's nice and juicy instead of shoe leather (hint: proper temperature is so important).
Then, serve it with her special mango pineapple salsa, and you'll have a dinner no one will forget.
Visit Garlic & Zest for the recipe.
Perfect Scrambled Eggs With Cheese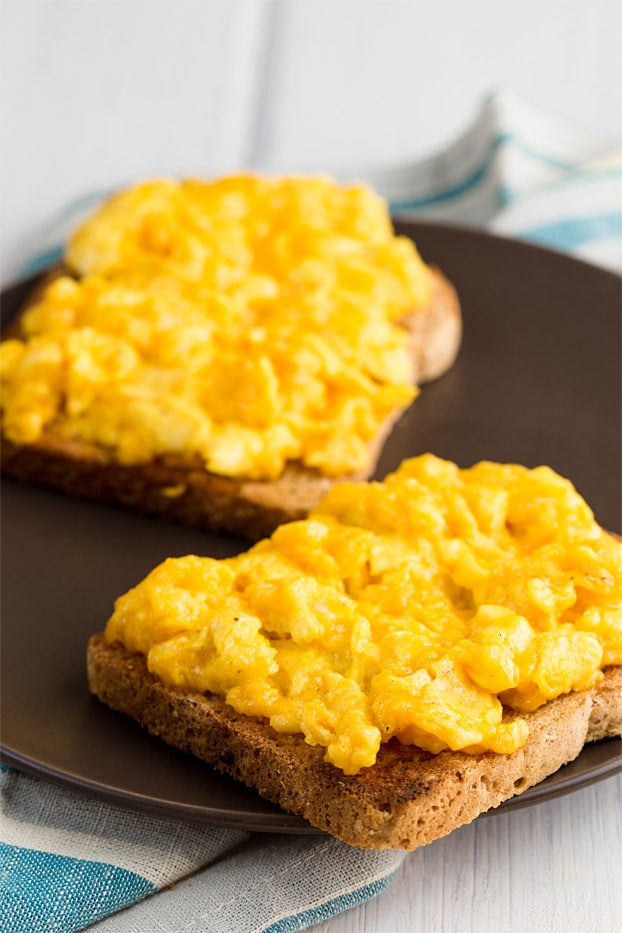 First, the Hurry The Food Up folks have an excellent team. The writing is clear and engaging, and the imagery is incredible. So, we knew we would learn something by going into this simple egg recipe.
They outperformed our expectations.
It starts with a brief introduction to the ills of mass animal husbandry. But not before a warning and an option to skip to the recipe.
The recipe itself is amazing in its simplicity. With just a few tweaks, you'll make the most delicious eggs you've ever had. It's a delightful way to start your day. How's that for your low carb high-protein diet?
Visit Hurry The Food Up for the recipe.
Low Carb Zucchini Boats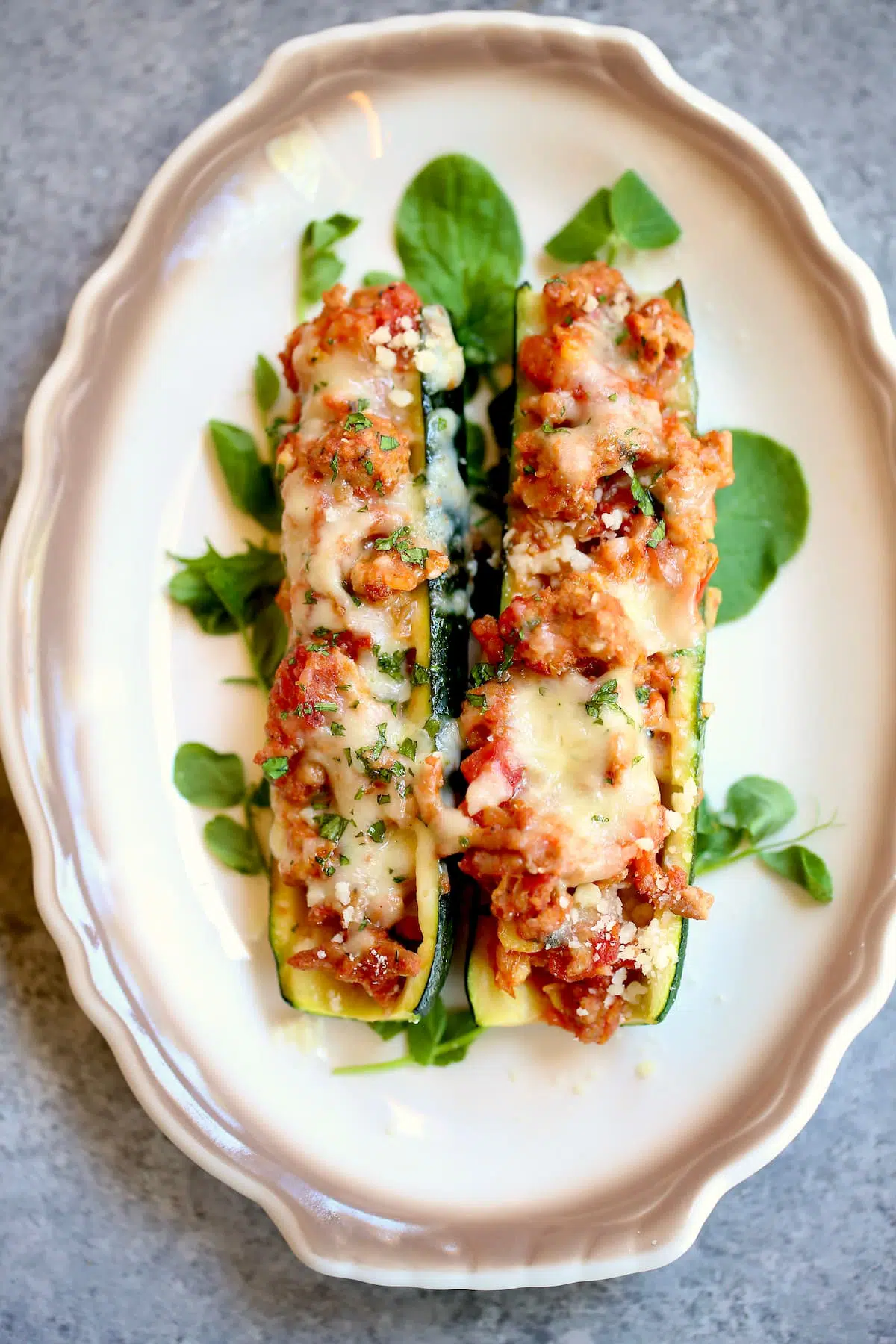 Although Paige of Studio Delicious has never been on a keto diet, many keto dieters love her zucchini boat recipe.
It's one of those low-carb dinners with an appealing presentation and a great way to use fresh veggies.
Inside each little "boat," you'll find ground turkey, two kinds of cheese, onions, tomatoes, garlic, and other seasonings.
If you want to change things up a little, Paige gets you started with a few ideas. Has eating healthy ever been so mouthwatering?
Visit Studio Delicious for the recipe.
Steak Fajita Bowls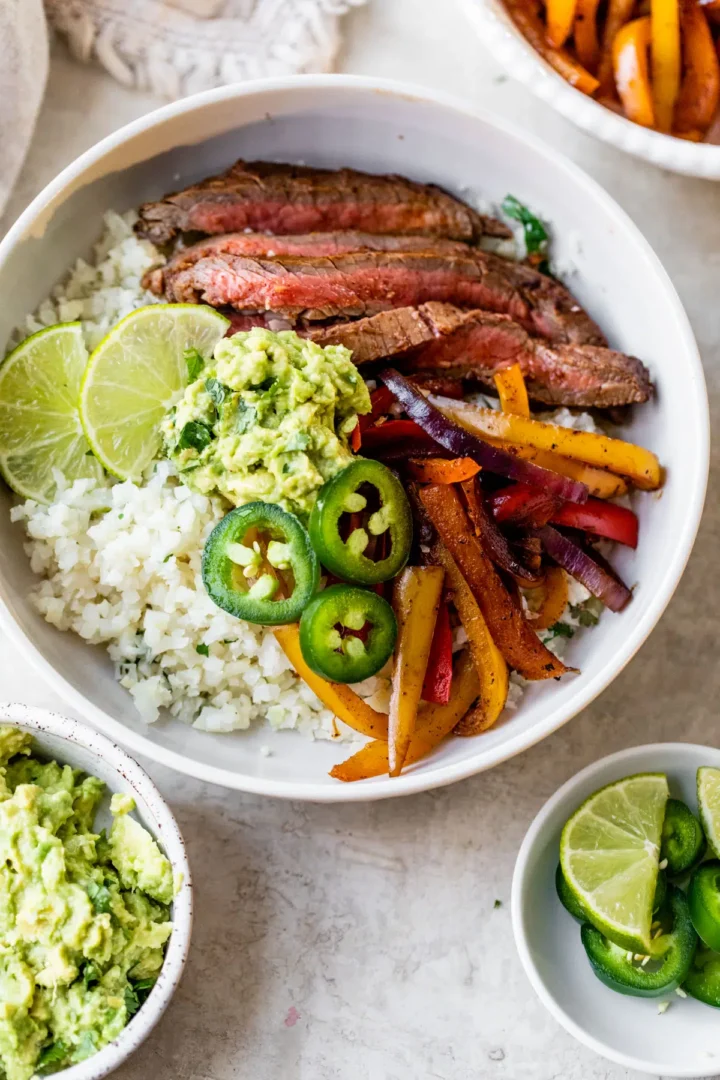 This steak fajita bowls recipe from Erin, The Almond Eater, shows us that just because you're on a special diet doesn't mean you have to give up tasty.
It's a delicious, protein-packed bowl of delicious. So, what exactly is in this paleo and whole30-friendly meal?
You'll find flank steak, bell peppers, and cilantro lime cauliflower "rice."
Add lime wedges, jalapenos, and guacamole, and you've got a party! Do those ingredients sound familiar? Yep, that's Erin's delicious low-carb version of what you get at Chipotle.
Visit The Almond Eater for the recipe.
Coconut Curry Chicken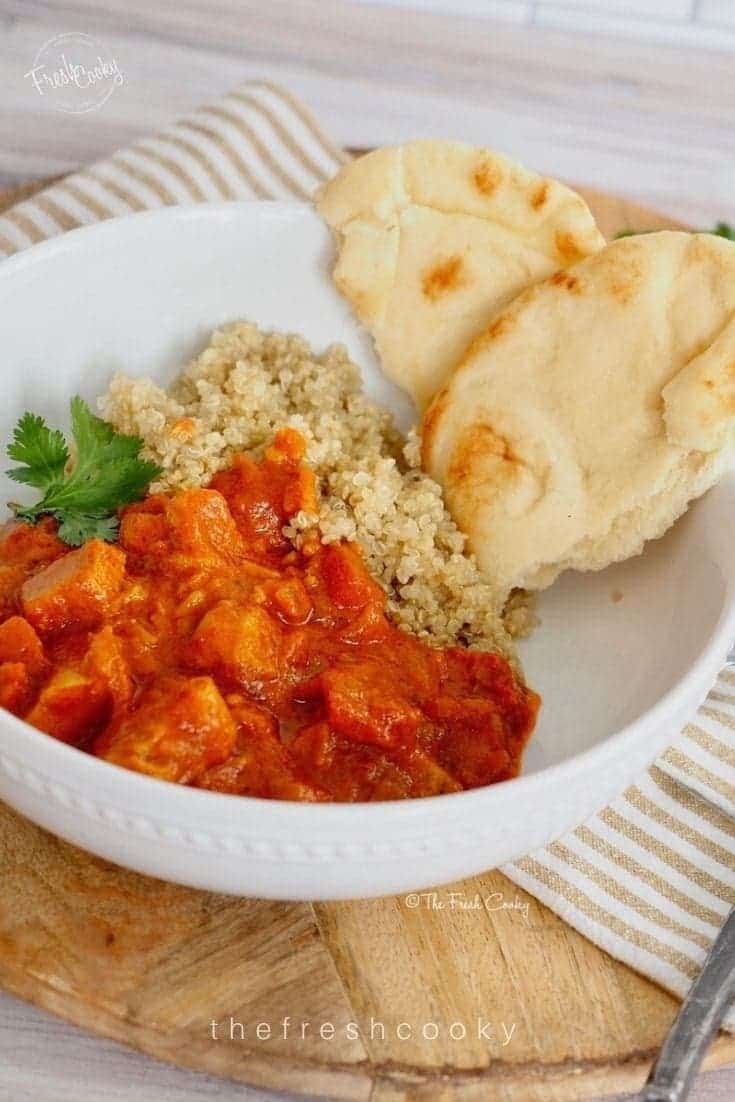 This coconut curry chicken is an easy recipe from Kathleen of The Fresh Cooky and will make a great addition to your list of relatively low-carb meals.
While chicken breasts play the starring role, there's a dynamite supporting cast of curry powder, coconut milk, onion, tomato paste, and fresh herbs.
The presentation is a healthy recipe that's hearty and filling and ready in under 30 minutes. So head over to Kathleen's site, where she'll welcome you to other healthy meals like this one, but with a twist.
Visit The Fresh Cooky for the recipe.
Spinach Omelet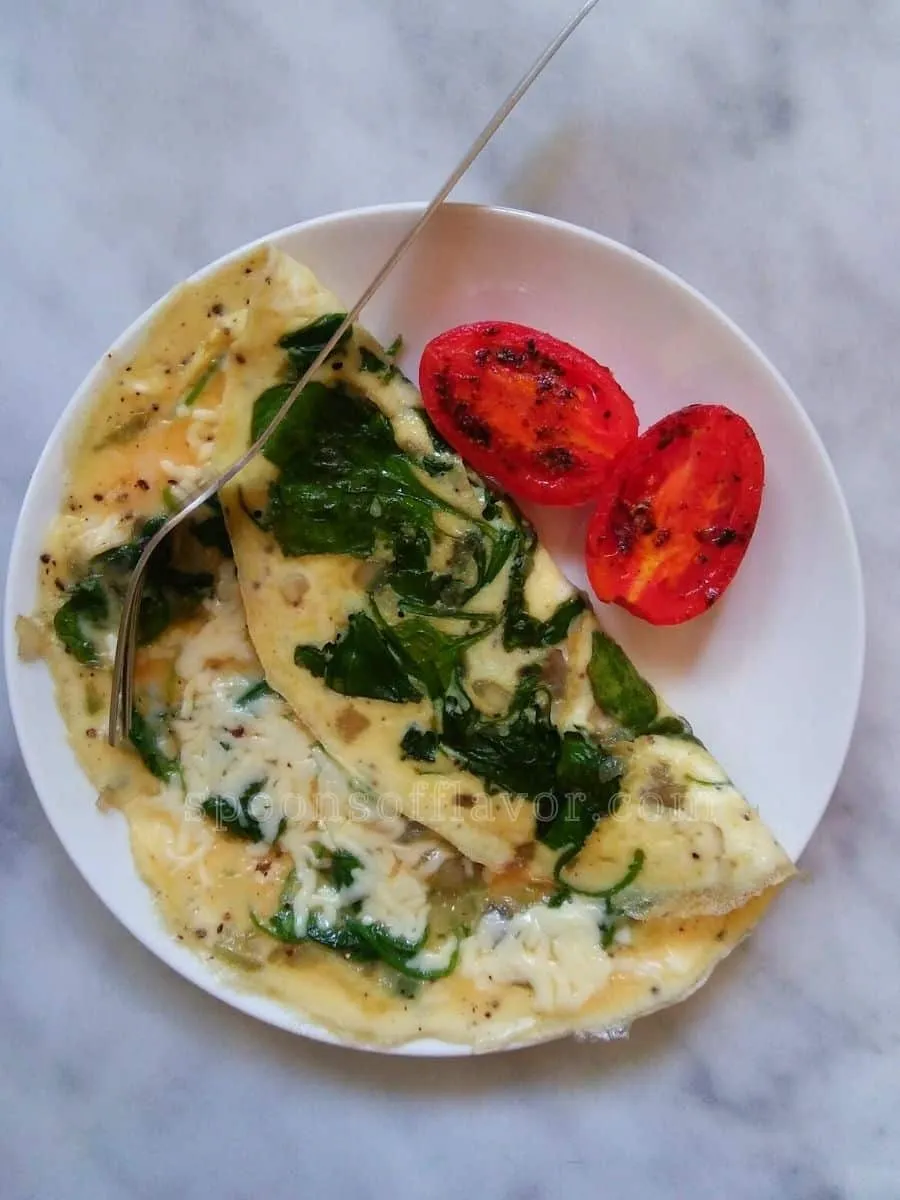 We love omelets because they are delicious and fully customizable. You can add whatever your heart desires.
But Geetanjali of Spoons Of Flavor brings us one of her favorite high-protein omelets with baby spinach, lots of cheese, onions, garlic, black pepper, and tomatoes on the side. We would order that in a heartbeat!
On the recipe page, you will find a recipe with step-by-step images as well as links to her other delicious and healthful morning meals to power your day.
Visit Spoons Of Flavor for the recipe.
Keto Protein Chaffle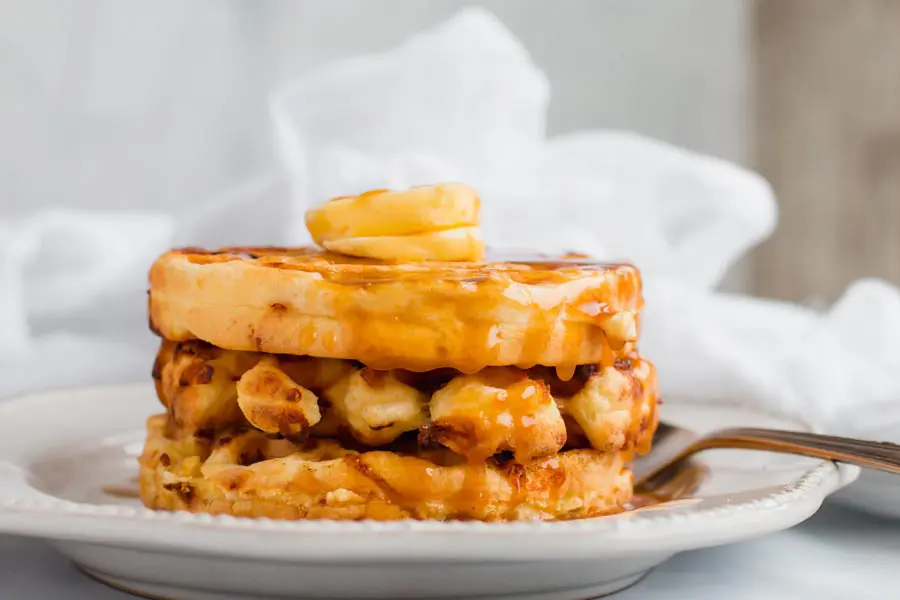 If you've never heard of chaffles, you're not alone. It's a relatively new concept that refers to a waffle made with a batter of eggs and cheese.
And they're perfect if you're looking for low carb diet recipes. This chaffle recipe, however, from Annie of Keto Focus takes things a step further with the addition of whey protein powder.
But waffles need some kind of sweetener like maple syrup, right?
Well, that won't do on a keto or low-carb diet. The good news is that Annie developed a keto-friendly salted caramel collagen syrup with no added sugar. You have to see how she does it!
Visit Keto Focus for the recipe.
Easy Soondubu Jjigae Recipe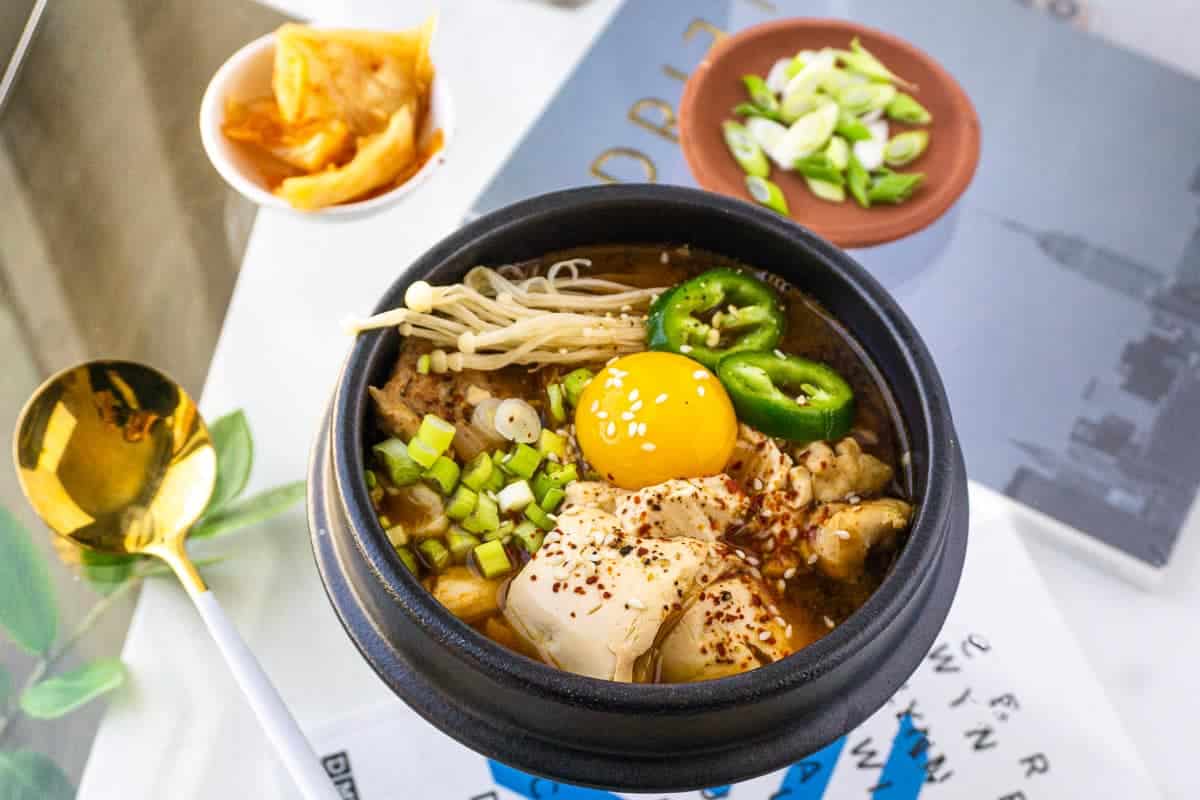 Soondubu is classic Korean comfort food. But I'm certain you're wondering what it is. It's a soft tofu soup recipe consisting of lots of protein and vegetables and can be very healthy depending on what's in it.
While pork belly is typical, this version from Clara of Fitsian Food Life is filled with flavorful chicken thigh meat, egg yolk, jalapeno slices, mushrooms, and kimchi.
It's kind of like ramen minus the noodles. So, with a quick trip to the Asian food aisle, you can grab everything you need to make your new favorite comfort food.
Visit Fitsian Food Life for the recipe.
Easy Low Carb Taco Casserole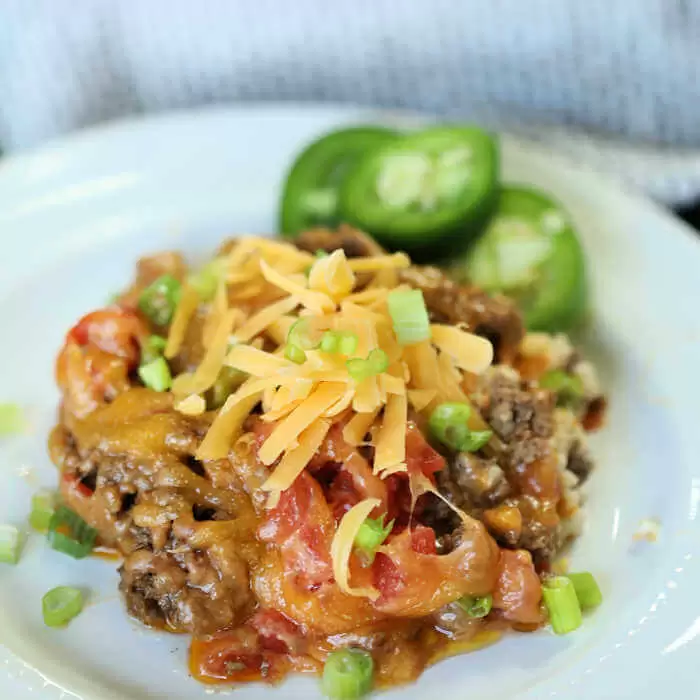 One of the struggles of the keto diet is preparing different meal plans if you're entire family isn't also on keto. Well, no one will miss the carbs with this low-carb taco casserole from Carrie of Eating On A Dime.
So, problem solved! And the main ingredients are all winners! You've got tasty ground beef (who doesn't love that), cheese, canned Rotel, and other flavorful ingredients. Better still is that it's perfect for weekday dinner as it's ready in just 30 minutes.
Visit Eating On A Dime for the recipe.
Sheet Pan Greek Chicken And Vegetables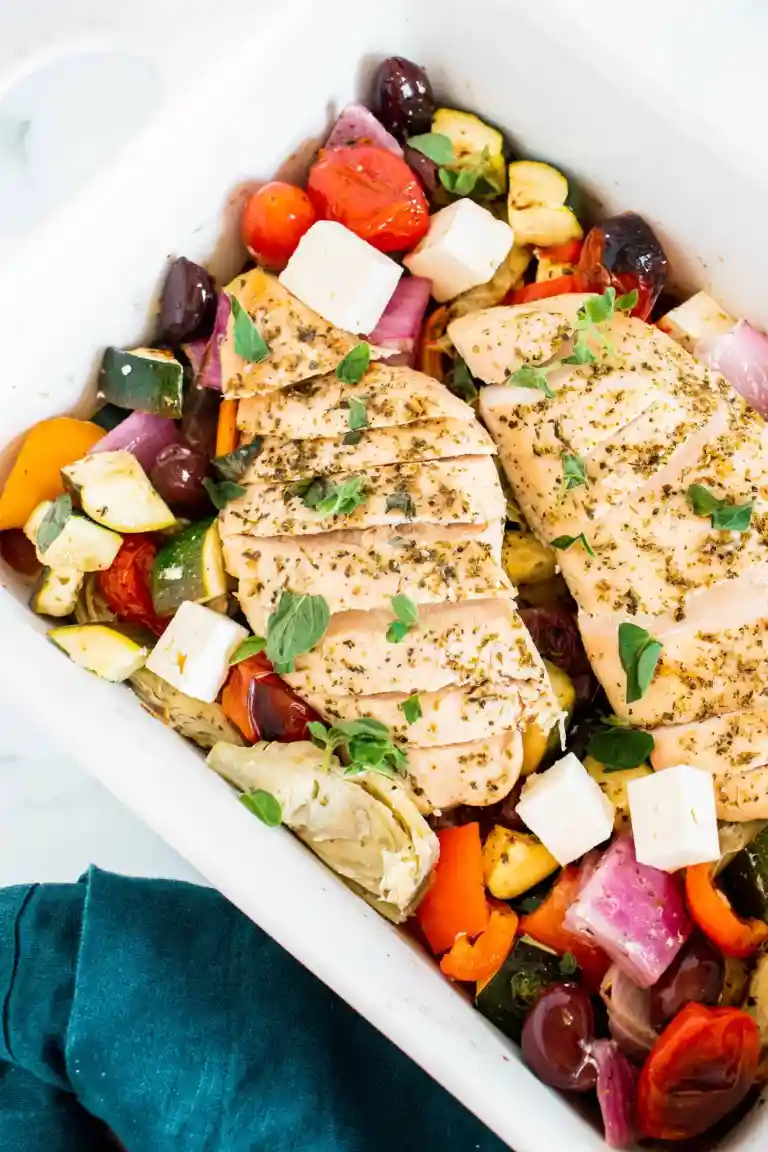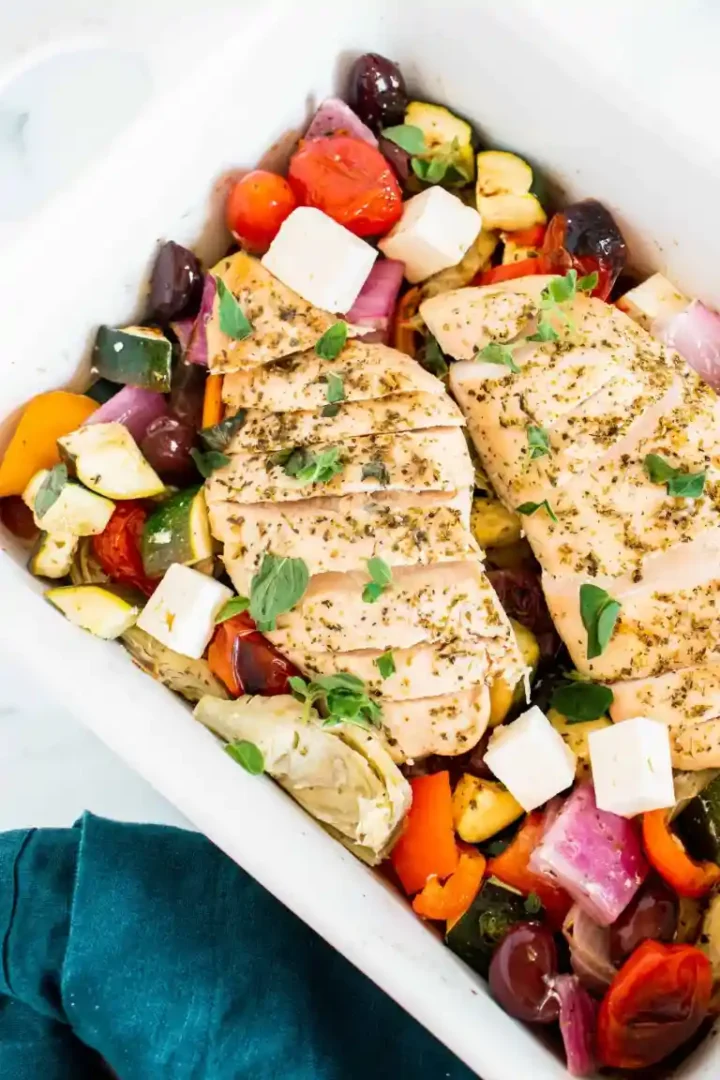 This Sheet Pan Greek Chicken and Vegetables meal from Kaleigh of Cinnamon & Sage Co. is filled with vibrant color. It's a beautiful dish perfect for entertaining.
But it's also bursting with Mediterranean flavor: slightly sweet zucchini and red onion contrast well with briny kalamata olives and feta cheese.
You roast the vegetables first. Then you add tender and juicy chicken breast. And when it's done, in just 35 minutes, sprinkle with feta cheese and drizzle with your favorite greek dressing.
Visit Cinnamon & Sage Co. for the recipe.
Slow Cooker Kalua Pork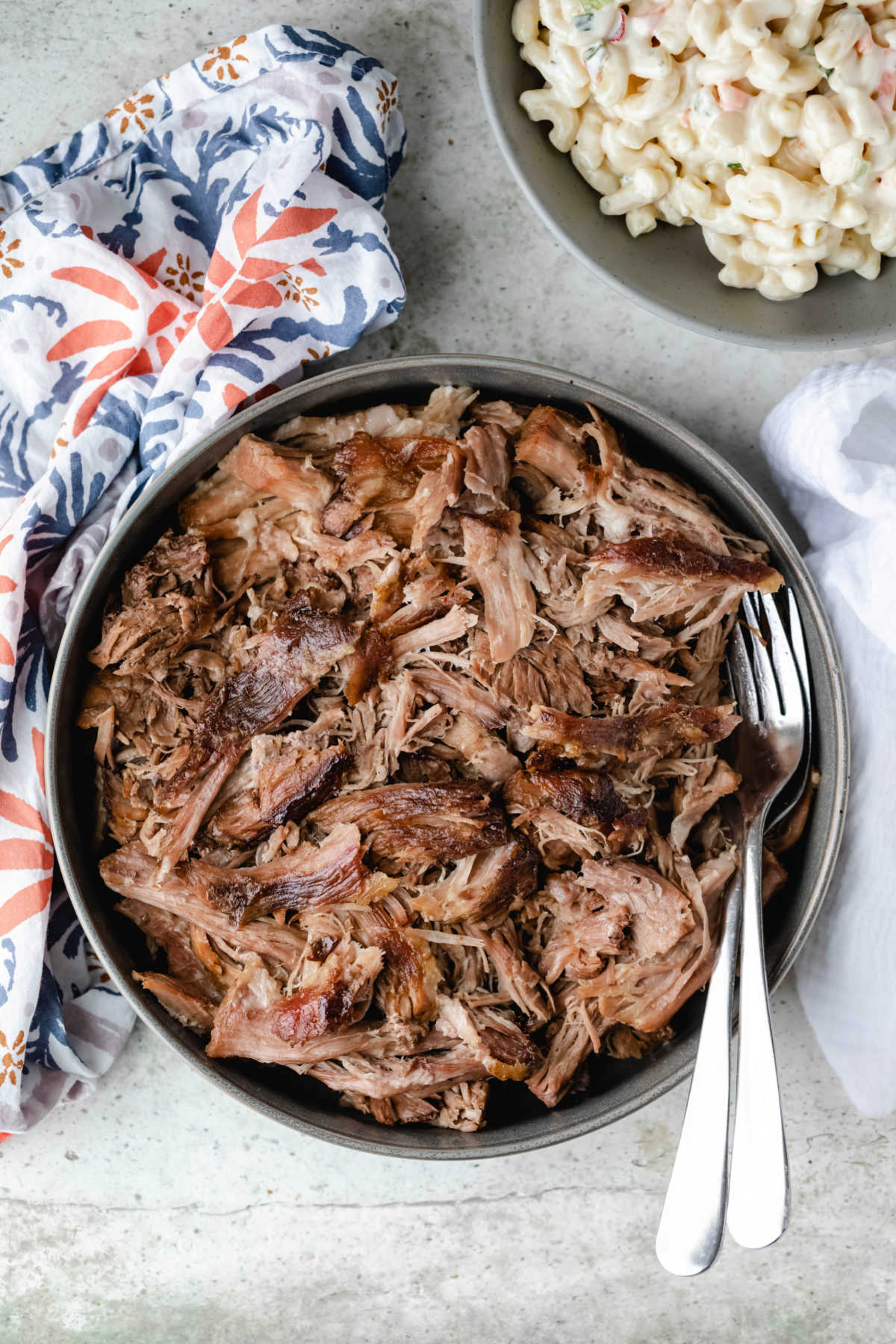 So, you probably won't be able to enjoy this Kalua pork recipe from Kate of I Heart Eating today. It takes forever to cook.
Okay, it actually takes 10 to 12 hours, but it'll feel like forever as the scent of delicious swine invades your kitchen and test your patience. But it's so worth the wait! So that's the good news.
The better news is that this low-carb meal couldn't be easier to make. With just three ingredients and the slow cooker, you won't feel like you're cooking at all.
Once done, make sandwiches with low-carb bread or serve over cauliflower rice, and you've got a meal and leftovers for days.
Visit I Heart Eating for the recipe.
Air Fryer Tempeh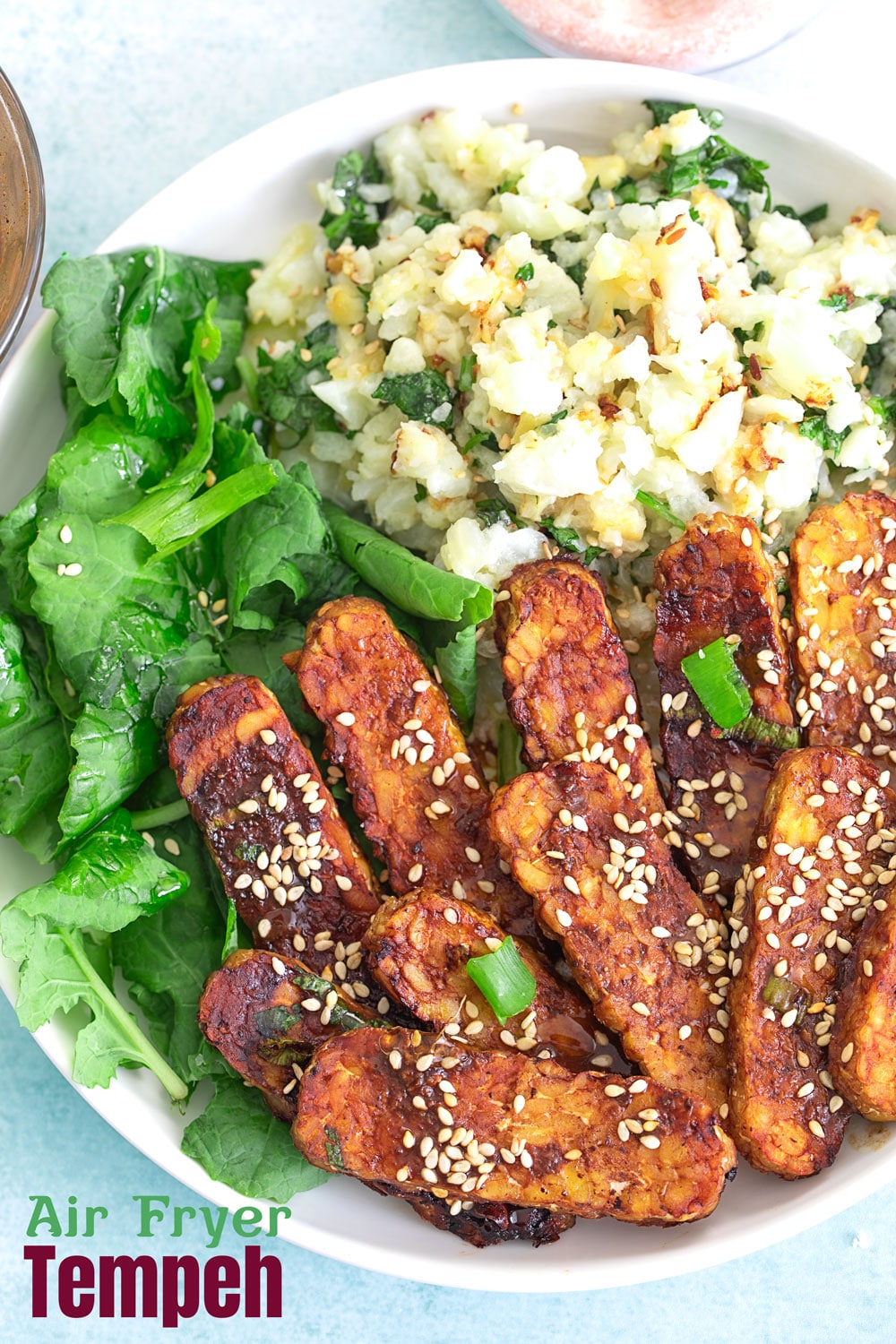 Like tofu, tempeh is a popular vegan protein. The difference is that tempeh is made of fermented soybeans, while tofu is made of condensed soy milk.
The former has a subtle taste, while the latter has a distinct nutty flavor. But both can be delicious depending on the chef's preparation. This air fryer tempeh recipe from Rini of Healing Tomato is one such delicious preparation.
Unfortunately, Rini is not a big fan of tempeh, and she's not alone. She only made it because her readers so often requested it. So she begrudgingly made a recipe for it on the condition that it was completely immersed in a marinade of black bean sauce.
But why include such a polarizing food on this list? Well, tempeh has a whopping 18 grams of protein per serving. On top of that, it's a great source of fiber and vital micronutrients like magnesium. And who knows, you might like it.
Visit Healing Tomato for the recipe.
Chicken Jambalaya with Cauliflower Rice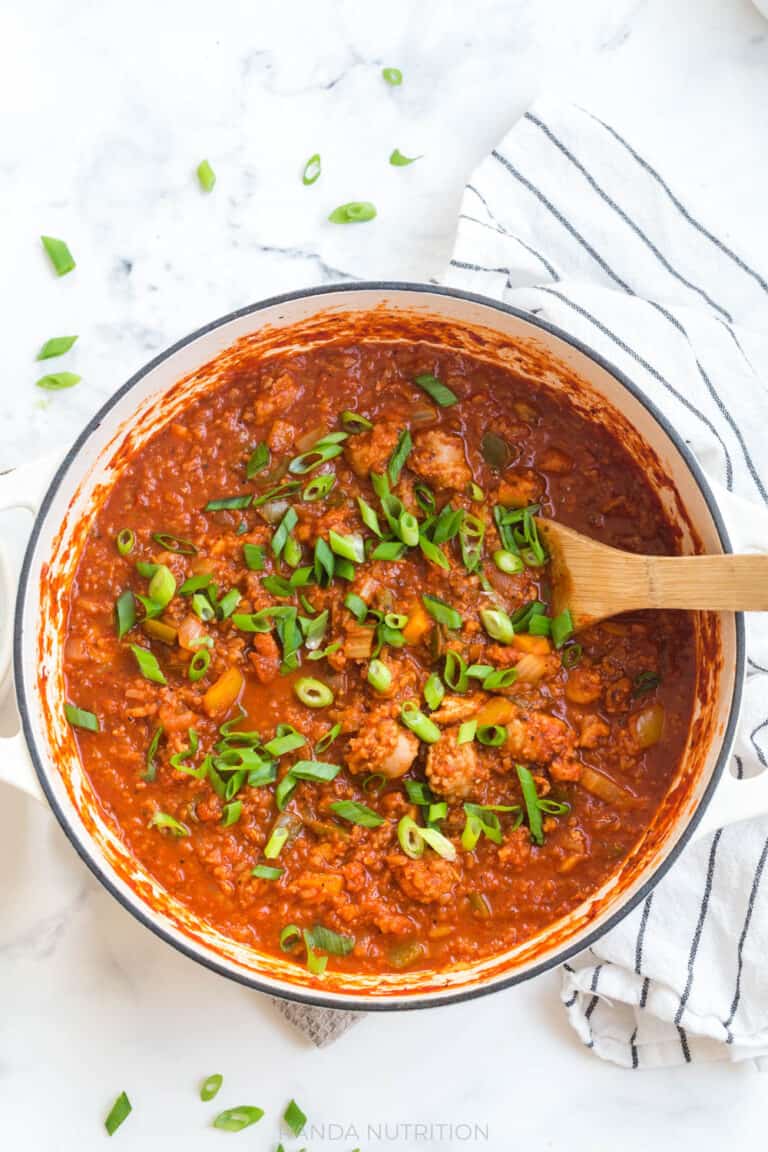 With andouille sausage, shrimp, chicken breast, and all the spices you could ever want, this lower-carb Jambalaya from Randa Derkson, CHN (Certified Holistic Nutritionist), will be a hit.
I mean, this Southern Lousiana dish is so full of flavor. And like traditional Jambalaya, there's plenty of celery, garlic, oregano, bell peppers, and more.
This dish is low carb because there isn't any rice. Instead, you get the same texture from cauliflower rice for a yummy dinner that'll have you dreaming about leftovers for lunch.
Visit Randa Derkson for the recipe.
Classic Kenyan Beef Stew Recipe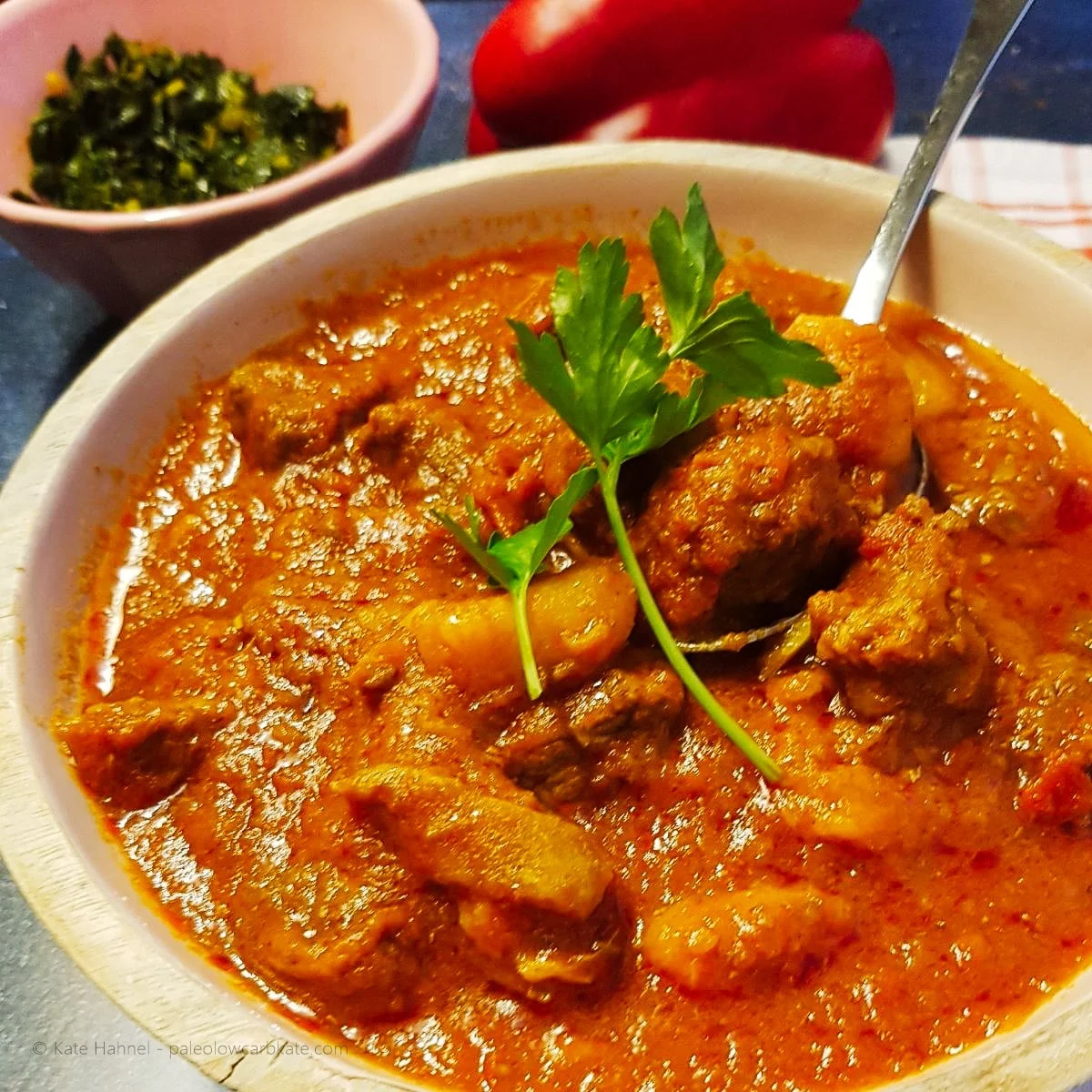 For this Kenyan stew from Kate of We Eat At Last, beef stew gets some love from curry powder, turmeric, smoked paprika, salt, and pepper.
Then you let it rest for at least 30 minutes but up to overnight for the best results. Next, you're chopping tomatoes, onions, and bell peppers and adding stuff to your instant pot.
Finally, after just 30 minutes, you've got a delicious mouthwatering fork-tender meal. That's right, restaurant-quality stew in your kitchen in just 30 minutes. Finally, serve it with cauliflower rice to keep it low carb and hearty.
Visit We Eat At Last for the recipe.
Spaghetti Squash Chicken Lasagna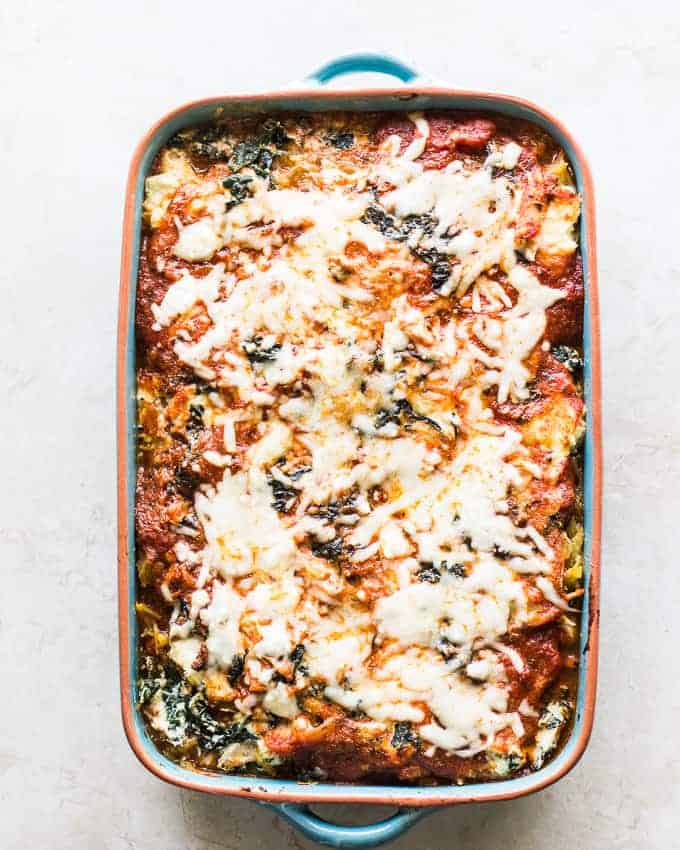 We're not usually big fans of pasta substitutes, but this spaghetti squash chicken lasagna from MJ of MJ And Hungry Man works.
Why? Because spaghetti squash is a very neutral squash with great texture that pairs well with sauce and protein.
The recipe starts by alternating layers of your favorite tomato sauce, spaghetti squash, and the ricotta, chicken, and kale mixture.
Now it does take nearly two hours to make, but don't let that scare you off. This lasagna freezes well. And you can big batch it for meal prep.
Visit MJ and Hungryman for the recipe.
Mediterranean Salmon Lettuce Wraps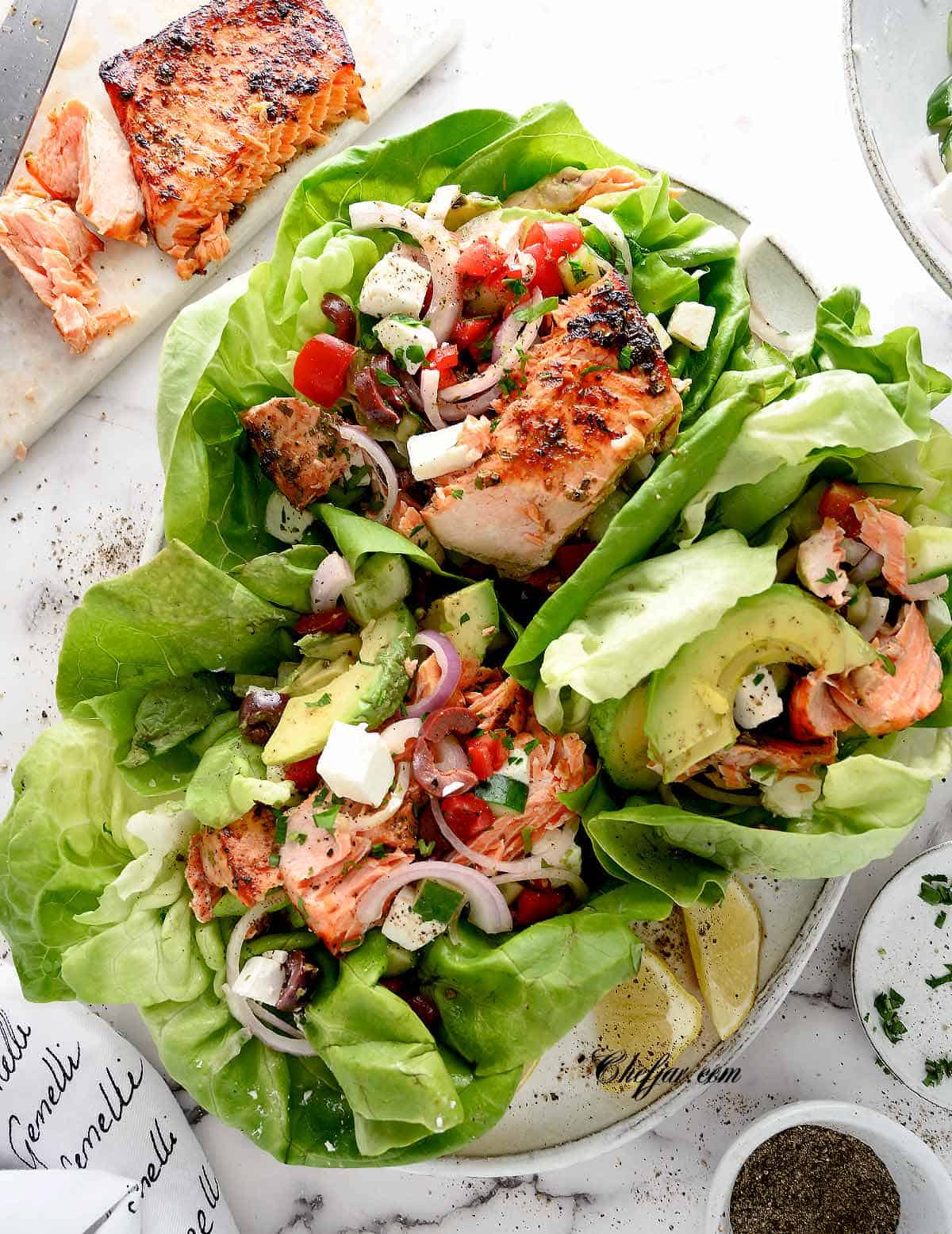 Not only are Mediterranean Salmon Lettuce Wraps from Tati of Chef Jar bursting with flavor, but they're also ridiculously easy to make.
And you don't even need a fork to eat them. Lettuce wraps are one of our favorite food styles when we need a break from the heaviness of carbs.
This version is filled with flaky and tender salmon flavored with a tastebud pleasing homemade marinade with balsamic vinegar, lemon juice, oregano, parsley, and more.
Then there's the Mediterranean salad filled with kalamata olives, cucumber, tomatoes, feta, etc. So who else is looking forward to lunch?
Visit Chef Jar for the recipe.
Pulled Pork Carnitas Bowls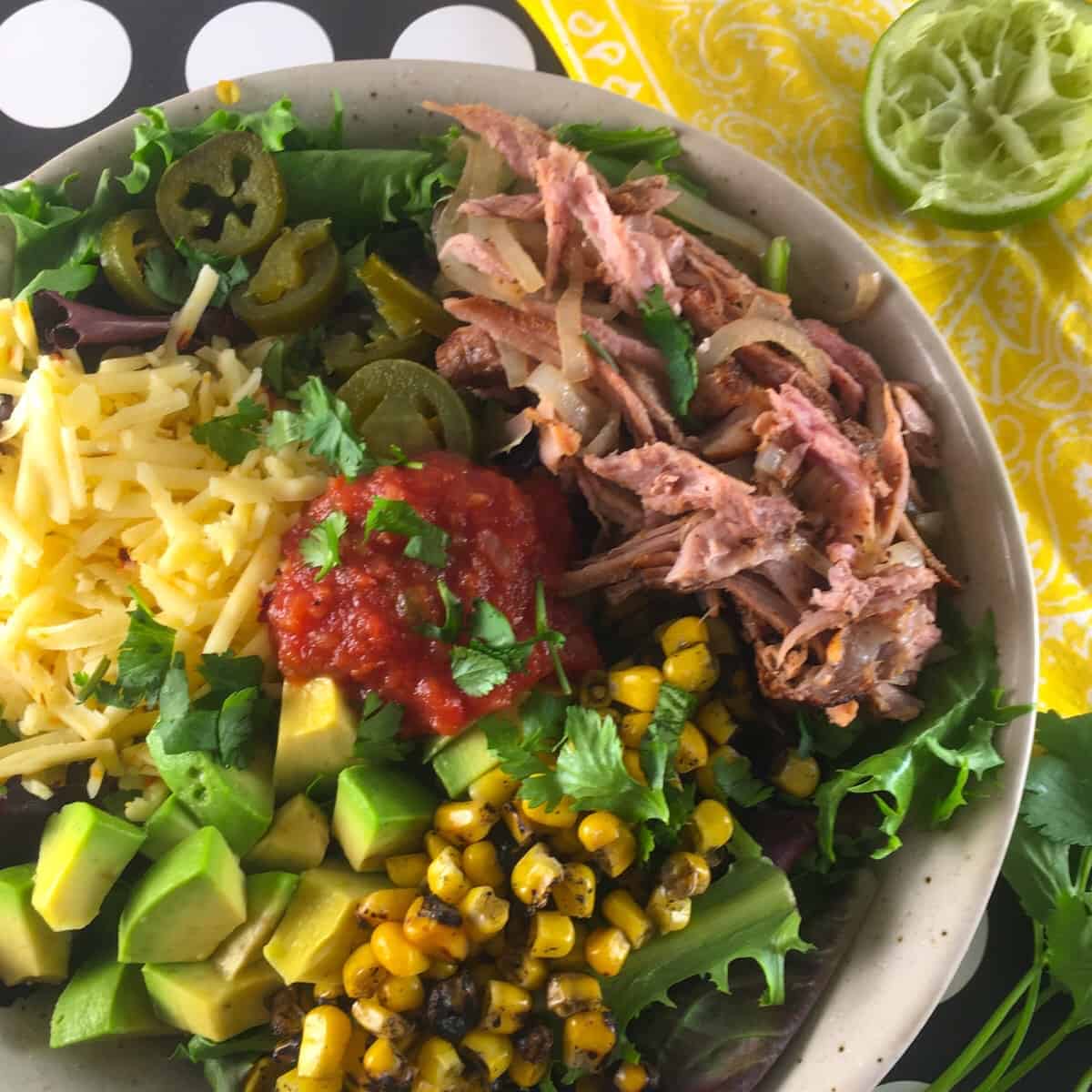 This Mexican-inspired carnitas bowls recipe from Summer Yule is a fun, flavor-filled powerhouse with an astounding 41 grams of protein and only a handful of net carbs.
And baby, it is easy to make. So while you're off at work or running errands, your slow cooker will do all the work for you. And by the time you get home, or 8 hours later, it will be tender, juicy, and ready for bowl assembly.
Add lettuce, salsa, avocado, onion, and cheese to the bowls and chow down along with the pork. But forget the corn to keep it low carb. Lastly, do yourself a favor and double the batch for the tastiest keto meal prep ever. Yum!
Visit Summer Yule for the recipe.
Instant Pot Chicken Thighs Soup Recipe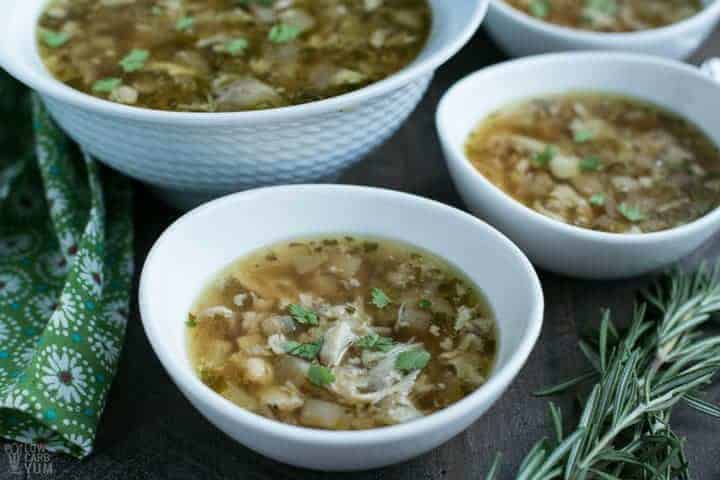 With a site called Low Carb Yum, we knew that Lisa would have a number of meals perfect for a high protein diet. But this instant pot chicken thighs soup is ideal as prep time is just 10 minutes.
But for full disclosure, you should know that it takes about 40 minutes to cook. Nevertheless, that's still doable for a midweek meal.
So, is it a hearty soup? Well, even though you won't find any potatoes or pasta in this dish, it still has radishes, celery, and tons of herbs.
But to make the meal more "stick to your bones" filling, you may want to make one of Lisa's low-carb sides, like coconut flour biscuits.
Visit Low Carb Yum for the recipe.
Cajun Stuffed Chicken Breast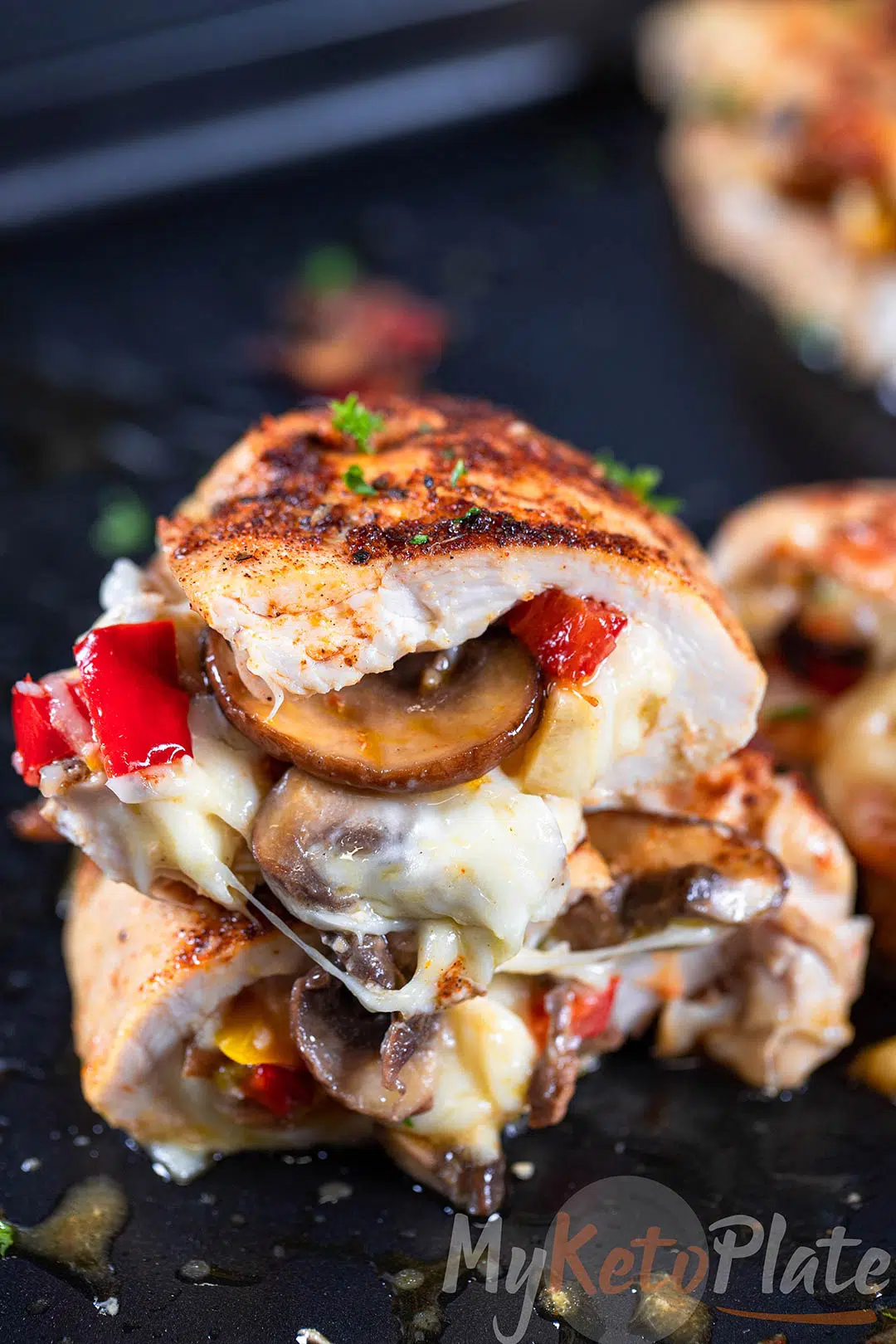 It was hunger at first sight when we discovered this delicious Cajun stuffed chicken breast creation from Joanna of My Keto Plate. It's the perfect bite for the carb-conscious family.
Please, tell me how anyone could resist that tasty mozzarella cheese pull, buttery sauteed veggies, and the tastebud tickling cajun spices. Yeah, they can't, and neither can we!
So, low carb, keto, or whatever diet you want to call it, we'll just call it good. But aside from the tastiness, there are other amazing benefits, too.
For one, it is loaded with so much protein you'll have new muscle growth before you finish (okay, not really). Seriously though, three ounces of chicken breast has nearly 30 grams of protein.
Also, it's individually portioned and great for meal prep. You can't lose with this one.
Visit My Keto Plate for the recipe.
Healthy Turkey Swedish Meatballs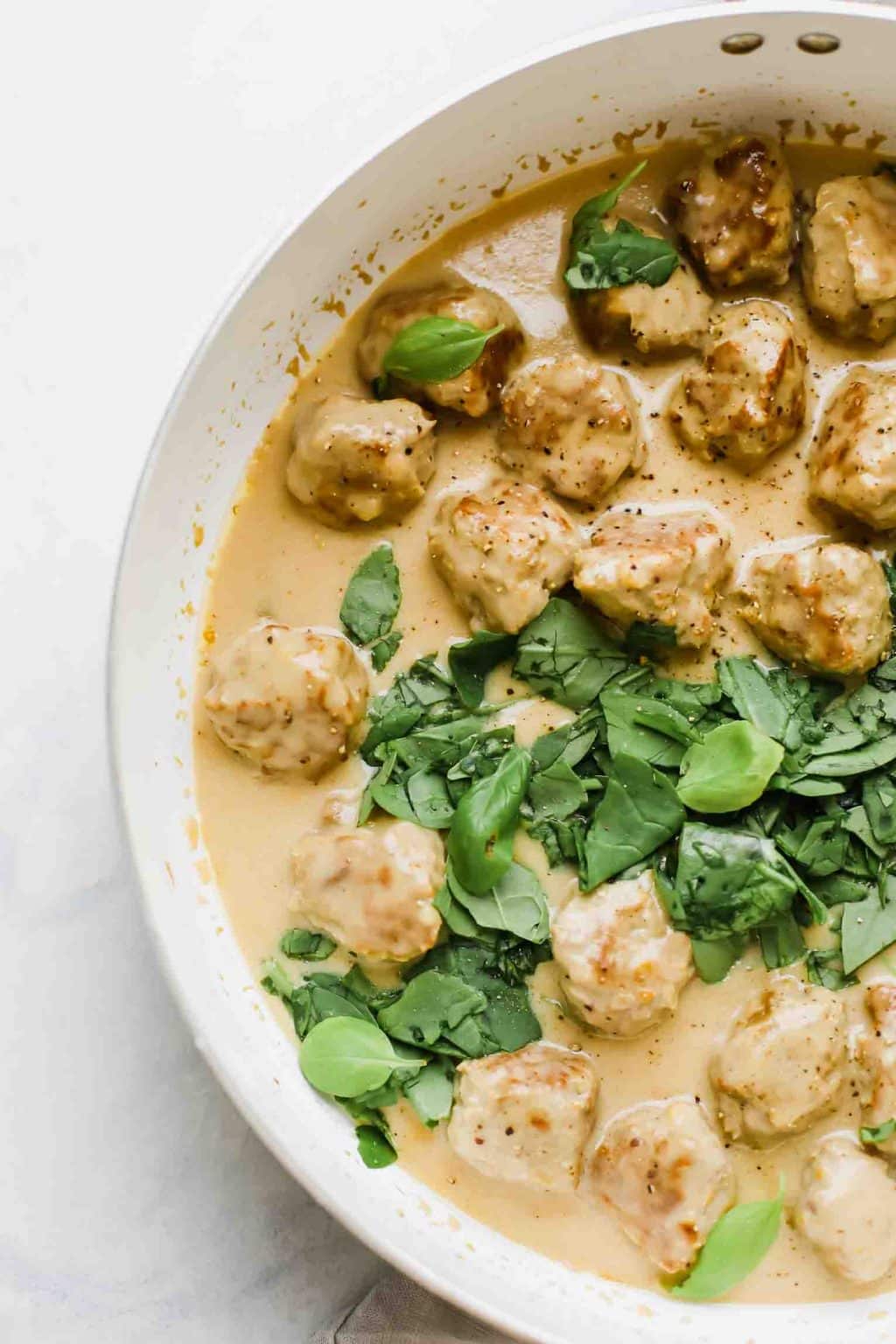 Lean ground turkey is a mealtime hero. It's one of the leanest sources of animal-based protein.
A single serving of these Swedish turkey meatballs from Christine of Jar Of Lemons nets you a mind-boggling 24 grams of protein. Her recipe is a well-received and excellent addition to your weekly menu.
Of course, you'll taste a bit of allspice and garlic in each bite. But the star of the show is that sauce—a luxuriously creamy and flavorful sauce made with yogurt, butter, and beef broth.
Visit Jar Of Lemons for the recipe.
Cheese Taco Shells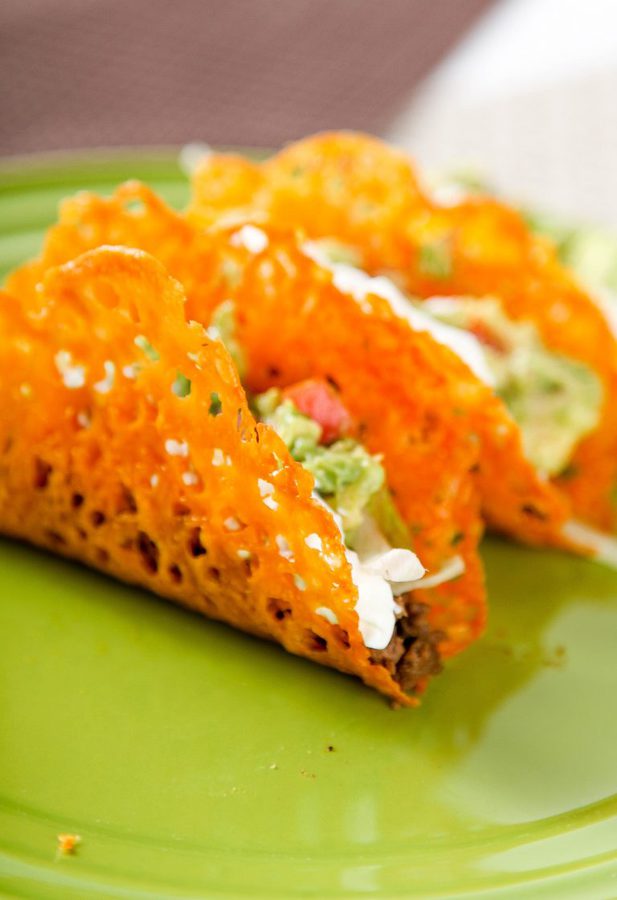 This cheese taco shells recipe from Krystle of Baking Beauty isn't a low carb high, protein meal in and of itself. However, the possibilities are endless and exciting.
But first, how the heck do you make a cheese taco shell?
Well, I can tell you that it's a simple yet genius process involving cheese and your oven. Krystle will fill you in on the rest, though. But aren't you excited about loading these delicious crispy salty shells with all kinds of toppings?
Ground beef, cheese, guacamole. Or you could even come up with carnitas or a new birria recipe. There are so many fun ideas!
Visit Baking Beauty for the recipe.
Easy Beef And Chorizo Chili Recipe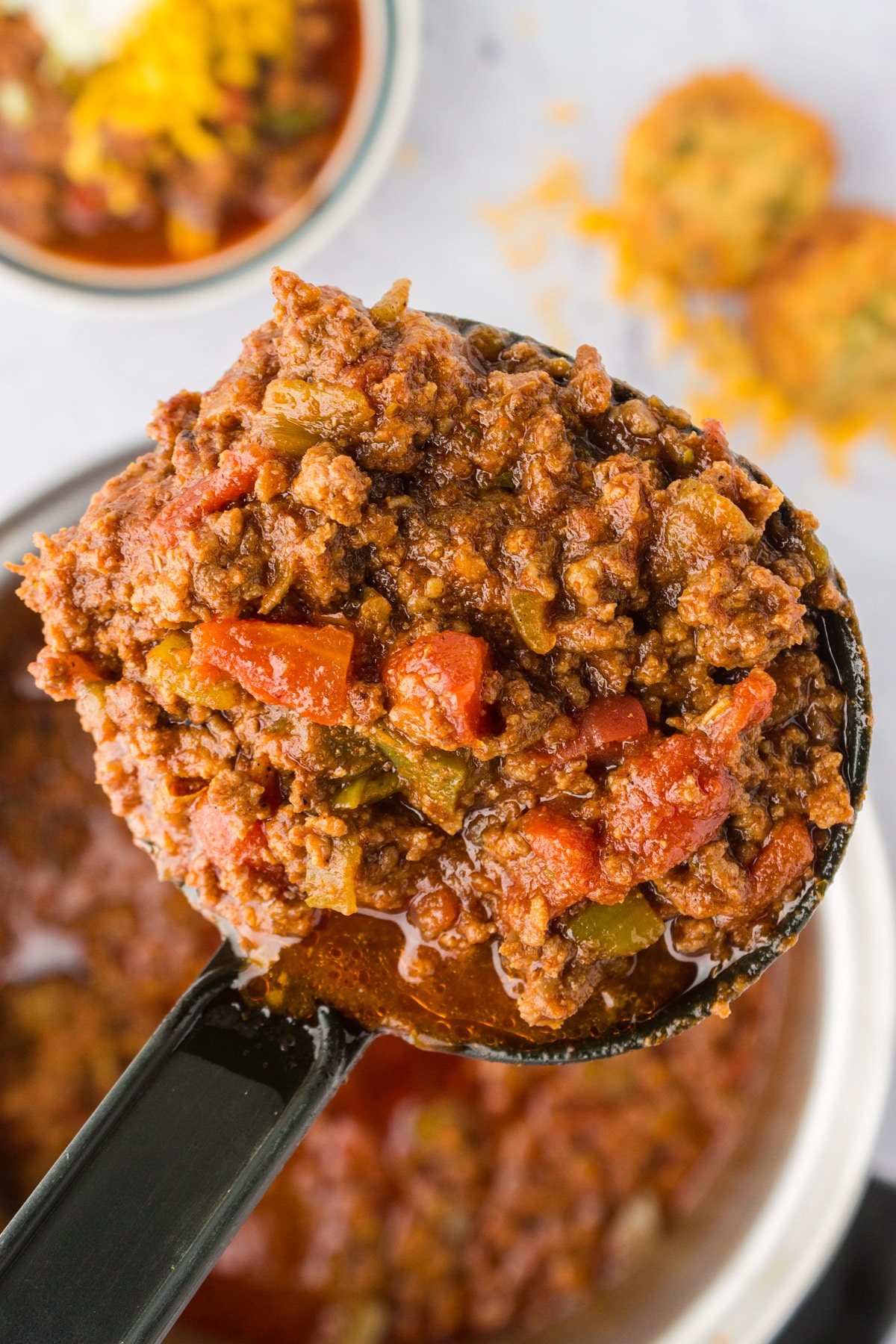 We love that this beef and chorizo chili recipe from Penny of Remake My Plate is bean free but still comes with a bit of heat and lots of tastiness.
Penny (who just might be Wonder Woman) made this recipe with juicy 80/20 ground beef, slightly spicy chorizo, green chilis, bell pepper, onion, and even liquid smoke.
There's more, but most of those ingredients you probably already have. So while this isn't a five-alarm chili, it has enough of a kick to keep things interesting. You'll also love that you can freeze it and have dinner ready for next week.
Visit Remake My Plate for the recipe.
Healthy Shrimp Scampi with Zucchini Noodles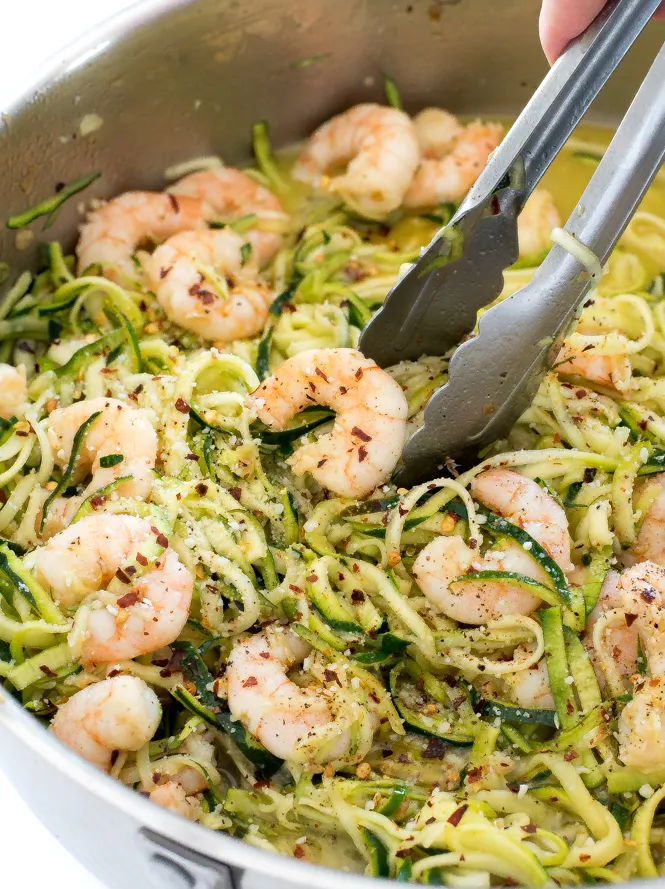 Ditch the carbs and save your calories for something more useful, like more buttery, garlicky shrimp, with this healthy shrimp scampi meal from Kelley of Chef Savvy.
Easy weeknight fare with the same shrimp scampi tastes you crave, only healthier.
With this recipe, you won't be missing linguine. In its place, you'll find zucchini, a mild low-carb blank canvas to soak up every last drop of scampi sauce. Prep and cook times are just 15 minutes each, so with little effort, you'll be enjoying satisfying shrimp with veggie noodles minus the carb overload.
Visit Chef Savvy for the recipe.
Old Fashioned Goulash with Beef and Mushrooms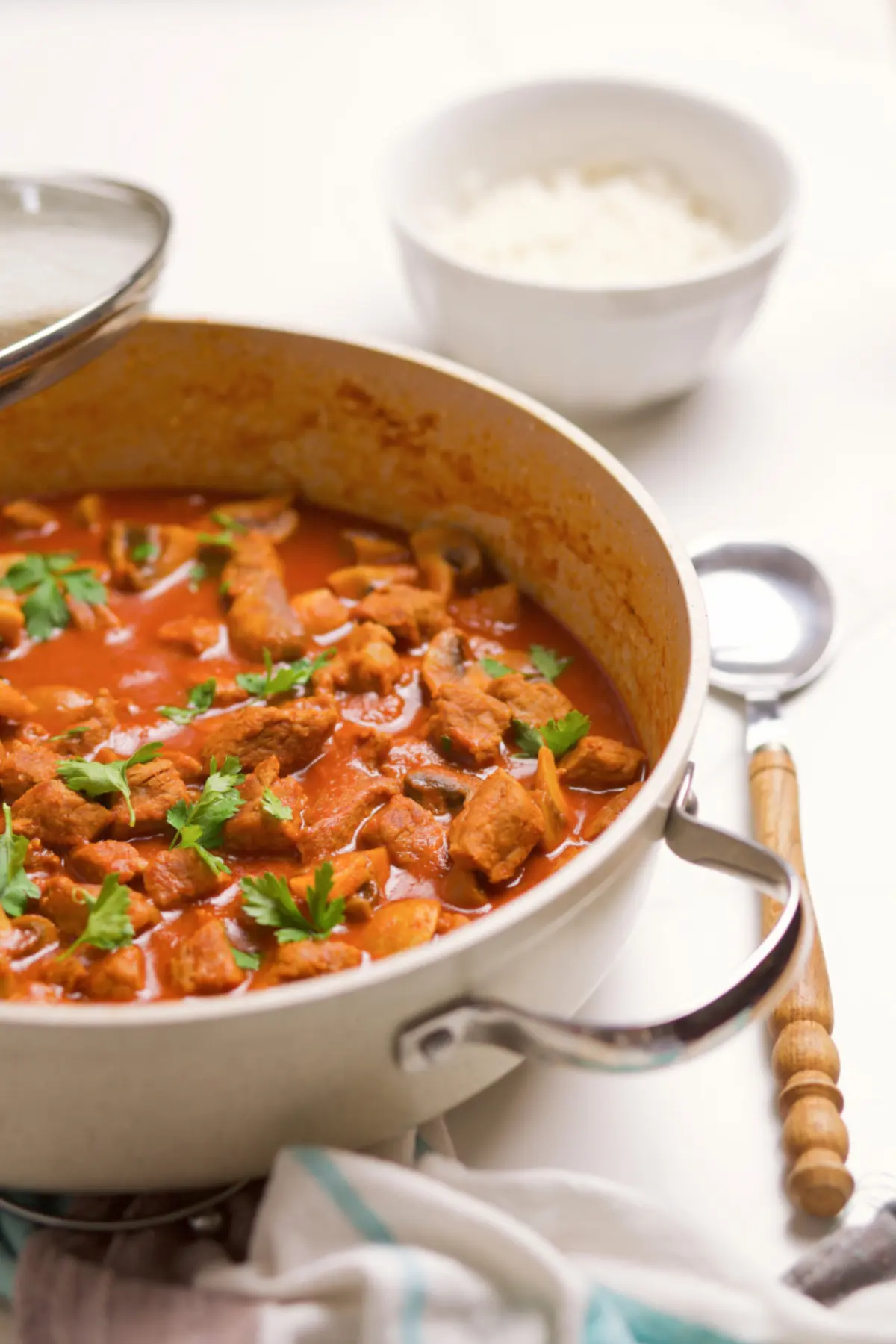 Before diving into the recipe, Aida of Balkan Lunch Box gives us a fascinating brief history of this classic Eastern European dish.
It's a delicious beefy stew with many flavors from paprika and other aromatics. On the recipe card, you'll also find tomatoes and mushrooms, but the dish's star is beef (chuck, shoulder, or round).
With clear recipe notes, Aida guides you in making this dish as delicious, comforting, and authentic as possible.
And although rice and couscous are the recommended accompaniments, I don't think she'd scold you for serving it with cauliflower rice or mash to keep it low carb.
Visit Balkan Lunch Box for the recipe.
FAQ
What are some high protein low carb snacks?
There are many delicious and equally important, low carb high protein snacks out there. Pistachios, beef jerky, edamame, and yogurt are a few to get you started.
Why you should eat more protein?
There are so many reasons to eat more protein. For example, protein will make you feel fuller for longer, it is good for your bones, and it reduces cravings. See more reasons to eat more protein here.
Which High Protein Low Carb Meal Are You Going To Try First?
Is it the perfect scrambled eggs? Because I can assure you, you will never go back to making eggs any other way again. Or is it the Classic Kenyan beef stew? Because that's on our try list. Whatever you decide, let us know.
OMG! You Have to See These Other High Protein Recipes!