Today you're going to discover some of the very best wonton recipes! Aren't you excited? Wontons are used to make the perfect appetizer.
Of course, you'll find crab rangoons which are standard fare at American Chinese food restaurants.
By the way, you'll want to save this post on Pinterest now so you don't forget it!
But you'll also find other great fried wonton snacks, pizza wonton cups, samosas, and even spinach artichoke wontons.
So, let's dive in and discover some fun and exciting recipes using wonton wrappers. Enjoy!
Crab Rangoon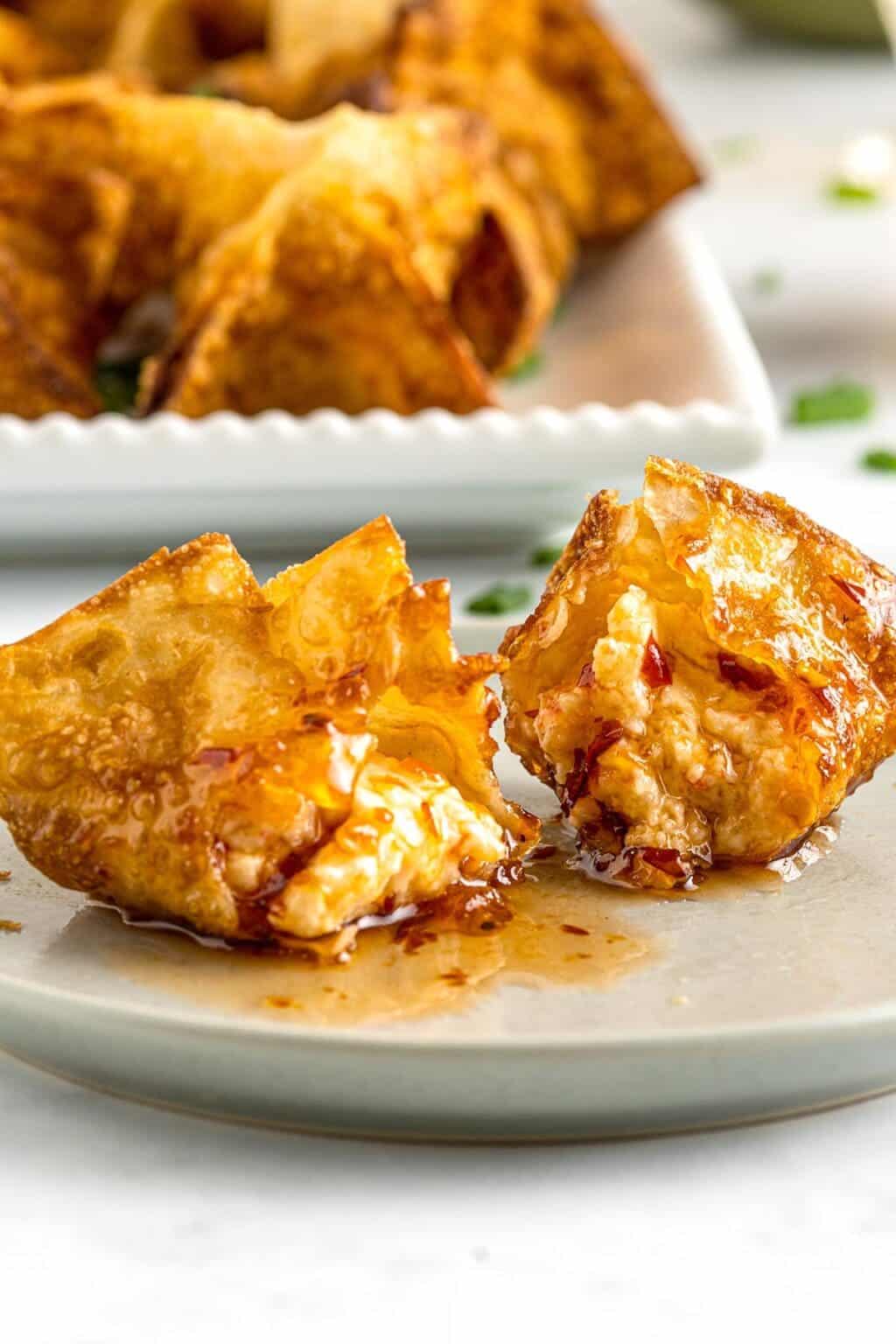 Crab Rangoon is fried food royalty from Chinese restaurants. They're so crispy with just the right saltiness, yet the filling is slightly sweet from crab and cream cheese. And for as good as they taste, they are so simple to make.
But Jenn of Princess Pinky Girl claims you can make crab rangoons better at home with her recipe. We'd bet on it. Here's why: she uses real instead of imitation crab, garlic powder, soy sauce, and chives for an unforgettably tasty filling.
She walks you through the recipe with detailed instructions, including how to fold the little wonton purses properly and fry them to crispy perfection. It's an indulgent finger food to be remembered at your next get-together.
Visit Princess Pinky Girl for the recipe.
Sweet Cream Cheese Wontons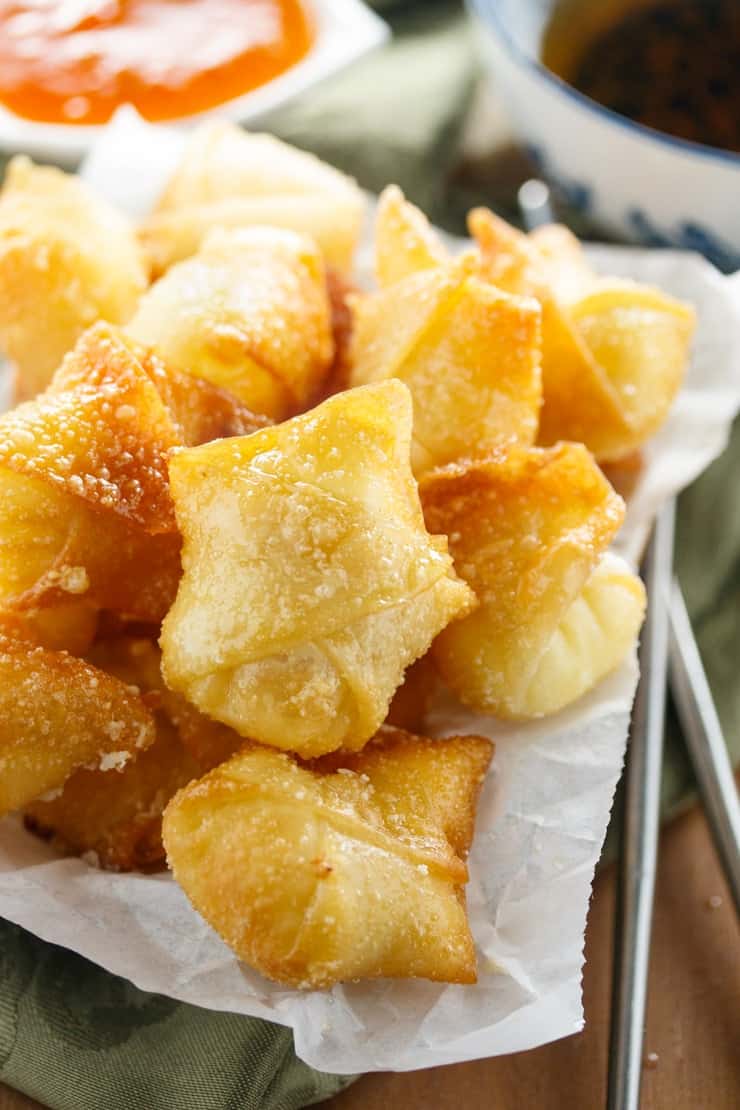 This sweet easy cream cheese wontons recipe from Stephanie of The Cozy Cook is easy, delicious, and complete. So complete that it might be the compendium of sweet wontons. First, you have her basic recipe, featuring just four ingredients. But then you have all the other flavor combinations like cream cheese and Nutella or blueberry. She even mentions a cream cheese and pineapple wonton.
Are you craving yet?
But it gets better still. First, Stephanie gives instructions to fry, air fry, and even bake your wontons. Next, you get a quick course on folding them and even a guide to making them in advance. So you definitely want to check it out!
Visit The Cozy Cook for the recipe.
Enchilada Wontons (with red chile & beef)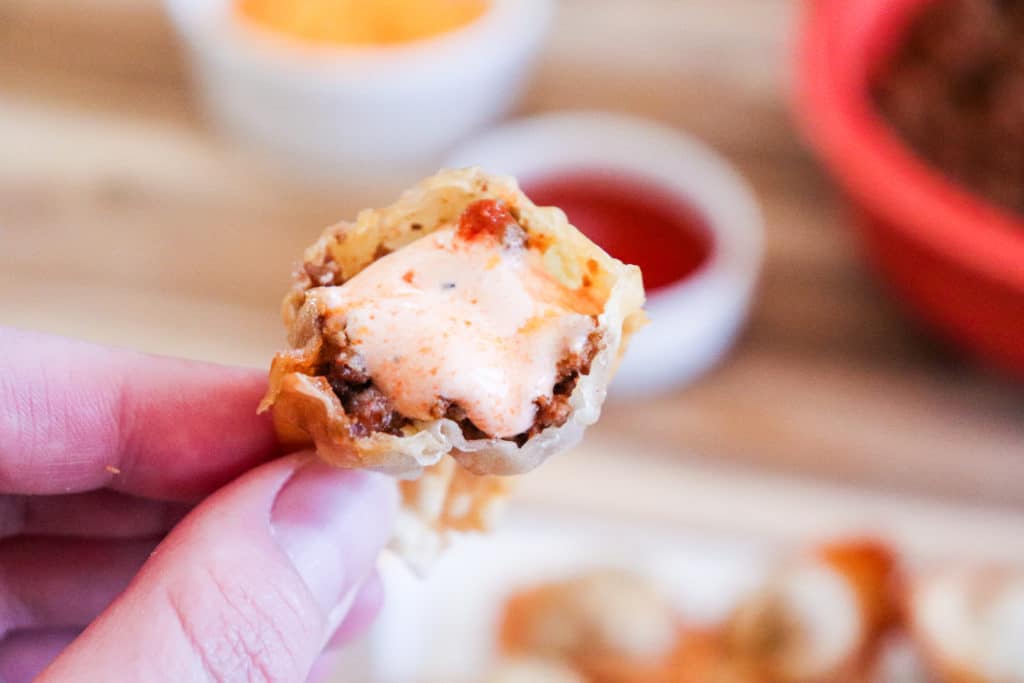 These enchilada wontons from Andrea the New Mexican Foodie are a delicious, fun fusion food. You fill them with everything you love in enchiladas. There's succulent ground beef and lots of flavor from garlic, onion, cumin, and cheese.
Each bite is like a tiny enchilada bundle of joy. And for dipping, you make a sour cream and red chile sauce concoction. You won't find an alternate cooking process here. Nope, these bad boys are fried until golden brown, delicious, fatty, and good for your soul.
Did you just find your new favorite appetizer for your next party?
Visit New Mexican Foodie for the recipe.
Pizza Wonton Cups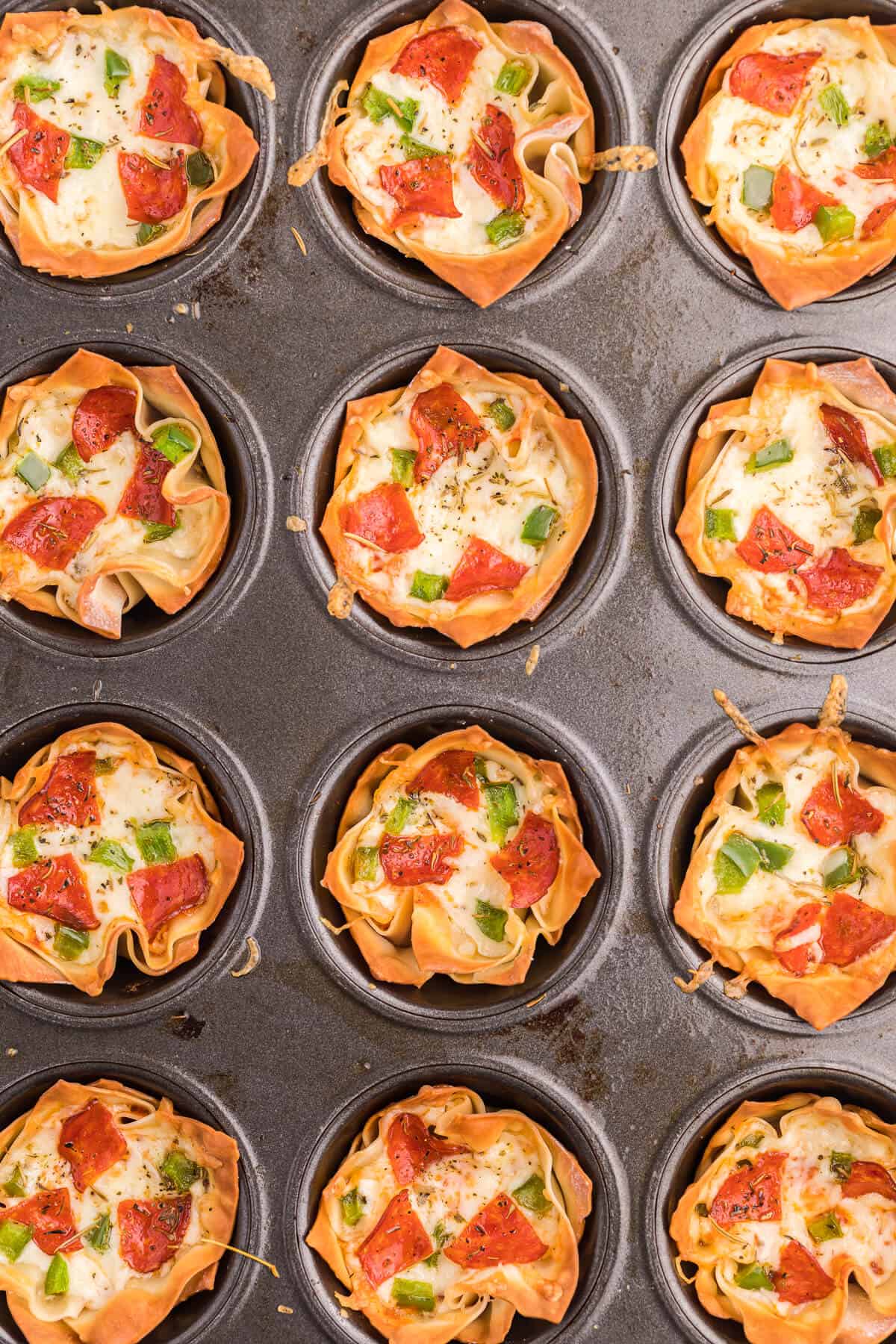 Get really creative with these pizza wonton cups from Simply Stacie. Now, Stacie, the easy recipe enthusiast, has made pizza in a number of ways, like English muffin pizzas and even pizza muffins. So yes, you'll see an actual pizza muffin on her site.
How cool is that?
But we like these pizza wontons because they are fun to make. You can set up a pizza station, and it would be a blast. Adults and kids alike will get excited to put together their own topping combinations.
The wonton "crust" is crispy, and the mini pizzas are done in just 15 minutes. These are perfect for meal prep and entertaining as you can make a big batch and reheat.
Visit Simply Stacie for the recipe.
Spinach Artichoke Wontons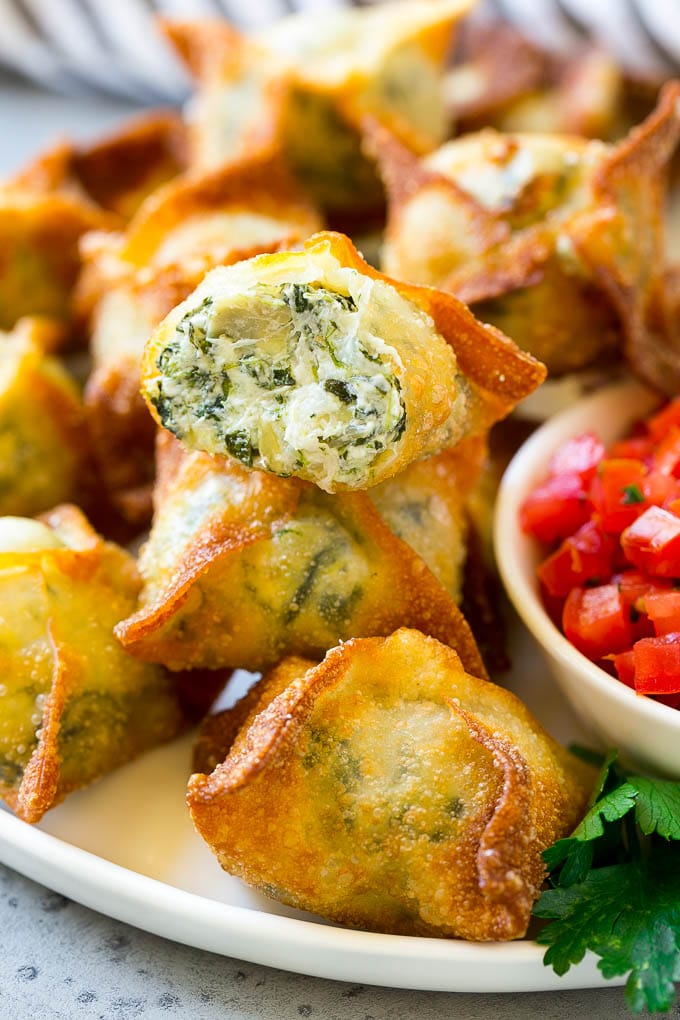 We go absolutely bonkers for Applebee's spinach artichoke dip, so when we saw this spinach artichoke wontons recipe from Sara of Dinner At The Zoo, we knew it would make the list. It's an absolutely great appetizer recipe perfect for entertaining.
Each bite is pure nirvana. Inside every little fried parcel is a delicious wonton filling of spinach, onion, cream cheese, parmesan, and mozzarella. Pinch me, somebody, I must be dreaming!
Visit Dinner At The Zoo for the recipe.
Goat Cheese Wontons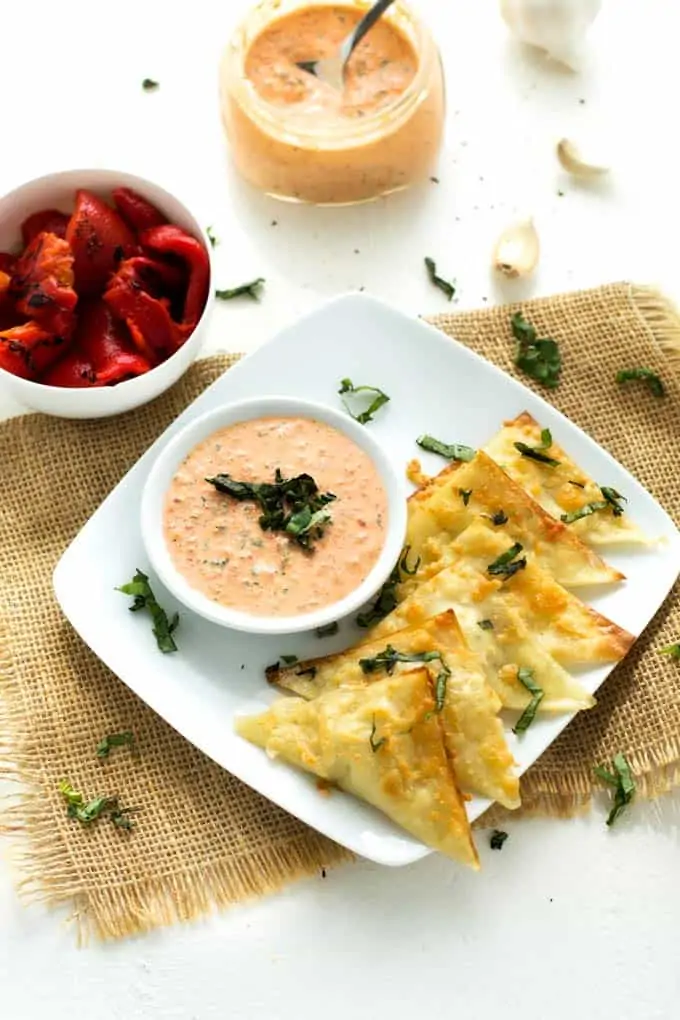 Serve these baked goat cheese wontons with red pepper yogurt dipping sauce from Wendy Pelosi as a healthy snack option for game day. Or make them as a complete dinner all their own. But wait, I'm sure you're wondering how a wonton recipe also can be a meal.
Well, Wendy adds basil, parmesan, red pepper, and one other unexpected secret ingredient that makes them more filling. It's a healthy filler that doesn't alter the taste. Check it out!
Visit Wendy Pelosi for the recipe.
Alfredo Lasagna Cups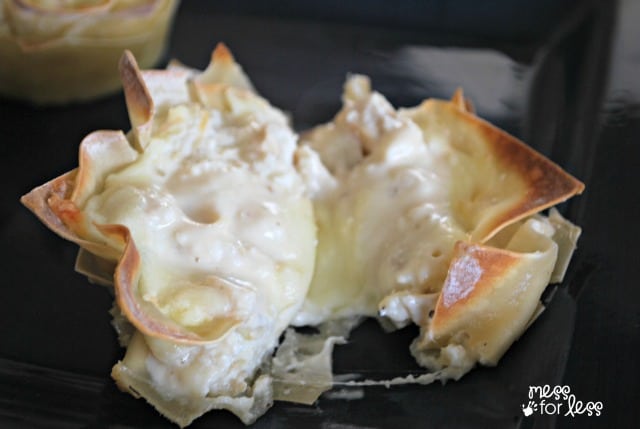 The whole family will love these alfredo lasagna wontons from Vicky of Mess For Less. You see, Vicky has an affinity for tomato-based sauce in her Italian dishes, the kiddos…not so much. They prefer alfredo sauce. So this is one of those fun and creative recipes designed to satisfy little appetites. However, the adults will love it too.
The cups replace the pasta, and the muffin tin replaces your usual lasagna baking dish. That means cleanup is a cinch.
Visit Mess For Less for the recipe.
Baked Wonton Tacos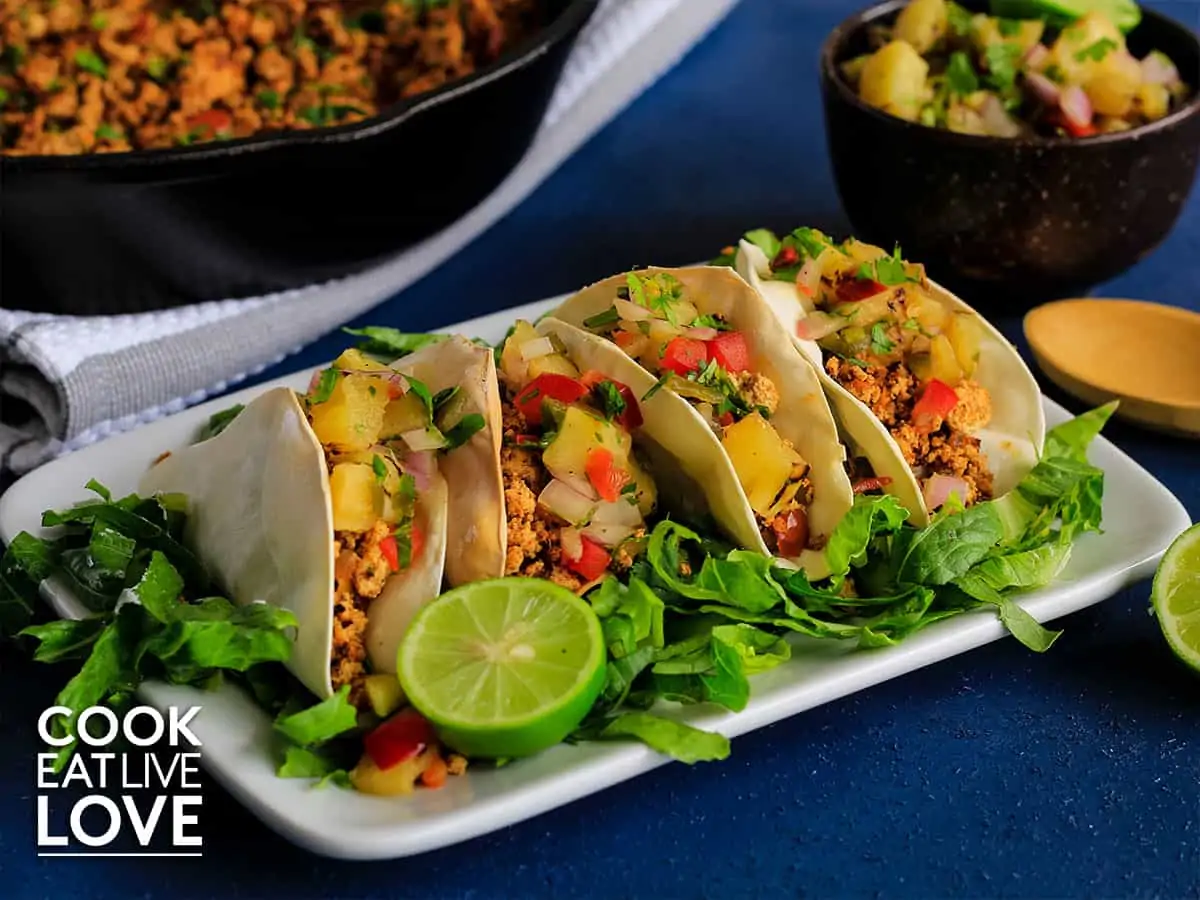 There are a few reasons you'll love these Mexican inspired baked wonton tacos from Lyn of Cook Eat Live Love. For one, the deliciously tiny tacos make for a great party appetizer.
Next, it features tofu and vegetable filling with lots of flavor from taco seasoning and smoked paprika. That's a nice change up from tradition. But we saved the best part for last. The tastebud tantalizing smoky pineapple salsa.
Visit Cook Eat Live for the recipe.
Crispy Pork Wontons
No slight to chicken, beef, or seafood, but pork is in a class all its own. It's just so, so tasty. I mean, bacon, 'nuff said. So when we saw this crispy pork wontons recipe from Lisa of Cooking With Curls, we just had to include it.
On the recipe page, she shows how to make these restaurant-quality morsels of divinity with crystal clear step-by-step pictures. In addition, you will find a sweet and sour sauce recipe and notes to help you with deep frying.
Visit Cooking With Curls for the recipe.
Buffalo Chicken Wontons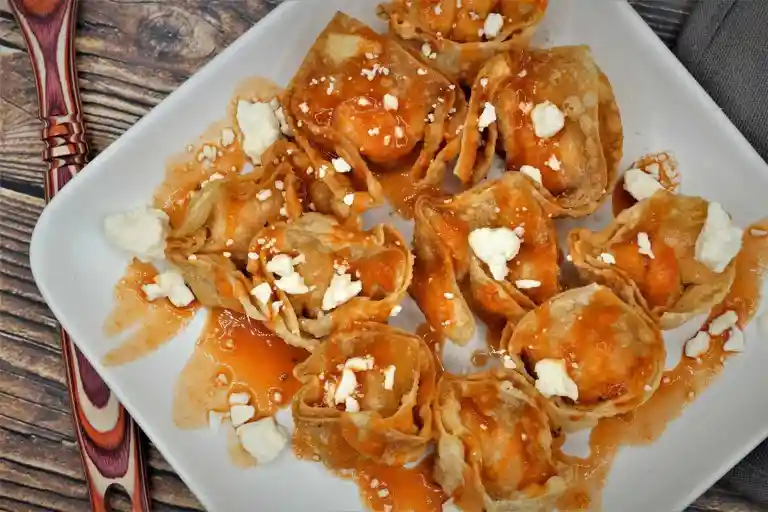 What do you do when you have leftover wontons wrappers and buffalo chicken dip? Well, you make this buffalo chicken crispy wontons from Chris of Carne Diem, of course.
This idea is a brilliant and simple way to reduce food waste. That's right, using that leftover package of wonton wrappers (or egg roll wrappers) before they dry out, hot oil, and your favorite dip, you'll have a delicious fried appetizer remix worthy of game day.
Visit Carne Diem for the recipe.
Wonton Noodle Soup (MÌ HOÀNH THÁNH )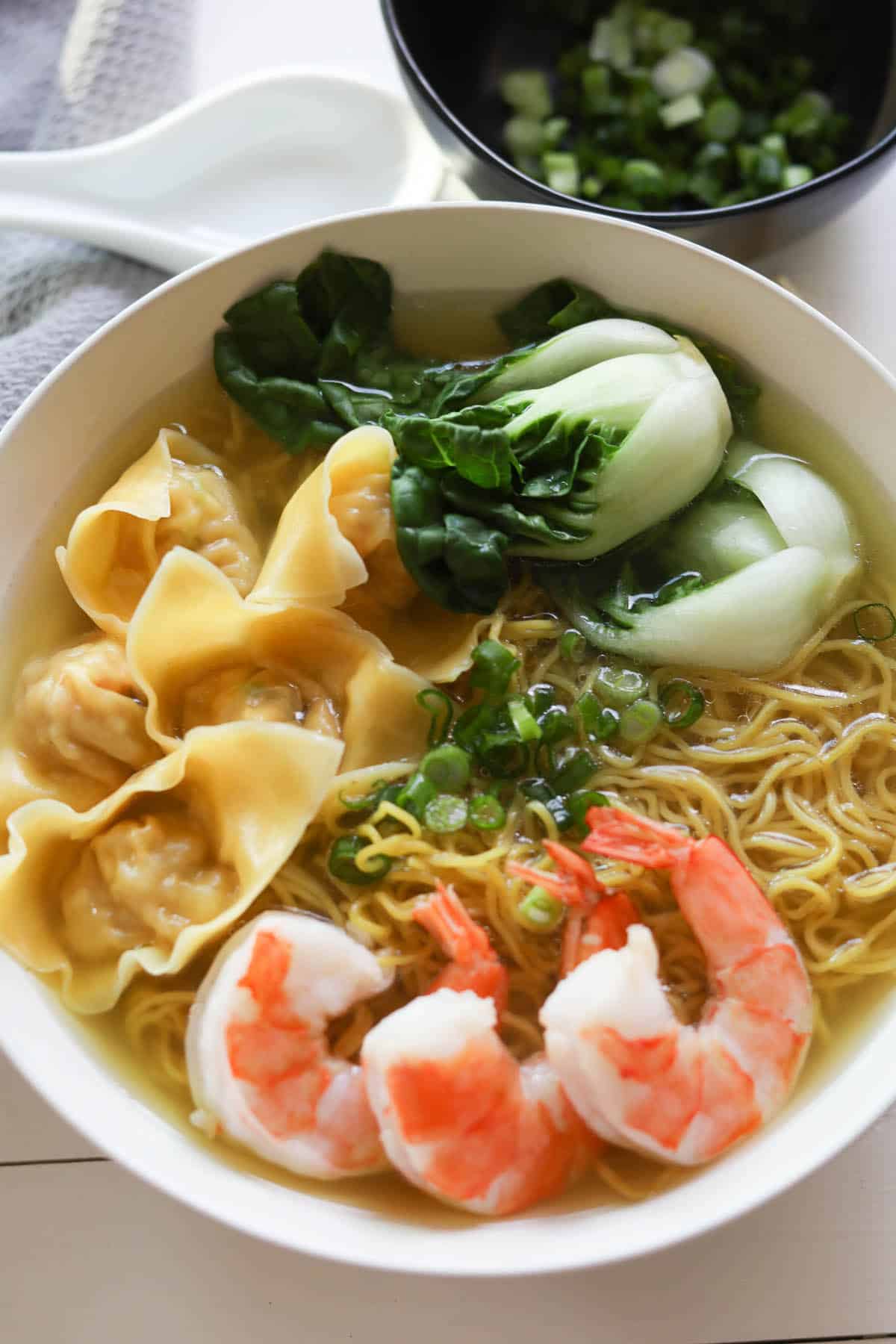 This wonton soup recipe from Kaylie of A Peachy Plate is a nutritious bowl of deliciousness and a well-tested masterpiece of technique. She poured many hours into crafting this delicate and balanced dish for what is ultimately, as Kaylie calls it, a labor of love.
So it is by no means a quick dinner. Nope, you won't get it done in 30 because there are lots of things to consider. There's an amazing soup broth to make. Then there are ingredients to go into the food processor like ground pork, sesame oil, and soy sauce. And you can't forget about the wonton folding methods to mull over: the scrunch or the golden nugget.
And finally, the garnishes, like green onions, cilantro, chives, and bok choy. But in the end, and you will make it there if you start, there's this delicious, picture-worthy, and nutritious meal.
Visit A Peachy Plate for the recipe.
Avocado Wontons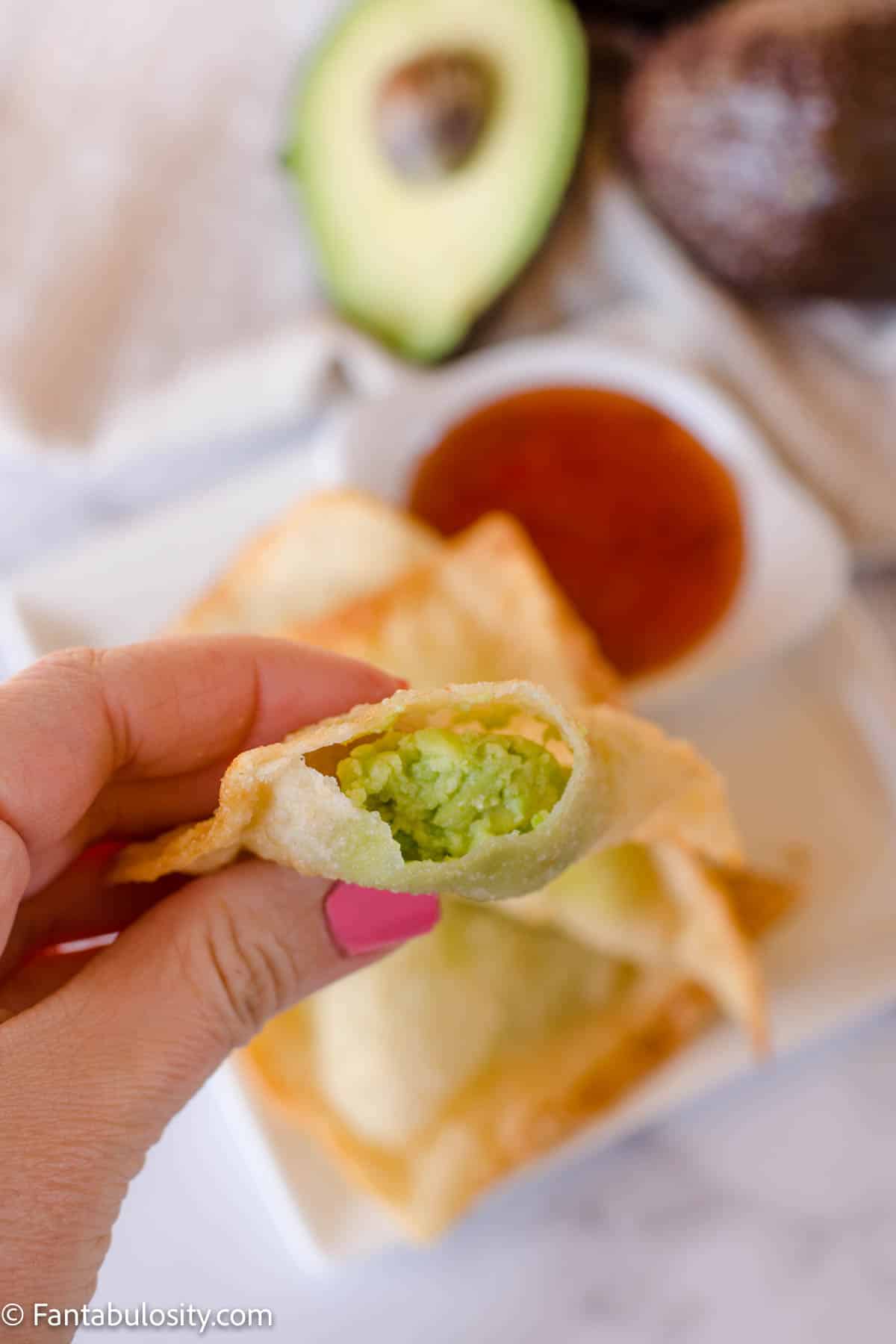 Jessica of Fantabulosity knocks it out of the park with this pub-inspired avocado wonton creation. Each bite is filled with perhaps the best guacamole recipe you'll find online. But don't take her word for it. People shared the green condiment over 100,000 times on Pinterest.
In the post, she shares all her tips, including her version of the many ways you can fold a wonton.
Visit Fantabulosity for the recipe.
Wonton Cheeseburger Cups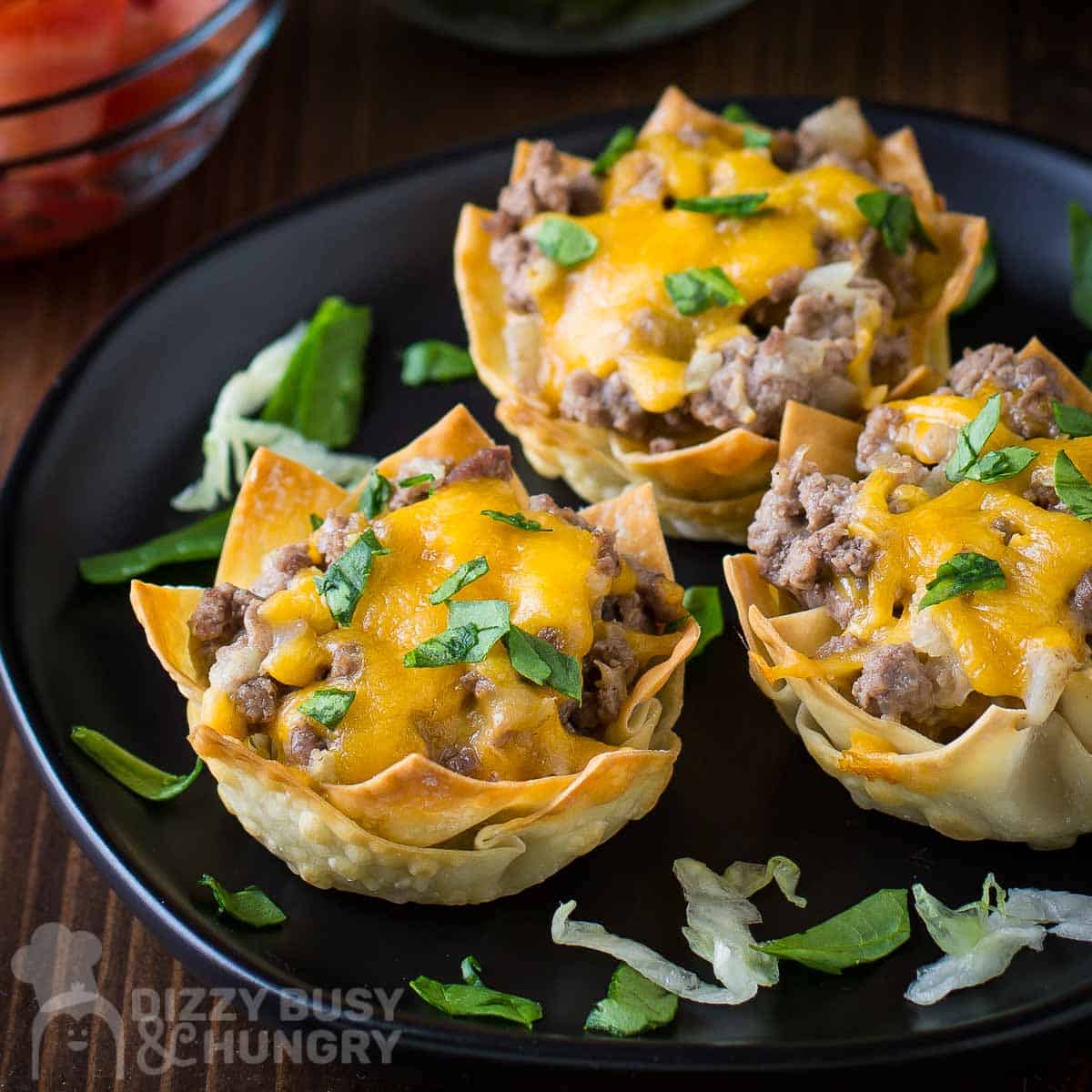 These wonton cheeseburger cups from Kristin of Dizzy Busy And Hungry aren't just tasty weeknight fare. But they're also a sneaky healthy surprise. Sure, there's delicious ground beef, cheese, and crispy wonton cups, but cauliflower and spinach are lurking in each bite. And your kids will be none the wiser.
Visit Dizzy Busy And Hungry for the recipe.
Easy Blueberry Wonton Pies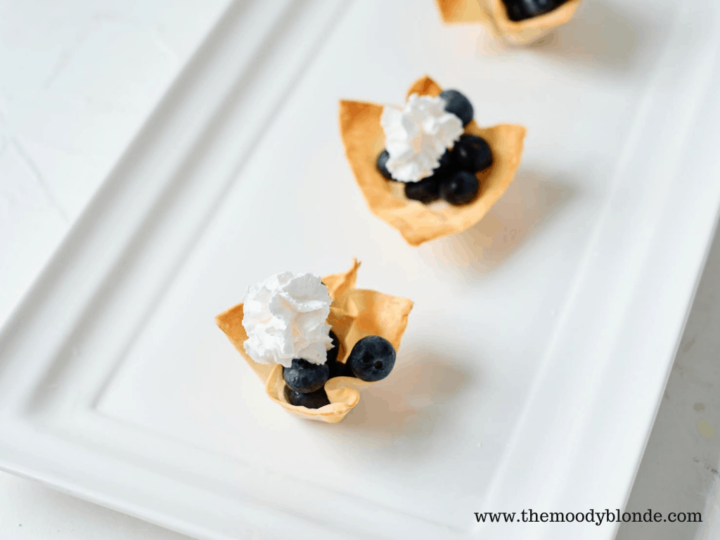 The Moody Blonde created this ridiculously easy blueberry wonton pies recipe. Now, calling it a "recipe" is a bit of a stretch because there are only three ingredients. However, you should still check out the page, as there are many ideas for variations.
Visit The Moody Blonde for the recipe.
Cajun Shrimp Wonton Cups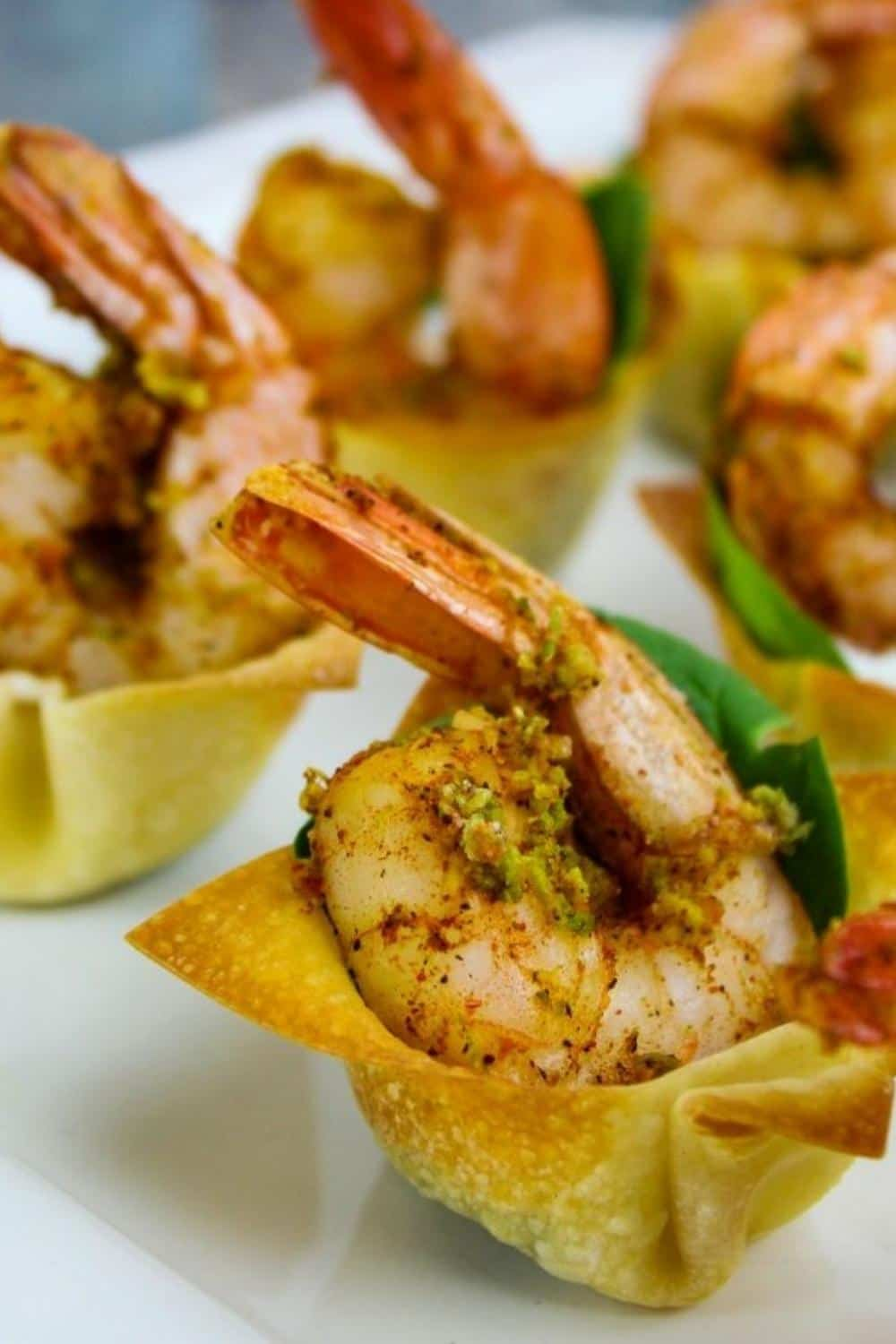 Keep 'em' coming back for more with these spicy shrimp wonton cups from Jennifer of Champagne And Coconuts. This one or two-bite appetizer contains spinach, sour cream, seasoned cajun shrimp, and lime juice.
Visit Champagne And Coconuts for the recipe.
Spicy Pork Dumplings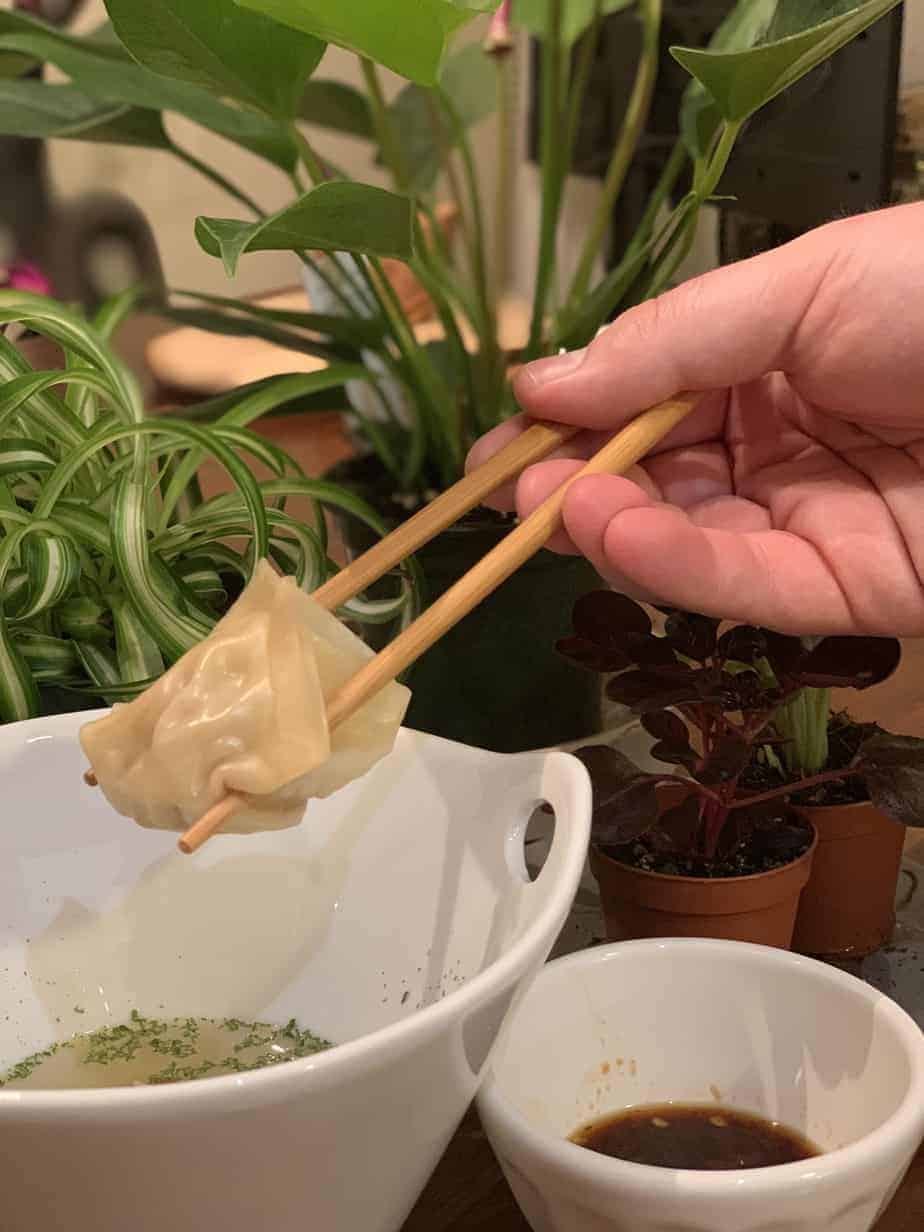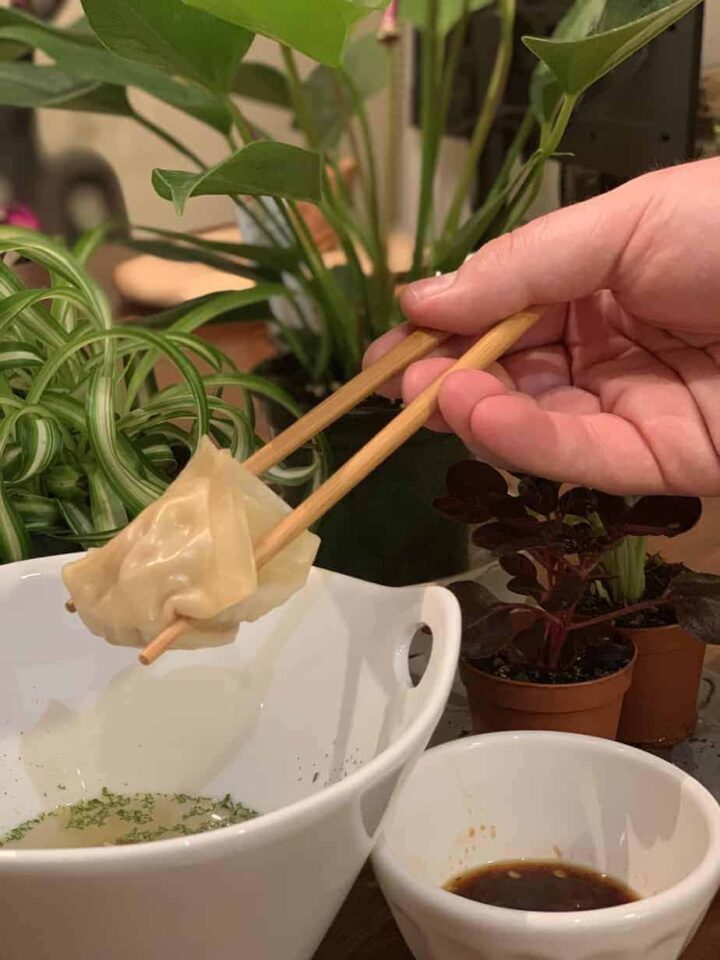 Sarah of Season And Thyme presents this versatile spicy pork dumpling recipe as an easy app or main. They are full of ground pork and flavored with delicious Asian flavors like ginger, sesame oil, and chili paste. So whether you enjoy them in a soup with a light broth or pan fry them and enjoy them as pot stickers, you will love this recipe.
Visit Season And Thyme for the recipe.
Mushroom Dumplings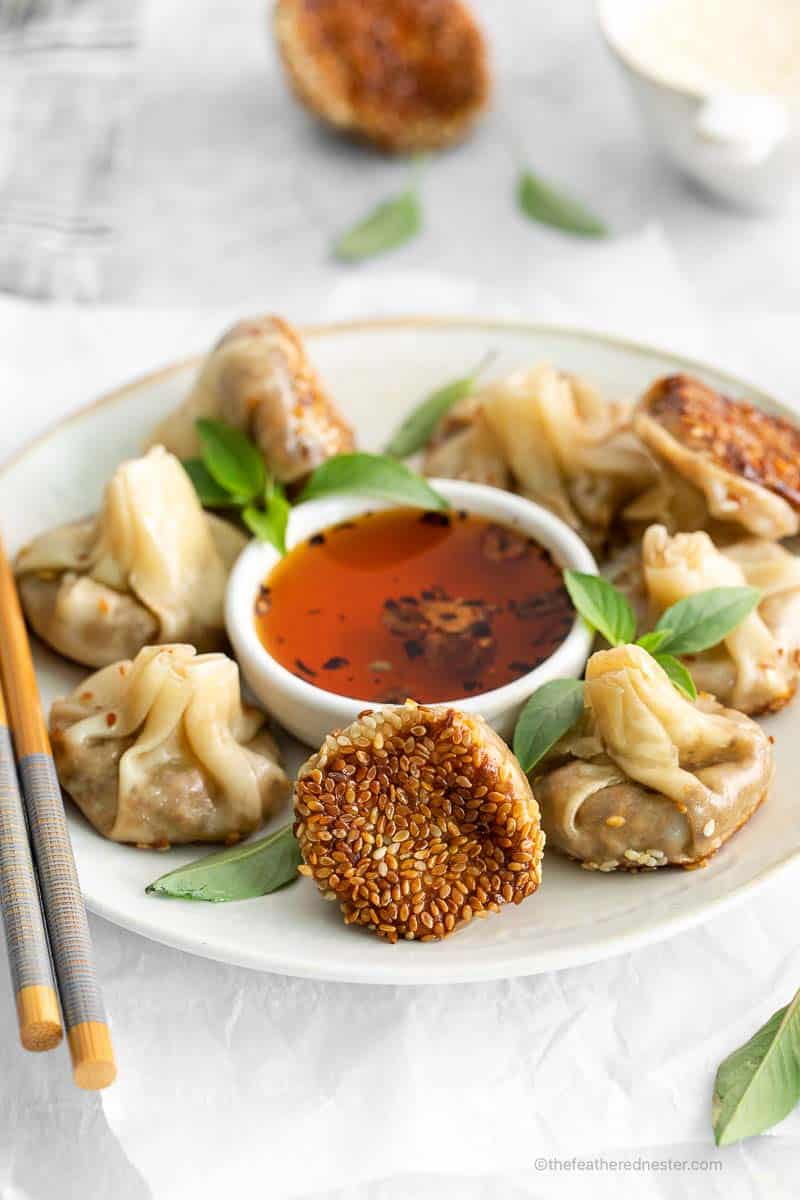 Whether you pan fry, bake or steam these mushroom dumplings from Renae of The Feathered Nester, everyone, including vegans, will crave them. First, make the filling with mushrooms, garlic, green onions, and soy sauce. Then wrap it in wontons before choosing your cooking method. Oh, and let's not forget about the garlic chili oil for dipping. Yummy!
Visit The Feathered Nester for the recipe.
Venison Dumpling Soup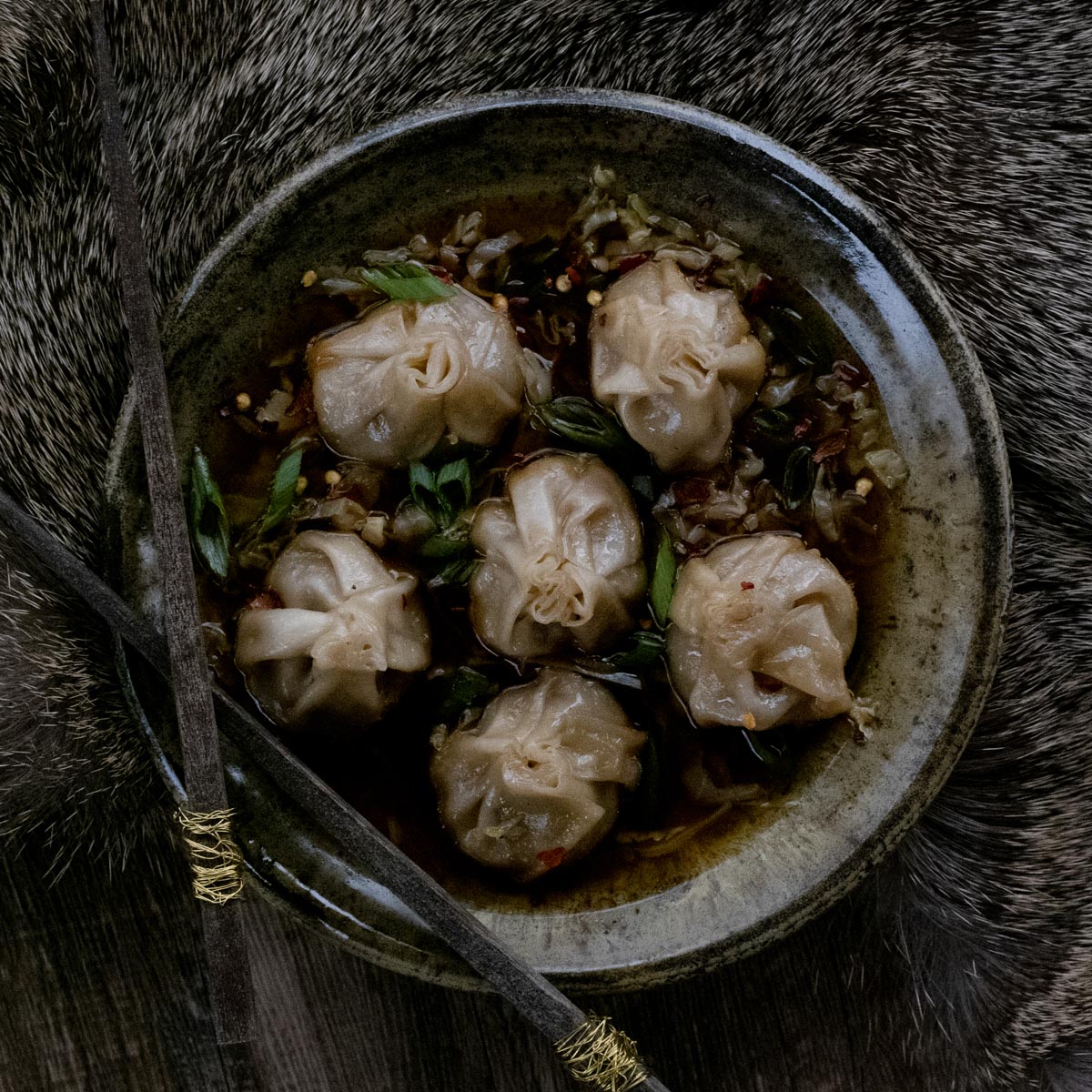 Phenomenal cook, photographer, and outdoorswoman Annie, the creator of Peak To Plate, throws her hat in the dumpling ring with this beautifully tempting venison dumpling soup recipe. It's a one-stop shop kind of deal where she shows you how to make the filling, including an alternative to deer meat. Plus, she covers how to wrap the dumplings in that cute purse shape.
Visit Peak To Plate for the recipe.
Crispy Fried Tofu Wontons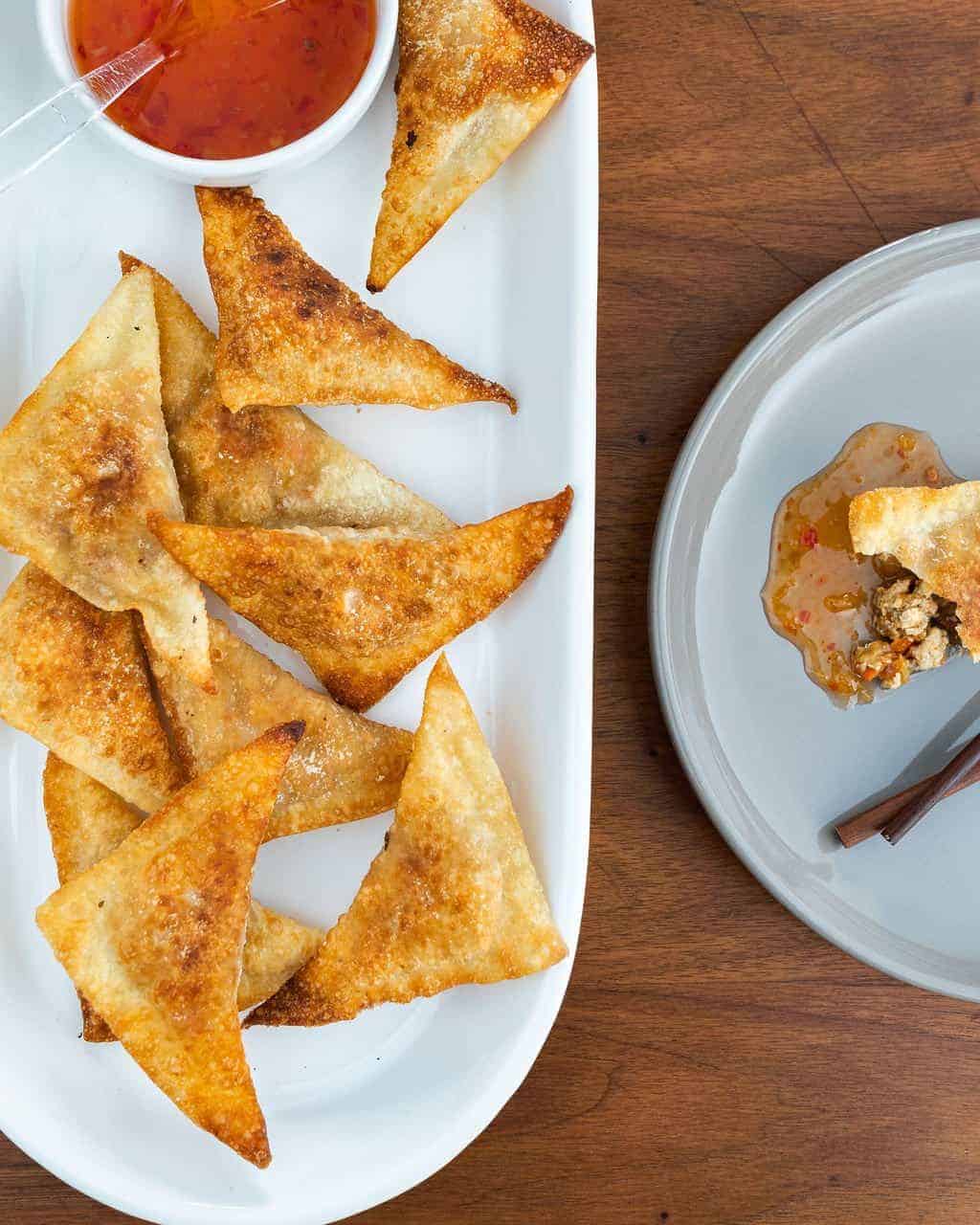 Toni shows you how to live Plant Based On A Budget with these flavorful vegan crispy fried tofu wontons. Each bite is full of delicious meaty-textured tofu, carrots, onion, teriyaki, and soy sauce. Even your favorite carnivores will love them! So, skip the takeout, and control the ingredients to make an appetizer that will make you proud.
Visit Plant Based On A Budget for the recipe.
Pork And Shrimp Wontons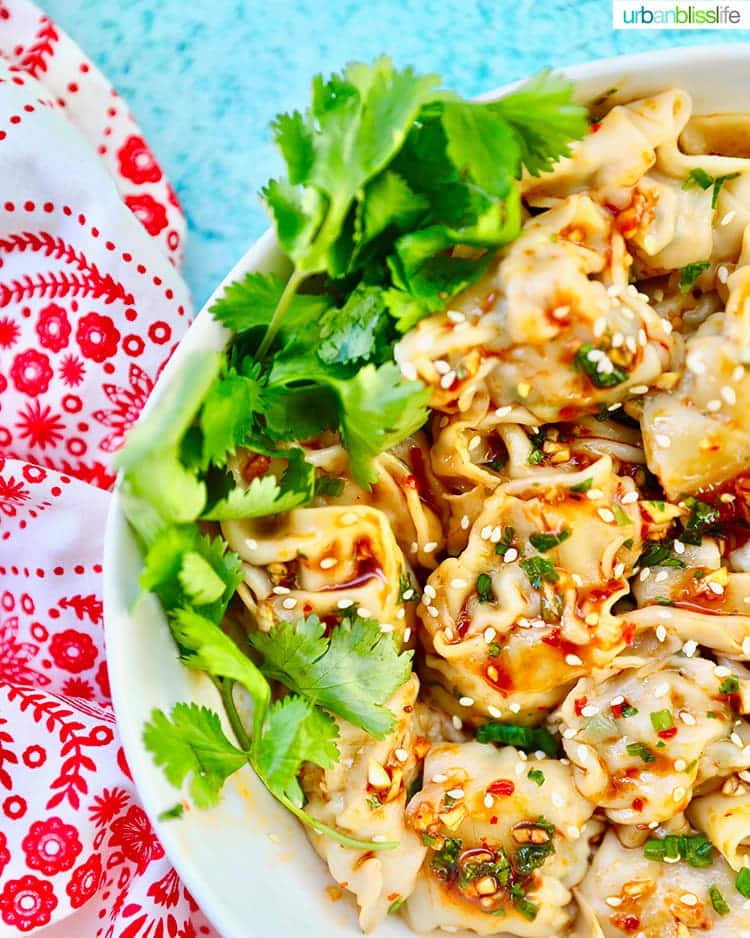 Marilynn of Urban Bliss Life brings us this shrimp and pork wonton recipe with chili oil inspired by one of her favorite Chinese restaurants. Each "pocket of deliciousness" is full of ground pork, chopped shrimp, and boatloads of flavor from garlic, ginger, green onions, sesame oil, and another ingredient Marilynn will share with you.
Visit Urban Bliss life for the recipe.
Deconstructed Egg Roll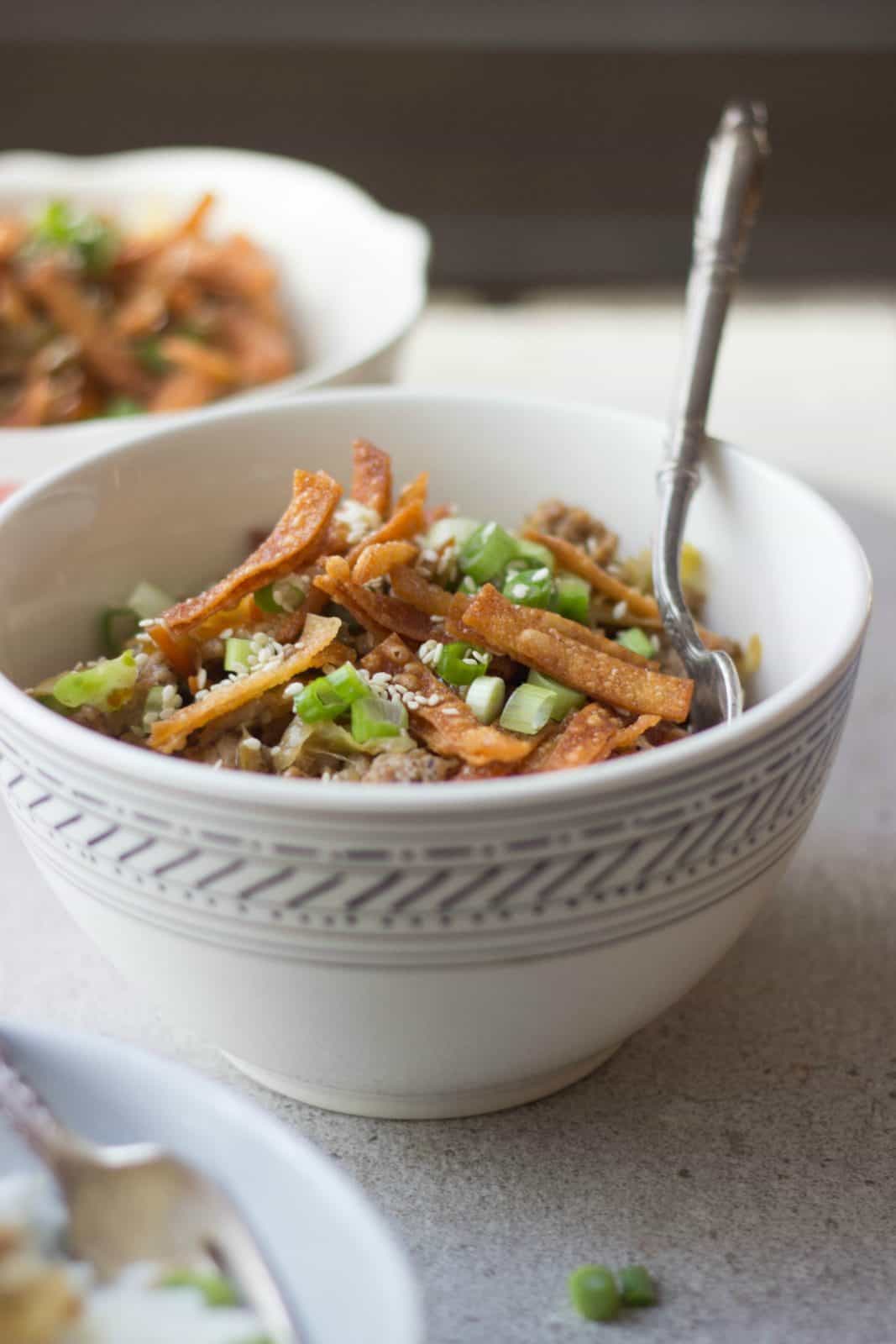 Who doesn't love a good egg roll? Well, how about a deconstructed egg roll from Julie, The Healthy Epicurean. With a mound of rice, ground pork, cabbage, carrots, flavorings, and crispy fried wonton strips, you can enjoy this Chinese restaurant favorite appetizer as a complete meal.
Visit The healthy Epicurean for the recipe.
Reuben Wonton Purses
From corned beef egg rolls to corn beef fries, we are here for corned beef fusion foods. So when we came across these Reuben wonton purses from Michaela of An Affair From The Heart, we were like, "Um, yes!!!" Each little wonton wrapper contains corned beef, sauerkraut, swiss cheese, and cream cheese. Then you dip them in thousand island dressing.
Visit An Affair From The Heart for the recipe.
Crispy Fried Wonton Chips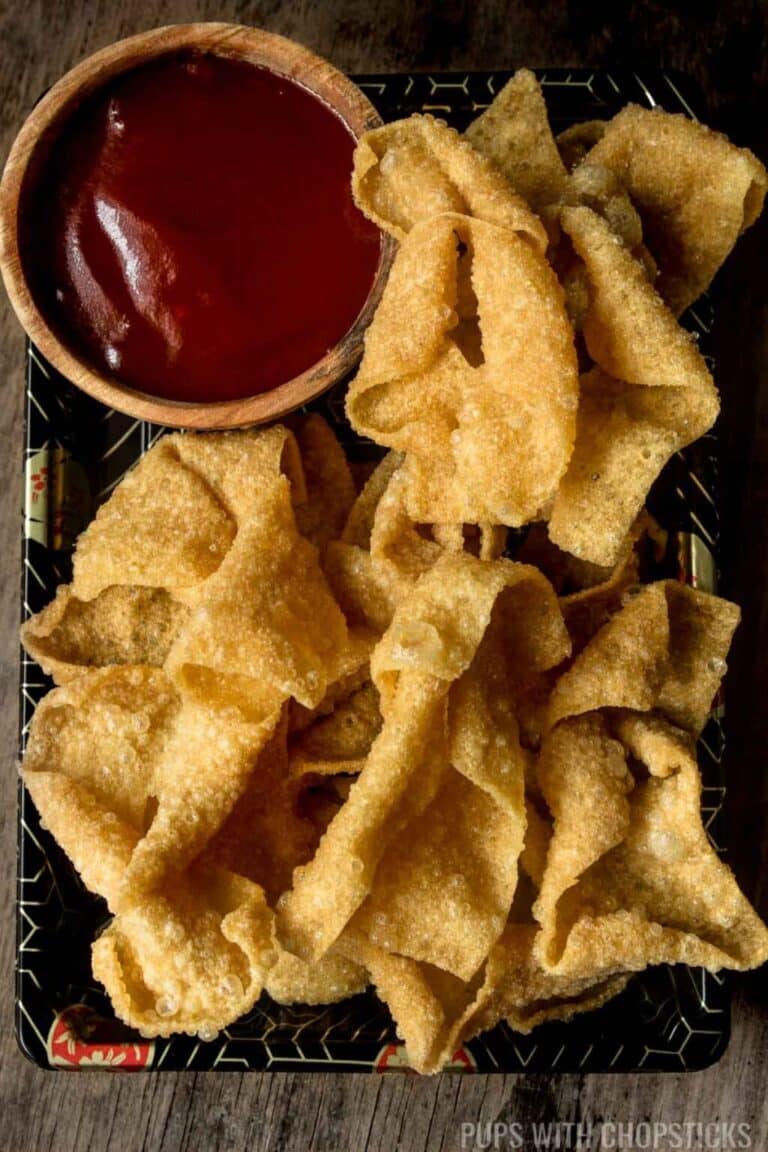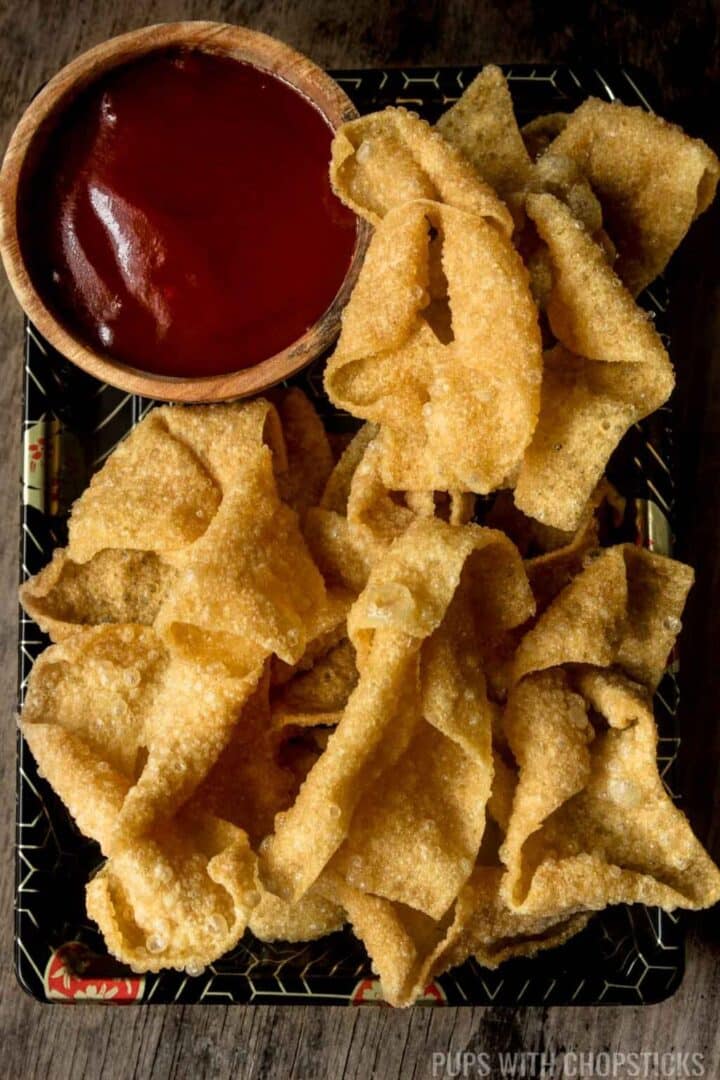 Joyce of Pups With Chopsticks shows you how to make wonton chips. They are easy, crispy, and downright delicious! She shows you how to make the chips using various folding methods or wrapper types, e.g., wonton, spring roll, or eggroll wrappers.
Visit Pups With Chopsticks for the recipe.
Jalapeno Popper Wonton Cups Recipe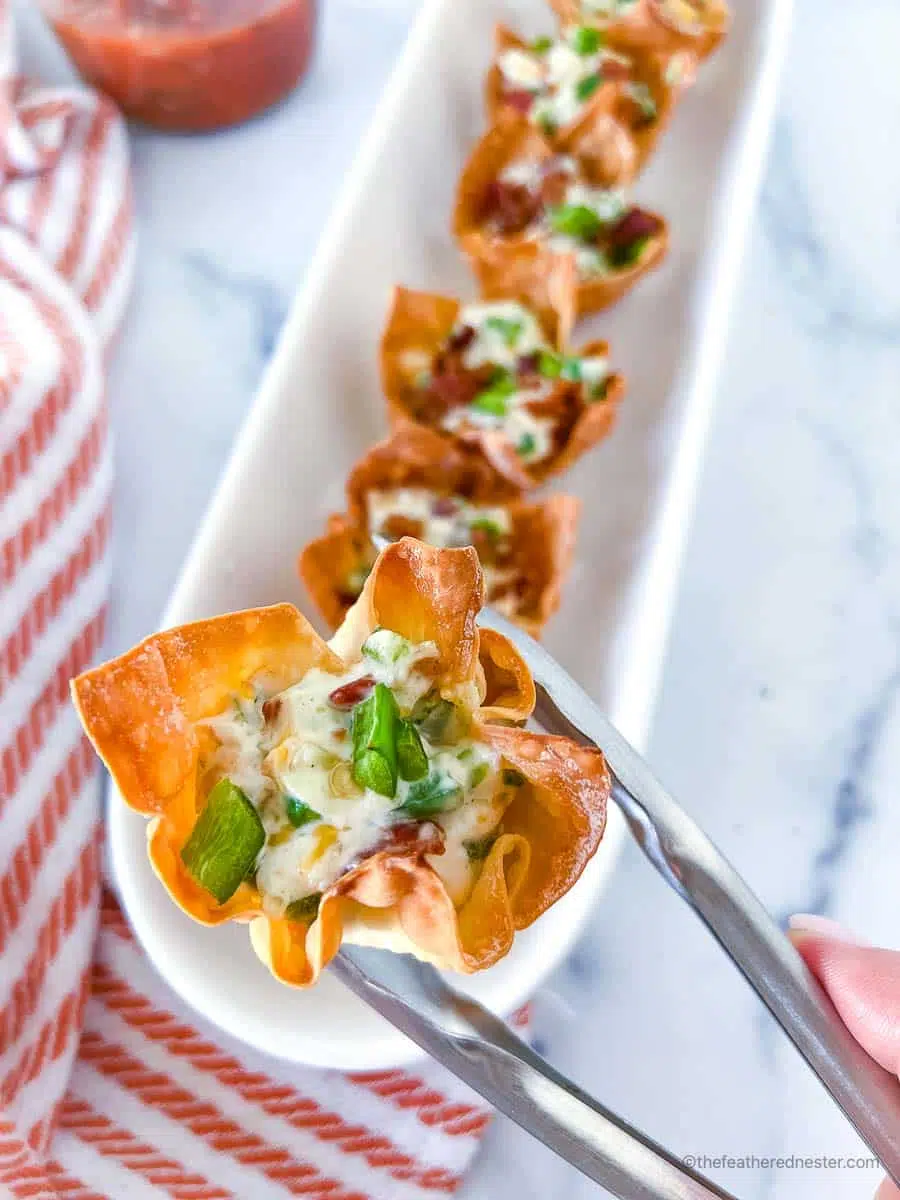 When you bring out the jalapeno poppers, it's officially a party. But with them comes a mess and inconsistency with wrapping the jalapenos in bacon. But these jalapeno popper wonton cups from Renae, The Feathered Nester, solve that problem. Each bite is cheesy with jalapeno and bacon goodness. They are crispy, uniform, and just as tasty.
Visit The Feathered Nester for the recipe.
FAQ
How to keep the wonton wrappers from drying out?
While folding each little wonton, use a damp paper towel to keep them from drying out.
What are some of the most popular wonton recipes?
There are many popular recipes that use wontons, from Chinese dumplings, pot stickers, Japanese gyoza, and even less traditional bites like buffalo chicken wontons. But you can also use wontons to make chips for a dip.
How to store wontons?
For many recipes, you can store them in an airtight container in the freezer before or after cooking. Be sure to follow the directions in the recipe.
Don't Miss These Other Appetizer Recipes!