This great list of 19 Easy Soup Recipes with Few Ingredients proves that soups don't need to be complicated and filled with lots of stuff. Nope! Instead, you can have tasty soups with just minutes of preparation and a handful of ingredients.
So, below, you will find a 30-minute Zuppa Toscana, a four-ingredient potato soup, tomato egg drop soup, and so many more!
You're going to love this list!
Let's jump in.
Four Ingredient Potato Soup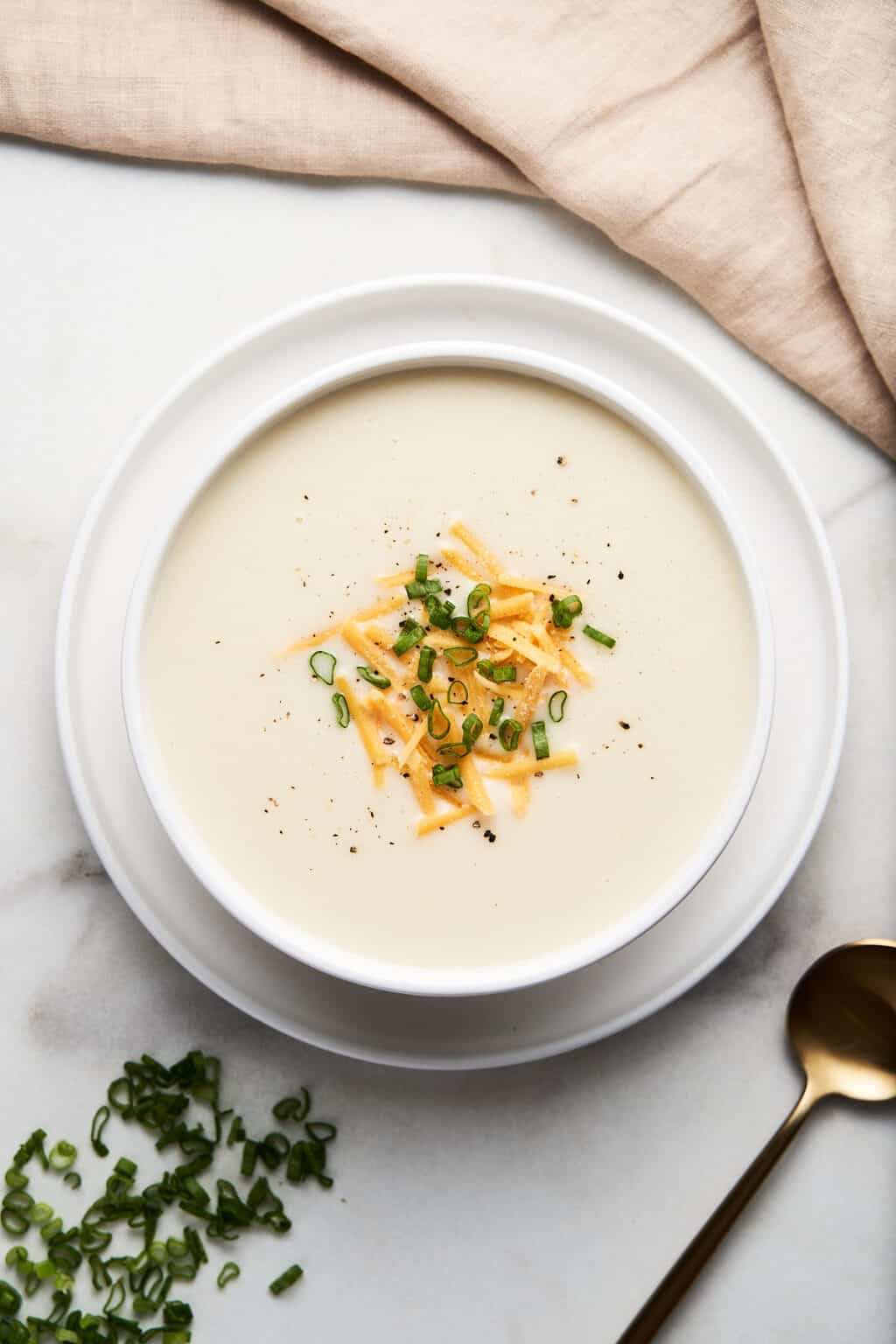 Hearty, tasty, satisfying, and budget-friendly, you'll fall in love with this perfect autumn easy potato soup from Mitch and Justine of Broke Bank Vegan. But with accessible ingredients, including potatoes, celery, and onions, it won't break your bank.
Visit Broke Bank Vegan for the recipe.
Spanish Bean Soup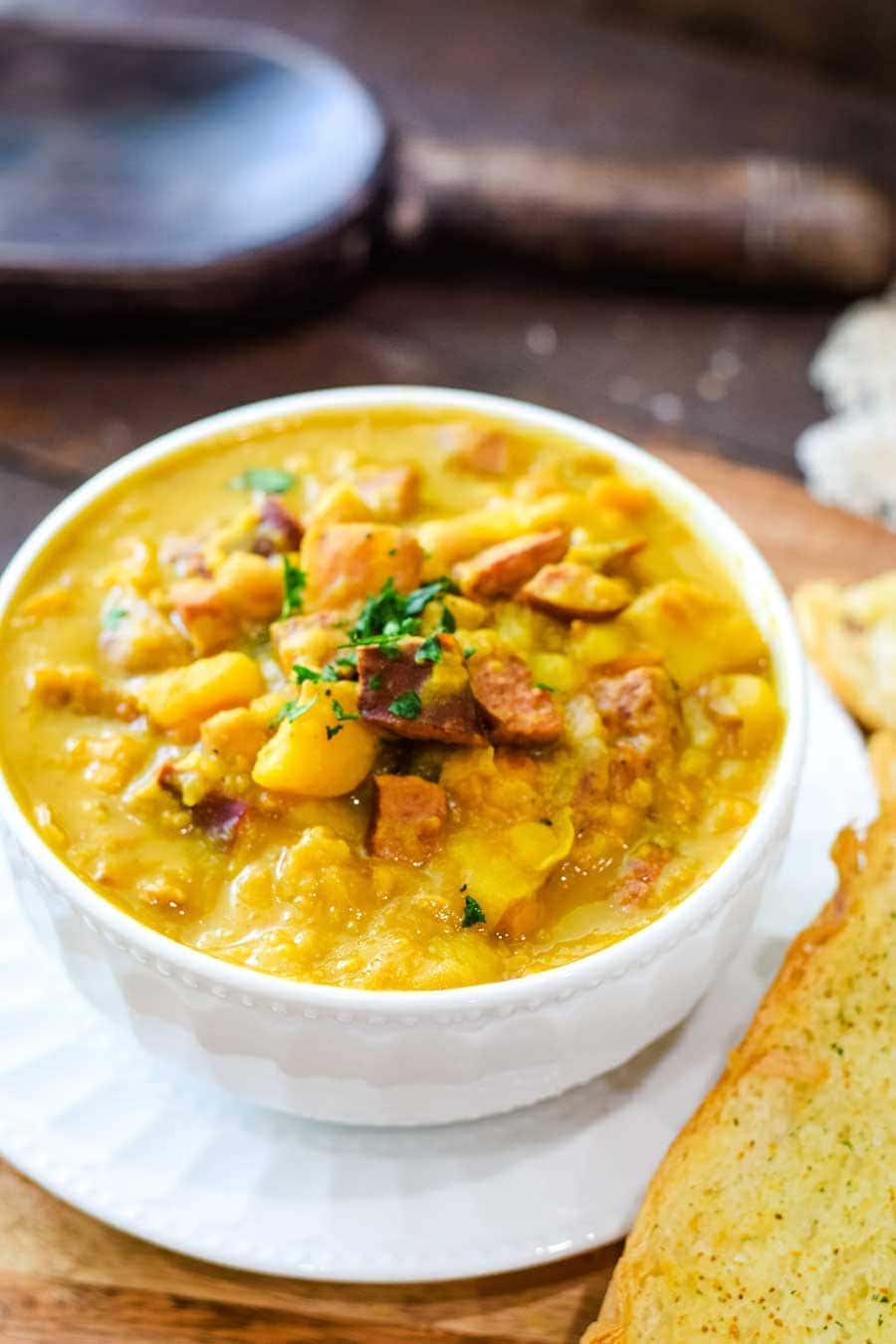 Excluding water, salt, and pepper, this Spanish bean soup from Nikki of Soulfully Made is more than tasty, comforting soul food. It's also an experience. Each spoonful, meaty with smoked sausage, belly-filling with potatoes and beans, and flavorful with Spanish seasonings, takes you on a delicious excursion.
Visit Soulfully Made for the recipe.
Coconut Ginger Carrot Soup
When Deryn isn't Running On Real Food, she's making it, like this flavor-filled healthy gluten-free, vegan coconut, ginger carrot soup. And while that's a mouthful, it actually contains less than ten ingredients. So it's super easy to make.
This wonderful bowl of nutrition works great as a side dish, or it can be a main if you're looking for a lighter meal.
Visit Running On Real Food for the recipe.
Homemade Tomato Soup Recipe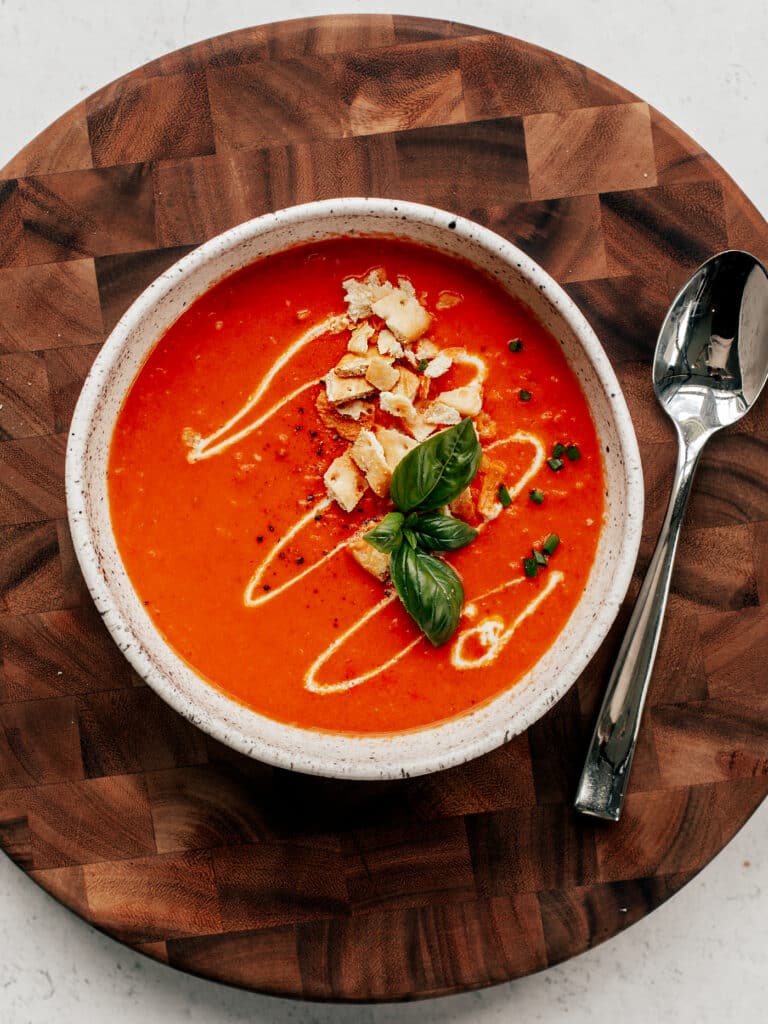 Don't reach for the canned stuff. Instead, make this bright red herby tomato soup from Dana of killing Thyme to accompany your grilled cheese or turkey sammie.
But it's not just about the tomatoes. Sauteed onions, garlic, oregano, and vegetable broth enhance the flavor to boast-worthy levels.
Visit Killing Thyme for the recipe.
Instant Pot Chicken Tortilla Soup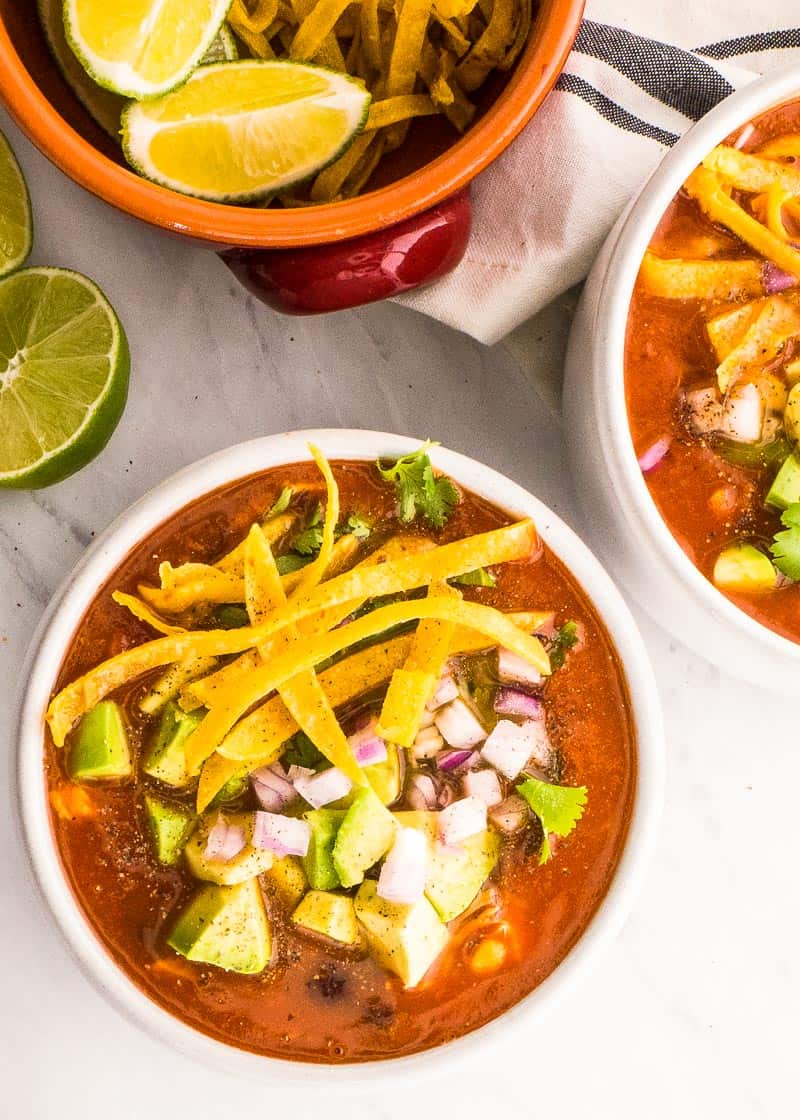 If you don't count the salt and pepper, you're looking at a 12-ingredient, deliciously customizable chicken tortilla soup recipe from Olena of Ifoodreal. It's full of tender chicken breast, beans, cheese, sweet corn, tomato sauce, and more flavor.
The best part is this tastiness is cooked in the instant pot, so it's mostly hands-off and ready to eat in just 20 minutes.
Visit Ifoodreal for the recipe.
Sweet Corn Soup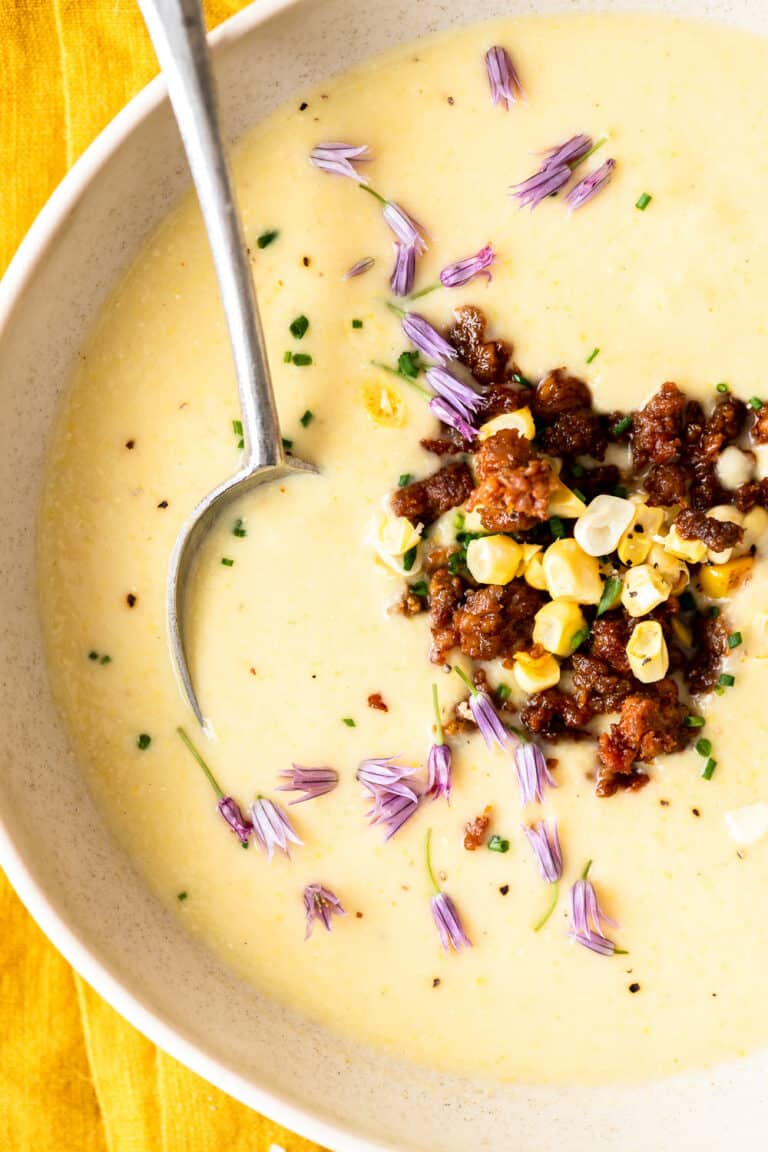 You'll want to try this sweet corn soup recipe from Indi of With Spice before peak corn season. The flavor pairing expert guides us through a summery soup that's velvety smooth, thanks in part to Yukon potatoes and heavy cream. And for a spicy/sweet contrast, she garnishes it with chorizo crumbles.
But it gets better. Indi also provides a wine pairing guide, including climate and terms to consider.
Visit With Spice for the recipe.
Roasted Broccoli And Cauliflower Soup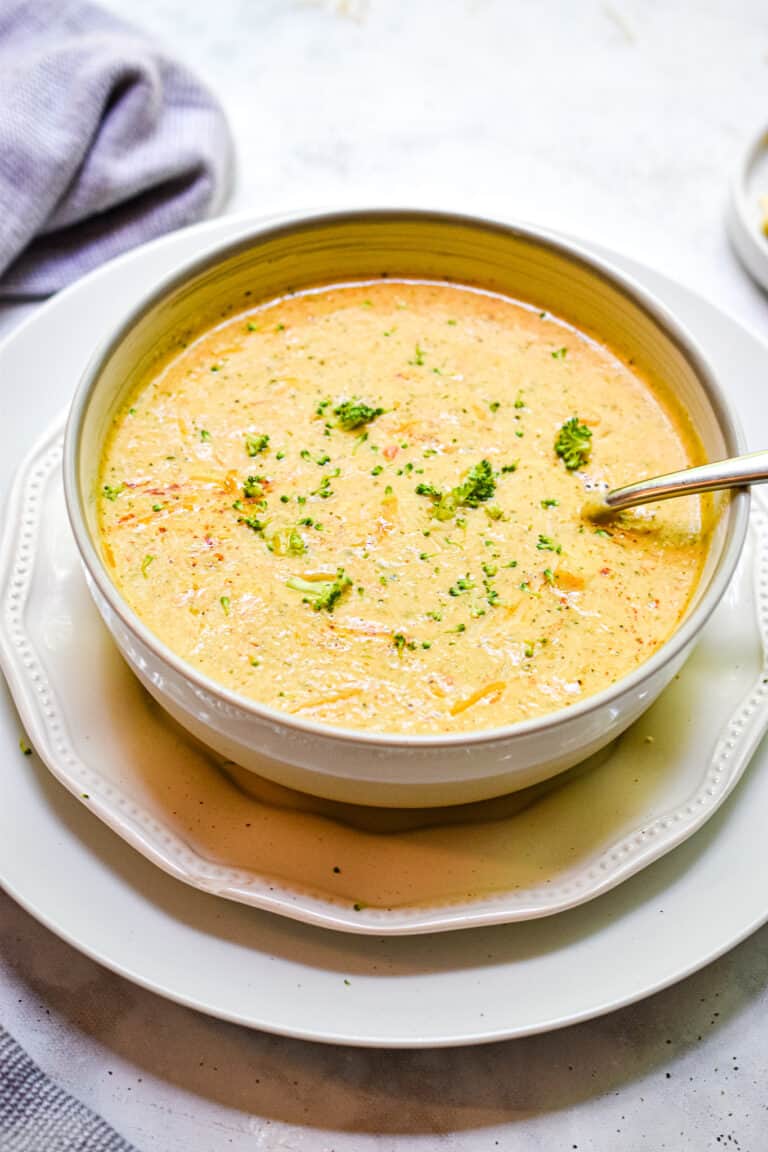 Soup season is the time of the year when you get to sneak veggies into your kid's dinner. And at Lynn's Way Of Life, you'll find lots of delicious opportunities to do just that, like with this roasted broccoli and cheddar soup.
You'll find a ten-ingredient nourishing soup recipe with roasted carrots, broccoli, and cauliflower. There's also cream for silkiness. And cheese because, well, cheese.
Visit Lynn's Way Of Life for the recipe.
Sweet Potato And Red Pepper Soup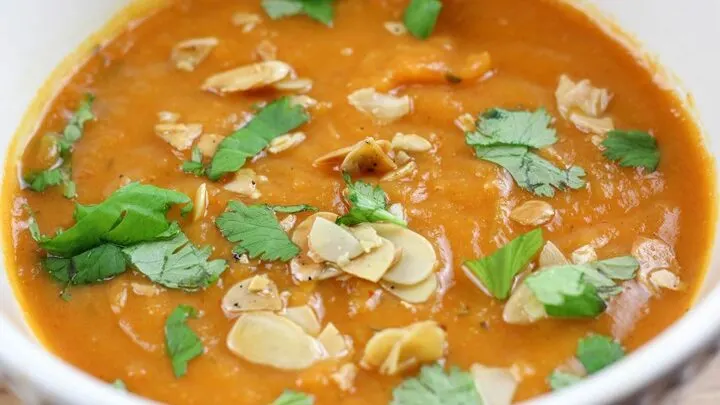 Gav of Recipes For Men developed this herby and tasty sweet potato and red pepper soup during a hurricane.
So as it turns out, caramelized roasted carrots and sweet potatoes not only add a peculiar sweetness to the dish making for a unique soup. But it's also an excellent way to take your mind off a bad storm.
Visit Recipes For Men for the recipe.
Best Chicken Soup Recipe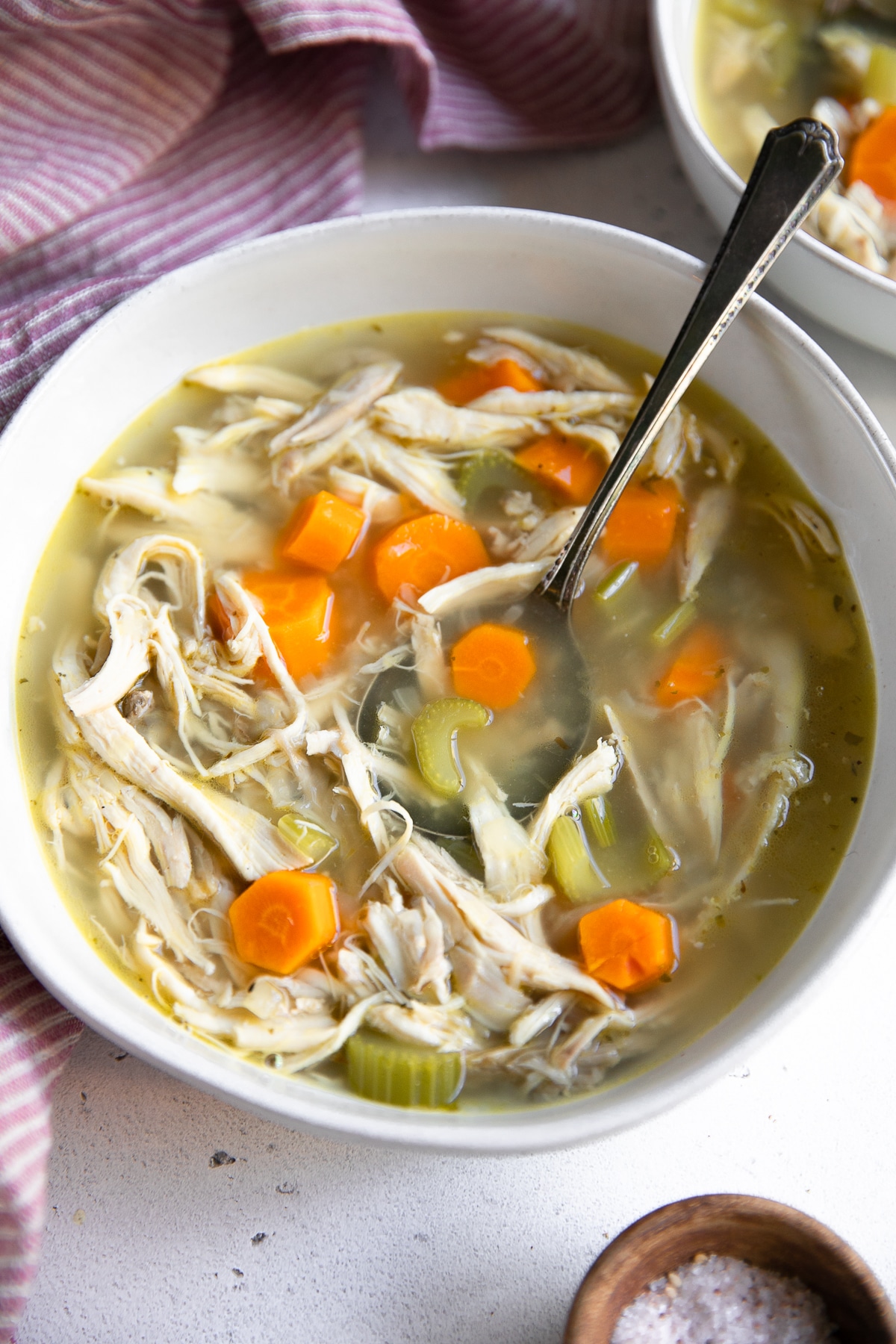 So, if you're in the market for the best chicken soup recipe, give this one from Jessica of The Forked Spoon a try. While you won't find noodles or rice in this version, it's still packed with lots of flavor from the rich and tender bone-in chicken thighs, herbs, and mirepoix (carrots, celery, and onions).
And in addition to a tasty tried and true cold-weather soup, you'll find a helpful guide on freezing and reheating.
Visit The Forked Spoon for the recipe.
30-Minute Rustic Zuppa Toscana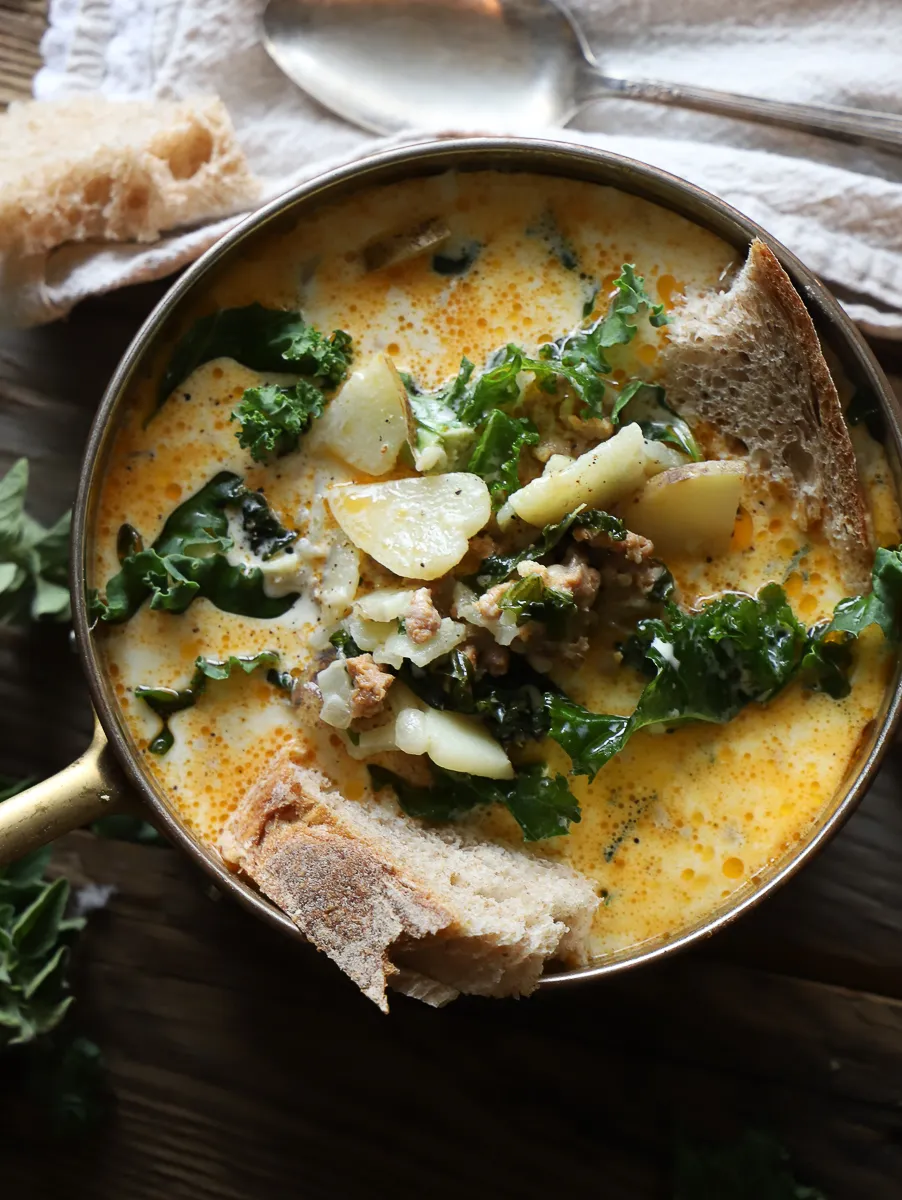 Ooh, wee, this rustic Zuppa Toscana from Kaylen of Butternut And Sage is cozy in a bowl.
So get this: spicy Italian sausage, sustaining potatoes, and kale swim in a deliciously silky, garlicky, oniony broth. To complete this beautifully filling soup, sprinkle it with freshly grated parmesan cheese before serving it with bread.
Visit Butternut And Sage for the recipe.
Creamy Brussels Sprouts Recipe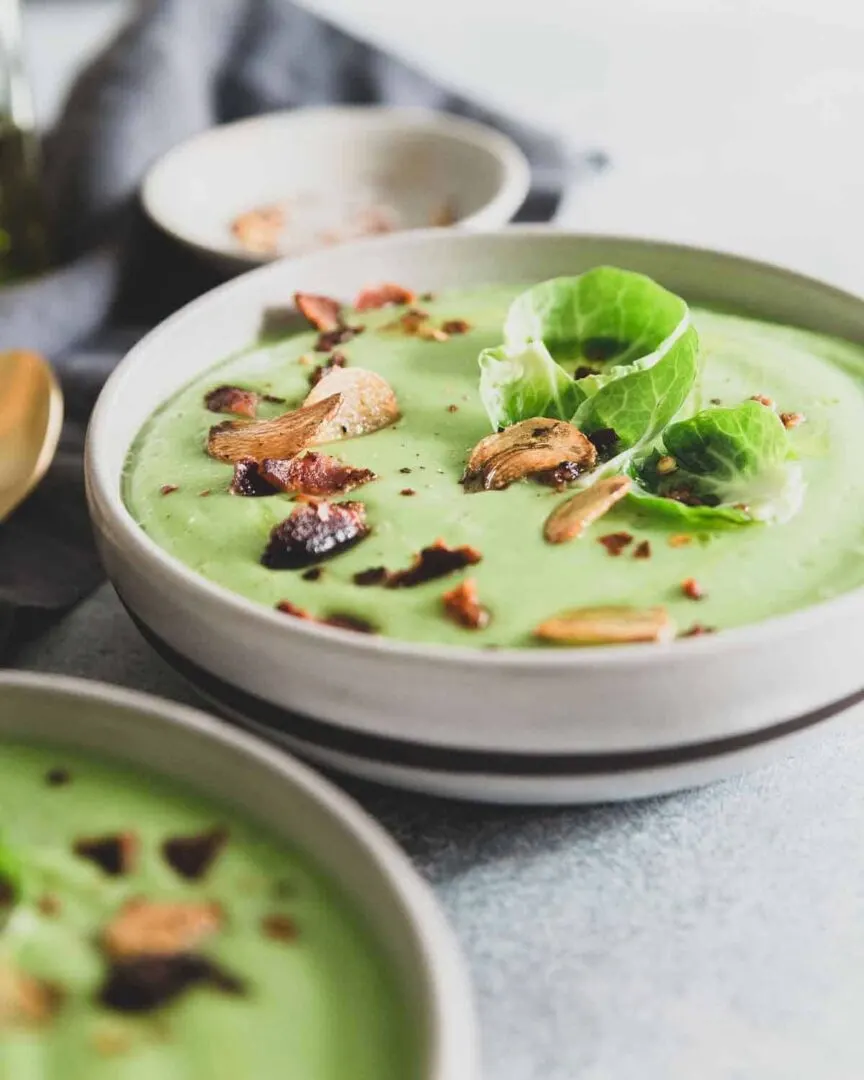 This Brussels sprouts soup from Gina will have them Running To The Kitchen! It's a creamy, earthy soup with garlic and onion flavors. And it is so good and good for you!
There are just a few ingredients, but the best part is you use your microwave for cooking the sprouts before throwing everything in the blender. Just press a button, and voila! How easy is that?
Add some crumbled crispy bacon, and enjoy.
Visit Running To The Kitchen for the recipe.
Slow Cooker Caramelized French Onion Soup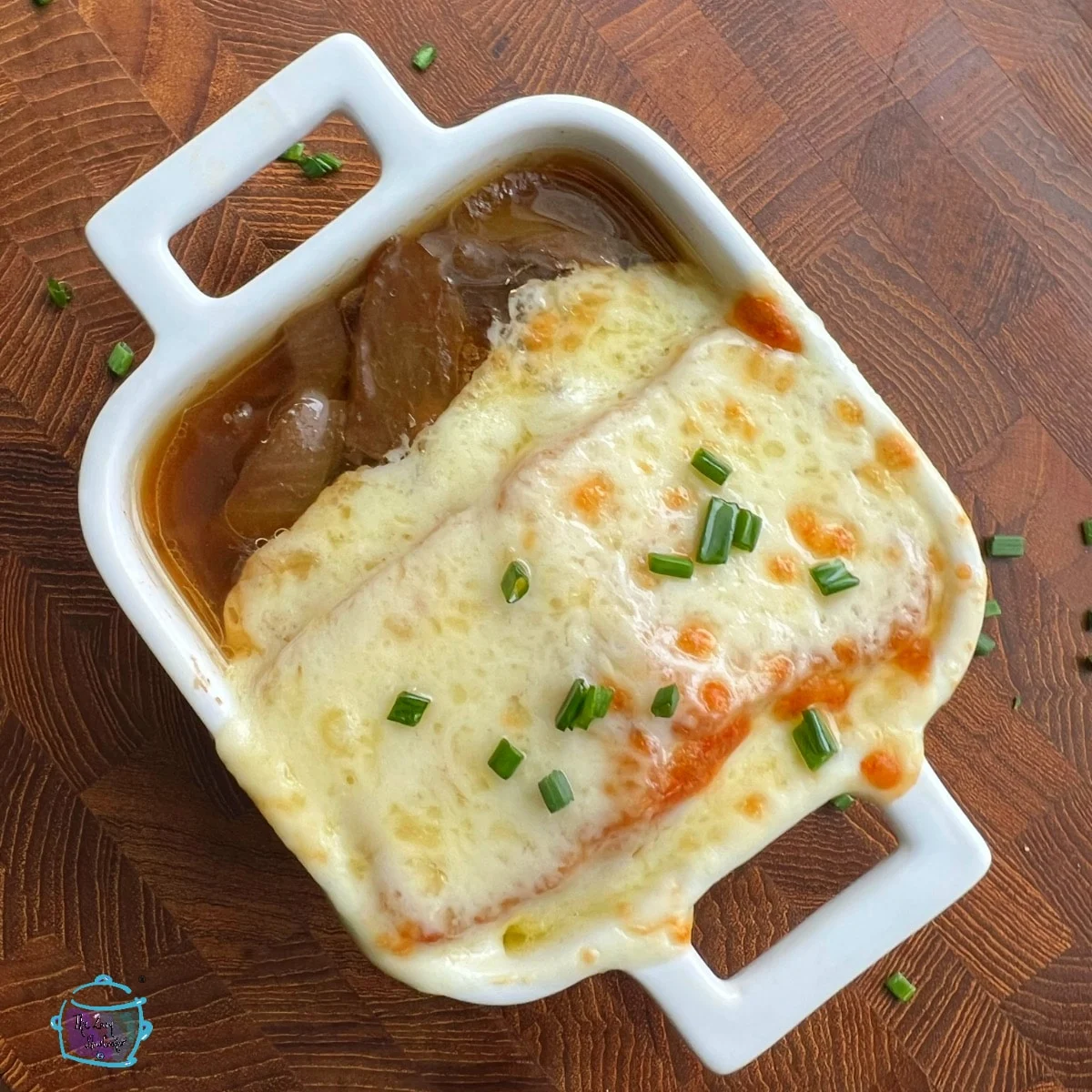 Whenever we see French onion soup on the menu at a restaurant, it's seldom we don't order a serving. But, making it at home always seemed more trouble than it was worth.
However, with this delicious French onion soup, The Lazy Slow Cooker does all the work for you. That's right. It caramelizes the onions as the tempting sweet scent fills your home. Then, all you have to do is add the other ingredients. Finally, serve it in a dish covered with rich and creamy gruyere cheese.
Visit The Lazy Slow Cooker for the recipe.
Hong Kong Borscht Soup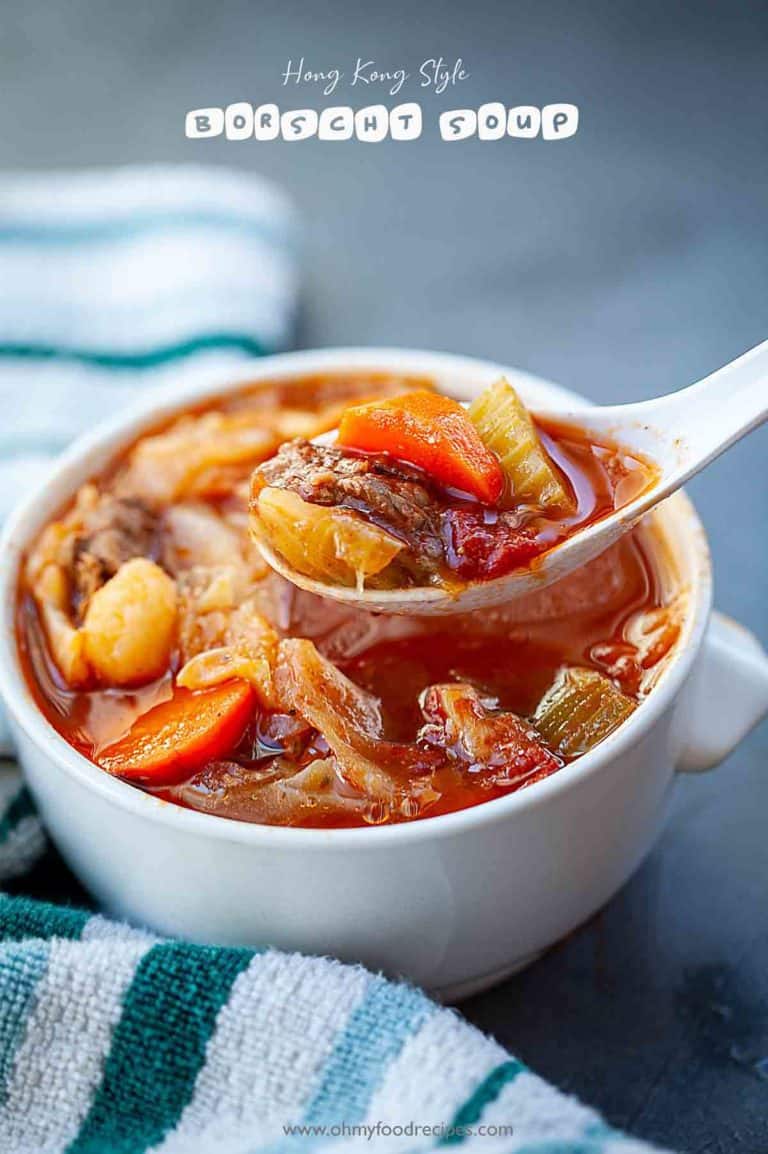 When cultures meld to create fusions like this Chinese-style Russian borscht soup from Tracy of Oh My Food Recipes, it's a thing of beauty. If you're unfamiliar, borscht is a sour soup made from beetroot.
But the Chinese version replaces beets with tomatoes and tomato paste. However, that's just one component of this tasty fusion bowl. It's otherwise filled with potatoes, tender beef, carrots, celery, and seasonings. That's delicious and translates to any culture.
Visit Oh My Food Recipes for the recipe.
Japanese Wakame Miso Soup With Cabbage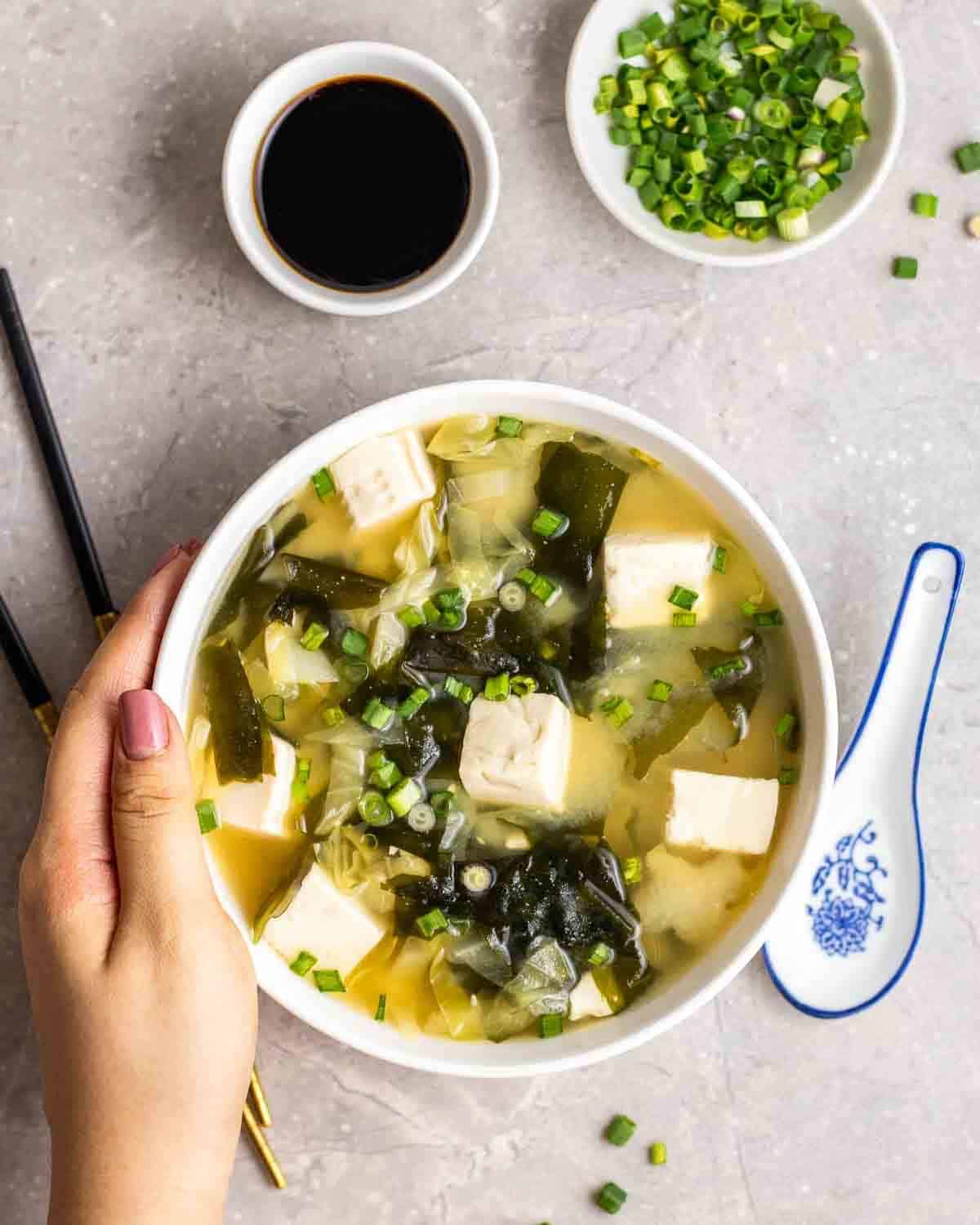 This warming Japanese cabbage and wakame miso soup from Meesha of My Plantiful Cooking is delicious Asian comfort food. The 5-ingredient (not including water) recipe takes just 15 minutes to prepare, although there are some ingredients you may need to become more familiar with.
But don't worry, Meesha explains it all.
Just know this simple recipe is a delicious way to explore new ingredients.
Visit My Plantiful Cooking for the recipe.
Instant Pot Split Pea Soup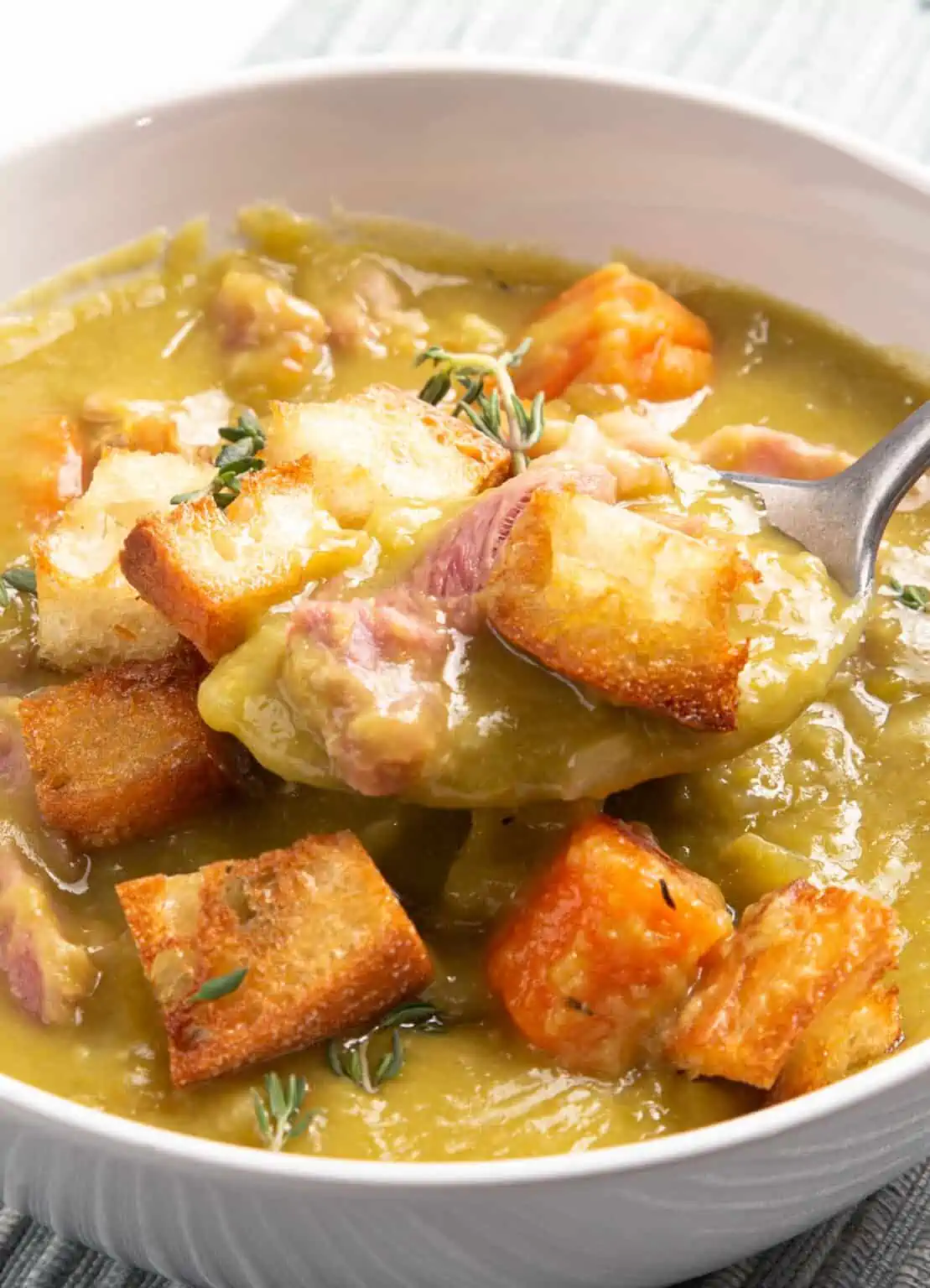 Homemade split pea soup from Amy and Jack of Pressure Cook Recipes isn't fancy or pretentious. You can easily locate and pronounce the ten ingredients. But what you'll find is a soup that's thick, hearty, meaty with ham, and mouthwateringly aromatic with garlic and onions.
It's just tasty comfort food made easier by using a pressure cooker.
Visit Pressure Cook Recipes for the recipe.
Mixed Vegetable Soup With Dumplings
Go meatless for dinner or lunch with this filling mixed vegetable soup from Matej of Cook We Will. There's a variety of tender root vegetables, including parsnips, potatoes, and kohlrabi, as well as more delicate veggies like peas and plenty of flavoring aromatics.
But here's the thing, although it's vegetarian, this mouthwatering soup is surprisingly thick, thanks to the egg and semolina dumplings. It's all done in less than an hour, and don't worry. You won't miss the meat.
Visit Cook We Will for the recipe.
Butternut Squash Soup With Bacon And Sage
When making this butternut squash soup with bacon and sage from Katie of Good Life Eats, you roast the squash first. It's the key to elevating the flavor from, dare we say, bland gloop to a soup with richness and caramelization.
The roasted vegetables, including carrots, onions, plus broth, half and half, etc., go in the blender until silky smooth. Then serve it with bacon crumbles for an irresistible bowl of deliciousness.
Visit Good Life Eats for the recipe.
Tomato Egg Drop Soup
In her opening salvo, Chihyu, of I Heart Umami claims this tomato egg drop soup will be the best homemade soup you have ever made. And boy, oh boy, does she make a heck of a case!
This flavor-filled Chinese pottage contains tomatoes, eggs, scallions, and stock. And a drizzle of toasted sesame oil and cilantro takes us home for that classic Asian flavor we all love.
Visit I Heart Umami for the recipe.
Easy Black Bean Soup
Say hello to spoon after spoonful of earthy flavor with this Easy Black Bean Soup from Lizet of Chipa By The Dozen. It's a delicious five-ingredient recipe, including salt, beans, oregano, paprika, and salsa, that you can whip up on a weeknight with some planning.
Yes, salsa!
While most bean soups start with sauteed fresh veggies, this one replaces them with uber-flavorful salsa. You must soak the beans overnight before cooking them for two hours and serving them with creamy avocado, fragrant cilantro, and strong yet mild red onions. Mmmm!
Visit Chipa By The Dozen for the recipe.
Which Easy Soup Recipe With Few Ingredients Will You Try First?
There are so many delicious options to try on this list! So will it be the black bean soup, the instant pot split pea soup, sweet corn soup, and so many more? Which one will it be?