Are you looking for a meal to power your mornings? Look no further than these 20 High Protein Breakfast Ideas. This diverse list includes so many options to satisfy your needs.
For example, there are many flavors of Overnight Oats, Greek Eggs, Breakfast Burritos, and even Wisconsin Eggs Benedict with Beer Cheese Sauce. Yes, you've read that right! So, are you ready to discover?
Let's dive in!
For other high protein meals, see these low carb high protein meals, high protein lunches, and high protein snacks.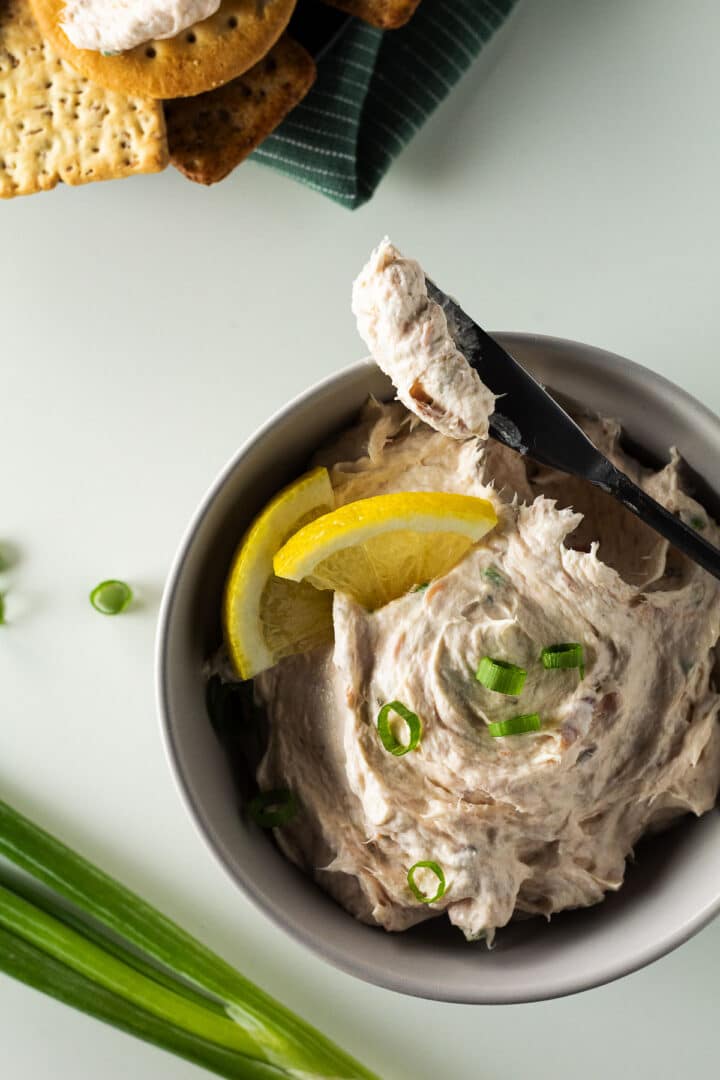 Our 5 ingredient smoked salmon dip is so delicious you'll make it once and never stop making it. It makes a fantastic breakfast when you spread it on a bagel or toast. Top with capers or other condiments like sliced green onions for a great breakfast.
Protein Overnight Oats
We start this list with a triple-play protein proffer from one Denise of Easy And Delish; Protein Overnight Oats. It's an easy high-protein breakfast idea with 20 grams of the lean mass-building stuff. But it's also tasty. She presents three flavors: Nutella with chocolate chips, strawberry and cream, and banana bread with caramelized bananas and toasted walnuts. Now that's what I call good and good for you!
Greek Kayanas Recipe
Jenny of The Greek Foodie suggests this Greek Kayanas Recipe or deliciously scrambled eggs with tomatoes for a yummy quick breakfast, lunch, or brinner. The key, though, is good tomatoes. So, heirloom, ripened, and from a good source. But eggs and tomatoes aren't the only flavors you'll taste; there's also garlic, olive oil, and feta on top.
Turkish Egg Recipe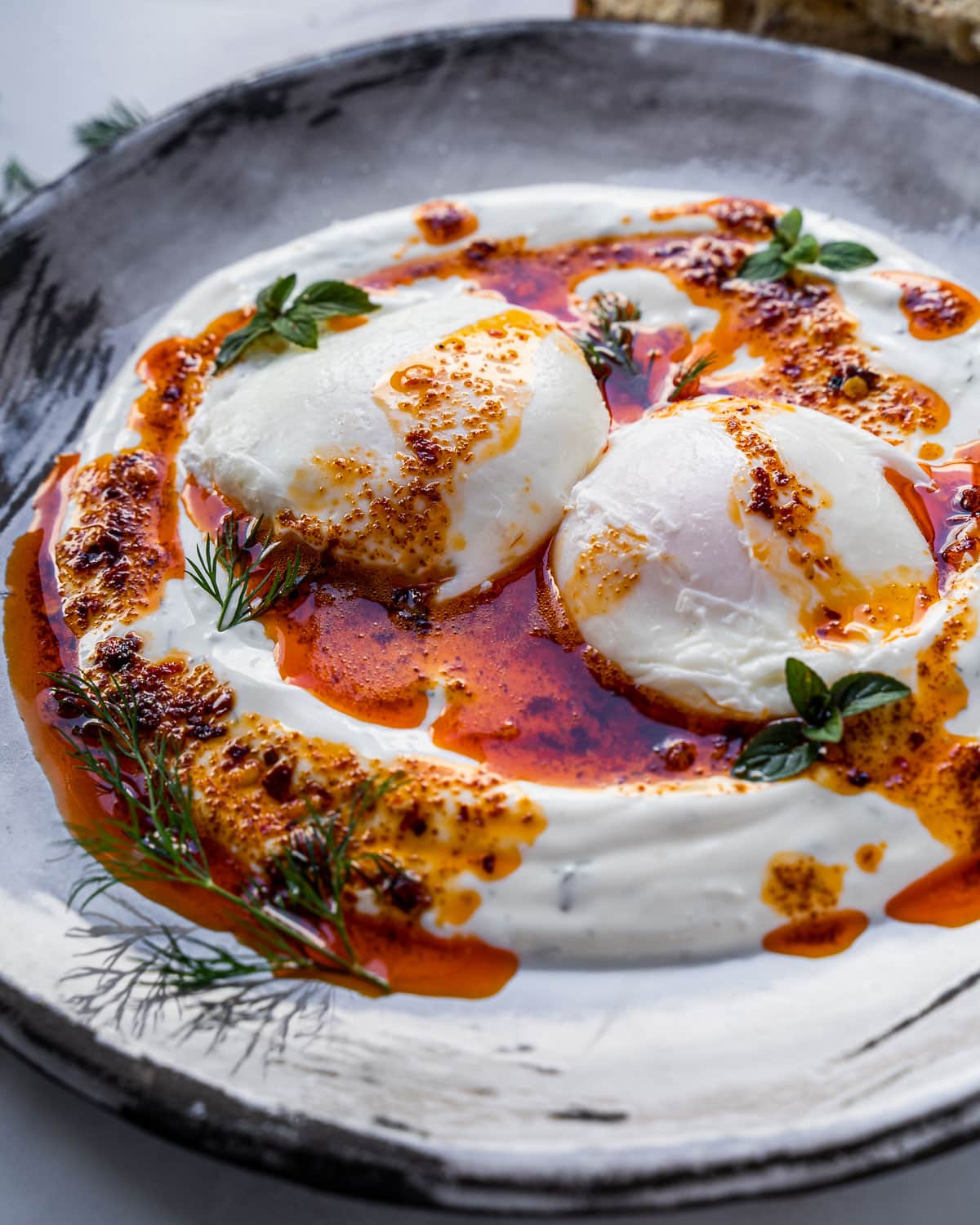 In a pay-it-forward kind of recipe, the Six Hungry Feet team does for you what they wish had been done for them years ago. That is, introducing you to this delicious, elegant, simple Turkish Egg Recipe, also known as cilbir. So, here's what you'll find; sitting atop a cloud of herbed Greek yogurt, perfectly poached eggs, and smoked paprika/chili flake spiced butter sauce.
High Protein Freezer Breakfast Burritos
So, if you're a planner, you'll love these High Protein Freezer Breakfast Burritos from Heather of The Toasty Kitchen. They're tasty, meaty, cheesy, vegetable-filled, and convenient if your mornings are hectic like ours. What's also wonderful is that they're entirely customizable. So, if you want to switch it up, use chicken sausage, ground beef, or bacon. The choice is yours.
French Baked Eggs
Bry shows us how to make this French Baked Eggs recipe, an elegant yet simple offering with virtually no active cooking time. All you do is crack an egg into a ramekin, add cream and butter, and bake. Now, she lists one egg as a serving, but two is more like an American serving yielding about 14 grams of protein. So that's what we'll go with.
Protein Anabolic French Toast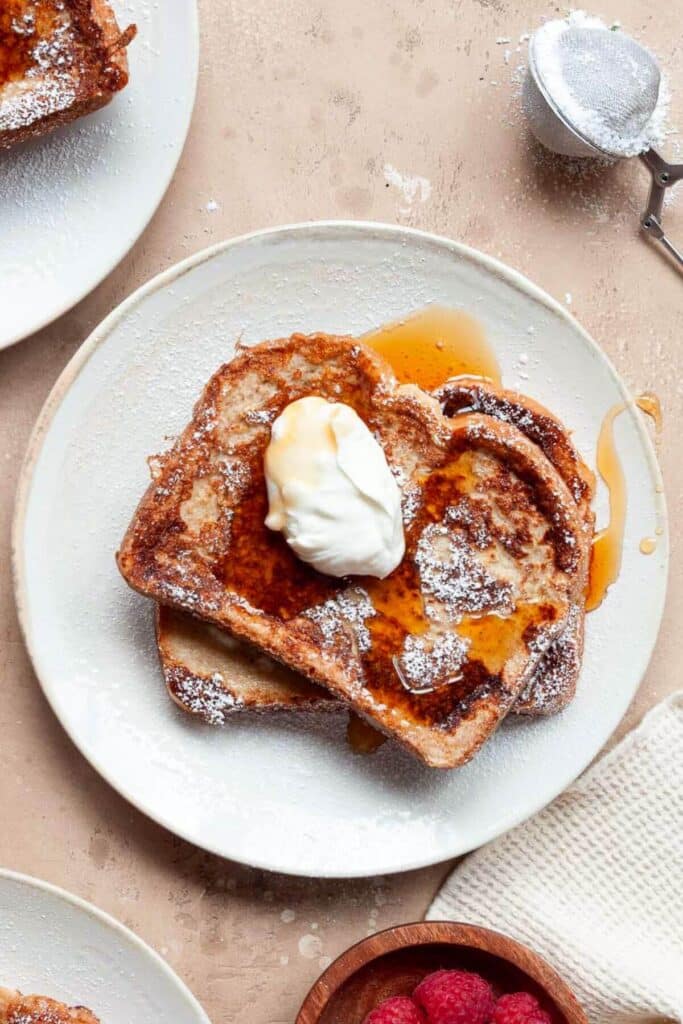 Tati of Healthful Blondie has a penchant for protein-fortified breakfast foods. So much so that you'll find several instances on her blog, including protein oatmeal pancakes and protein acai bowls. Today, however, we're talking about her Protein Anabolic French Toast recipe. With egg whites, milk, and protein powder, the six-ingredient breakfast meal packs 30 grams of protein.
Strawberry Banana Protein Smoothie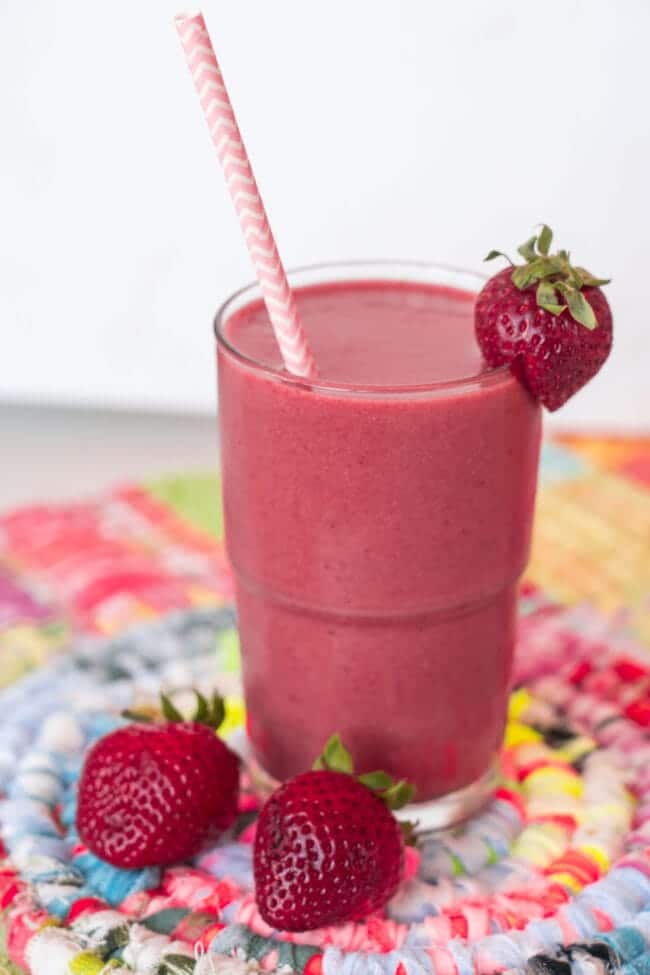 For those that think a smoothie is just grab some of this, and some of that and blend, nah. You would be incorrect. Instead, a good smoothie recipe comes together like any other recipe. That is, with lots of testing for flavor and proportions. And that's how you get this delicious Strawberry Banana Protein Smoothie from Pamela of Brooklyn Farm Girl.
Mexican Black Bean Shakshuka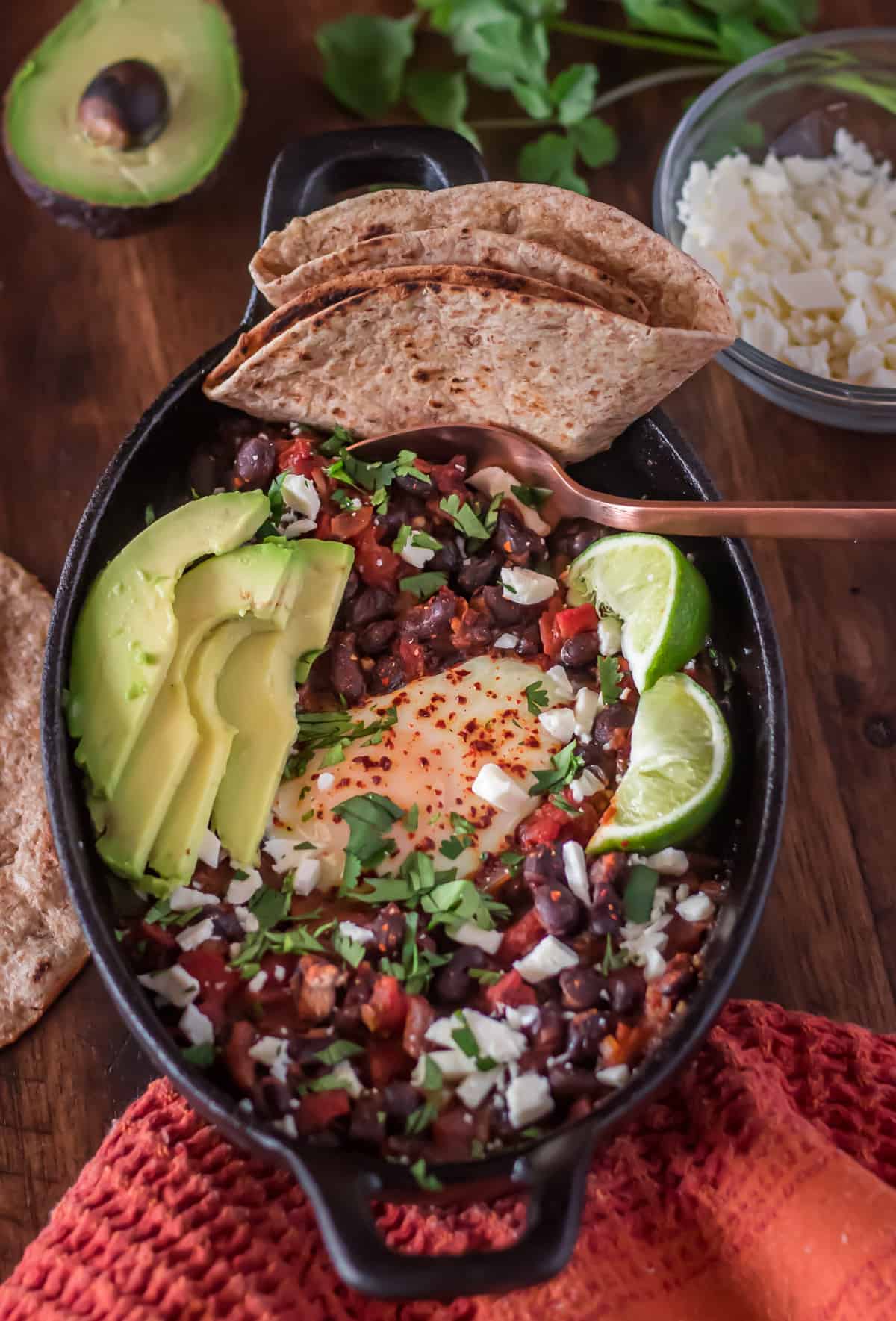 While Shakshuka is a traditional North African dish of eggs and tomato sauce, this Mexican Black Bean Shakshuka from Beyond Mere Sustenance is a spin your family will love. But it hardly seems like a remix. With Mexican oregano, onion, ground cumin, garlic, avocado, and chili pepper, it's more like an original.
Vegetarian Breakfast Sandwich
In this post, Katie of Hey Nutrition Lady points to her strengths. Namely, feeding her family tasty yet nourishing meals like this Vegetarian Breakfast Sandwiches. Though just because it's labeled vegetarian doesn't mean it's missing anything. Instead, it's a tasty and fluffy frittata with baby spinach, tomato, sauteed onion, and feta on a whole-grain breakfast roll.
Sweet Potato Hash and Egg Breakfast Cups
Like your favorite hashbrown and egg cups, only more nutritious, these Sweet Potato Hash and Egg Cups from Regain Your Sparkle will become your go-to break the fast. Here's why. Each little protein-packed cup requires just two ingredients: eggs and sweet potatoes. Talk about an easy meal. Then, when they're done, top them with bacon, chives, and green onions.
Cottage Cheese Pancakes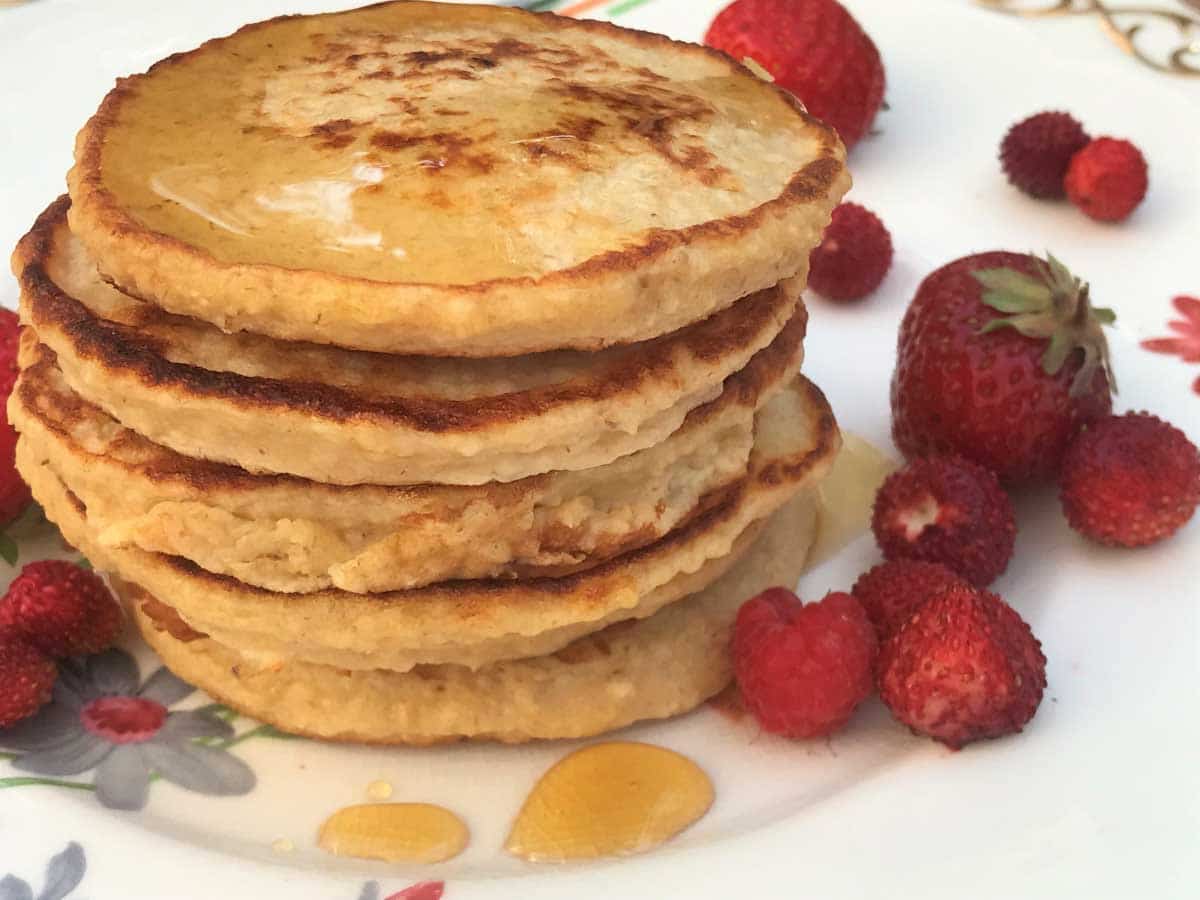 While most protein pancake recipes will have protein powder as an ingredient, these Cottage Cheese Pancakes from Cinnamon & Kale differ. Instead, they get their muscle-building qualities from good ole cottage cheese and eggs. Additionally, they are gluten-free, getting their bulk from oatmeal.
Avocado Toast with Egg Recipe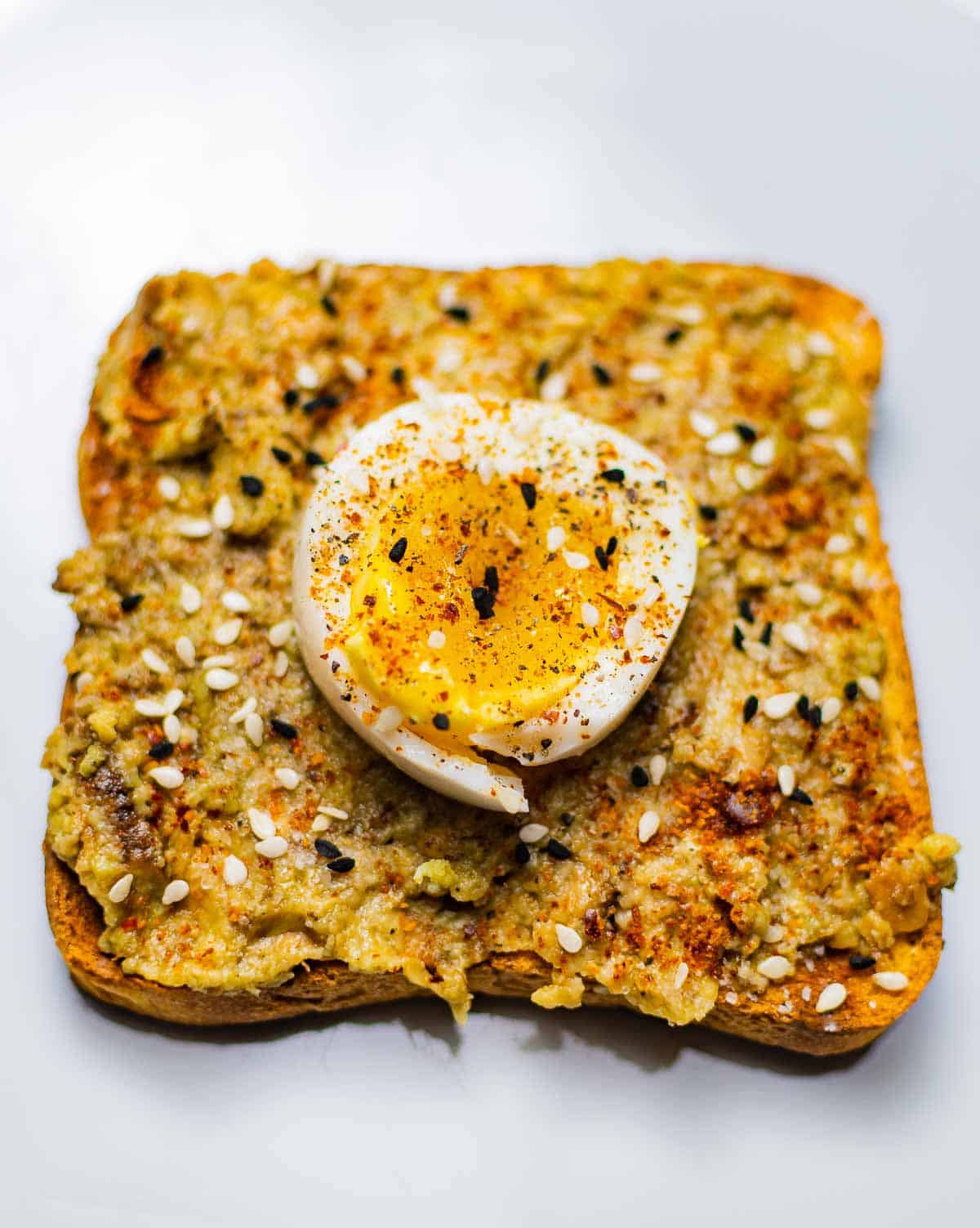 Imsen is an Ambitious Foodie conjuring up deliciousness like this Avocado Toast with Egg recipe. The ten-minute breakfast sees you mash avocado for a delicious healthy fat-filled spread. Next, sprinkle on some sesame seeds and chili flakes. Finally, top it with cooked eggs—as presented, boiled but scrambled, poached, or fried work well too.
Moong Dal Chilla (Savory Lentil Pancakes)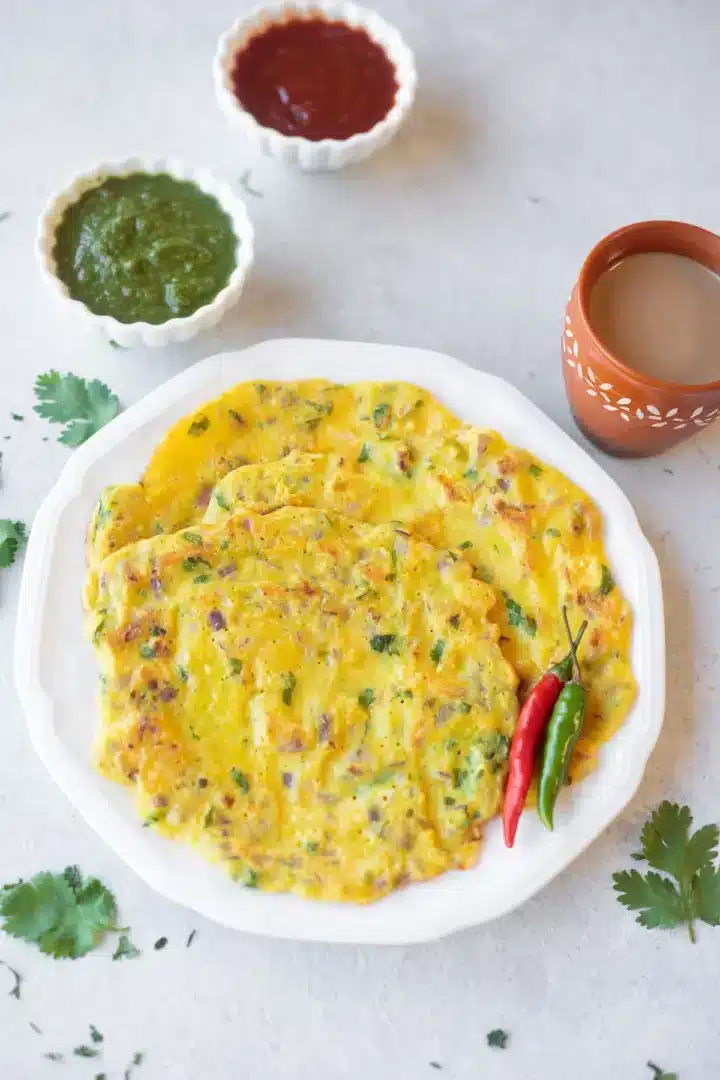 Moong Dal Chilla by Piping Pot Curry is the best pancake you've never heard of. To be clear, it's a lentil pancake. So sure, it's healthful, but what'll keep you coming back for more is the flavor. Your taste buds will sing for the flavors of ginger, chili pepper, red onion, cilantro, and turmeric.
Smoky Beans with Eggs and Pickled Red Onion
Beans for breakfast? No, it's not so weird. You'll often find pinto or black beans in Mexican breakfast recipes. However, this Smoky Beans with Eggs and Pickled Red Onion by Karishma of Home Cooking Collective differs. Smoky chipotle beans are the primary ingredient. But there are also delicious poached eggs and pickled onions just waiting for toast.
Breakfast Casserole
While Jessica of The Forked Spoon likes this Breakfast Casserole for holiday brunch, you'll find yourself smitten with it. So don't be surprised if the egg, sausage, cheese, and bread-filled bake becomes a regular part of your repertoire. Why you ask? Because Jessica's version includes tips like why you need to chill the mixture before putting it in the oven and allowing the bread to soak before baking.
Sausage Frittata with Veggies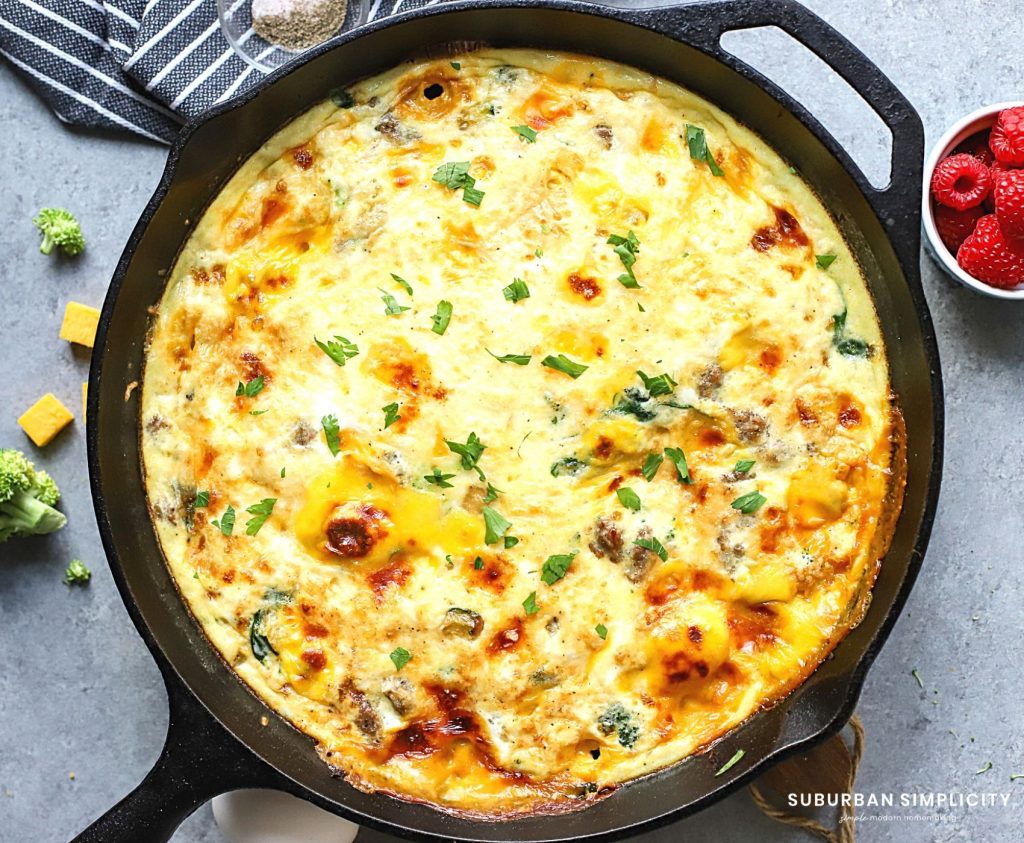 This Sausage Frittata with Veggies from Suburban Simplicity makes for a delicious breakfast, though you may also like it as a high protein lunch idea (if you have time). The crustless frittata is filled with creamy American cheese, zucchini, broccoli, spinach, etc., so it's everything you need in the most important meal of the day; protein-packed, healthy, and filling.
Crispy Hash with Fried Eggs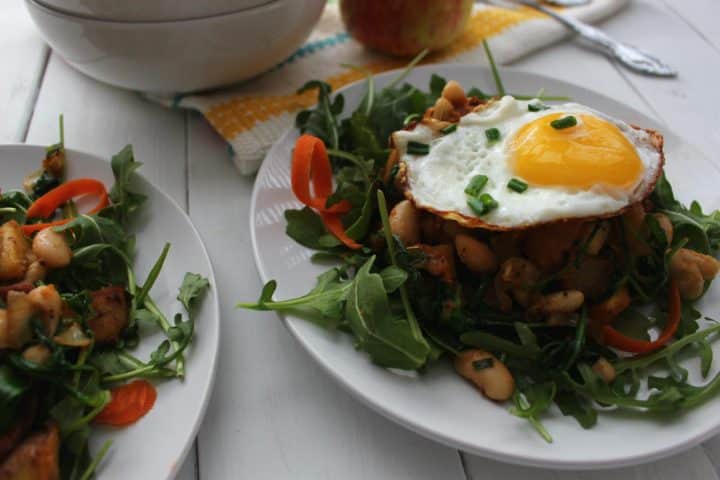 What the heck is in Maureen's Crispy Hash with Fried Eggs recipe? Um, everything but the kitchen sink! Seriously, though. The flavorful protein-rich dish contains hearty white beans, apples, butternut squash, onion, arugula, herbs, eggs, and sausage. So, how's that for a Worldly Treat?
Powdered Peanut Butter Smoothie
Sometimes you need a quick, no-fuss, no-cook breakfast for those busy mornings. Well, this Powdered Peanut Butter Smoothie recipe by Sip Sip Smoothie is precisely what you need. It contains just five ingredients, including frozen bananas and peanut butter powder. All you have to do is throw everything in the blender, and bam, instant breakfast.
Best Tofu Scramble Recipe
After many tests considering both flavor and texture, Gus and Joaco from Our Plant Based World developed the Best Tofu Scramble Recipe. It's an ideal egg replacement for those considering a vegan diet. It includes firm tofu, chopped onion, turmeric, and other delicious yet nutritionally beneficial ingredients.
Wisconsin Eggs Benedict with Beer Cheese Sauce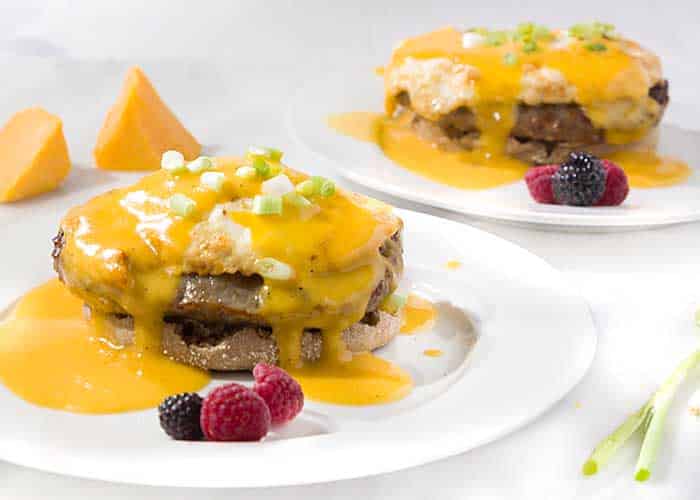 Last but certainly not least is this Wisconsin Eggs Benedict with Beer Cheese Sauce from Inger of Art Of Natural Living. If you're still processing that title, we'll explain. It starts with an English muffin. Then there's a fried egg and a bratwurst sausage patty. And finally, instead of hollandaise, there's a creamy orange Wisconsin beer cheese sauce. Just wow!
Which High Protein Breakfast Idea Will You Try First?
By now, you've come across 20 different high protein breakfast ideas. So which one(s) tickled your fancy the most? Was it the Crispy Hash with Fried Eggs, Powdered Peanut Butter Smoothie, Cottage Cheese Pancakes, or something else? We'd love to know!