These 22 Amazing 5-star chicken thigh recipes are life changing! There are so many reasons to choose thighs over other cuts of chicken. They are juicier, more tender, and harder to overcook. They're also much cheaper and forgiving than breast. So, winner winner chicken thigh dinner!
Here are some of the other lists you might want to check out, best sauces for chicken, best recipes with sausage, and best ground beef recipes without pasta.
5 Facts About Chicken Thighs
1. Contrary to what you may have heard, chicken thighs can be a healthy part of your diet.
2. Boneless skinless chicken thighs, on average, weigh about 3 ounces and contain about 22 grams of protein.
3. Chicken thighs are a higher source of immune-boosting micronutrient zinc than chicken breast.
4. Boneless chicken breasts are more expensive than boneless chicken thighs.
5. While bone-in skin-on chicken thighs taste better, they're also higher in fat and calories than their skinless counterparts. A typical chicken thigh is about 230 calories. Removing the skin reduces the calorie count to 209 and the fat to 10.9 from 15.5 grams.
22 5-Star Chicken Thigh Recipes
From spicy lime chicken thighs to chicken Marbella and chicken birria tacos, this list of 22 five-star chicken thigh recipes has you covered. There is enough variety to make all chicken thigh lovers happy. Oh, and our list is always just that, not a ranking.
Baked Honey Mustard Chicken Thighs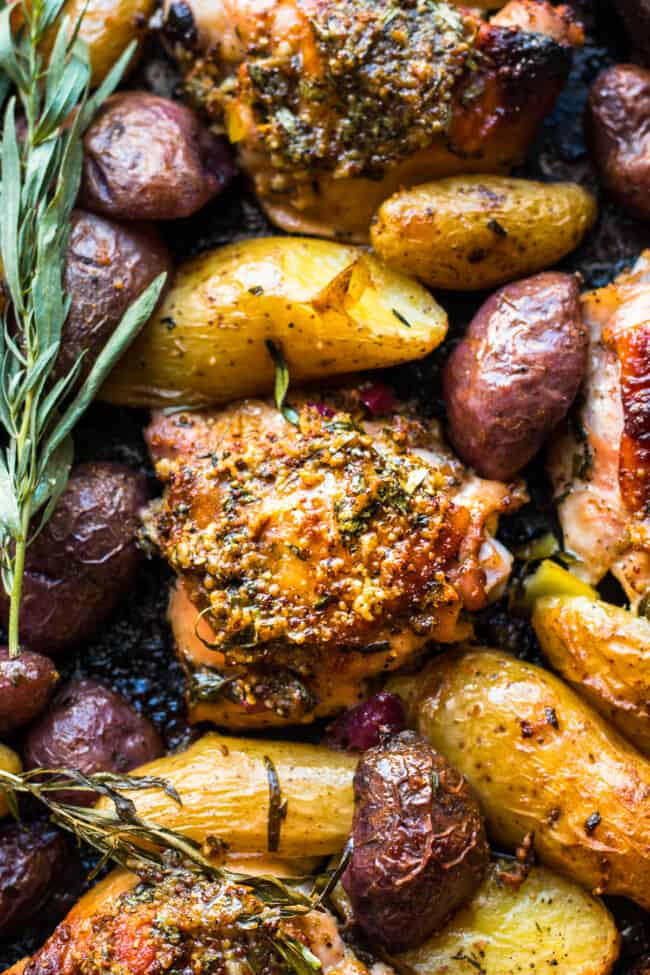 This baked honey mustard chicken thighs recipe from Becky of Easy Chicken Recipes proves that simple and easy can also be elegant and impressive. A sweet and tangy, grainy, and herby honey mustard sauce covers juicy and flavorful chicken thighs and tender yet crispy potatoes.
The whole meal is easy, healthy, and baked on a sheet pan. Making it an ideal weeknight meal the entire family will enjoy, but it can also double as a rustic yet splendid meal for dinner guests.
Visit Easy Chicken Recipes for the recipe.
Spicy Honey Lime Chicken Thigh Recipe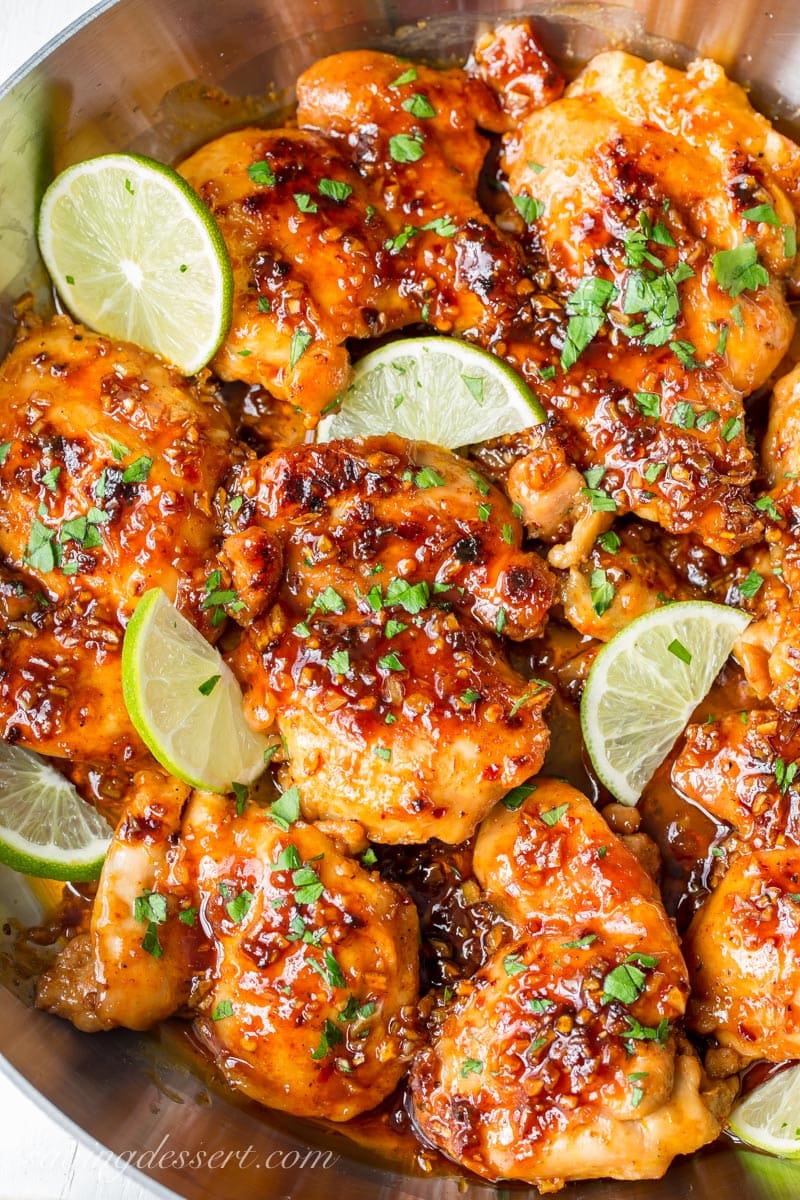 With this spicy honey lime chicken thigh recipe from Tricia of Saving Room For Dessert, you might forget to do just that. That's because this recipe is so tasty, irresistibly so, but don't take my word for it. It has over 64,000 social shares!
But what makes it so good in the first place? Flavor, flavor, and more flavor! There's garlic, honey, lime, and even red pepper flakes, which results in sweet, tangy, spicy, and sticky chicken. So, keep the napkins handy, and don't worry. No one will judge you for licking your fingers.
Visit Saving Room For Dessert for the recipe.
Chicken Cacciatore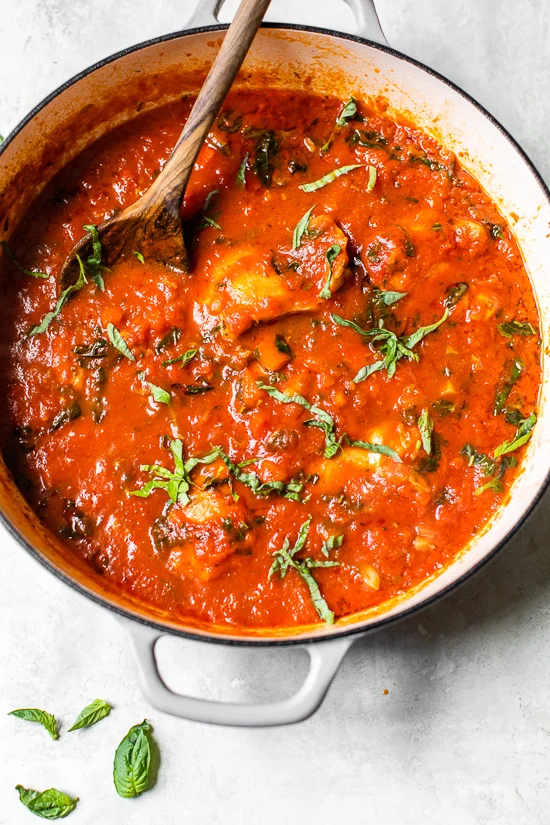 While not as fatty as the traditional dish, this chicken cacciatore (hunter-style chicken) from Skinny Taste is a healthful, simple, and delicious meal. It's filled with tender skinless chicken thighs, mushrooms, bell peppers, and tomato sauce. Serve over rice, pasta, or even spaghetti squash for a nice, filling weeknight meal.
So, it does take just under an hour to make from start to finish, but you'll be happy to know that there are only 10 minutes of prep time. And for versatility, Gina includes both a slow cooker and instant pot option.
Visit Skinny Taste for the recipe.
Butter Chicken Thighs
Using just about everything in your spice rack, you know this 5 star butter chicken thigh (chicken makhani) recipe from Jennifer of Seasons And Suppers is flavorful. Enhancing that flavor is the recommendation of bone-in skin-on chicken thighs.
They only require about 15 minutes of preparation time. But for an hour, those succulent chicken thighs simmer in a heavenly bath of butter, ginger, cumin, turmeric, cinnamon, and other spices. And while there are many ingredients, don't worry, you will find tips and recommendations to guide you on your way to a dinner to remember.
Visit Seasons And Suppers for the recipe.
Grilled Chicken Thighs Chimmichurri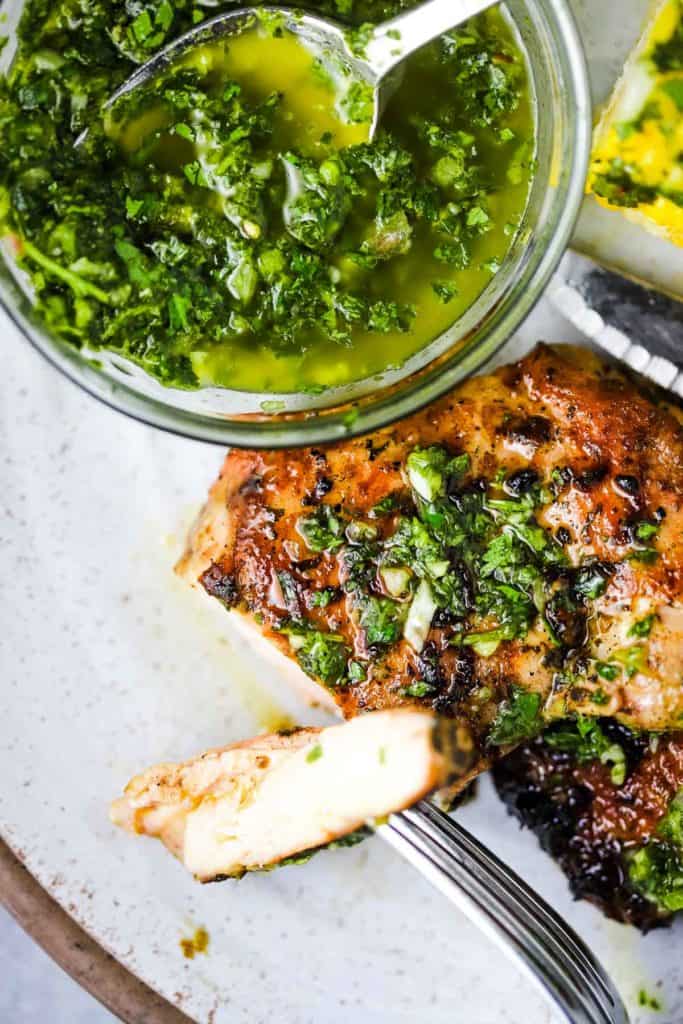 Herby and tangy with just a smidge of heat, chimichurri is so good that you'll be looking for food to put it on. So why not these grilled chicken thighs from Ann of Our Happy Mess. The recipe calls for boneless, but bone-in works here too.
Are you getting the urge to fire up your grill? Can you get behind the smokey flavor of juicy grilled chicken thighs doused in that magical green chimichurri sauce? We are, and we can! Oh, and don't for a second think you have to wait for the weekend. With a total cooking time of 40 minutes, this one has "easy summer weeknight meal" written all over it.
Visit Our Happy Mess for the recipe.
BBQ Chicken Thighs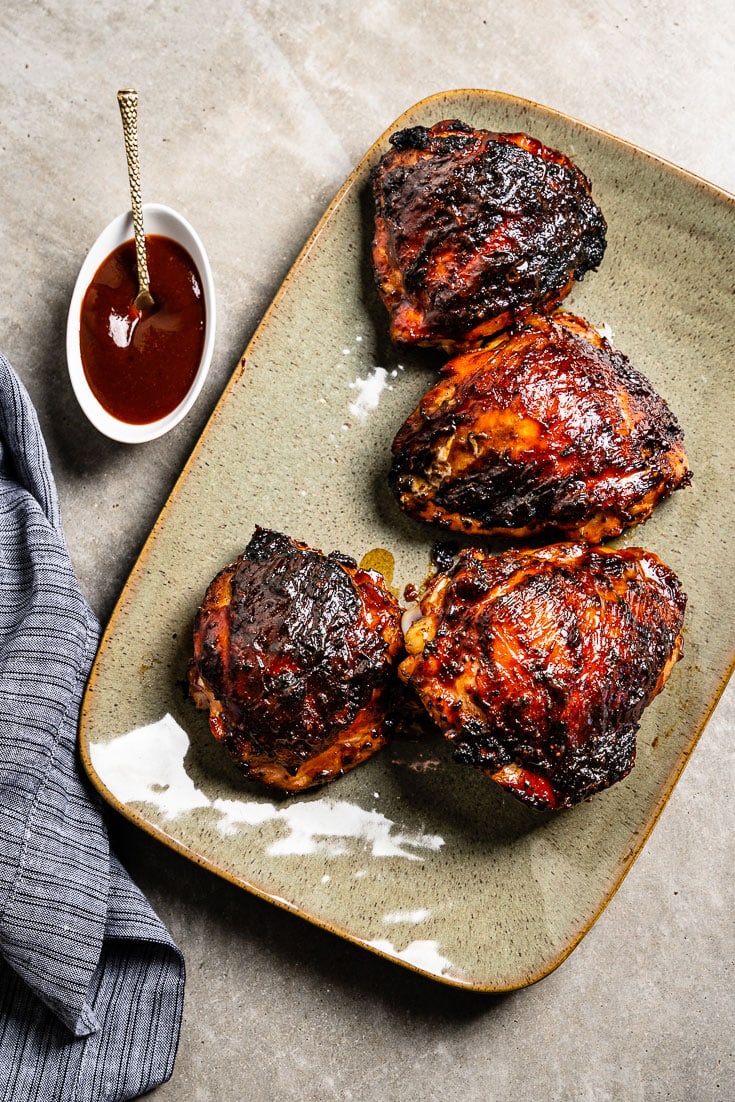 In this recipe, Justin of Salt Pepper Skillet claims his bbq chicken thighs could be the best barbecue chicken you have ever tasted! Wow! And while that's a bold claim, let's see, it starts with a dry rub. That dry rub is full of celery seed, brown sugar, chili powder, and ground cumin, amongst other zesty ingredients.
Then, Justin teaches you how to grill using indirect and direct heat and when to apply—this is very important—his sweet and tangy barbecue sauce. Sounds delicious! So, are you ready to change your weekend dinner plans?
Visit Salt Pepper Skillet for the recipe.
Chicken Gyro With Tzatziki Sauce
Have fun, learn, and discover how to bring the flavors of Greek cuisine to your kitchen with the fabulousness of Kris And Wesley of How To Feed A Loon. This chicken gyro is the kind of meal perfect for feeding your family or entertaining guests. It's showy, colorful, and yet easy!
But it's only accessible because the creatives spent years developing this New York City staple. The result features chicken thighs flavor-packed with herbs like oregano and parsley and spices like cumin, paprika, and more. Next, you have an expertly prepared tzatziki sauce and a cucumber salad. Finally, they take that flavor bomb and wrap it in a warm pita but not before brushing it with herb-infused olive oil. O. M. G.
Visit How To Feed A Loon for the recipe.
Chicken Marbella From The Silver Palate
It's been said that The Silver Palate Cookbook changed American cooking and chicken Marbella is one of the most memorable recipes from the book. Chicken Marbella is a treasure trove of flavors with prunes, olives, and capers marinated overnight.
The original version of this recipe calls for whole chickens, but when you want to feed a crowd of, I don't know, 100 buffet-style, that won't do. You could use breast, but instead, you opt for juicy, boneless chicken thighs, which are far more flavorful. On the recipe page, Lisa of Panning The Globe shares her history with this exquisite dish and tips for making it as amazing as she does.
Visit Panning The Globe for the recipe.
Baked Bourbon Jalapeno Chicken Thighs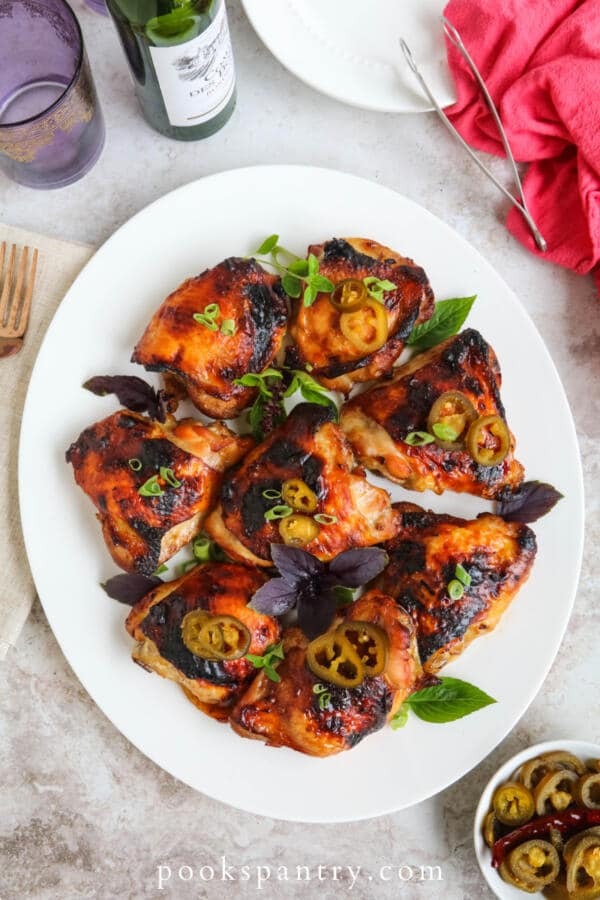 You don't have to sacrifice flavor with this 30-minute baked bourbon jalapeno chicken thighs recipe from Cheryl of Pooks Pantry. And unsurprisingly, the bulk of this marinade is made up of pantry staples.
But what's in that marinade? You'll find dijon mustard, bourbon, jalapeno brine, garlic, and maple syrup as the stand-out ingredients. Mmmm, lots of flavors! And after a few minutes of prep time and a soak in that sweet-heat marinade, it goes in the oven for about 30-minutes. So, are you ready for a mostly hands-off weeknight meal to mix things up? Head on over to the page where Cheryl will show you how to make it.
Visit Pooks Pantry for the recipe.
Chicken Birria + Tacos (birria de pollo)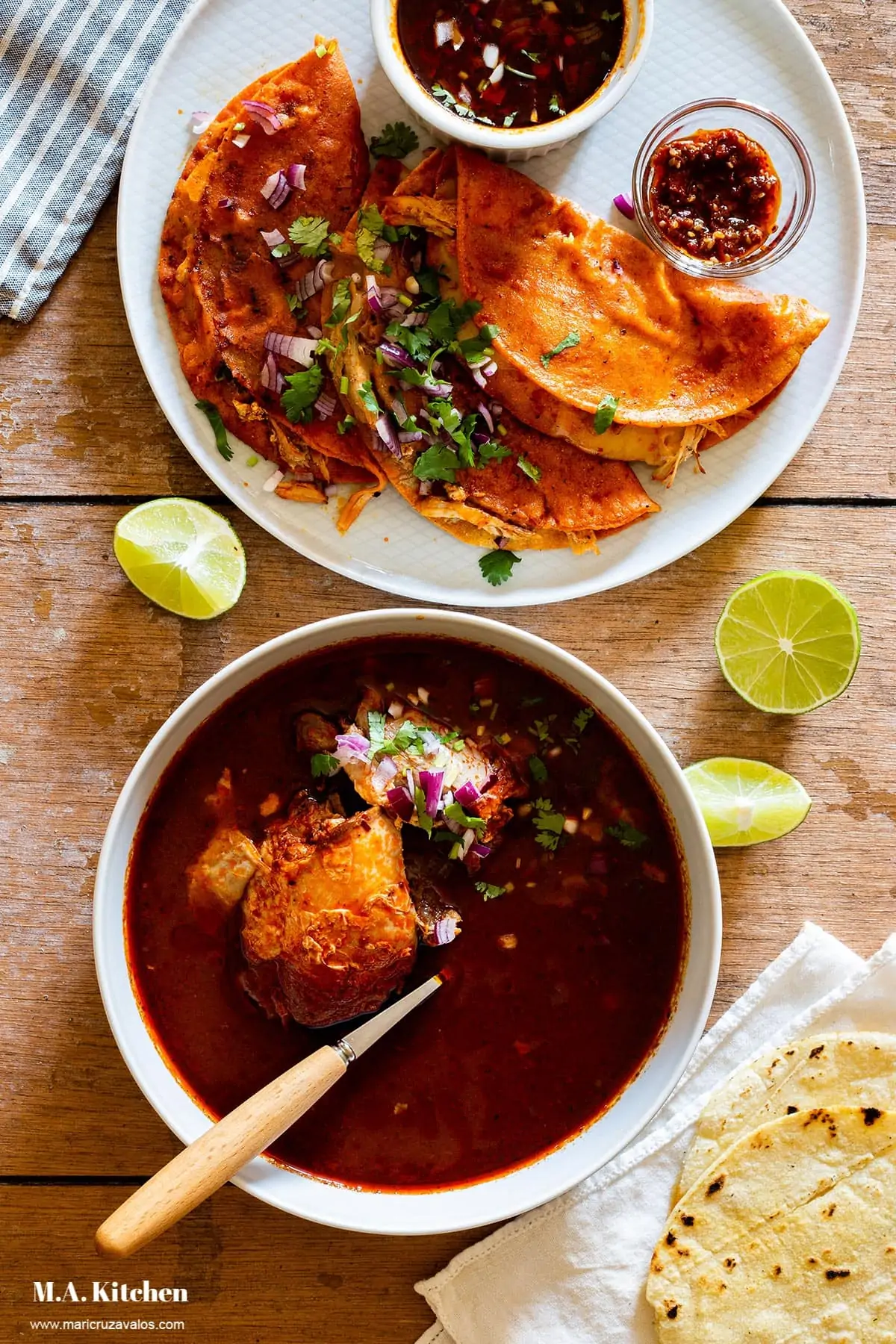 Intensely flavorful, zingy chicken birria is delicious served as soup, over white rice, or in the best tacos you've ever had in your life! And who could be a better guide to Birria-Ville than Mexican cook Maricruz of the eponymous Maricruz Avalos? Before diving into the recipe, she shares an introduction to the dish with you.
This 5-star chicken thighs recipe is smothered in an aromatic sauce of chiles, spices, tomatoes, onions, and so much more, cooked in the pressure cooker or the slow cooker for hours. As the chicken cooks, it creates a delicious consomme that you use as a dip for those tacos. This recipe is the real deal, mmm!
Visit Maricruz Avalos for the recipe.
Peruvian Chicken with Creamy Green Sauce
With the help of Erin of Platings And Pairings, every bite of this Peruvian chicken with creamy green sauce will take you there. Easy recipe? Check! Big Flavors? Double-check!
It starts with juicy chicken thighs marinated in an elixir of soy sauce, garlic, cumin, oregano, and more flavor goodness. Then you grill. Finally, you serve them next to the Peruvian sauce—a bright green dipping sauce that contains cilantro, jalapenos, green onions, garlic, mayo, etc., for a tasty summer meal. Do you have questions? No problem! Erin has you covered with alternative cooking methods, substitutions, sides, and even a wine pairing.
Visit Platings And Pairings for the recipe.
Chicken Katsu Curry Recipe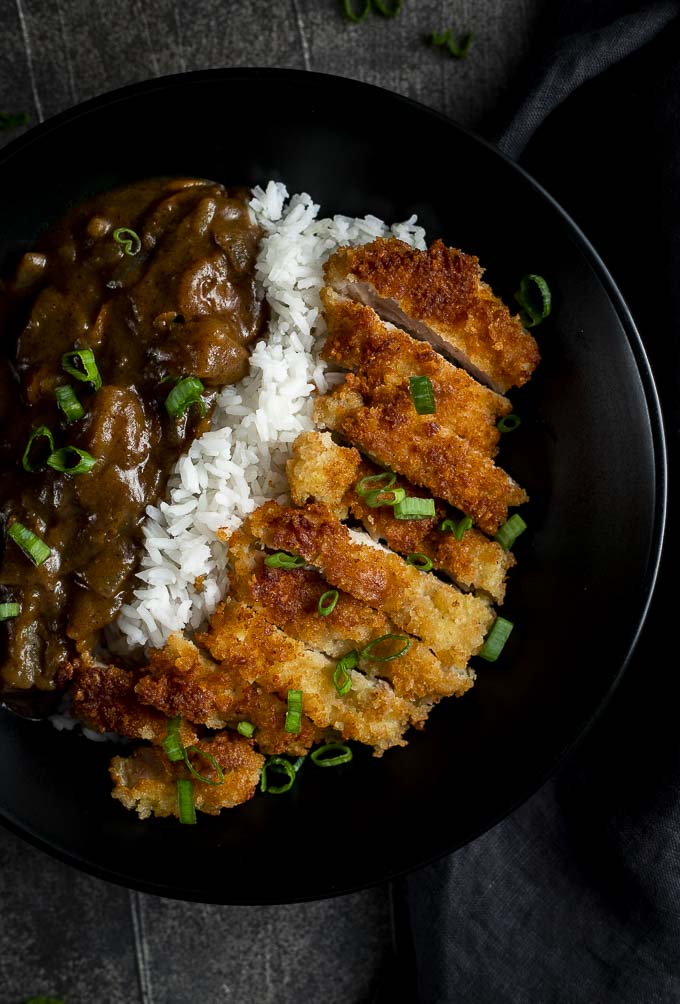 Food is often the next best thing when the wanderlust bug bites us and we can't make it to our desired destinations anytime soon. So, if you're aching for Japan, find solace, if just a bit, in this Chicken Katsu Curry Recipe from Danielle of Went Here 8 This.
Her chicken katsu starts with boneless skinless chicken thighs dipped in egg, then into seasoned panko bread crumbs and pan-fried for a crispy yet light and airy fried chicken. The magic continues with a rich dark brown Japanese curry sauce—a concoction of vegetables and homemade curry roux—of which Danielle is a huge fan and advocate. Serve over rice, and now this Katsu is a complete and tasty meal that'll transport you around the world.
Visit Went Here 8 This for the recipe.
Chicken Thighs With Citrus-Cilantro Salsa Verde
Craving California's Leigh describes this chicken thighs with citrus-cilantro salsa verde recipe as zippy. I wouldn't disagree with her. It features succulent chicken thighs steeped in a piquant green salsa full of herbs and citrus that's somewhere between a mojo sauce and a chimichurri.
After marinating those delicious chicken thighs in that energizing green sauce, you put them on the grill, and voila, the crown jewel to your short notice summer dinner party. Serve with rice or grilled potatoes and asparagus, and you've got yourself a full meal. On her page, you will find the complete package. There are many images so you know what things should look like at each stage and answers to common questions.
Visit Craving California for the recipe.
Kung Pao Chicken, The Authentic Way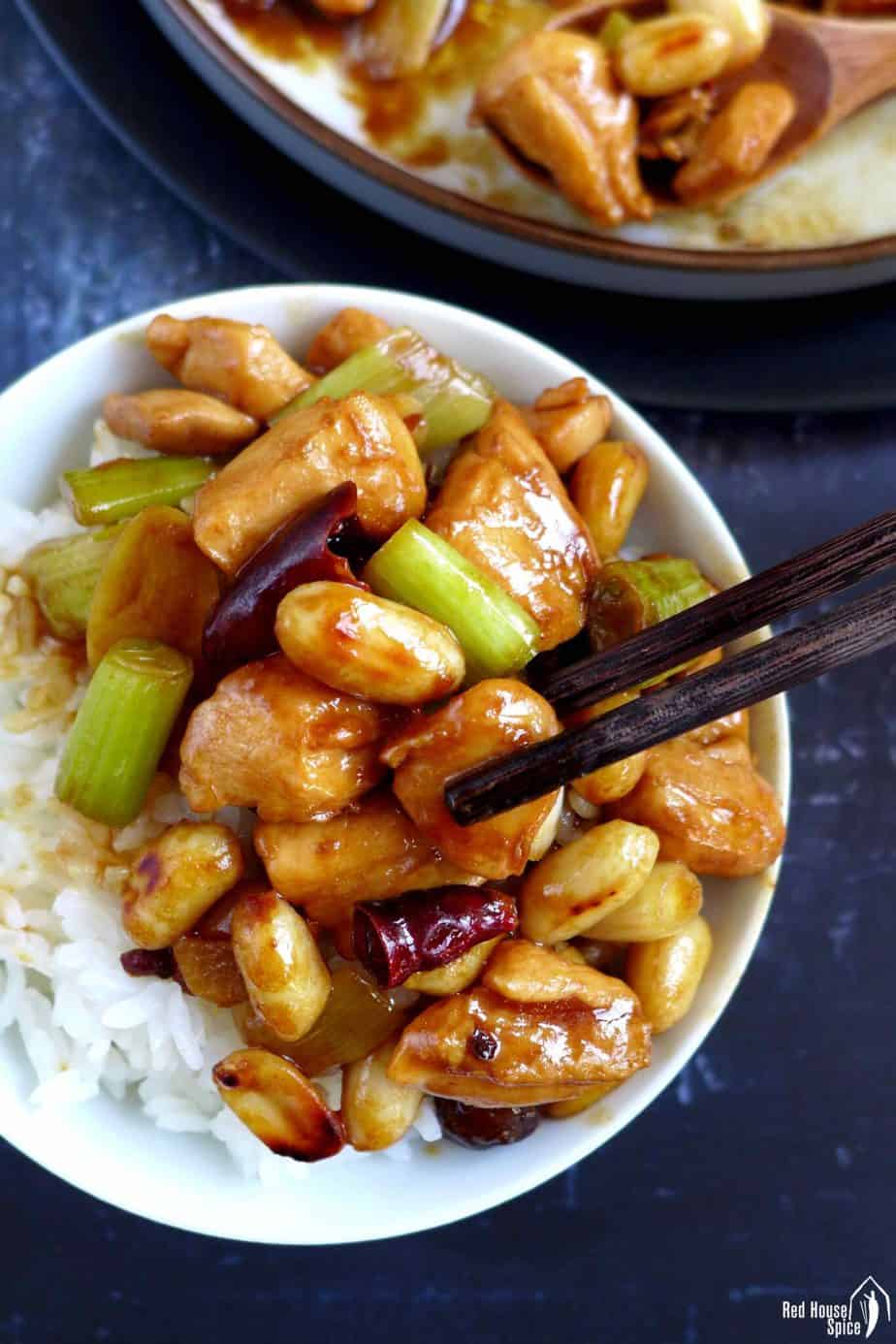 In the most thorough post I've come across on the topic, Wei of Red House Spice offers this her authentic Kung Pao Chicken recipe. Sure, there's a recipe, but there's so much more to this essay that professional chefs even inform. There's a history of the dish, and she covers all the reasons you should follow the steps as-is. But appropriate substitutions are provided.
However, what is kung pao chicken? For the unfamiliar, Kung Pao chicken is a popular spicy chicken dish with lots of flavor from chiles, peppercorn, ginger, soy sauce, and all sorts of other good stuff typical to Sichuan cuisine.
Visit Red House Spice for the recipe.
Balsamic Glazed Caprese Chicken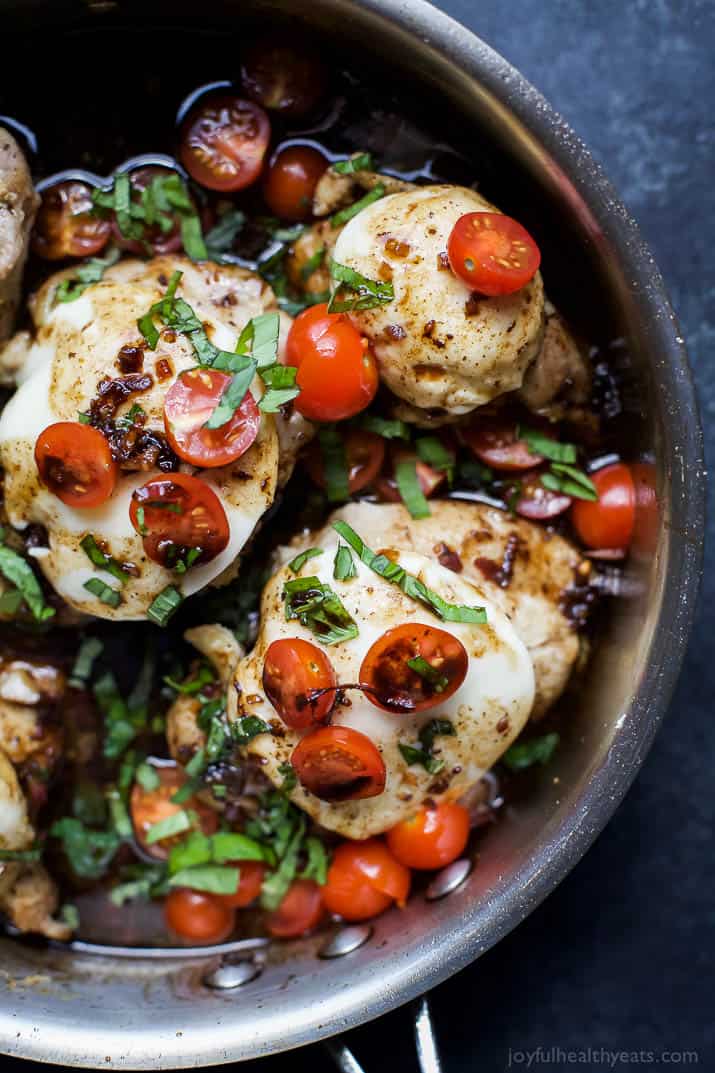 You'll visit Joyful Healthy Eats for delicious recipes like this balsamic glazed Caprese chicken, but you'll stay for the charming anecdotes. It's a happy place, and Krista, the creator, is a happy camper. But I digress. Let's get into that recipe.
Boneless chicken thighs are seared in a pan, then, leaving those delicious pan juices, you add some aromatics then that coveted balsamic vinegar. So you let all that goodness mingle and reduce into a more luxurious and substantial sauce. Then you add the chicken back and cover smother with mozzarella, halved cherry tomatoes, and fresh basil. Buon appetito!
Visit Joyful Healthy Eats for the recipe.
Lemon Pepper Chicken Thighs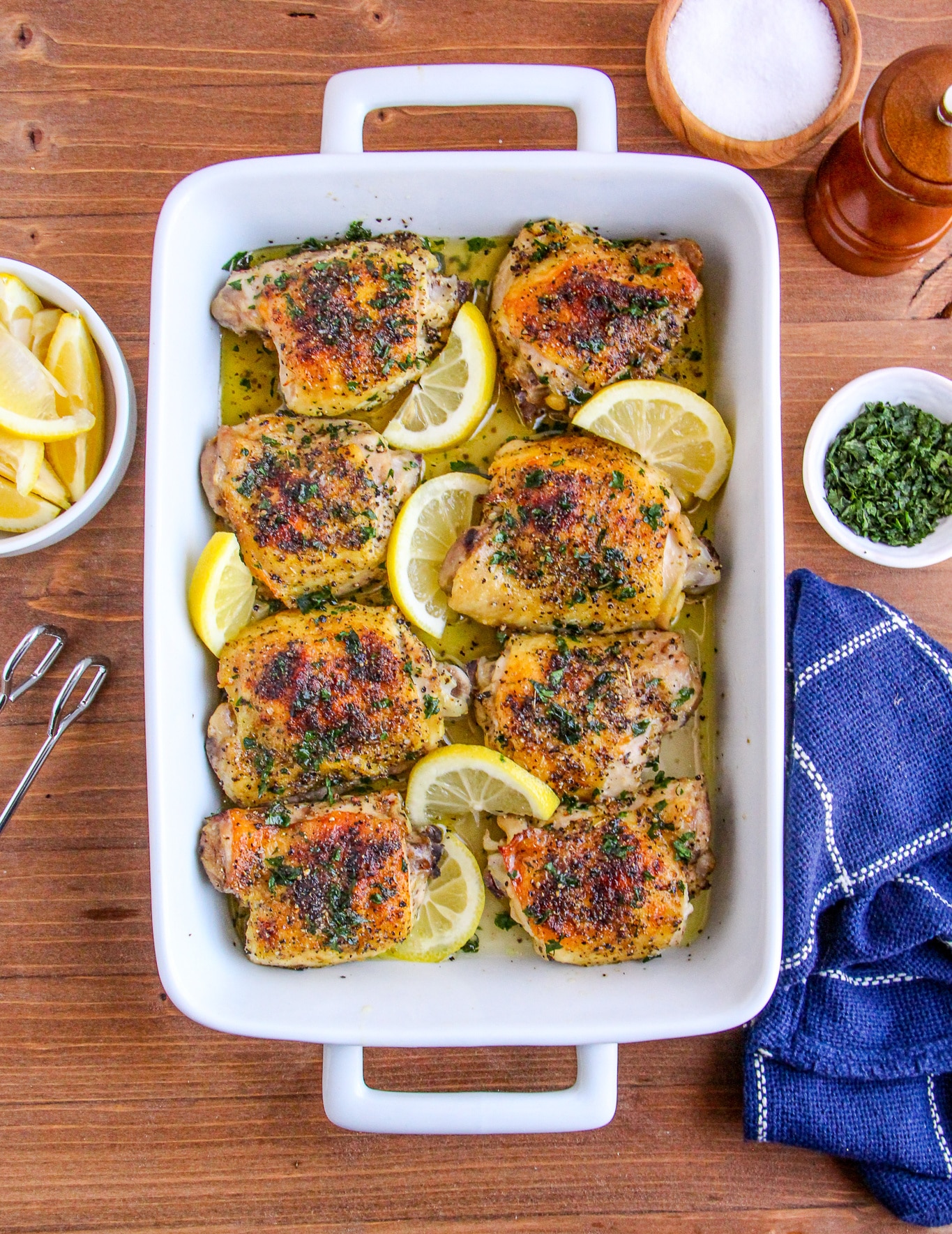 When you love something, you let it go, or so says the adage. Having fallen in love so deeply with this lemon pepper chicken thighs recipe, Susanne of New South Charm made it part of her regular dinner menu. Then she let it go, only to fall in love with it once again. I guess there's another proverb in there somewhere. Perhaps, absence makes the heart grow fonder?
For a more intense flavor, Susanne uses bone-in skin-on chicken thighs. She lovingly seasons them with lemon juice, fresh ground black pepper, garlic, and herbs. Ten minutes are all it takes to have this meal prepared for the oven. It then cooks for about 35 minutes, and there you have it, a simple yet flavor-packed weeknight meal.
Visit New South Charm for the recipe.
Maple Ginger Chicken Thighs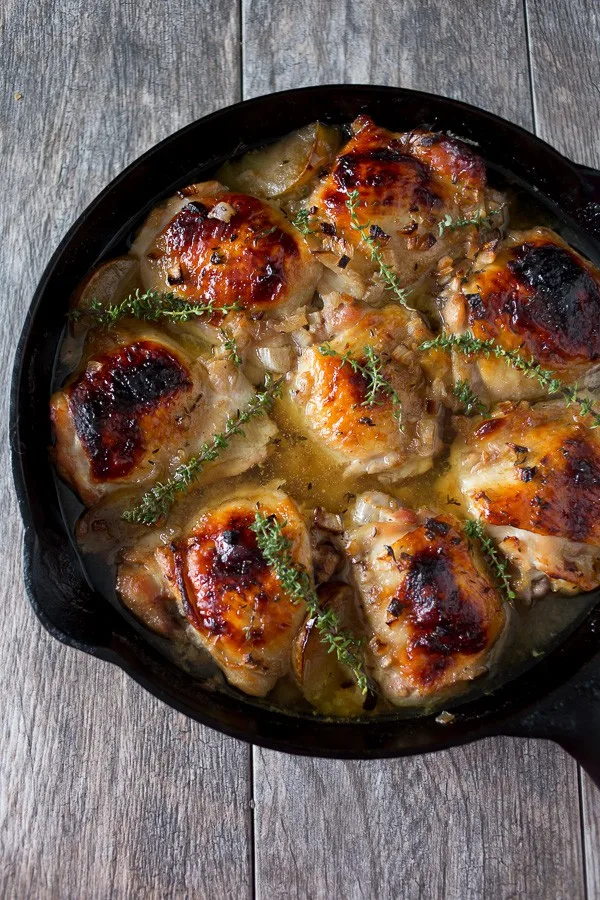 This 5-star maple ginger chicken thighs recipe from Brandy of Nutmeg Nanny is a mouthwatering marriage of sweet and savory. You'll want to make this meal when the leaves start to turn and the air a bit crisper or after a long week of doing.
You start by marinating bone-in chicken thighs in a blend of shallots, cider, ginger, maple syrup, and other deliciousness. They need to marinate for up to 24 hours, so some planning is necessary. Nevertheless, you can still make this on a weeknight as they only need to bake for an hour. Or, save for a special occasion and serve with thyme sprigs for an eye-catching presentation.
Visit Nutmeg Nanny for the recipe.
French Onion Chicken Skillet
In this recipe, Natasha of Asili Glam combines two of her favorites, the ubiquitous restaurant staple French onion soup, and tender, juicy chicken thighs. Putting on her mad scientist cap, she examined the essential components of her favorite soup and altered them a bit so they worked in this dish.
It begins with bone-in chicken thighs seasoned and seared for more flavor and texture. Then you caramelize those onions, an exercise in patience, but Natasha helps you with tips and tricks. Next, using the same pan used to sear the chicken, make a rich sauce filled with heavy cream, butter, white wine, and parsley. Finally, you assemble and bake. While not the most ideal mid-week meal, instead, save this one for the weekend or to impress dinner guests. It's a show-stopper!
Visit Asili Glam for the recipe.
Hoisin Garlic Chicken Thighs
Fareen of Food Mama understands that summer is about enjoying the weather while it lasts. That's why she recommends cooking these hoisin garlic chicken thighs on the grill. Besides, that smokey flavor is worth the effort of grilling, even in the winter.
So as you can guess by the name, these chicken thighs are doused in hoisin sauce and other flavorings common to Asian cuisine. They will need to marinate in that delicious potion for an hour or three before moving them to the grill. Finally, serve with white rice and veggies, and you have an excellent mid-summer meal fit for the whole family.
Visit Food Mama for the recipe.
Easy Peanut Butter Chicken Recipe (Thai Style)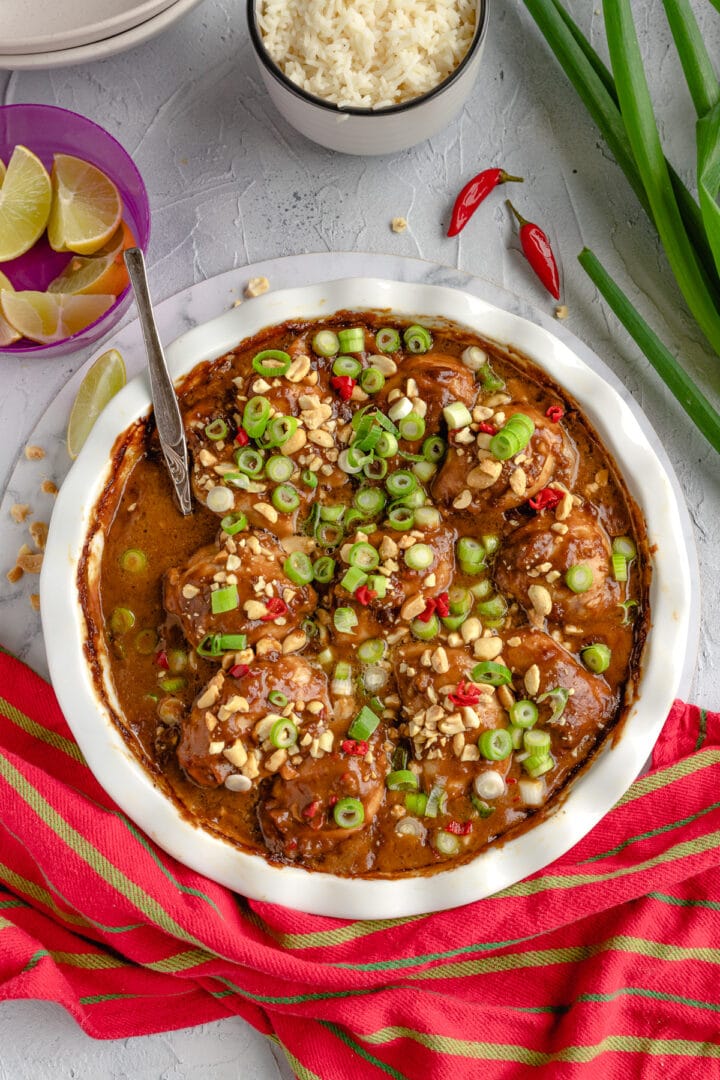 Helen of Scrummy Lane proclaims this peanut butter chicken recipe is so good it practically makes itself. In this magically easy dish of Thai-style chicken, you will find chicken thighs drenched in peanut sauce for a delectable meal.
Peanut butter mixed with garlic, ginger, soy sauce, and other Thai flavorings enshroud tender chicken thighs for a yummy meal perfect for mid-week. There are no browning or extra time-consuming steps. You just mix everything together, pour over the chicken, and bake. You'll find a recipe full of tips and FAQs to help you along your way.
Visit Scrummy Lane for the recipe.
West African One Pot Chicken & Rice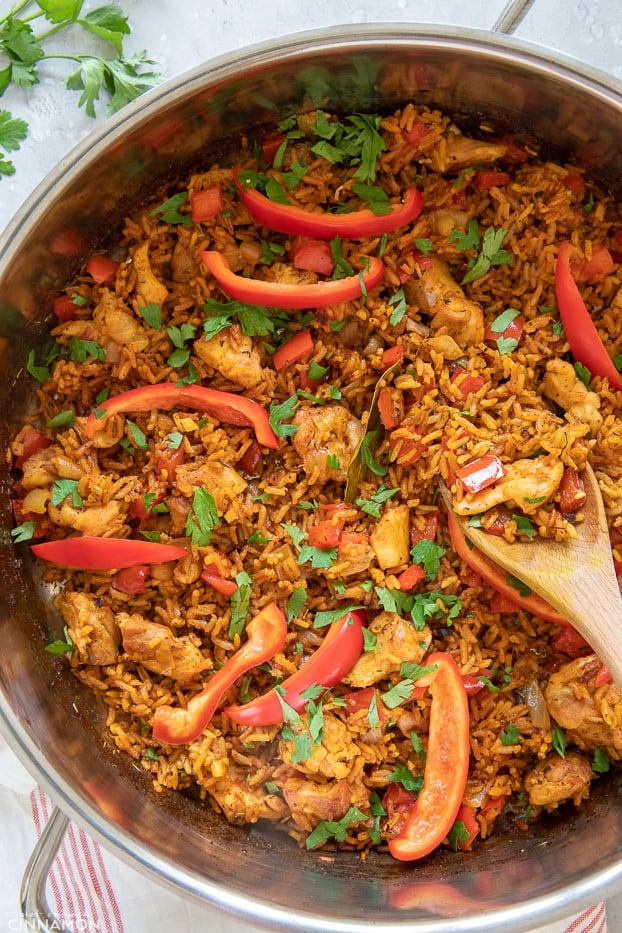 There's big flavor in this healthy West African one-pot chicken and rice recipe from Marie of Not Enough Cinnamon. Also known as Jollof rice, this dish is easy, but follow Marie's directions to a T if you want it to turn outright.
In this dish, you will find all kinds of healthful tastiness like boneless skinless chicken thighs and aromatics like onion and garlic. And while this one-pot meal is filled with lots of flavors, it's also quick, making it perfect for any day of the week. Crystal clear instructions will guide you to making this meal, and your taste buds will thank you.
Visit Not Enough Cinnamon for the recipe.
Which 5-Star Chicken Thigh Recipe Will You Try First?
So do you want to try the French onion chicken thigh skillet or maybe the maple ginger chicken thighs? Something else entirely? We'd love to hear from you in the comments!
Oh, and don't forget to save this list on Pinterest for later.