Get ready to discover a delicious list of 20 satisfying sheet pan dinners! So, go ahead and save it now.
Sheet pan recipes are a convenient way to get dinner on the table in no time. And once you see this list, you'll never worry about what to make for dinner again! For example, there's a Sheet Pan Cod Dinner with Vegetables, Sheet Pan Quesadillas, and more!
So, are you ready to discover tasty dinners?
Let's dive in!
For more tasty dinner options, see this list of skirt steak dinners and breakfast-for-dinner recipes.
Sheet Pan Cod Dinner with Vegetables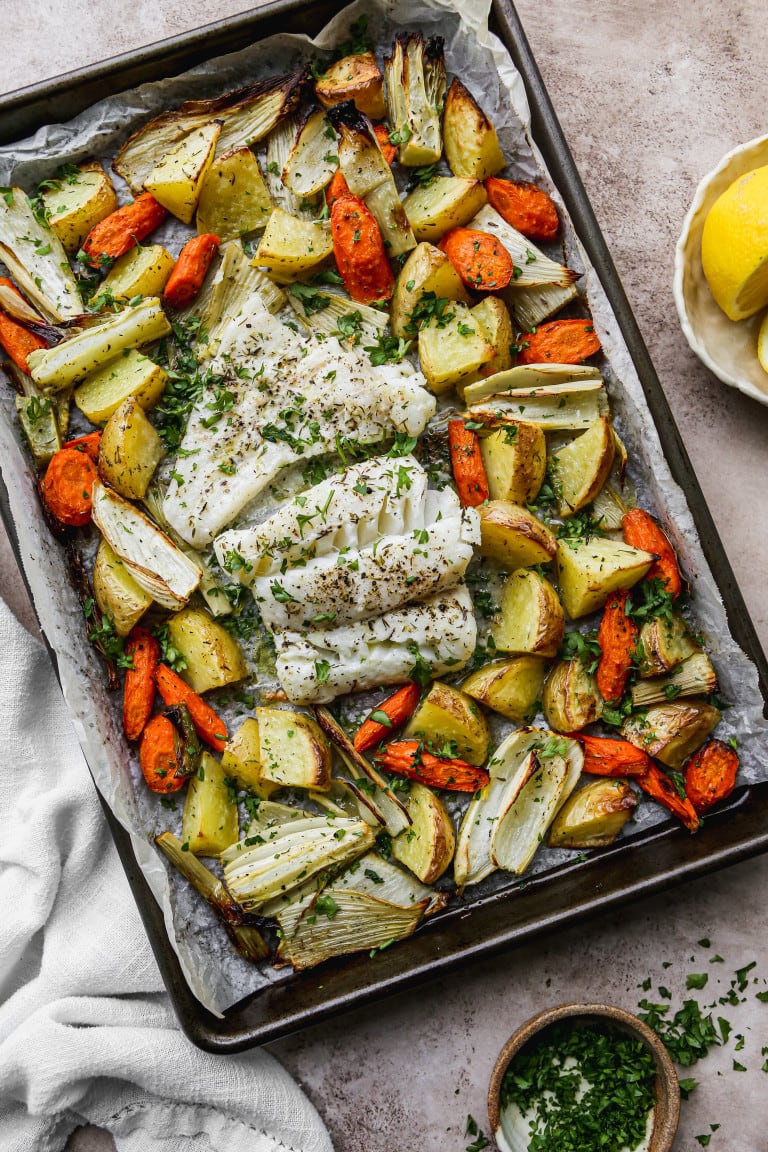 Could it be? A healthy fish dinner you actually look forward to eating? Well, that's certainly the goal of this 45-minute Baked Sheet Pan Cod Dinner recipe by Carrie of Walder Wellness. It's a heart-happy meal featuring tender cod fillets surrounded by a jungle of filling root veggies: carrots, potatoes, and onions. But hold on, my friend. We have yet to mention the best part-a homemade lemon dressing.
Visit Walder Wellness for the recipe.
One Pan Greek Chicken & Roasted Veggies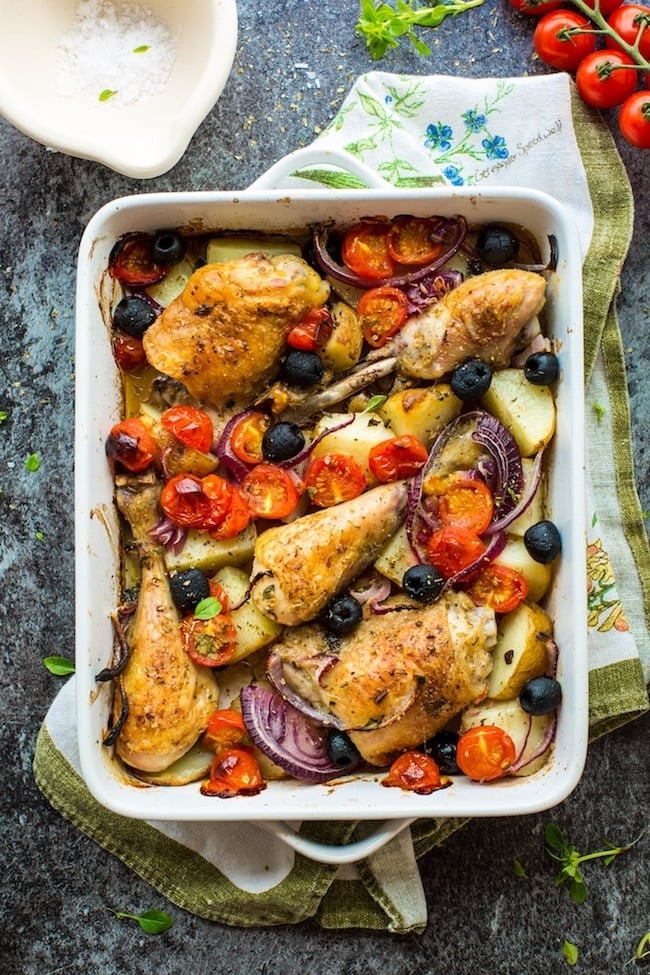 This One Pan Greek Chicken & Roasted Veggies is made in A Saucy Kitchen. This kind of meal is perfect for weeknights as it is tasty with flavorful chicken thighs and legs, olives, red onion, and hearty potatoes. It takes just five minutes to prepare and 45 minutes to cook. So, what does that mean for you? It means that perhaps you can help with homework or finish other chores while it's cooking. How's that for multitasking?
Visit A Saucy Kitchen for the recipe.
Sheet Pan Citrus-Chipotle Chicken Thighs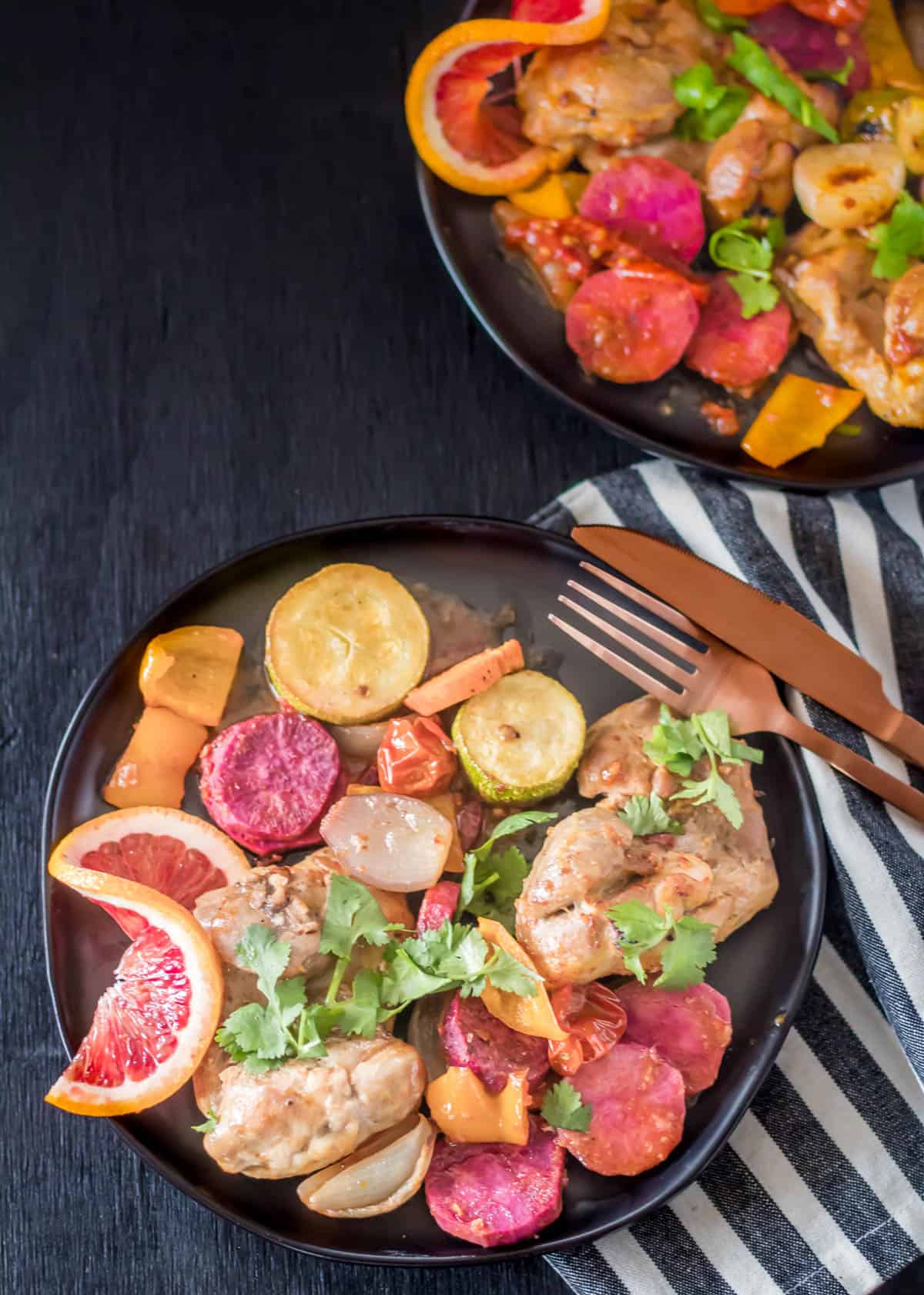 The first thing you'll notice in this Sheet Pan Citrus-Chipotle Chicken Thighs recipe from Beyond Mere Sustenance is the pop of bright colors. That comes from the squash, purple sweet potatoes, bell peppers, tomatoes, and blood orange for the garnish. But it's not just pretty. It's also tasty with a tempting citrus-chipotle glaze you can't get enough of.
Visit Beyond Mere Sustenance for the recipe.
Sheet Pan Quesadillas
With these Sheet Pan Quesadillas, the team over at Nourish Plate has solved a big problem. While quesadillas are delicious, you can only make one or two servings at a time. But with this technique, you can feed a whole crowd of hungry folks in one batch. Plus, with sirloin steak, black beans, and melty Mexican cheese, it's the same taste you know and love.
Visit Nourish Plate for the recipe.
Sheet Pan Shrimp Tacos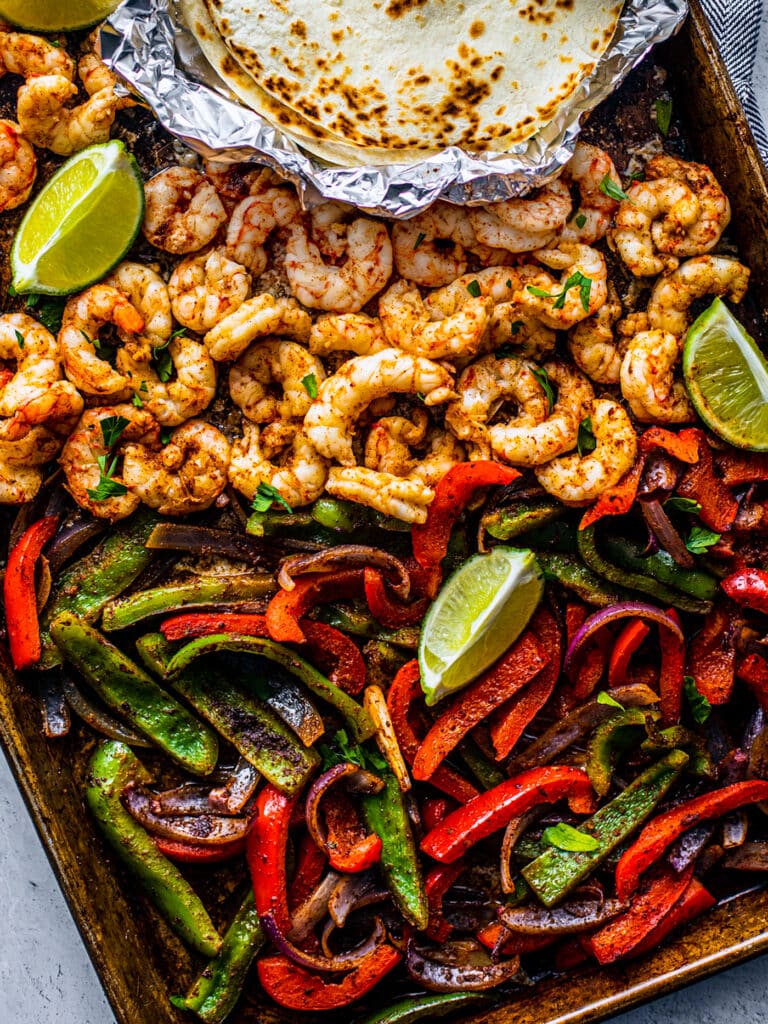 Ready to eat in less than 20 minutes, these Sheet Pan Shrimp Tacos from Dana of Killing Thyme are what you want to eat on busy weeknights. So take a gander at that seductive spread with fajita-seasoned shrimp, red onions, and bell peppers, and tell me it won't look even better on your table on a Wednesday evening.
Visit Killing Thyme for the recipe.
Pork Chops with Maple Syrup and Apples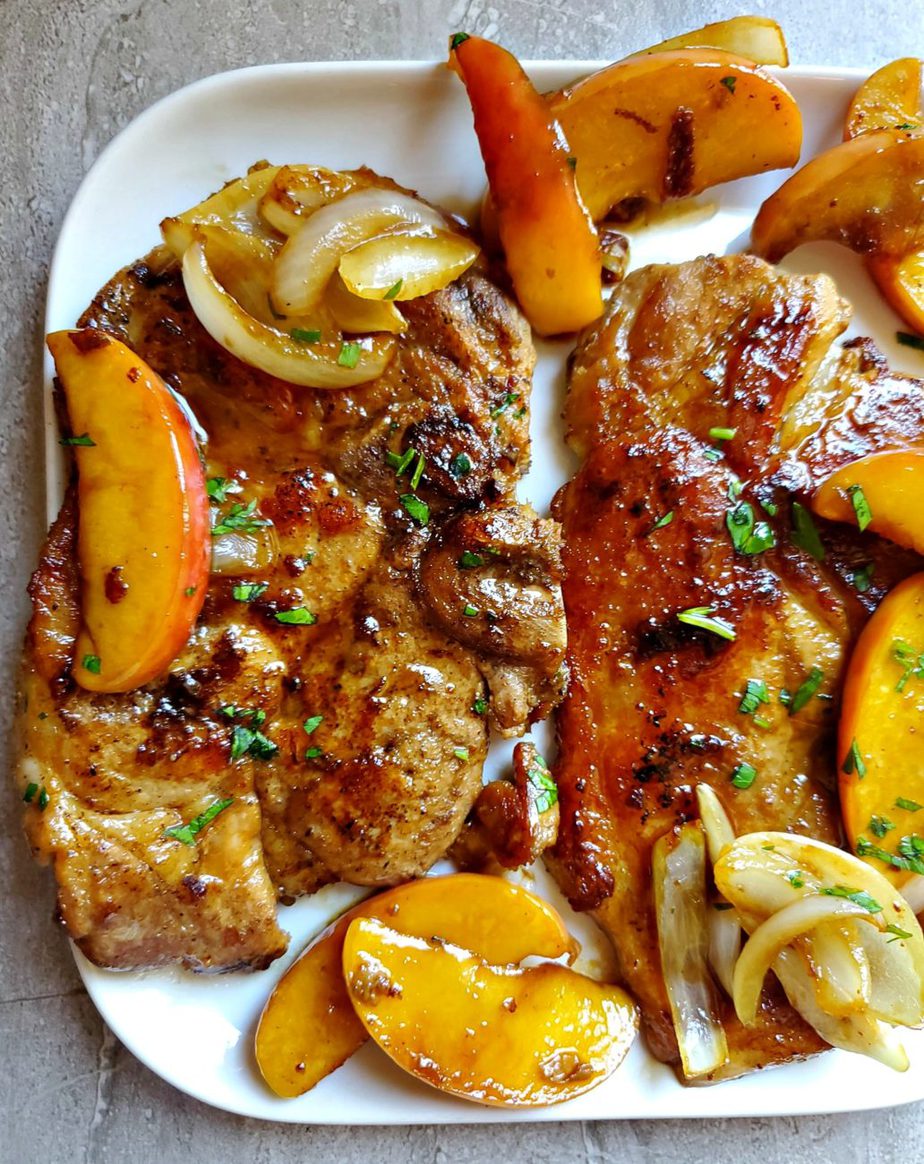 Jacqueline of Canadian Cooking Adventures implores you to make her Pork Chops with Maple Syrup and Apple recipe. So here's why you'll love it! It's a flavor-packed 20-minute dinner perfect for busy weeknights. The fewer than ten ingredients recipe includes thick and juicy pork chops, gala apples, and onion, all cooked in one pan.
Visit Canadian Cooking Adventures for the recipe.
Loaded Sheet Pan Nachos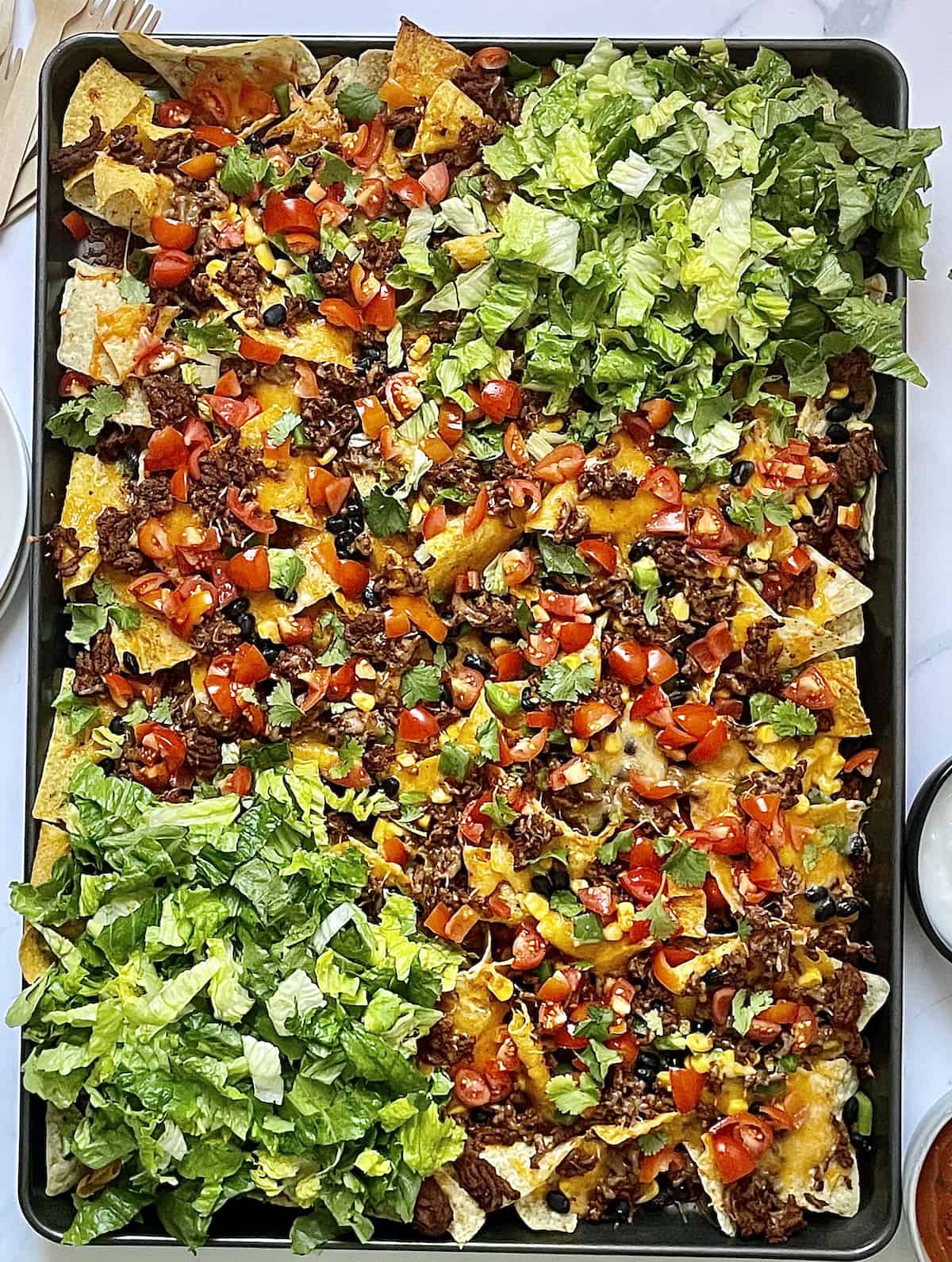 Have you met a single person that didn't love nachos? Yeah, we haven't either. So with this Loaded Sheet Pan Nachos recipe from Tasty Oven, you have a guaranteed crowd pleaser. Seriously, who can resist seasoned ground beef, black olives, melty cheese, corn, beans, and other toppings piled on top of warm tortilla chips? All you have to do is set it out and let them serve their own plates.
Visit Tasty Oven for the recipe.
Baked Italian Sausage and Potatoes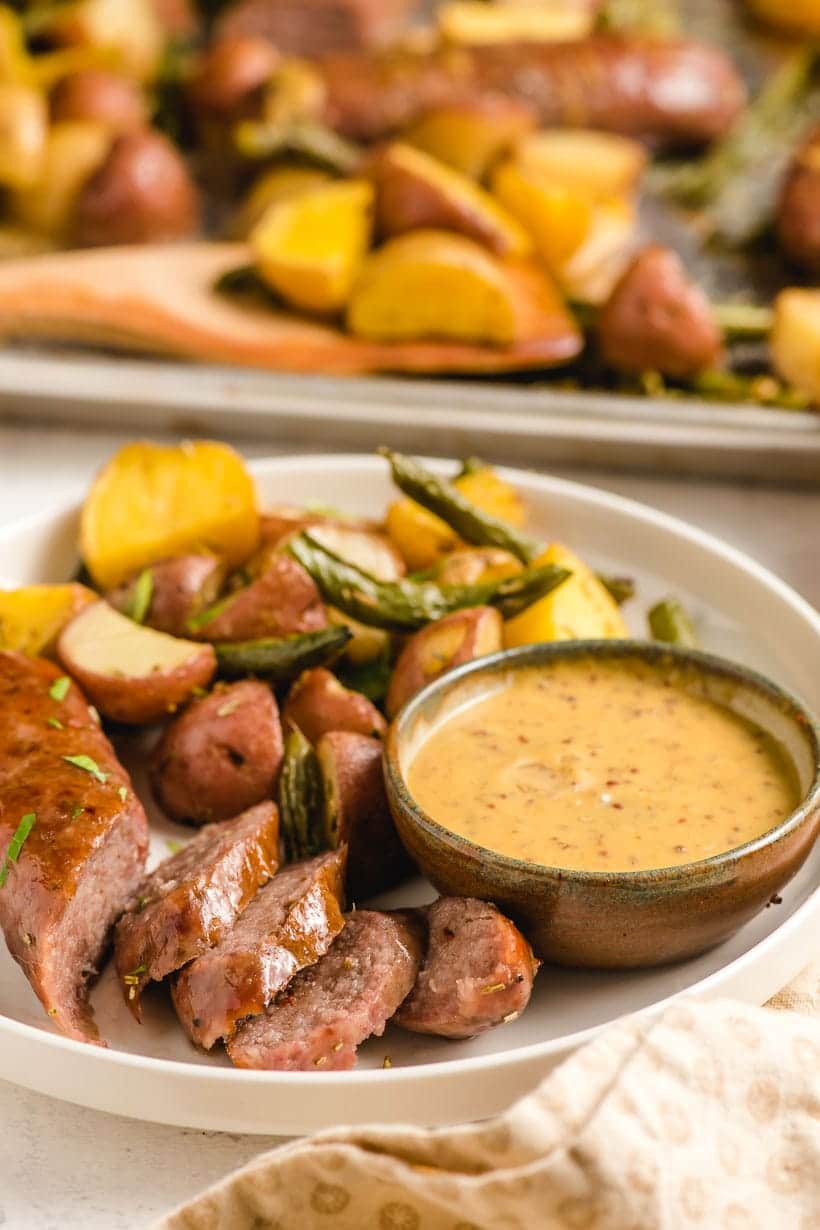 Courtney of Neighbor Food Blog advocates for sausage, reminding us of all the benefits the underutilized protein offers. For one, it's quick. But it's also tasty and versatile, as you can use it in all manner of recipes. From soups and stews to sheet pan dinners like this Baked Italian Sausage and Potatoes. It's a quick one-pan meal with mild Italian sausage, green beans, baby potatoes, and seasonings. And for extra finger-lickin' deliciousness, she also included her grainy honey mustard recipe.
Visit Neighbor Food Blog for the recipe.
Sheet Pan Shrimp Boil
Shrimp boils are a Low Country (region along South Carolina's coast) staple. They often mean family and friends gathering, hanging out, and eating amazing food. But what if you want the flavor without the get-together and mess? Well, Sandy of Retro Recipe Box offers this Sheet Pan Shrimp Boil as a tasty weekday alternative. But, of course, there's still shrimp, corn, sausage, and lots of Cajun seasoning.
Visit Retro Recipe Box for the recipe.
Sheet Pan Pork Tenderloin with Cauliflower and Kale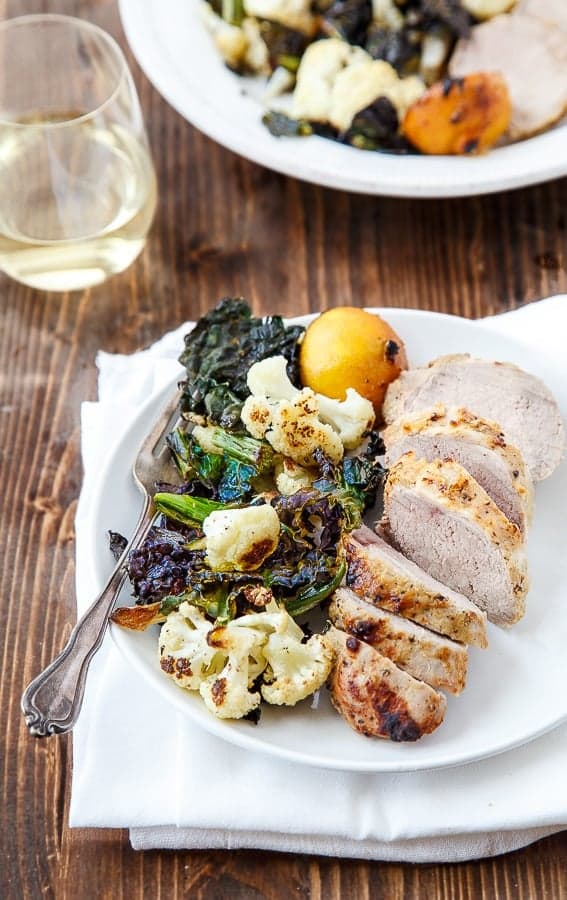 While most of Christina's recipes are Desserts For Two, she sometimes provides savory snacks or even dinner recipes for two, like this Sheet Pan Pork Tenderloin with Cauliflower and Kale. It's a complete meal. First, you marinate the pork in a delicious mix of Dijon mustard, honey, and garlic. Then bake it right along with the kale and cauliflower.
Visit Desserts For Two for the recipe.
Sheet Pan Cornish Game Hens
This Sheet Pan Cornish Game Hens recipe from Running To The Kitchen is an elegant dinner worthy of a dinner party or Sunday supper. So get a load of this. A delicious bevy of vegetables and fruit like blood oranges, fennel, rhubarb, and roasted potatoes surrounds the tiniest of chickens.
Visit Running To The Kitchen for the recipe.
Sheet Pan Meatloaf Supper
This Sheet Pan Meatloaf Supper from Meaghan of 4 Sons R Us is so simple it's brilliant! It's a complete dinner that has all food groups covered. You cook everything in the same pan but in layers. First, you roast the potatoes for some time. Then you add the miniature meatloaf. Finally, add the green beans.
Visit 4 Sons R Us for the recipe.
Sheet Pan Halloumi Tacos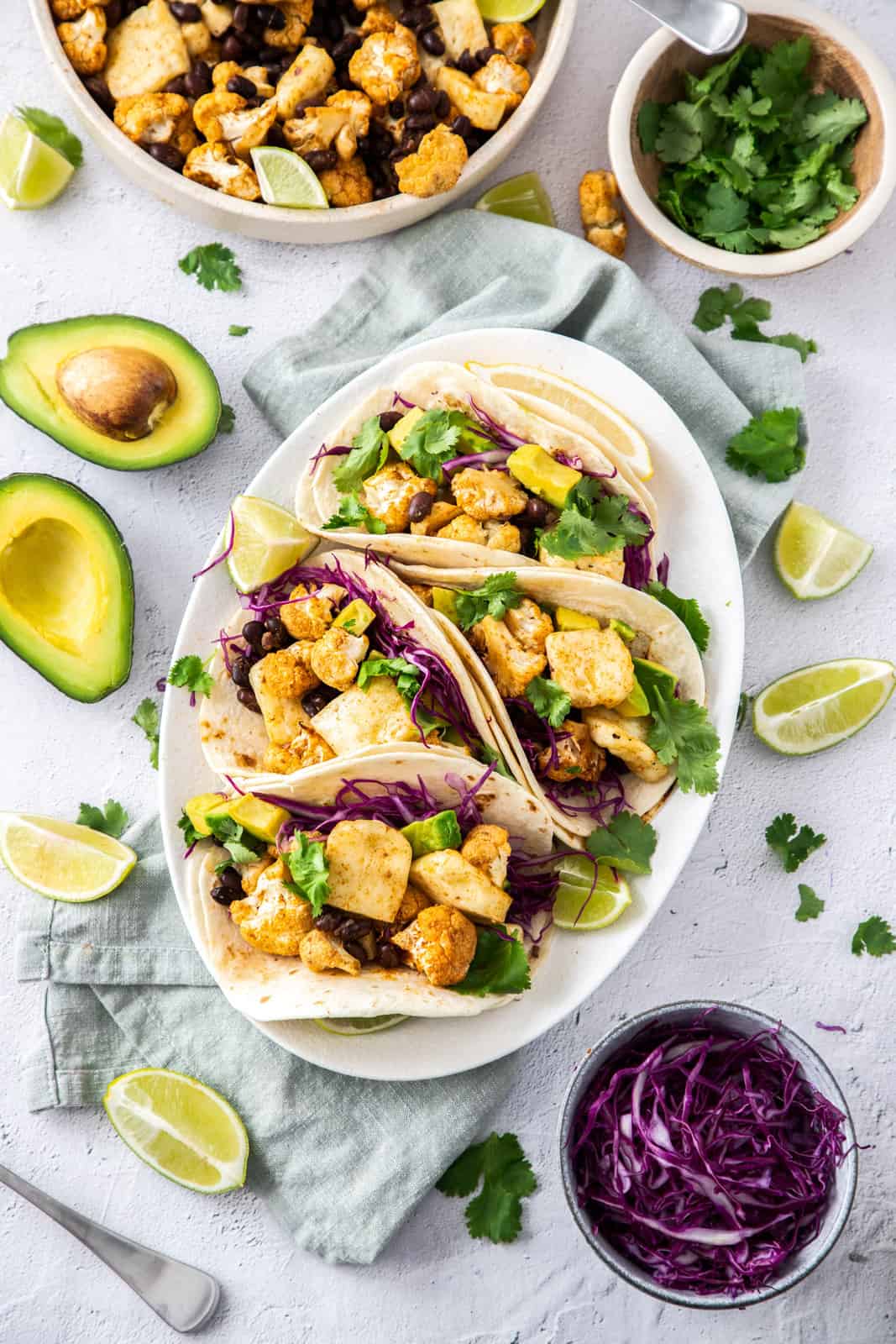 Now, you might first wonder, "what the heck is halloumi?" It's a delicious cheese traditionally made with sheep and goat milk. And for these Sheet Pan Halloumi Tacos by Katie of Hey Nutrition Lady, it's the star ingredient, but the supporting cast includes black beans, cauliflower, and avocado. The whole thing comes together in less than 40 minutes for a simple yet mouthwatering vegetarian dinner. You won't even think of meat!
Visit Hey Nutrition Lady for the recipe.
Acorn Squash & Pork Chops with Cranberries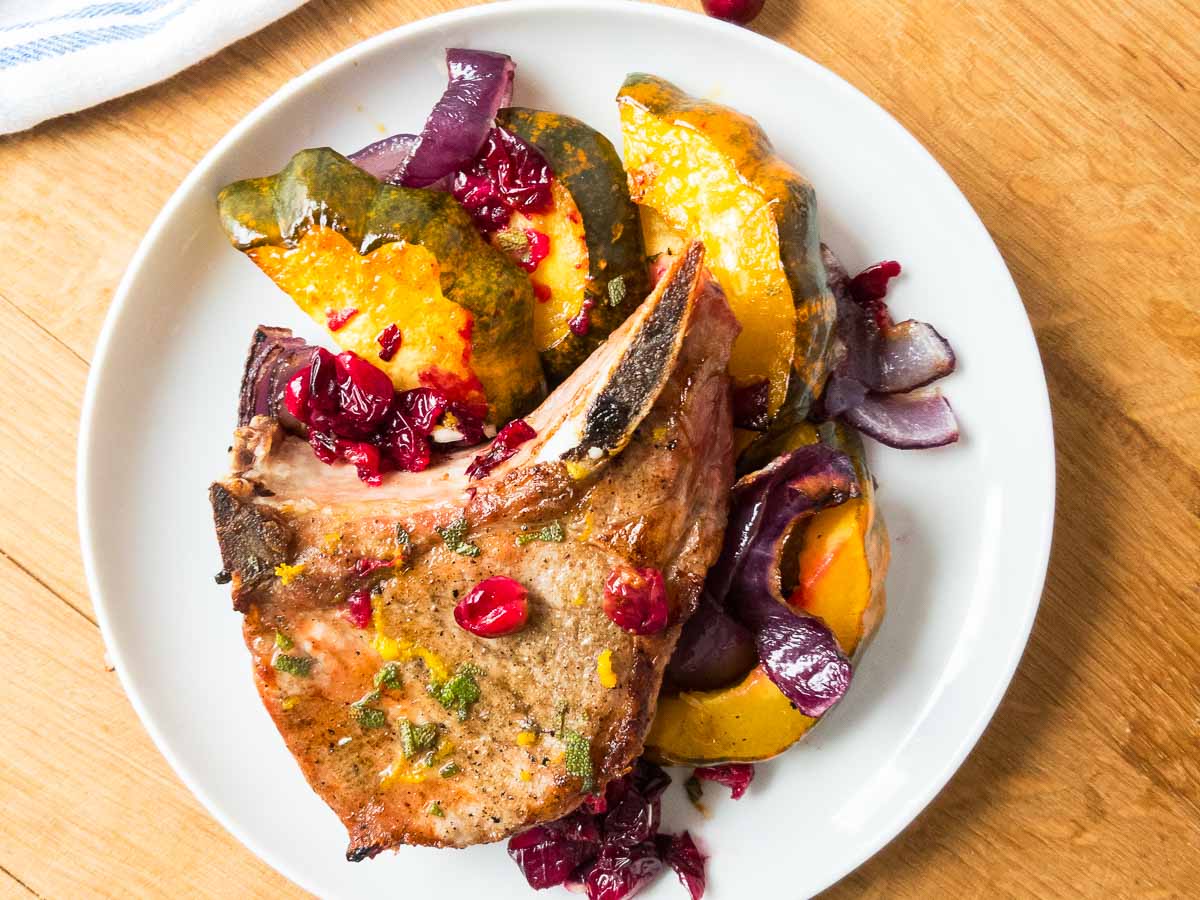 While it sounds a bit high society, this Acorn Squash & Pork Chops with Cranberries from Jen of Peel With Zeal is quite simple to make. You'll have it on your plate in just 30 minutes, including the time it'll take you to make the Honey Sage Vinaigrette.
Visit Peel With Zeal for the recipe.
Simple Easter Dinner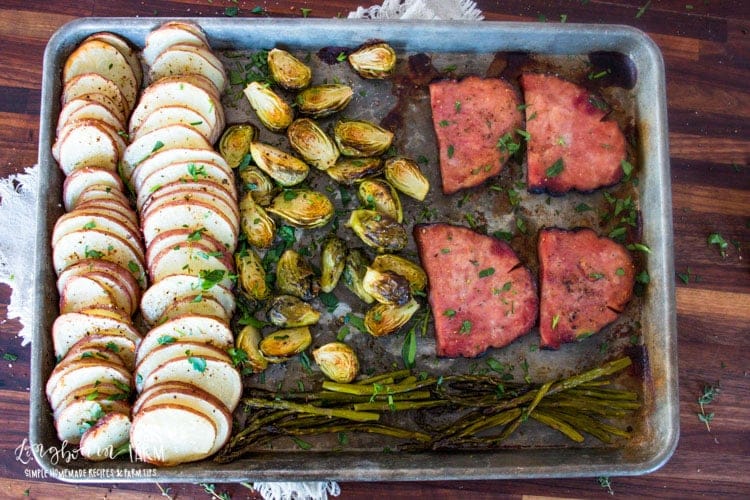 When Alli of Longbourn Farm isn't busy with her farmstead, she's in the kitchen creating new eats like this Easy Easter Dinner on One Sheet Pan. That's right, on one pan, there's ham, Brussels sprouts, asparagus, and potatoes. It's a wonderful and welcomed solution for small families and gatherings where you still want to celebrate Easter with a traditional dinner.
Visit Longbourn Farm for the recipe.
Portuguese Potatoes and Chorizo (Sheet Pan)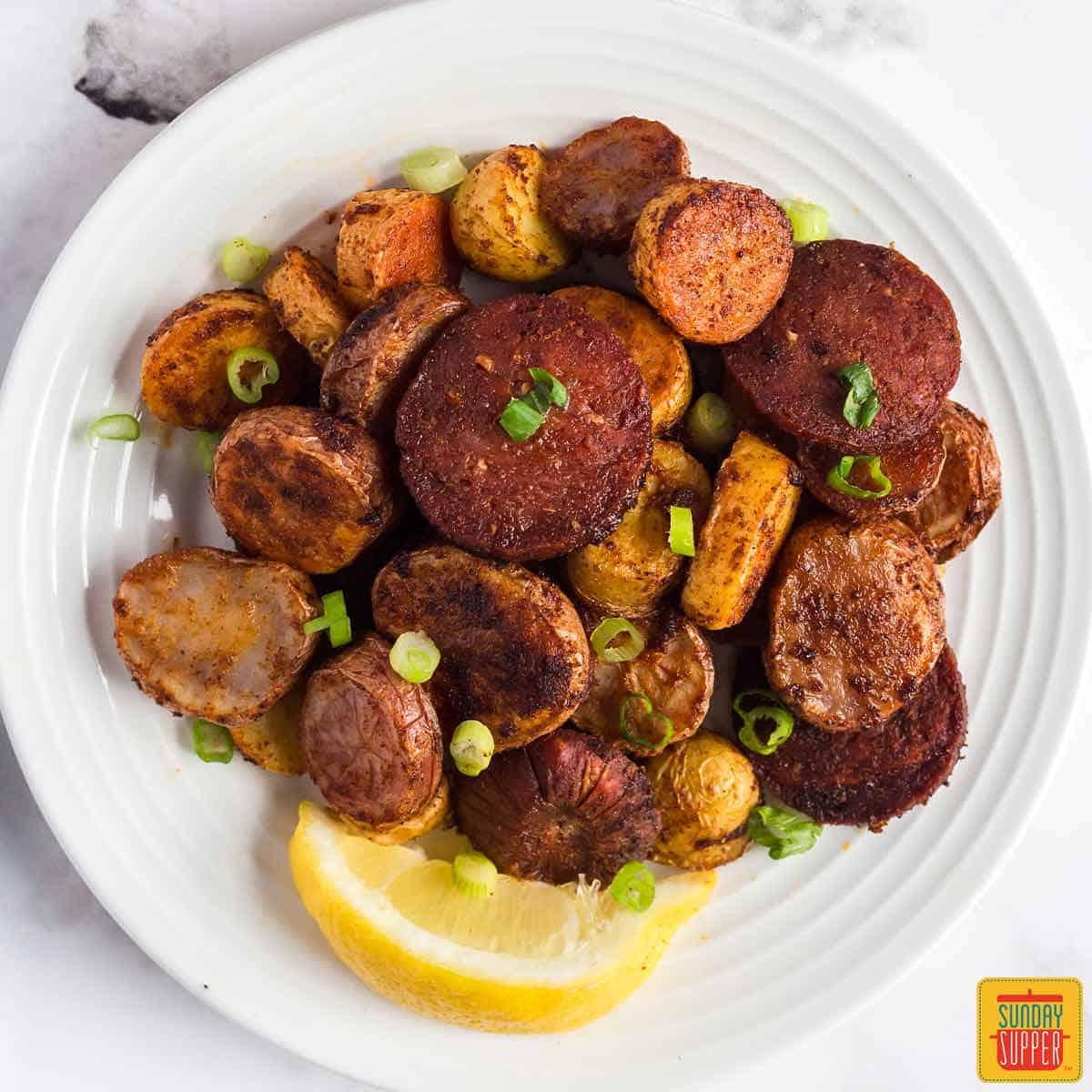 If you weren't hungry up until this point (and I don't see how that's possible), you're sure to have your appetite stimulated by this Portuguese Potatoes and Chorizo from Sunday Supper Movement. It features uber-flavorful Spanish chorizo (Mexican chorizo won't work), fingerling potatoes, and green onions. But do you see how crispy it is? That's the magic!
Visit Sunday Supper Movement for the recipe.
Sheet Pan Kung Pao Chicken
Kung Pao Chicken is a must at mall food courts. But what if you could make it home, only healthier and cheaper? Well, that's what you're getting with this Sheet Pan Kung Pao Chicken from Pass Me A Spoon. It has the same great taste, with chicken breast, broccoli, and red bell pepper. Then there's THAT SAUCE, a delicious mix of soy, sesame oil, maple, and more.
Visit Pass Me A Spoon for the recipe.
Sheet Pan Spaghetti Squash with Roasted Tomatoes
Spaghetti squash is the dieting cheat code. It reminds you of pasta, even with its ability to hold onto sauce. But, unlike our favorite way to consume carbs, it's not calorically dense. So, when we came across this Sheet Pan Spaghetti Squash with Roasted Tomatoes from Life As A Strawberry, we knew we had to get it on this list of sheet pan dinner recipes. It's so flavorful with onion, garlic, white wine, and fresh basil.
Visit Life As A Strawberry for the recipe.
Roasted Vegetable Tortellini Bake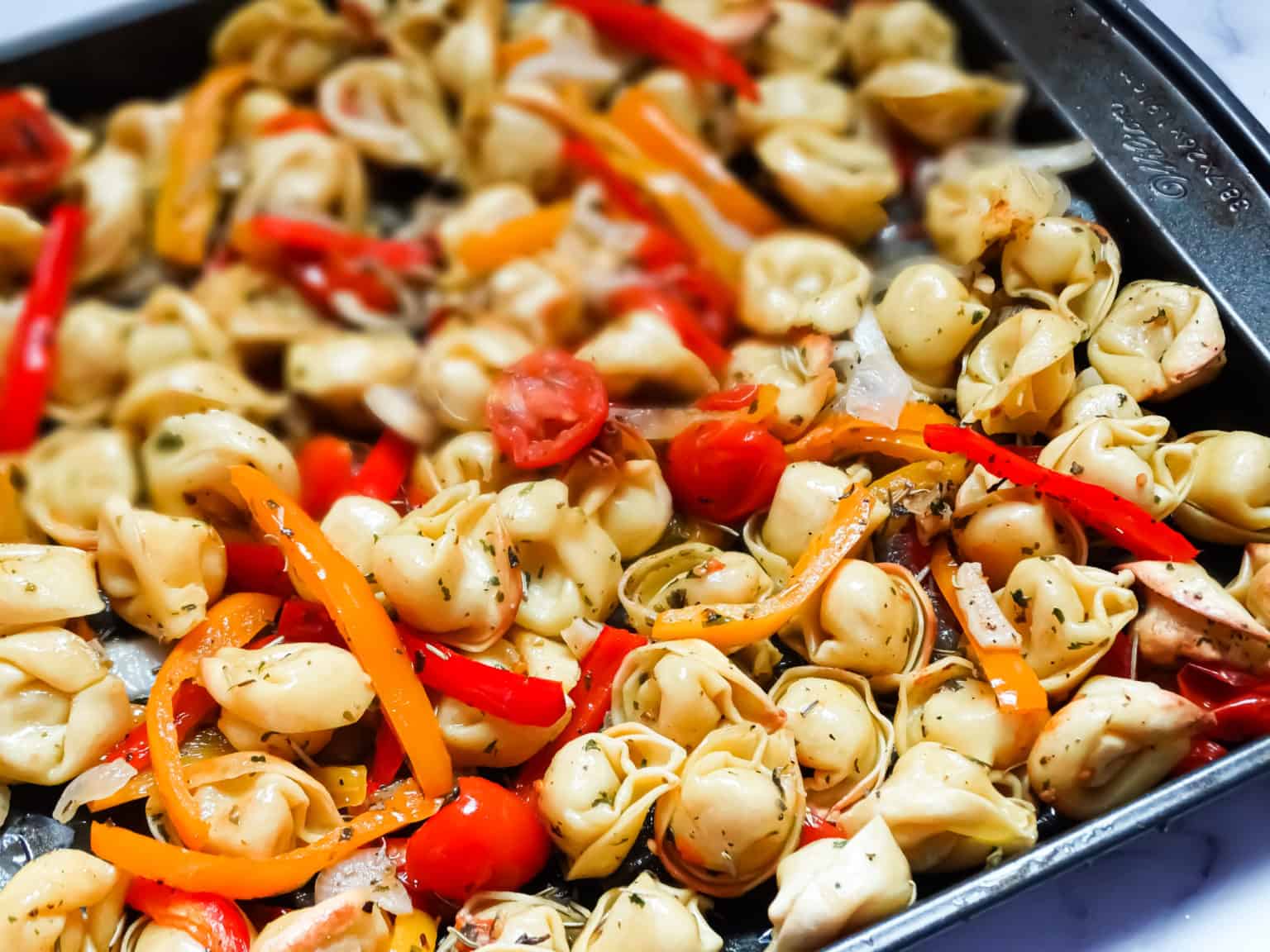 Christina, once again, shows us how to make dinner simple and easy. This time it's with her Sheet Pan Tortellini with Roasted Vegetables. The cheese-filled pasta is surrounded by roasted peppers, onions, and garlic and made flavorful with herbs. But most of all, you'll love that it's ready in just 25 minutes, and cleanup couldn't be easier.
Visit Tasty Kitchen for the recipe.
Sheet Pan Greek Salmon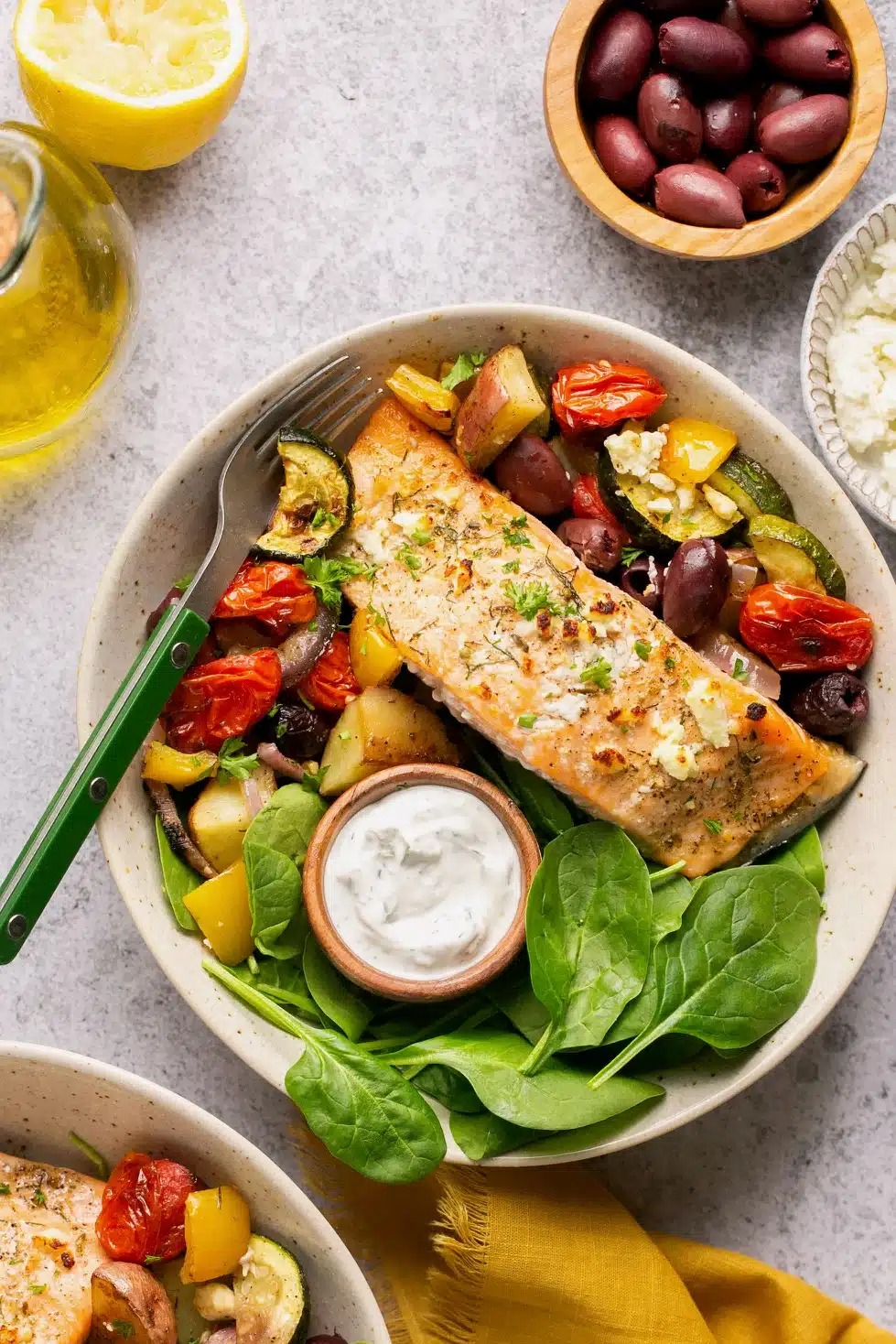 This gorgeous Sheet Pan Greek Salmon recipe from Mary's Whole Life will become your new favorite way to eat the omega3 rich fish. Of course, along with veggies, you have all those Mediterranean flavors like olives, feta, dill, garlic, oregano, and lemon. But best of all, you cook it all in one sheet pan.
Visit Mary's Whole Life for the recipe.
Which Sheet Pan Dinners Will You Try First?
By now, you've come across nearly two dozen spectacular sheet pan dinners for quick and delicious dinners. For example, there's a Roasted Tortellini Vegetable Bake, Sheet Pan Kung Pao Chicken, and more! So, what will it be? We'd love to know!