Are you the pancake pursuer at breakfast buffets, or do you go "woo-hoo" for waffles? If you are the latter, you're in good company with this fantastic list of 19 wonderful waffle recipes.
We've curated this delicious collection of sweet and savory waffles, including mochi, bbq pulled pork, and authentic liege Belgian waffles.
So, are you ready to go on this mouthwatering journey with us?
Let's dive in!
If you lover this compilation of waffle recipes, don't miss these pancake recipes.
Mochi Waffles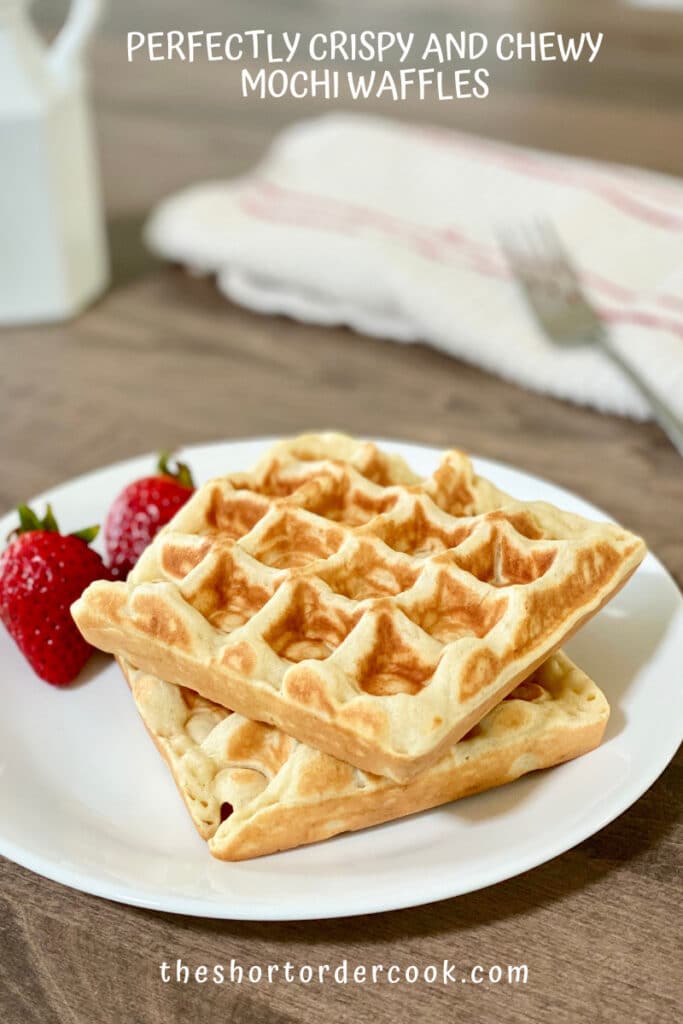 In my estimation, the best waffles have a crispy exterior and a soft, fluffy interior. However, these mochi waffles from Angela of The Short Order Cook make use of Mochiko-glutinous rice flour. The result, crispy on the outside and chewy inside, could become your new breakfast obsession.
Visit The Short Order Cook for the recipe.
Honey Beer BBQ Chicken and Waffles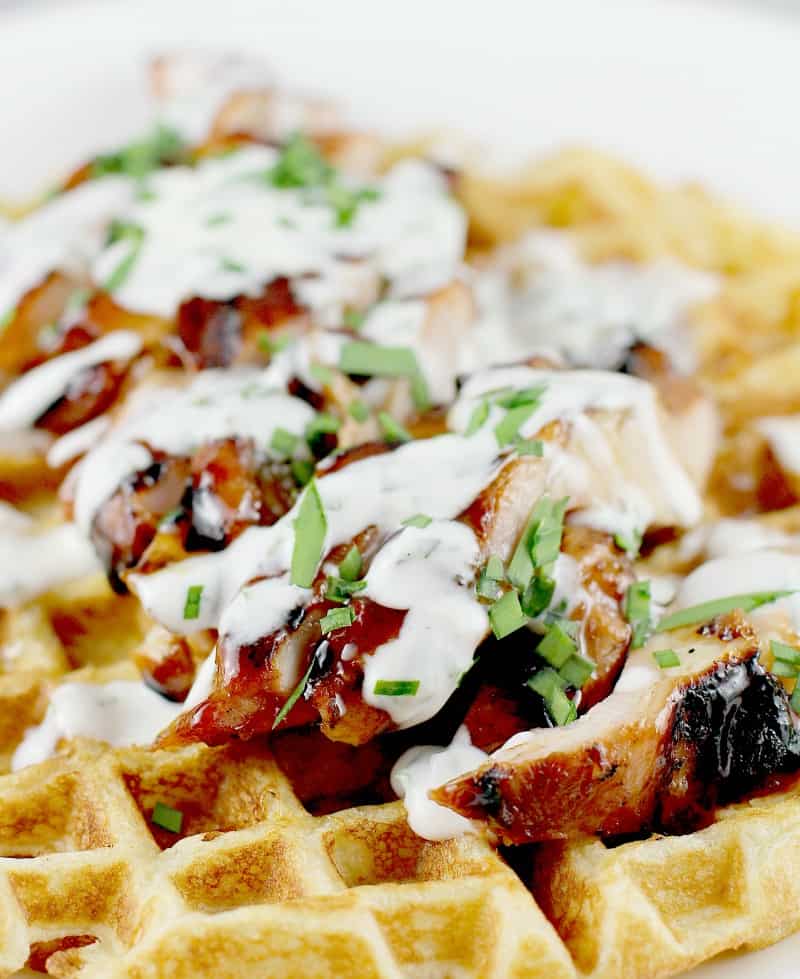 So here's a break from the norm. It's Erica's Recipes' unique take on chicken and waffles. Only this time, the creative cook has us in a frenzy with beer-marinated bbq chicken on top of a fluffy waffle. Finally, you have a flavorsome buttermilk ranch and a drizzle of honey to round it out.
Visit Erica's Recipes for the recipe.
Birthday Cake Waffles
These birthday cake waffles from Amy, The Gifted Gabber, make for a delicious surprise anyone would be happy to wake up to. The simple addition of sprinkles in the batter makes for an irresistibly festive presentation. So, here's a promise: The lucky birthday boy or girl won't be able to help but smile.
Visit The Gifted Gabber for the recipe.
BBQ Pulled Pork Savory Waffles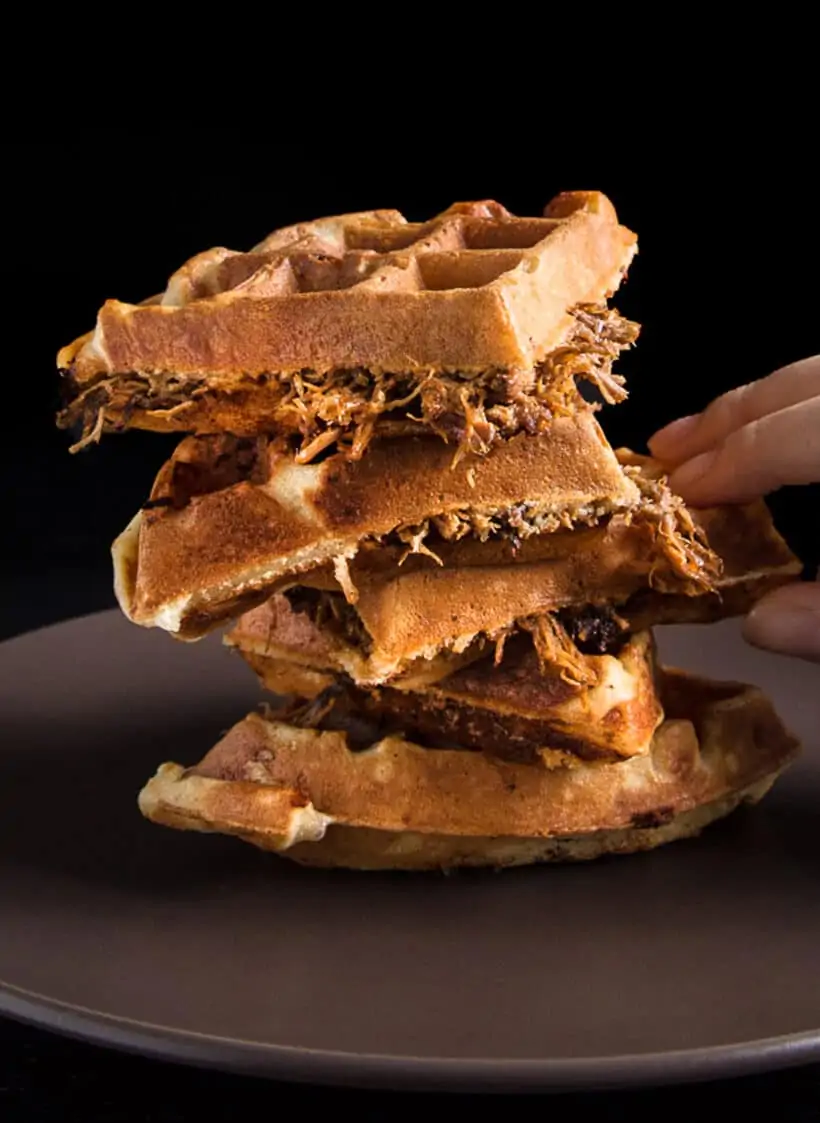 This bbq pulled pork savory waffles recipe from Amy + Jack of Pressure Cooking Recipes is a mouthwatering dinner or snack that will be remembered. Like the best waffles, the texture is crispy on the outside and fluffy on the inside. But here's where it gets interesting. They're stuffed, not topped, with creamy cheese and tender and tempting bbq pulled pork.
Visit Pressure Cooking Recipes for the recipe.
Banana Chocolate Chip Waffles
Marlynn of Urban Bliss Life shows you how to make these delicious banana chocolate chip waffles. They're ideal for when you want a decadent weekend breakfast. But despite the enticing aroma, there are also practical reasons to love this recipe. For example, it's a terrific way to use up overripe bananas. They are freezer friendly. Plus, with just one bowl, cleanup is a breeze.
Visit Urban Bliss Life for the recipe.
Butter Tart Waffles
If your Christmas morning breakfast needs a changeup, you'll want to check out these butter tart waffles (a riff on Canadian butter tarts) from Terri of Food Meanderings. But what the heck is it? Well, it starts with light and fluffy raisin butter waffles and ends with wicked good butter tart sauce: a caramelly brown sugar, vinegar, and cream concoction.
Visit Food Meanderings for the recipe.
Chocolate Waffles
If you're anything like Food Meanderings' Terri, you'll think, "I could have been eating chocolate waffles this entire time…" Yeah, I hate to break it to you! And with a swap that sees you replace some of the flour with cocoa powder, they are easy to make.
Visit Food Meanderings for the recipe.
Liege Waffles (Traditional Belgian Waffle Recipe)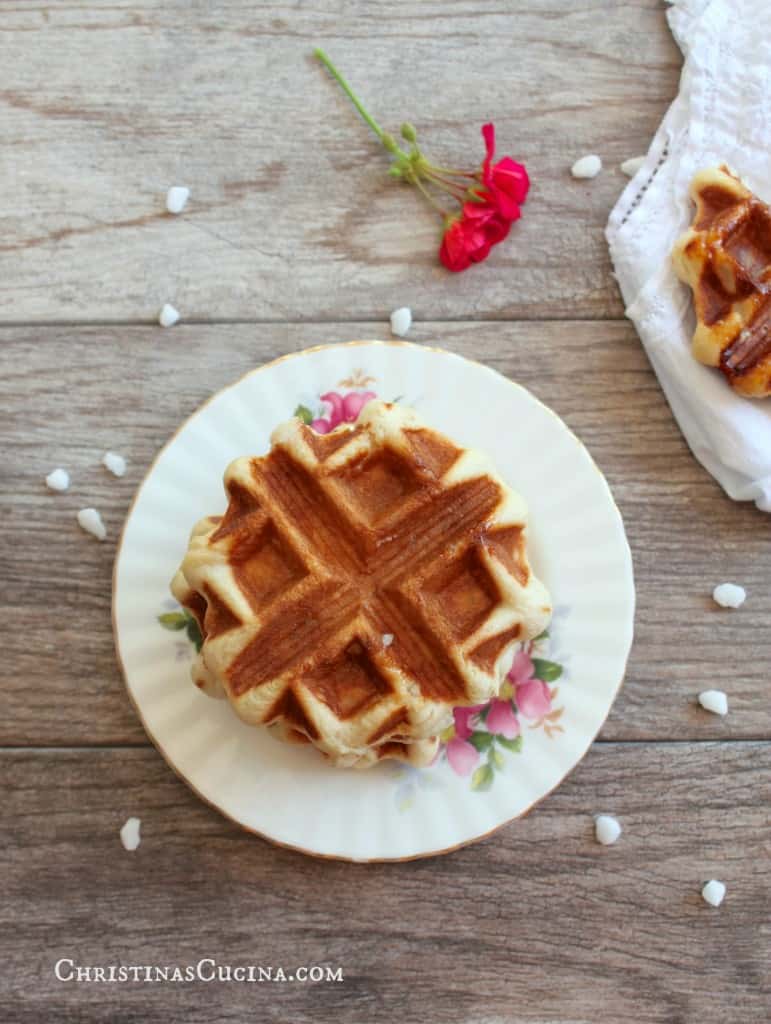 Christina's Cucina is a reliable source of authentic Italian, Scottish, and British food. That's her wheelhouse. However, you can rest assured that even when she tackles eats out of this zone, they're still developed with the utmost respect for your time.
So, these Liege waffles are about as close as you can get to authentic without a trip to Belgium. Christina walks you through not only a trustworthy recipe but also the differences, of which there are many, between Belgian and American-style waffles.
Visit Christina's Cucina for the recipe.
Buttermilk Cornbread Waffles
Make these buttermilk cornbread waffles From Valerie's Kitchen, and you might win a trophy. Not a physical award, but certainly in compliments and accolades. Let's put it this way; shame on anyone who wouldn't do the dishes after you made this crispy and sweet dessert for breakfast.
Visit From Valerie's Kitchen for the recipe.
Easy Pumpkin Waffles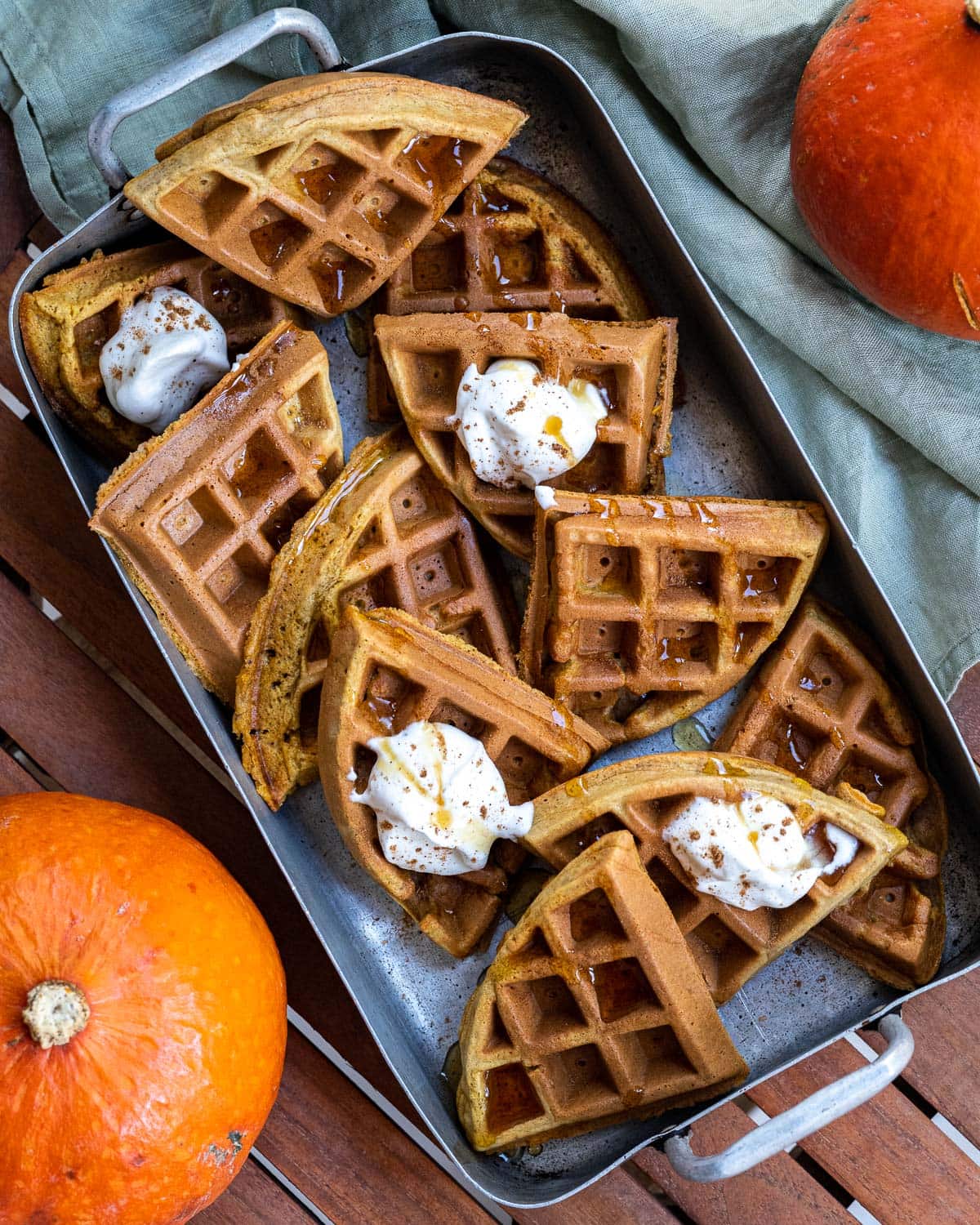 Weekends just got cozier with these easy pumpkin waffles from Six Hungry Feet. This one calls for fresh pumpkin puree, unlike other pumpkin waffle recipes that use canned. That's certainly an upgrade. But the enticing scent of fall spices like cinnamon and nutmeg will seal the deal.
Visit Six Hungry Feet for the recipe.
Black Forest Waffles
Dark chocolate plus cherries equals black forest. Surely, you've seen this concept in desserts such as ice cream. But now you can discover that delicious culinary pairing in waffle form with this recipe from Claire of The Simple, Sweet Life. The waffles are dark chocolate topped with fresh whipped cream and homemade cherry sauce. So is that breakfast or dessert?
Visit The Simple, Sweet Life for the recipe.
Blueberry Waffles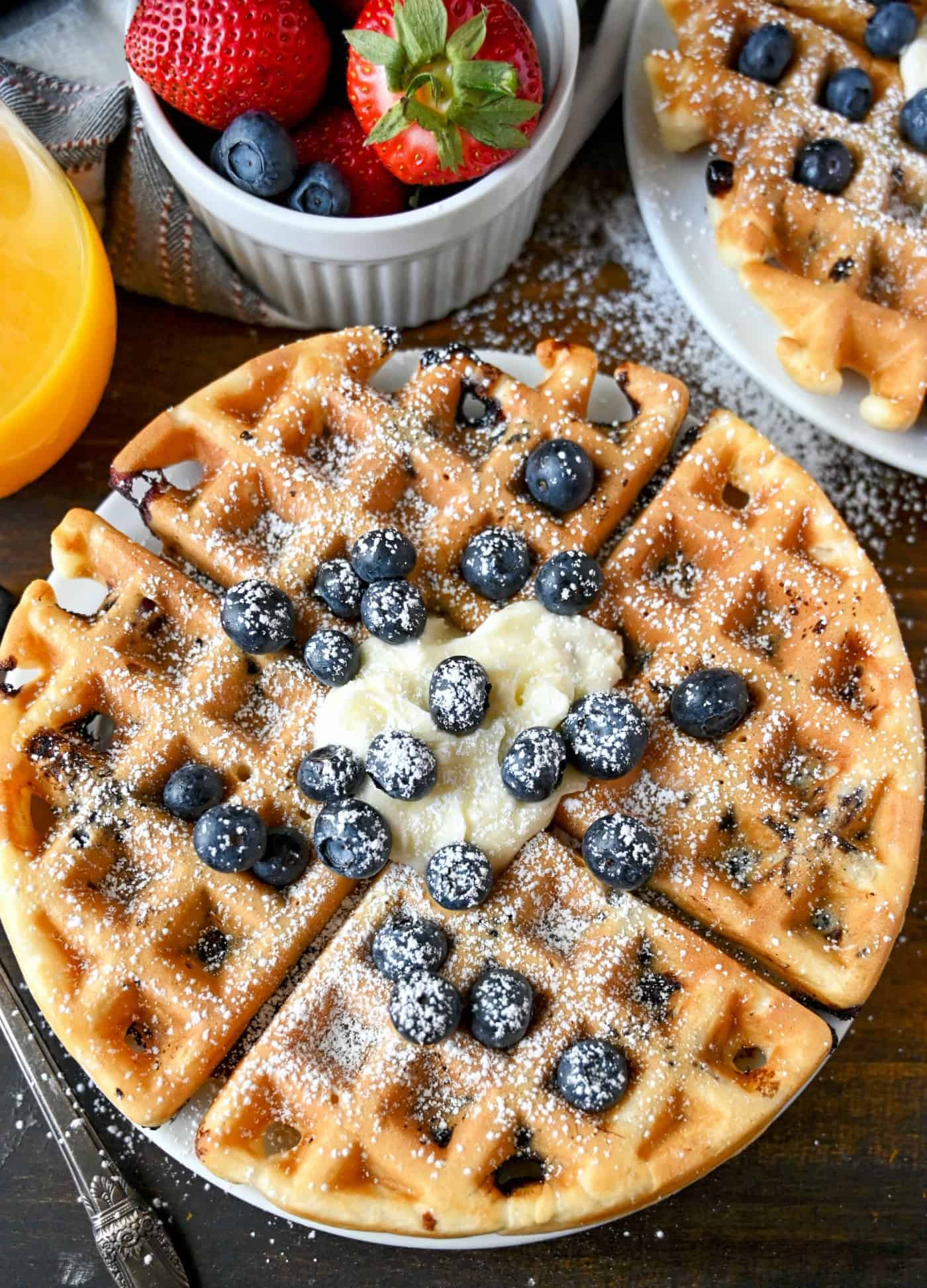 If you're searching for creative ways to use up blueberries, you'll love these waffles from Wendie of Butter You Biscuit. Thanks to buttermilk, they are extra light, fluffy, and tender on the inside. You'll find blueberries interspersed throughout. Then, on top, serve them with a handful of fresh berries and whipped cream.
Visit Butter Your Biscuit for the recipe.
Ham + Cheese Waffles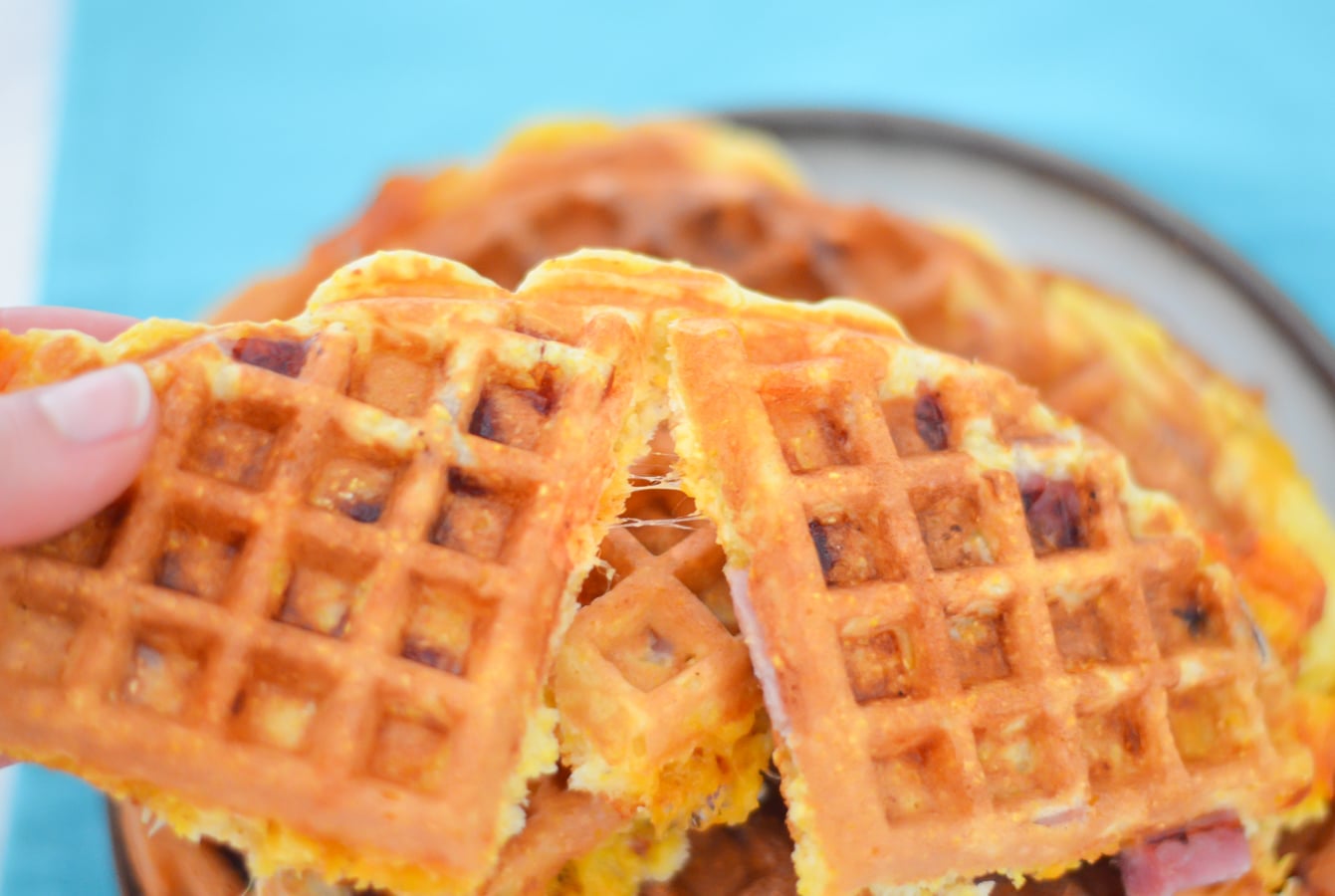 We love foods that are unexpectedly stuffed with fillings like these munchable ham and cheese waffles from Luci's Morsels. It's a waffle you can serve savory or sweet with a side of maple syrup. Additionally, it can be a complete and even handheld meal. On the page, you'll find a recipe with cornmeal for extra crispiness, along with chunks of cheddar cheese and ham.
Visit Luci's Morsels for the recipe.
Easy Waffle Iron Cinnamon Rolls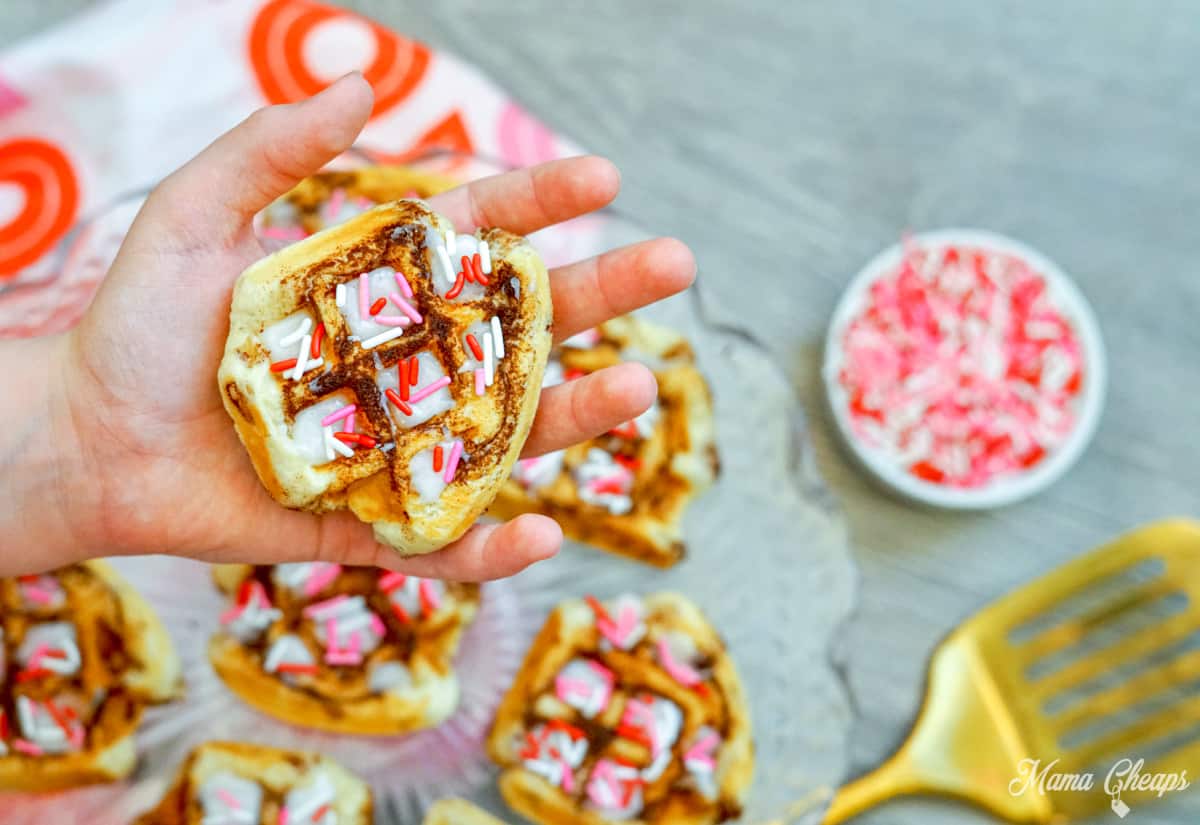 We've made our share of waffle desserts like these red velvet waffle whoopie pies and these pumpkin waffle whoopie pies. They are delicious, cute, and quick! So, we are certain these three-ingredient waffle iron cinnamon rolls from Devon of Mama Cheaps will make a delicious quick treat.
Visit Mama Cheaps for the recipe.
Rainbow Waffle Charcuterie Board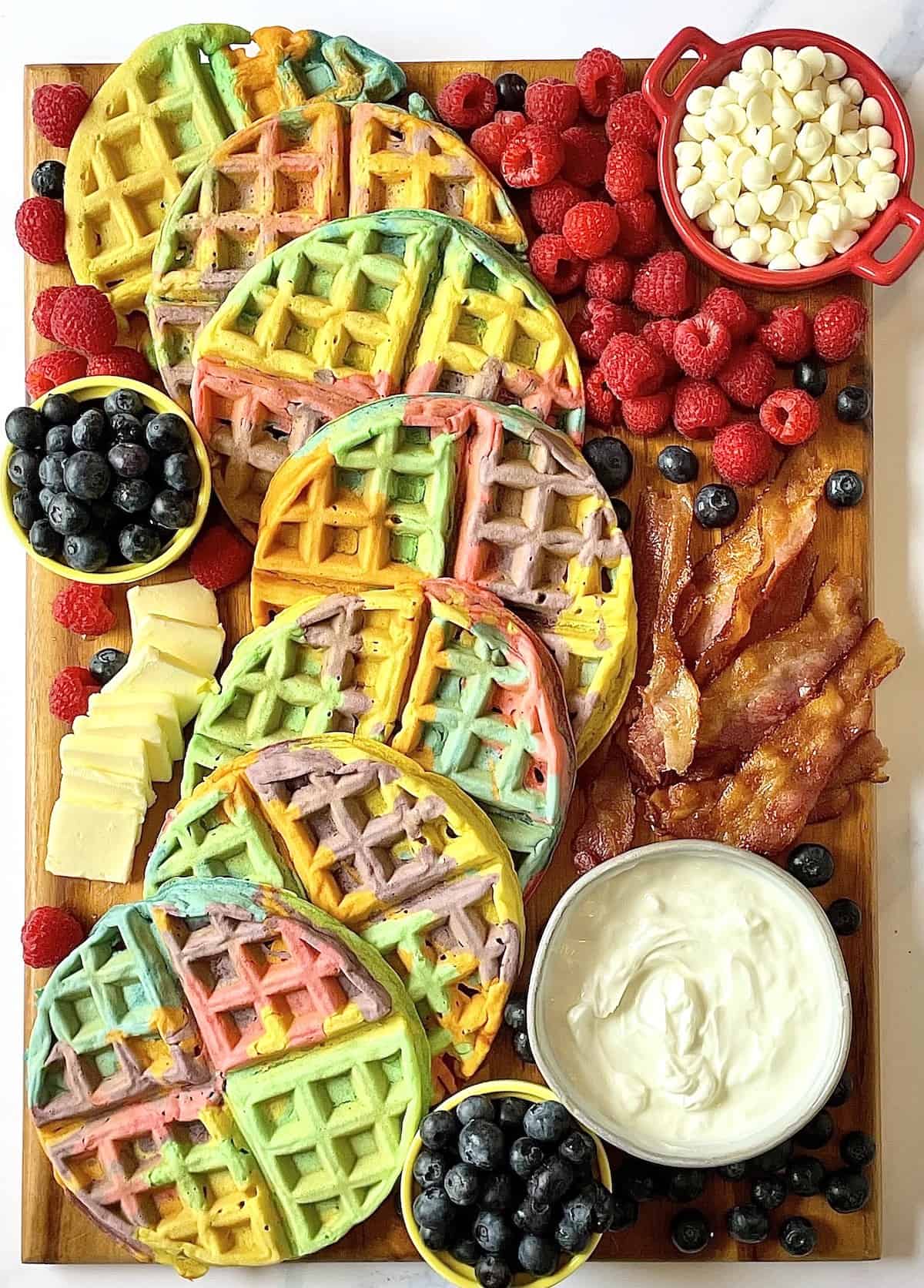 Rainbows are great! This fun rainbow waffle breakfast board by Kristina of Tasty Kitchen will make kids and adults smile from ear to ear. You'll find a colorful board loaded to the edges with bright waffles, bacon, whipped cream, fresh berries, and more. Yet, despite the beautiful presentation, it's also easy. So, are you excited to see how it's done?
Visit Tasty Kitchen for the recipe.
Easy Waffle Iron Pepperoni Pizza Pockets
This waffle iron pizza pockets recipe from Glamper Life is brilliant. Here's why you'll love it! First, it's an individually portioned snack. Secondly, using premade dough, there is no messy cleanup. And if that isn't enough, listen up. It's a pepperoni, cheese waffle pizza with sauce to dip. What's not to love?
Visit Glamper Life for the recipe.
Waffle Monte Cristo Sandwich
This french toast Monte Cristo sandwich from Alisa from The Delicious Spoon is a creative take on the classic American sandwich (a derivative of the French Croque Monsieur). It goes as follows: stuffed between two waffles are black forest ham, turkey, and gouda. Then, dip it in the egg batter and pan fry. Now, that's what I call a sandwich!
Visit The Delicious Spoon for the recipe.
Caramelized Onion And Apple Waffles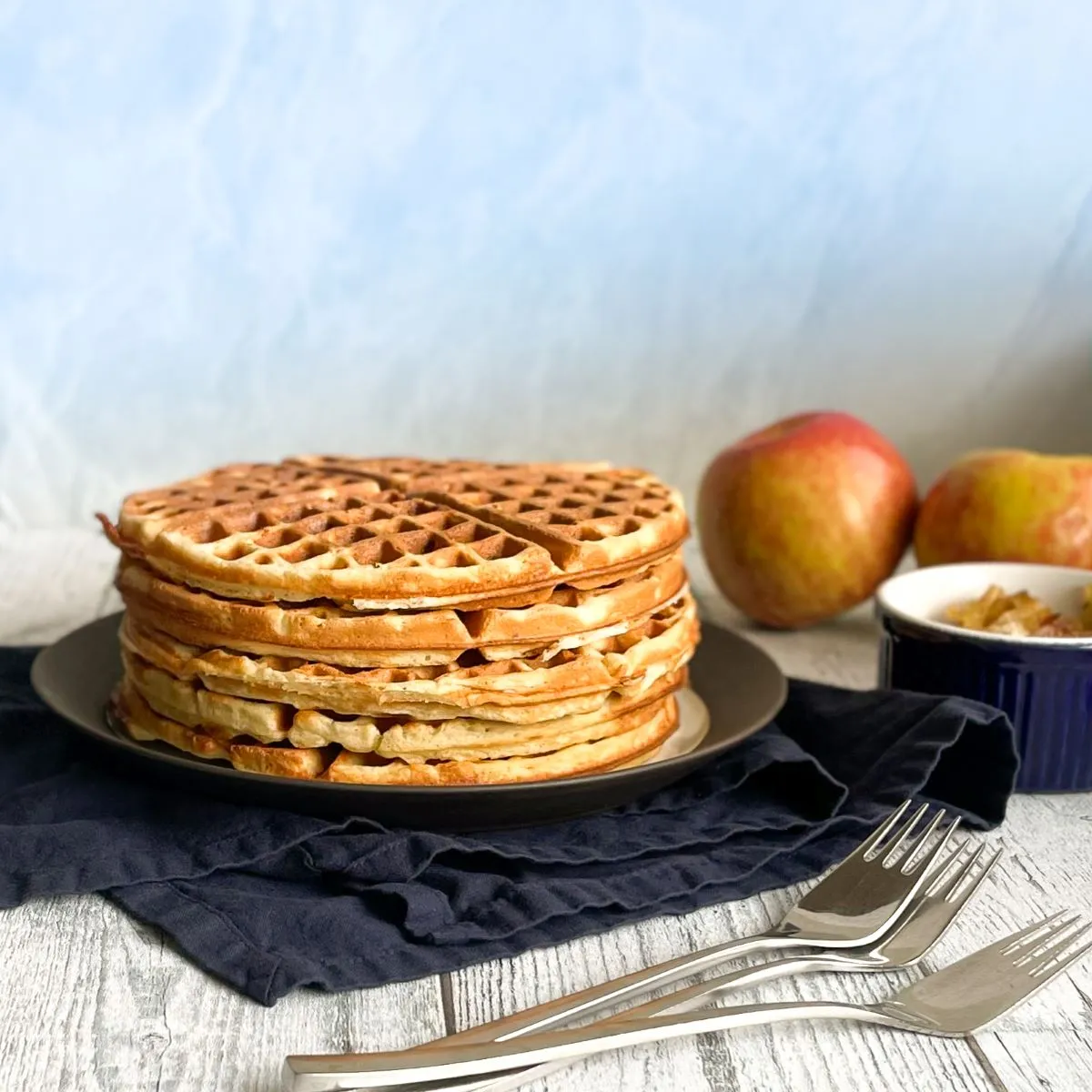 Joanne of Ugly Duckling Bakery is one impressive individual. When the doctor isn't busy battling infectious diseases, she's developing incredible eats like these slightly sweet caramelized onion and apple waffles. The versatile creation can be a breakfast covered in maple syrup, a snack, or a substitute for your sandwich bread.
Visit Ugly Duckling Baker for the recipe.
Gingerbread Waffles With Cardamom-Vanilla Butter
Wake the fam up with the alluring scent of these gingerbread waffles from Amanda of Burrata And Bubbles. Trust us. The festive breakfast is what they want on Christmas morning after tearing open their gifts. Oh, but it gets better. Amanda crowns the waffles with cardamom vanilla butter and plenty of syrup for a tradition-worthy breakfast.
Visit Burrata And Bubbles for the recipe.
Which Waffle Recipes Will You Try First?
So, by now, you've come across nearly two dozen waffle recipes? Which one will you try first? You have ham + cheese waffles, black forest waffles, monte cristo waffles, and many more. Let us know!
If you love this list, you'll love our breakfast for dinner compilation.