Are you ready to dive into 18 absolutely delicious Easy Shredded Beef recipes? These mouthwatering meals were created by amazing food bloggers.
It's a great list, including beer-braised shredded beef, French dip sandwiches, bbq shredded beef sandwiches, and many more.
So are you ready to discover deliciousness?
Let's jump in!
By the way, if you love this list, you'll fall for these skirt steak recipes and our otherworldly ground beef recipes.
Beer Braised Mexican Shredded Beef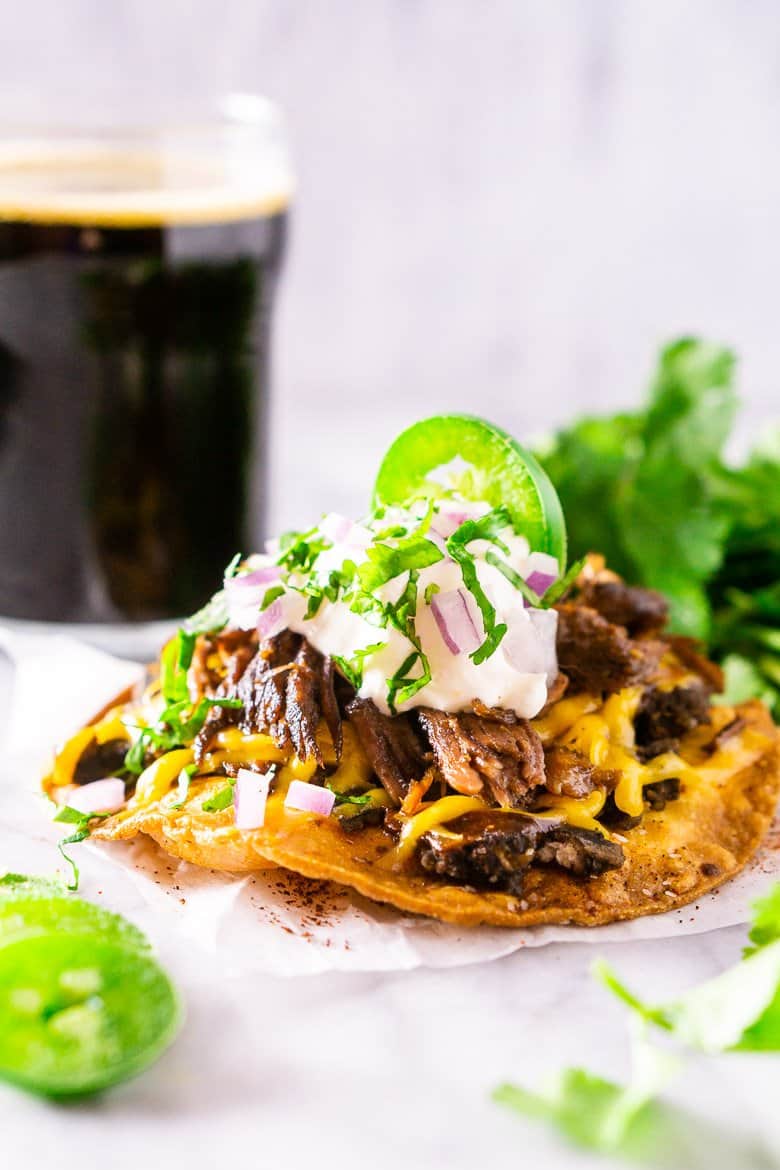 Simmering for hours in a rich sauce featuring a plethora of flavorings like beer, guajillo chiles, cocoa powder, cumin, and coriander, this Mexican shredded beef recipe from Burrata And Bubbles is a problem. That's right, diets everywhere are in trouble. So we're betting you can't eat just one serving.
Visit Burrata And Bubbles for the recipe.
French Dip Sandwiches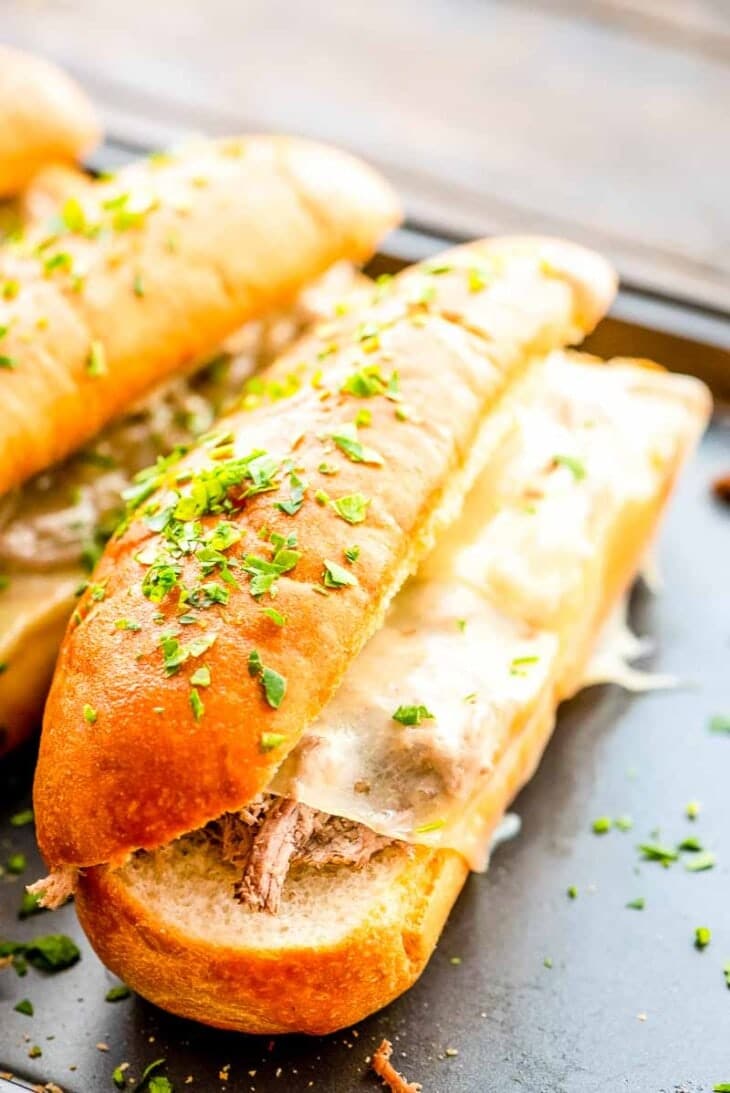 Julie's Eats And Treats presents this tempting French dip sandwich made with juicy and tender shredded beef. The roast is cooked low and slow all day, filling your home with a fabulous beefy aroma. Then, pile it high on a buttery soft hoagie bun with cheese and serve it with au jus for dipping.
Visit Julie's Eats And Treats for the recipe.
Lime Teriyaki Beef Tacos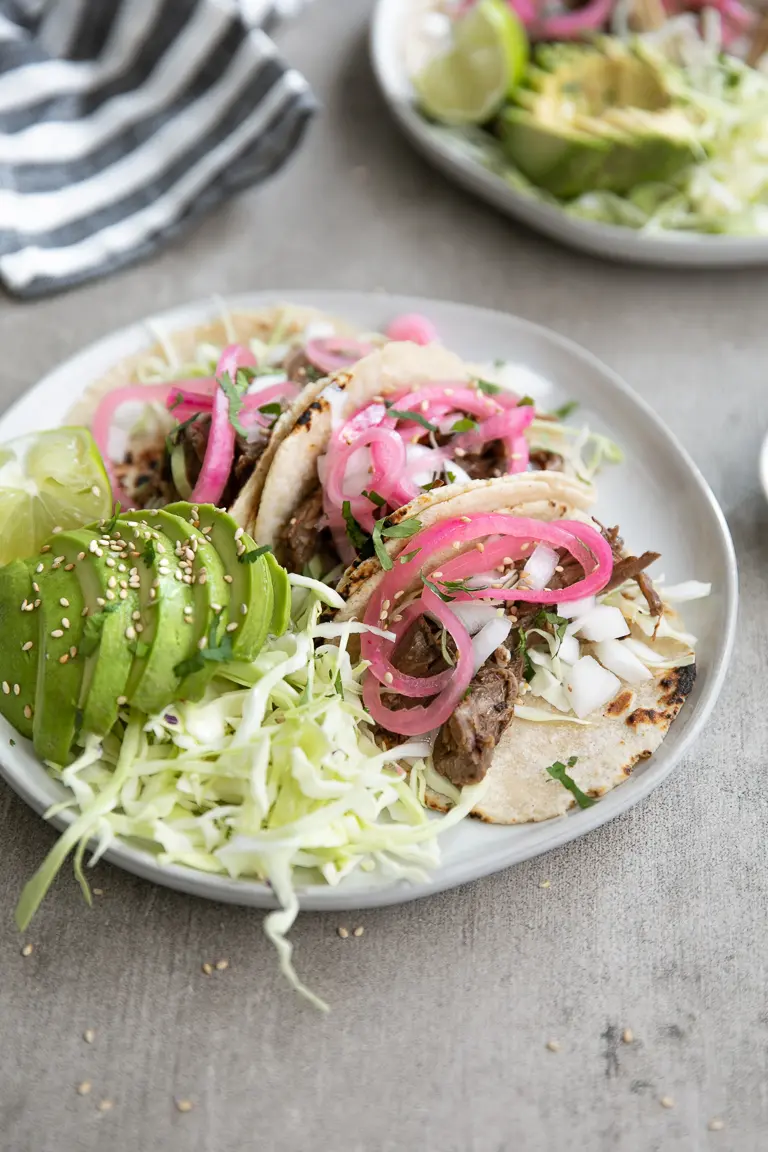 For this teriyaki beef tacos recipe from Jessica of The Forked Spoon, you start with a humble beef chuck roast cut and season it to the high heavens with an array of aromatic herbs and spices. Six hours and countless whiffs later, you're looking at perhaps the most succulent sweet and salty beef recipe you've ever made.
Visit The Forked Spoon for the recipe.
Chipotle Beef Barbacoa Recipe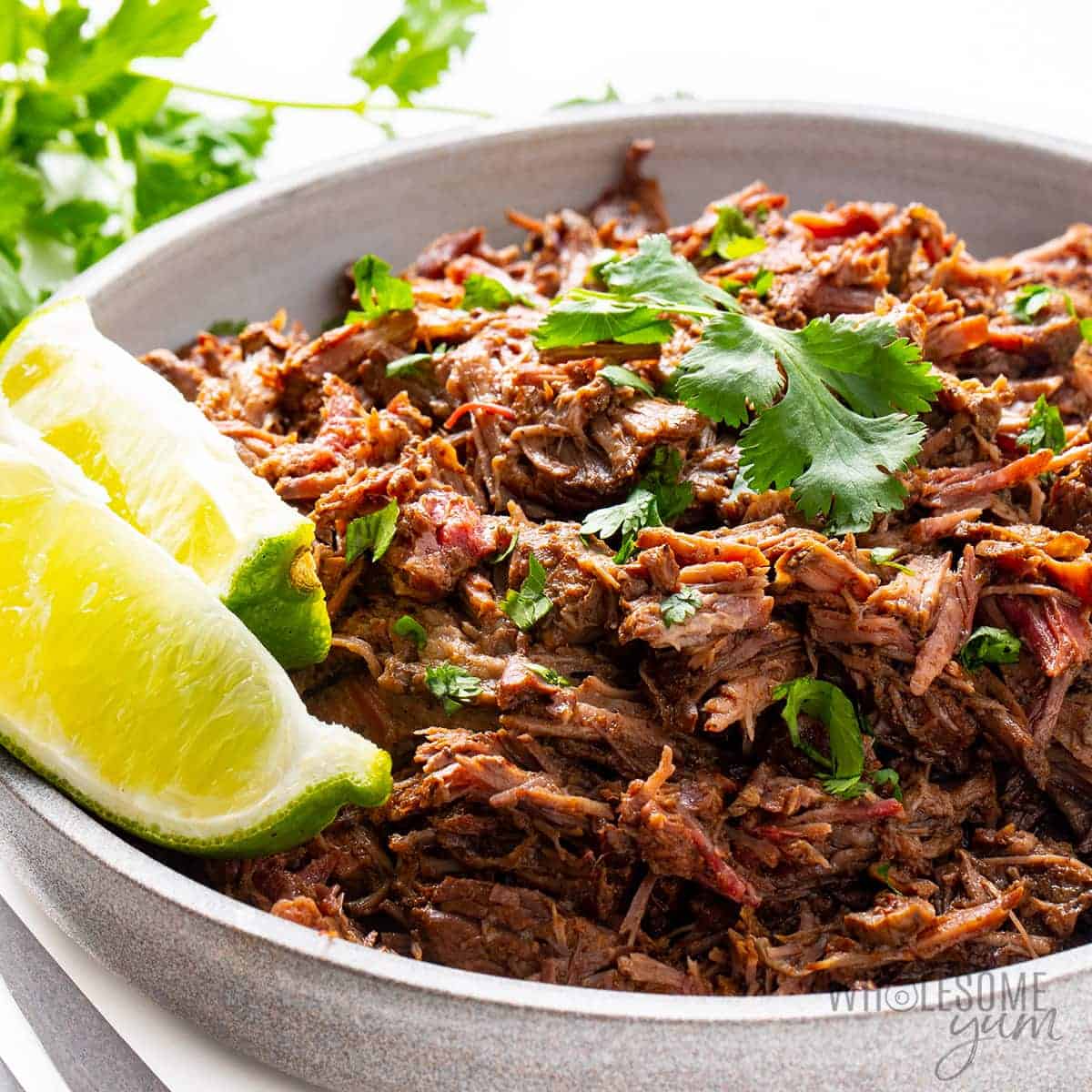 Skip the lines, save your dollars, and instead make this copycat barbacoa shredded beef recipe from Maya of Wholesome Yum. You've never had beef so tender, juicy, and fall-apart-yummy. As is, it's paleo. But for unrestricted eaters, it's just the base, yearning for more. So bless it with tortillas, cotija cheese, salsa, and guacamole.
Visit Wholesome Yum for the recipe.
Cuban Ropa Vieja Instant Pot Recipe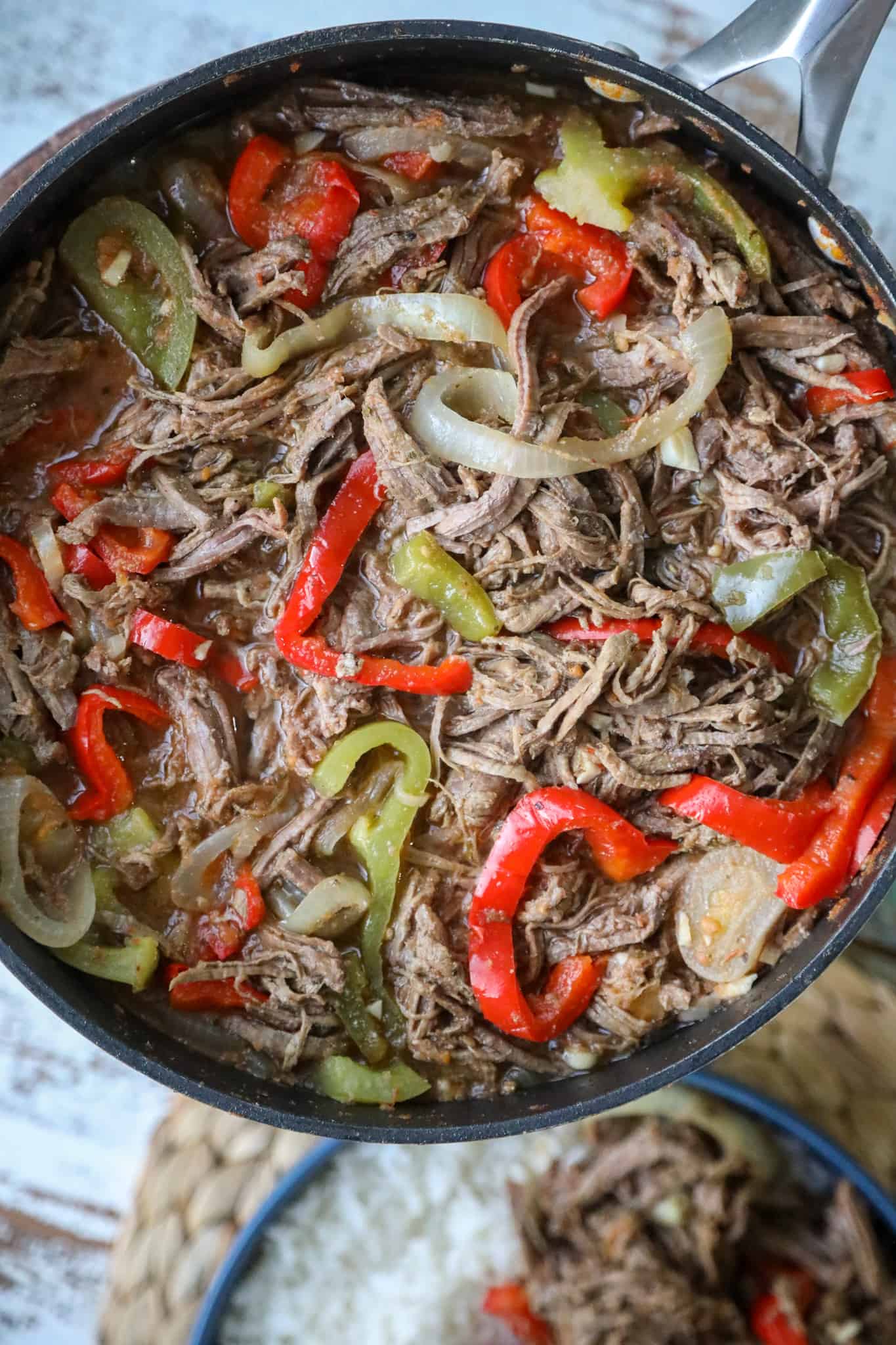 Considered by many to be the national dish of Cuba, it is ubiquitous throughout the island nation. So, if your travel ever takes you there, you'll be sure to find it on a restaurant menu. But if not, you can count on Cari of Fat Girl Hedonist shows you how to make the "shredded clothes" beef dish with surprisingly easy-to-find ingredients like flank steak, onions, peppers, and seasonings.
Visit Fat Girl Hedonist for the recipe.
Slow Cooker Shredded Barbecue Beef Sandwiches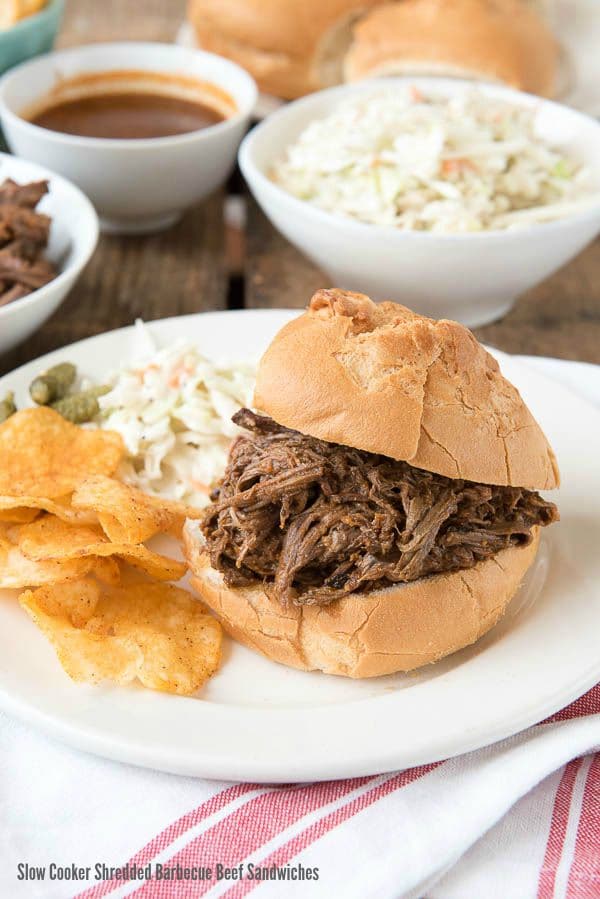 Toni of Boulder Locavore brings us this shredded beef barbecue recipe, an appetizing dinner that you'll find particularly around back-to-school season. We love that it calls for cheap chuck roast and a homemade barbecue sauce.
Visit Boulder Locavore for the recipe.
Slow Cooker Chili Recipe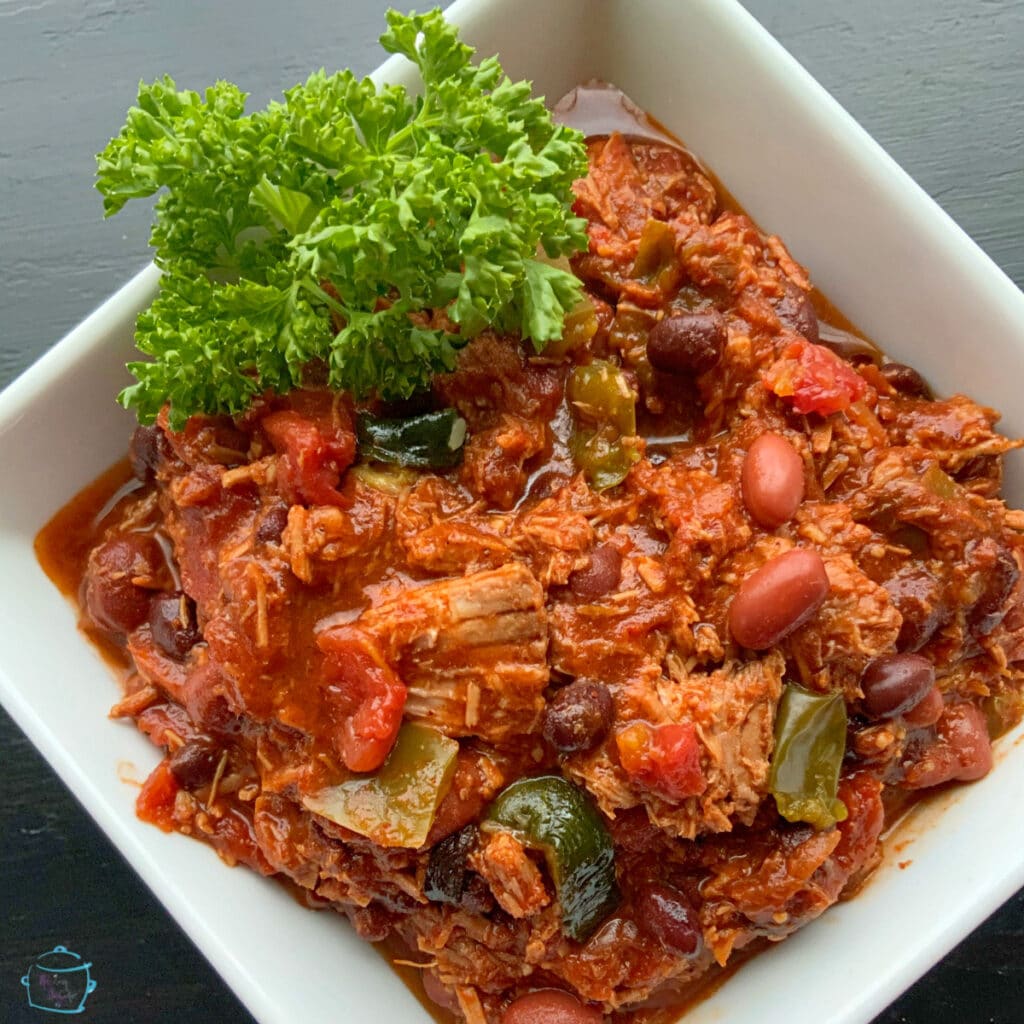 Susan of The Lazy Slow Cooker shows you how to make chili in the slow cooker, perhaps the easiest way to make it. For the shredded beef, you'll want to use a chuck roast. Then, add the onions, green pepper, beans, tomatoes, and seasonings.
Visit The Lazy Slow Cooker for the recipe.
Mississippi Pot Roast Recipe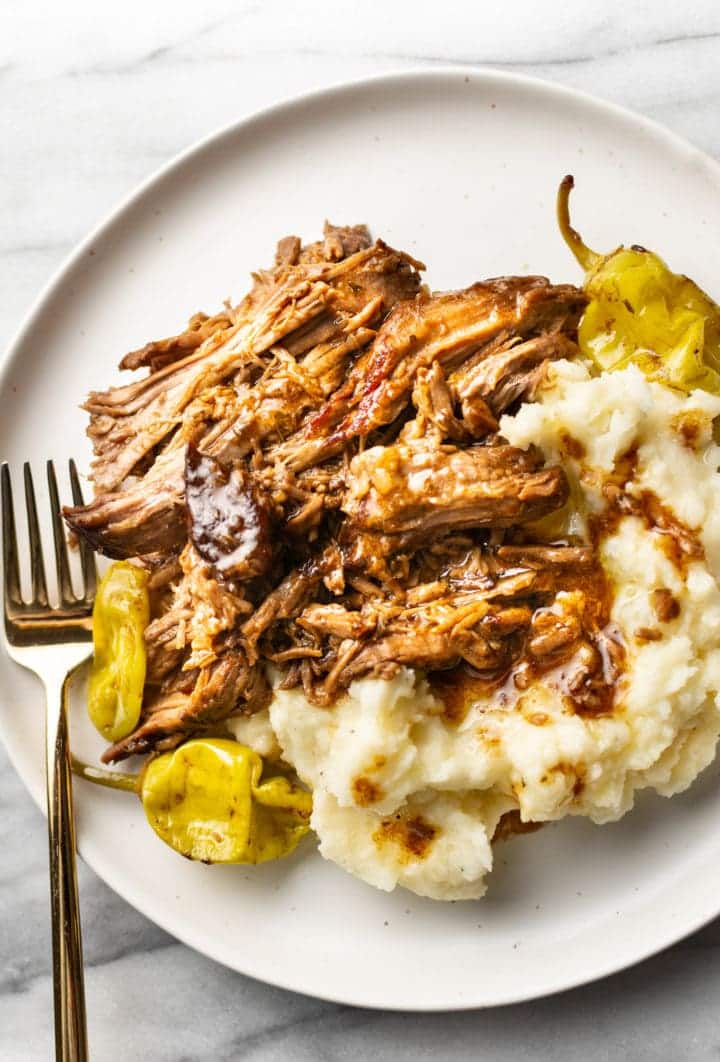 Natasha of Salt & Lavender provides you with not one, not two, but three methods to make her mouthwatering Mississippi pot roast. And despite just six ingredients, it's an extraordinarily flavorful meal. What's the secret? Seasoning packets. But we'll let Natasha tell you the rest.
Visit Salt & Lavender for the recipe.
Beef Ragu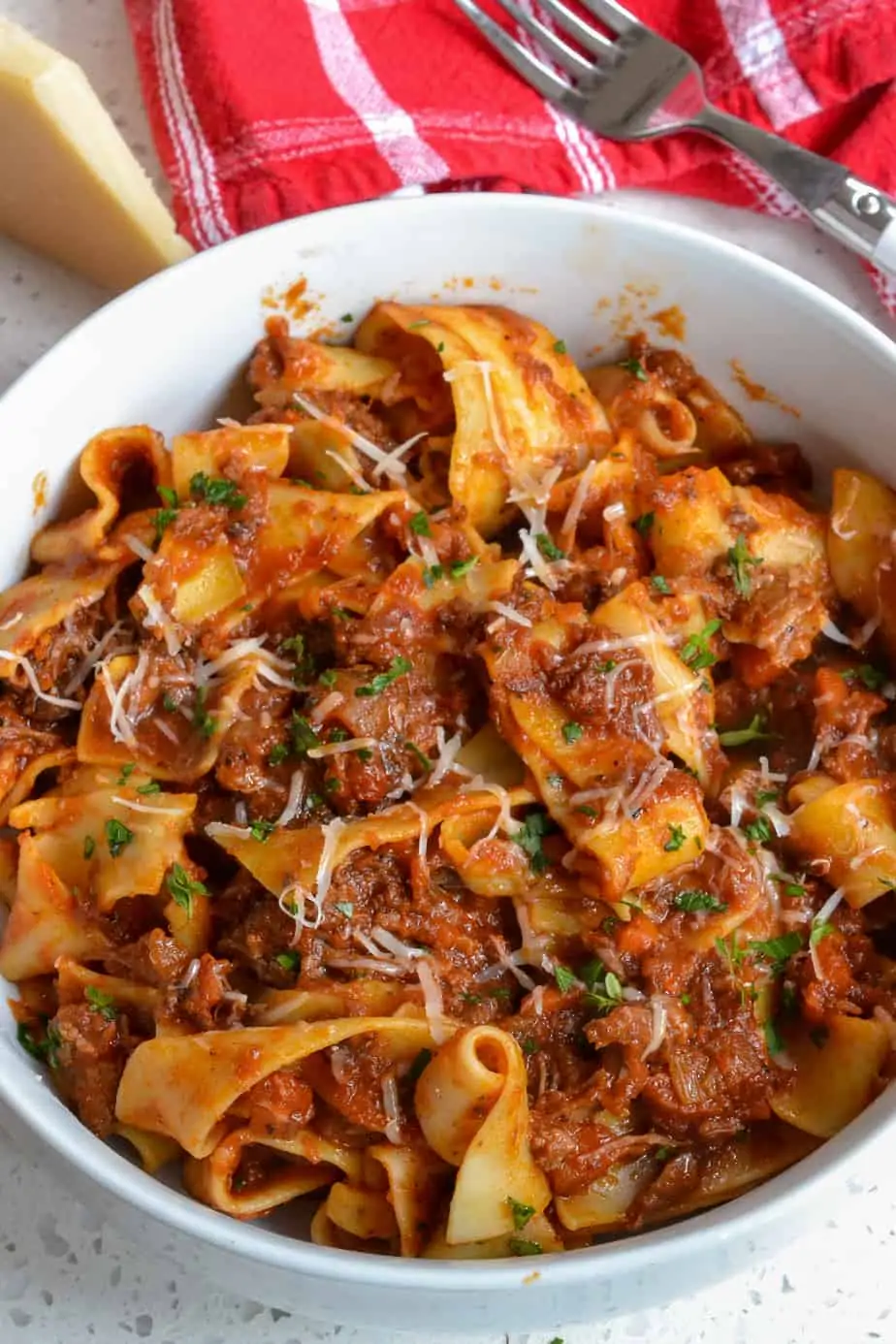 In the hierarchy of comfort foods, pasta dishes like this beef ragu from Beth of The Small Town Woman rank somewhere near the top. It presents a low and slow chuck roast with a mirepoix of onions, carrots, and celery. Then there's garlic, red wine, and crushed tomatoes. These flavors combine to make an utterly delicious ragu to serve over pasta.
Visit Small Town Woman for the recipe.
Beef Birria Tacos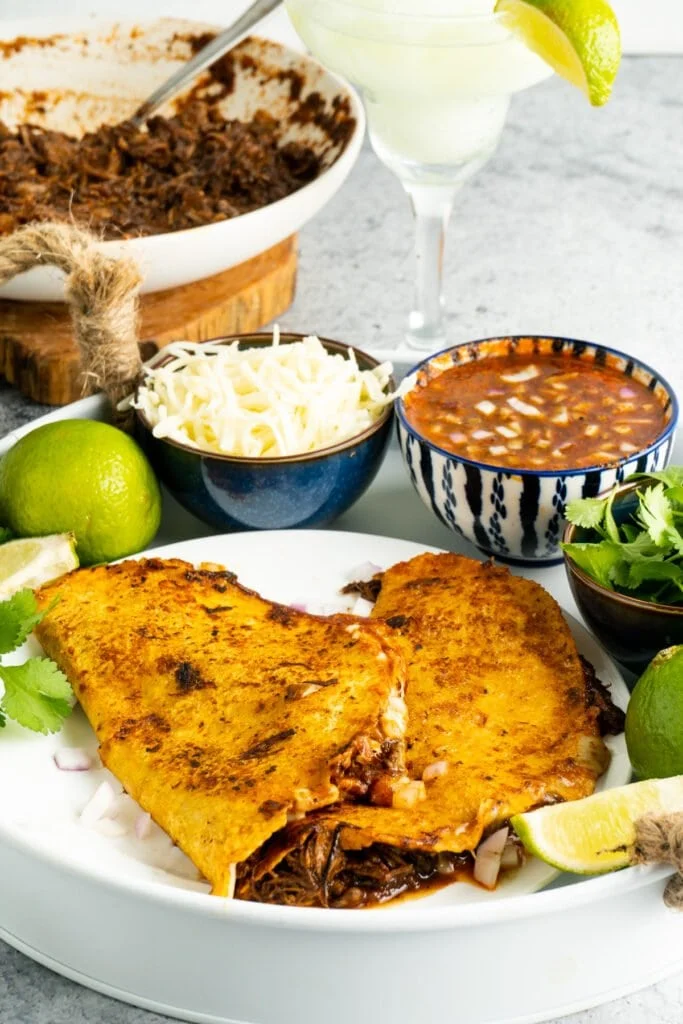 Mere words do little to help you understand the pure satisfaction one gets when eating shredded beef birria. Of course, there are plenty of consumption options, from birria nachos, fries, and ramen. But when enjoyed as tacos with shatteringly crispy tortillas and melty cheese, it becomes an otherwordly experience. We're convinced that every time you eat a birria taco, an angel gets its wings.
Visit The Delicious Spoon for the recipe.
Pulled Roast Beef Sliders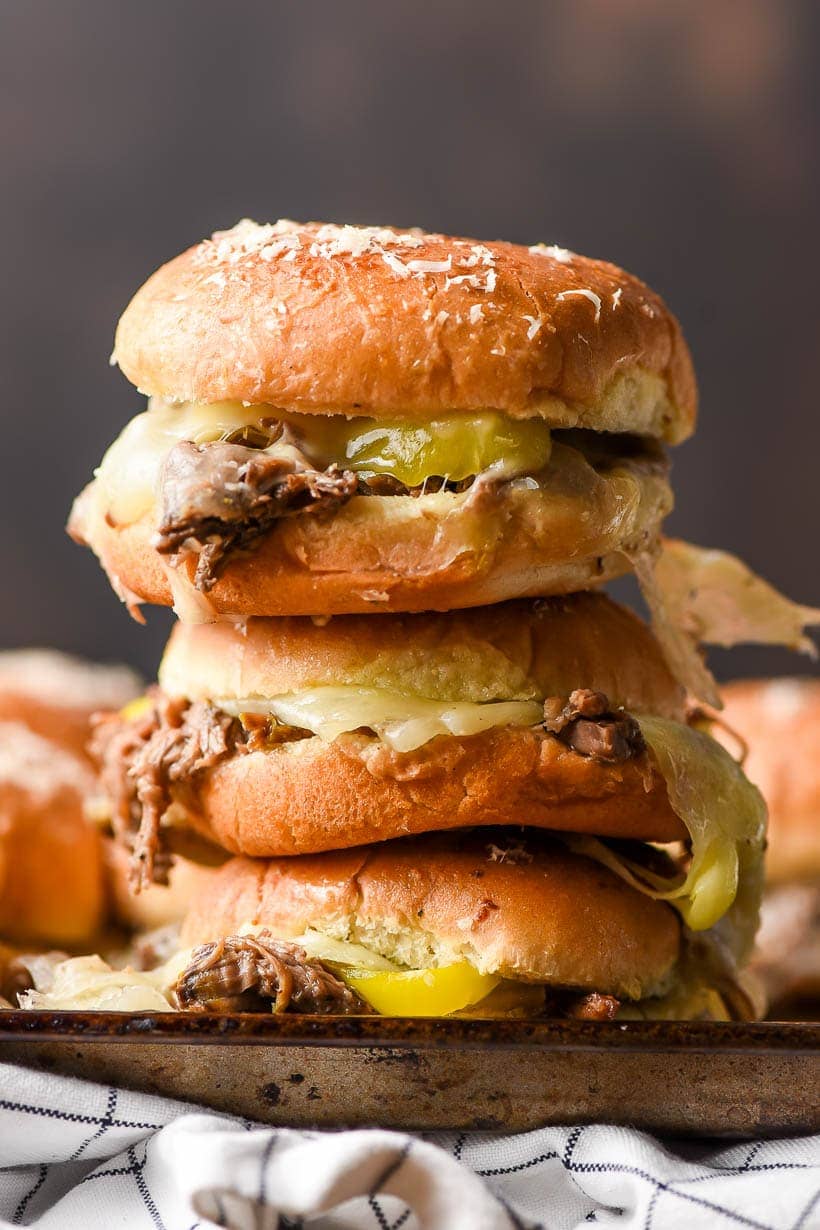 Bombs away! Only there's no need to duck for cover. Instead, go towards these little flavor bomb, pulled beef sliders from our friends at Neighbor Food Blog. The low and slow beef gets seasoned with everyday pantry staples, and you can easily find what you don't already have. Once done, assemble the baby sandwiches with cheese, peppers, and Italian dressing, and watch them do damage!
Visit Neighbor Food Blog for the recipe.
Cherry Beef Carnitas Sandwiches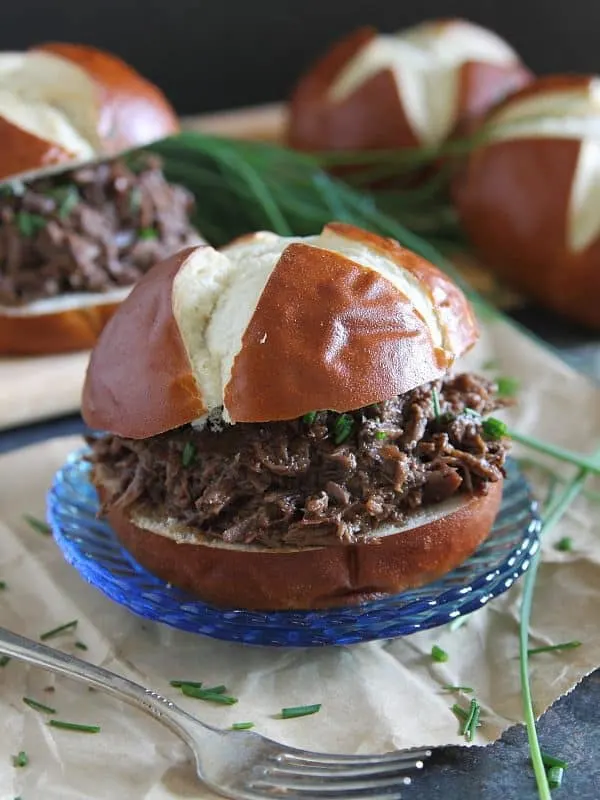 Not only will you discover a succulent, sweet shredded beef recipe at Running To The Kitchen, but you'll also find a hilarious opening passage that will make you laugh out loud. As for the recipe, it's a low and slow mix of beef roast, tart cherries, cherry juice, and seasonings galore. It works great for game day or entertaining a crowd.
Visit Running To The Kitchen for the recipe.
Slow Cooker Shredded Beef Recipe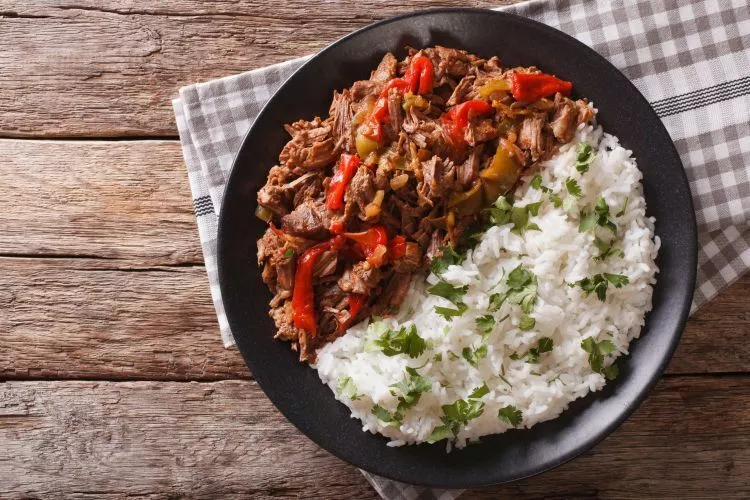 Slender Kitchen's Kristin offers this slow cooker shredded beef recipe. It's her version of machaca-a healthy beef dish full of bell peppers, tomatoes, herbs, spices, and just a touch of heat. So, after just 10 minutes of chopping and seasoning, it goes into the crockpot to do its thing.
Visit Slender Kitchen for the recipe.
Sweet Potato Nachos with Shredded Beef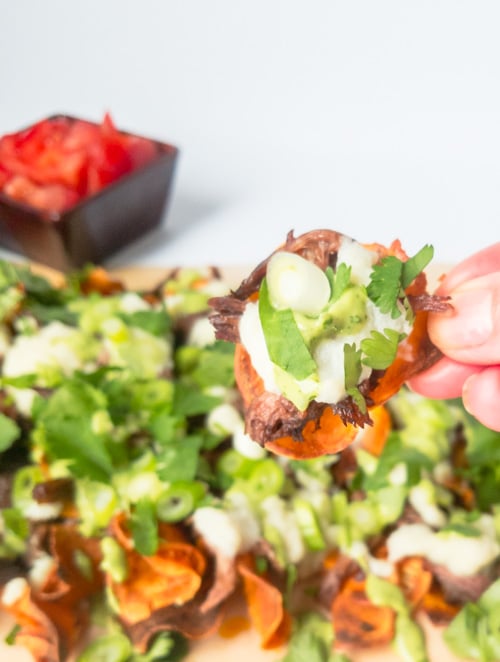 While not football's number one fan, Jen of Peel With Zeal adores the halftime show, funny commercials, and of course, nachos. But these nachos with sweet potato chips, covered in a citrusy warm beef, cilantro, homemade avocado sauce, and an assortment of other toppings, make for a healthy yet gameday-appropriate meal to cherish.
Visit Peel With Zeal for the recipe.
Mexican Style Shredded Beef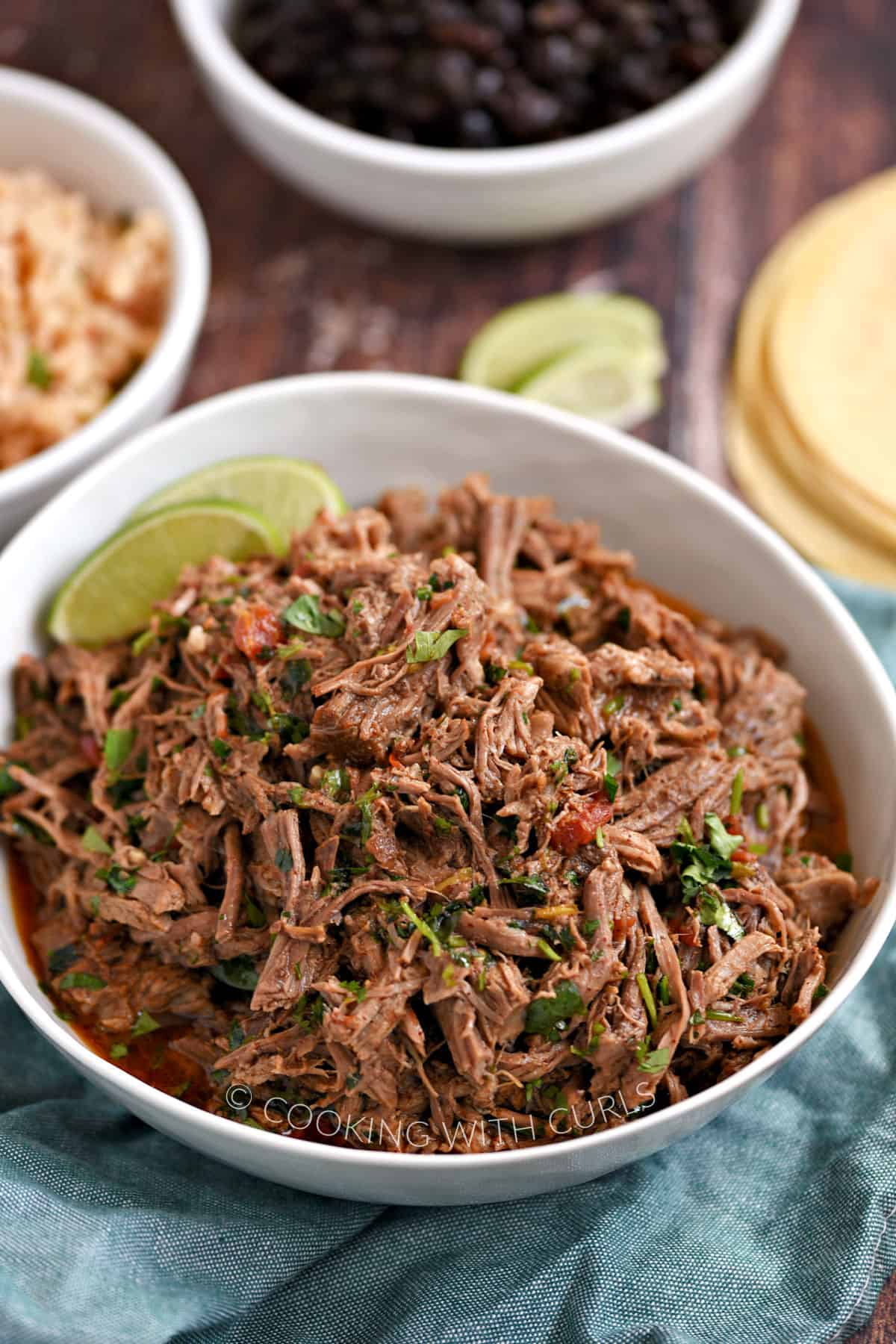 Stuffed with tender, juicy, Mexican shredded beef and queso fresco, these chimichangas from Lisa of Cooking With Curls are a meal to keep on repeat. You cook the meat with onions, garlic, tomatoes, green chiles, and a boatload of seasonings.
Visit Cooking With Curls for the recipe.
Crockpot Fajitas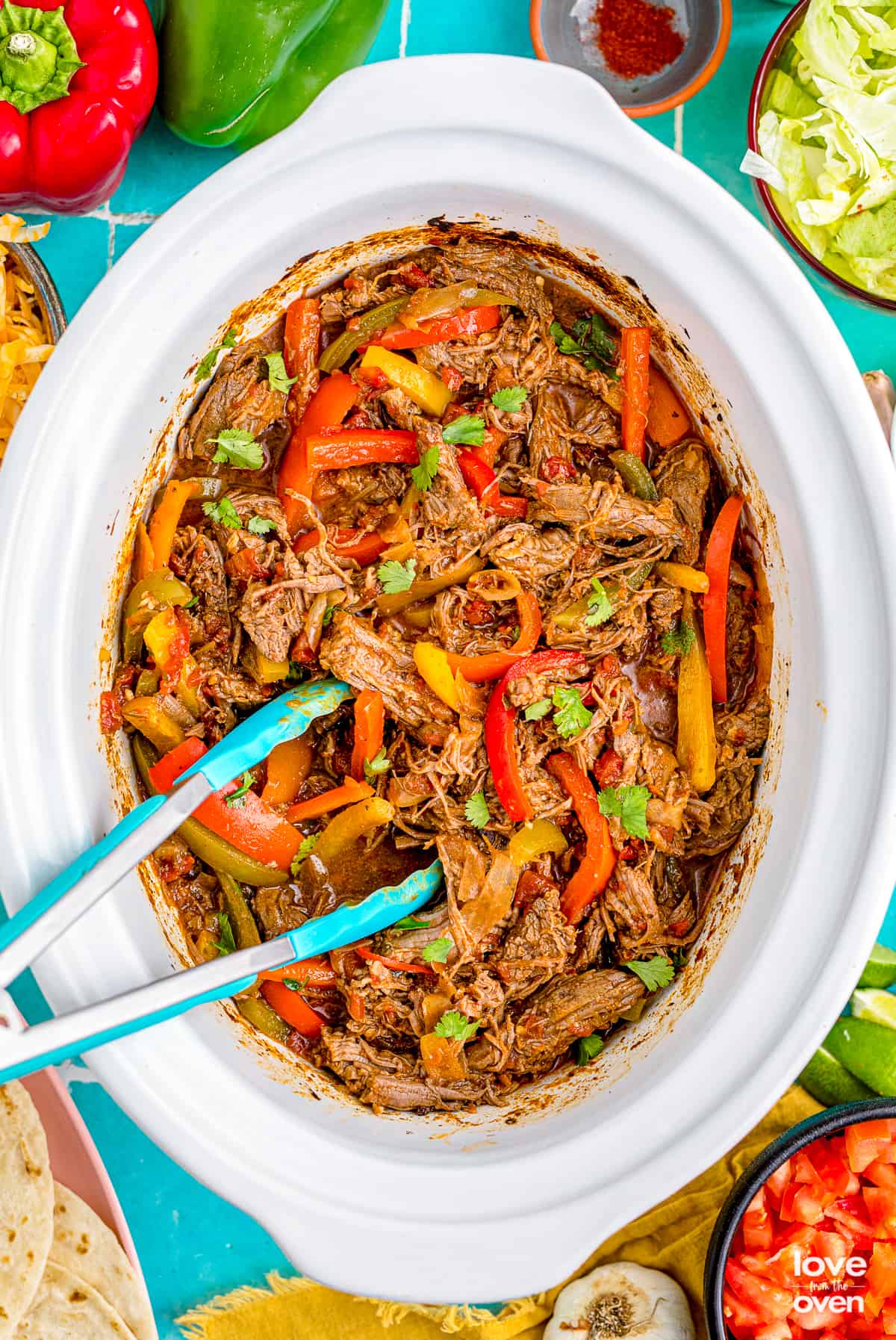 Christi of Love From The Oven encourages you to try her crockpot fajitas, a slow cooker take on the classic. Like the original, it's full of flank steak, onions, peppers, and a mix of seasonings. And after four or eight hours and the meat is pull apart tender and ready for rice and tortillas.
Visit Love From The Oven for the recipe.
Slow Cooker Beef Gyros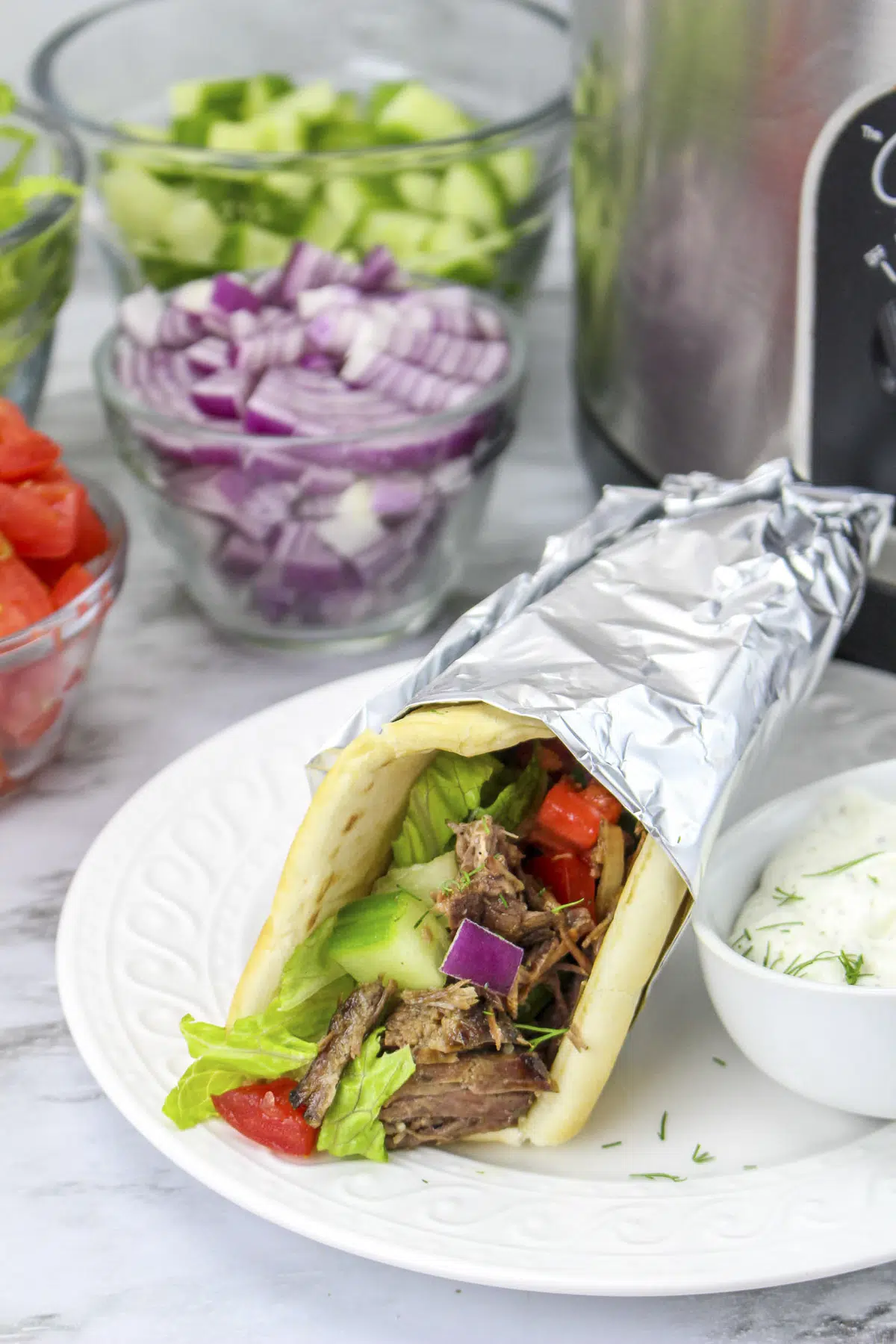 We've heard many ways to pronounce gyros. But no matter how you say it, these slow cooker beef gyros from Sarah of The Magical Slow Cooker are simply delicious. It starts with a chuck roast, a less expensive cut of beef. Then, add the seasonings like dried oregano and garlic. Once done, assemble with red onion, tomatoes, and cucumber. Oh, and don't forget the tzatziki sauce.
Visit The Magical Slow Cooker for the recipe.
Slow Cooker Beef Hummus Bowls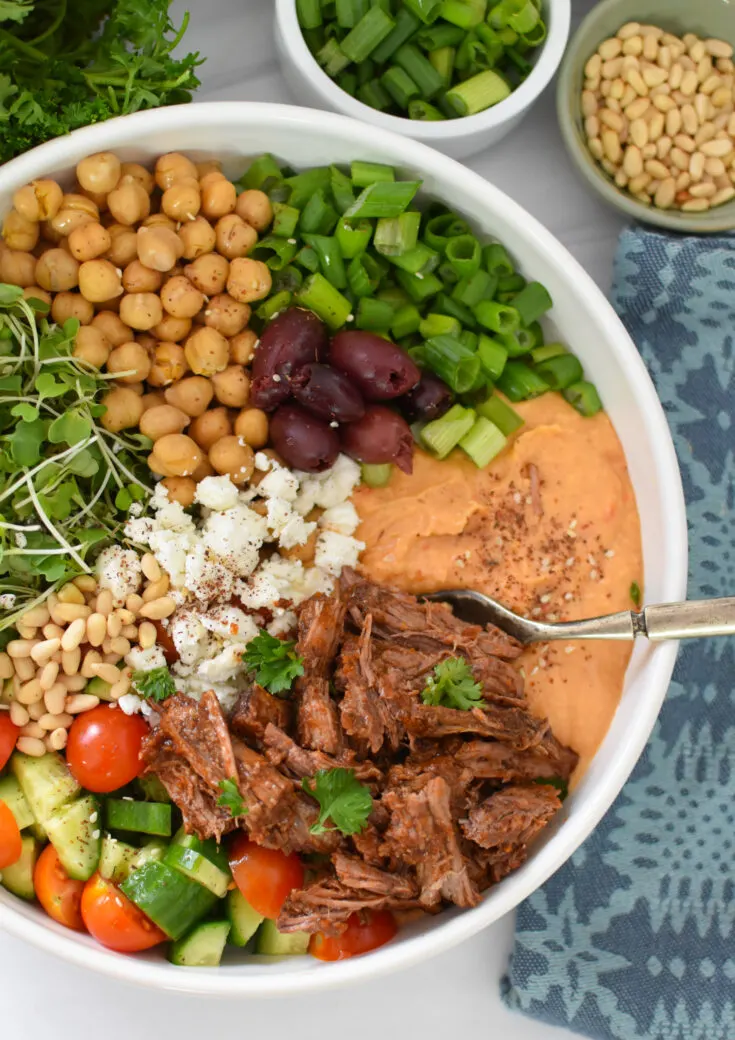 For an out-of-this-world hummus bowl, see this shredded beef hummus bowl recipe from Julia of A Cedar Spoon. The protein-packed bowls start with her tasty, slow-cooker Mediterranean beef. But that's a start. For this have-it-your-way dinner or lunch, choose your add-ins like olives, feta cheese, parsley, hummus, etc.
Visit A Cedar Spoon for the recipe.
Which Shredded Beef Recipe Will You Try First?
So, by now, you've seen nearly two dozen shredded beef recipes like a hummus bowl, shredded beef nachos, French dip sandwiches, and many more. Which one do you like the most? Let us know!