After reading this list of 21 boneless pork chop recipes you'll never have another boring pork chop dinner again!
That's right! We put together a list of the juiciest and most tender pork chop recipes like bacon and mushroom pork chops, schnitzel chops with apple sauce and pickled onions, pork chops and peaches, and so many more.
Let's jump in!
Looking for more pork, see this list of ground pork recipes.
Creamy Garlic Pork Chops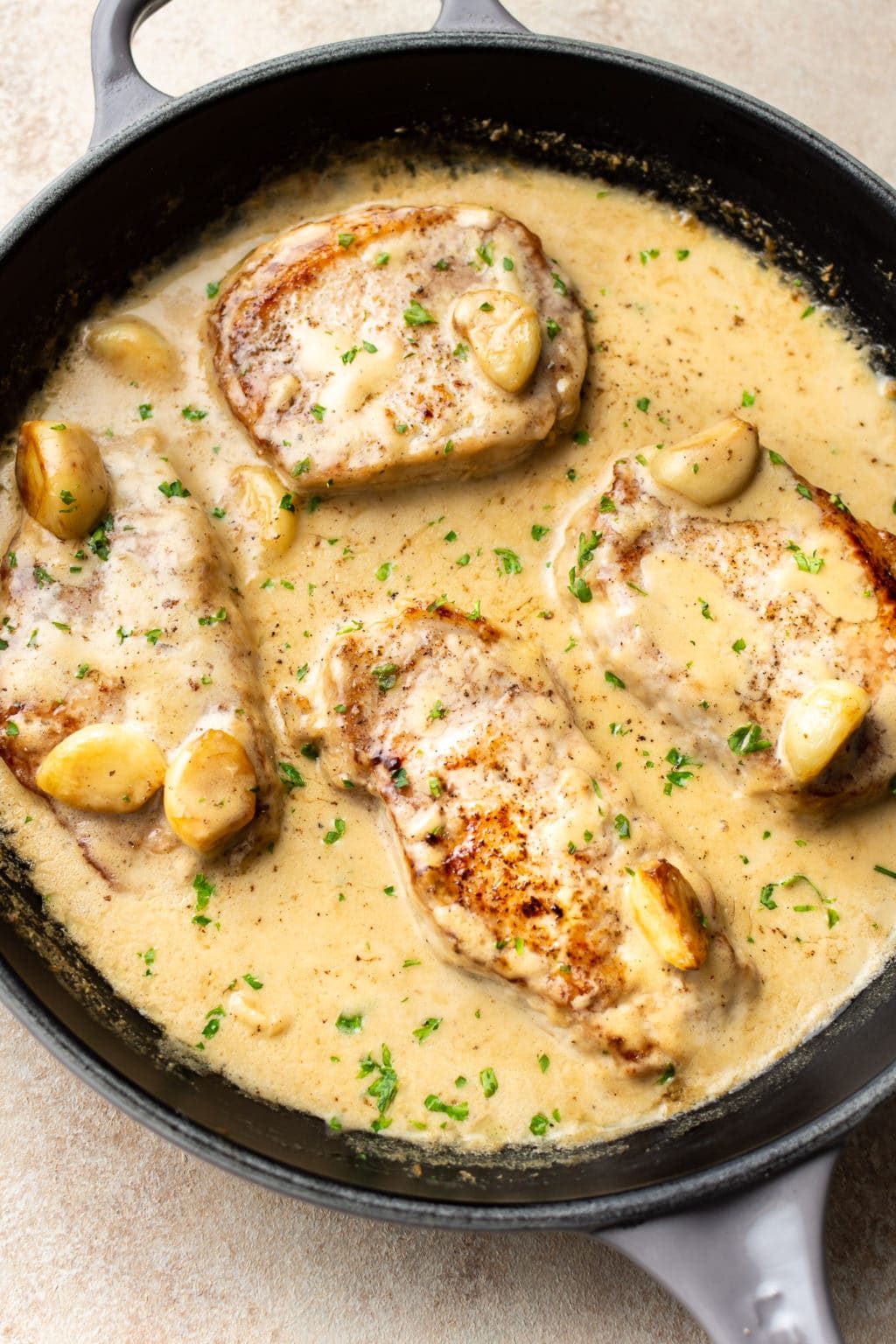 This creamy garlic pork chops recipe from Natasha of Salt And Lavender is sumptuously tender, with the chops bathing in a divinely rich creamy garlic-loaded sauce. There are layers of garlic flavor from the whole cloves and the powder. But don't worry! The taste isn't overpowering.
Visit Salt And Lavender for the recipe.
Pork Schnitzel with Quick Pickled Onions and Apples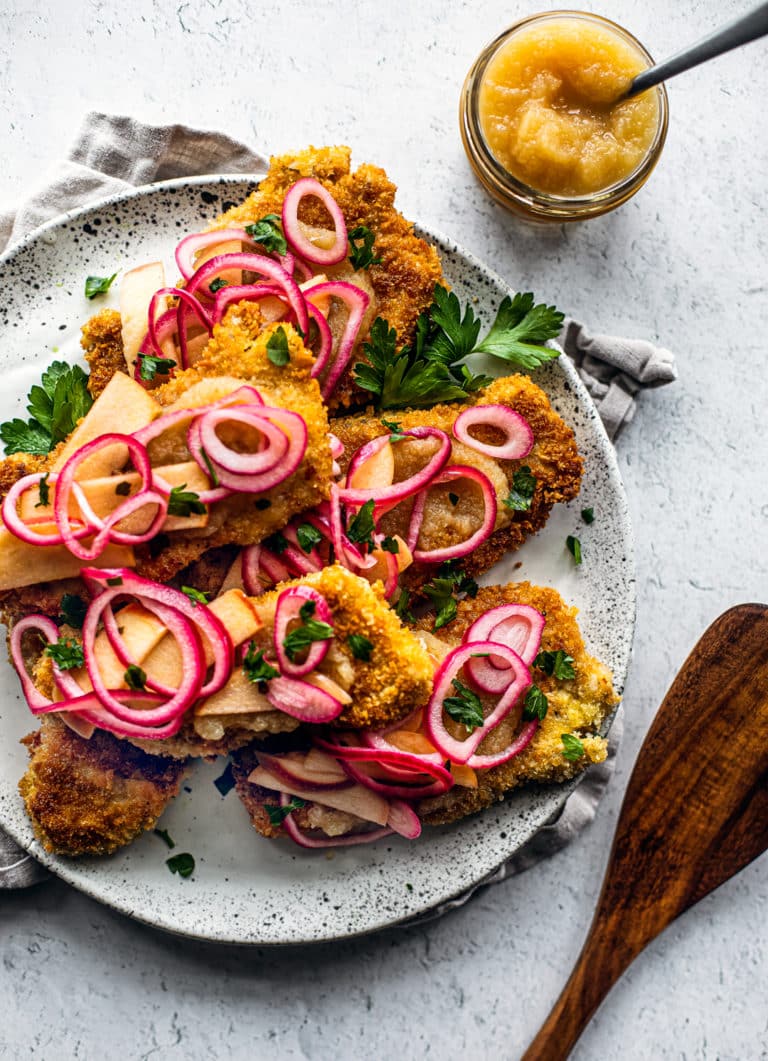 We're hoping this pork schnitzel from Dana of Killing Thyme will become your new favorite kitchen obsession. You make it by pounding boneless pork chops thin, then breading and frying them until crispy. Then, to up the ante, you smear with apple sauce and pickled onions.
Visit Killing Thyme for the recipe.
Panko Parmesan Pork Chops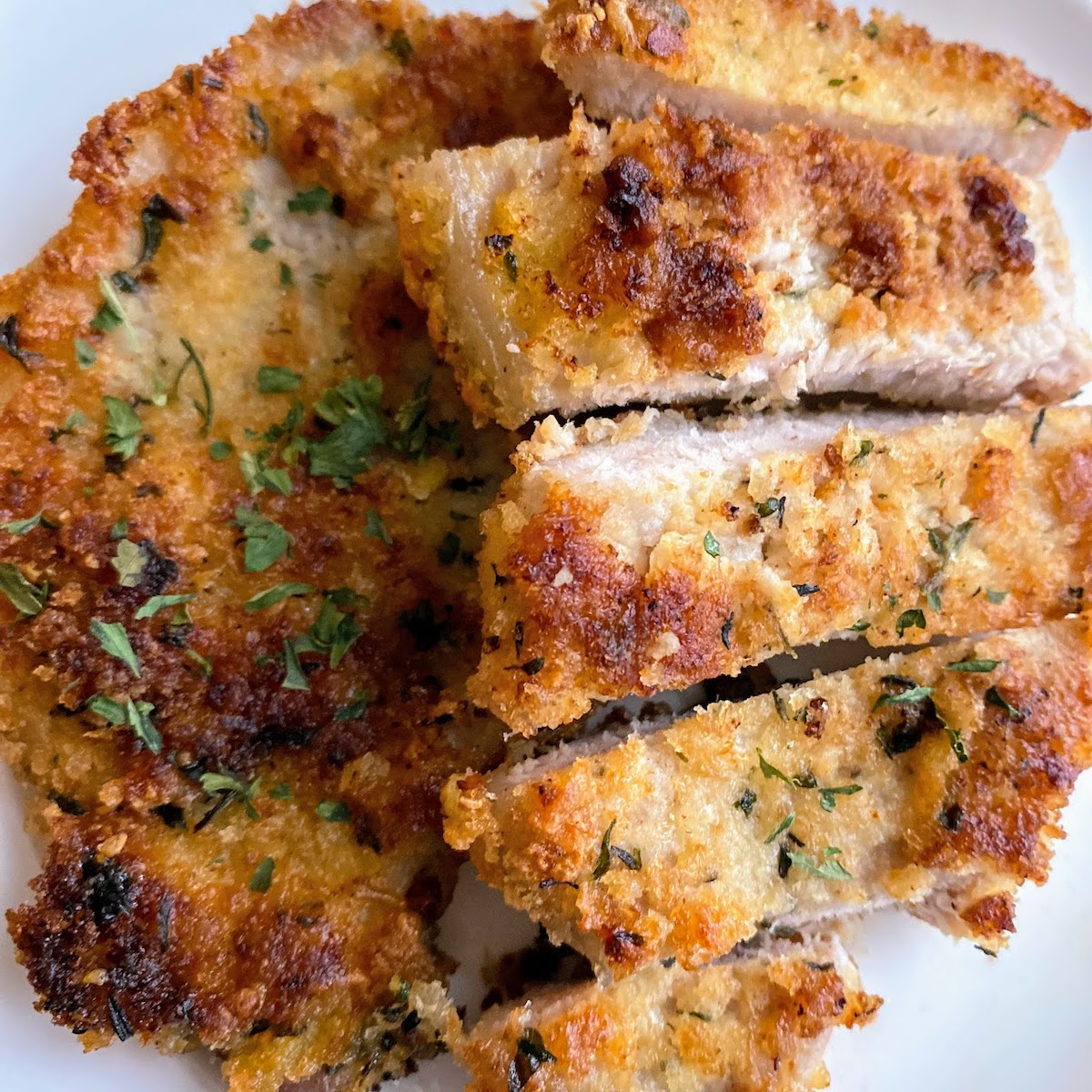 With an emphasis on the need for THINLY sliced pork chops, these panko parmesan chops from Marcie and Julie of Plate In 28 are what your crispy food dreams are made of. First, you must beat the chops with a meat mallet to get them nice and tender. Then, dip them in the egg, the panko/cheese mixture, and pan fry.
Visit Plate In 28 for the recipe.
French Onion Pork Chops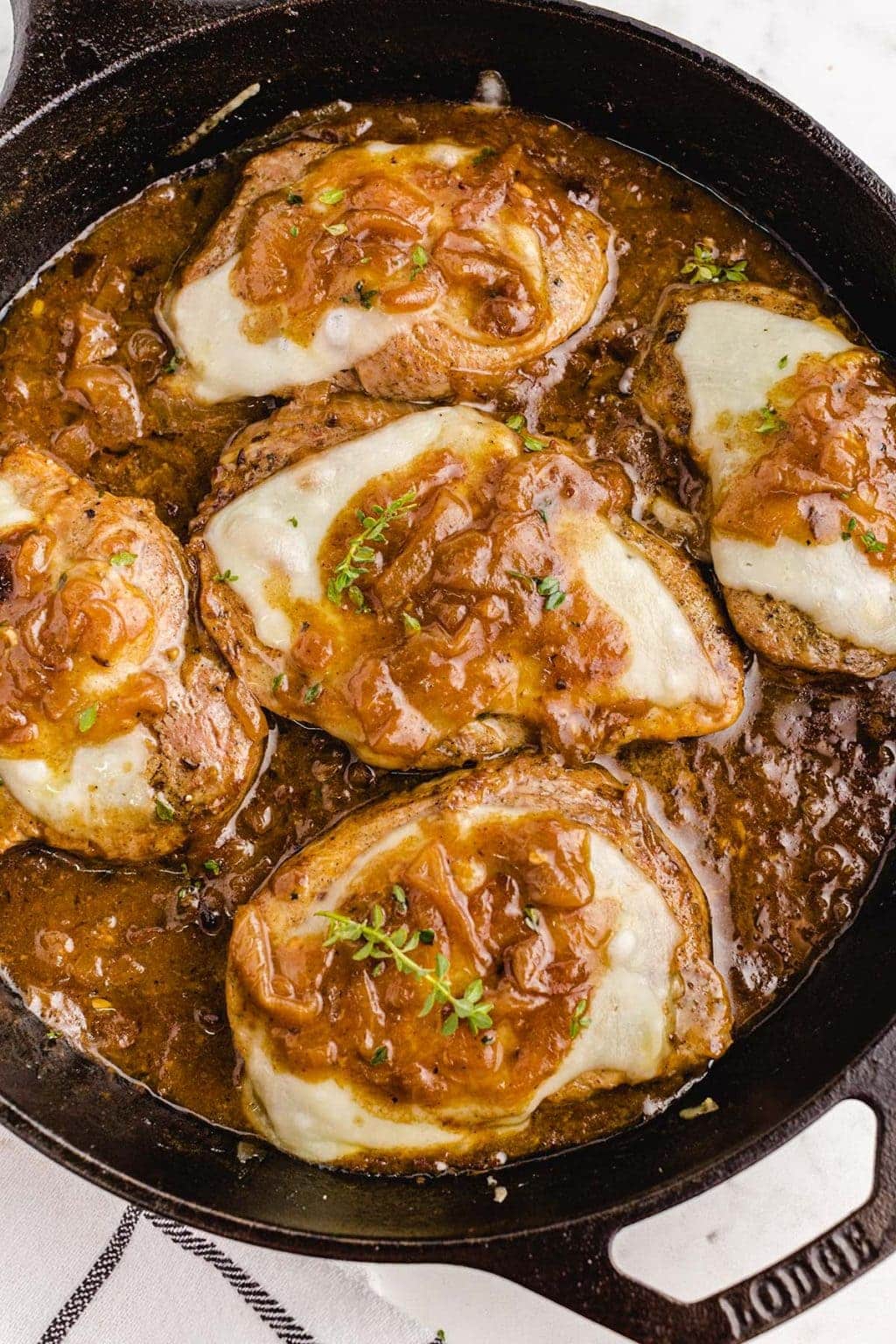 You'll never forget the taste of these French Onion Pork Chops from Jenn of Princess Pinky Girl. Every succulent bite is filled with cheese, homemade gravy, caramelized onions, and that irresistible porky flavor. And just like Jenn's family, yours will love it and request it often.
Visit Princess Pinky Girl for the recipe.
Lemon Pepper Pork Chops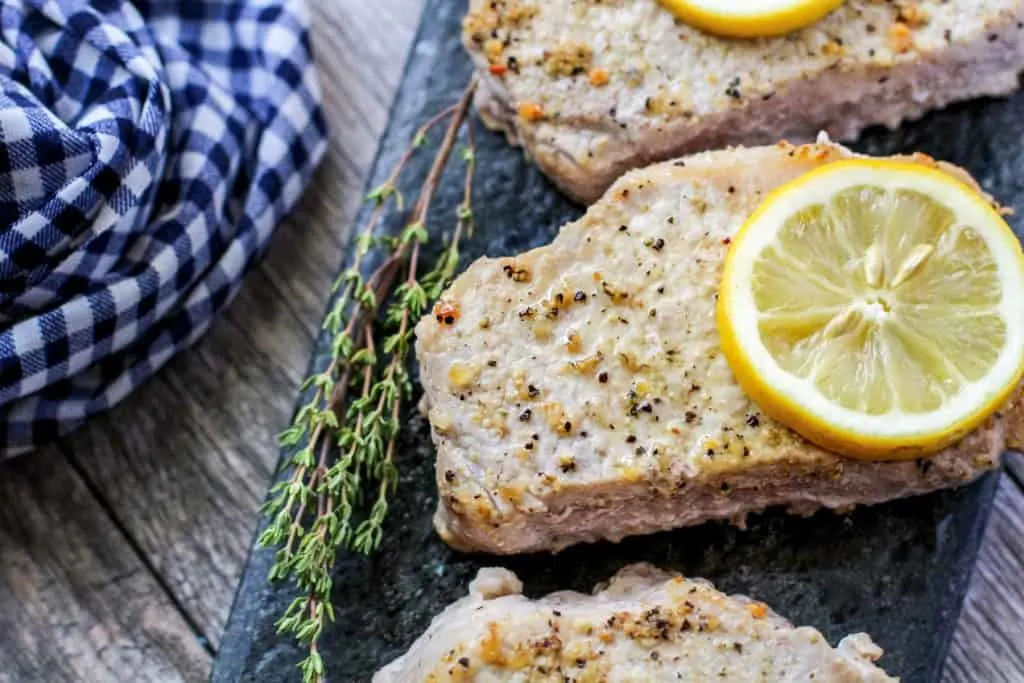 If you're like us, you want to put lemon pepper seasoning on everything from chicken wings and fish to broccoli. So when we came across these four-ingredient lemon pepper pork chops from Michelle of Blackberry Babe, we were like, "yes, please!" Better still, the versatile chops can be baked, grilled, or cooked stovetop.
Visit Blackberry Babe for the recipe.
Coffee-Rubbed Pork Chops over Creamy Queso Corn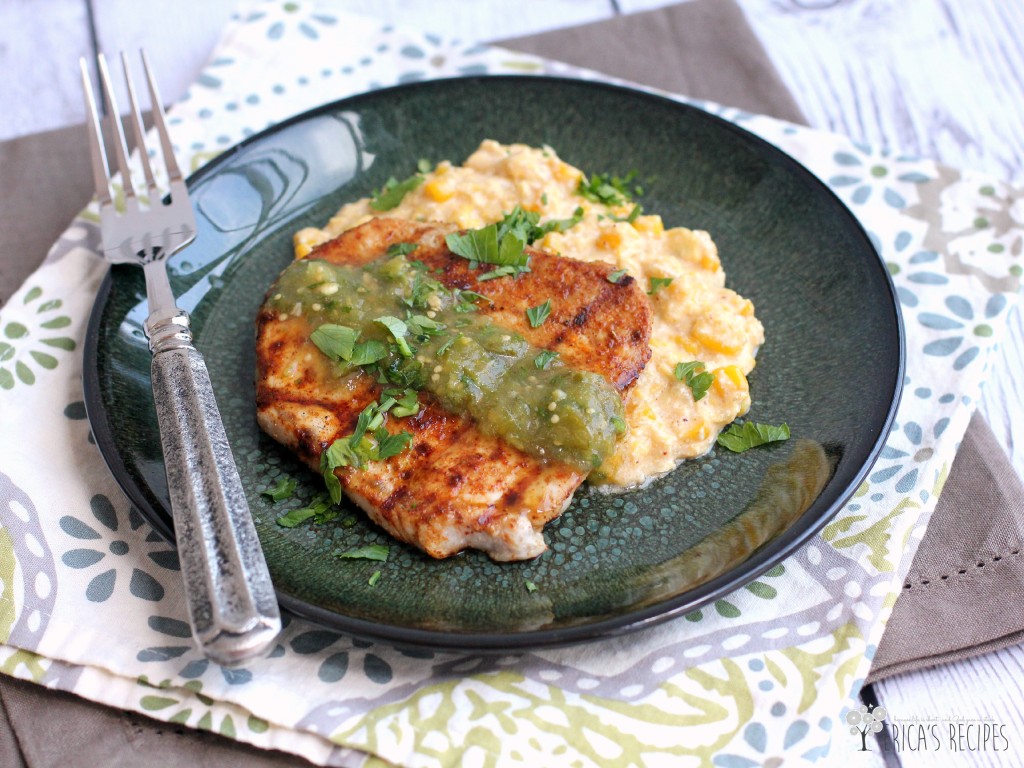 This coffee-rubbed pork chop recipe with creamy queso corn from Erica's Recipes is a fantastic summertime meal. The complex mix of flavors from the coffee rub, tomatillo salsa, corn, chili powder, cumin, and queso fresco cheese, will keep your tastebuds guessing.
Visit Erica's Recipes for the recipe.
Instant Pot Boneless Pork Chops Recipe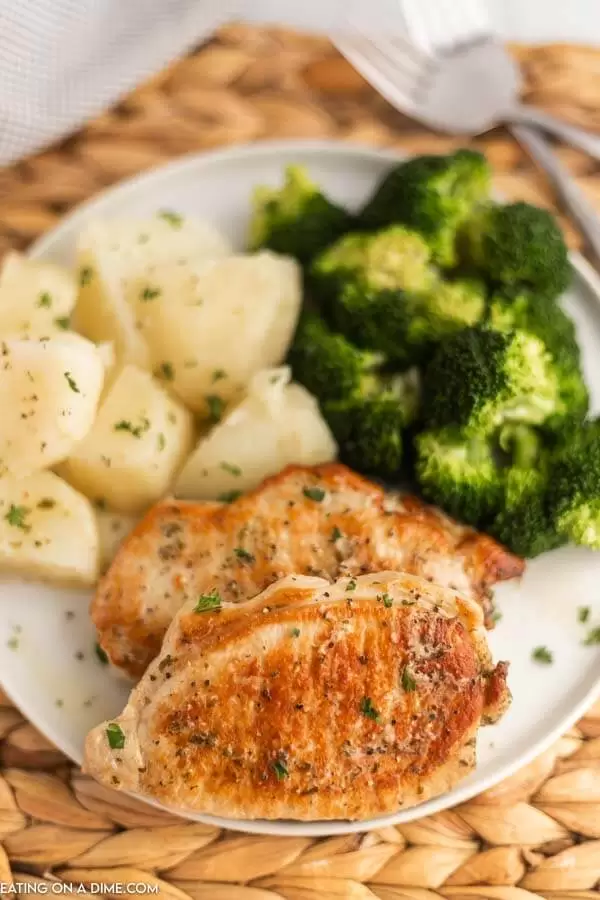 This delicious instant pot pork chops recipe from Carrie of Eating On A Dime has a buttery sauce, so good you'll want to drink it. It's so easy to make for a weeknight meal you can't resist. Now, what we really like about this recipe is that she takes the time to brown the chops before they go into the pressure cooker for better texture, taste, and appearance. Oh, and as if it couldn't get any better, this four-ingredient meal takes just 15 minutes.
Visit Eating On A Dime for the recipe.
Pork Chops with Super Creamy Mushroom Sauce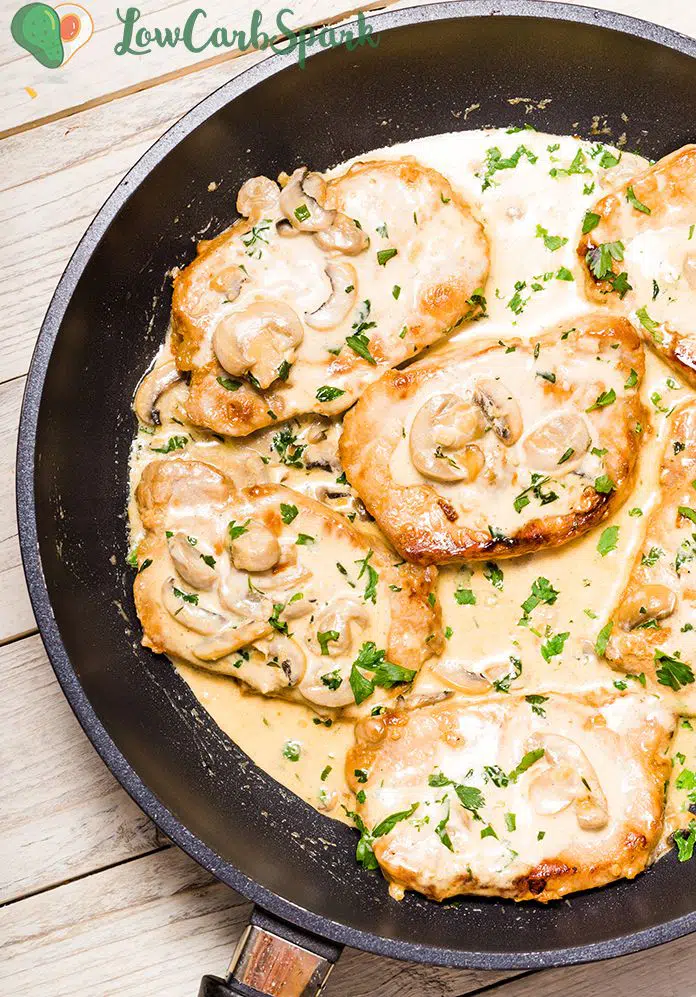 Another meal you can have on the table in less than 30 minutes is this juicy pork chops with herb mushroom sauce from Loana of Low Carb Yum. Ooh wee, that herby, garlicky, buttery, and creamy sauce looks so good smothering those pork chops. And if you're looking for some low-carb weeknight meals, this one certainly fits the bill.
Visit Low Carb Yum for the recipe.
Maple Bacon Wrapped Pork Chops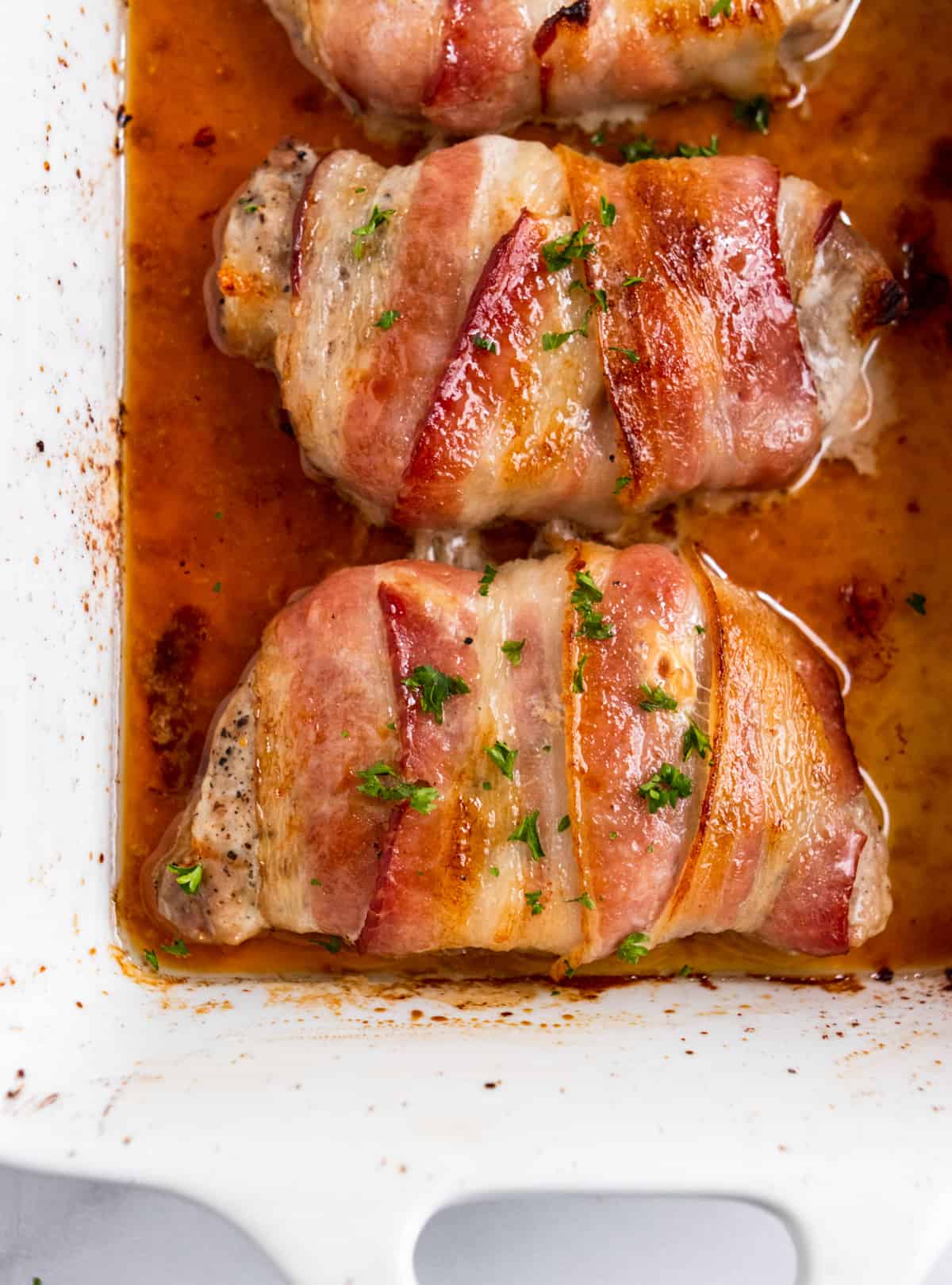 While maple bacon-wrapped pork chops from Lorie of Lemons + Zest sound like a fancy meal you make for your favorite dinner party guests, it's also simple enough, with just six ingredients, to make during the week. With ground mustard, maple, and garlic, the flavor will keep this recipe in your rotation for quite some time.
Visit Lemons + Zest for the recipe.
Shake And Bake Pork Chops In The Air Fryer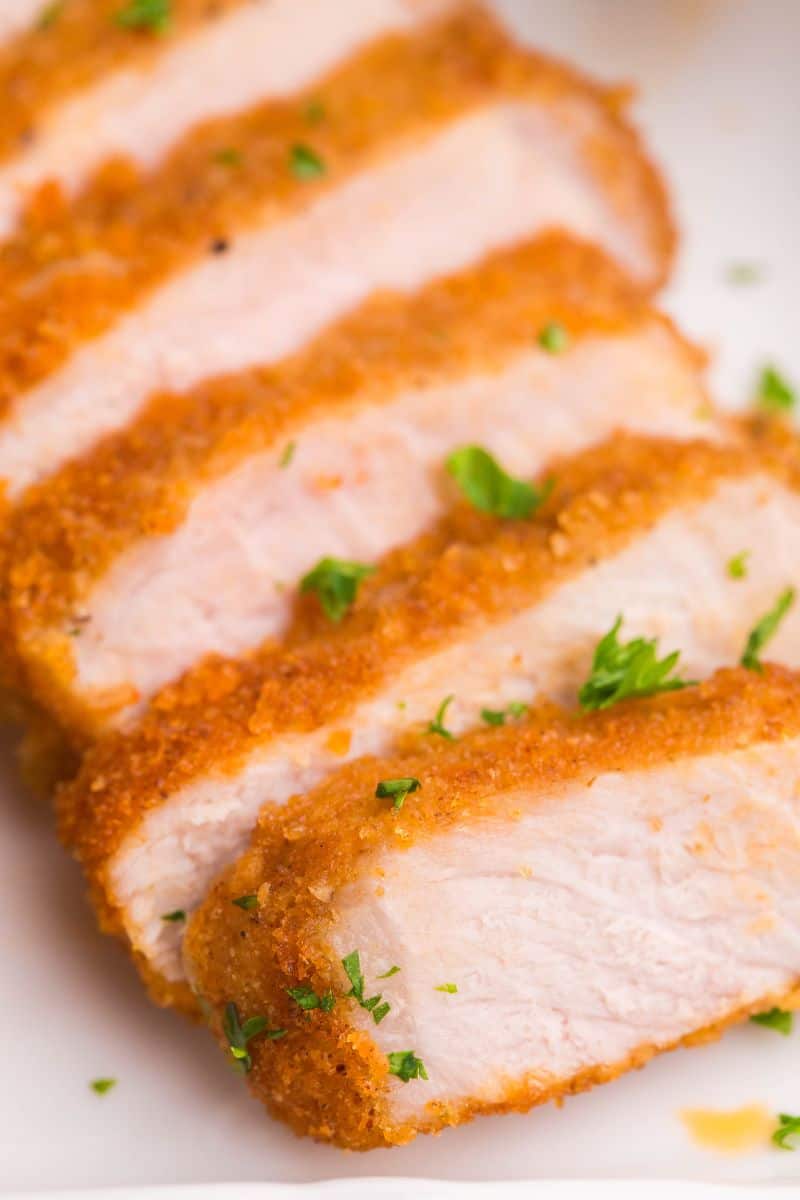 You're not alone if you're old enough to remember those Shake And Bake commercials. And if you're not old enough to remember, don't worry. Samantha of Everyday Family Cooking will help. This simple three-ingredient recipe combines the iconic breading with a modern cooking technique, the air fryer, for a reliable weeknight meal. So when they ask how you made the chops so golden and delicious, you'll say, "it's shake and bake!" And Samantha helped!
Visit Every Family Cooking for the recipe.
Pork Chops & Peaches Recipe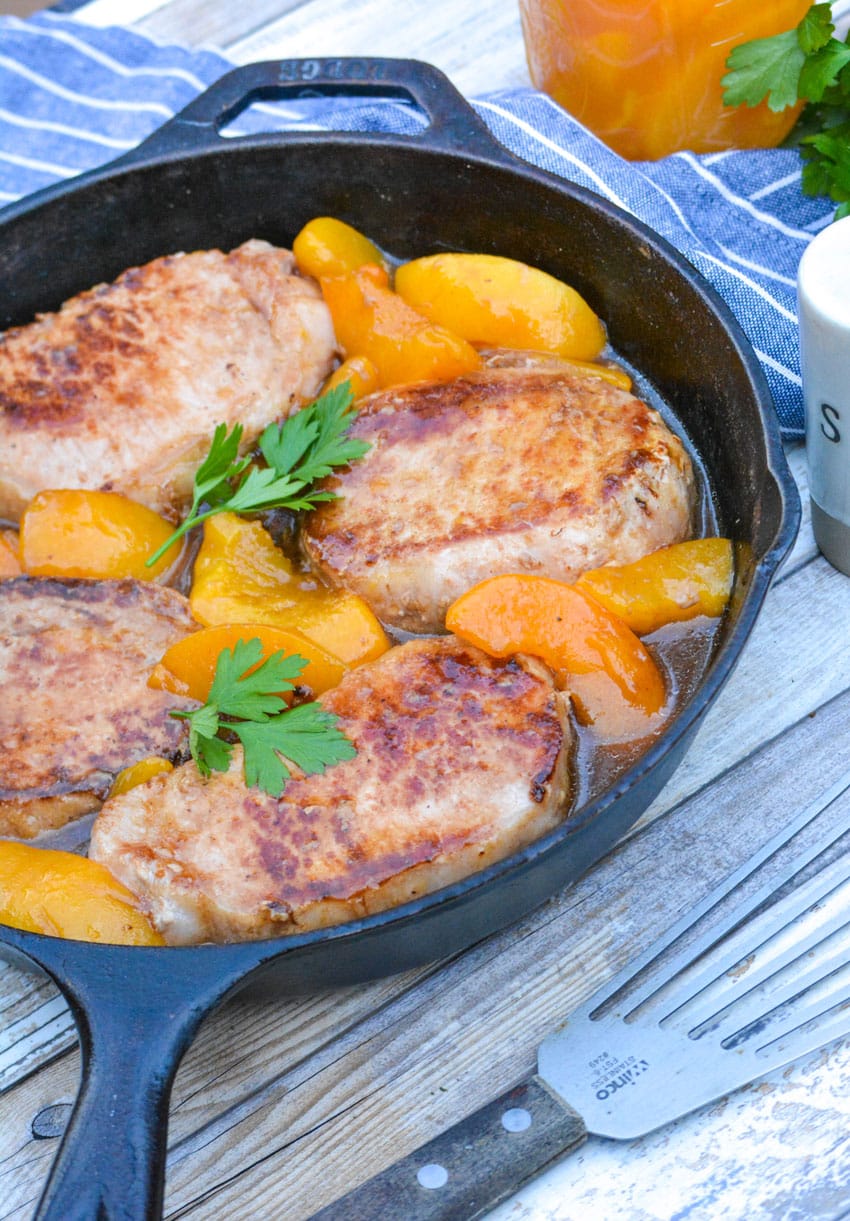 Meaghan of 4 Sons 'R' Us reminds us that pork chops without appropriate cooking techniques or flavors can be quite, well, dreadful. But when you cook them with peaches, balsamic vinegar, and a wee bit of brown sugar, they become a tempting meal to look forward to.
Visit 4 Sons 'R' Us for the recipe.
Pan Fried Pork Chops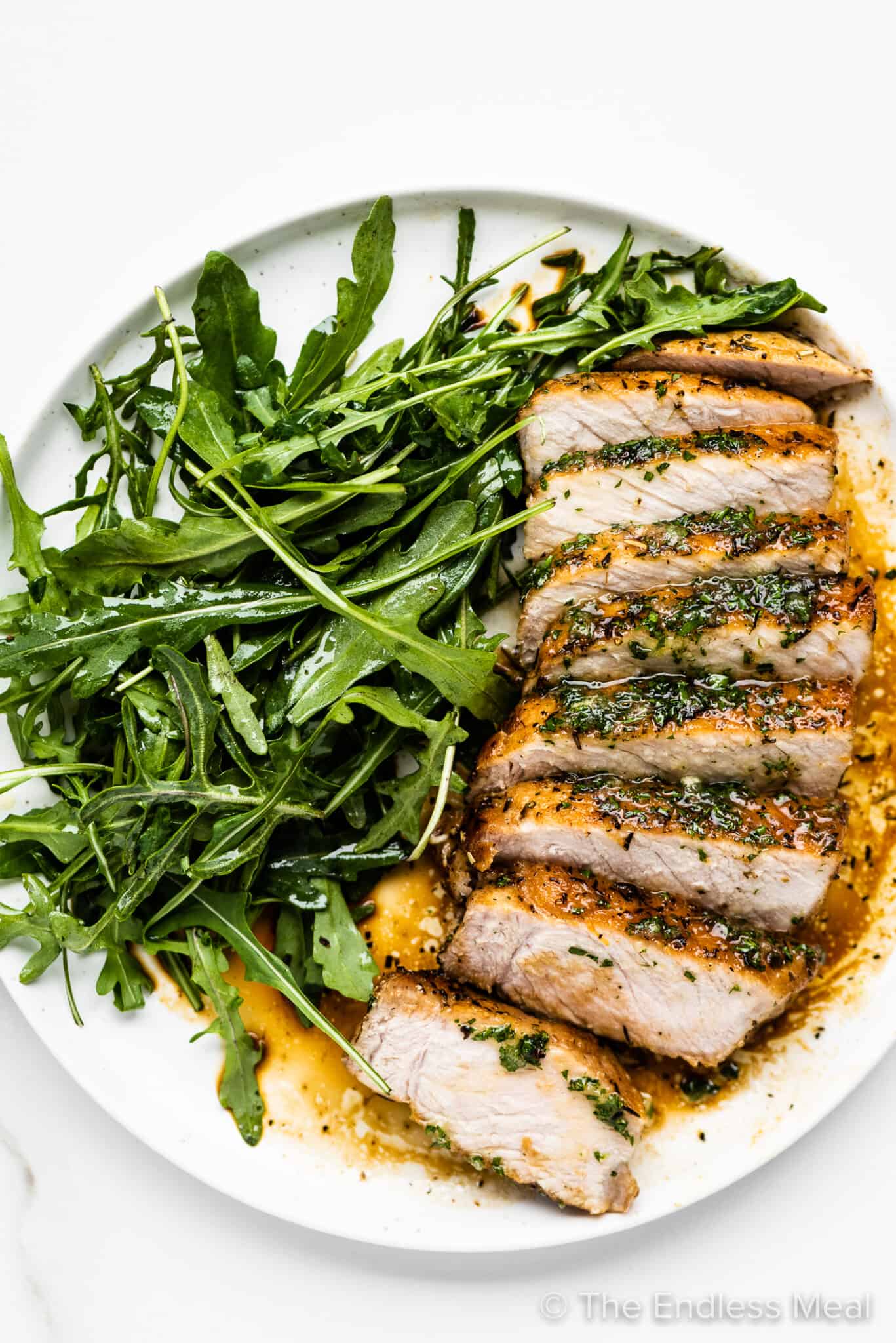 Dozens of folks have tried these juicy pan-fried pork chops from Kristen of The Endless Meal and rated them nearly perfect, five out of five stars. The simple recipe calls for just a handful of ingredients, including Italian seasoning and thick-cut boneless chops. But to make this a meal to remember, there's that garlic honey herb butter.
Visit The Endless Meal for the recipe.
Stuffed Pork Chops Italiano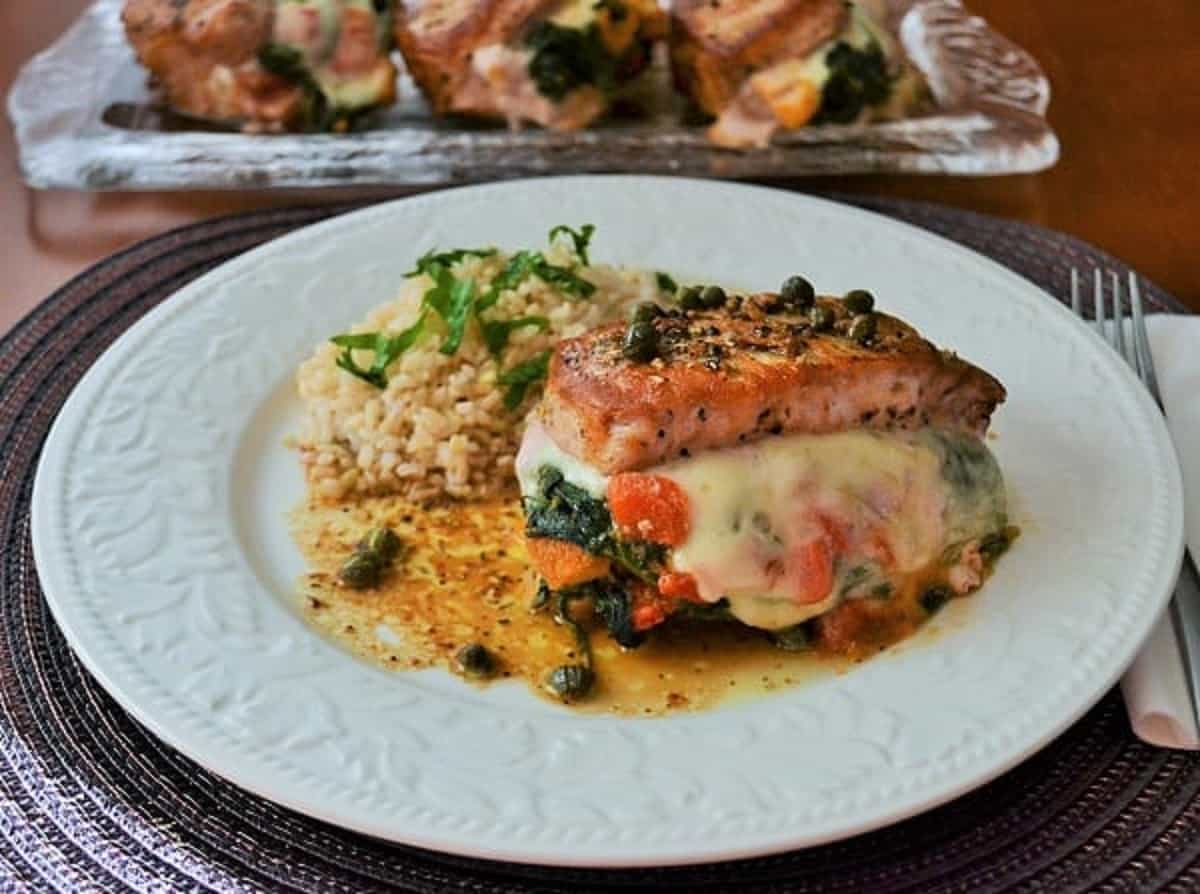 Lisa's favorite porchetta sandwich inspired this stuffed boneless pork chop recipe. The Jersey Girl Cooks these juicy and flavorful chops with garlic, spinach, red peppers, and cheese. Then you top it with a silky, buttery wine sauce before adding a few capers. It's a high-quality, restaurant-style meal all will enjoy.
Visit Jersey Girl Cooks for the recipe.
Apple Cider Pork Chops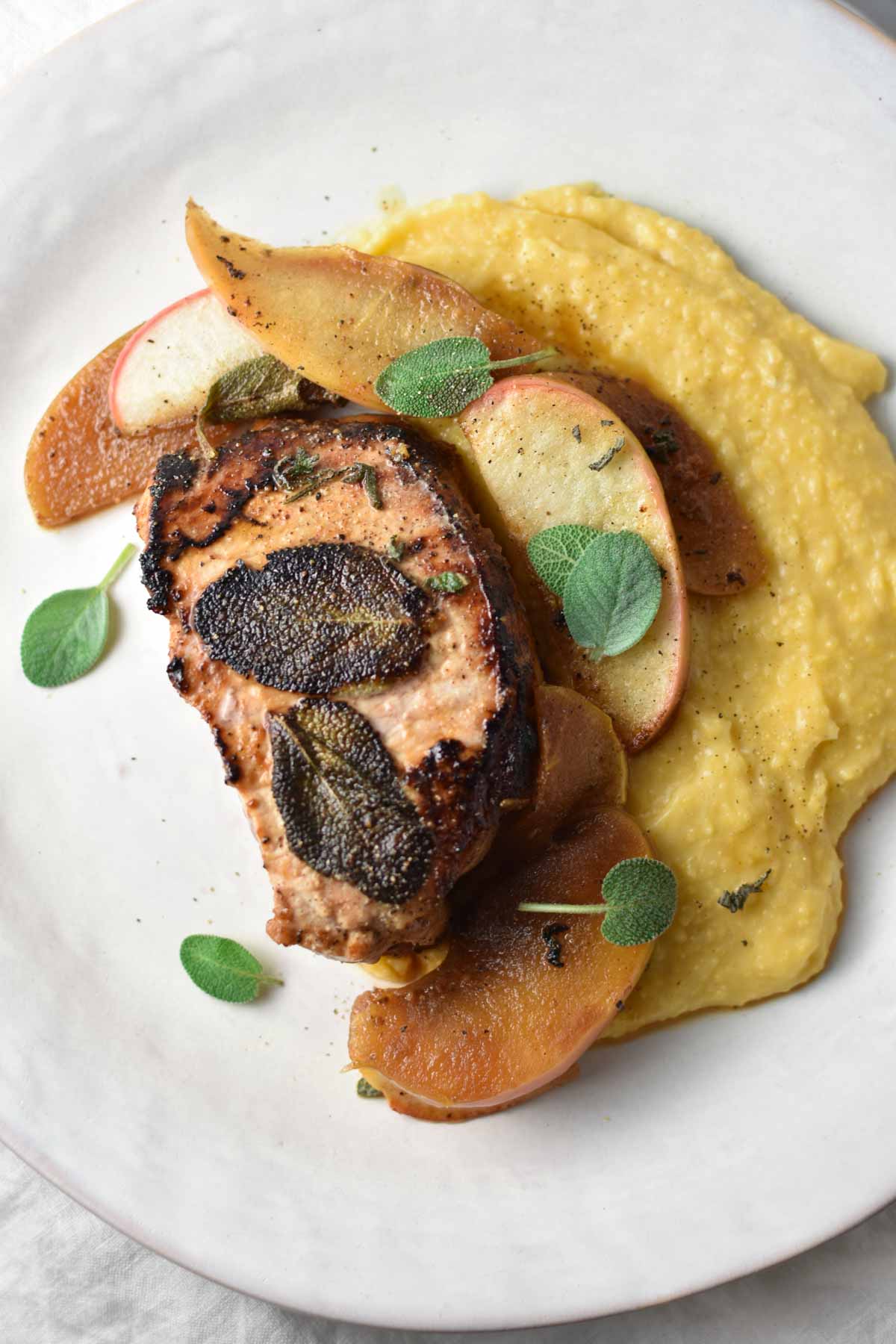 Not only is Alicia of The Dizzy Cook's recipes tasty creations with expert development. They also serve as an incredibly practical resource for those with a specific health issue. That's right, recipes like her 30-minute buttery, apple-filled, sagey pork chops are marvelous, creative, and made with migraine sufferers in mind.
Visit The Dizzy Cook for the recipe.
How To Grill Smoke Pork Chops On Pellet Grill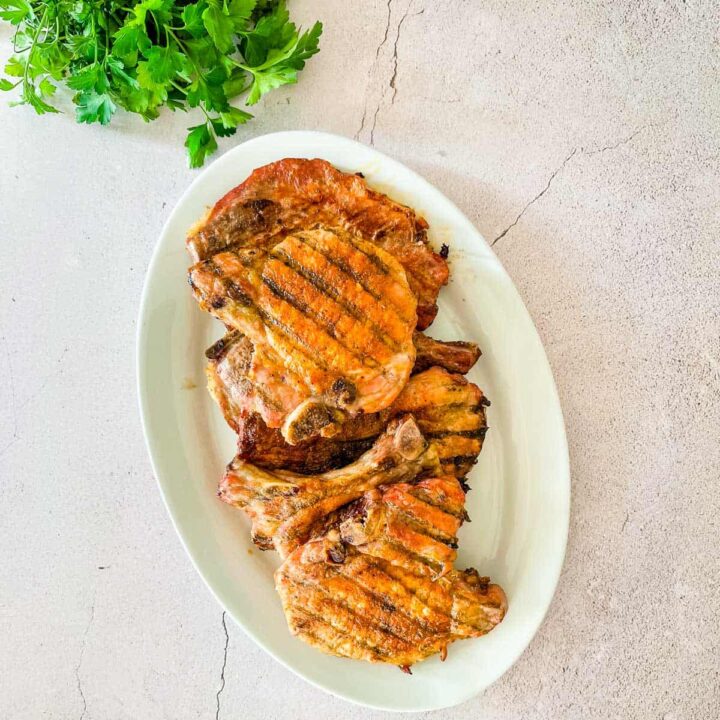 When we came across this smoked pork chop recipe from Jeri of Winding Creek Ranch, we knew it would be a hit. Smoked chops take just five minutes to prep and they cook quickly on your pellet grill. Plus, smoking them adds a layer of flavor you'll never get from pan frying or baking. And if you want the juiciest chops you ever had, few cooking methods compare.
Visit Winding Creek Ranch for the recipe.
Grilled Pork And Peach Salad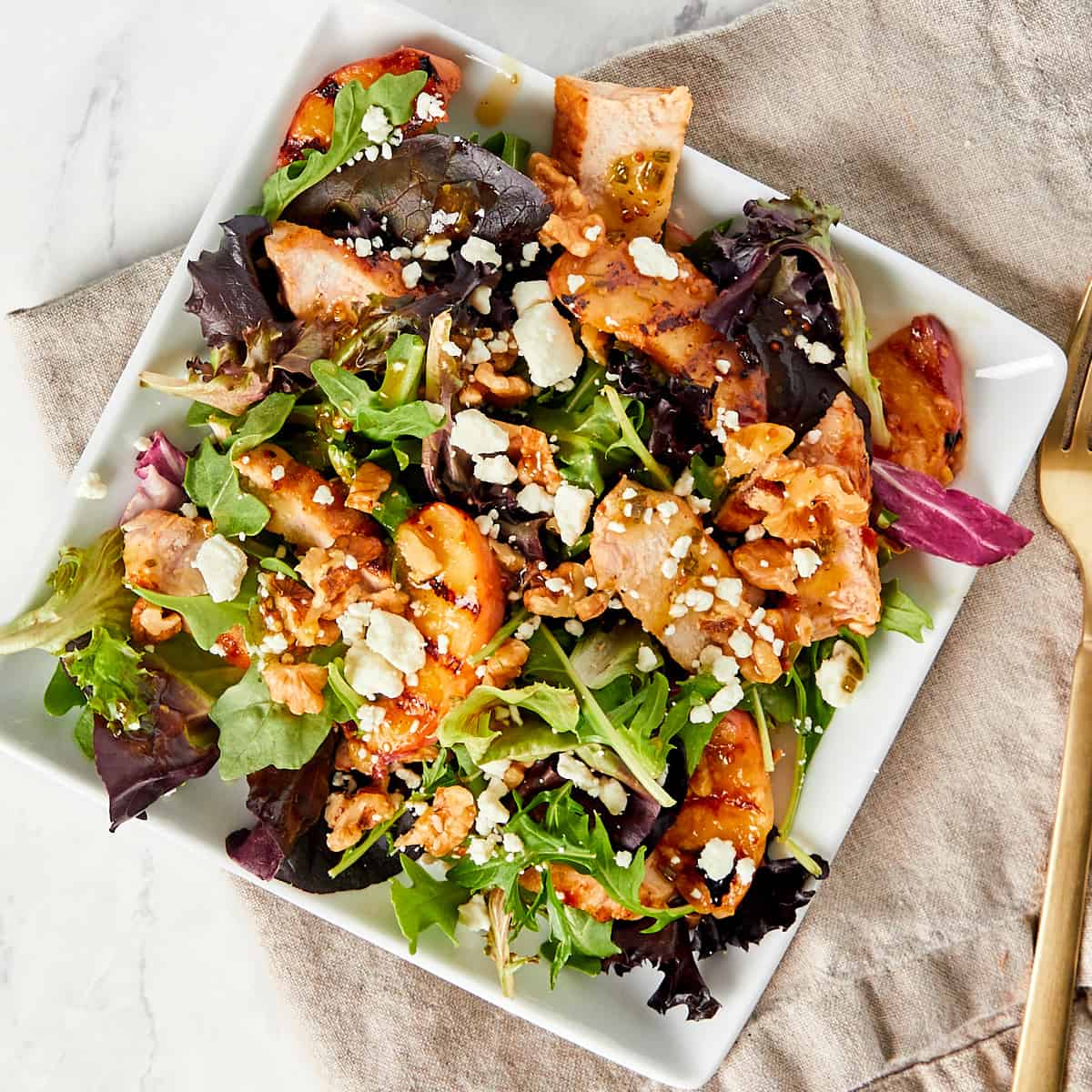 Fresh, mouthwatering, juicy honeyed peaches with tender, succulent boneless pork chops and goat cheese, sitting atop a bed of fresh peppery arugula lettuce. Yes, this grilled pork and peach salad from Melissa of Casual Epicure is THE salad of the summer. But this 30-minute salad is more than that. It's a meal!
Visit Casual Epicure for the recipe.
Pretzel Crusted Pork Chops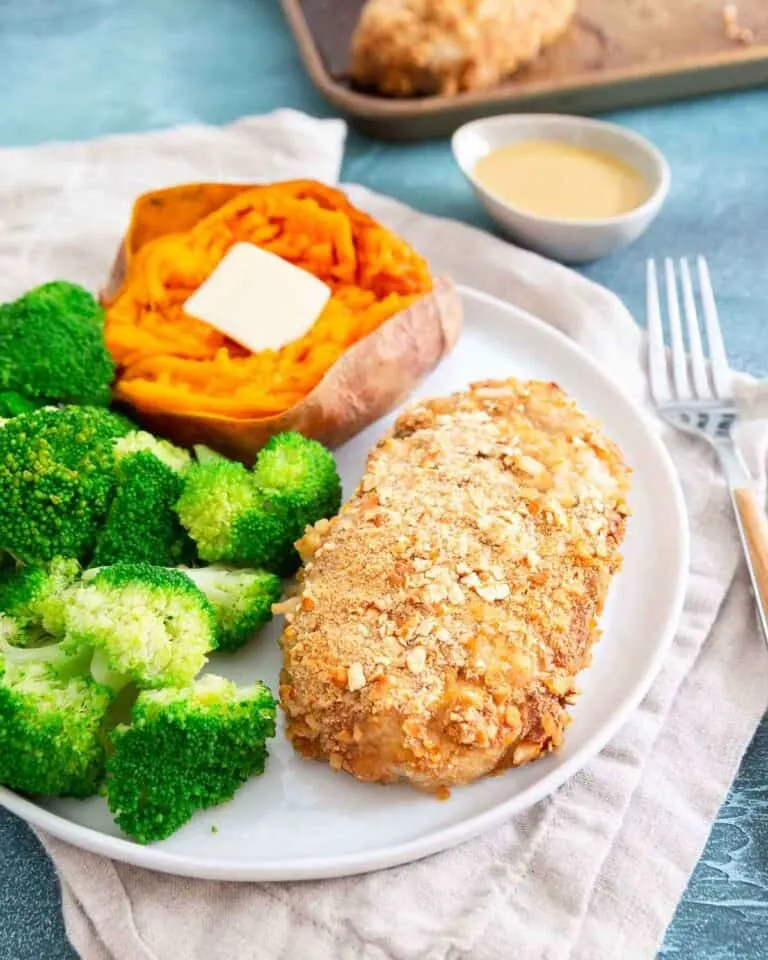 The fit-minded Gina of Running To The Kitchen provides this fun pretzel-crusted pork chop recipe. After you pulverize the pretzels in your food processor, dip the chops in egg, then the pretzel seasoning mix and bake. Surrounded by broccoli and sweet potatoes, it becomes the ideal centerpiece of your nutritious plate.
Visit Running To The Kitchen for the recipe.
Molasses Bourbon Glazed Pork Chops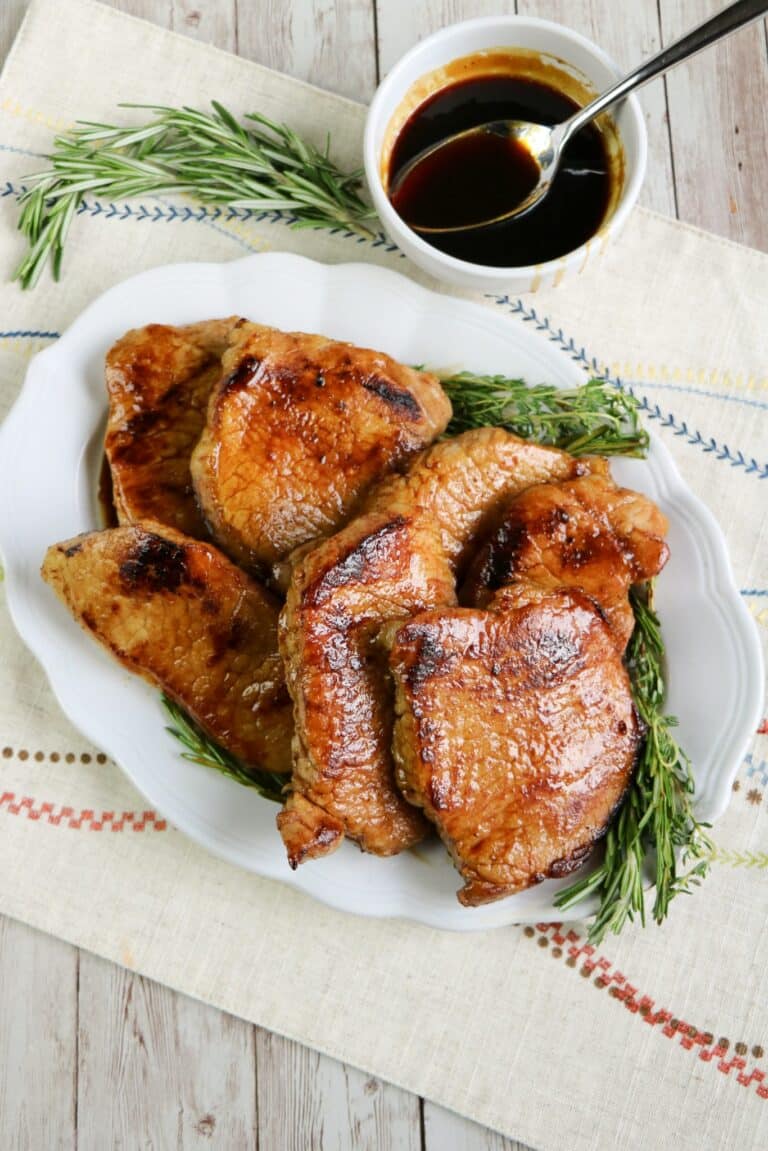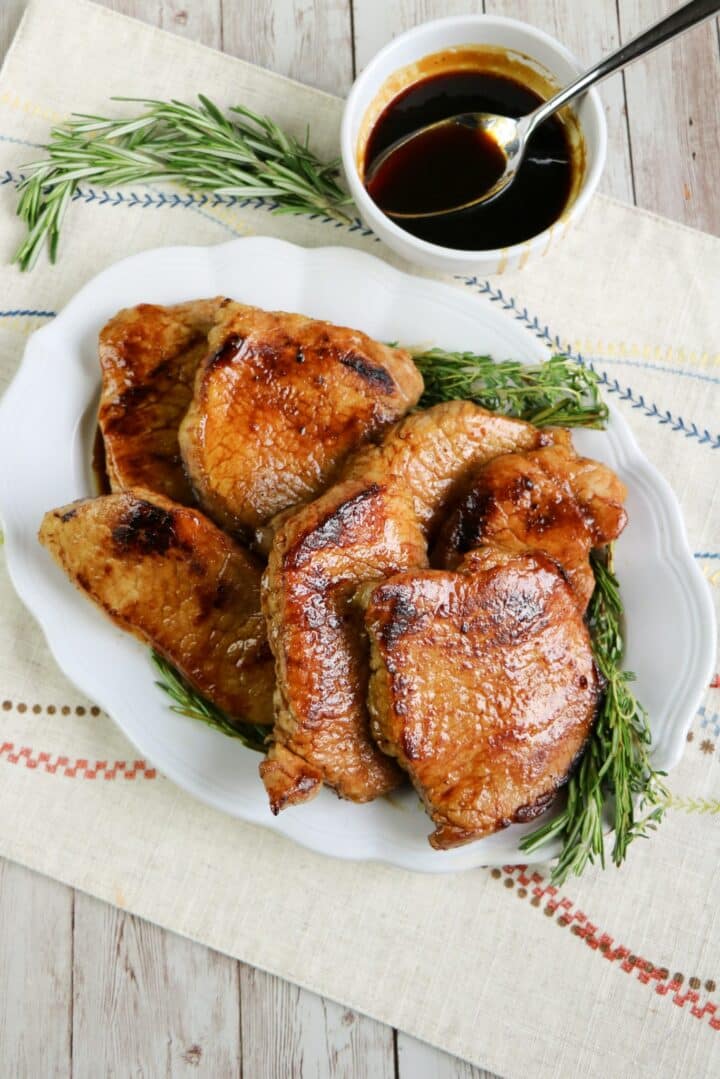 The molasses bourbon glaze on these pork chops from Debi of Our Wabi Sabi Life imparts a delicious smoky note, while the rosemary and thyme add a slightly earthy flavor. Simply Delicious! Now, you will need to do a little planning as the chops need to soak in the brine overnight. But it's totally worth it for tender and juicy results.
Visit Our Wabi Sabi Life for the recipe.
Boneless Pork Chops with Quince Chutney and Fried Pumpkin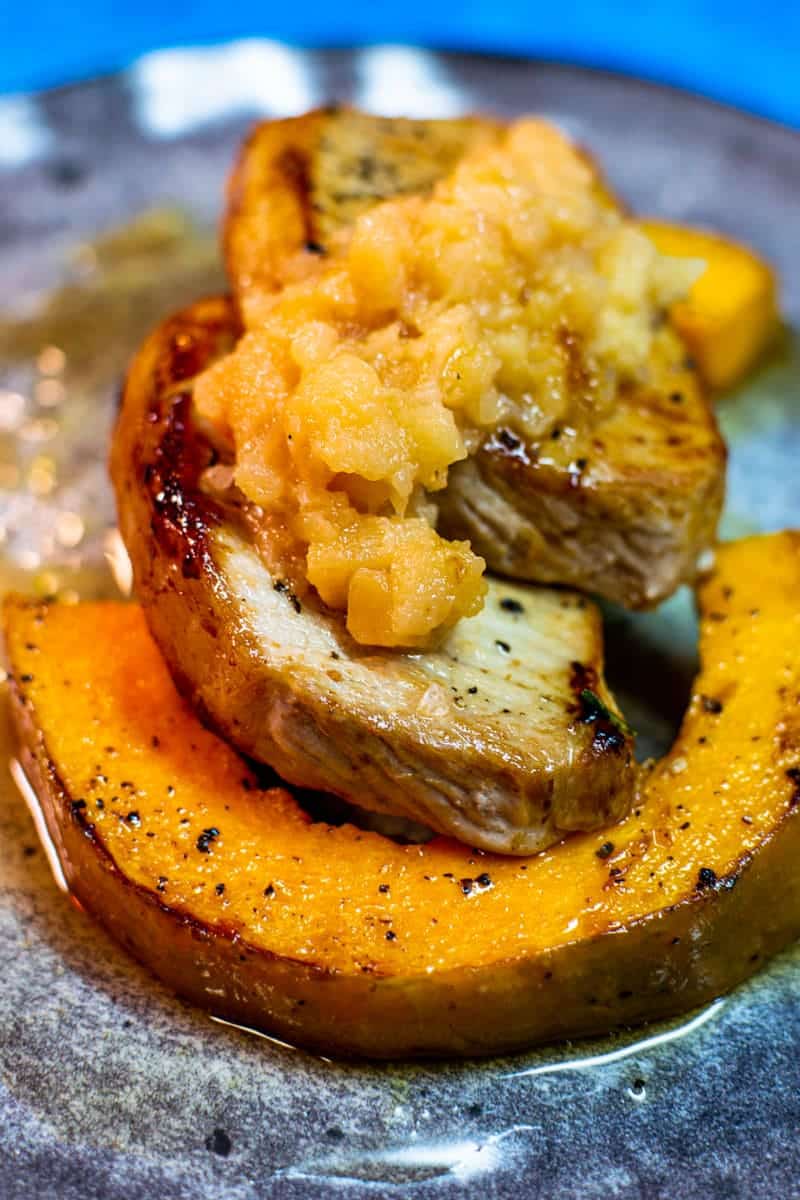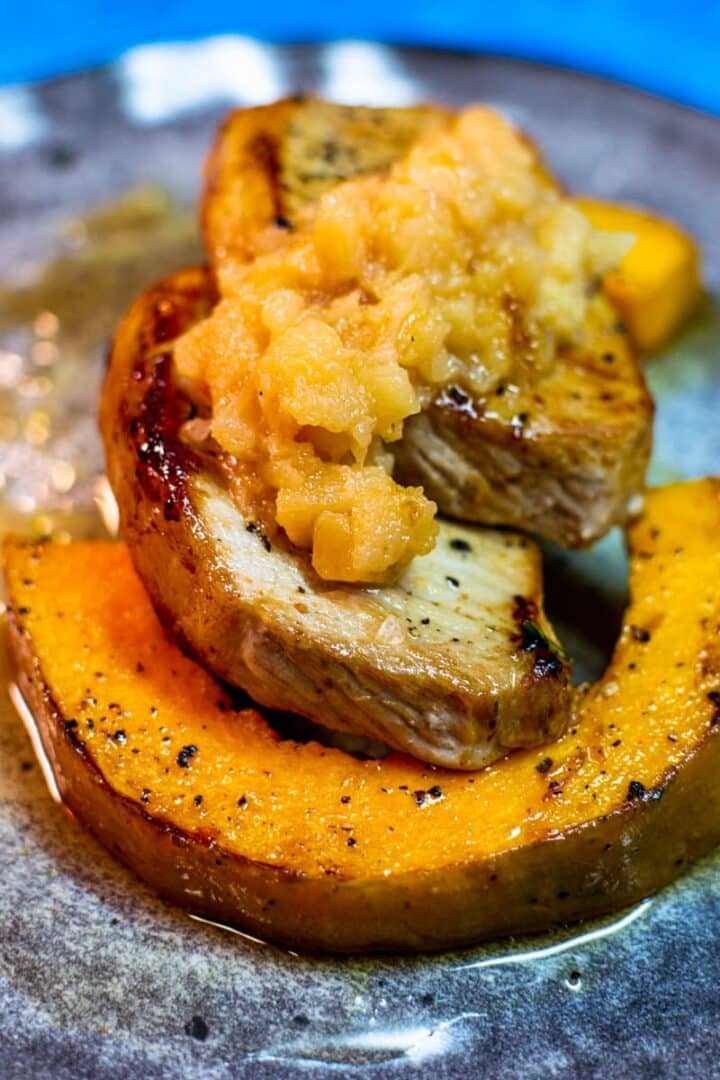 You rarely find a recipe with quince. Unlike its cousins, the apple or pear, quince becomes sweet only when cooked. But, in the raw, it's a bit on the sour side. How interesting? With onions and pumpkin, this boneless chops recipe from Go Cook Yummy becomes a unique fall offering, sure to delight your tastebuds.
Visit Go Cook Yummy for the recipe.
Pork Vindaloo Recipe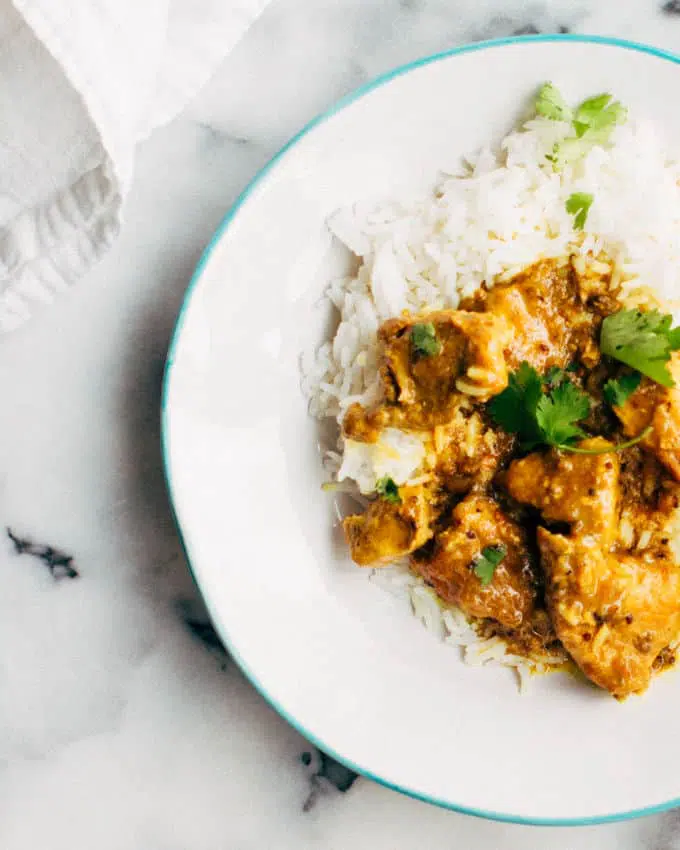 Food scientist and registered dietician Jennifer of Foodess brings us this pork vindaloo curry with vinegar, chile, and spices. And by spices, we mean it! The popular spicy pork dish has turmeric, cumin, mustard, garlic, onions, coconut milk, and much more. It's a whirlwind of flavors we're excited to try!
Bacon Mushroom Pork Chops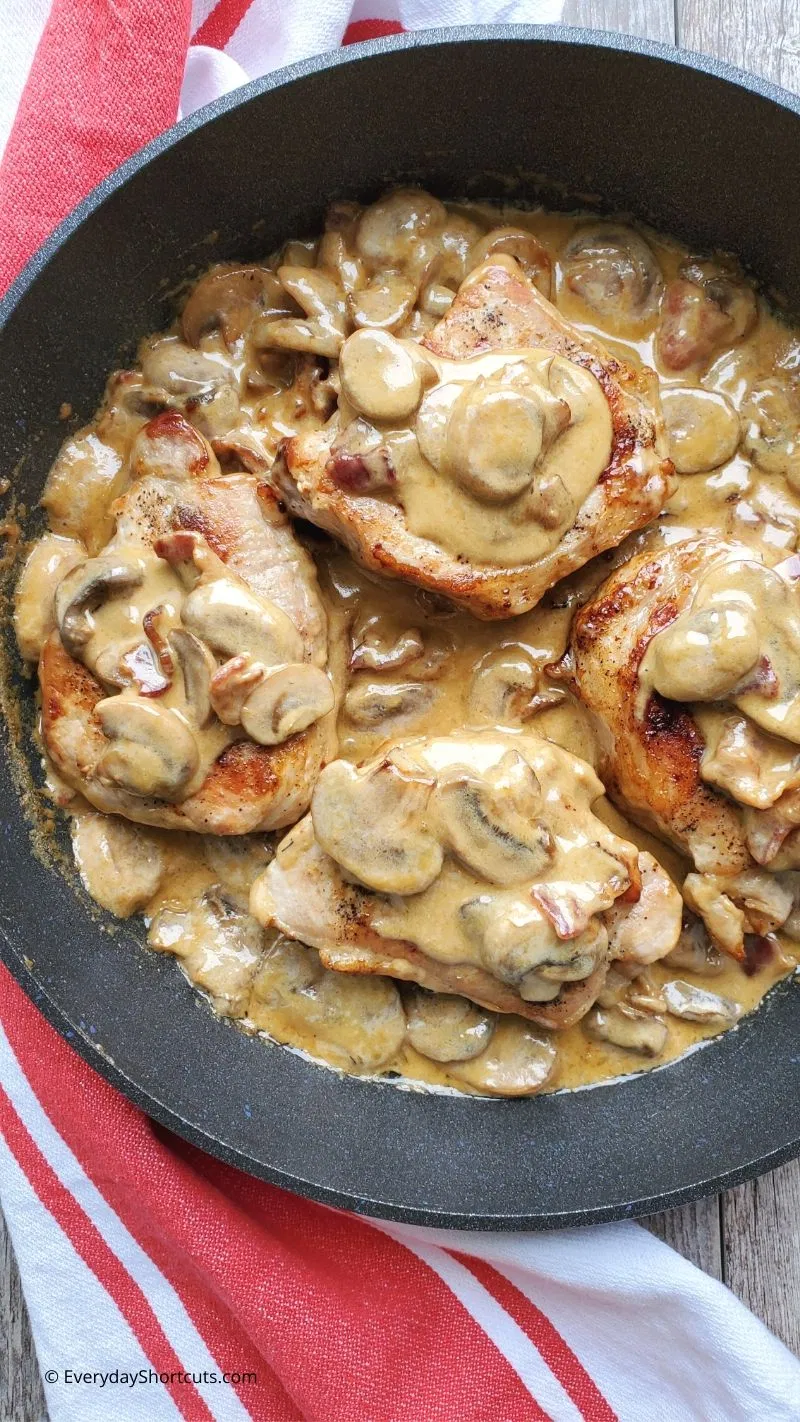 For these dreamy bacon mushroom pork chops from Alison of Everyday Shortcuts, you start by cooking some bacon. Then, tenderize the chops with a meat mallet before cooking them in a bit of the leftover bacon fat. Mmmm! Are you with us so far? Finally, you make that lovely mushroom sauce. Serve it with cauliflower to keep it keto or over rice for a hearty, filling weeknight meal.
Visit Everyday Shortcuts for the recipe.
Sesame Crusted Pork With Sweet And Sour Sauce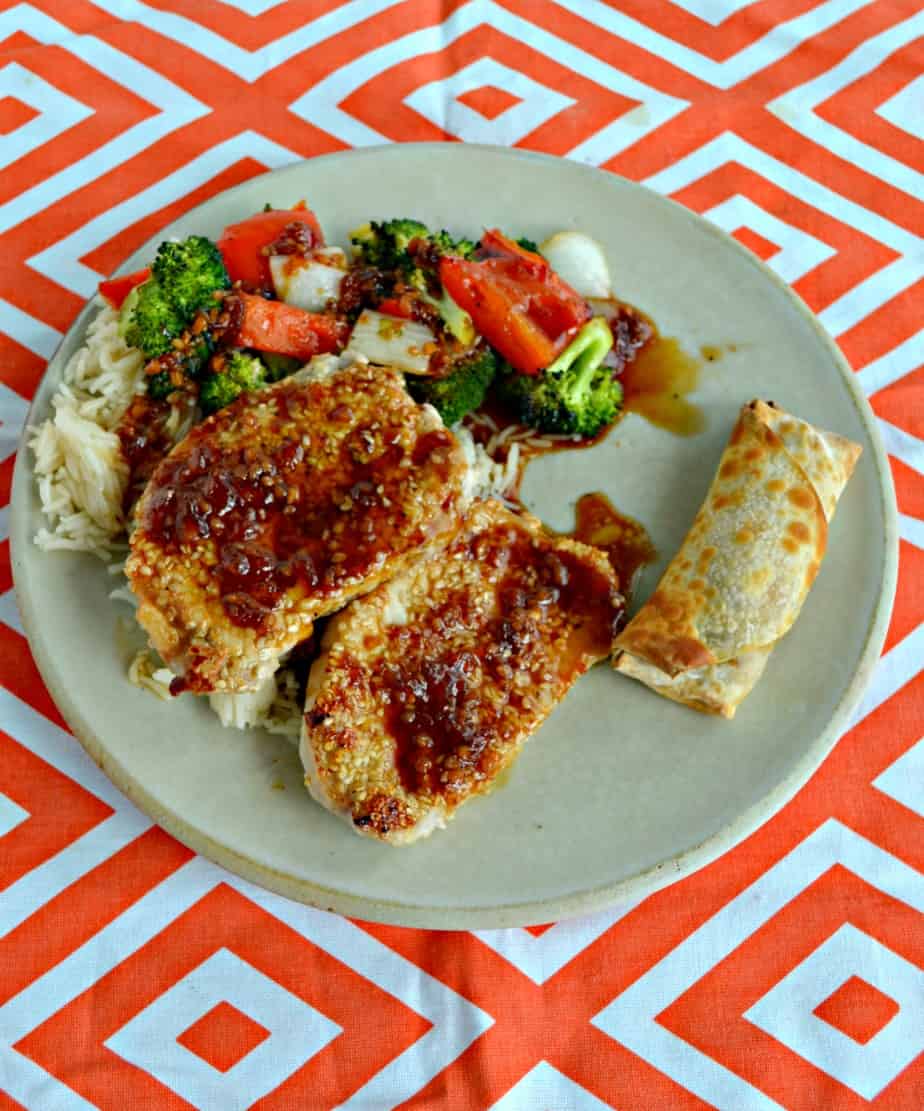 With just a handful of ingredients, you can make this tasty sesame-crusted sweet and sour boneless pork chops recipe from Hezzi-D's Books And Cooks. But this isn't just some meal, guys. Instead, you'll discover Asian flavors like rice vinegar, soy sauce, and garlic to excite your taste buds. And to balance those savory and sour flavors, the apricot jam adds a unique sweetness.
Visit Hezzi-D's Books And Cooks for the recipe.
Which Boneless Pork Chop Recipes Will You Try First?
By now, you have seen many boneless pork chop recipes. So which one do you wish to make first? Is it the bacon mushroom pork chops, apple cider pork chops, and French onion pork chops or something else? Let us know.