We hope you're excited to explore this list of 24 shrimp recipes for dinner. It's full of delicious weeknight meal ideas you and the fam will love.
So, there are lots of reasons to love shrimp. First, it is a very lean protein. We're talking less than a gram of fat per 3-ounce serving. And the flavor, mmmm! The taste is incredible and is the foundation for so many different cuisines.
You'll find all sorts of tastiness here. For example, there's a shrimp and peach kebab recipe, shrimp pasta casserole, and even a take on the restaurant favorite, bang bang shrimp.
So, bring your appetite because these talented bloggers bring the tasty.
Let's jump in!
Shrimp Pasta Casserole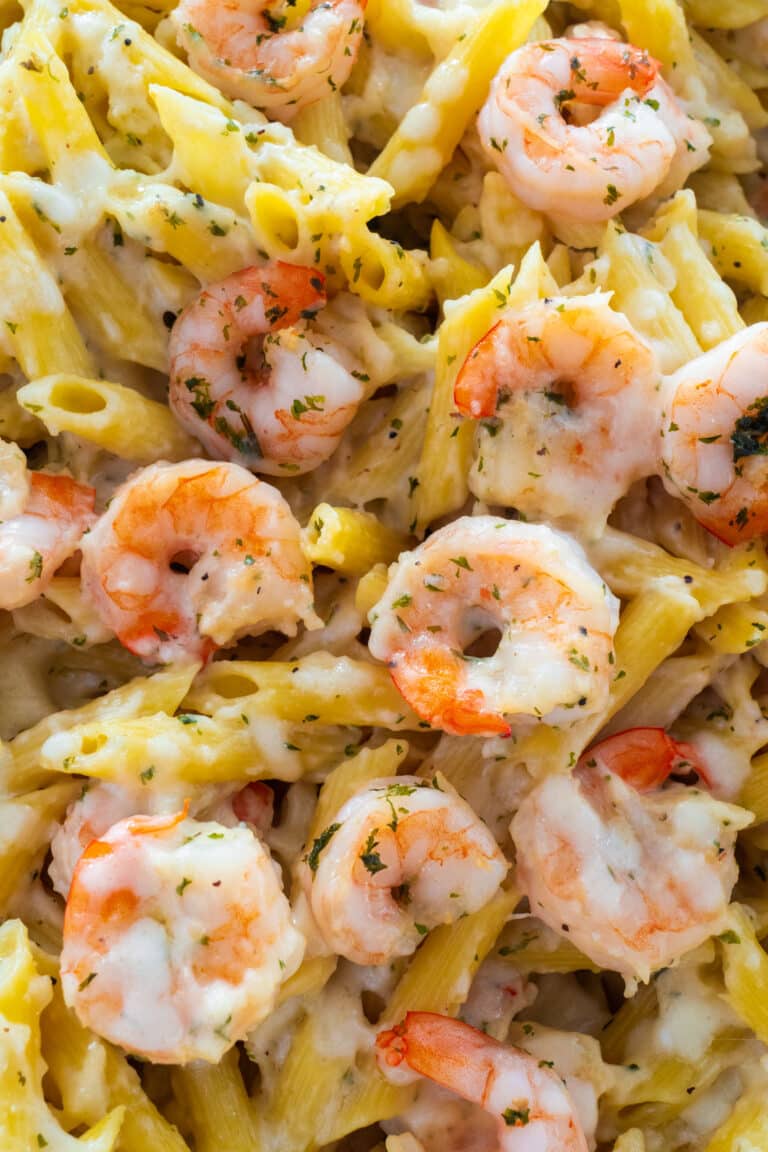 Shrimp and pasta team up for din-din in this simple 30-minute meal from Pamela, the Brooklyn Farm Girl. It's a creamy, cheesy, garlicky, skillet you can make any day of the week. But it's not just tasty. The best part of this creation is that you make it in just one pan, so you won't have to spend all day cleaning up.
Visit Brooklyn Farm Girl for the recipe.
Chorizo Paella with Shrimp and Chicken
When you take shrimp, chorizo, chicken thighs, rice, seasonings, aromatics, and expert instructions, you get this filling chorizo paella from Jennifer of Foodess. It's a weeknight fare sure to satisfy bellies of all ages. But it gets better! The simple one-pot meal is self-contained in just one pan and takes just 30 minutes to come together.
Shrimp and Peach Kebabs
Don't get us wrong, meat and fruit or veggies on a stick are great all on their own. Still, the folks at What Smoking encourage you to mix it up a little. And we can't think of a better way to do that than with these shrimp and smoked peach kebabs. They're so flavorful with garlic, red pepper flakes, sangria, and lime juice.
Visit What Smoking for the recipe.
Air Fryer Bang Bang Shrimp
If you aren't familiar with bang bang shrimp, it's shrimp with an otherworldly elixir made of sour cream, mayo, chili garlic sauce, honey, and mustard. Now, we've seen the shrimp baked, fried, and smoked. Or like this version from, Cocktails And Appetizers, air fried. The cooking method doesn't matter. The recipe is so special because of the sauce, which is very flavorful with a little bang.
Visit Cocktails And Appetizers for the recipe.
Creamy Coconut Dipping Sauce & Air Fried Shrimp
Sara of White Kitchen Red Wine reminds us that you can explore your shrimp dipping options. Don't be blindly loyal to the cocktail sauce because it's readily available. Instead, explore other dipping options like this fantastic creamy coconut sauce. It's got coconut cream, pineapple juice, sour cream, lime juice, and a sweetener. It's so good; we're betting you may explore other foods to put this on.
Visit White Kitchen Red Wine for the recipe.
Shrimp Tacos with Mango Salsa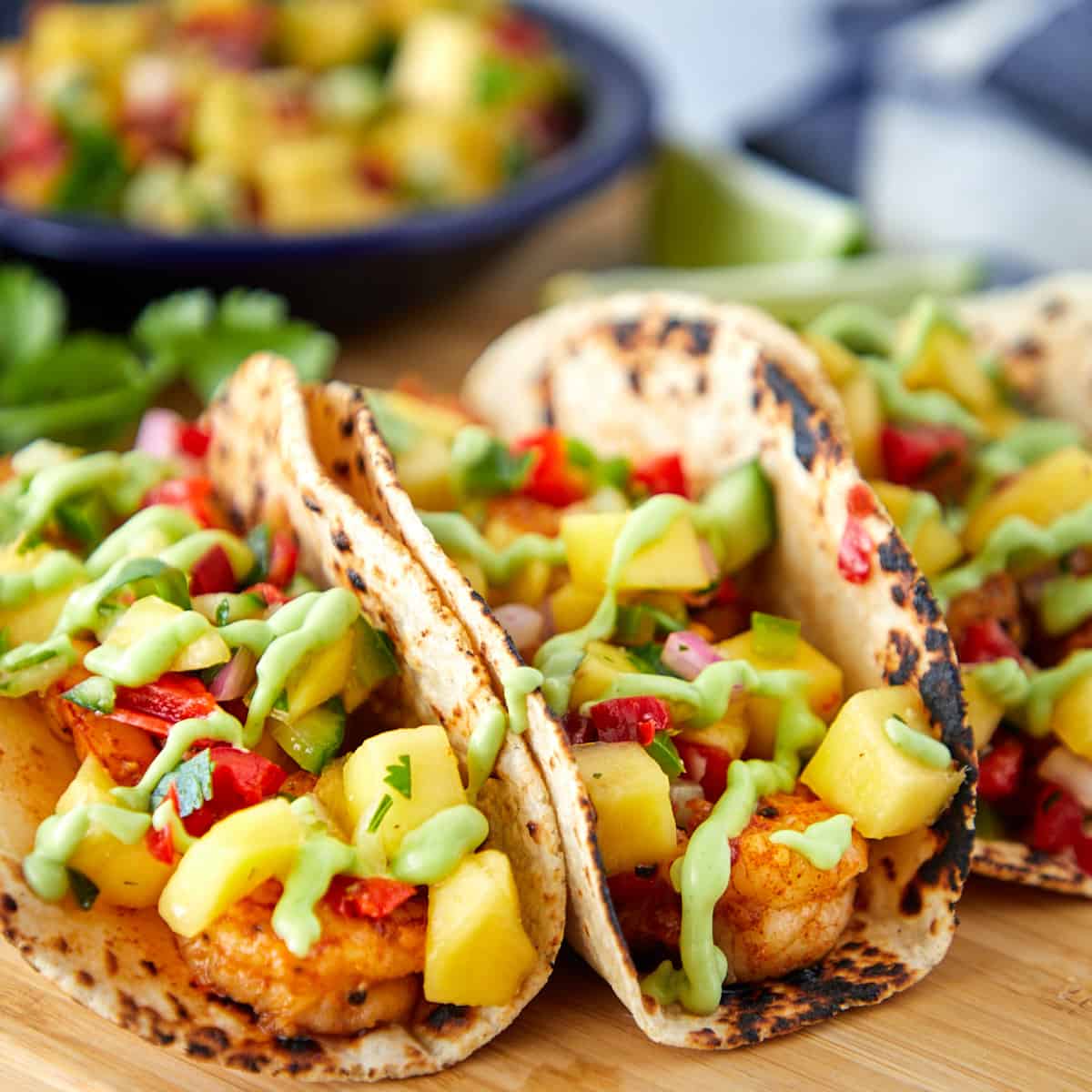 These shrimp and mango tacos from Melissa from Casual Epicure are quick, easy, and oh-so-delicious. Speaking of taste, you'll discover the flavor of chili powder, garlic, paprika, mango salsa, and avocado dressing. And get this. The meal is ready in just 30 minutes. Of course, the longest part is allowing the shrimp to marinate. But you can cook a batch of shrimp in a large skillet for just one to two minutes per side.
Visit Casual Epicure for the recipe.
New Orleans Style BBQ Shrimp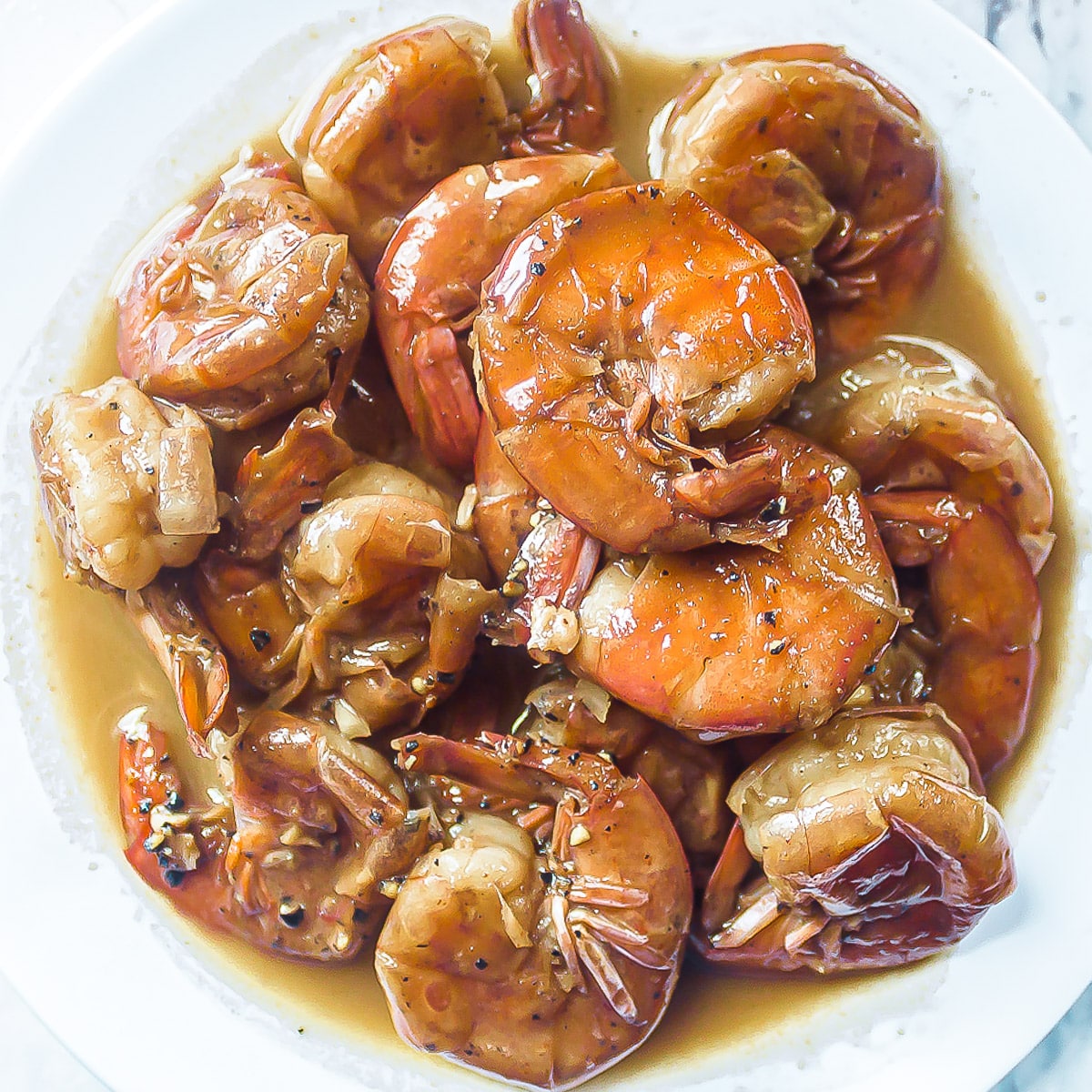 Chenee Today implores you to try this New Orleans-style bbq shrimp recipe. And if you're at all familiar with New Orleans cuisine, you know it's full of flavor. This dish has creole seasoning, beer, garlic, and Worcestershire sauce. Prep is just 5 minutes, and it's done cooking in just 10 minutes. Finally, serve it with rice, crusty bread, or a personal favorite, grits.
Visit Chenee Today for the recipe.
Garlic Butter Shrimp Pasta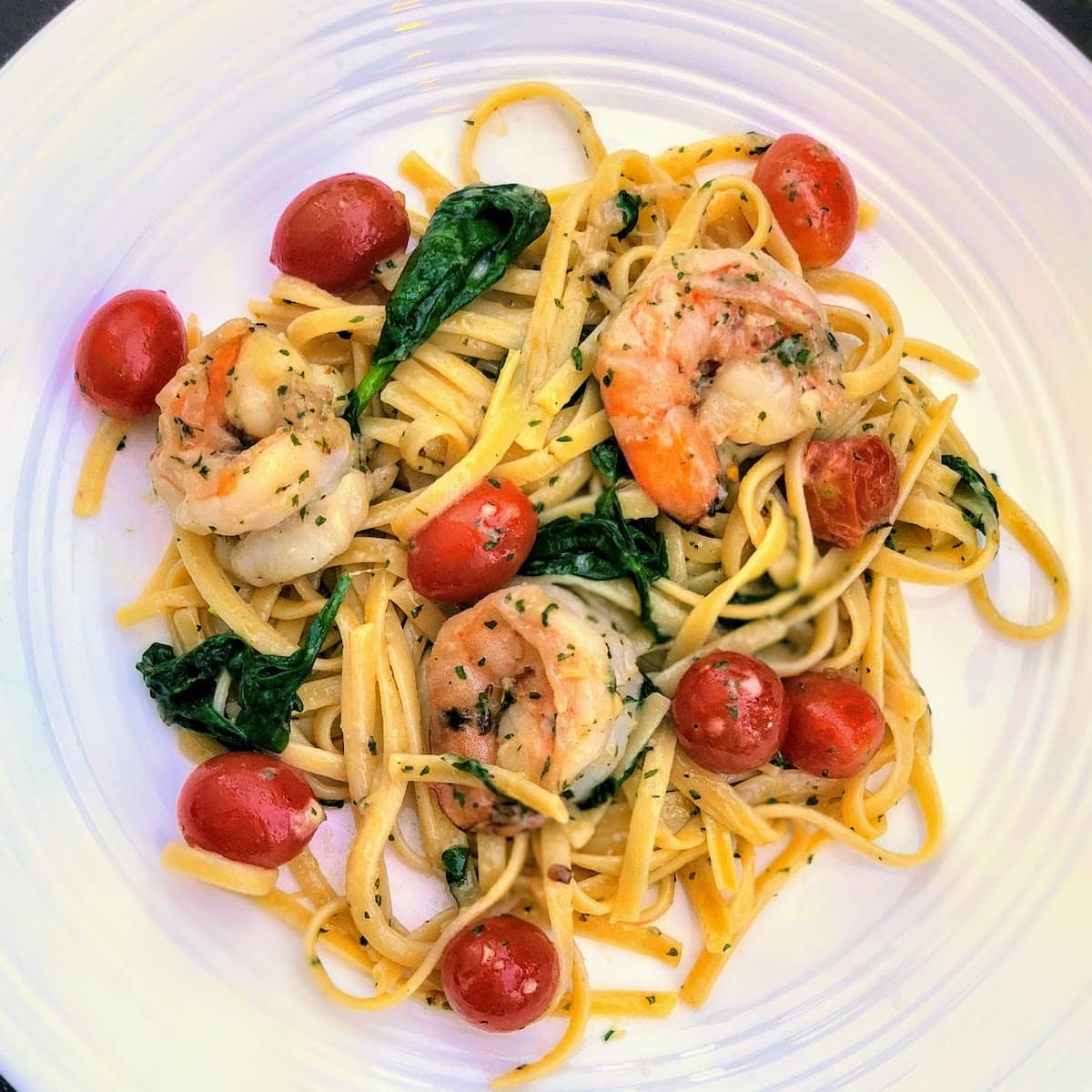 Fresh minced garlic, Italian seasoning, butter, and more make this quick shrimp pasta dish from Marcie & Julie of Plate In 28 a tongue-teasing, flavor-packed dish all will love. Fresh baby spinach and tomatoes make it beautiful enough for a dinner party, but the 28-minute cooking time makes it an excellent choice for a Wednesday night.
Visit Plate In 28 for the recipe.
Instant Pot Shrimp Scampi Recipe
Serve this instant pot shrimp from Angela of The Instant Pot Table atop a bed of fettuccini pasta. It's creamy and flavorful from garlic, onions, parsley, butter, and lemon. And with your favorite electric pressure cooker, you won't have to worry about standing over a stove. Instead, you can have dinner plated in less than half an hour.
Visit The Instant Pot Table for the recipe.
Korean Shrimp Tacos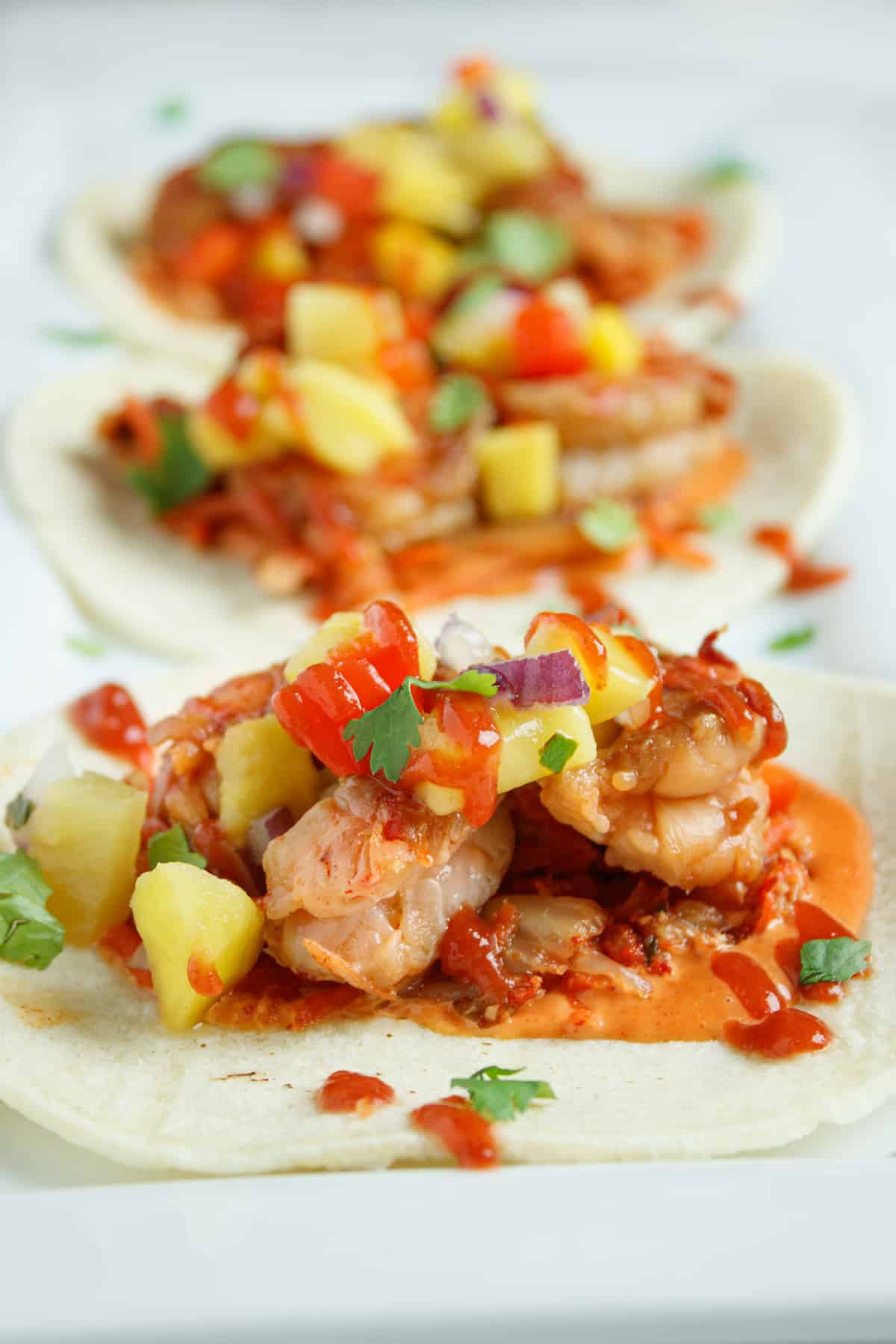 Korean tacos from Kayla of The Dairy Free Menu are a fun twist on ordinary shrimp tacos. With ingredients like mirin, honey, soy sauce, and gochujang, indeed, they'll take your taste buds on an exploration of sweet and savory, with a wee bit of a kick. But the biggest surprise is that you'll have this crowd-pleaser on the table in less than 20 minutes.
Visit The Dairy Free Menu for the recipe.
Shrimp And Corn Chowder
You'll want to dive into a bowl of this shrimp and corn chowder from Ashlyn of Belle Of The Kitchen. The hearty soup will become your household's favorite fall soup. It's got the smokiness of chipotle, red bell pepper, onion, chiles, cheese, shrimp, and even bacon. Yep, all that flavor in less than 40 minutes. It sounds weeknight appropriate to us. What's not to love?
Visit Belle Of The Kitchen for the recipe.
Mangalorean Prawn Curry
If you want to take a trip to shrimp flavorville, try this Indian coconut-based shrimp curry from Rachna Cooks. Like other curries, you'll find mindblowing flavors like ginger, garlic, chilies, tamarind, and of course, shrimp and coconut. And with so much fantastic taste, you'll have to suffer through hours of cooking, right? Nope! Instead, it takes just 15 minutes to prepare and 20 minutes to cook.
Visit Rachna Cooks for the recipe.
Garlic Butter Shrimp With Sprite
This shrimp dish from Gail of Manila Spoon features buttery, tender shrimp cooked in Sprite. Oh my, we're certainly ready to try! How clever, novel and tasty! Utilizing the incomparable flavor of whole, intact shrimp, lemon, butter, garlic, and sprite—a Filipino secret cooking ingredient—you're in for a treat you'll want to put on repeat.
Visit Manila Spoon for the recipe.
Southern Shrimp And Grits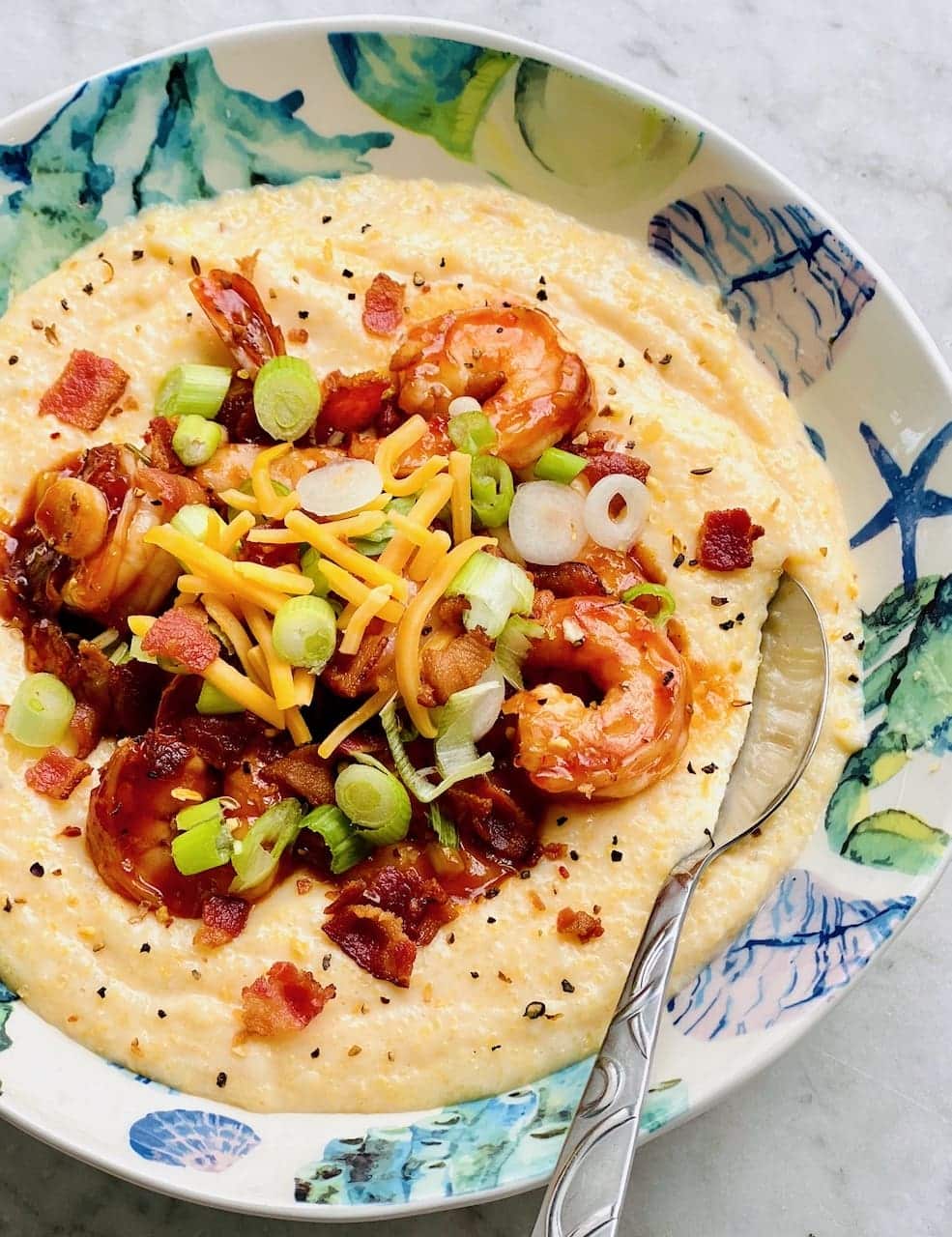 If you're hungry for unapologetically rich Southern shrimp fare, check out this shrimp and cheese-laden grits recipe from Debi of Quiche My Grits. But you guys, it gets better. Deb topped the hominy with bbq and crumbled bacon for smokiness. And by the way, it takes just 45 minutes from start to finish making for an excellent down-home brunch, lunch, or weekend dinner.
Visit Quiche My Grits for the recipe.
Red Pepper Shrimp Pasta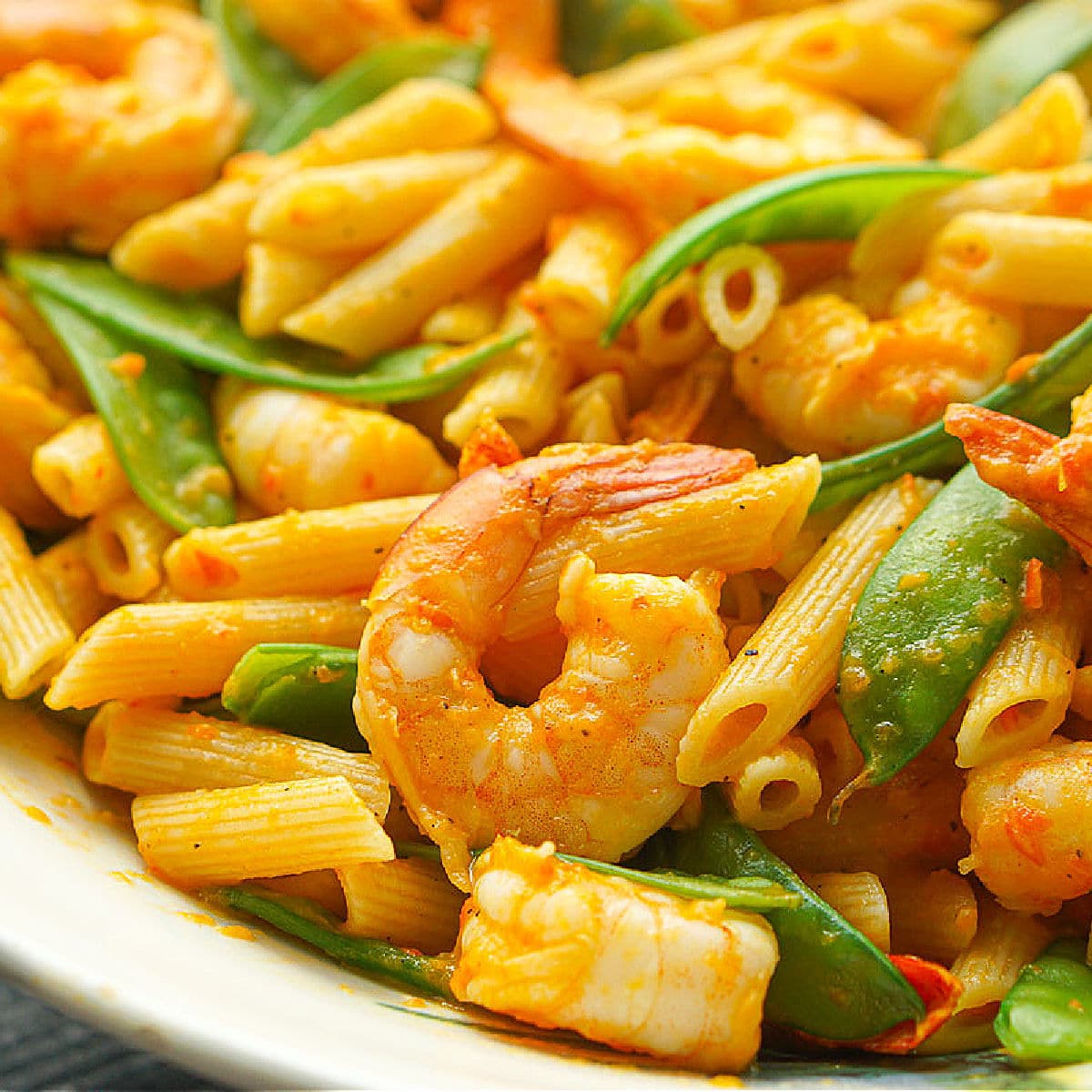 Denise of My Life Cookbook uses red peppers to create a tomato-like sauce for this shrimp and pasta meal. It's a quick and tasty dish where you'll also find snow peas, toasted pine nuts, grated cheese, and onions. Optionally, serve it over zucchini noodles to keep it keto or low-carb. Now, here's my favorite part. It's a 30-minute meal.
Visit My Life Cookbook for the recipe.
Shrimp In Lobster Sauce
Tina of Oh Snap Let's Eat takes you by the hand showing you how to make this authentic shrimp in lobster sauce from home. It'll give takeout a run for the money! Now, to clear things up, there isn't actually any lobster in this dish. But Tina explains why it has its name. However, what's most important to you is the taste. It's delicious!
Visit Oh Snap Let's Eat for the recipe.
Cajun Shrimp Alfredo
Don't be fooled. Even with a blog called The Almond Eater, Erin shares delicious creations from all diets. Like, this popular seafood dish. It's a quick shrimp pasta recipe featuring andouille sausage, cajun blackened shrimp, and a link to her healthy homemade alfredo sauce. You definitely make the alfredo sauce from scratch. It's so much better than storebought.
Visit The Almond Eater for the recipe.
Easy Chinese Shrimp Congee
According to Zhou of Greedy Girl Gourmet, this shrimp congee rice porridge is Asian comfort in a bowl. Mmmm! It's thick, warming, and creamy. So, what could make it better? Shrimp! Now, you're probably wondering if it's easy to make and if the ingredients are easy to find. Yes, and yes! But while it's easy to make, it does take a while to cook. An excellent, exciting weekend project?
Visit Greedy Girl Gourmet for the recipe.
Shrimp And Kimchi Stir Fry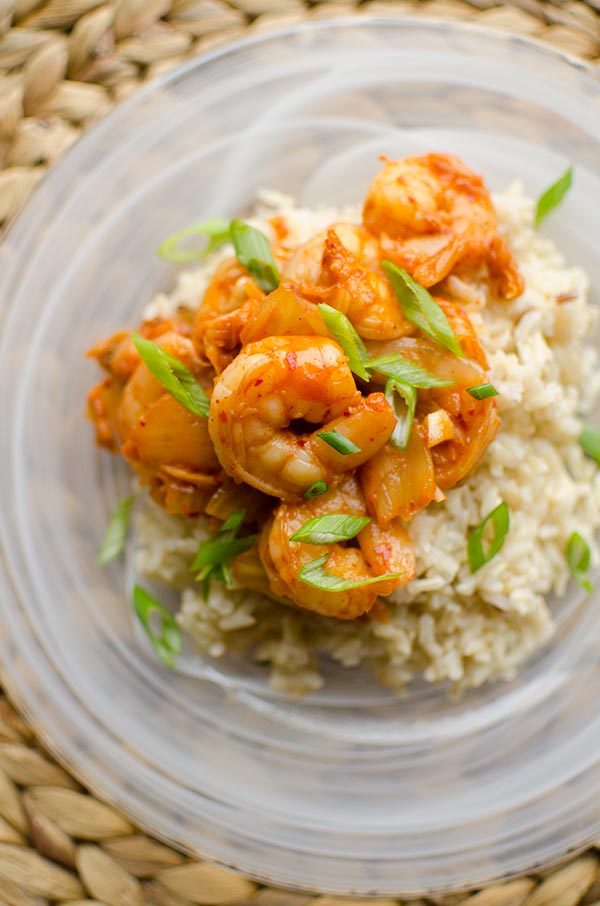 This no-fuss shrimp and kimchi stir fry from Living Lou is everything you need for weeknight cooking. It's simple, easy, and tasty. That's right! After a quick 10-minute marinade in gochujang, fish sauce, garlic, and soy sauce, the shrimp cooks in just 3 minutes. Then, serve it over rice for a filling meal to join your recipe collection.
Visit Living Lou for the recipe.
Baja Shrimp Tacos Recipe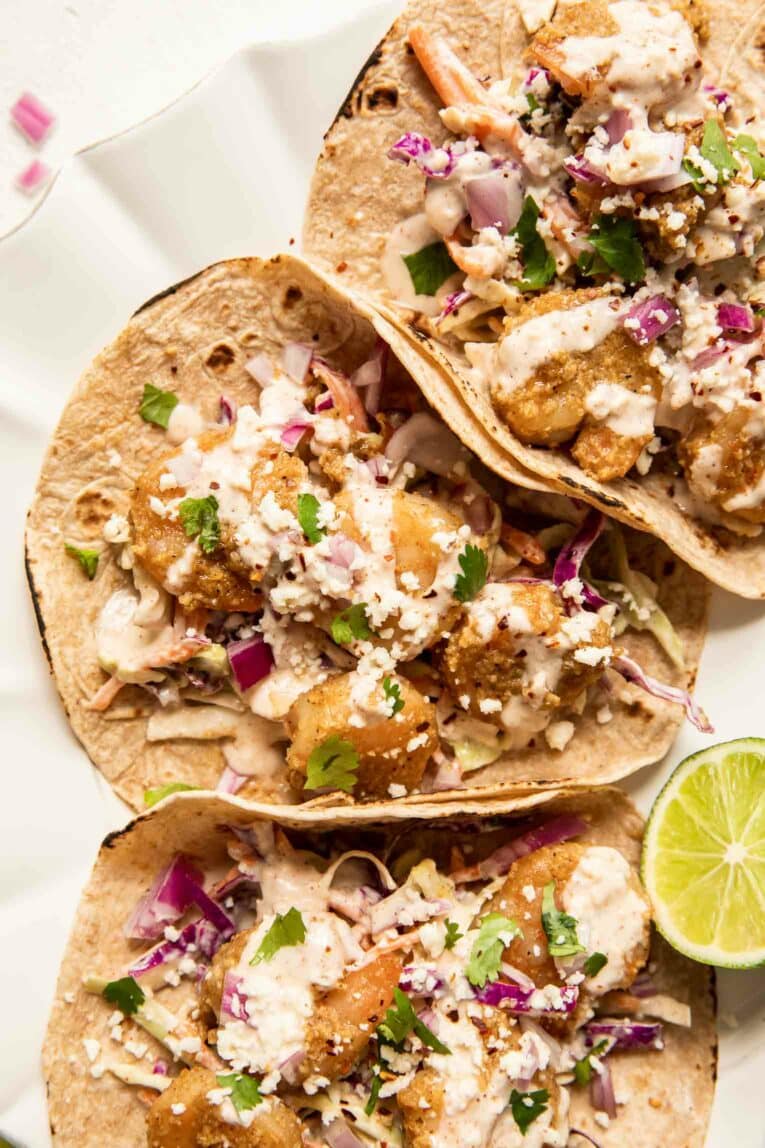 How about lightened-up shrimp tacos for dinner? Well, Christine of Jar Of Lemons has your back with this shrimp taco idea. The prolific healthy recipe creator shares her ideal taco featuring the common crustacean. The shrimp should have a light crunch with an exciting, creamy, smoky Baja sauce, cilantro, lime, and red onion. But, you know, we can't disagree.
Visit Jar Of Lemons for the recipe.
Sheet Pan Shrimp Fajitas
Dana of Killing Thyme gives life to these sheet pan fajitas. She flavors them to the max with chili powder, smoked paprika, onion powder, garlic powder, and cumin. Then baked for less than 10 minutes and served with hot sauce, cheese, lime, and sour cream. If that's not a crowd-pleaser, what is?
Visit Killing Thyme for the recipe.
Sambal Udang (Sambal Prawns)
Packing a wallop of punchy flavor, this Sambal shrimp from Lee of Cook Eat World served with rice is a lovely 15-minute meal. Plus, there are only six ingredients. But what is that reddish sauce made of? It's made with sweet soy sauce plus hot, sweet, and savory Malaysian sambal sauce. And it's a core part of Malaysian cooking. So, if this is your first time hearing of it, you're in good hands with Lee.
Visit Cook Eat World for the recipe.
Shrimp Ceviche Lettuce Wraps
If you're adventurous, you'll love this super easy shrimp ceviche lettuce wraps from Tracy of Served From Scratch. Now, you likely have lots of questions. Chief among them being: what is ceviche? Ceviche is a method of cooking seafood without heat. Instead, citrus breaks down proteins and kills bacteria.
The mixture also includes tomato, cilantro, red onion, jalapeno, and butter lettuce for the wrap. It's a quick, healthy, and delicious meal perfect for summer.
Visit Served From Scratch for the recipe.
General Tso Shrimp Recipe
Careful there, Chihyu of I Heart Umami promises this General Tso Shrimp will be so good. You'll be obsessed. It's a 10-minute one-pan meal sure to stay on your monthly menu rotation. Like the restaurant version, you'll taste garlic, ginger, balsamic vinegar, chiles, and scallions. It's a perfect sub for when takeout isn't an option.
Which Shrimp Recipes For Dinner Will You Try First?
Well, that's it for this list of delicious shrimp dinner recipes. Hopefully, you've found something you'll want to make, like easy Chinese shrimp congee or Korean shrimp tacos. Let us know what's going on your must-try list.
And if you like this list, don't forget to check out this list of canned salmon recipes and canned tuna recipes, and even our delicious collection of fish dinner recipes.