Are you looking for the most mouthwatering ground beef recipes without pasta? You're in the right spot! We put together this irresistible list to give you some tasty ideas you can make with ground beef other than spaghetti or hamburger helper.
Before we get started, you'll want to save this post on Pinterest so you never forget!
These recipes are tasty, beefy, creative, and protein-packed. So you are sure to find something so delicious you may just change your dinner plans tonight.
Let's dive in!
19 Ground Beef Recipes Without Pasta
The ground beef recipes without pasta listed below make great midweek options. Some are appetizers, like beef samosas and papas rellenas.
Others are full one-pot meals, like beef and cabbage stir fry and keema curry. All are delicious! There is no ranking. We like all the choices.
Also, see our best meatball recipes, cast iron skillet recipes, recipes with hot dogs, and the best easy dip recipes.
Beef Samosas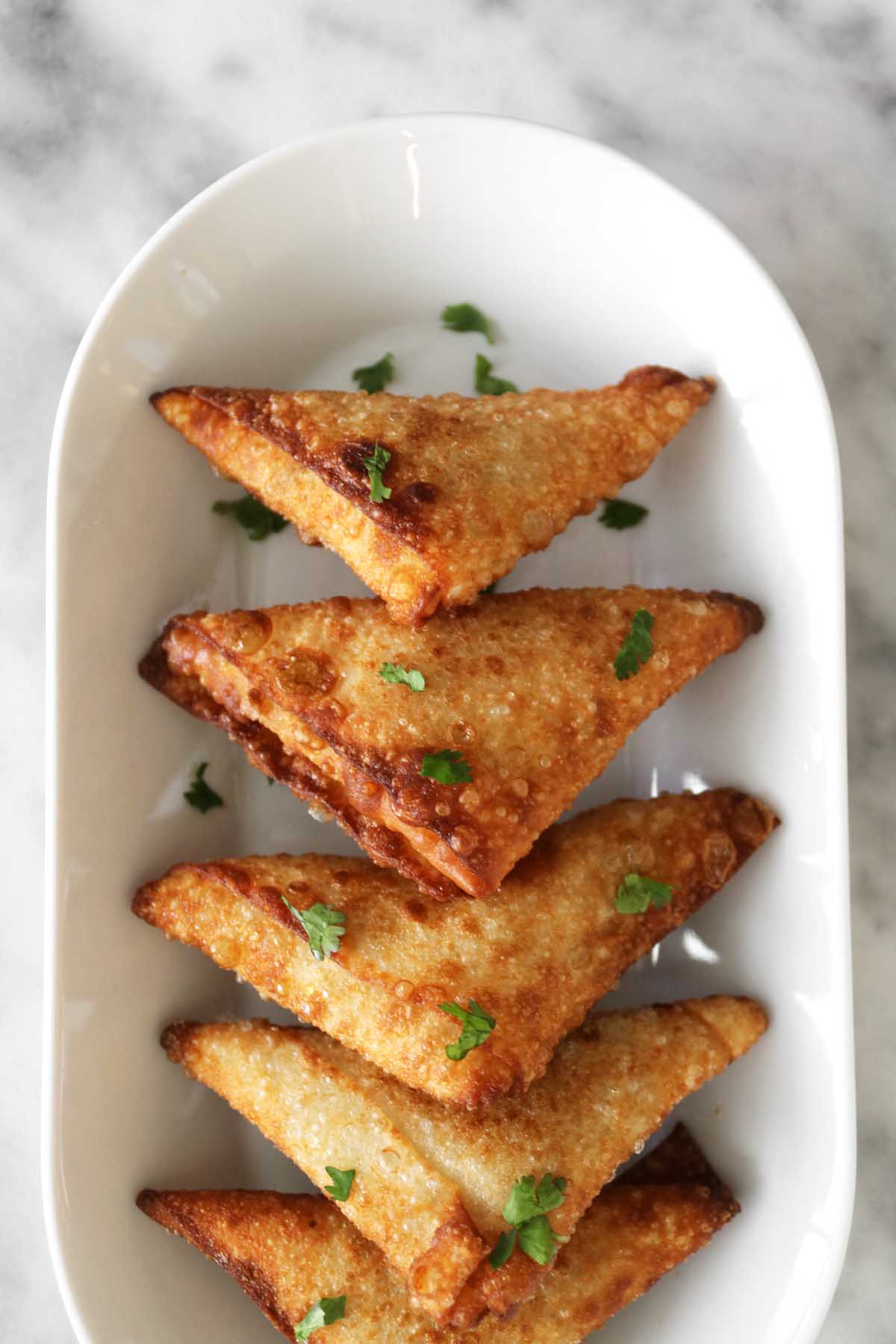 If Lily of The Matbakh invites you over for beef samosas, they'll be delicious, served warm, and addictive. So you would be wise to prepare to fight over the last one. They're that good! And if you've never heard of beef samosas, they are small fried (or baked) pastries from the Middle East. And kind of like an egg roll, they start with a wrapper, add filling (meat or other), and fry.
You will find ground beef, onions, spices, and lovely pomegranate molasses in her filling. Mmm! So, head on over to The Matbakh, and Lily will welcome you with crystal clear directions, complete with step-by-step pictures and even freezing instructions. Enjoy!
Visit The Matbakh for this beef samosa recipe.
Cantonese Beef Rice Bowls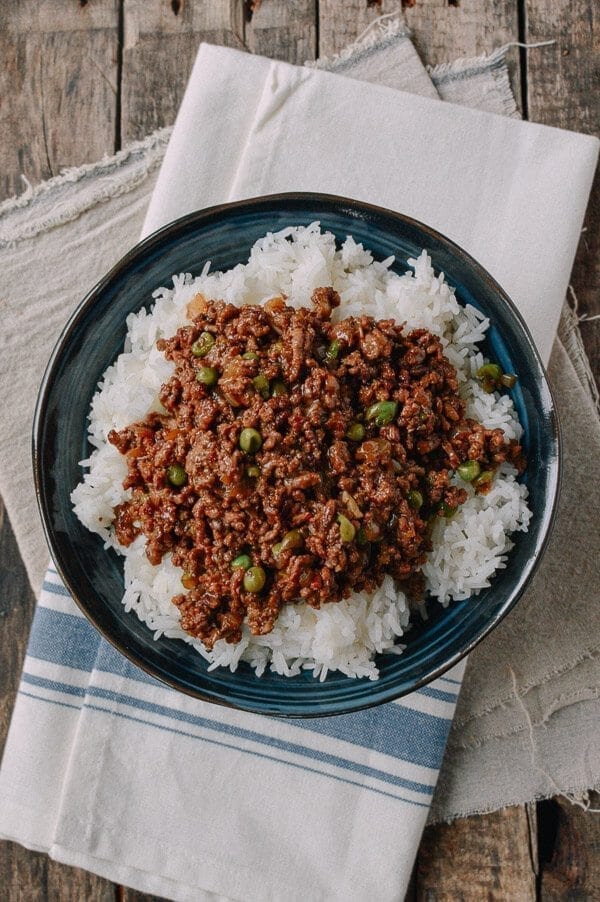 In this Cantonese beef rice bowls recipe from Sarah of The Woks Of Life, browned ground beef mingles with oyster sauce, soy sauce, and stock, then served over white rice for a 101 in Chinese home cooking. It's a tasty dive into Chinese comfort food. And in less than 30-minutes, you can have this satisfying, stick to your ribs meal on the table. What's more, it's a generational dish, and kid-approved, as Sarah's grandmother made it often for her father and aunts.
Visit The Woks Of Life for the recipe.
Papas Rellenas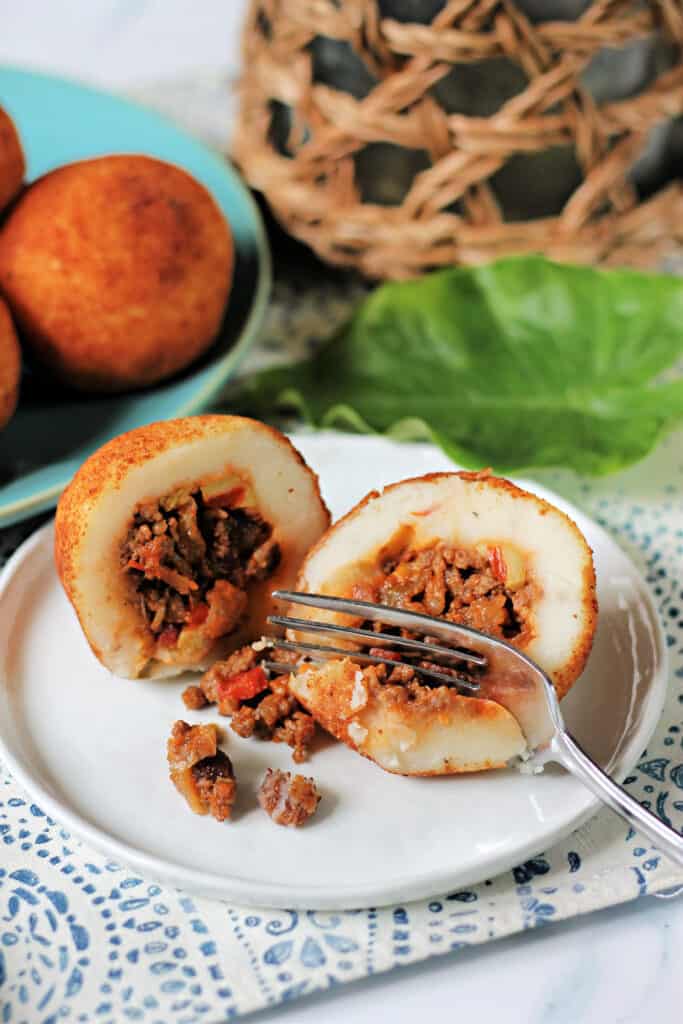 This delicious papas rellenas recipe from Dianna of The Kitchen Prep blog, while not an heirloom, sparks childhood memories from her Abuela's kitchen. But what are papas rellenas? They're deep-fried stuffed mashed potato balls or, better yet, heaven wrapped in nirvana. Every bite has that warm crispy exterior, and in the center, your tastebuds will discover that picadillo (deeply seasoned ground beef). So run on over to Dianna's post, and you'll find everything you need to make this standout Latin American appetizer.
Visit The Kitchen Prep Blog for the recipe.
Keema Curry With Ground Beef, Peas, and Potatoes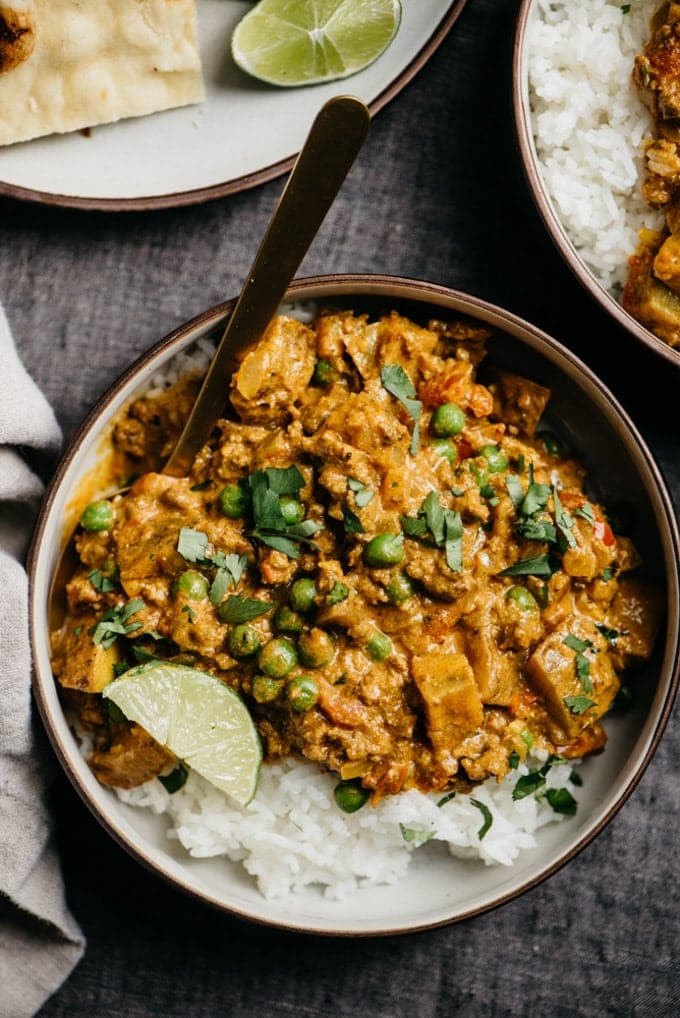 We know firsthand that one of the many sacrifices parents of toddlers make is forgoing the restaurant dining experience. That was the very motivation for this 30-minute Keema curry from Danielle of Our Salty Kitchen—to create restaurant-style Indian food at home. Keema, which translates to minced meat, is an Indian dish that brims with flavor from spices like garam masala, turmeric, and curry powder. And while traditional Keema curry has peas or potatoes, this hearty version has both for a robust, comforting weeknight meal.
Visit Our Salty Kitchen for the recipe.
Beef And Cabbage Stir Fry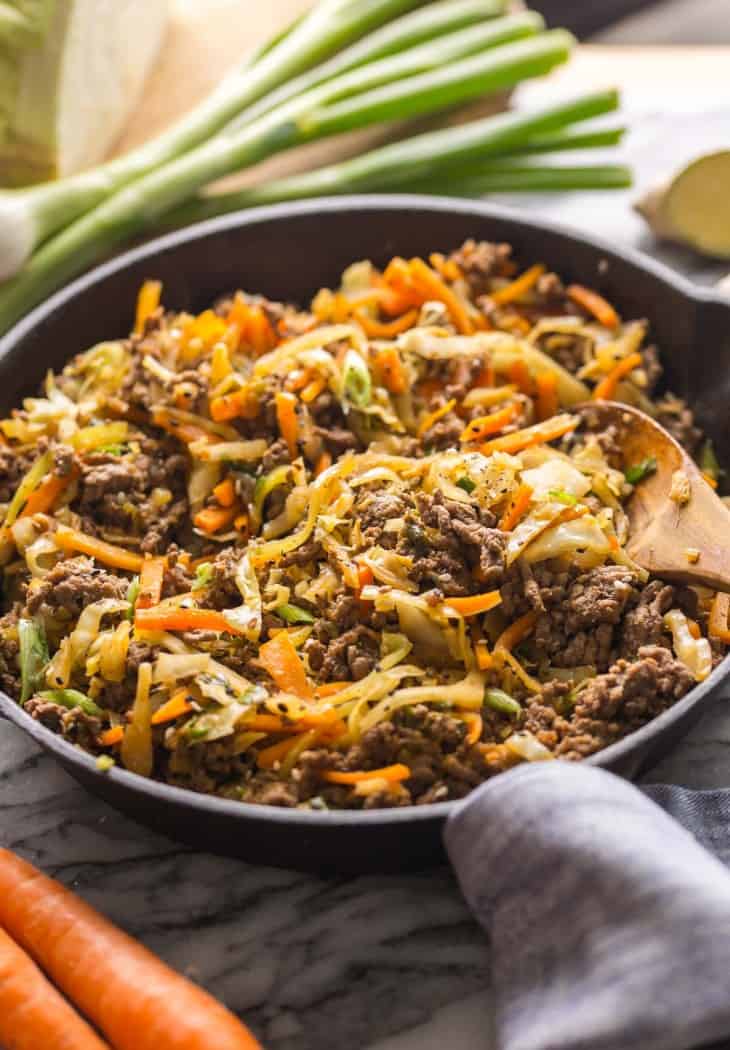 When food is delicious and filling, you don't care what diet category it belongs to. Good food tastes good! This beef and cabbage stir fry from Sarah of A Saucy Kitchen is a meal perfect for weeknights. Now, you may or may not care that it is low carb with a paleo option. But I'll bet you do care that it's very flavorful with garlic and ginger, nutrient-dense, and quick so that you can have it on the table in about 30 minutes.
Visit A Saucy Kitchen for the recipe.
30 Minute Beef And Sweet Potato Curry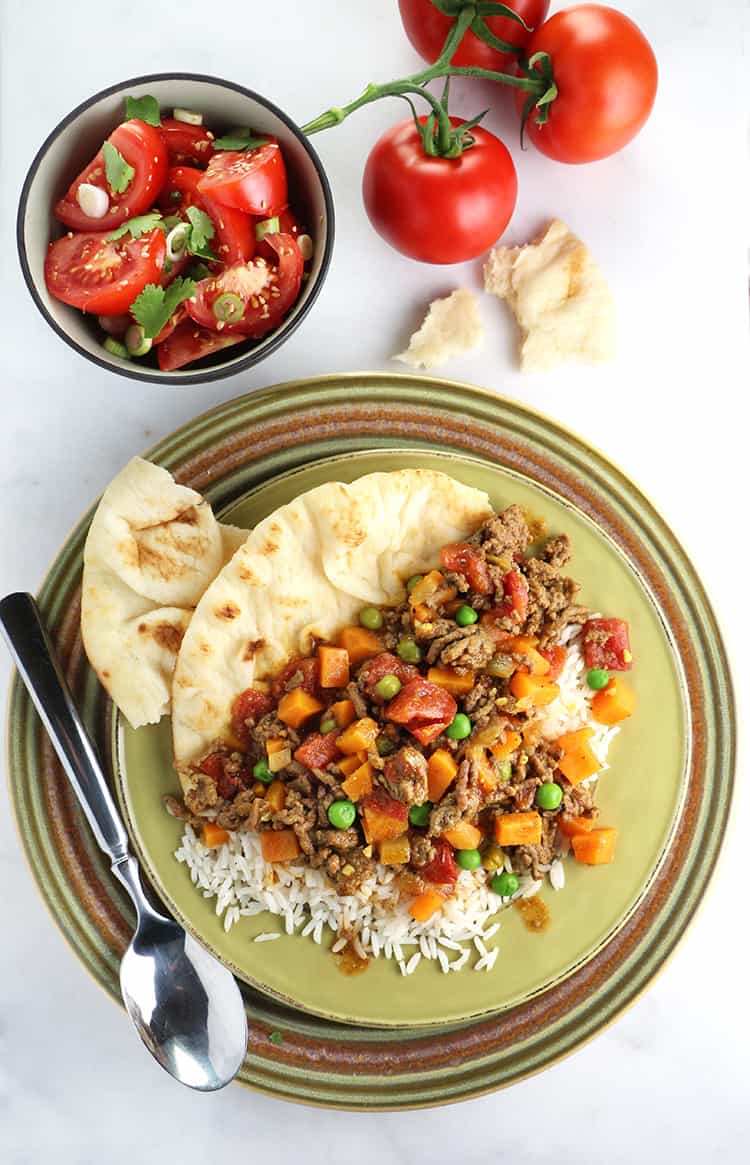 Lori of Eat In Eat Out simply doesn't have the luxury of weeknight meals that take a long time to make, and chances are you don't either. That's why this 30-minute beef and sweet potato curry is the ideal midweek dinner option. It's filled with lots of beefy protein, carrots, peas, tomatoes, and other ingredients. Then it's seasoned with lots of potent spices like garam masala, curry powder, and cayenne. Finally, pour it over rice and serve it with naan bread for an ample comfort food meal.
Visit Eat In Eat Out for the recipe.
Loaded Crock Pot Chili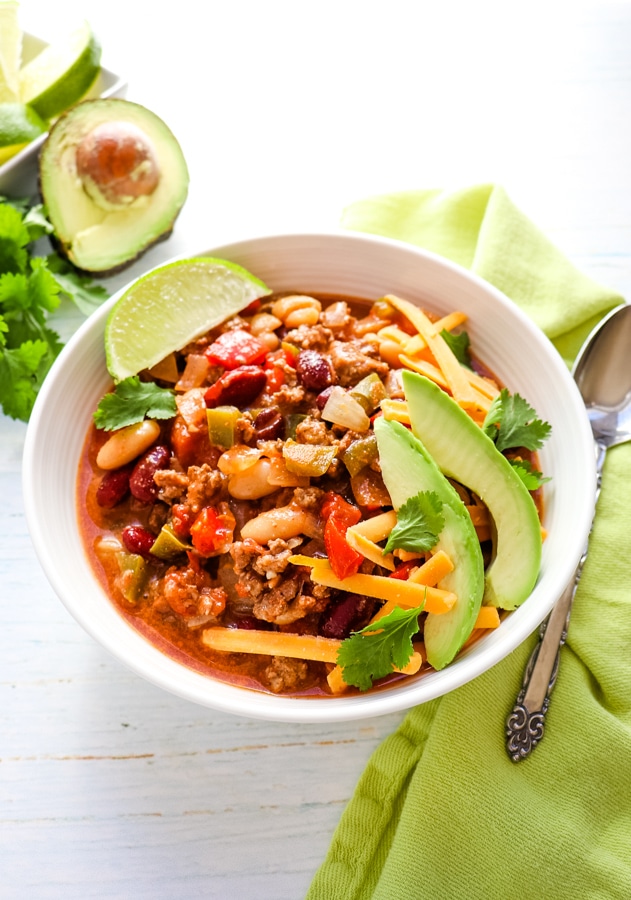 Loaded crockpot chili from Erin of Delightful E Made is packed to the hilt with wholesome ingredients like bell peppers, onions, beans, ground beef, and tomatoes. And while there's no shortage of chili recipes out there, we like this one for its ease. Crockpot cooking is what set it and forget it is all about! So you can put a pot on in the morning, and it'll be ready in time for dinner. Better still, Erin's recipe page is complete with topping, equipment recommendations, and frequently asked questions.
Visit Delightful E Made for the recipe.
Cheesy Ground Beef Quesadillas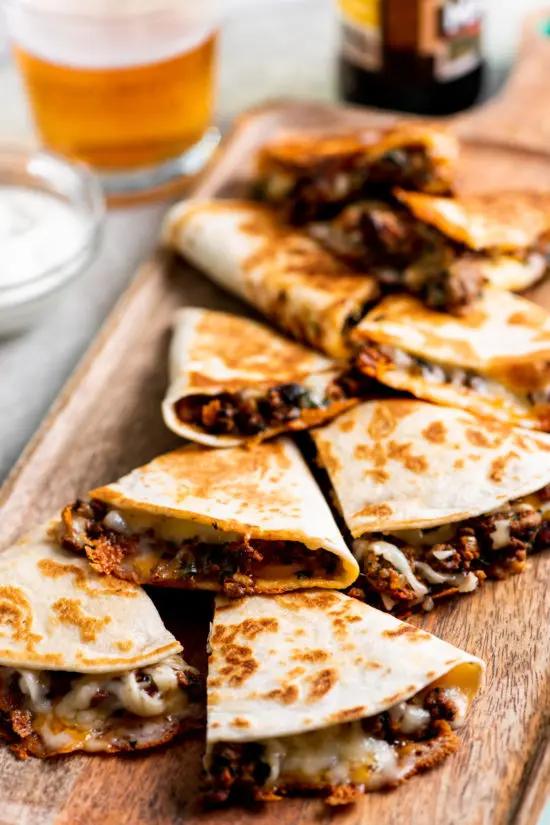 After a little prep, you can make four servings of these deliciously cheesy ground beef quesadillas from Katie of The Mom 100 in just 30 minutes (or less if you cook two at a time). And if your family is anything like Katie's (or ours), they will just about die for anything beef and cheese. But wait, we know one can't survive on meat and cheese alone. So that's why she gives you ideas on veggies you can slip in, like kale or spinach.
Visit The Mom 100 for the recipe.
Ground Beef Stuffed Peppers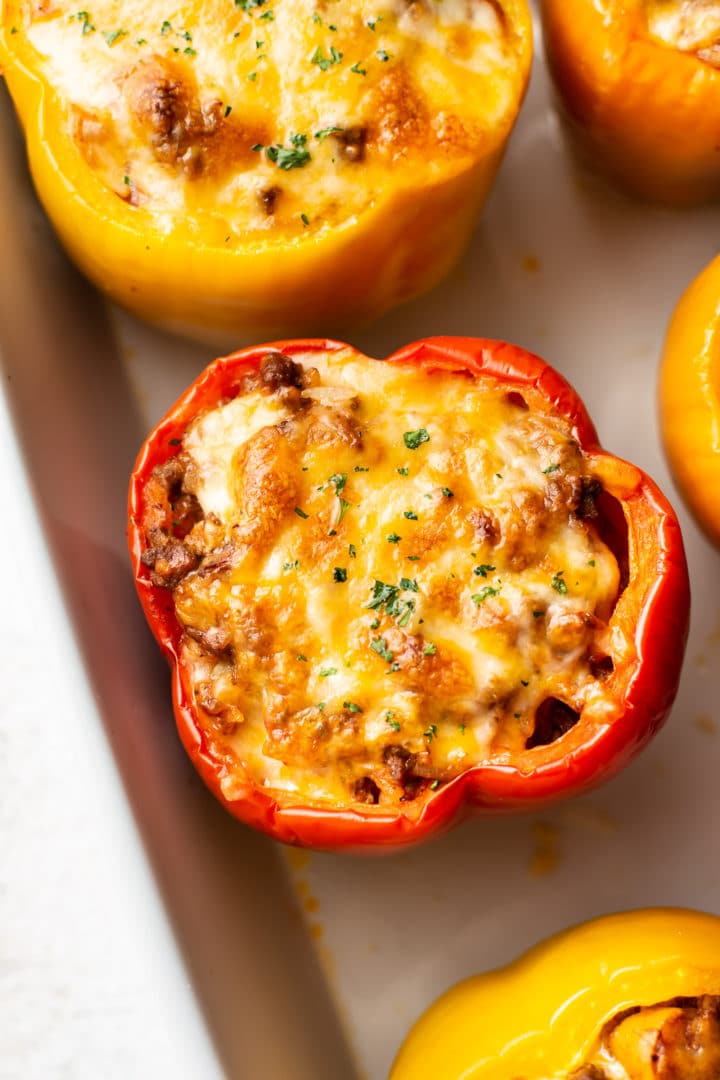 Did you know bell peppers are a superfood? They're packed with all kinds of micronutrients like vitamins A and C, and antioxidants, and they even help reduce the risk of certain major illnesses. I always feel amazing after eating them. But perhaps most importantly, they taste phenomenal in a dish. So, we had to include this ground beef stuffed peppers recipe from Natasha of Salt And Lavender—a quintessential beef recipe without pasta. They're a filling meal packed with flavorful ground beef, rice, and cheese. Yummy!
Visit Salt And Lavender for the recipe.
Beef Stroganoff Crepes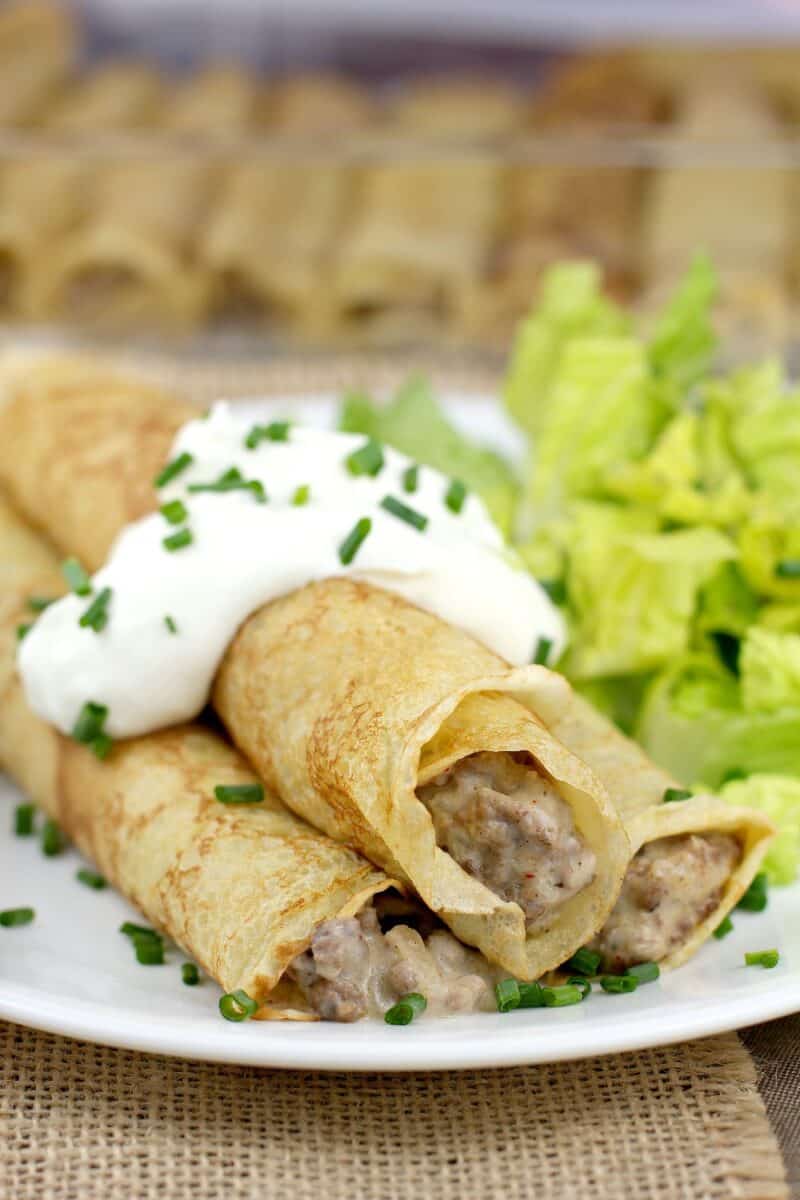 Beef stroganoff crepes from Erica of Erica's Recipes is a creative dish that combines two foods most would never put on the same menu, let alone plate. And by golly, we're all in! It starts with a simple but rich beef stroganoff, minus pasta, the starch that often accompanies it. Instead, you stuff that delicious stroganoff filling into delicate crepes (thin French pancakes). What you get is accessible, unexpected yet delicious French/Russian fusion food.
Visit Erica's Recipes for the recipe.
Lasagna Zucchini Boats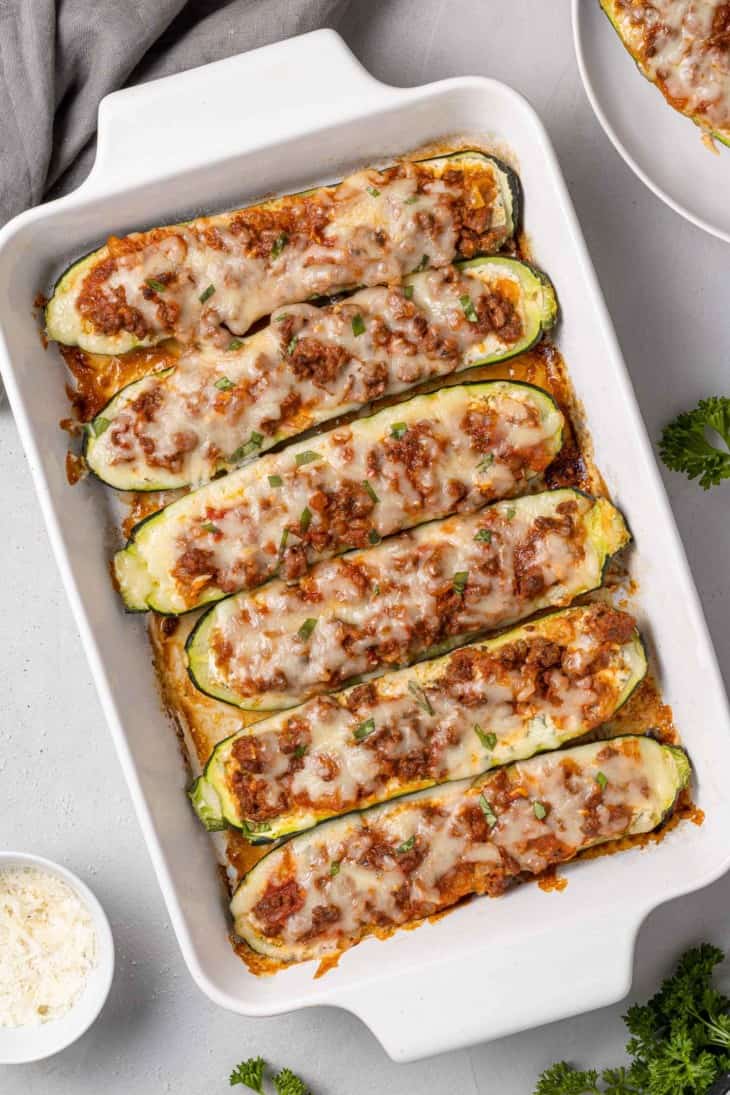 When you want lasagna but not the potential bloat and heavy feeling that comes with it, turn to these lasagna zucchini boats by Rachel of the eponymous Rachel Cooks. It's a gluten-free meal that takes an hour and 15 minutes to make from start to finish. Although only 30 minutes of that time is active, that is, browning the ground beef and assembling the "boats." And don't worry about flavor. It's there! You'll find all the ingredients you're used to in this healthier spin on lasagna, like ricotta cheese, mozzarella, and spaghetti sauce.
Visit Rachel Cooks for the recipe.
Stuffed Portobello Mushroom Caps Filled With Ground Beef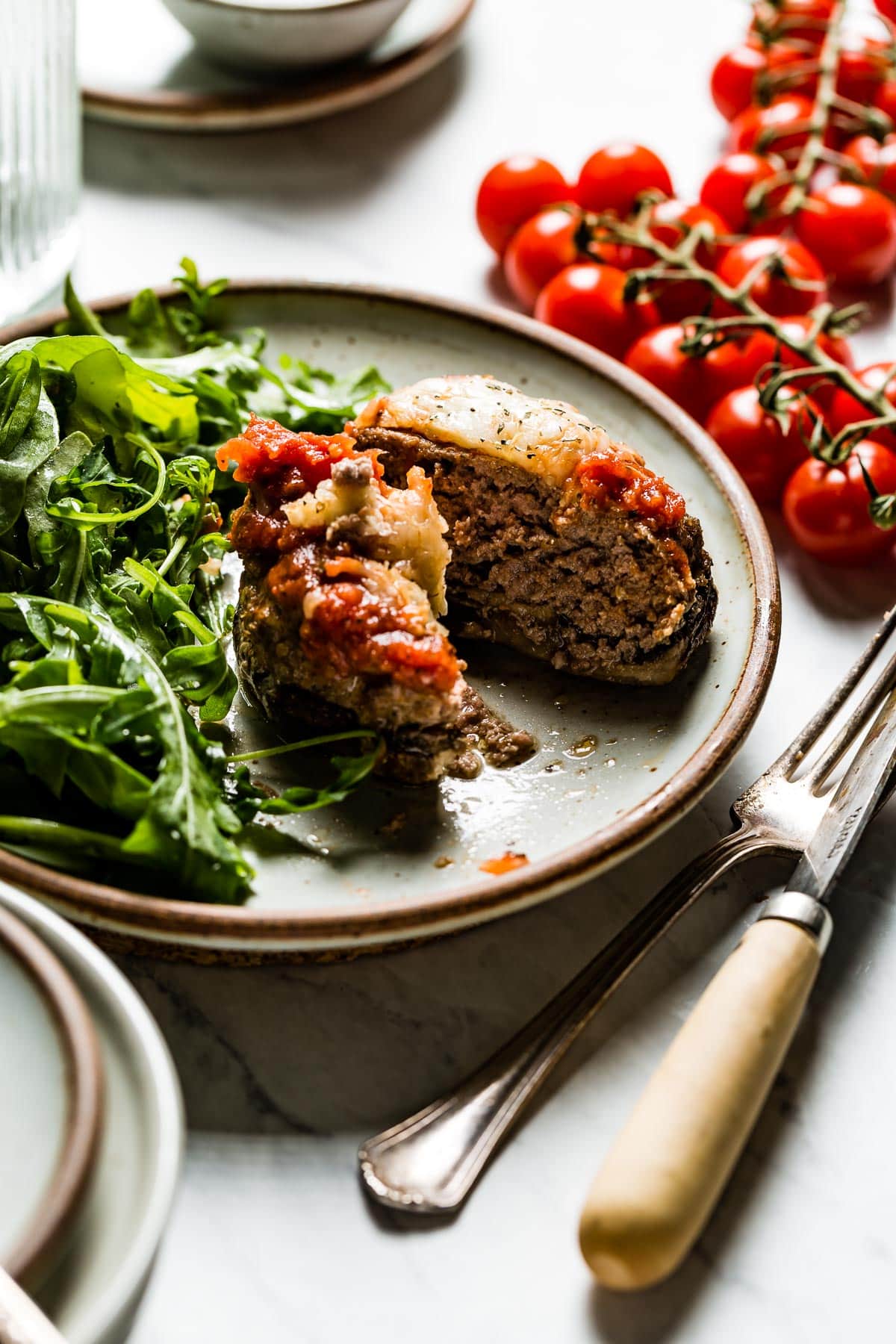 You won't be missing pasta with this portobello stuffed mushroom caps recipe from Katie of Healthy Seasonal Recipes. Now, we're no strangers to stuffed mushrooms as an appetizer, but this recipe is the main course. It's a guilt-free, high protein, nutritious, low carb weeknight meal that takes just 35 minutes to make (just 20 minutes of cooking time). And best of all, it's tasty and sure to satisfy the whole family, even the picky eaters.
See the Beef Stuffed Portobello Mushrooms recipe.
Cheesy Hot Beef Sandwich Recipe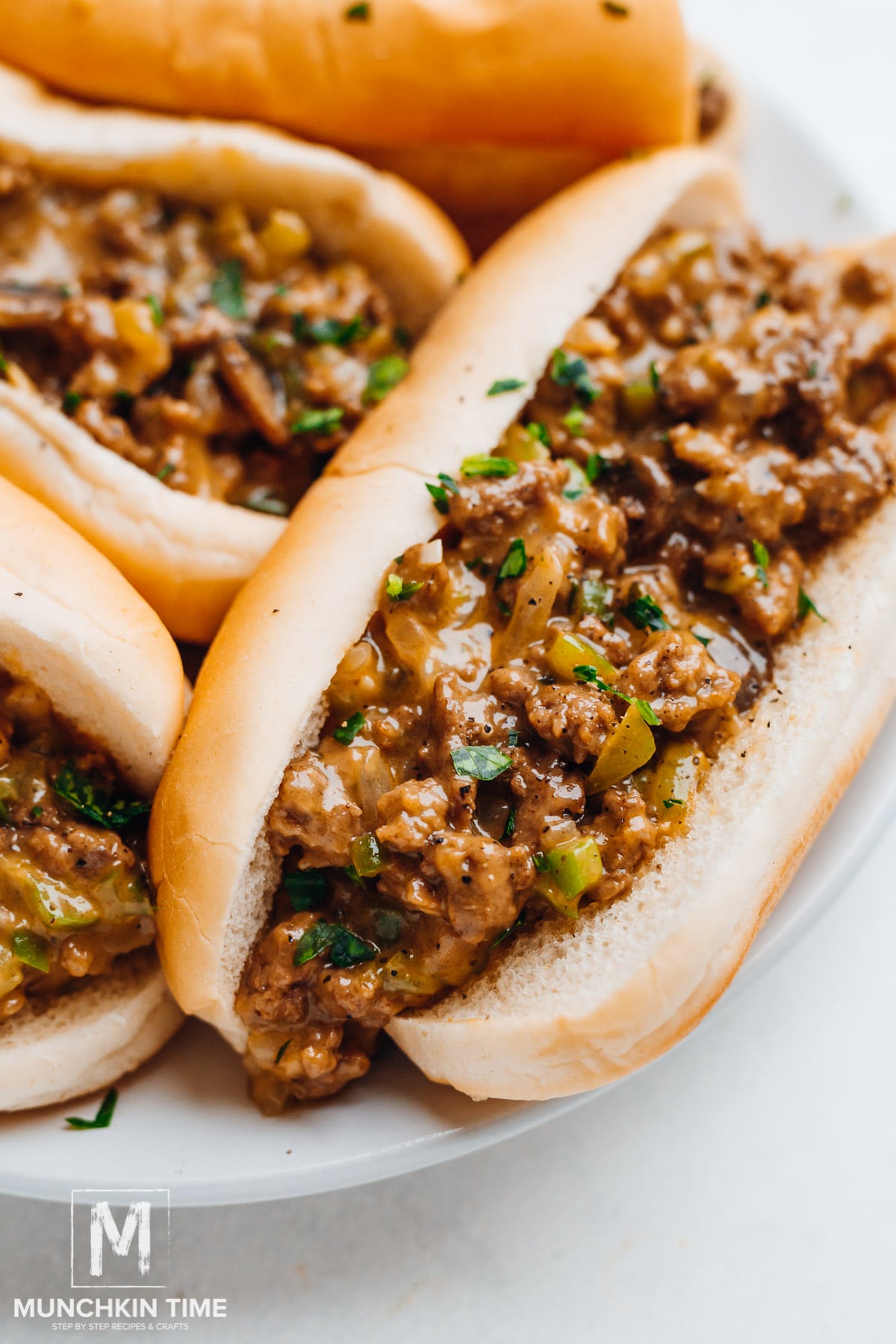 In just 15 minutes, you can have this crowd-pleasing, saucy, cheesy hot beef sandwich recipe from Keil of Munchkin Time. You've got ground beef seasoned with peppery Montreal steak seasoning, bell peppers, cheese, and onions on a hoagie bun. Mmmm, simple comfort food at its finest! So, keep this recipe in your back pocket to rescue you from a night of no dinner plans. And if you need to change it up for any reason, Keil has you covered with substitutions.
Visit Munchkin Time for the recipe.
Easy Beef Taco Bowl With Salsa Ranch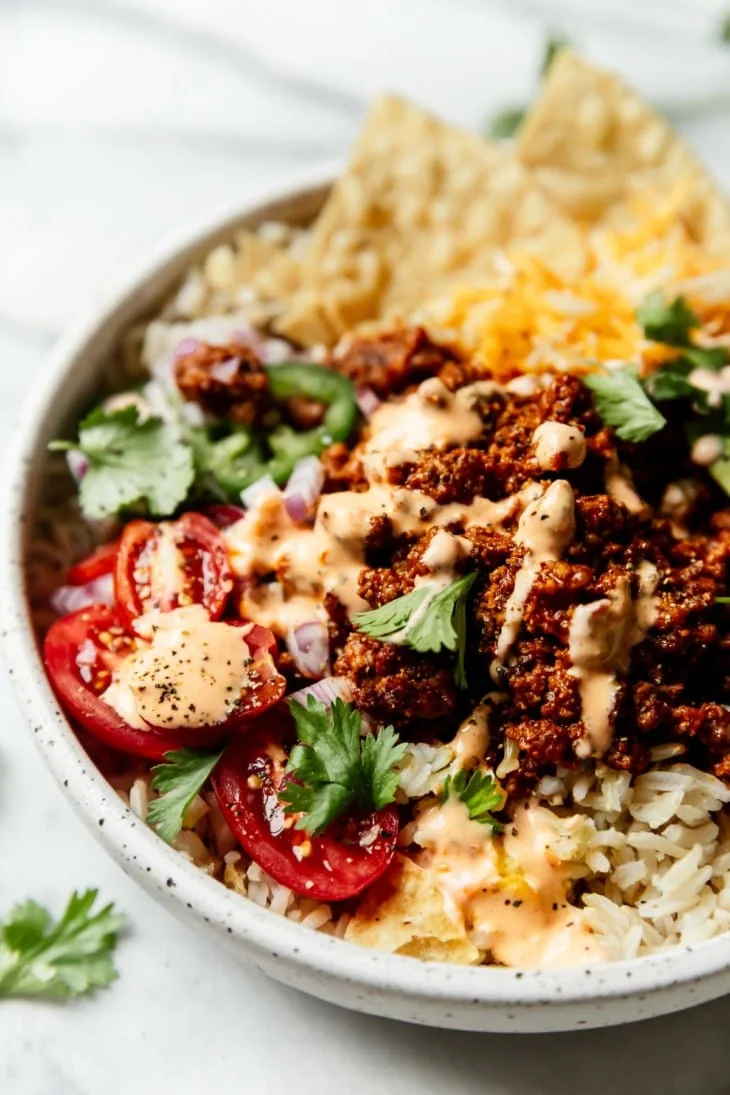 Jessica is a Real Food Dietitian, and she gets it. Weeknights aren't for fancy. Sometimes you just have to get through them. For this reason, suppers like this healthful yet tasty, easy beef taco bowl with salsa ranch are so important. But not only is this ground beef taco bowl tastebud pleasing it's also completely customizable. For the base, choose rice or cauliflower. As for the toppings, try avocados, tomatoes, black olives, etc. Ultimately, it's a simple, nutritious meal full of good stuff your body will love.
Visit Real Food Dietitian for the recipe.
Beef Kofta Kebabs with Tzatziki Sauce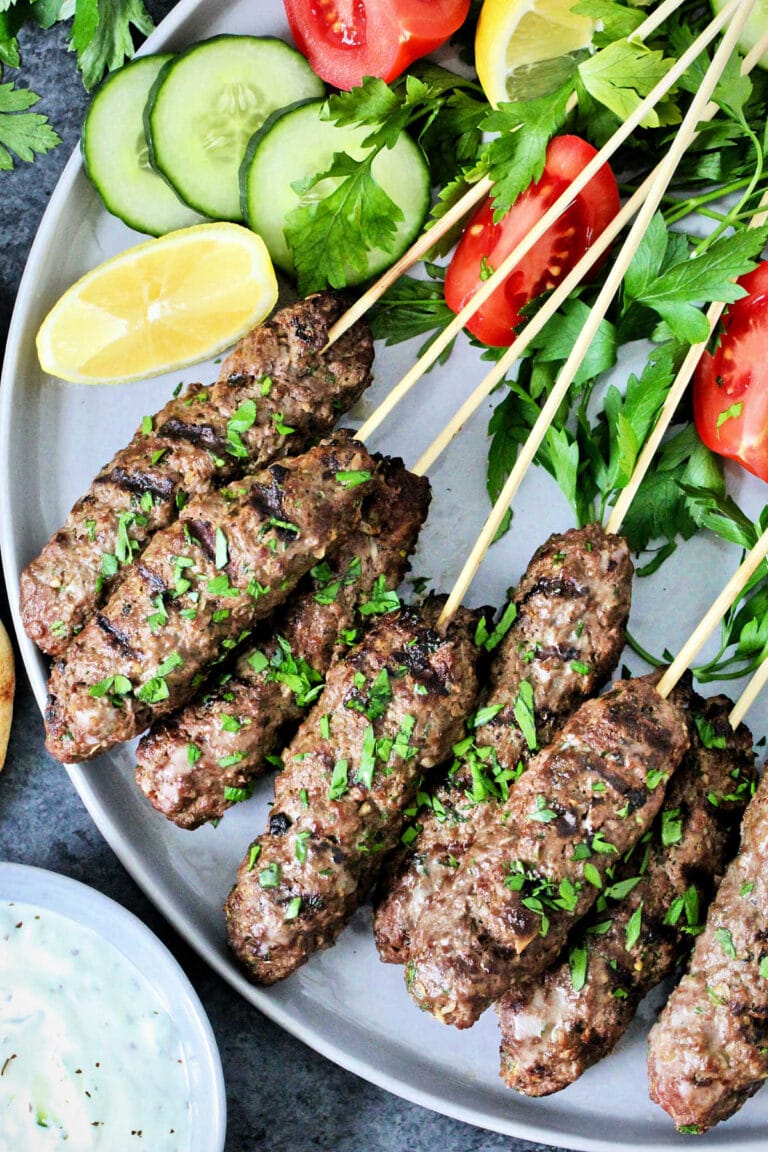 Make your weeknight meal planning more intriguing with these 30-minute beef Kofta Kebabs—spiced meatballs on a stick—from Sonali of The Foodie Physician. And boy, oh boy, are they ever flavorful with spices and herbs like cinnamon, cumin, coriander, garlic, and parsley. However, this meal is not only appetizing, but it's also healthy. Beef is jam-packed with protein, but you also get nourishment from the tzatziki sauce with greek yogurt, cucumber, and fresh herbs. And naturally, being an M.D. and all, Sonali filled her recipe page with vital info on protein and nutrition as well as tips and FAQs.
Visit The Foodie Physician for the recipe.
Korean Ground Beef Bowls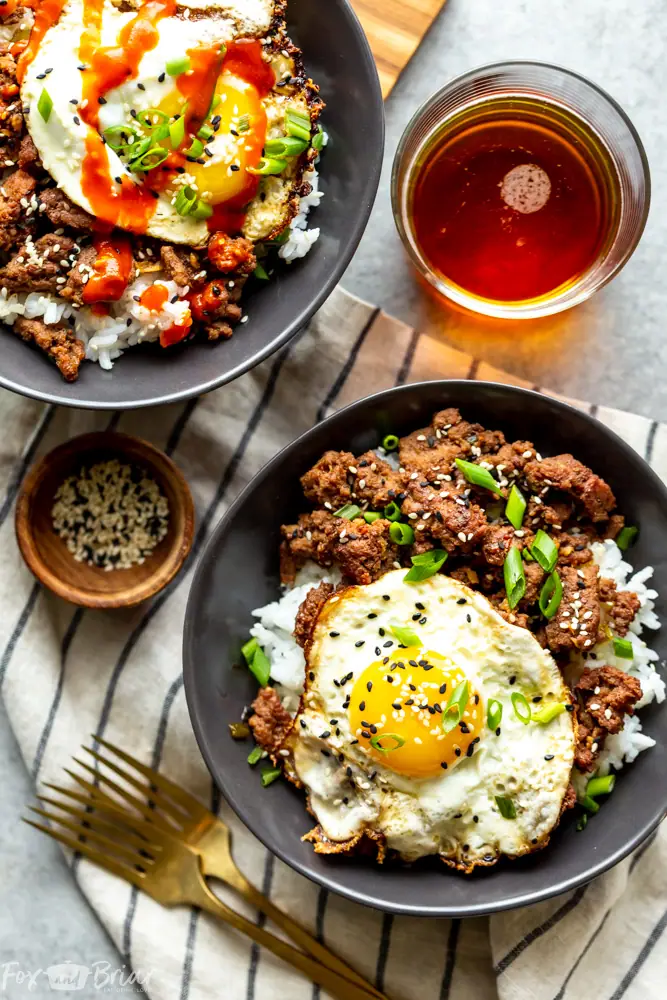 Oh No! You forgot about that lonely package of ground beef sitting in the back of the freezer. Well, if it's not freezer burnt, Meghan of Fox And Briar knows what you should do with it—make her quick Korean ground beef bowls. First, it's so easy to brown ground beef. Then you add a sauce made with sesame oil, ginger, and other ingredients for that classic Asian-style flavor. Finally, you serve it over rice and cap it with a fried egg for a protein-rich camera-worthy presentation.
Visit Fox And Briar for the recipe.
Best Classic Shepherd's Pie
Years ago, Amanda of The Wholesome Dish introduced us to her best shepherd's pie recipe. Shepherd's pie-ground meat and vegetables topped with mashed potatoes-is classic comfort food cuisine. Now, this isn't the quickest beef recipe without pasta on the list, but it's certainly worthwhile. However, the key to making this a stress-free weeknight meal is planning ahead. Amanda gives you tips to do just that. She'll also clue you into the differences between Shepherds pie and the dish's first cousin, cottage pie.
Visit The Wholesome Dish for the recipe.
Chebureki | Fried Beef Pockets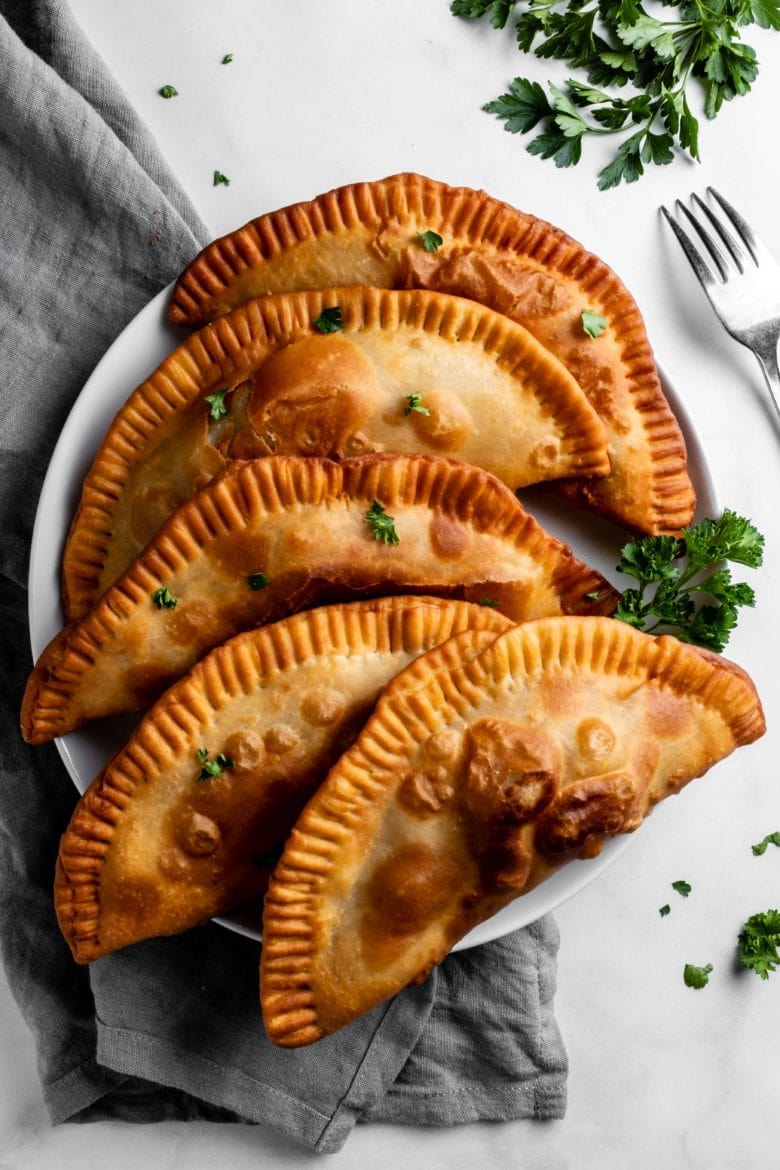 From empanadas to pasties, there's virtually nowhere you could go on earth without coming across the ever-present meat pie. Chebureki is the version that hails from the Crimean Peninsula, and they're famous all over Eastern Europe. This version is from Brittney and Viktor of Whisked Away Kitchen. It starts with a simple, tender dough. Then there's a delicious meat and onion filling. Finally, you fry them until you can hardly resist the call of your belly (although golden brown is a better marker of doneness). Perhaps not the ideal food for a busy weeknight; instead, keep these meat pies as a Saturday afternoon treat.
Visit Whisked Away Kitchen for the recipe.
Taco Soup With Ground Beef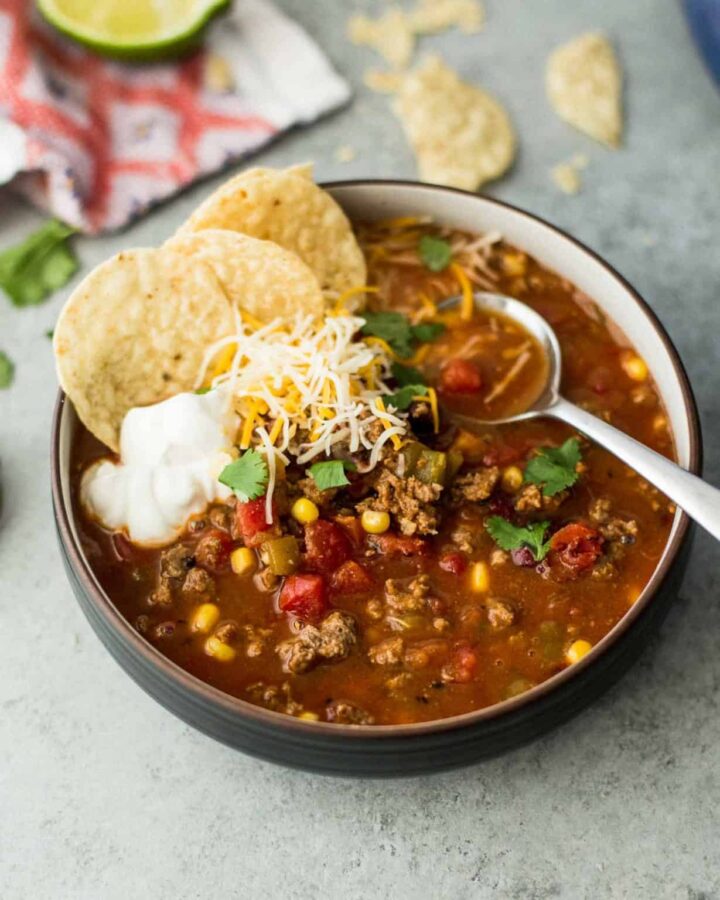 This three-way fusion bowl of delicious from Jess of Inquiring Chef is called taco soup with ground beef. It's like a taco, chili, and soup in one bowl. First, it's full of Tex Mex seasoned ground beef, corn, fire-roasted tomatoes, and beans. Then you make it more substantial by adding corn chips, sour cream, and cilantro on top. It comes together in less than an hour, 25 of which is prep time. And with an estimated cost of nine bucks for six servings, it's a toothsome budget-friendly weeknight meal.
Visit Inquiring Chef for the recipe.
5 Fun Facts About Beef
1. Americans eat about 59 pounds of beef per person per year. That is more than one pound per week. Wow, that's a lot of beef! Ground beef makes up about 40% of all beef products.
2. The largest hamburger in the world weighed close to 2,000 pounds and cost almost $8,000.
3. In just three ounces of ground beef, you get over 20 grams of protein, making it an excellent choice for a post-workout meal.
4. You can make nearly 800 one-quarter-pound hamburgers from the average-sized cattle.
5. National Beef Burger Day is May 28. Get a burger from your favorite burger joint or make this big mac bao buns recipe.
Which Ground Beef Recipe Without Pasta Will You Try First?
Is it the Crimean meat pies, the Korean rice bowl, or something else? Let us know in the comments.
Before You Go. See These Other Ground Meat Recipes!
And before you go, don't forget to check out our best meatball recipes, best recipes with sausage, and best hotdog recipes posts for some incredible meal ideas. Absolutely incredible!
Trust us. You don't want to miss them!
If you like this content like this, don't forget to follow us on Pinterest!