Birria Fries Recipe – delicious, earthy, warm, and addictively tasty birria served over fries and your choice of toppings. This dish is so good, that it'll be on your most requested recipe list for years to come.
If you like our birria fries, you'll like our big mac bao buns.
Our version, while not wholly authentic, is still addictively good to the last bite. You have delicious, stewed birria de res (beef) with fries and an unholy amount of toppings you can add. We served ours up disposable fry baskets, then we all just grabbed a fork and went to town. Mmm, mmm!
Jump to Recipe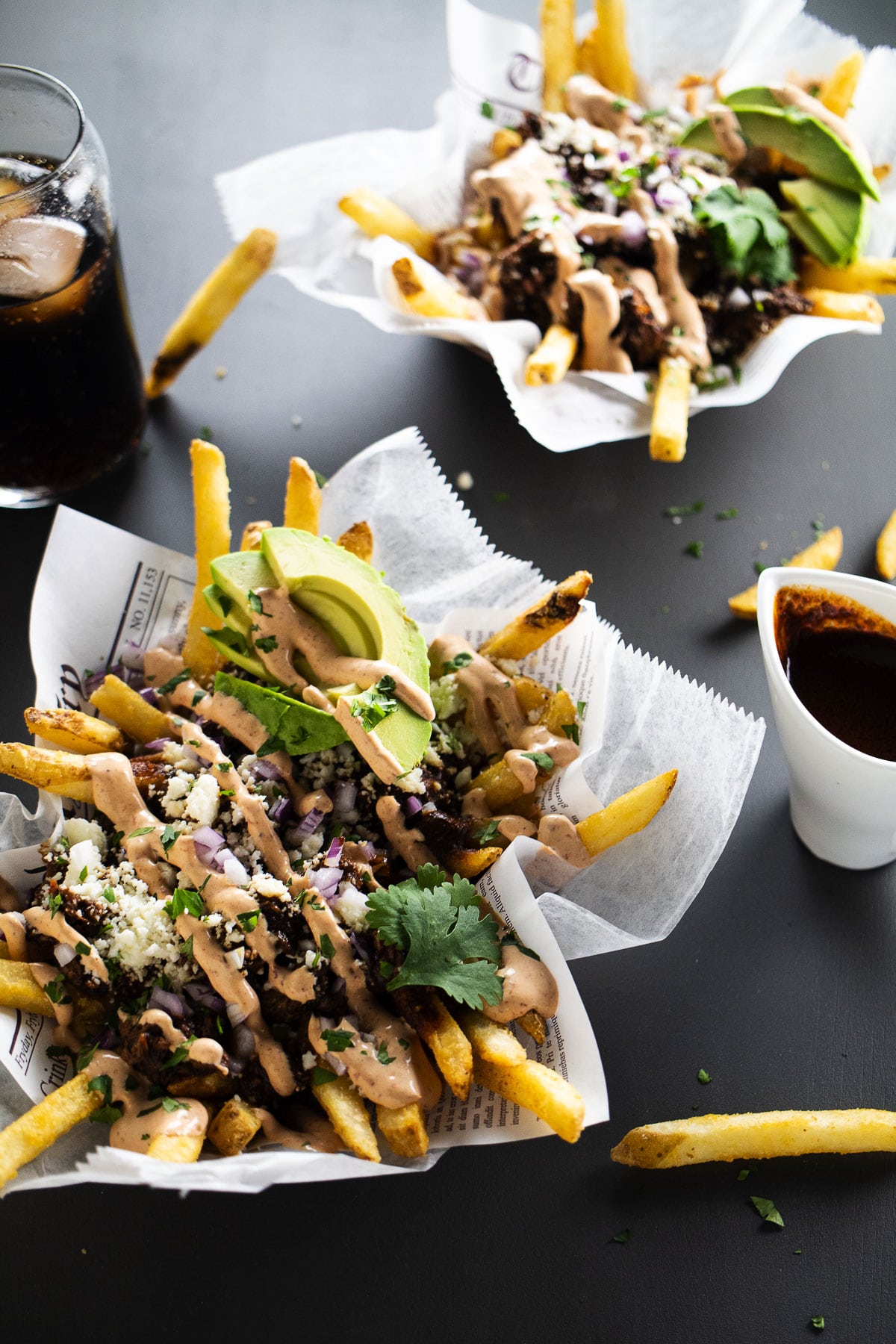 Jump to:
What Is Birria?
So, what the heck is birria, anyway? Well, birria is a low and slow-cooked stewed meat hailing from Jalisco, Mexico. And it packs a wallop when it comes to flavor! I mean, birria calls for just about every herb and spice under the sun. What's more, it takes hours to cook. But in the end, you get this dish that is super delicious and so worth the wait.
Also, while traditional recipes use goat meat (there's this whole history about why that's the case), you can substitute it with sheep (mutton) or beef and even chicken. Folks began making birria using beef going back to at least 1950 – today, it is known as Tijuana-style beef birria.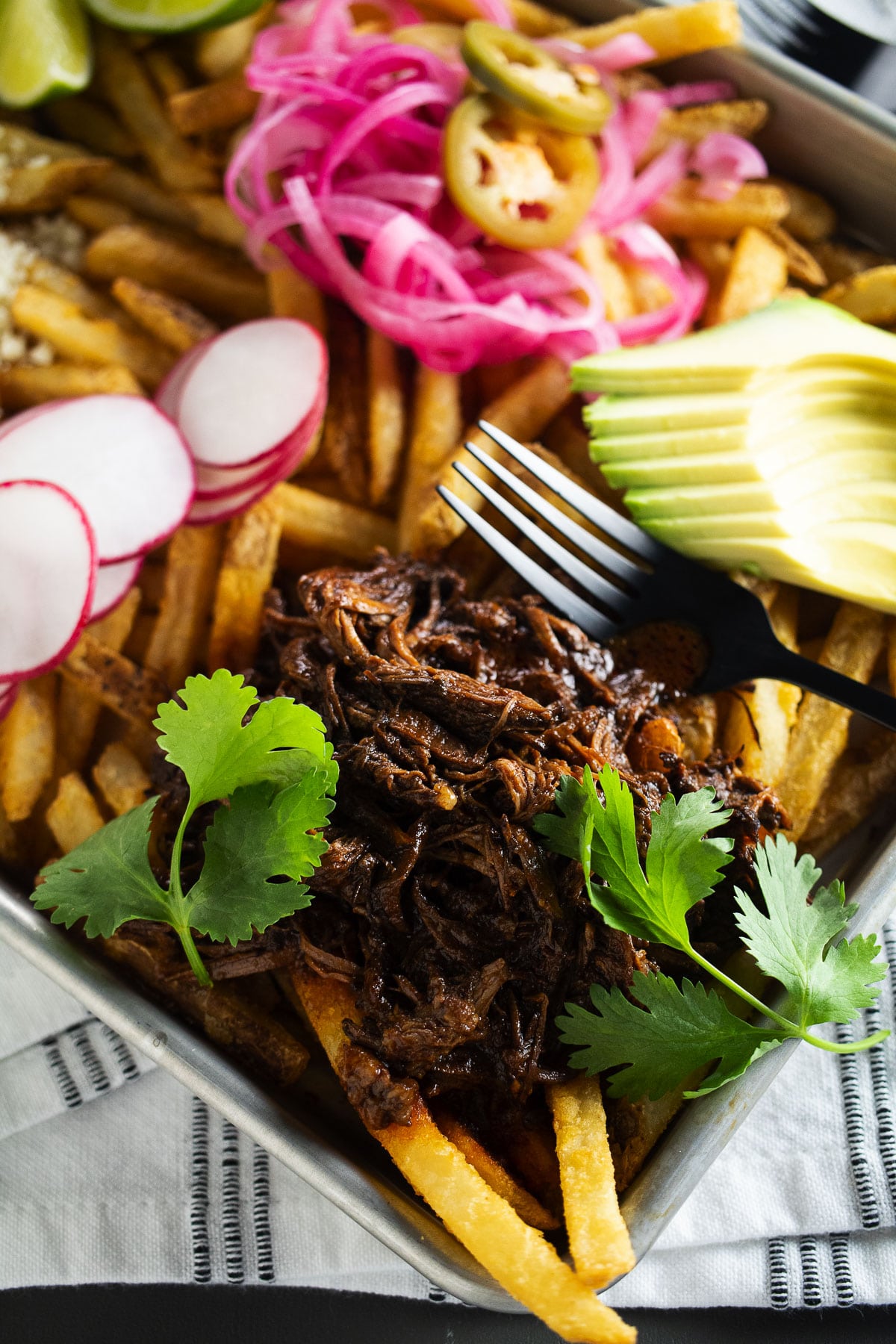 Traditional birria is excellent as a stew with tortillas, onion, cilantro, and avocado on the side. But, just like a teenager free from parental reigns, birria has gone wild. Just go to youtube, and you'll see that there's no shortage of birria fusion recipes from tacos with mozzarella cheese, nachos, quesadillas, pizza, pasta, ramen, and birria fries (like this recipe). Birria went viral and is now a global phenomenon.
What Does Birria Taste Like?
Sarah's first word to describe birria was "earthy" (I was too busy eating to think of words). Well, with potent herbs and spices like thyme, cumin, cloves, and cinnamon, that makes sense. Needless to say, the flavor is strong, which makes it a perfect contrast to basic fries. For me, birria is one of the best "down-home" kinds of dishes I've ever tasted. It's reminiscent of something "Momma used to make."
We've had birria stews and tacos at different restaurants, and guess what, they all taste similar but noticeably different. It's kind of like how everyone's grandma makes apple pie slightly different, but they all taste great!
So, come along for the ride as we show you how to make our version of birria fries.
Ingredients
There is a myriad of ingredients used in this recipe. Like, a lot. But don't freak out. You probably have most of these ingredients on hand. Other components, like the peppers, can be found at your grocery store in the international aisle. At worse, you'll have to take a trip to your local Latin grocery store – which is always a fun experience. Below, you will find an image and a list of the ingredients.
Chuck Roast
Ancho Chiles
Dried Oregano
Dried Thyme
Whole Cloves
Cinnamon Stick
Pepper
Salt
Water
Ground Cumin
Guajillo Chiles
Black Peppercorns
Dried Marjoram
Bay Leaves
Garlic Cloves
Tomatoes
Onion
Apple Cider Vinegar
See the recipe card for quantities.
Note: For the fries, we just used a bag of frozen fries from the freezer aisle. You can bake, air fry, or deep fry your french fries. We fried ours.
Instructions
The first step is to cut the meat, season it with salt, pepper and set it aside. Then, cut the tops off of the peppers and fry them in a bit of vegetable oil.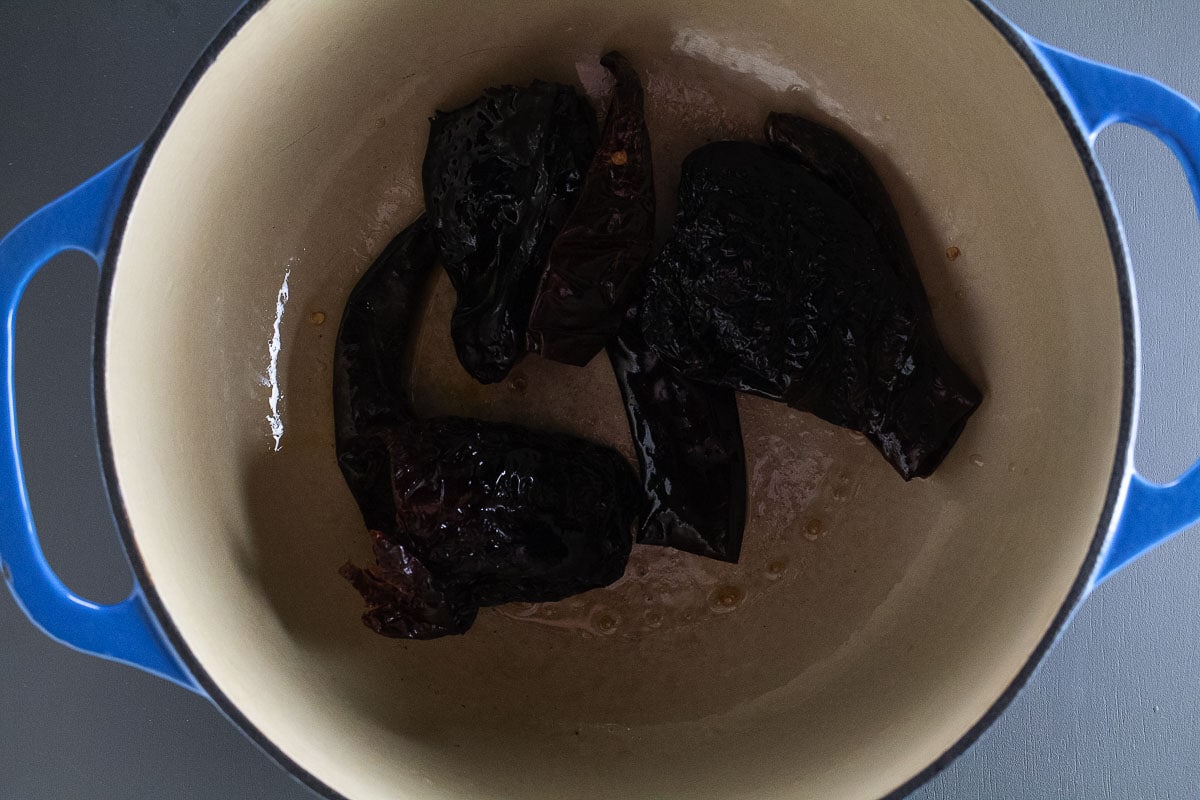 Next, soak the peppers in boiling water.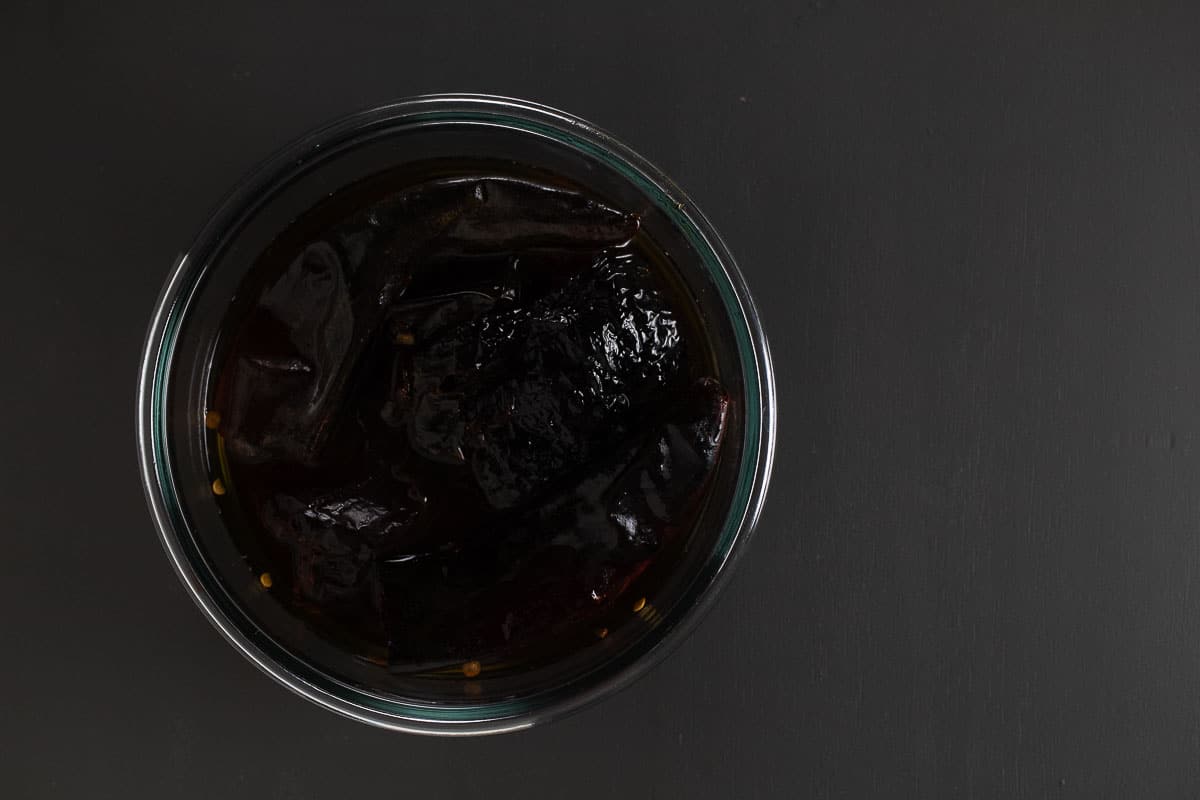 While the peppers are soaking, saute the tomatoes and onions until they start to brown. This process should take around five minutes. Then, add the remaining herbs and spices, except for the cumin, and cook for three minutes.
You will then want to grab your blender pitcher and add the chilies (including the water), tomato/onion mixture, cumin, vinegar, salt, and one cup of water. Blend until smooth.
Strain your sauce through a fine-mesh strainer and set it aside.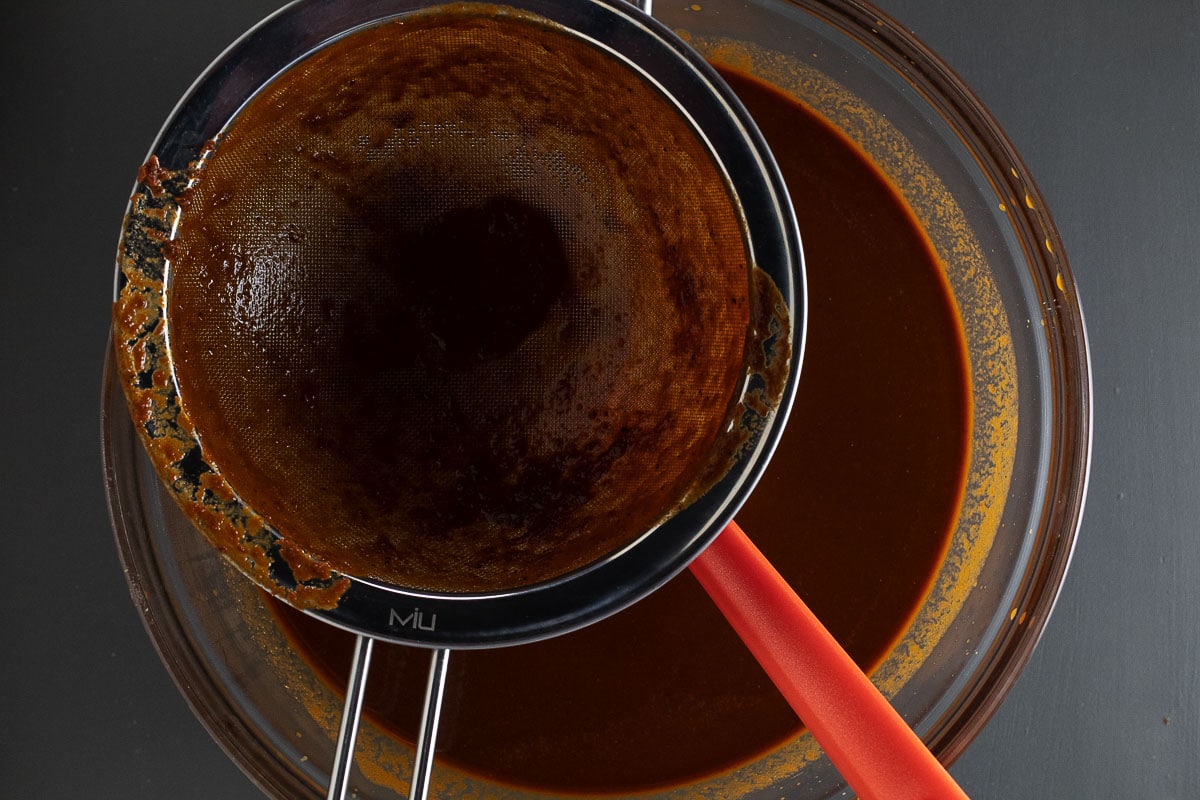 Next, brown the meat on all sides. Doing so should take around ten minutes.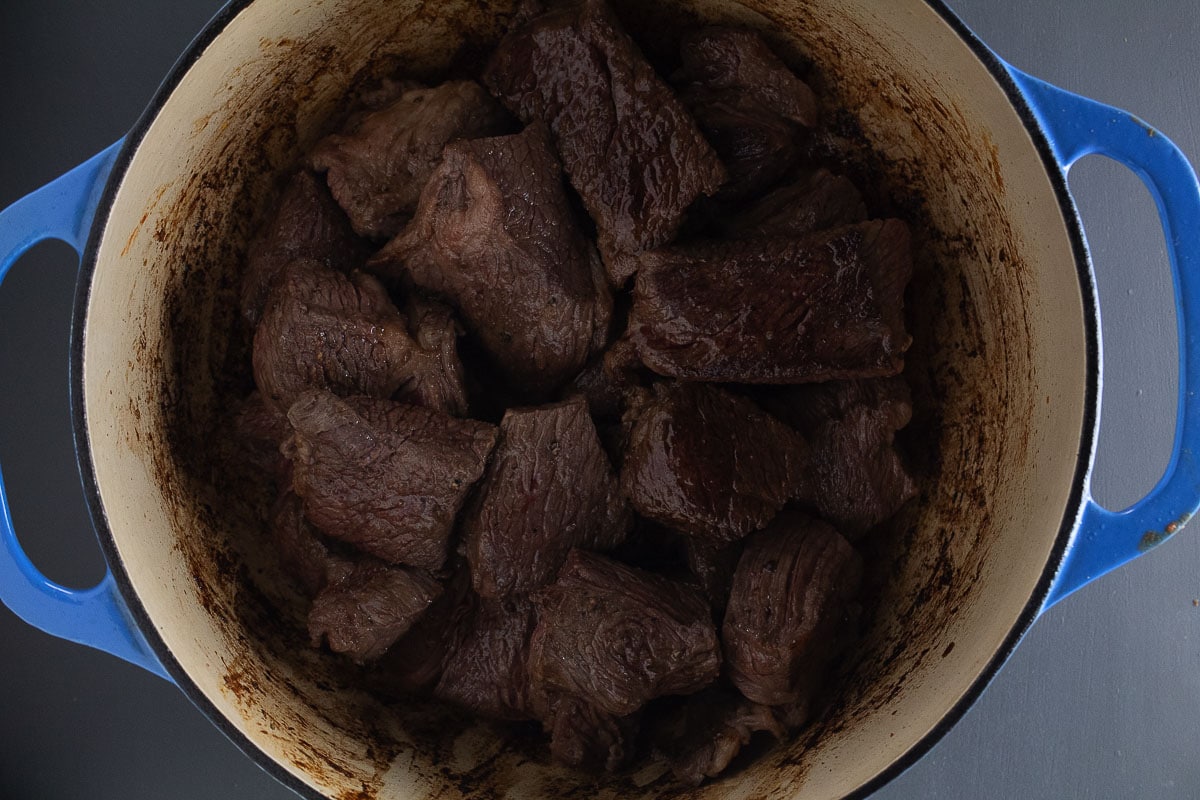 Finally, add the sauce and one more cup of water to the pot and cook on the stove for three hours or until fork tender.
Note: If you would prefer to cook your birria using another method, see below.
Cooking Methods for Birria
Stovetop – cook on medium-low for three hours. Check to see if you need to add water every hour or so and stir occasionally.
Oven – bake at 350 for three hours or until fork tender. Check it every hour to make sure the meat isn't drying. Add water as needed.
Electric Pressure Cooker – cook for 45-minutes on high pressure in the instant pot or other electric pressure cooker. Use a natural release which will take 15 to 20 minutes. Then quick release the remaining steam.
Substitutions
Birria fries is one of those recipes that leave a lot of room for variation and substitution. For example, we've come across recipes that call for fewer spices and herbs than this one. Below are some of the common substitutions.
Chuck roast – We made our birria with chuck roast but you can use any stew meat like pot roast, brisket, round, shank, ox tail, and even short ribs. I think that a mix of chuck or brisket with short ribs would work really well. Some recipes mix lamb and beef.
Ancho Chiles – When we went to our local Latin grocery store, they were all out of ancho chiles but luckily the clerk recommended mulatto peppers as a replacement. Mulattos do make a good replacement because they are both Poblano peppers. The difference is that anchos are ripened to a deep red color while the mulattos are ripened longer to a deep brown color before they are harvested and dried. If you use Mulatto chiles, your stew will be darker but still taste devine.
Chiles de Arbol – While searching for dried chiles, you may come across Chiles de Arbol. You can add a few of these chiles if you want an extra spicy kick. Make sure to quickly pan fry and soak just like the other peppers.
Roma tomatoes – We like roma tomatoes but feel free to substitute for any available red tomato.
Apple cider vinegar – If you don't have apple cider vinegar on hand and don't wish to buy it, free to use white vinegar in its place.
Garlic Cloves – Pre-minced garlic that you can find at the grocery store is a perfect substitution for fresh garlic cloves.
Variations
There are all kinds of ways you can dress up your birria fries. We garnished our birria fries with cotija cheese, pickled onions, pickled jalapenos, avocado, radish, lime, and cilantro. But there is no limit to what toppings you can add to your fries. We listed a few more options below:
Hot Sauce – if you're a hot and spicy fiend, spritz the fries with your favorite hot sauce.
Gaucamole
Queso Fresco – if you can't find Cotija, then Queso Fresco is a good way to go as they are both salty crumbling cheeses.
Oaxaca Cheese – If you'd like to get that cheese pull, this cheese is similar to mozarella.
Nacho Cheese
Fresh Onions
bacon – bacon makes everything a bit better.
Lettuce
Beans – refried beans, pinto beans, or black beans would work well here.
Salsa – there's all kinds of salsas that would work with this recipe.
Equipment
Below, you will find a list of the equipment we use to make birria fries.
Dutch Oven – Lodge makes an excellent dutch oven, and it is one of the most durable and versatile tools you can have for your kitchen. We also fried our french fries in this dutch oven.
Instant Pot – We've had ours for years, and it works as well as the day we bought it.
Mesh Food Strainer – We found a nice set of three fine-mesh filters.
Storage
You can store cooked birria in the refrigerator for three to four days, in the freezer for two to three months, and even longer if you use a vacuum sealer.
Top tip
The best tip I can share is to make sure you strain the sauce before pouring it over the meat and cooking. If you don't, you will end up with a very thick chile sauce. Another tip if you choose the stovetop or oven method is to ensure enough water in the pot. Don't just let the meat cook without checking on it. Add water as needed.
Birria Fries Recipe
Once you taste this birria fries recipe, you'll be ruined. You've got fries topped with slow cooked birria (Mexican stewed meat) avocado, cotija cheese, pickled onions, pickled jalapenos, and a squeeze of lime! Oh my!
Equipment
Dutch Oven

Pressure Cooker

Slow Cooker
Ingredients
The Meat
3

Pounds

Chuck Roast

1/2

Tsp

Salt

1/2

Tsp

Pepper

1

Tsp

Cumin
The Sauce
4

Dried Guajillo Chiles

4

Dried Ancho Chiles

3

Whole Cloves

1

Tsp

Dried Thyme

1

Tsp

Dried Oregano

8

Black Peppercorns

1

Tsp

Dried Marjoram

2

Dried Bay Leaves

1/2

Cinnamon Stick

6

Garlic Cloves (1 tbsp minced)

4

Roma Tomatoes (quartered)

1/2

Tsp

Ground Cumin

1

Medium Onion

1/2

Tsp

Ground Cumin

1/4

Cup

Apple Cider Vinegar

2

Tsp

Salt
French Fries
28

Ounce

Bag of Frozen French Fries
Sauce on Top
1/2

Cup

Sour Cream

1

Large

Chipotle Pepper

Minced

3

Tsp

Adobo Sauce
Instructions
Cut the roast into 2-inch cubes, and trim excess fat as needed. Season the meat with salt, pepper, cumin and rub it in. Set aside.

Using kitchen shears, cut the tops off the chiles and remove the seeds.

In a large dutch oven on medium heat, add a little oil and fry the chiles for 1-2 minutes per side. Move the chiles constantly so they will not burn.

In a medium bowl, add the fried chiles and 3 cups of boiling water. Let them sit for 10 minutes to allow the chiles to soften.

In the same dutch oven on medium heat, saute the onion and tomatoes until they start to brown, about 5 minutes. Next, add the cloves, thyme, oregano, peppercorns, marjoram, bay leaves, cinnamon stick, and garlic. Continue to cook for 3 minutes, and stir frequently.

Add the chiles (including water) and ingredients from the previous step, cumin, vinegar, salt, and 1 cup of water in a blender. Blend until completely smooth. Strain the sauce through a fine-mesh strainer and set aside.

Using the same dutch oven, add a little more oil, and saute the meat in batches until browned on all sides. It will take about 10 minutes. Add the strained sauce, the remaining 2 cups of water, and cook medium-low heat for 3 hours or until fork-tender.

In a small bowl add the sour cream, minced chipotle pepper and adobo sauce. Mix until completely combined and set a side.

Remove the meat from the dutch oven and shred it using 2 forks. Cook the fries according to package instructions. Serve on top of the fries and add your favorite toppings. We added cilantro, cotija cheese, avocado, pickled onions and jalapenos, and limes.
Nutrition
Calories:
310
kcal
Carbohydrates:
1
g
Protein:
33
g
Fat:
20
g
Saturated Fat:
9
g
Polyunsaturated Fat:
2
g
Monounsaturated Fat:
10
g
Trans Fat:
1
g
Cholesterol:
117
mg
Sodium:
874
mg
Potassium:
579
mg
Fiber:
1
g
Sugar:
1
g
Vitamin A:
37
IU
Vitamin C:
1
mg
Calcium:
45
mg
Iron:
4
mg