Are you looking for the most delicious high protein snack ideas you've ever seen? Just below, we explore a variety of delicious and nutritious snacks that will help you stay energized and satisfied throughout the day.
From air fryer chickpeas to peanut butter balls, there is something you will love. So, are you ready?
Let's dive in!
Plus, don't forget to check out high protein low carb meals, high protein breakfasts, and high protein lunches.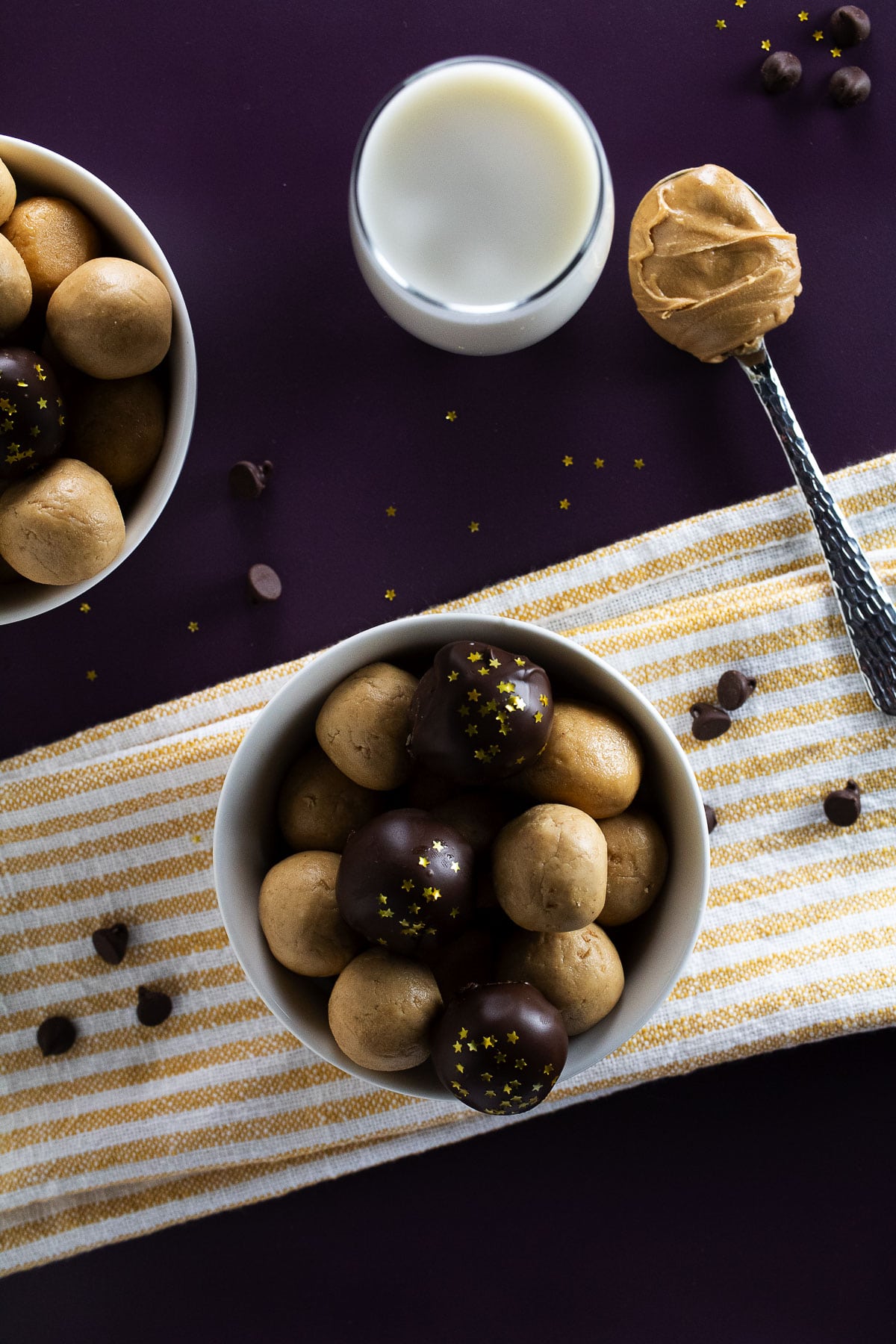 Our old-fashioned peanut butter balls are so good you'll forget that they're also packed full of muscle-building protein! Plus, without chocolate all you'll need are three ingredients. So go ahead and save it now.
Our high protein jalapeno popper dip is so good and once you see how easy it is to make, you'll never stop making it. It requires just 5 ingredients and takes just minutes to make. Check it out now!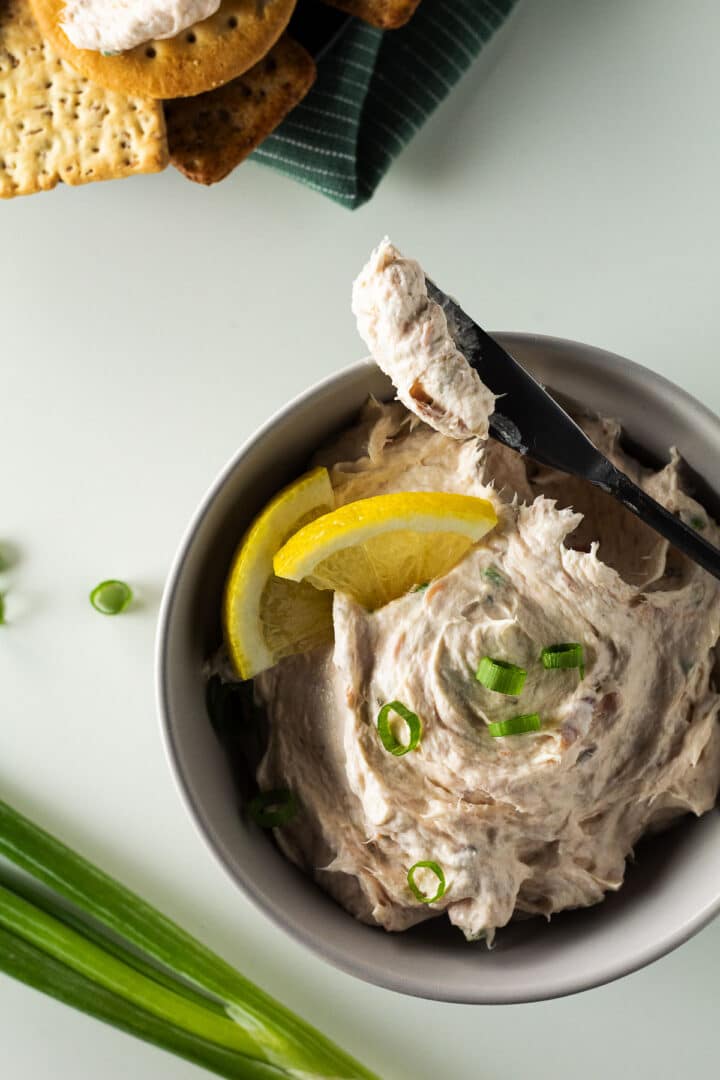 This is our smoked salmon dip recipe. We refined it over years of testing to come up with this ridiculously simple and delicious recipe. All you need is hot smoked salmon, cream cheese, green onions, lemon juice, and sour cream. Plus, it's a good source of protein. You're going to want to make this one today!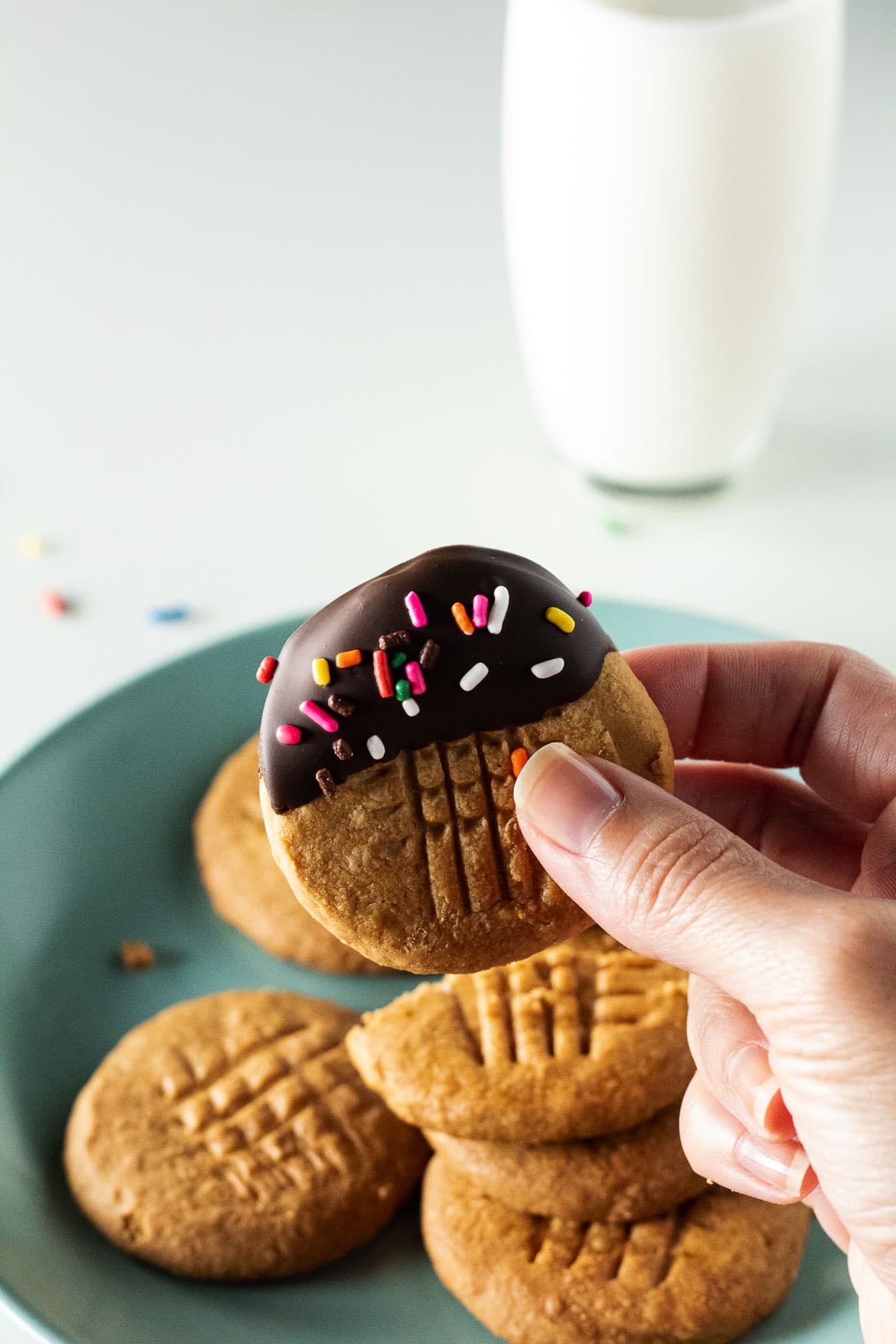 These high protein peanut butter cookies pack a whopping 10 grams of protein for two cookies are delicious no matter your diet. The require just two ingredients; creamy peanut butter and powdered sugar in the right amounts. So you won't need any flour or eggs. They're also gluten-free and dairy-free. Optionally, dip them in chocolate and add some sprinkles.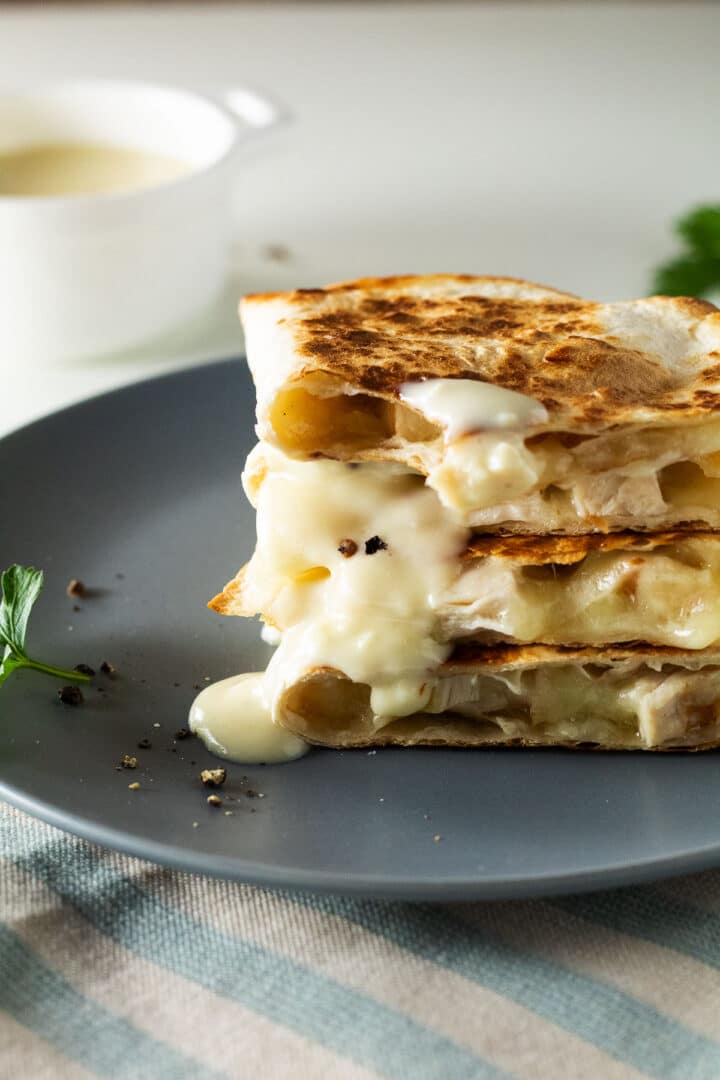 This is our delicious low-carb chicken Alfredo quesadillas recipe. You'll love it because it's tasty and high in protein. Simply stuff low-carb tortillas with chicken breast, Alfredo sauce, and mozzarella cheese. Check it out now!
Yes, our delicious bacon-wrapped jalapeno popper hot dogs are low-carb and keto-friendly. All you need is our delicious jalapeno popper dip, beef hot dogs, and bacon. So, are you ready for perhaps the tastiest recipe on this list?
Garlic Peanuts
These Garlic Peanuts by Genevieve of Two Cloves Kitchen are a protein-packed nibbler you'll get addicted to. Here's why. She based it on Adobong Mani, a Filipino street food (she'll fill you in on the deets), where the peanuts are actually fried. So while Genevieve uses far less oil, she bumps up the garlic factor quite a bit. And that's not the only source of flavor! Your taste buds will tingle for the chile de Árbol and rosemary.
Air Fryer Chickpeas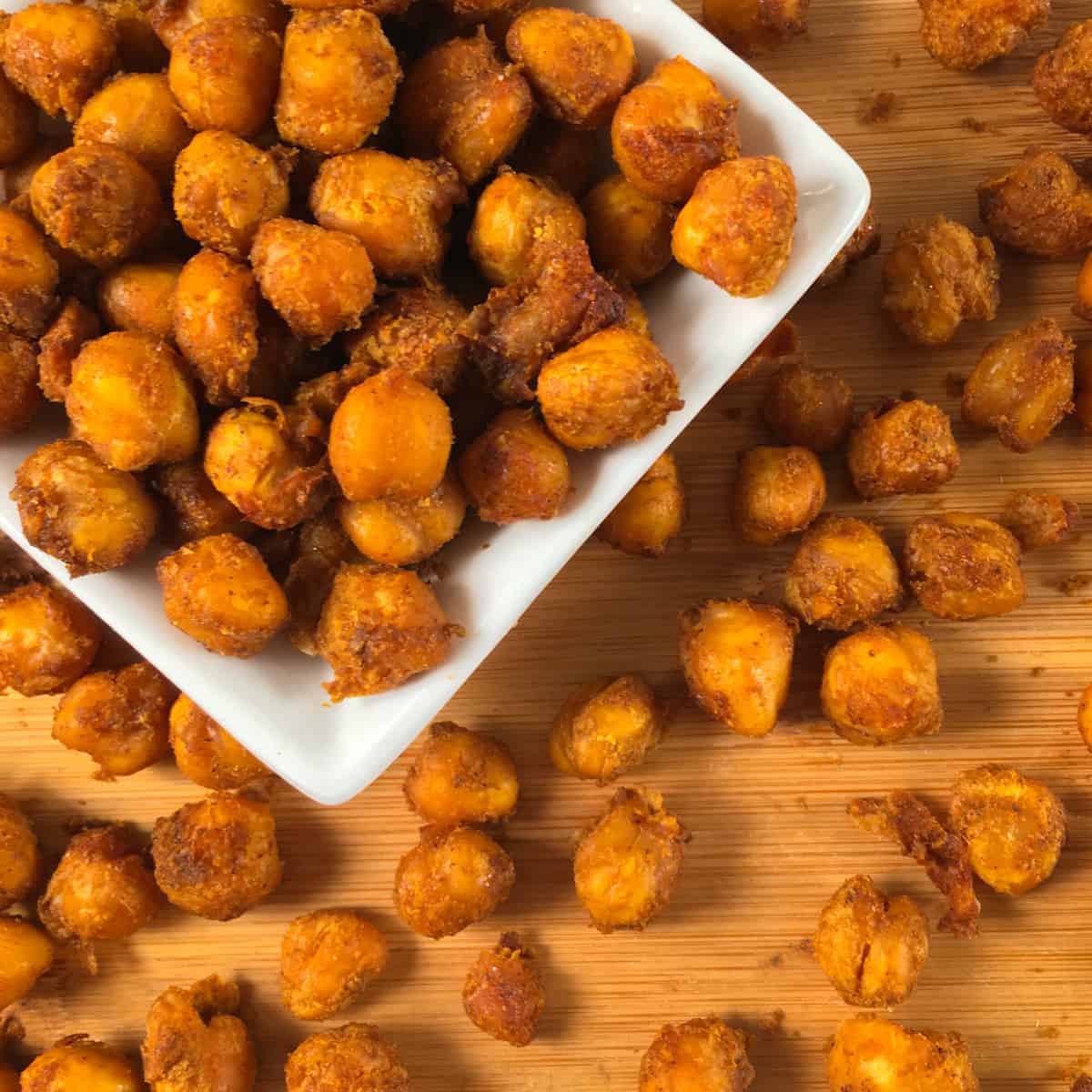 These Air Fryer Chickpeas, also known as garbanzo beans, are a favorite of Summer Yule. What do they taste like? Well, the talented food blogger worked up a recipe to approximate the flavor of nacho cheese thanks to the chili powder, cumin, garlic, and nutritional yeast. No air fryer? No problem. Summer provides oven instructions as well.
Cottage Cheese Dip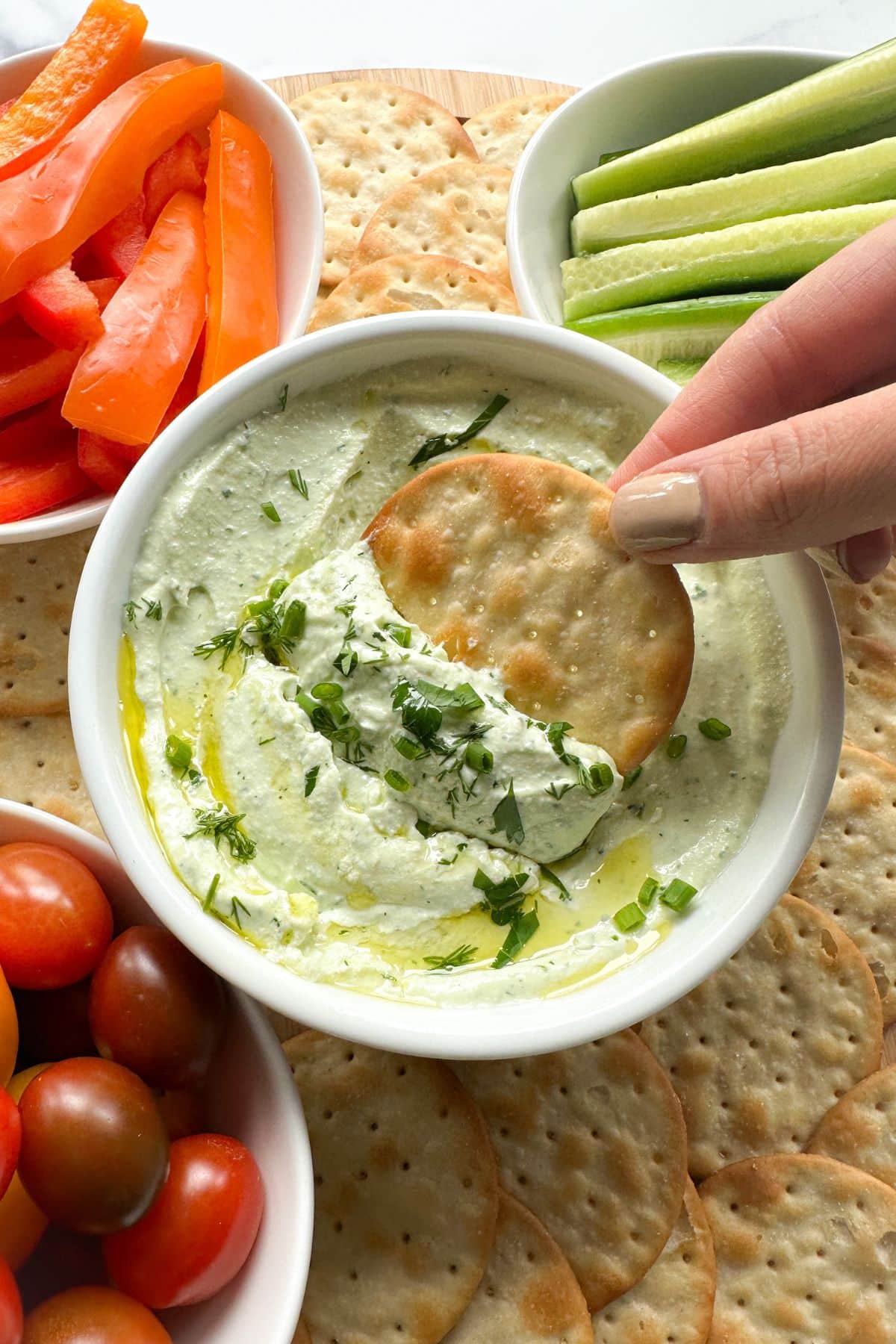 Snacks like this Cottage Cheese Dip by Krista of Hello Frozen Bananas are healthy, high in satiating slow-burning protein, and, equally important, tasty. Better still, they're how you avoid committing diet infidelity. This dip is a marvelous whip of cottage cheese (don't worry, there are no lumps or off-putting textures), herbs like chives, dill or parsley, avocado, and lemon juice. Plus, you can use healthy dippers like fresh veggies and multigrain crackers to keep it guilt-free.
Pork Belly Burnt Ends
So far, we've seen plant-based and vegetarian high-protein snack ideas. But our fellow carnivores will want to check out this luscious Pork Belly Burnt Ends recipe from A Grill For All Seasons. It's a seductively mouthwatering gameday snack featuring pork belly, seasonings, soy sauce, and brown sugar. Likewise, it's surprisingly easy to prepare in just 10 minutes. The hard part? You'll need to wait four hours to finish smoking it, which will yield crispy, crunchy, sweet, and salty bits you can't resist.
Pimiento Cheese
After years and years of tweaking and testing, this Pimiento Cheese recipe from Lindsay of My Therapist Cooks is simply divine. But what is pimiento cheese? It's a dip of grated cheeses, spices, binders, and pickled pimiento peppers. And while cream cheese is common, Lindsay's recipe omits it. Instead, sour cream and mayo hold it together and add bulk. It's delicious with crackers, high in protein, and too good to stop eating.
Two Ingredient Peanut Butter Cookies
These Two Ingredient Peanut Butter Cookies from Savor The Spoonful contain zero flour, egg, butter, or milk. Now, if you're scratching your head, I don't blame you. Because how the heck do they work? It's fascinating, really. So obviously, peanut butter is one ingredient, but we'll let Samantha fill you in on the other. It's a brilliant recipe that defies conventional cookie wisdom, but they are still delicious and a perfect high-protein snack.
Microwave Protein Cottage Cheese Chips
Who knew that with the help of your microwave, you could turn a serving of lumpy cottage cheese into a crispy high-protein snack? Well, that's the promise of this Microwave Protein Cottage Cheese Chips recipe from Cathy and Ishan of Low Carb Simplified. They teach you everything you need to know, including the exact kind of cheese, seasoning options, and all the other little tips so your snack comes out just right.
Mini Protein Donuts
Liz makes these healthy Mini Protein Donuts from I Heart Vegetables with a prepared pancake or waffle mix you can find online or at your favorite convenience store.
In fact, she recommends a specific brand of protein pancake mix, something she's reluctant to do. But here's the thing. It makes all the difference. Then, she shows you exactly what to do so your mini donuts come out just right.
High Protein Apple Overnight Oats
This High Protein Apple Overnight Oats recipe from Ooh La La It's Vegan is great for a healthy meal prep breakfast or snack. So if you've never had overnight oats, here's why you'll love it. It's creamy but with crisp and crunchy diced apples. Also, it couldn't be easier to make as no cooking is involved.
All you do is mix the dry oats with yogurt, milk, and flavorings and refrigerate. Finally, when it's ready to serve, add the chopped apples for an easy snack with nine grams of protein.
Peanut Butter Banana Energy Bites
Chef Lindsay Farr believes snacking should be primarily healthy and energizing, like with these Peanut Butter Banana Energy Bites. With just ten ingredients, including banana puree, flaxseed meal, oats, dates, and honey, they take just minutes to make and less than an hour to chill. They're dense, filling enough to carry you to your next meal, and sweet enough to satisfy your dessert cravings.
Chocolate Chip Protein Energy Balls
But nothing else will suffice if you're in the mood for chocolate. So turn to these Chocolate Chip Protein Energy Balls by Hannah of Healy Eats Real. Like the protein balls just above, they have several ingredients, including almond flour, sugar-free chocolate chips, and protein powder, for a low-carb, high-protein snack to satisfy your sweet tooth.
Smoked Turkey Jerky
With this Smoked Turkey Jerky recipe, you'll know exactly What's Smoking. But be warned, once you make it, you'll have difficulty returning to the store-bought stuff. Why? That flavor is unbeatable. The team shows you how to make their winning recipe with turkey breast and seasonings like minced garlic, Worcestershire sauce, and brown sugar. You'll need to smoke it for about six hours, but then you'll have a week's worth of healthy protein packed snacking.
Protein Snack Packs
Just take a look at these colorful nourishing Protein Snack Packs by The Forked Spoon. They're a delightful post-workout, hunger-destroying solution with hard-boiled eggs, almonds, cheese, hummus, and crunchy veggies. You'll love them because they are easy to make and completely versatile. So mix it up with lunch meat, berries, jerky, or even leftover chicken.
Chickpea Fries
Before diving into her yummy and inventive Chickpea Fries recipe, Katie of Hey Nutrition Lady expresses her love of the diverse legume. It can become hummus. Alternatively, you can braise, roast, or even put it in a curry. But how do you transform them into fries? Well, with six ingredients, including herbs, salt, pepper, and water. But the key is the chickpeas in a particular form. We'll let Katie fill you in on the rest.
Bacon Wrapped Halloumi Cheese
At 20 grams of protein per serving, this Bacon Wrapped Halloumi Cheese recipe is a snack you will surely adore. However, we can't exactly call it healthy. But that's okay. It's a quick, soul-satisfying treat you can enjoy in moderation. Plus, there are only two ingredients, and we're betting you can guess what they are.
High Protein Acai Bowl
This High Protein Acai Bowl is a great way to meet Tati. It's far better than a handshake and just one example of the many delectable offerings from The Healthful Blondie. Get this. Thanks to the Greek yogurt and protein powder, each serving is overflowing with nearly 40 grams of muscle-feeding macro nutrition.
But it's also refreshing with bananas and blueberries. Need more reasons to make it? Sure, this bowl takes mere minutes to make, looks fantastic, and is so tasty you'll make it repeatedly.
Protein Ice Cream
Ice cream: is one of the most popular desserts worldwide and comes in endless variations and flavors. But the cold treat can become your nemesis when you're on a restricted diet. So, instead of the freezer aisle, turn to this Protein Ice Cream from Denise of Easy And Delish. It's a sugar-free yet sweet high-protein treat that'll help save you from diet setbacks.
Buffalo Deviled Eggs with Crispy Bacon
You can call these Buffalo Deviled Eggs with Crispy Bacon paleo, gluten-free, or keto-friendly. However, we'll stick to calling for more. Mix the egg yolks with mayo and other seasonings like deviled eggs. Only this time, add a serious dose of hot sauce. Finally, the bacon crumbles on top make it an addictive snack so good you'll be challenged not to overindulge. But if it makes you feel better, just remember each serving is about eight grams of protein.
Air Fried Tofu Nuggets
Suppose you're looking for something low-carb that's crunchy and filled with protein. Then, you'll want to check out this Air Fried Tofu Nuggets recipe from Bites With Blair. Here's why you'll love it. The vegan nuggets are super flavorful, thanks to the onion powder, garlic powder, and paprika. And they get extra crispy because of the panko, oil, and Blair's tips, like removing as much water from the tofu as possible.
No Bake Chocolate Protein Bars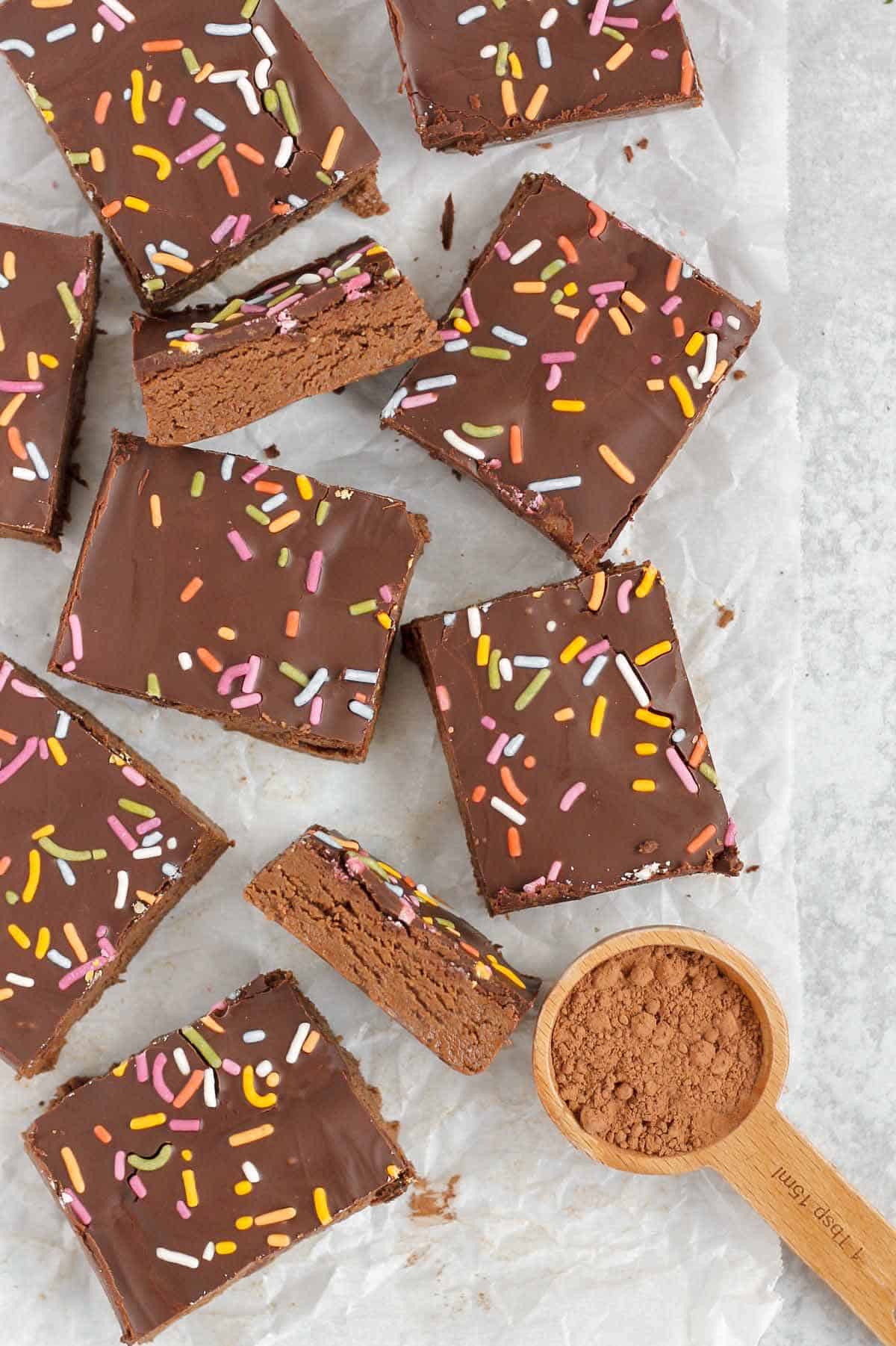 Like Sara, you be a Clean Plate Mama with healthful snacks like these No Bake Chocolate Protein Bars. While they look indulgent, adorned with a chocolate topping and colorful sprinkles, they're actually made with wholesome ingredients. Some of which include natural peanut butter, honey, and cacao. They take just 15 minutes to make and are just what you'll turn to after sweating in the gym.
Which High Protein Snack Ideas Will You Try First?
By now, you've seen incredible high-protein snacks like no-bake chocolate protein bars, air-fried tofu nuggets, chickpea fries, and many more. So which one will you choose? We'd love to know!