Indulge in the sweet pleasures of summer with these 20 delectable and easy Summer Dessert Recipes. These creations are the epitome of summer decadence. They are perfect for bbq or cookouts. And you better believe they go far beyond vanilla ice cream and basic treats.
Don't believe us? How about this? There are luscious flavors like Peach Clafoutis, Dulce de Leche Mousse, Vanilla Custard Sauce, and many more. So prepare to tantalize your taste buds and elevate your dessert game as you explore the delightful world of summer sweets.
Let's dive in!
Jump to:
20 Summer Dessert Recipes
Just below, you'll savor the essence of warm weather with this list of 20 Summer Dessert Recipes. These recipes feature juicy peaches, berries, strawberries, mangoes, and other cold dessert treats. So get ready to jump into these dynamic treats, and before you know it, you'll find your new summertime favorites.
Tembleque – Puerto Rican Coconut Pudding
Thanks to Marta for this refreshing Tembleque (coconut pudding) recipe from Sense And Edibility that comes from her home base of Puerto Rico. This jello mold consists of delicious coconut with hints of cinnamon and orange. The dessert is traditionally served on holidays in Puerto Rico, but since it's served chilled, it's great as a summer treat as well.
Strawberry Dole Whip
You will feel like you've been transported to the Magic Kingdom when you take this tropically inspired creamy Strawberry Dole Whip by I Heart Naptime dessert for a whirl. It's a delicious twist on the custom pineapple version that was created exclusively for sale at Disneyland. But that's not the best part. There are only three ingredients (pineapple juice, strawberries, and vanilla ice cream), and it only takes about 5 minutes of your time. The kids will love helping you do this on a hot summer day.
Mango Coulis
This Mango Coulis (or sauce) by Speaking Aloud is a great way to dress up fruit or a simple sponge cake to create a healthy yet tasty dessert. You can also drizzle it over pancakes or add it to yogurt. With just a few ingredients like mango and sugar, you'll have a nice sweet dressing to make a plain dish explode with flavor.
Strawberry Rice Crispy Treats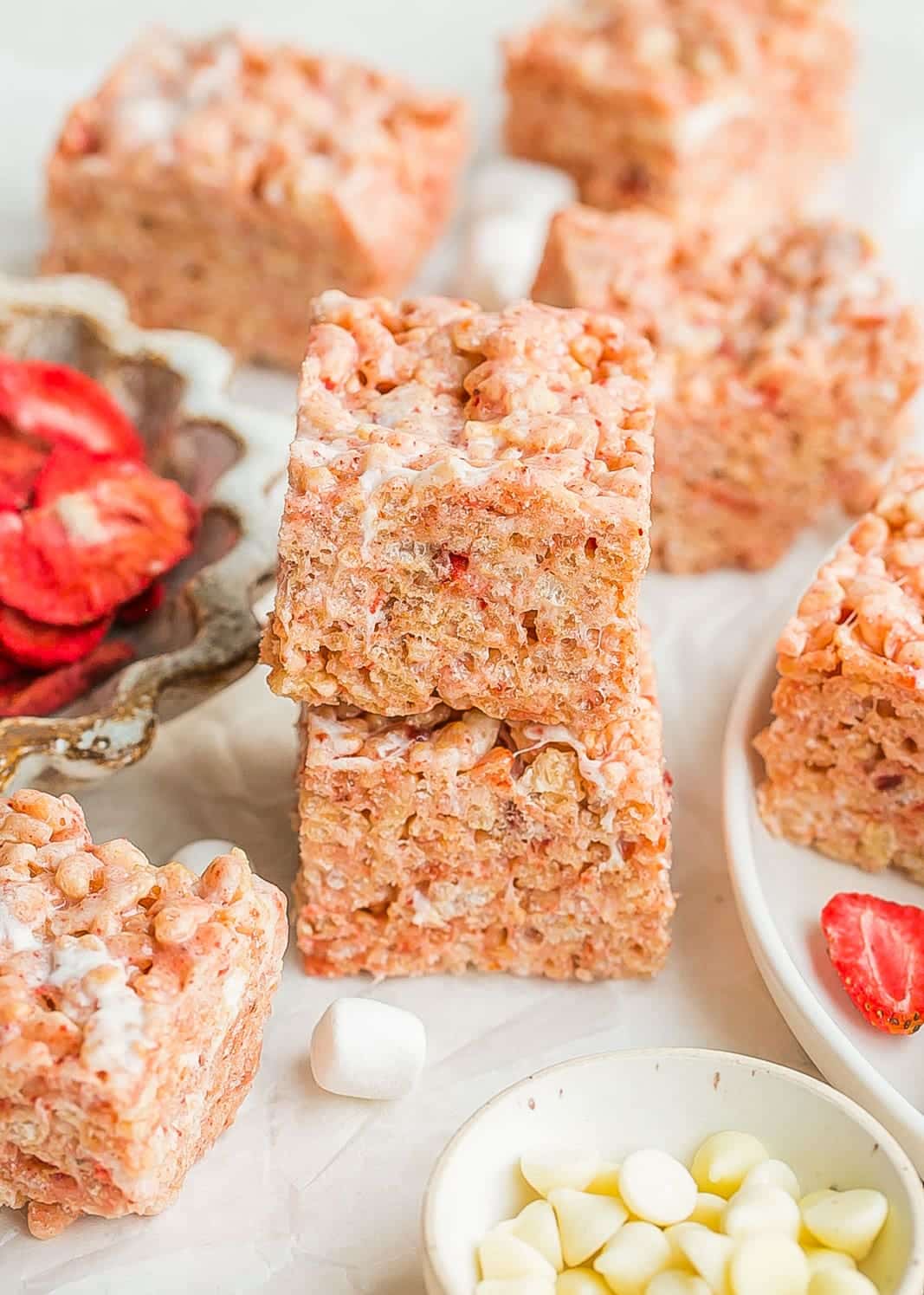 It's hard to imagine taking the already delightful Rice Krispy Treat and making it even better. But thanks to Kathryn's Kitchen and this Strawberry Rice Crispy Treats, it is possible. Not only does it give this cereal-based snack a fresh and fruity taste, but it also makes for a beautiful color that will dress up any dessert table or kid's party spread. The best part for adults is it remains an easy, no-bake recipe that's quick to make.
Chili Mango Paletas
Who knew could create a simple frozen dessert that was both sweet and spicy? Yvette from Muy Bueno Blog knew, and she graciously shared her recipe for Chili Mango Paletas (popsicles) with us all. This popular Mexican roadside treat is made with fresh mango, Tajin, and the sweetener of your choice. The result is a healthy popsicle with an emphasis on pop!
Strawberry Popsicles
Making your own frozen dessert is always a great alternative to the sugar-laden, processed, store-bought treats. It's also a great family activity. These Strawberry Popsicles are made with fresh strawberries, maple syrup, and coconut milk. Top them off with a chocolate drizzle (you can use Magic Shell) for a refreshing treat for the kids, BBQS, or just because it's summer.
Summer Berry Meringue Roulade
If you need to look fancy for a summer party but don't know where to start, this magnificent Summer Berry Meringue Roulade, courtesy of Christina's Cucina, has got you covered. It's so gorgeous people will think Tiffany & Co. started selling jelly rolls. Not only is the presentation stunning, but the fresh raspberries, strawberries, and heavy cream also combine with the sponge cake to create a flavor that will be relished by all.
Mango Lime Sorbet
A good sorbet can be expensive and hard to find. Thankfully, Chahinez at Life of a Foodie created a fabulous two-ingredient Mango Lime Sorbet. Just peel and cube the fruit and freeze it for 4 hours, then throw everything into a food processor or blender and voila, go relax with a bowl full of natural, summer sweetness.
Raspberry Sherbet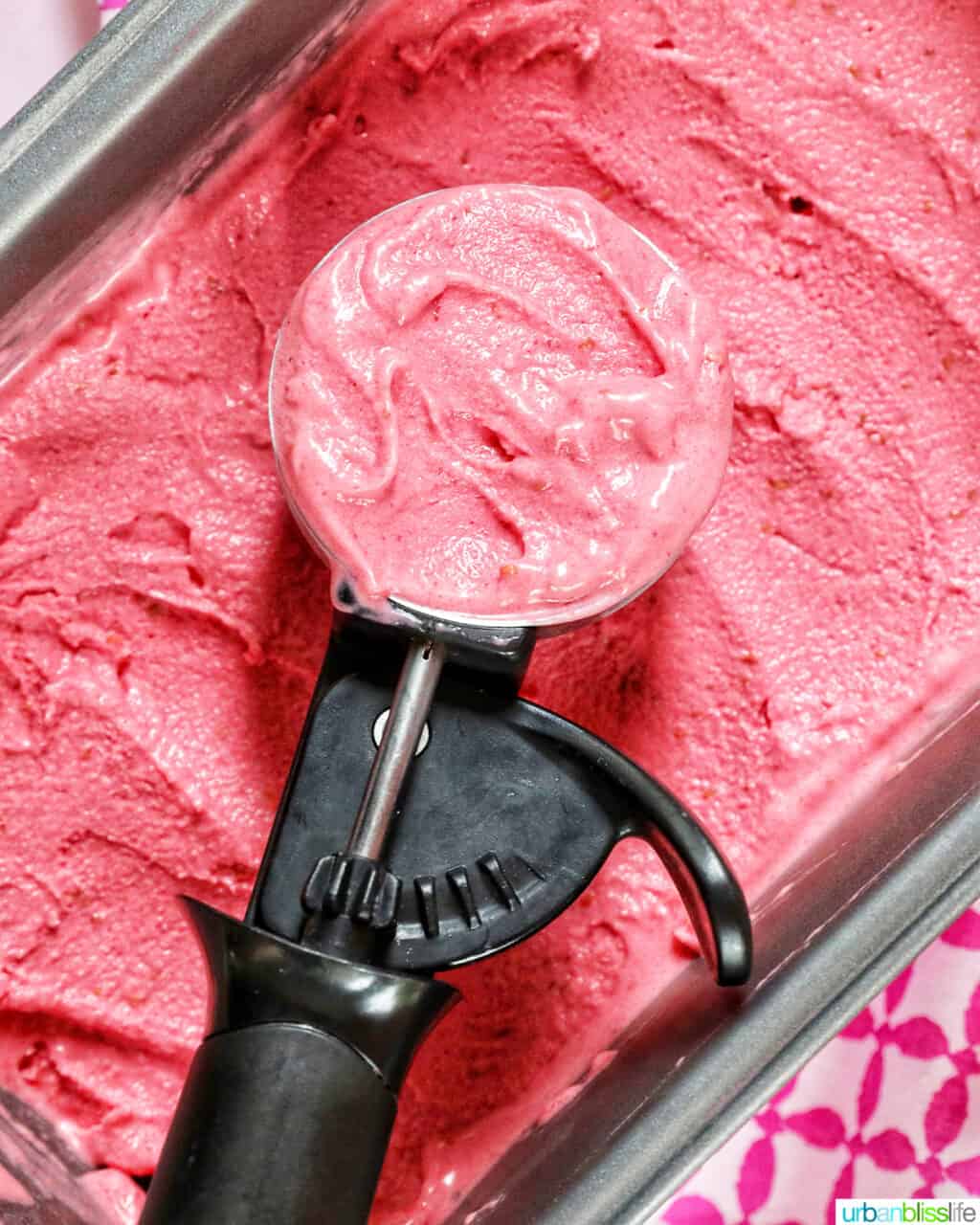 Raspberry lovers take note. This light and easy-to-make Raspberry Sherbet can be kept in the freezer for up to 2 months. So you can make one huge batch for the 4th of July and snack on it right through Labor Day.
Red, White, and Blue Instant Pot Cheesecake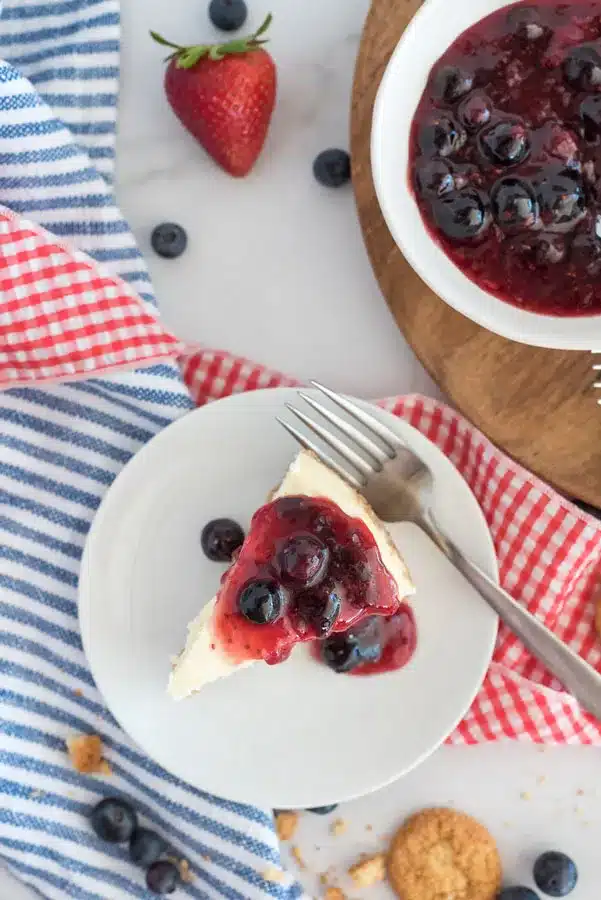 Imagine being able to make the perfect patriotic cheesecake using your electric pressure cooker. Well, now you can use this colorful Red, White, and Blue Instant Pot Cheesecake recipe from Pressure Cooking Today. Combine strawberries, blueberries, and cheesecake for a dessert that will be remembered long after the fireworks have ended.
Vanilla Custard Sauce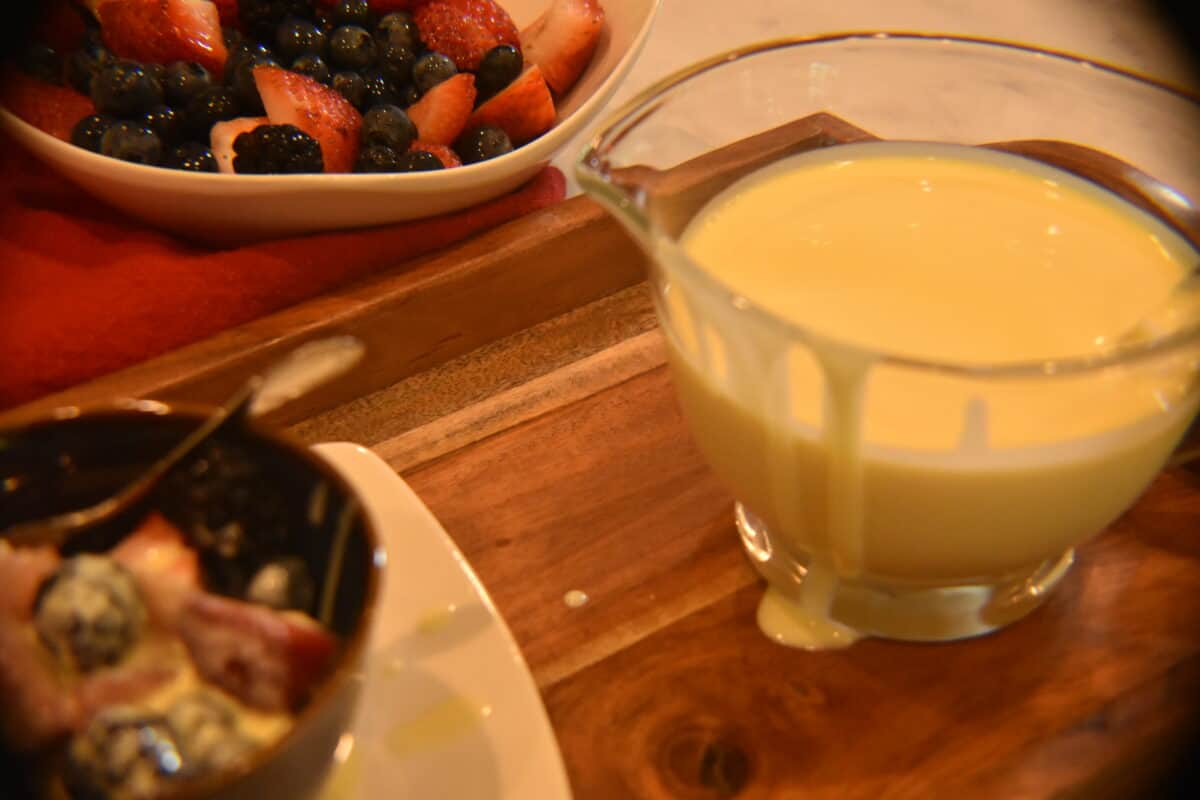 This Vanilla Custard Sauce by Untold Recipes By Nosheen, also known as Creme Anglaise, this custard sauce has five simple ingredients that are easy to combine. It makes a decadent dessert that can be enjoyed on its own or as a drizzle for other desserts like fruit or pound cake.
Strawberry and Blueberry Panna Cotta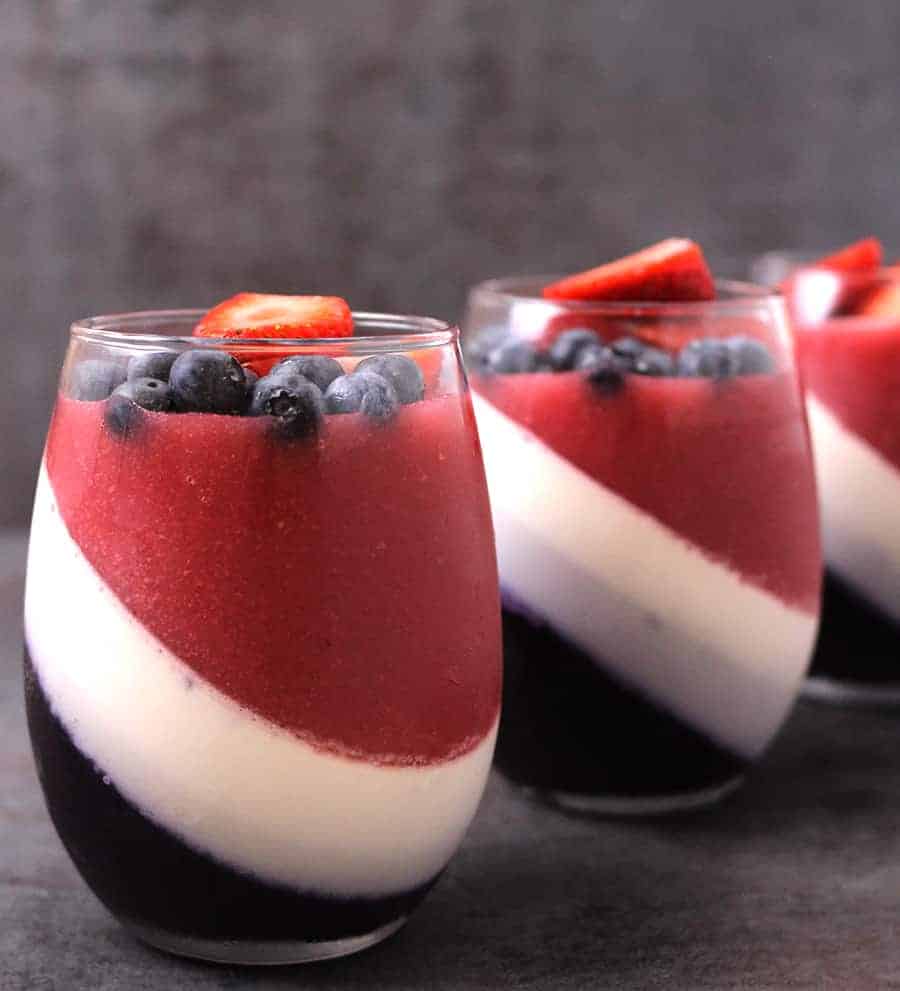 If visually stunning is your goal, this beautiful red, white, and blue Strawberry and Blueberry Panna Cotta made in a clear cup is definitely what you want. It's no-bake, so you won't heat up the kitchen. The Panna Cotta (pudding) is sandwiched between fresh strawberries and blueberries that will make you the hit every July 4th.
Strawberry Tiramisu
Strawberry Tiramisu is another dessert that is no-bake (so no heat) and is also sure to visually impress all who set eyes upon it. The strawberries and creamy sponge cake make it refreshing enough for the dog days of summer while also being rich enough to serve during the holidays or after a nice winter soup.
Coconut Rum Cream Pie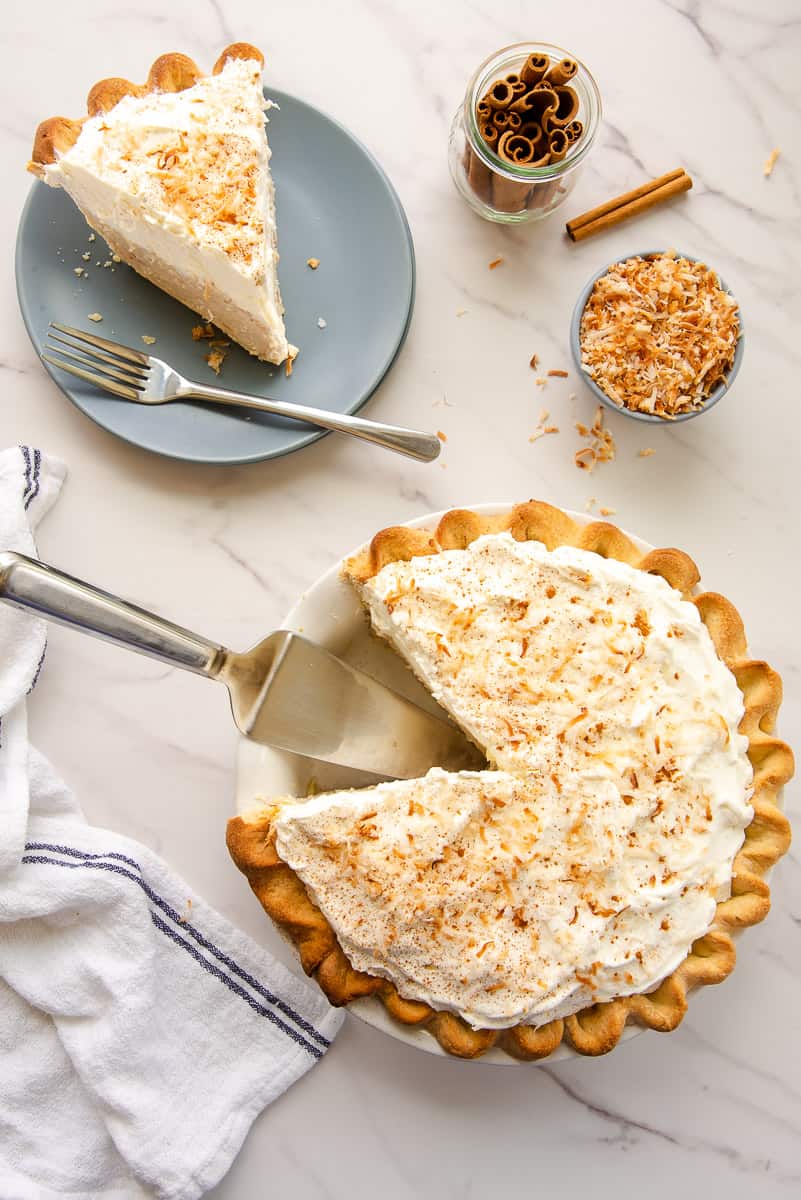 Our friend Marta from Sense and Edibility hits it out of the park again with another summery Coconut-based recipe. This time it's a delectable Coconut Rum Cream Pie (coquito). It makes for a gorgeous addition to any dessert table, and everyone that tastes it will be clamoring for the recipe.
Dulce de Leche Mousse
What if we told you that you could whip up a rich and creamy dessert with only three ingredients and very little prep? Well, you can. The best part is it looks like you spent hours making it. This Dulce de Leche Mousse has the unique texture of ice cream, custard, and whipped cream all in one spoonful. Simply combine cream cheese, heavy cream, and dulce de leche (a caramel popular in Latin America), and you'll be the toast of any summer get-together.
Peach Clafoutis
What is clafoutis (kla-foo-tee), you ask? Simply, it's French meaning to fill. This yummy Peach Clafoutis requires you to fill a buttered pan with some juicy summer peaches and a flour-based batter and bake. The result is a pancake-type dessert that can be topped with ice cream or whipped cream.
Ice Cream Sandwich Cake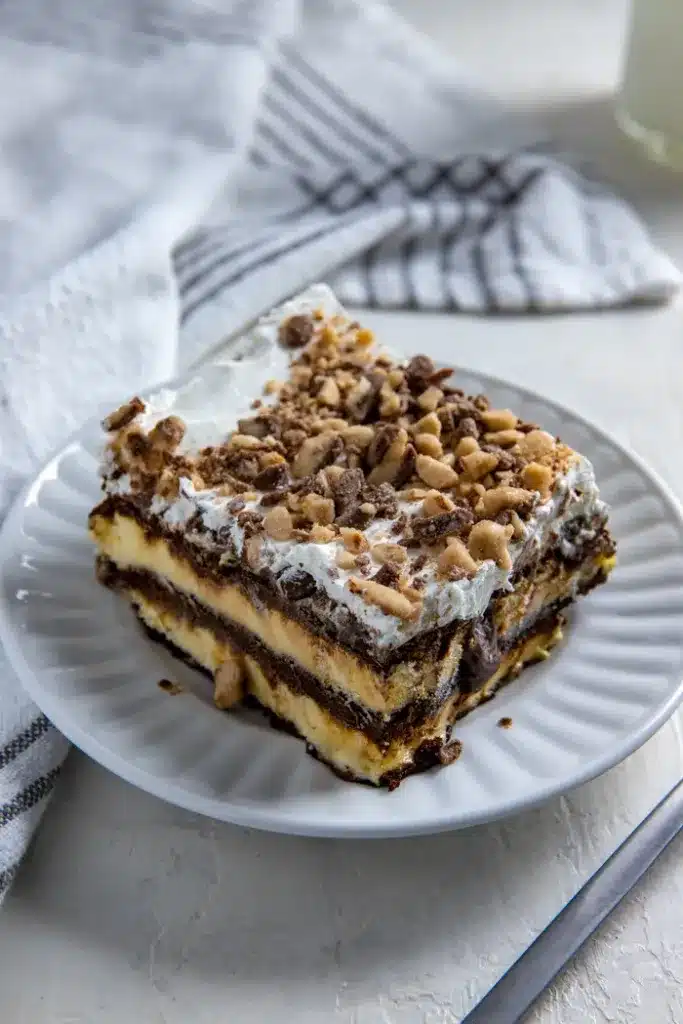 This Ice Cream Sandwich Cake dessert is sure to please the kids at summer birthday parties. In fact, between the ice cream, hot fudge, and Heath bars, they will satisfy anyone's sweet tooth. The best part is you can make 20-30 of them in one shot with minimal effort.
Peach Crisp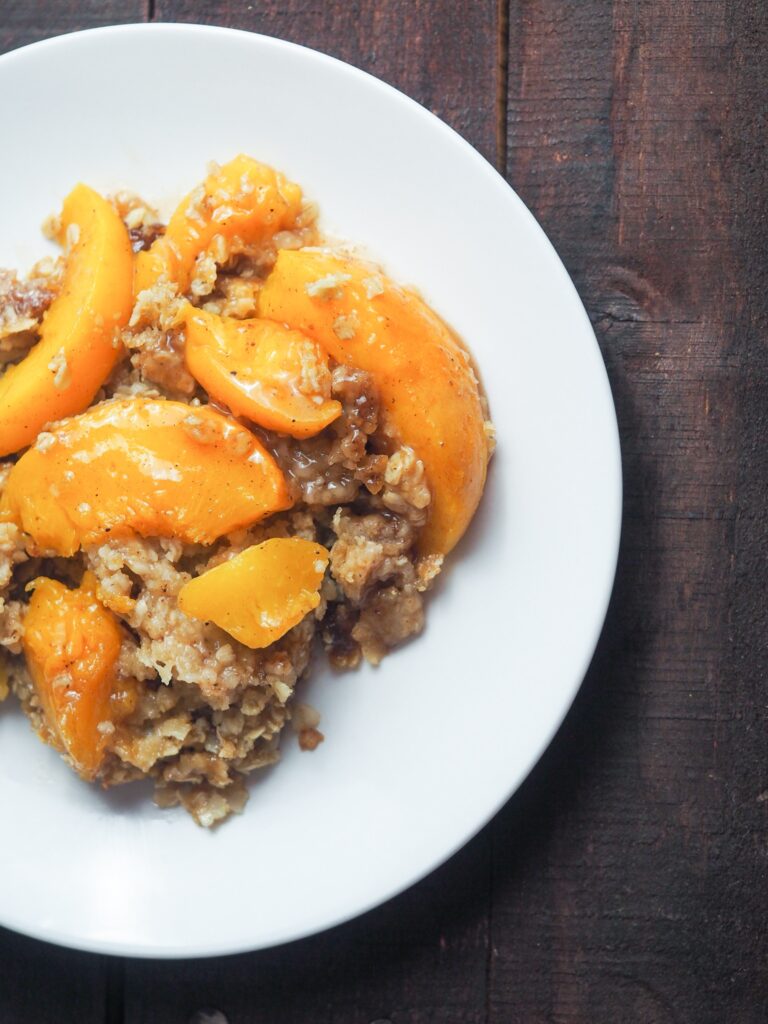 Top off a delicious summer dinner party with this quick and easy Instant Pot Spiced Peach Crisp. Simply cook the peaches in the pot and top them off with an easily made oatmeal crisp. Add some vanilla ice cream as the cherry on top.
Chocolate Malted Ice Cream
If you've declared your oven officially broken this summer, then this simple no-bake Chocolate Malted Ice Cream treat is right up your alley. Just combine some softened chocolate ice cream and iconic Whoppers for an old-fashioned flavor that can be made in seconds.
Homemade Ice Cream Sandwiches
Basic yet classic. Versatile yet reliable. The Homemade Ice Cream Sandwich is always a hit. This recipe is great because you can keep it original and simple or customize however you like. Typically made with vanilla ice cream and chocolate chips or graham cookies, you can use anything that you want. Feel free to add nuts, drizzles, or fruit.
So Which Summer Dessert Recipes Will You Try First?
Yay! You've made it to the end of this list of 20 Stupendous Summer Dessert Recipes, and you haven't drooled all over your screen. Right?
So you've seen vibrant and even gorgeous treats with vibrant seasonal fruits. And you've also seen treats with velvety, creamy textures and delightfully sweet. So which summery treat will you use to elevate your summer gatherings and create unforgettable moments of pure culinary bliss?
Other Desserts You'll Want to Make This Summer!