Our Low Carb Turkey Italian Sausage Meatballs combine the healthy leanness of ground turkey with the robust flavors of Italian sausage. They're quick to make, delicious, and, best of all, they prove you don't have to compromise flavor on a low-carb or keto diet.
But, and this is a big BUT…these meatballs are so good you'll want to make them no matter your diet.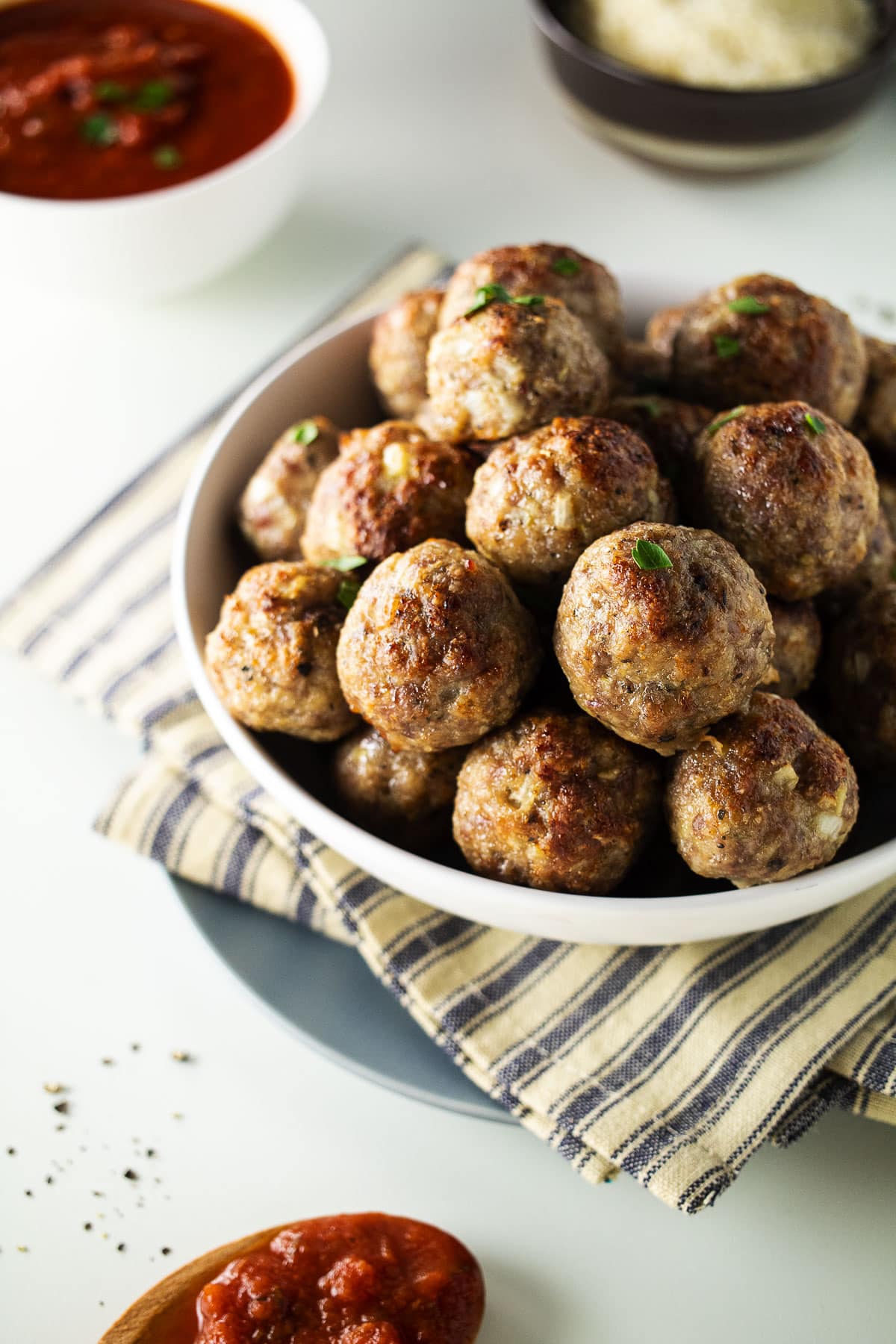 These meatballs are great year-round, but they're also fancy enough for special occasions like Christmas or Thanksgiving. Not only that, but they make an amazing toothpick appetizer.
Want more like this? See our chicken apple jalapeno meatballs (they're not keto), and don't forget about our list of ground turkey recipes.
Jump to:
Ingredients
Let's take a dive into this low carb turkey Italian sausage meatballs recipe. Including salt and pepper, there are only ten ingredients.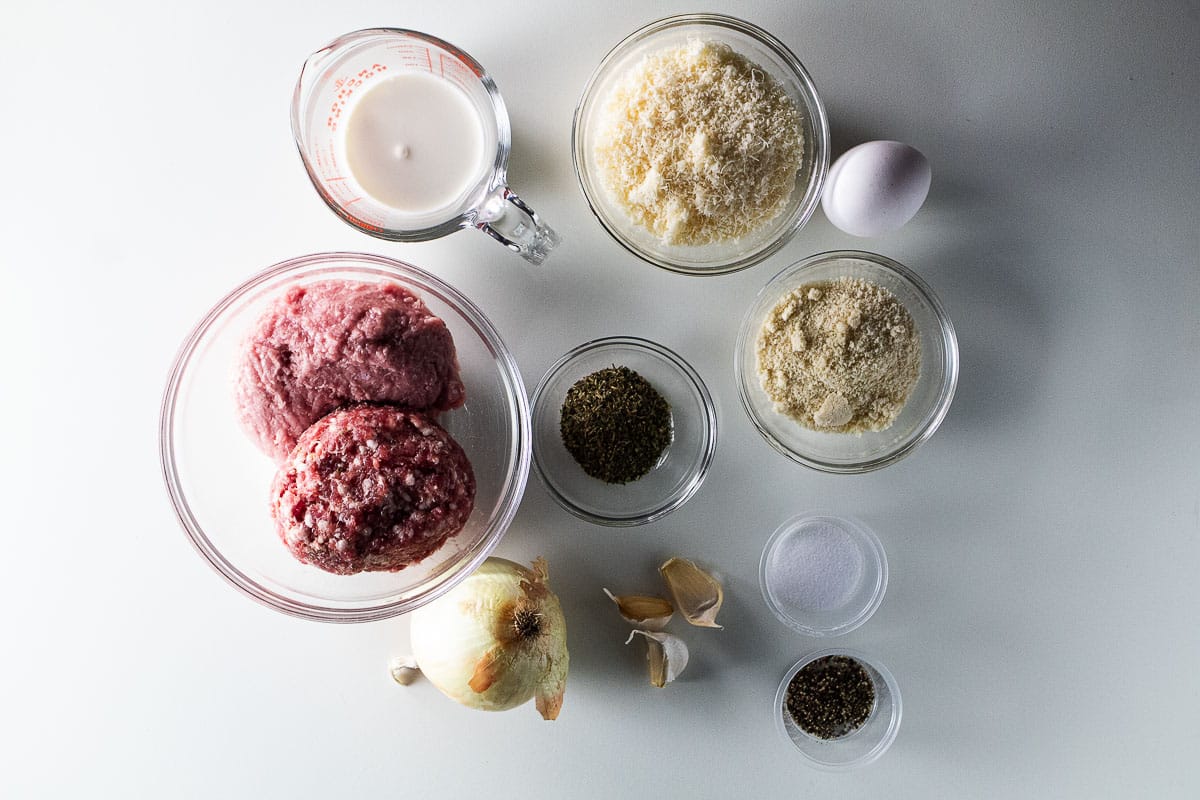 Ground Turkey – We recommend using 93/7 (lean/fat) ground turkey. It's lean. However, there is some fat which means the turkey won't dry out as much as 99/1, which could work, but we haven't tested it out.
Italian Sausage – We used mild Italian sausage here, but certainly hot or even sweet could work. The sausage is important because it provides flavor and additional fat.
Almond Flour – In place of traditional breadcrumbs, almond flour serves as the low-carb binder for the meatballs. It helps to keep them together without adding unnecessary carbs.
Egg – Egg is another binder that adds moisture and helps the meatballs hold their shape.
Grated Parmesan – Aside from adding rich and savory flavor depth, parmesan cheese also acts as a binder.
Onion
Garlic
Italian Seasoning
Black Pepper
Salt
See the recipe card for quantities.
Instructions
Putting this recipe together is straightforward. There are just a few steps, like mixing the ingredients, forming the balls, and baking them.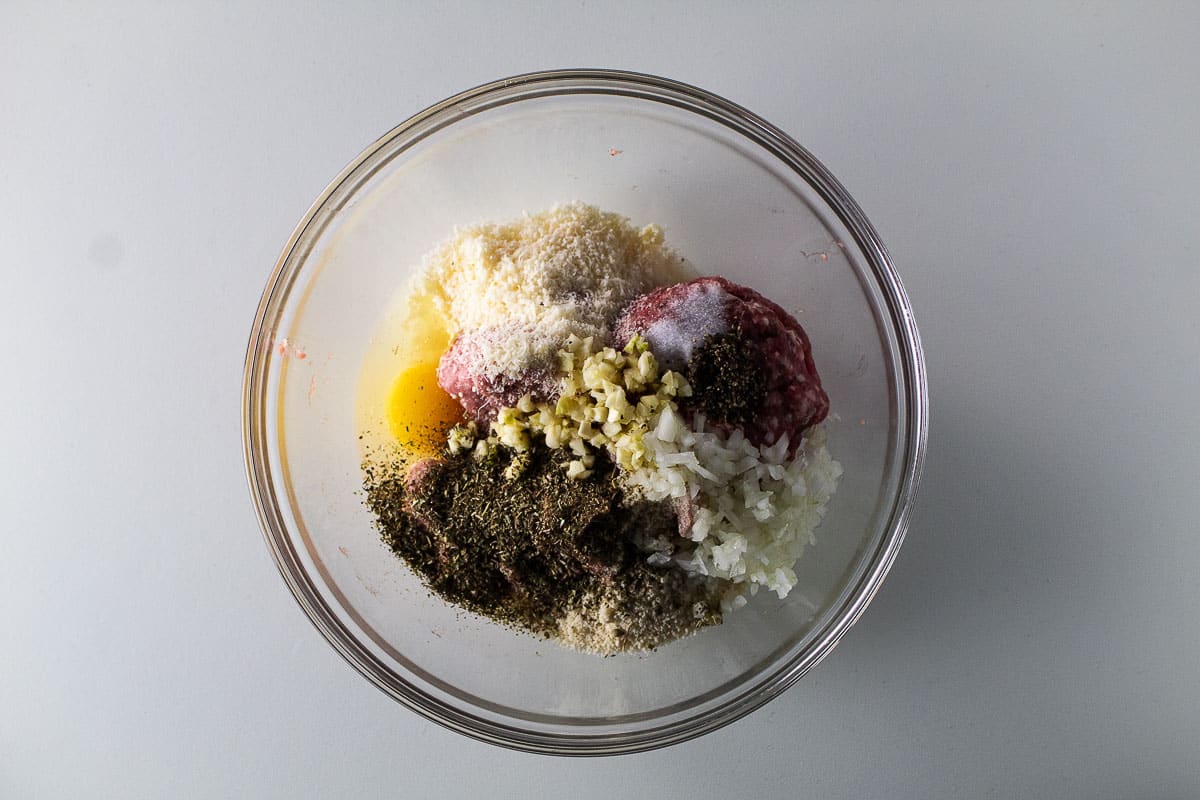 Choose a large bowl, then add all ingredients to the bowl, and mix to combine. Use your hands or a spatula to gently mix and avoid overmixing.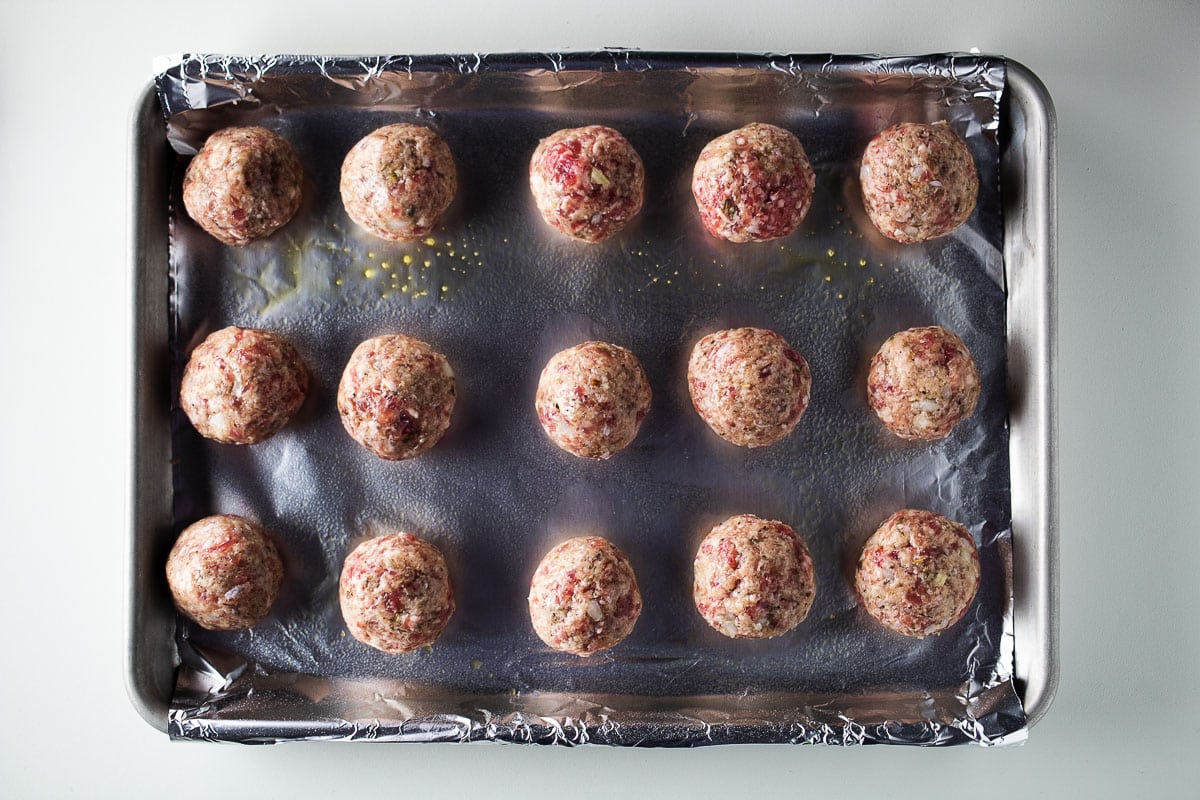 Line a baking pan or tray with aluminum or parchment paper, then spray with cooking spray. Then, form the balls and place them on the baking pan. Then, bake at 350 degrees for 15 minutes.
Hint: To ensure that the meatballs hold their shape, place them in the refrigerator for 30 minutes prior to baking.
Variations
Do you want to liven up these meatballs with your own flair? We've got you! Below you'll find some ideas, including cheese, sauces, and even cooking methods to help you add a fresh spin while keeping them low carb.
Cheese – Add a cube of mozzarella to the middle of each meatball for a gooey surprise.
Pesto – For a herby finish, pesto is a good choice.
Mushrooms – Add an umami flavor to your meatballs with your favorite fungi.
Sun-Dried Tomatoes – Enhance them with a zesty and sweet flavor.
Grilled or Smoked – Using your electric grill or smoker, you can add a touch of smokiness.
Poach – Instead of baking them in the oven, poach them in vegetable or chicken broth for added moisture and flavor.
Storage
You'll want to make sure that your meatballs stay nice and juicy when storing. Here's how to do it. First, make sure that you cool them completely. This will ensure they don't get soggy. Next, place them in an airtight container.
Use parchment or wax paper between stacked layers to prevent them from sticking. Finally, if storing them in a sauce, be sure they are completely covered.
Top tips
Avoid overmixing! Doing so results in tough meatballs that aren't very appetizing.
FAQ
How Do You Keep Meatballs From Falling Apart?
There are a number of reasons your meatballs might fall apart. For one, you need a binder such as eggs, breadcrumbs, or almond flour. In addition, avoid overmixing, ensure meatballs are uniform in size, and refrigerate before cooking.
Is Ground Turkey Okay for Keto?
As ground turkey contains zero carbs, it's a great choice for a keto, Atkins, or low-carb diet.
Is Ground Turkey Healthier Than Beef?
Ground turkey is generally thought to be healthier than beef as it contains less saturated fat.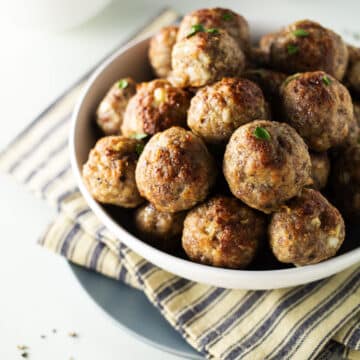 Low-Carb Meatballs Recipe
These turkey and sausage meatballs are easy, low-carb, keto-friendly and just plain delicious.
Ingredients
1/2

Pound

Ground Turkey

1/2

Pound

Italian Sausage

6

Tbsp

Parmesan Cheese

Grated

7

Tbsp

Almond Flour

1

Large Egg

2

Tsp

Italian Seasoning

3

Garlic Cloves

Minced

1/4

Cup

Onion

Minced

1/2

Tsp

Black Pepper

1/4

Tsp

Salt
Instructions
Preheat oven to 400 degrees. Line a baking sheet with foil and spray with cooking spray.

In a medium bowl, combine ground turkey, Italian sausage, parmesan cheese, almond flour, egg, Italian seasoning, garlic, onion, salt, and pepper. Mix just until combined. You don't want to overmix.

Shape about 1 1/2 tablespoons of the mixture into balls and place the baking sheet. You will have about 20 meatballs.

Bake until browned, about 15 minutes (an internal thermometer should read 165 degrees).
Notes
Store in an airtight container in the fridge for up to 4 days.
Reheat meatballs in your favorite sauce in a sauce pot. This will prevent them from getting dried out when reheating.
You can freeze the cooked meatballs in an airtight container for up to 3 months. 
If the mixture is too wet, you can add a little more parmesan or almond flour. I recommend a tablespoon at a time. 
Nutrition
Calories:
284
kcal
Carbohydrates:
9
g
Protein:
25
g
Fat:
18
g
Saturated Fat:
4
g
Polyunsaturated Fat:
1
g
Monounsaturated Fat:
2
g
Trans Fat:
0.01
g
Cholesterol:
86
mg
Sodium:
670
mg
Potassium:
272
mg
Fiber:
3
g
Sugar:
3
g
Vitamin A:
186
IU
Vitamin C:
15
mg
Calcium:
149
mg
Iron:
6
mg