This list of 22 healthy ground beef recipes from creative food bloggers will change the way you look at everyone's favorite minced meat.
You'll find tasty, veggie-filled midweek meals bursting with vibrant flavors like Mexican zucchini skillets, ground beef and broccoli, and bacon cheeseburger salad. You're going to love them!
Let's dive in!
(By the way, if you like this list, you'll love these ground beef pasta recipes.)
Mexican Zucchini Skillet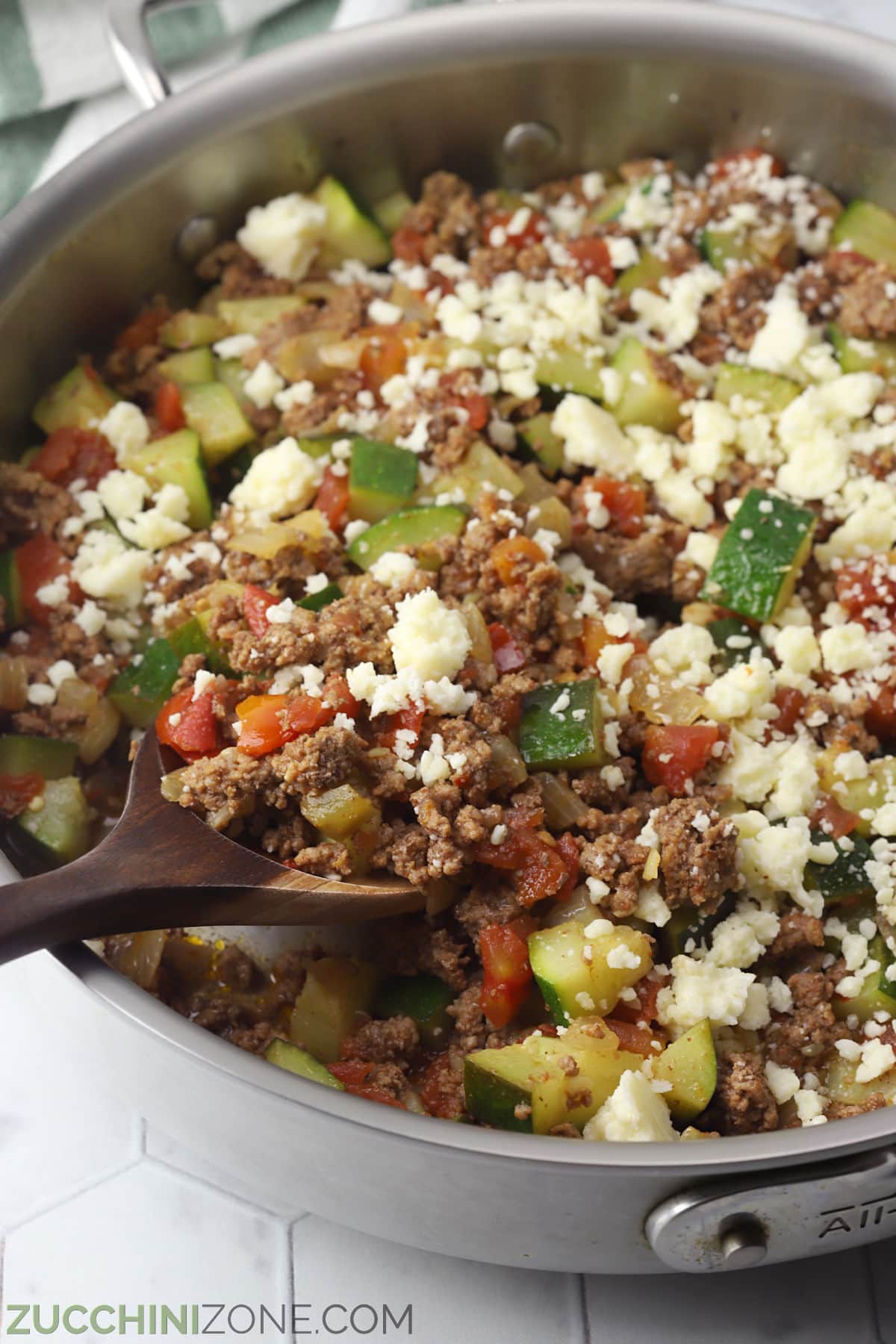 Healthy, easy, and delicious, all in the same pan? Yep, that's what you'll get with this hearty ground beef one-pan meal from Heather of Zucchini Zone. It's energizing with squash, tomatoes, onions, chiles, and b6-rich ground beef. Plus, it's ready in less than 30 minutes, including chopping your vegetables and browning the meat. We tried it, and it is perfect for weeknights!
Visit Zucchini Zone for the recipe.
Beef Cabbage Soup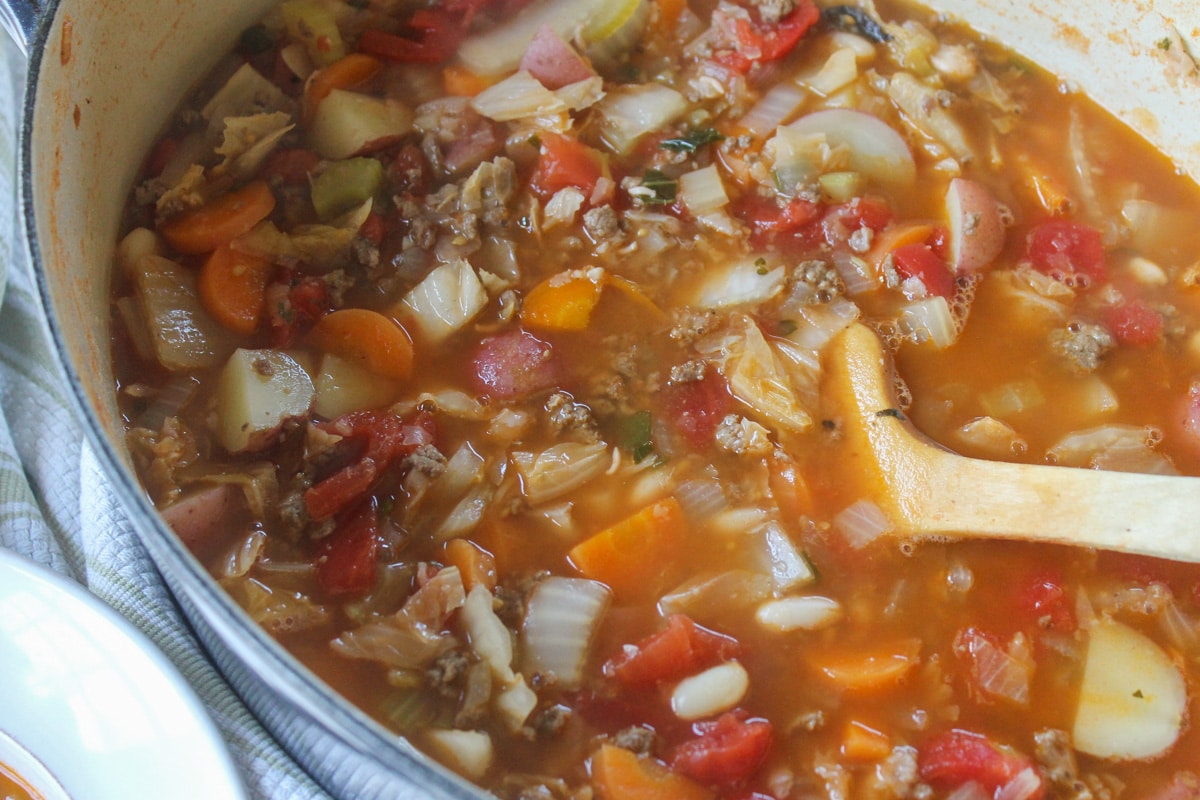 In the heart of winter, it doesn't get more comforting than chunky soups like this beef cabbage soup from Meryl of Sungrown Kitchen. Let's see. It's substantial with carrots, celery, onions, potatoes, onions, beans, and tomatoes. Oh, and then there's the aromatics, garlic, parsley, and onions for a big flavor. You're going to feel so good after a big bowl!
Visit Sungrown Kitchen for the recipe.
Keto Ground Beef Casserole with Cabbage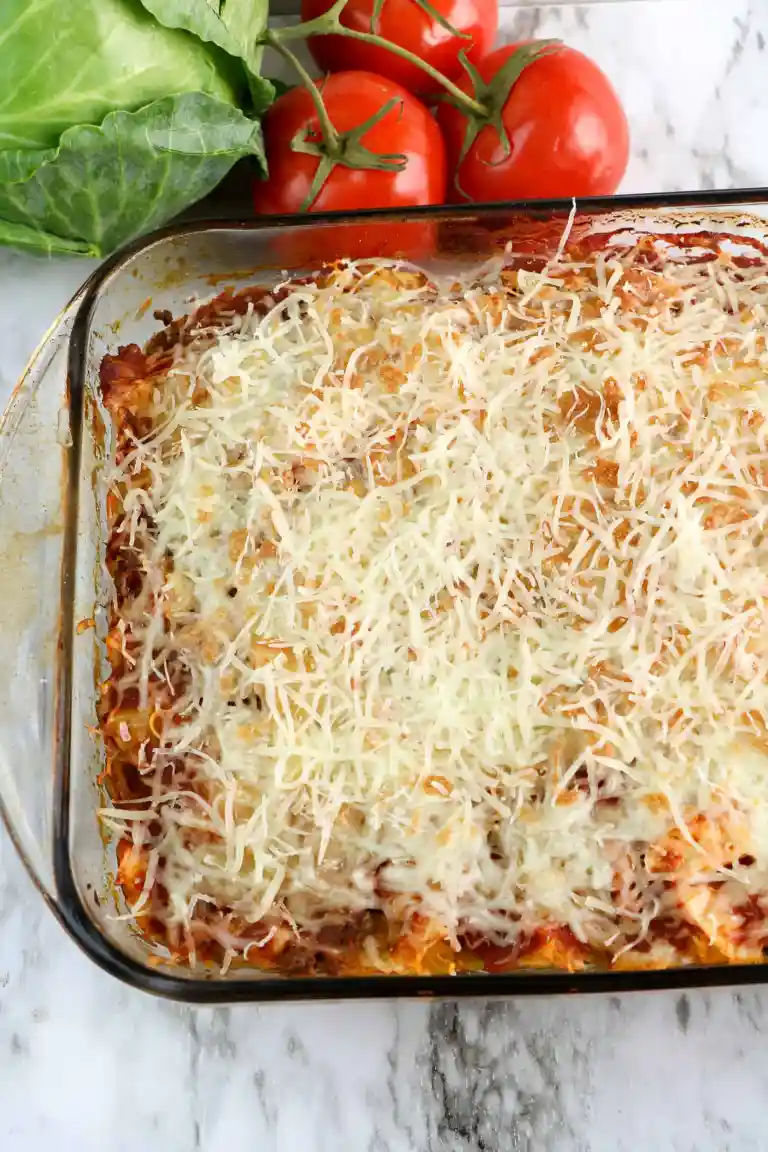 If you're counting carbs for weight loss and health goals, this keto beef and cabbage casserole from Angela of Marathons & Motivation is on your weekly menu. It's mostly comprised of cabbage, mozzarella, tomato sauce, and of course, ground beef. But there's also a bunch of flavor with the ground sage, dried dill, and thyme. You'll have it ready for the oven in 20 minutes; from there, it takes just 35 minutes to bake.
Visit Marathons & Motivation for the recipe.
Ground Beef & Broccoli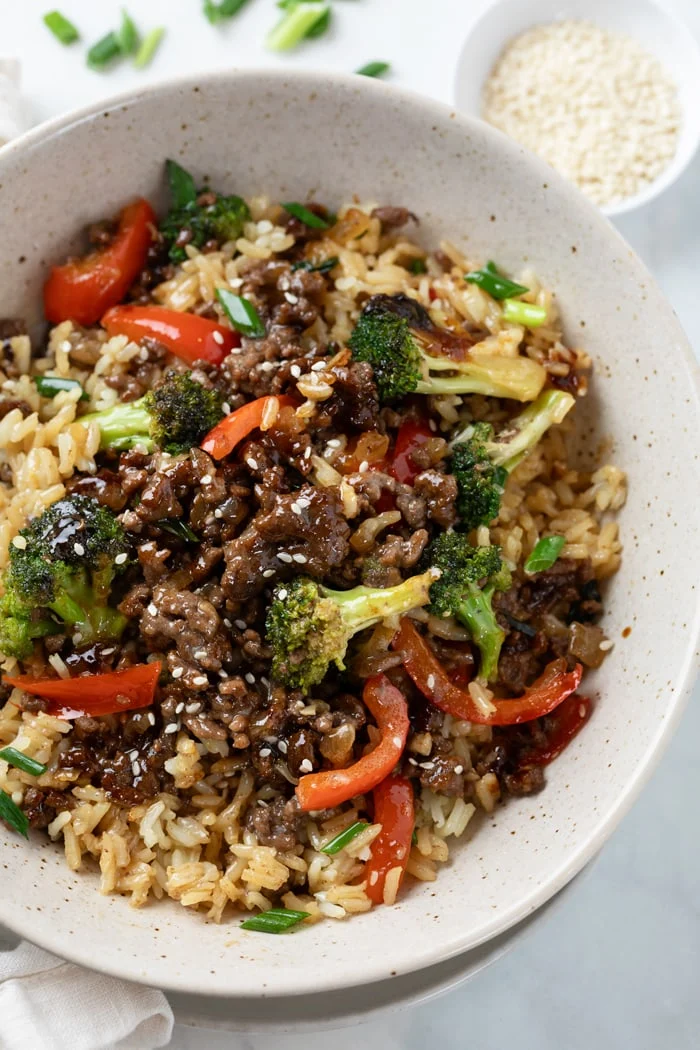 Stephanie, The Cozy Cook, is all about easy and inexpensive meals the whole family will love. So, this Chinese restaurant-inspired ground beef and broccoli with red bell pepper, onions, and sauce certainly fit that theme. Let's talk more about that sauce for a moment, shall we? It's a tempting concoction of beef broth, ground ginger, brown sugar, garlic, soy sauce, and other ingredients.
Visit The Cozy Cook for the recipe.
Ground Beef Vegetable Soup
This ground beef vegetable soup from Anya of Prepare & Nourish is perfect for cool weather and low-carb dieting. But don't worry. It's not just a tasty and nutrient-dense offering. Instead, it's a satiating soup with ground beef, green beans, bell peppers, carrots, and spinach. So, after a big ole bowl of this stuff, you'll feel full, energized, and ready to tackle the next item on your to-do list.
Visit Prepare & Nourish for the recipe.
Bacon Cheeseburger Salad
If you define healthy as reducing simple carbs, then this bacon cheeseburger salad from Nicole of Fresh Apron has your name written all over it. There's no bun, so this burger is low, low-carb. Instead, you'll find browned ground beef well seasoned with paprika, garlic, and onion powders. And to round out this cheeseburger representation, there's also cheese, pickles, lettuce, and bacon.
Visit Fresh Apron for the recipe.
Ground Beef And Tomato Soup
When you Slow The Cook Down, you'll find plenty of easy, healthful weeknight-appropriate meals with no stress, like this ground beef and tomato soup. Betty says it's a "…healthy way to tuck into some comfort food…" But tomato and ground beef is just the tip of the iceberg. So, you'll find onion, bell peppers, carrots, and an army of flavor from Worcestershire sauce, Italian seasoning, and garlic.
Visit Slow The Cook Down for the recipe.
Hummus And Beef
This hummus with beef recipe from The Salt And Sweet is a versatile Lebanese dish. So, have it as a snack, side, or even a meal. And when it comes to the flavor, it's a humdinger! You season the beef with cinnamon, onions, and black pepper. At the same time, the hummus mixes chickpeas, lemon juice, tahini paste, and garlic. Oh my!
Visit The Salt And Sweet for the recipe.
Easy Slow Cooker Chili
If you're looking for the highest return of flavor for your time commitment, it doesn't get much better than this easy chili recipe from Barley & Sage. It's so darn hearty. What with four kinds of beans, bell peppers, corn, and that's not all! But best yet, after 20 minutes of prep, you throw everything in the slow cooker. Then, when you return home, the intoxicating aroma will welcome you at the door.
Visit Barley & Sage for the recipe.
Meatloaf Muffins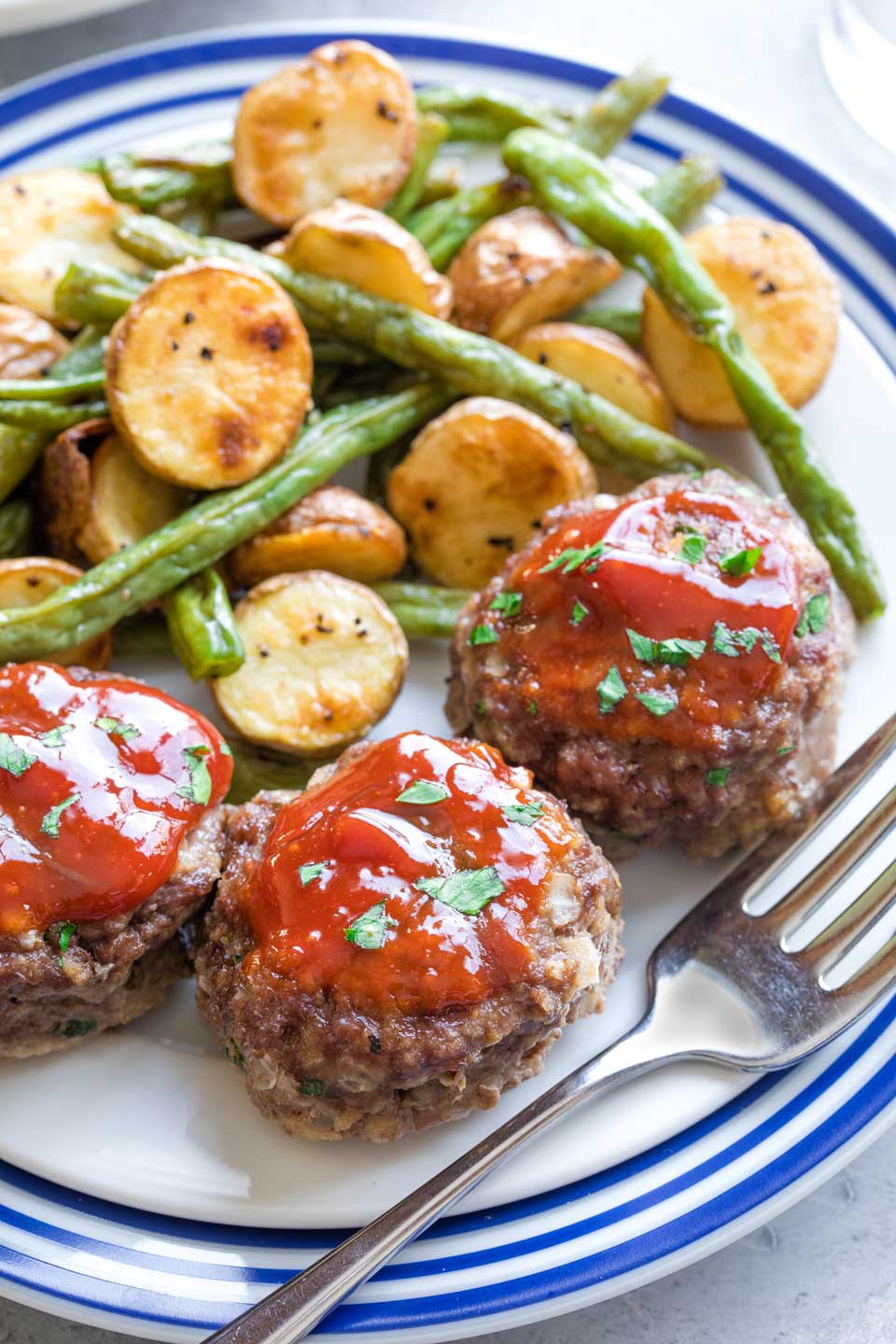 One of the best things about these little meatloaf mounds from Shelly of Two Healthy Kitchens is that they are great for making ahead. Plus, with a few simple swaps and alterations, Shelley made this meatloaf healthier than the meal prep company she once worked for. For example, she uses much leaner ground beef (even leaner than ground turkey), and her recommended portions are much more, well, reasonable.
Visit Two Healthy Kitchens for the recipe.
Low-Carb Keto Lasagna
Cutting back on excessive carbs is easier than ever, thanks to carb replacements like Crepini Egg Thins. That's what Angela of The Short Order Cook uses in place of traditional noodles for this keto-friendly lasagna. But, of course, it's still all the same great taste you love, like parmesan, ricotta, mozzarella, and tomato sauce. It's just lightened up a bit.
Visit The Short Order Cook for the recipe.
Mexican Picadillo With Potatoes
This Mexican picadillo from Maricruz Avalos is a rich and flavorful stew that's the utmost in comfort food. And even including the salt and pepper, it's but a 10-ingredient recipe including garlic, cumin, and onion. So you know it's brimming with flavor! You'll take just 10 minutes to prep everything before cooking for 30 minutes. Then, serve it over rice and with corn tortillas. It'll disappear.
Visit Maricruz Avalos for the recipe.
Ground Beef And Gravy Recipe
Gavin makes Recipes For Men, like this simple ground beef and gravy. So, you've got the ground beef, but there are also carrots, onions, and peas. That gravy is so savory with Worcestershire, hp sauce (the Uk's equivalent of A1 sauce) for starters. Serve it with mashed potatoes, and you have a dinner worth repeating.
Visit Recipes For Men for the recipe.
Baked Stuffed Bell Peppers
This recipe from Nataliia of Sava's Kitchen has you stuff bell peppers with rice, ground beef, and carrots. But not before they get a seasoning upgrade with parsley, thyme, paprika, and onions. It's a delightful meal filled with nutrient-dense ingredients and Ukrainian inspiration.
Visit Sava's Kitchen for the recipe.
Lebanese Hushweh Rice (Spiced Rice with Meat and Pine Nuts)
Not only is this Lebanese spiced rice and ground beef dish from Samantha of Little Ferraro Kitchen a delicious explosion of flavor, but it's also beautiful. Its presence will captivate your senses.
The cinnamon, garlic, cumin, allspice, and nutmeg will fill the air with an exciting scent, while the orange and green color from the toasted pine nuts and fresh herbs is visually appealing. Yes, this traditional Lebanese meal may be exotic to you, but it's not hard, as it takes less than an hour to make.
Visit Little Ferraro Kitchen for the recipe.
Linguine Bolognese
Gen of Two Cloves Kitchen knew it was a good idea to make a healthier version of bolognese. We certainly endorse the proposition! While the original is delicious, this one is tasty, too, and contains a healthy dose of zucchini, carrots, and green bell peppers. And unlike the classic Italian meat sauce, which takes hours, this one is ready in just 35 minutes, making it perfect for weeknights.
Visit Two Cloves Kitchen for the recipe.
Italian Meatballs in Tomato Sauce
Tender, moist, and flavorful, these breadcrumb-less Italian meatballs from My Chef's Apron should become a regular part of your weekly menu. So naturally, Mariska informs you of the proper ground beef to use (this is very important). But you'll also learn why she uses a whole egg instead of just the egg yolk and how to make her irresistible (yet healthier) tomato sauce.
Visit My Chef's Apron for the recipe.
Whole30 Stuffed Acorn Squash
If you take nothing else from this stuffed acorn recipe from Mariah of Fresh Water Peaches, take this; always use high-quality ground beef. But there's so much more! This wholesome meal has the flavors of fall and winter. Apple, celery, and fresh herbs are reminiscent of Thanksgiving, but unlike Turkey day, you won't have to spend all day making it. After 15 minutes of prep, it takes just 50 minutes to bake.
Visit Fresh Water Peaches for the recipe.
Ground Beef And Sweet Potato Skillet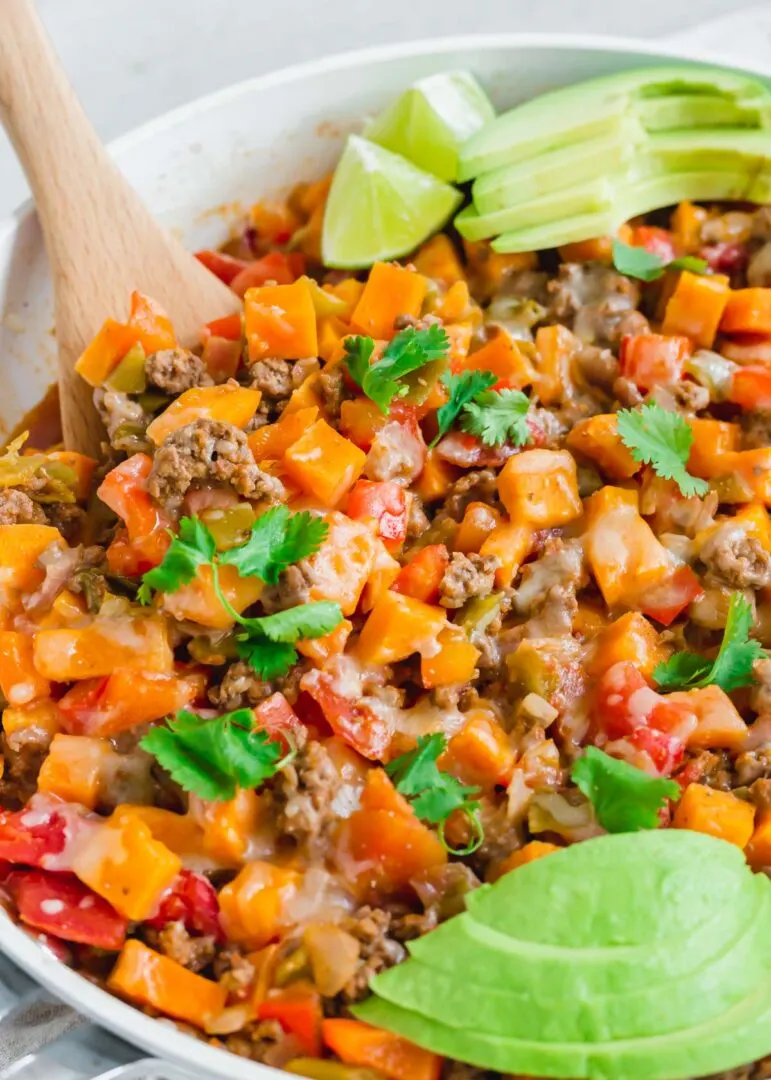 The aroma of this Southwestern ground beef and sweet potato skillet will have the whole family Running To The Kitchen. But you'll find discover more than beef and sweet potatoes. It's a nutrient-rich one-pan meal with lots of onions, tomatoes, bell peppers, cheese, and even avocado. Wow! If that's not a 30-minute meal, you can be proud to serve your family. What is?
Visit Running To The Kitchen for the recipe.
Easy Burrito Recipe
With appropriate portions, this easy burrito recipe from Jen of Sims Kitchen can be a healthy and delicious part of your diet. It's a complete and convenient meal that'll keep you full, like ground beef, tortillas, and cheese. In addition, you'll get lots of nutrition from avocados (monounsaturated fats), tomatoes, and greens.
Visit Sims Kitchen for the recipe.
Healthy Skillet Breakfast Scramble
As Sarah of Bucket List Tummy creatively puts it, this skillet breakfast scramble has all the "S's." That is, it's savory, sweet, satisfying, and salty. In addition, it's a ground beef and egg protein-packed meal filled with veggies like tomatoes and cauliflower. Perfect for breaking the fast. And at just 5 minutes to prepare and 15 minutes to cook, we'd add one more "S"; simple.
Visit Bucket List Tummy for the recipe.
Ground Beef Gyro Bowls
With a blog called Ground Beef Recipes, you can expect to find all sorts of delicious and often healthy recipes featuring everyone's favorite minced meat. Indeed, this bowl of colorful nutrition from Courtney fits the bill. Along with beef, you'll find a medley of flavorful veggies like halved tomatoes, sliced red onions, strips of bell peppers, and zucchini medallions. Plus, there's so much flavor from garlic, banana peppers, and dried herbs.
Visit Ground Beef Recipes for the recipe.
Which Healthy Ground Beef Recipes Will You Try First?
With so many delicious and nutritious ground beef recipes on this list, it can be hard to choose one! There's a ground beef and sweet potato skillet, stuffed acorn squash, ground beef, and broccoli, plus so many more! So, what will it be? Let us know!