Today you'll learn all about bacon wrapped jalapeno popper hot dogs. It's a fusion food of sorts combining American classics: hot dogs and jalapeno peppers. And to say they are delicious would be an understatement. So we'll let the picture do what words cannot.
Jump to Recipe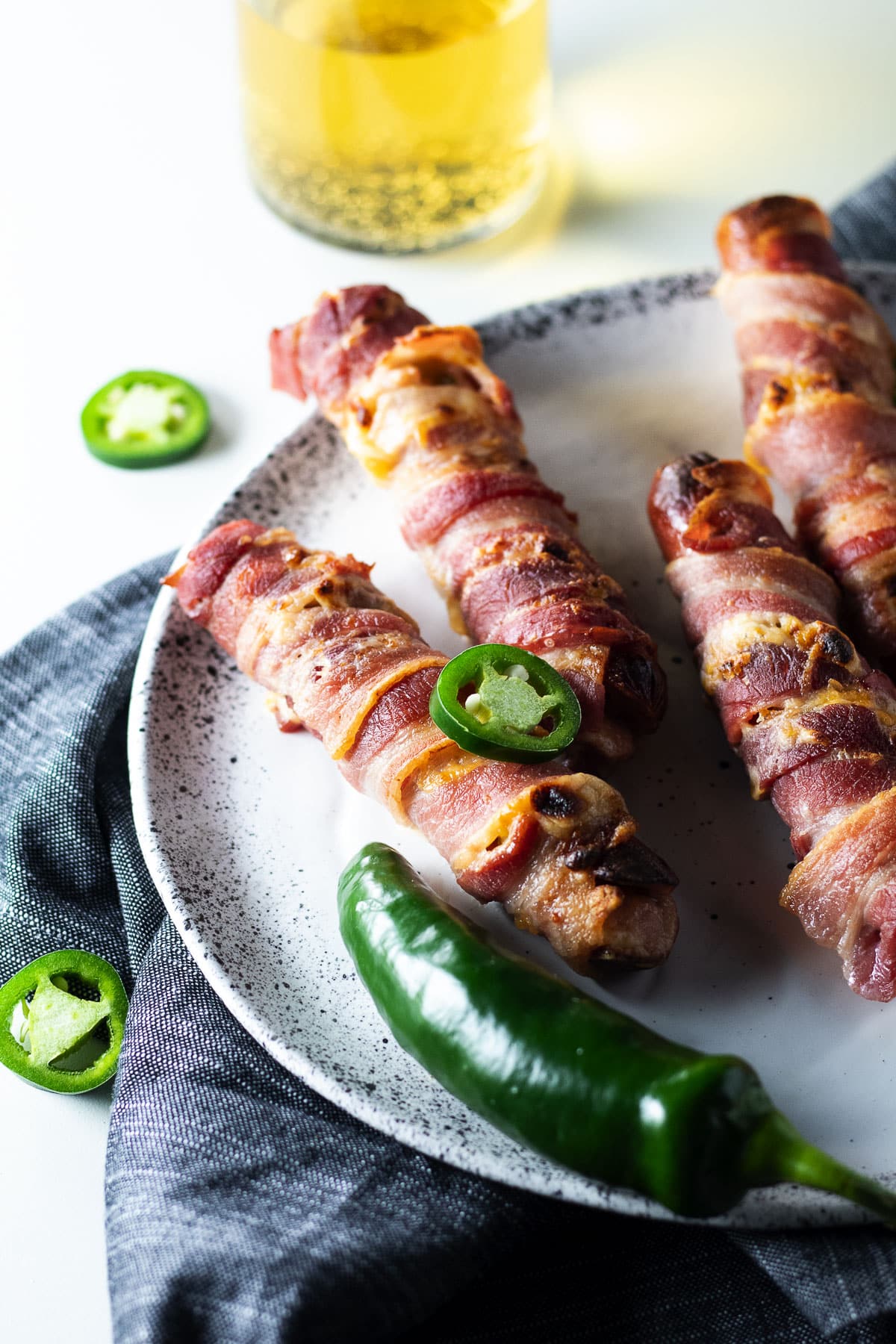 Just look at those juicy hot dogs stuffed with jalapeno popper dip and wrapped in bacon.
They're great for grilling season, game day, or even everyday snacking or appetizers. Just cut them in thirds and serve with toothpicks.
Jump to:
Ingredients
To make these delicious jalapeno popper hot dogs, we will need a few simple ingredients that can be easily found at any grocery store. Here's what you'll need: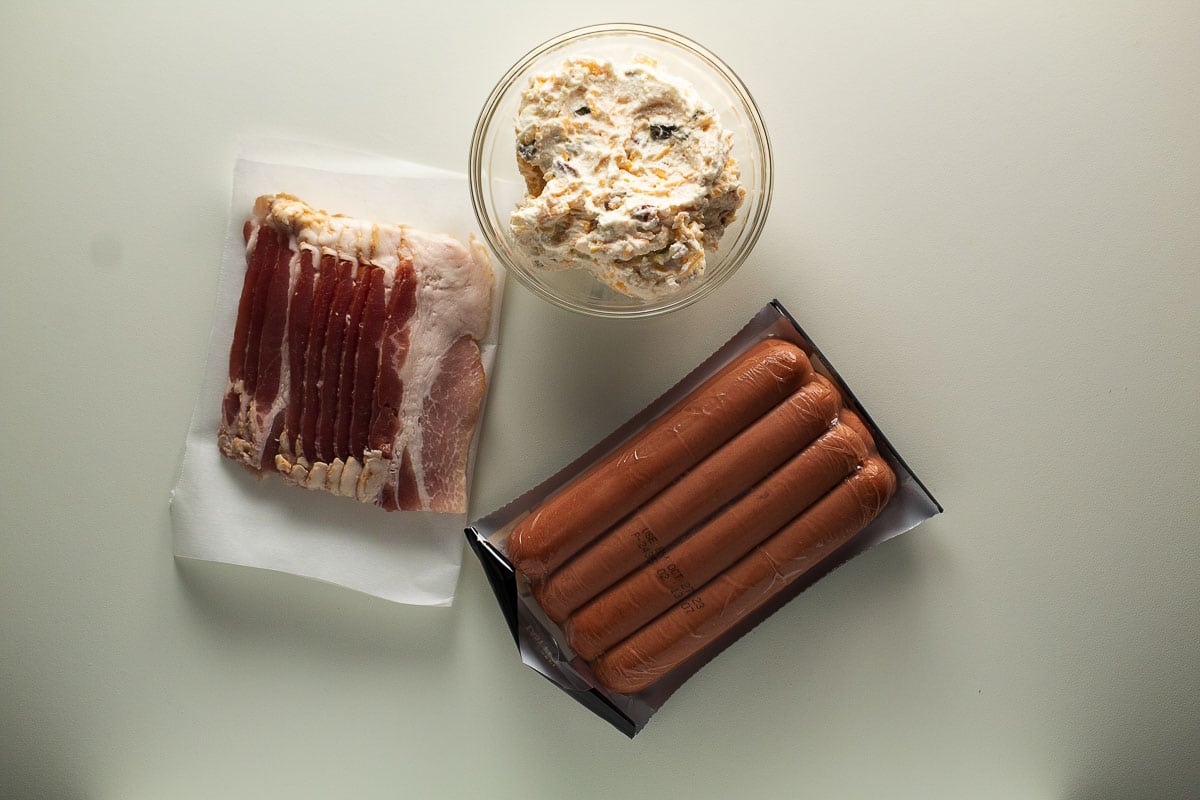 Hot Dogs – Any will do, but beef dogs are particularly flavorful.
Jalapeno Popper Dip – We used our creamy jalapeno popper dip for this recipe. It's simple to make and high in protein.
Bacon – Go for regular thick bacon. But cut it in half for easier wrapping.
See the recipe card for quantities.
Jalapeno Popper Dip
Here we provide you with our high-protein jalapeno popper dip made with cottage cheese and cream cheese as the base. It's delicious, but if you're looking for a quick recipe using only cream cheese, see below:
Classic Jalapeno Popper Dip Recipe
Ingredients:
3 tbsp Pickled jalapenos
3 slices bacon
1 cup Cheddar cheese
8 oz Cream cheese
Salt and pepper to taste
Instructions:
Allow the cream cheese to come to room temperature by sitting it out for 30 to 45 minutes.
In a bowl, add all ingredients and combine with a spatula. Salt and pepper to taste.
Instructions
Making bacon-wrapped jalapeno popper hot dogs is super simple. Below, we show you how to make them step-by-step.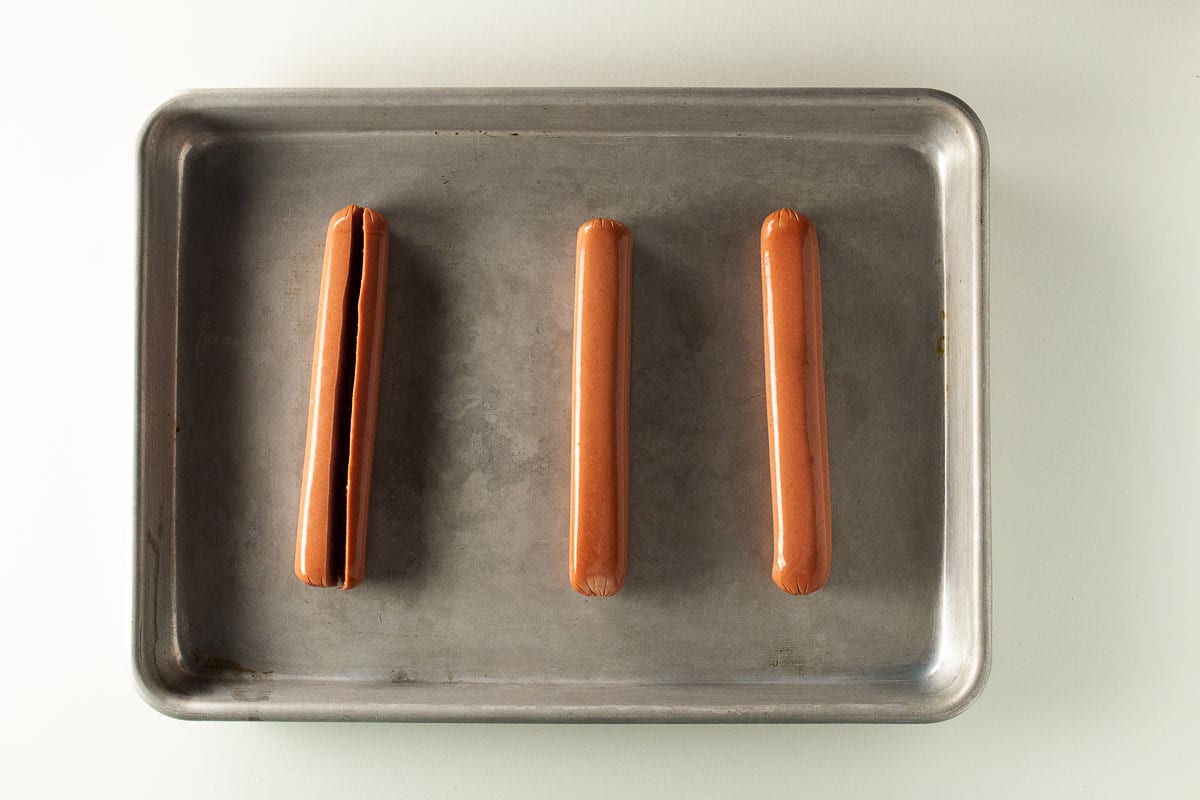 First, cut the hot dogs lengthwise, but be careful not to cut all the way through.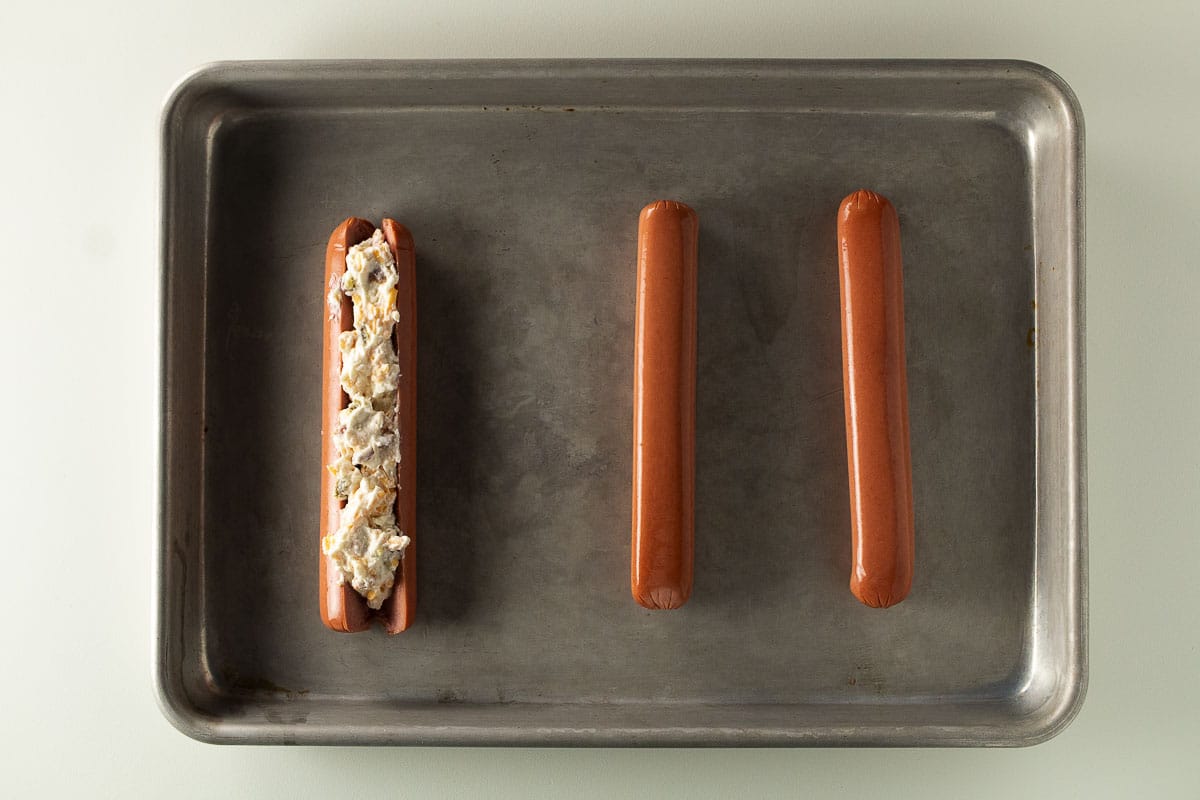 Next, stuff the hot dogs with jalapeno popper dip.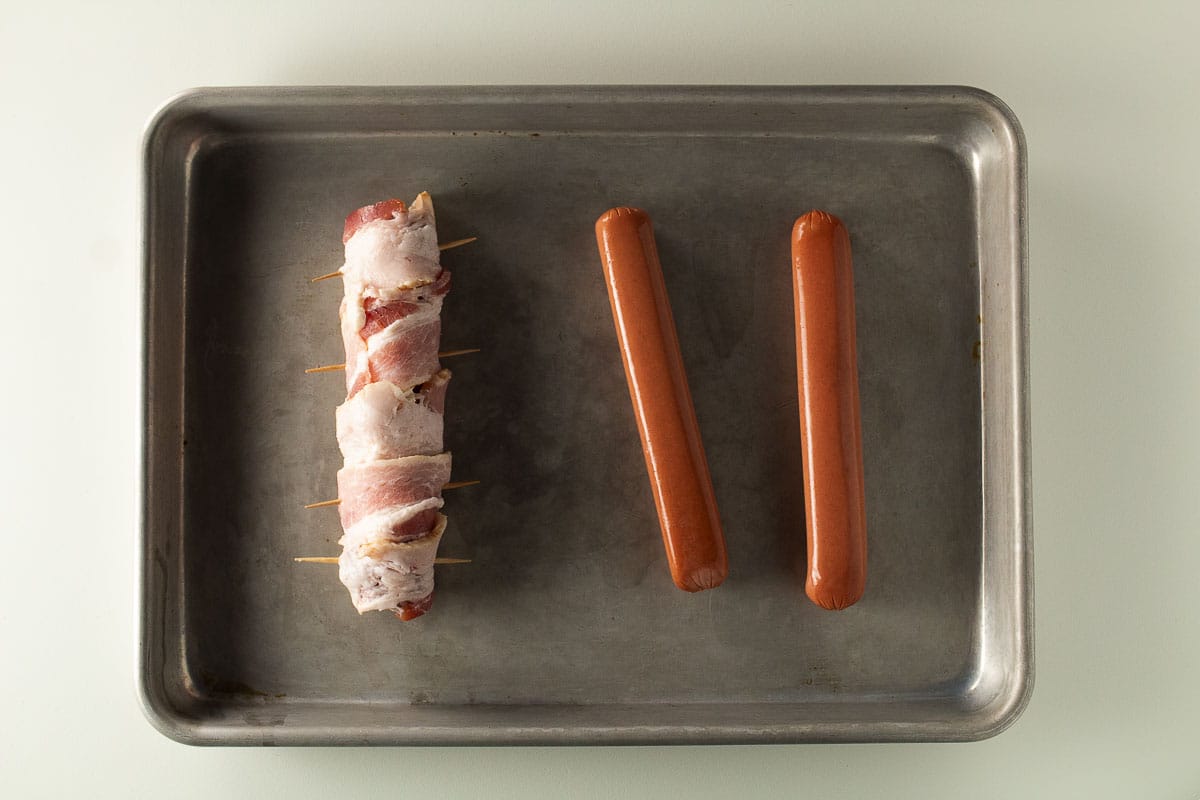 Then, wrap them in bacon and use toothpicks to hold them in place.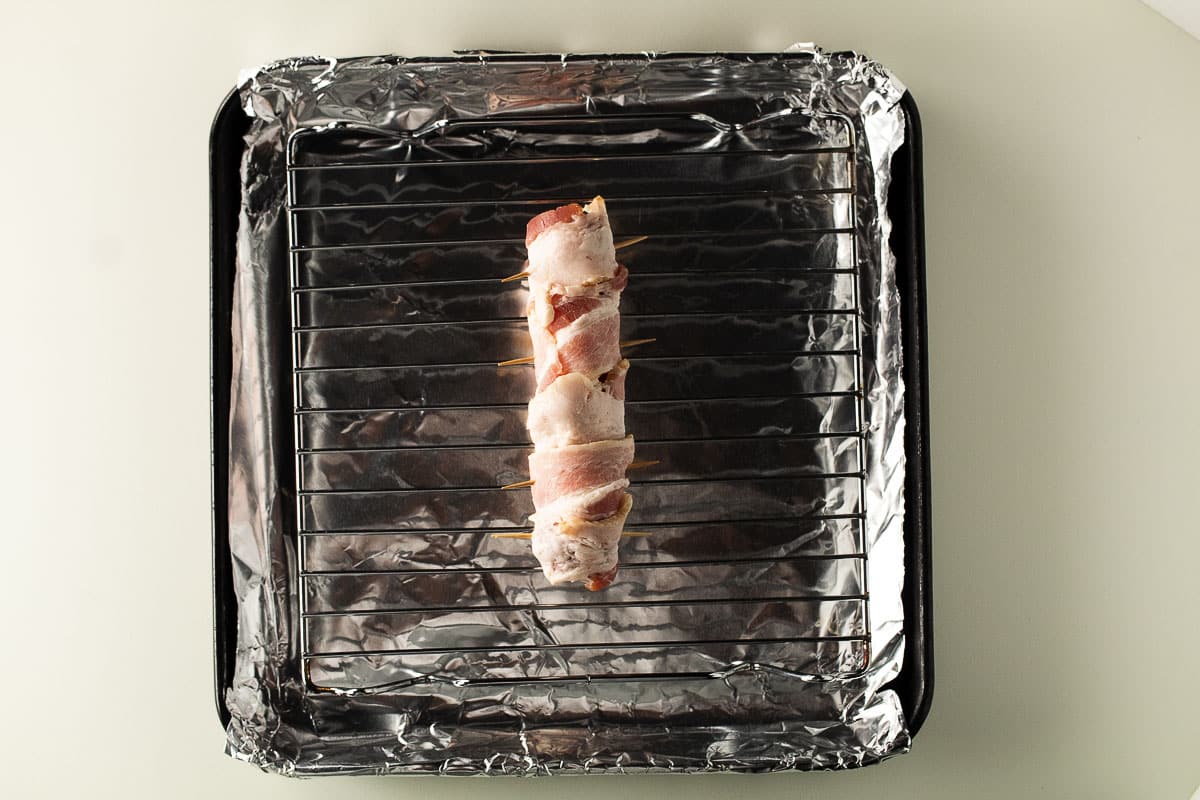 Finally, place them on a baking rack and bake at 350 degrees for 15 minutes or until the bacon is crispy.
Hint: Make sure the jalapeno popper dip is cold before stuffing the hot dogs with it.
What Goes with Jalapeno Popper Hot Dogs?
One can't survive on meat alone, so what will you make to accompany your new favorite way to hot dog? Below are some ideas to get you started:
French Fries
potato salad
onion rings
There are lots of great options out there, but you certainly can't go wrong with crispy onion rings or fries. Also, you could go with baked beans for a sweet balance to the salty hot dogs.
Other Bacon Wrapped Hot Dog Ideas
When bacon shows up on food, it's automatically the star of the show. And trust us, there's no limit to the ways you can change up your bacon-wrapped hot dogs. Below, we list some of the ways.
Chili Cheese Bacon Wrapped Hot Dogs – We deep-fried our bacon-wrapped hot dogs and topped them with cheese and chili for a hot dog experience like no other.
Hawaiian Jalapeno Popper Hot Dogs: Top your hot dog with grilled pineapple, diced jalapenos, and a drizzle of teriyaki sauce for a sweet and spicy twist.
Vegan Jalapeno Popper Hot Dogs: For a plant-based version, use a vegan hot dog and top with vegan cream cheese, diced jalapenos, and crispy fried onions.
Mexican Jalapeno Popper Hot Dogs: Top your hot dog with fresh pico de gallo, diced avocado, and a drizzle of chipotle mayo
Buffalo Jalapeno Popper Hot Dogs: Add buffalo sauce, blue cheese crumbles, and diced jalapenos to your dogs.
Storage
To store jalapeno popper hot dogs, you should first let them cool down to room temperature. Then, you can wrap them tightly in plastic wrap or aluminum foil and place them in an airtight container.
Alternatively, you can place them in a resealable plastic bag and remove as much air as possible before sealing it. Store the hot dogs in the refrigerator for up to 3-4 days.
If you want to store them for longer, you can freeze them for up to 2-3 months. When you're ready to eat them, simply reheat them in the microwave or oven until they're heated through.
Top tip
One of the best tips for making bacon-wrapped hot dogs is to use toothpicks to keep the bacon in place. Just be sure to remove the toothpicks before serving the hot dogs.
FAQ
Are homemade bacon-wrapped jalapeno popper hot dogs good for you?
While they taste delicious, they aren't the healthiest option and are best enjoyed in moderation. We make our filling with a mixture of cottage cheese and cream cheese for more nutrition.
Are jalapeno popper hot dogs high in carbs?
Without a bun, our jalapeno popper hot dogs aren't very high in carbs. In fact, with our recipe, they make for a delicious high protein snack.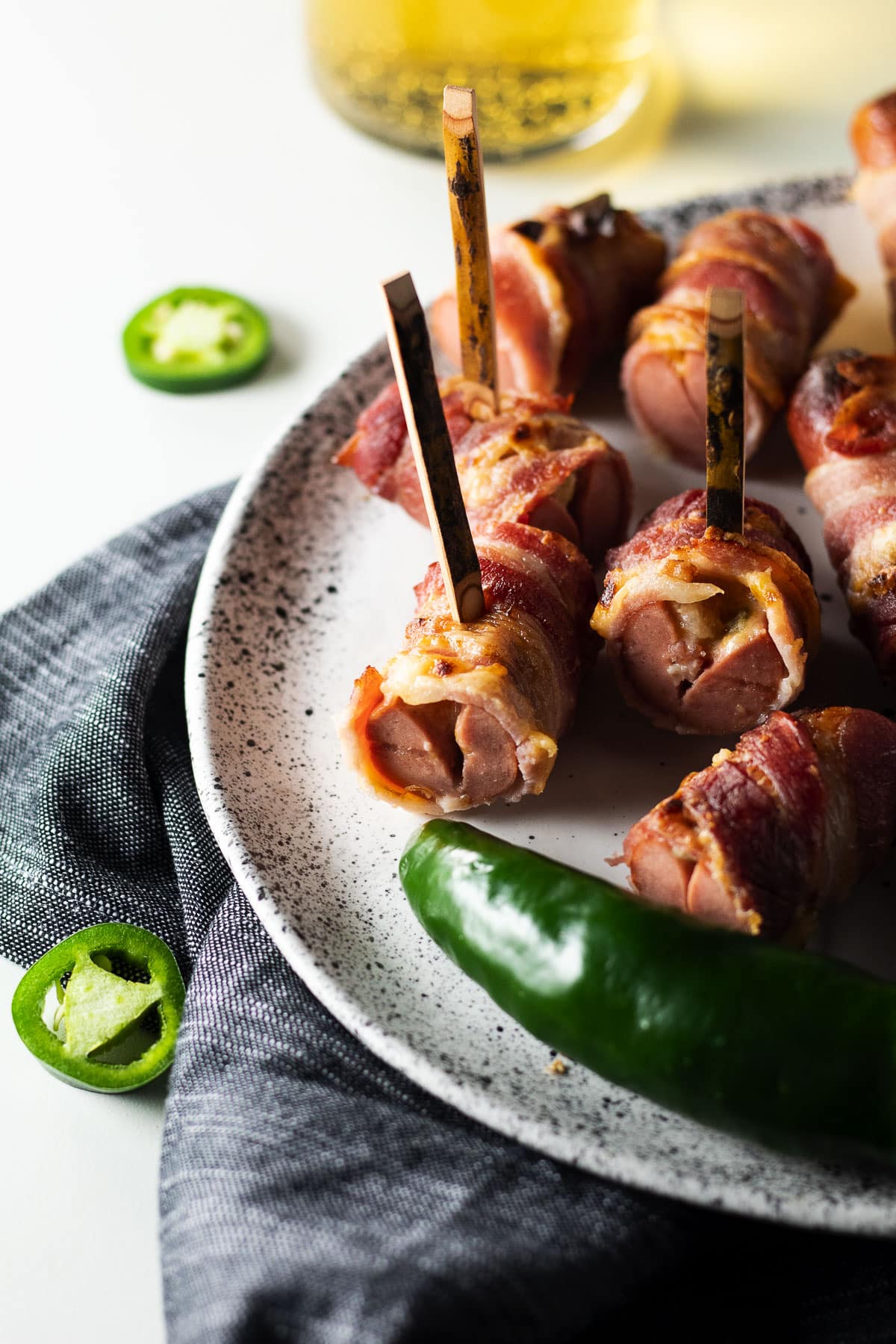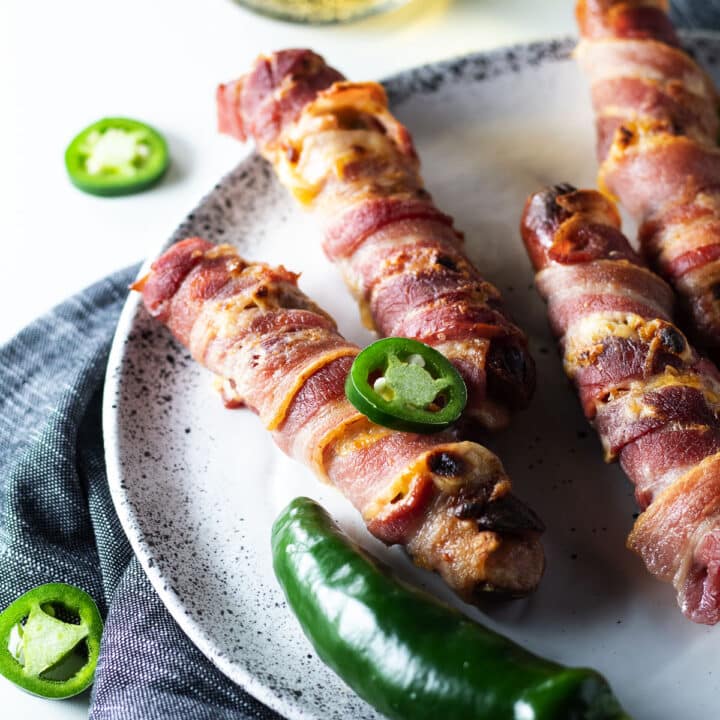 Jalapeno Popper Hotdog Recipe
If you're looking for a delicious snack, lunch, or dinner, you must try this delicious jalapeno popper hot dog recipe. It's meaty, cheesy, spicy, and oh-so tasty!
Ingredients
8

Hotdogs

8

Slices of Bacon

1

Cup

Jalapeno Popper Dip
Instructions
Preheat the oven to 400 degrees. Line a baking sheet with foil and place a baking rack over the baking sheet.

Split the hotdogs lengthwise (do not cut all the way through). Fill the hotdogs with about two tablespoons of the jalapeno popper dip. Wrap one slice of bacon around each hotdog and secure the bacon with a few toothpicks.

Place the hotdogs on the rack and back until the bacon is crispy. About 15-20 minutes.
Notes
We used all beef hotdogs, but you can use any brand you like or have on hand.
You want to use the baking rack so the bacon will crisp on all sides. 
You don't want to over-stuff the hotdogs.
These can be made in advance up to step 2 and refrigerate. Then when ready, pop in the oven and enjoy. 
I used four toothpicks to make sure the bacon was secure. This also helped keep the filling inside.