With this list of 20 High Protein Lunch Ideas, you'll discover delicious, muscle-building, energy-sustaining meals to power you through midday. And they make an excellent part of a meal plan strategy.
For example, there's the best Rotisserie Chicken Salad, Mahi Mahi Fish Sandwich, Caesar Salad with Blackened Chicken, and much more. So, are you ready to discover your new favorite High Protein Lunch Idea?
Let's dive in!
Looking for more high-protein recipes? See these high protein snacks or these low carb high protein meals.
Rotisserie Chicken Salad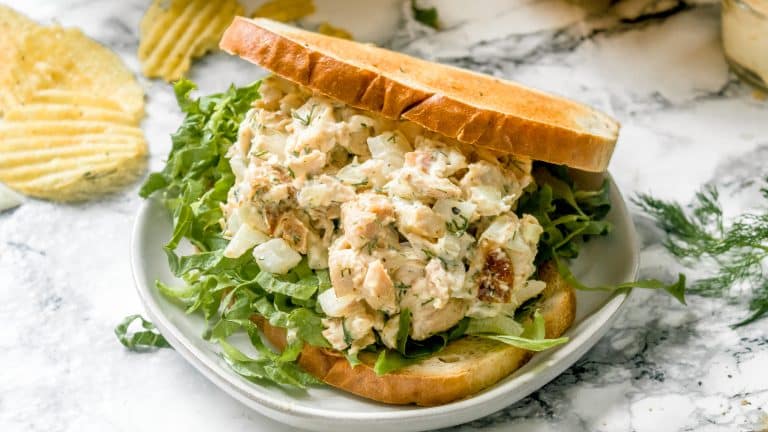 Chenée Today draws inspiration from a favorite hometown deli for this Rotisserie Chicken Salad. It's what she calls the best chicken salad she's ever had. But what makes the no-cook, six-ingredient lunch option so good? Well, for one, she's been making it for years, so you know there were tweaks here and there to get the proportions just right. Then there's a secret ingredient that ups the flavor factor.
Cheeseburger Bowl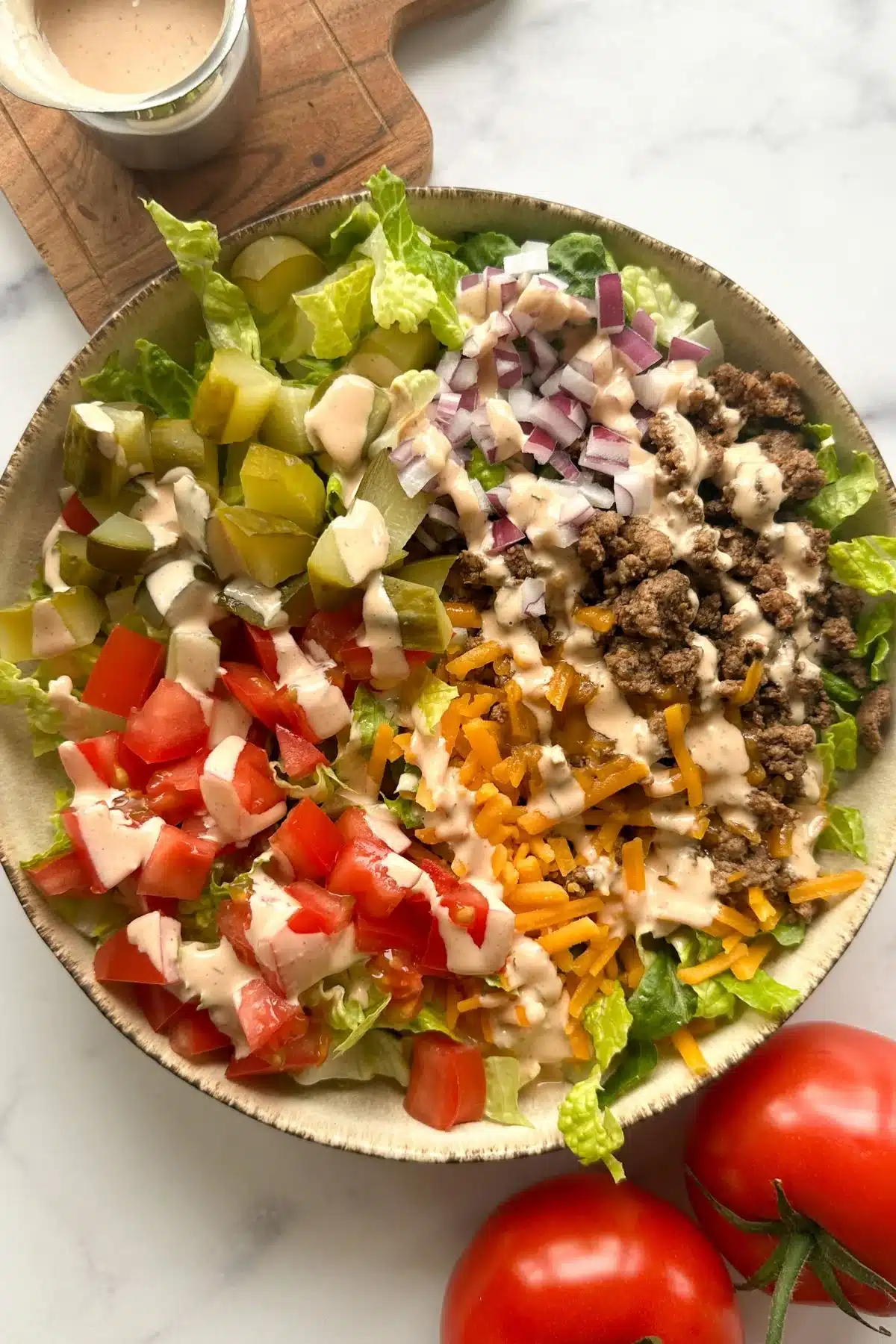 At 30 grams of protein, you'll definitely hit your protein needs with this Cheeseburger Bowl by Krista of Hello Frozen Banana. As the name implies, it's a tasty meal containing all the fixings you'd find on your favorite burger, like ground beef, cheese, lettuce, and tomato. And, of course, on top, there's a zippy burger sauce.
Spicy Tuna Sushi Bowl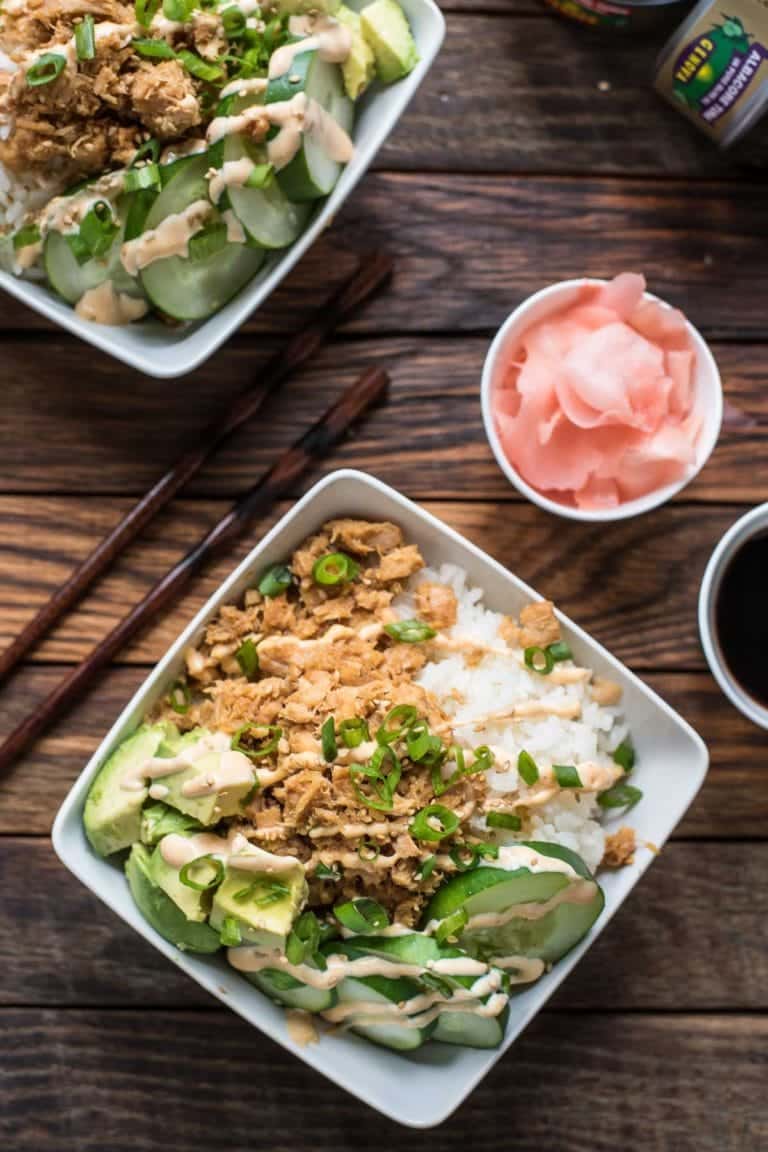 Oh boy! This Spicy Tuna Sushi Bowl by Neighbor Food Blog is like giant deconstructed sushi! Isn't that a fun way to think about it? And because it utilizes common, recognizable ingredients instead of raw fish, it's a great introduction to sushi. So let's see. The base is white rice. But then it gets exciting with high-quality tuna (albacore) seasoned to the max with minced garlic, ginger, soy sauce, and more. And finally, add your diced avocado and fresh cucumber slices.
Kale Salad with Quinoa and Steak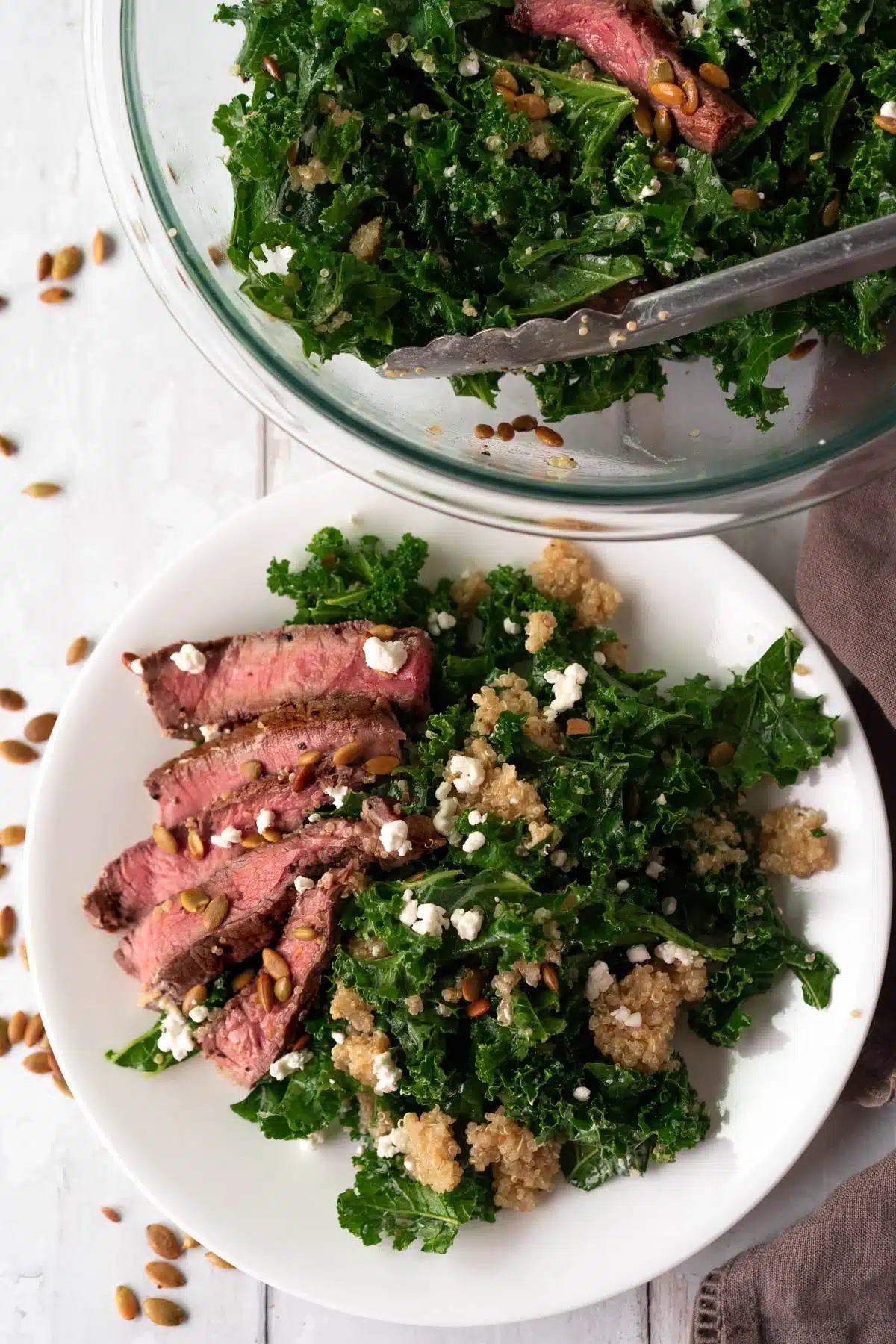 Chelsea is a registered dietician food blogger showing you how to make delicious meals that taste good and make you feel good. So this Kale Salad with Quinoa and Steak makes for an exciting yet nutrient-rich lunch or dinner recipe. But Chelsea also packs some excellent cooking skills. She'll teach you how to sear an immaculately juicy steak without a grill.
Buffalo Chicken Wrap
While you can find buffaloed versions of all manners of foods, this Buffalo Chicken Wrap by Dana of Killing Thyme keeps all the elements of the original bar food. So that means you'll find celery and carrots in the wrap, served with blue cheese dressing. And each bite is flavorful with buffalo sauce drenched shredded chicken. Are you drooling?
Mahi Mahi Sandwich
Lisa of Garlic & Zest will have you yearning for a vacay to the Florida Keys with this Grilled Mahi Mahi Sandwich. It's a fish that goes by many names, but it's delicious no matter what you call it. It has a mild flavor, so even those picky eaters that are kind of "whatever" about fish will love it. For this recipe, Lisa keeps it simple, seasoning it with salt and pepper (cajun seasoning works, too) and dressing it with tartar sauce, lettuce, and tomato.
Sausage and Bok Choy Grain Bowl with Creamy Tahini Dressing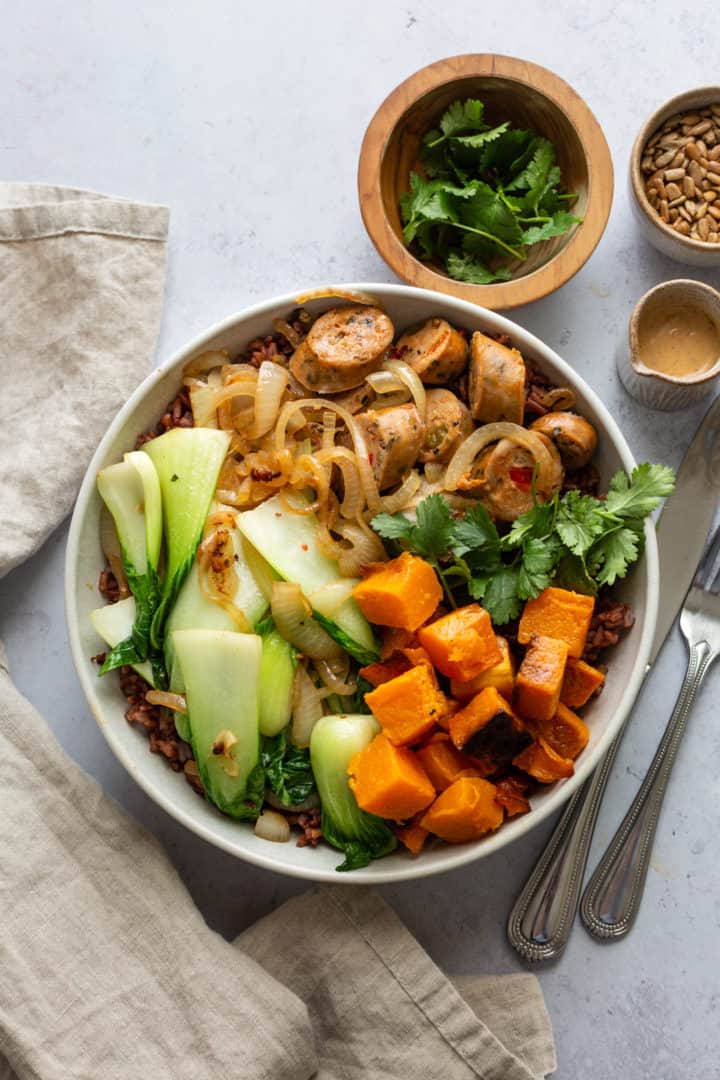 Satisfy your Seasonal Cravings with this Sausage and Bok Choy Grain Bowl with Creamy Tahini Dressing recipe. It's a nutritious yet soul satisfying bowl of yumminess. Just, for a moment, take in the colors. The green bok choy, orange squash, and bright green cilantro leaves. The chicken sausage will satisfy your protein needs and the tahini sauce brings it all together. But best of all, with a bit of prep, it takes less than 30 minutes for easy weekday lunches.
Copycat Chipotle Barbacoa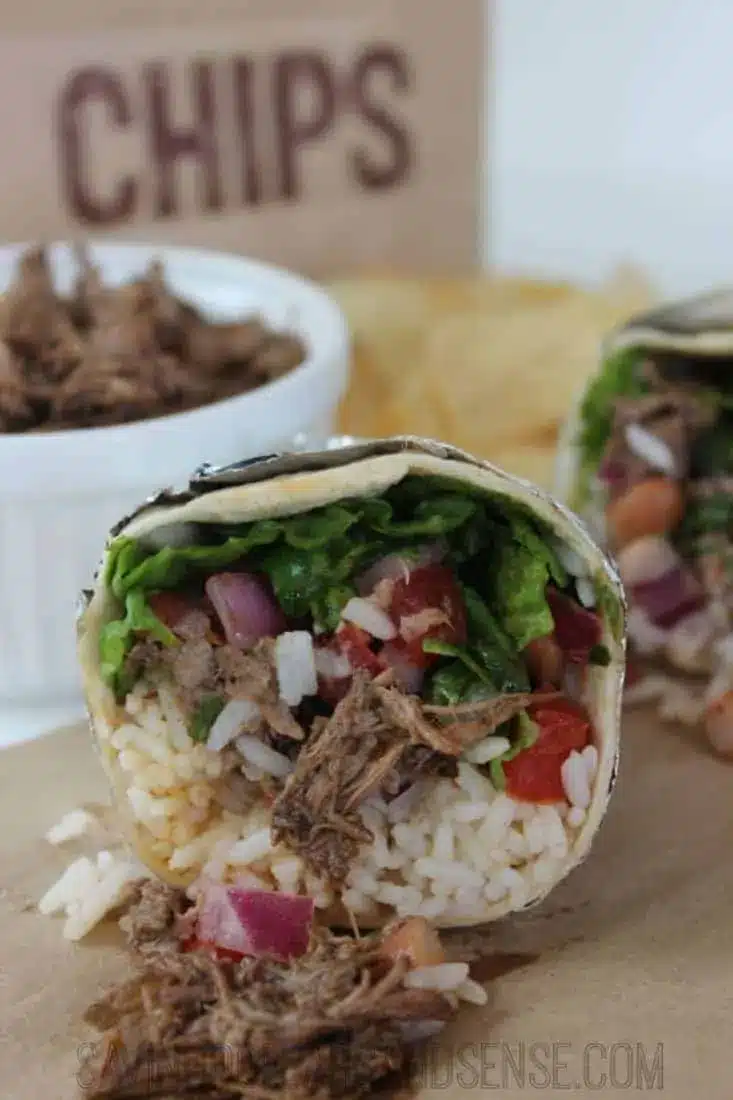 If you're anything like Kristie of Saving Dollars And Sense, you need dinner or lunch to be easy (otherwise, fast food starts sounding very attractive). And if you can make it in the slow cooker like this Copycat Chipotle Barbacoa, all the better. It's a meal brimming with the flavors of beef roast, garlic, cumin, oregano, and chipotle peppers. So, while it makes for a tasty dinner, you'll enjoy the leftovers as lunch for days.
Seafood Salad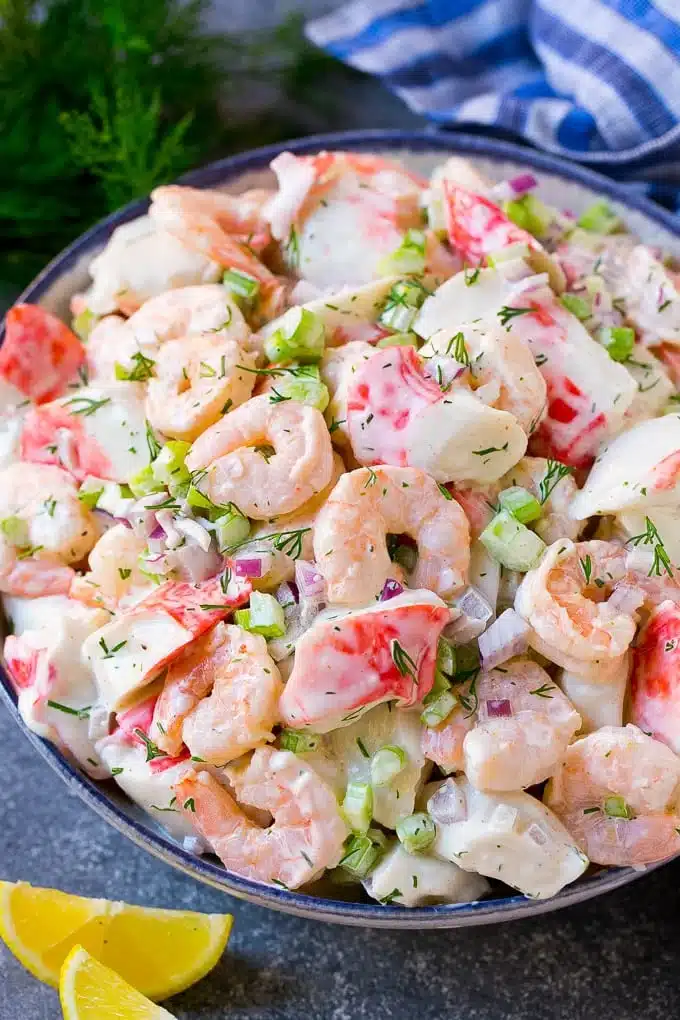 Tasty is good for high-protein lunch recipes, but the time commitment is worthy of equal consideration. Luckily recipes like this Seafood Salad by Sara of Dinner At The Zoo are an exacta of sorts. It's a mixture of shrimp, imitation crab, celery, and onion slathered in an irresistibly creamy dill dressing.
Salmon Teriyaki Bowl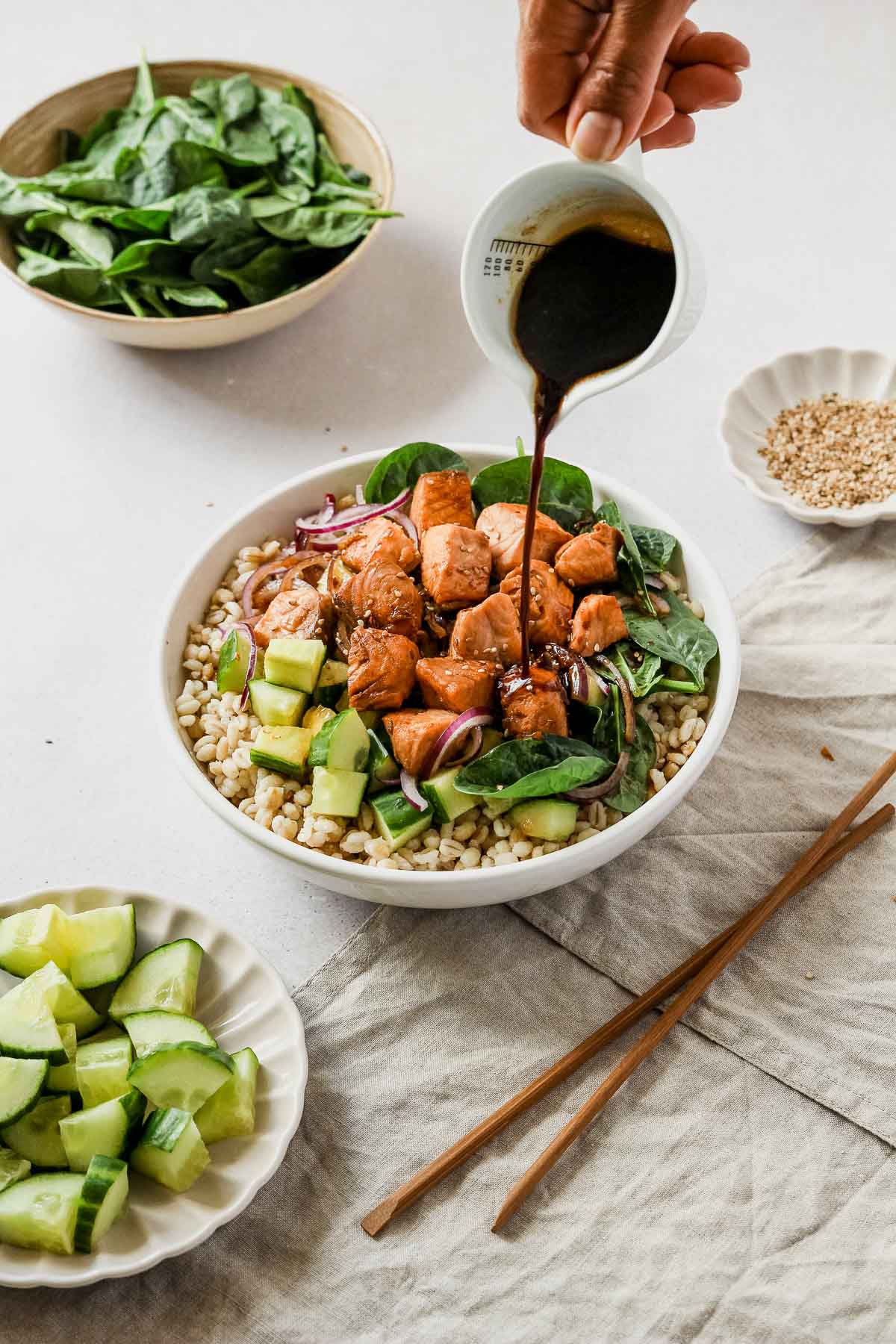 This Salmon Teriyaki Bowl by Yvonne of Encore & More is as nourishing as it is appetizing. Generous chunks of salmon crown a bowl filled with cucumber, spinach, and barley (or brown rice). And because knows that time is of the essence, she recommends premade teriyaki sauce.
Tempeh Bahn Mi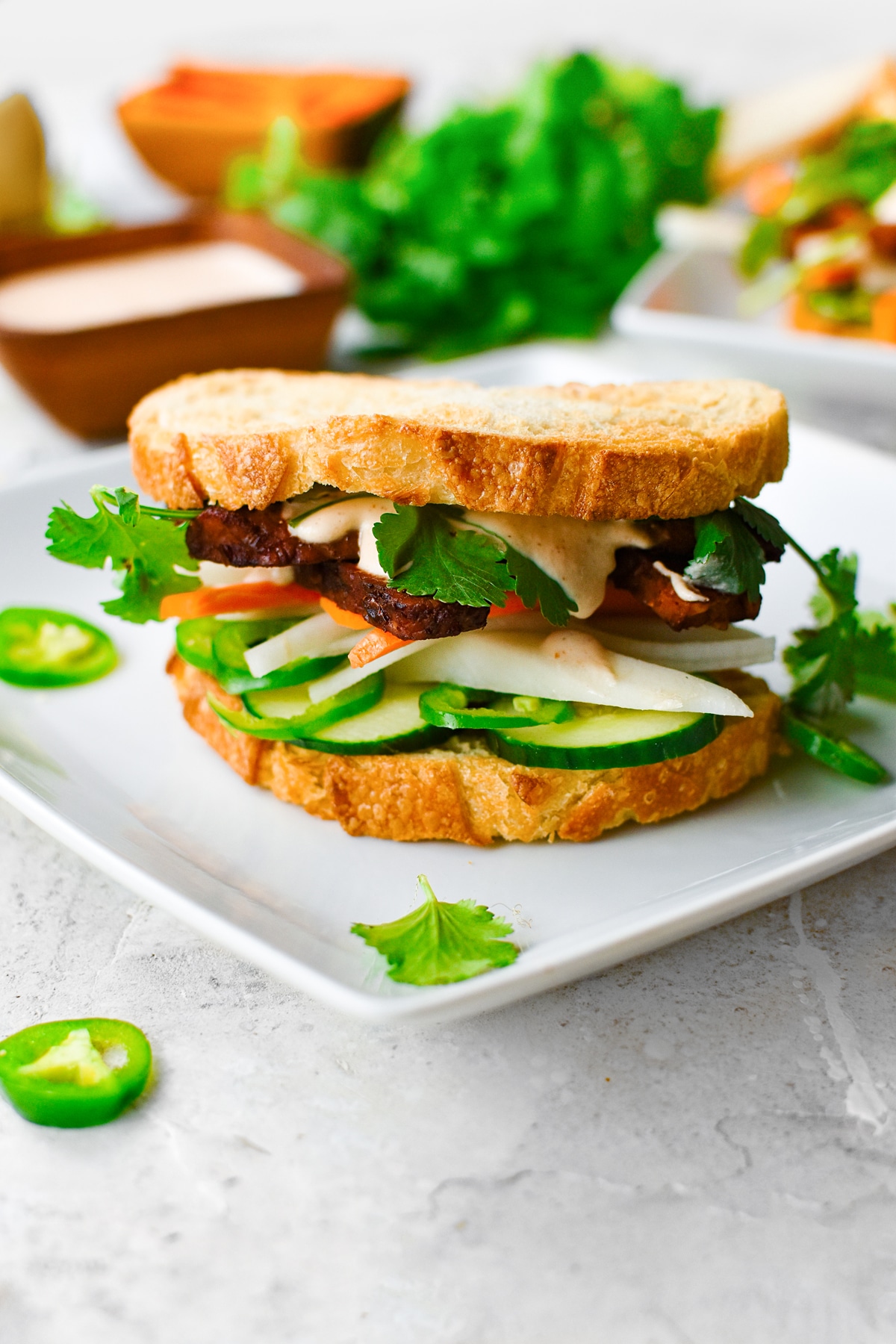 Some might know this open secret, but most won't; you don't need meat to make a high-protein lunch. Instead, there are options like this Tempeh Bahn Mi by The All Natural Vegan, which features seasoned tempeh-a fermented soy product with a cake-like texture. Then there's the veggies: daikon radish, carrots, English cucumbers, jalapeno, and cilantro. Finally, a cashew spread proves tasty, and vegan can go hand in hand.
Ultimate BLT Chicken Salad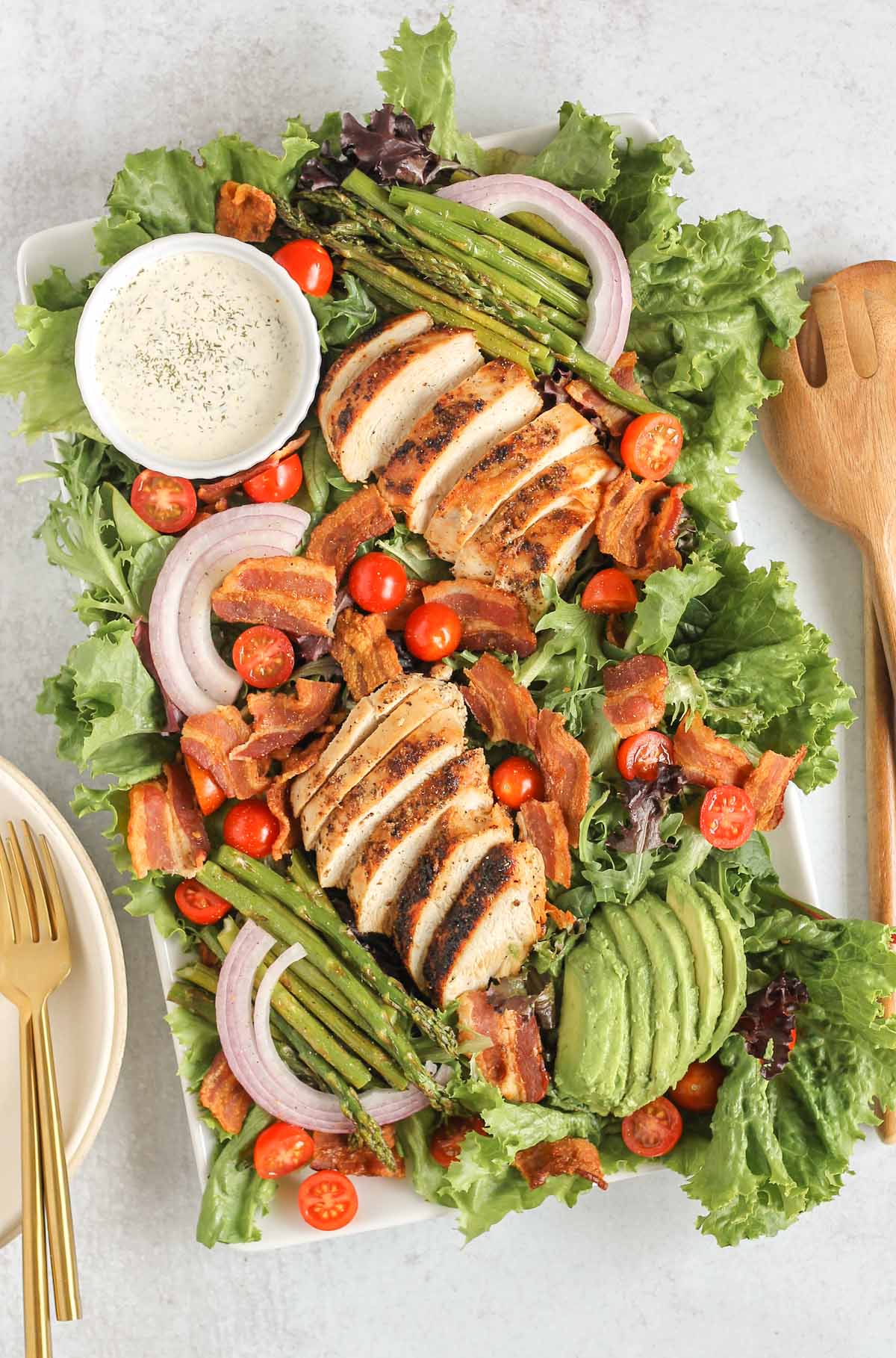 Now this Ultimate BLT Chicken Salad from Sara, the Clean Plate Mama, is a real hearty salad that's also a complete meal. Yes, it's that good! So it begins with cooked chicken, saving you loads of time. Then things turn even better with juicy sliced tomatoes, red onion, avocado, and BACON! And if that weren't enough, she also provides a homemade ranch dressing.
Vegan Poke Bowl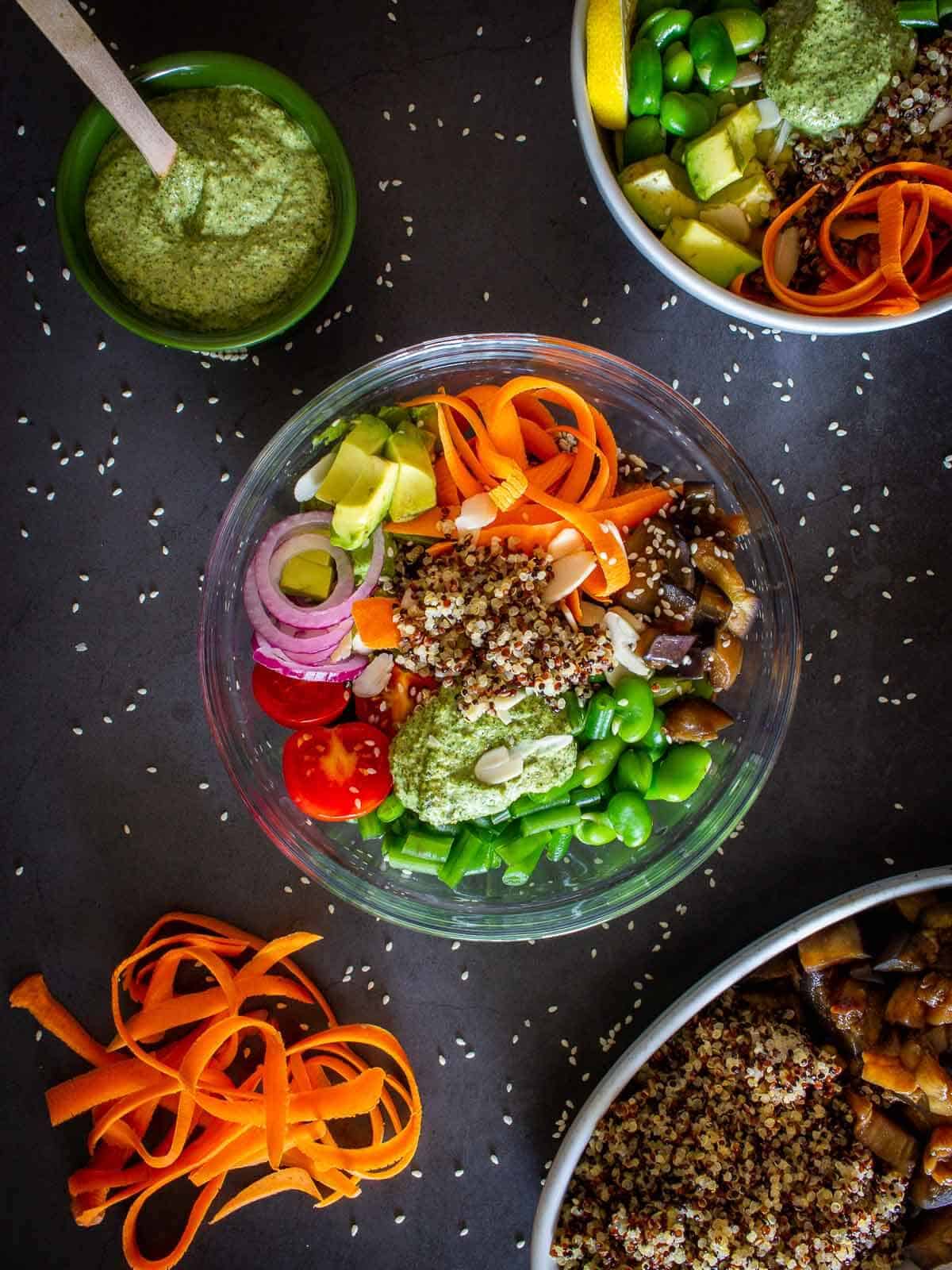 Would you believed that this most colorful Vegan Poke Bowl from Our Plant Based World is packed with 17 grams of protein?! But it's not just a vegan bodybuilder's dream, it's suitable for all pallets. There are shaved carrots, edamame, tomatoes, filling avocado, shallots and more. What about the dressing, you ask? How about a homemade vegan mint pesto?
Chicken Fruit Salad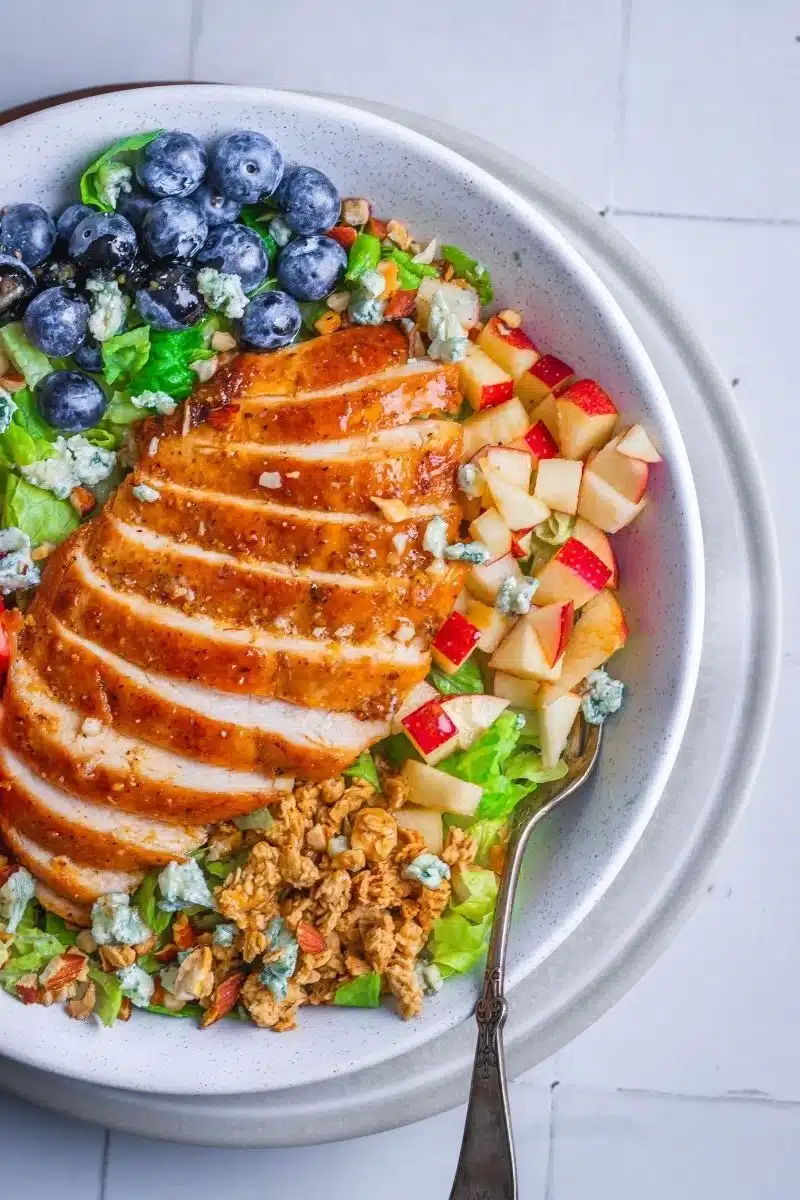 This Chicken Fruit Salad from Maureen is a Worldly Treat! I mean, just look at it! Crisp lettuce, diced apples, juicy blueberries, and protein-packed tender chicken breast fillets. But wait there's more. Do you see the blue cheese crumbles, nuts, and almonds. Wow! Now that's more than just a side salad!
Pesto Chicken Quinoa Bowl
This Pesto Chicken Bowl by Bless This Meal has everything you need to stay on your diet plan. Every ingredient, from the avocado and chicken to the tomatoes, chickpeas, and quinoa, is overflowing nutrition to keep you full. However, that means little if it doesn't taste good. But it does! There are loads of flavor coming from the pesto, paprika, lemon, and garlic.
Caesar Salad with Blackened Chicken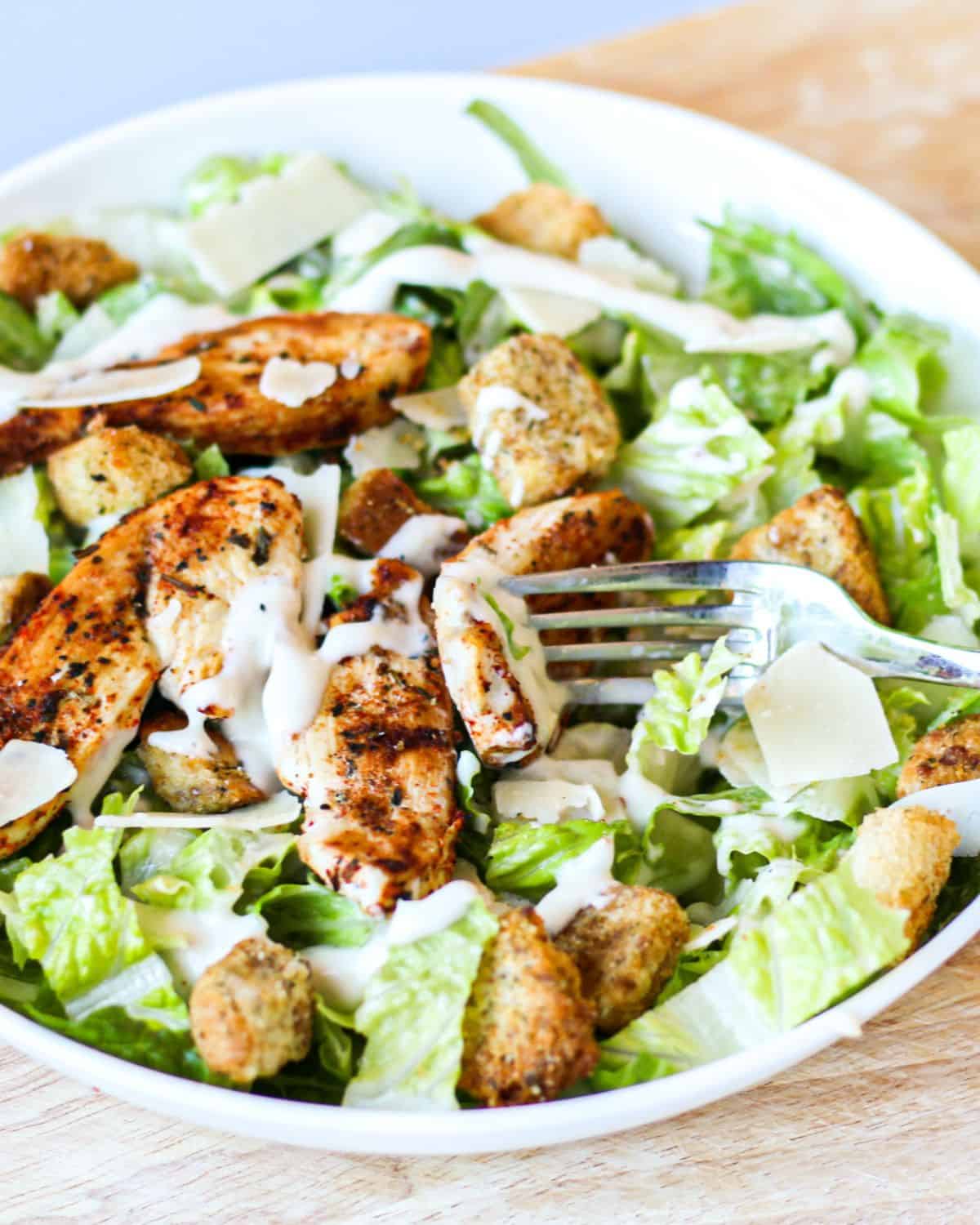 If you work remotely, you can make this Caesar Salad with Blackened Chicken by Salad On A Roll and eat all before you're due back at your desk. The name pretty much sums up the dish. Except on the recipe page itself, you'll find all sorts of tips like soaking the romaine lettuce in a special mixture, and how to elevate store-bought Caesar dressing.
Zesty Tuna Lettuce Wraps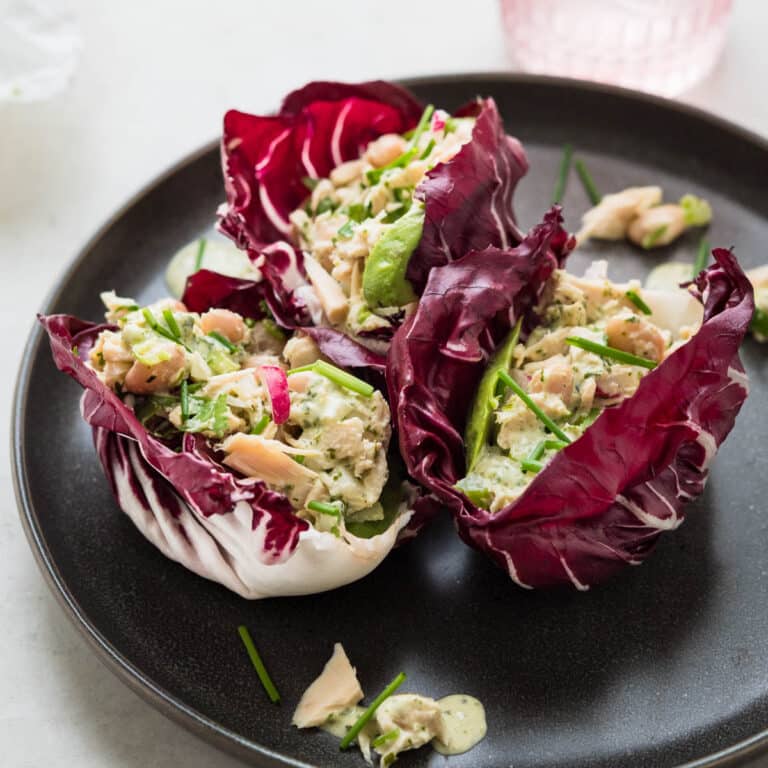 You've seen one Zesty Tuna Lettuce Wrap; you've seen them all, right? Nope! This version from Lisa of Garlic and Zest offers a few spins you've likely never seen before, like sturdy radicchio lettuce and white beans. Then there's also a punchy special ingredient used as the binder that elevates the humble tuna wrap well beyond normal.
Spicy Southwest Salad Chick-Fil-A Copycat Recipe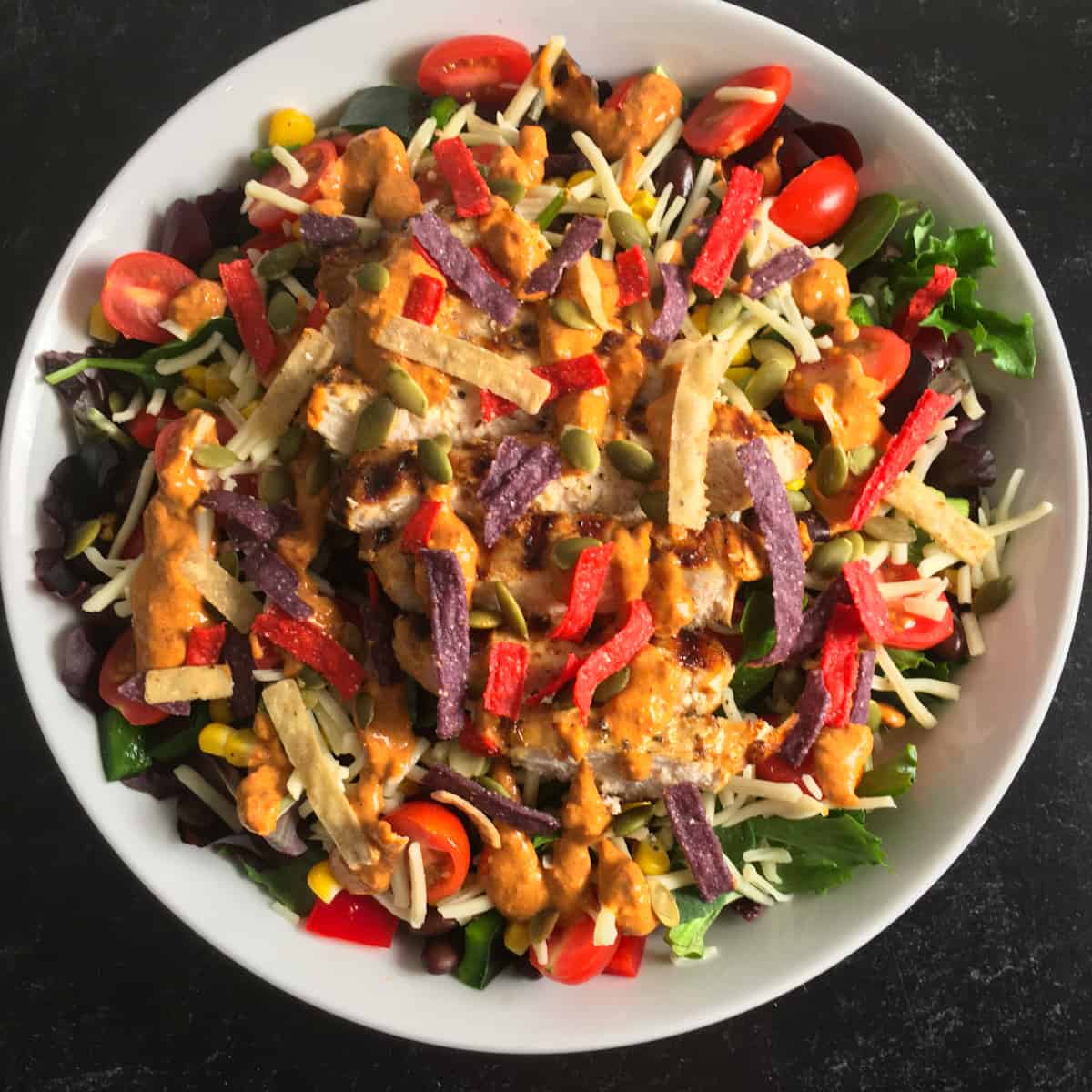 If you're not lucky enough to live within reasonable driving distance of Chik-Fil-A, this Spicy Southwest Salad Chick-Fil-A Copycat Recipe is the next best thing. You find a bevy of ingredients like super-flavor southwest marinated chicken breast, shredded cheese, tomatoes, corn, bell peppers, and tortilla strips atop crisp lettuce. But that's before we get to the main attraction; that dressing.
Buffalo Chicken Lettuce Wraps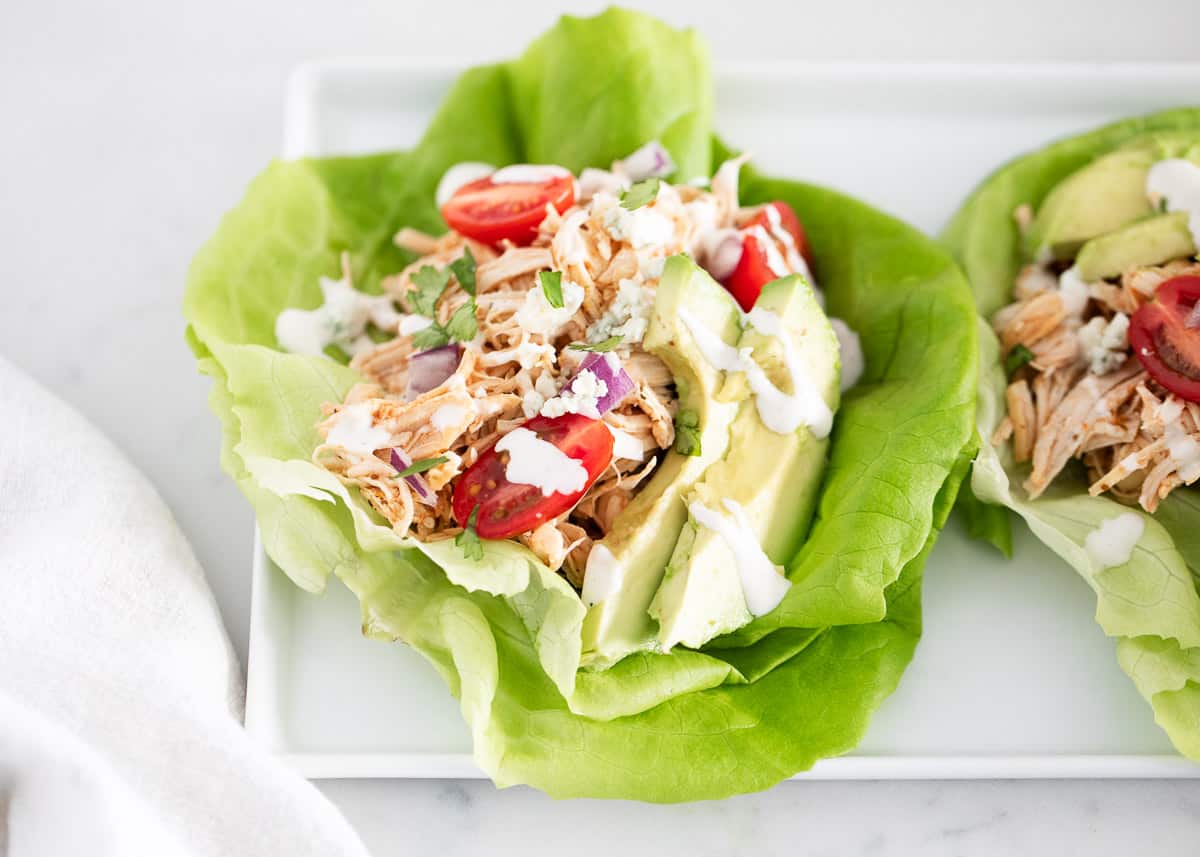 Okay, so with this Buffalo Chicken Lettuce Wraps recipe from Jamielyn of I Heart Naptime, the popular food style again dons this list. This time shredded chicken joins forces with tomatoes, avocado, and red onion before going inside pliable bib lettuce. Finally, a drizzle of ranch dressing and blue cheese crumbles make it a high protein lunch idea worth repeating.
Which High Protein Lunch Idea Will You Choose First?
By now, you've seen almost two dozen knock your socks off high protein lunch ideas like Zesty Tuna Lettuce Wraps, a Salmon Teriyaki Bowl, Seafood Salad, and many more. So which one(s) made your shortlist? We'd love to know!