On this page, you will discover 20 delightful and fulfilling salad recipes for dinner. Salad is loved worldwide, but often as a side to a protein like chicken thighs, steak, or fish.
But instead of an afterthought, these salad recipes are the complete package, the main focus. So, for example, you have a blackened salmon salad, a Southwest salad, an Italian tuna salad, and so many more.
Let's jump in!
Blackened Salmon Salad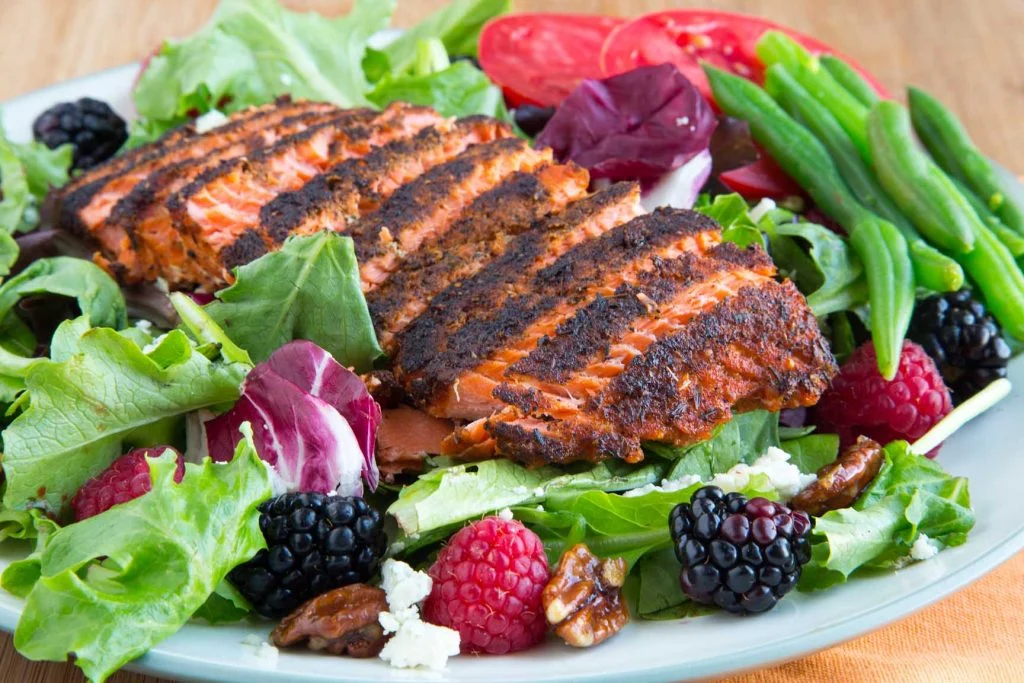 With this offering, Chef Dennis reminds us that eating healthy is easy when you have colorful, flavorful ingredients like those bright, colorful, healthy, and delicious summertime blackened salmon salad. With each bite, you'll experience a range of tasty flavors from berries, salmon, greens, bleu cheese, candied pecans, and more.
Visit Ask Chef Dennis for the recipe.
Lyonnaise Salad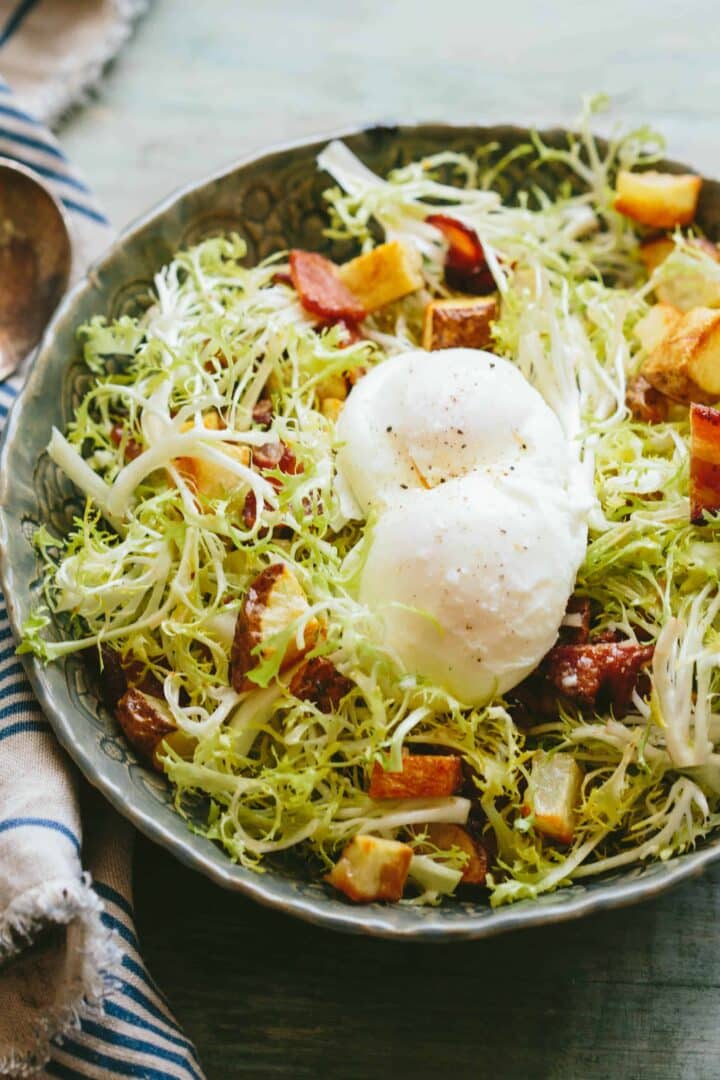 Nicole of Coley Cooks reminds us that the classics stand the test of time because they are good. So, we can see why this Lyonnaise salad, with centuries-old gastronomic history, has stuck around. The legendary salad is a proper meal with a poached egg, bacon, crispy potatoes, and a bed of delicate Frisee greens.
Visit Coley Cooks for the recipe.
Roasted Butternut Squash Salad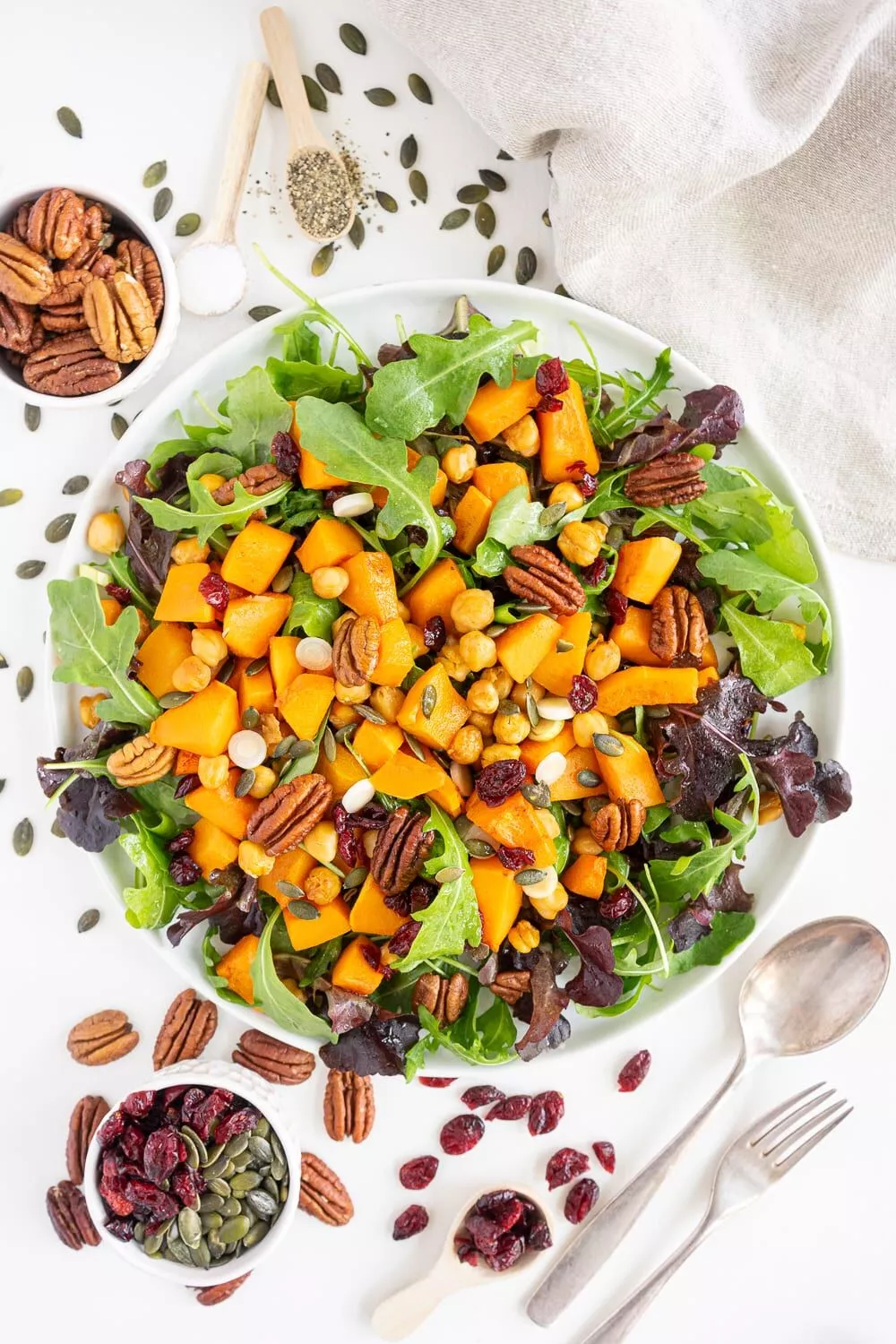 Painted with the colors and flavors of fall, this hearty and healthy roasted butternut squash salad from Gathering Dreams makes for a delicious meatless Monday. So let's see, sitting atop a bed of greens, you'll find caramelized squash, cranberries, chickpeas, pumpkin seeds, and a delicious zingy maple dressing.
Visit Gathering Dreams for the recipe.
Spicy Southwest Salad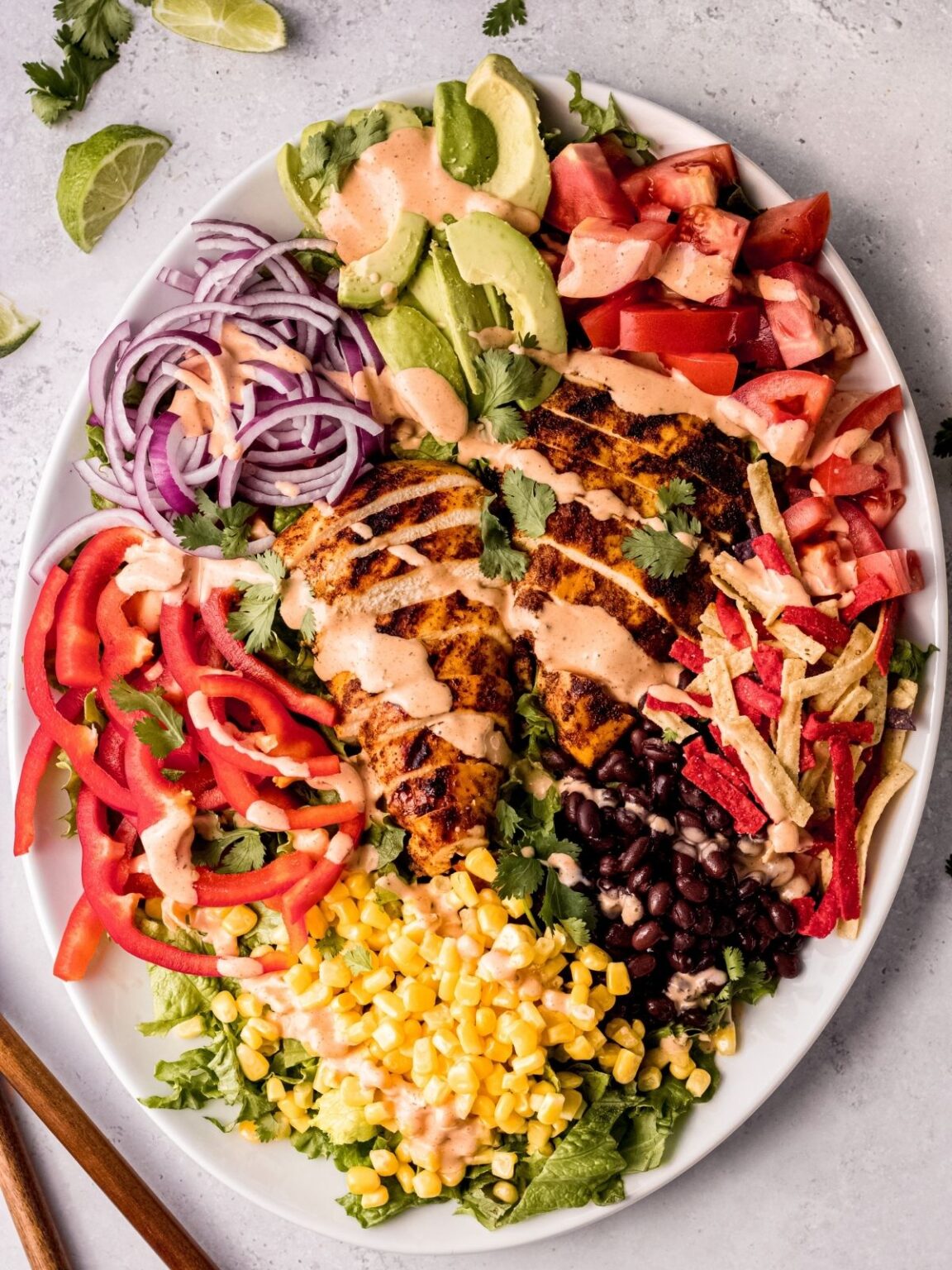 This spicy southwest salad from Megan of The Oregon Dietician is hearty, perfect for summer, and full of fresh veggies. The centerpiece of this dinner salad is juicy chicken marinated in honey, spices, and lime juice, grilled for a bit of smokiness. Then it takes its place as king atop a bed of fresh, crisp greens. And surrounding it is a royal court of corn, beans, corn chip strips, avocado, and more.
Visit The Oregon Dietician for the recipe.
Salmon Cobb Salad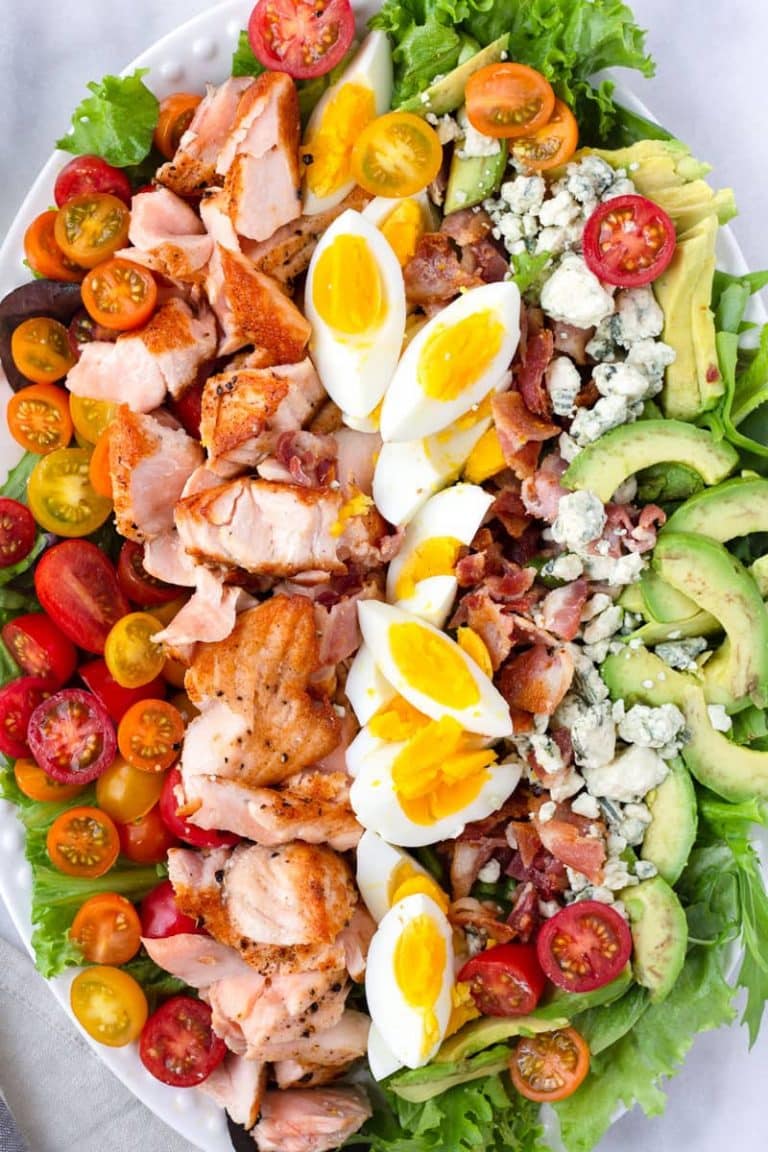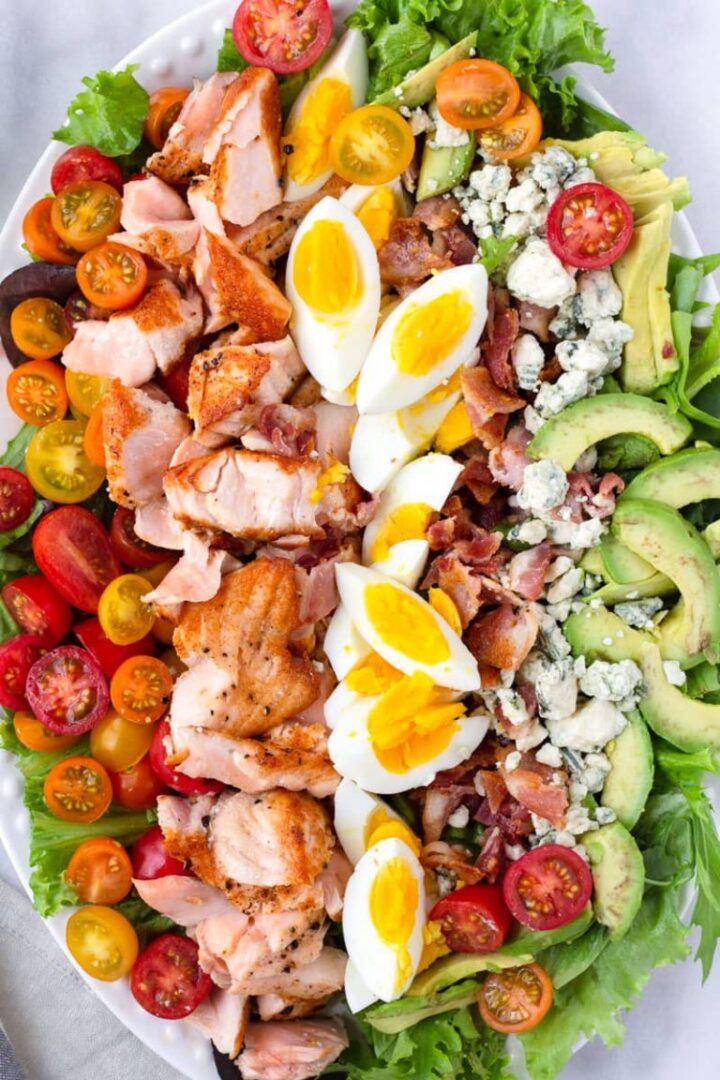 Tania is Cooking For My Soul and yours, too, with this beautiful salmon cobb salad. The base is a hearty lettuce mix. However, it's the toppings that make it a party. We're talking about eggs, bacon, salmon, cherry tomatoes, and so much more. Then there's the green goddess dressing. It'll drive you wild!
Visit Cooking For My Soul for the recipe.
Mediterranean Farro Salad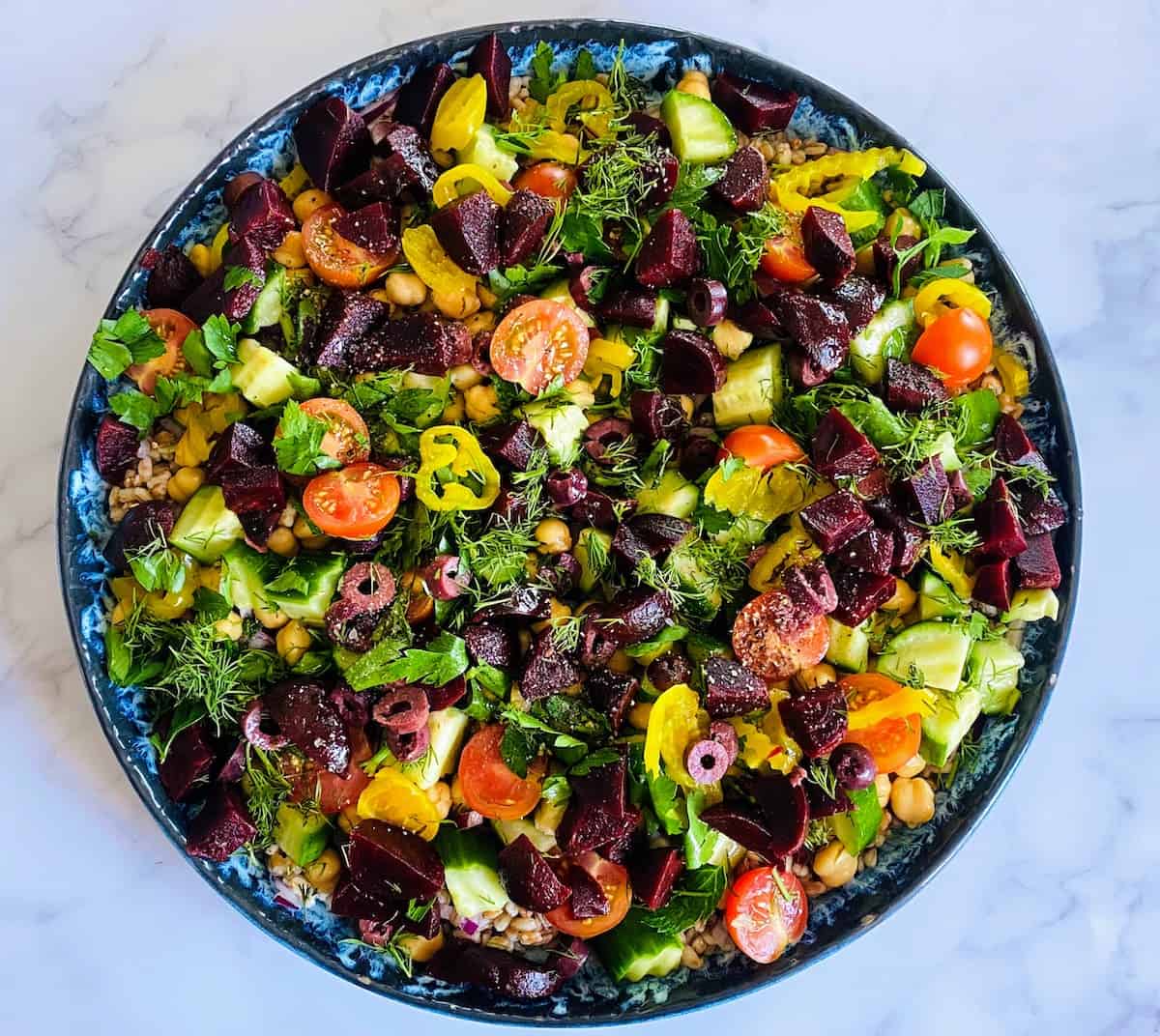 This Mediterranean salad from Kathy's Vegan Kitchen is a delicious, healthy, nutrient-rich, meatless dish that will fill you up. It's filled with farro (an ancient wheat grain), meaty kalamata olives, grape tomatoes, roasted beets, chickpeas, and more. And the dressing is bright and zippy with lemon and red wine vinegar.
Visit Kathy's Vegan Kitchen for the recipe.
Lebanese Fattoush Salad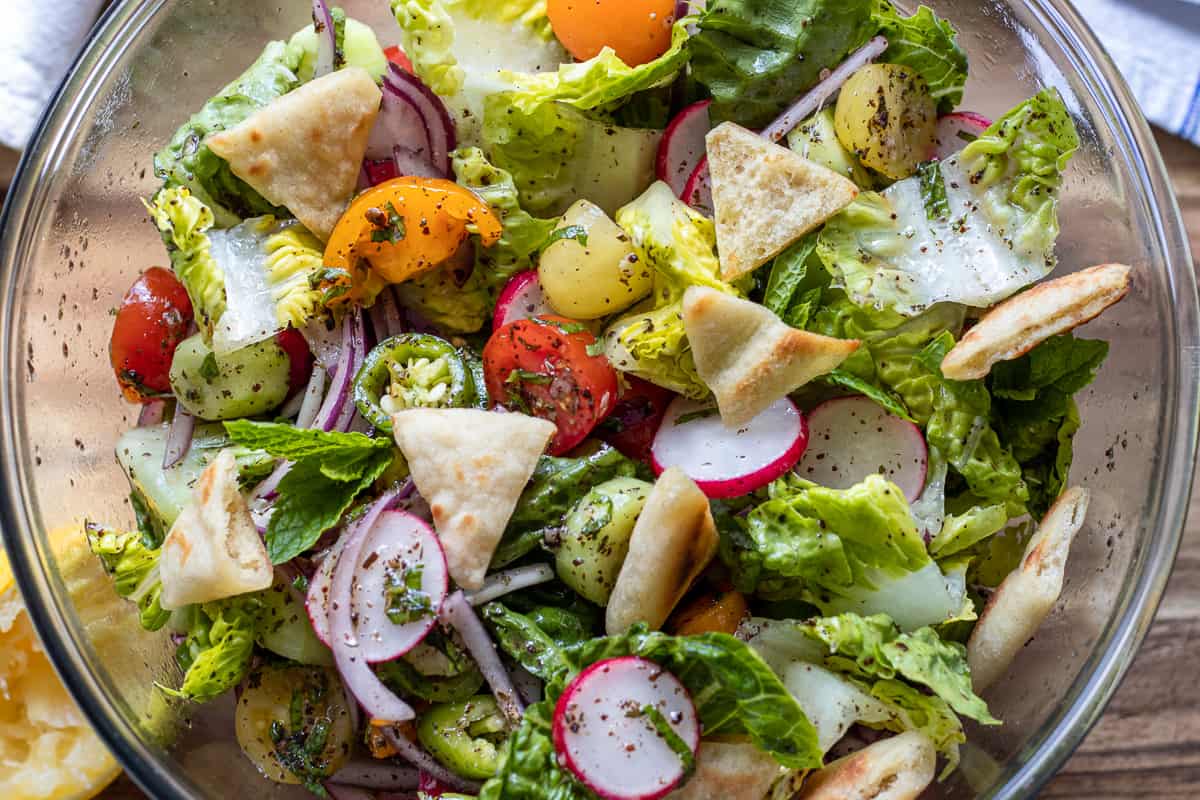 With cucumber, radishes, tomatoes, and pita croutons, this Lebanese Fattoush salad from Ayla of Cooking Gorgeous is a great side or light dinner or lunch. If you go with this, don't forget the tips from the chef, like using fresh ingredients for both the dressing and making your own homemade chips.
Visit Cooking Gorgeous for the recipe.
Layered Taco Salad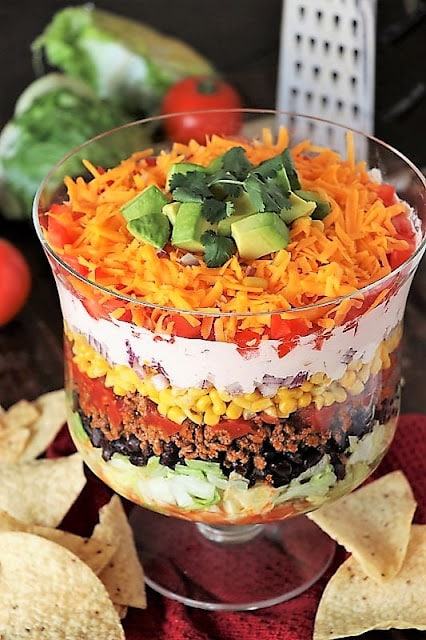 This layered taco salad from Tracey of The Kitchen Is My Playground is a complete meal you'll want to make to mix up taco Tuesdays. It's filled with lettuce, seasoned ground beef, salsa, olives, and other toppings layered in a deep serving dish. Now, this is a salad no one will complain about.
Visit The Kitchen Is My Playground for the recipe.
Blackened Chicken And Grape Arugula Salad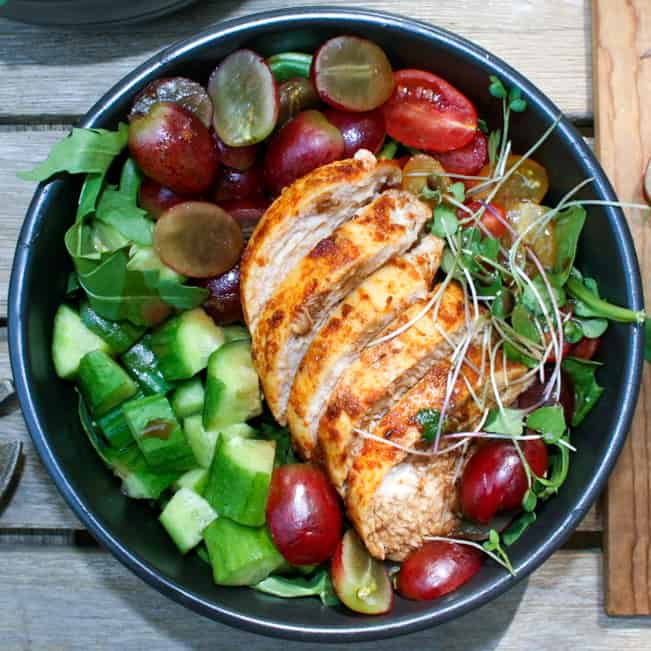 Juicy, tender chicken breast with blackened seasoning create a smoky flavor balanced by sweet red grapes, cherry tomatoes, arugula, and diced cucumbers. This, my friend, is what a dinner salad from Emily of The Feast Local looks like; flavorful and packed with protein and other nutrients.
Visit The Feast Local for the recipe.
Italian Tuna + Green Bean Salad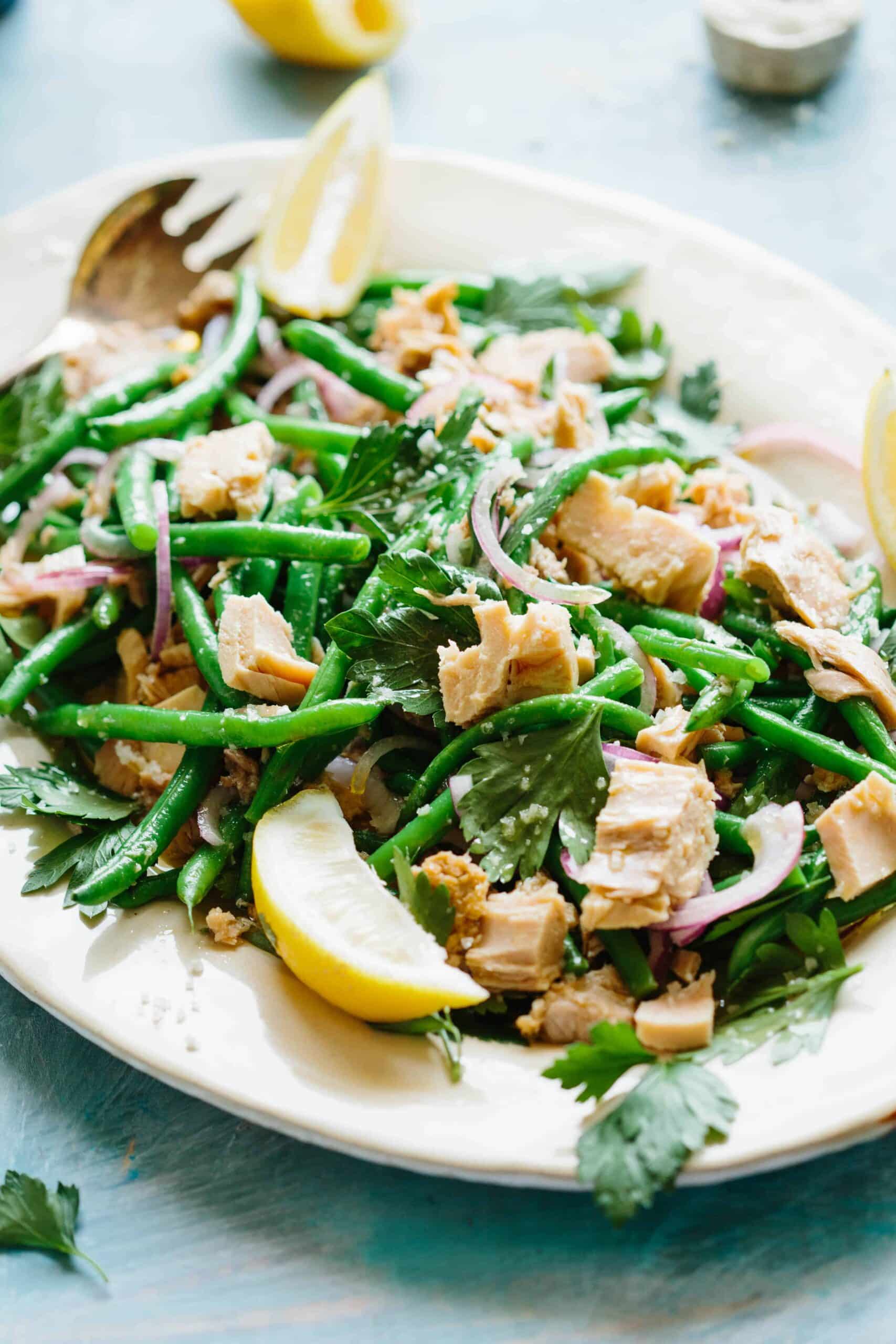 Not long ago, Nicole, the creative behind the food blog Coley Cooks, turned her nose up at canned tuna recipes. It was at least, in part, because of the smell. But after discovering a certain Instagram page, the unctuous canned fish is a regular part of her diet. And we're not talking about run-of-the-mill tuna sandwiches her. No way! This green bean salad with red onions, Italian parsley, and tuna stored in olive oil is in a different class. The imported canned tuna is buttery, and the green beans are still crunchy after a quick blanch. It's an experience.
Visit Coley Cooks for the recipe.
Grilled Romaine Salad Recipe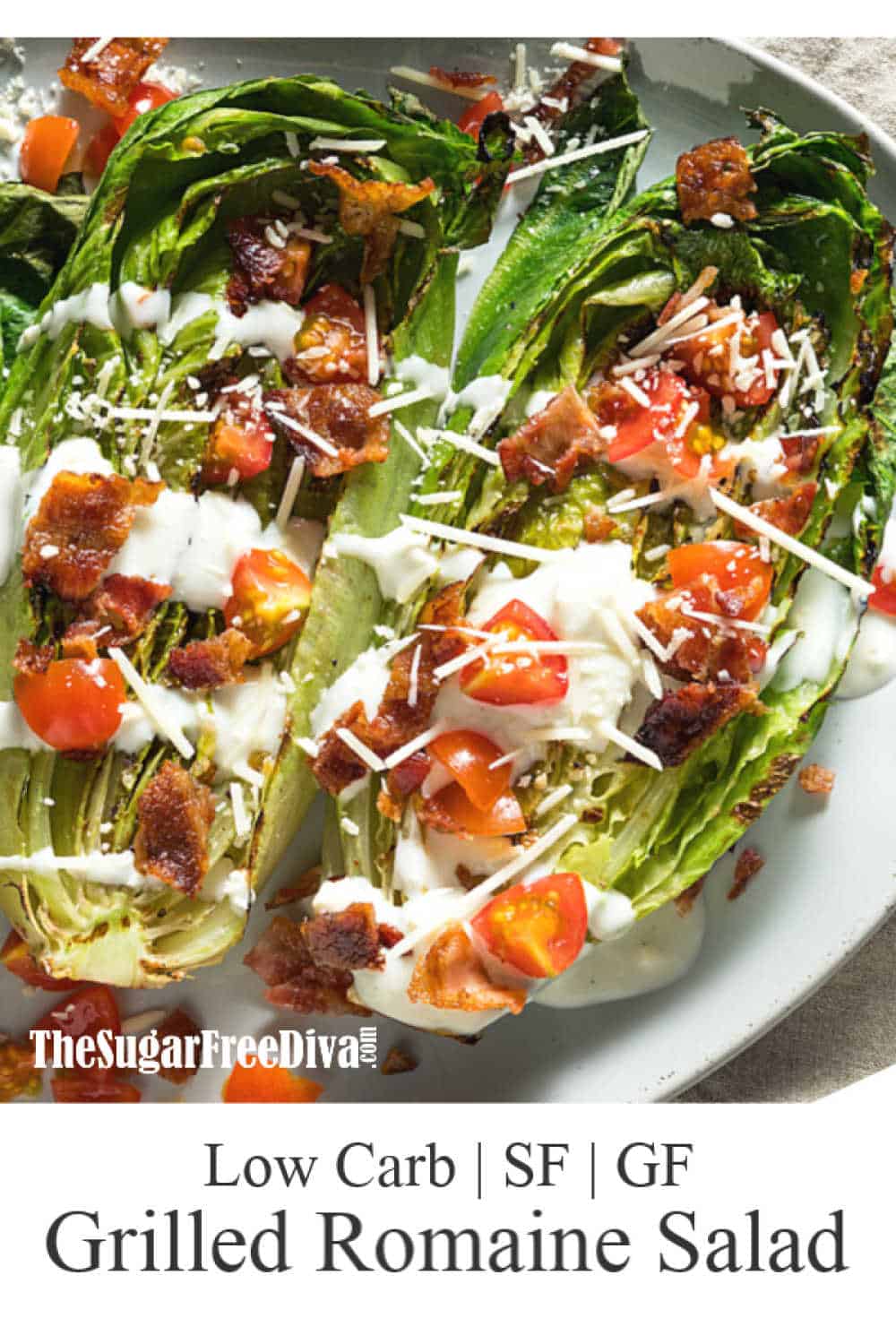 You won't want to wait until summer to try this grilled romaine salad recipe from The Sugar Free Diva. It's a simple side or light dinner with bacon, parmesan cheese, and your favorite ranch dressing. But make it a complete meal by adding grilled salmon or chicken. And best of all, it takes just minutes to make.
Visit The Sugar Free Diva for the recipe.
Fish Taco Salad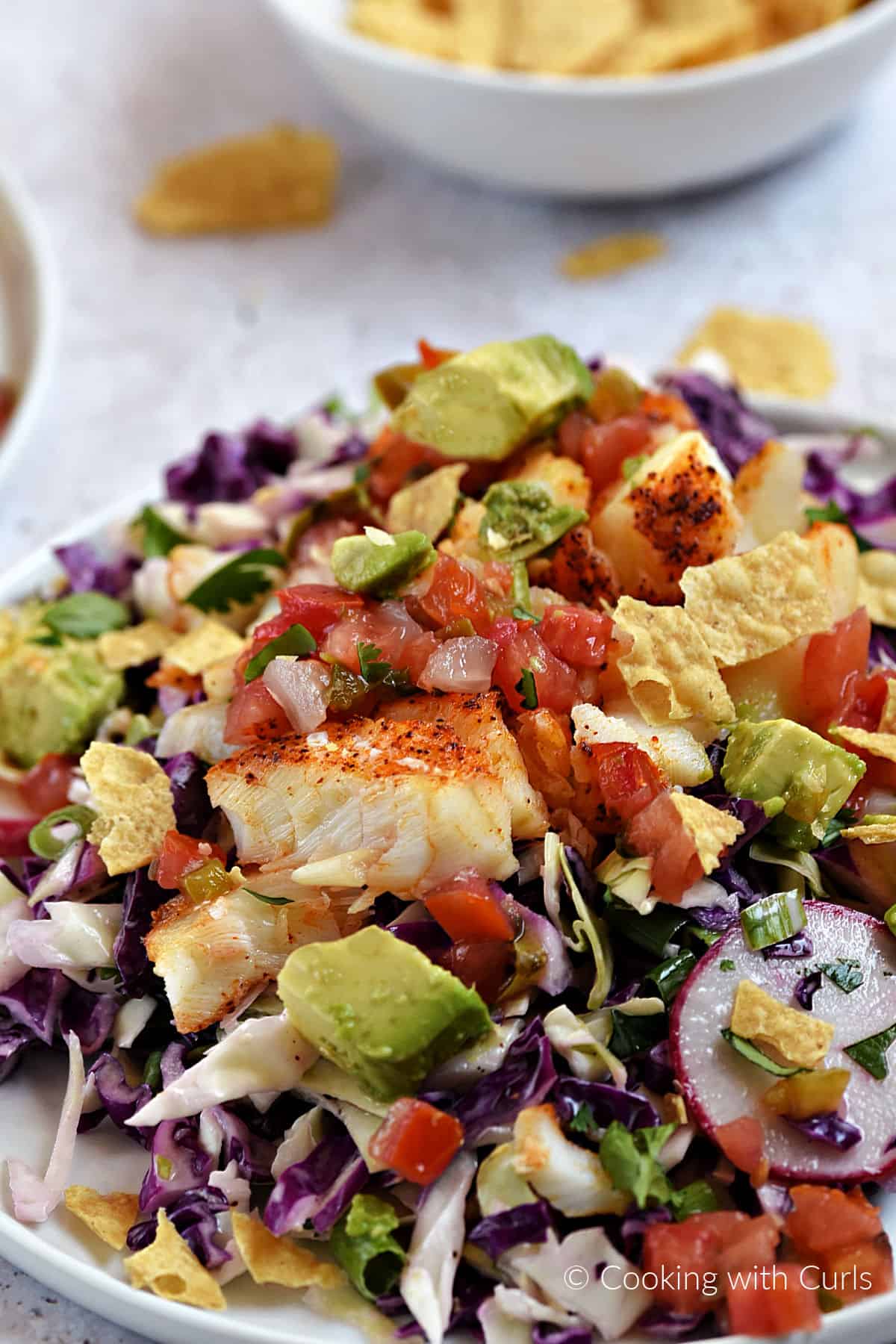 Here's a promise, this fish taco salad with crunchy cabbage, crushed tortilla chips, avocado, salsa, and taco-seasoned cod from Lisa of Cooking With Curls will become a regular on your menu. Just look at that juicy picture! But the most memorable part of this meal is the dressing-a citrusy, garlicky, zesty, mayo-based delight.
Visit Cooking With Curls for the recipe.
Quinoa Arugula Salad With Chicken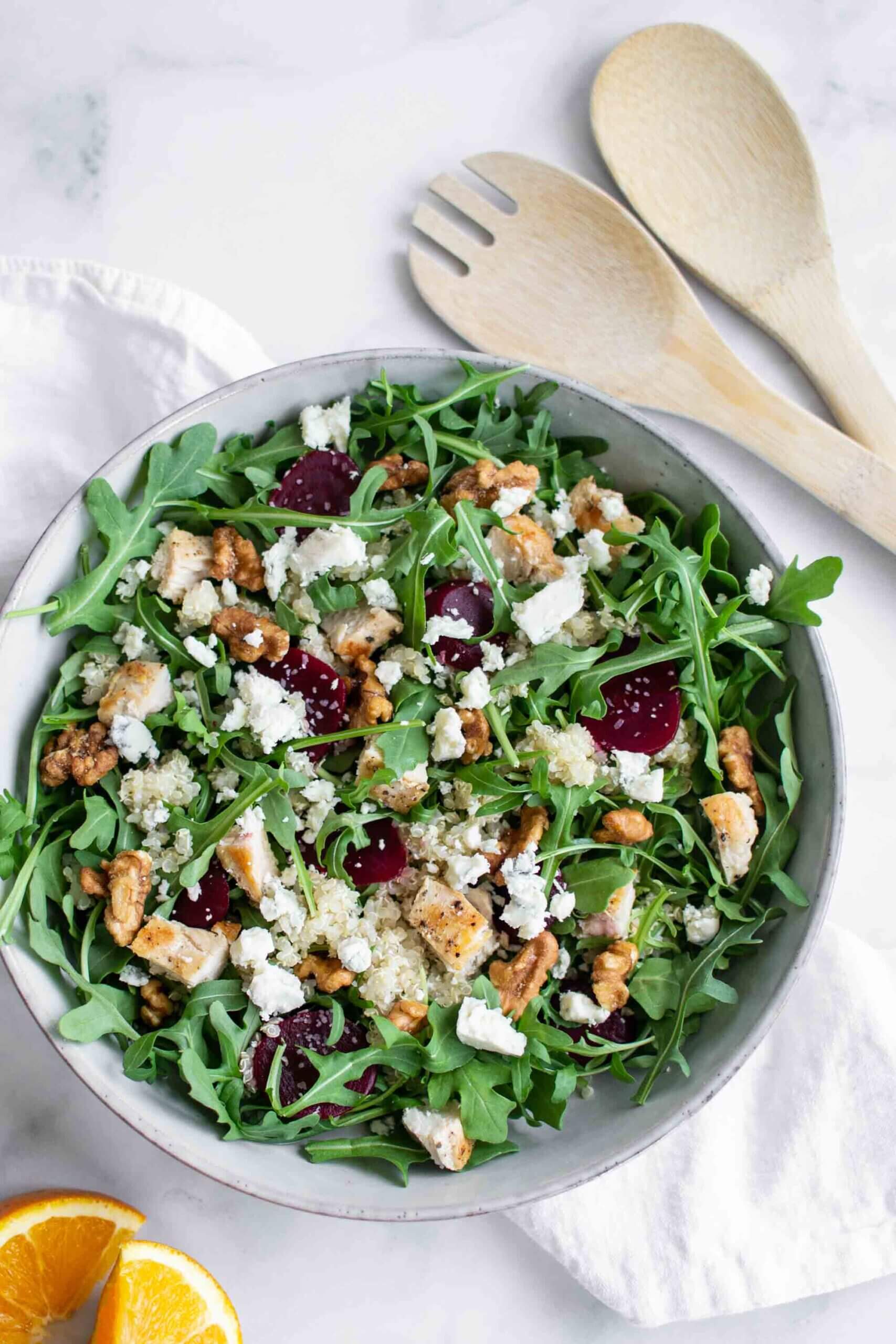 This hearty quinoa arugula salad with chicken from Casey of Get On My Plate is the perfect weeknight fare. Quinoa is an easy-to-cook whole grain full of fiber, which will keep your appetite at bay. Then there's the chicken, blue cheese, beets, candied walnuts, and baby arugula, which pack the nutrients and the flavor. Oh, and that citrusy dressing is more like a sauce you'll want to put on everything.
Visit Get On My Plate for the recipe.
Easy Layered Brunch Salad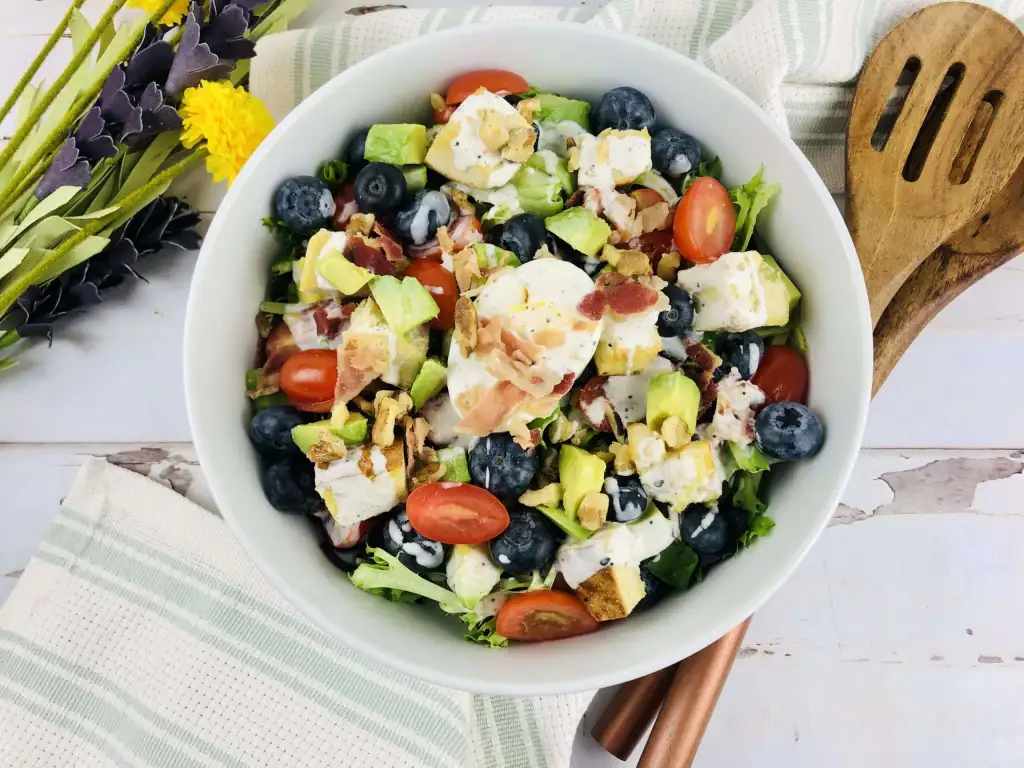 Don't wait for National Salad Month (May) to make this layered brunch salad from the Made In A Pinch team. Because this anytime salad is so filling with lots of chicken, hard-boiled eggs, tomatoes, avocados, bacon, blueberries, and more, you'll want it all year long. Heck, there are even toasted bagel pieces in there.
Visit Made In A Pinch for the recipe.
Dorito Taco Salad Recipe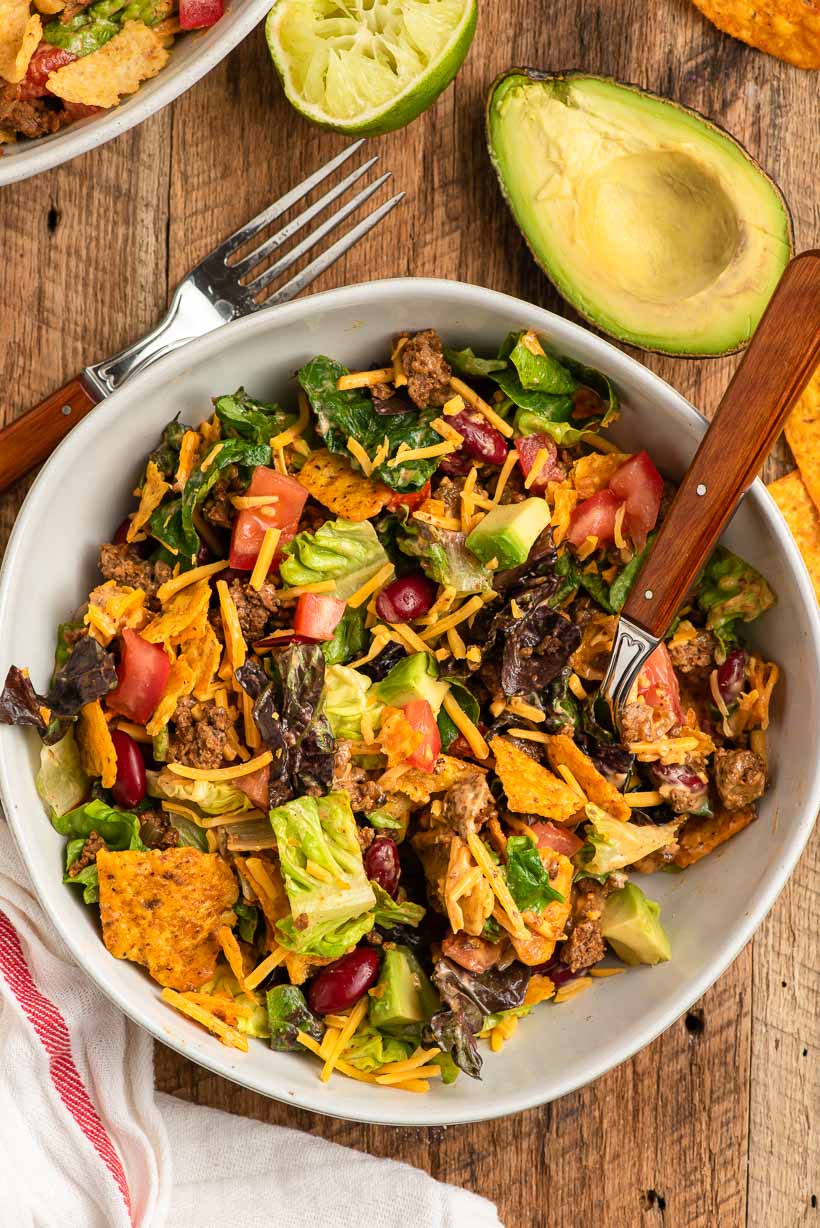 Leave it to the Neighbor Food Blog team to create beefy, satisfying weeknight meals like this Doritos Taco salad. It's simple, with ground beef, beans, cheese, Doritos, and more. And to bring it all together, there's a creamy lime dressing. So make it for dinner or a party. The result is the same, smiling faces and full bellies.
Visit Neighbor Food Blog for the recipe.
Sweetheart Cabbage Salad with Gyoza Chickpeas and Parmesan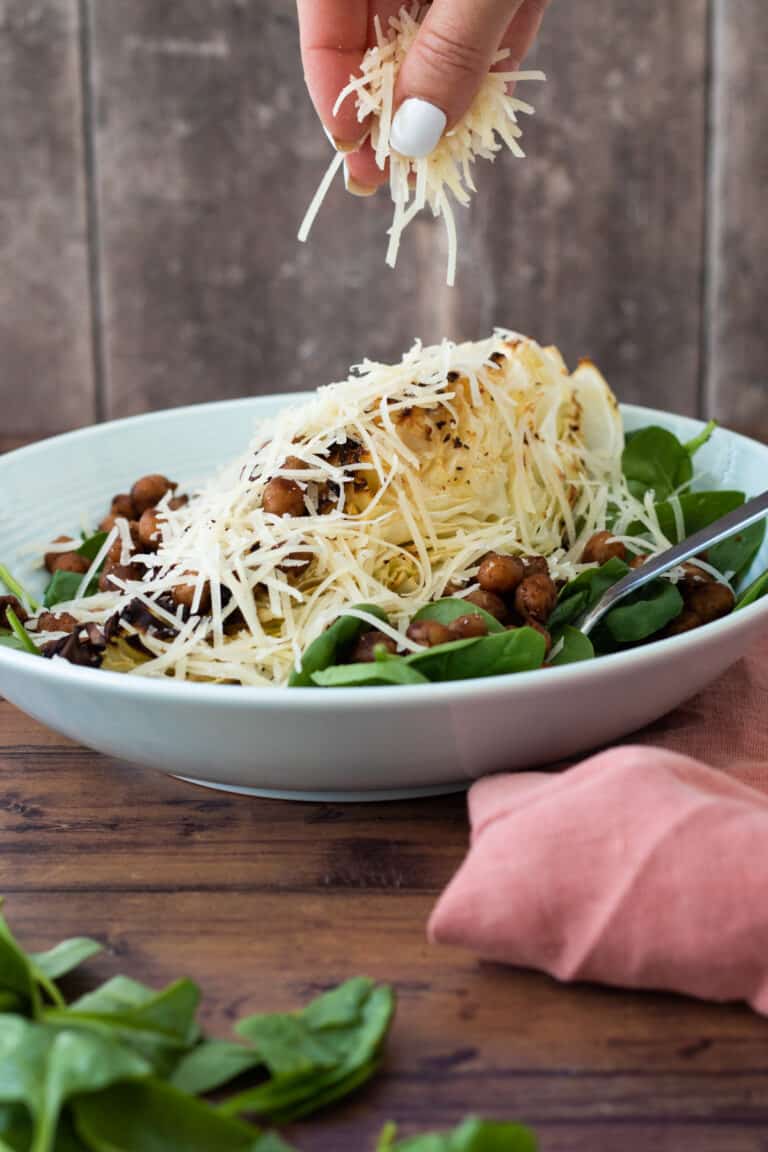 This sweetheart cabbage and chickpea salad from Emmeline of Always Use Butter is what you serve to your favorite salad hater. And as the name implies, sweetheart cabbage is sweeter than what you're used to. The chickpeas are seasoned with soy sauce, rice vinegar, and sesame oil, amongst other ingredients. Finally, when you combine everything with baby spinach, you're looking at a salad that's more like a main than a side.
Visit Always Use Butter for the recipe.
Grandma's 7 Layer Salad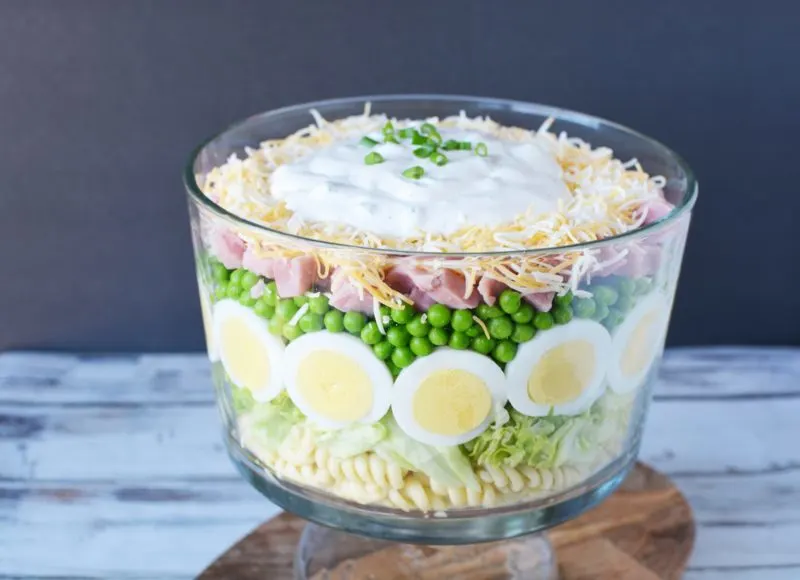 Talk about a salad for dinner recipe! This old-school seven-layer salad from Savvy Mama Lifestyle is exactly what you need in your life. You'll fill up on a salad that starts with rotini pasta. Then, there's lettuce, sliced hard-boiled eggs, peas, ham, cheese, and dressing-a mix of mayo, sour cream, and dijon.
Visit Savvy Mama Lifestyle for the recipe.
Chinese Tofu Salad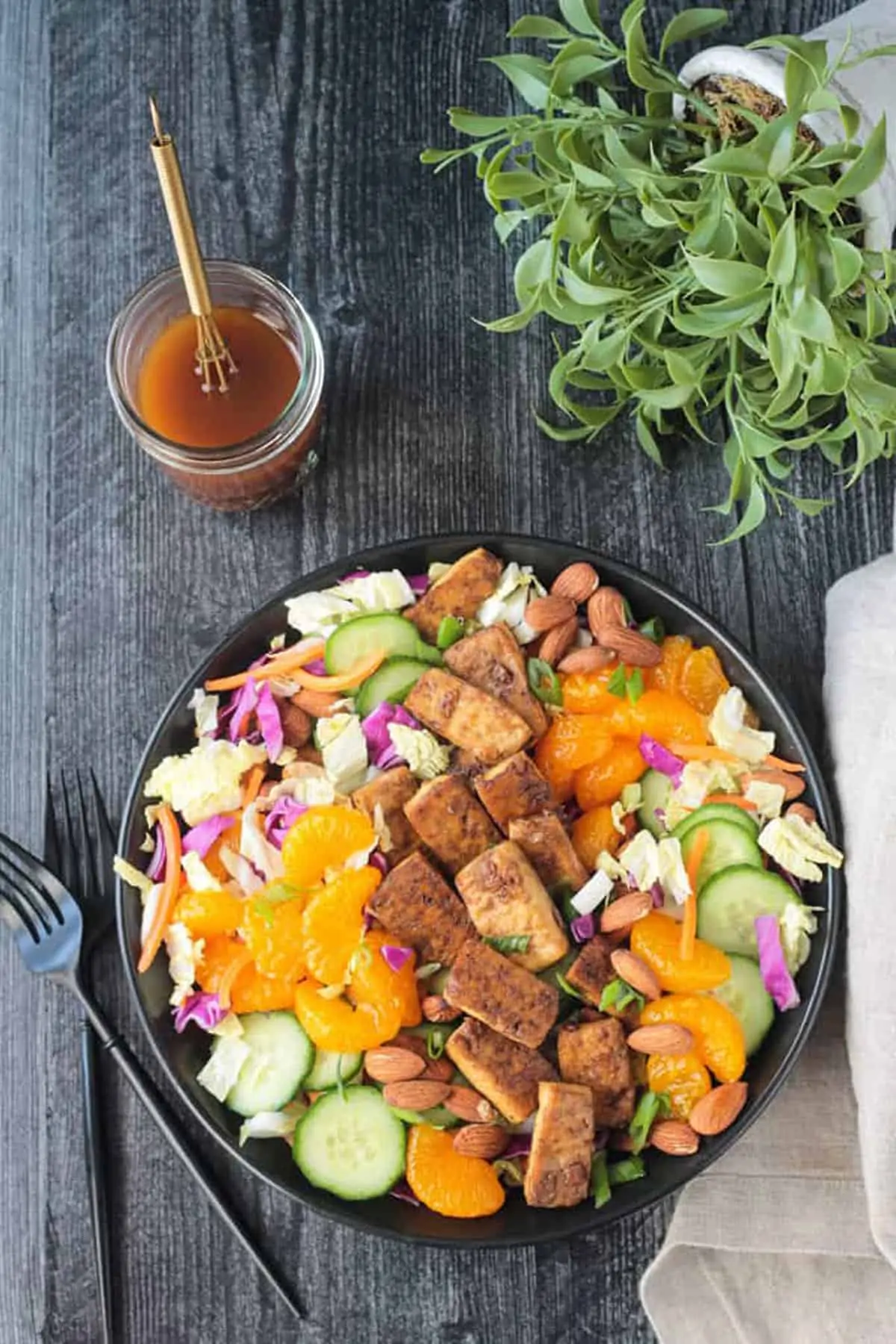 This Chinese Tofu Salad from Jenn of Veggie Inspired contains unique flavors and various textures. You start by seasoning the extra firm tofu with tamari, garlic, and ginger. Then you make the salad, a unique mix of Napa and purple cabbage, shredded carrots, cucumbers, and oranges. But we're not finished yet. You'll love the tangy sesame vinaigrette with apple cider vinegar, ginger, mirin, and more.
Visit Vegie Inspired for the recipe.
Lemon Pepper Tilapia + Spring Arugula Salad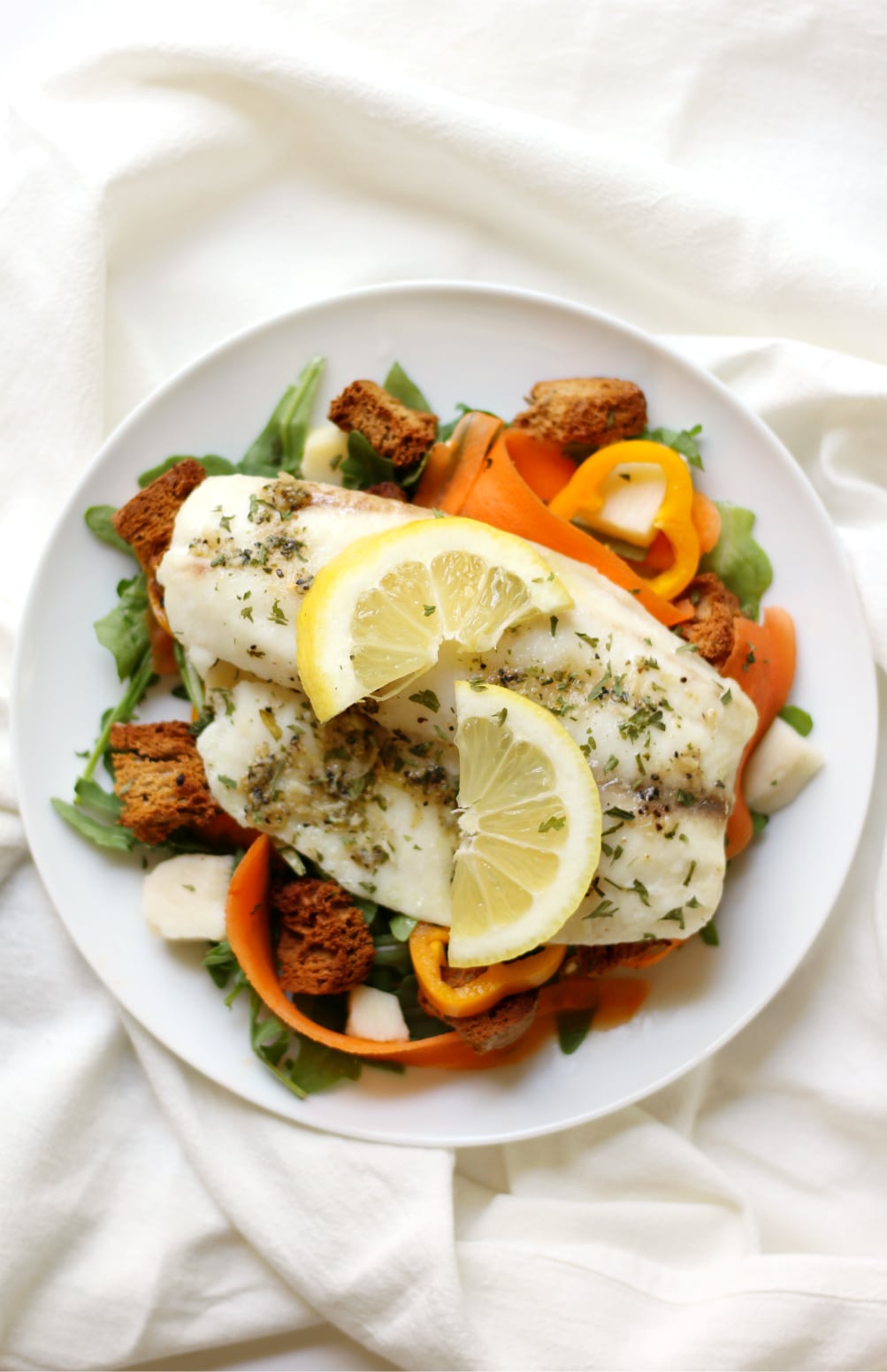 You won't have to dress up to enjoy this delicious gourmet lemon pepper tilapia with spring arugula salad from Rebecca of Strength And Sunshine. So leave the high heels, but don't forget your appetite. You just can't go wrong with shaved carrots, arugula, bell pepper, and bright lemon pepper-seasoned tilapia.
Visit Strength And Sunshine for the recipe.
Kimchi Salad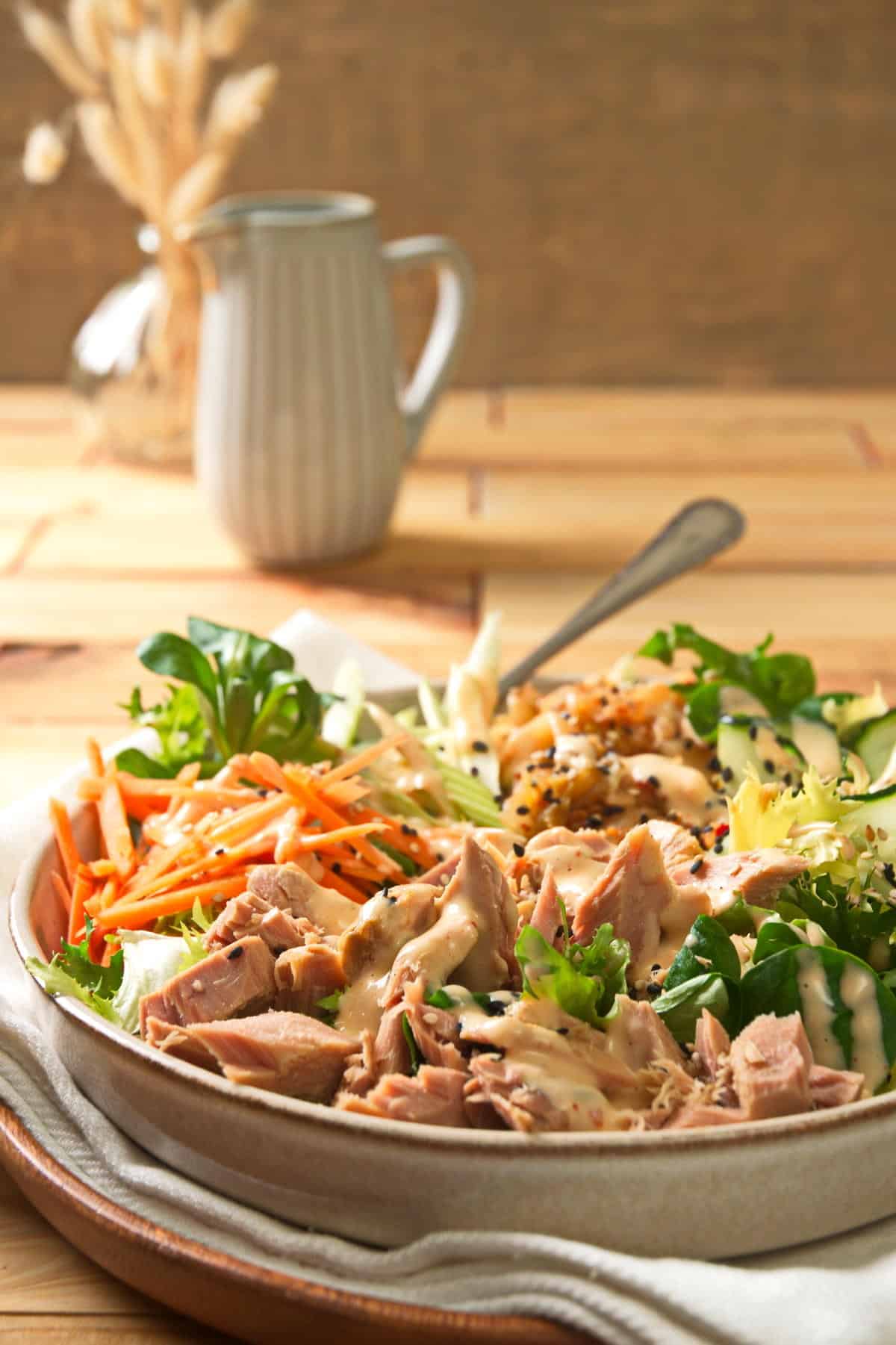 This kimchi salad from Joss of In The Kitch is yet another made with solid white canned tuna. So, if you love the popular flavors of Korean cuisine like gochujang and kimchi, you will love this one. The uber-flavorful salad is full of tuna, thinly sliced cucumber, grated carrots, sesame seeds, and a sweet and savory dressing.
Visit In The Kitch for the recipe.
Which Salad Recipe For Dinner Will You Try First?
Is it the Lyonnaise salad with poached egg and crispy potatoes? Is it the Chinese tofu salad or something else entirely? Whatever the case, you have no reason to make a boring salad ever again. 🙂
And if you like this list, check out the this list of shredded chicken recipes or egg noodle recipes.