We hope you're excited to discover this great list of easy and delicious air fryer beef recipes. These tasty creations include ground beef, steak, busy weeknight dinners, lunches, and snacks. It's a versatile, must-read list of beefy deliciousness!
For example, you'll find made-from-scratch taquitos, bacon-wrapped burgers, several meatloaf recipes, unsloppy joe pockets (say what?), and more.
So, bring your appetite, read until the very end, and we promise you are sure to find something you'll want to make over and over again!
Jump to:
21 Easy & Delicious Air Fryer Beef Recipes
This diverse collection of air fryer recipes will become some of your favorite go-to meals. There are all kinds of stuff here, just waiting to be discovered. We reviewed all of these recipes before including them, and one thing is for sure, they're all delicious. But please remember this isn't a ranking. It's just a list.
And if you like this list, you'll love our Best ground beef recipes without pasta and 5-star ground beef recipes and our delicious meatball recipes list.
Air Fryer Hamburger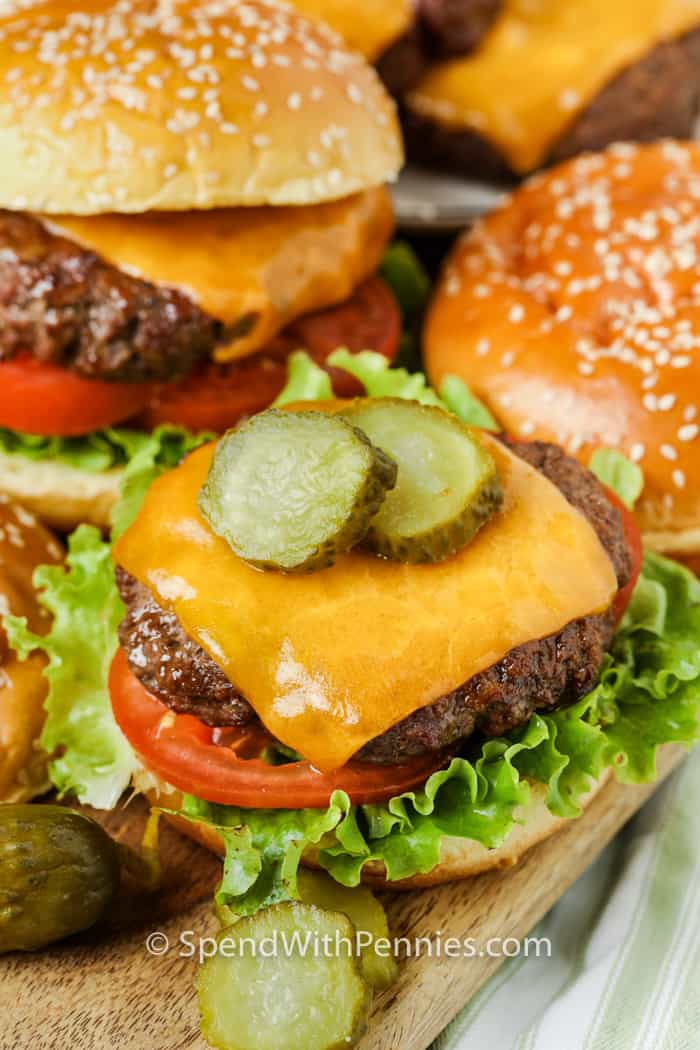 Few foods spark nostalgia like homemade hamburgers. That precious scent of pure, irresistible beef fills the air with deliciousness. Each burger is customized. And each bite is juicy and, well, heavenly.
But along with that beefy nirvana comes a mess. You know, oil splatter, here, there, and everywhere. So what is one to do? Don't worry. We've got you covered. With this air fryer burger recipe by Holly of Spend With Pennies, you can have your tasty burger and minimize the mess too.
Visit Spend With Pennies for the recipe.
Air Fryer Steak With Garlic Butter
Take just one look at that juicy steak. Then, imagine that unmistakable scent of beefiness just waiting for your fork. Certainly, a picture-perfect steak like that must come from a fancy restaurant, right? Or at least from a seasoned home chef.
Well, Sara of Dinner At The Zoo, the creator of this delicious recipe, is an experienced home cook. But with her clear instructions, even novices will learn the best way to make a perfect air fryer steak without a grill, cast iron pan, or sous vide.
The easy recipe starts with a generous dose of steak seasoning. Then it goes into the air fryer at 400 degrees. And finally, it's served with a little bit of homemade garlic butter for extra flavor.
Visit Dinner At The Zoo for the recipe.
Indian Tacos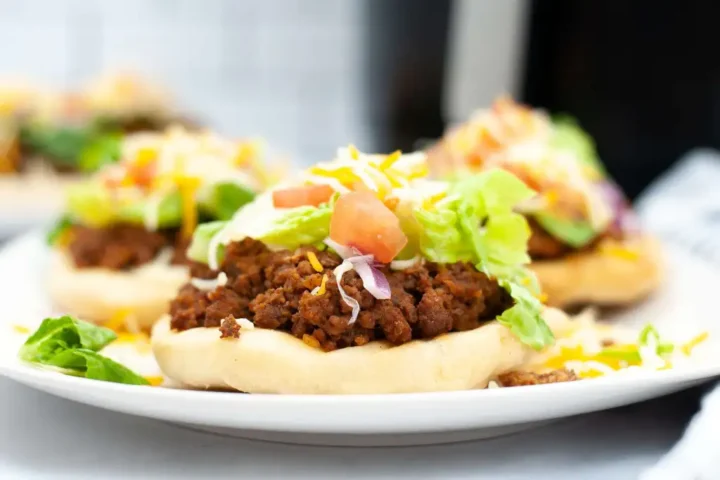 Fry bread is an addictive snack all on its own. But when the gals over at Made In A Pinch add ground-cooked beef, lettuce, tomatoes, and other Tex-Mex toppings, it becomes a meal the whole family will look forward to.
As the name implies, Fry bread is dough deep fried in vegetable oil for a crispy, if slightly oily style bread, similar in appearance to naan or pita bread, but only more addictive. But deep frying at home is messy and requires extra precautions. So, air frying instead makes the recipe more accessible.
Visit Made In A Pinch for the recipe.
Cheesesteak Rolls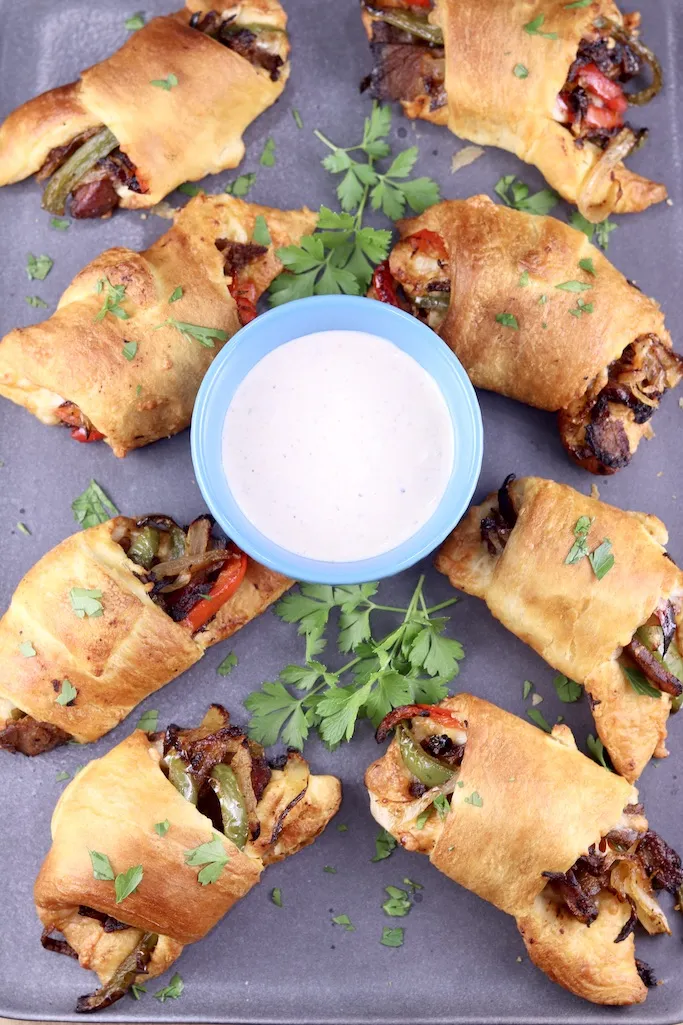 If you're looking for a way to use leftover Sunday roast beef, you must check out this delicious creation by Milisa of Miss In The Kitchen. So, make these cheesesteak rolls instead of a boring roast beef sandwich. Mmmmm!
They start with that leftover roast beef, gooey cheese, sauteed onions, peppers, and dry rub rolled into canned crescent rolls. Pop them in the air fryer, and in about 30 minutes, you're chowing down.
Visit Miss In The Kitchen for the recipe.
UnSloppy Joes Biscuit Pockets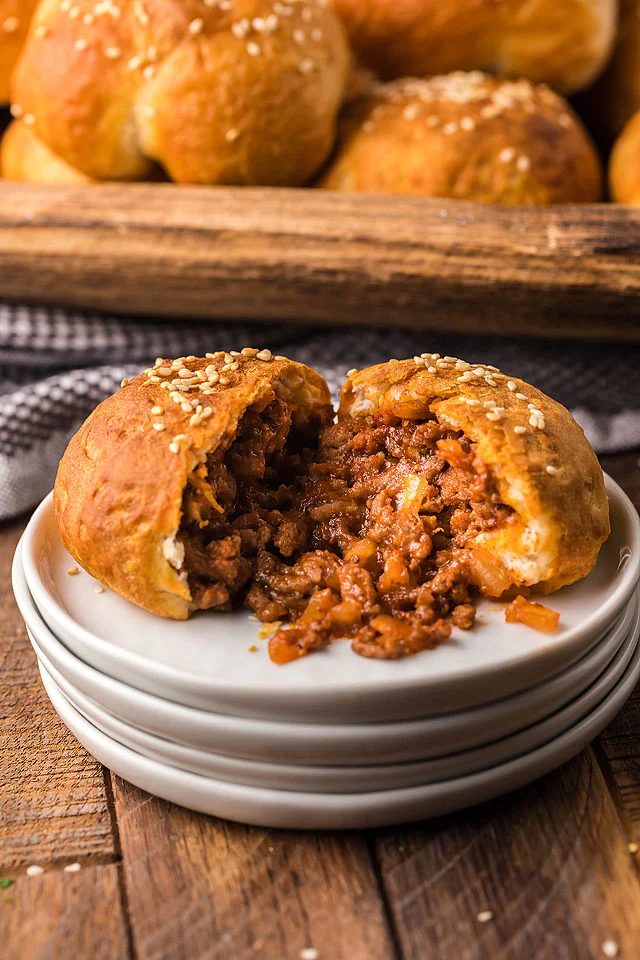 Do you love Sloppy Joes but not the, well, sloppiness? No problem, Bella of XOXO Bella came up with a delicious solution with these sloppy joe pockets. It starts with her from-scratch sauce and ground beef, which is pretty typical.
But things get interesting when you stuff the meat sauce inside the canned biscuits and brush them with butter and sesame seeds. You end up with perfectly browned sloppy joe balls but with a contained mess for an incredible dinner. But you can double or even triple the batch for week-long snacking.
Visit XOXO Bella for the recipe.
Mongolian Beef
If you are craving a quick midweek meal inspired by Asian flavors, you must consider this mouthwatering, plate-licking dinner from Nassie of Fam Fooderie. While Mongolian beef isn't the most complex dish to prepare, this air fryer version may become your new favorite way to make it.
It's less hands-on than the traditional way. You'll find all the flavors you love from ingredients like rice vinegar, garlic powder, ginger, brown sugar, and more, drenching your preferred cut of steak. Serve with white rice and veggies, and you have a whole meal.
Visit Fam Fooderie for the recipe.
Bacon Wrapped Cheeseburger Bites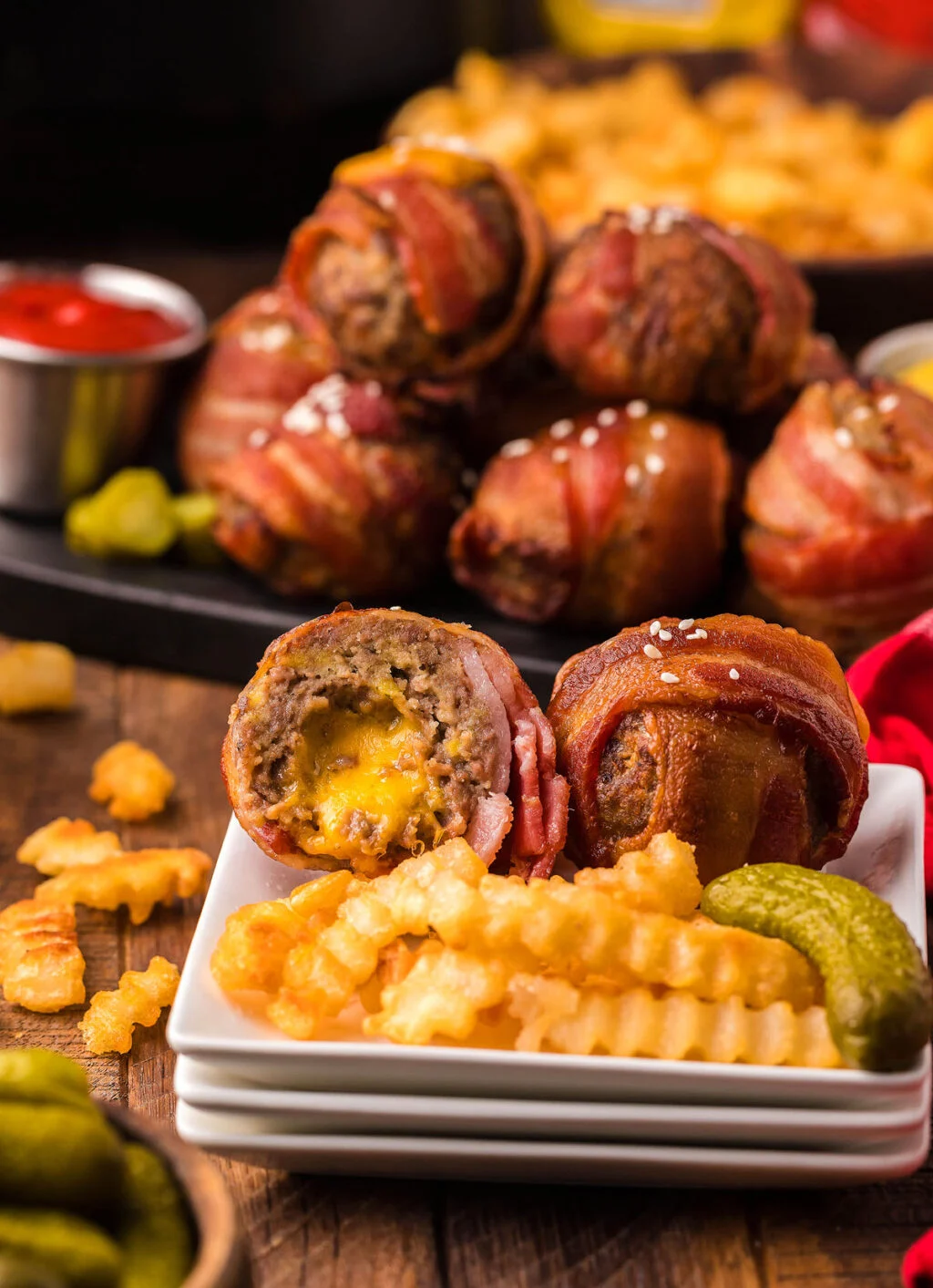 Bella, the creative behind food blog XOXO Bella, makes the list again with another one of her brilliant air fryer ground beef recipes.
This time it's a bacon-wrapped cheese-stuffed burger. Now, if that description doesn't get you going, certainly the image does. They're ooey-gooey cheese-filled little juicy burgers, sure to satisfy all.
And as Bella says, this is precisely the type of recipe the air fryer was made for. Simple and delicious. On the recipe page, you'll find all the tips you could need to make this crowd-pleasing game-day appetizer. Or, serve with pickles and fries, and you've got dinner.
Visit XOXO Bella for the recipe.
Simple & Easy Meatloaf Recipe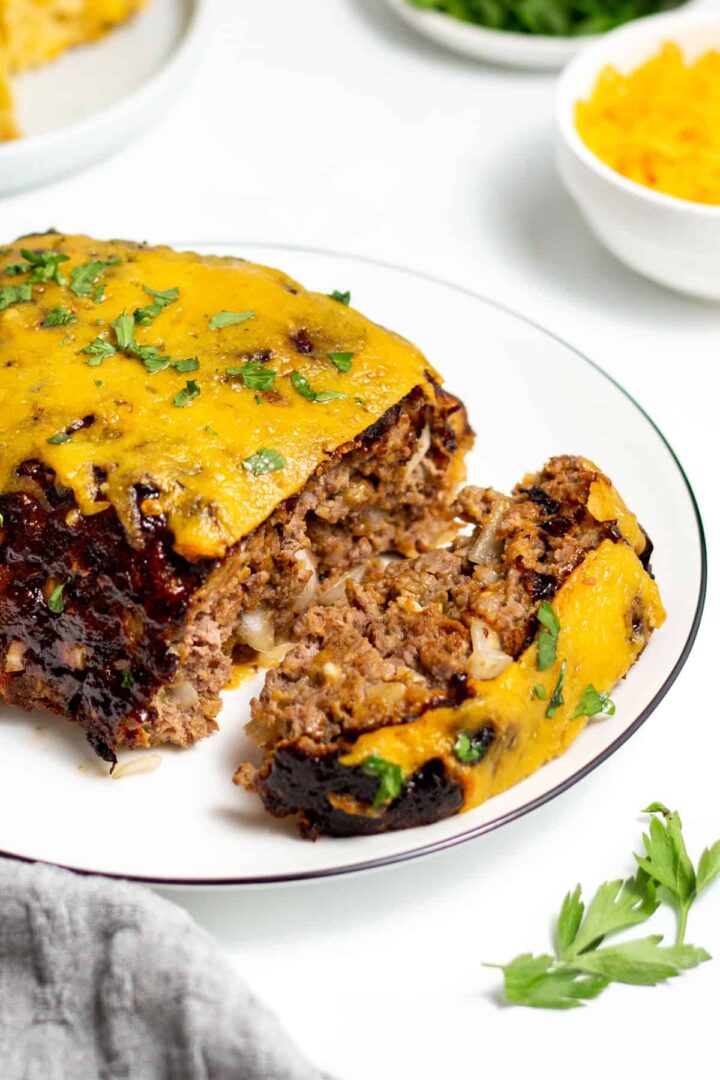 No easy beef recipes list would be complete without meatloaf. And this one from Kristina of Tasty Oven has us daydreaming. So, it's now on our ever-growing must-make recipes list.
But meatloaf recipes are everywhere. So what makes this one special? Well, first, this one is moist. Second, Kristina doesn't skimp on the flavor. There's a ranch seasoning packet, barbecue sauce, and cheese.
Lastly, it takes a few minutes to prepare and just 25 minutes in the air fryer. That's half the time it takes in the oven.
Visit Tasty Oven for the recipe.
Chicken Fried Steak
Did you know you can get a crispy and crunchy coating on a steak without deep frying it? Yeah, we had our doubts too. But not Bri of Bites With Bri. She shows you all the steps to make this indulgent steak meal perfect for a Sunday.
And while this air fryer steak recipe calls for a generous spray of avocado oil to crisp up the bread coating, it still uses far less fat than a deep-fried steak.
On her page, you'll find loads of tips, including a gravy recipe to help you make this unforgettably delicious meal.
Visit Bites With Bri for the recipe.
Beef Jerky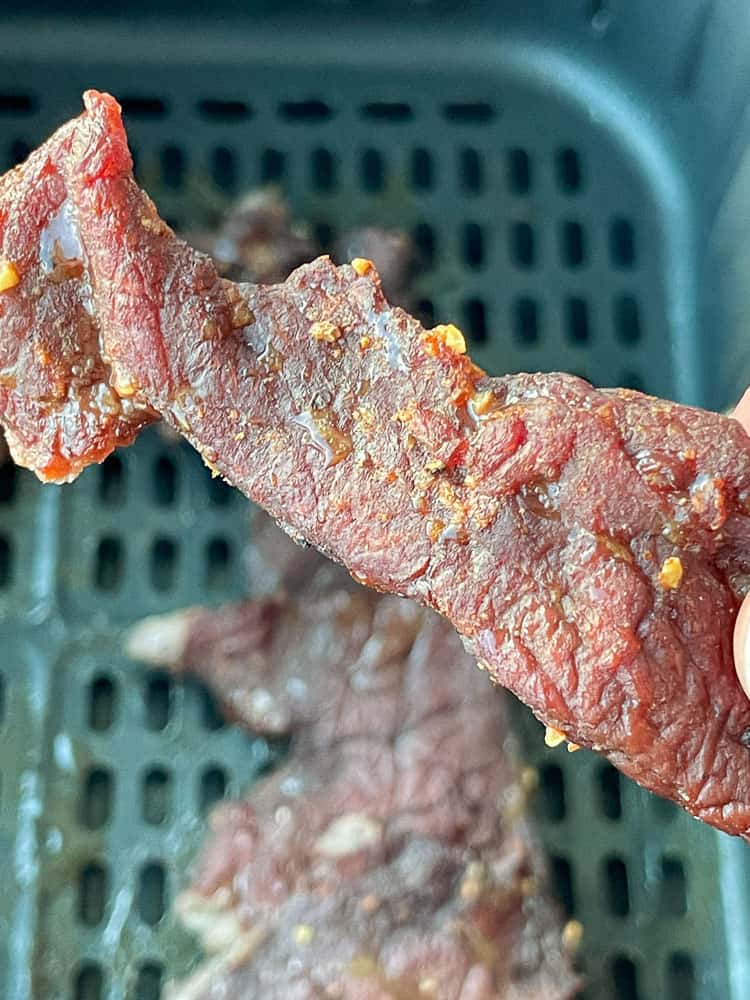 If you're a jerky fan, you'll be stoked to learn you can make everyone's favorite crispy beef snack in the air fryer without needing an expensive food dehydrator.
It's made possible with recipes like this one from Laura of Little House Big Alaska. First, slice lean beef thinly on a cutting board. Then soak for three to four hours in a heavenly bath of flavor. Soy sauce, honey, and black pepper are just a few of the seasonings.
Finally, you will need to put it in the air fryer for about 3 hours, which is still quicker than a dehydrator. So, you can save that extra time for another awesome air fryer beef recipe.
Visit Little House Big Alaska for the recipe.
Garlic Steak Bites
These low-carb air fryer steak bites from Elaine of Small Farm Big Life are seasoned to perfection with onion powder, thyme, garlic, and other spices.
They're juicy little chunks of flank steak so addictive you'll want to eat them one by one until they disappear. And while no one could blame you for snacking on them as is.
You can serve them with rice (or cauliflower rice) or a broccoli recipe for a great meal ready in just 22 minutes.
Visit Small Farm Big Life for the recipe.
Patty Melt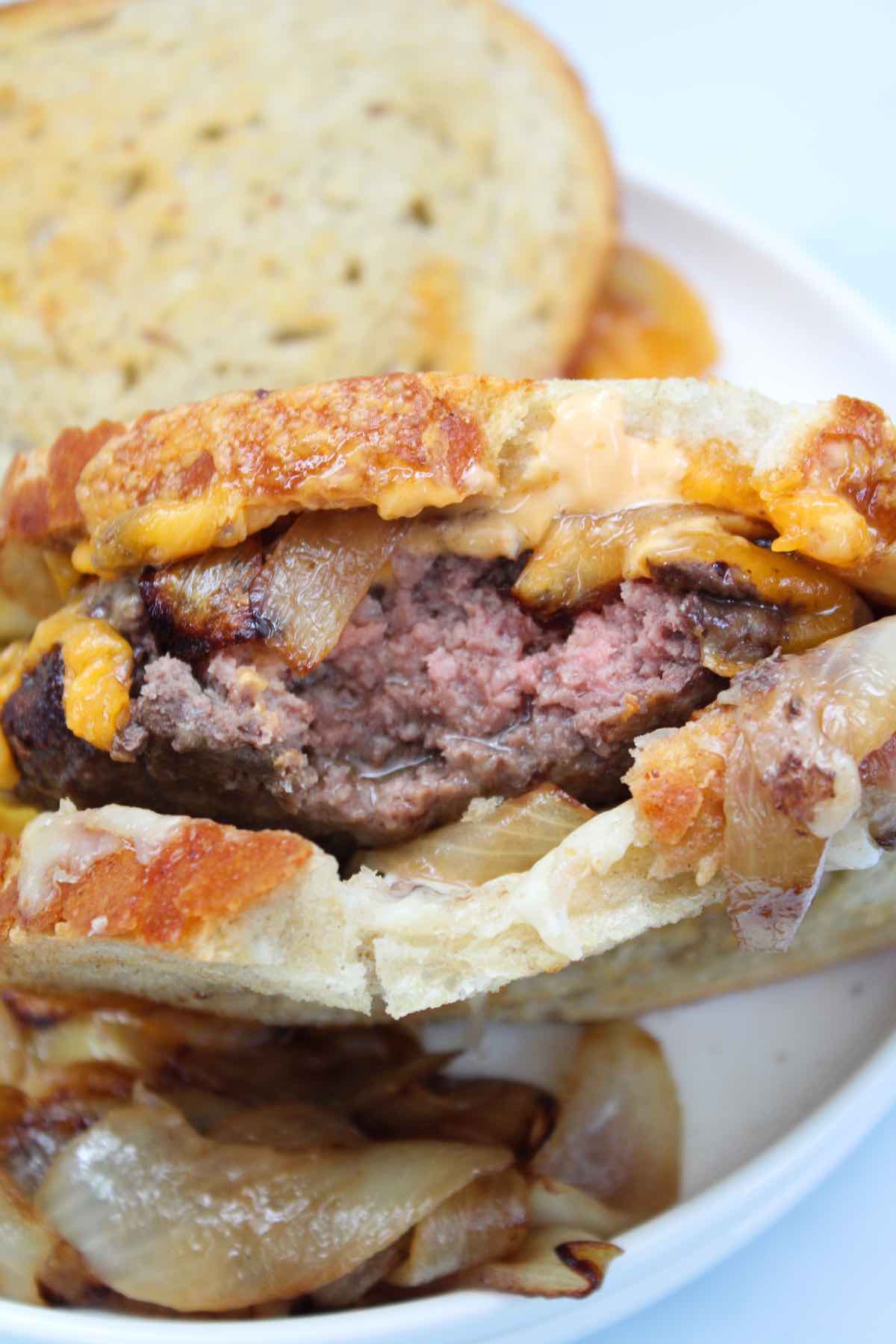 This air fryer patty melt from Daniella of The Six Figure Dish is one of the best ground beef recipes we've ever encountered.
Patty melts are a favorite in our home, and this air fryer version certainly looks tempting with the juicy ground beef patty, cheese, and toasted rye bread.
Then to complete it, there are the caramelized onions which happen to be made in the air fryer as well. Best of all, it comes together in just 20 minutes. How can one resist?
Visit The Six Figure Dish for the recipe.
Steak Fajitas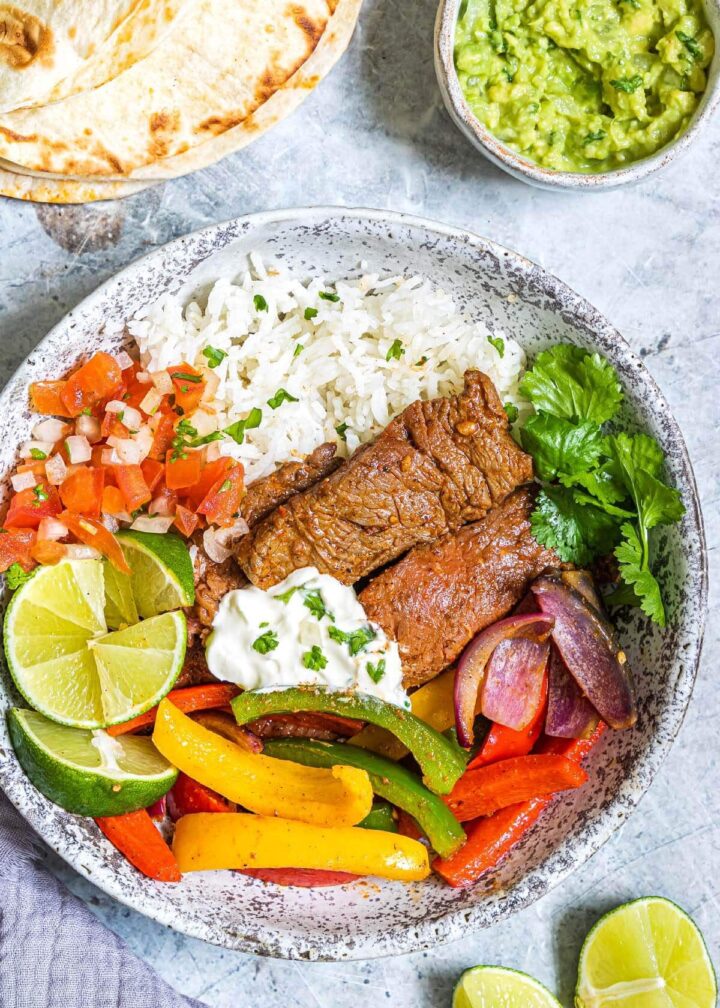 In just 40 minutes, including preheating your air fryer, you can have such an easy and satisfying meal on the table for your whole family. These steak fajitas from Sandy of Simply Happy Foodie are an excellent weekday recipe.
It starts with your favorite cut of beef. Perhaps rich sirloin steak cut into thin slices. Then there are onions, bell peppers, and seasonings. Next, serve with rice and tortillas and listen to them munch away blissfully in near silence.
Visit Simply Happy Foodie for the recipe.
Beef Wellington
On the Milner's site, recipe This, you'll find a seemingly endless index of air fryer recipes, including this delicious beef wellington. It's an impressive traditional English main dish made more accessible thanks to the air fryer and head chef Dom.
It starts with the most prized cut of beef, filet mignon. Then it's topped with succulent mushrooms. And finally, it's wrapped in a rich buttery dough with liver pate.
Now, the first time you make it, you might be a bit intimidated given the dish's reputation. But this recipe is a great resource to help guide you.
Visit Recipe This for the recipe.
Taco Meat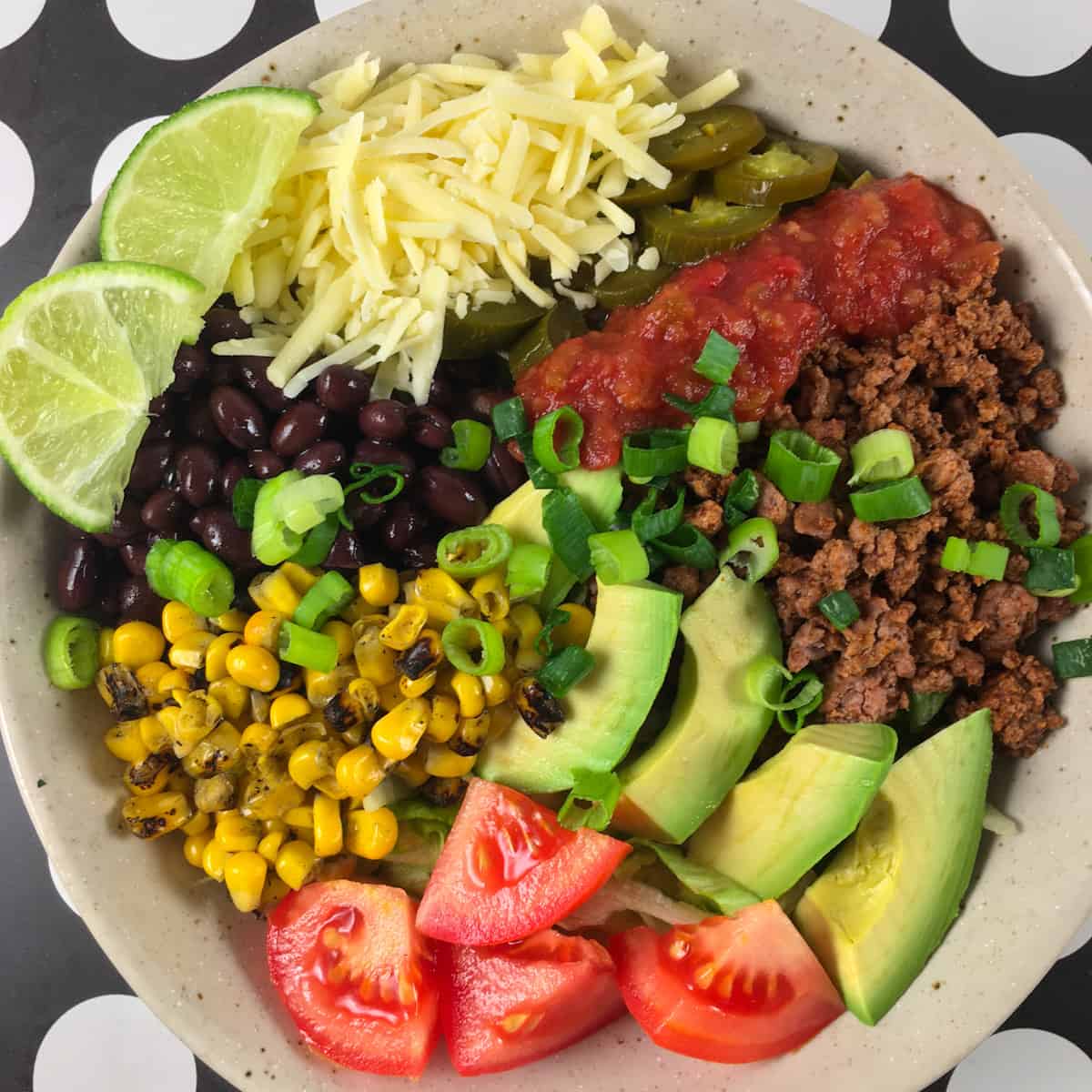 Did you know you can make mouthwatering taco meat in the air fryer? Well, that's why we included this recipe from the self-titled blog Summer Yule. It's a quick and easy recipe with ground beef and taco seasoning.
But the real benefit is that it's hands-off. So while the beef is cooking in the air fryer, you can prepare the other fixings for your tacos, bowls, or burritos. What a great way to make taco Tuesday easier.
Visit Summer Yule for the recipe.
Enchiladas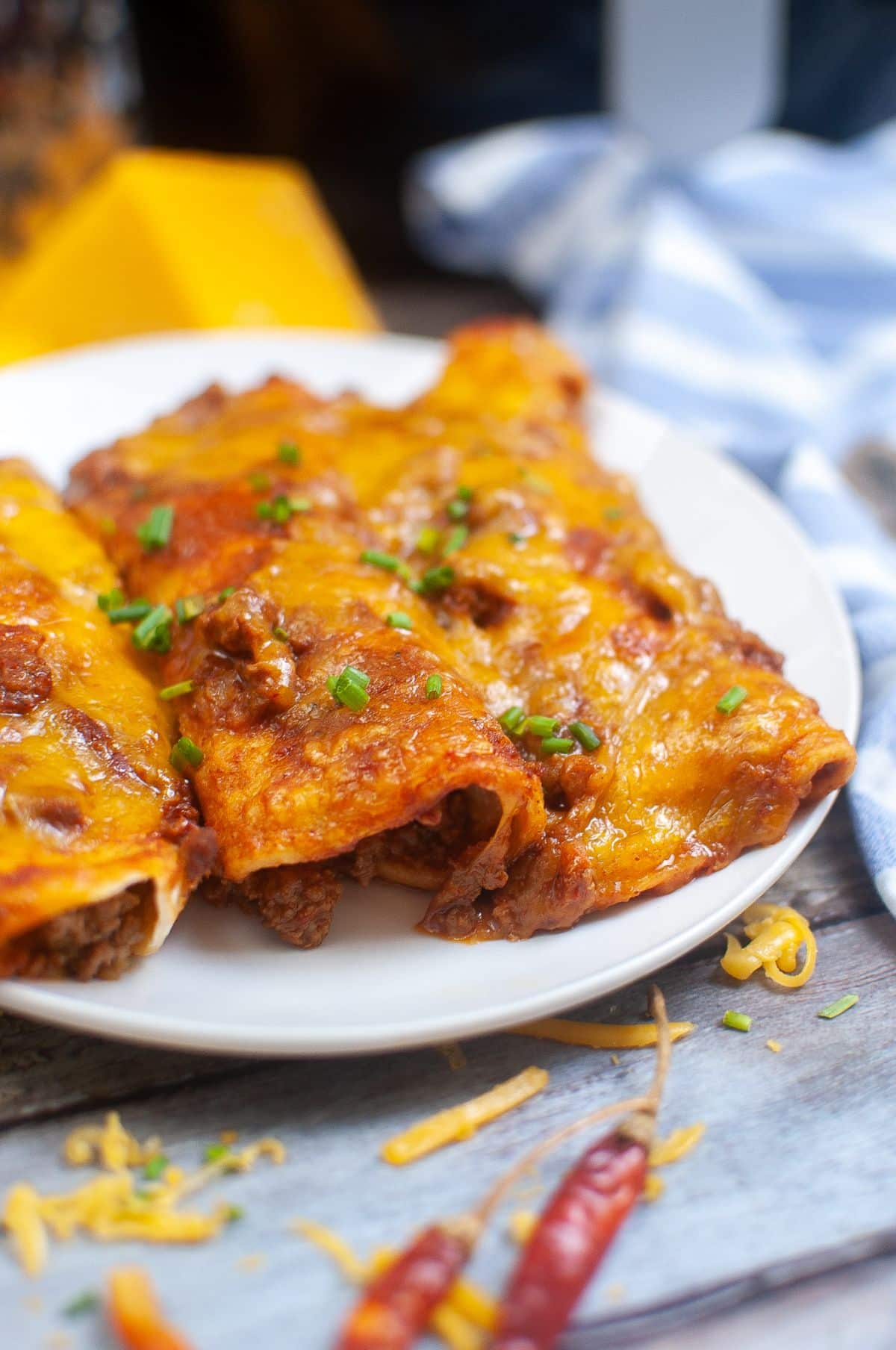 If you're anything like us, Mexican-inspired dishes are a part of your regular meal rotation. So, this air fryer enchiladas recipe from Corrine of Wonder Mom Wanna Be might be right up your alley.
It has everything you would expect from an enchilada recipe. There's the tender ground beef, lots of irresistible cheese, and so much sauce for a delicious weeknight meal in about 30 minutes.
Not to mention the toppings you can add! But the biggest benefit is that you can make it without worrying about turning on the oven and heating the whole house.
Visit Wonder Mom Wanna Be for the recipe.
How To Cook Air Fryer Roast
In an incredibly detailed post, Justine of Temecula Blogs shows us how to make a beef roast in the air fryer with an addictive Teryaki marinade.
It's one of those easy air fryer recipes perfect for a Sunday dinner and may even replace your oven recipe.
Here's why:
So, as you may know, a roast can be an all-day affair, taking four or five hours. But because Justine has you cut the roast into thick slices, this tasty meal can be on your plate in only 30 minutes while your guests assume it took forever.
How amazing is that?
Visit Temecula Blogs for the recipe.
Beef Taquitos
These air fryer beef taquitos from Kaylie of A Peachy Plate are an excellent snack to reel you back on those lazy days when you're just moments away from ordering out. But, come on, that's not just us!
Now, we love the real deal, deep-fried taquitos, so we're not saying they taste just as good. But when you consider they're still delicious, healthier, and easier to make, they are a better option overall.
So, double the batch and freeze for quick weekday snacking, or make a bunch for a complete family meal everyone will love.
Visit A Peachy Plate for the recipe.
Steak Gyros
Can you believe these air fryer steak gyros are an easy 20-minute recipe? That's right! The team at Dine Dream Discover shows you how to make this flavor-filled Greek street food right at home in your air fryer.
It starts with thinly shaved beef that's lovingly seasoned, then cooked for just 10 minutes in the air fryer and stuffed inside a warm gyro. They also show you how to make the tzatziki sauce and give you plenty of ideas for toppings.
Visit Dine Dream Discover for the recipe.
Tri-Tip Roast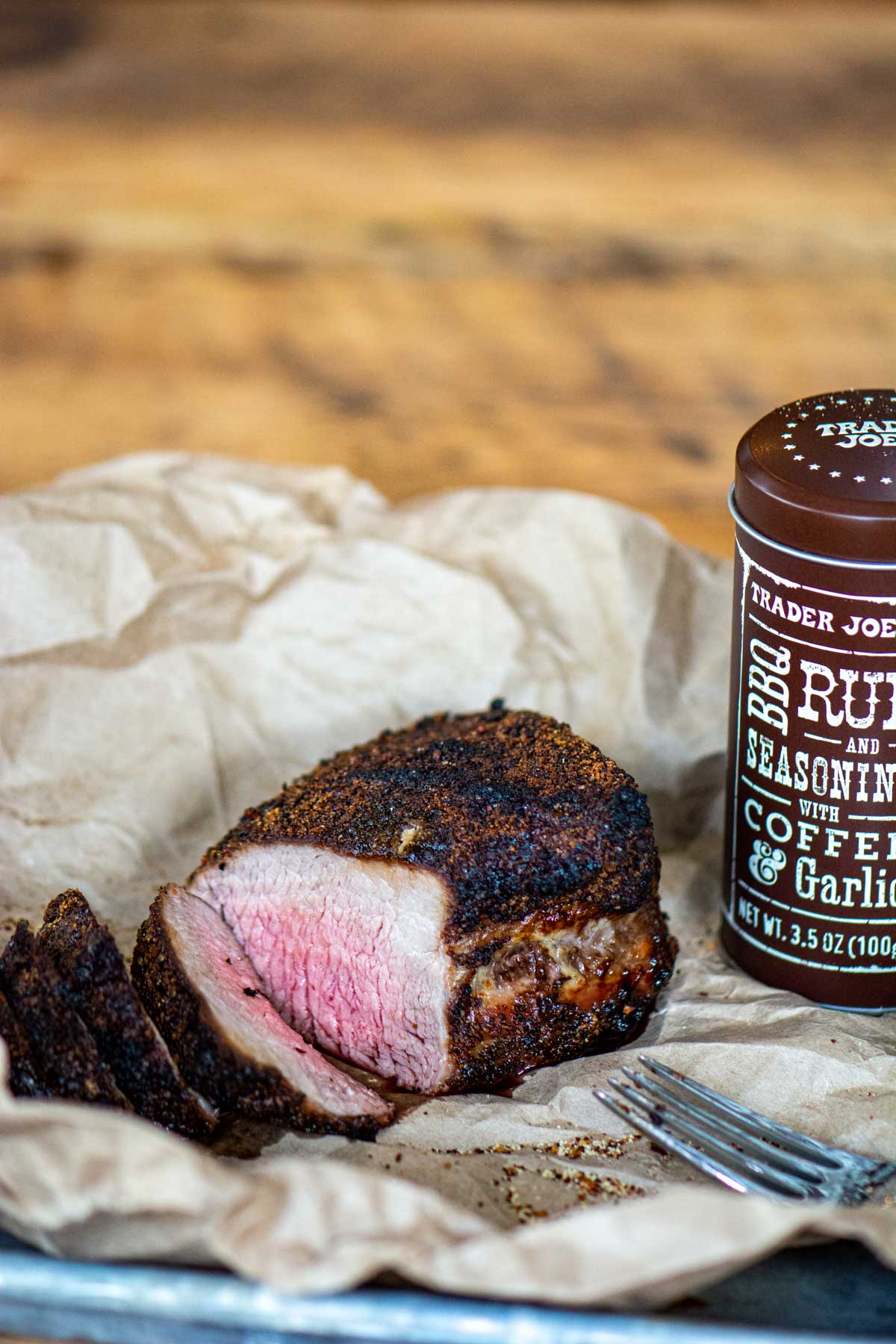 When Ginny of Savor And Savvy made this juicy air fryer tri-tip, it was so good that she changed her plans and made another one. In fact, Ginny says it's so delicious that once you try it, you will never make tri-tip on the grill. And we get it.
Air frying offers convenience and consistency that few other cooking methods can match. Plus, the recipe's simplicity adds to the simple cooking method, which consists of just three ingredients.
So, head over to the page where you'll learn everything you need to know about cooking this mouthwatering cut of beef in the air fryer.
Visit Savor And Savvy for the recipe.
Stuffed Bell Peppers
This ground beef stuffed bell peppers from Spend With Pennies is a fantastic way to include vitamin c rich vegetables into your diet. So, if you happen to catch them on sale, grab a bunch and make this recipe.
But aside from a tasty and nutrient-dense dinner, you also get another practical benefit; saved time. That's right, this recipe cooked in the air fryer takes about half the time it would in the oven.
And you don't have to worry about any loss in flavor. It tastes great. From the dozens of folks who tried it, the average rating is close to 5 stars.
Visit Spend With Pennies for the recipe.
FAQ
What are some of the benefits of cooking in the air fryer?
There are many benefits to cooking with an air fryer. For one, it's convenient because you can pull it out and cook a hearty meal in less than half the time it would take in a traditional oven.
Secondly, it won't heat the house the way your full-sized oven will. Again, this benefit is more pronounced if you live in a small apartment. Also, air fryers are excellent for reheating food. Finally, they are excellent at reheating leftover fried food.
Are Air Fryer Recipe Cooking Times Accurate?
Generally, yes. But, as with any recipe, your cooking time may vary depending upon too many factors to list them all.
But for example, the cooking time can vary depending on elevation, brand, and recipe. So for best results, you may want to check your food 5 to 10 minutes before the timer sounds.
What is the best air fryer?
There are so many different air fryers out there that you may want to know which one is best to buy. There are many top brands out there.
Some have 10's of thousands of reviews with nearly 5-star ratings. So a unit with thousands of reviews and good ratings will be a good bet.
But what you look for in an air fryer may differ from the next person. For example, you may prioritize air fryer basket size and durability while the next person puts a premium on price and other features.
Which of these beef recipes do you want to try first?
By now, you've seen plenty of beef recipes you can make in your air fryer, but which one are you looking forward to trying first. Is it the steak gyros, the air fryer enchiladas, or that juicy tri-tip recipe? Let us know!