You're going to love this lovely curated list of yummy ground turkey recipes for dinner. They're perfect for when you're trying to cut calories without cutting flavor.
For example, you'll find low-carb turkey chili, sweet sesame ginger meatballs, Thai turkey lettuce wraps, and so many more.
So are you ready to discover?
Let's dive in!
For more ground meat recipes, see this big list of ground chicken recipes and ground Italian sausage recipes.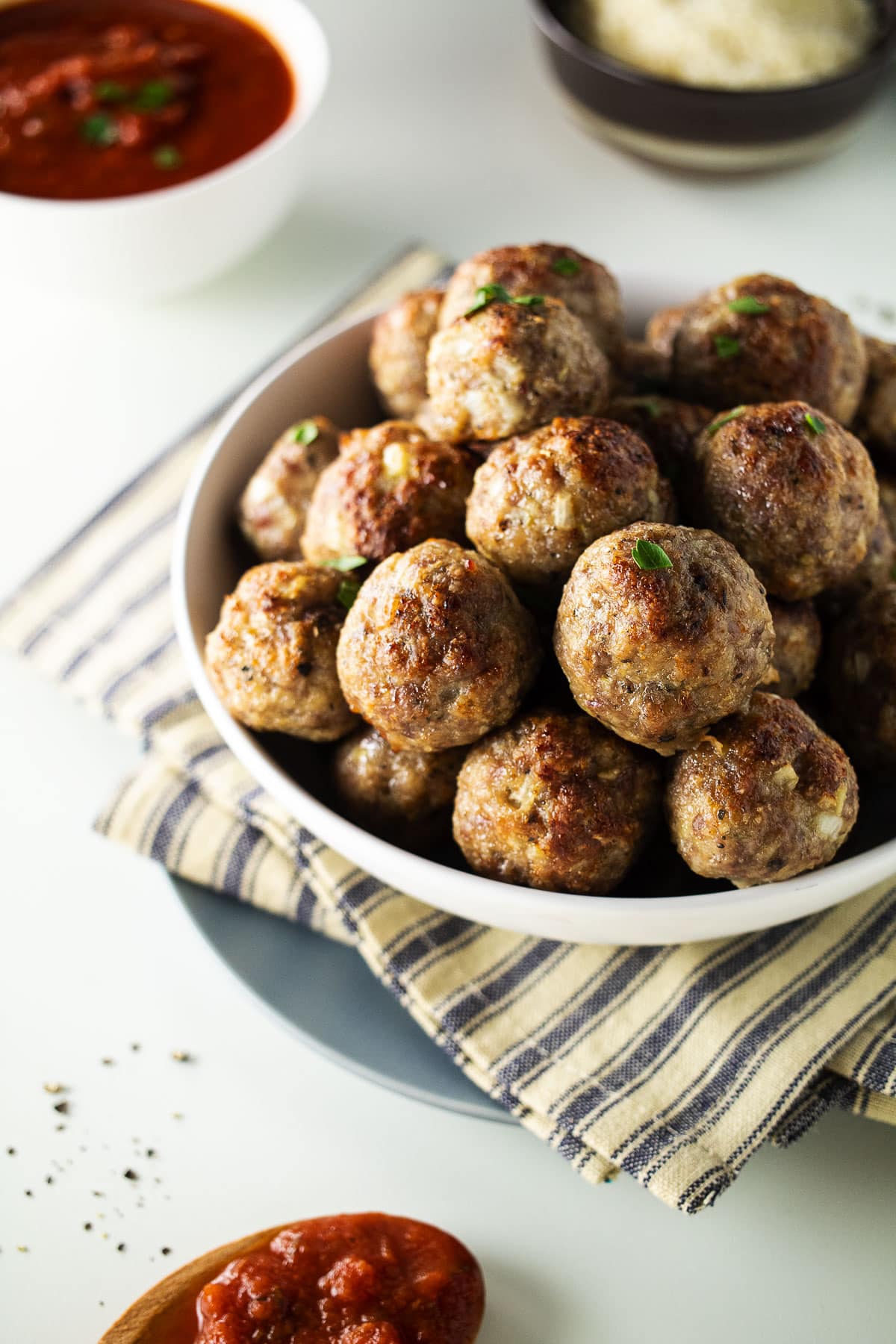 With just 30 minutes and ten ingredients (including salt and pepper), you can make these juicy and flavorful turkey meatballs. They're so moist, tender, and delicious that you'll keep making them over and over again. But not only are they tasty, but they're also low-carb and high-protein.
Low Carb Turkey Chili Recipe
Katrin is the Sugar-Free Londoner providing us with low-carb breakfast, lunch, and dinner options like this keto-friendly chili with ground turkey meat. So, no, you won't find any beans in this chili, but it isn't wanting for seasoning. There's still red chili powder, ground cumin, and more flavors.
Visit Sugar Free Londoner for the recipe.
Ground Turkey Spaghetti Recipe
This ground turkey spaghetti sauce recipe from Lorie of Lemons + Zest gets better with time. So don't be surprised if you find yourself daydreaming about it while at work. It's a veggie-packed sauce featuring basil, oregano, and garlic. Plus, it's freezer friendly, making it great for meal prep.
Visit Lemons + Zest for the recipe.
Ground Turkey Teriyaki Stir Fry
Healthy weeknight dinners just got a little tastier with this ground turkey teriyaki stir fry from Lorie of Lemons + Zest. You'll prepare easy bowls with all your nutrition needs and loads of flavor from orange, honey, garlic, and sesame. It takes just 30 minutes to make. Just serve it with rice, and you'll have a hit that the family will scarf down.
Visit Lemons + Zest for the recipe.
Cool Ranch Turkey Taco Casserole
Move over, beef! Turkey gets the spotlight in this flavorful Southwest-inspired Cool Ranch Turkey Taco Casserole from XOXO Bella. And if you ever found ground turkey to be a bit bland, you wouldn't be alone. But that's not the case here. Bella brings the flavors of the ranch, red onions, jalapenos, and so much more.
Visit XOXO Bella for the recipe.
Sweet Sesame Ginger Meatballs
Mother of two, Tracy, and blogger at Served From Scratch, knows how important it is to keep a diverse collection of healthy but still tasty meals. And that's what we get with these sweet sesame ginger meatballs. Smothered in a life-changing Asian-inspired sauce, they work great as a party appetizer and even better over rice as a complete meal.
Visit Served From Scratch for the recipe.
Turkey San Choy Bow (Chinese lettuce wraps)
Marie of Sugar Salt Magic gives her delicious take on the classic Chinese lettuce wraps. Each crunchy lettuce wrap is filled with the flavors you expect from Asian cuisine. They're quick to make, and you'll love how easy prep work is for this dish, as you can complete most steps ahead of time.
Visit Sugar Salt Magic for the recipe.
Tater Tot Turkey Casserole
When it comes to cooking, Renae of The Feathered Nester sticks to a mantra, "simple, easy recipes." And that theme is undoubtedly present in this tasty, suitable for any weeknight, tater tot turkey casserole. It uses simple ingredients like ground turkey, tater tots, cheese, and green beans, making it a filling meal.
Visit The Feathered Nester for the recipe.
Homemade Air Fryer Turkey Meatballs
These air fryer turkey meatballs from Nicole and Andrea of Simply Scrumptious Eats are ideal on top of spaghetti, in quinoa, and Tex-Mex bowls and are great for meal prep. With milk and bread crumbs, they stay moist. They freeze well, so you can eat them right away or save them for another day.
Visit Simply Scrumptious Eats for the recipe.
Caramelized Onion Mushroom Swiss Turkey Burger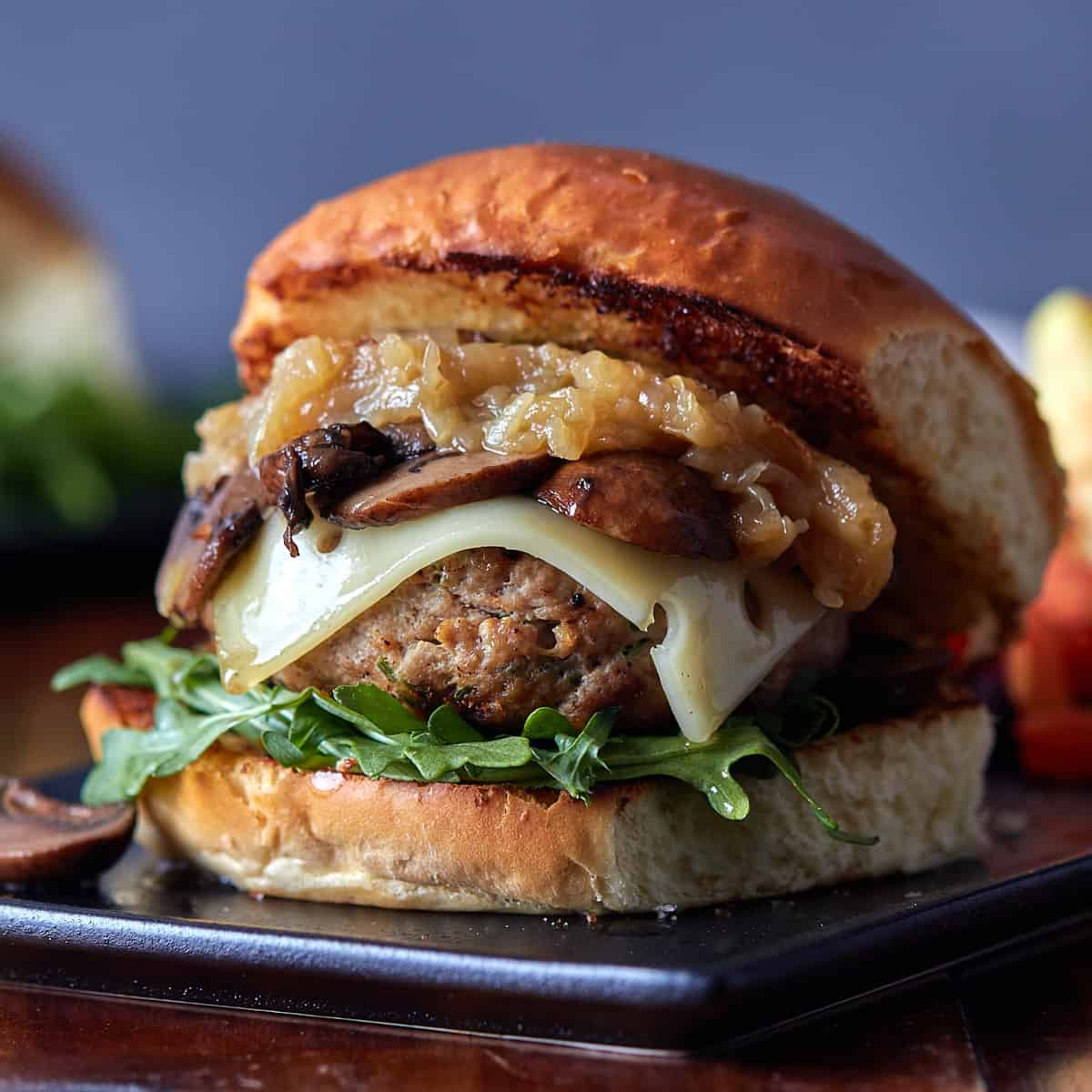 Now that's a burger! Jim of Casual Epicure recognizes that turkey burgers, without help, can leave the taste buds yearning for more. So that's why he blessed them with more umami flavor in the form of caramelized onions and Swiss cheese. The burger itself is seasoned with Worcestershire sauce, onion powder, garlic salt, and more.
Visit Casual Epicure for the recipe.
Turkey Taco Pasta
Come on. You remember hamburger helper, right? It was a favorite dinner solution that became a household favorite through clever marketing and practicality. But this healthier version from Angela of This Delicious House is made with turkey, real cheeses, and seasonings for a savory dinner favorite that'll satisfy bellies and spark nostalgia.
Visit This Delicious House for the recipe.
Turkey Meatloaf With Zucchini
Without a decent recipe, even meatloaf made with ground beef can turn out, well, wrong. That means crumbly or dry. But that's different from what happens in Sava's Kitchen. Instead, her healthy spin on classic meatloaf calls for the right kind of ground turkey to keep it moist. And it is stuffed full of shredded carrots and zucchini for more nutrition.
Visit Sava's Kitchen for the recipe.
Homemade Ramen With Seasoned Ground Turkey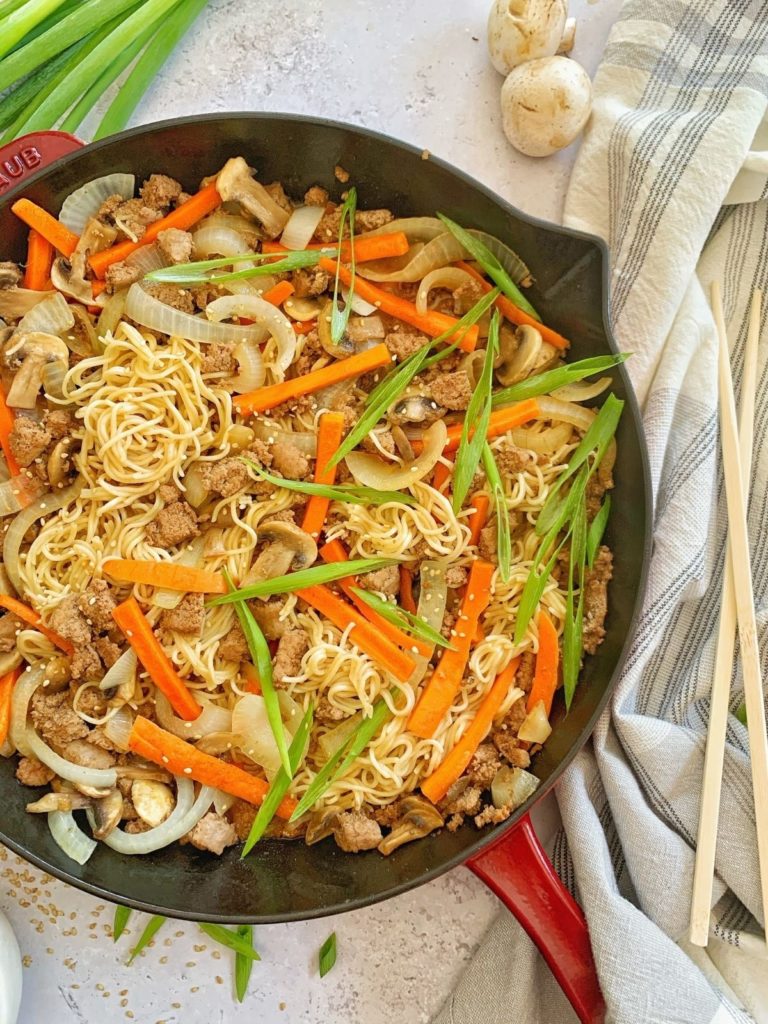 Now that we're grown-ups, it might be time to think more about how we eat. So with this homemade ramen with seasoned ground turkey recipe from Megan, The Oregon Dietician, you'll learn how to step up your ramen game. Along with ground turkey and ramen noodles, you'll find carrots, green onions, mushrooms, and lots of flavors from ingredients like sesame oil and rice wine vinegar.
Visit The Oregon Dietician for the recipe.
Turkey Shepherd's Pie
To many, shepherd's pie wears the crown as the king of comfort foods. There's mashed potatoes, meat, gravy, and a medley of veggies. Just a sniff evokes images of fall and winter and cozy blankets. But Cathy of Herbs & Flour reduces the calories a bit by swapping beef or lamb for turkey. It still tastes great. It's just a little healthier.
Visit Herbs & Flour for the recipe.
Turkey Pumpkin Chili
This hearty turkey pumpkin chili recipe from Kate of I Heart Eating is what fall days are made of. Pumpkin adds a nice flavor, not often found in chili, but it still tastes like chili with chili powder, garlic, onion, and other flavors. The ground turkey swap makes it healthier, but it's so tasty you miss the beef.
Visit I Heart Eating for the recipe.
Ground Turkey and Cabbage Stir Fry
Served with chopped peanuts and rice, this ground turkey and cabbage stir fry from Tanya Staab is a tempting weeknight meal. You'll find green and red cabbage, ginger, sesame oil, rice vinegar, garlic, and more. Give it a try, and you might find it's the healthy dinner bowl you've been waiting for.
Visit Tanya Staab for the recipe.
Instant Pot Turkey Taco Pasta
For a fun change up to Taco Tuesdays, see this instant pot turkey taco pasta from Julia of A Cedar Spoon. When using your pressure cooker, it comes together in no time with tender ground turkey, taco seasoning, and fire-roasted tomatoes. It's a tasty dish with a kick that everyone will love.
Visit A Cedar Spoon for the recipe.
Ground Turkey Sweet Potato Skillet
Turkey, sweet potato, ground cumin, chili powder, and cheese play a leading role in this Mexican-inspired skillet from Chelsea of Mae's Menu. It presents as a flavorful, comforting, and hearty meal your whole family can get behind.
Visit Mae's Menu for the recipe.
Thai Lettuce Wraps
The motivation for this recipe from Desarae of Oh So Delicioso was inspired by a discontinued lettuce wrap option on the popular Pei Wei menu. So after facing heartbreak, disappointment, and mourning, she did the only thing she could do; develop an approximation of this decommissioned favorite. It features recognizable Asian flavors like soy sauce, hoisin sauce, rice vinegar, cilantro, and much more.
Visit Oh So Delicioso for the recipe.
Old Fashioned Sloppy Joes With Ground Turkey Breast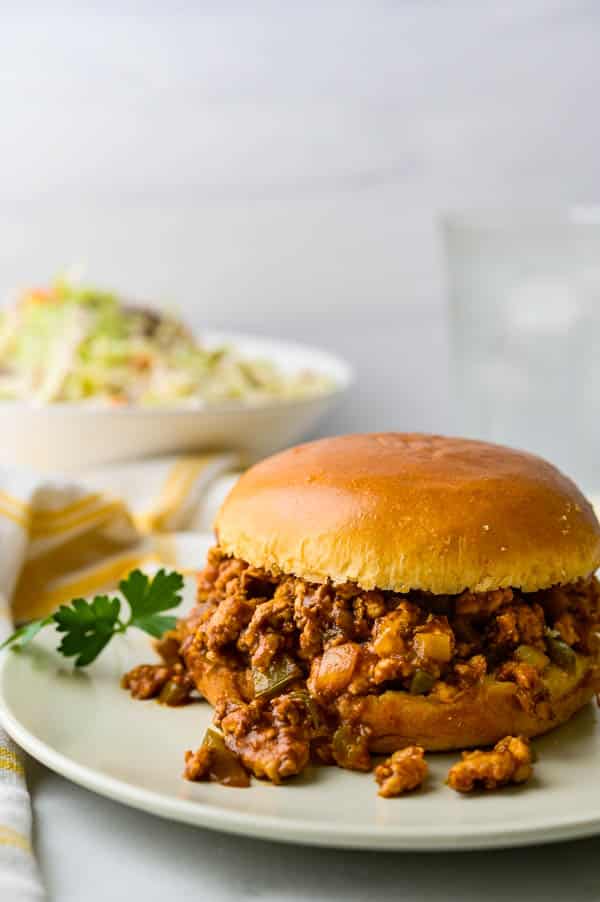 Enjoy these tasty old-school sloppy Joes with ground turkey from Lisa of Garlic And Zest for a lightened-up twist on the classic lunchroom fave. It's got all the flavors you remember, but it's less fatty than beef and has fewer calories.
Visit Garlic And Zest for the recipe.
Spinach and Feta Turkey Burger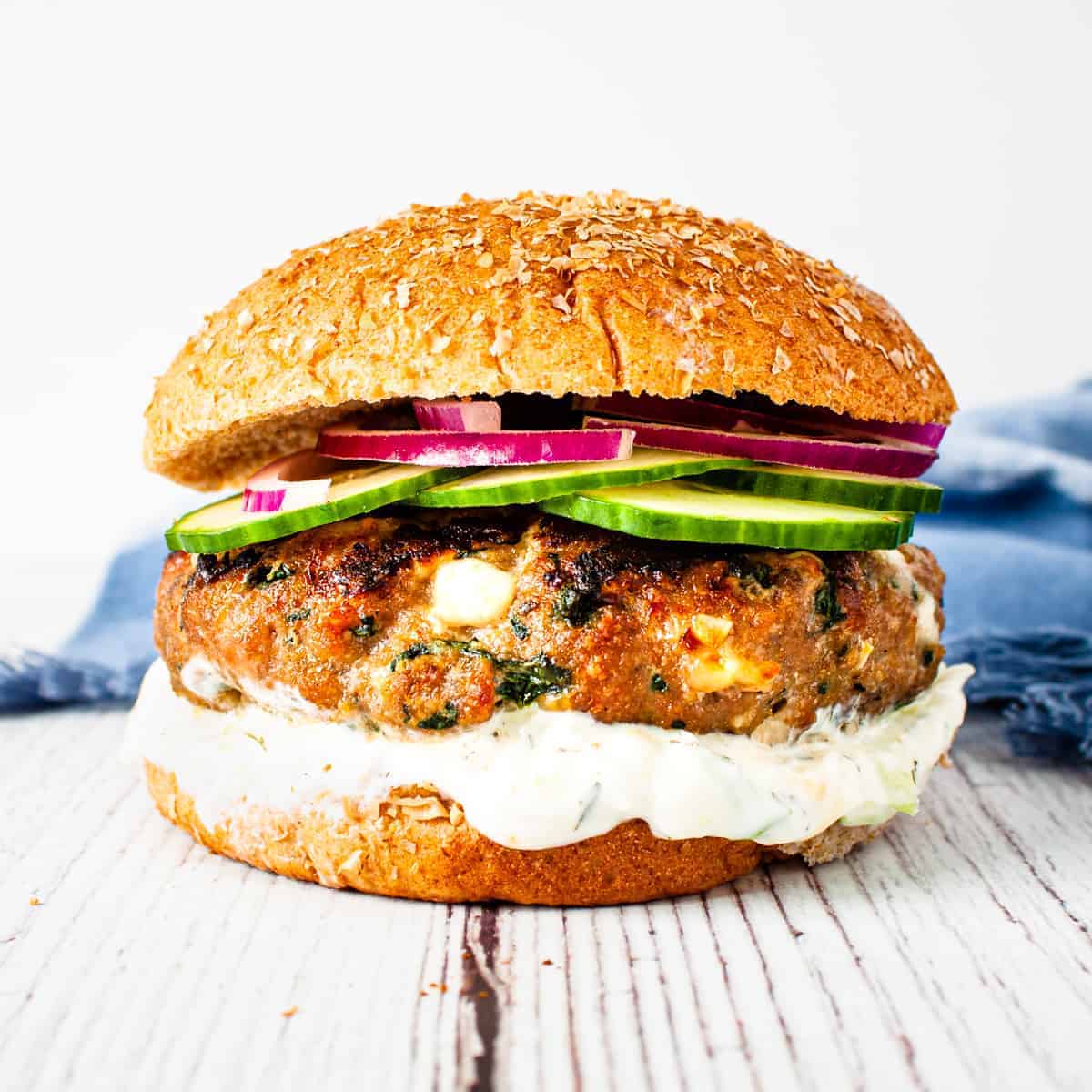 Did Scott of Dishes With Dad manage to do the impossible? That is, make a turkey burger look as appetizing as its beefy counterpart. That's a resounding yes! Just look at it shimmering with juiciness and stuffed with feta, spinach, herbs, spices, and tangy tzatziki sauce dripping off the sides of the pillowy soft bun.
Visit Dishes With Dad for the recipe.
Which Ground Turkey Recipe For Dinner Will You Try First?
So today, you've seen many healthy and tasty ground turkey recipes for dinner. There are so many options like instant pot taco pasta, turkey pumpkin chili, and perhaps the juiciest spinach and feta turkey burger. So, what will it be? Let us know.
And if you like this list, check out this tasty list of ground lamb recipes and healthy ground beef recipes.