This mango pineapple crab Rangoon recipe is our remix on an old classic. When I say these things are good, they are soooo good. It's a nice tropical twist that's perfect for the summer time or any time you start catching feelings for these delicious bites (we don't really follow a strict seasonal eating plan, we sometimes eat chili in the summertime… Gangsta).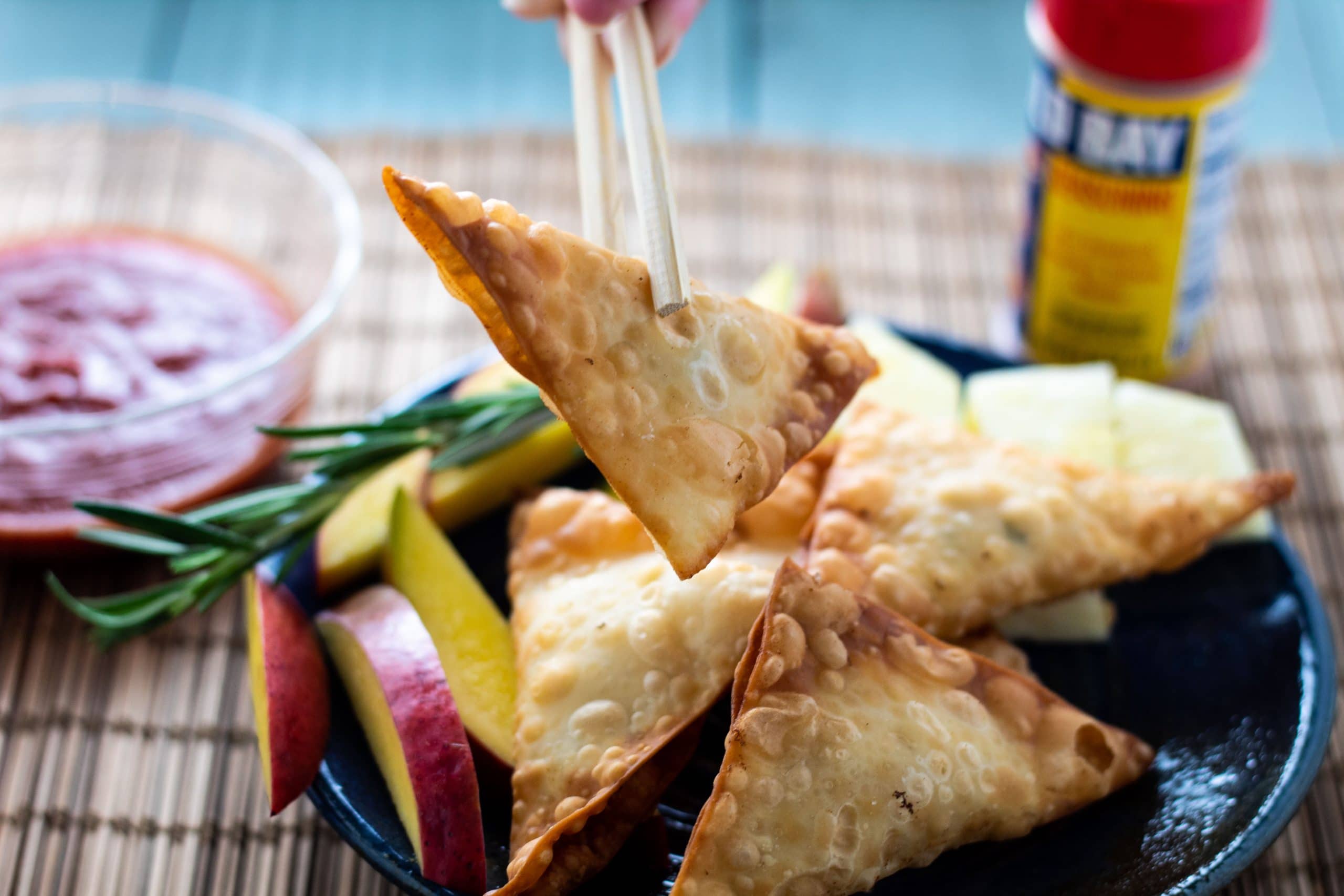 But seriously, this is the type of recipe that when made they will fly off the plate whether you make them for yourself or a large group. Speaking of groups, if you make these mango pineapple Rangoon for a group, I'd recommend getting started about 30 minutes to an hour ahead of time. As far as fried foods go, this recipe still taste good after sitting for a while, although not nearly as good as when fresh. But they are a lot better after sitting for a while rather than, say, fried fish, which you want to eat as soon as it's cooked.
We make this recipe with real crab meat. But as you probably already know, crab meat can be quite expensive. So you can substitute the real for the imitation stuff. Although the real taste better.
Are you Cooking for Many or Few?
If you are making these for a large crowd it is better to serve them right after they are done cooking. Most fried foods taste best 5-10 minutes after cooking. Letting the food rest for a few minutes is a good idea for a couple reasons. You don't want to burn yourself (like I do too often). And you certainly don't want to burn your guest (if you are making for a crowd). Another reason to let the food rest is because it's still cooking while resting.
Cook Until Lightly Golden Brown…
One of the biggest mistakes we used to make was frying food for too long. If you wait until the Rangoon get golden brown, they will end up darker than what you want them to be. As the food rest, it will continue to cook. So, cook your Rangoon until lightly golden brown. Also, the only thing that needs to cook is the wonton. The other ingredients just need to be warmed up.
Other Deep Frying Tips…
If you want to produce consistent frying results make sure to:
Keep the temperature at between 350 and 360 degrees Fahrenheit.
Don't overcrowd the pot/pan
Place finished food on a paper towel lined plate/pan or draining rack
Use the right tools (see below)
Tools to Make Frying Easier…
There are a couple tools that make frying a lot easier. Number one is a proper vessel for the oil. We love cast iron as it heats up quickly and stays hot. We bought an inexpensive (comparatively) Dutch oven from the lodge brand. I think we paid about $50 for it. Now, for some that might seem expensive but we've been eyeing a $350 Le Creuset Dutch oven for years only to realize that Lodge version is perfect for us.
The second most important tools are the thermometers. We use two. One is a clip thermometer, the other is a probe thermometer. Use the clip thermometer to monitor the oil temperature. Use the thermometer to check the internal temperature (not necessary for this recipe).
You'll also want to get a mesh net strainer. This cheap little tool will help you avoid making a mess while removing your food from the hot oil. Tongs can work but you will only be able remove one or two Rangoon at a time. When you are cooking foods like chicken wings, fries, corn chips or Rangoon for example, you'll want to be able to remove the food pretty quickly.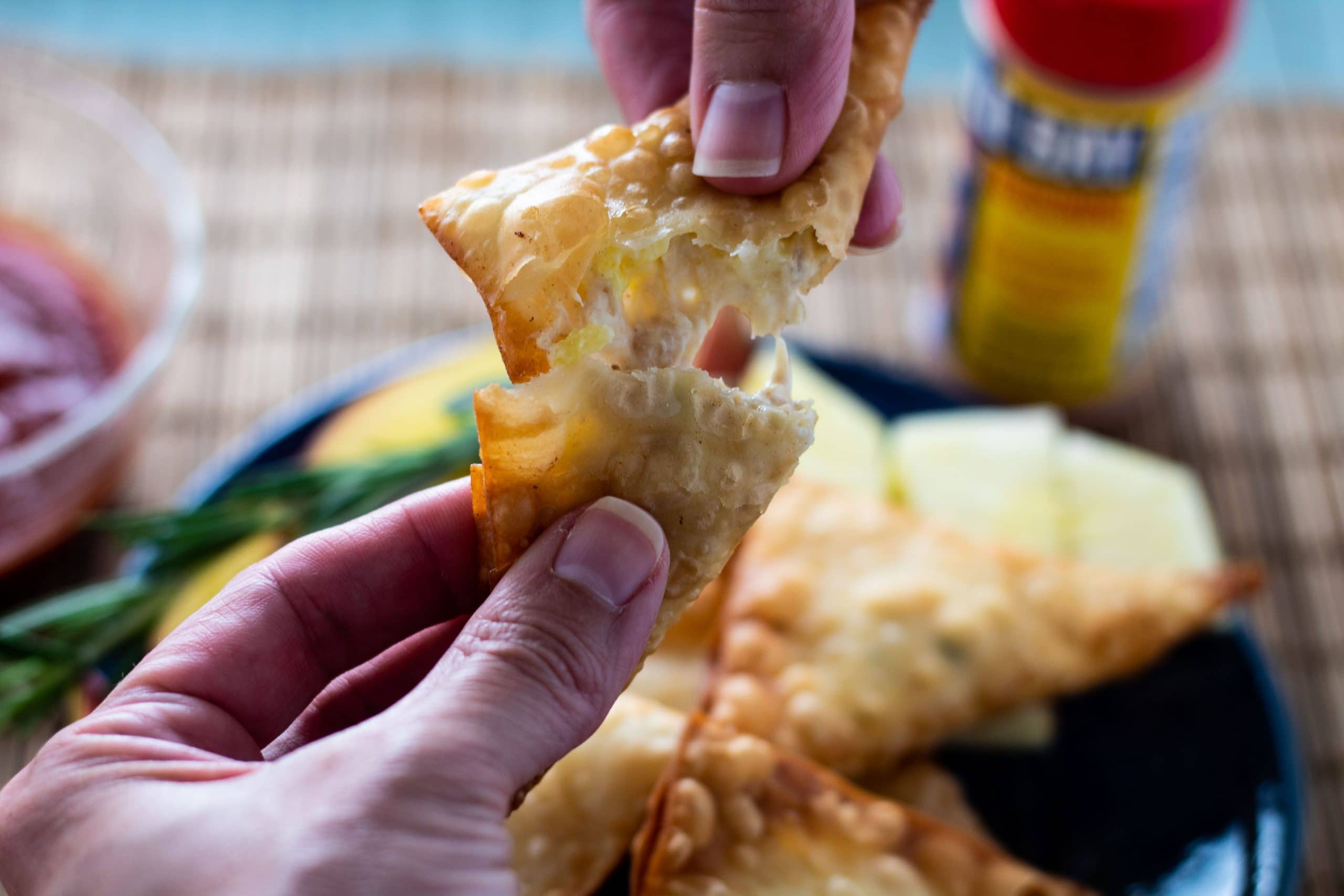 We love this recipe! We hope you do too.
Mango Pineapple Crab Rangoon Recipe
This mango pineapple crab Rangoon recipe is our remix on an old classic. When I say these things are good, they are soooo good. My son and I love eating crab Rangoon when we go out to eat at a Chinese restaurant. I wanted to make them at home but also incorporate a tropical twist. That's when I thought of adding mango and pineapple into the filling.
Ingredients
½

cup

crab meat

wonton wrappers

1

teaspoon

fresh rosemary

4

oz.

cream cheese

room temperature

vegetable oil for frying

¼

teaspoon

old bay

2

tablespoons

chopped pineapple

2

tablespoons

chopped mango
Instructions
Preheat the oil to 350 degrees.

Add the softened cream cheese into a medium bowl and stir a little to help break it up. Add the mango, pineapple, rosemary, old bay and crab. Mix until combined. Be careful not to break up the crab. You will want to keep nice size pieces.

Take a wonton wrap and fill about 1 teaspoon of the mixture and place in the center. Put a little water around the edges of the wonton to help seal it. (See notes)

Cook the wontons for about 3-4 minutes or until golden brown. Put cooked wontons on a plate lined with paper towel. This is help catch any excess oil. Enjoy!
Notes
Seal the wontons by spreading a little water around the edges and press the edges firmly together. This will help keep them bursting open in the oil. No one wants to have a crispy wonton with no filling.