Are you looking for a delicious yet simple meal that's also low in carbs? In that case, you have to make these Low Carb Chicken Alfredo Quesadillas. It's like a cheat code. They taste so similar to traditional quesadillas, but the tortillas are low carb.
You can use premade or rotisserie chicken or try your hand at our chicken breast recipe. It's juicy, tender, and takes minutes (after the brining process).
Jump to Recipe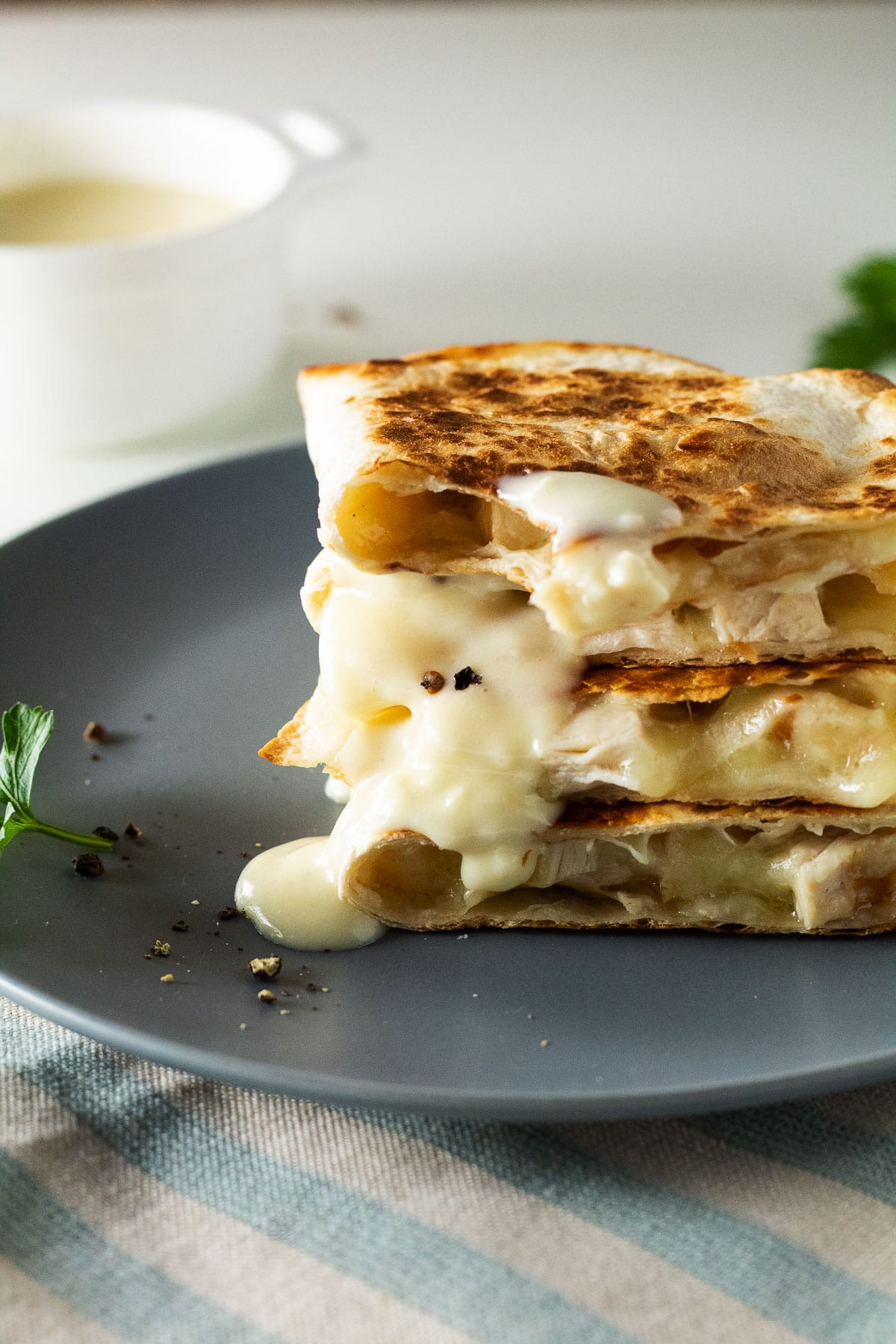 These bites are so good you'll want to have them as part of your weekly menu. And if you're looking for some other high protein options, see our 5-Ingredient Smoked Salmon Dip and our Low Carb Turkey Italian Sausage Meatballs.
Jump to:
Ingredients
For as good as they taste, you might be surprised to learn that our low-carb chicken alfredo quesadillas require just four ingredients. Yep, you read that right. Now, there's a catch. You will need prepared chicken breast and alfredo sauce. Although we do provide you with a quick recipe for both.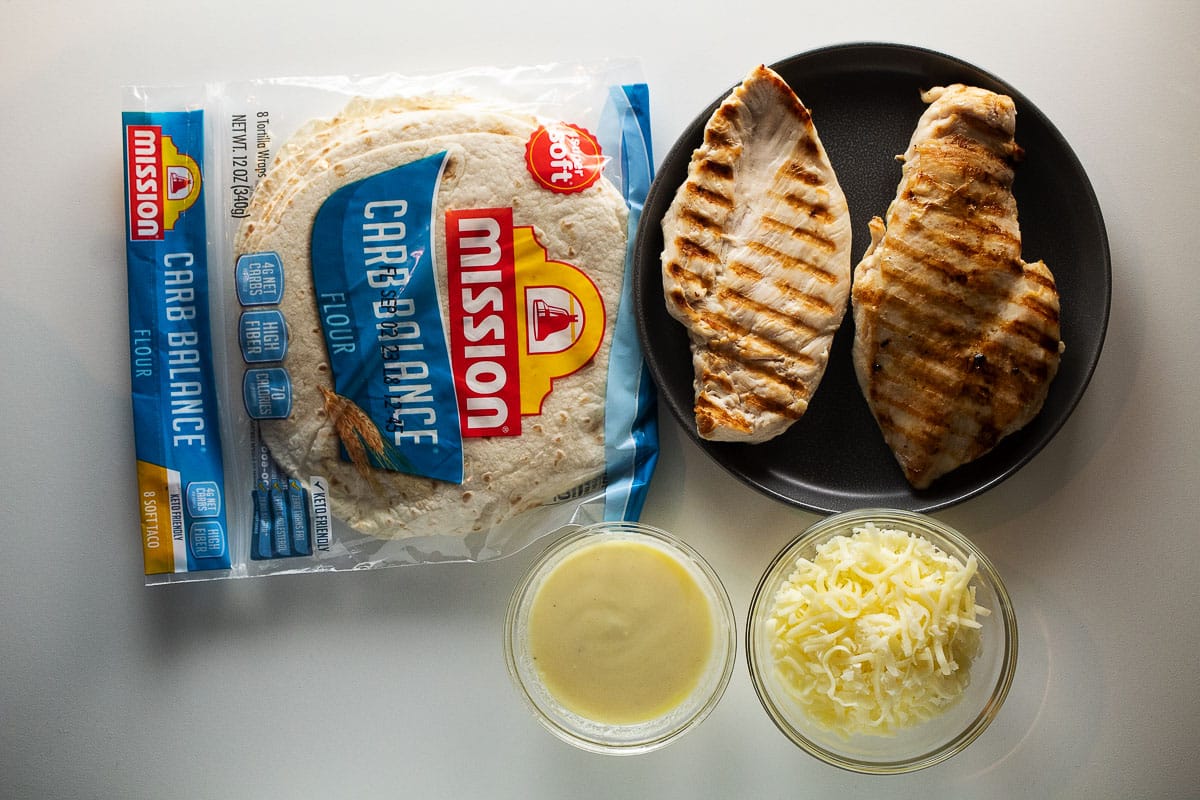 Low-Carb Tortillas – This ingredient is what keeps your quesadillas low-carb. The surprising part is they taste so similar to ordinary flour tortillas that you'll forget you are eating diet food.
Chicken Breast – This recipe is also a great way to use up leftover chicken (hello, Costco rotisserie chicken). But we also share a resource with you to make the best and most tender chicken breast you've ever tasted.
Alfredo Sauce – You can make your own homemade alfredo sauce. We'll link you to a recipe for it. Or you can use the jarred stuff. It's still low-carb!
Mozzarella Cheese – It just wouldn't be a quesadilla without cheese. Mozzarella is a mild cheese, and it melts exceptionally well.
See the recipe card for quantities.
The Best Chicken Breast Ever!
If you've ever cooked chicken breast at home, you know they can be extremely unforgiving. If you cook them for too long, you end up with dry, almost rubberized meat.
But we discovered a method by way of Kenji of Serious Eats that makes for the most tender, restaurant-quality chicken breast you've ever made at home. Seriously, we like them more than even chicken thighs.
It's a simple method that sees you manually tenderize the meat. That is, pound them until they're even, then soak them in a salt/sugar brine for 30 minutes to an hour. Visit Serious Eats to learn more.
How to Make Homemade Alfredo
Fair warning. Once you make homemade alfredo sauce, you'll never go back to the store-bought stuff. It's a simple process, and most of the recipes you'd find online would be similar.
Ingredients:
1/2 cup unsalted butter
1 cup heavy cream
1 cup grated Parmesan cheese
2 cloves garlic, minced
Salt and pepper to taste
Instructions:
Melt the butter in a saucepan over medium heat.
Add the minced garlic and cook until fragrant, about 1-2 minutes.
Pour in the heavy cream and bring to a simmer.
Add the grated Parmesan cheese and stir until melted and well combined.
Season with salt and pepper to taste.
Tips:
Use freshly grated Parmesan cheese for the best flavor and texture.
Be sure to stir the sauce constantly to prevent the cheese from clumping.
If the sauce is too thick, add a splash of milk or cream to thin it out.
Instructions for Low Carb Chicken Alfredo Quesadillas
There are only a few steps to making these high-protein chicken quesadillas.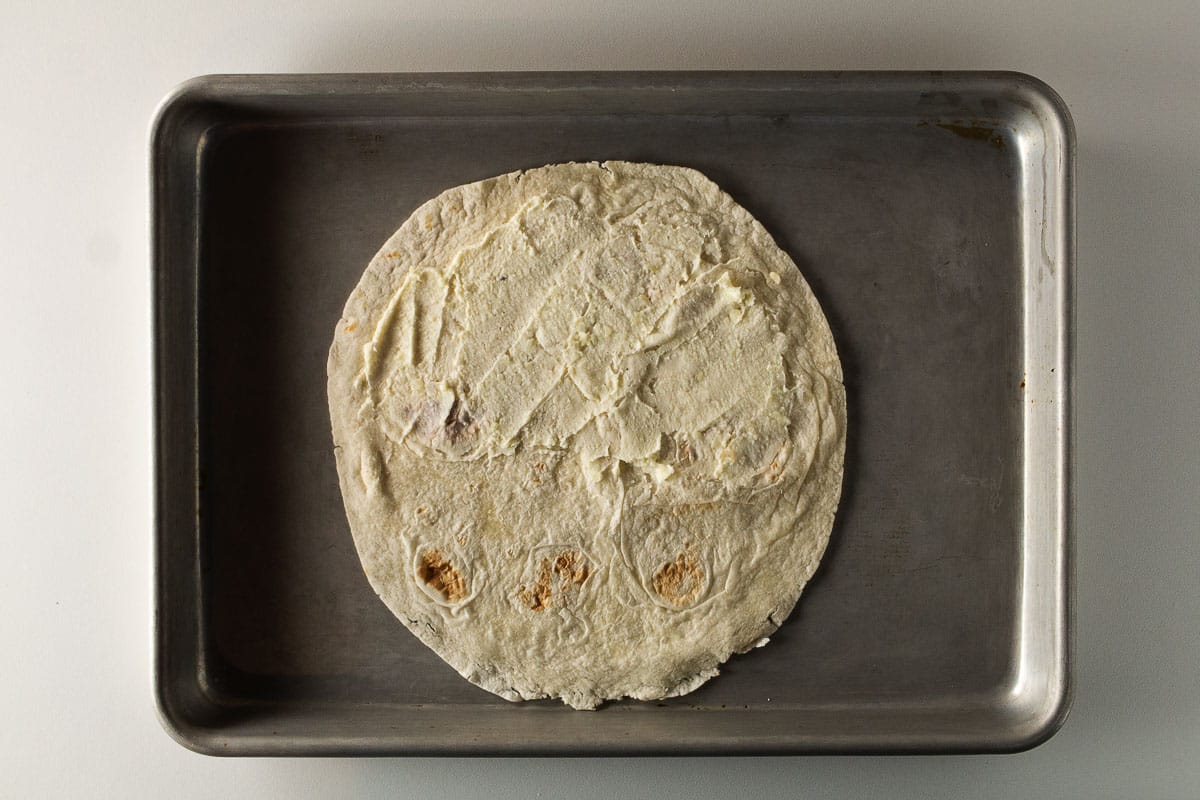 The first is to spread alfredo sauce on a low-carb tortilla.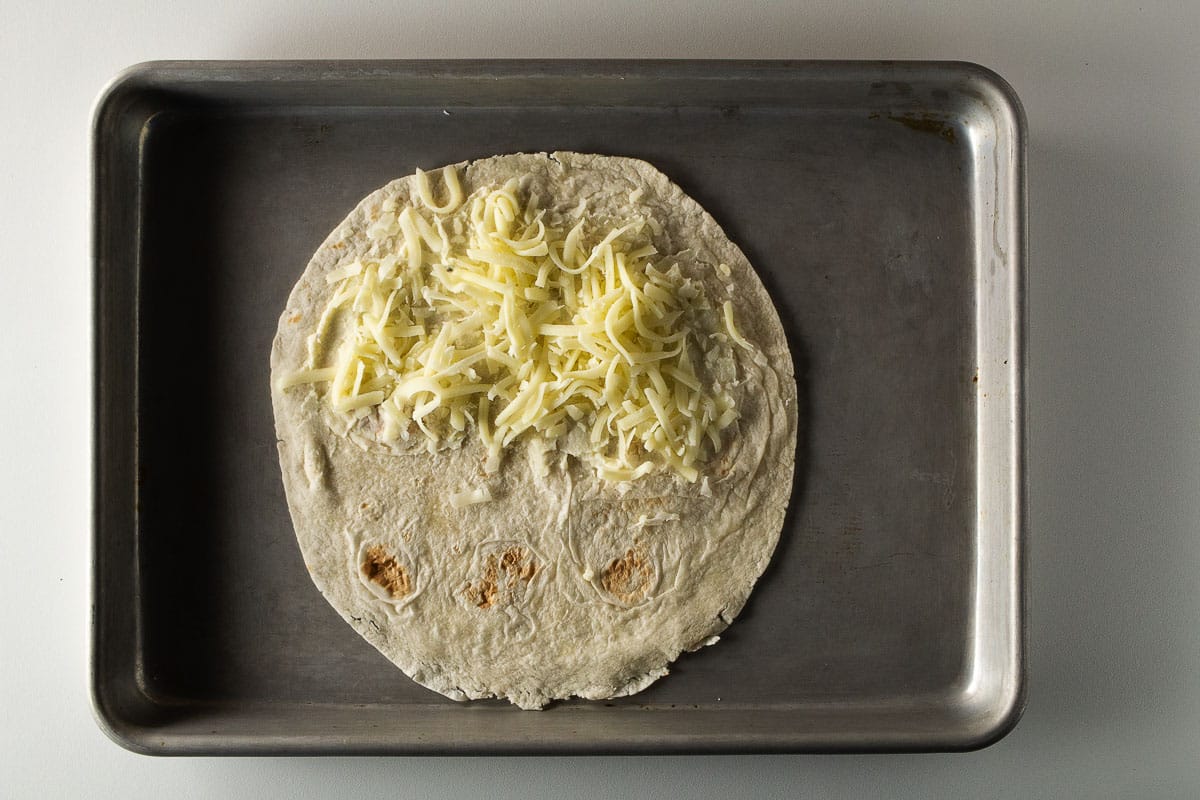 Next, add mozzarella cheese.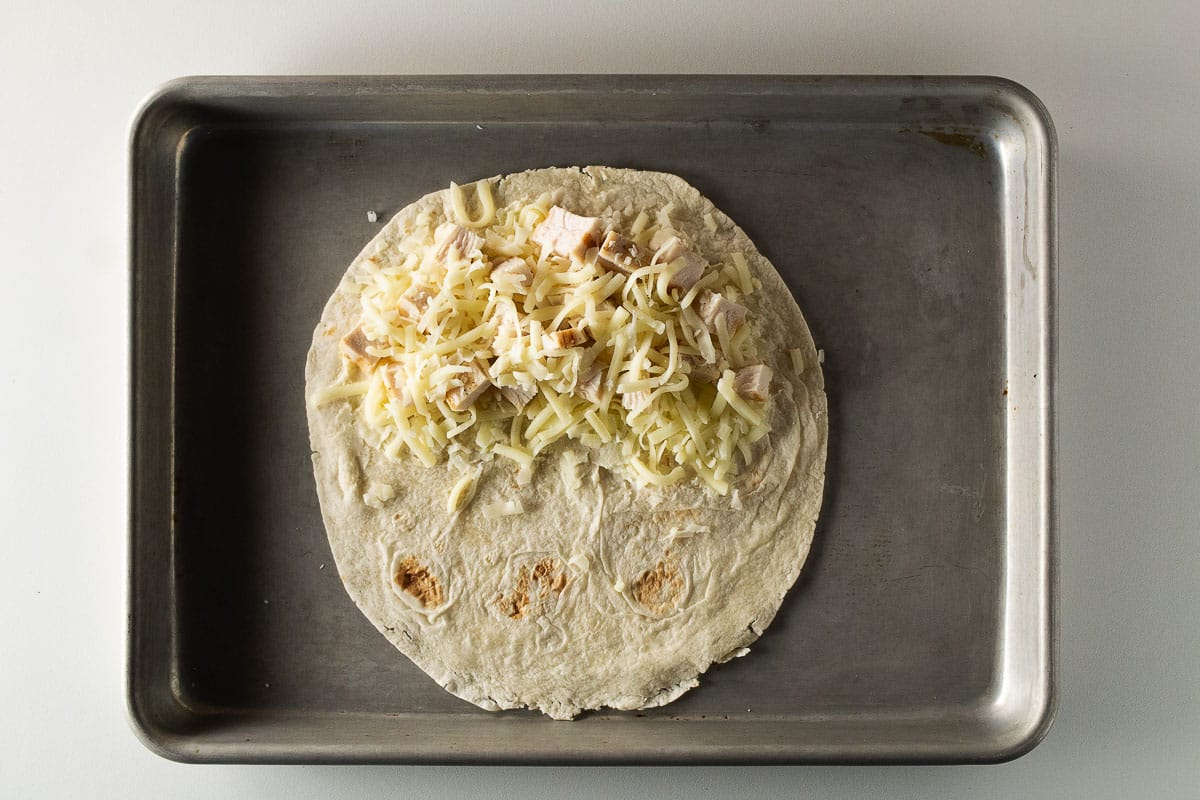 Then, add your diced chicken breast.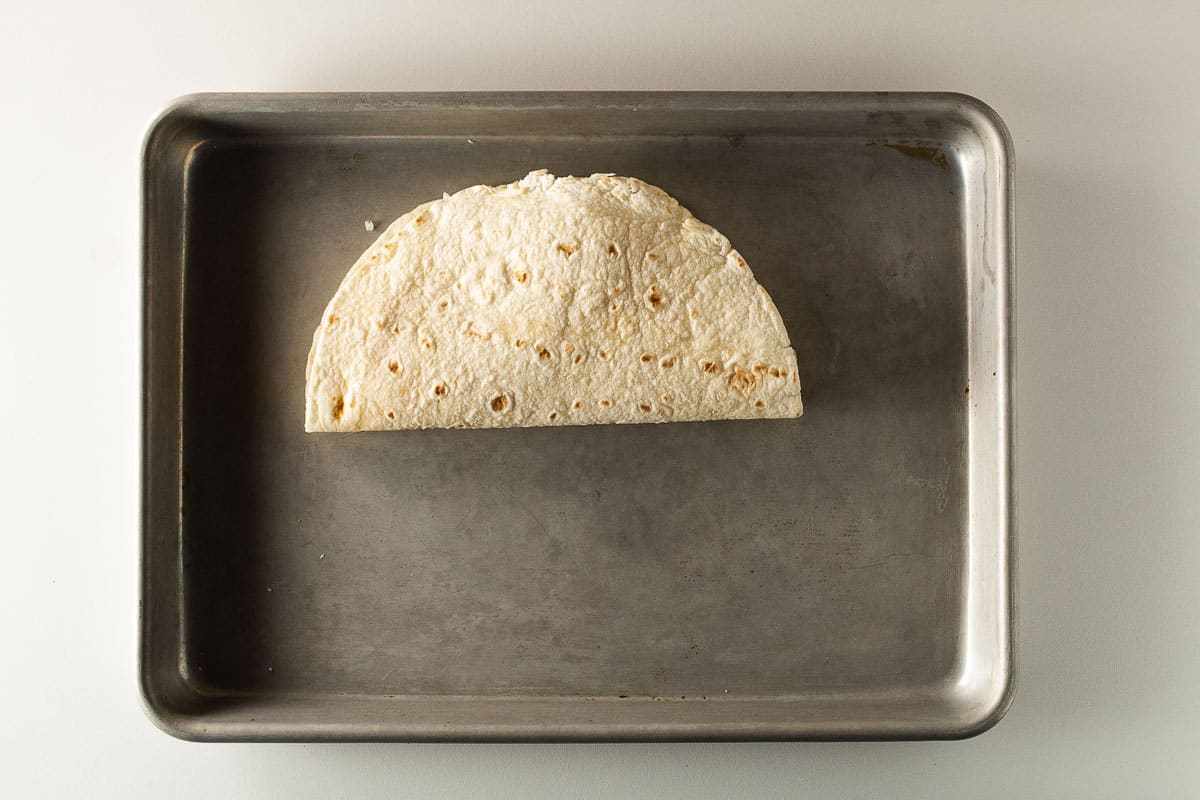 Finally, fold it in half and cook at medium-high heat for about five to six minutes (two to three minutes power side) or until the tortilla is brown, the cheese is melted, and other ingredients are warmed through.
Hint: cold alfredo sauce works well for spreading.
Variations
You're going to freak out at all the possible ways you can customize these low-carb chicken alfredo quesadillas. Here are a few ideas to get you started.
Veggie It Up – Add low-carb veggies like spinach, broccoli, kale, or cauliflower to make your meal more nutritious.
Spice It Up – Red chili flakes and diced jalapenos are a fantastic way to make your quesadilla more interesting. Alternatively, serve them with your favorite hot sauce.
Cheese It Up – Mozzarella is a great starting point, but it's kind of the wall-flower of the cheese world (read: boring)
Meat It Up – Okay, chicken breast is a wonderful source of protein. But chicken thighs, steak, and even sausage could go in its place.
Storage
You probably won't have any leftover quesadillas. But if you do, just store them in a sandwich bag or food storage container for 2 to 3 days.
Now, you could also make a bunch of them ahead of time and freeze them later for meal prep. Here's how to do it. Wrap them individually in plastic wrap, then place them in a freezer bag or freezer-safe container.
You can store them for up to 90 days.
To reheat, place them in the oven at 350 degrees for about 15 minutes.
Top tip
To achieve a crispy quesadilla without burning it, you need to cook it at the right temperature. We've found the best method is to cook them in a dry skillet over medium-high heat with no oil for about five or six minutes.
FAQ
Can quesadillas be part of a low-carb diet?
Of Course! That's what this recipe is for. As long as you choose low-carb tortillas and filling, your quesadilla can be a delicious part of your keto or low-carb diet.
What are some high-protein options for chicken quesadillas?
We used chicken breast as a high-protein option for our chicken quesadilla recipe. But you can also use canned chicken or leftover rotisserie chicken. And if you're really serious about increasing the protein, you can add Greek yogurt or cottage cheese.
Chicken Alfredo Quesadilla Recipe
Are you looking for a delicious low-carb snack, dinner, or lunch? Then you have to try these low-carb chicken alfredo quesadillas. They are delicious and nutritious!
Ingredients
12

Oz

Cooked Chicken Breast

Diced

4

Carb Balance Tortillas

1

Cup

Mozzarella Cheese

Shredded

1/2

Cup

Alfredo Sauce
Instructions
Preheat a non-stick pan on medium-low heat. No oil is needed.

Place one tortilla on a flat surface, and spread about two tablespoons of the alfredo sauce all over. Then sprinkle 1/4 cup with mozzarella cheese. Add the chopped chicken and fold in half.

Place the quesadilla in the pan, press down lightly, and cook for about 3 minutes. Until it's golden brown and crispy.

Carefully flip the quesadilla and cook for another 2-3 minutes until it's crispy. Serve immediately and enjoy!
Notes
These can assembled in advance and then cooked when ready to eat. 
Refrigerate for up to 3 days in an airtight container. 
You can freeze them for up to 3 months. 
Nutrition
Calories:
285
kcal
Carbohydrates:
3
g
Protein:
29
g
Fat:
17
g
Saturated Fat:
7
g
Polyunsaturated Fat:
3
g
Monounsaturated Fat:
5
g
Cholesterol:
102
mg
Sodium:
476
mg
Potassium:
228
mg
Fiber:
0.3
g
Sugar:
1
g
Vitamin A:
206
IU
Calcium:
207
mg
Iron:
1
mg