There's no better way to cool down this summer than with a treat from this drool-worthy list of the best easy and delicious 19 ice cream sandwich recipes. So whether you're a chocolate lover or a fruit fanatic, we've got you covered with a variety of flavors and textures.
Don't take my word for it. Here's a sneak peek!
From classic vanilla ice cream between two chocolate chip cookies to an indulgent cherry pie ice cream sandwiches with pie crust, these refreshing desserts will satisfy your sweet tooth. So are you ready to make mouthwatering treats that impress your friends and family?
Let's dive in!
By the way, if you like this list, you'll love this list of creative ice cream recipes.
Cherry Pie Ice Cream Sandwiches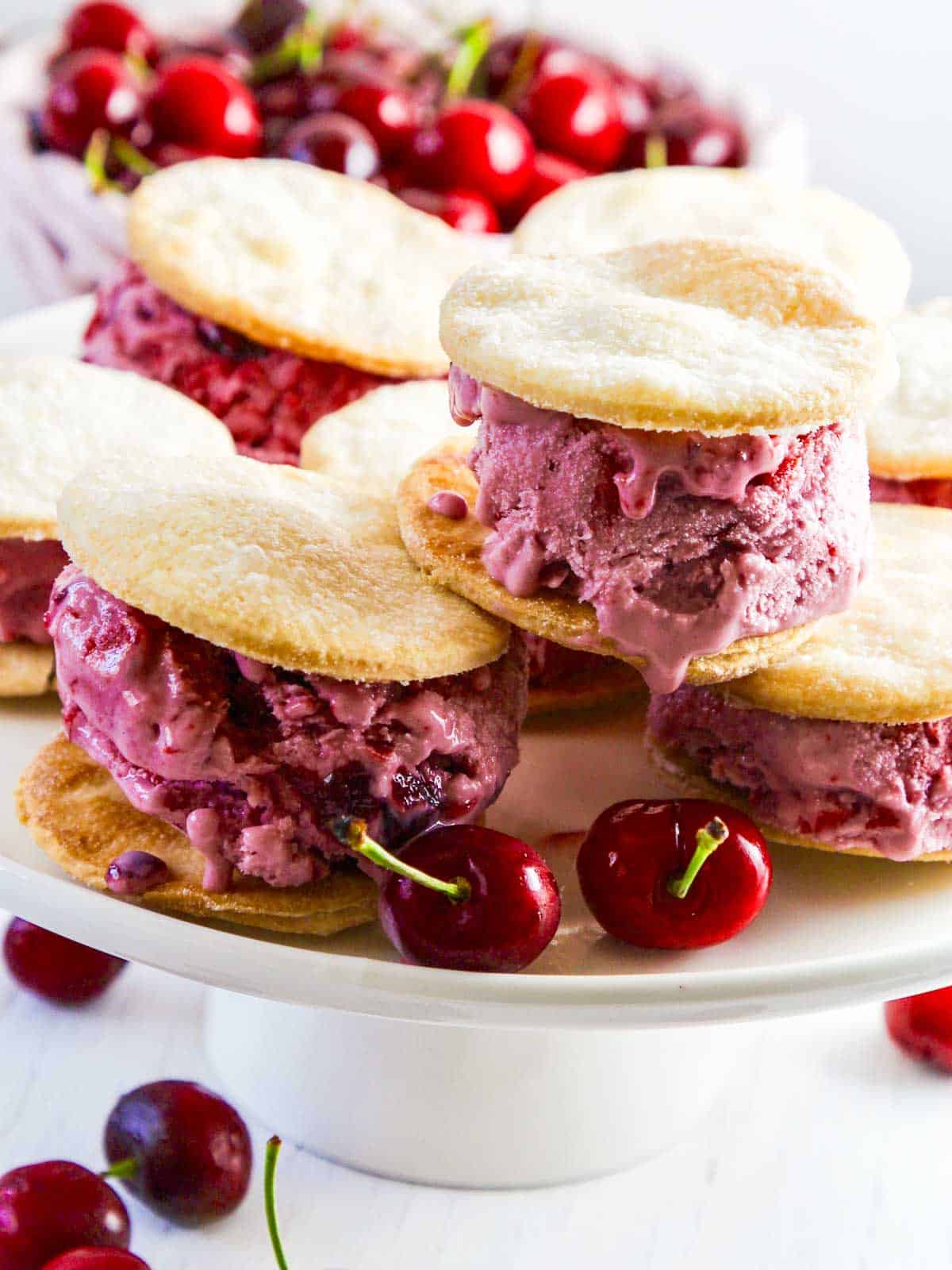 Prepare to indulge in a delicious summer treat that brings your taste buds joy. These five-ingredient cherry pie ice cream sandwiches by Lisa of Delicious Table are an easy-to-make dessert that requires no ice cream maker. Every bite is filled with sweet cherry filling, and the combination of vanilla ice cream and pie crust cookies makes them look like little pies. You can even swap the sugar pie crust for any cookie you choose, such as chip cookies, sugar cookies, or chocolate-dipped wafers.
Chocolate Cookie Ice Cream Sandwiches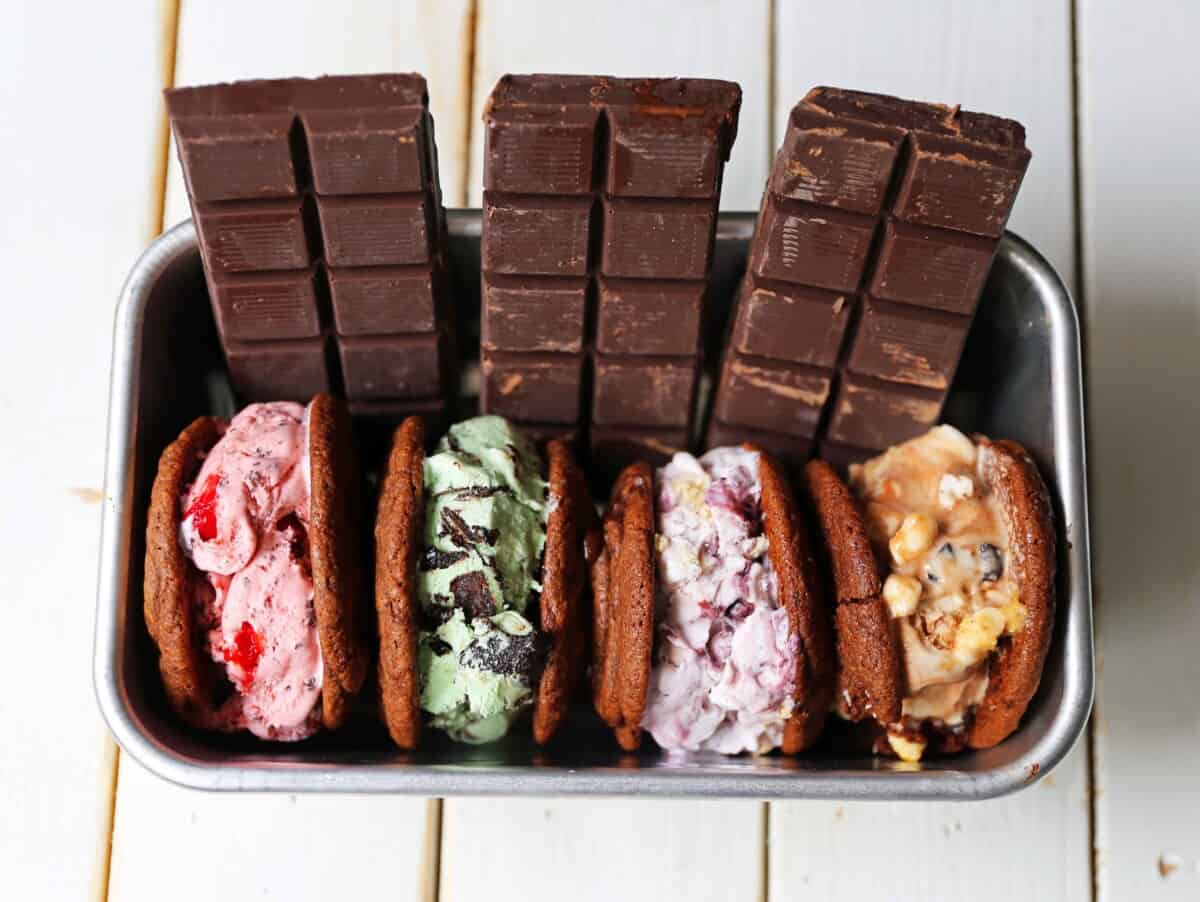 They'll all scream for these chewy triple-chunk Chocolate Cookie Ice Cream Sandwiches by Melissa of Modern Honey filled with their favorite ice cream. The cookies are made with high-quality cocoa, creating a perfect balance of chocolate. The dough is rolled into balls and then flattened with a glass before baking to ensure uniformity. Once the cookies are cooled, they are stuffed with the ice cream of your choice, creating a perfect summer treat.
Homemade Ice Cream Sandwiches with Edible Chocolate Cookie Dough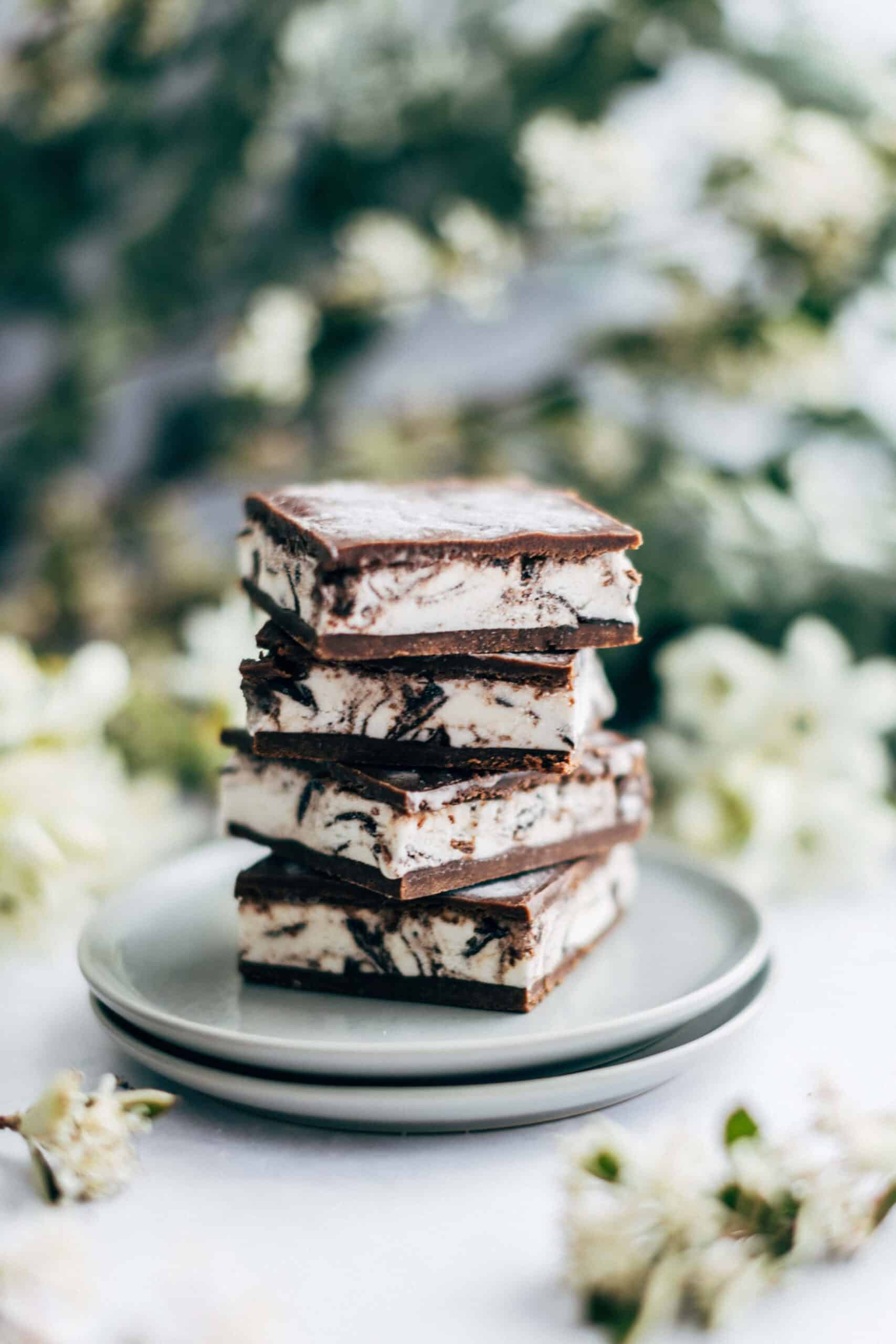 Indulge in the ultimate frozen treat with these homemade ice cream sandwiches with edible chocolate cookie dough by Emily Laurae. This recipe is a fun twist on the classic American treat, combining chewy, fudgy, and egg-free cookie dough with your favorite ice cream flavor. Unlike traditional ice cream sandwiches, the edible cookie dough remains chewy even after being placed in the freezer, giving it a luscious consistency.
Churro Ice Cream Sandwiches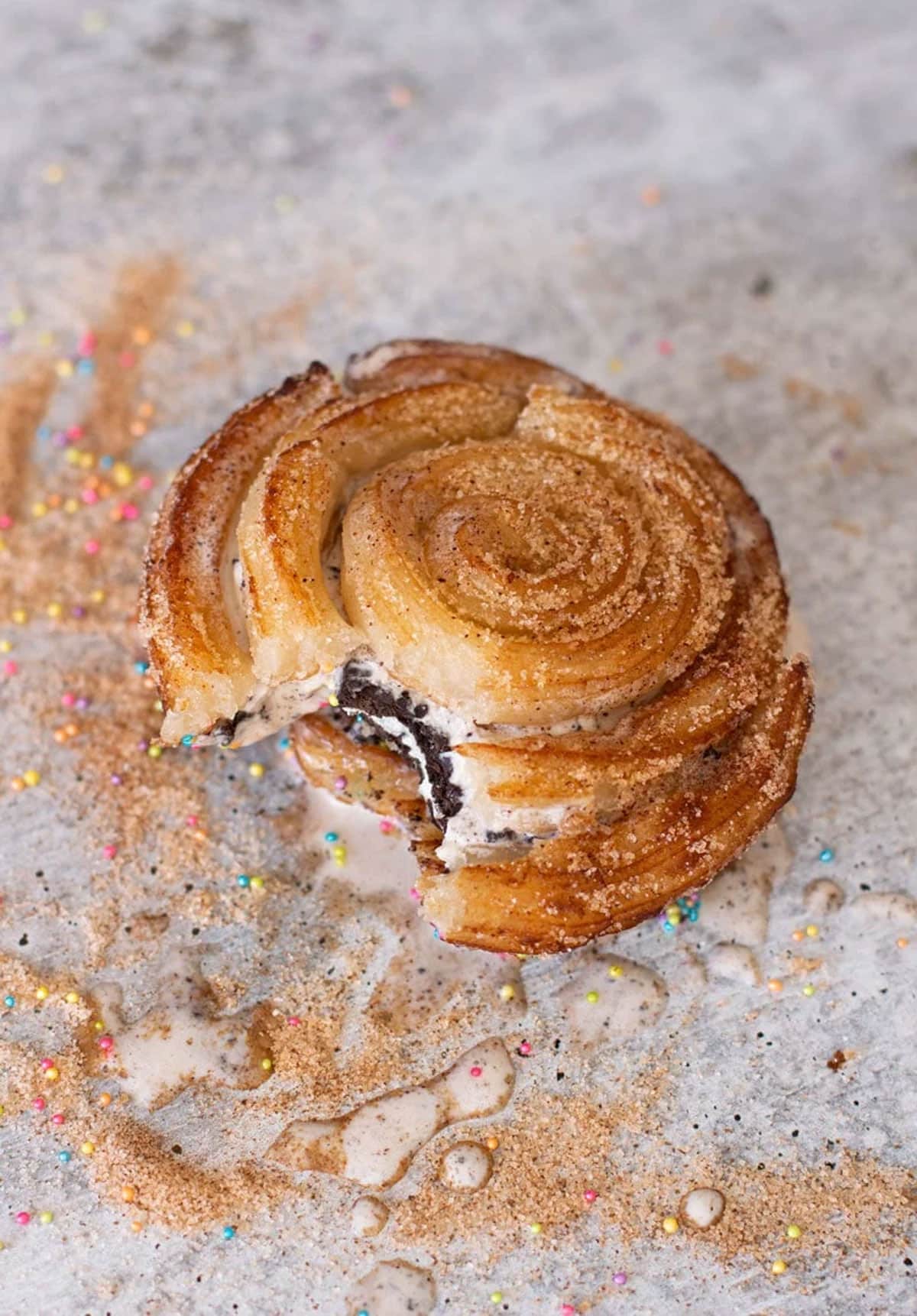 Who said you can't have dessert for breakfast, lunch, and dinner? These churro ice cream sandwiches by Amanda of Recipes Worth Repeating are so delicious you'll want to eat them all day! The crispy, cinnamon-sugar-coated churros are the perfect vessel for your favorite ice cream flavor. And remember to roll them in sprinkles for an extra pop of color and fun!
Carrot Cake Ice Cream Sandwiches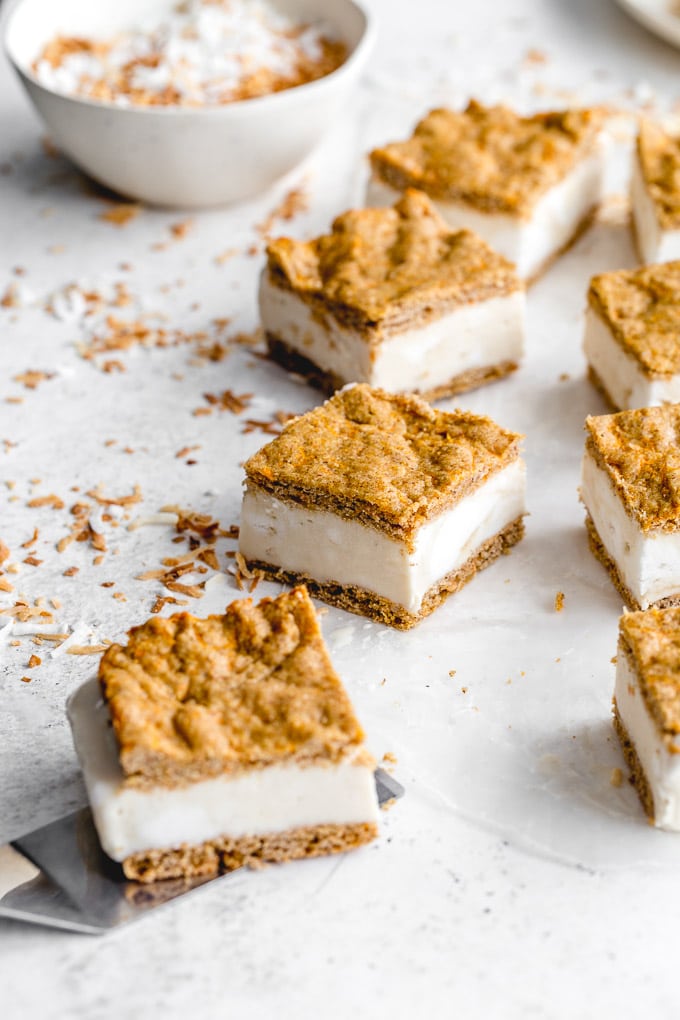 It doesn't get much better than these delicious carrot cake ice cream sandwiches by Leanne of Crumb Top Baking! These dairy-free and gluten-free treats are perfect for springtime and will excite your taste buds. The soft and chewy carrot cake cookies are made with almond and buckwheat flour, adding moisture and a nutty flavor. The non-dairy ice cream with a coconut base is spread evenly between the cookie layers, creating a refreshing and sweet filling.
Strawberry Ice Cream Sandwiches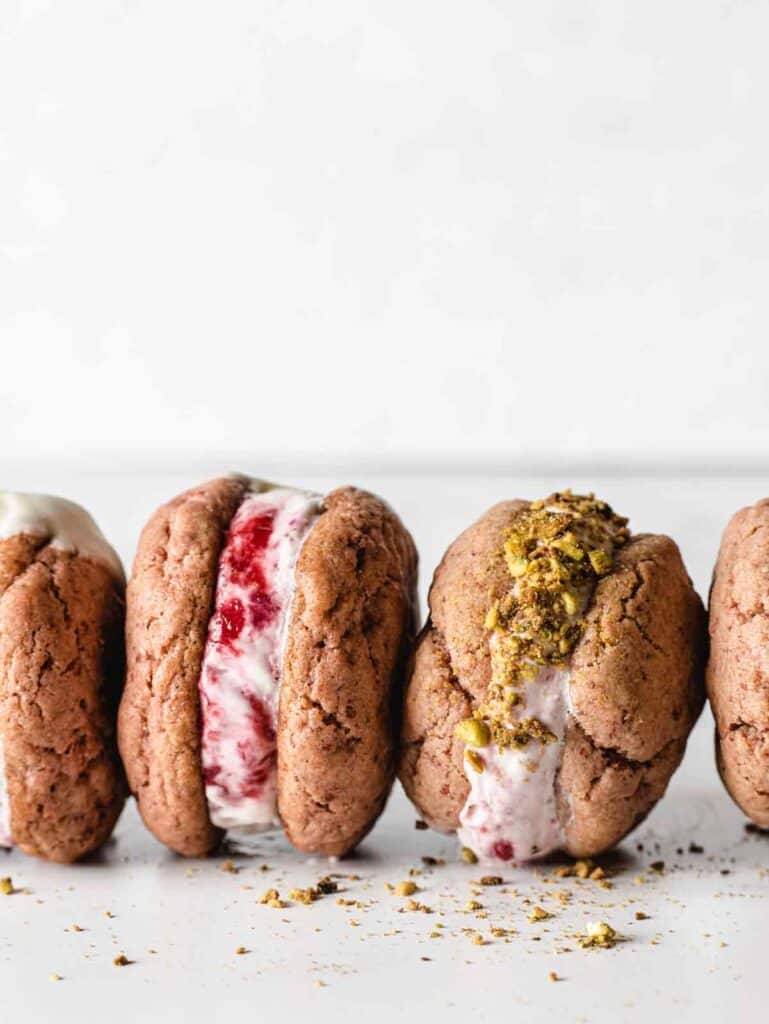 What better way to celebrate summer than with these homemade strawberry ice cream sandwiches by Quiet Baking Day? The triple layer of strawberries in the cookies, jam swirl, and ice cream make for a sweet and fruity treat. And the freeze-dried strawberries in the cookie dough provide intense strawberry flavor without the excess liquid from fresh berries. Finally, top off these sandwiches with white chocolate dip and chopped pistachios for an extra special touch.
Lavender Blackberry White Chocolate Ice Cream Sandwiches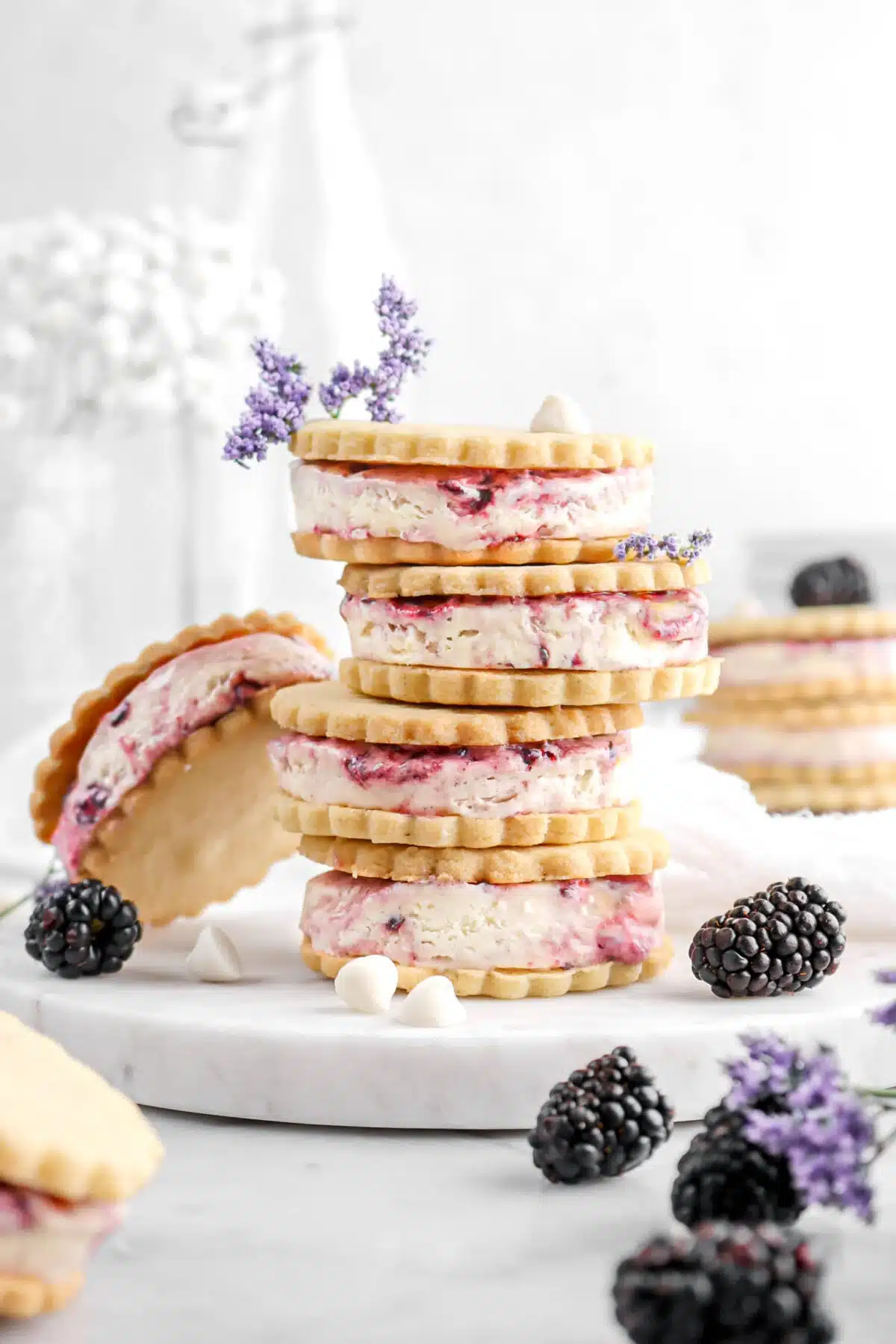 Elegant, sweet, and floral, these lavender blackberry white chocolate ice cream sandwiches from Traci and Caley of Bakers Table are the perfect summer treat. The silky smooth custard-based white chocolate ice cream is swirled with fruity blackberry jam and sandwiched between two tender, buttery, yet perfectly crisp shortbread infused with lavender.
Waffle Ice Cream Sandwich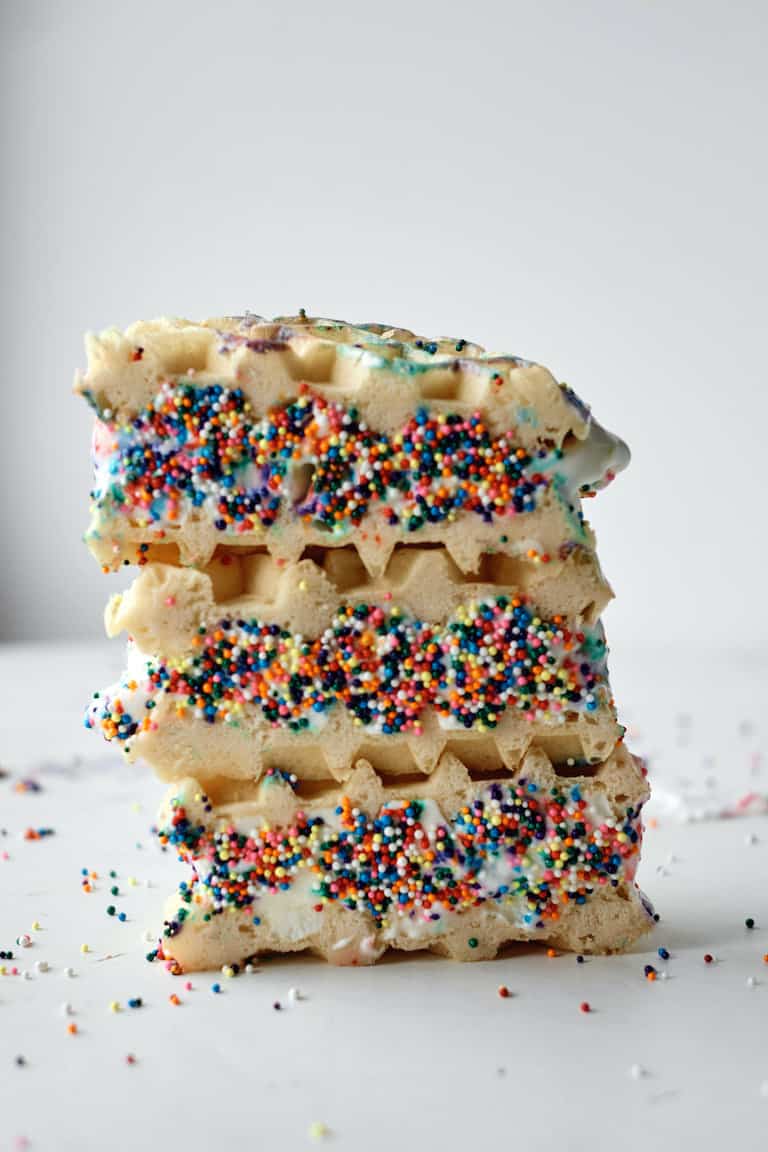 Waffle ice cream sandwiches by Bintu of Recipes From A Pantry are a unique and decadent summer treat. The combination of waffles and ice cream creates a sweet and satisfying dessert perfect for cooling off on hot days. This recipe offers versatile options, allowing you to use store-bought waffles or homemade buttermilk waffles. Spread ice cream on one side of the waffle, place another waffle on top, coat the sides with colorful sprinkles, freeze for 3-4 hours, and enjoy!
Toasted Marshmallow Peanut Butter Ice Cream Sandwiches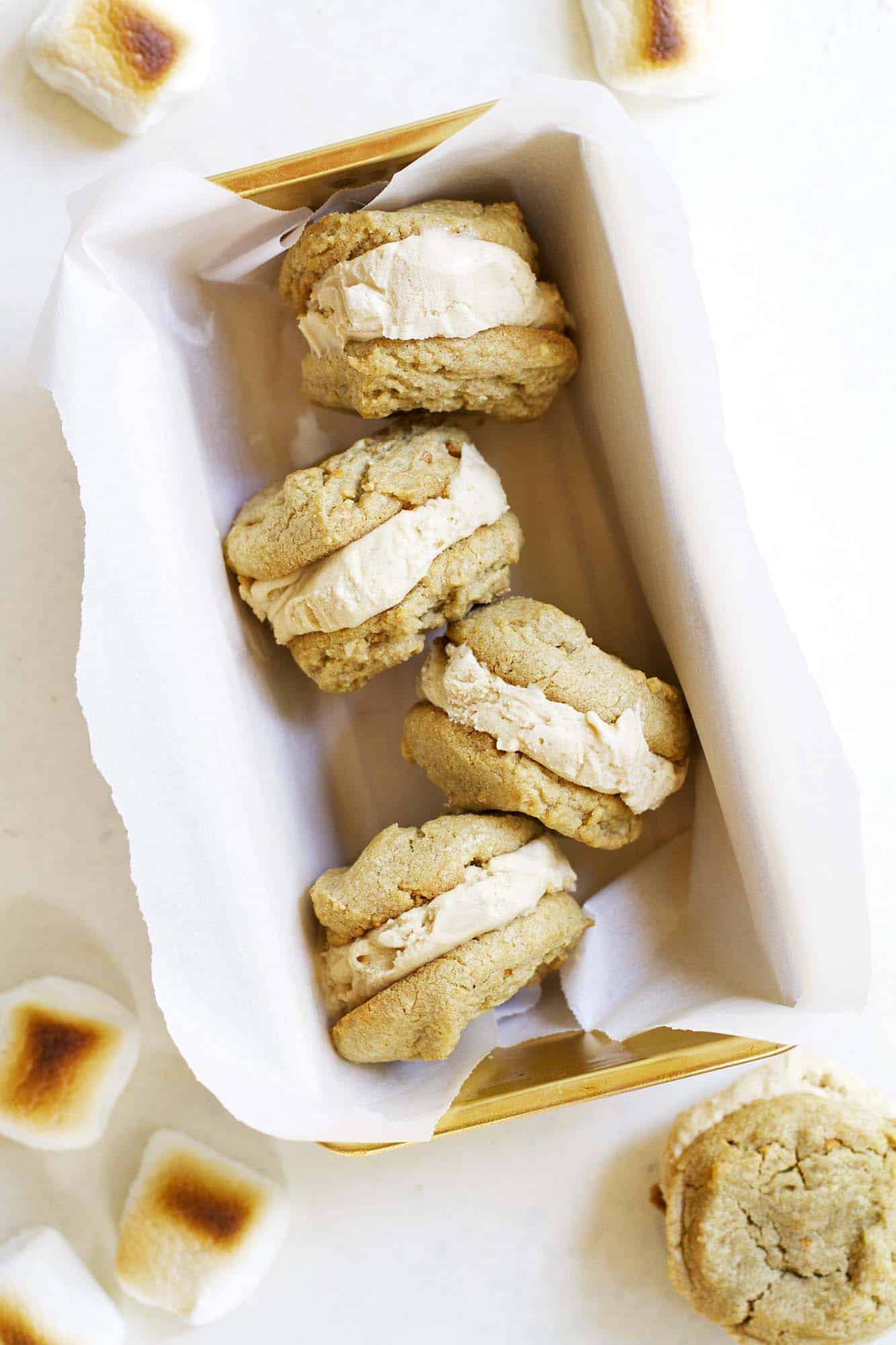 Addison believes there is no such thing as too many toasted marshmallow peanut butter ice cream sandwiches. The recipe, created by Girl Versus Dough, consists of Immaculate Baking Company's gluten-free peanut butter cookie dough, marshmallows, peanut butter, sugar, salt, half and half, and vanilla. First, bake the cookies. Then the ice cream is prepared in a blender before being churned and assembled into delicious sandwiches.
Homemade Graham Cracker "Ice Cream" Sandwiches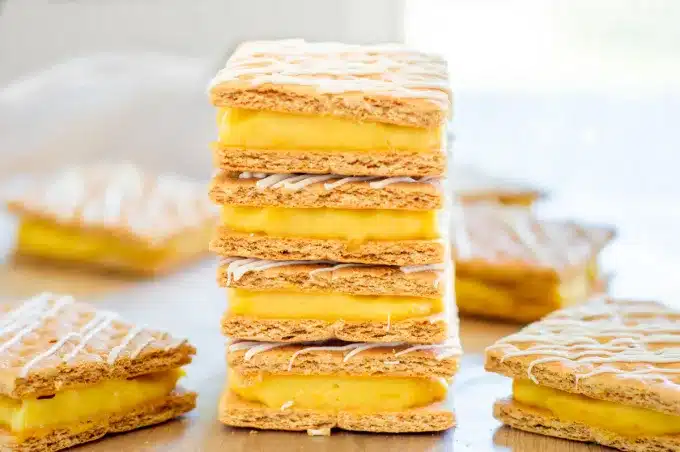 These homemade graham cracker "ice cream" sandwiches are the perfect summer treat. They're easy to make and taste just like the real thing. They're also low-calorie, costing only 100 calories per serving. You can switch up the flavors by changing the graham cracker and pudding flavors, making them endlessly versatile. This no-bake dessert recipe takes only 15 minutes of hands-on time and is also budget-friendly, costing only $0.10 per sandwich. Freeze them for two hours and enjoy!
Ginger Molasses Cookie Ice Cream Sandwiches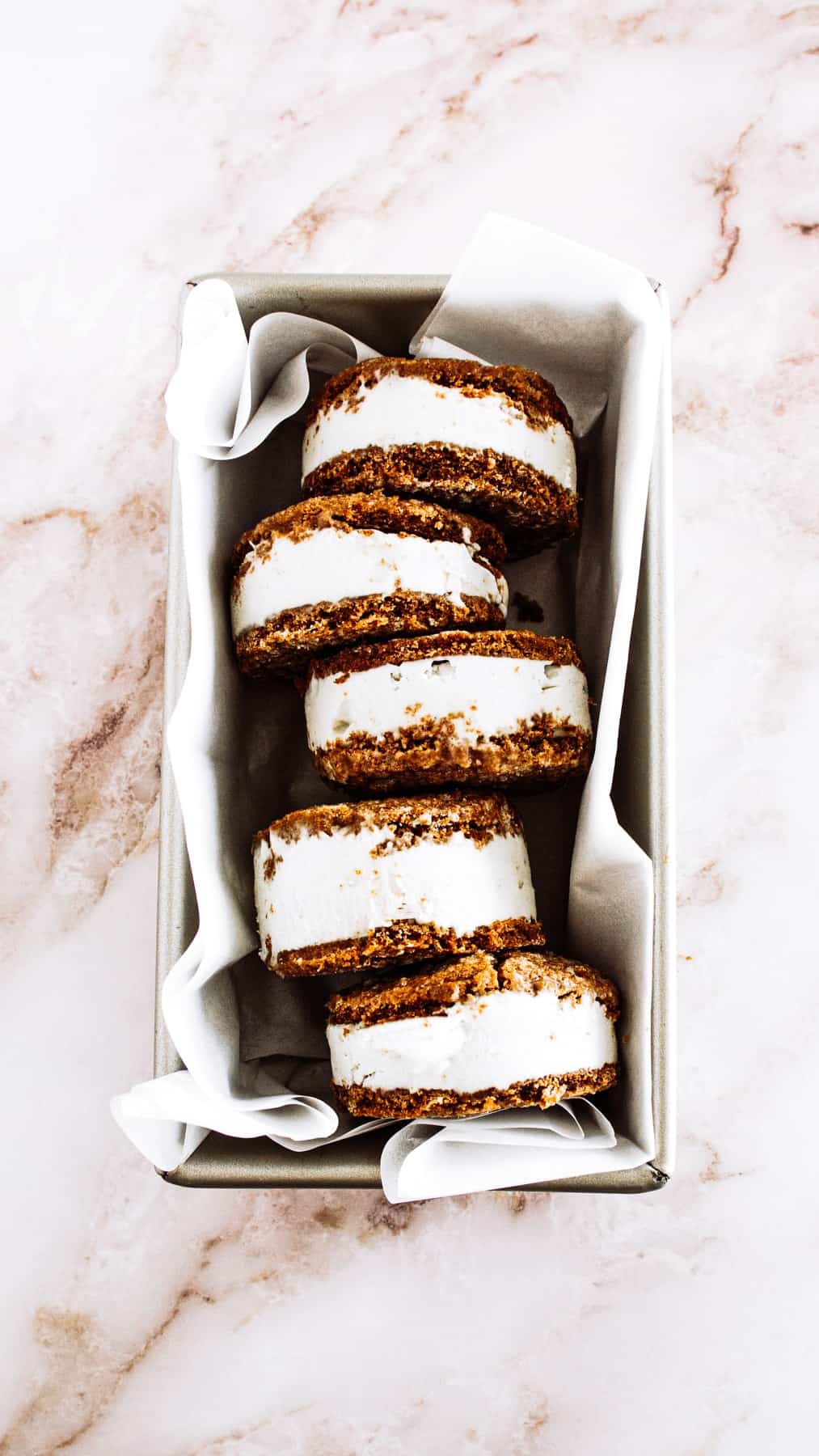 Are you looking for a dessert that's both creative and delicious? Look no further than these ginger molasses cookie ice cream sandwiches by Emily Laurae! With a creamy, cinnamon-infused homemade horchata ice cream sandwiched between chewy ginger and molasses cookies, this dessert is the perfect combination of warm spices and sweet flavors. Plus, the cookies stay chewy even after being placed in the freezer, so you won't have to worry about cracking your teeth!
Peanut Butter Waffle and Jelly Ice Cream Sandwiches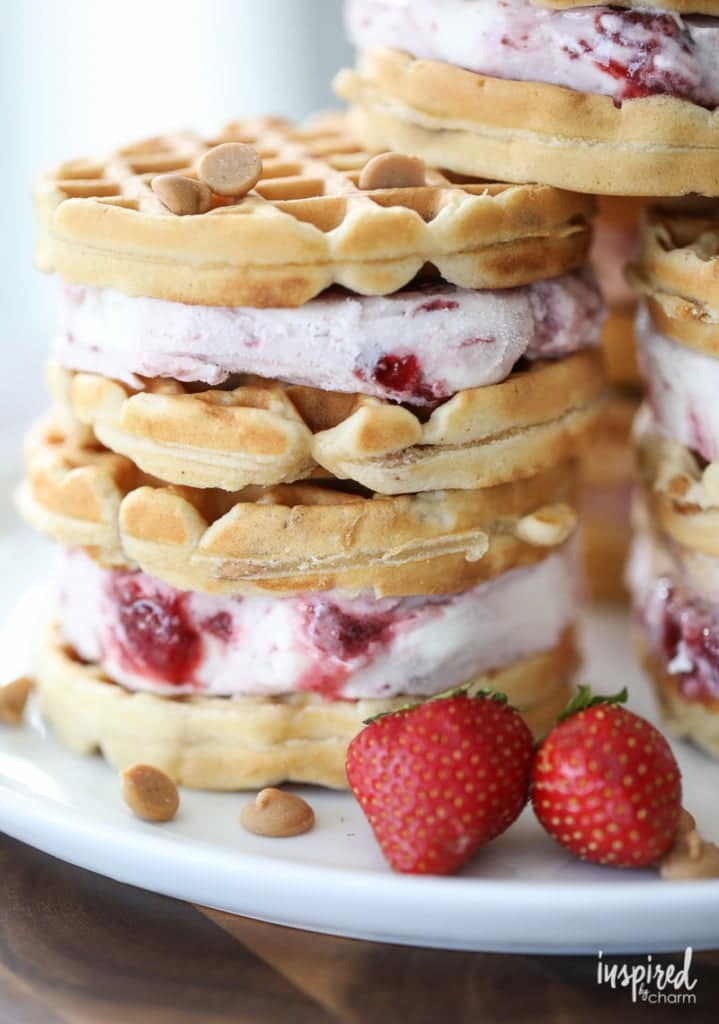 Celebrate National Ice Cream Day with these homemade peanut butter waffle and jelly ice cream sandwiches by Michael of Inspired By Charm! With homemade strawberry jam and peanut butter waffles, these ice cream sandwiches perfectly combine classic flavors. Plus, making your own ice cream can be a fun summer activity to do with friends and family.
Chocolate Chip Cookie Ice Cream Sandwich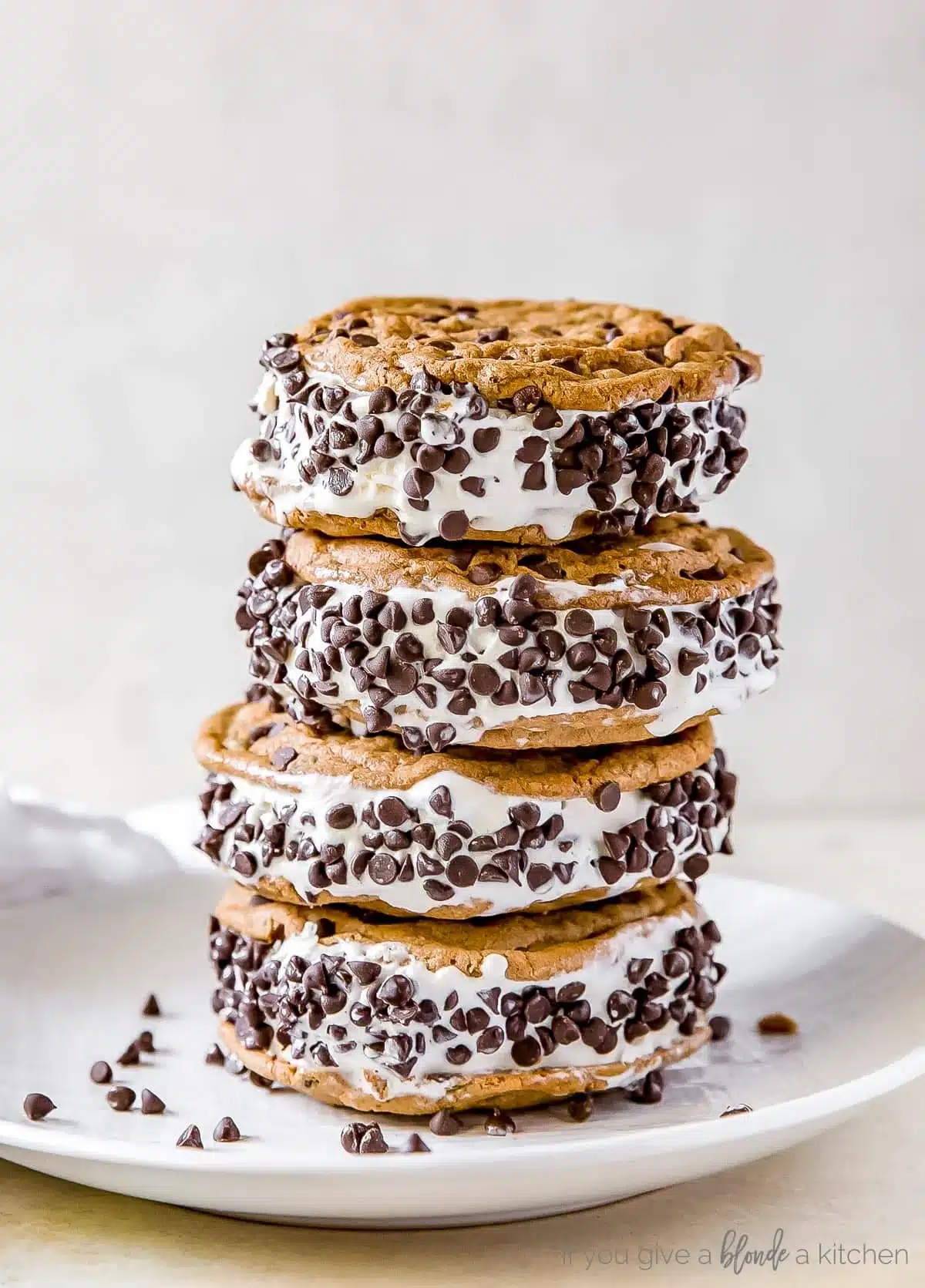 If you're looking for an easy-to-make and delicious summertime dessert, try making the homemade Chipwich by Haley of If You Give A Blonde A Kitchen. This ice cream sandwich is a perfect treat, made with creamy vanilla ice cream sandwiched between two chocolate chip cookies and loaded with mini chocolate chips.
S'mores Ice Cream Sandwiches
These s'mores ice cream sandwiches from Broma Bakery are a perfect way to level up your classic s'mores by adding creamy ice cream. These sandwiches are made with only four ingredients in just ten minutes and are perfect for any summer occasion. Don't forget to put the fudge and marshmallows on the backside of the graham crackers to make them look nicer.
Butter Pecan Ice Cream Sandwich Recipe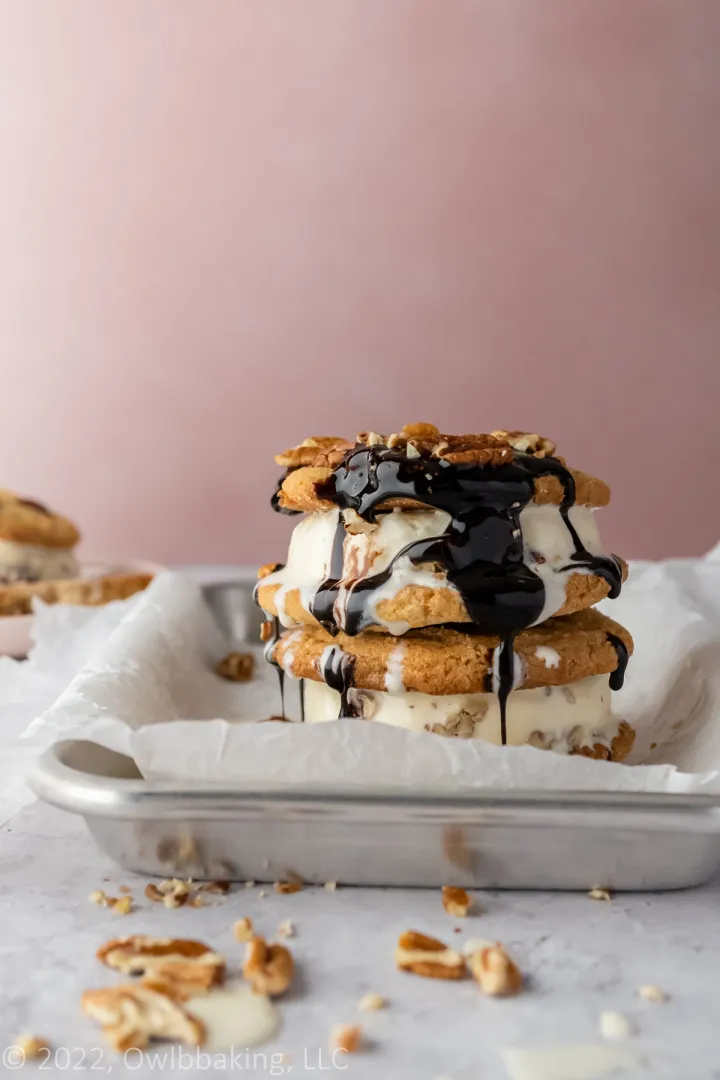 Butter pecan fans will love this chewy butter pecan ice cream sandwich recipe by Owl Baking. The cookie recipe's brown butter and chopped pecans add a subtle nuttiness and caramelized flavor that perfectly balances the ice cream's sweetness. This ice cream sandwich recipe will bring joy on a hot summer day.
Oatmeal Cookie Ice Cream Sandwiches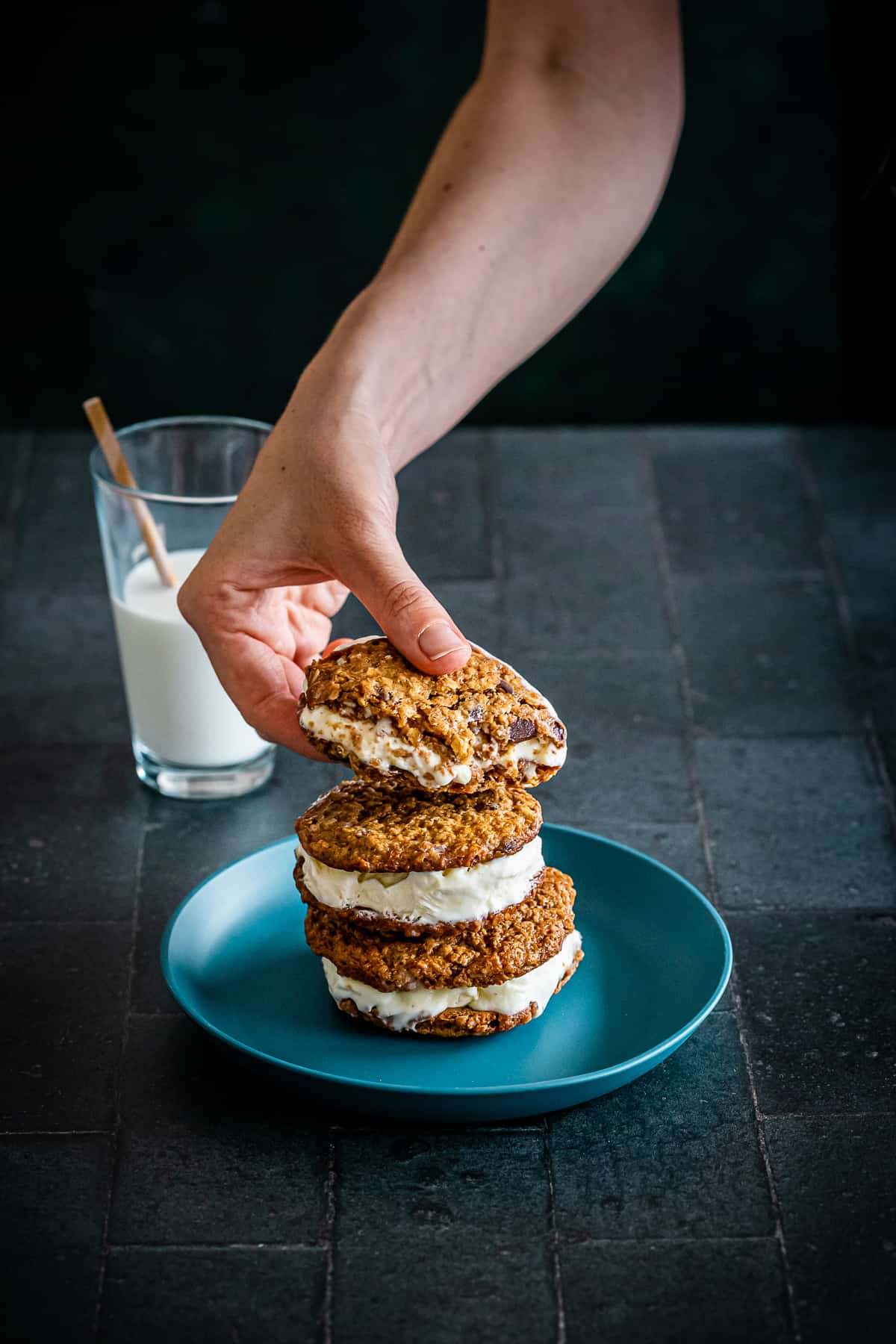 Ditch the store-bought desserts and make your own oatmeal ice cream cookie sandwiches by Dani's Cookings from scratch! This recipe is easy to make, healthier, and gluten-free! The chocolate chip cookies are chewy and delicious and can be enjoyed plain or with any ice cream of your choice. Just dump and mix all the ingredients in one bowl, refrigerate, and bake.
Butter Finger Ice Cream Sandwiches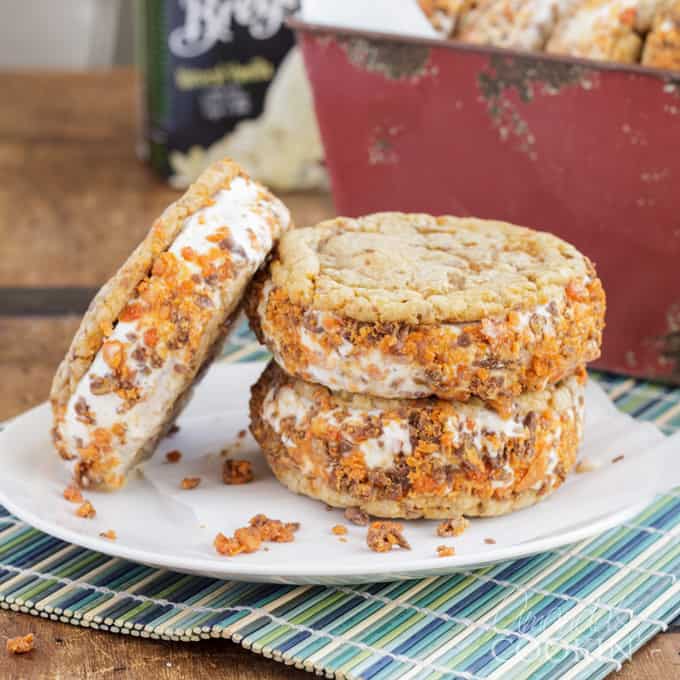 You'll drool for these Butterfinger Ice Cream Sandwiches by Amanda's Cookin, made with Vanilla Ice Cream and Butterfinger Baking Bits. The cookies are soft and chewy with a subtle crunch from the Butterfinger bits. These treats are a great way to celebrate National Ice Cream Month and National Ice Cream Day on July 16th.
Oatmeal Cookie Ice Cream Sandwich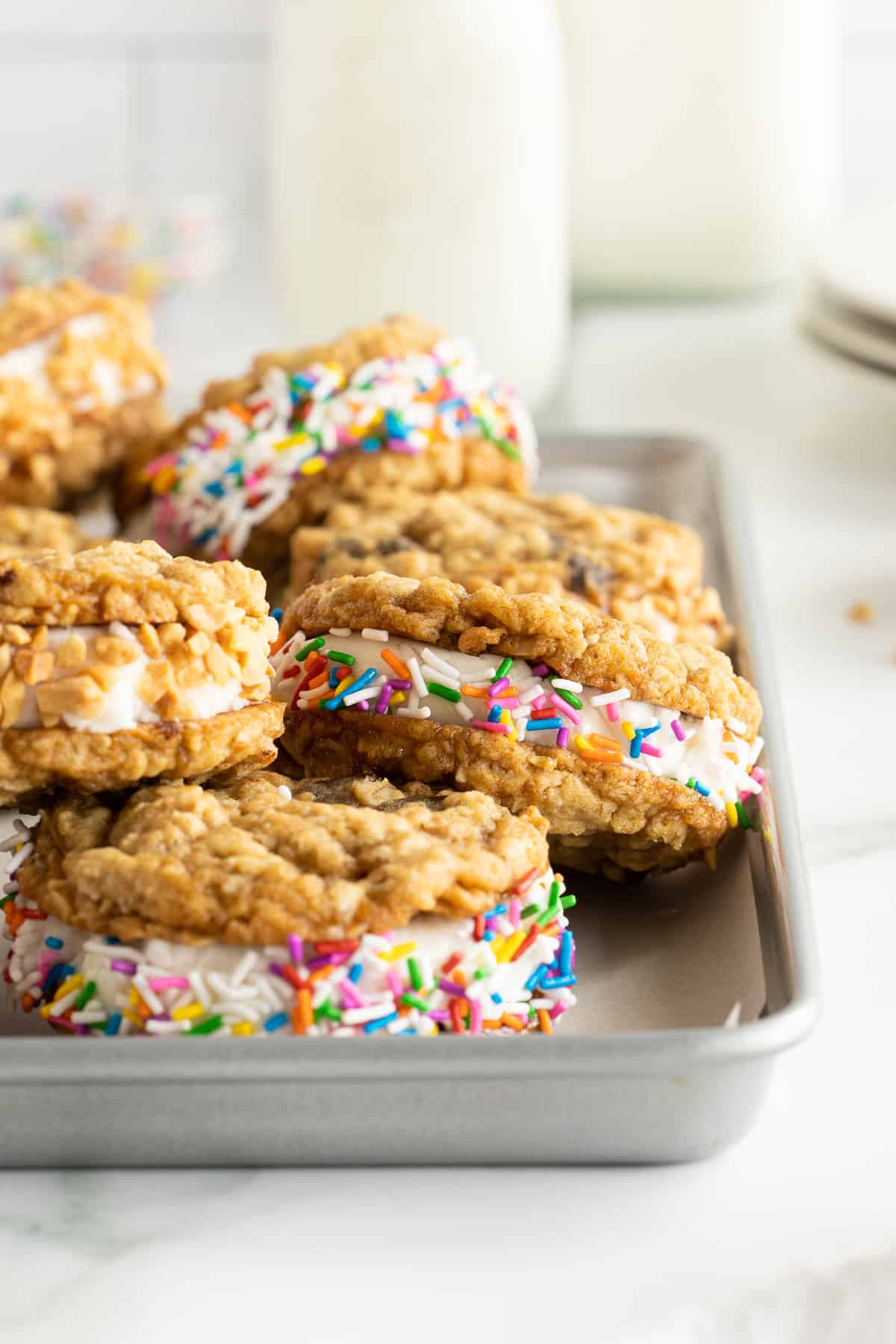 Classic oatmeal cookie ice cream sandwiches are perfect for satisfying a sweet tooth anytime. These sandwiches are made with chewy oatmeal chocolate chip cookies that hold up well with ice cream and prevent them from becoming overly soggy or crumbling apart. You can create endless combinations by pairing different ice cream flavors with the cookies and decorating them with toppings of your choice.
Brownie Ice Cream Sandwiches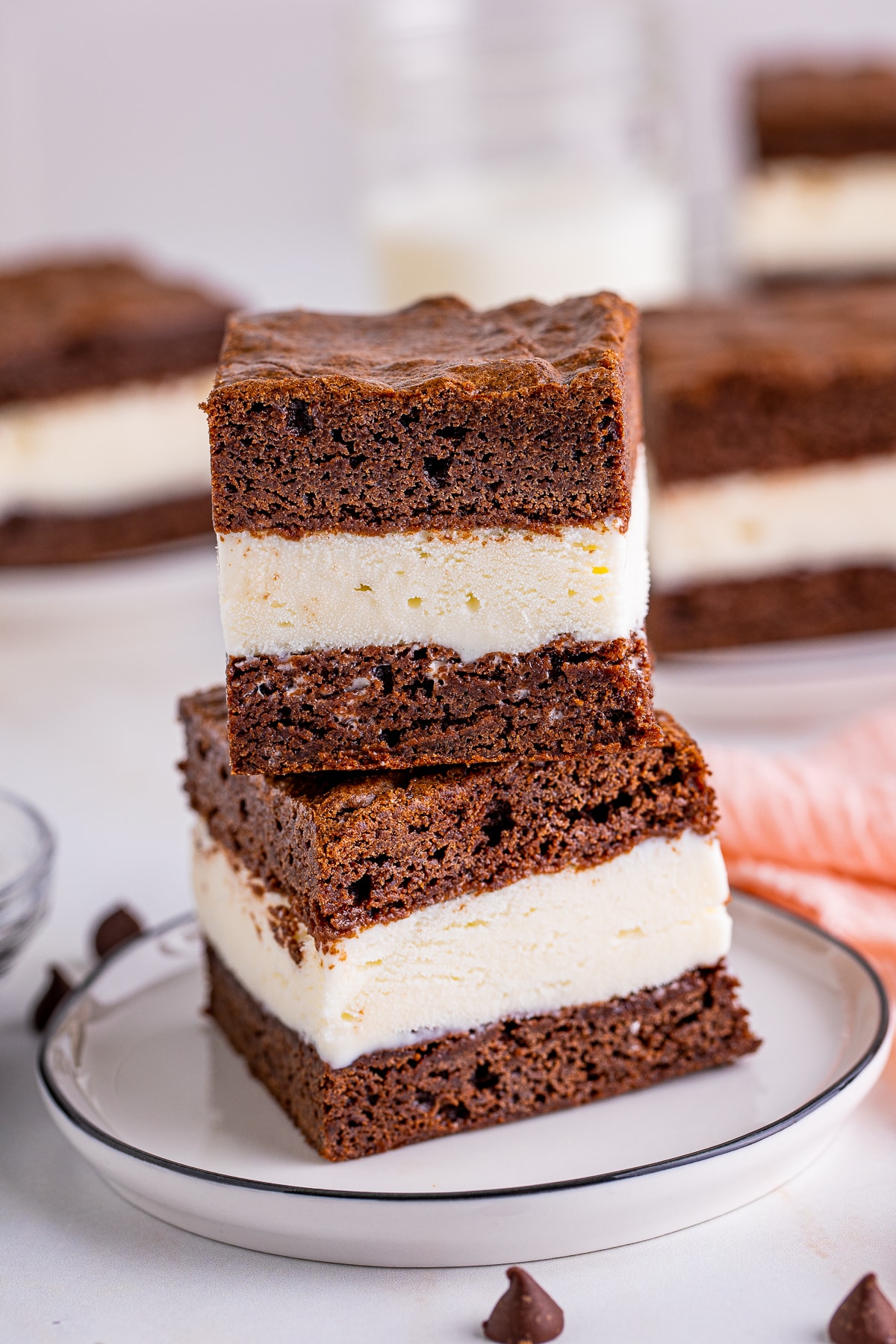 Brownies plus ice cream equals a heavenly dessert for any summer occasion. These brownie ice cream sandwiches are made by sandwiching creamy vanilla ice cream between two chewy brownies. You make the chewy brownies with semi-sweet chocolate chips, granulated sugar, eggs, vanilla extract, all-purpose flour, unsweetened cocoa powder, and fine sea salt.
Which Ice Cream Sandwich Recipes Will You Try First?
Ice cream sandwiches are the perfect summer treat! With so many flavors and textures, you can never go wrong with this classic dessert. You've seen brownies, oatmeal cookies, and even Butterfinger ice cream sammies. So you know that the possibilities are endless. So the only question remaining is which one will you try first? We'd love to know!
Don't forget to check out these delicious summer dessert recipes.