Looking for an easy weeknight meal? You'll be happy to explore this delicious list of 20 instant pot chicken recipes. It's a collection of options that you'll be sure to find useful.
For example, you'll discover tender, juicy chicken drumsticks with crispy skin. But, then, there are Korean chicken thighs, even a Jamaican jerk chicken recipe, and so many more. So, are you ready to explore?
Let's dive in!
Be sure to check out our shredded chicken recipes and our ground chicken dinner recipes.
Instant Pot Chicken Drumsticks
Let your pressure cooker do the heavy lifting with this saucy instant pot chicken wings recipe by Imsen of Ambitious Foodie. Get this. It takes about ten minutes for your cooker to come up to temp and another ten minutes to cook. Then, douse the chicken in more sauce and put it under the broiler to get it crispy.
Visit Ambitious Foodie for the recipe.
Easy Instant Pot Mexican Shredded Chicken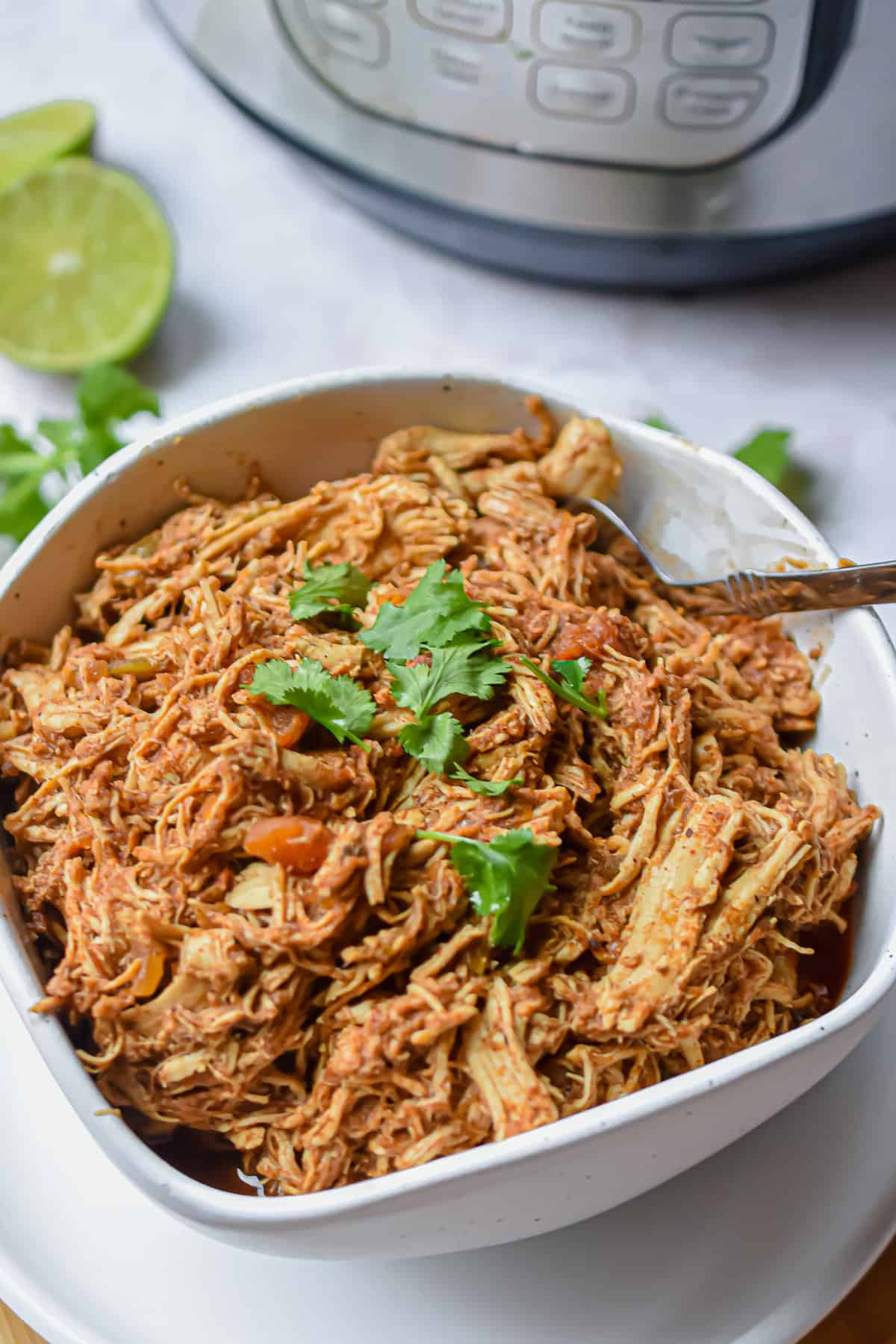 This Mexican shredded chicken is part of Lynn's Way Of Life. You can make it in less than 30 minutes with just four simple ingredients, including salsa, chicken broth, chicken breast, and taco seasoning. But how do you serve it? So, put it on tacos, over rice, burritos, and more for a delicious weeknight meal.
Visit Lynn's Way Of Life for the recipe.
Instant Pot Hawaiian Chicken Thighs
Each whiff of this Hawaiian chicken thighs recipe from Two Pink Peonies will take you off to a faraway tropical paradise. Well, maybe not. But the dreamy dish, with flavors of pineapple, garlic, and chili powder will light up your taste buds. But best of all, your instant pot will have it ready for you in just 17 minutes.
Visit Two Pink Peonies for the recipe.
Instant Pot Korean Chicken Thighs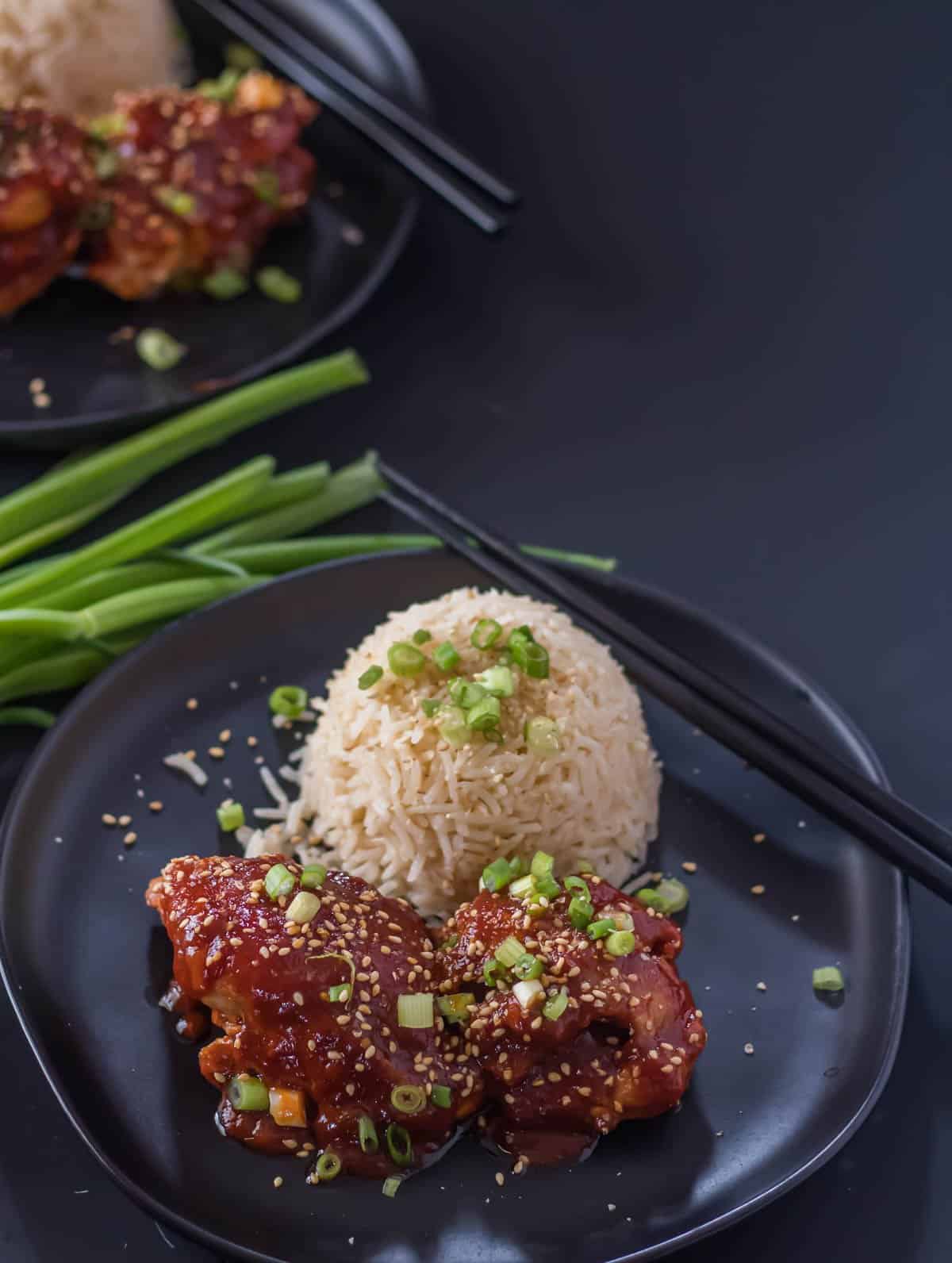 Get some cool points with this quick instant pot Korean-style chicken from Beyond Mere Sustenance. Now, we will warn you. There are recipes on this list with fewer ingredients. However, with mirin, gochujang paste, sake rice wine, and ginger, you'll be hard-pressed to find one with more flavor.
Visit Beyond Mere Sustenance for the recipe.
Instant Pot Chicken Stew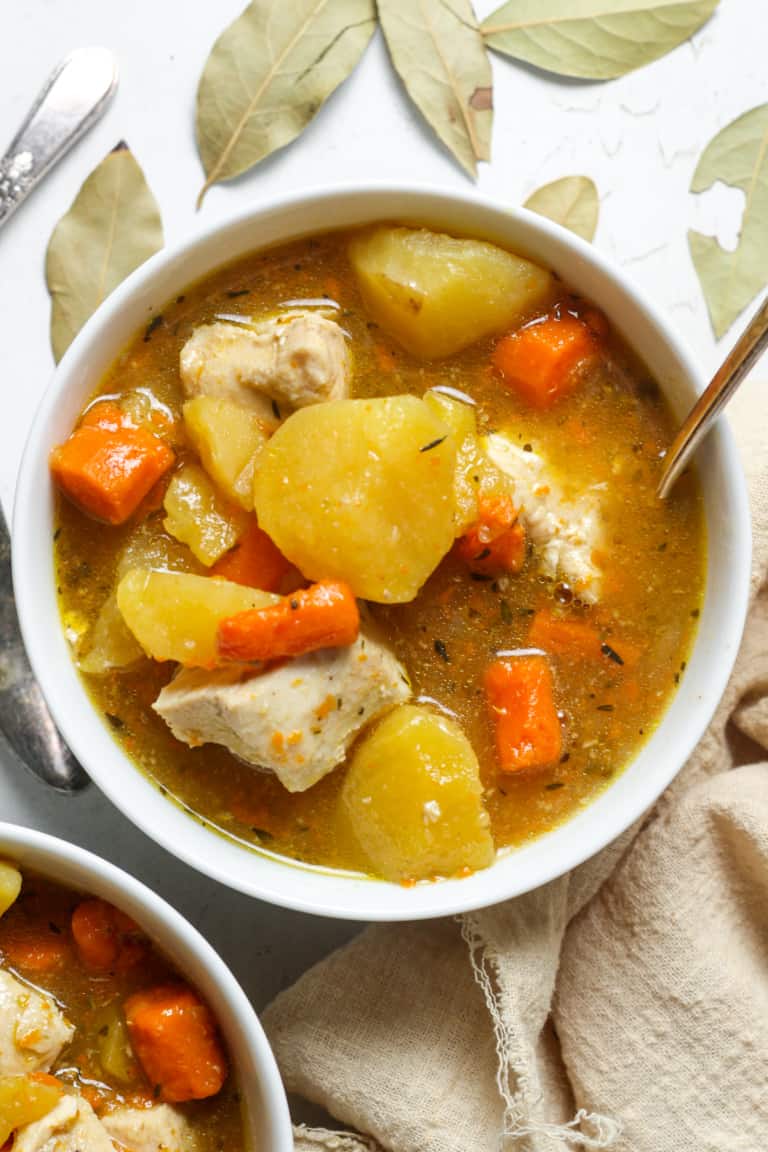 We can't list all the reasons why you'll love this instant pot chicken stew from Organically Addison. But here are some of the highlights. It has a creamy broth and tender chicken and can even work well for meal prep. And here is a bonus. It's one of those dishes that get better with time. That's right. How many times can you say the leftovers are better than the first day?
Visit Organically Addison for the recipe.
Honey Bourbon Chicken
In case you aren't familiar, honey bourbon chicken is a sweet and savory dish featuring honey, brown sugar, and soy sauce. Additionally, there's some bourbon for flavor complexity and balance. It was once popular at mall food courts, but luckily with the help of Scott of Dishes with Dad, you can bring it to your kitchen with your instant pot.
Visit Dishes With Dad for the recipe.
Instant Pot Jamaican Jerk Chicken and Rice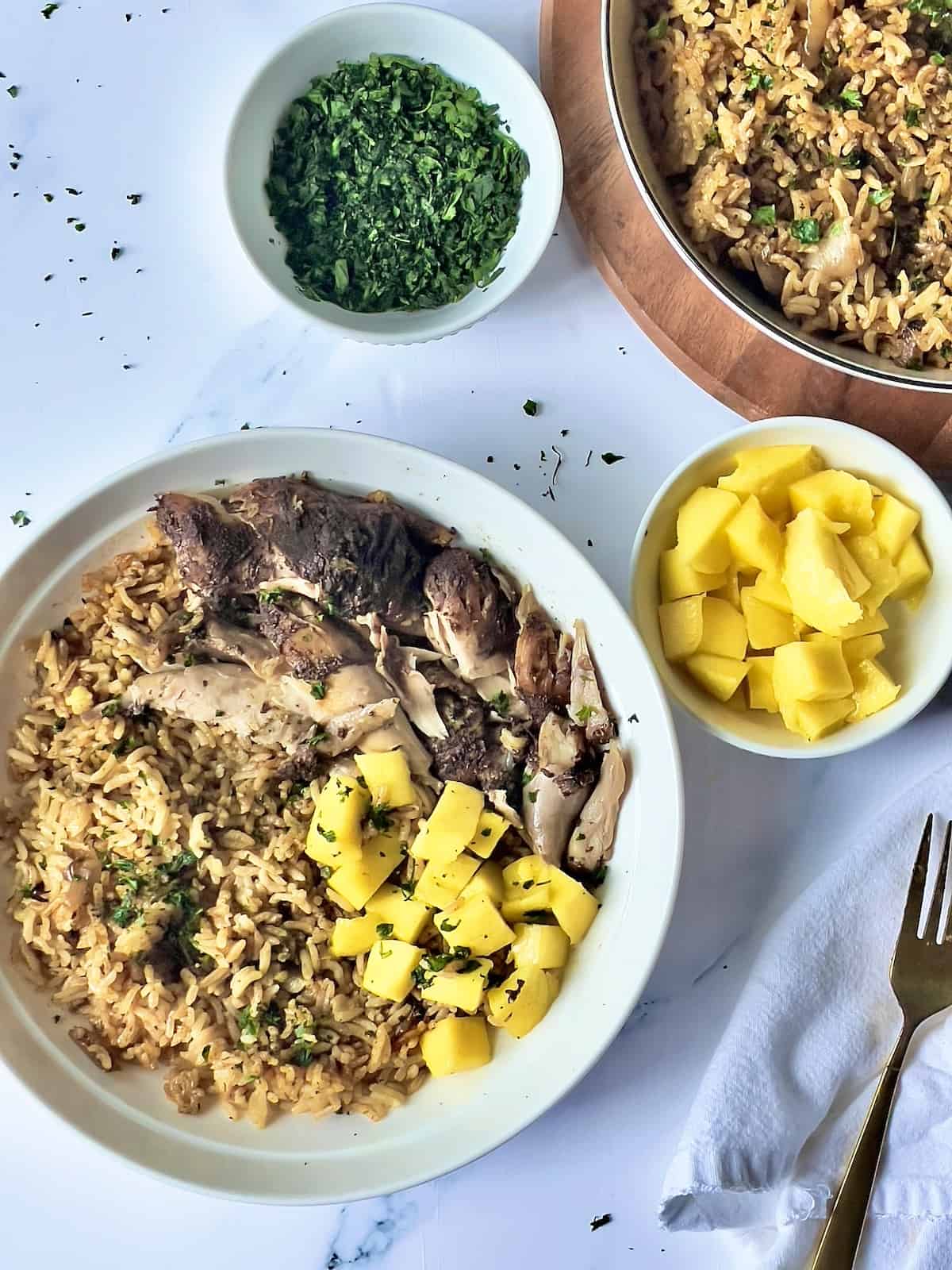 Even if you can't hop a plane to the tropics, this instant pot jerk chicken recipe from Kristina of Tasty Oven will transport your taste buds to Jamaica. What's more, it's a one-pot meal deal, meaning that once you marinate the chicken drums in those dynamic jerk seasonings, pile it in the instant pot with rice, and voila. Finally, serve it up with fresh herbs and mangoes for an exciting monotony-breaking weeknight dinner.
Visit Tasty Oven for the recipe.
Instant Pot Buttery Lemon Chicken Pasta with Zucchini and Squash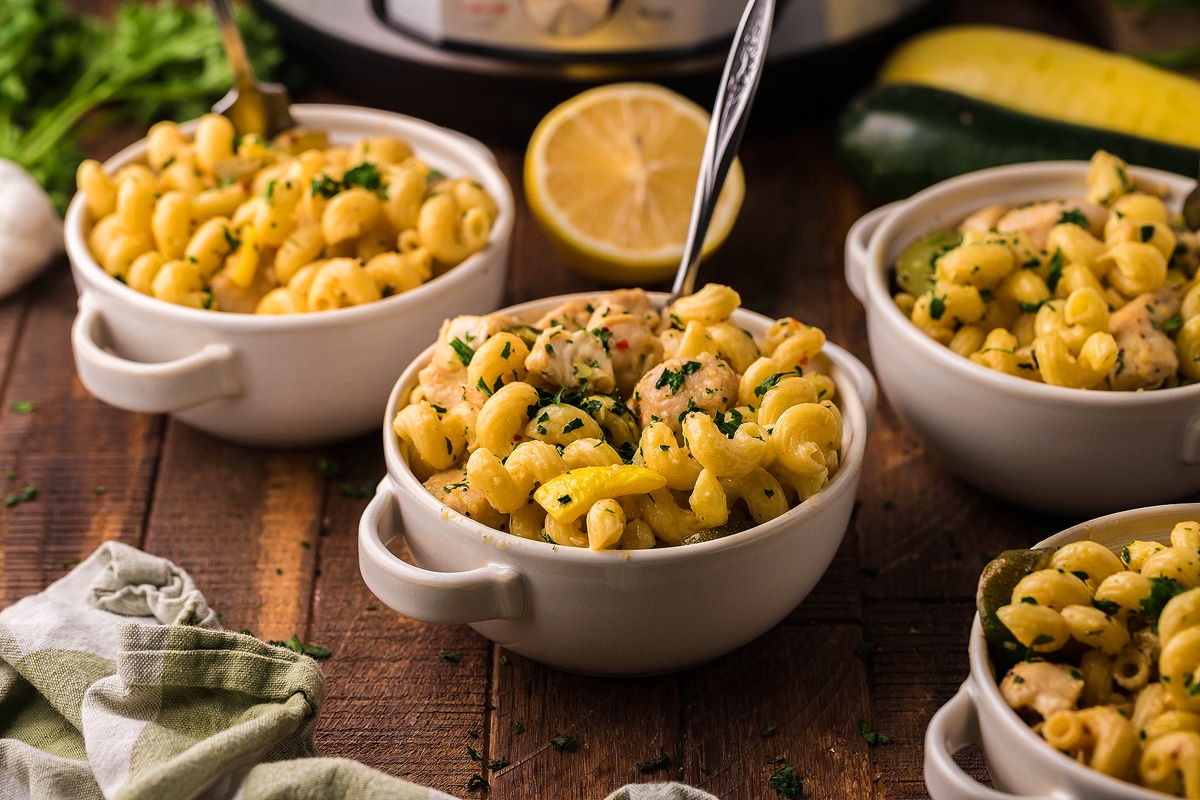 Cozy, quick, and nutritious, this lemon chicken pasta with zucchini and squash by XOXO Bella will become a family favorite. It's so buttery and flavorful with garlic, red pepper flakes, and onion powder. But it's also filling with pasta, zucchini, squash and chicken breast chunks. What more do you need from an easy weeknight dinner?
Visit XOXO Bella for the recipe.
Instant Pot Chicken Shawarma Wraps
Instant pot chicken shwarmas are a delicious meal utilizing shredded chicken. They're the perfect balance between tasty and nutritious. So they'll get your taste buds in a tizzy, but they also fill you up with nutrient-dense ingredients like chicken, tomato, whole wheat pitas, and more.
Visit The Oregon Dietitian for the recipe.
Instant Pot Chicken Tamales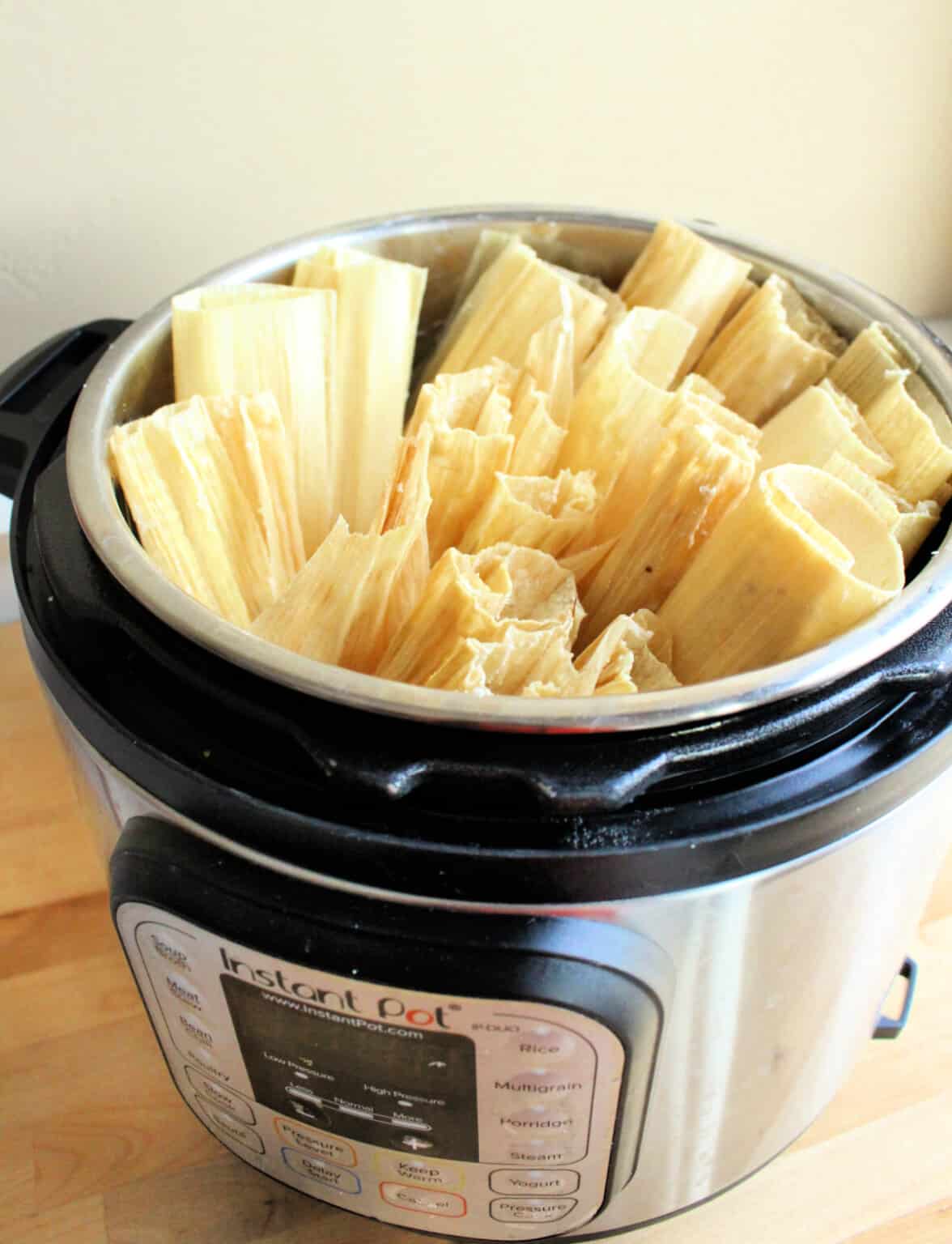 Making homemade chicken tamales from scratch is no small feat. But when you're In Mama Maggie's Kitchen, she shows you how to make them in half the time using your pressure cooker. So, you get the same great taste with far less work.
First things first, you cook the chicken in the instant pot. Next, make the salsa verde. And finally, assemble your tamales and cook. It's quite a process but so worth the effort.
Visit In Mama Maggie's Kitchen for the recipe.
Instant Pot Lemon Garlic Chicken
This lemon garlic chicken by Jessie of Life As A Strawberry is so flavorful and nutrient dense. Not only that, but it's a great way to use up leftover mashed potatoes. However, the best feature of this instant pot chicken recipe is that it's ready in just 30 minutes with less than ten ingredients.
Visit Life As A Strawberry for the recipe.
Instant Pot Sweet & Sour Chicken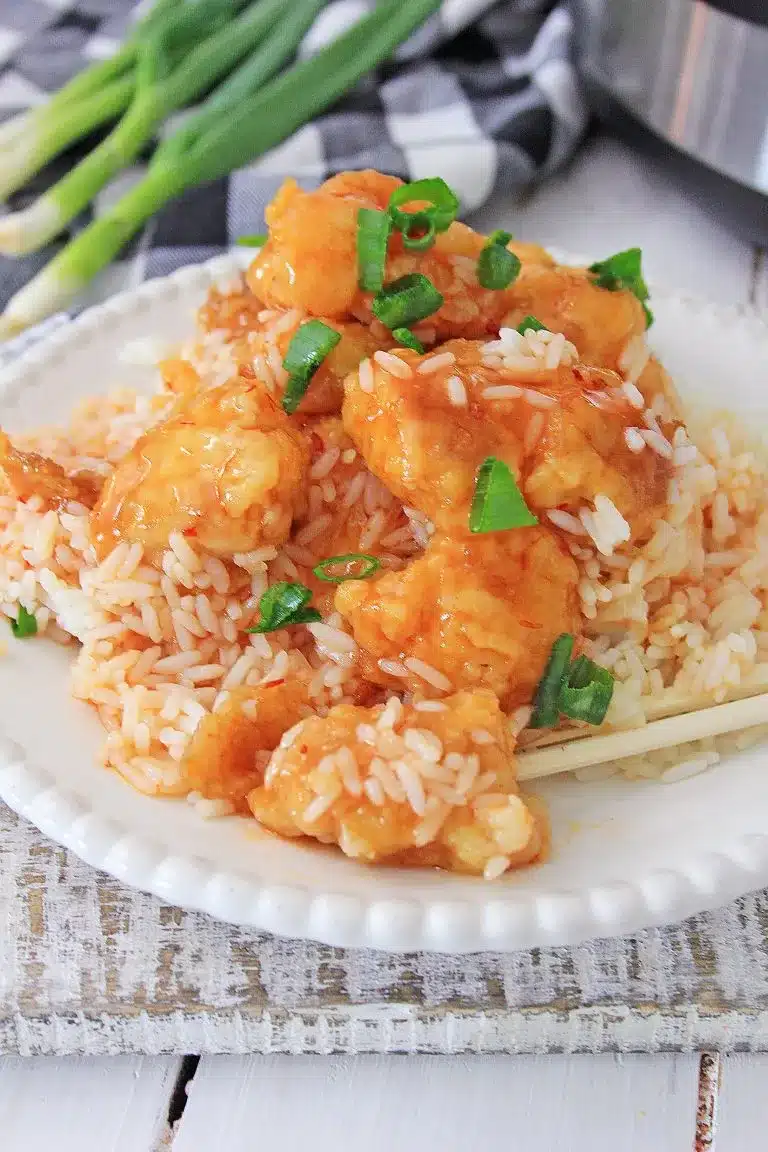 Meaghan of The Quicker Kitchen presents for your consideration, this sweet and sour chicken. It's healthier than takeout and most cost-effective as well. But none of that really matters if it doesn't remind you of the real thing. To be sure, Meaghan's recipe promises takeout results in less than 40 minutes.
Visit The Quicker Kitchen for the recipe.
Buffalo Instant Pot Chicken Leg Quarters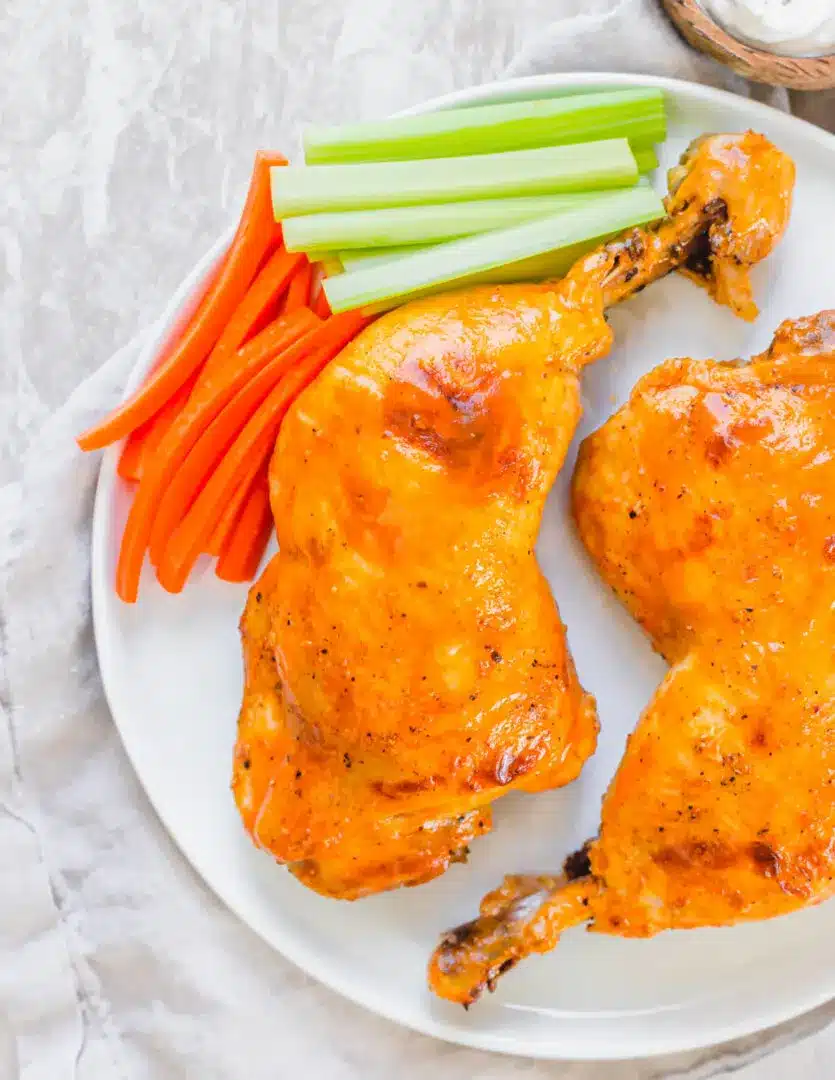 Slathered in mouthwatering buffalo sauce, these instant pot chicken leg quarters are sure to get the vote for dinner. The economical cut takes a spin in the pressure cooker before you broil, toss in sauce, and serve. Trust us, no one will be complaining about this one.
Visit Running To The Kitchen for the recipe.
Instant Pot Chicken Tikka Masala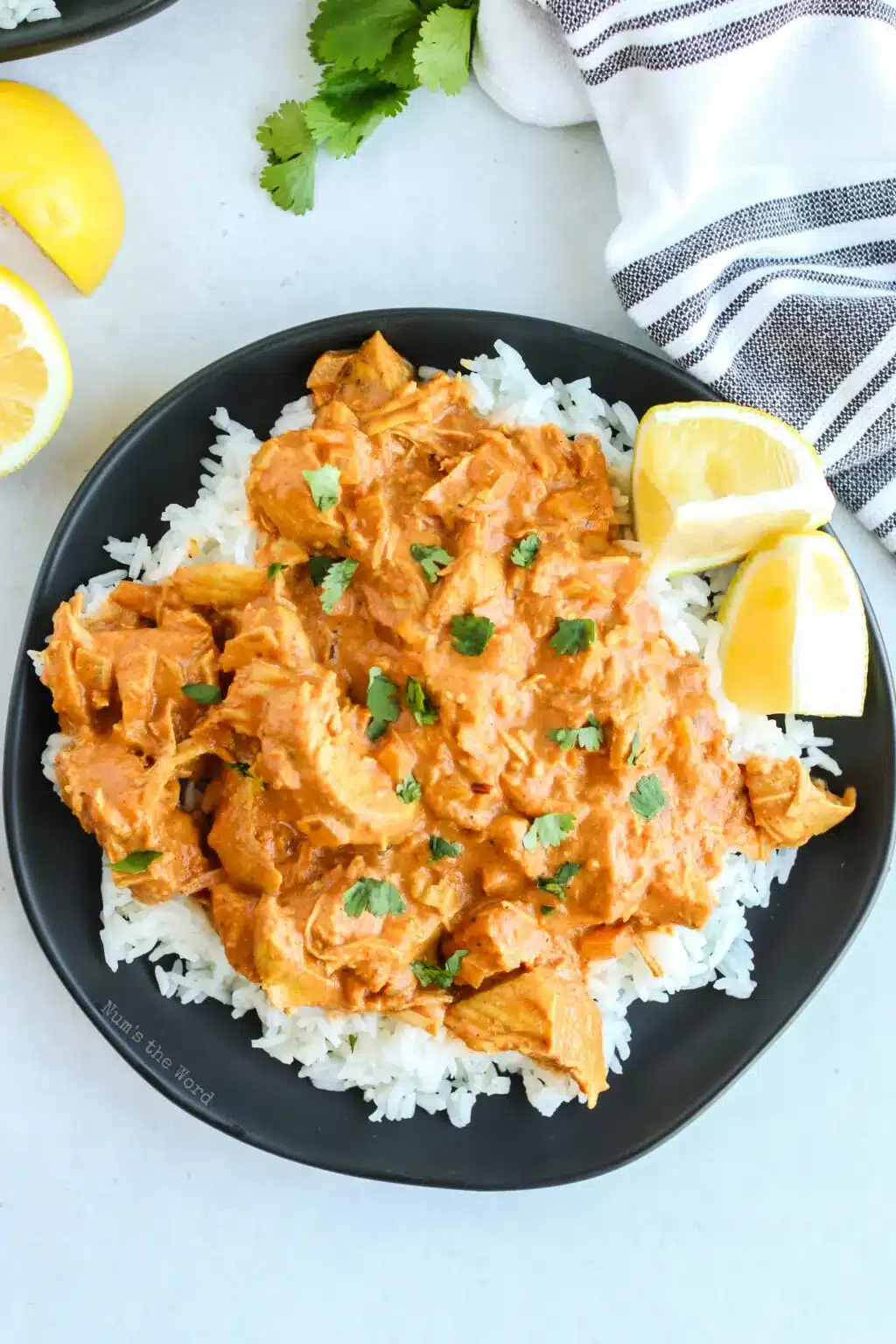 Not only is this chicken tikka masala recipe from Num's The Word a delicious curry, but with the help of the instant pot, you have a cheat code for quick and savory dinners. However, it gets better. In one batch, you can make enough creamy, uber-flavorful meaty sauce to satisfy a crowd.
Visit Num's The Word for the recipe.
Weight Watchers Chicken Tortilla Soup in the Instant Pot
You'll want to personally thank Denise of Easy And Delish for this instant pot tortilla soup recipe. It's a meal that has it all. It's weight watchers friendly, gluten-free, dairy-free, keto, and with ingredients like chili powder, jalapeno, cumin, and garlic cloves, it still packs the flavor. Oh, and it's quick. We have to say it, "winner winner chicken dinner!"
Visit Easy And Delish for the recipe.
Easy Juicy Instant Pot Chicken Fajitas
You'll appreciate the many benefits of this tasty instant pot chicken fajitas recipe from Yellow Thyme. It produces the most mouthwateringly juicy chicken with Mexican flavors you love, like ground coriander, ground cumin, paprika, and ground chili. And we haven't enough talked about serving it. Over rice, in a tortilla, or alone for a low-carb dinner, it makes for a delightful feast.
Visit Yellow Thyme for the recipe.
Instant Pot Chicken Fried Rice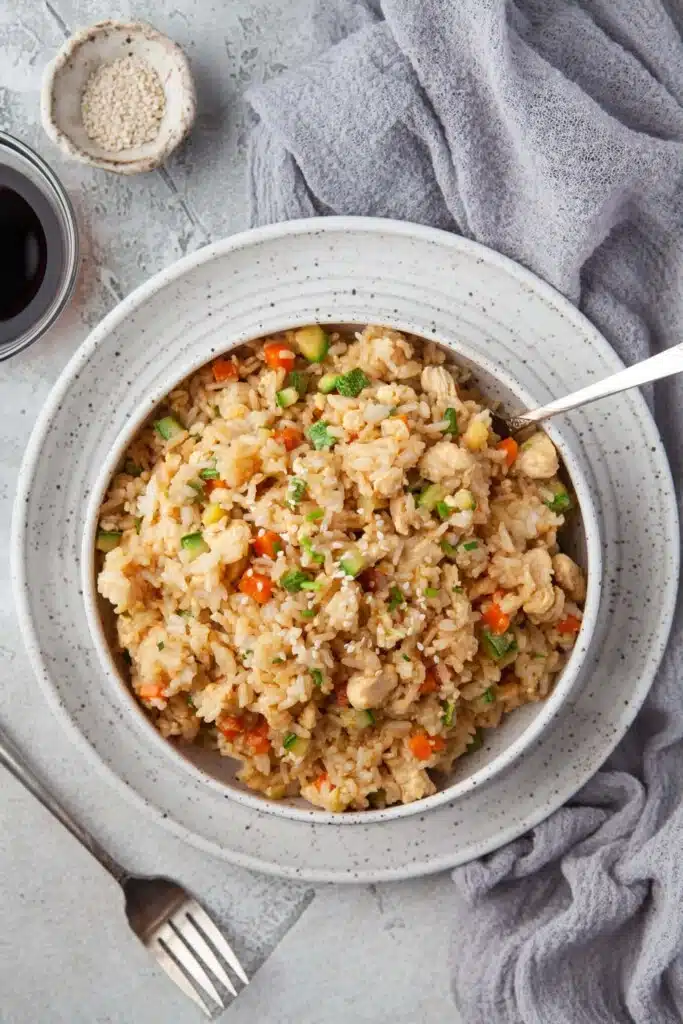 The Clean Eating Couple invites you to try their "cleaner" version of the universally loved takeout favorite; chicken fried rice. But even though it's packed with fresh veggies (zucchini, carrots, and onions) and boneless, skinless chicken breast, it still packs a wallop in the flavor department from the toasted sesame oil and low sodium soy sauce.
Visit The Clean Eating Couple for the recipe.
Instant Pot Chicken Pasta
One of our favorite ways to use the instant pot is for quick, "dump and go" pasta dishes, like this chicken pasta recipe from Simple Living Recipes. It's a flavor monster with sun-dried tomatoes, Italian seasoning, garlic, and parmesan cheese. Furthermore, you'll love how hands-off it is at just 25 minutes from start to finish.
Visit Simple Living Recipes for the recipe.
Instant Pot BBQ Chicken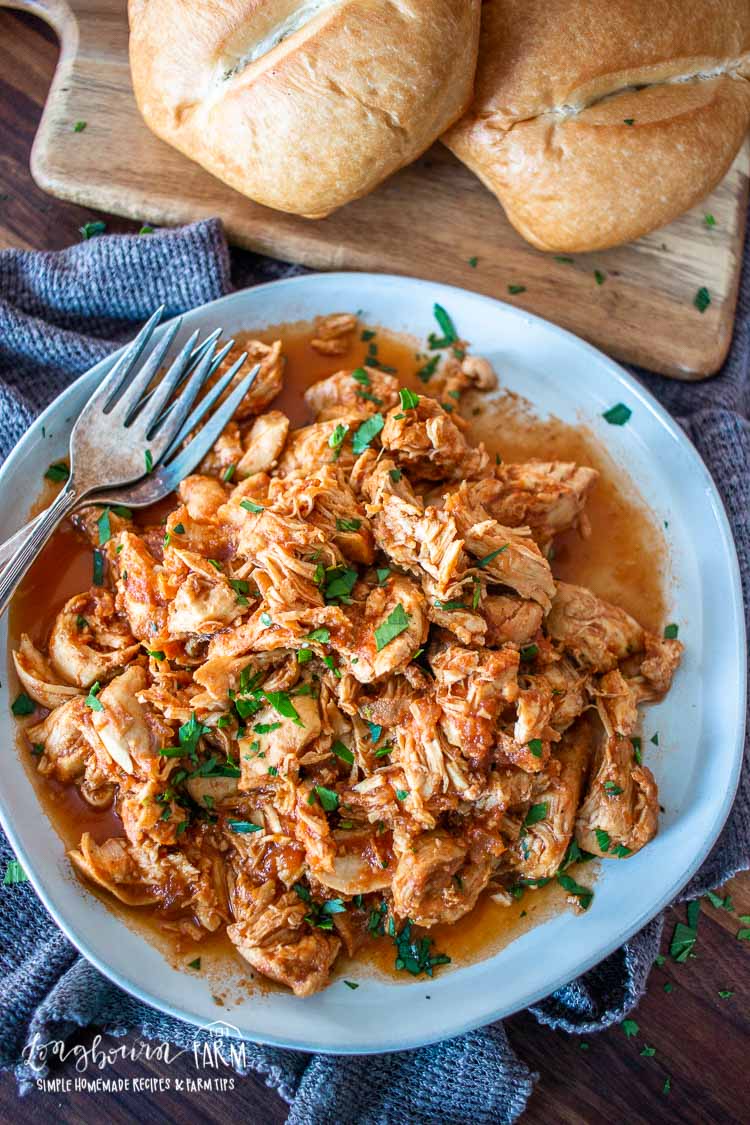 You won't believe it! This scrumptious instant pot bbq chicken meal from Alli of Longbourn Farm cooks in just seven minutes. Yes, you read that right! After prep work, the pressure cooker takes over. It starts with frozen chicken tenders. Next, add flavorful ingredients like molasses, dried mustard, and onions, and go. So, is it perfect for your next weeknight dinner?
Visit Longbourn Farm for the recipe.
Chicken Biryani Recipe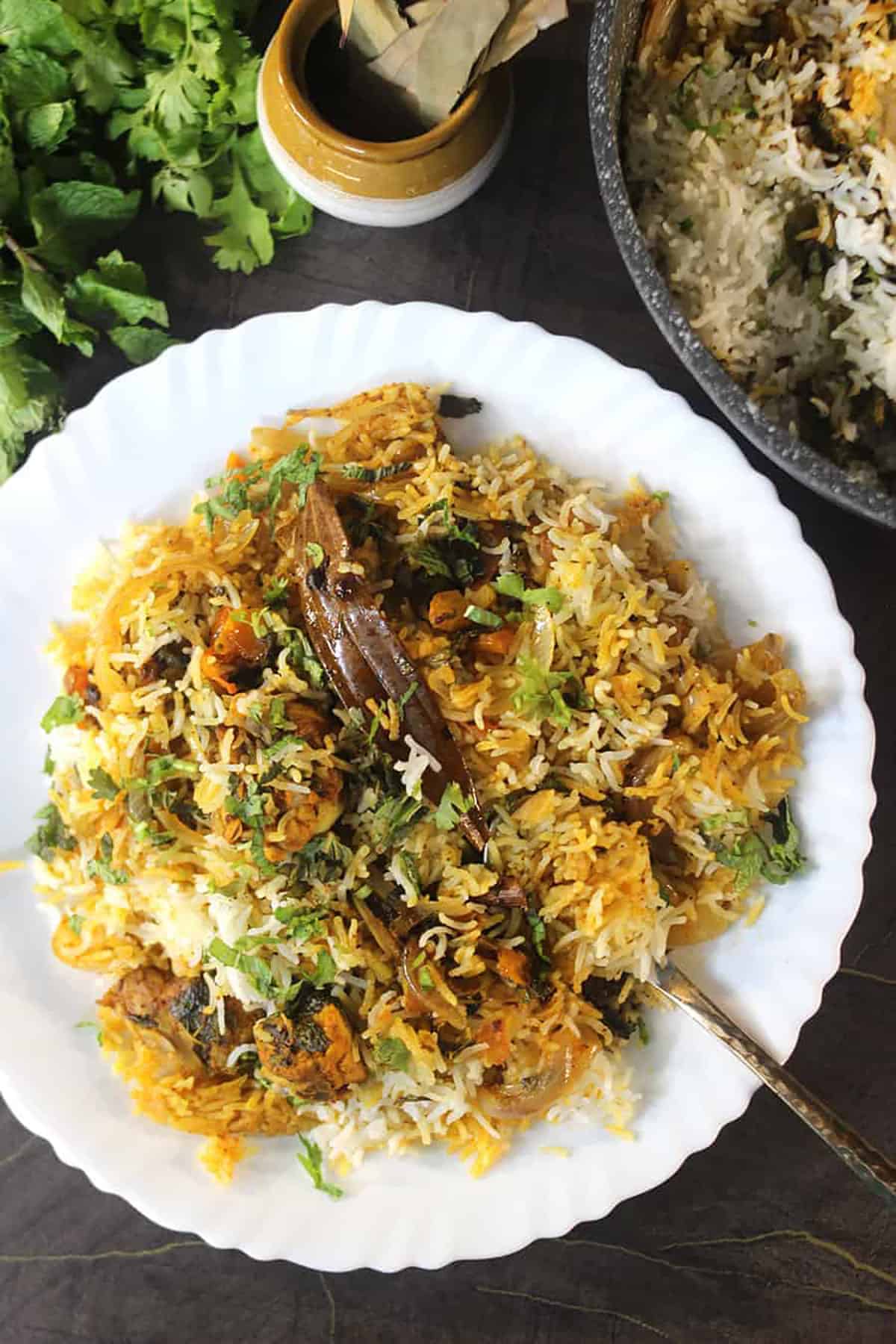 How can a recipe be mouthwatering, overflowing with aromatics, and yet so easy? Well, Sridevi of Cook With Kushi has the answer to that riddle with this chicken biryani you make in the instant pot. Here's a sneak peek of those flavorful ingredients we were telling you about: Tandoori masala, butter, cinnamon stick, cilantro, and more.
Visit Cook With Kushi for the recipe.
Which Instant Pot Chicken Recipes Will You Try First?
By now, you've come across nearly two dozen instant pot chicken recipes. These recipes include some fantastically flavorful dishes like chicken biryani, fried rice, and tikka masala. So, which one are you most excited to try? We'd love to know.
Be sure to check out these instant pot Mexican recipes.