If you are anything like us, you love meat! Yes, that's right! We're carnivores on this side of the internet. So, wipe that drool off your mouth and get ready to love this 21 Sensational Steak Recipes list.
For example, there's a One Pan Ribeye Mushroom and Onion Skillet, Garlic Butter Steak Bites, and even breaded and fried Milanesa Steak. So are you ready to discover the beefy goodness on this page?
Let's dive in!
And if you love this list, you will love these ground beef recipes and shredded beef recipes.
One Pan Ribeye Mushroom and Onion Skillet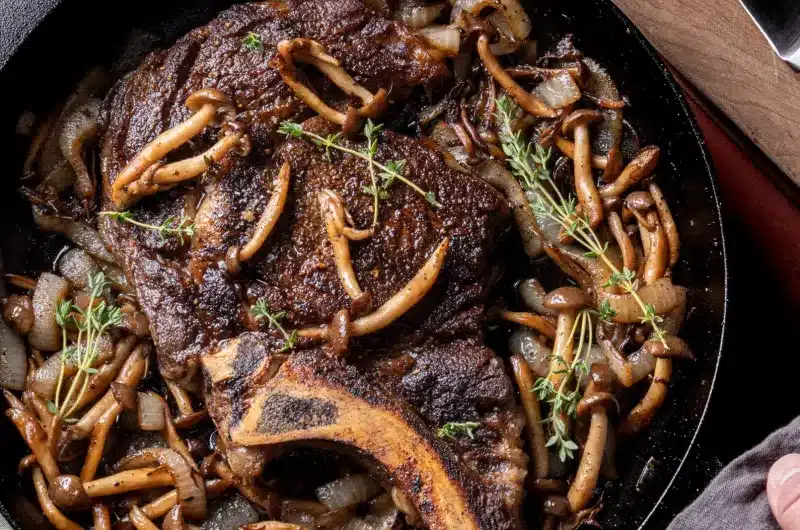 When you want a fine dining experience at home with predictable results, you've got to see the Cooking with Wine Blog. For this One Pan Ribeye Mushroom and Onion Skillet, you'll learn their tips for cooking a steak to your desired doneness, which accounts for carryover (meat will continue cooking after you remove it from the heat source).
But guys, that's just the beginning. They created a simple coriander and peppercorn rub so good they contemplated keeping it to themselves (luckily for us they were generous). Finally, you cap it with a mushroom and onion topping.
Chaliapin Steak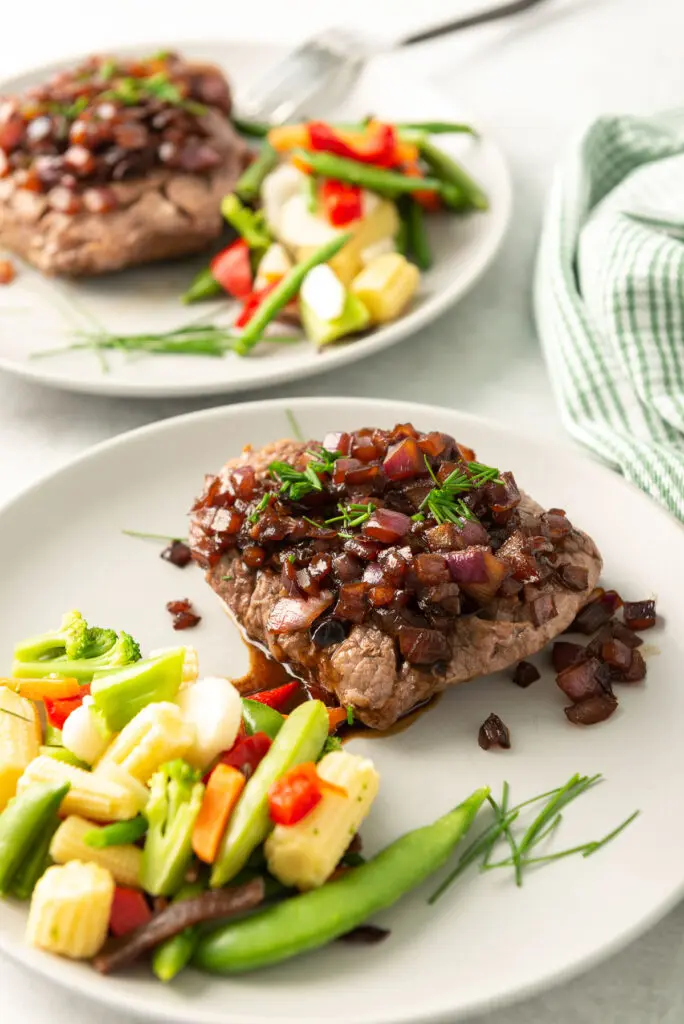 With this Chaliapin Steak, Chocolates And Chai's Riz shows us how to transform cheap cuts of meat into deliciously juicy and tender steak worthy of the big bucks. Dubious? Yeah, we were too. But here's the thing. Even if it won't come close to Wagyu, it's still a great way to get the most out of cheap meat. You start by scoring the steak in a grid pattern. Next, hit it a few times with a meat tenderizer.
Garlic Butter Steak Bites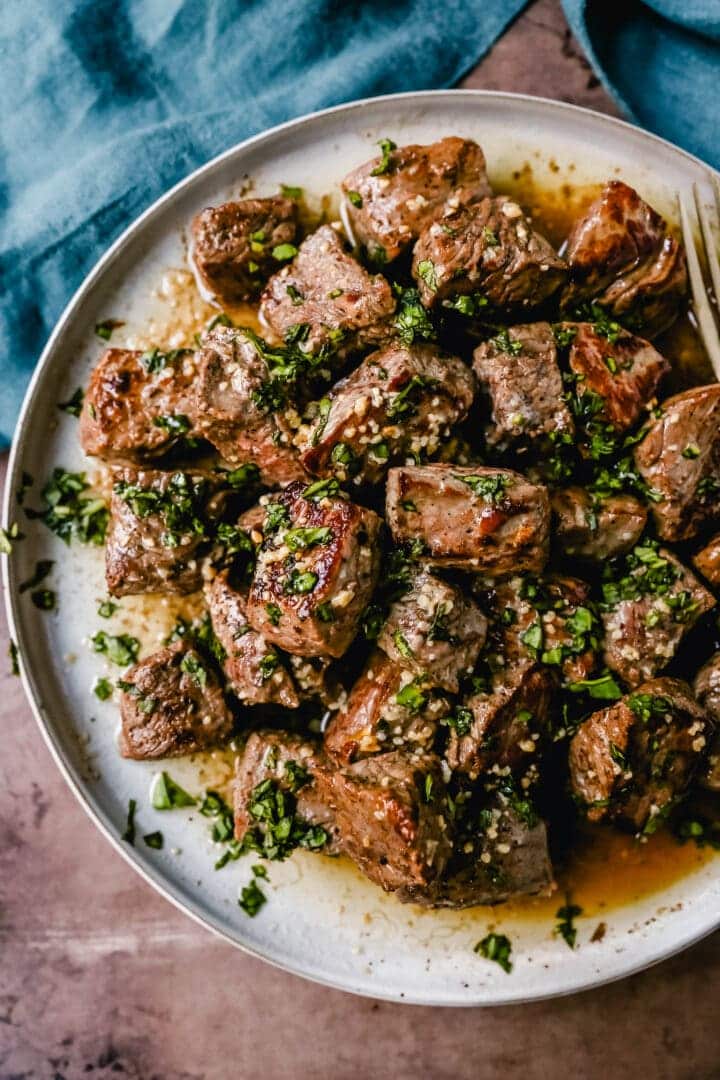 Prolific recipe contest participant, and winner, Melissa of Modern Honey presents these juicy and flavorful Garlic Butter Steak Bites for your consideration. She developed the 10-minute meal to incorporate more protein into her diet. And I can think of no better way than rich, buttery, and herby ribeye steak chunks. So, try it out, and you may want to send her a blue ribbon.
Mexican Street Tacos with Carne Asada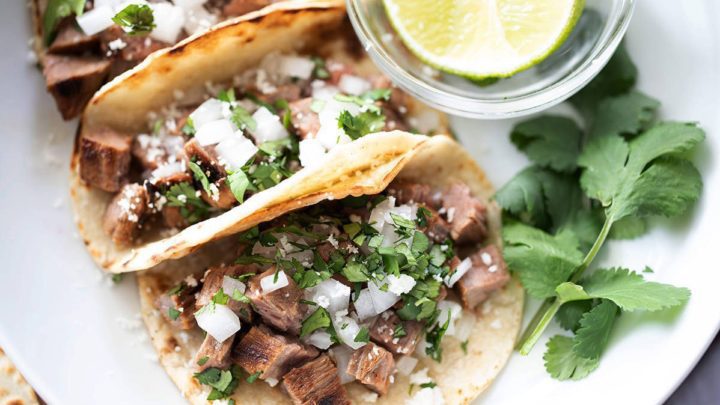 Darcie of Foodie And Wine has some wisdom for you. Please don't pick a Mexican Street Tacos Recipe with Carne Asada simply because it has only 3 or 4 ingredients. Instead, you want the meat for your mini tacos to be brimming with flavor. And that, my friend, comes from many seasonings, like cumin, chili powder, lime juice, orange juice, and ground cloves, to name a few.
Grilled Elk Steak with Asian Marinade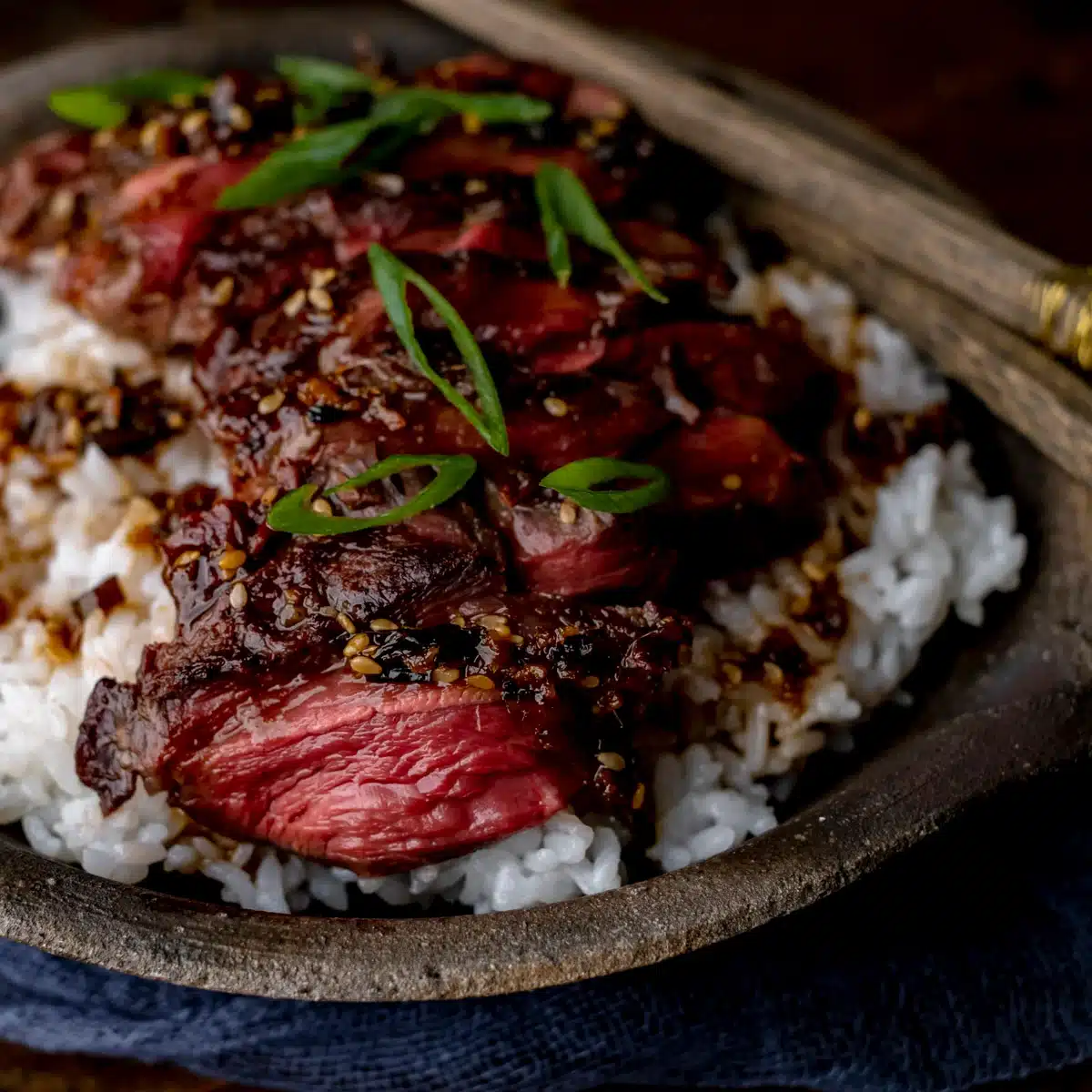 While you can use most any steak for this Grilled Elk Steak with Asian Marinade, grilled earthy wild game meat combined with Asian flavors makes for a particularly scrumptious combination. That magical elixir blends soy sauce, garlic, ginger, sesame oil, and seeds. But here's the kicker, though. While the meat is on the grill, bring the marinade to a simmer for a finger-lickin' sauce.
Steak + Burrata Bruschetta
Please don't ask me how to pronounce this Steak + Burrata Bruschetta recipe by The Virtual Caterer. I'll fumble on the play. Rather, I'll just stick to calling it delicious. Anywho, Suzie shows you how to make the fancy appetizer with grilled toast, burrata cheese, and perfectly cooked flat iron steak. However, the highlight is the dreamy garlic-parsley-chili sauce.
Steak and Broccoli Stir Fry
Don't always rely on takeout if you're looking for a speedy meal. Instead, Joy Filled Eats' Taryn covers you with her 20-minute Steak and Broccoli Stir Fry recipe. Plus, you probably have most of the necessary ingredients, like garlic and soy sauce, at home. So, with some proper grocery planning, you can whip up this dish quicker than waiting for delivery.
Milanesa Steak
With a website called Best Beef Recipes, it should come as no surprise that steak is a favorite in Isabel's household. She loves it so much that she often tries new and tasty ways to make it. Enter Milanesa Steak – a classic South American dish. You start by tenderizing round steaks with a mallet, then breading and frying them. Or, if you'd rather not fry, she even includes baking instructions.
Red Wine Marinated Steak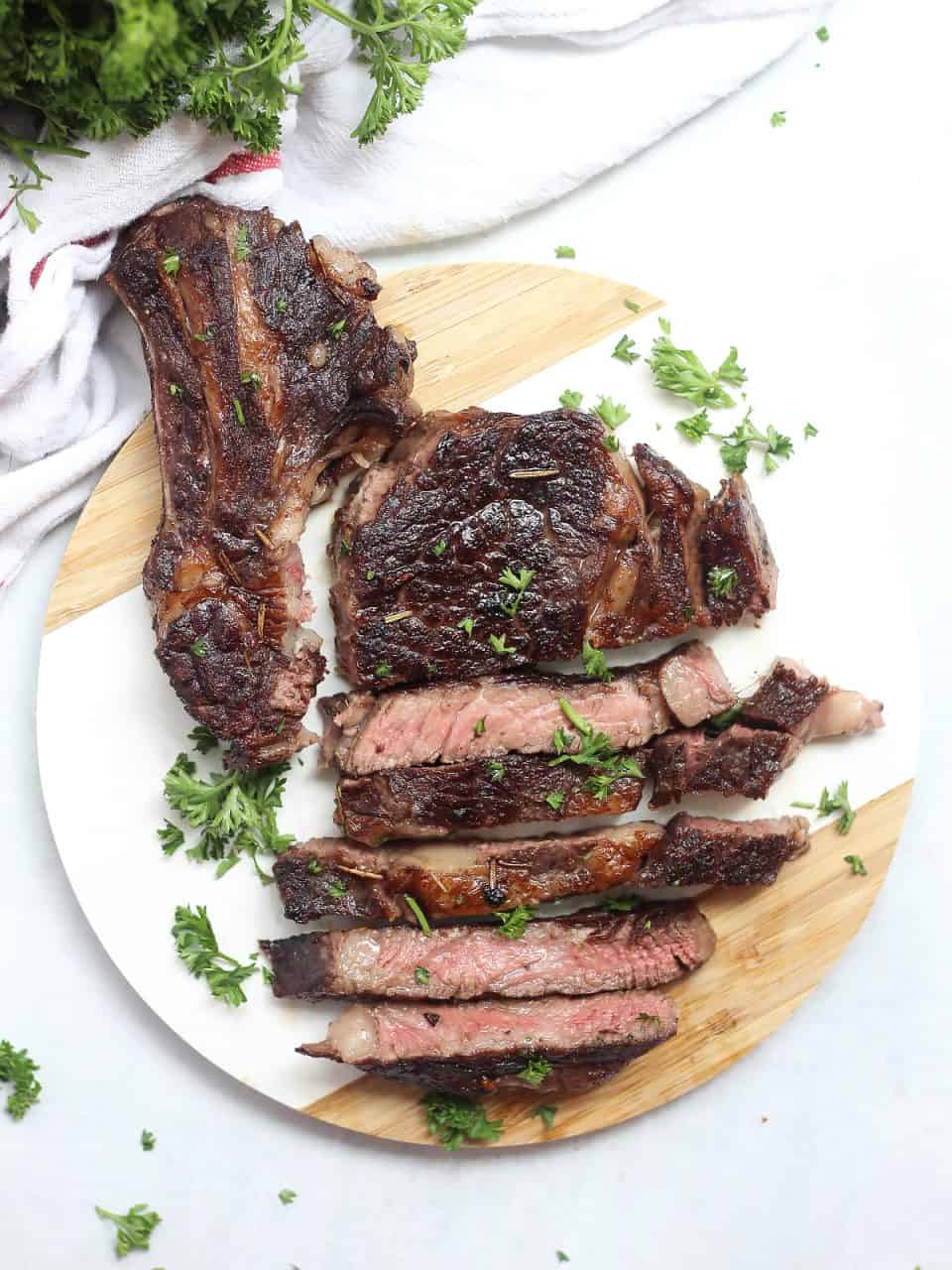 Betty at Slow The Cook Down encourages you to appreciate life's little joys. So after you finish cooking this gorgeous Red Wine Marinated Steak, take a moment to enjoy the delicious scent. She teaches you the reverse sear cooking method. That is, you bake the steak for 20 minutes or until 90/95F. Then sear it on high heat for a couple of minutes per side for medium rare.
Beef Tagliata (Italian Steak)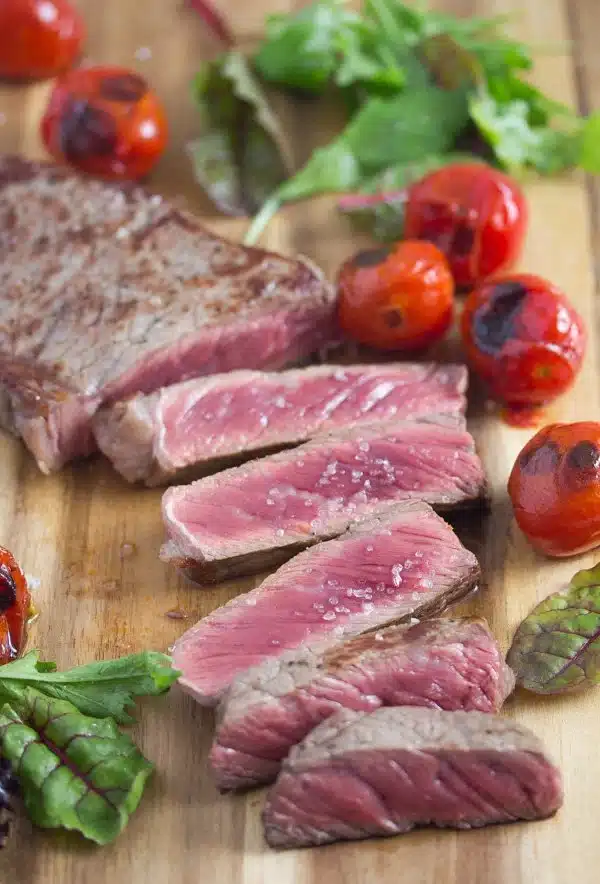 Adina of Where Is My Spoon deserves a standing ovation for this recipe post. Not just for the succulent steak how-to but for calling out the well-done steak eaters who blame the cook for the tasteless rubber they themselves ordered. SMH!
As for this Beef Tagliata recipe, which is Italian for sliced steak, it's deliciously easy. She uses rump steaks but also recommends rib eye, flank, and even entrecote, so long as it is well-aged. And she keeps the cooking straightforward with a piping hot skillet, cherry tomatoes, salt, and pepper.
Carne Asada Steak Kabobs
I believe Dana when she says these are the best Carne Asada Steak Kabobs she's ever had. First, look at that image. If that doesn't say a thousand words, what picture will? Secondly, the professionally trained cook uses NY strip steak instead of the cheapest available. And guys, that's just the start. The steak gets soaked in a bath of soy sauce, garlic, limes, brown sugar, and cilantro before going on the skewers and off to the grill.
Spicy Steak Salad with Roasted Chermoula
If you think salad is boring, you haven't met this Spicy Steak Salad with Roasted Chermoula Dressing by Dannii of Hungry Happy Healthy. Picture this: Peppery, protein-packed lean flank steak, roasted potatoes, crisp romaine, tomato, cucumber, goat cheese, and super-flavorful chermoula dressing. What is chermoula? A North African condiment made with oil, balsamic vinegar, herbs, chili, lemon, and spices. You'll want to put it on everything!
So before we go into the next entry, a rant! I recently had one of the worst ribeye steaks from a top-rated chain steakhouse that shall remain unnamed. It was underseasoned and overcooked. How the heck does a multinational steakhouse mess up steak? It's one of the great culinary conundrums. Luckily, my bill was covered with a gift card. /rant
Air Fryer Rib Eye Steak
Anywho, if you can't be bothered with the grill and want to avoid the restaurant experience, Emmeline has another solution for you; Air Fryer Rib Eye Steak. Here's the promise from her opening salvo: juicy, flavorful, healthier steak in just 15 minutes. Oh, and just one minute of prep.
She keeps the cooking simple with garlic salt, pepper, and Worcestershire. And it's so good that the Always Use Butter blogger may never go back to her previous pan-frying ways.
Bavette Steak
Bavette Steak, also known as the Butcher's cut or sirloin flap (this is the portion the butcher often reserved for themselves). Compared to filet mignon or NY strip, it's not very popular but still big on flavor. And today, Jen of Peel with Zeal shows you how to make it. First, for about an hour, you'll need to soak it in a flavorful mix of balsamic vinegar, dijon mustard, herbs, and garlic. Then, cook it quickly for 3 to 4 minutes per side.
Steak Crostinis With Horseradish Ricotta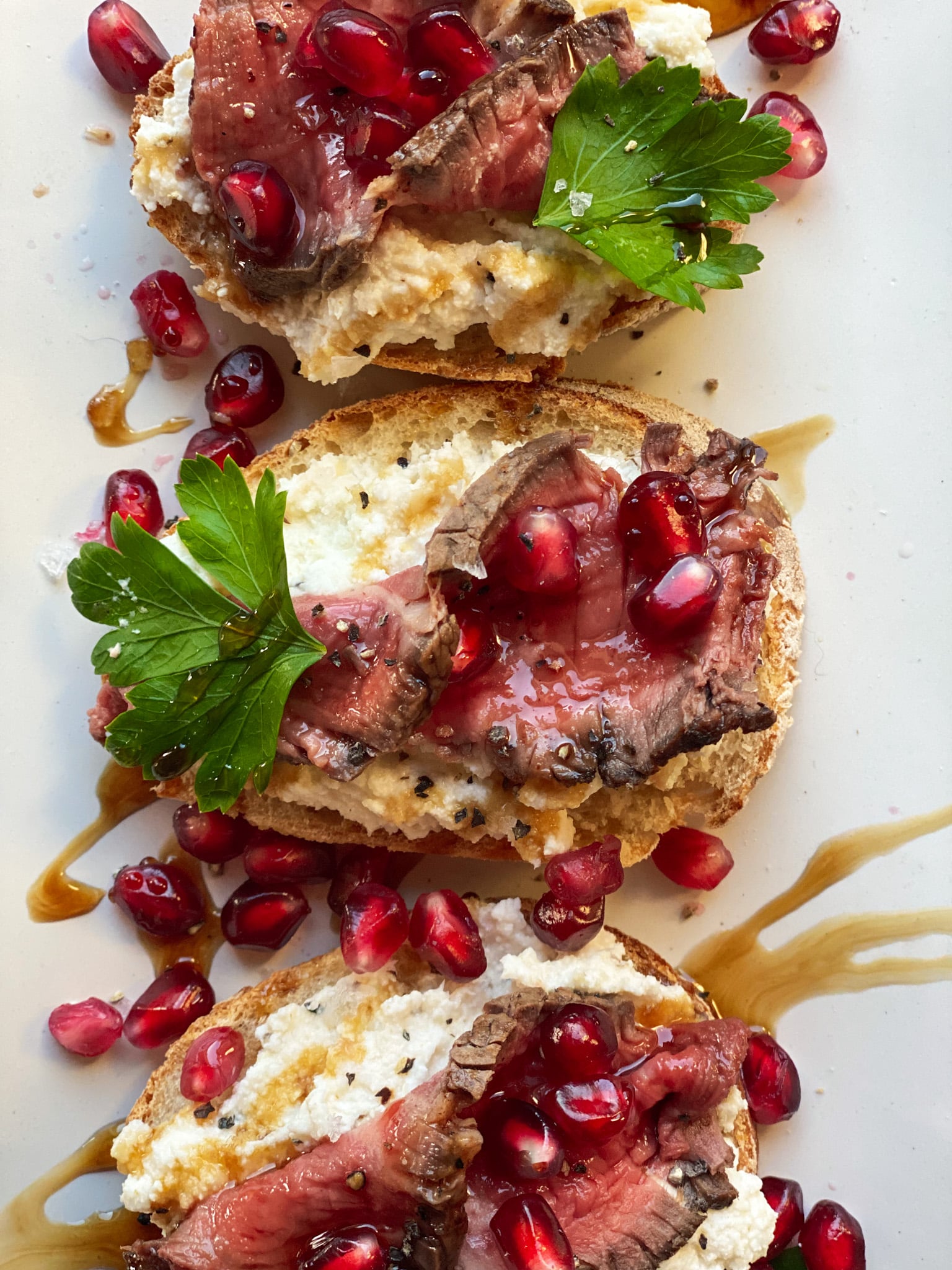 These Steak Crostinis with Horseradish Ricotta by Dina & Bruce of The Perks of Being Us were created with a bit of serendipity. One night they had "the most amazing rare filets" for dinner. The next day they made homemade baguette and had pomegranates, horseradish, balsamic vinegar, honey, and ricotta on hand. So naturally, this recipe just kind of happens when you have this collection of ingredients around.
Smoked Flank Steak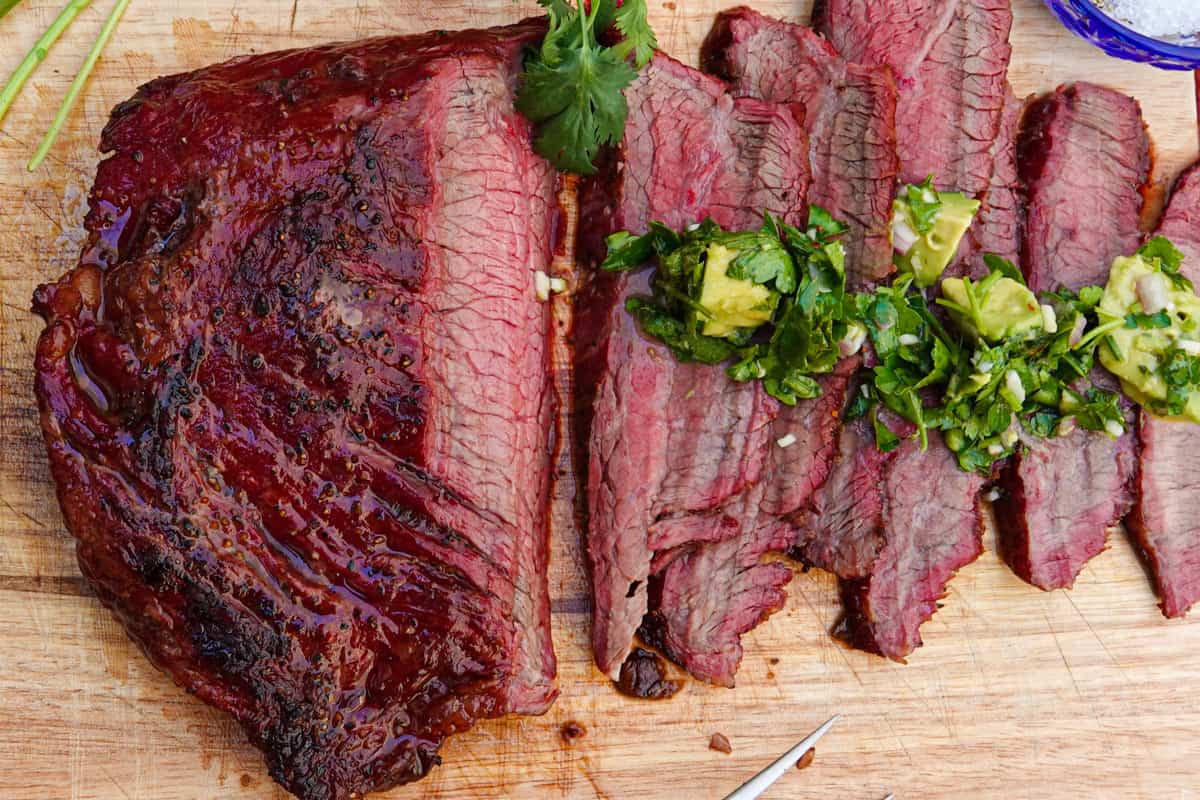 Will of Jerkyholic is your source for all things smoked and dehydrated. And today, his job is convincing you that the best way to enjoy lean flank steak is to smoke it on your pellet grill. In the seasoning department, he keeps it minimalist with a 50-50 blend of salt and pepper. In addition, you don't smoke it all day. Instead, you "hit it with some smoke" for 20 to 30 minutes before cranking up the heat.
Bacon Wrapped Steak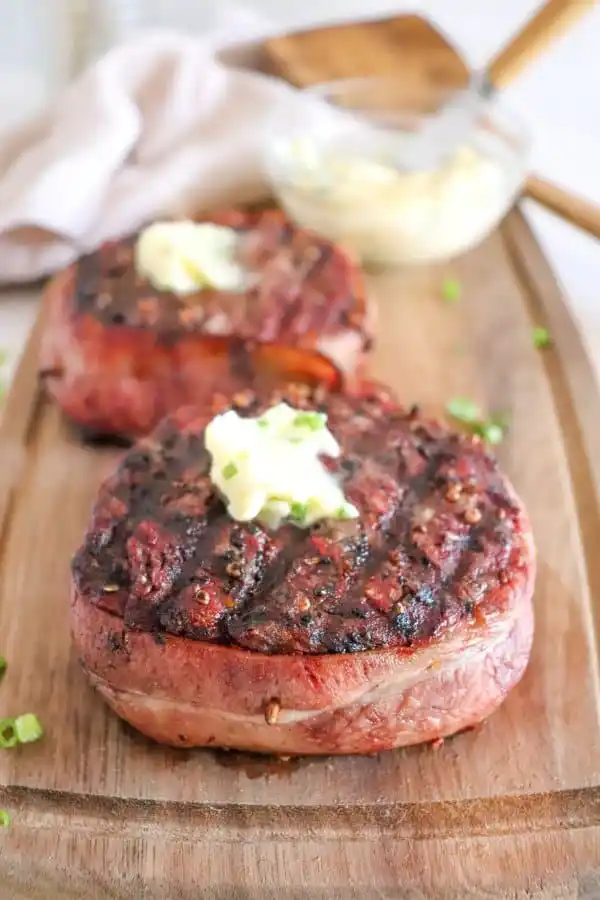 Here's a safe, non-partisan statement most will agree on: bacon makes everything better. That's the basic premise behind this grilled Bacon Wrapped Steak recipe flavored with Montreal steak seasoning by Homemade Heather. But, of course, the grilling enthusiast is biased regarding steak. Her idea is to get the most out of it; you need to grill it but keep it simple using a Traeger.
Grilled T Bone Steak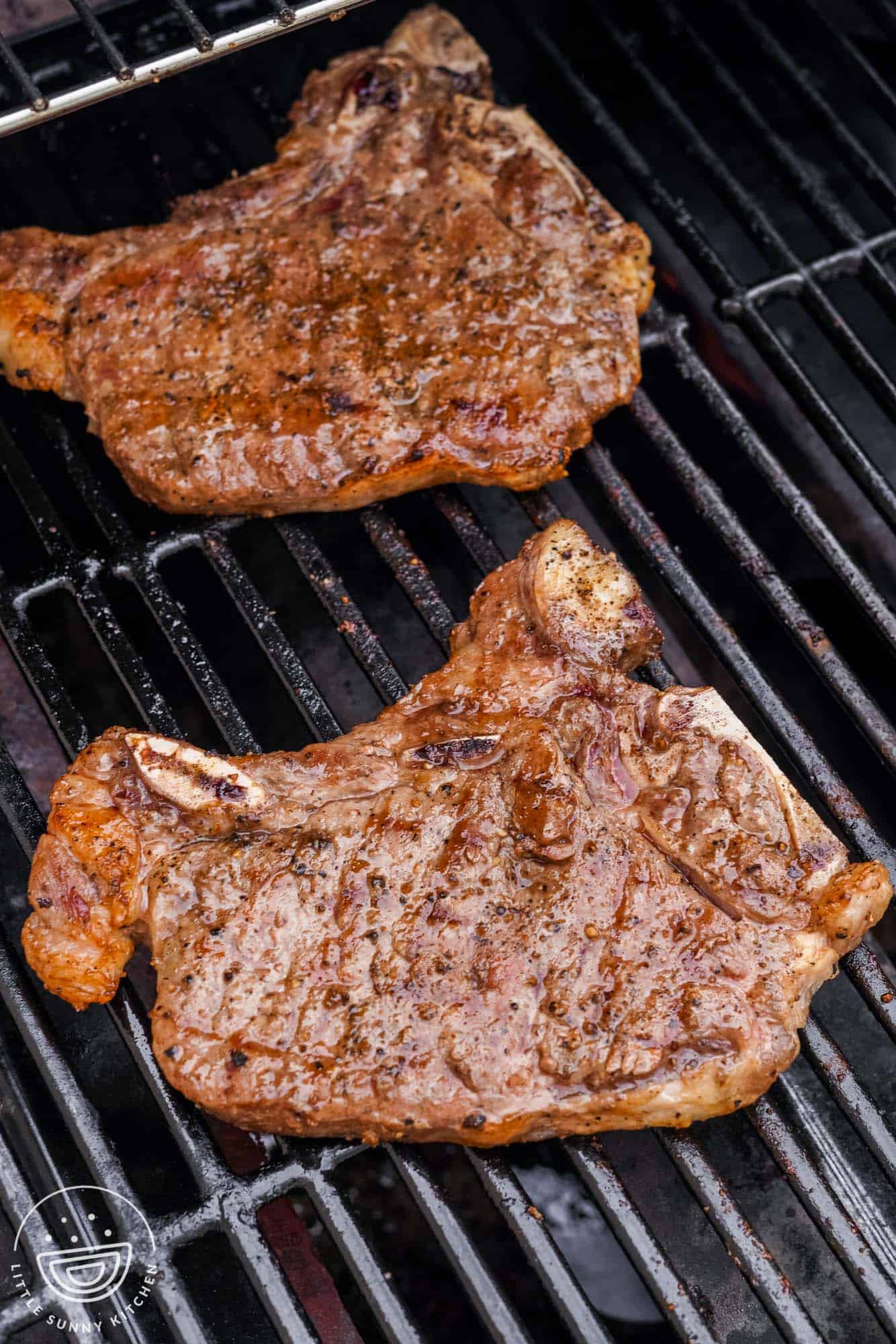 Avoid the wait, hassle, headache, and perhaps subpar results of going to a restaurant for your steak, and instead, make it from home with this Grilled T Bone Steak recipe by Little Sunny Kitchen. Diana shows you how to pick, season, grill, and rest your T-Bone. Which, like a porterhouse, has a NY strip and filet mignon to combine the best of two cuts.
Rosemary Steak Chili
When you live on the East Coast or Midwest, winters seem to last forever. So you'll want to keep deliciously warm bowls like this Rosemary Steak Chili handy. Unlike your ordinary bean and ground beef chili, this one features thick chunks of tender and hearty beef shoulder steak. And that's not all. Pinot Noir wine brings out more flavor.
New York Strip Steak Recipe
Are you ready for the most convenient way to make a hunk of marbled beef? Well, Maya of Wholesome Yum shows you how to make this New York Strip Steak Recipe right in your oven. To let the beefiness shine, she keeps the seasoning to a minimum; salt, pepper, and butter. It's so easy. Just sear the steaks on a hot cast iron pan, then it's off to the oven.
Are You Ready To Make A Steak Recipe Tonight?
The recipes on this list are so good. You just might change your dinner plans tonight. You've seen an easy oven NY Strip Steak, Rosemary Steak Chili, Steak Crostini with Horseradish Ricotta, and many more. So which one are you ready to try? We'd love to know!