You are going to absolutely love this delicious list of 21 Gound Italian Sausage Recipes! And we guarantee there are some that you've never seen before!
For example, there is a Neapolitan meatball and rice timbale. If you don't know what that is, you'll be pleasantly surprised to find out. But there's also butternut squash and sausage lasagna and sausage and broccoli rabe pizza, plus so many more!
So, are you ready to discover delicious ground Italian sausage recipes?
Let's dive in!
By the way, don't miss these other ground meat recipes: ground pork recipes, ground lamb recipes, and ground turkey recipes.
21 Delicious Ground Italian Sausage Recipes
Are you ready to discover delicious Ground Italian Sausage Recipes from all sorts of talented food bloggers? Just below, you'll find so many many creative and yummy options you won't know where to start first. So, from Instant Pot Tortellini Soup to Chicago Meat Lover Deep Dish Pizza, you'll find something you'll want to make over and over again!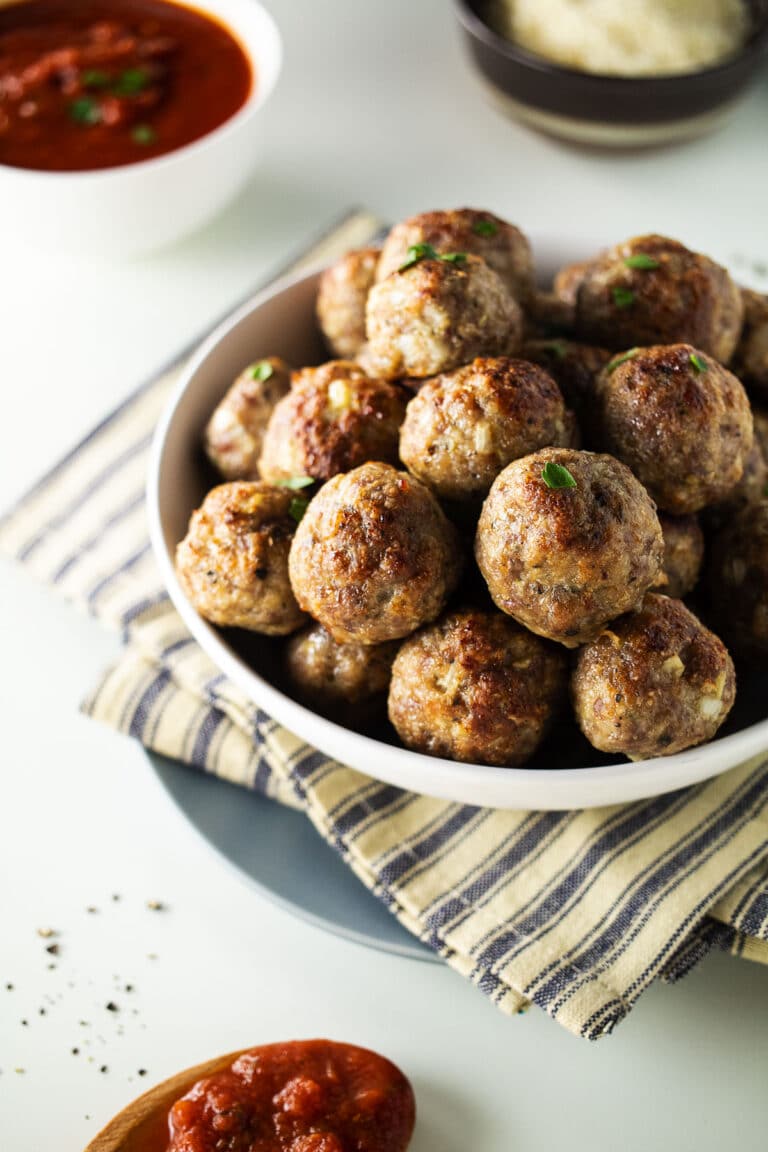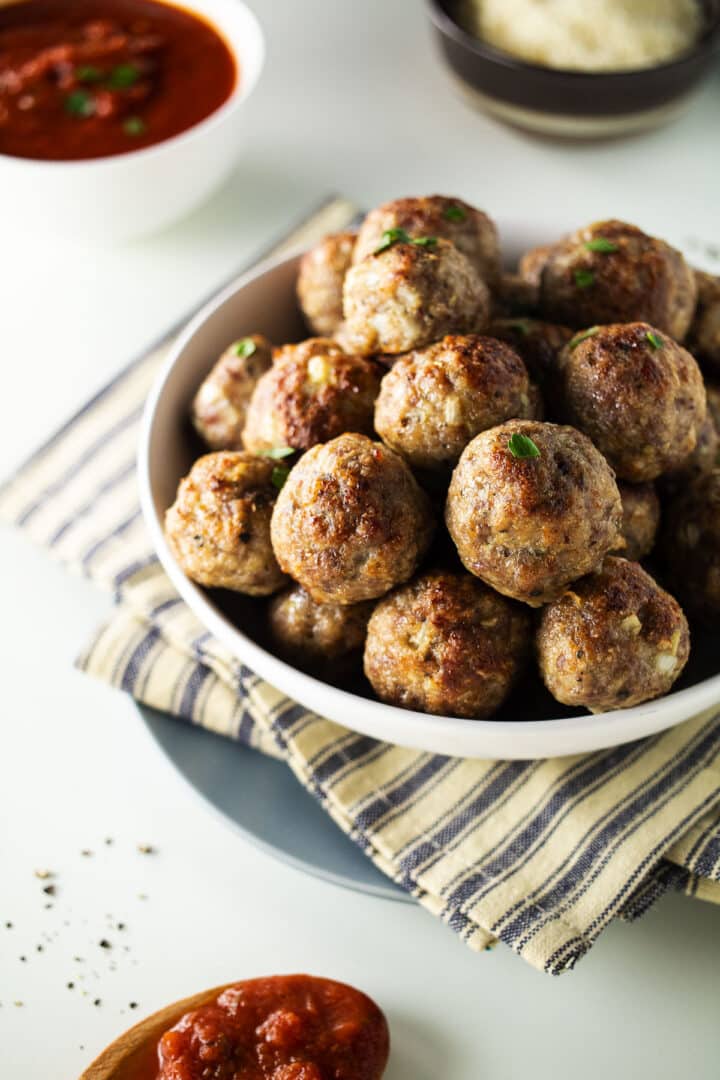 Do you see that bowl of glistening Italian Sausage Meatballs? Are they calling your name? These protein-packed little chunks of goodness are flavorful, high in protein, and low in carbs. They contain just ten ingredients, including ground Italian sausage, ground turkey, egg, and grated cheese, and take just 30 minutes to make.
Neapolitan Sausage Meatballs And Rice Timbale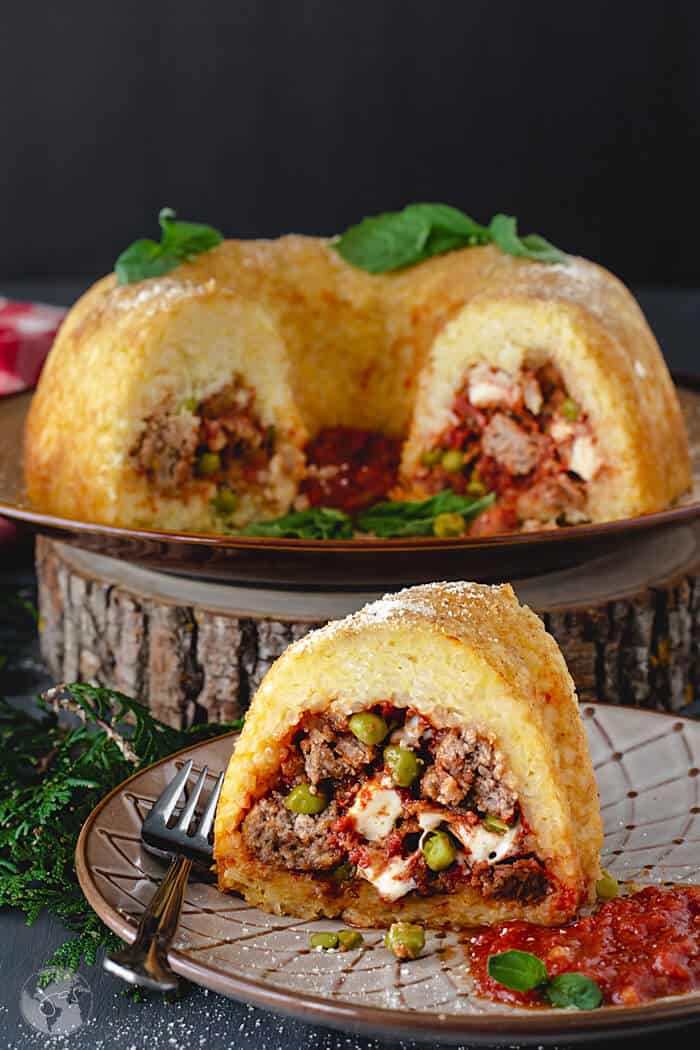 Whoa there, hold your horses! We know you have many questions about this sausage meatball timbale from All That's Jas. You're likely wondering about the shape. Is it sweet or savory, etc.?
Though it looks like a bundt cake, it's not sweet. Instead, the Balkan comfort food author describes the dish as " a rich rice pie stuffed with sausage, meatballs, mozzarella, peas, and tomato sauce."
Now, that's a lot of delicious packed into one dish! But the gorgeous presentation elevates it further. You bake it in a bundt pan and cut it, revealing the Christmas colors. Red sauce and green peas.
Visit All That's Jas for the recipe.
Instant Pot Tortellini Soup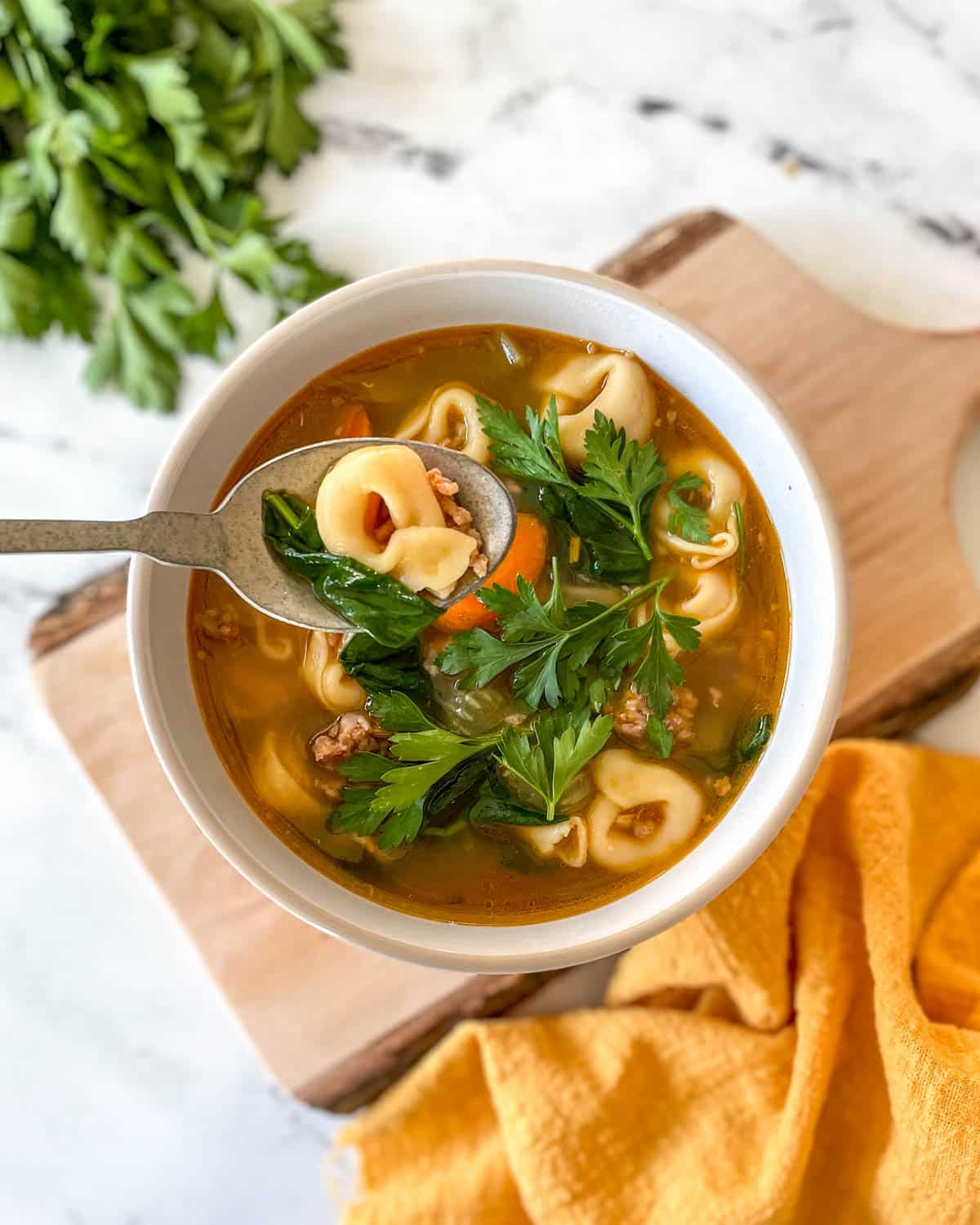 When it's snowy, rainy, or dreary, you'll want to hold a big warm bowl of this delicious and cozy Instant Pot tortellini soup from Gen of Two Cloves Kitchen.
With carrots, celery, sausage, tortellini pasta, and spinach, this soup is the very definition of hearty. And it's so simple to make. Just chop some veggies, brown the Italian sausage, dump it in a pot, and you're good to go.
Visit Two Cloves Kitchen for the recipe.
Spicy Italian Sausage Baked Ziti
You just might lick the bowl when making the cheese mixture for this spicy Italian sausage baked ziti from Wendie of Butter Your Biscuit. It's that good!
On its own Italian ground sausage is a flavor-packing dynamo.
But there's even more aroma from the onions and garlic. Then, of course, you'll satisfy appetites with the substantial ziti pasta and Wendie's unique four-cheese mixture, which includes parmesan and mozzarella, although you won't find ricotta.
Visit Butter Your Biscuit for the recipe.
Butternut Squash And Sausage Lasagna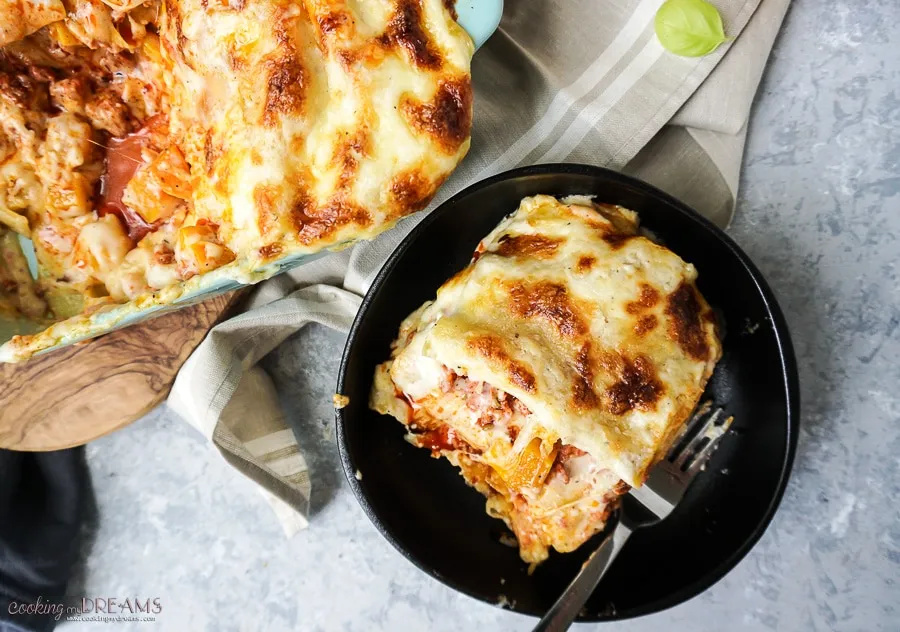 We're totally down for this sausage and squash lasagna recipe from Jessica of Cooking My Dreams. While the unctuous sausage and slightly sweet, tender squash are a match made in culinary heaven, this dish is more experimental than traditional but delicious all the same.
But first, let's talk about that sauce. This recipe calls for a bechamel (white sauce made with a roux), but you can use a tomato-based sauce if you wish. Or, here's a crazy idea; both.
After roasting the squash, cooking the Italian sausage, and preparing the bechamel sauce, you assemble the lasagna by alternating layers of pasta, sauce, sausage, squash, and cheese. You then bake and dig in.
Visit Cooking My Dreams for the recipe.
Italian Pasta Fagioli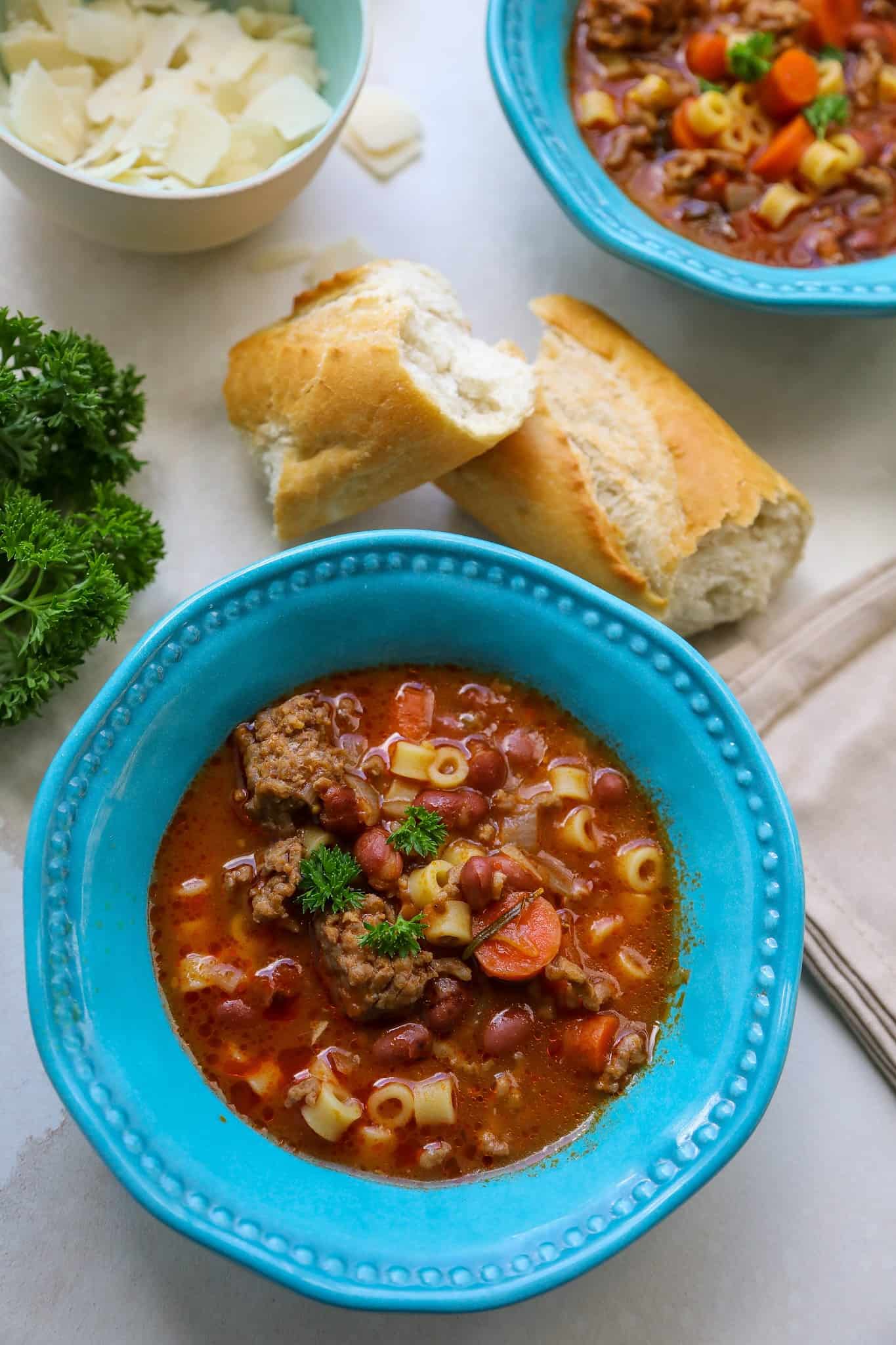 This pasta Fagioli (fazool) recipe from Cari of Fat Girl Hedonist tastes like Grandma used to make, even if you don't have an Italian grandmother. It's down-home, good, tasty, comfort food.
And it's so full of flavor, with onions, carrots, celery, and garlic. And lots of herbs and spices like basil, rosemary, and oregano.
However, it's also a filling meal with two kinds of beans plus the ditalini pasta.
Visit Fat Girl Hedonist for the recipe.
Baked Italian Sausage Baguette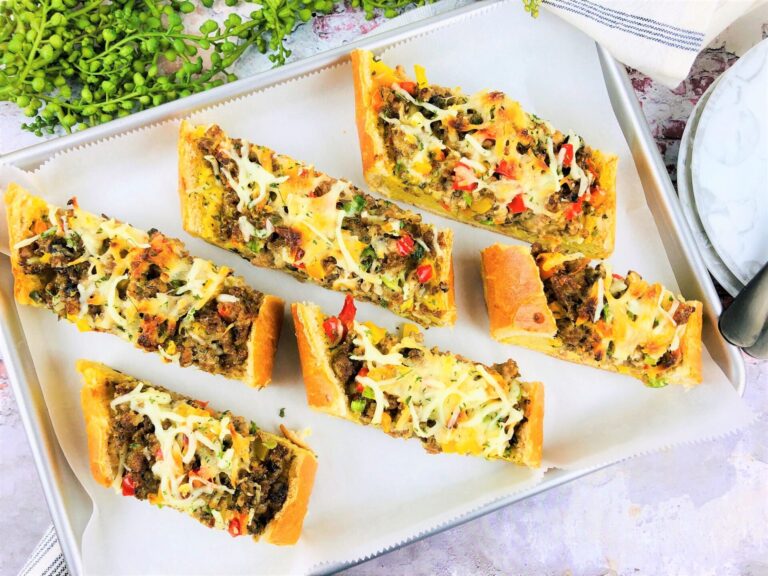 This baked Italian sausage baguette from Cocktails And Appetizers is a brilliant meal or app. So get a load of this!
First, you carve out the middle of a crusty Italian baguette, then cook the mixture of sausage, carrots, bell peppers, and green onions.
Finally, fill the baguette with the mixture, top it with cheese, and bake. Finally, cut it into triangles or rectangles, and you've got a fun appetizer that'll get rave reviews.
Visit Cocktails And Appetizers for the recipe.
Mushroom Pesto Pasta with Italian Sausage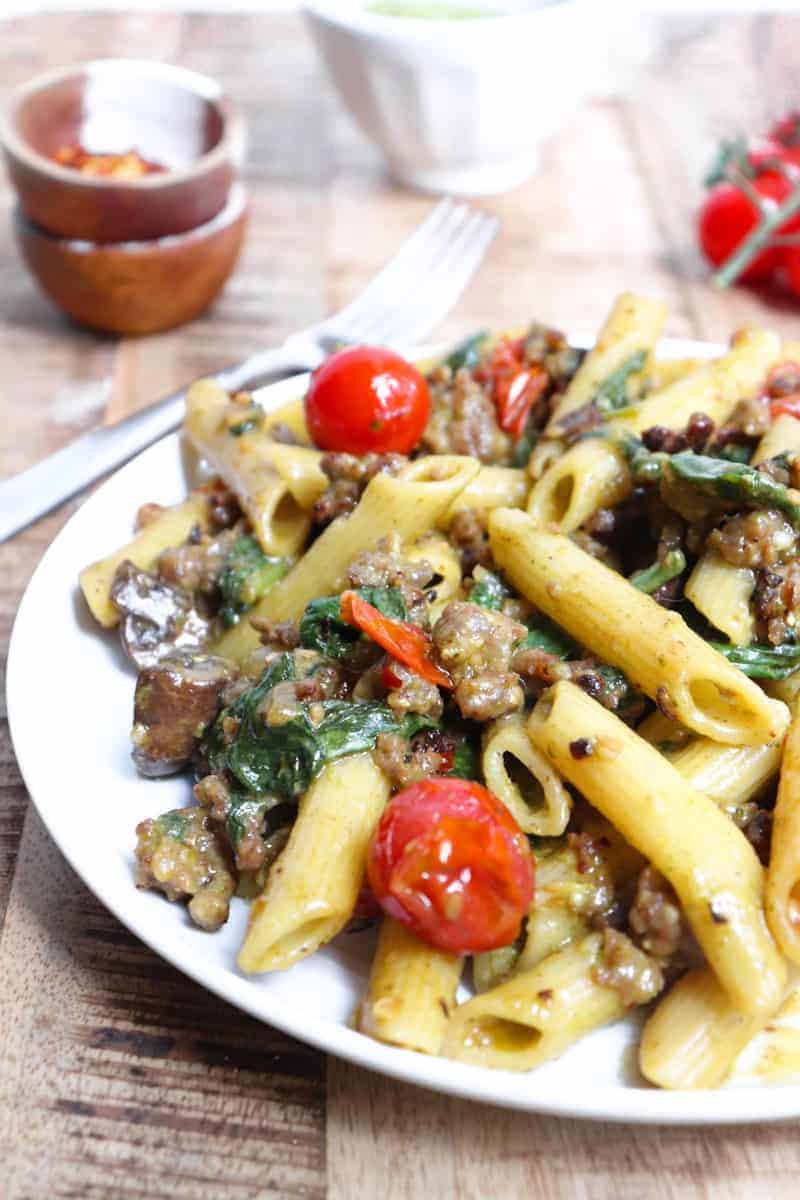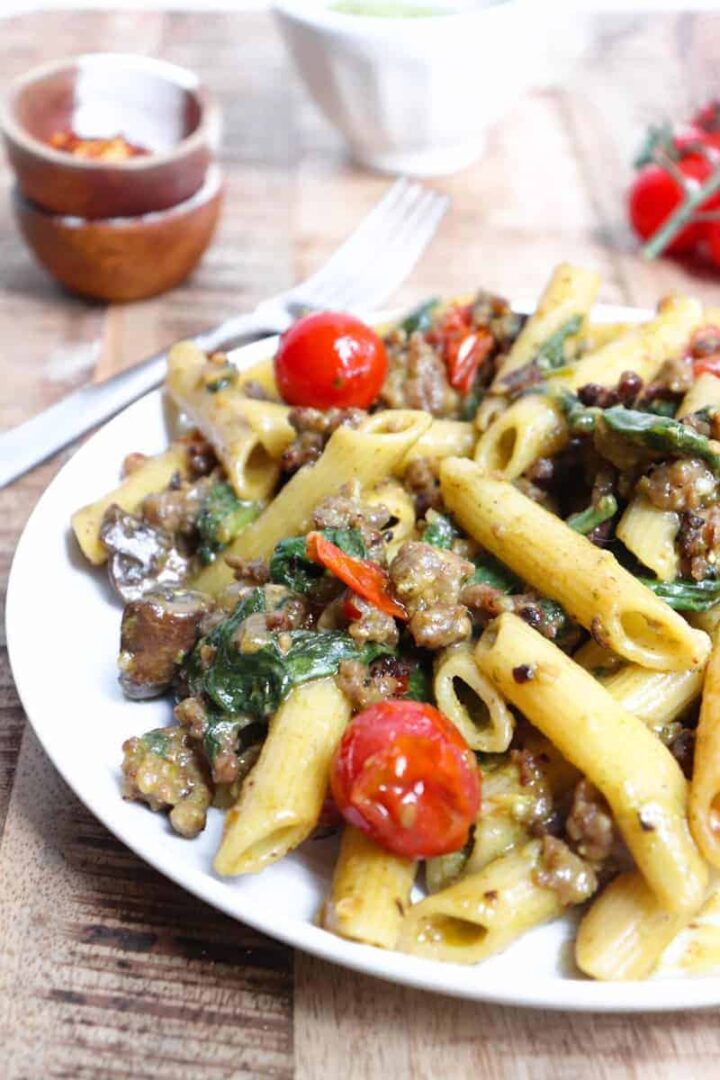 This mushroom pesto pasta with Italian sausage from Sarah of Season And Thyme is a deliciously filling and healthy weeknight meal. It's a carby delight with a meaty mouthfeel thanks to the tasty sausage and savory cremini mushrooms.
The spinach and tomatoes are good and good for you, and the latter brightens up the dish. Oh, and it's sure to dazzle your senses with the pesto and aromatics.
So, naturally, the best part is the taste. It's delicious! But another selling point is the ease of preparation and cleanup. You need to cook the pasta separately; however, all the rest of the ingredients go in one additional pan.
Visit Season And Thyme for the recipe.
Italian Sausage Sliders
No matter which team you're rooting for, these Italian sausage sliders from Kim of Two Kids And A Coupon will get all the cheers. It's a five-ingredient simple appetizer with Italian sausage for big flavor. However, you've got red bell peppers, onions, and so much gooey cheesiness from the mozzarella.
Visit Two Kids And A Coupon for the recipe.
Sausage Butternut Squash Pasta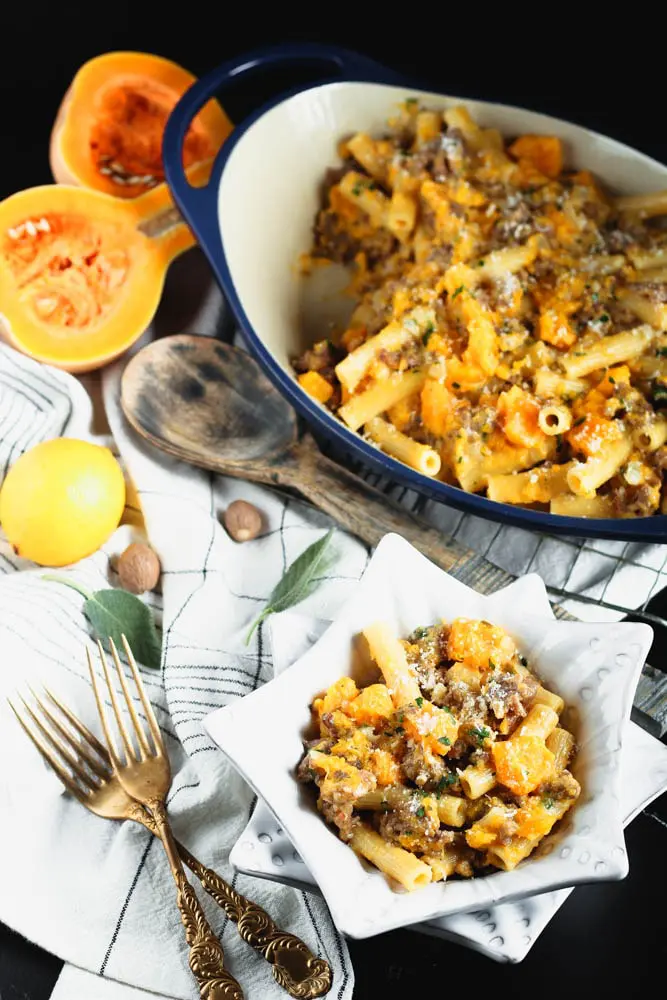 Sausage and butternut squash pasta from Hailey of Cooking And Cussing is such a delicious fall meal! Also, it's quick and easy with little prep and active cooking time.
With good insight, Hailey relies on the butternut squash for the earthy, slightly sweet notes, and it's also a silky smooth thickener.
However, the other flavors that take this dish to unforgettable levels are fresh sage, Italian parsley, and just a pinch of nutmeg.
Visit Cooking And Cussing for the recipe.
Sausage Cranberry Apple Stuffing Muffins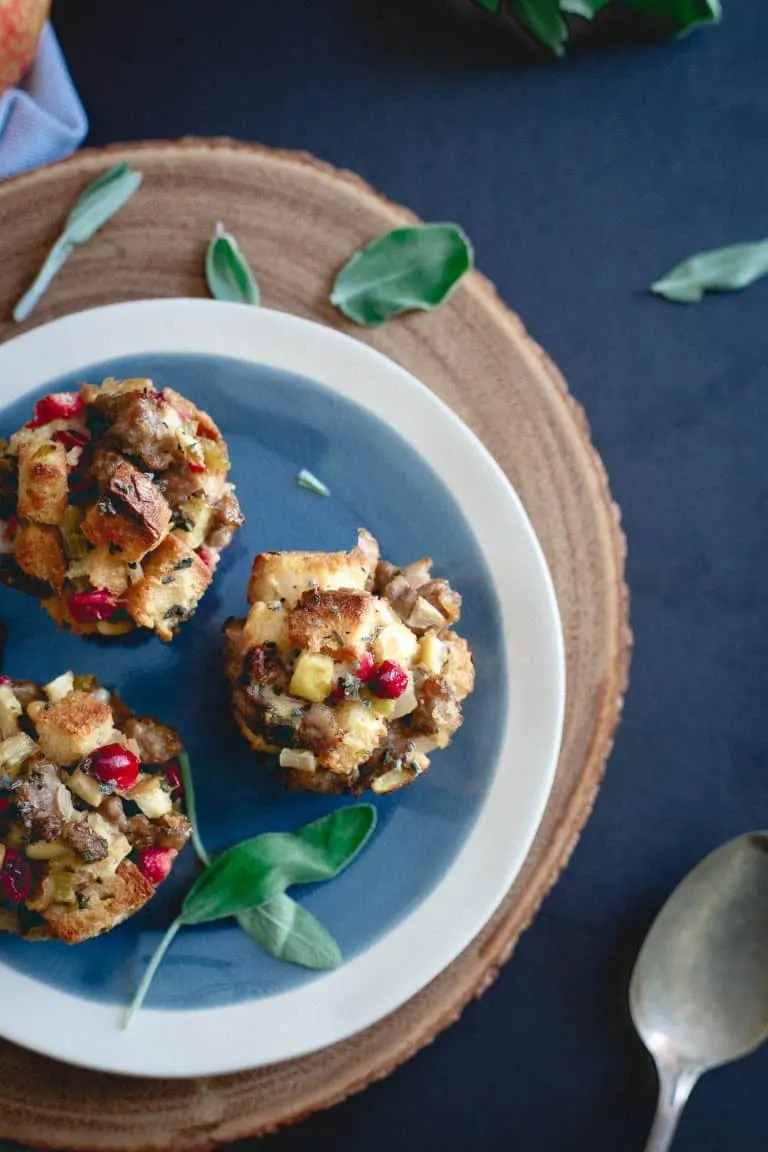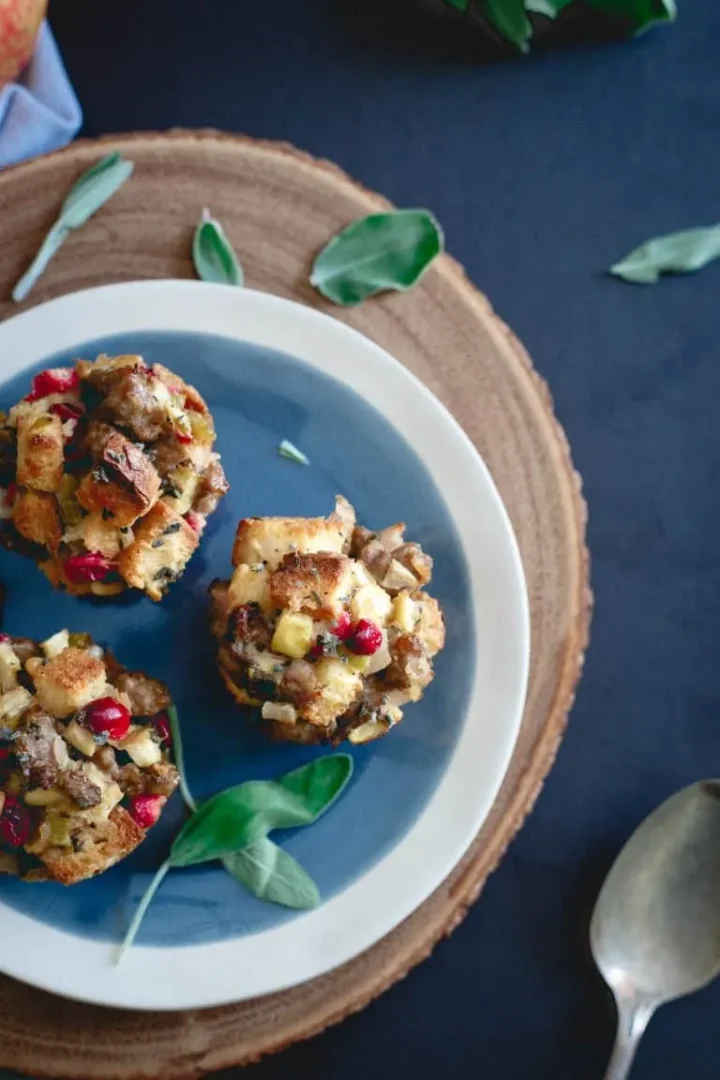 If you're a stuffing lover, you'll die for these sausage cranberry apple stuffing muffins from Gina of Running To The Kitchen.
Better yet, the meaty, sagey bites may be all you need to get your Thanksgiving fix.
Okay, maybe we took it too far with the last bit, but hear us out.
Each self-portioned muffin is filled with Italian sausage, garlic, cranberries, pine nuts, apple, celery, onions, etc. Doesn't that sound like a fall harvest? That's a lot of flavor in one little muffin.
Visit Running To The Kitchen for the recipe.
Broccoli Rabe Pizza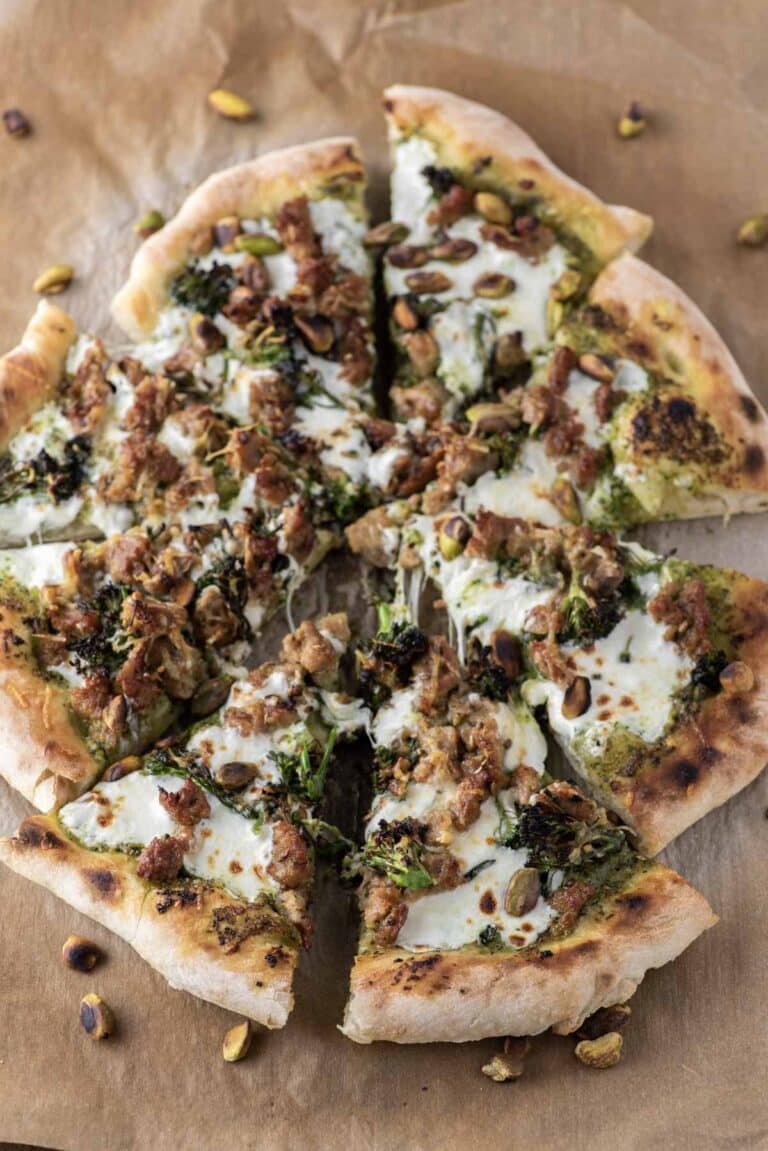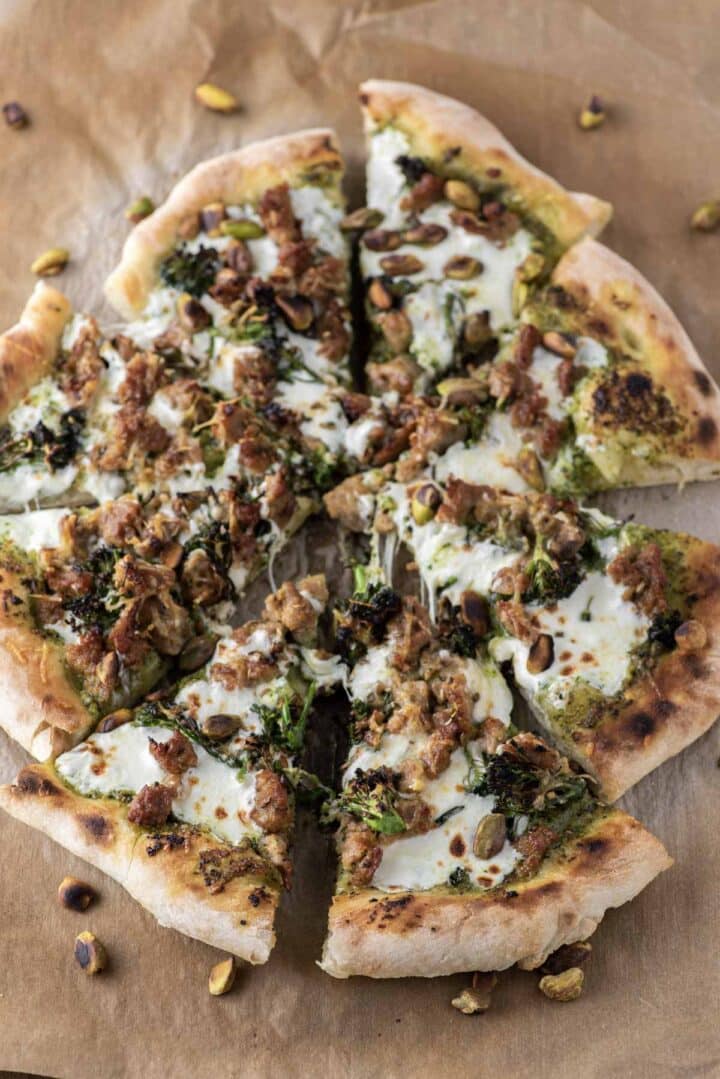 When the gears in Ryan's head get to turning, he conjures up awestriking creations with both Chisel & Fork. This time his sights are set on pizza and balancing salty Italian sausage with the bitterness of broccoli rabe pesto.
He developed a delicious gourmet pie (inspired by a favorite pasta dish) with sausage, pesto, broccoli rabe, pistachios, and more ingredients like fennel seeds that add depth of flavor and richness.
Visit Chisel & Fork for the recipe.
Air Fryer Stuffed Mushrooms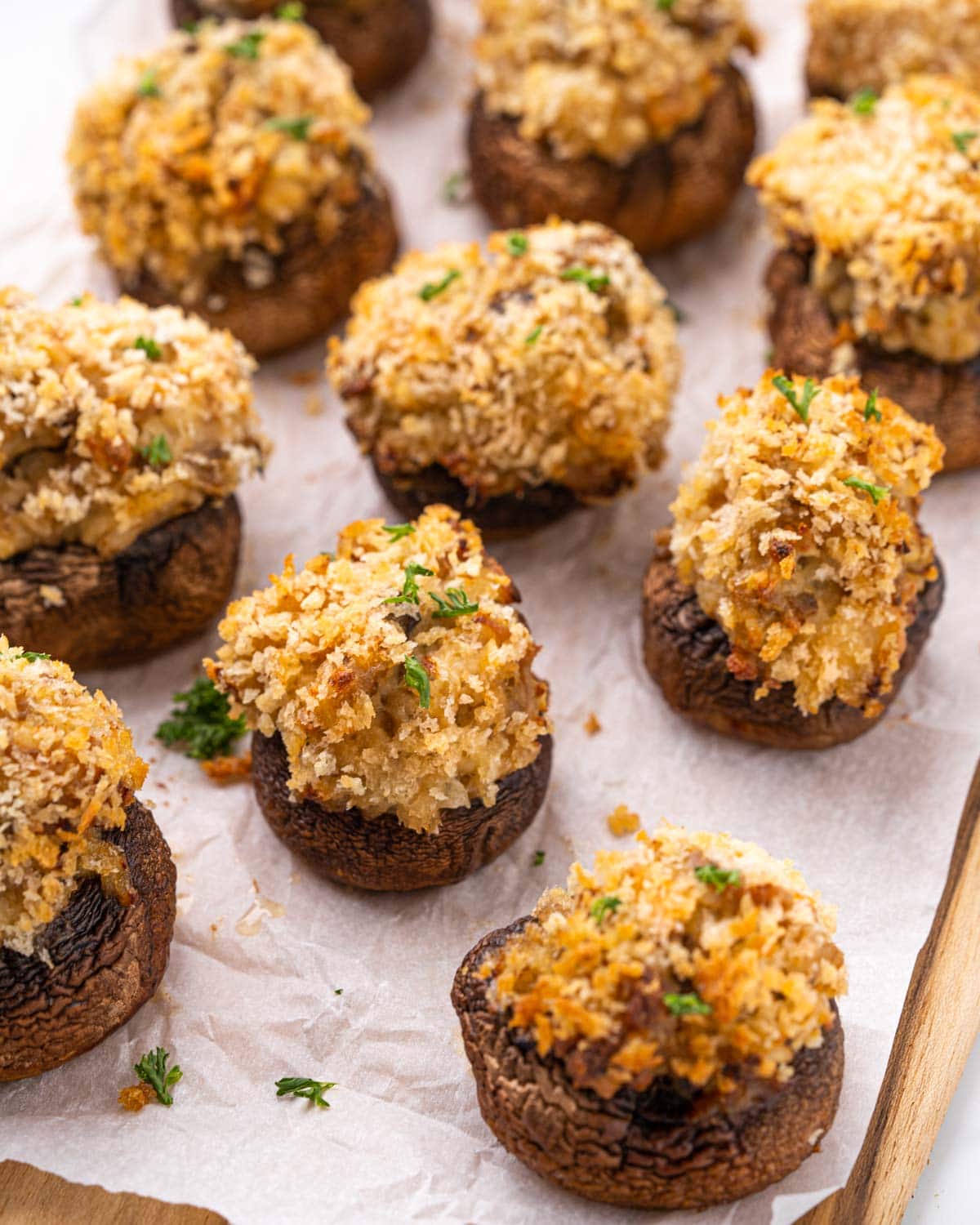 The only problem with these stuffed baby Bella mushrooms from Quynh of Savory Sweet Spoon is they're so good you'll want to eat a plateful all by yourself. In fact, the easy air fryer appetizer could very well be a meal all its own. We won't tell!
Baby portabella mushrooms are stuffed with a piquant mix of ground Italian sausage, garlic, parmesan, and cream cheeses and topped with bread crumbs for a crowd-pleasing snack that's just half an hour til munch time.
Visit Savory Sweet Spoon for the recipe.
Creamy Tuscan White Bean And Sausage Soup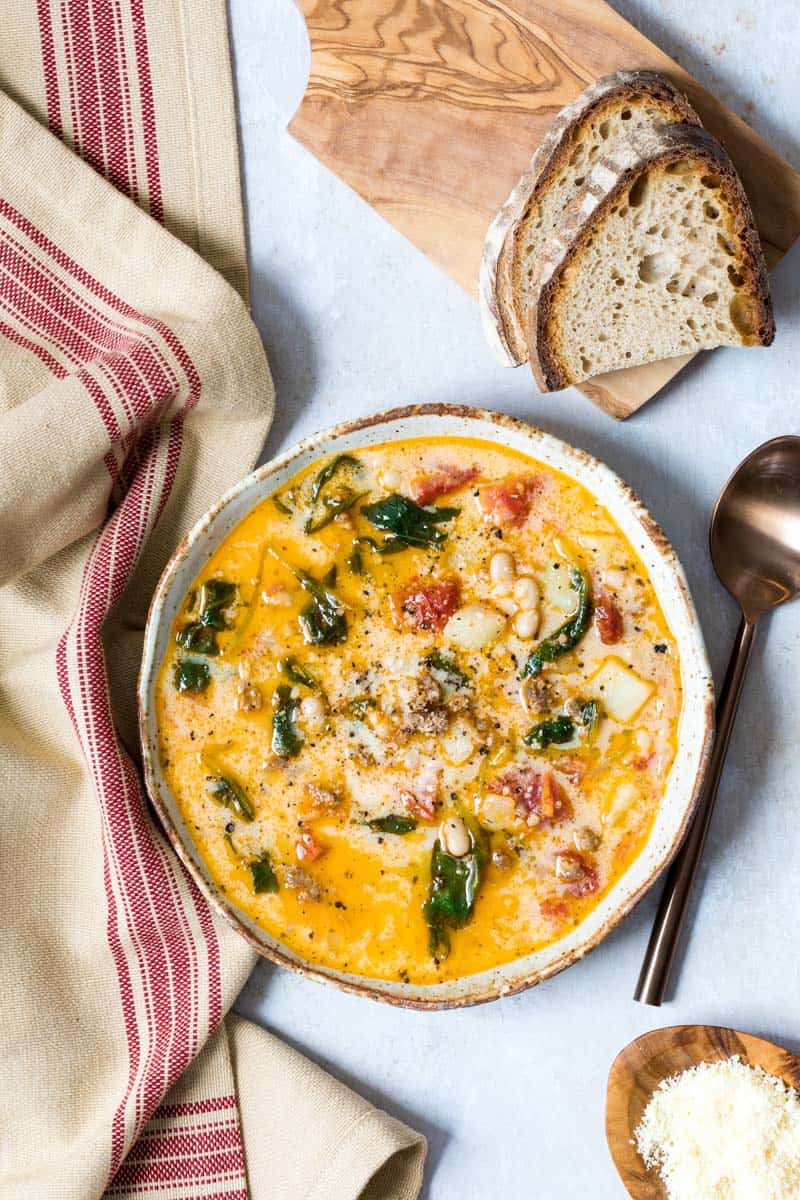 Chef Molly of Vanilla Bean Cuisine doesn't claim authenticity with this Tuscan white bean and sausage soup. But she does claim that the soup is ridiculously tasty. So delicious, in fact, you'll want to keep it on your menu all winter long.
After a 50-minute investment (only 15 minutes of prep), you'll have a creamy, luscious, and hearty soup with creamy white beans, filling potatoes, Italian sausage, sun-dried tomatoes, and a host of other tastebud satisfying ingredients.
Visit Vanilla Bean Cuisine for the recipe.
Spicy Sausage And Broccoli Orecchiette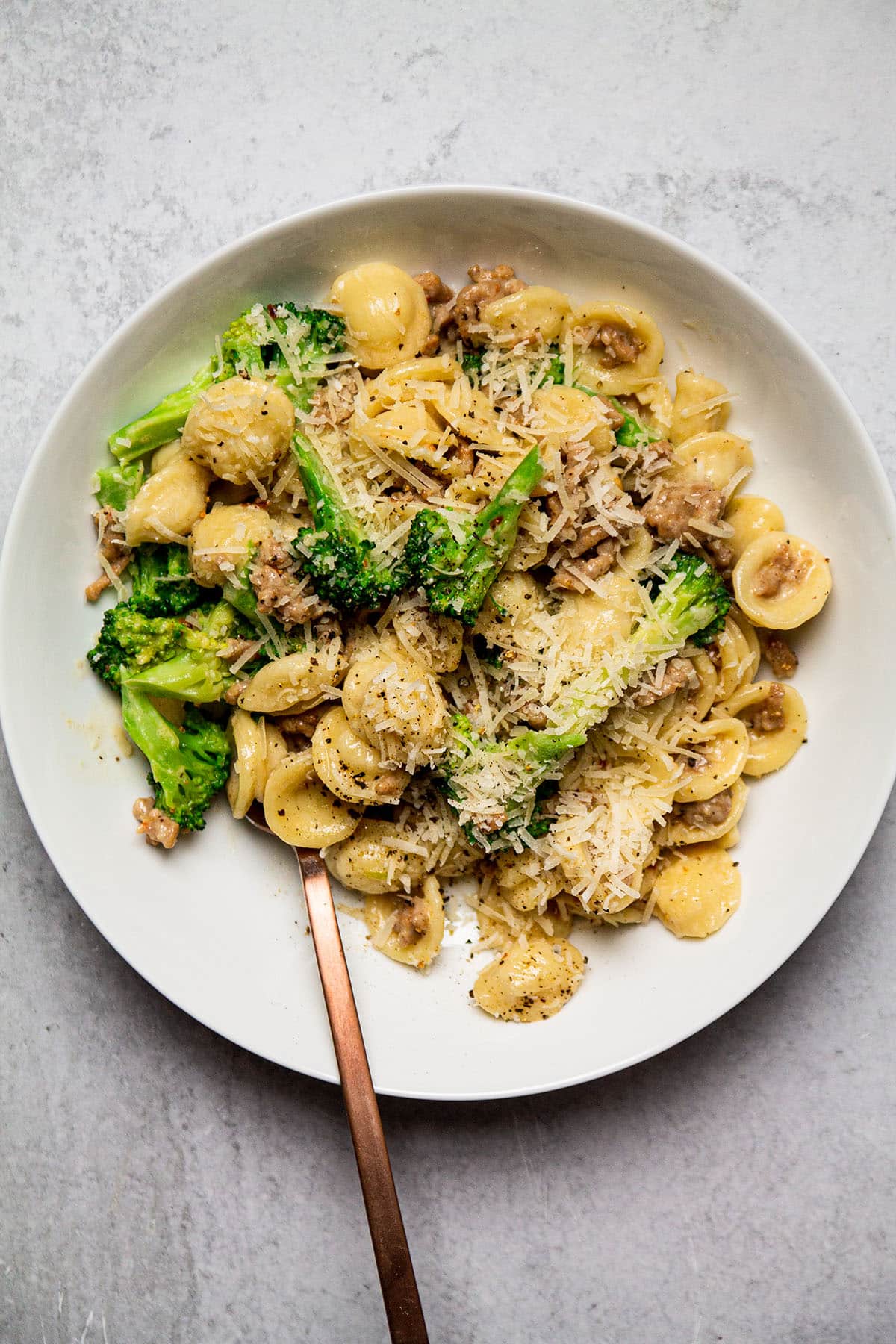 Thirty minutes (10 minutes of prep) are all it takes to make this creamy sausage and broccoli pasta dish from Jessie of Life As A Strawberry. The pit on the little ear-shaped orecchiette pasta is ideal for warm pools of delicious sauce.
This seven-ingredient pasta dish is incredibly easy to make with dry pasta, spicy Italian sausage, broccoli florets, heavy cream, and a few other flavor-enhancing ingredients. Give it a chance, and it will become a part of your weekly dinner lineup.
Visit Life As A Strawberry for the recipe.
Johnny Marzetti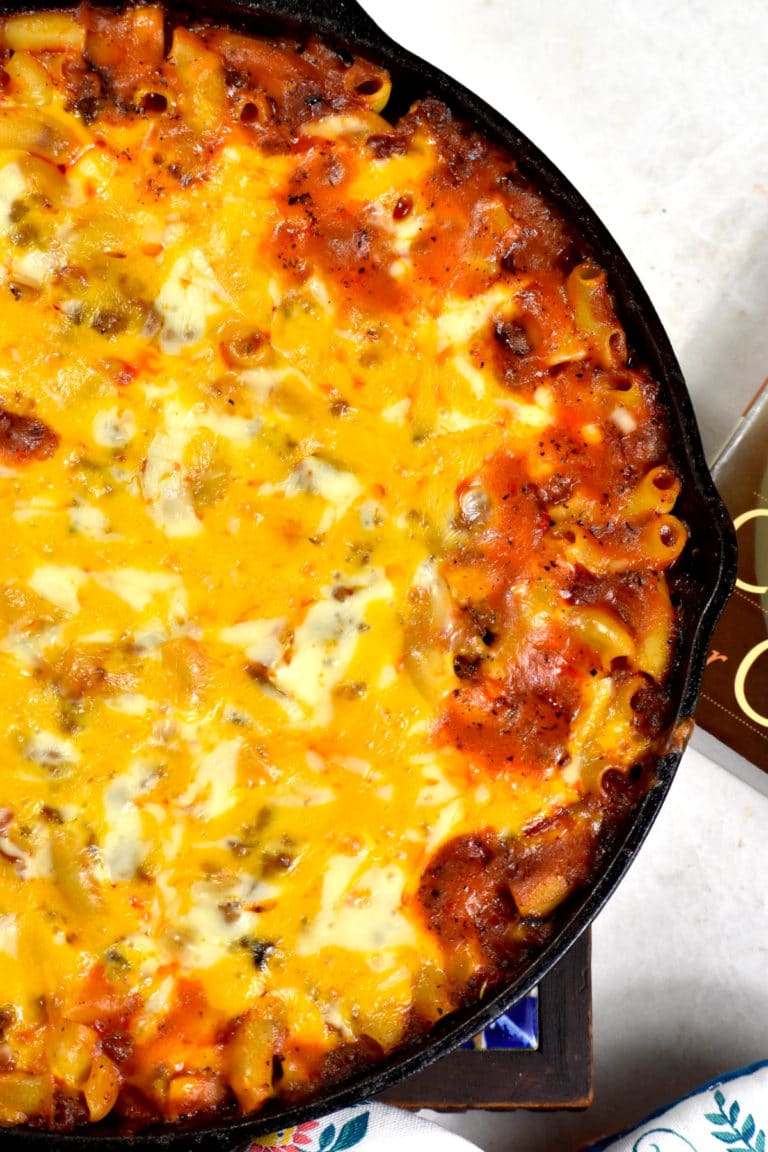 It goes by many names, but chances are you've eaten or at least know about this Johnny Marzetti recipe from Alpana of Gypsy Plate. It's the type of unpretentious, down-home cooking that everyone can get behind.
The ground beef, carby, Italian sausage cheesy dish is overflowing with flavor from onions, bell peppers, garlic, and lots of seasonings like dried oregano, basil, and thyme. And with just five minutes of prep time and excellent reviews, you are sure to love it.
Visit Gypsy Plate for the recipe.
3 Cheese Polenta With Italian Sausage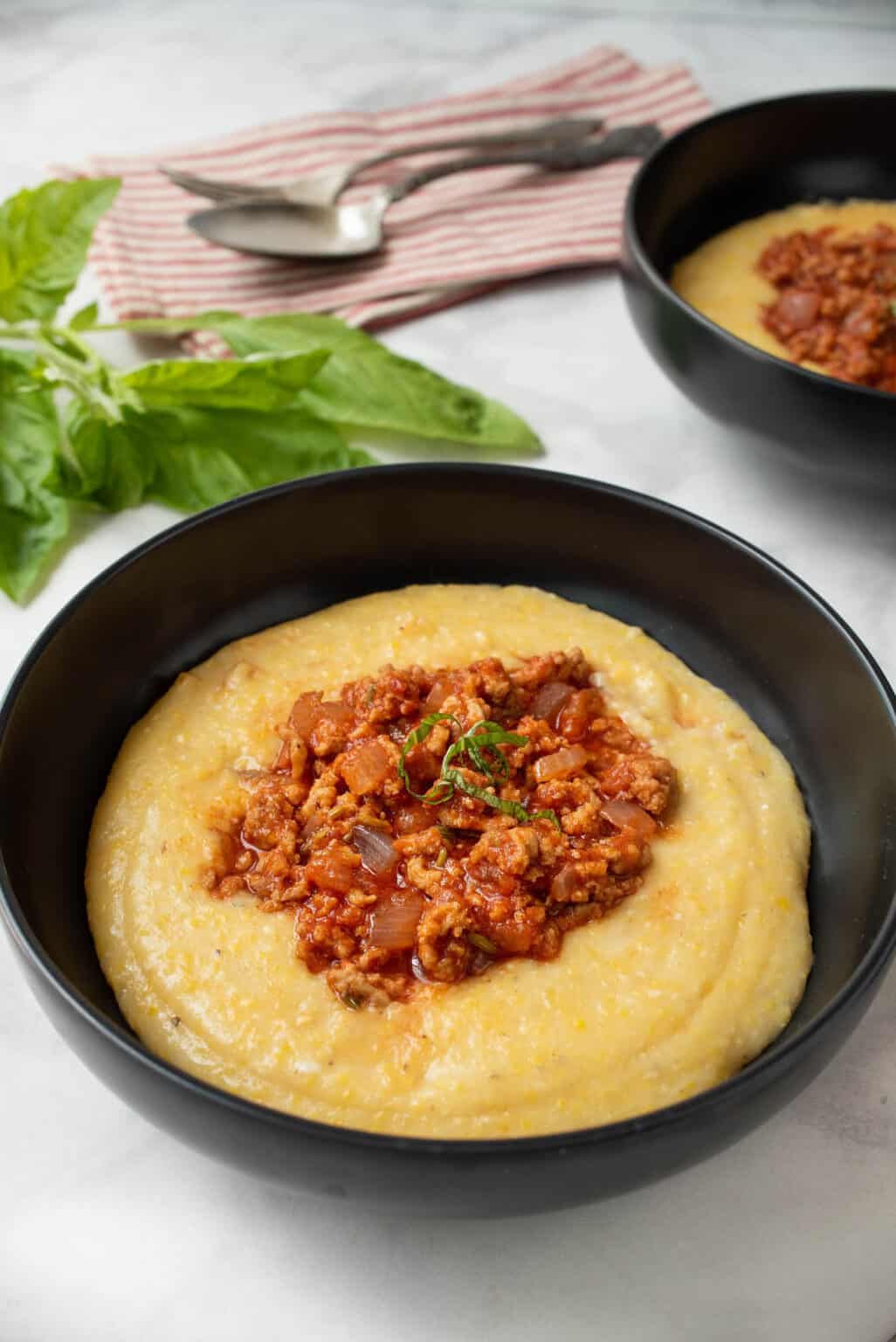 Over the years, Janette of Culinary Ginger has made incremental improvements to this cheese polenta with Italian sausage. But for a moment, take another look at the delicious bowl. You can get lost in it!
The polenta is extra creamy with asiago, cheddar, and parmesan cheeses. And the ground turkey Italian sausage is a flavor dynamo. Combine the two, and it's explosive!
You're likely familiar with grits but do you know polenta?
Both are porridge, similar in flavor and texture, but polenta is grit's older, more sophisticated cousin. So while you invite grits to breakfast, polenta has the attire for brunch, lunch, or dinner.
Visit Culinary Ginger for the recipe.
Pizza Casserole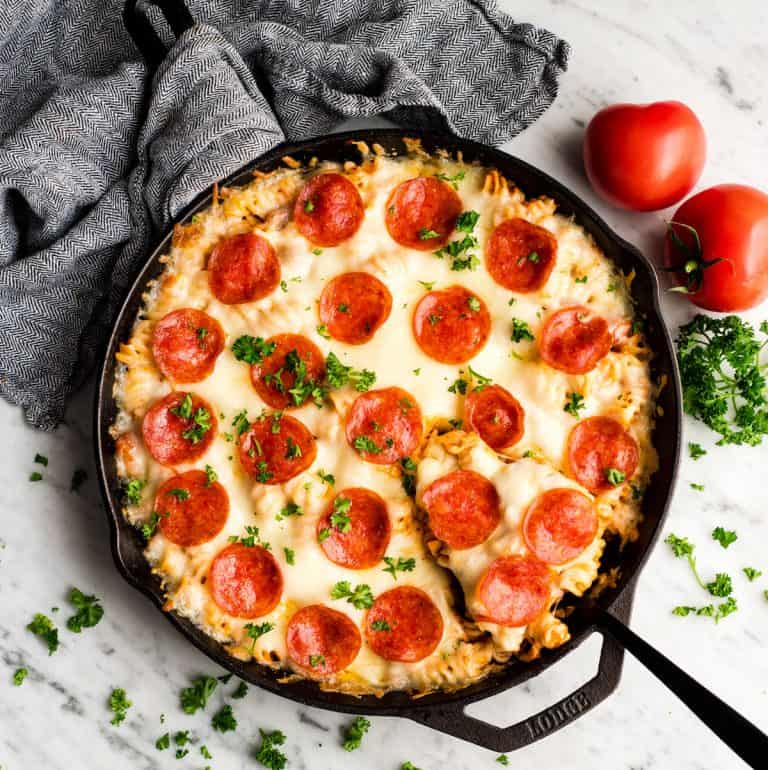 This pizza casserole from Laura of Joy Food Sunshine is a tasty and easy meal the whole family will look forward to. It's a crowd-pleasing favorite with lots of benefits. First, you can make it in advance. It reheats well, and who doesn't love pizza?
The base of this versatile pizza casserole is rotini noodles and crumbled Italian sausage with lots of cheese and pepperoni. And with just nine ingredients and ten minutes to prepare, it will become a dependable staple meal in your repertoire.
Visit Joy Food Sunshine for the recipe.
Chicago Deep Dish Meat Lover Pizza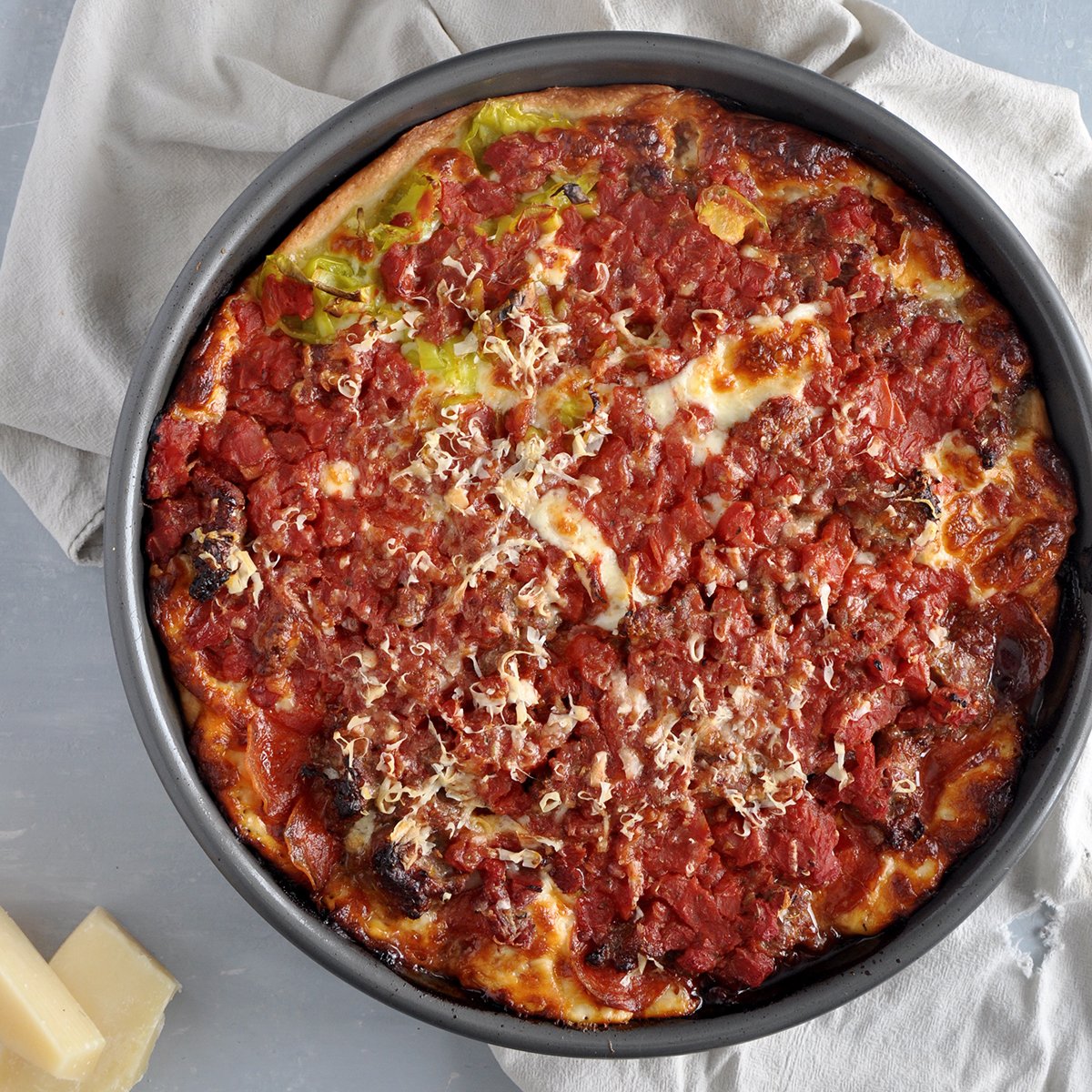 You will love discovering heritage recipes, exciting food history, and the fun writing style of Ben, the creator of Ramshackle Pantry and author of 50 shades of bacon.
Ben is a great tour guide for Chicago deep-dish pizza. First, his meat-lover dream starts with a dough recipe measured in grams for accuracy. But his vision continues with three glorious types of meat; Italian sausage, pepperoni, and capocollo.
You'll appreciate his cheese recommendations. And the food explorer extraordinaire even provides you with his deep-dish pizza sauce recipe so avoid the jarred stuff at all costs.
Visit Ramshackle Pantry for the recipe.
Keto Sausage Balls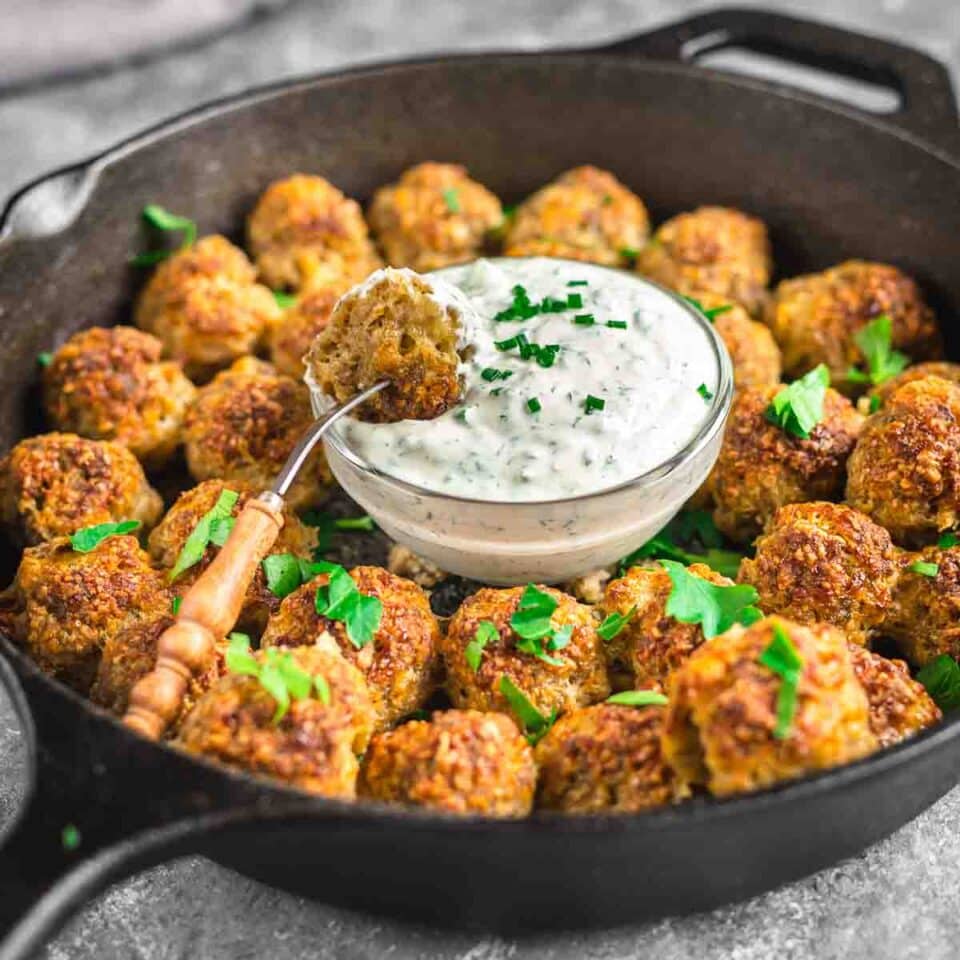 People following a low-carb or keto meal plan will devour these sausage balls from Zuzana of Low Carb, No Carb. You can make them with just four ingredients and ten minutes of prep.
But you'll love these little meat nuggets even if you're not on a special diet.
It starts with sausage. Homemade is recommended, but you can use storebought too(if you're not strictly following keto.) Then combine it with cheese, almond flour, and sour cream. Finally, form the balls, and bake.
Visit Low Carb No Carb for the recipe.
Cream Cheese Sausage Dip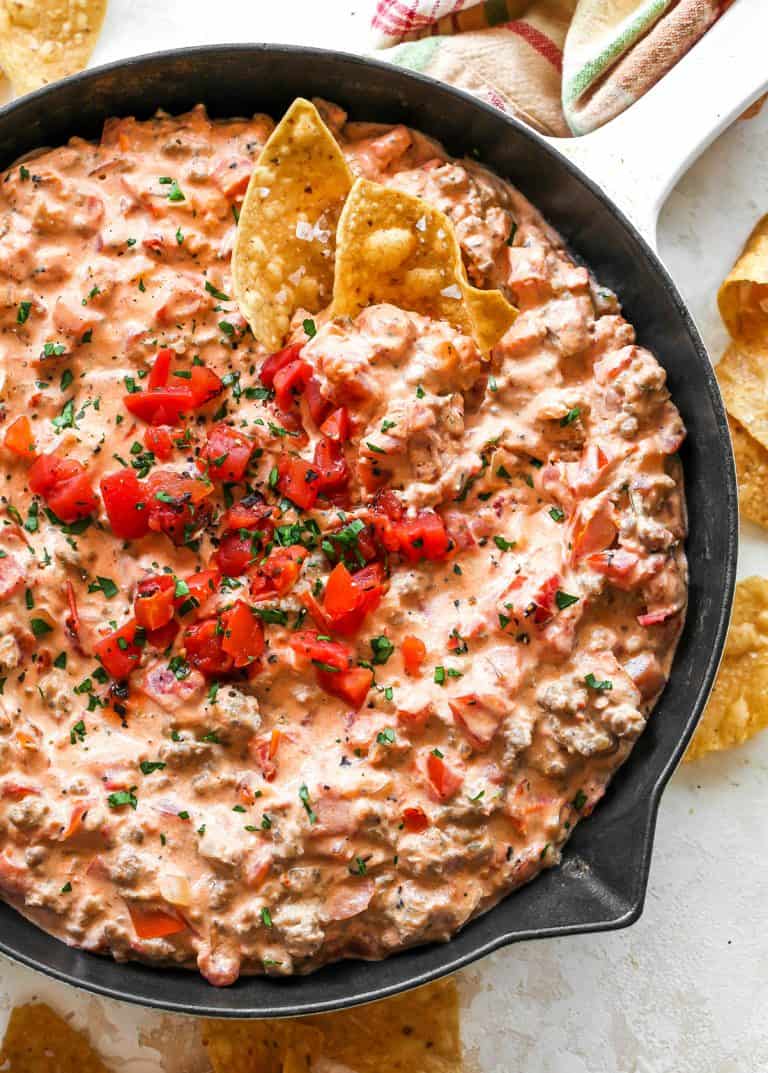 With just eight ingredients, you can make this good-til-the-last-bite cream cheese sausage dip from Laura of Joy Food Sunshine. The 20-minute recipe is so easy, so tasty, and so customizable.
Laura recommends a good breakfast sausage, but Italian sausage works too. Then there's garlic, a can of diced tomatoes with green chiles, cheese, and onions. Stir it, and you've got a chip after chip of dip action.
Visit Joy Food Sunshine for the recipe.
Minestrone Soup With Sausage
This minestrone soup from Maricruz Avalos is filled with veggies, beans, pasta, and delicious Italian sausage. It's simple to make, healthy, inexpensive, and cozy. It's what you want when the weather isn't so lovely.
But best of all, it takes just minutes to get ready and 30 minutes to cook. That's a meal perfect for weekdays!
Visit Maricruz Avalos for the recipe.
So, Which Ground Italian Sausage Recipe Will You Try First?
You know, with so many Italian sausage recipes on this list, it can be hard to choose one to start with. So, will it be the minestrone soup with sausage, the cream cheese sausage dip, or something else? We would love to know!
OMG! You Can't Miss These Other Ground Meat Recipes!