We compiled a list of 21 Best Meatball Recipes you will ever encounter. Can you say yummy?! Meatballs are a universally loved food by even the pickiest of eaters.
These mouthwatering recipes are perfect for appetizers, main courses, sides, or snacks. I'm talking O. M. G., good! You'll find meatball pizza pockets, Mediterranean meatballs, Albondigas (Mexican meatballs), etc.
Be sure to check out our cast iron skillet recipe, easy dip recipes, and best sauces for chicken recipes for more curated deliciousness.
21 Delicious Best Meatball Recipes
And now, the moment your belly's been waiting for, 21 of the best meatball recipes you will ever come across! There are meatballs of all fashions, like meatball lasagna, meatball sliders, Tex-Mex, and so much more. We think all of these recipes look delicious. And, of course, this is a list, not a rank.
Meatball Lasagna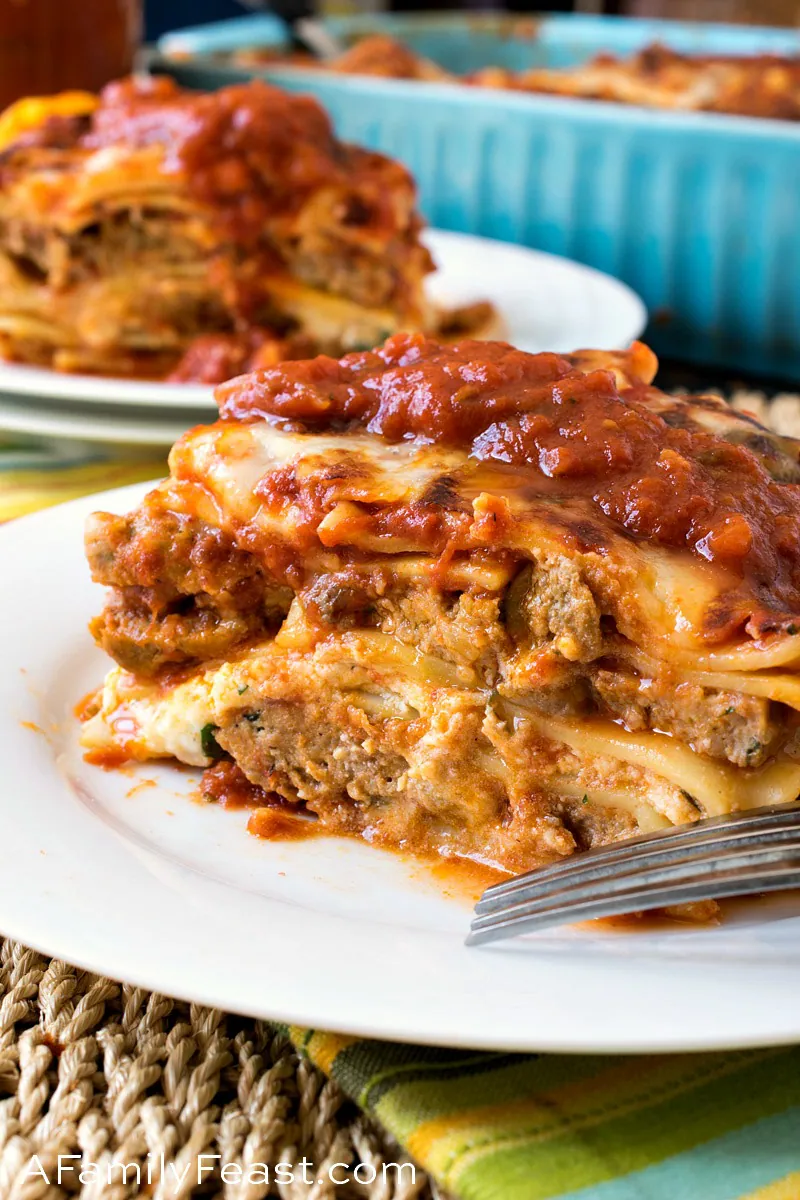 We're big fans of the crew over at A Family Feast, Martha and Jack. They always come up with exciting twists on recognizable favorites, like this sausage Reuben. This time, their meatball lasagna combines two delicious entrees into one fantastic dinner perfect for a crowd. The dynamic duo also provides tips on which pantry staples to keep on hand and special instructions to cook your noodles just right.
Visit A Family Feast for the recipe.
Bacon Bourbon Meatballs
Ashley, a bit of a meatball maniac – she has well over a dozen such recipes on her site, brings us this tantalizing bacon bourbon meatball recipe. A fantastic, flavorful, and versatile dish that can be ready for you to chow down in about 30 minutes. Her page is filled with crystal clear instructions, process pics, and even answers to your questions and links to her many (understatement) other meatball recipes.
Visit Wishes And Dishes for the recipe.
Meatball Soup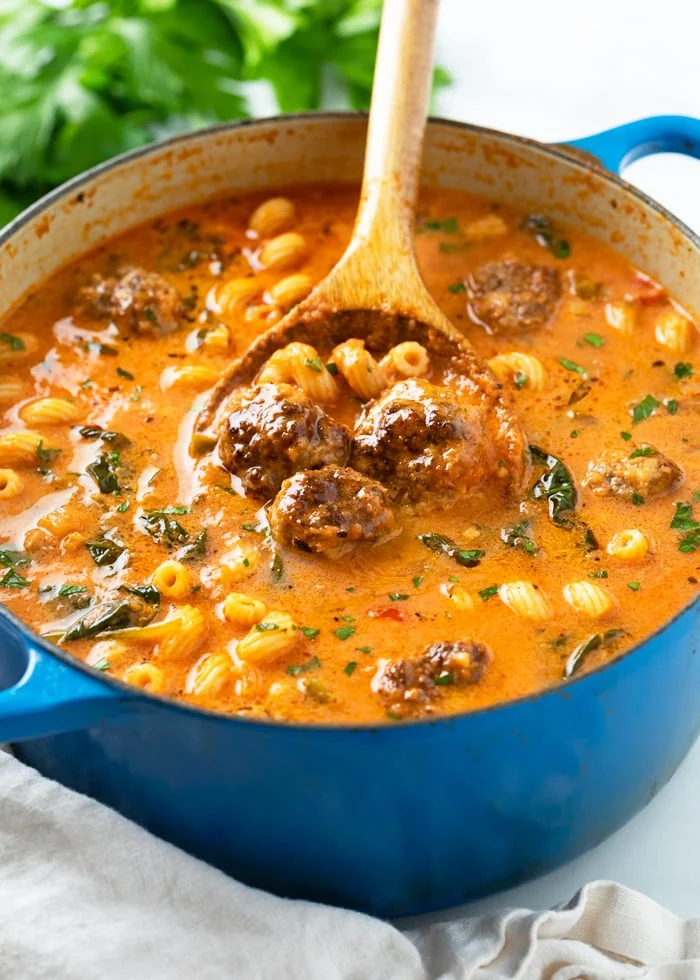 Not only does Stephanie from The Cozy Cook bring us this meatball soup recipe, but she also provides us with the reason why her recipe works, which really seals the deal when it comes to choosing one recipe over another. And the reasons her recipe works so well are plenty. For instance, her meatball recipe includes a panade (a bread/milk mixture) to keep them nice and moist and the soup uses both chicken and beef broth. It's an amazing recipe with lots of helpful hints and tips.
Visit The Cozy Cook for the recipe.
Thai-Inspired Meatball Soup with Rice Noodles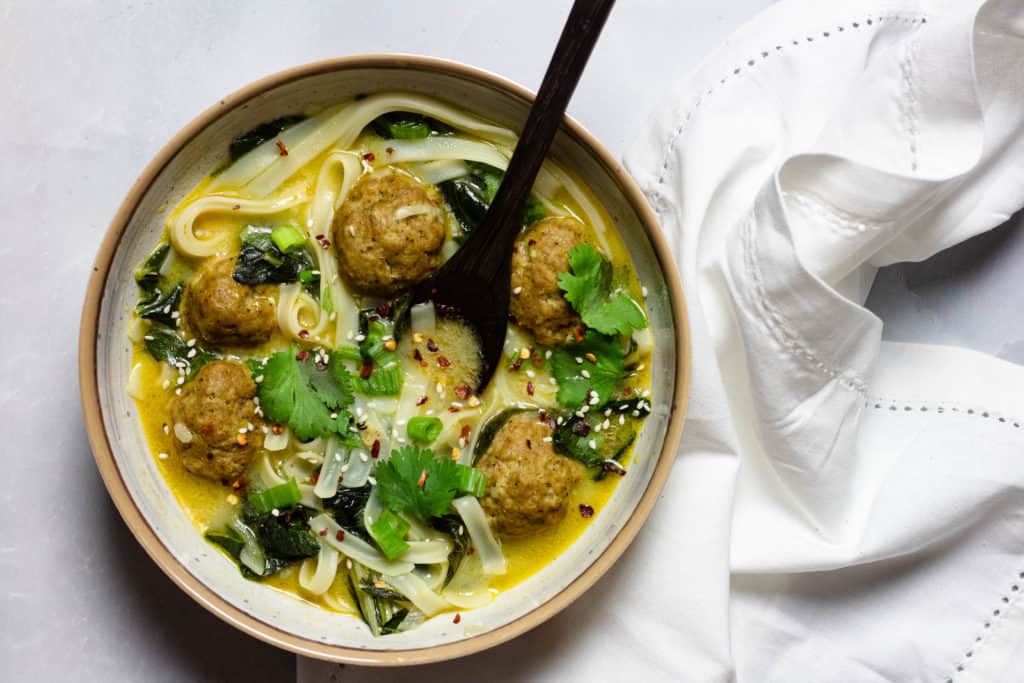 Alexandria of The Foreign Fork blurs food boundaries with this Thai-Inspired Meatball Soup. So while you won't find meatballs in traditional Thai cuisine, that won't stop you from enjoying this flavorful, fun fusion dish. What with ingredients like fish sauce and chili paste flavorful is an understatement. And while Alexandria's post is entertaining, you'll also find some practical advice to keep your noodles from getting soggy.
Visit The Foreign Fork for the recipe.
Best Ever Spaghetti and Meatballs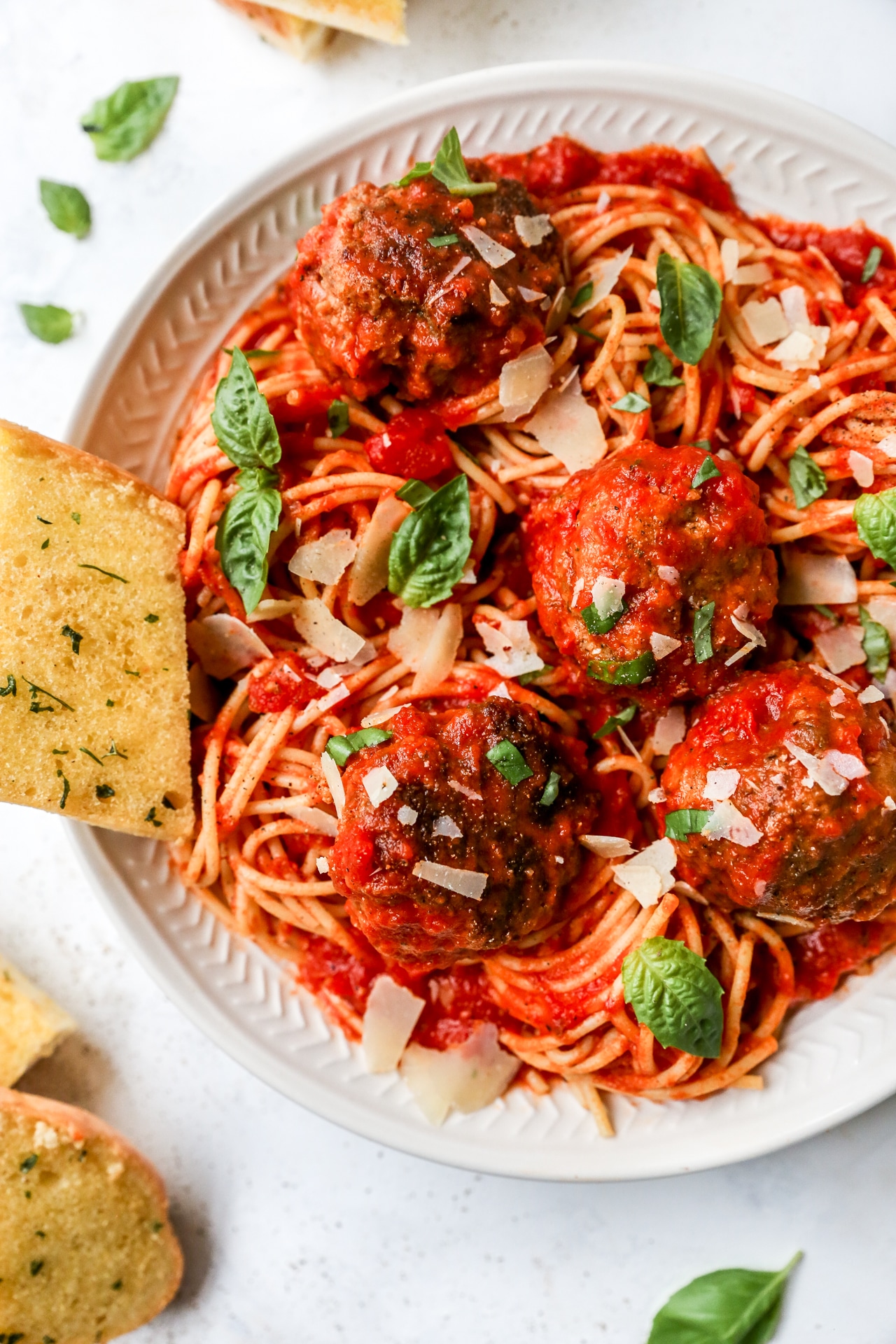 If you are looking for an authentic spaghetti and meatballs recipe, then look no further than this one from Kim of Kim's Craving. Now, many folks claim the best this or original that, but this recipe comes straight from Kim's Italian grandmother. And it will take your spaghetti to new heights you never imagined! It features 50/50 beef and pork meatballs, but Kim isn't meatball police. Instead, she offers suggestions to make it with turkey or even bison. And if that isn't enough, you'll find a boatload of tips like how to make the pasta perfectly every time.
Visit Kim's Cravings for the recipe.
Pull-Apart Meatball Sliders
Before diving into his delicious pull apart meatball sliders recipe, a classic football food, David of Spiced Blog gives us a history lesson on the gridiron, an interesting read. Then he jumps into the recipe where he shares these tasty sliders – a marriage of meatballs and garlic knots. Can you even have a football party without sliders? I'm pretty sure it's required eating. David implores you to make his well-tested, scrumptious meatball recipe for the sliders, but he'll forgive you if you opt for premade instead.
Visit Spiced Blog for the recipe.
Albondigas Soup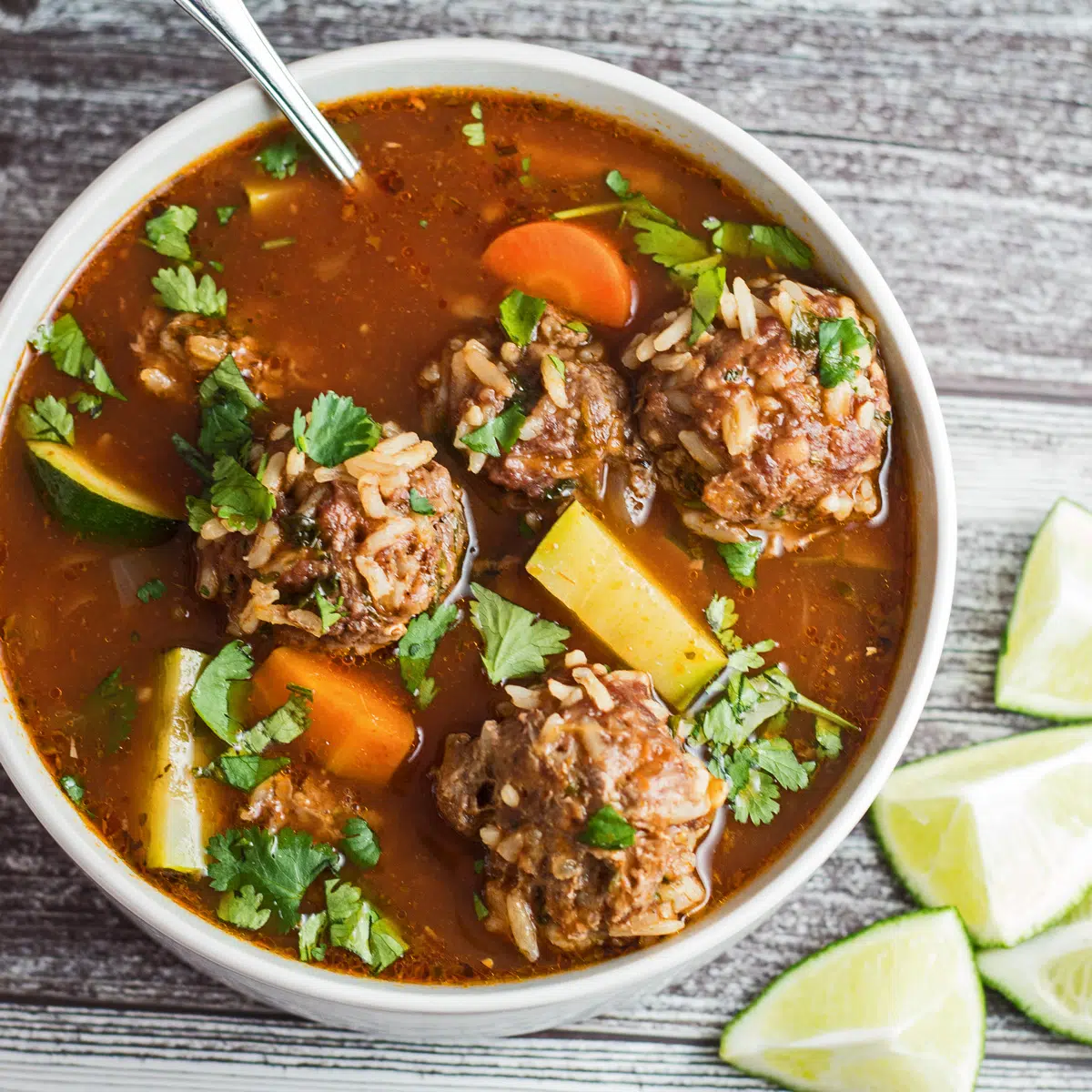 Also known as Mexican meatball soup, this recipe from Angela of Bake It With Love is a satisfying meal that you can have on the table in less than an hour, making it perfect for a weeknight. But what is Albondigas soup, you ask? It starts with deeply flavorful ground beef and rice meatballs seasoned with warm and earthy cumin and oregano. Then, there's a luscious beef and tomato broth, and you'll also find vegetables for a hearty comfort food the whole family will look forward to.
Visit Bake It With Love for the recipe.
Meatball Mac And Cheese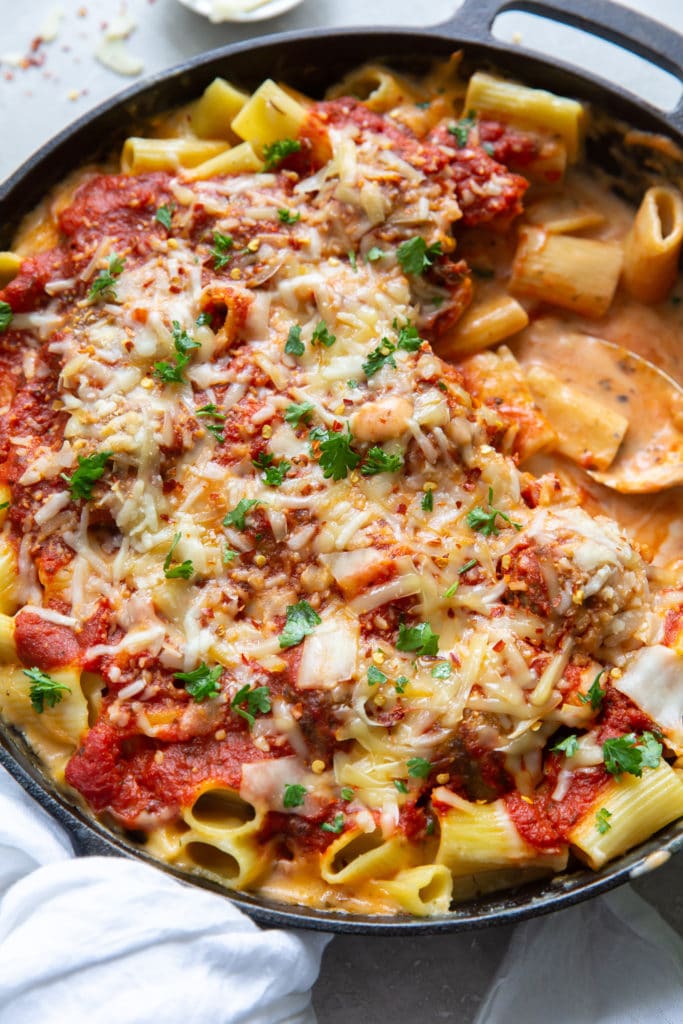 You get this rich and creamy dish from Gayle of Pumpkin N Spice when you combine delicious meatballs with mac and cheese. Give it a chance, and you'll find a wonderful dinner filled with a lusciously creamy, cheesy tomato sauce, tender noodles, and juicy herby meatballs. My prediction; make this dish, and it will become a family comfort food favorite. The one requested over all others.
Visit Pumpkin N Spice for the recipe.
Best Meatball Pizza Recipe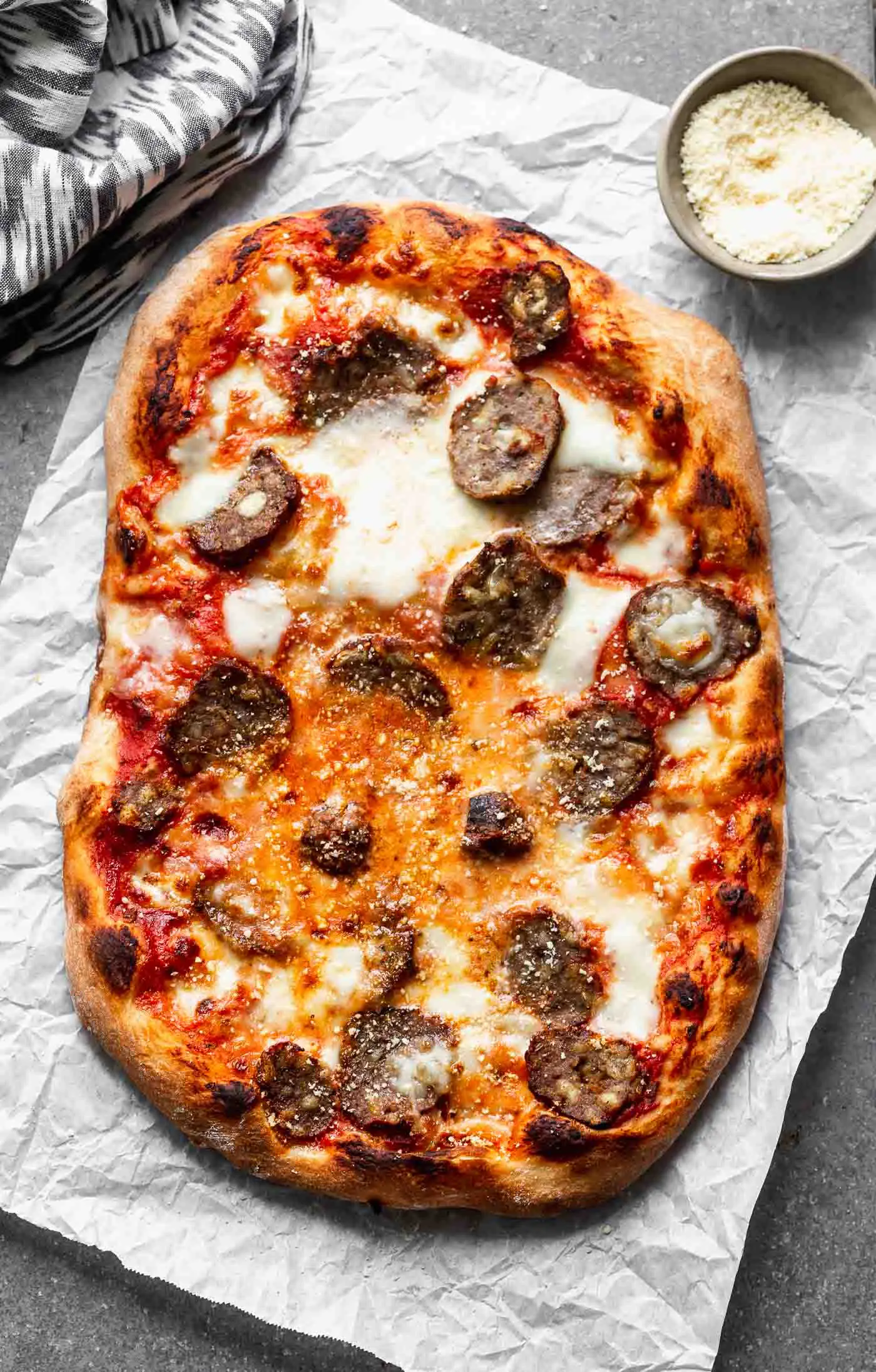 Nicole will have you Cooking For Keeps with her Best Meatball Pizza Ever! As she professes her deep love for classic meatballs in all their crusty, brown, herby, cheesy goodness, you realize that you better take notes and make a list. You will just have to make this pizza as urgently as possible. Now, she doesn't send you off into this journey alone. She shows you her preferred tools and methods and answers all the questions you might have.
Visit Cooking For Keeps for the recipe.
Grandma's Swedish Meatballs Recipe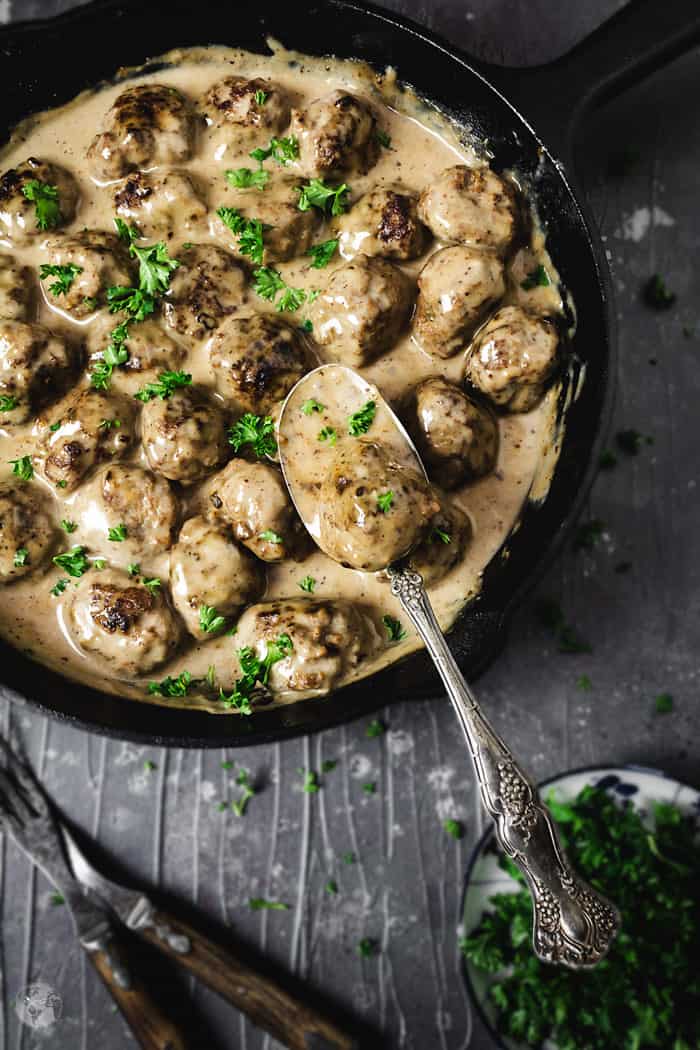 Jas, of All That's Jas, encourages you to skip the trip to Ikea and instead make your Swedish meatballs at home. Upon first seeing this recipe, I had one thought, gravy! How can you resist that creamy gravy made with lingonberry jam? I certainly can't! If that's not enough for you, try this; these traditional Swedish meatballs are panfried in butter for maximum indulgence.
Visit All That's Jas for the recipe.
Italian Meatball Nachos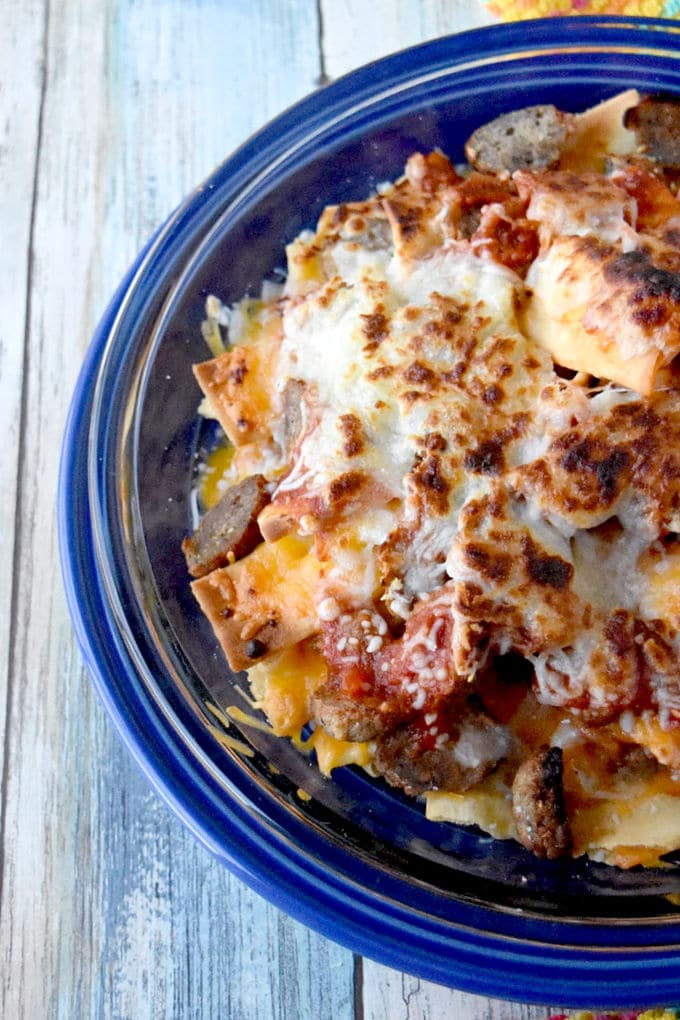 These Italian meatball nachos from Christie of A Kitchen Hoor's Adventures prove that meatballs can be that go-to snack or quick dinner. You make this tasty meal with frozen meatballs, tortilla chips, and lots of cheese. It's super-easy using premade ingredients, yet Christie still has some crucial advice for you about warming them through. Of course, the kids will be excited to have a platter of these bad boys as they decompress from a long day at school.
Visit A Kitchen Hoor's Adventures for the recipe.
Tex Mex Meatballs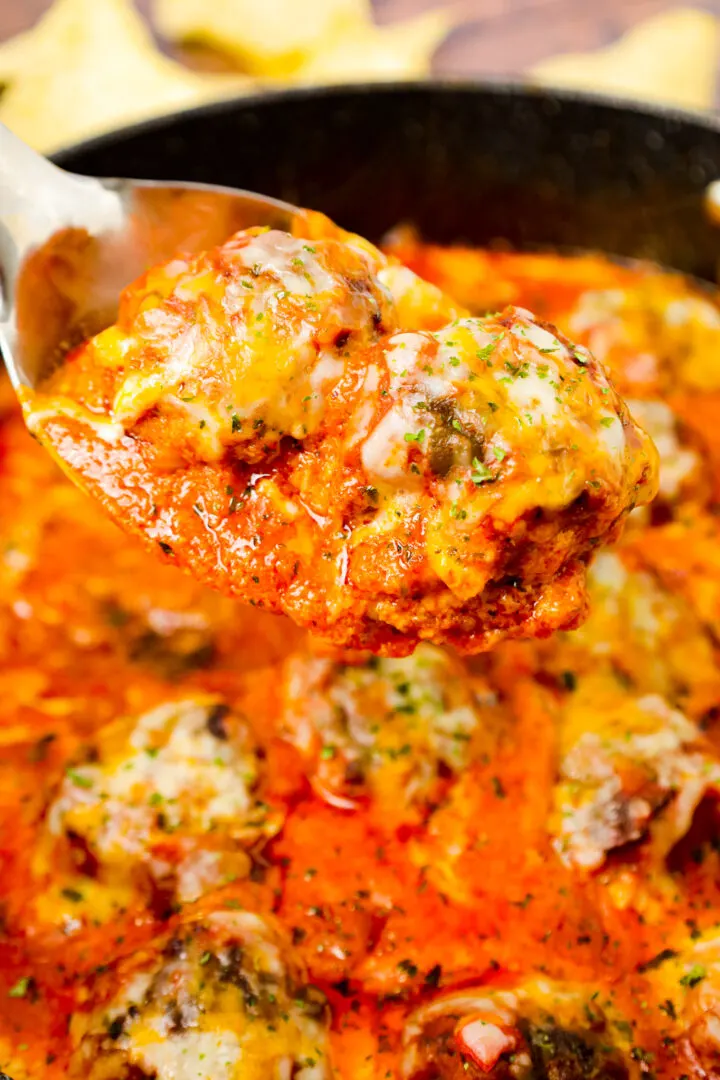 Before you know it, 30 minutes will have passed, and you could've had this Tex-Mex meatball recipe from This Is Not Diet Food on the table. It's a ground beef meatball with corn chips and salsa. Tex-Mex ingredients replace those typical in Italian meatballs. It's a clever recipe and a flexible one, as you can serve the meatballs over rice, or chips or put them in a soup.
Visit This Is Not Diet Food for the recipe.
Moroccan Meatballs with Pomegranate glaze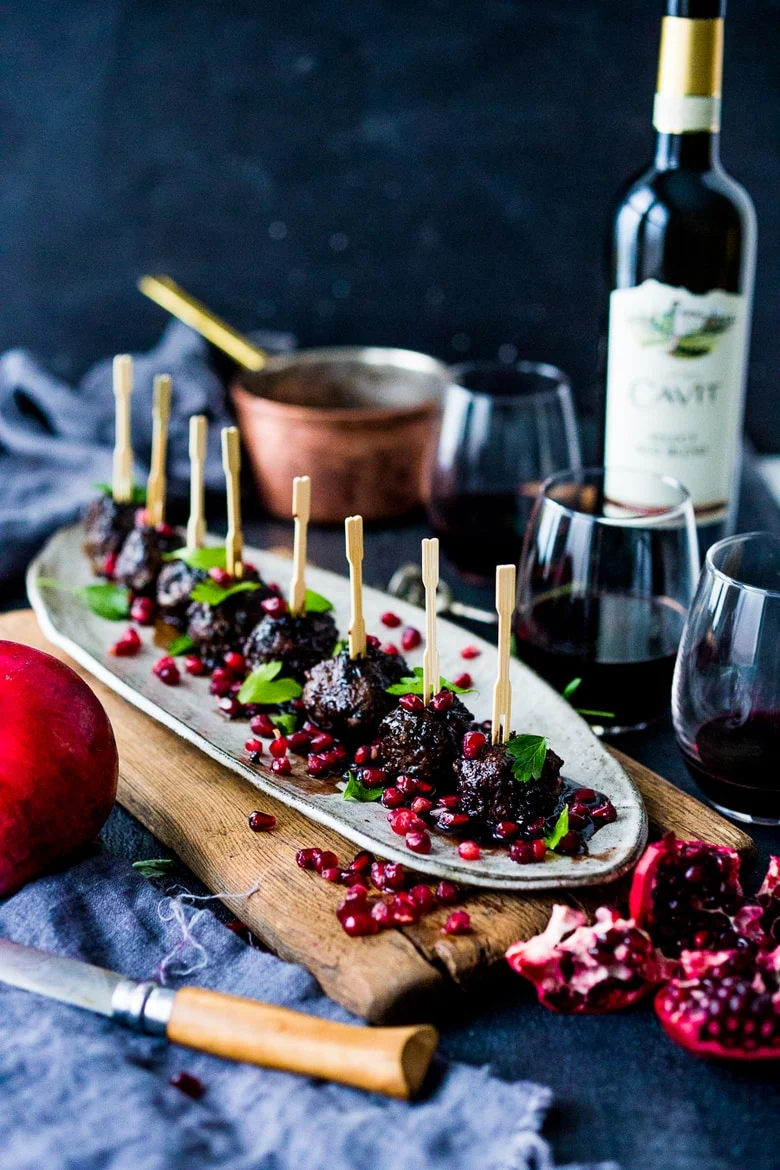 Sylvia of Feasting At Home shares her Moroccan meatballs with pomegranate glaze with us – a favorite in her catering business. The sweet pomegranate glaze pairs perfectly with warm, herb-filled, garlicky lamb meatballs. It's a showstopping tastebud surprising dish fit for an upscale restaurant, and now you can make it right in your own kitchen. Celebrate with them as an appetizer, or let them take center stage as the main course.
Visit Feasting At Home for the recipe.
Easy Meatball Calzones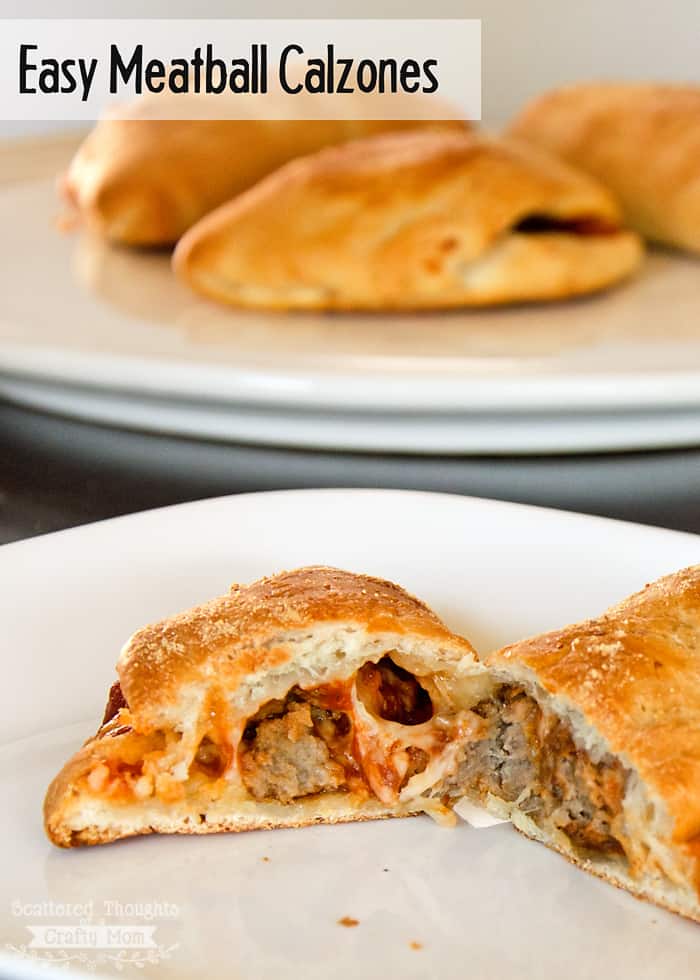 Buy them or make a bunch in advance. But, whatever you do, keep meatballs, pizza sauce, and pizza dough on hand. That's the advice you'll get from Jamie of Scattered Thoughts Of A Crafty Mom. And we couldn't agree more! When you have hangry teens and small children, you need a constant supply of delicious snacks, and these calzones certainly fit the bill.
Visit Scattered Thoughts Of A Crafty Mom for the recipe.
Mozzarella Stuffed Meatballs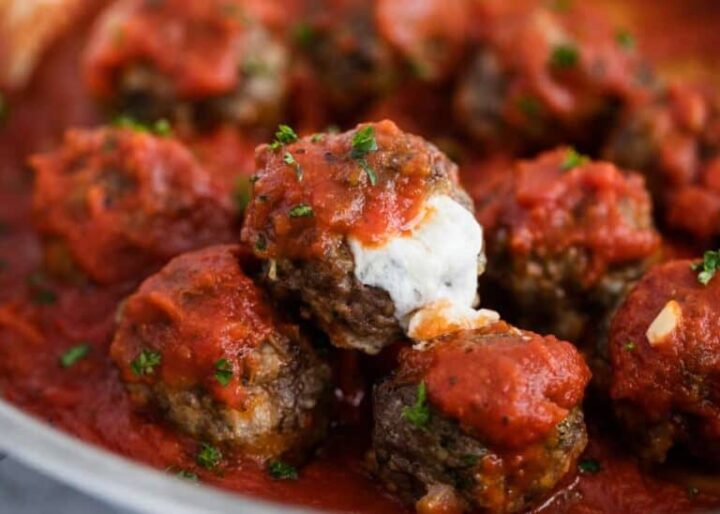 Jamielyn, I Heart Naptime's stuffed Italian food enthusiast, brings us this mozzarella stuffed meatball recipe. It doesn't get more delicious and homey than meatballs stuffed with ooey-gooey cheese on a comfort food scale. Put them on a platter for your friends, and you've got yourself a party appetizer. Or serve them with pasta, as a sub, with mashed potatoes and vegetables, and you've got yourself a meal.
Visit I Heart Naptime for the recipe.
Hawaiian Meatballs Recipe
This 35-minute Hawaiian meatballs recipe from Kayti and Amanda of Homemade Food Junkie is what weeknight comfort food is all about. Quick, simple, delicious! It's a trustworthy recipe developed well before crockpots, or Instant Pots were even a thing. Yes, you read that right! And speaking of such, if you'd like to make these meatballs as a party food appetizer, you can use your instant pot or slow cooker. There are instructions for how to do so.
Visit Homemade Food Junkie for the recipe.
Greek Lamb Meatballs with Tzatziki Sauce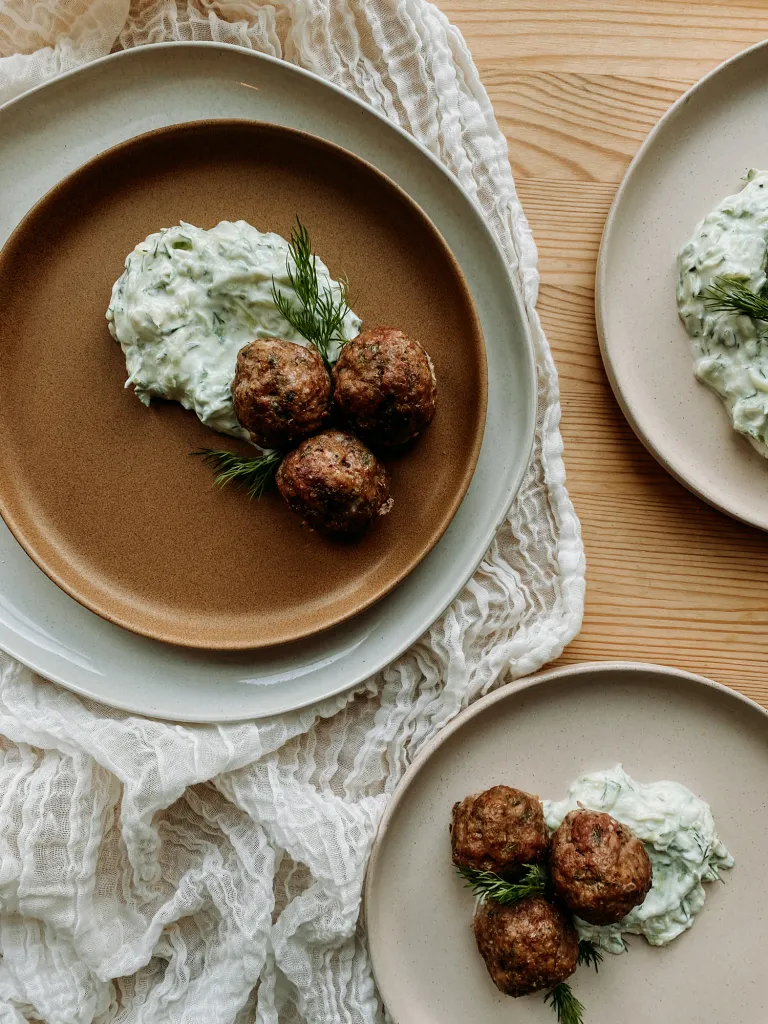 These mouthwatering, herbaceous, and utterly interesting Greek lamb meatballs with Tzatziki sauce from Jenni of Whip And Wander will become your new favorite go-to midweek meal. But how is this one different from other Greek meatballs, you ask? Well, Jenni has a unique way of making her tzatziki sauce so that it isn't watery. Then, as a binder, she adds a secret ingredient that makes it both delicious and low-carb (but still tasty). You definitely want to check this one out.
Visit Whip And Wander for the recipe.
Sriracha Meatball Lettuce Wraps
Taylor, The Girl On Bloor, is all about meal prep, and with this Sriracha meatball lettuce wrap recipe, she clearly understands that successful meal prep involves easy but flavorful meals. So these 30-minute freezer-friendly meatballs (don't freeze the lettuce) fit the bill—they offer easy weeknight fare in a pretty presentation. But wait, there's more. You can add nutrition to this meal with toppings like bell peppers and carrots.
Visit The Girl On Bloor for the recipe.
Buffalo Meatball Taquitos Recipe
Jess of Slice of Jess understands that making everything from scratch can sometimes be a luxury. So, for this Buffalo meatball taquitos recipe, she opts for premade frozen meatballs (from a brand she trusts). But, you know, you can't go wrong with buffalo sauce on just about anything. It's tangy and a bit spicy but not overpowering, and it pairs perfectly with blue cheese. And as for the cheese, there is a lot of it, all melty and delicious. So, do you have a weekend get-together coming up? Save time with this 30-minute dependable appetizer.
Visit Slice Of Jess for the recipe.
Grandma's Sweet and Sour Meatballs
Grandma's sweet and sour meatballs from Trish of Mom On Timeout will become a family favorite. It features simple beef meatballs with chunks of pineapple, bell pepper, and onions and a sweet and sour sauce that you cook all in the same pan. So, serve over rice, and you've got yourself a filling weeknight meal. Along with the recipe, you will find tips like keeping the meatballs roughly the same size and keeping your fingers from getting sticky while forming them.
Visit Mom On Timeout for the recipe.
Buffalo Meatballs in Puff Pastry Cups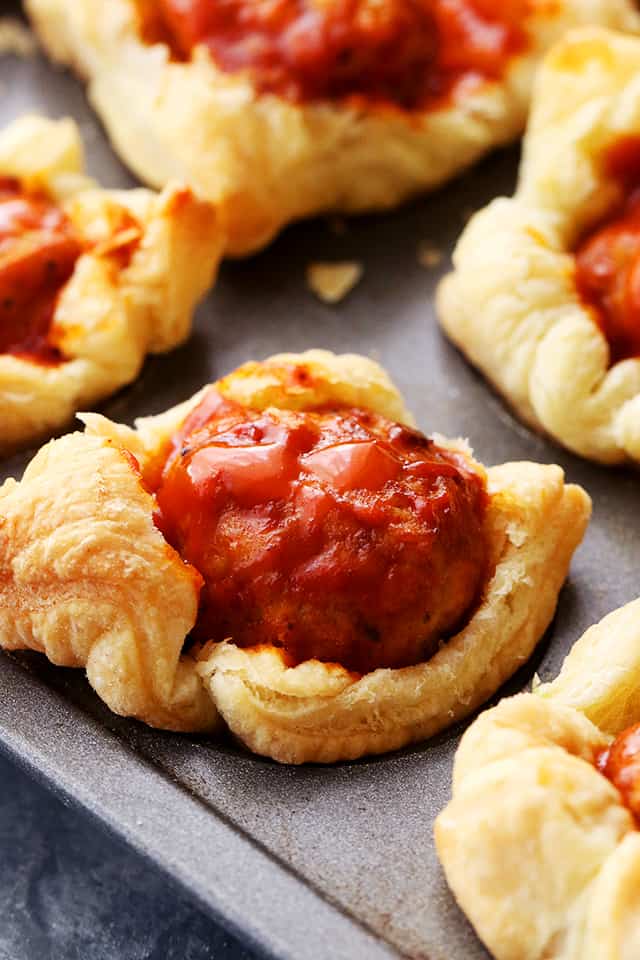 Katerina of Diethood knows that party food needs to be two things: easy and delicious. That's why she recommends freezer aisle turkey meatballs for this recipe. Those premade meatballs only need to, in her words, take a "hot bath with the deliciously spicy buffalo sauce." Then, she shows you how to bake the puff pastry to form cups and put it all together for a delicious snack or appetizer to enjoy with friends and family.
Visit Diethood for the recipe.
5 Fun Facts About Meatballs
1. Where did meatballs originate? The popular answer is Italy, but that's incorrect. Although the exact origin of meatballs is unknown, historians believe they come from Kofta, a Persian dish. Through the years, the dish spread to other areas.
2. Over 2 million Swedish meatballs are served at Ikeas 340 locations every single day! That's a lot of meatballs!
3. Around the world, people eat meatballs in different ways. For example, bitterballen is a fried veal meatball snack from the Netherlands.
4. In 2017, Hilton Head Island, South Carolina, the Italian-American Club, made a record-setting edible meatball that weighed over 1700 pounds!
5. March 9th is National Meatball Day. So, be on the lookout for special meatball deals at restaurants and grocery stores.
What's Your Favorite Meatball Recipe?
Let us know in the comments. And please don't forget to save for later on Pinterest.
And before you leave don't forget to see our 5-star ground beef recipes.