We've found some of the most flavorful, often easy, and always delicious recipes with sausage you can find online. These masterpiece recipes are so mouthwateringly delicious that you just might change your dinner plans tonight. Seriously!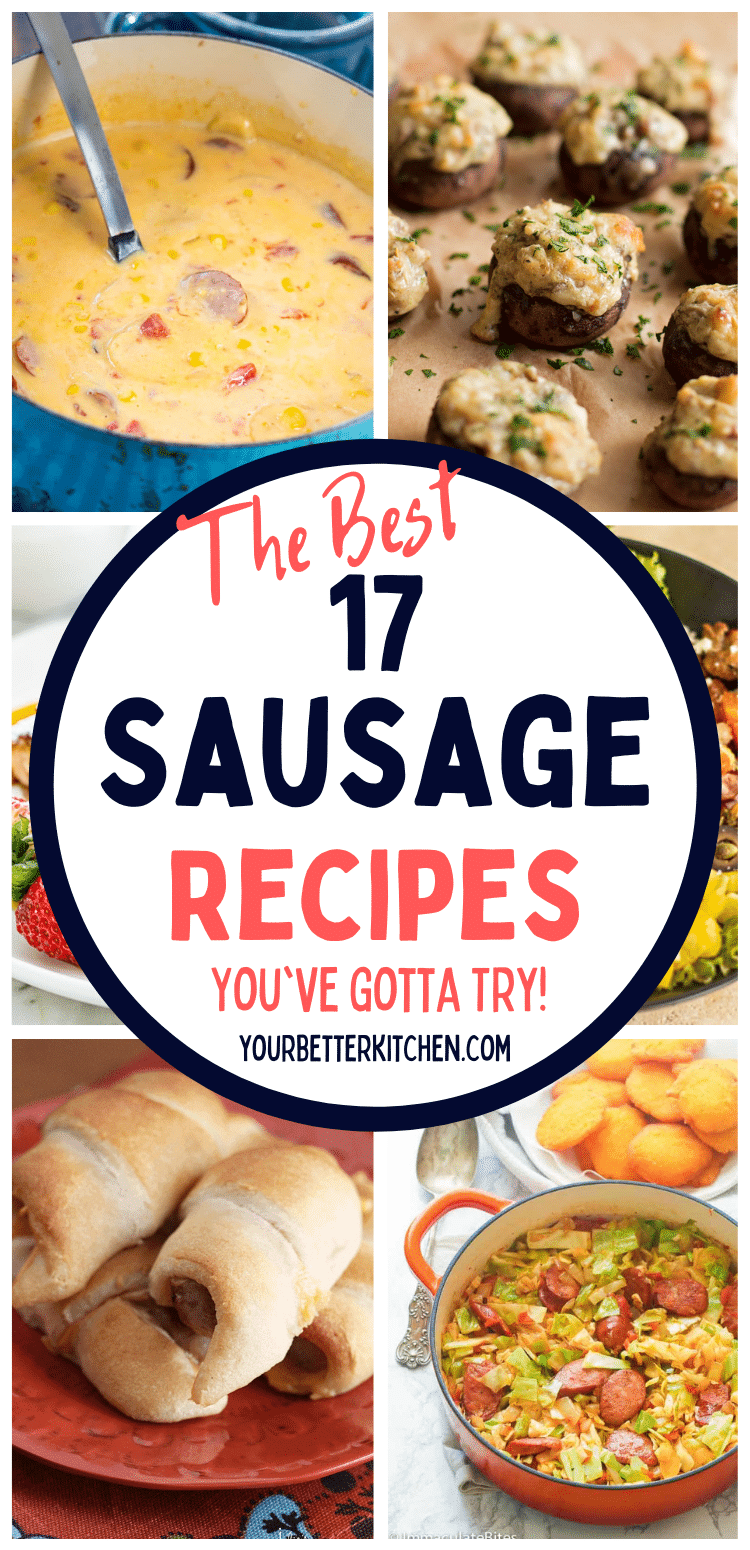 Be sure to check out our best recipes with hot dogs, big mac bao buns, and Texas Roadhouse fried pickles.
Jump to:
What Is A Sausage?
We know what you're thinking, "I know what a doggone sausage is!" However, we didn't include this section to insult your intelligence. We thought this info might be interesting and educational for those who never came across a dictionary definition of it. 🙂
So, this is what a sausage is, according to Wikipedia:
A sausage is a type of meat product usually made from ground meat, often pork, beef, or poultry, along with salt, spices and other flavourings. Other ingredients such as grains or breadcrumbs may be included as fillers or extenders…Typically, a sausage is formed in a casing traditionally made from intestine…

Wikipedia
That means, and you may be a bit surprised by this, hotdogs are technically a kind of sausage even though we don't usually think of them as such.
Furthermore, when most of us picture sausage, we think of a cylindrical meat product with a casing. But, sausage can also refer to loose flavored ground meat that you can form into patties or cook like ground beef.
5 Reasons Why We Love Sausage Recipes
Already Cooked – First of all, you can often find sausage pre-cooked smoked, or dried, like kielbasa and andouille or pepperoni. That means there isn't the additional step of cooking the sausage first, unlike many ground beef recipes. Note: Although hotdogs are "fully-cooked," the FDA still recommends that you reheat them until they are steaming hot.
Super Flavorful – Sausages are so full of flavor that often they season dishes, i.e., andouille sausages in gumbo.
Versatile – As you will see from the list below, there are all kinds of ways you can incorporate sausage into a recipe.
Everyone Loves Sausages – Have you ever met a person, child included, that wouldn't eat a hotdog or other sausage?
Inexpensive – Most recipes with sausage don't break the bank, making them perfect for any budget. So you get to have a delicious meal even if you're on a strict budget.
6 Delicious Yet Common Kinds of Sausage
Frankfurter – This sausage is also known as a Weiner or hotdog. It is arguably the most common type of sausage. It's just that most people don't think of hotdogs as a type of sausage.
Kielbasa – You can find this mild yet flavorful smoked sausage in almost any grocery store. By the way, kielbasa is the Polish name for sausage.
Mexican Chorizo – the most commonly available chorizo is of the Mexican variety. It is spicy, as it is seasoned with peppers. The Spanish version is seasoned with garlic and smoked paprika. They're both delicious.
Bratwurst – everyone's had a brat before, right? This delicious fresh link pork German sausage is mild and so full of flavor that anyone can enjoy them. Can you have a backyard barbecue without them?
Italian Sausage – This fresh sausage is chockful of flavor, with the standout ingredient being fennel.
Pepperoni – this dried sausage is one of the most common types of sausage. It's packed full of flavor. It's usually a little spicy and just plain delicious.
17 Delicious and Simple Recipes with Sausage
Below are some of the most delicious recipes with sausage for you to make at home. This list is not a ranking. So whether it appears on the list in the number one spot or number 17, we think all of the recipes are cool and delicious.
1. Battered Sausages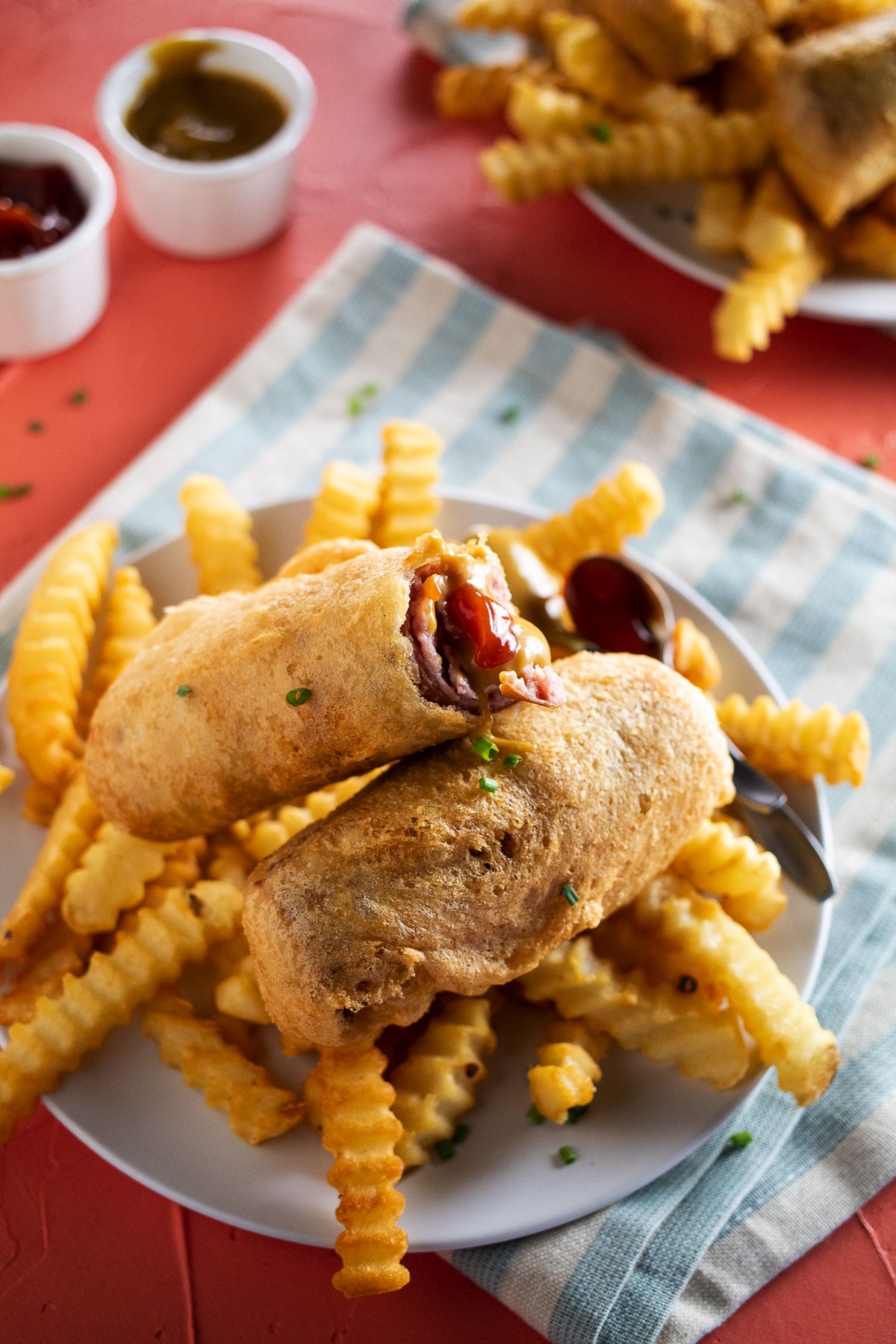 This is our very own addictive deep-fried battered sausages recipe. Commonplace across the pond (United Kingdom), this delicious fried food is gaining popularity with Americans. And for a good reason.
It starts with tasty sausages that we dress up by dipping in our "stay crispy" batter and frying them to perfection for a heavenly indulgent and memorable weekend meal.
2. Sausage French Toast Roll-Ups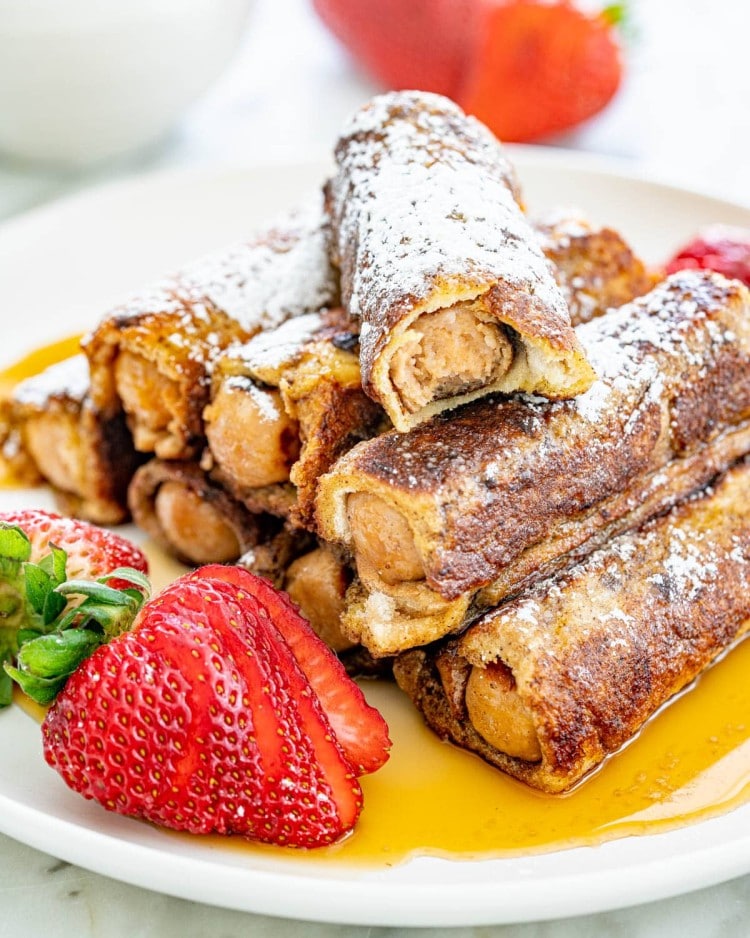 Jo cooks up creativity with this novel breakfast idea. Yep, what you see is sausage rolled up in French toast. Now, even though this dish is impressive, you might be shocked to learn that this sweet and savory breakfast is actually quite practical.
It takes less than 25 minutes to make eight servings! What's more, you probably have all of the needed ingredients on hand. So, if you're family needs a breakfast remix, a break from the regular, go see Jo.
3. Instant Pot Sausage and Peppers
Kristen comes out swinging with this 1-2 dinner knockout. This instant pot sausage and peppers recipe proves that tasty doesn't always need to be low and slow. This recipe features ingredients easily found at your grocery store: Italian sausage, sweet bell peppers, onions, and tomato sauce.
So it's packed with flavor that your family is sure to enjoy. And you'll be stoked when you can ring the dinner bell in just 36 minutes.
4. Easy Nacho Potato Soup with Smoked Sausage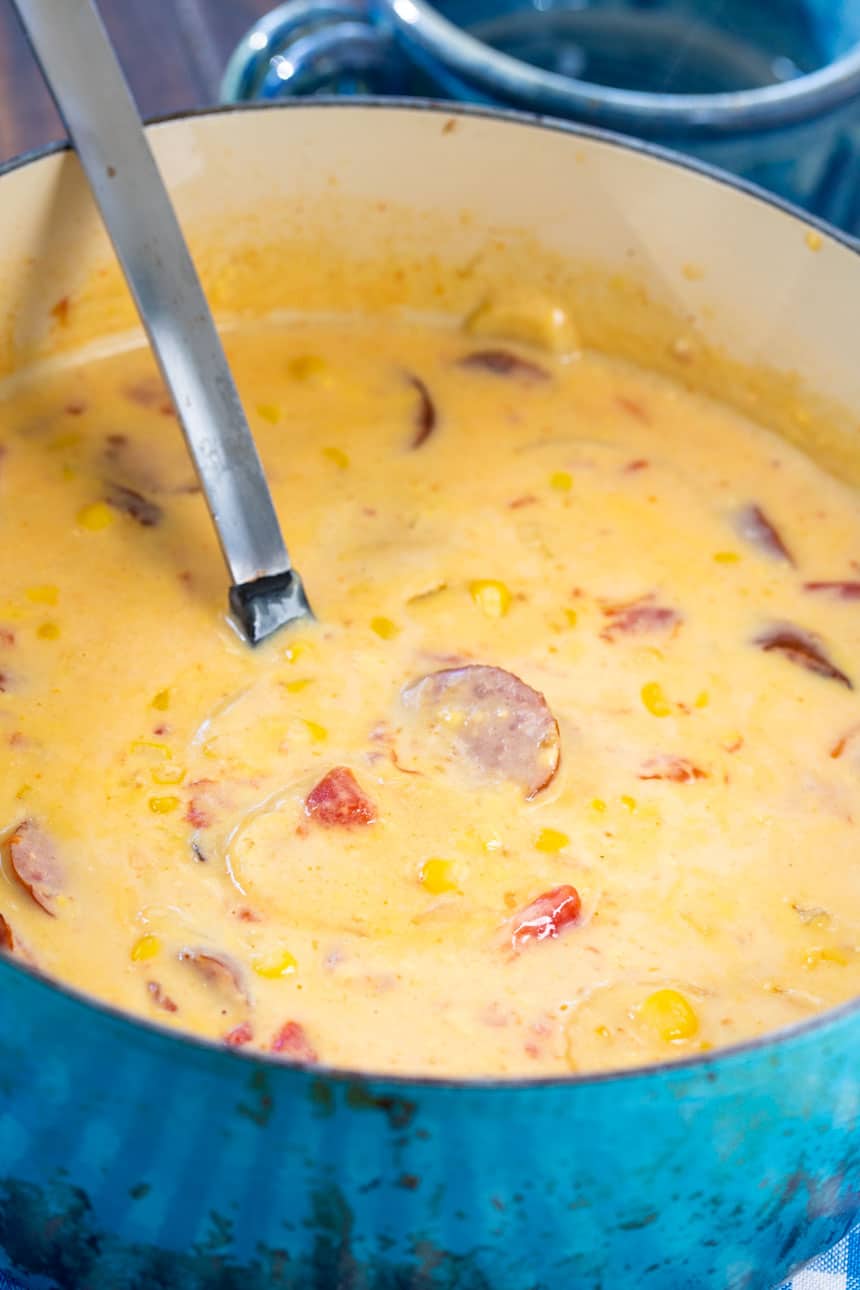 You're running late and haven't even thought about what you're going to feed your picky eaters for dinner? Well, this easy nacho potato soup with smoked sausage recipe from Spicy Southern Kitchen is your answer! Why? Umm, cheese and smoked sausage, 'nuff said.
This tasty soup is so easy that you don't even have to worry about peeling and dicing the potatoes. We told you it was easy! So you just might want to make it for dinner tonight.
5. Million Dollar Spaghetti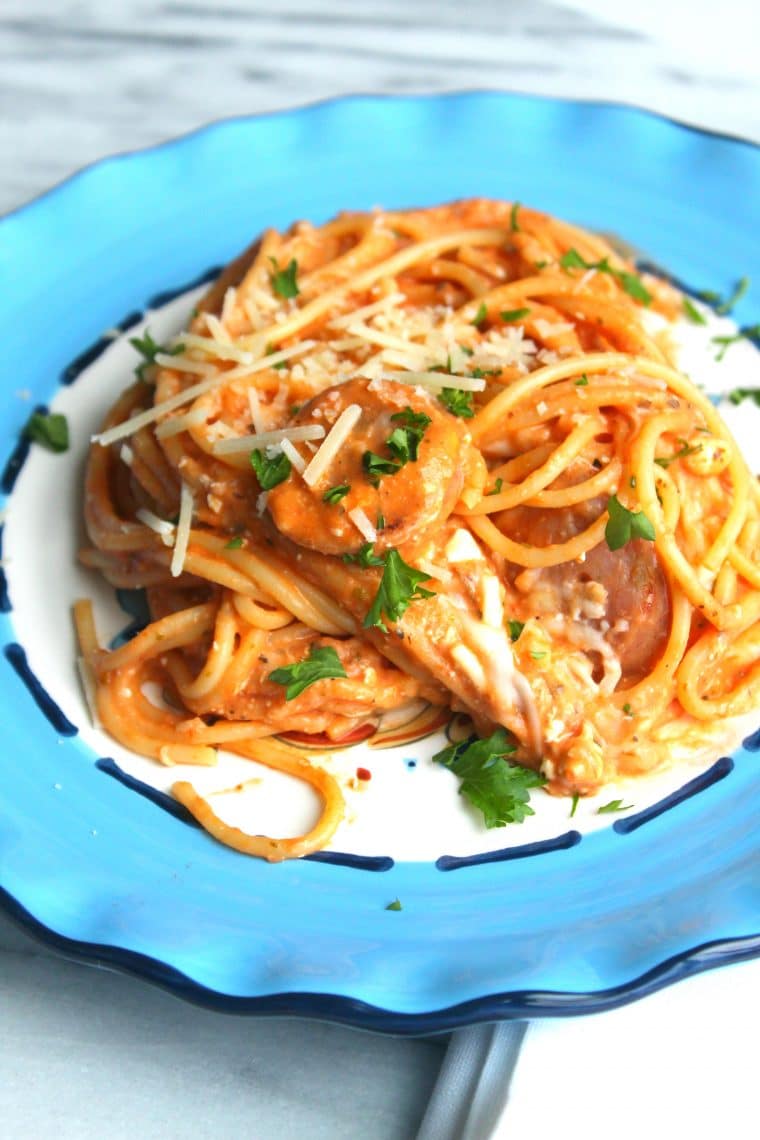 If you need a break from pork and you're limited on time (aren't we all?), then head on over to Budget Savvy Diva and learn how to make this deliciously simple spaghetti.
It's a quick pasta dish that consists of chicken sausage, spaghetti, and three different kinds of cheese. It looks so tasty, doesn't it? So, if you're like us, you and your family will love this meal.
6. Egg Roll In a Bowl
Inspired by low-carb dieting and a Facebook acquaintance, Kelly from Mostly Homemade Mom, created this healthy egg roll in a bowl recipe. The protein comes from ground sausage. And the rest of the dish consists of vegetables and Asian-Esque flavor. Genius!
You know, homemade egg rolls are pure deep-fried deliciousness, sure. But deep-frying indoors leaves a lingering smell that can last for days. So, getting the delicious flavors of an egg roll without the added fat and hassle is fantastic. Way to go, Kelly!
7. Sauteed Cabbage and Sausages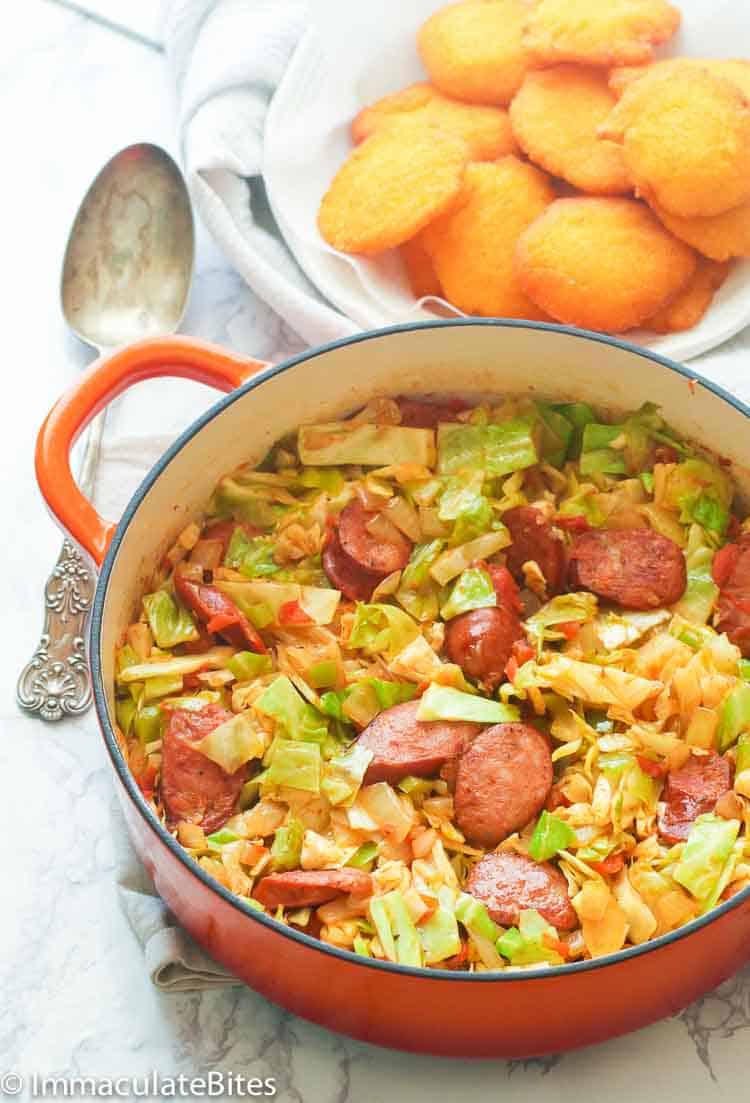 If you're anything like the more than 14 thousand people who shared this sauteed cabbage and sausages recipe, you're in for a weeknight dinner treat that the whole family will adore.
We love that Imma from Immaculate bites regularly cooks up irresistible comfort food. But my goodness, with ingredients like bacon, creole seasoning, and paprika, is this dish ever packed full of flavor! So, say hello to Imma for me, and try out this delicious weeknight delight.
8. Sausage, Pepper, and Onion Pizza Hoagies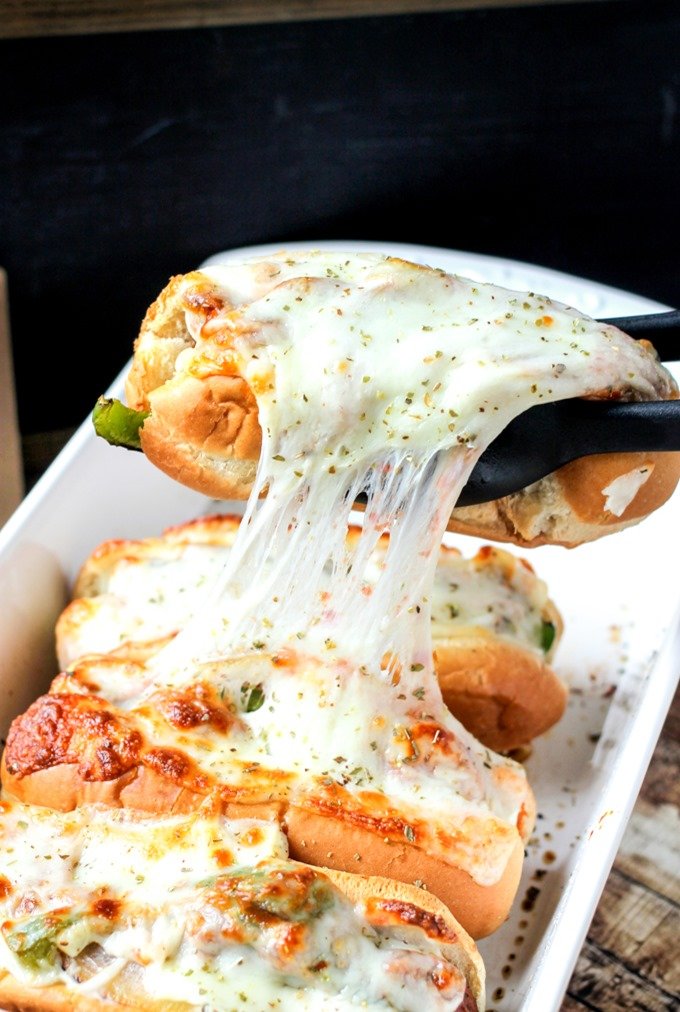 Is your mouth watering yet? If not, it will be! This easy sausage, pepper, and onion pizza hoagie recipe looks so good and easy that it just might become a part of our weekly dinner rotation.
And with just eight ingredients – some of which you probably have at home – and 30 minutes, you can have a meal the whole family will be anticipating. Of course, you might have to make enough for seconds (or thirds). But with this recipe, Allyson really is a Domestic Superhero!
9. Cheesy Sausage Pigs In A Blanket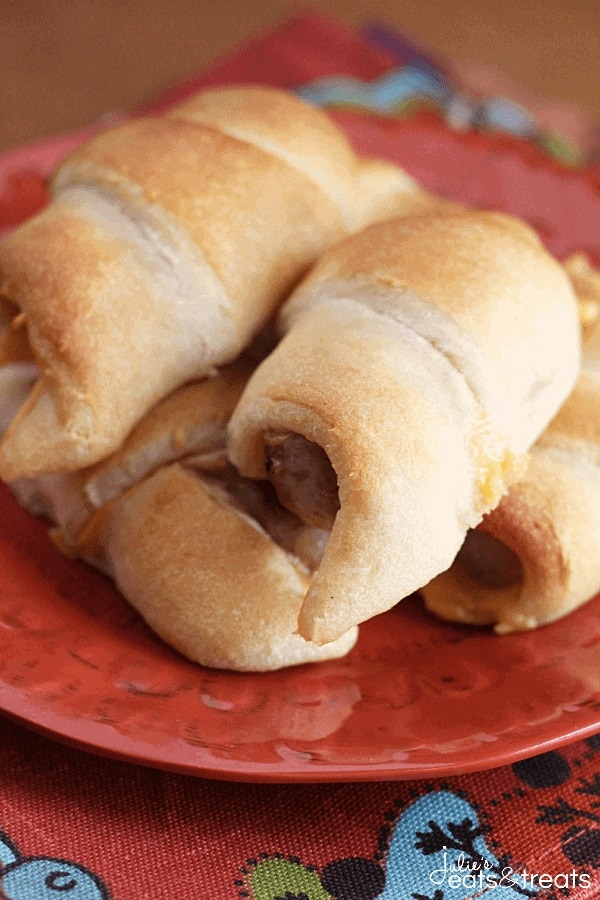 When you combine breakfast sausage, crescent rolls, and cheese, what do you get? First, you get yet another genius yet simple breakfast meal idea from the always reliable Julie's Eats and Treats. You also get more cheese in the form of those big toothy grins you'll see as your kids chomp away in delight!
So give this super-easy recipe a try if you need to break away from the customary eggs and toast.
10. Sausage Stuffed Mushrooms
Sausage stuffed mushrooms are a popular appetizer perfect for parties (even parties of one). But we like that the Life Made Simple Bakes Team recommends the more flavorful cremini mushrooms instead of the white button variety.
Now, mushrooms are meaty on their own, but when stuffed with sausage, cream cheese, onions, etc., they're like taking a little nibble out of heaven. Okay, maybe that last bit was a bit too far, but seriously they are a wonderful starter and a bit addictive.
11. Easy Eggplant and Italian Sausage Skillet Baked Ziti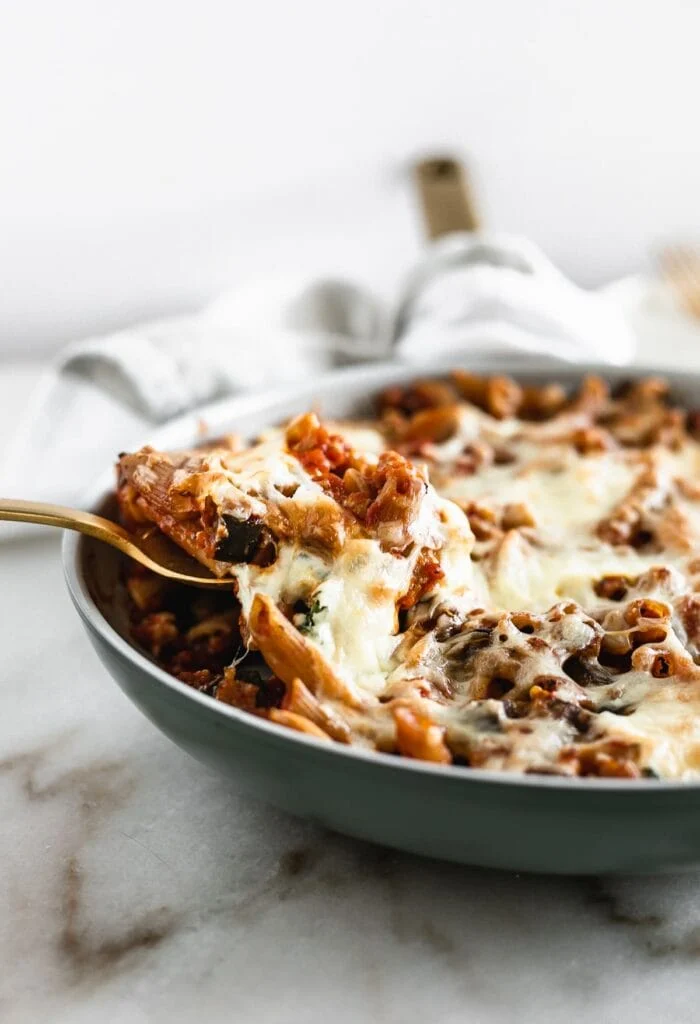 We had to include Kaleigh of Lively Table's quick and healthy sausage pasta dinner. She combined Lean turkey Italian sausage, wheat penne pasta, eggplant, and tomato sauce for this healthful yet tastebud stimulating weeknight meal. It's a flavor-packed dish that is sure to satisfy even the pickiest of eaters.
Oh, but it gets better, my friend. Kaleigh even gives you directions on how to prepare it in advance. And as elegant as it looks, it would make a great main course for a dinner party.
12. Composed Salad with Green Chile Sausage
We're happy to share with you this composed salad with Green Chile Sausage from MJ of MJ's Kitchen. The salad includes citrus, bell peppers, Mexican cheese, and other delicious ingredients contributing to her Southwestern style.
Admittedly, this is the first time we've ever happened upon a salad with sausage as the primary protein. But that's the delicious and imaginative creations you can look forward to at MJ's Kitchen.
13. Kielbasa Reuben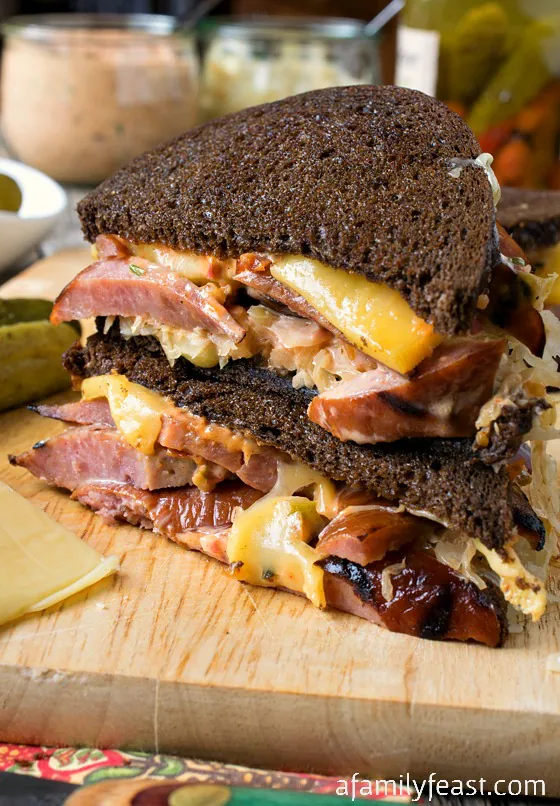 Okay, so we absolutely love Reubens and other corned beef sandwiches. But corned beef, while tasty, can be a bit pricey to buy at shops and time-consuming to make at home. So we really appreciate the genius of this recipe.
Jack and Martha of A Family Feast remixed the classic Reuben by swapping the corned beef for kielbasa and the swiss for gouda for a more accessible version of the deli favorite. Do note, when reading over this recipe, it's totally normal to experience a "why didn't I think of it" envy, followed by gratitude and revisions to your grocery list.
14. Homemade Meat Sauce
This flavorful homemade meat sauce from Chef Meggan Hill of Culinary Hill is perhaps the most versatile recipe on the list. But what makes it so good? Well, for starters, her meat sauce includes both ground beef and Italian sausage for fantastic flavor.
But Chef takes things a little further by giving you plenty of ideas on making the recipe unique to your taste and even dietary restrictions or preferences. So please take a look at her recipe and see why many claim it is the best meat sauce recipe around.
15. Sausage & Pea Manicotti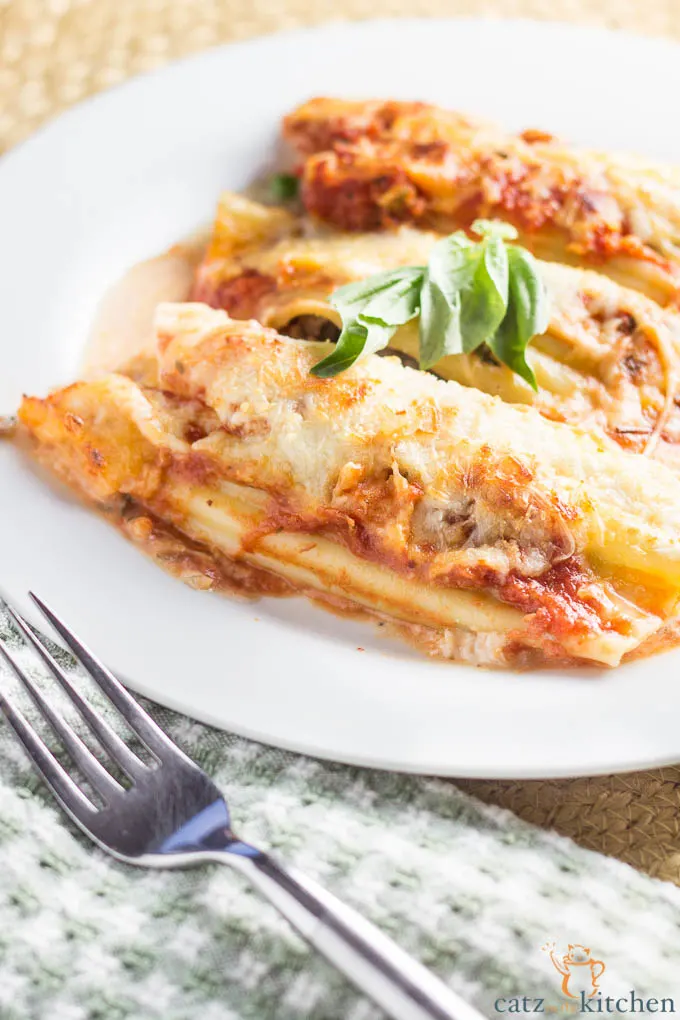 This sausage and pea manicotti from Chels and Josh of Catz In The Kitchen, while not a 30-minute meal, is undoubtedly worth the effort. This decadent dish is full of tender pasta shells stuffed with delicious sweet Italian sausage, Fonduta cheese sauce, peas, and topped marinara sauce. Mmmm!
Make this scrumptious meal for the weekend or special occasion. Perhaps when having friends over for dinner or to celebrate a milestone. Or just because it's Sunday! Until then, drool away!
16. Brazilian Rice and Beans with Sausage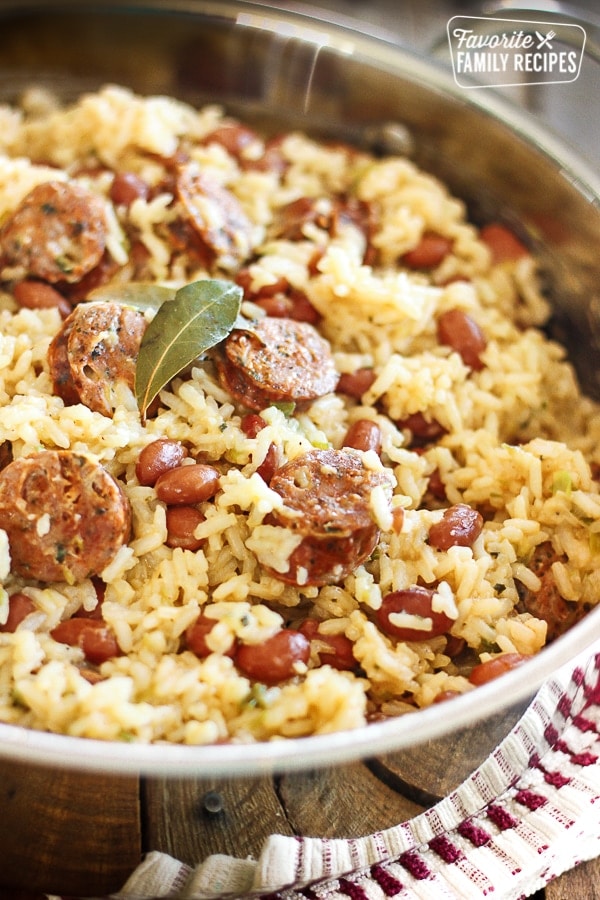 The ladies over at Favorite Family recipes thought up this delicious easy Brazilian Rice and Beans with Sausage recipe. It's packed full of flavor and takes just 40 minutes to make this tasty one-pot meal.
A Meal like this is a perfect weeknight option. Why? It's tasty. Also, it's super-easy as you just throw everything into the pan. And finally, it makes a ton of food which means full bellies, smiling faces, and perhaps even leftovers.
17. Sweet and Savory Breakfast Cake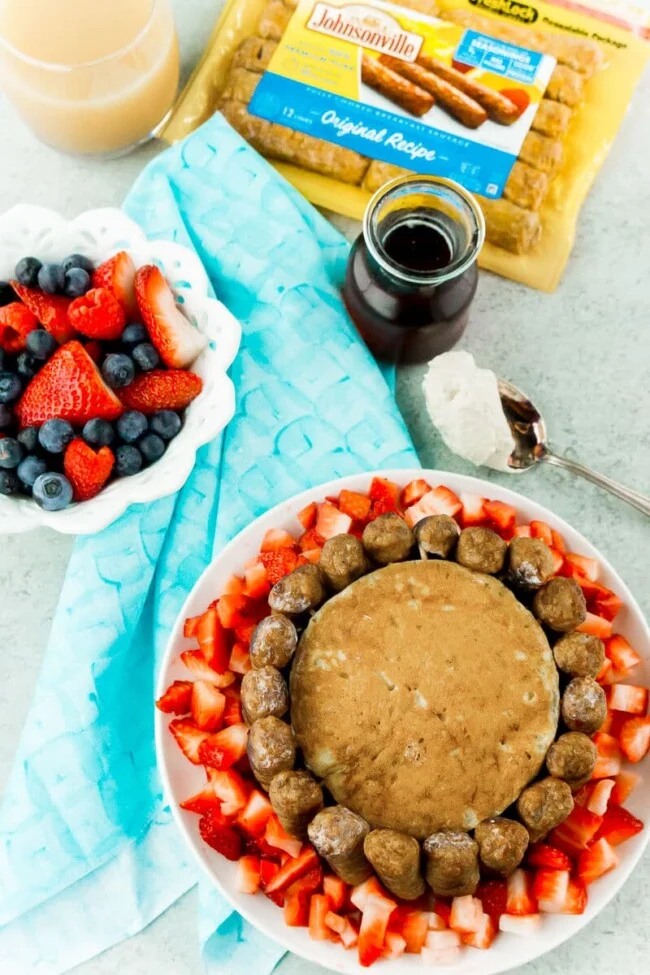 This breakfast cake recipe from Britni of Play Party Plan is bonkers! It's a really cool arrangement. With pancakes, breakfast sausage, whipped cream, and assorted berries, you can make an impressive spread perfect for breakfast or brunch.
So, do you have brunch party plans or want to put smiles on your family's faces. Then, head on over to Play Party Plan and learn how she does it.