With these 14 Stuffed Shells Recipes, you will soon find variations you didn't know existed. These delicious pasta creations are so good you will be smitten and ready to put on your apron.
How do we know you'll be head over heels?
Well, because we fell hard for the Homemade Manicotti, Seafood Stuffed Shells, and Pumpkin Ricotta Stuffed Shells, and that's just a few of the delicious options you'll find on this incredible list. So are you ready to discover the tasty?
Let's dive in!
Turkey Alfredo Stuffed Shells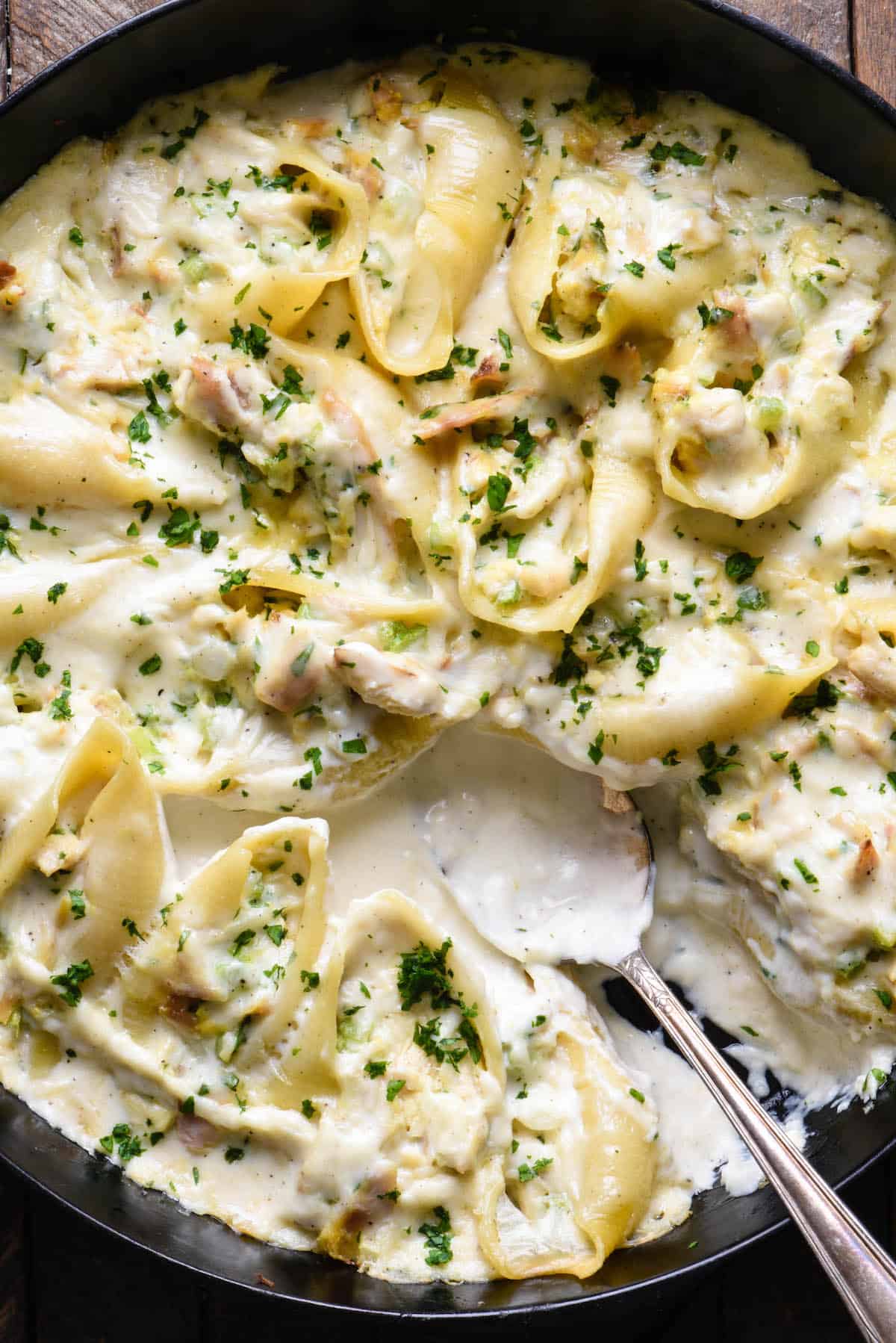 If you're in the market for a new way to use leftover or ground turkey, look no further than this scintillating Turkey Alfredo Stuffed Shells recipe by Lori of Foxes Love Lemons. What with turkey, pasta shells, and creamy homemade Alfredo sauce (which is way better than the jarred stuff)? It's a fall weather dish that has comfort written all over it. You're going to love it.
Buffalo Chicken Stuffed Shells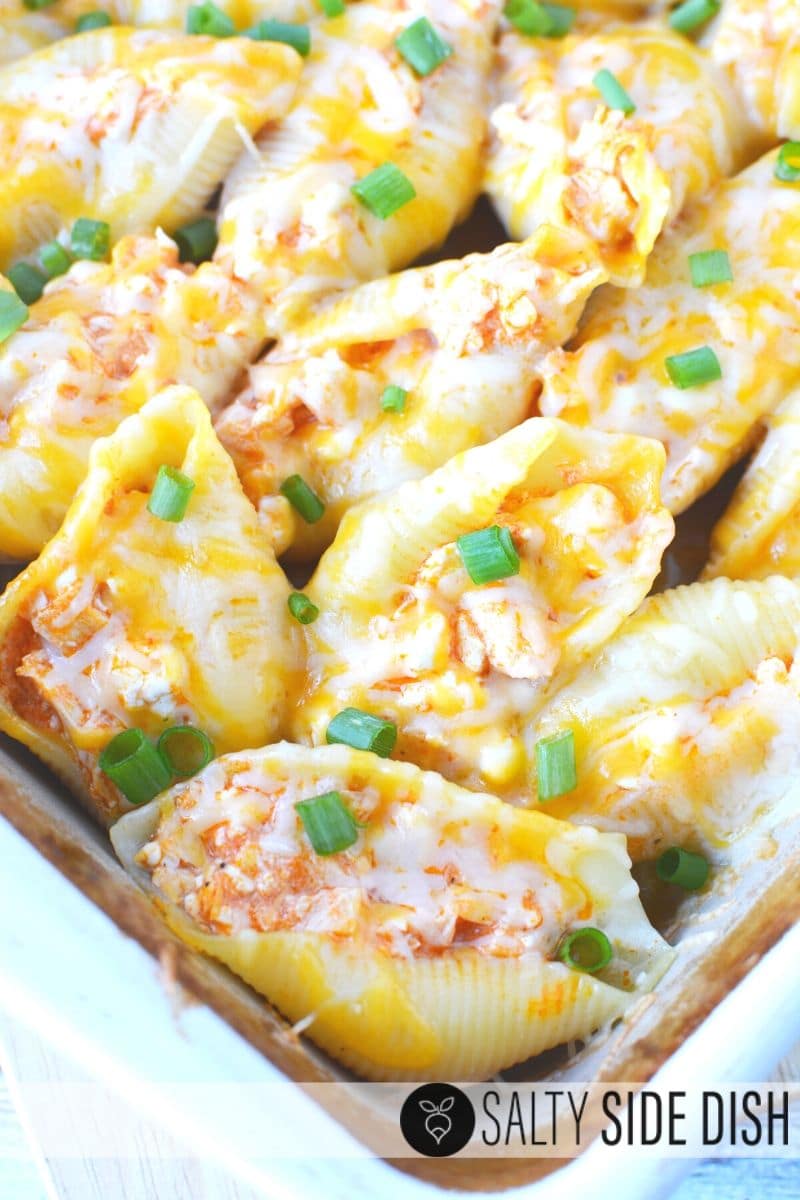 Trisha knows a thing or three about a Salty Side Dish, as epitomized by this Buffalo Chicken Stuffed Shells recipe. So indeed, you've had Buffalo chicken wings and dip before. Heck, we even stuffed pretzels with buffalo dip. However, this time you stuff tender pasta shells with Buffalo-flavored shredded chicken, cottage cheese, and shredded cheese for a fun meal with "Friday night dinner" written all over it.
Italian Sausage Stuffed Shells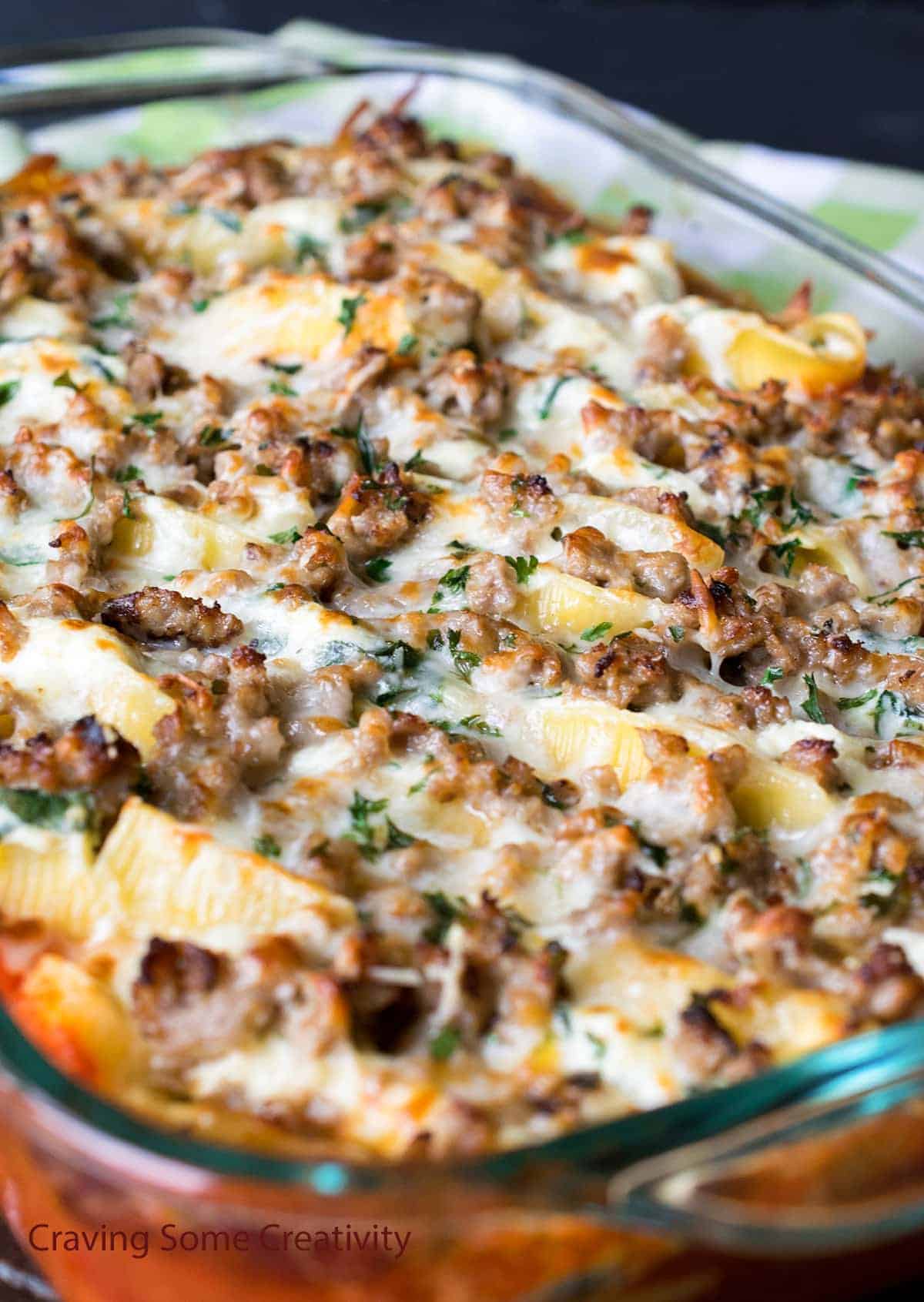 If you're a fan of ground Italian sausage, you'll love this Italian Sausage Stuffed Shells recipe, especially if you're Craving Some Creativity. And if you're not, you will be soon because each pasta shell is packed with ground sausage, ricotta cheese, mozzarella, parmesan, sauce, and lots of seasoning. Plus, prep takes just 15 minutes, making it ideal for weeknights, but it's fancy enough for dinner guests.
Crockpot Stuffed Shells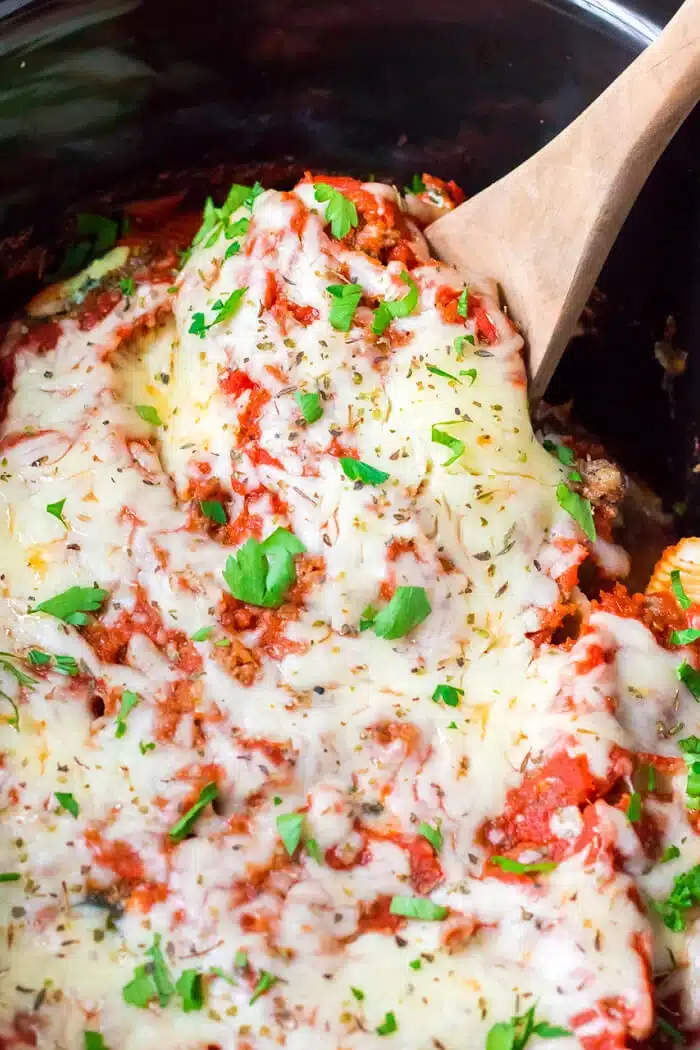 Mama Loves Food, and you'll love April's Crockpot Stuffed Shells recipe. It's a leisurely, tasty pasta dinner the whole fam will devour. So you're sure to hit the replay button on this one. Here's why. First, there are no fancy ingredients, and some, like ground beef, pasta sauce, and frozen spinach, you may already have. Second, it's mostly hands-off. All you have to do is par-cook the shells, stuff them, and add the ingredients to your slow cooker, and voila!
Giant Cheese Stuffed Shells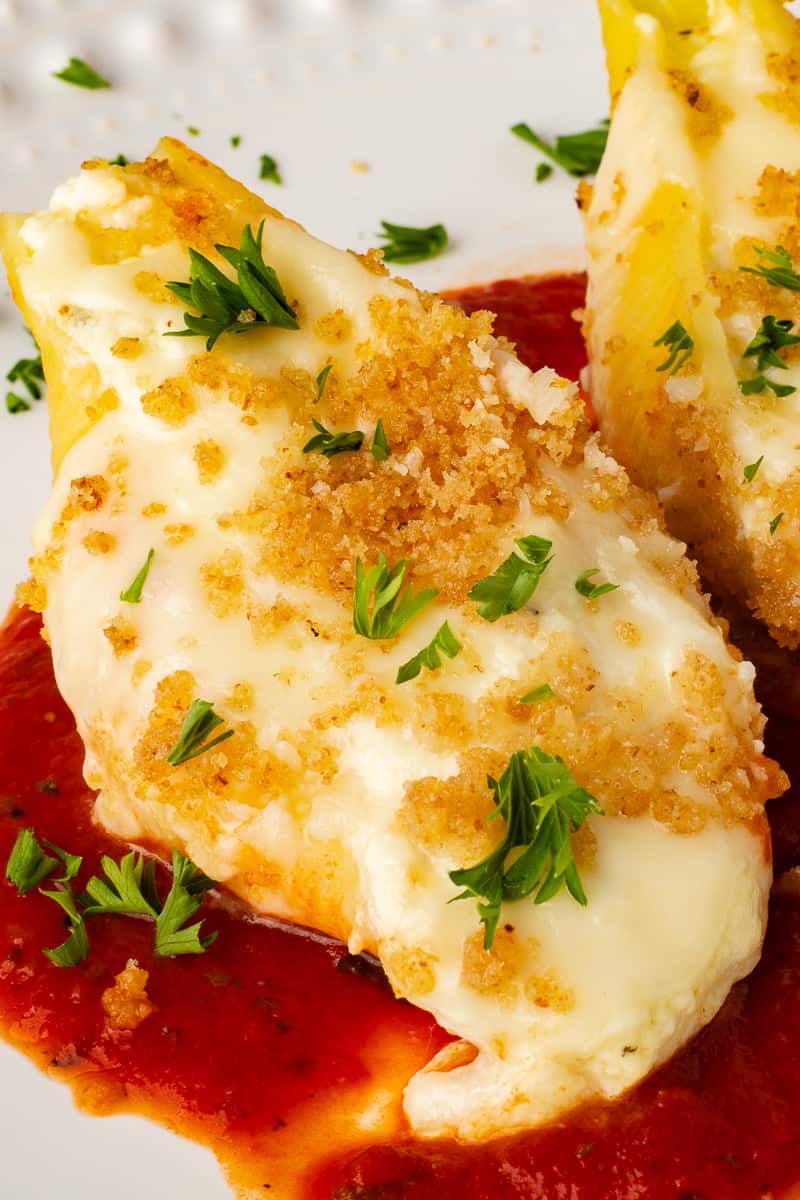 These Giant Cheese Stuffed Shells by Sandra of She's Not Cookin' was inspired by the iconic Olive Garden menu item. So now you can have your comfort food favorite right in your own home. First, you'll need conchiglioni (or giant pasta shells), which may sound exotic, but it's easy to find, just like all the other ingredients in this dish. It's simple but so good.
Ricotta Pumpkin Stuffed Shells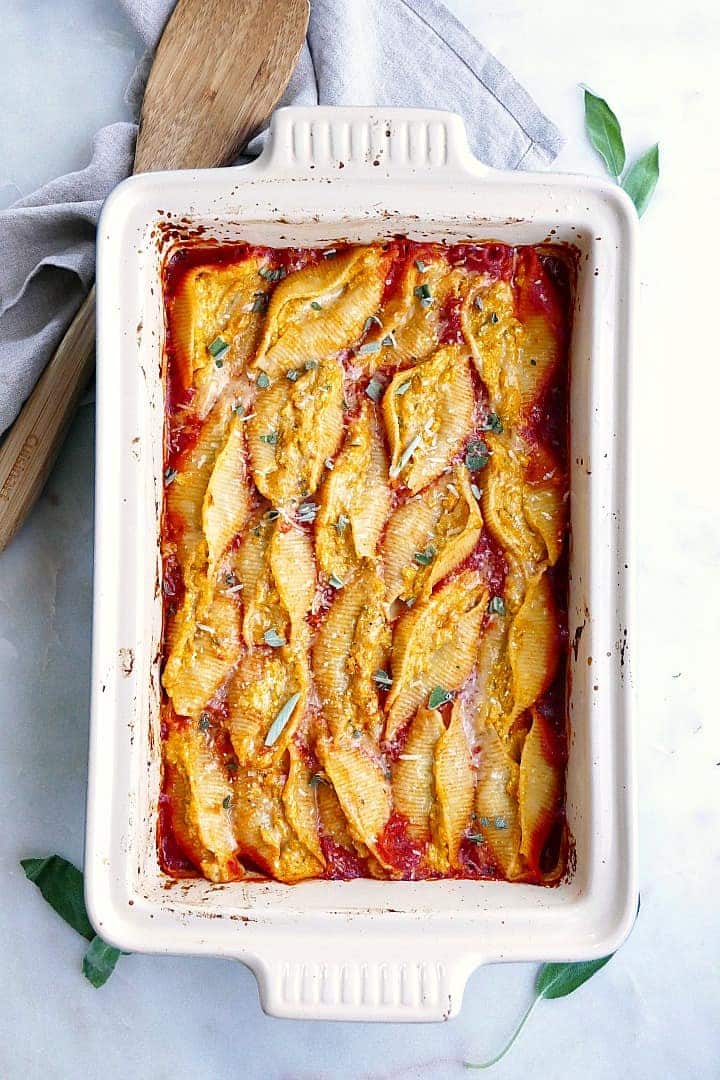 With this Ricotta Pumpkin Stuffed Shells recipe, registered dietician Lizzie of It's A Veg World After All shares a healthy iteration of the stuffed shells she grew up eating. So rather than pasta overflowing with meat, Italian seasonings, and stretchy cheese, her inviting version calls for pureed pumpkin and fall flavorings like cloves, cinnamon, and sage.
Air Fryer Taco Stuffed Shells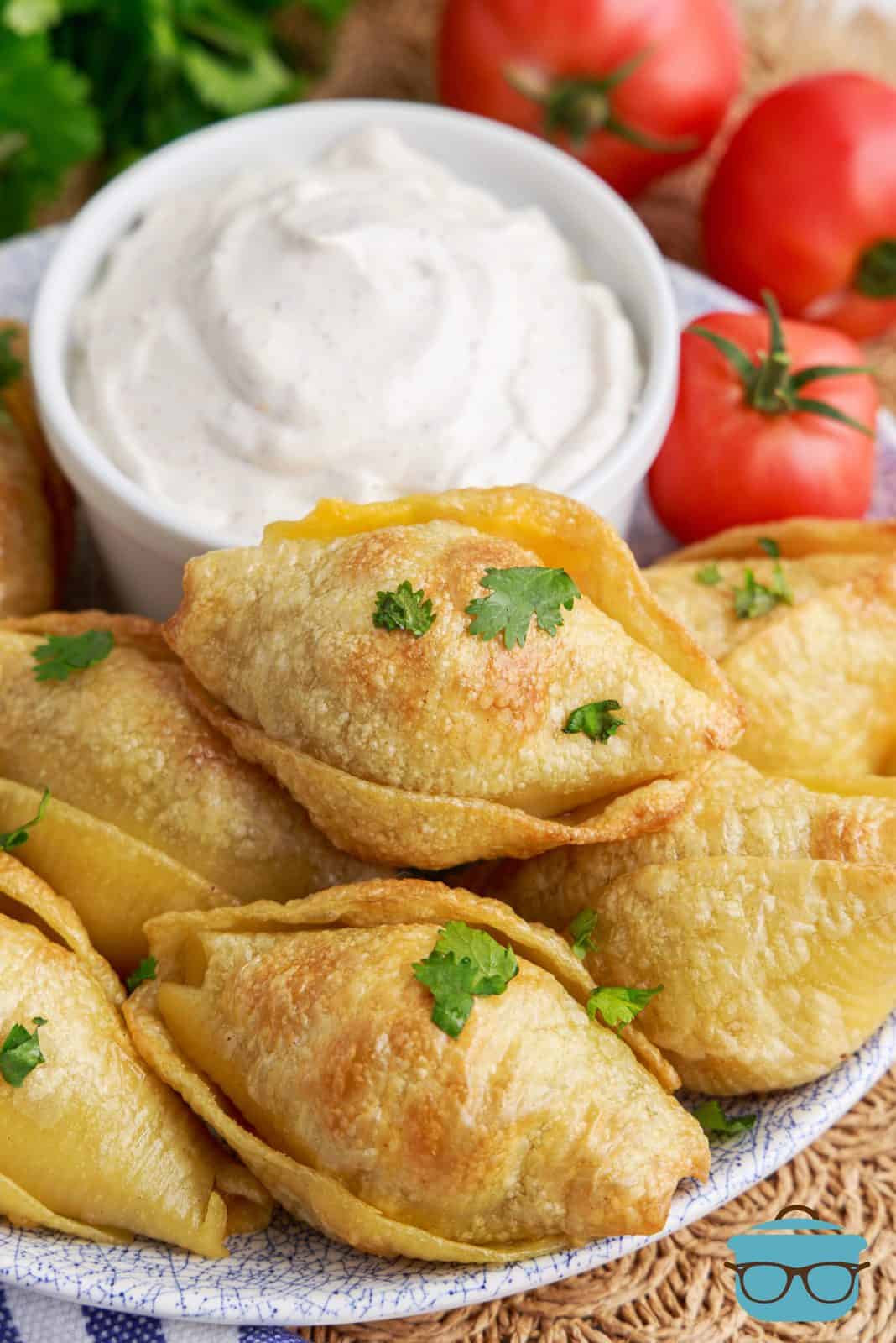 These Air Fryer Taco Stuffed Shells from Brandie, The Country Cook is a viral Tik Tok sensation. There's meat and cheese on the inside, and the shells have a satisfying crunch on the outside. Then, when they're done, remember to serve them with taco-seasoned sour cream dipping sauce for a breeze of a meal ready in less than an hour.
BBQ Pulled Pork Stuffed Shells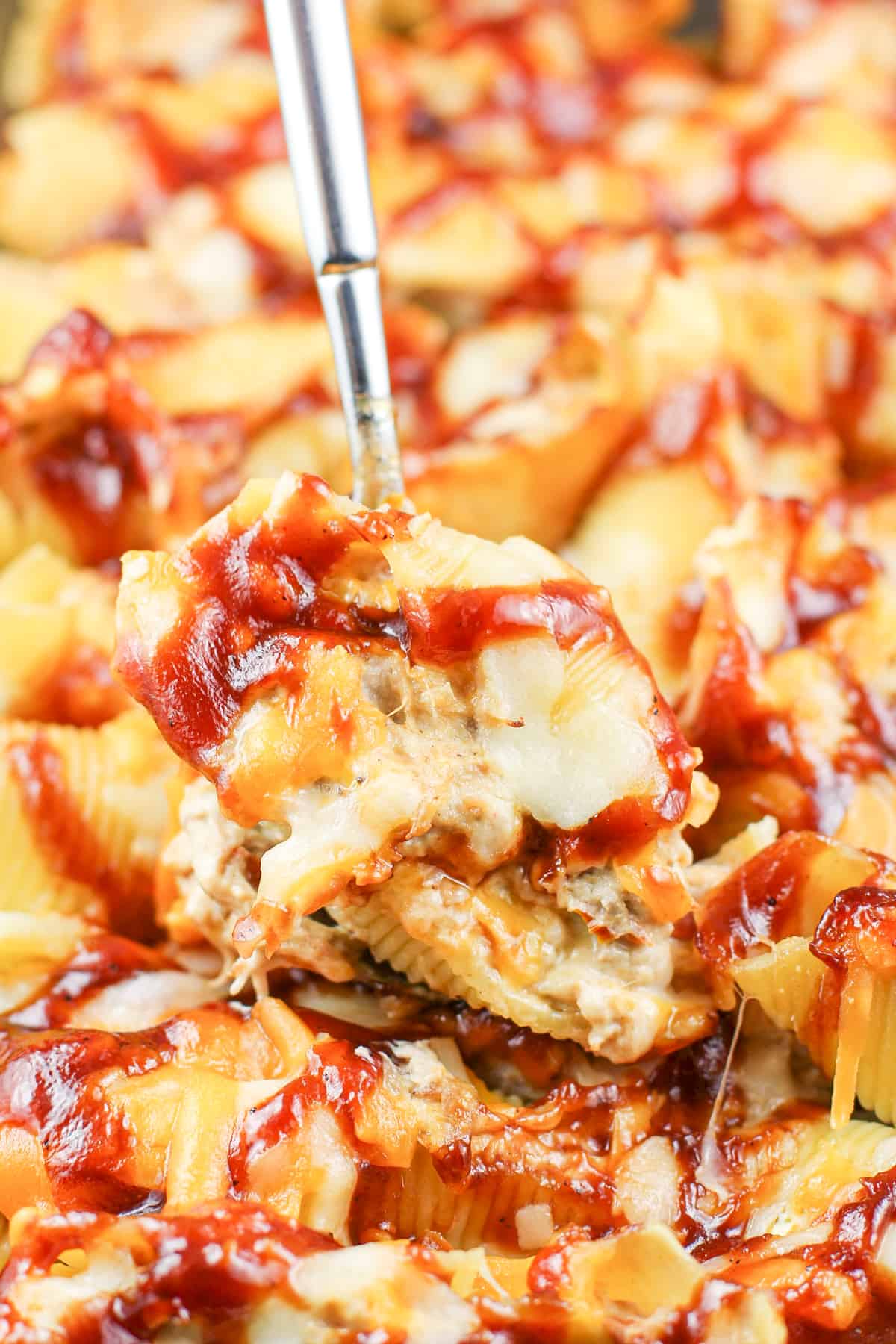 Want a clever solution for leftover pulled pork? Then you must see this BBQ Pulled Pork Stuffed Shells idea by Erica's Recipes. It's not just shells stuffed with porky goodness, bbq sauce, and cheese. Nope! She takes the flavor much further with shallots, sun-dried tomatoes, cream cheese, and sour cream.
How To Make Manicotti From Scratch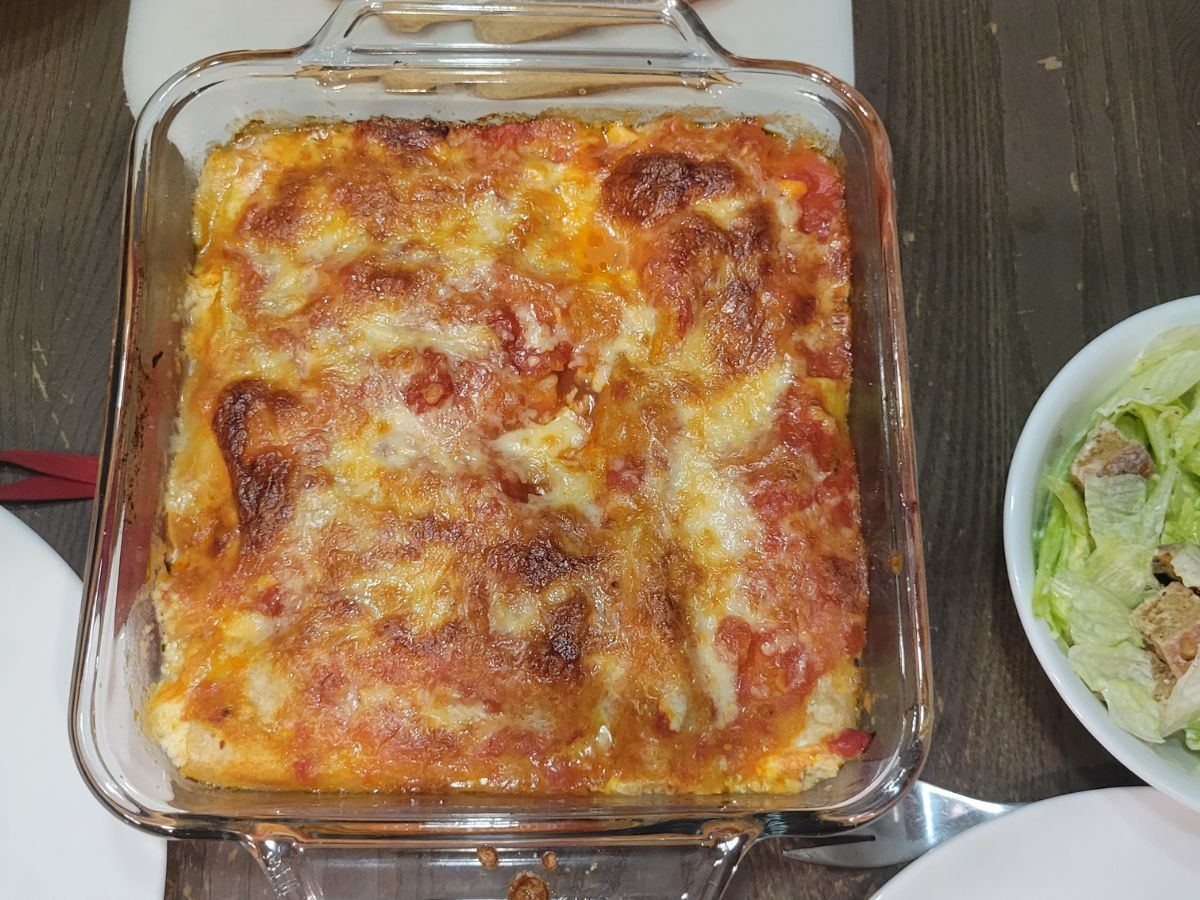 While the other shell recipes on this list called for conchiglie or seashell-shaped pasta, Kara of Grains In Small Places shows you How to Make Manicotti From Scratch. Yes, her write-up optionally includes a homemade pasta shell recipe. But, if you "ain't got time for that," forgo the rewarding pasta-making process and use a premade brand. Because, after all, her recipe is still yummy with three kinds of cheese, parsley, garlic, nutmeg, and marinara.
Chicken Broccoli Alfredo Stuffed Shells
Ideal for many occasions, this Chicken Broccoli Alfredo Stuffed Shells recipe by Sweet Pea Kitchen is appetite-inducing, nutrient-dense eats fit for a small army or yours and the neighbor kids. Here's why they won't be able to put down the fork. In less than 30 minutes in the oven, you can expect slightly crispy baked shells stuffed with a creamy mix of chicken, broccoli, and alfredo sauce inside.
Cheeseburger Stuffed Shells Recipe
If you find yourself stuck deciding between burgers or pasta, save yourself the discontent and choose both with this Cheeseburger Stuffed Shells Recipe by The Frugal Navy Wife. After boiling the pasta to al dente, stuff them with a mix of ground hamburger, relish, ketchup, and mustard. Next, add cheese and bake until gooey and golden brown.
Steak Gorgonzola Alfredo Stuffed Shells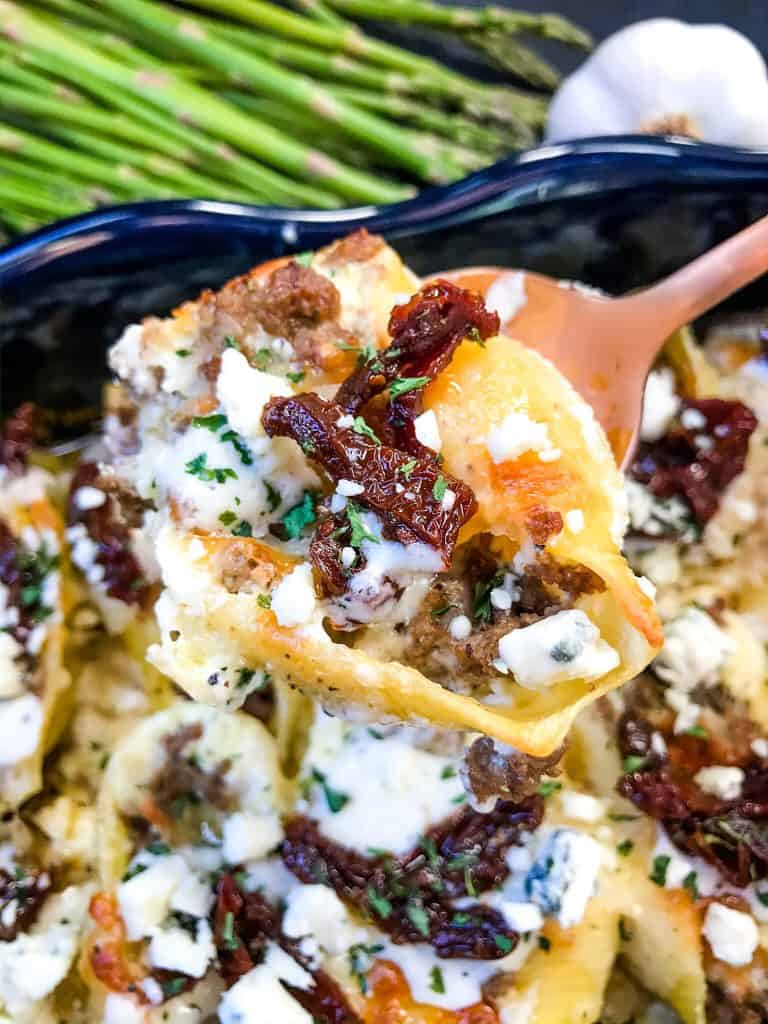 Whether you make this Steak Gorgonzola Alfredo Stuffed Shells by Kim of Three Olives Branch for a dinner party or because it's a weekday dinner treat for yourself, you can't go wrong. Because with four kinds of cheese (ricotta, mozzarella, parmesan, and gorgonzola), ground beef, alfredo sauce, and sun-dried tomatoes, you won't be wanting for flavor.
Butternut Squash Stuffed Shells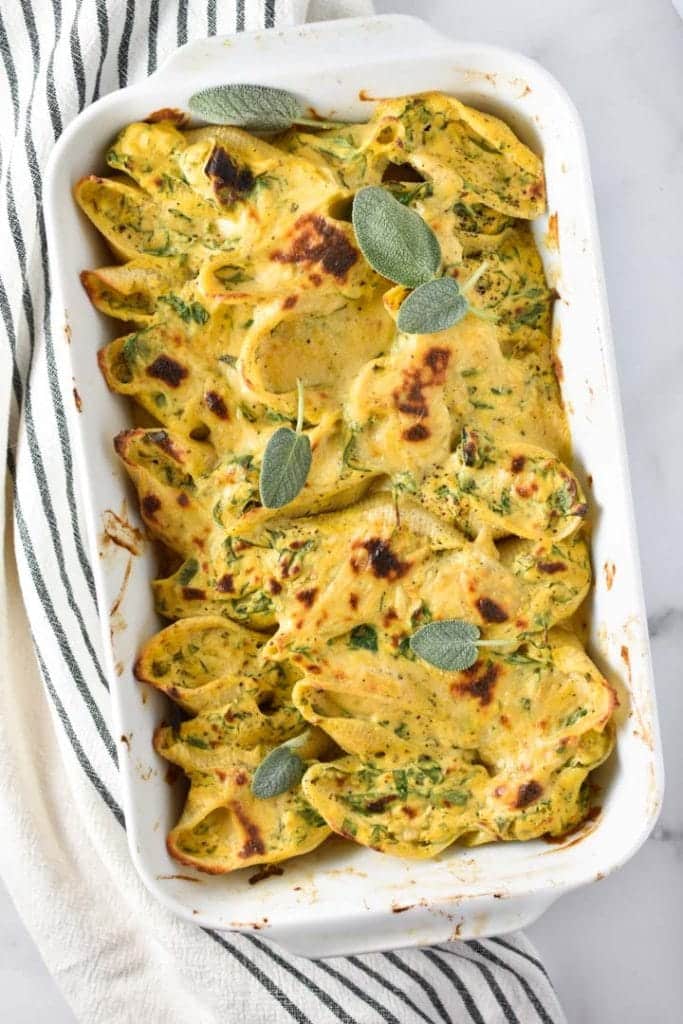 This Butternut Squash Stuffed Shells recipe from The Dizzy Cook gives the pumpkin stuffed version a run for the money. And although it's a migraine diet recipe, it's still amazing with deliciously convenient canned squash, creamy ricotta cheese, fresh sage, and a buttery, creamy bechamel sauce.
Seafood Stuffed Shells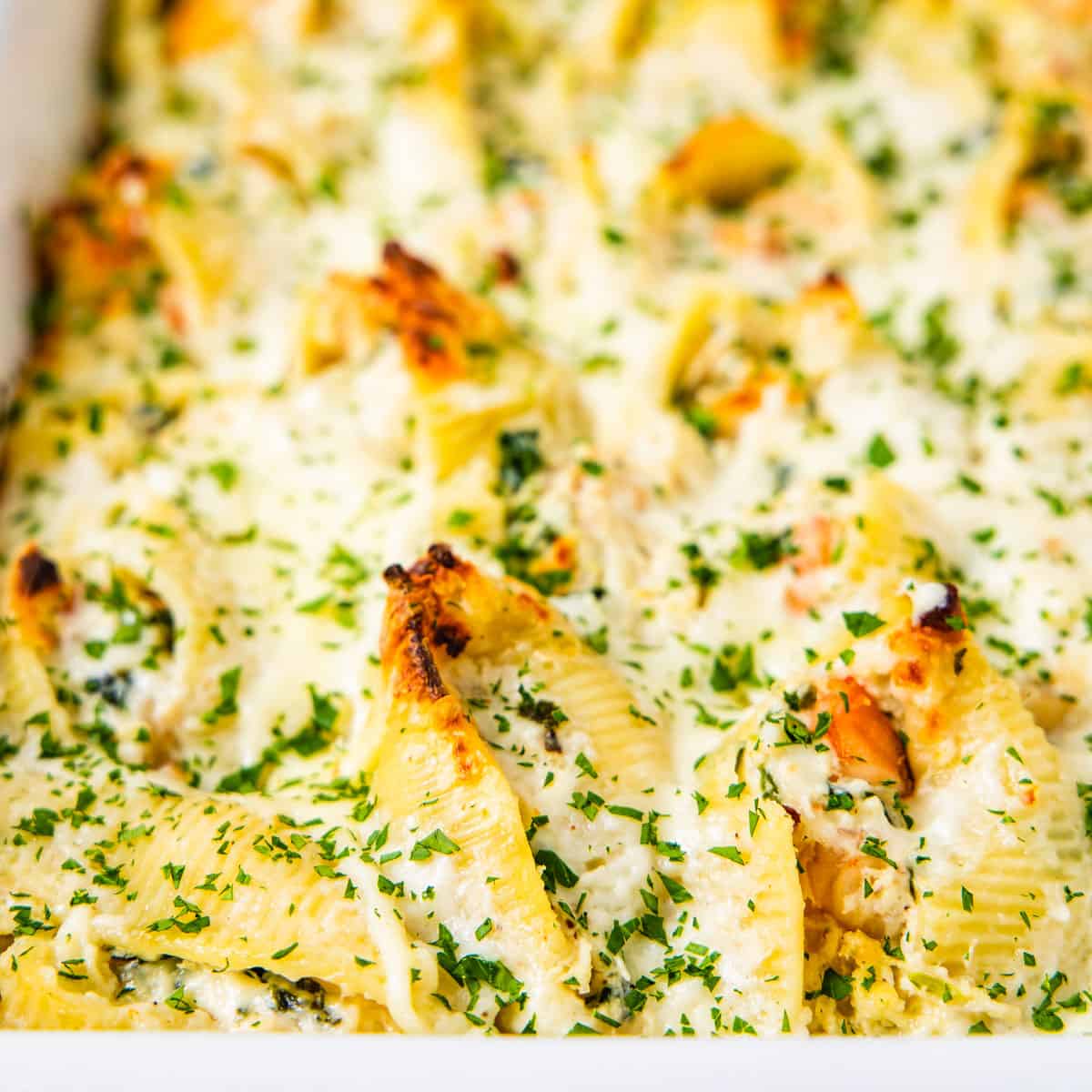 This Seafood Stuffed Shells recipe by Dishes With Dad is our final Stuffed Shells Recipes list entry. It's chockfull of shrimp, scallops, and crab. Then there's the cheeses: ricotta, mozzarella, and parmesan. And finally, there's a luscious gourmet bechamel cream sauce that ties it all together before you put it in the oven to golden brown splendor. Perhaps we saved the best for last?
Which Sensational Stuffed Shells Recipe Will You Try First?
So you made it to the end of this sensational stuffed shells recipe collection, and you've come across oodles of stuffed pasta shells recipes. So, which ones are you most excited to try? Is it the Seafood Stuffed Shells, Cheeseburger Stuffed Shells, BBQ Pulled Pork Stuffed Shells, or something else? We'd love to know!