With this tempting catalog of 15 Stuffed Mushroom Recipes, you are about to embark on a journey of epic fungi proportions. They are the ultimate appetizer and will surely be the star of your gameday, movie night, or other celebration.
So, what can you expect to find? In a word, deliciousness!
There's a Mashed Potato and Herb Stuffed Mushrooms recipe, Crab Stuffed Mushrooms, Sausage Stuffed Mushrooms, and so many more. So are you excited?
Let's dive in!
And if you're looking for more tasty appetizers, check out these sweet and savory puff pastry recipes and our best chicken wings collection.
Mashed Potato and Herb Stuffed Mushrooms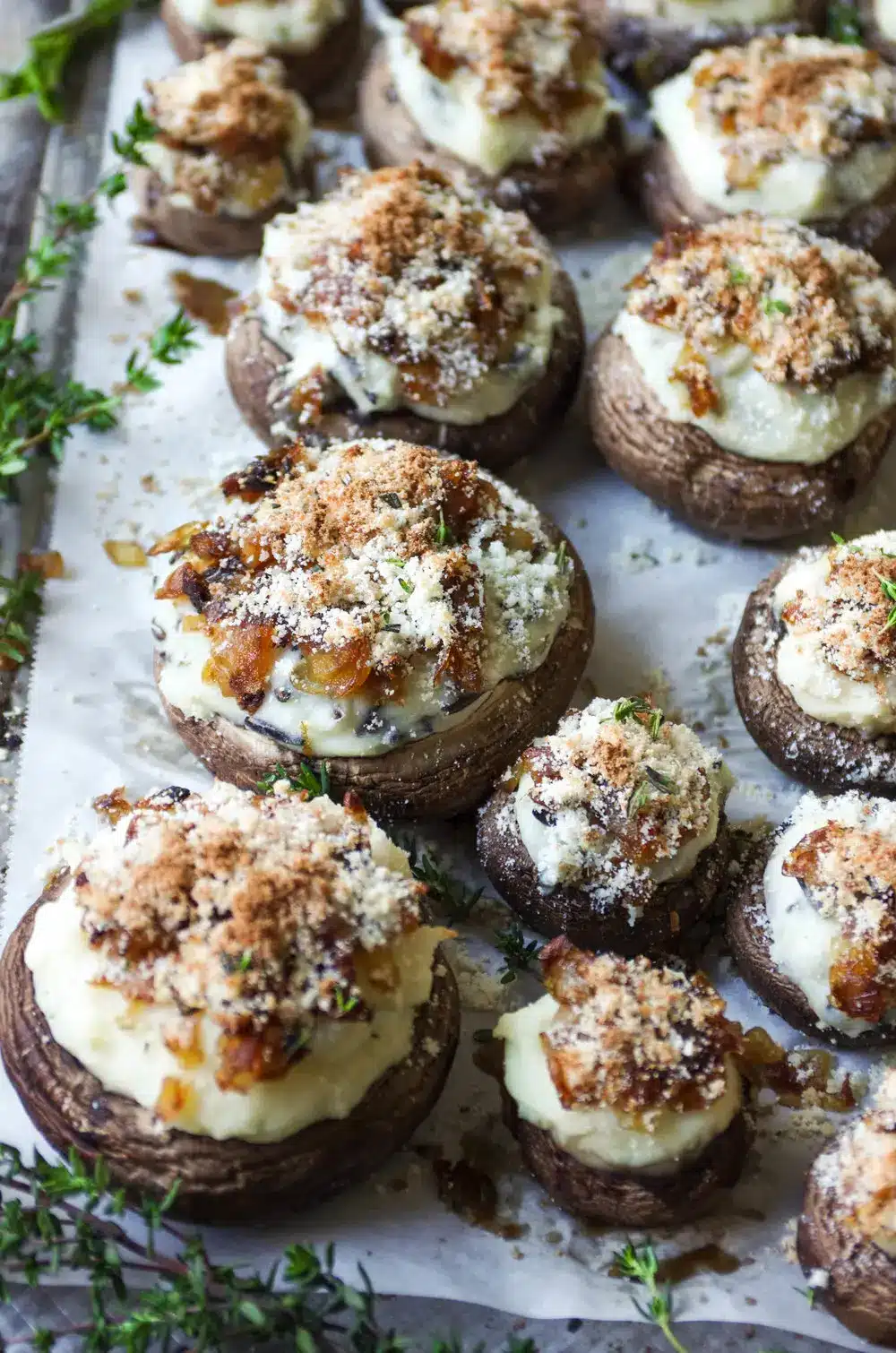 Leave it to the ever-consistent Jessica of The Forked Spoon to provide us with creative and new approaches to crowd-pleasing appetizers. This theme is especially exemplified with these Mashed Potato and Herb Stuffed Mushrooms. They're cheesy, herby, and a great way to use up leftover mashed potatoes. But the best part is the caramelized onions on top.
Cheese and Bacon Stuffed Mushrooms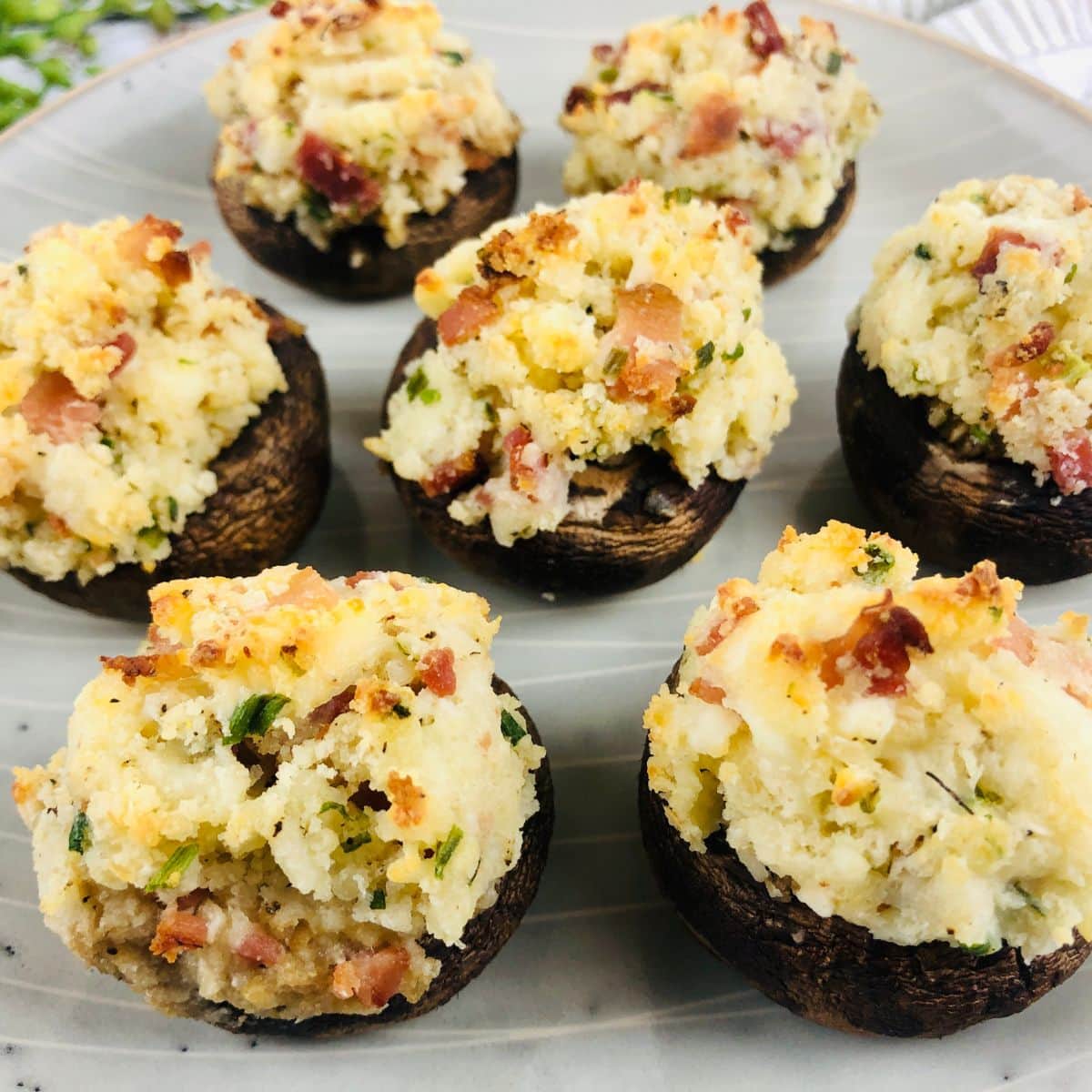 How do you turn mushroom haters into devout fungus-loving fools? You serve them these Cheese and Bacon Stuffed Mushrooms from Kim Schob. The easy-to-make 30-minute app has just a few ingredients: bacon, cream cheese, mozzarella, and onions. The only problem is that they're so good you'll eat them until they're gone.
Crab Stuffed Mushrooms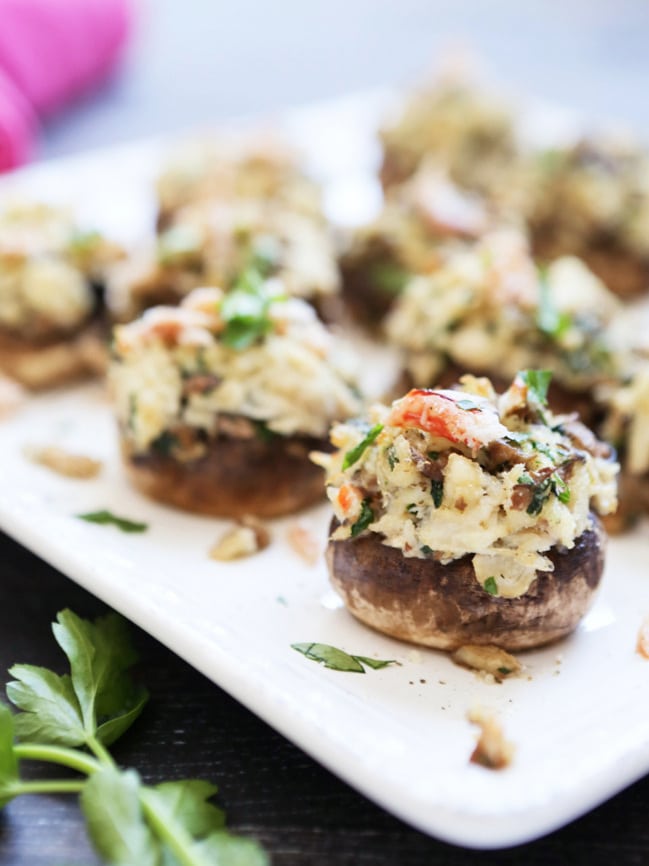 But if you're anything like Megan of Pip And Ebby, you'll be happy for the mushroom dissenters. Why? Because that means you can keep more of these Crab Stuffed Mushrooms for yourself. The will-power-bending finger food is filled with a delicious mix of crab meat, Havarti cheese, parmesan cheese, herbs, and spices. Doesn't that sound hard to resist?
Easy Pierogi Stuffed Mushrooms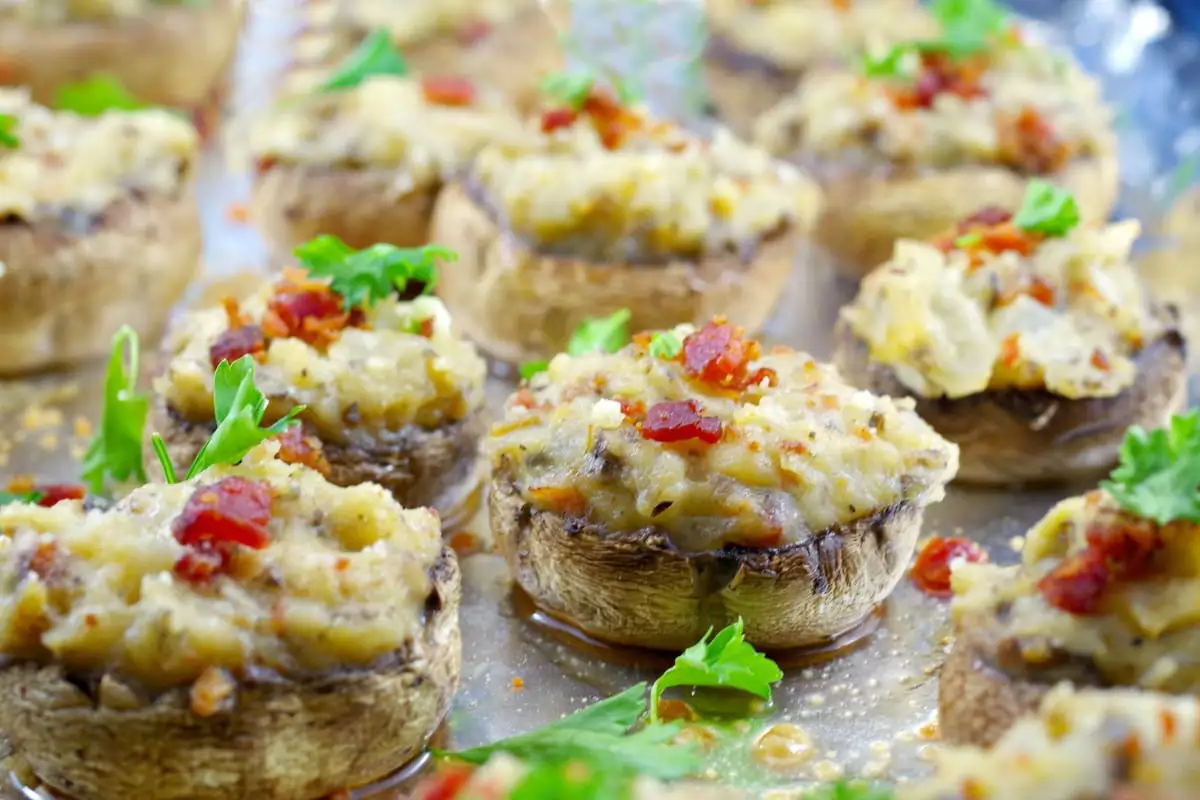 Food Meanderings' Terri has a long history with mushrooms, even recalling her dad foraging for the wild aromatic fungi. So for these Easy Pierogi Stuffed Mushrooms, she combines them with the iconic Ukrainian favorite. The result is familiar, comforting, and so delicious. Each bite has the robust flavor of onion, sauerkraut, butter, bacon, chives, garlic, and parmesan cheese.
Settino's Italian Stuffed Mushrooms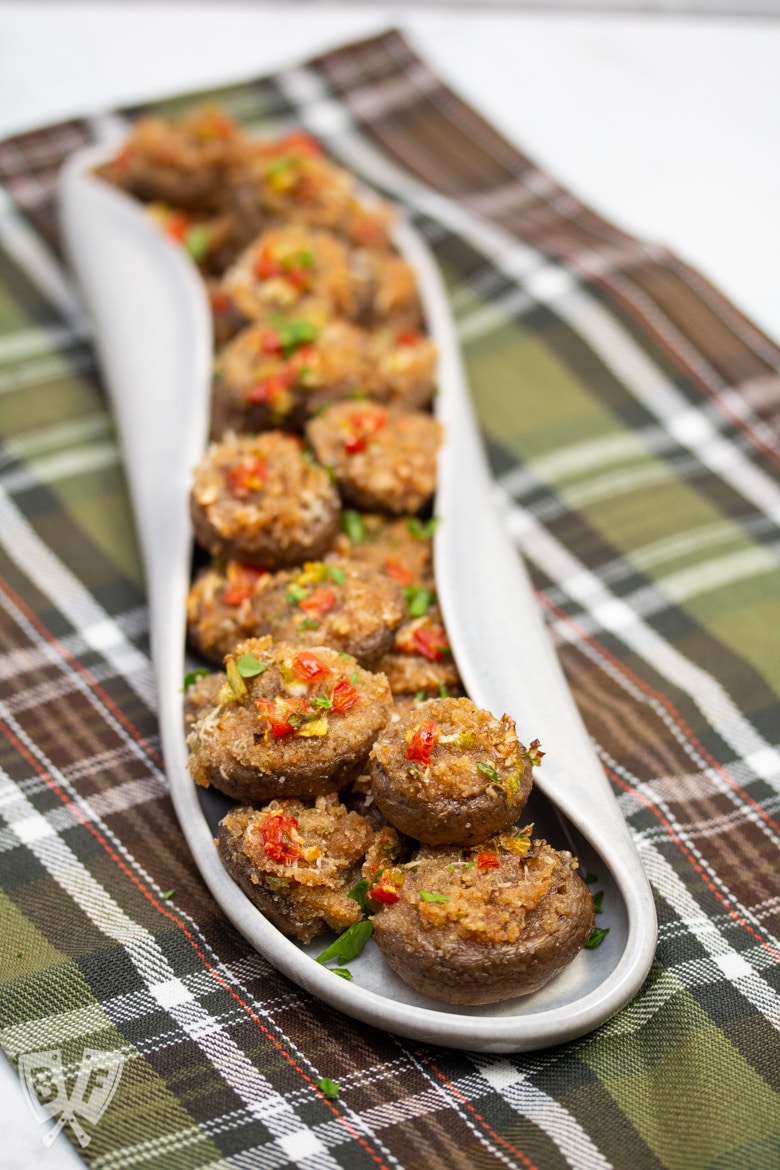 Ashley of Big Flavors Tiny Kitchen's father-in-law created this Settino's Italian Stuffed Mushrooms recipe. It's what she calls the BEST stuffed mushrooms she's ever had. And they might be the best period. Let's explore why. So, for starters, Settino uses a particular type of mushroom to avoid sogginess. Then there's minced garlic, bread crumbs, freshly grated parmesan, flat-leaf parsley, and more. All in Settino's proportions.
Herbs Stuffed Mushrooms
With this Herbs Stuffed Mushrooms recipe, Gus & Joaco of Our Plant Based World reminds us of mushrooms' many benefits. They're fat-free, low-sodium, low-calorie, and cholesterol free. For this recipe, the duo starts with a base of pioppinos. They then add a medley of cheeses, vegetables, and herbs. The result is a vegan dish as visually appealing as it is tasty.
Spinach and Ricotta Stuffed Mushrooms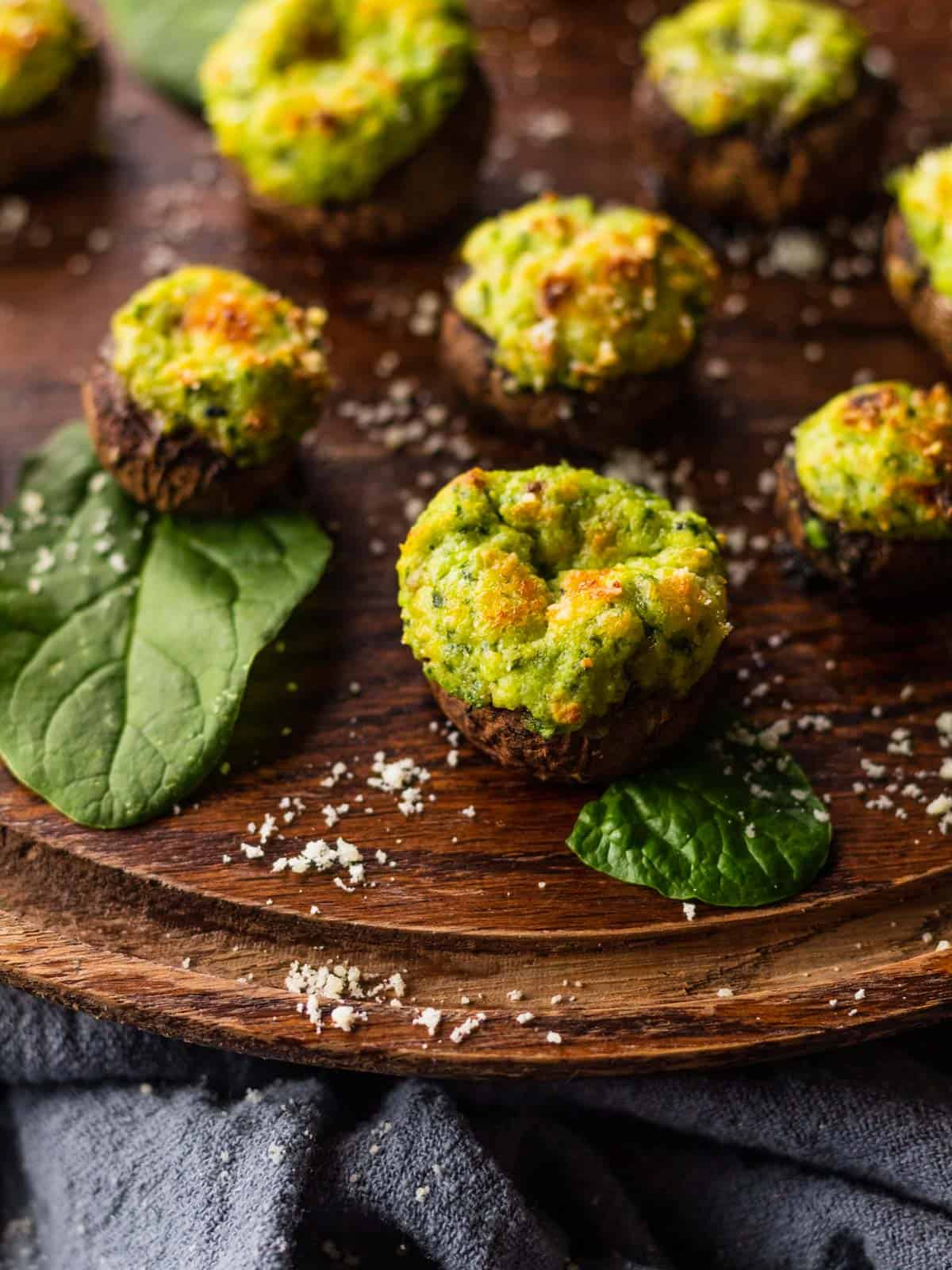 This vegetarian Spinach and Ricotta Stuffed Mushrooms recipe by Amanda of Saporito Kitchen is just what you need for a perfect Christmas appetizer. Just check out that delightfully festive green! The tiny tapas begin with baby bella mushrooms quickly filled with a creamy ricotta, spinach, and red pepper flake mixture for a 30-minute Hors d'oeuvre all will remember.
Sausage Stuffed Mushrooms with Sweet and Spicy Marinara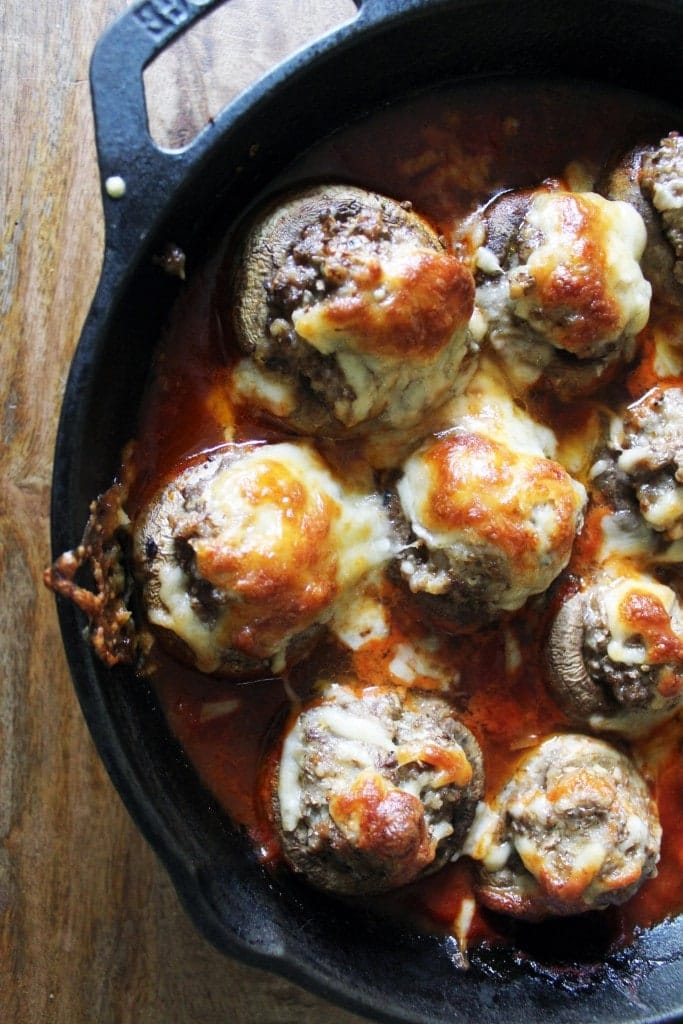 While many finger foods are delicious indulgences, they're also carb-loaded diet destroyers. However, these Sausage Stuffed Mushrooms with Sweet and Spicy Marinara by My Therapist Cooks are different. Here's why. While you'll find ground sausage, cheese, garlic, and marinara, you won't find bread crumbs, so it's a low-carb treat.
Boursin Stuffed Mushrooms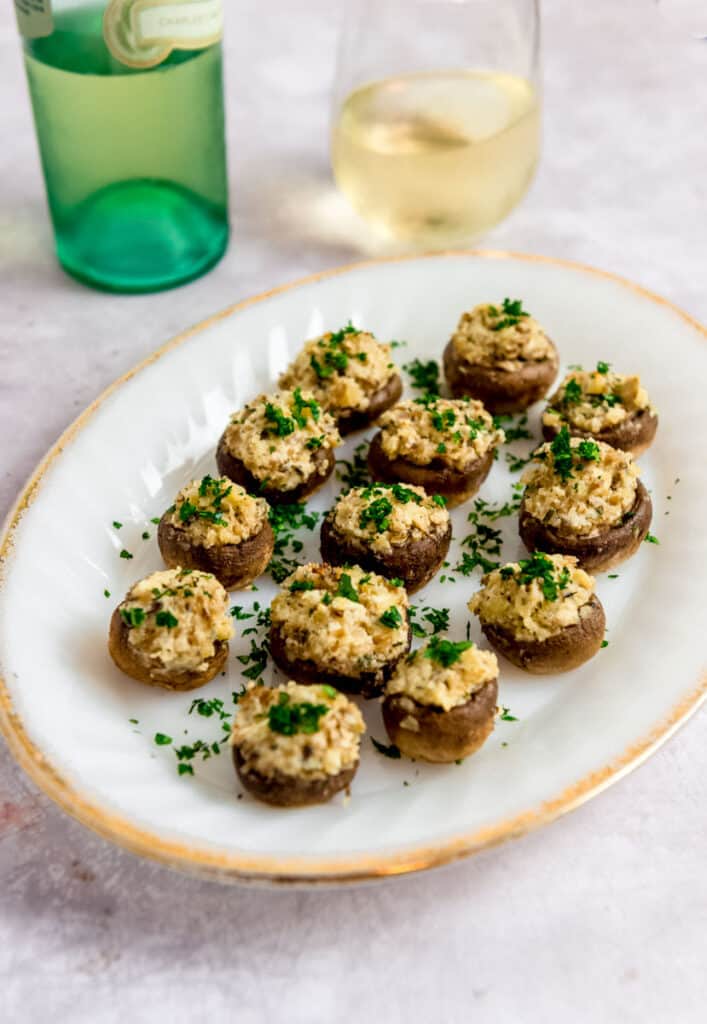 Boursin is that irresistibly velvety, herby, and garlicky cheese you've seen many times but have yet to buy. That changes today with this Boursin Stuffed Mushrooms recipe by Samantha of Little Ferraro Kitchen. You simply combine Boursin cheese with panko breadcrumbs, shallots, and fresh thyme, stuff the mixture inside the forest-dwelling fungi caps, and bake.
Mimolette Stuffed Mushrooms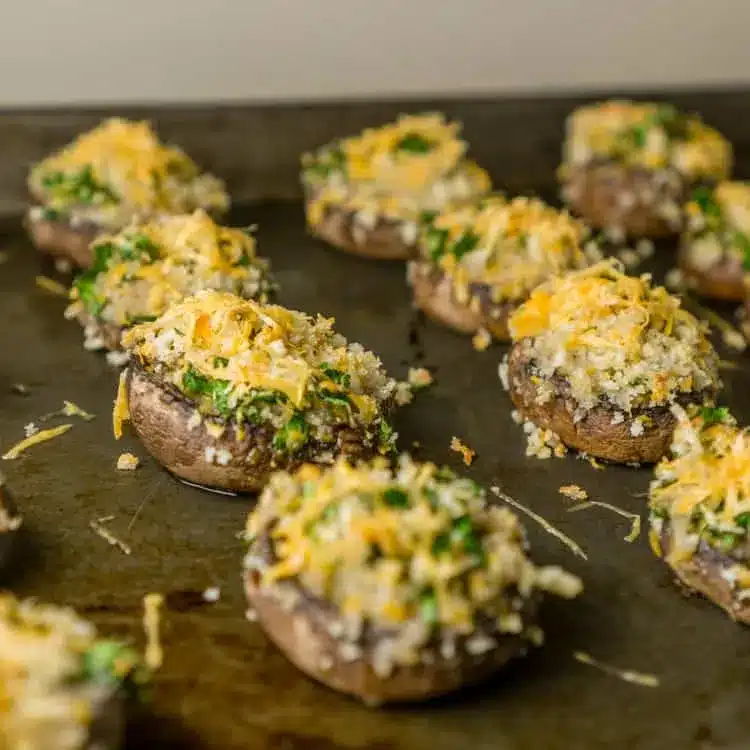 Mimolette is a cheese characterized by its hard, porous rind and parmesan-like taste and texture. And while you might see it on cheese boards, today, it makes its way to this Mimolette Stuffed Mushrooms recipe by Kate of Babaganosh. Its sharp flavor and unique nuttiness make for an exciting addition to your appetizer spread.
Mexican Stuffed Portobello Mushrooms
For a break from all the snack variety stuffed mushroom recipes on this list, we consider this Mexican Stuffed Portobello Mushrooms recipe by Slow The Cook Down. It starts with large portobellos packed with taco-seasoned veggies, ground beef, cheese, and herbs and baked until gooey and irresistible. But there's just one thing, instead of your fingers. You'll need a fork and knife.
Air Fryer Stuffed Mushrooms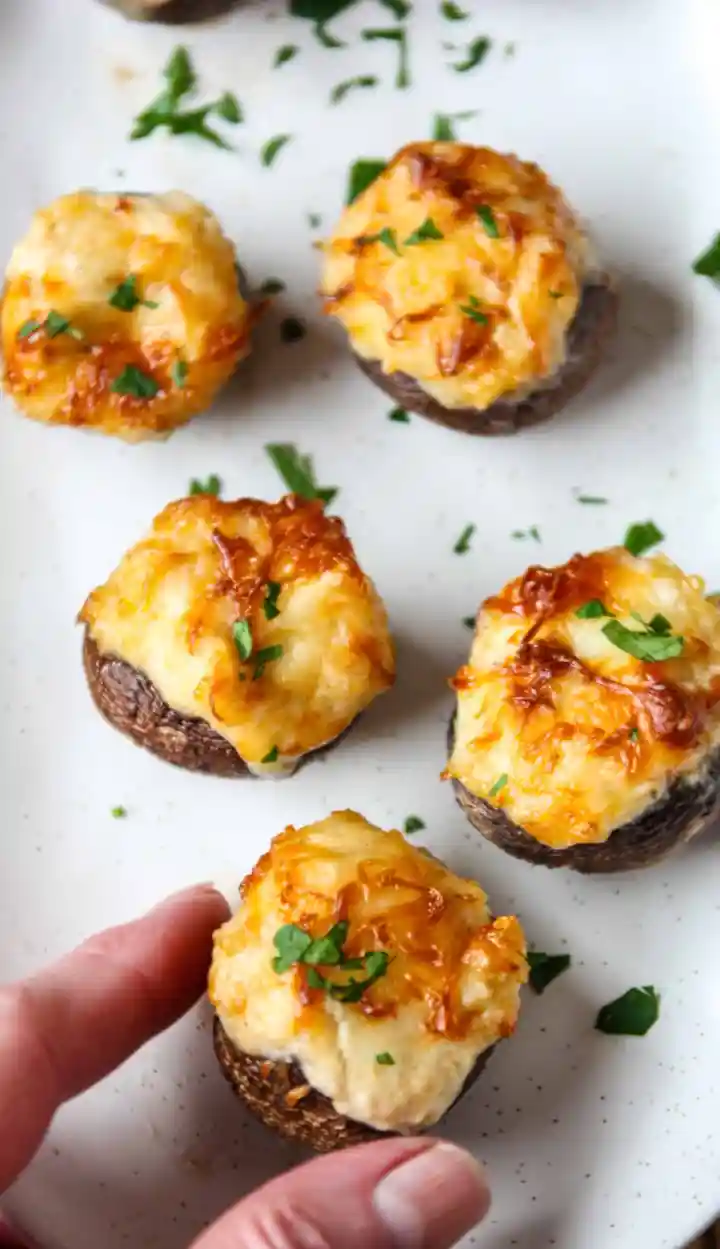 Perhaps the best part about these four-ingredient Air Fryer Stuffed Mushrooms from The Food Blog is that you can make them in advance and pop them in the air fryer. They're amazing for small batches. Plus, they are gluten-free and oh-so-tasty, loaded with crab and cheese, and take just 10 minutes to make.
Ham and Cheese Stuffed Mushrooms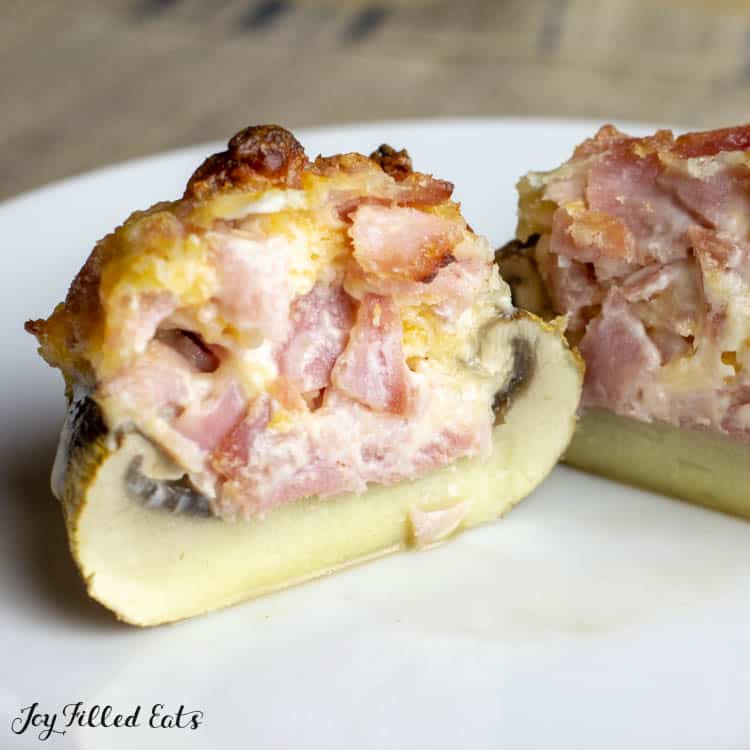 With this Ham and Cheese Stuffed Mushrooms recipe, Taryn of Joy Filled Eats shares some culinary wisdom for your consideration. Here goes. Creating an epic stuffed mushroom experience requires but a few ingredients: mushrooms (naturally), cheese(s), and one or two other flavorful factors. In this case, it's ham deli meat for a twist on the appetizer you can't get enough of.
Blue Cheese and Bacon Stuffed Mushrooms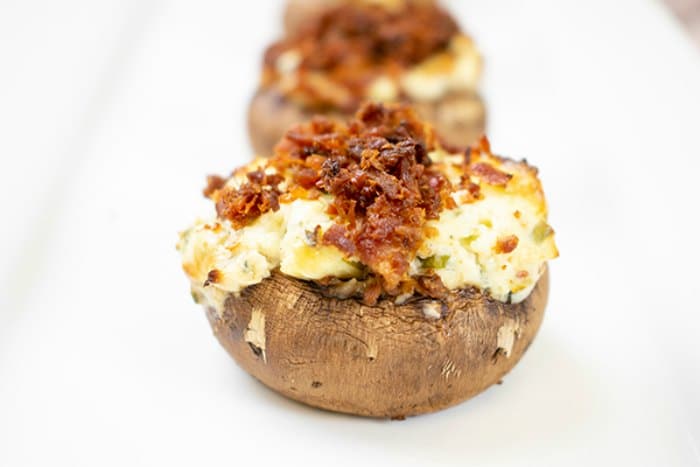 Strap in and get ready to blast off with this Blue Cheese and Bacon Stuffed Mushrooms recipe from Jennifer of Mommy Evolution. It's a poppable snack featuring a cocktail of blue cheese, briny bacon, crispy onions, and fresh chives, all stuffed in woodsy mushrooms. They go in the oven for about 20 minutes to get the cheese all melty and enticing, but before you know it, you'll be devouring one after another until they're all gone.
Keto Stuffed Mushrooms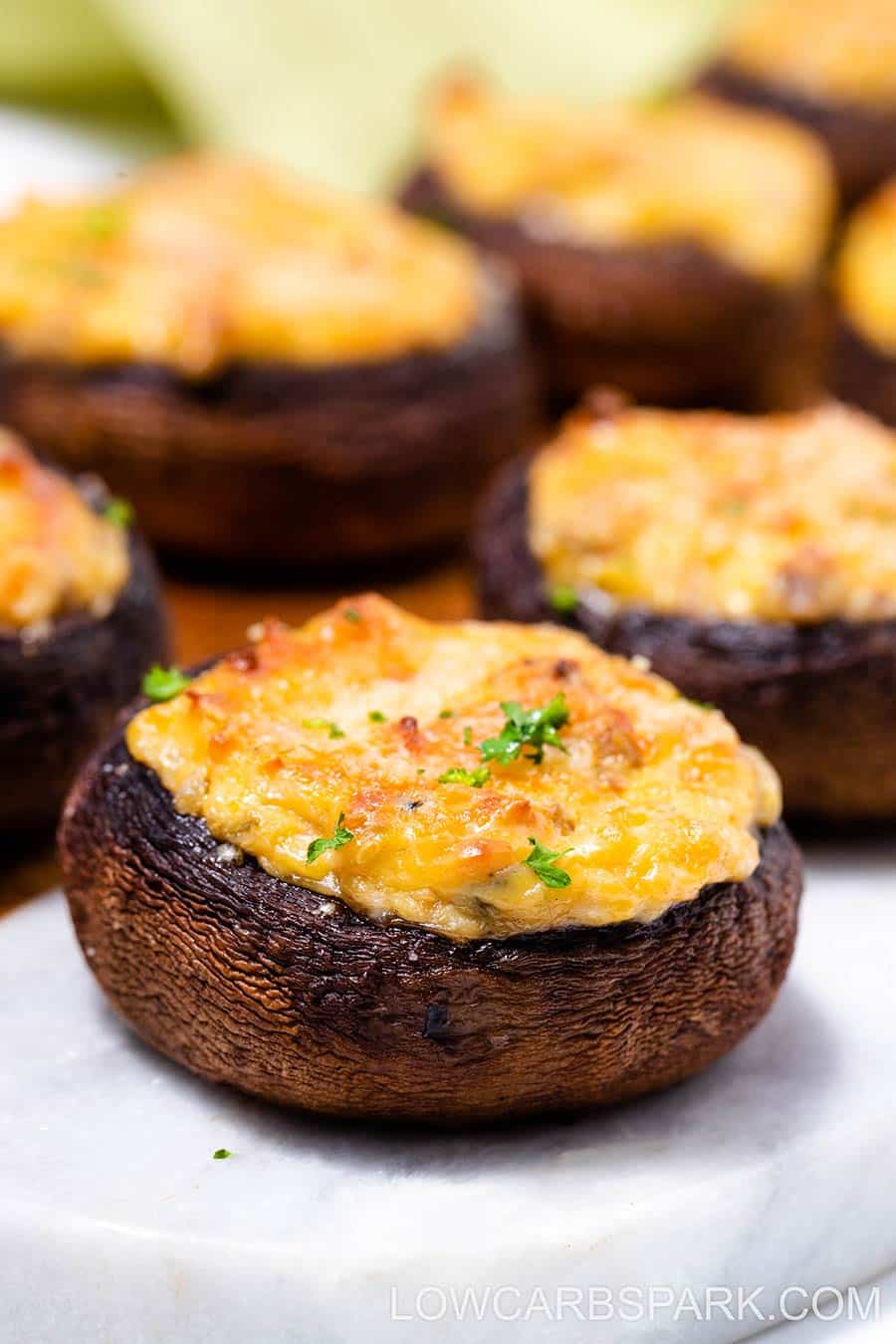 We were reminded earlier that mushrooms are low-carb and low-sodium, befitting all eating plans. So that means that with these Keto Stuffed Mushrooms, carb-restricted dieters can also get in on the tasty action. Of course, each cap is overflowing with cheesiness. But there are also onions, Italian seasoning, and fresh herbs.
Which Stuffed Mushroom Recipes Will You Try First?
So you've made it to the end of this tasty list of stuffed mushroom recipes without getting drool all over your screen…right? Anywho, you've seen delicious ideas like Boursin Stuffed Mushrooms, Spinach and Ricotta Stuffed Mushrooms, and so many more. The only question that remains is, which one will you try first? We'd love to know!