With this list of 21 noodle and pasta recipes with few ingredients, you will find many carb-loaded comfort food recipes that will be nearly impossible to resist!
For example, there's a spicy chili noodles recipe, ramen noodles, Amish brown butter noodles, and many more. So, keep reading until the very end, and you will find something to make all year.
Let's dive in!
(By the way, for more noodle deliciousness check out our 16 easy and cozy egg noodle recipes.)
Chicken Chow Mein (Better Than Takeout)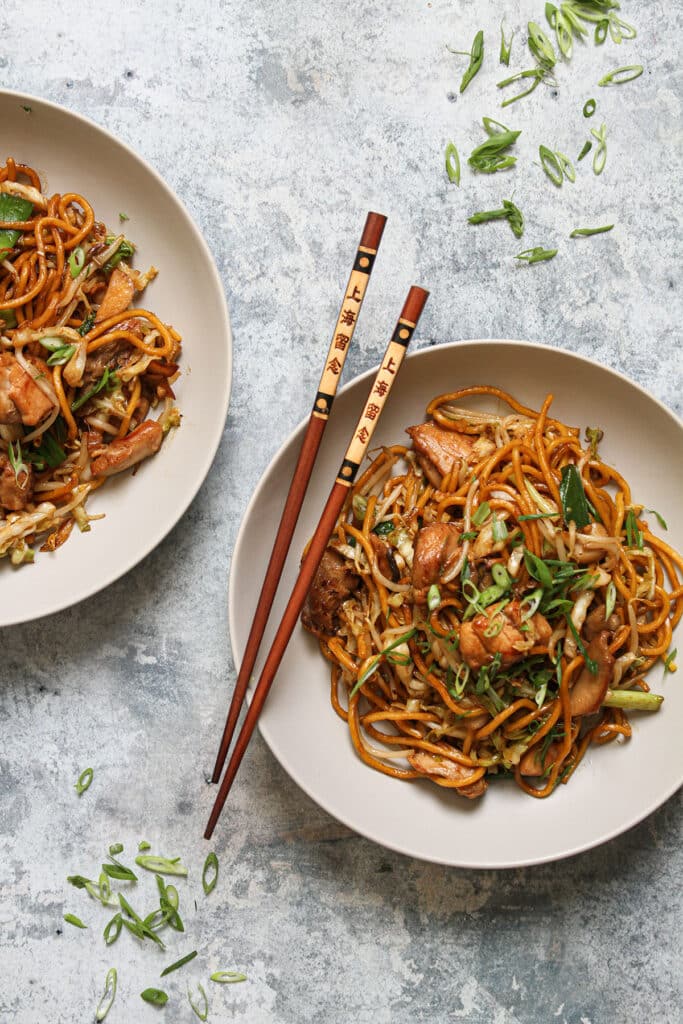 This budget-friendly chow mein noodle recipe from Helen of Knife And Soul is perfect for weeknights. Also, it might be quicker than ordering out at just 25 minutes from start to finish.
But what about the flavor? Does this "fake-away," or "fake-out" recipe cut the mustard? Let's see. It's filled with tender noodles, chicken, mushrooms, and lots of savory flavors from sesame oil, ginger, garlic, oyster sauce, and rice wine vinegar. So, we'd say so. You may never order noodles again!
Visit Knife And Soul for the recipe.
Cacio E Pepe
There are just five ingredients in this cacio e pepe pasta—which literally translates to cheese and pepper—recipe from Donna, The Slow Roasted Italian. It's an easy dish with al dente pasta and a silky smooth cheese sauce.
Like Donna says, this is the kind of meal to keep in your back pocket when you think you're too busy to cook. It takes just 15 minutes!
Visit The Slow Roasted Italian for the recipe.
5-Ingredient Spicy Pork and Peanut Noodles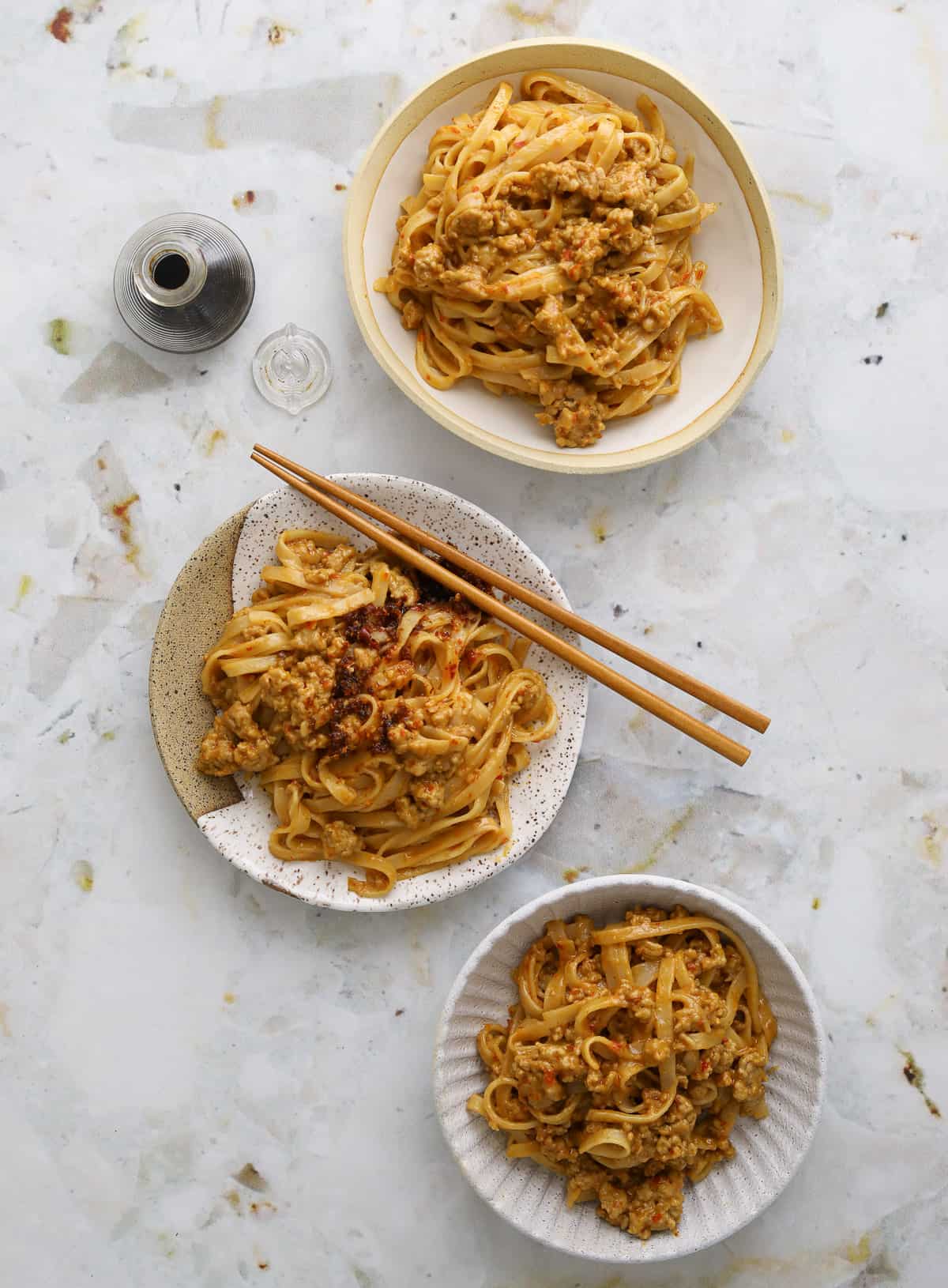 Holy Moly, you won't believe that this spicy pork and peanut noodles from Leigh of Craving California takes just 30 minutes! And if you exclude the water, salt, and pepper, this is a six-ingredient recipe.
After you cook the noodles and pork, add the hoisin sauce, chili sauce, and peanut butter. Finding flavor has never been this simple!
Visit Craving California for the recipe.
Authentic Singapore Dry Mee Siam Goreng
Believe it! This dry mee siam goreng from Zhen of Greedy Girl Gourmet is a popular breakfast dish in Singapore. Yes, it's a breakfast noodle dish. And yes, there are just ten ingredients (not including the optional toppings).
But what makes it so popular? And why can't Singaporeans get enough of it?
Well, it will stay in your rotation, too, once you try it! The soul-satisfying plate has a range of sour, sweet, tangy, and savory flavors, working in perfect harmony.
There's a big flavor from dried prawns, chilies, shallots, belacan (shrimp paste), and tamarind. And if your palms are getting a little sweaty from the new ingredients, don't worry. Zhen is your expert guide helping you with proper substitutions and tips.
This one is going on our must-try list!
Visit Greedy Girl Gourmet for the recipe.
Spicy Chili Garlic Noodles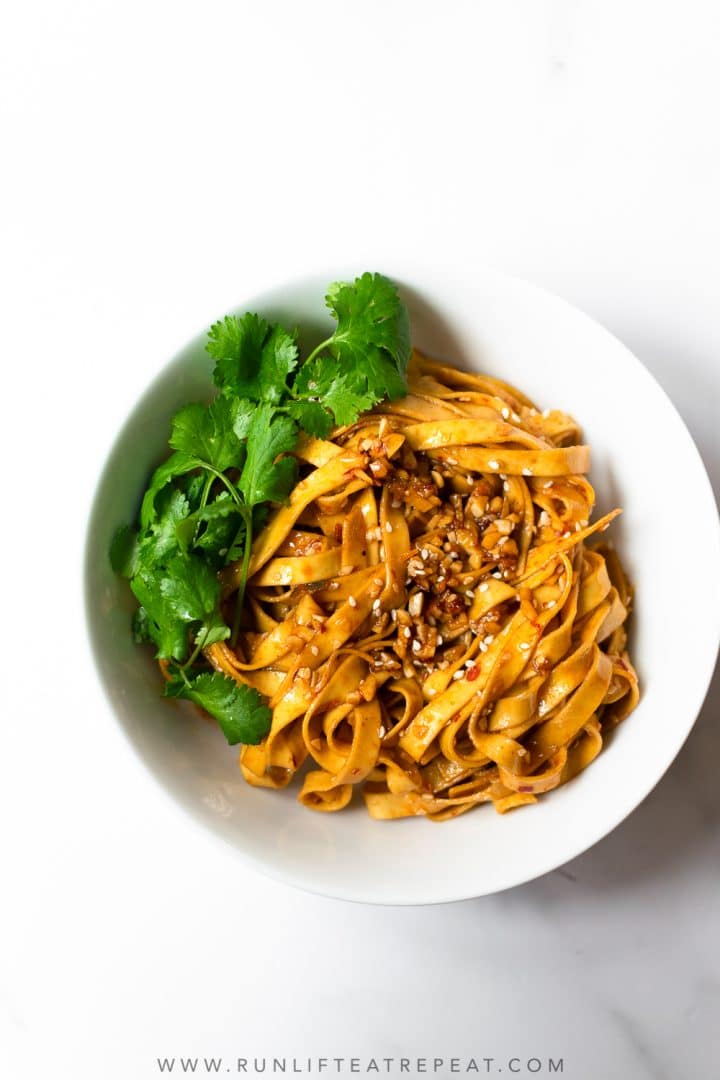 With six cloves of garlic, sesame oil, chili paste, and rice wine vinegar, this spicy chili garlic noodle recipe from Run Lift Eat Repeat is a flavor powerhouse. And with just seven ingredients and 15 minutes to prepare, it's deliciousness you can make any day of the week.
Visit Run Lift Eat Repeat for the recipe.
Cheese Ramen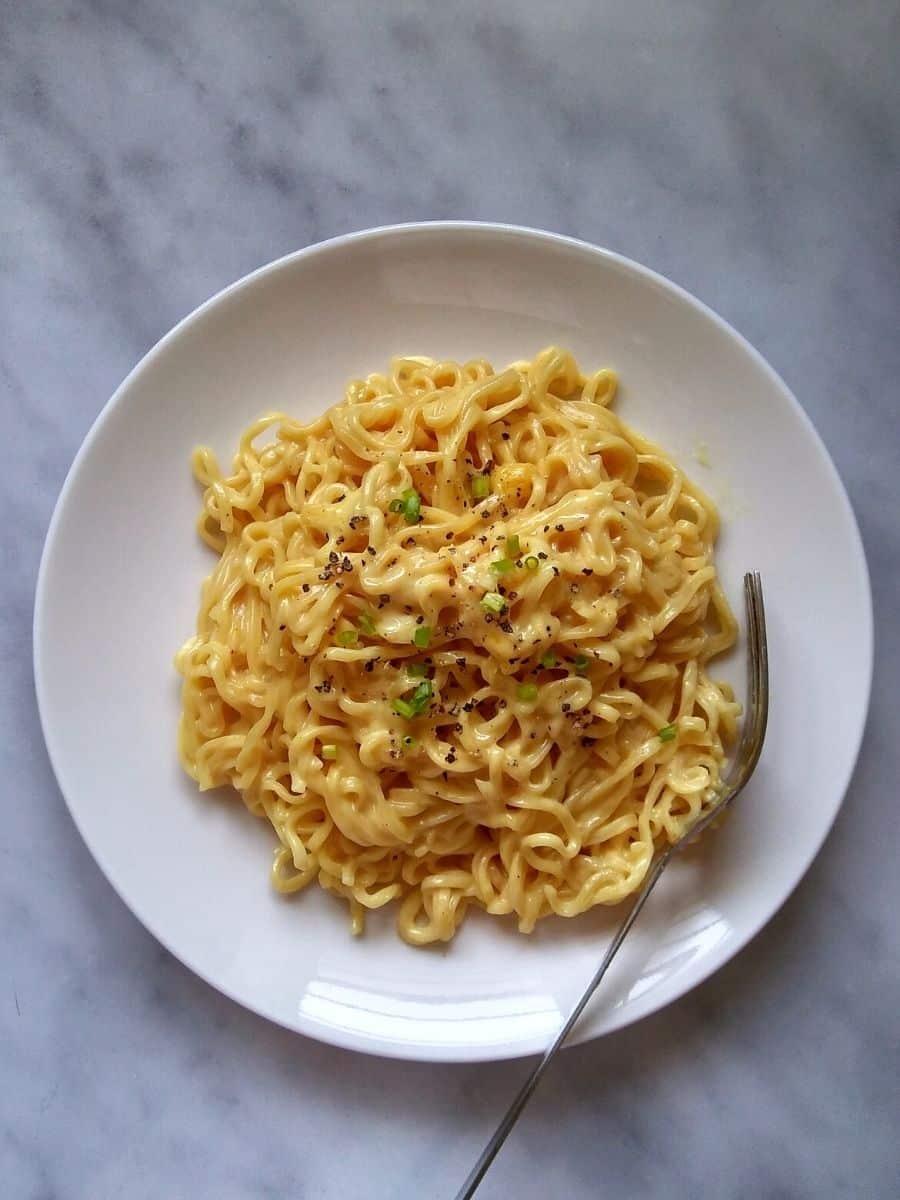 After you try this cheese ramen from Geetanjali of Spoons Of Flavor, that blue box macaroni will only give you the blues. That's right! This recipe completely replaces that quick boxed mac with mystery powdered cheese.
So, it's ready in just five minutes, using your favorite instant noodles, freshly shredded cheese of your choice, butter, and garlic. And if that's too simple for you, the clever chef gives you some ideas to upgrade, such as grilled chicken, sausage, egg, spinach, or mushrooms.
Visit Spoons Of Flavor for the recipe.
Easy Soy Mushroom Udon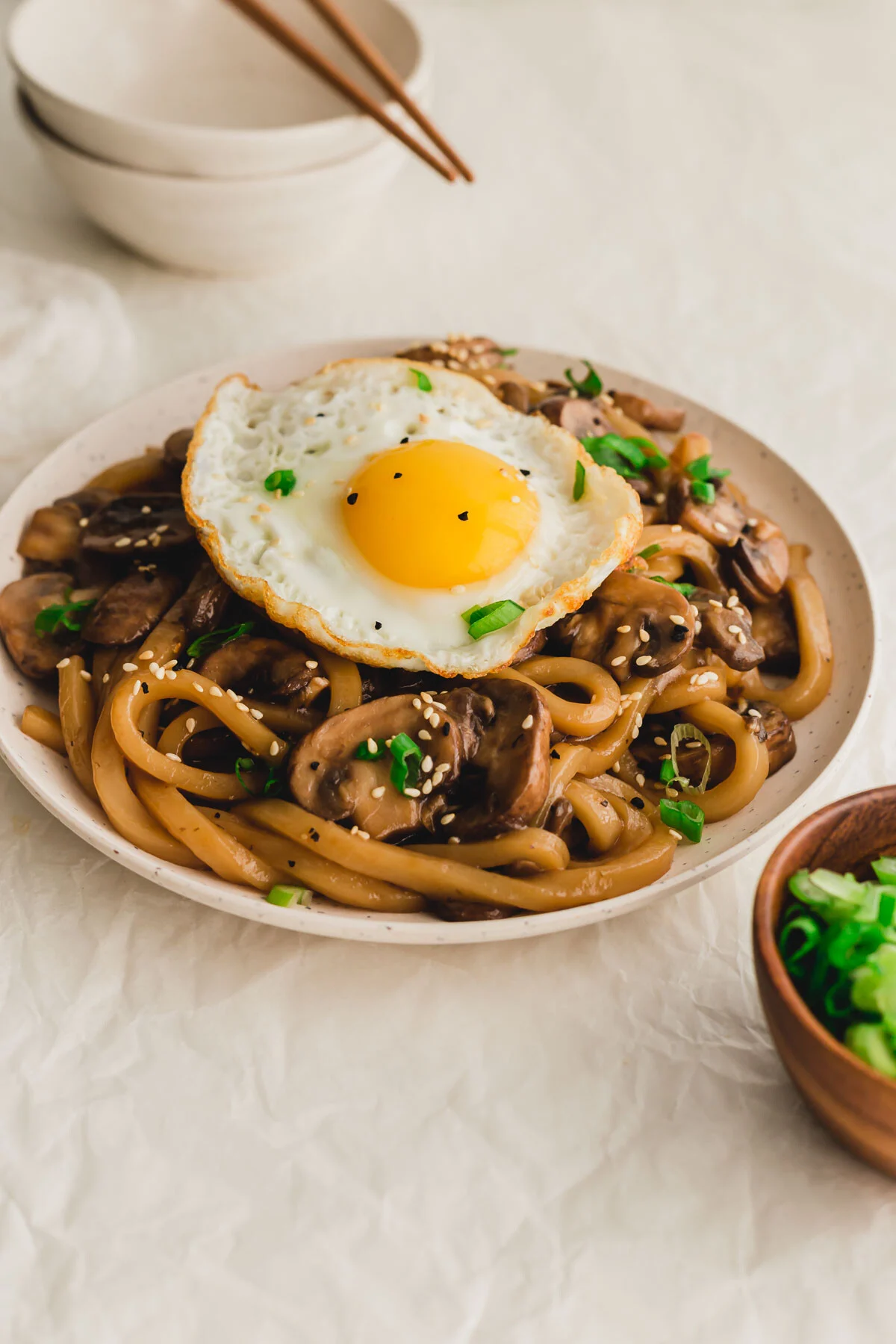 It's best to serve this easy soy mushroom udon from Sift And Simmer soon after they're done to keep that chewy, bouncy texture, as Michell calls it. Udon is a Japanese noodle made with wheat and tapioca flour – perfect for absorbing flavorful, savory, and sweet sauces.
But here's why you'll love this recipe. It's full of deep umami flavor from the mushrooms and soy sauce. And while these noodles are vegetarian, those mushrooms give the dish a meaty bite. Serve them with a sunny side-up egg for extra protein.
Visit Sift And Simmer for the recipe.
Easy Pasta With Garlic And Oil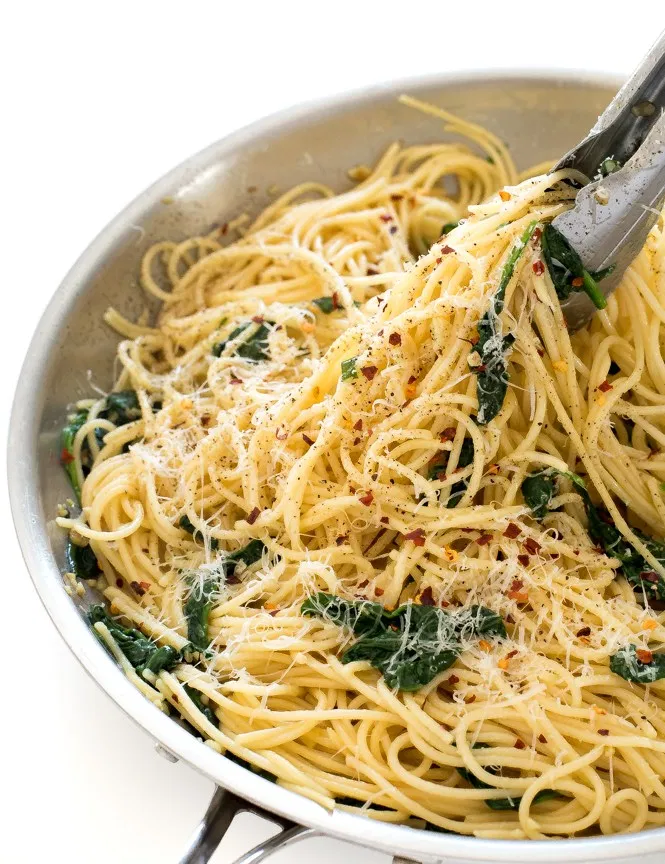 In just 15 minutes, you can have this easy pasta with garlic and oil from Kelley of Chef Savvy on the table. It's a seven-ingredient, smile-generating feast that's great for feeding large crowds in no time.
To make it like Kelley, all you need is a few ingredients like pasta, garlic, olive oil, and cheese. But at its core is a simple concept. So get creative. If you have leftover chicken, spinach, or bacon, throw it in there.
Visit Chef Savvy for the recipe.
Amish Brown Butter Noodles Recipe
This brown butter noodles recipe from Anna of Amish Heritage is a comfort food she grew up eating. The buttery, flavorful dish is the kind of meal that'll carry you from lunch to dinner. It's stick-to-your-ribs, filling food.
But what makes these noodles so good? Let's see. It has a lot to do with that rich and nutty brown butter and cream of chicken soup. But it's also those unique Amish egg noodles that hold onto all that creamy sauce.
Visit Amish Heritage for the recipe.
Polish Haluski Recipe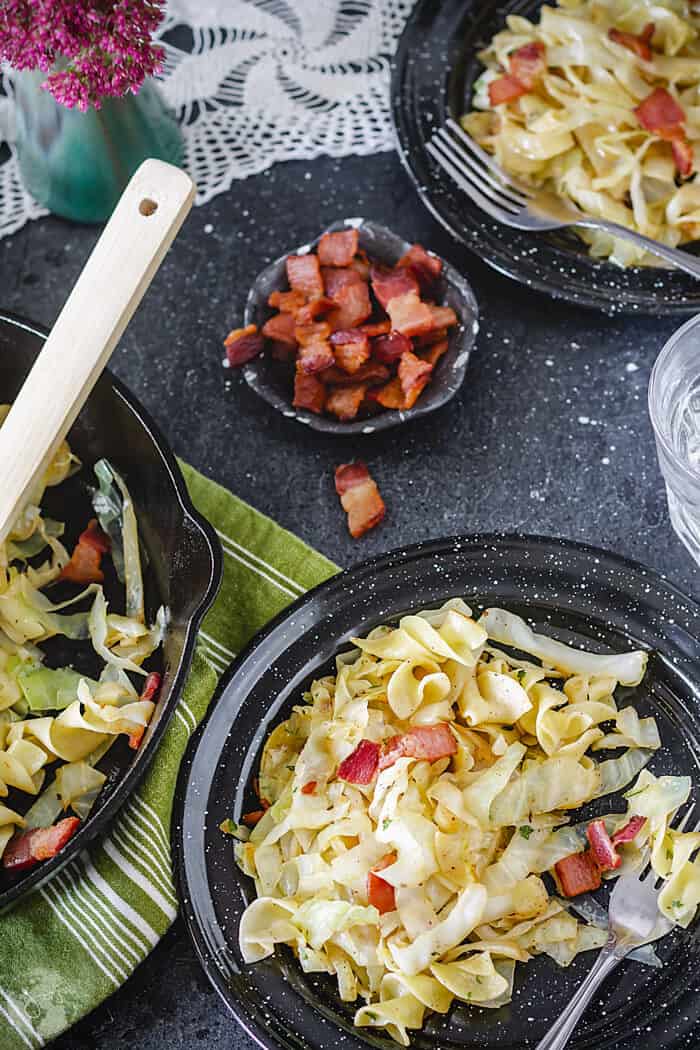 Make this wonderfully simple and tasty haluski recipe from All That's Jas in just one pot. Let's emphasize simplicity. Excluding salt and pepper, this Eastern European comfort food contains just five ingredients. Plus, you can prepare it in just 15 minutes.
All you have to do is cook the bacon, saute the onions and cabbage, cook the noodles, and combine.
Visit All That's Jas for the recipe.
Sage Butter Pasta With Chicken Sausage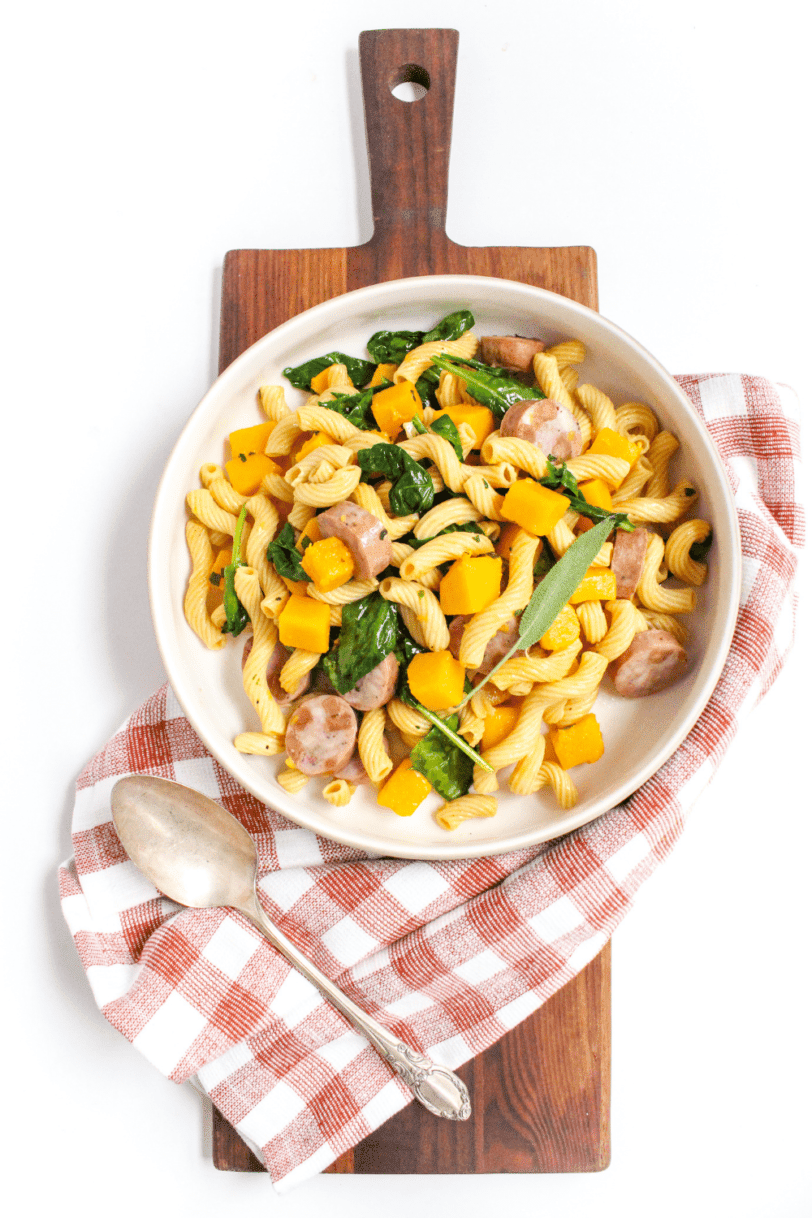 This sage butter pasta with chicken sausage from Fannetastic Food is a scrumptious noodle recipe jam-packed with vital nutrition. That's because Anne isn't only a food blogger. She's also a registered dietician, so her recipes are intentionally crafted with health at the forefront.
Interspersed with the noodles, you'll find spinach, butternut squash, and chicken sausage. And brown butter and sage—incredible flavor enhancers—make it a meal to remember.
Visit Fannetastic Food for the recipe.
Cream Cheese Pasta
When the day is long, and you need something creamy and indulgent, look no further than this cream cheese pasta from Kate of Nibble And Dine. It's the comfort meal you need to pick you up. All the better, this seven-ingredient flavor powerhouse is ready in less than 25 minutes.
Visit Nibble And Dine for the recipe.
Salmon Soba Noodle Recipe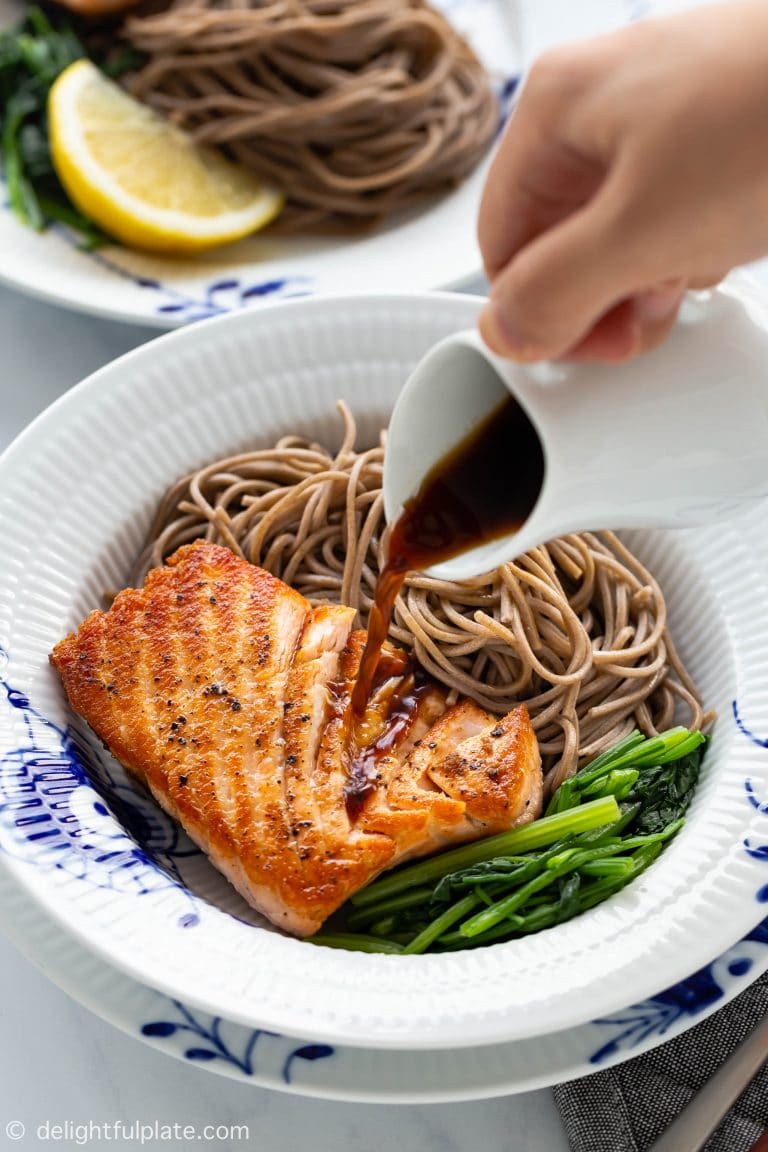 Soba, made from buckwheat flour, is another variety of Japanese noodles. They have a nutty, earthy flavor that pairs well with salmon and spinach, like in this salmon soba noodle salad from Sophie of Delightful Plate.
This protein-packed bowl of healthful deliciousness is easy to make in just 25 minutes. However, it's the dressing with ginger and soy sauce that packs the flavor.
Visit Delightful Plate for the recipe.
Sopa De Fideo with Leftover Turkey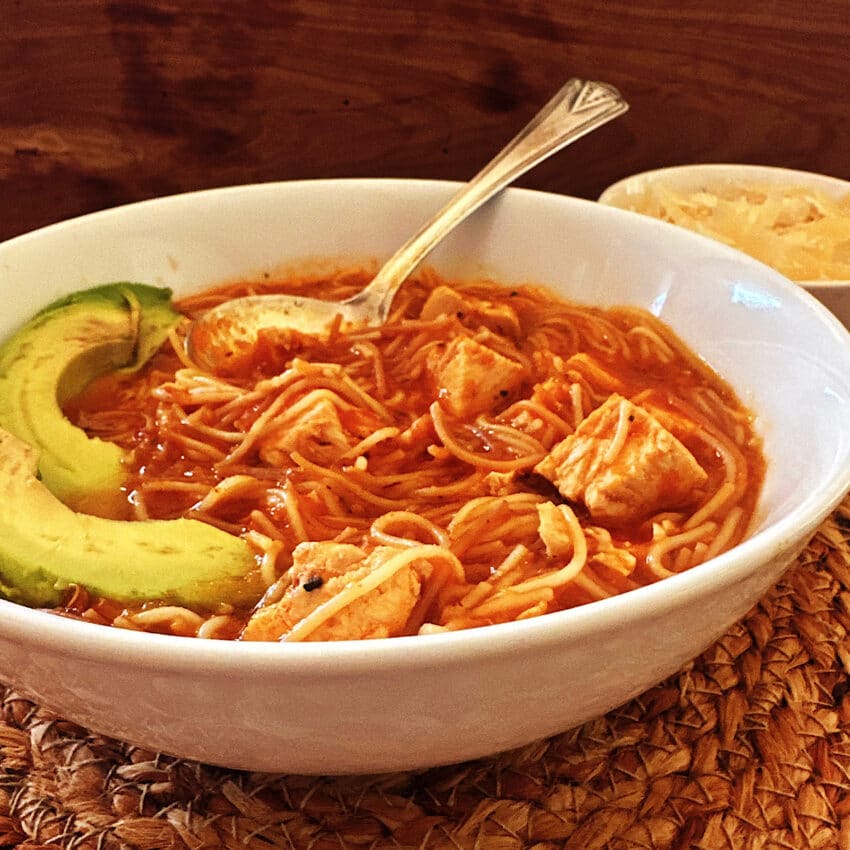 Like mac and cheese in the States, this sopa de fideo from Dorothy of Farm To Jar is comfort food kids grow up eating in Mexico. I mean, what's not to love about pasta, tomato sauce, cheese, meat, and Mexican flavors?
But Dorothy makes the meal even more accessible by using leftover turkey. So, it's the perfect meal for the day after Thanksgiving and a sort of fusion between two cultures. Although, virtually any leftover meat will work.
Visit Farm To Jar for the recipe.
Pepperoni Lasagana Roll Ups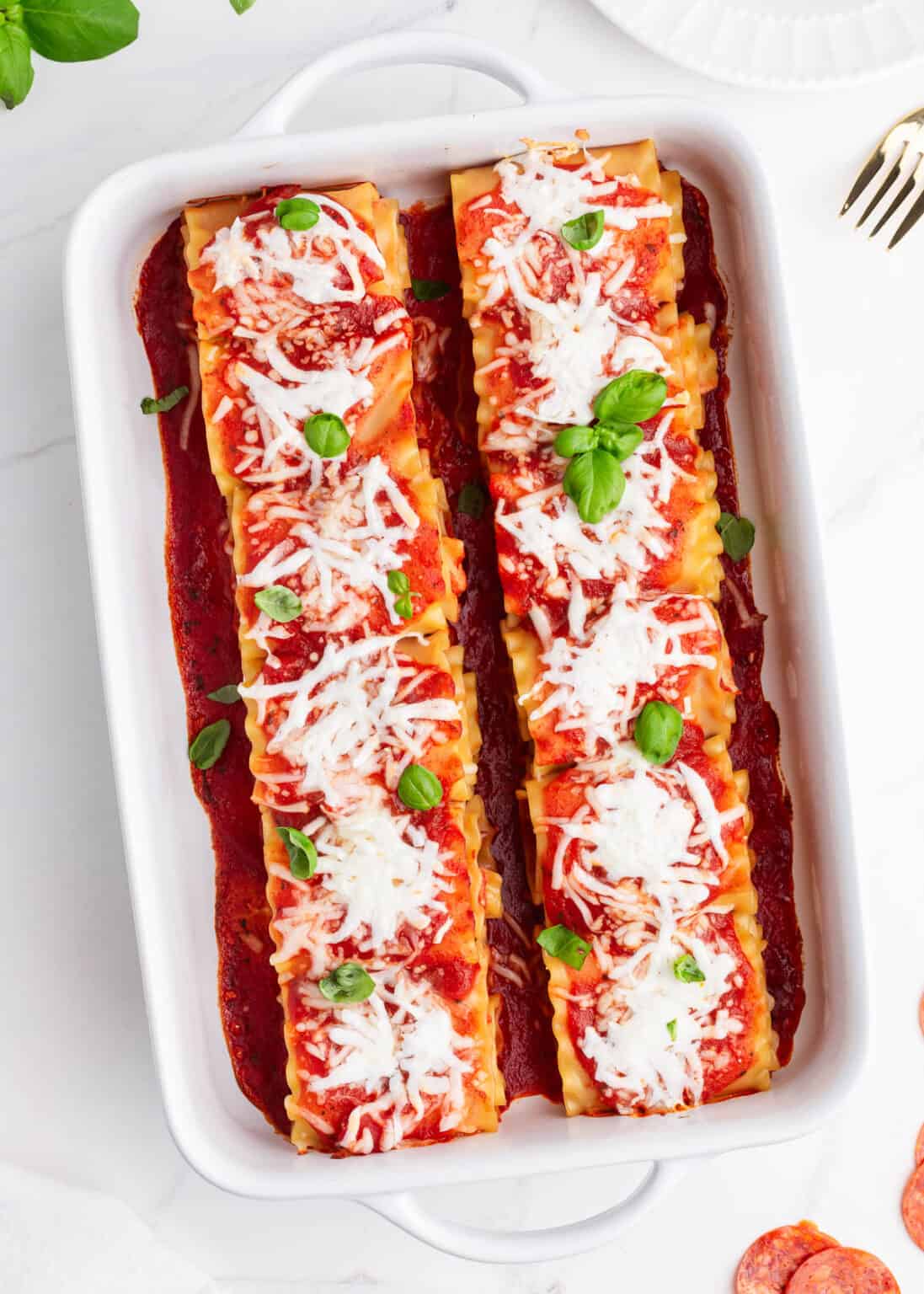 Say hello to your new favorite tasty, quick, and fun meal. It's pepperoni lasagna roll-ups from Jamielyn of I Heart Naptime. Yes, indeed, everyone will request it, especially the kiddos.
But here's the best part. The delicious weeknight-appropriate meal contains just four ingredients; cheese, noodles, sauce, and pepperoni. Plus, it takes just 35 minutes to make.
Visit I Heart Naptime for the recipe.
Tuna Pesto Pasta
At The Healthy Epicurean, Julie—registered dietician and chef—introduces you to healthy yet surprisingly simple meals like this tuna pesto pasta dish. Indeed, with just a few ingredients, you can make it any night of the week.
But healthy doesn't mean sacrificing flavor. In fact, it's quite the opposite. In this gourmet bowl of pasta, you'll find aromatic garlic, herby pesto, briny parmesan, and unctuous tuna. The whole family will enjoy it!
Visit The Healthy Epicurean for the recipe.
Cajun Chicken And Shrimp Pasta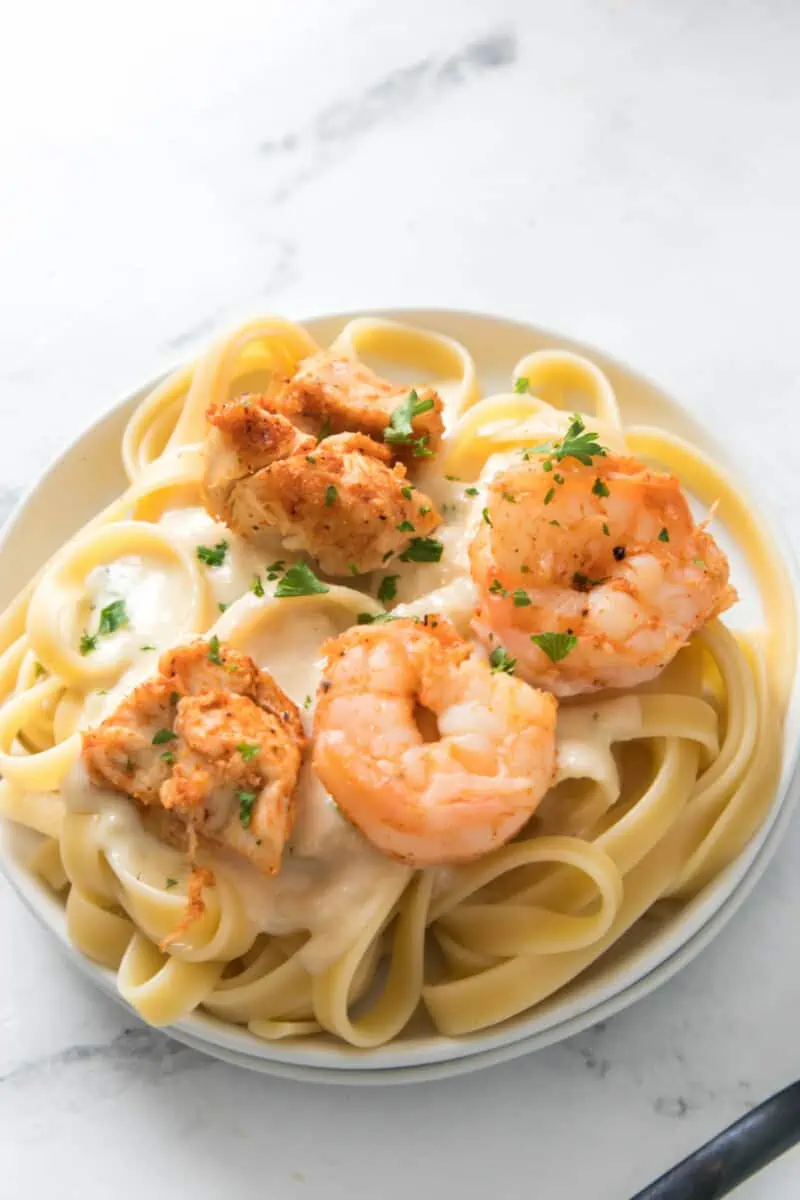 This cajun-flavored pasta from Kelly Smells Like Delish. Yet it isn't just an easy pasta recipe with few ingredients, but it's also a delicious way to use leftover chicken. That's right. This dish is as flavorful as it is economical.
Cajun seasoned chicken and shrimp will excite your tastebuds and satisfy your protein needs. And the tender noodles swim in a pool of deliciously quick homemade alfredo sauce. Can you say flavor?
Visit Smells Like Delish for the recipe.
Slow Cooker Beef And Noodles Recipe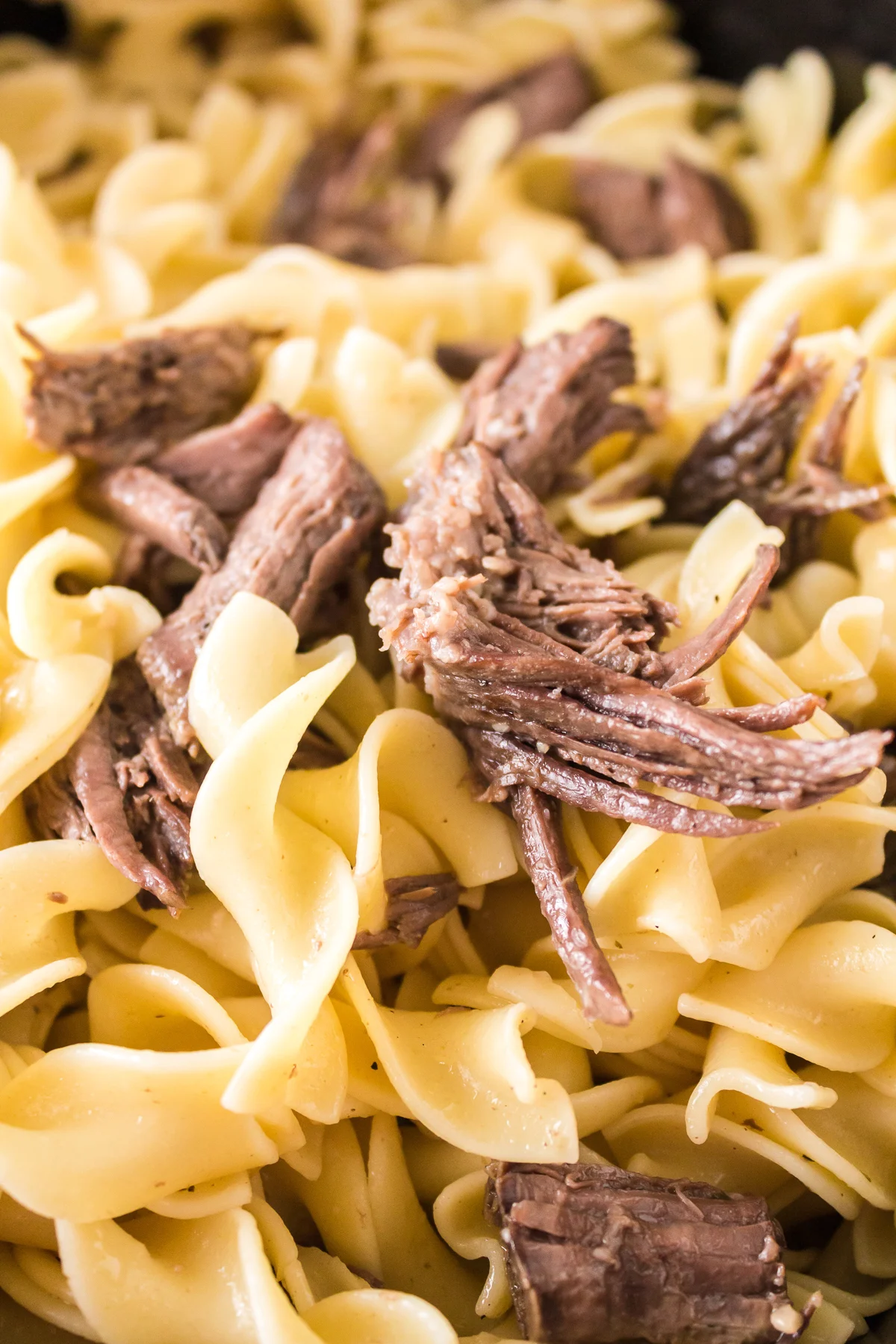 Just in time for cold weather, this beef pasta dish is from The Magical Slow Cooker, where it's Sarah's mission to provide you with accessible weeknight meals. This comforting mostly hands-off dish is beefy with tender noodles and sure to bring them back for seconds and thirds.
The irresistible beef flavor is enhanced with Worcestershire sauce and bouillon cubes. Ooh, wee!
But the best part is that your slow cooker takes over after a quick seasoning. And nine hours later, presto chango, you have tender beef and broth to serve over egg noodles. Yum!
Visit The Magical Slow Cooker for the recipe.
How To Make Puttanesca
Visit Our Plant Based World for the food, but you'll stay for the stories, the history, expert guidance, and occasional myth-busting. For example, did you know you don't need to add oil to boiling water to prevent pasta from sticking?
The team walks you through this delicious puttanesca recipe – an originally vegan sauce brimming with flavors from bright tomato sauce, briny capers, the best black olives, and fragrant garlic. And for a touch of heat, there are dried chili peppers. It combines perfectly with pennoni pasta.
But it's not just a recipe. Gus and Jaoco fill you in on the storied origins of this surprisingly simple dish, along with particular ingredient recommendations and even wine pairings. You'll love it!
Visit Our Plant Based World for the recipe.
Roasted Sausage And Broccoli Pasta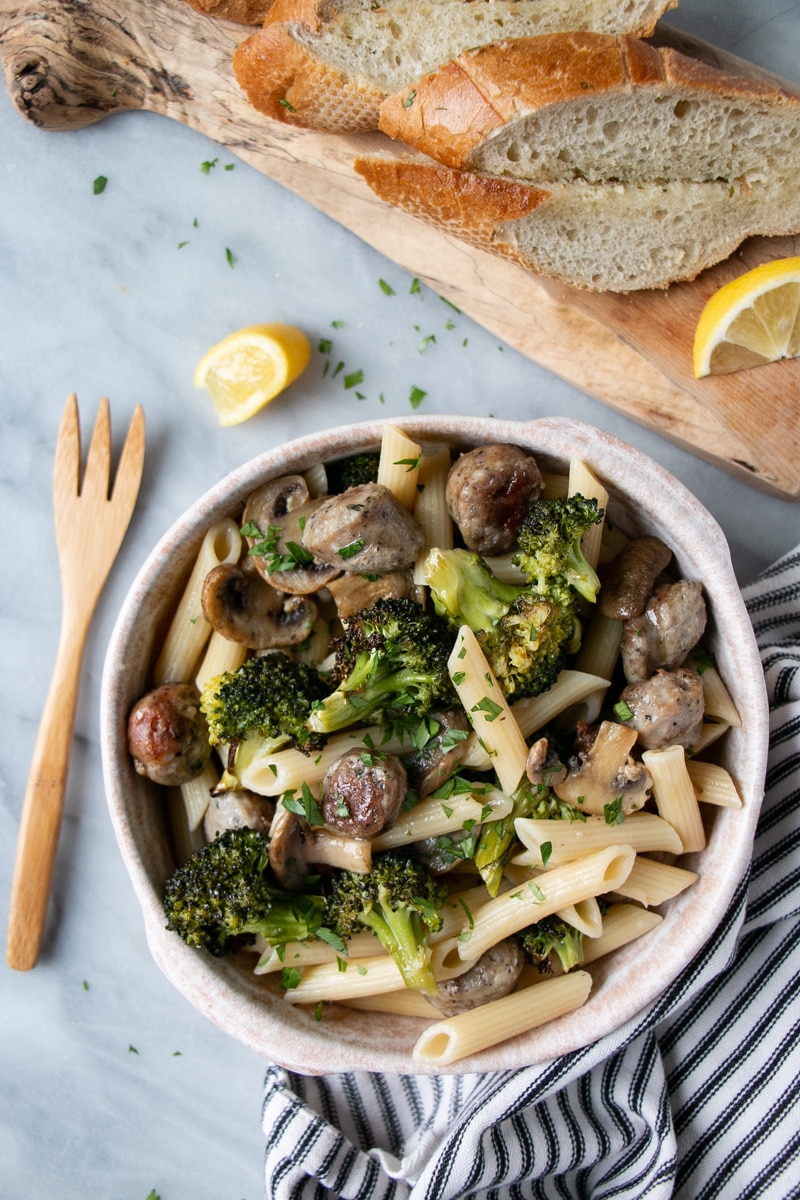 This roasted sausage and broccoli pasta from Samantha of My Kitchen Love is a nine-ingredient, 25-minute masterpiece of a meal. You'll also find mushrooms and flavor from the garlic and lemon. It's a simple yet elegant meal that both kids and adults will love.
Visit My Kitchen Love for the recipe.
Ravioli Al Pomodoro Recipe
This Ravioli Al Pomodoro from Petranka of Sunglow Kitchen features a mouthwatering tomato sauce with only six ingredients and takes just 25 minutes to make.
But surprisingly, the sauce is creamy, even though cream isn't one of the few ingredients. That's thanks to the whole canned tomatoes. And forget about making ravioli from scratch. A good-quality premade option works well here.
Visit Sunglow Kitchen for the recipe.
Which Easy Noodle And Pasta Recipes With Few Ingredients Will You Try First?
By now, you've seen some of the most delicious easy noodles and pasta recipes. But which one do you want to try right now? Is it the ravioli al pomodoro, udon mushroom noodles, puttanesca, or something different? Let us know.
Before you go, see this collection of ramen noodle recipes.