Here's a promise. By the time you finish reading this list of 21 gourmet fancy grilled cheese recipes, you'll never one the old way again.
Seriously! There are so many delicious options here, like a version with bacon and caramelized onions, pimiento cheese, blackberry and goat cheese, and so many more.
Along with recipes, you'll discover the techniques necessary to ensure that your bread is golden brown, crunchy, and irresistible.
So, let's jump in!
Croque Monsieur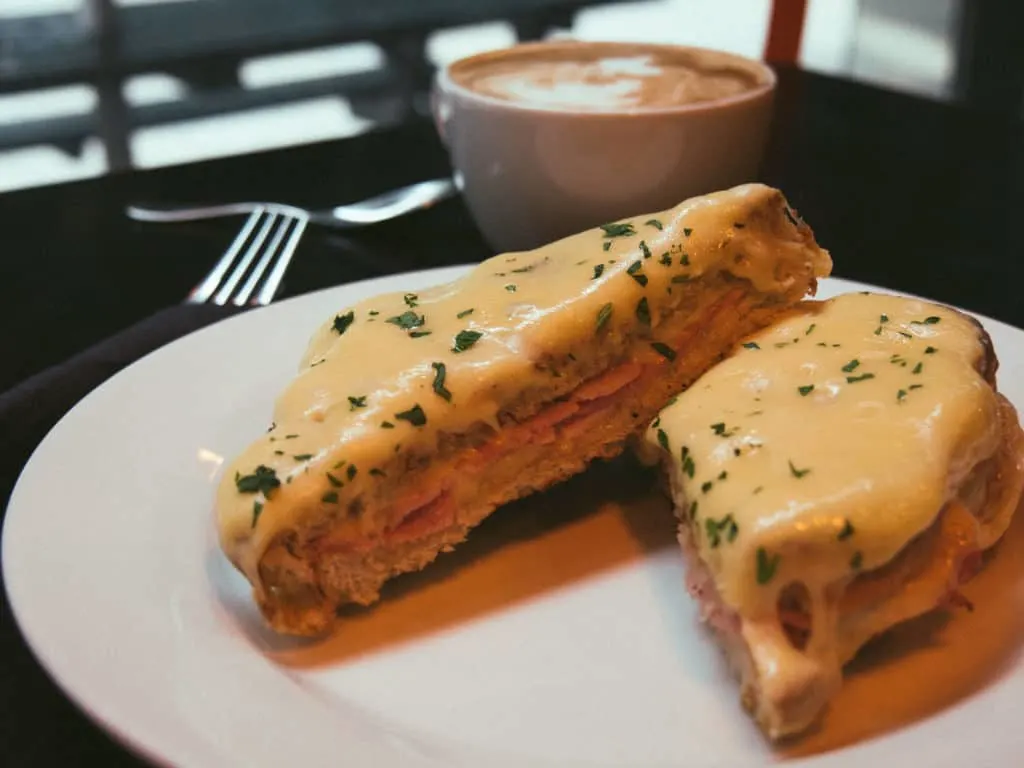 Perhaps the king of grilled cheese sandwiches is the Croque Monsieur, a fancy sandwich that first appeared on a French cafe menu over 100 years ago. Utilizing high-quality white bread, ham, and cheese, you assemble the sandwiches before pan-frying them in butter and spreading a layer of bechamel and more cheese. Finally, bake and enjoy bite after delicious bite.
No, you haven't died, but this is a little taste of heaven.
Visit Jack Slobidian for the recipe.
Havarti Grilled Cheese With Bacon And Caramelized Onion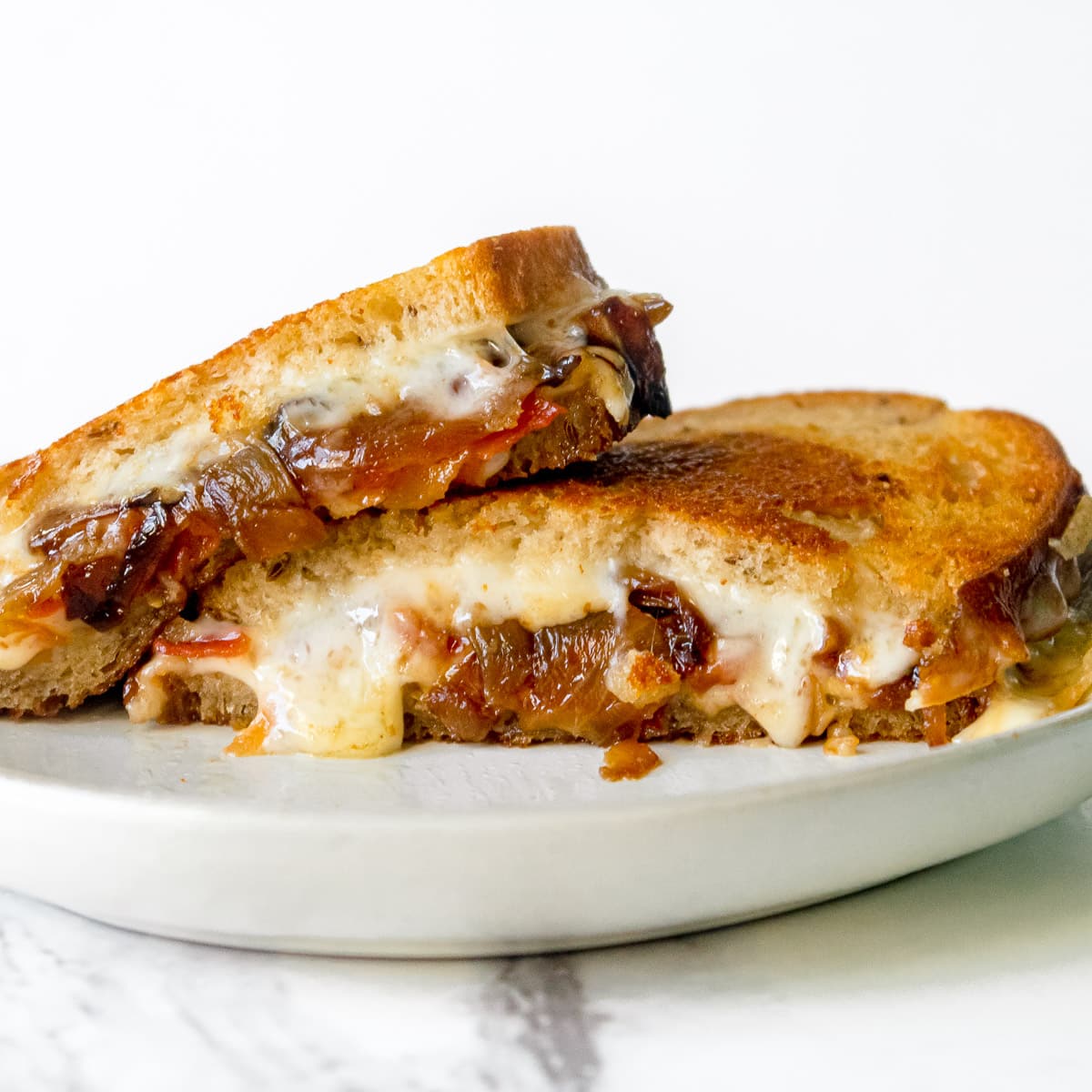 If you're not drooling over this bacon caramelized onion grilled cheese sandwich from Chenée Today, you might need your pulse checked. The way that cheese oozes and surrounds the picture-perfect caramelized onions is a sight to behold. It is complete with two types of cheese, grainy dijon mustard, bacon, and caramelized onions. You'll also learn exactly what you need to get that perfectly crispy browned crust. It's simple yet genius.
Visit Chenée Today for the recipe.
Bacon Pimiento Grilled Cheese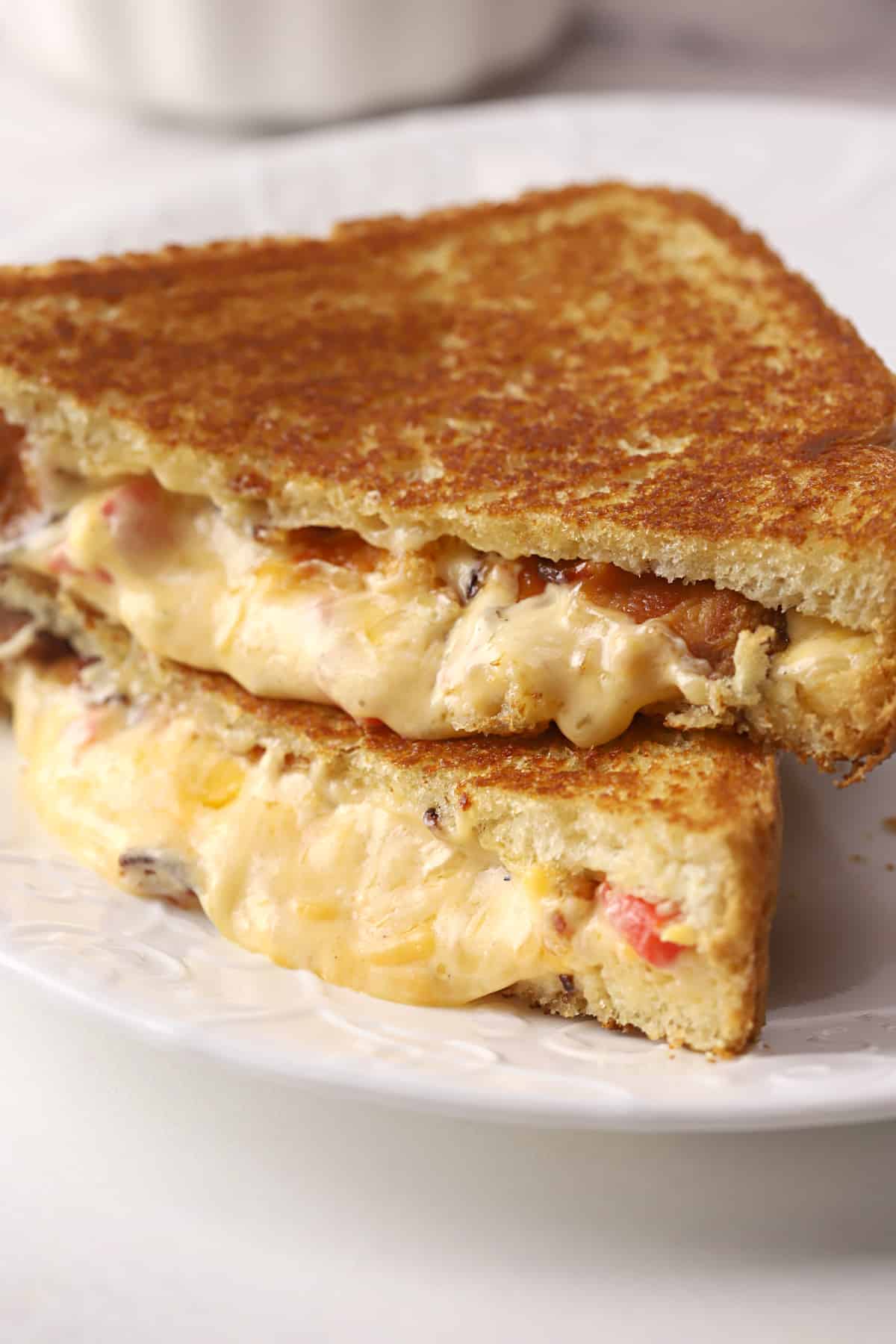 With this bacon pimiento grilled cheese from Heather of The Toasty Kitchen, you'll forget about ordinary, uninspired cheese sandwiches. Seriously, who needs that? Instead, Heather's version packs a serious punch; of flavor, that is. You've got gooey pimiento (cherry peppers) cheese, hot sauce, and bacon, balanced with crispy golden bread.
Visit The Toasty Kitchen for the recipe.
Provola and Nduja Recipes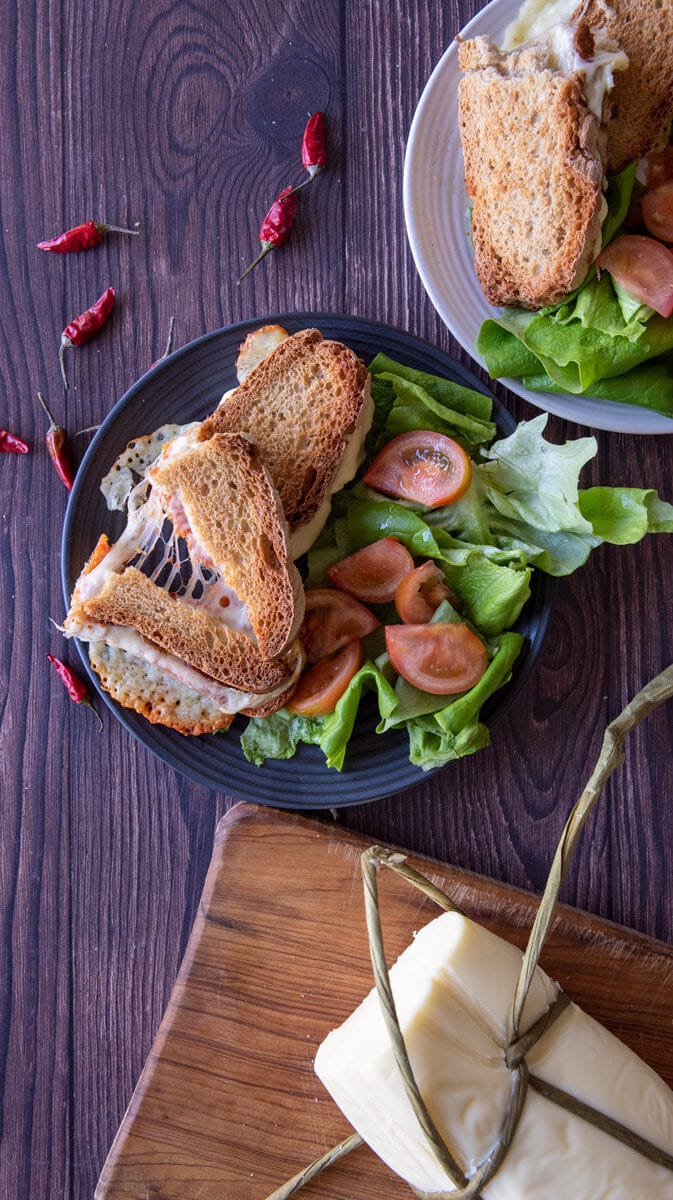 We can guarantee you've never seen a grilled cheese like this Provola and Ndula recipe from Laura of Your Guardian Chef. So if you're wondering what provola and nduja are, you wouldn't be alone. The former is a stretchy, ooey-gooey cheese with a nutty flavor, while the latter is a spreadable creamy sausage. Put them together between two slices of bread, and you've got a unique grilled cheese experience you won't soon forget.
Visit Your Guardian Chef for the recipe.
Blackberry Goat Cheese Grilled Cheese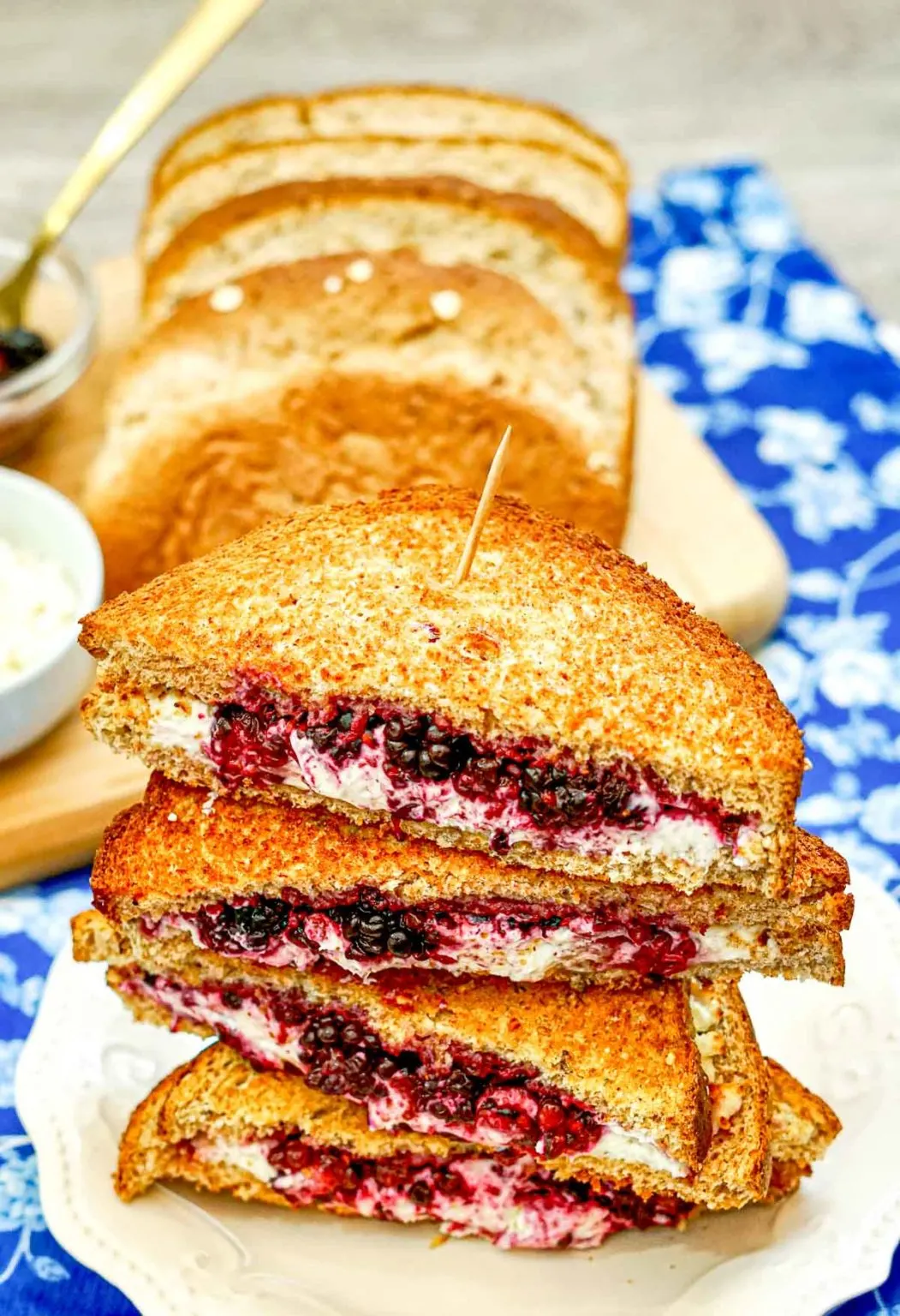 Make this blackberry grilled cheese sandwich from Kate of Babaganosh for a delicious summer lunch. Think romantic picnic or Sunday brunch for the mothers in your life. The whipped cream cheese and sweet blackberries balance the unique tartness of the goat cheese. And the toast brings it all together with a satisfying crunch.
Visit Babaganosh for the recipe.
Cherry Bacon Grilled Cheese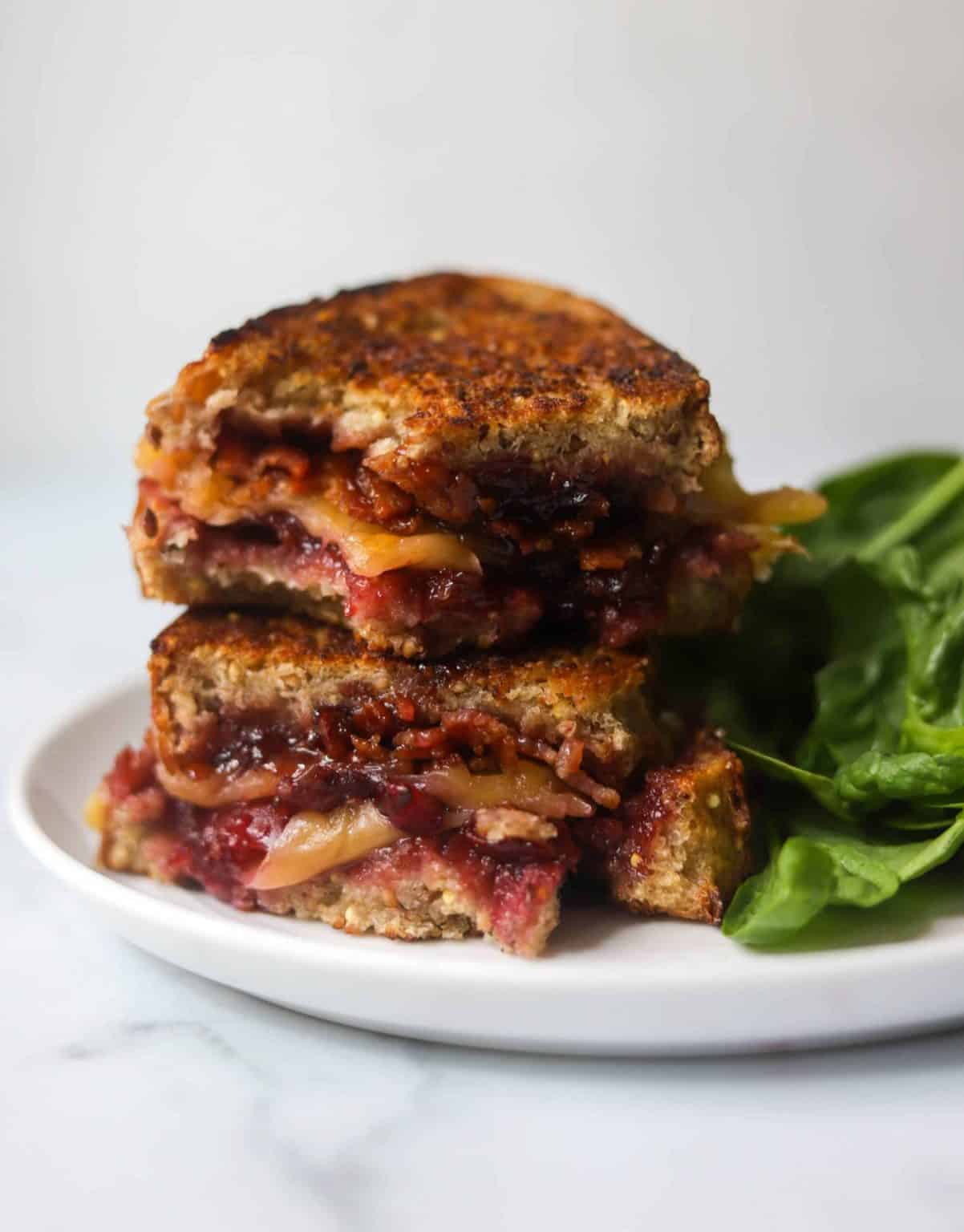 This cherry bacon grilled cheese sandwich from Julie of The Healthy Epicurean proves that good to you and good for you aren't mutually exclusive. The salty and sweet creation features fresh sweet cherries, mild melting cheese like Havarti or Gouda, and healthy whole-grain bread. Oh, and little smoked bacon never hurt anybody!
Visit The Healthy Epicurean for the recipe.
Grilled Caprese Panini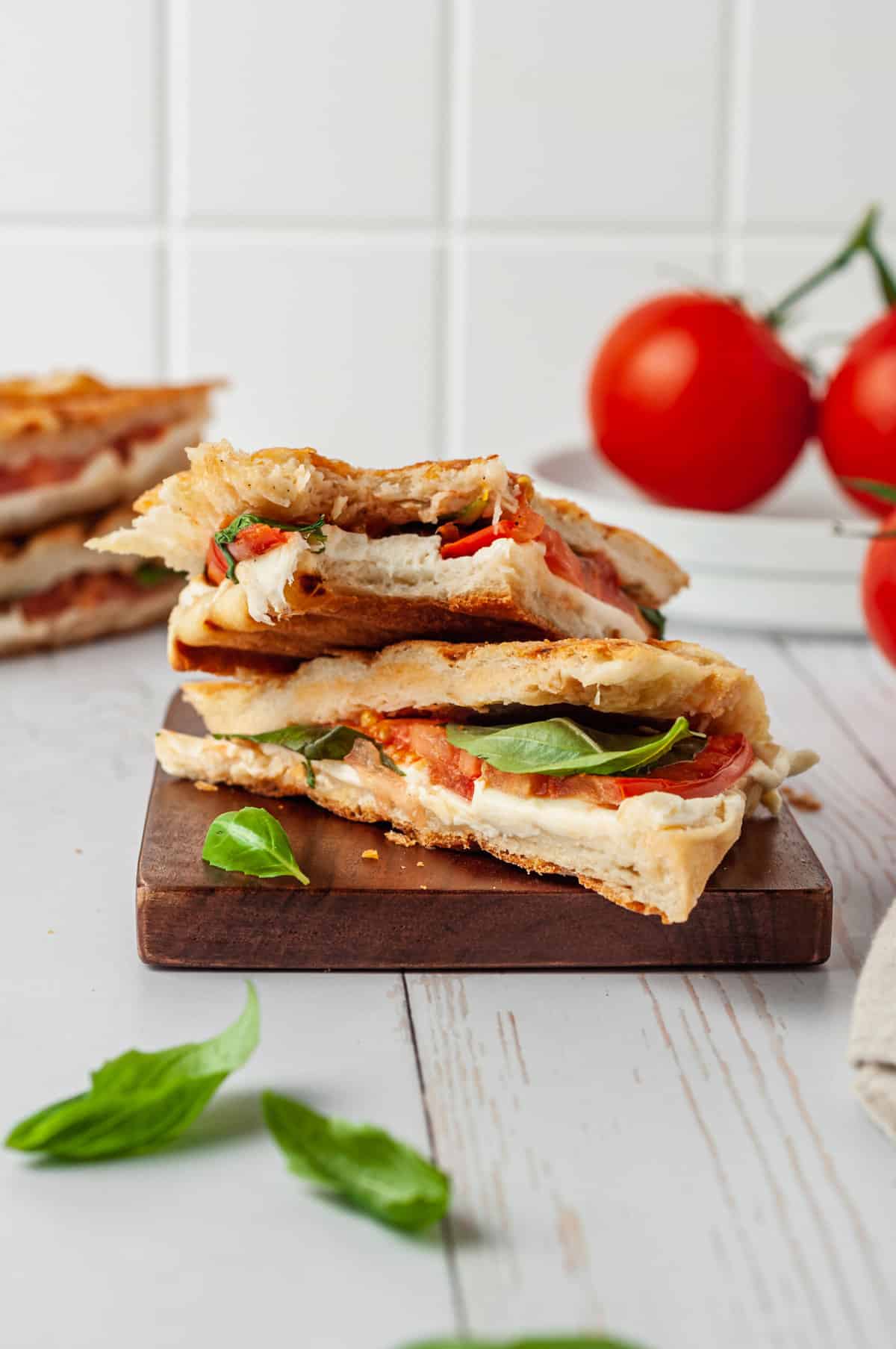 This grilled Caprese panini from Amy of House Of Nash Eats is a deliciously unique take on the famous simple salad. The vegetarian-friendly sammie features bright basil, tomatoes, mozzarella, and a drizzle of balsamic vinegar between two buttery slices of ciabatta bread.
Visit House Of Nash Eats for the recipe.
Grilled Cheese with Honey, Sage & Butternut Squash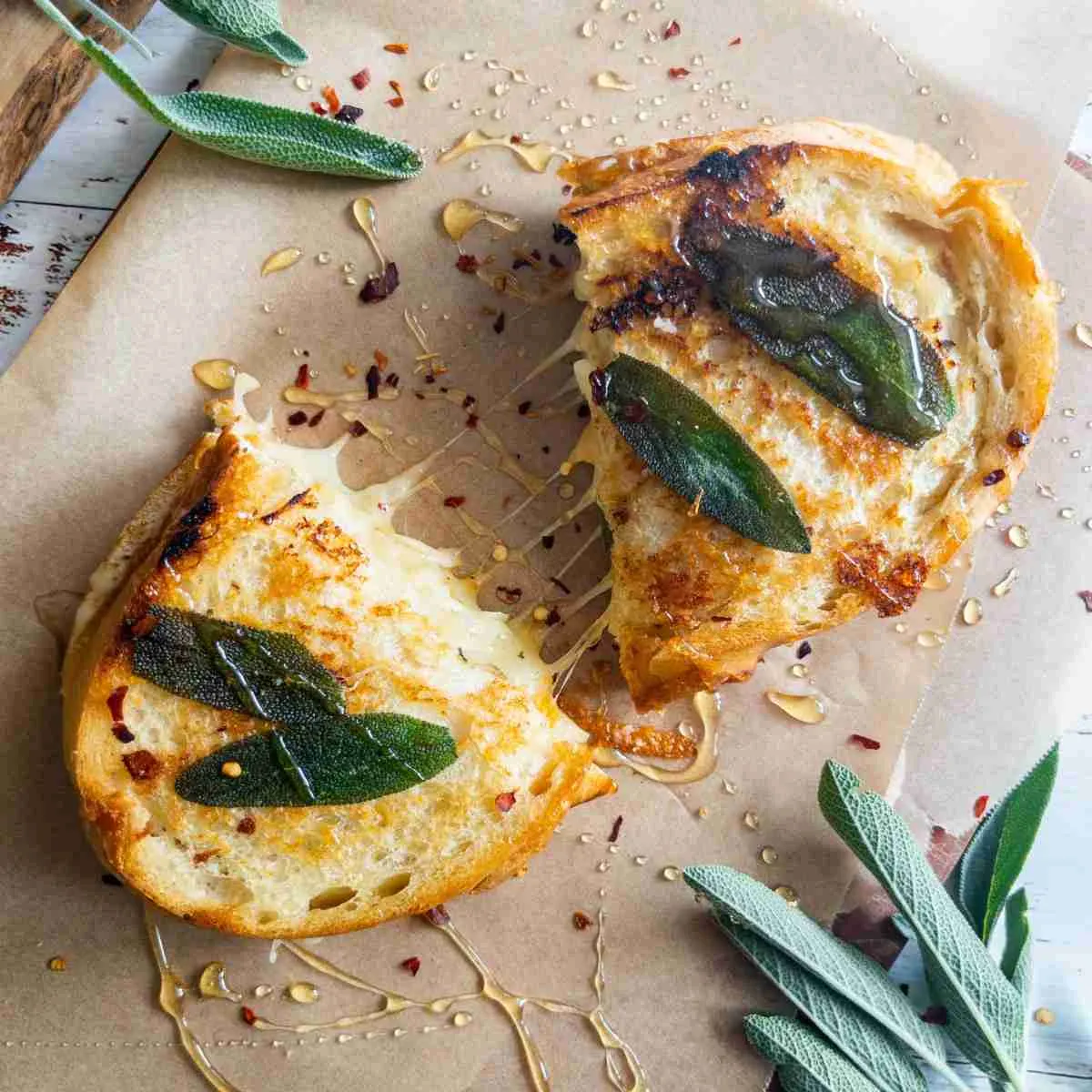 Joni of The Pyper's Kitchen presents this grilled cheese with honey sage and butternut squash recipe—a creation that looks like high-society but is entirely accessible. The unique lunch features butternut squash, mozzarella, honey, sage, and red chili flakes sandwiched between buttery white bread. It's something to whip when you want to wow your guests.
Visit Pyper's Kitchen for the recipe.
Irish Apple Pie Twice-Grilled Cheese Sandwich
We'll let Renée of The Good Hearted Woman fill you in on the storied history of this Irish apple pie grilled cheese sandwich. Just know that it's award-winning good. In fact, hundreds of strangers tried the unique sammie, and they signed off on it. So here's a preview of what you can expect: Dubliner aged cheese, apple butter, and granny smith apples on buttery cinnamon bread. It's apple pie in sandwich form! And almost too good to be true!
Visit The Good Hearted Woman for the recipe.
Festive Grilled Cheese Sandwich
So while you won't find any new flavors in this grilled cheese sandwich from Amanda's Cookin', the colors are festive and fun. Just right for the holiday season, she adds food coloring to the mozzarella cheese making for a nice bright green and red lunch the kiddos of all ages will appreciate.
Visit Amanda's Cookin' for the recipe.
Black Garlic Kimchi Grilled Cheese Sandwich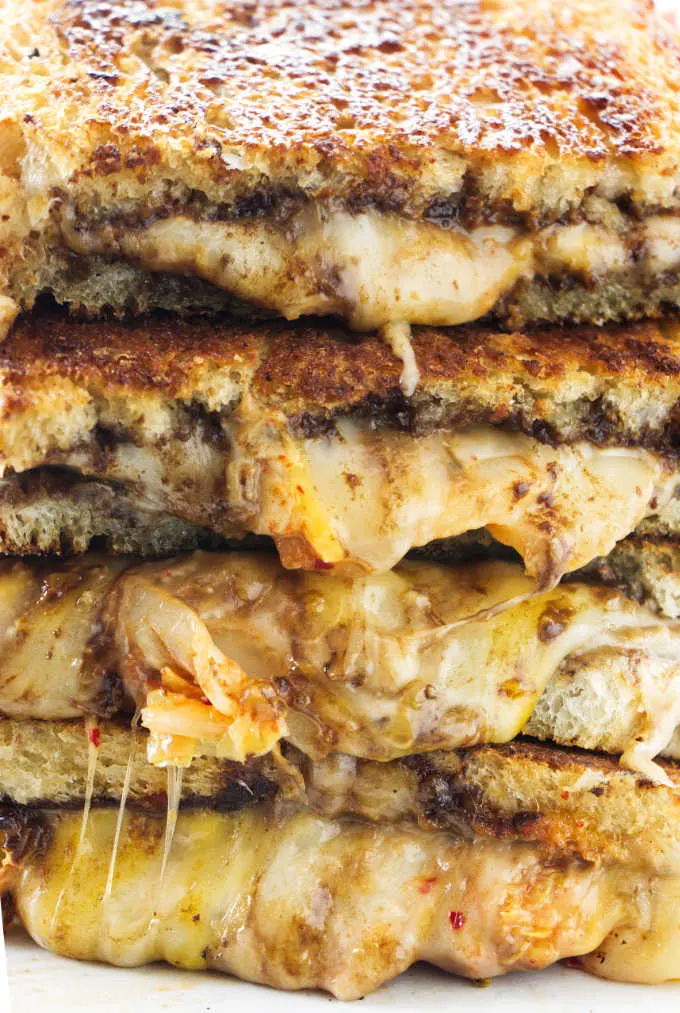 If you're stuck in a grilled cheese rut, then Dahn of Savor The Best encourages you to try this kimchi grilled cheese sandwich. The simple spin is but five ingredients, including her to-die-for black garlic aioli, for which she also includes a recipe. The funkiness of the kimchi is balanced nicely with the melty cheese for a delicious change-up to get you out of that bland lunch groove.
Visit Savor The Best for the recipe.
Grilled Cheese Florentine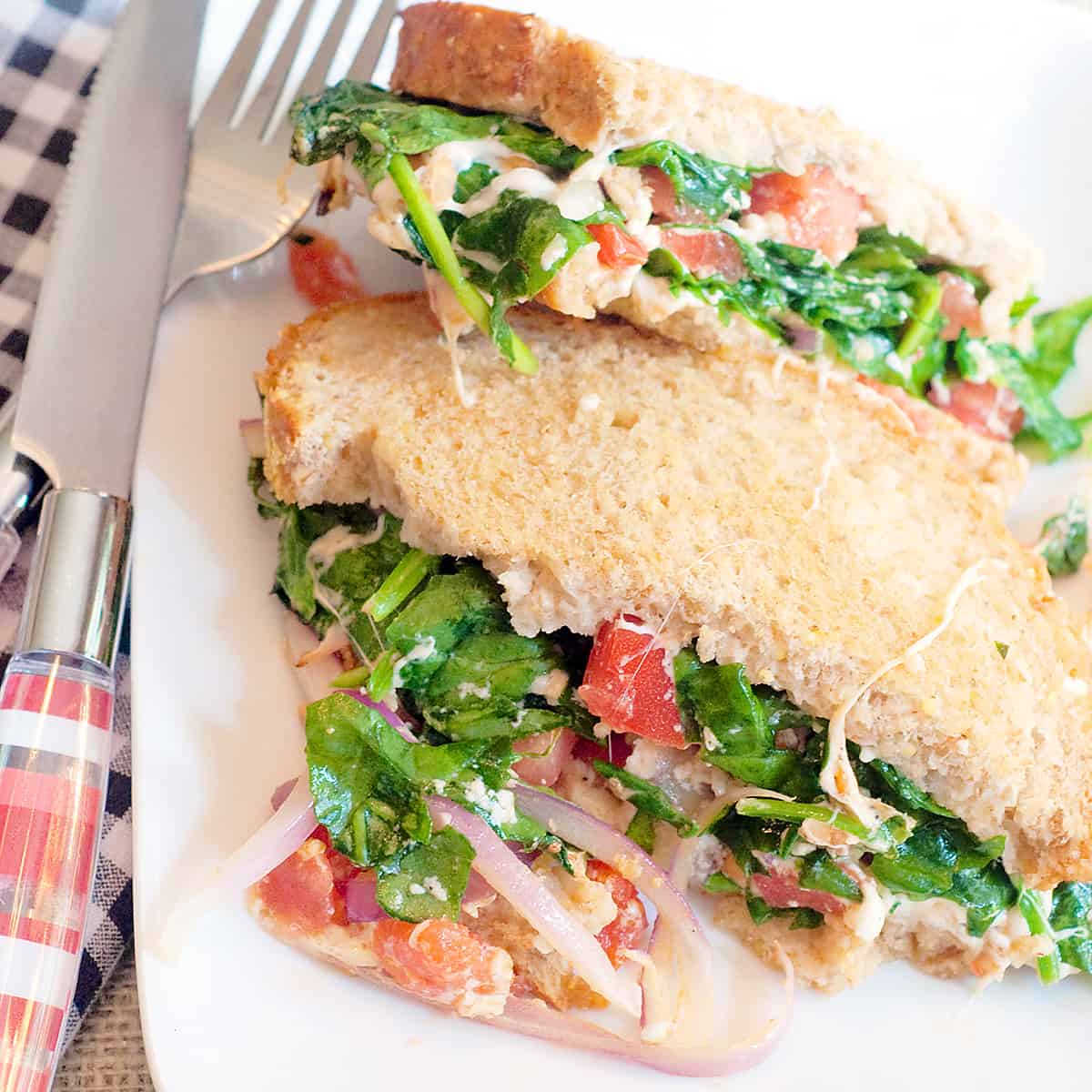 When Lana's in the mood for something other than simple cold-cut sandwiches, she turns to this delicious grilled cheese Florentine. A combination of fresh baby spinach, juicy tomatoes, thinly sliced red onion, and mozzarella. It's tasty and simple! But unlike most recipes on this page, you don't need to stand over the stove to make this one. Nope! Instead, they go in the oven for just 15 minutes.
Visit Lana's Cooking for the recipe.
Gourmet Grilled Cheese Sandwich
You'll find this gourmet turkey bacon grilled cheese at Hilda's Kitchen Blog. It's a combination of two cafeteria staples; the turkey club and the grilled cheese, only better. The sandwich is upgraded with clever add-ins like jalapeno peppers, huckleberry chutney, basil leaves, and pepper jack cheese. It's sure to tickle your taste buds.
Visit Hilda's Kitchen Blog for the recipe.
Brisket Grilled Cheese
Milisa, a.k.a. Miss In The Kitchen, knows precisely what you should do with that delicious leftover brisket; make brisket, grilled cheeses. For simplicity, the sandwich is mostly meat, cheeses, and bread, but Milisa adds some of her garlicky, oniony, sweet homemade bbq sauce to keep things interesting.
Visit Miss In The Kitchen for the recipe.
White Cheddar And Fig Grilled Cheese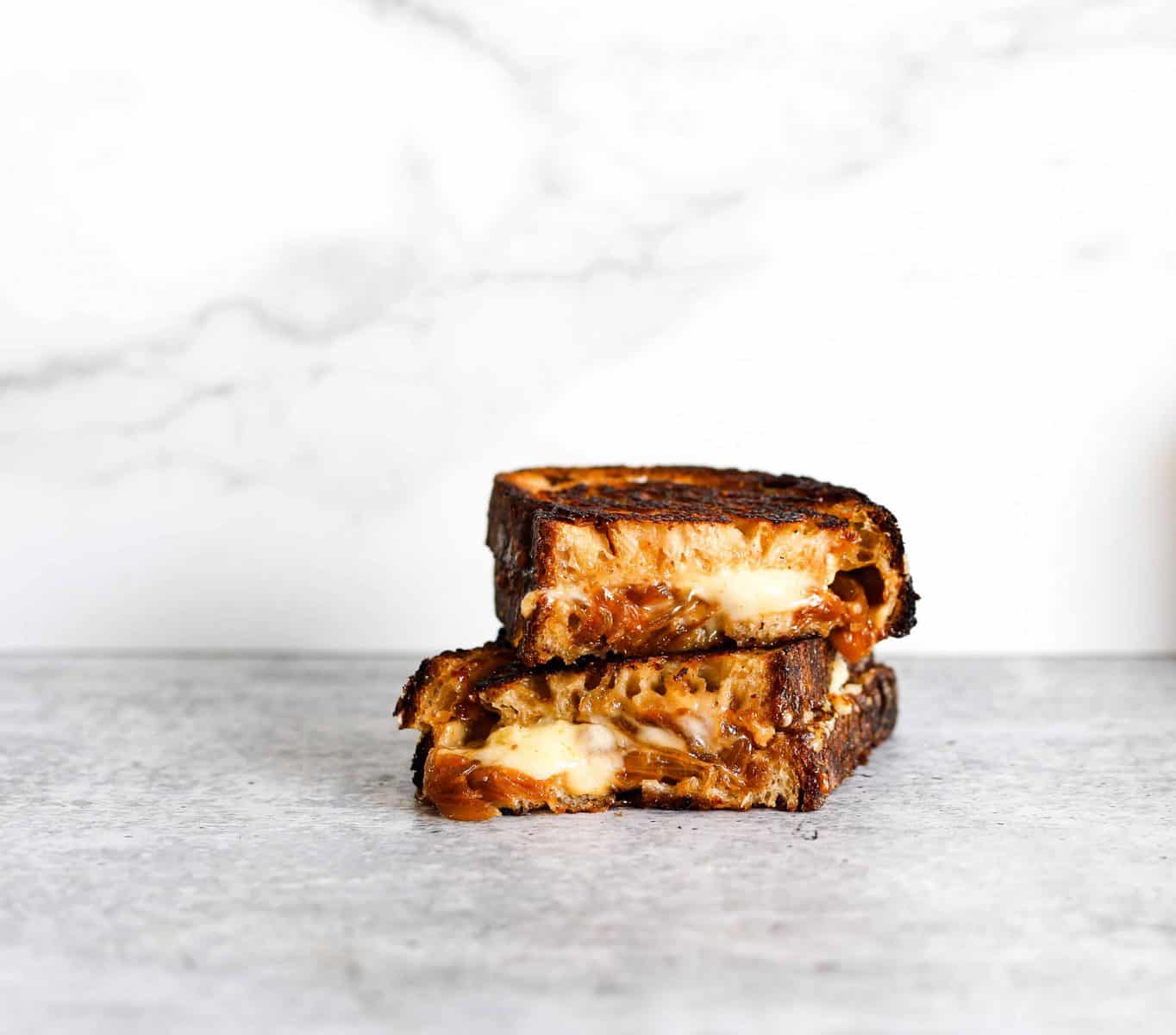 Leigh of Craving California brings us this sweet, salty, upscale, you know, business casual grilled cheese featuring aged white cheddar, caramelized onion, and fig jam. Although it's more sophisticated, the bread is still buttery, gooey, and delicious from the melty cheese.
Visit Craving California for the recipe.
Spinach & Artichoke Grilled Cheese
In this "why didn't I think of that" kind of recipe, the Kitchen Treaty folks present this clever spinach and artichoke dip grilled cheese sandwich. As it sounds, it's perhaps America's favorite dip flavor with fresh baby spinach, parmesan, and shallots, stuffed between two slices of crusty bread. Wowza!
Visit Kitchen Treaty for the recipe.
Roasted Strawberry and Brie Grilled Cheese
This strawberry and brie grilled cheese sandwich from Nicole is a bistroesque work of culinary art. It pairs freshly roasted strawberries with the deep, complex flavors of balsamic vinegar, minty basil, and melty brie cheese. Oh My Veggies, and oh, what a sandwich!
Visit Oh My Veggies for the recipe.
Tomato Bisque With Grilled Cheese Croutons
This Trendgredient creation takes tomato soup and grilled cheese to a different dimension. You see, Alea shows you how to make homemade tomato bisque, and the croutons are actually pieces of grilled cheese sandwiches with gruyere and sourdough bread. Now that is the ultimate in comfort food!
Visit Trendgredient for the recipe.
Italian Grilled Cheese with Roasted Peppers and Spinach
If you Ask Chef Dennis, this Italian Grilled Cheese with Roasted Peppers and Spinach is one of the best he's ever had. We get it! It's filled with American and parmesan cheese, red and yellow peppers, basil, and garlic for a grilled sandwich dripping with cheese and oozing with flavor.
Visit Ask Chef Dennis for the recipe.
Brie and Passion Fruit Pepper Jelly Grilled Cheese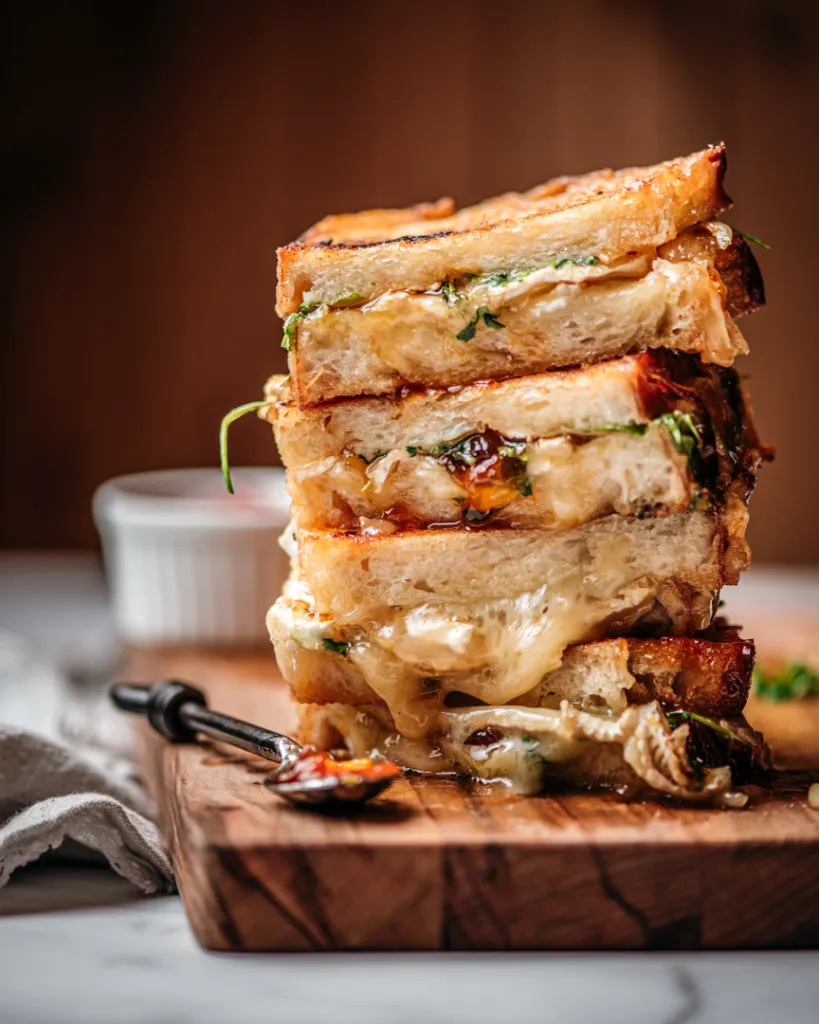 When we see creations from the Cooking With Wine team, we are always captivated, knowing that the quality of the recipe is every bit as good as the stunning images. This sandwich marries buttery brie cheese with passion fruit jelly—a citrusy sweet, and tangy tropical fruit—for an incredibly unique food experience. But if words aren't doing it justice, take another look at that picture.
Visit Cooking With Wine for the recipe.
The Ultimate Smoked Grilled Cheese
Holy moly! We tried this smoked, grilled cheese from Devan of Braised and Deglazed twice, actually, and it is quite the bite! It's the most golden brown and delicious grilled cheese we've ever tried. And with just four ingredients, Devan shows you how to make this simple grilled cheese on your smoker for a flavor you can't get otherwise.
Visit Braised And Deglazed for the recipe.
Which Fancy Grilled Cheese Sandwich Will You Try First?
So, by now, you've come across many delicious grilled cheese sandwiches that go far beyond ordinary bread and American cheese. You have the ultimate smoked, grilled cheese, strawberry and brie, and many more. What will it be? We'd love to know!