Get ready! This list of 21 flavorful salmon side dishes will help you with ideas for What to Serve with Salmon.
It's a treasure trove of delicious ideas like crispy za'atar potatoes, grilled asparagus, grilled delicata, and quinoa hummus bowls. And that's just a sample of what you'll find below.
So, let's dive in!
(And don't forget to check out our canned salmon recipes for more inspiration.)
Crispy Oven Roasted Potatoes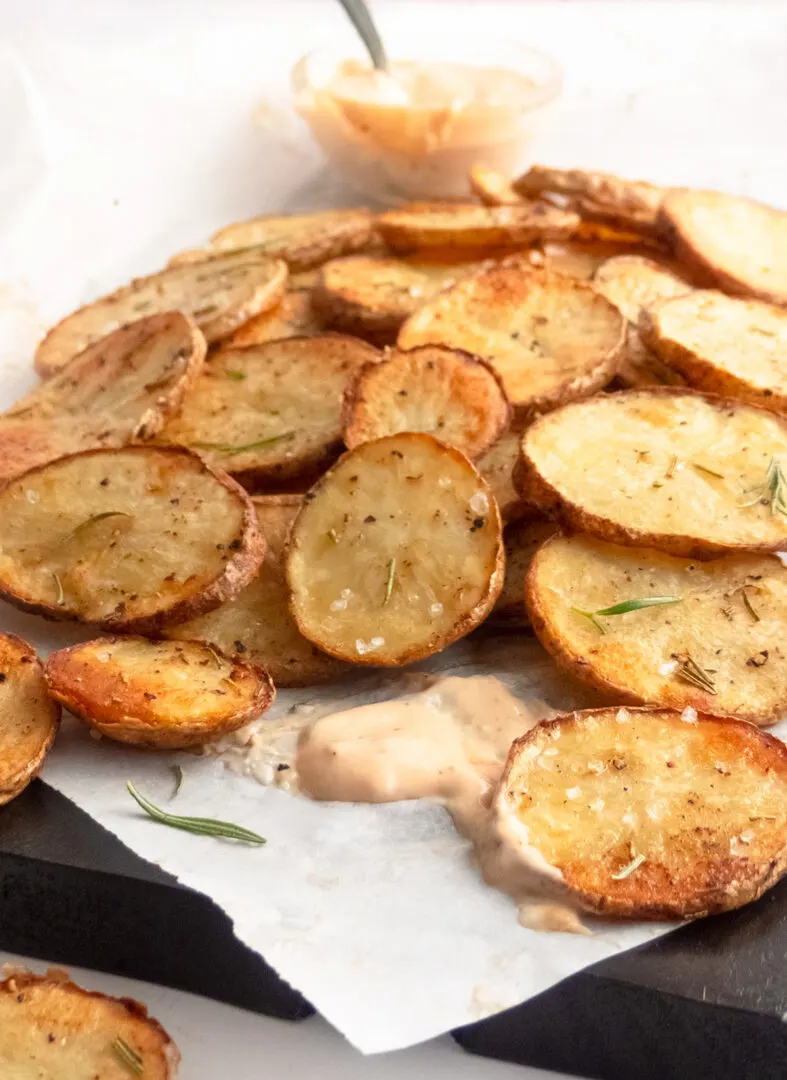 Salmon is a superfood packed to the hilt with nutrition. But children aren't necessarily the biggest fans. That's why you need Kid Tested Recipes for your side dishes, like these crispy rosemary roasted potato medallions.
Not only do these tender potato rounds with crunchy edges taste delightful, but they take just minutes to prepare with four simple ingredients you likely have already, save for the fresh rosemary.
Visit Kid Tested Recipes for the recipe.
Herbed Butter Garlic Rice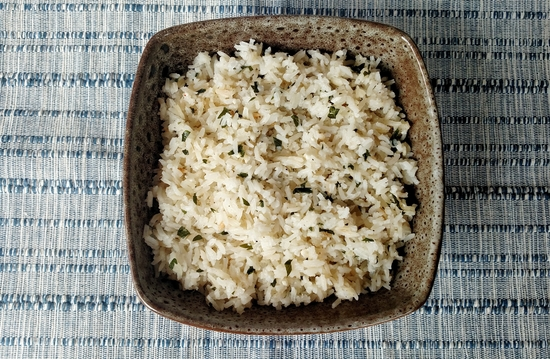 It may come as a surprise, but yes! Some people just aren't lovers of carbs. Just ask Kaylen of Flavorful Eats. The "major foodie" lives with two little rice dissenters. Bless their wee hearts; we're not here to judge. 🙂
But the creative and persistent Kaylen has a fix; herbed garlic butter rice. And we concur.
The golden compound elixir takes plain white rice, a favorite of ours, and transforms it into something crave-able that pairs well with salmon and may steal the show.
Visit Flavorful Eats for the recipe.
Air Fryer Balsamic Garlic Broccoli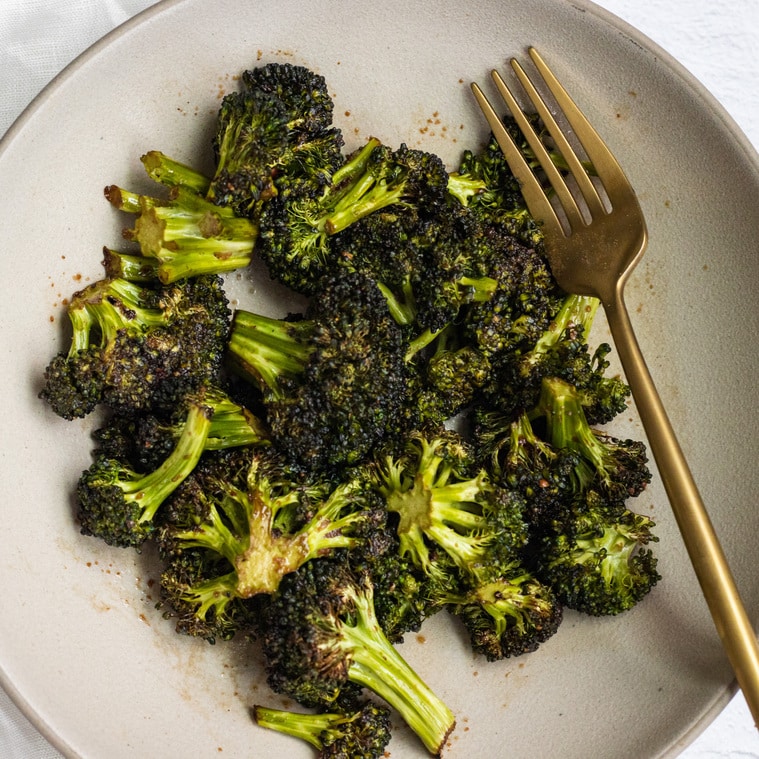 The first thing you'll read when you click through to Avocado Skillet is Kristi's proverb, "If you don't like vegetables, you probably are not preparing them correctly." Have truer words ever been spoken?
So, for this crispy air fryer, balsamic garlic broccoli Kristi shows you how to turn one of the most hated vegetables into one often requested. Before putting them in the air fryer for six minutes, douse them with balsamic vinegar, oil, and spices.
When they're done, they'll be all crispy, with deep, complex flavor, and undeniably delicious.
Visit Avocado Skillet for the recipe.
Grilled Asparagus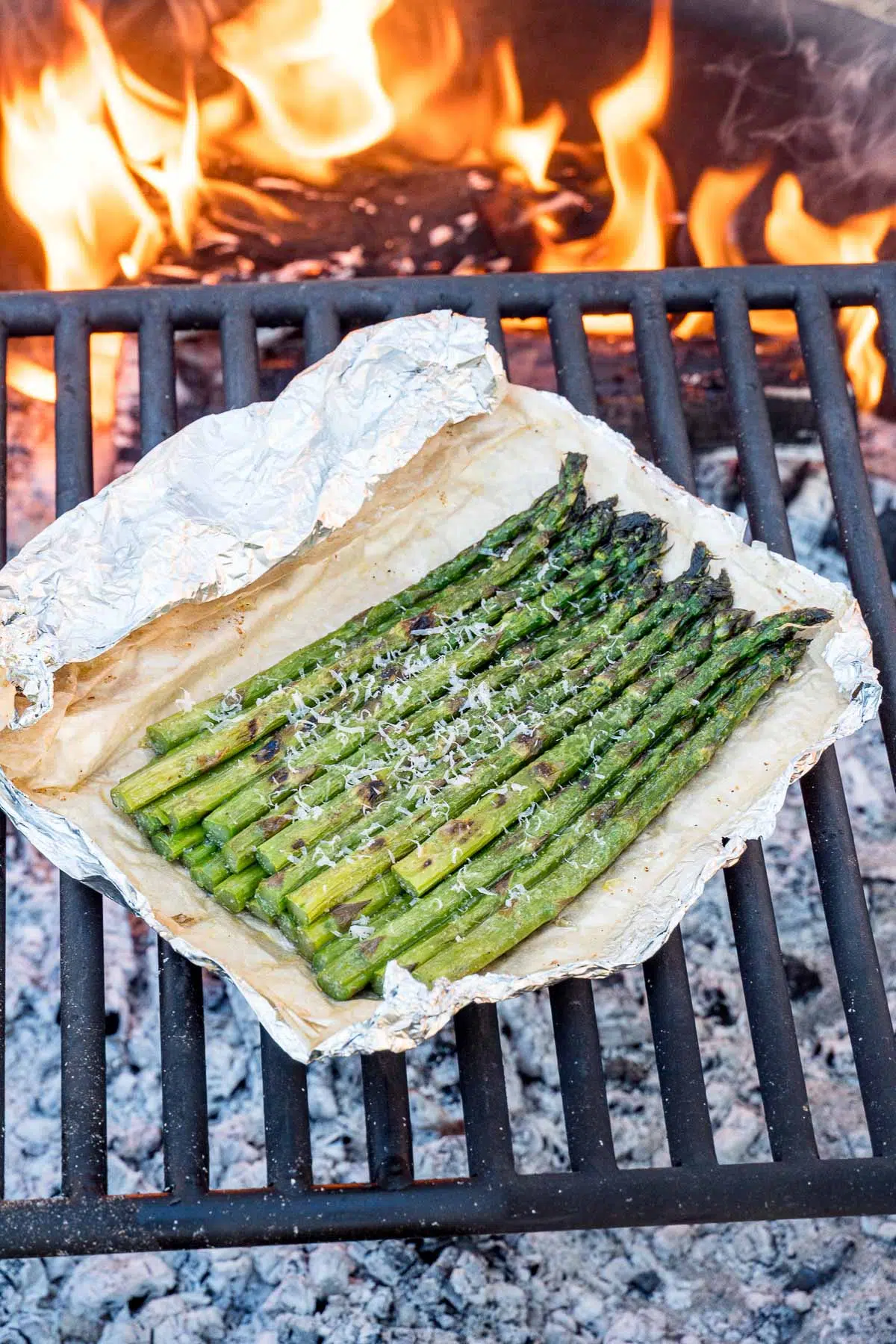 There's something so primal and alluring about cooking over an open flame, so when we happened across this grilled asparagus recipe from Fresh Off The Grid, we knew it had to go on this list.
First, because asparagus is so delicious (and nutritious), and second, we have a magnetic attraction to foil packet recipes. This one is so simple and full of flavor from the lemon, garlic powder, and a bit of parmesan cheese. But that smokiness and char seal the deal.
Visit Fresh Off The Grid for the recipe.
Air Fryer Roasted Vegetables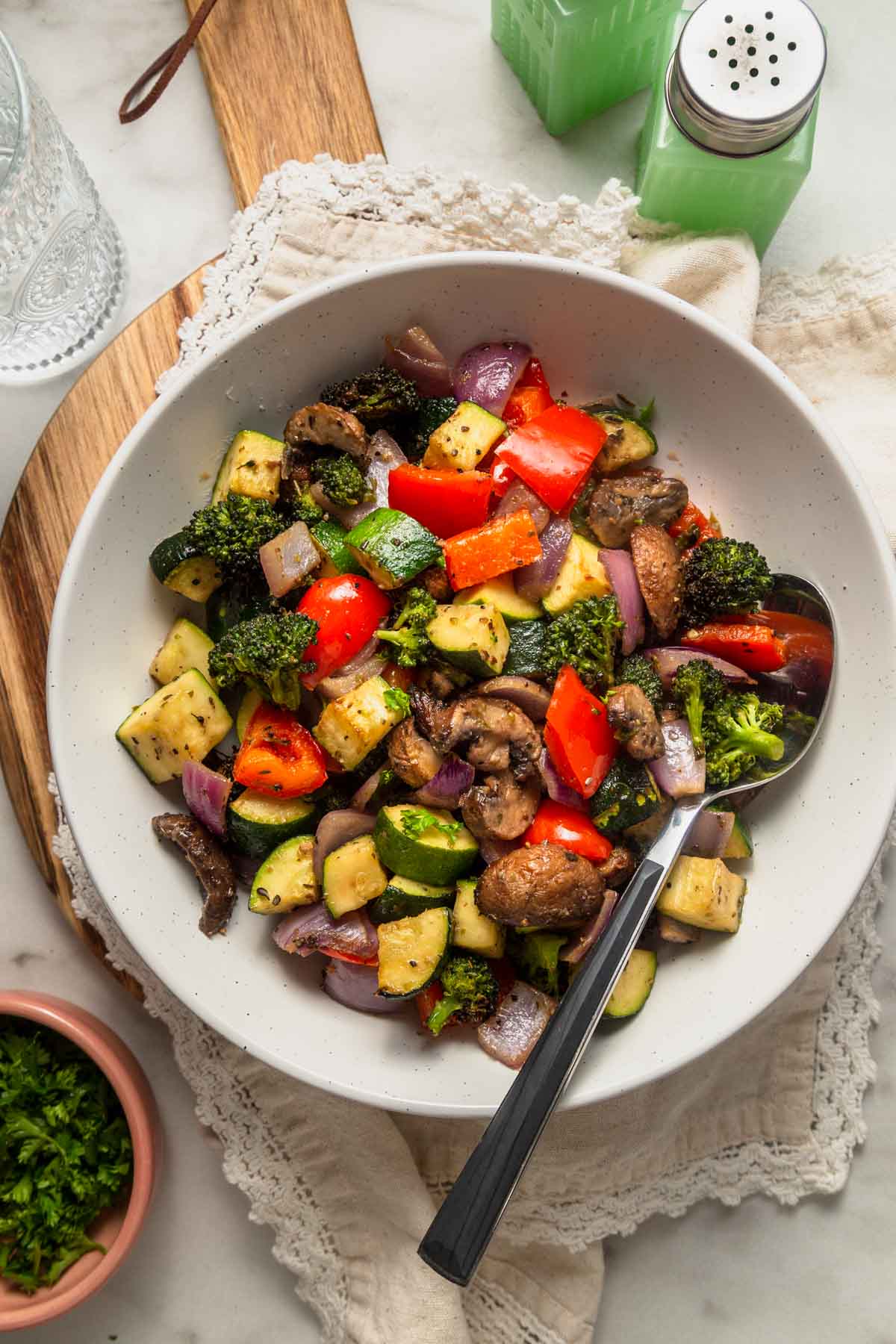 These roasted vegetables from Farwin are seasoned with Worcestershire sauce, garlic powder, Love, And Other Spices. So they're incredibly flavorful, easy, and don't require a lot of planning.
In fact, the broccoli, mushroom, bell pepper, zucchini, and onion medley is ready in just 10 minutes in the air fryer. That's after a quick chop and toss with oil and seasonings.
Visit Love And Other Spices for the recipe.
Quinoa Hummus Bowl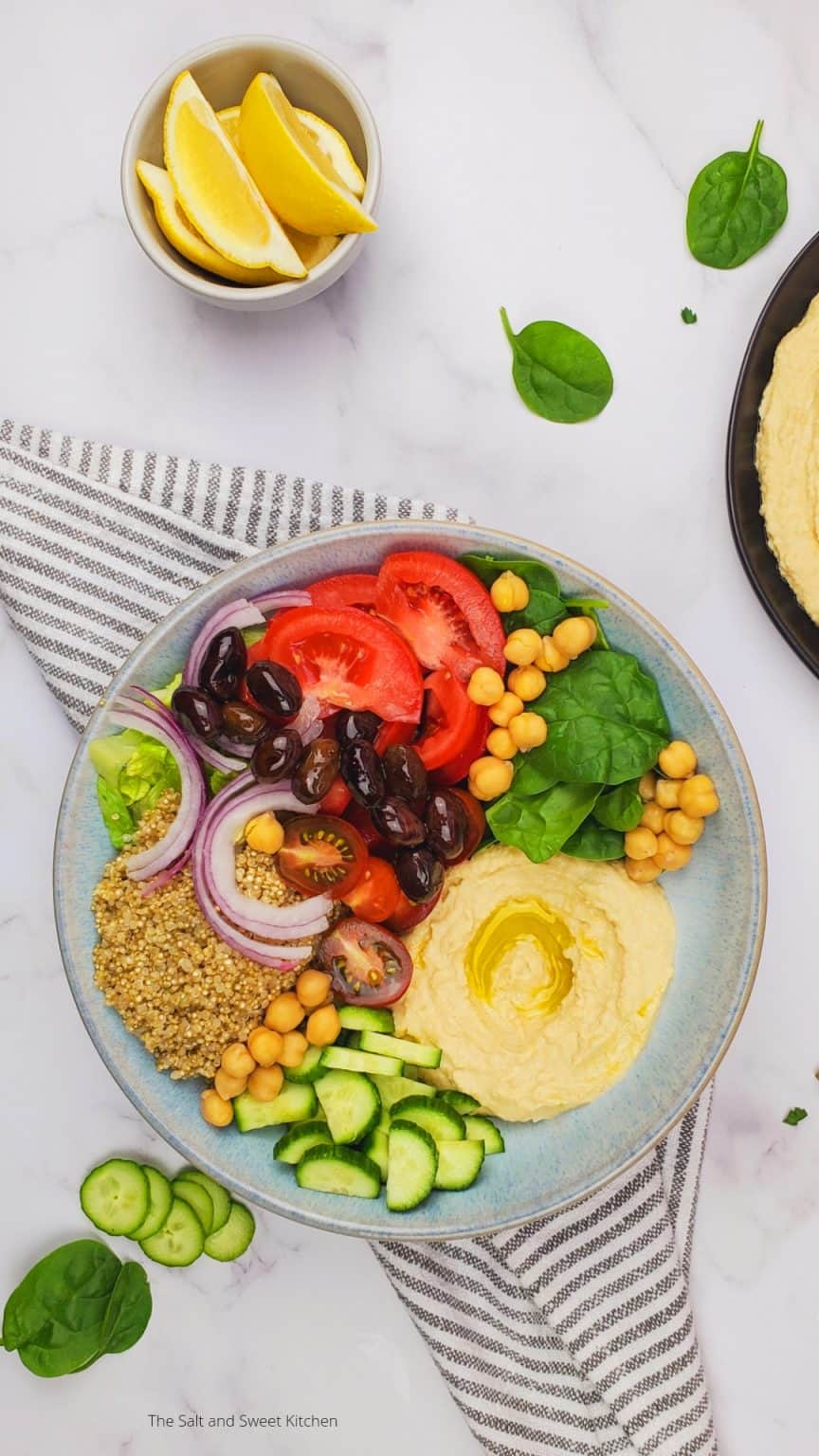 You can't help but smile at the sight of this Mediterranean quinoa hummus bowl from Rose of The Salt And Sweet. It's colorful and filled with just what your body needs. So imagine how you will feel when you set this deliciousness out for your family. Then imagine how their bodies will feel after they eat it!
Talk about a meal to be proud of.
However, it's not just healthy. Food is best when it is good and good for you. So with components like quinoa, tomatoes, olives, and hummus, it isn't lacking flavor. Indeed, this must-try side is an ideal accompaniment for salmon.
Visit The Salt And Sweet for the recipe.
Pineapple Pico De Gallo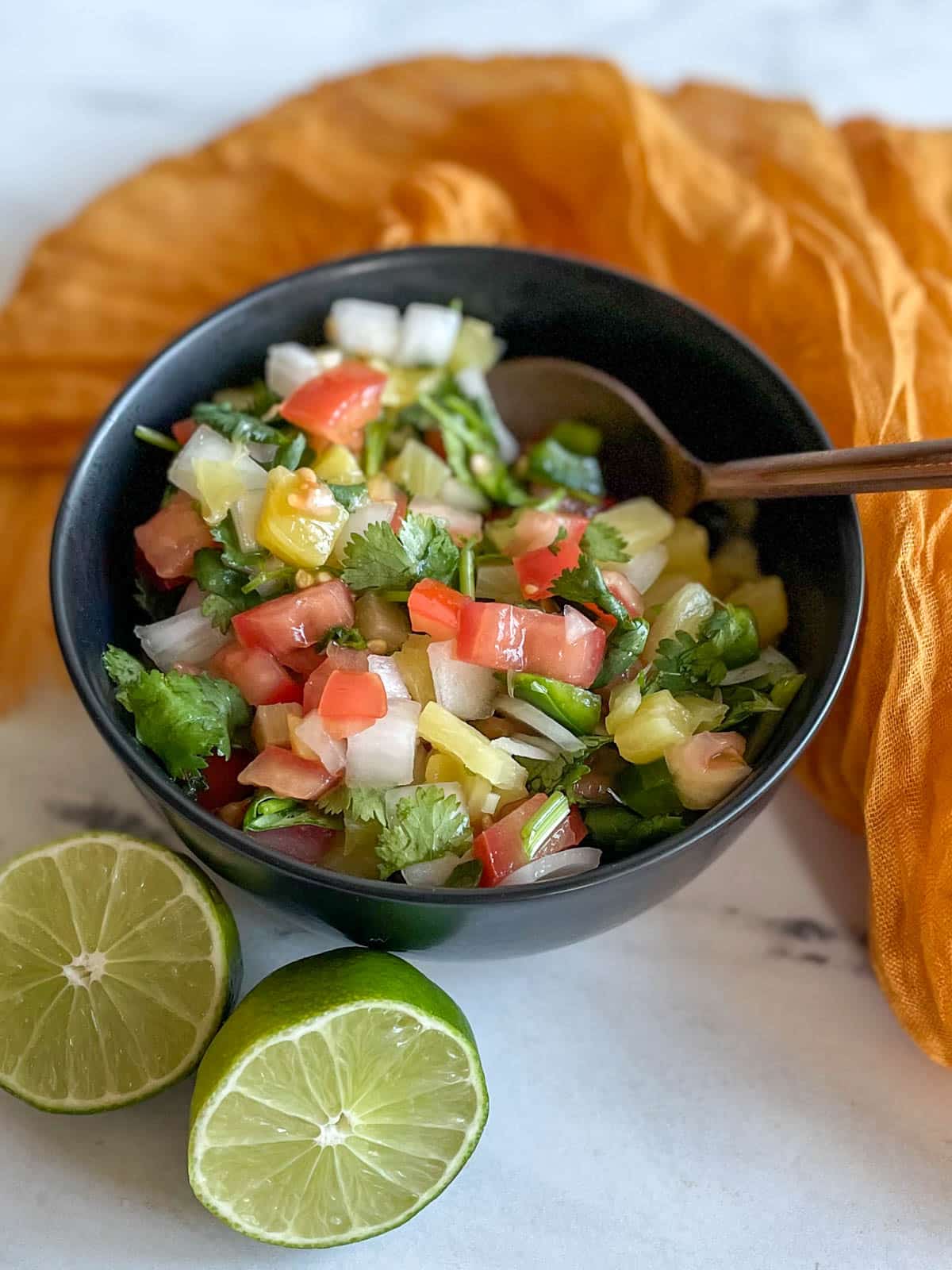 Served with chips, this pineapple pico de gallo from Gen of Two Cloves Kitchen can be the perfect side dish as long as you keep the seasonings for your salmon basic. It's an absolute monster in the flavor department.
You make the versatile tropical salsa with produce section staples like cilantro, jalapeno, tomatoes, and onions. And if you want to switch it up, add mango or make it spicier with serrano pepper.
Visit Two Cloves Kitchen for the recipe.
Mediterranean Cauliflower Rice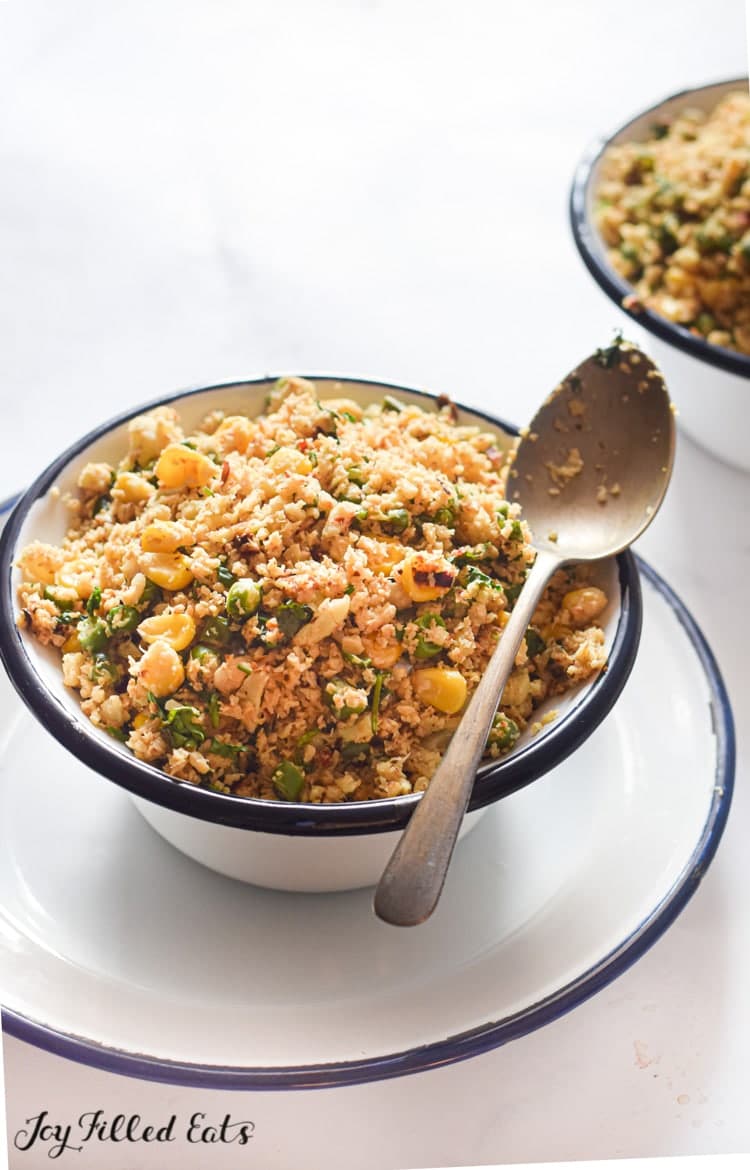 Unlike, say, asparagus, cauliflower doesn't offer much taste on its own. But that's okay. The plain veggie is an excellent canvas for big flavors. Such is the case with this mouthwatering must-try Mediterranean cauliflower rice recipe from Taryn of Joy Filled Eats.
The white vegetable gets a taste and appearance boost with green beans, corn, and loads of herbs and spices like tahini, garlic, lemon, and red pepper flakes. But the most significant enhancement comes from the za'atar—a citrusy sumac, thyme, and sesame seasoning blend that'll make your tastebuds tizzy.
Visit Joy Filled Eats for the recipe.
Grilled Delicata Squash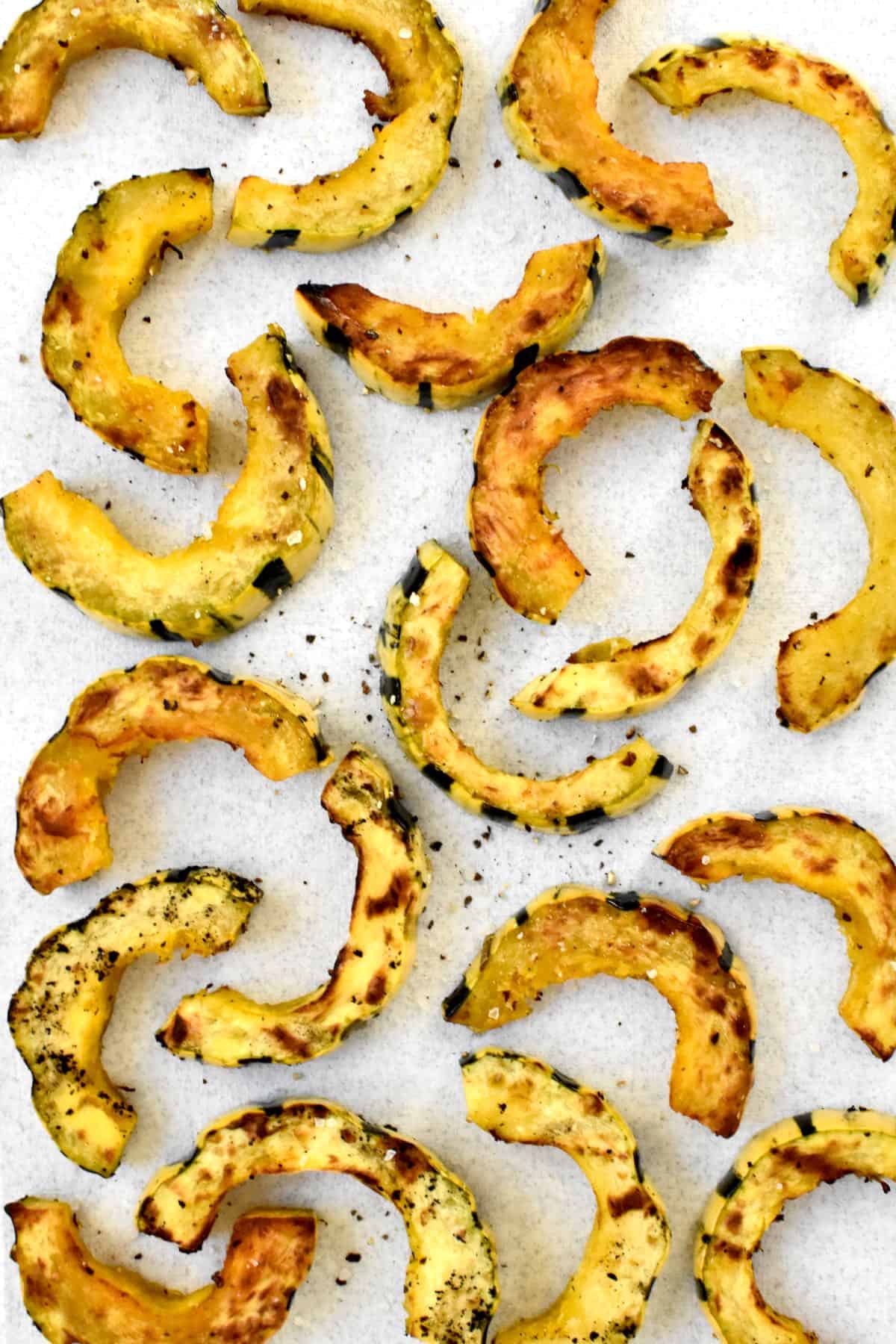 Even if summer is over when you're reading this, you'll want to keep your grill ready through delicata squash season. Because as Danielle of Love From The Table informs us, grilling is the most optimal way to capture its unique flavors.
But how does it taste, you ask?
The beautifully striated gourd is a mix between butternut squash and sweet potatoes. And with only olive oil, salt, pepper, and 20 minutes, Danielle shows us how to get the most out of the fall side dish.
Visit Love From The Table for the recipe.
Garlic Butter Boiled Potatoes
With this simple garlic butter boiled potatoes recipe from Jessica of The Forked spoon, we're reminded of boiled potatoes' easy and delicious simplicity. However, there's a caveat. They must be cooked tender and seasoned adequately.
Jessica gifts us this guide, a virtual compendium of boiling potatoes to creamy and tender divinity. For example, you'll learn the appropriate cooking times according to size, which potato types are best for boiling, and how to season them properly.
Visit The Forked Spoon for the recipe.
Stewed Potatoes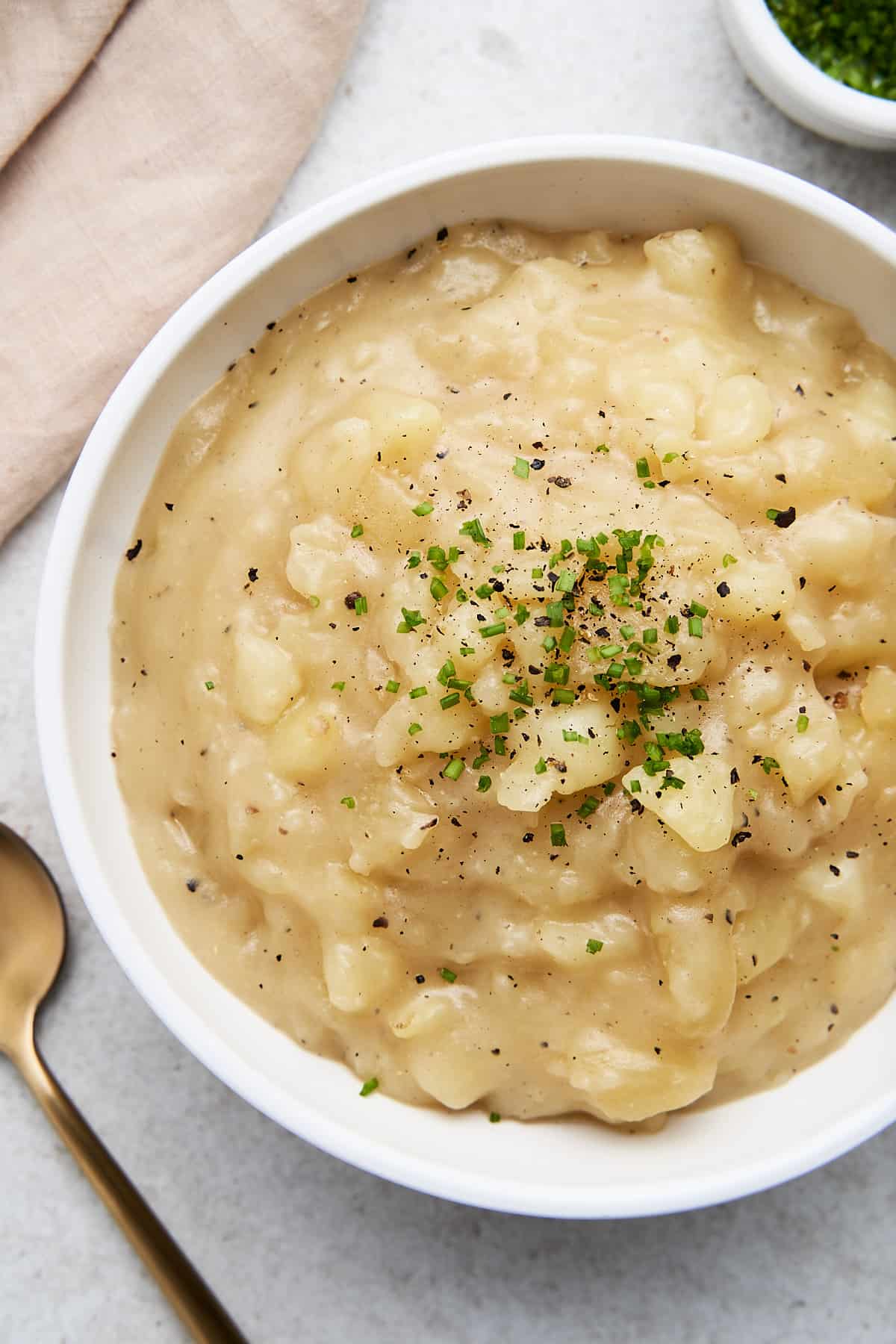 After a quick look at the ingredients for this stewed potatoes recipe from Mitch & Justine of Broke Bank Vegan, we knew it was a winner. There are but a handful of ingredients, including waxy potatoes.
You see, when it comes to boiling potatoes, "waxy" varieties hold up best. So, the popular high-starch Russet will have to sit this one out.
But that's just the beginning. The simple four-ingredient side dish is extra-flavorful thanks to butter, garlic or onion powder, and black pepper.
Visit Broke Bank Vegan for the recipe.
Instant Pot Quinoa
Quinoa, when cooked right, makes a lovely side for grilled, poached, and other salmon preparations. Cooking it in the instant pot, like this recipe from Everyday Eileen, takes an already simple dish and makes it even easier.
Aside from measuring and rinsing the "psuedograin" and measuring the stock, there's little else to do. You simply add the ingredients to the Instant Pot and let it do its thing.
Visit Everyday Eileen for the recipe.
Air Fryer Brussels Sprouts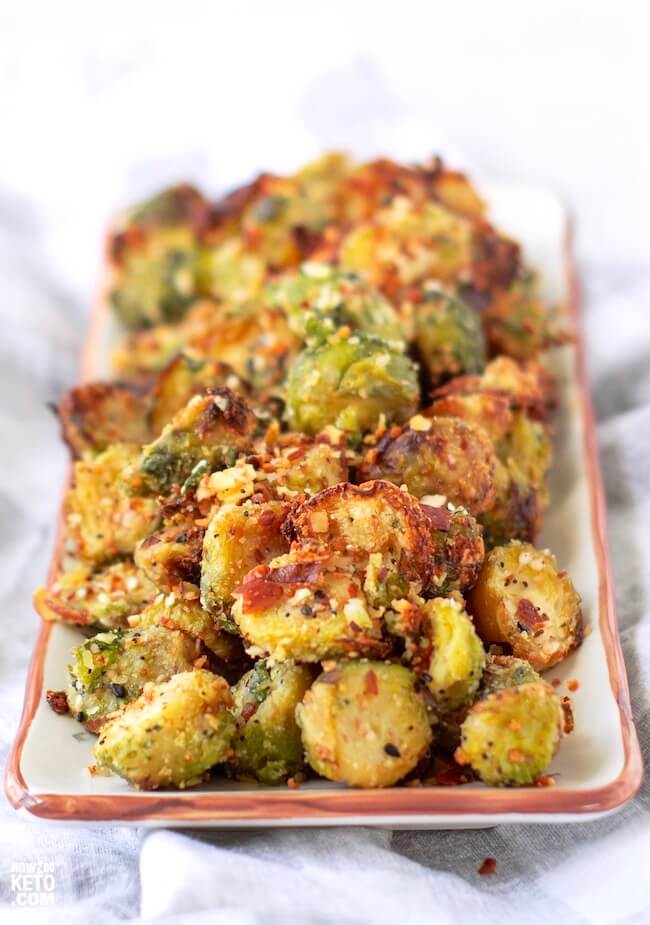 This wouldn't be the first time we've covered this air fryer Brussels sprouts recipe from Stacey and Matt of How 2 Do Keto. And that's for a good reason. The versatile side dish can change how you look at the tiny cabbage.
You see, the Brussels sprout was once the avatar for bad-tasting veggies. Like beef liver or lamb, the bitter veggie is unforgiving if prepared with poor technique. But when well seasoned with parmesan, everything bagel seasoning, and air fried to crispy perfection, they become an oft-requested side or snack.
Roasted Honey Gold Potatoes with Cilantro Vinaigrette
Although "honey gold potatoes" have a slightly sweet buttery flavor, there is no honey or other sweeteners in this side dish. Instead, it's all savory splendor.
Those crunchy spuds are shrouded in a cilantro vinaigrette. A green elixir, really, that will beckon you back on those days when dinner inspiration is in short supply.
But it's the tips and tricks that make the difference here! For example, do you want mouthwatering potatoes with super crispy edges? Don't skip heating the pan, and don't stir them.
Visit Caramel And Cashews for the recipe.
Crispy Za'atar Roasted Potatoes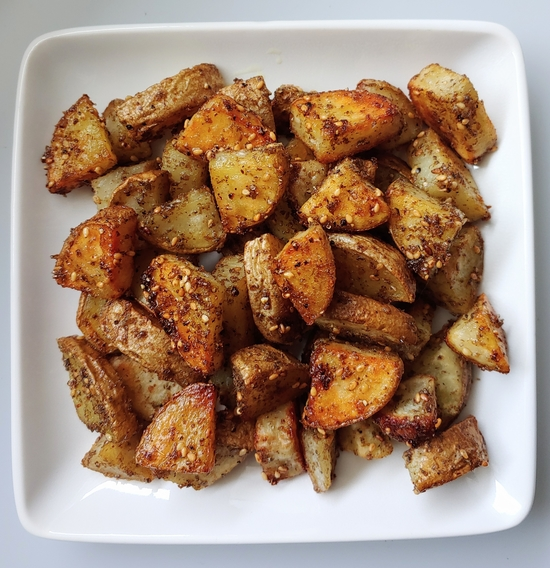 Zap your taste buds with these za'atar-seasoned crispy potatoes from Kaylen of Flavorful Eats. They're so good! So, if you aren't familiar with the bright lemony spice blend, you're missing out. The Middle Eastern magical mix combines sumac (the source of the citrus flavor), sesame seeds, and dry herbs (too many to name here).
It's versatile. You can put it on lamb, beef, or chicken. But in this case, it's used to become your favorite way to eat potatoes. Kaylen shows you how to make them crunchy and next-level delicious.
Visit Flavorful Eats for the recipe.
Slow Cooker Creamed Corn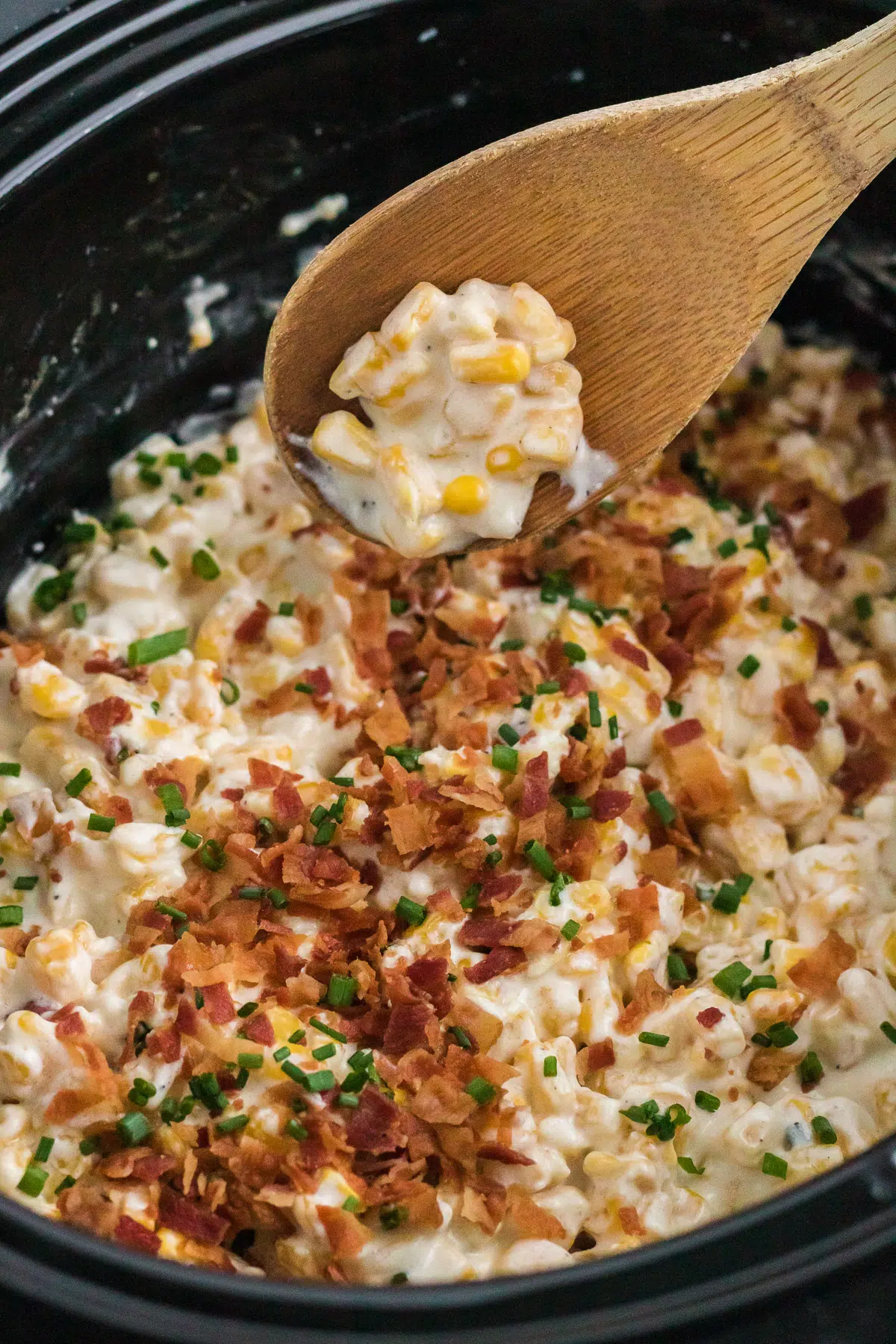 Using just a handful of common ingredients, including frozen corn, cream cheese, milk, and BACON, this creamed corn recipe is made in The Magical Slow Cooker. That's right, with such a rich taste like this, you will think it's magic.
What more could you want? It's a mostly hands-off side dish filled with corn and bacon.
Visit The Magical Slow Cooker for the recipe.
Goat Cheese Twice Baked Potato With Herbs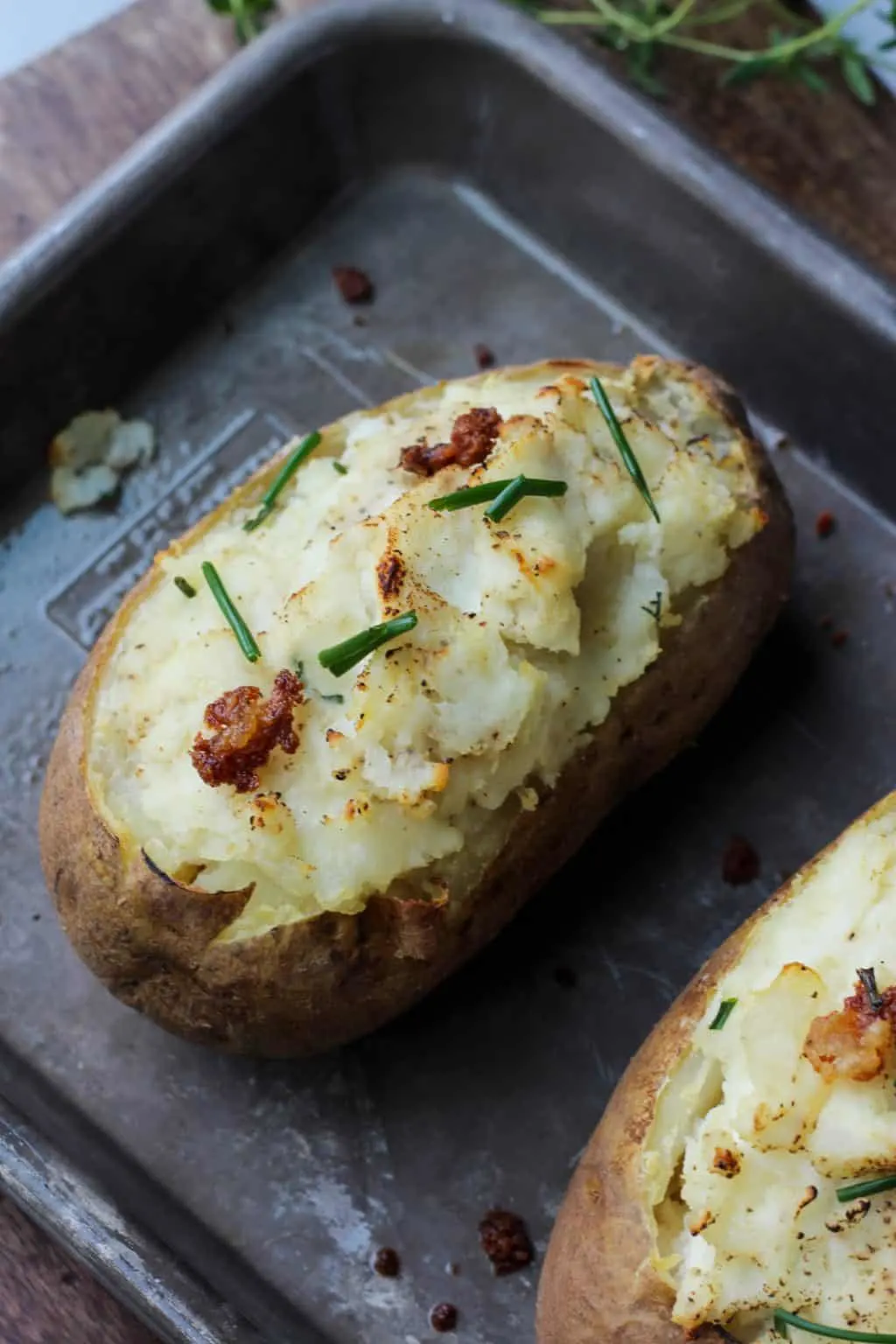 Got leftover potatoes? Give them new life with this goat cheese twice-baked potatoes recipe from Michelle, the Blackberry Babe. It's a great way to save time and money.
After cutting the potato, you scoop out the inside and combine it with goat cheese, butter, cream, and bake. But Michelle does offer a word of warning. When it comes to the tangy fromage, more is not better.
Visit Blackberry Babe for the recipe.
Bacon And Brussels Sprouts Salad
Bitter, sweet, and citrusy, this bacon and Brussels sprouts salad from Lisa and Heather of Made In A Pinch is the perfect companion to fatty salmon fillets. Shaved Brussels sprouts (pre-shredded), apples, nuts, bacon, and parmesan cheese provide the backdrop for a delightfully bright dressing made with orange juice, olive oil, dijon mustard, and white pepper.
Visit Made In A Pinch for the recipe.
Watermelon Summer Salad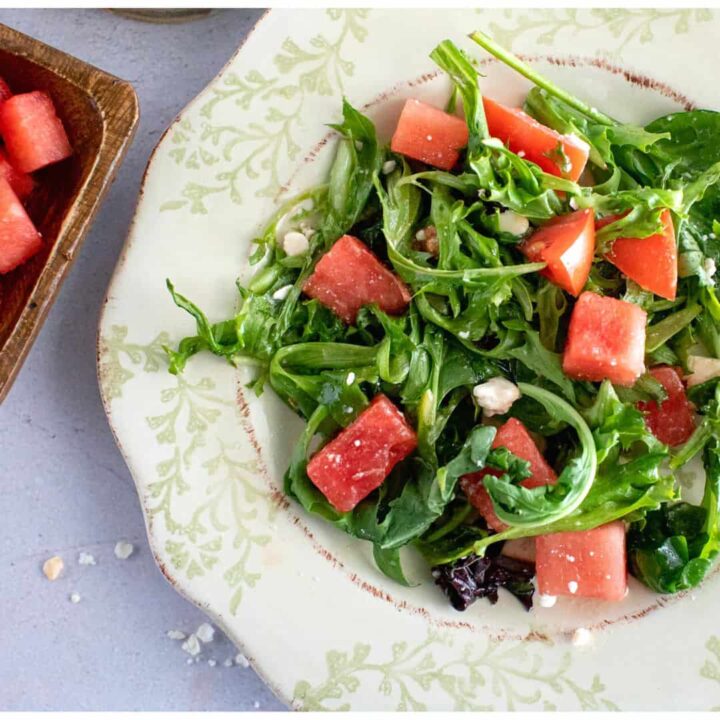 If you're looking for the perfect accompaniment to that mouthwatering flame-kissed grilled salmon, look no further than this watermelon summer salad recipe from Mary of DIY And Fun for the recipe.
Oh, it's just so seasonal and refreshing! So get this: crisp lettuce, juicy tomatoes, and sweet watermelon marry with salty feta cheese and raspberry vinaigrette. It's a fresh, flavor-filled party, and your tastebuds are invited. Can you think of a better summer side dish for your grilled wood plank salmon?
Visit DIY And Fun for the recipe.
Longhorn Brussels Sprouts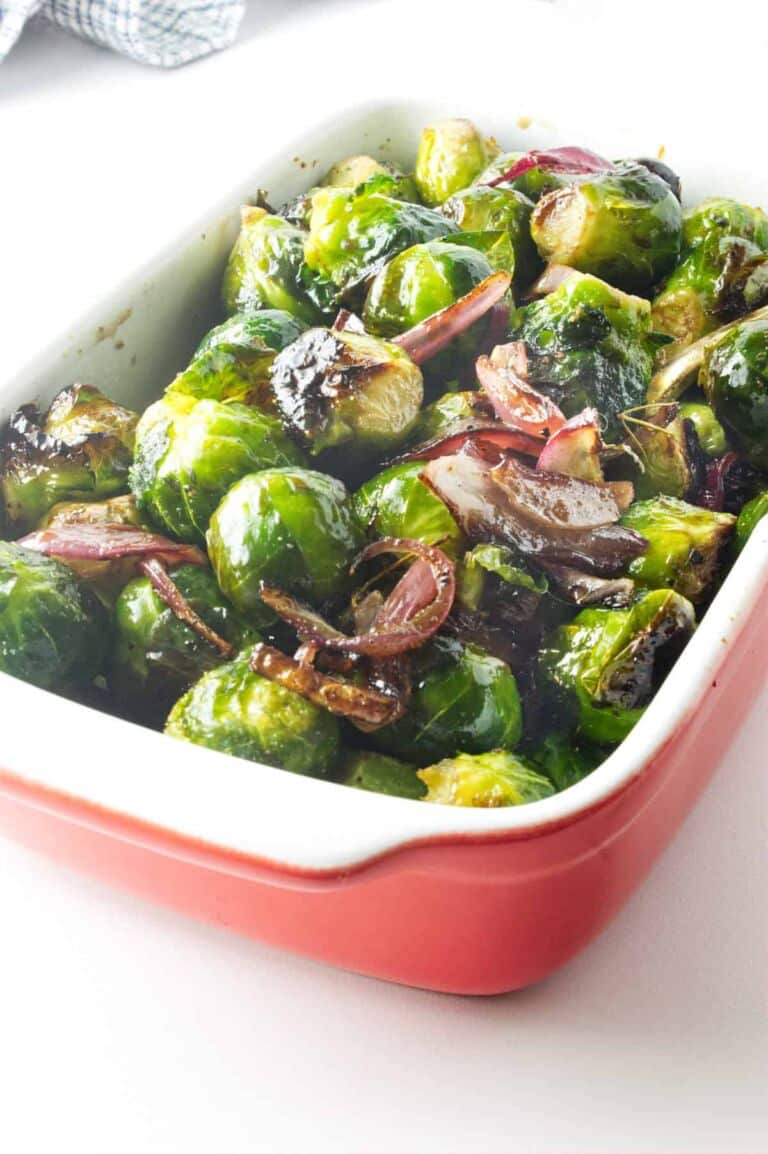 This Brussels sprouts recipe from Kelly of Smells Like Delish is inspired by the Longhorn favorite. It's a savory, slightly sweet side dish perfect for salmon or any other main.
But what we really love about the copycat concoction is that it requires just five ingredients, including Brussels sprouts, garlic (slivered, not minced), onion, and Balsamic vinegar. And better still, you don't even need to chop the sprouts.
Visit Smells Like Delish for the recipe.
Mizeria: Polish Summer Salad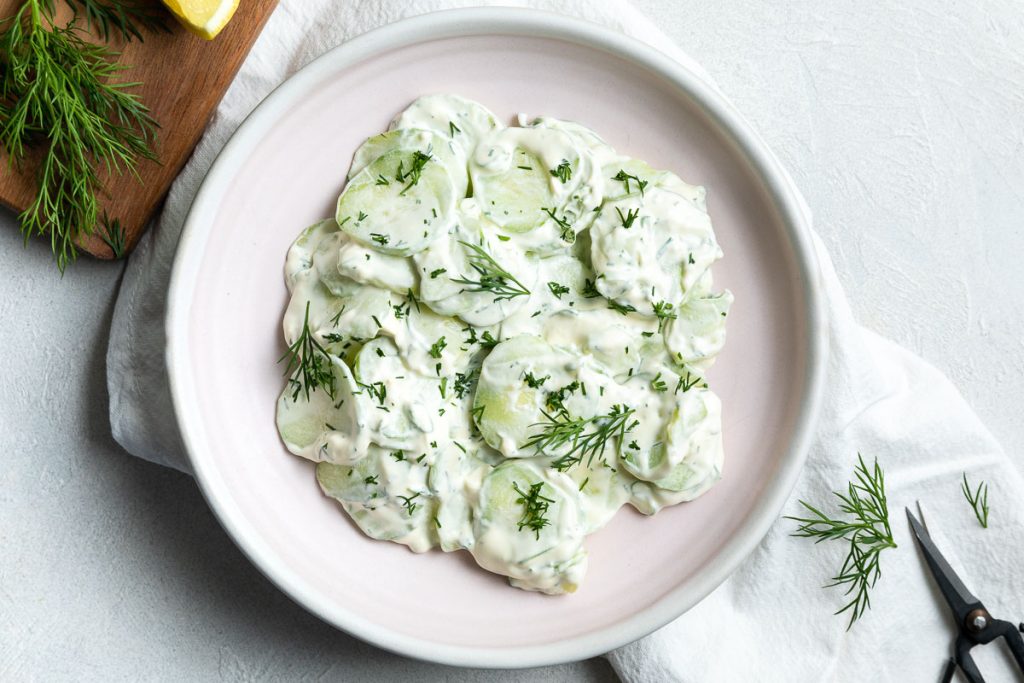 This next recipe, Mizeria from Mrs. Jones Kitchen, is surrounded by origination mythos. Is it a food of the poor, or was it named for a miserable, homesick queen? Who knows? But what we do know is the Polish summer salad plays well with fish and grilled meats.
With cucumber, sour cream, lemon, dill, and onion, it's simple and refreshing. Ah, yes, the perfect companion to your slightly charred and smoked offerings.
Visit Mrs. Jones Kitchen for the recipe.
Spicy Thai Mango Salad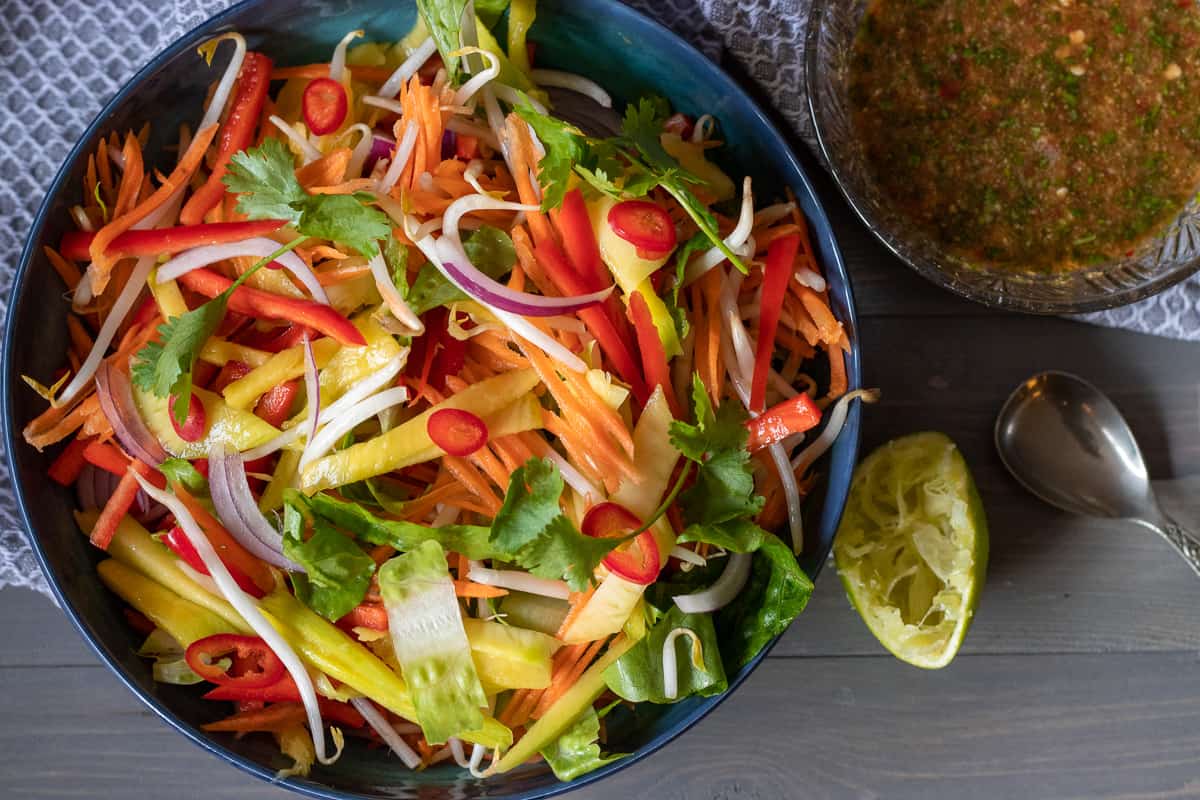 We love recipes from Ayla of Cooking Gorgeous. Because not only are they beautiful, but they're also easy to follow, well-balanced, and creative. Accordingly, this spicy Thai mango salad certainly fits the bill.
You have unripened green mangoes, bean sprouts, carrots, and red bell peppers. So it is full of captivating colors. But then there's a Thai dressing, my dear! It's an enchanting mix of flavors, mostly lime juice, ginger, fish sauce, and garlic.
Visit Cooking Gorgeous for the recipe.
So, Have You Figured Out What To Serve With Salmon?
By now, you've seen many side dishes that work with salmon, like crispy za'atar roasted potatoes, balsamic garlic broccoli, and even air fryer Brussels sprouts. So what will it be? We'd love to know!
Please save this list to Pinterest so you don't forget about it.