You are going to love this giant list of 21 Ground Chicken Recipes for Dinner! Because without instruction or guidance from an experienced cook, ground chicken will often yield dry, unappetizing meals. We've been there and done that.
But those days are over!
That's right! With this impeccable catalog of ground chicken recipes like chicken bolognese, Southwest ground chicken burgers, easy Greek chicken meatballs, and so many more, you will have clean eating deliciousness that the whole family will love.
Let's dive in!
And by the way, if you like this list, you'll love our fabulous chicken thigh recipes and shredded chicken recipes.
Southwest Ground Chicken Burgers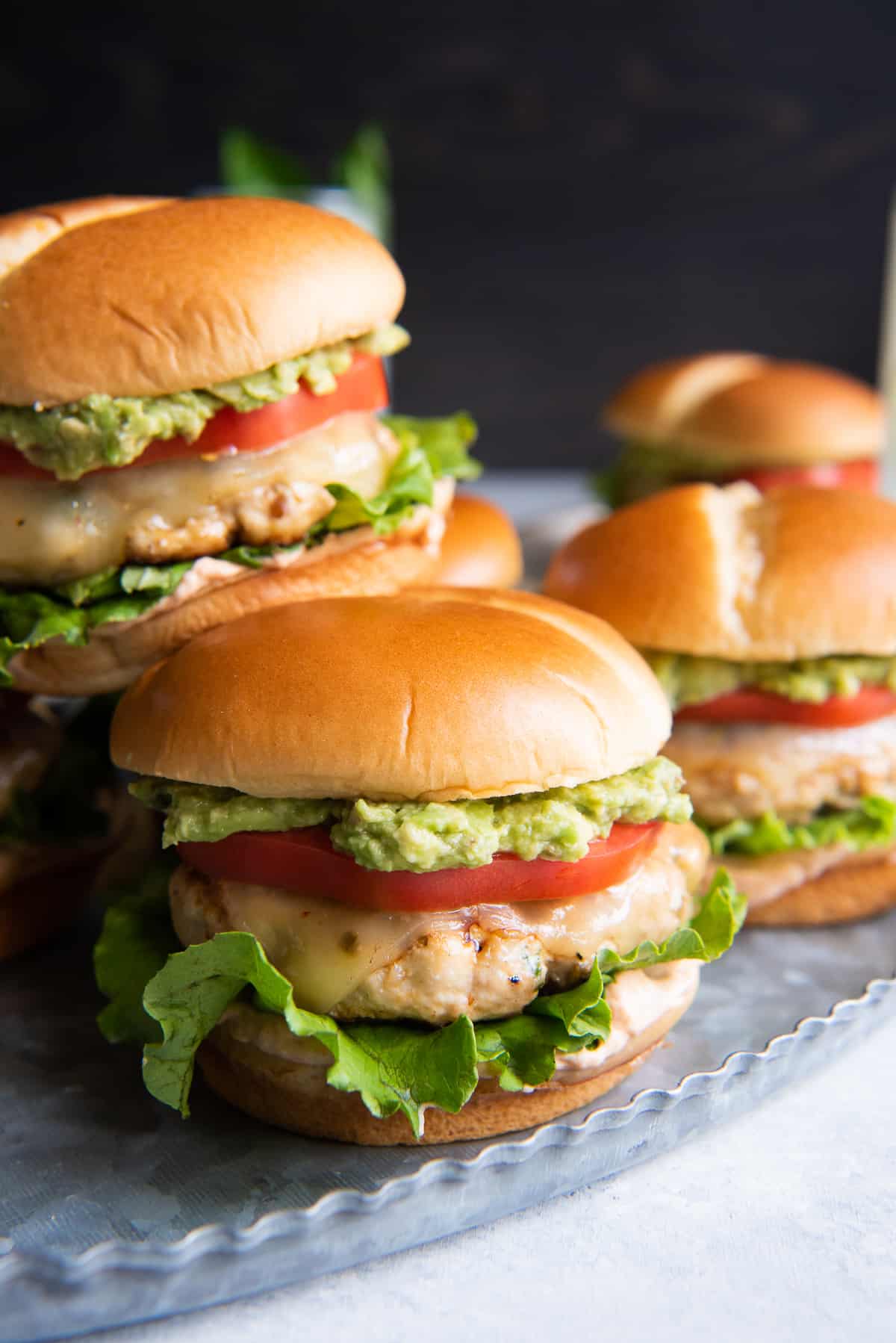 Here's a magic trick from Valerie of Wholesome Made Easy. Turn ordinary, meh, lean ground chicken into delicious, juicy southwest chicken burgers. And with the mesmerizing flavors of sauteed onions, diced green chiles, and her secret smoky sauce, you won't be missing the beef.
Visit Wholesome Made Easy for the recipe.
Easy Chicken Meatballs With Orzo Pasta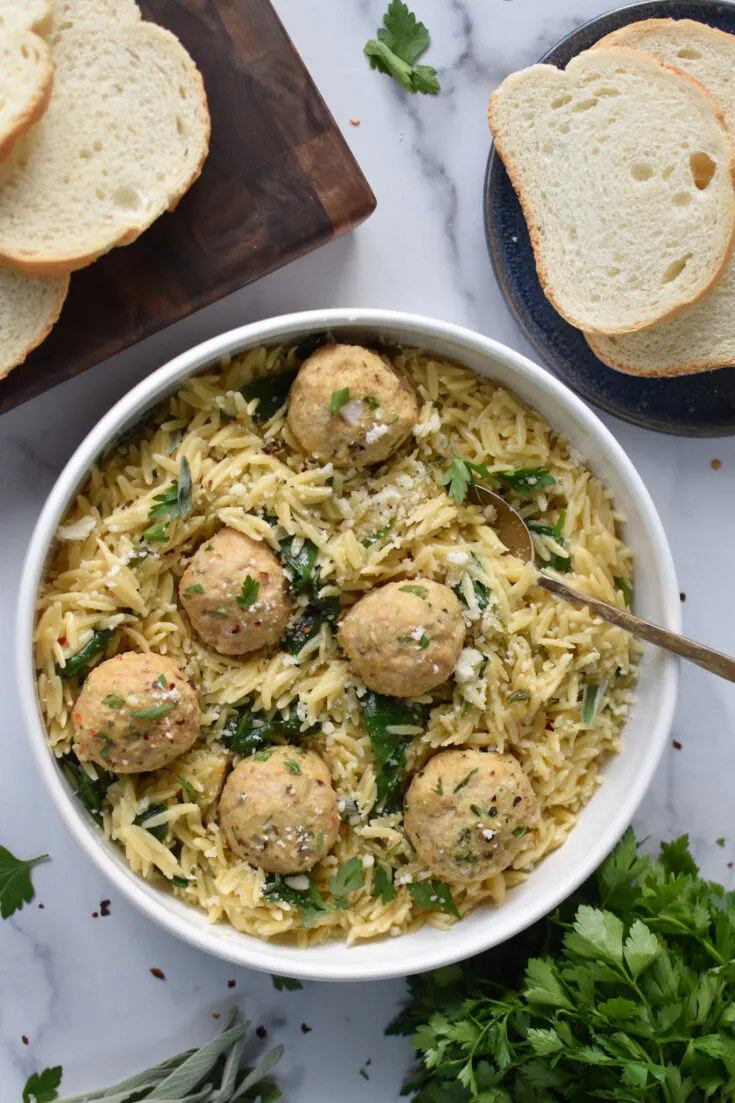 Versatile. That's the best word to describe these easy chicken meatballs from Julia of A Cedar Spoon. Are you looking for a delicious party appetizer? How about an impressive fall holiday entree? Look no further than these chicken meatballs filled with parmesan cheese, sage, parsley, garlic, and a slew of other seasonings.
Visit A Cedar Spoon for the recipe.
Chicken Kofta
Kofta is a meatball or meatloaf dish filled with a fantastic cornucopia of flavors from the Mediterranean, such as coriander, cumin, mint, parsley, and garlic. You'll often find kofta made with ground beef or lamb, but in this case, Julia of A Cedar Spoon uses ground chicken for a leaner take on this delicious classic. Serve with pita, hummus, olives, and vegetables, and you've got a meal!
Visit A Cedar Spoon for the recipe.
Egg Roll Bowl
Egg rolls are delicious Chinese-American fare. But, for as good as they are, they're also deep fried, high in fat, and not something to eat every day. Until now, that is. With this egg roll bowl from Kristen of Slender Kitchen, you can have the flavors you love without the guilt. Instead, you'll find lean ground chicken, cabbage, rice wine vinegar, ginger, garlic, and more.
Visit Slender Kitchen for the recipe.
Best Chicken Bolognese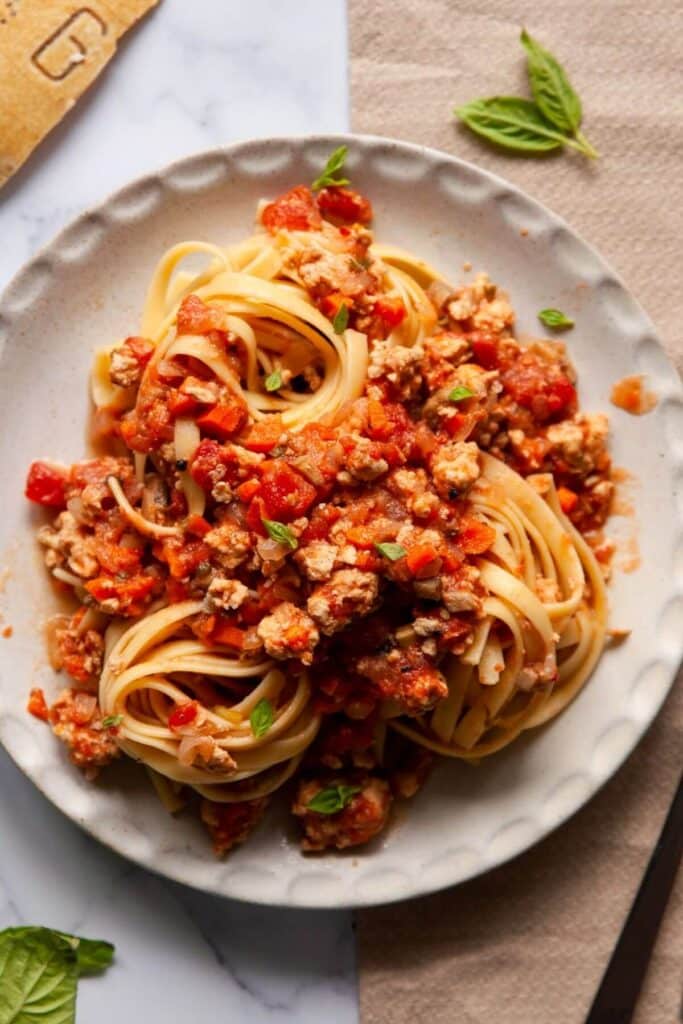 No longer will you have to spend hours suffering for a delicious low and slow bolognese sauce. Instead, with help from Tati, The Healthful Blondie, you'll be able to make a healthier version with chicken in just 30 minutes. Mmmm, you'll enjoy the flavors and nutrition of cremini mushrooms, onions, tomatoes, basil, and more! Delicious and nutritious.
Visit The Healthful Blondie for the recipe.
Healthy Baked Chicken Nuggets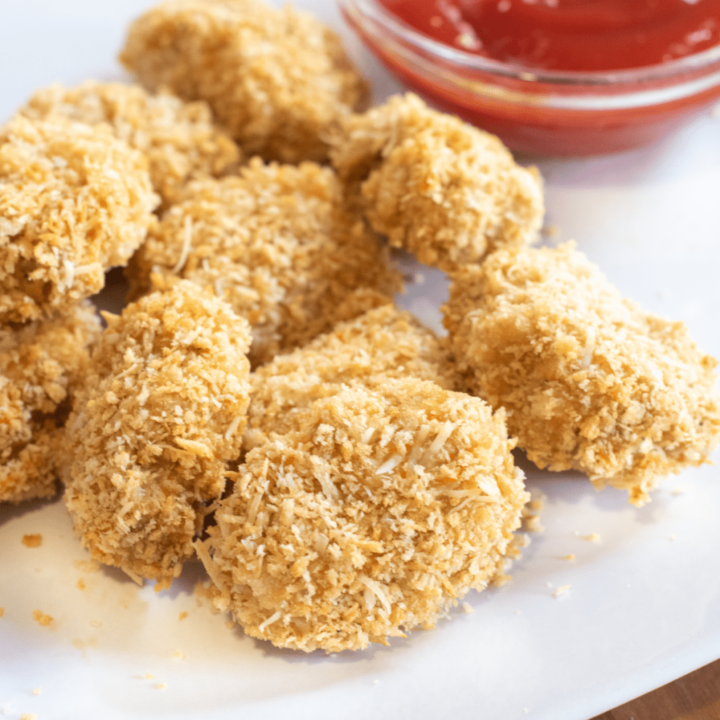 As a mom of two, Tracy of Served From Scratch isn't going to waste an opportunity to sneak some veggies into her kid's meal. And this healthy homemade baked chicken nugget recipe is undoubtedly an example of that. It's a tasty creation featuring ground chicken and parmesan cheese breaded in panko. And somehow, she even snuck sweet potato in there. The kids will be none the wiser.
Visit Served From Scratch for the recipe.
Ground Chicken Sloppy Joes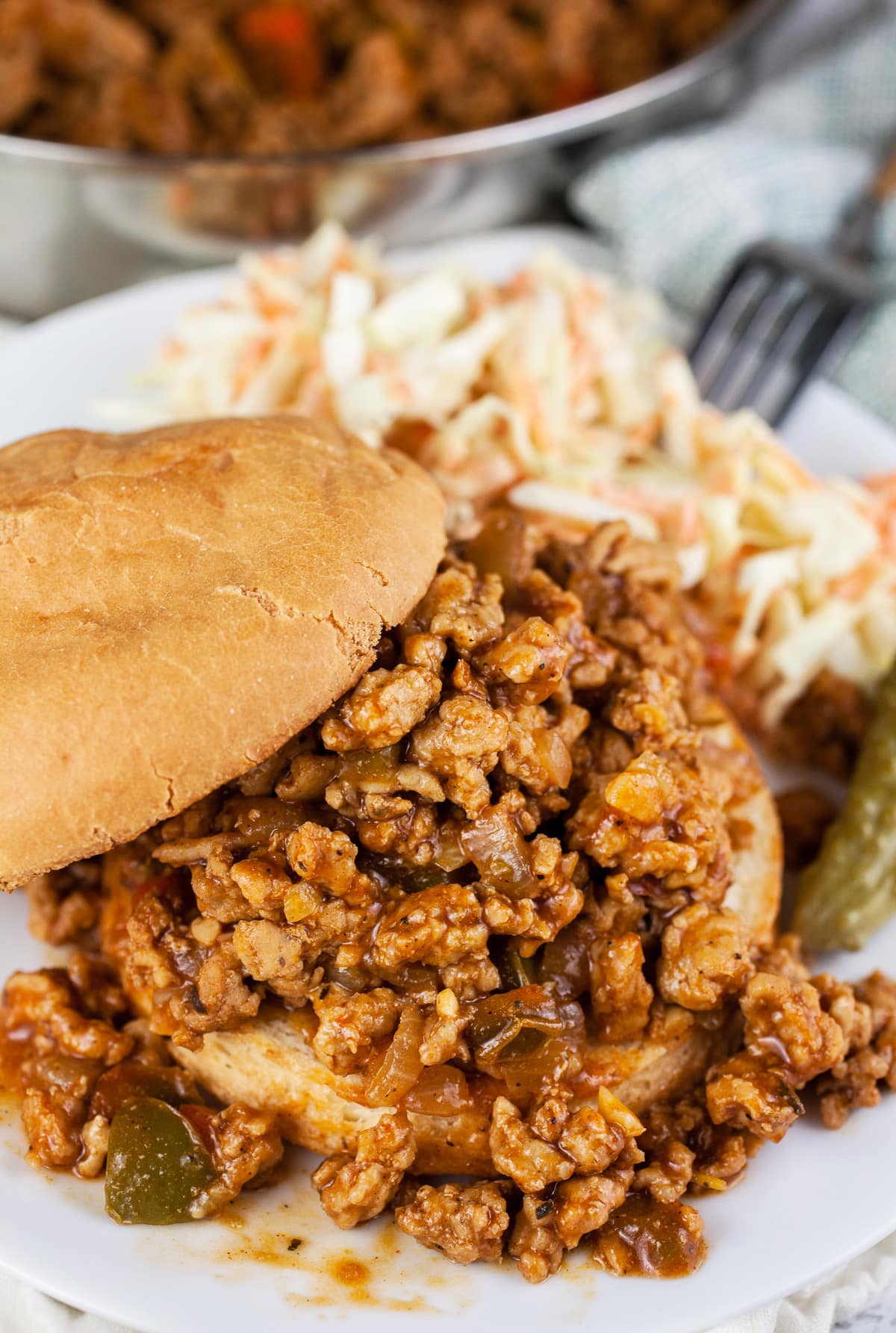 Sloppy joes aren't just something you do with a pound of ground beef. In fact, Christine of The Rustic Foodie shows us how to make America's favorite mess hall meal with healthier ground chicken. It's a quick recipe you make from scratch using homemade sloppy joe sauce, onions, garlic, bell peppers, and a blend of seasonings and spices. It's the same great taste, only healthier.
Visit The Rustic Foodie for the recipe.
Easy Greek Chicken Meatballs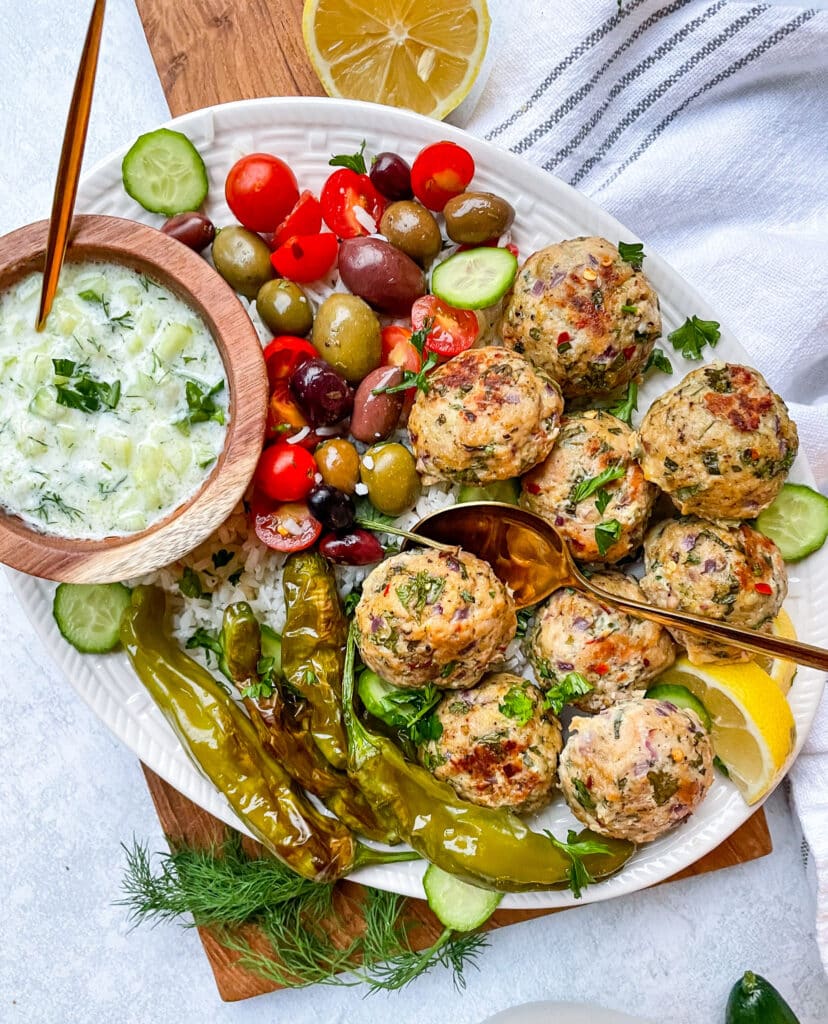 Would you believe you can slip so much flavor into one eensy little meatball? Well, get ready to be amazed at these easy Greek chicken meatballs from Capri, the Good Food Baddie. That's right. Ground chicken joins forces with red pepper flakes, mint, dried oregano, and other Mediterranean flavors for a meal so good you'll want it again and again. Pair them with homemade tzatziki sauce, olives, and cucumbers; you've got a dinner worth repeating.
Visit Good Food Baddie for the recipe.
Thai Basil Chicken Recipe
You'll want to serve this Thai basil chicken stir fry from Chichyu of I Heart Umami with a crispy fried egg for the ultimate comfort food weeknight meal. You'll find an excitingly fragrant mix of red serrano chili peppers, garlic, and Thai basil. And if you're on a restricted diet, you'll be happy to know it's low carb, making it an incredible Keto option.
Visit I Heart Umami for the recipe.
Ground Chicken Meatloaf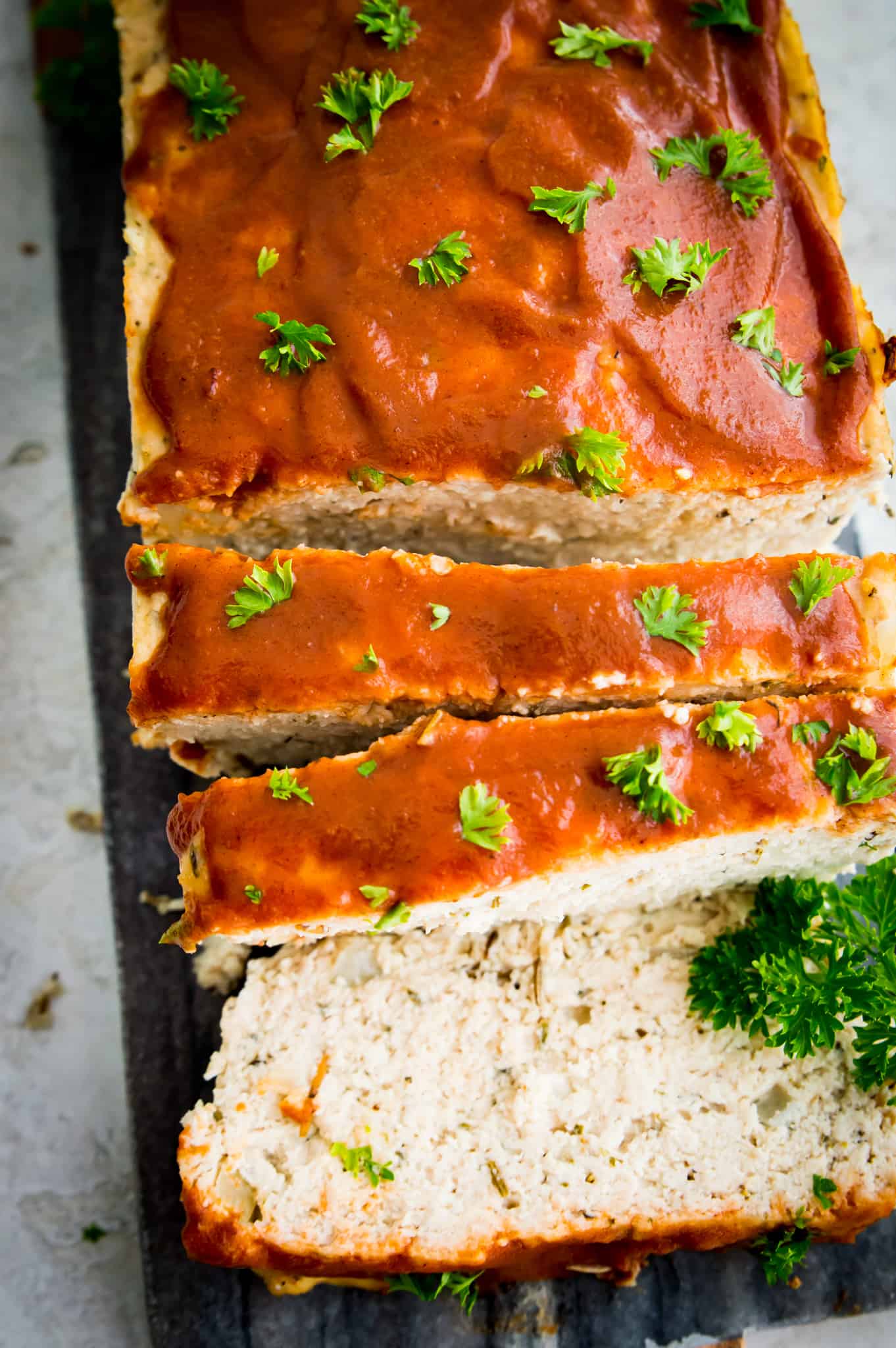 If you're skeptical about chicken meatloaf, don't close the door on it just yet, because Erin of Pure And Simple Nourishment promises the best chicken meatloaf you've ever had. It's moist, juicy, and brimming with flavor. And if you're gluten-free, you'll be happy to know there aren't any breadcrumbs, just ground chicken, apple sauce, vegetables, and spices.
Visit Pure And Simple Nourishment for the recipe.
Chicken Meatballs with Mushrooms and Marsala Cream Sauce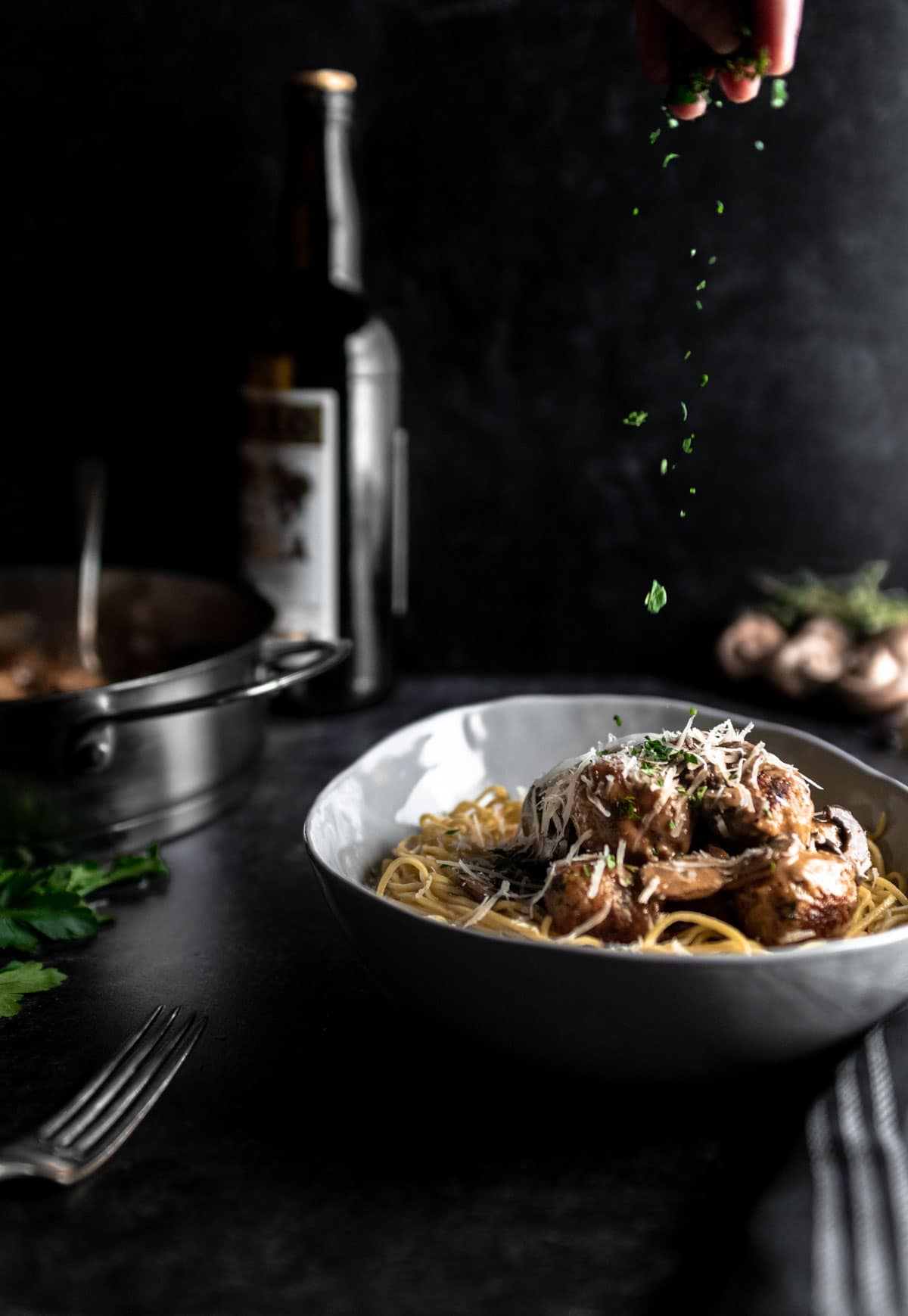 You can't help but be captivated by this moody, beautifully styled chicken meatball recipe from Scott & Taylor of The Sage Apron. The husband and wife team brings us lean yet delicious chicken meatballs seasoned with fresh thyme, parmesan, and garlic. Those bite-sized heavenly morsels swim in a bath of rich and creamy marsala sauce. We can't wait to try it.
Visit The Sage Apron for the recipe.
Lasagna Roll Ups
Kelly of Chef Savvy has our attention with these practical ground chicken lasagna roll-ups. You'll enjoy the same great taste you love from lasagna; cheese, tomato sauce, and aromatics, but in a fun presentation. Better still, the tasty but easy freezer-friendly meal is ready in less than an hour, including just 10 minutes of prep. Lovely!
Visit Chef Savvy for the recipe.
Ground Chicken Crust Pizza Recipe
Okay, so you're scrolling through one recipe after another, and suddenly you see a recipe for ground chicken pizza crust. So how do you not continue and see how it's done? We certainly couldn't miss this one from Lisa and Pete, The Drug Store Divas. As the title states, it's a pizza, but the crust is ground chicken, but there's still tomato sauce and cheese. You have to see how they do it!
Visit Drug Store Divas for the recipe.
Asian Ground Chicken Lettuce Wraps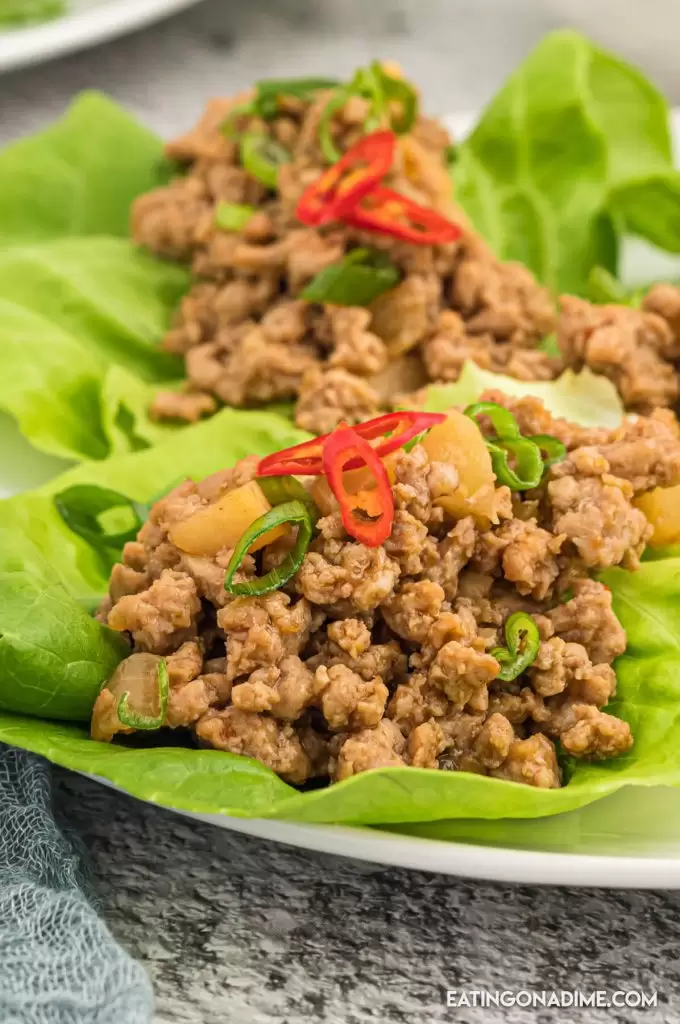 If you're Eating On A Dime, then Kathy has a scrumptious ground chicken recipe you'll love. It's none other than Asian ground chicken lettuce wraps. They're healthy, but that's only half the dinner battle. They're also tasty with flavors like garlic, hoisin sauce, and rice wine vinegar. So, of course, the whole family will crave them.
Visit Eating On A Dime for the recipe.
Air Fryer KFC Popcorn Chicken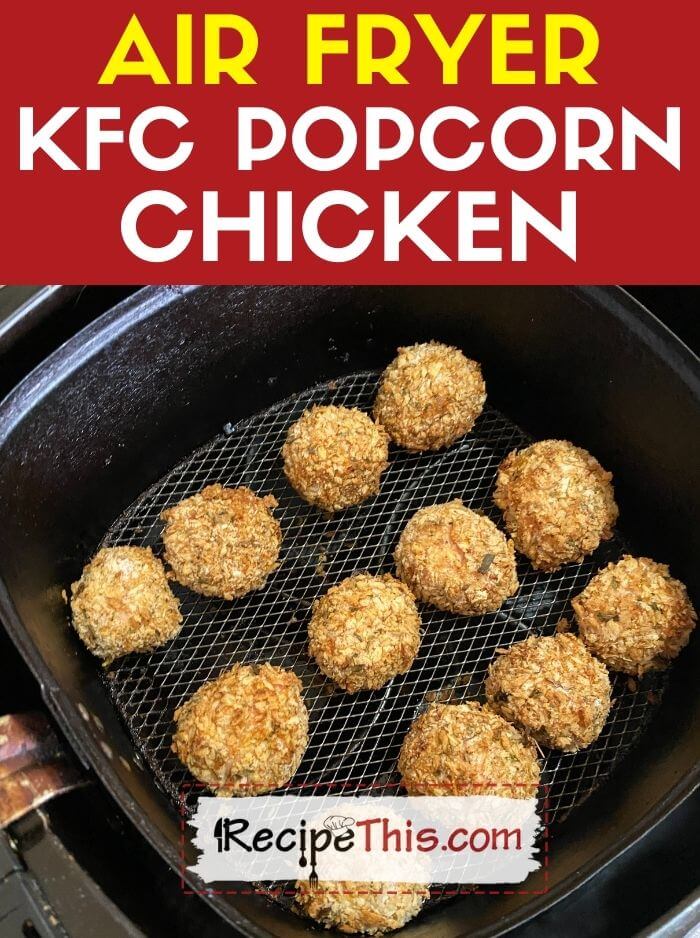 The Milners of Recipe This are royalty when it comes to copycat Air Fryer recipes. They religiously test and create new meal ideas in everyone's favorite cooker. So when saw this simply delicious copycat KFC popcorn chicken recipe we knew it was a must try kind of deal. And boy, is it ever easy with just six ingredients and 12 minutes of cooking time.
Visit Recipe This for the recipe.
Harissa Chicken Meatballs Bowls
So there are several meatball recipes on this list, but these harissa chicken meatballs from Jill of Simple Sweet Masala are too good to pass up. Harissa is a hot chili paste used in North African cuisine. It's got a kick, but adding garlic, cilantro, parsley, and other pungent spice makes it a winner. Jill serves them up in a bowl with lettuce and other veggies, pita chips, and her delicious garlicky feta tzatziki sauce.
Visit Simple Sweet Masala for the recipe.
Cheesy Pull Apart Keema Pav
An excellent way to describe Keema Pav from Jill of Simple Sweet Masala is Indian spiced sloppy Joes. Some of those spices include garam masala, turmeric, and chili powder. So, with that in mind, we present these delicious cheesy pull-apart keema pav to you. Soft buns meet ground chicken seasons with a flurry of Indian spices and lots of cheese.
Visit Sweet Simple Masala for the recipe.
Healthy Chicken Fritters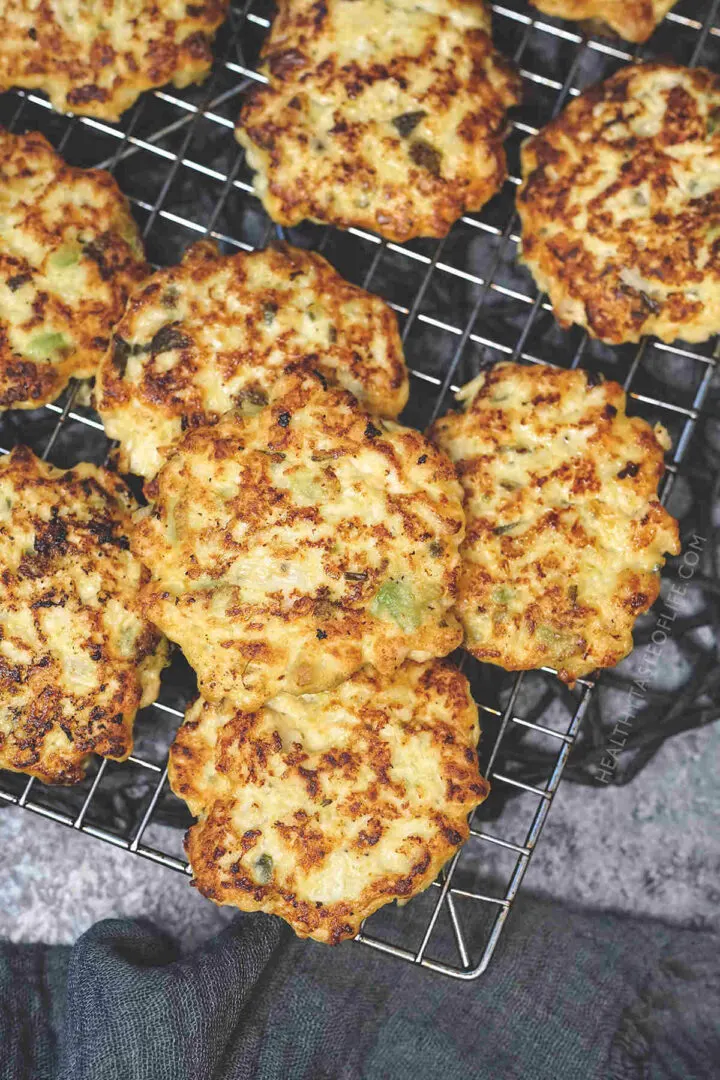 We bet you can't eat just one of these chicken fritters from Olya of Healthy Taste Of Life. You can use packaged ground chicken or, instead, use your food processor to grind turkey breast. Either way, season them generously with onion, garlic, herbs, salt, and pepper before pan-frying. And the homemade honey mustard takes them to the next level.
Visit Healthy Taste Of Life for the recipe.
Ground Chicken Pasta Recipe
This luscious ground chicken with orecchiette (small ear-shaped pasta) recipe from Luna of Healthy Recipes 101 is rich, protein-filled, and sure to get thumbs up from your whole family. But don't expect them to say much. They'll be too busy eating. It's an easy recipe to make Monday thru Friday with common and easy-to-find ingredients like ground chicken, thyme, and cajun seasoning.
Visit Healthy Recipes 101 for the recipe.
Baked Chicken Tacos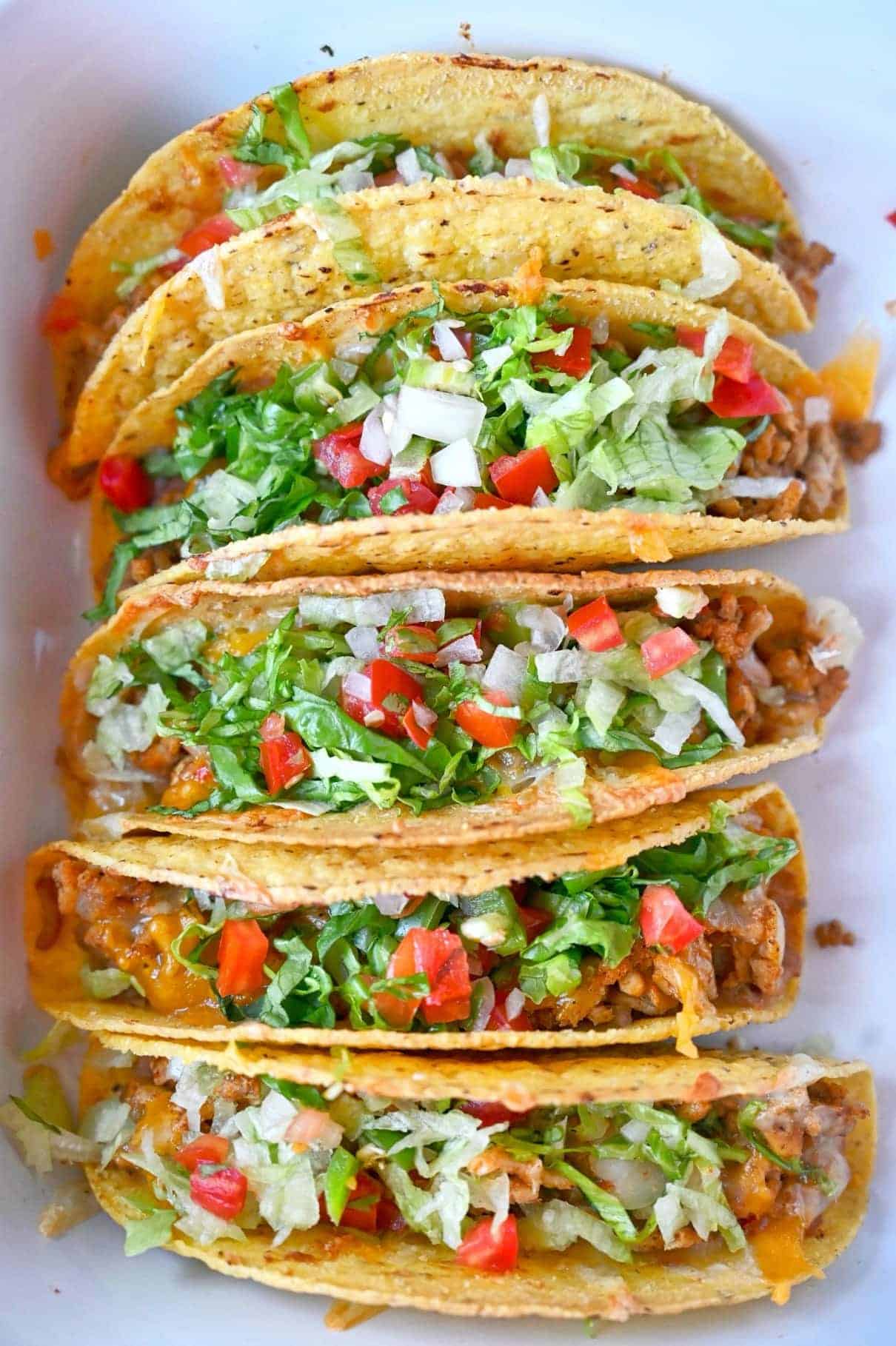 These baked chicken tacos from Wendie will Butter Your Biscuit, so to speak. Seriously, they're filled with ground chicken, cheese, and all your favorite toppings like salsa, sour cream, and cilantro. Nothing fancy here—just healthy, reliable, tasty, weeknight dining all will enjoy.
Visit Butter Your Biscuit for the recipe.
Ground Chicken Burgers With Ranch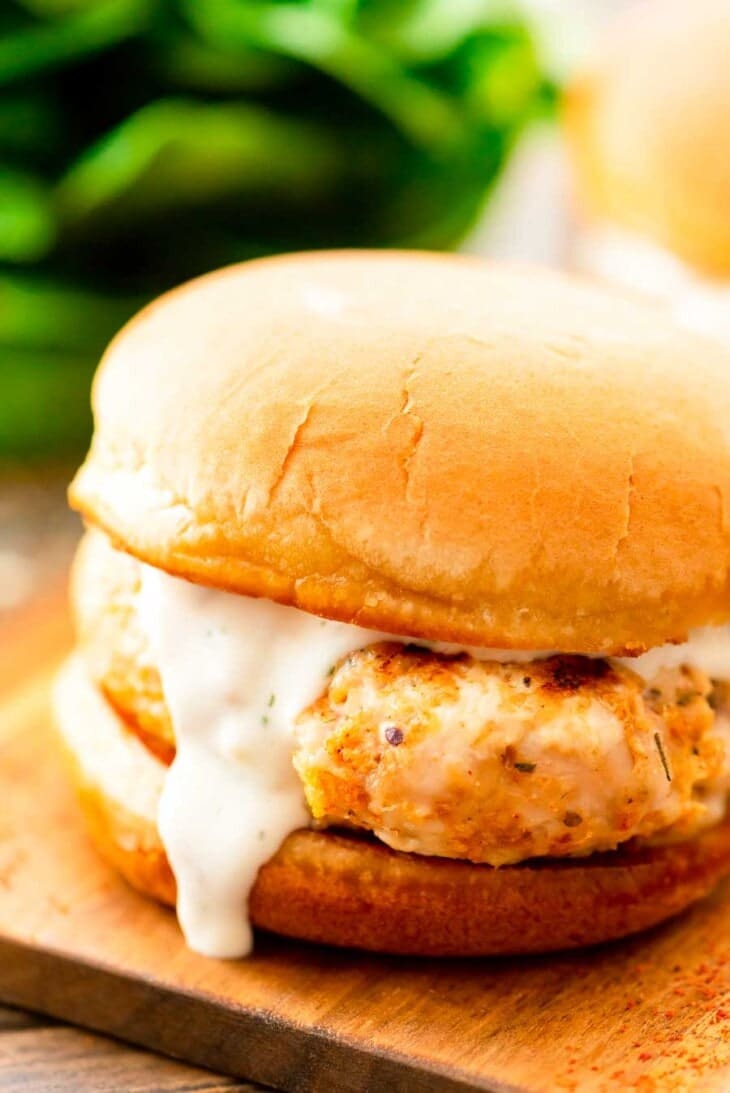 Cooked in the oven, these juicy ranch chicken burgers from Julie's Eats And Treats are easy weeknight dining you'll want when time isn't on your side. One of the keys to keeping chicken moist and juicy is minding the temperature and cooking time. These cook in the oven for just 10 minutes. Another key to keeping the chicken burgers moist is the bread crumbs. This recipe has two different types.
Visit Julie's Eats And Treats for the recipe.
Which Ground Chicken Recipe For Dinner Will You Try First?
So, by now, you've seen a bunch of different ground chicken recipes for dinner. So, which one will you try first? Is it the ground chicken tacos, harissa chicken meatball bowls, easy Greek chicken meatballs, or something else? Let us know.