Ever think, why not make pizza a little more tempting with the addition of a tantalizing side dish? So, we put together this list of incredible side dishes that will round out a night of pizza, fun, and family.
We found some options that you're far less likely to come across, like easy crispy walnut shrimp, blistered shishito peppers, crispy cauliflower bites, and crunchy air fryer everything Brussels sprouts. It's an impressive list.
Let's jump in!
Panda Express Honey Walnut Shrimp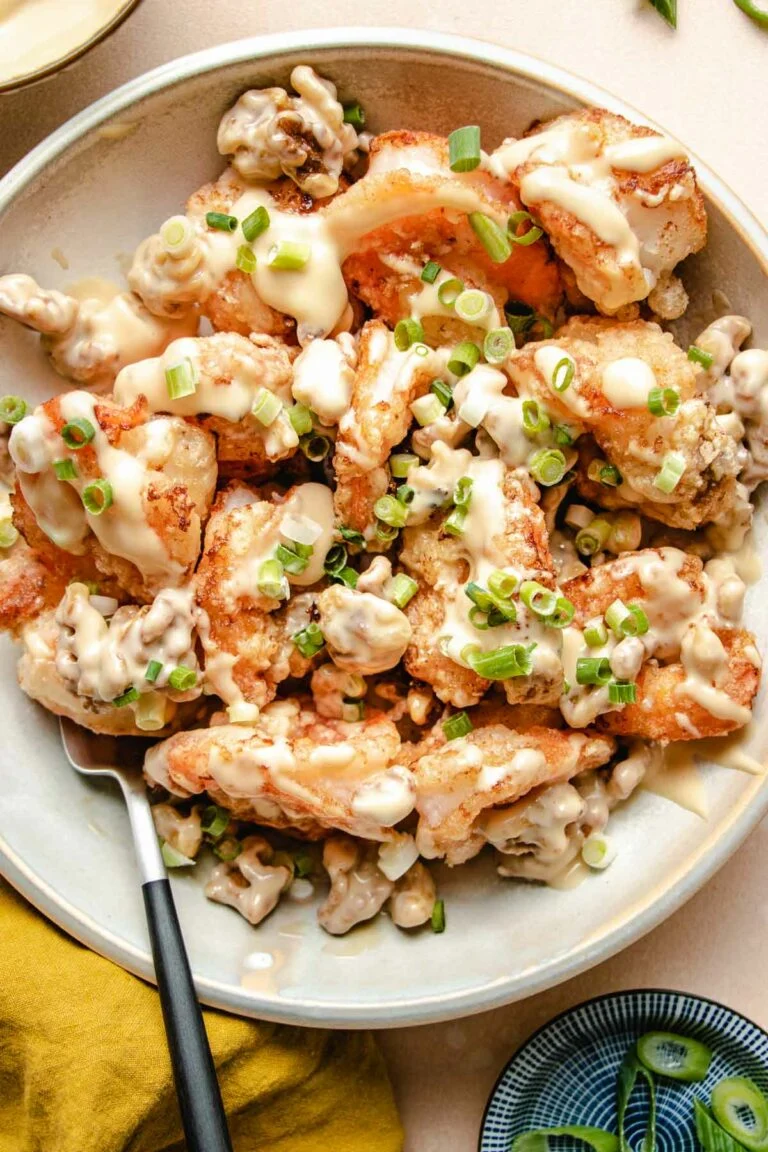 Just like it came from your favorite Japanese restaurant, this shrimp recipe from I Heart Umami is a crunchy tempuraesque side dish you'll want to eat with your pizza. Chihyu shows you her secret to crispy shrimp that isn't overcooked. And while we're talking about that honey-mayo sauce, you're going to love it!
Visit I Heart Umami for the recipe.
Easy Air Fryer Cheesy Garlic Crescent Rolls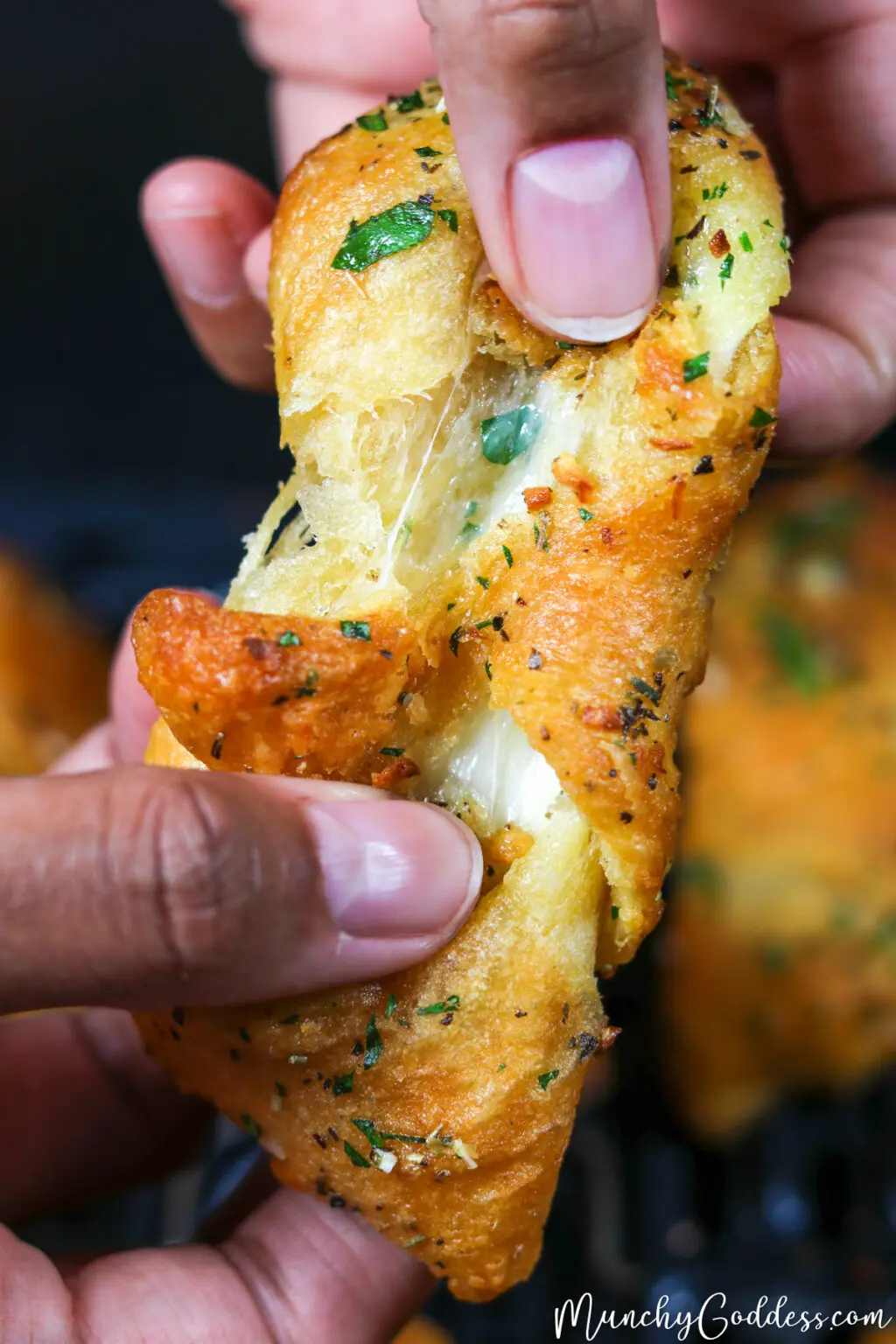 When you make these garlic crescent rolls from Ivory of Munchy Goddess you have to understand pizza night will never be the same. It's a quick recipe you make by rolling cheese in the can crescent rolls. Then you brush them with butter, and add seasonings. Yummy!
Visit Munchy Goddess for the recipe.
How To Cook Broccoli In The Oven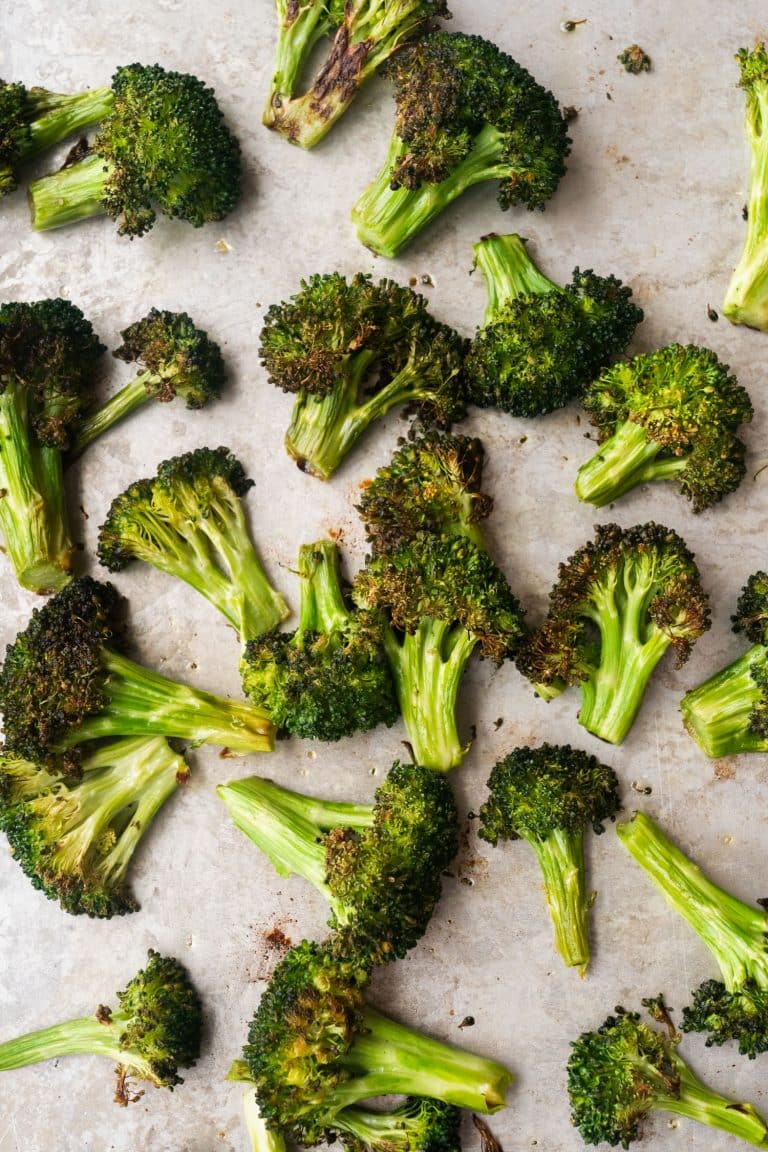 Who better to show you how to cook broccoli in the oven than the Brooklyn Farm Girl. Using Pamela's tips, you'll have delicious crispy roasted broccoli ready in just 15 minutes. This is a great option to balance your pizza indulgence.
Visit Brooklyn Farm Girl for the recipe.
Sweet Potato Fries With Wasabi-Pea Dip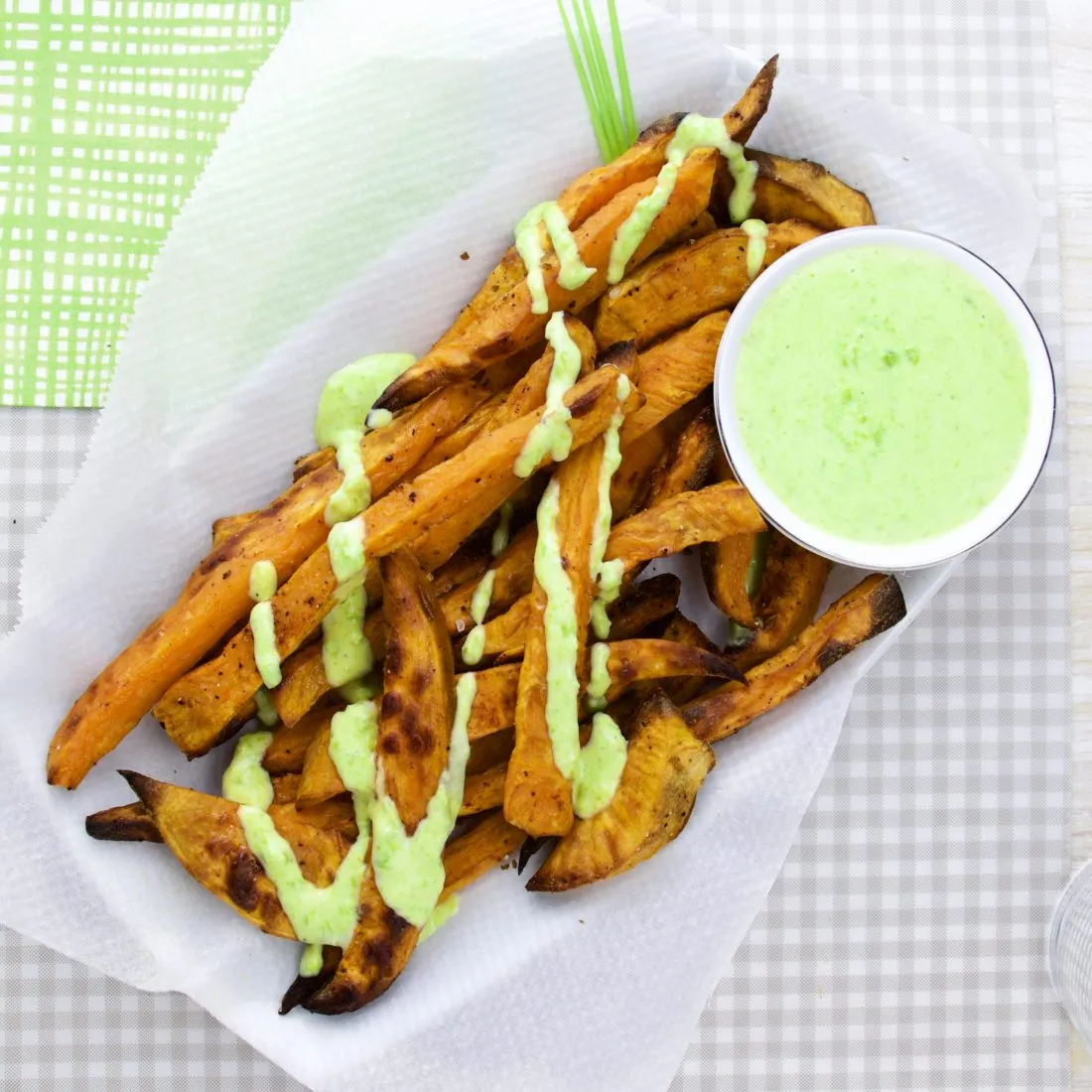 Sweet potato fries with wasabi-pea dip from Marie of The Foodolic is an unexpectedly delicious and guilt-free side everyone will enjoy. It starts with crispy baked sweet potato first, and the sauce, free of ketchup and mayo, is healthy with enough kick to excite your tastebuds.
Visit The Foodolic for the recipe.
Plantain Fries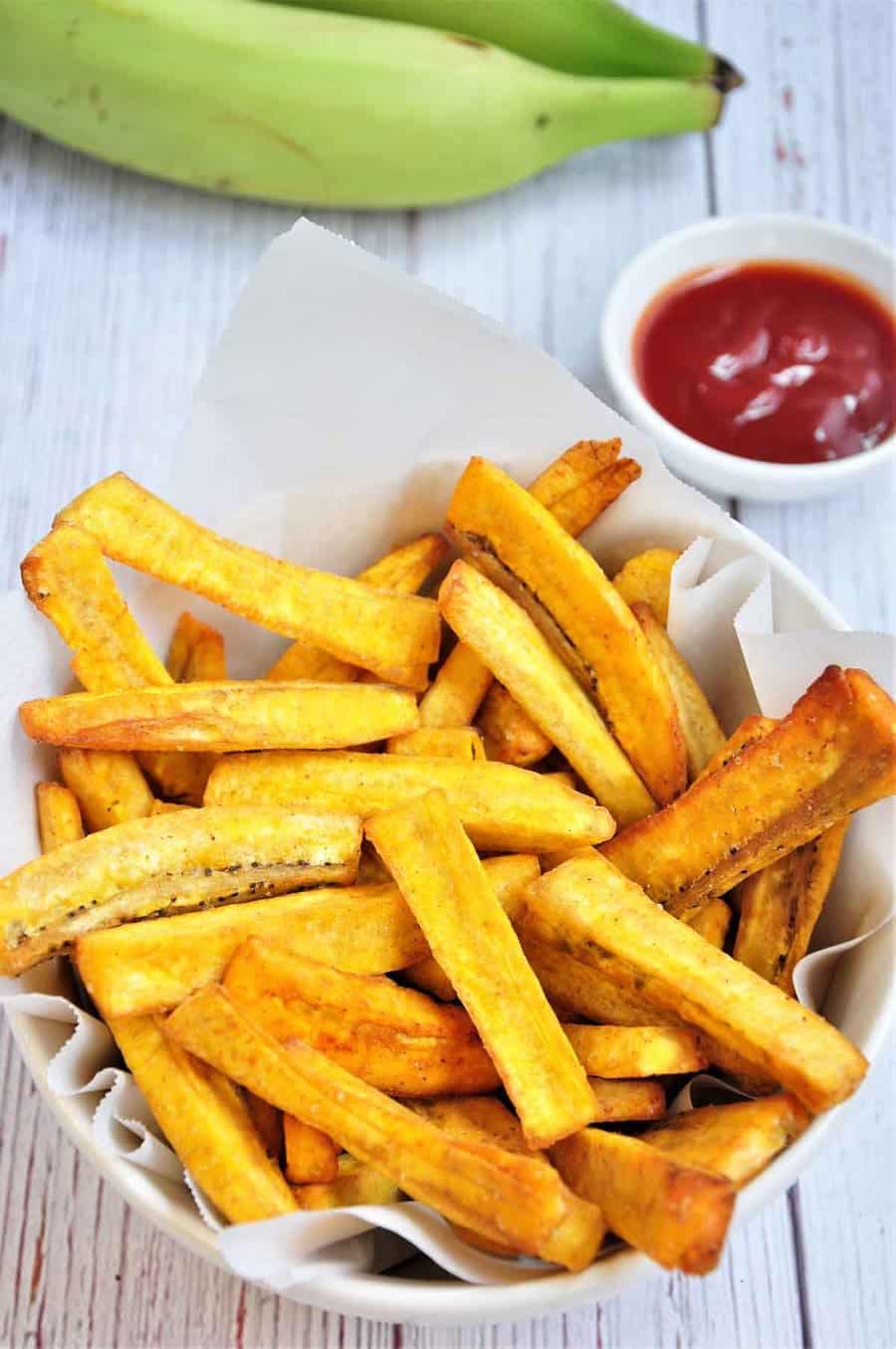 Sweet plantain dishes are delicious but so are savory ones like these plantain fries from Alpa of Culinary Shades. They're naturally gluten-free and vegan. Better still, they are so quick to make in the air fryer with very little oil and a sprinkle of salt.
Visit Culinary Shades for the recipe.
Cherry Tomato Caprese Salad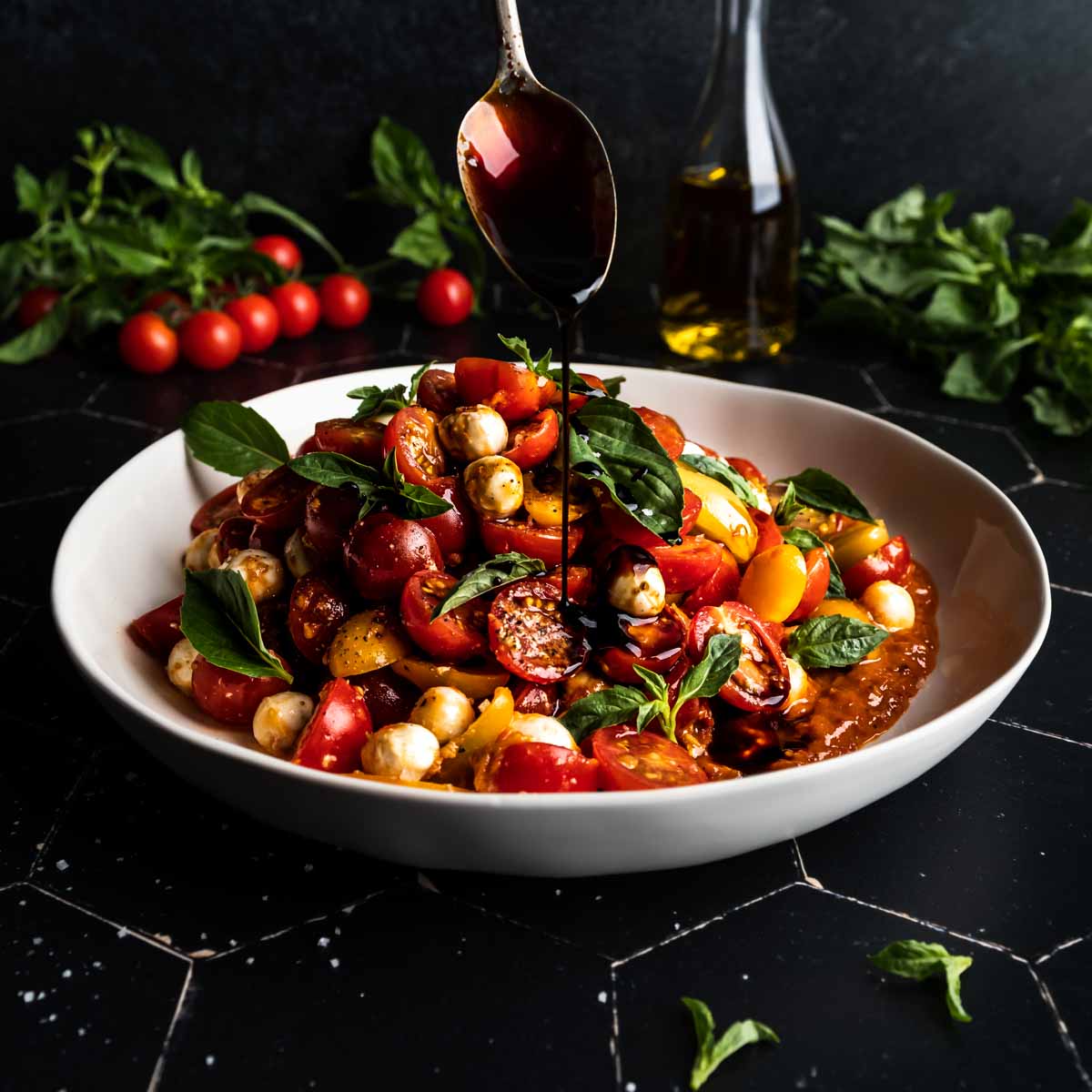 If you make this cherry tomato Caprese salad from Food Worth Feed, it may become more popular than the pizza. This bright and fresh salad is full of juicy and sweet cherry tomatoes, fresh basil, mozzarella, and roasted tomato vinaigrette.
Visit The Sage Apron for the recipe.
Asian Sesame Ginger Slaw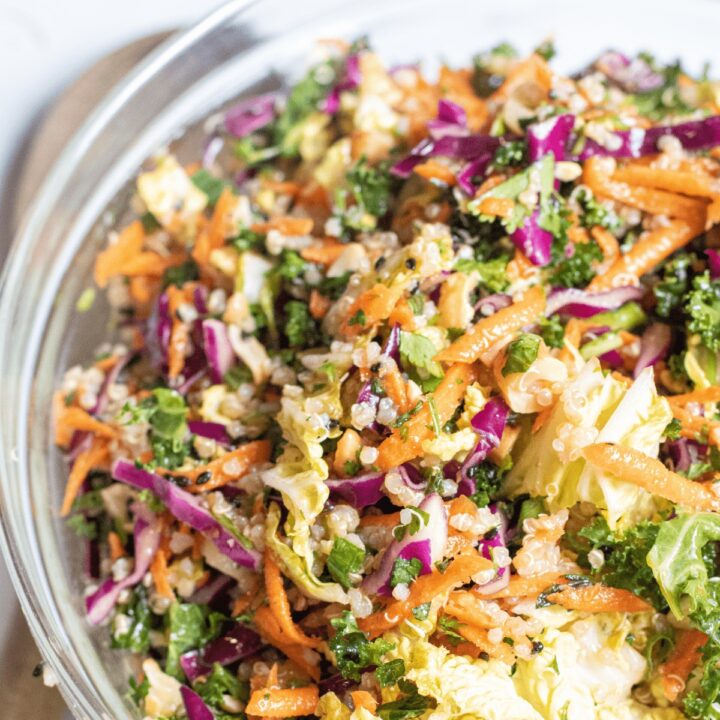 Red and napa cabbage, kale, carrots, and cilantro make a beautifully colorful salad from Tracy of Served From Scratch. But when you add the sesame ginger dressing, cashews, sesame seeds, and quinoa, it becomes a filling side to accompany your pizza.
Visit Served From Scratch for the recipe.
Air Fryer Garlic Bread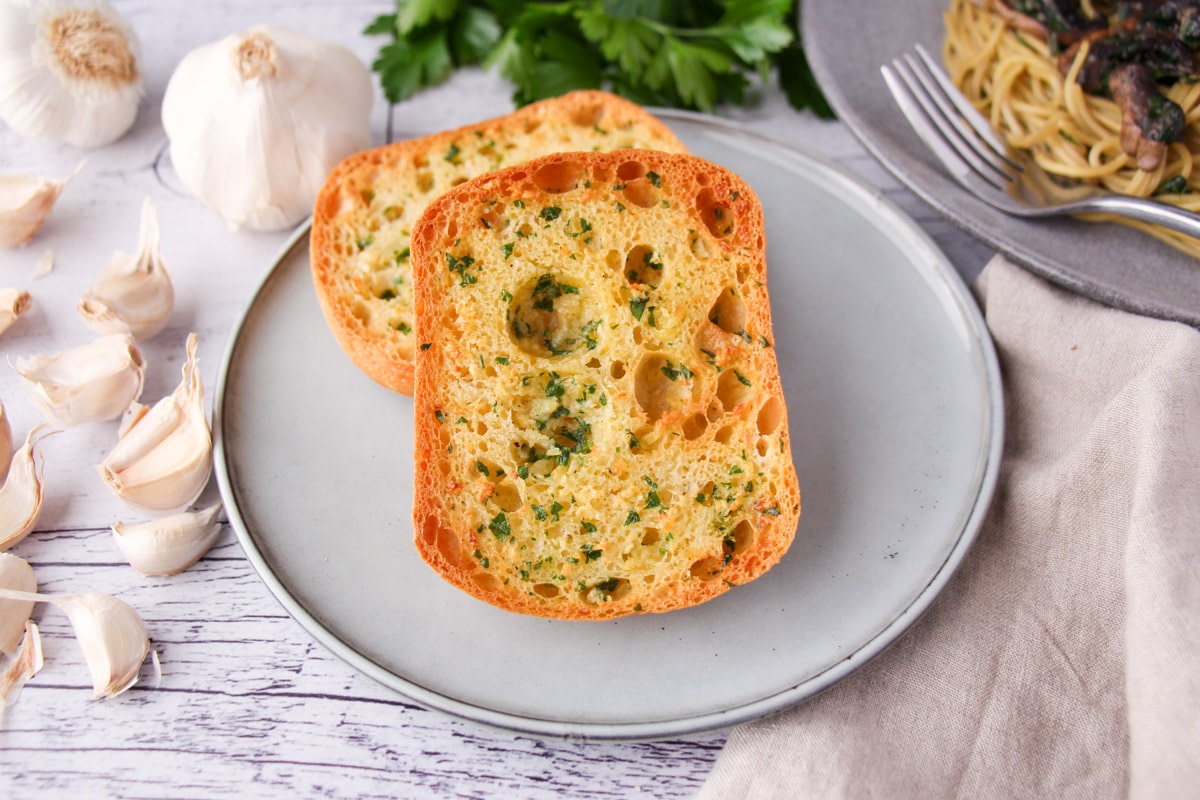 Pizza plus garlic bread equals carbs on top of carbs, and we're here for it! And if you want garlic bread in an instant, then you need to see this recipe from Sarah of Aussie Home Cook. Starting with ciabatta bread, spread the garlic parsley butter and pop it in the air fryer.
Visit Aussie Home Cook for the recipe.
Parmesan Garlic Zucchini Fries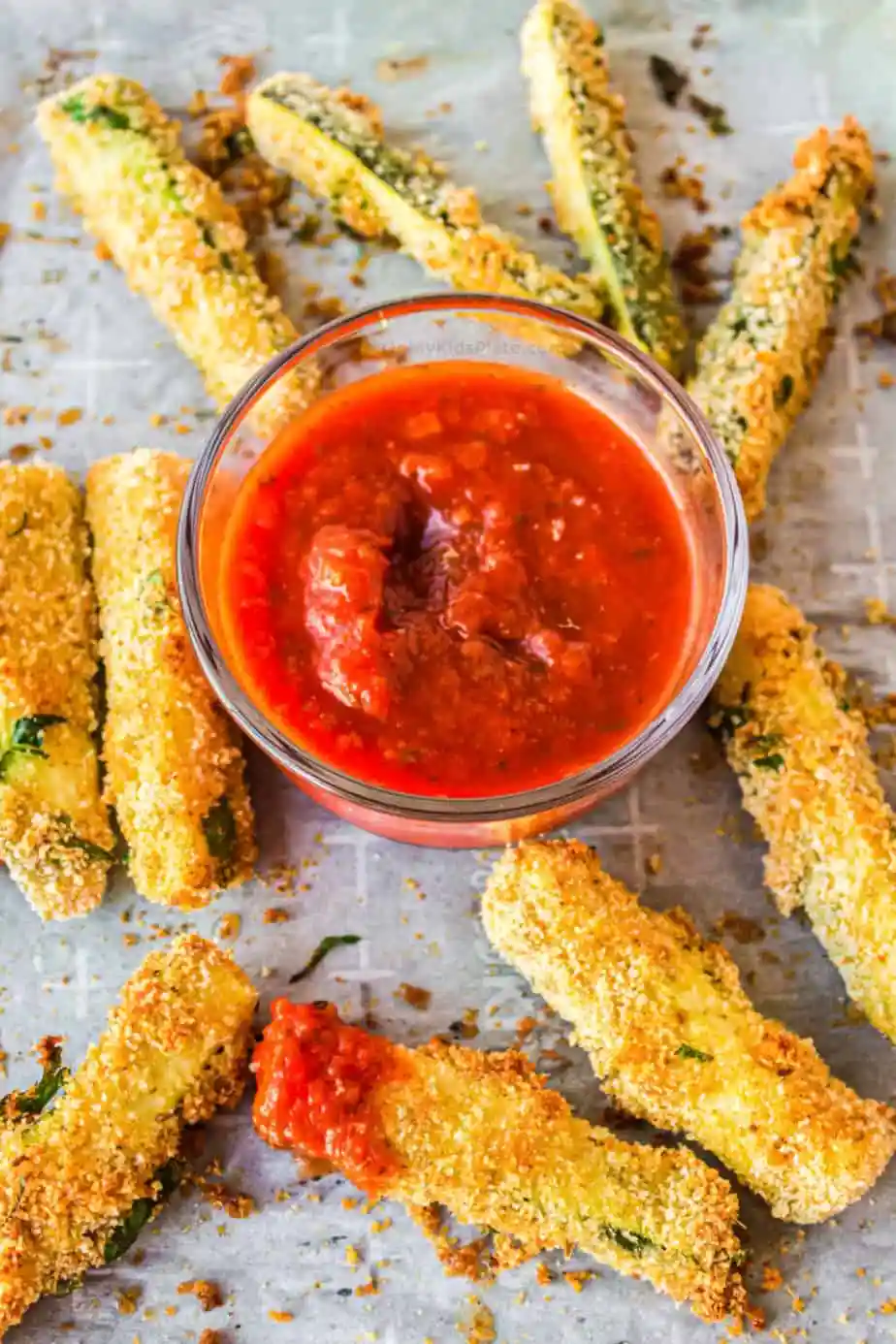 Golden brown, crispy, and healthier than potato fries, these parmesan garlic zucchini fries from Kristy of On My Kid's Plate are great to serve with pizza. But it gets better. You make the simple bread crumb-covered side in the air fryer.
Visit On My Kid's Plate for the recipe.
Italian Tomato Salad With Cucumbers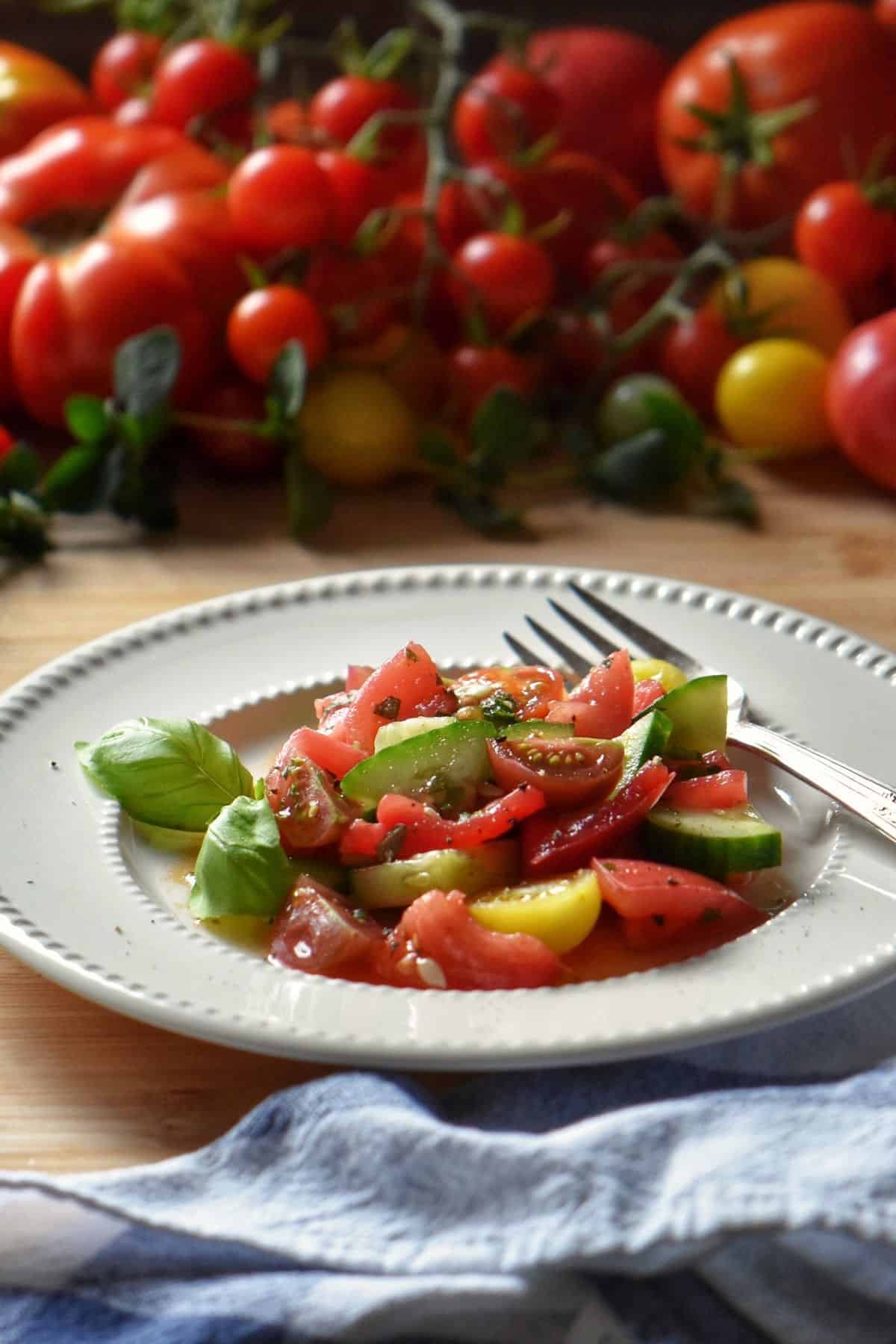 A fresh summer salad is an excellent contrast to your carby pizza cheat day. This one from Maria of She Loves Biscotti is full of tomatoes, cucumbers, fresh basil, fresh oregano, red wine vinegar, and olive oil. So, throw the 'za on the grill and make the salad using vegetables from your own garden.
Visit She Loves Biscotti for the recipe.
Tossed Green Salad For A Crowd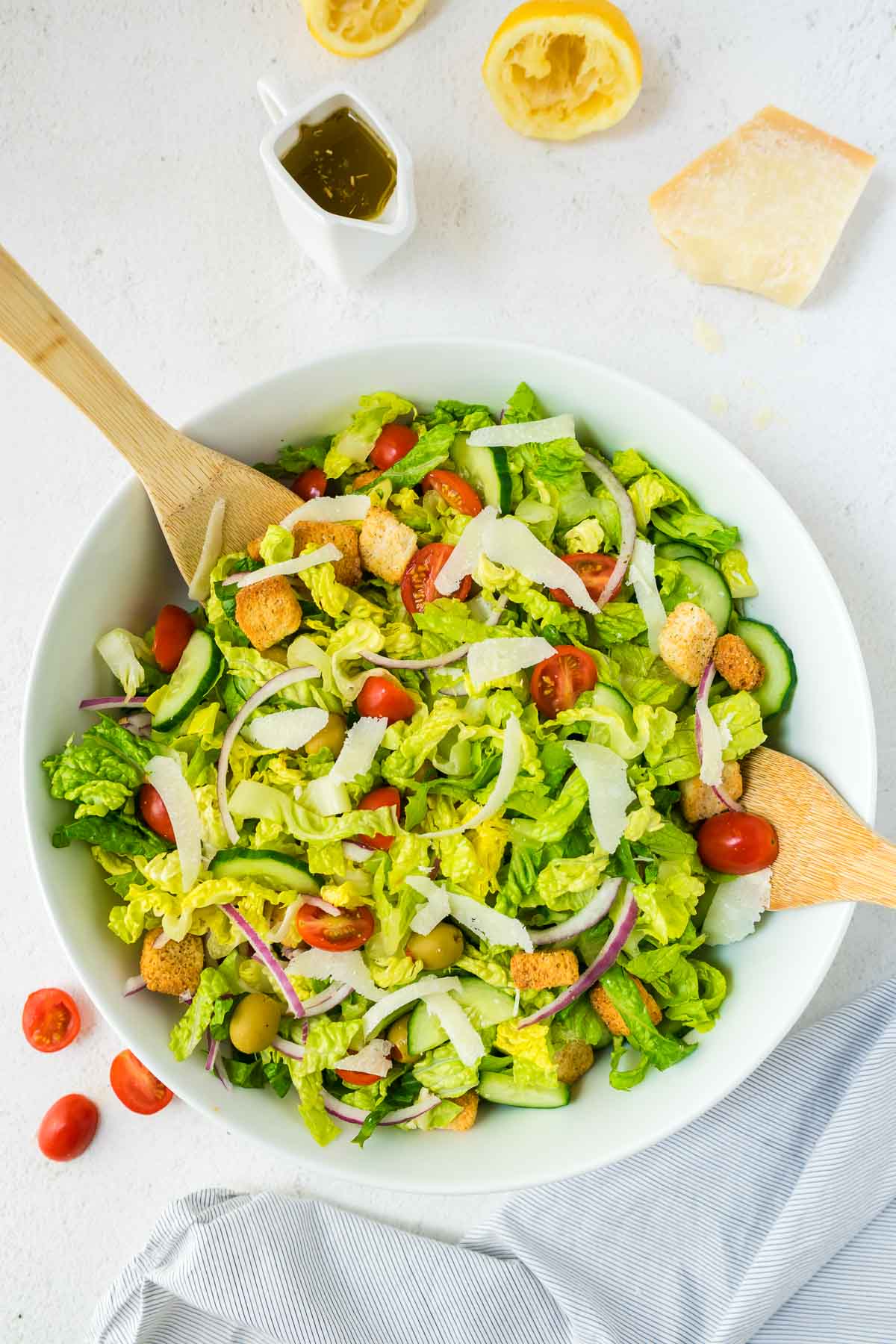 Trying new sides is always fun, but sometimes you need your go-to's, like this simple green salad from Casey of Get On My Plate. The salad gets the bases loaded with romaine lettuce, tomatoes, red onion, green olives, parmesan, and croutons. But what takes it home is the delicious homemade dressing made with red wine vinegar, lemon juice, olive oil, and flavorings.
Visit Get On My Plate for the recipe.
Baked Buffalo Wings Recipe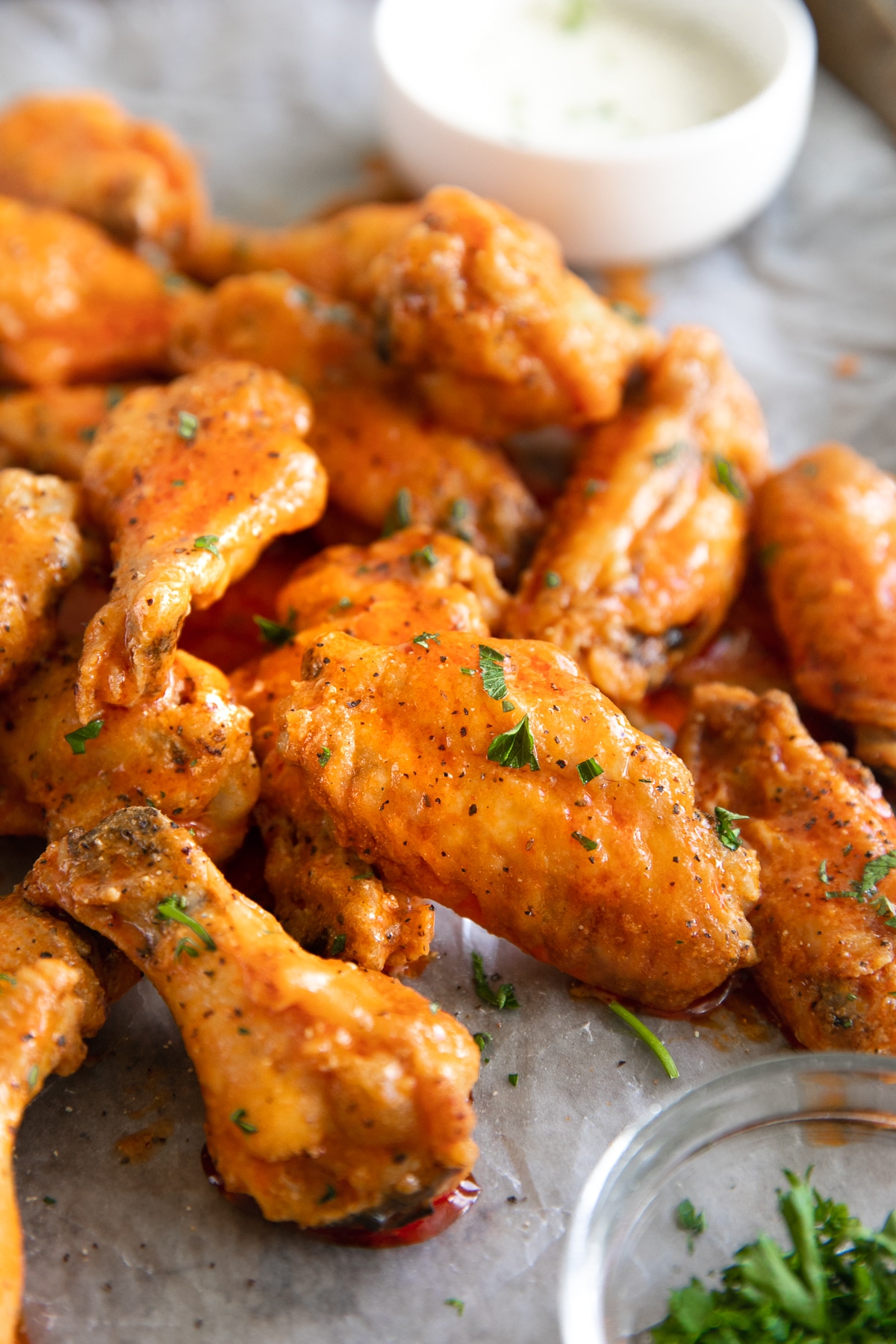 Whenever we order pizza, we just have to get wings, too. It's like a rule or something. And buffalo wings like this recipe from Jessica of The Forked Spoon are usually what we get. But if you're bringing pizza home for movie night, they can end up soggy.
Also, they are expensive!
So, instead, make this wing recipe from home. Jessica shows you her secrets to making crispy and well-seasoned wings in the oven. Prep is only five minutes!
Visit The Forked Spoon for the recipe.
CL – Blistered Shishito Peppers With The Best Dipping Sauce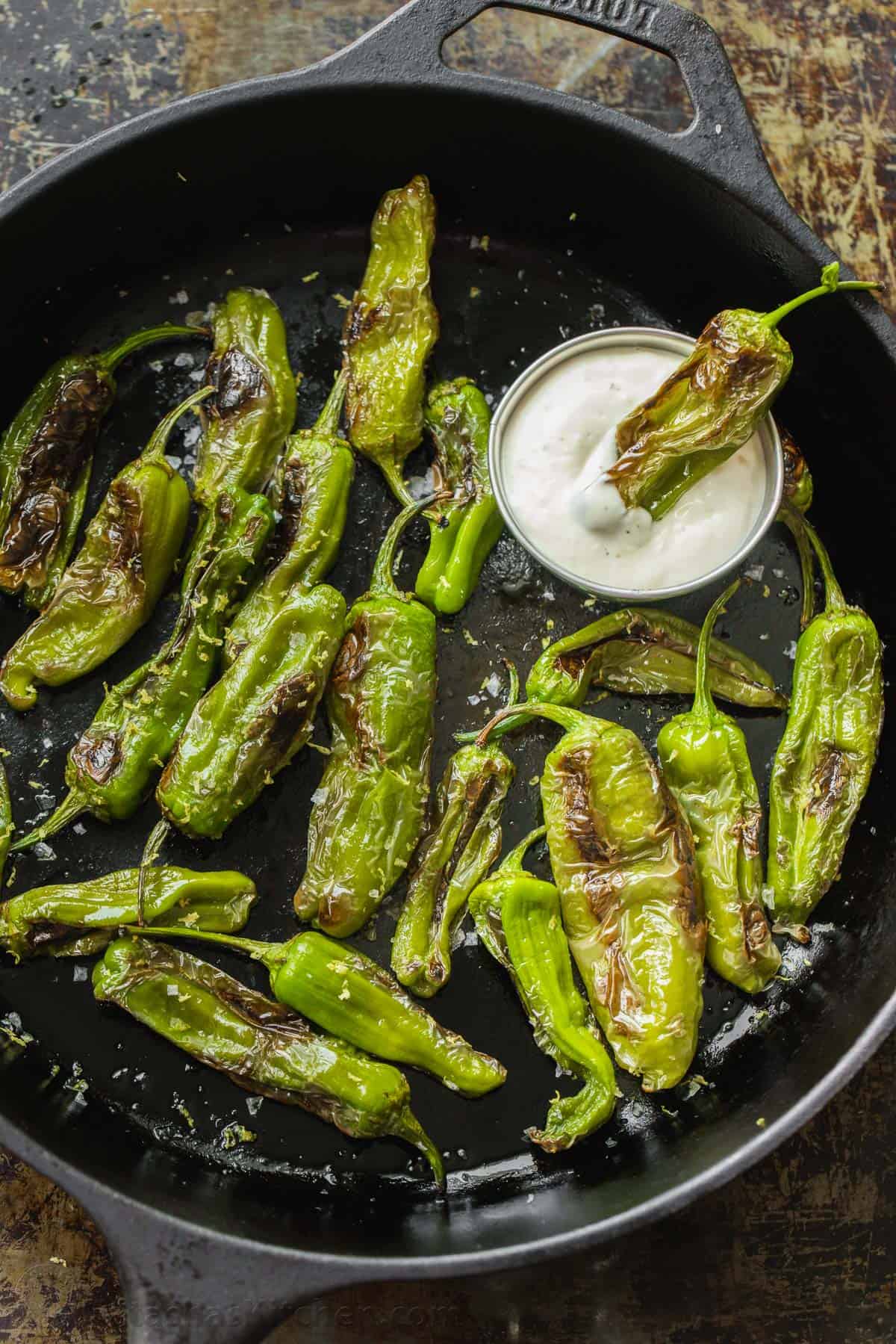 Once upon a time, shishito peppers were a specialty donned only on Japanese restaurant menus. Now, you'll find appetizers featuring the mild, munchable pepper at food establishments of all sorts.
Our first time trying them was at an Italian pizzeria. They were blistered and sprinkled with a bit of sea salt. Or serve them with an irresistible dipping sauce like this recipe from Natasha's Kitchen.
Visit Natasha's Kitchen for the recipe.
Easy Italian Pasta Salad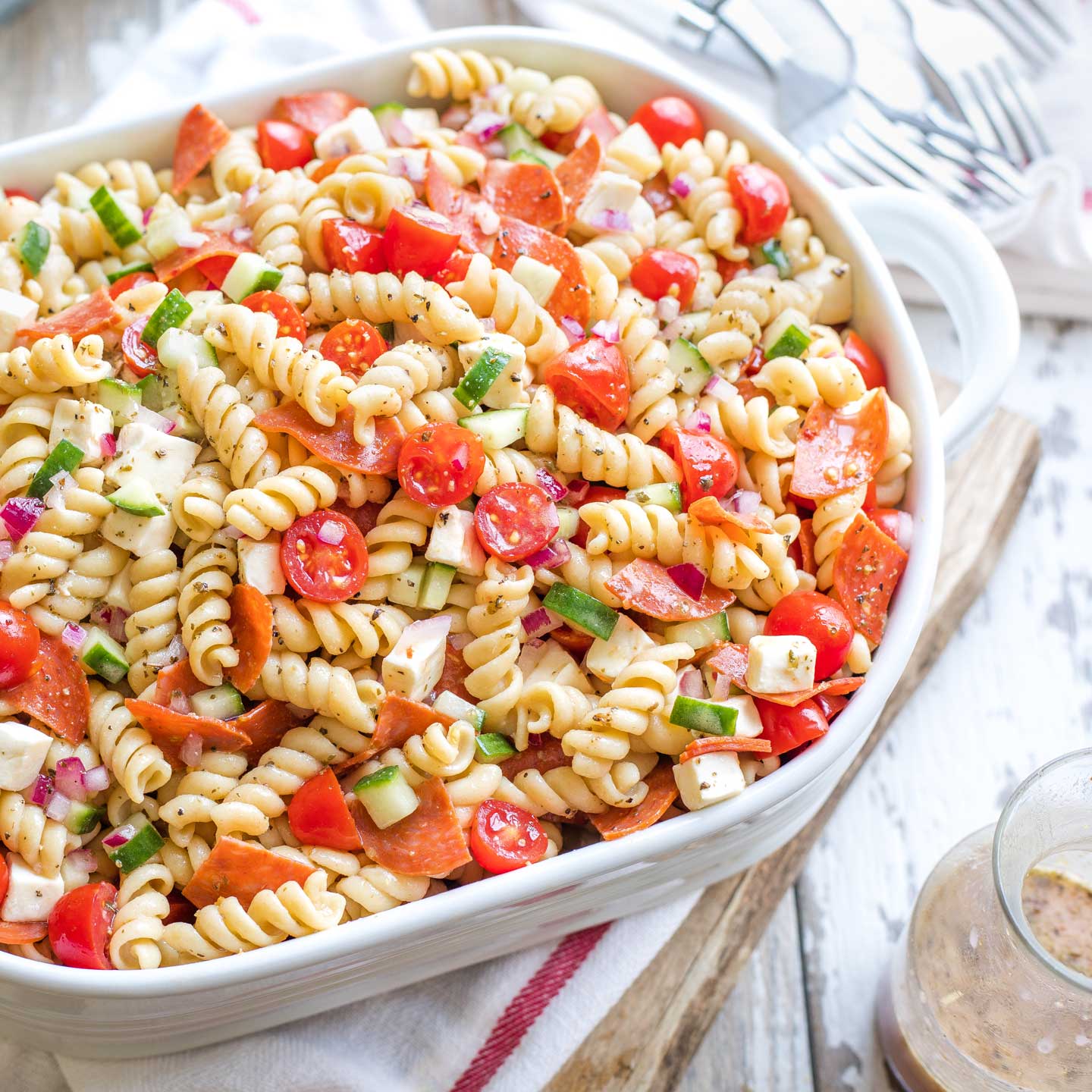 Italian pasta salad is a favorite at barbecues and potlucks because it's easy to make in large amounts and it's tasty. But if you want your pasta salad lightened up, check out this recipe from Shelley of Two Healthy Kitchens. She uses turkey pepperoni, whole wheat pasta, and homemade dressing. We'd bet this is one of the best Italian pasta salads you've ever had, and it goes great with pizza.
Visit Two Healthy Kitchens for the recipe.
New – Animal Style Fries
Calorie counting can be done some other day! The next time you do pizza night, go all the way with these copycat In-N-Out animal-style fries from Kat of The Heirloom Pantry. They start with double-fried french fries that you smother with tastebud tantalizing caramelized onions, American cheese, and special sauce.
Visit The Heirloom Pantry for the recipe.
Air Fryer Brussels Sprouts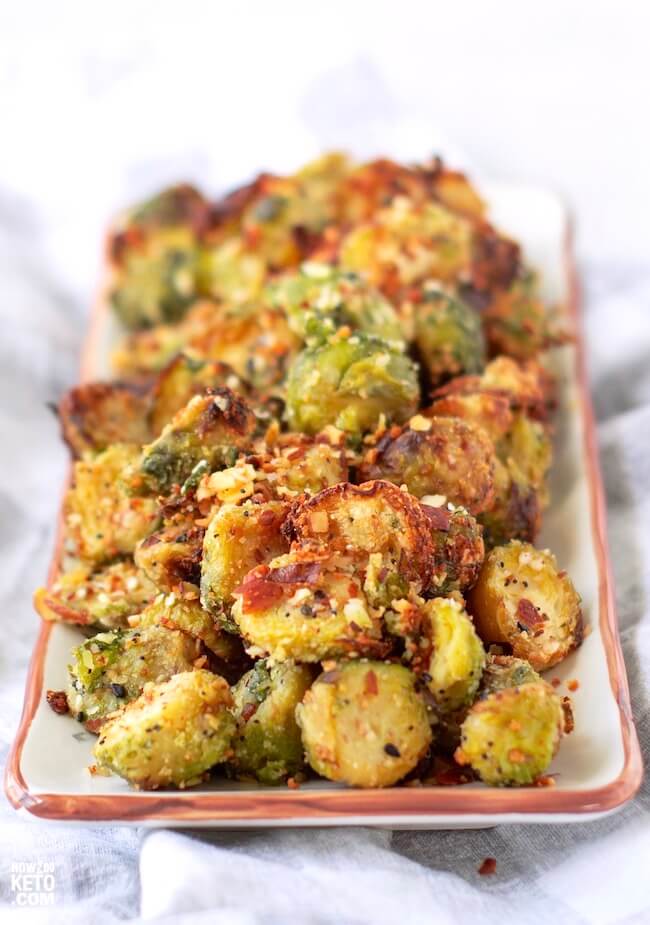 Technically this air fryer Brussels sprouts recipe from Stacey And Matt of How 2 Do Keto is a low-carb, keto recipe. But, as you taste bite after crispy, mouthwatering bite, you won't care what diet category it fits in. Made with brussels sprouts, coconut oil, sliced almonds, everything seasoning, and parmesan cheese, you'll just be happy it's on your plate.
Visit How 2 Do Keto for the recipe.
CL – Texas Roadhouse Rolls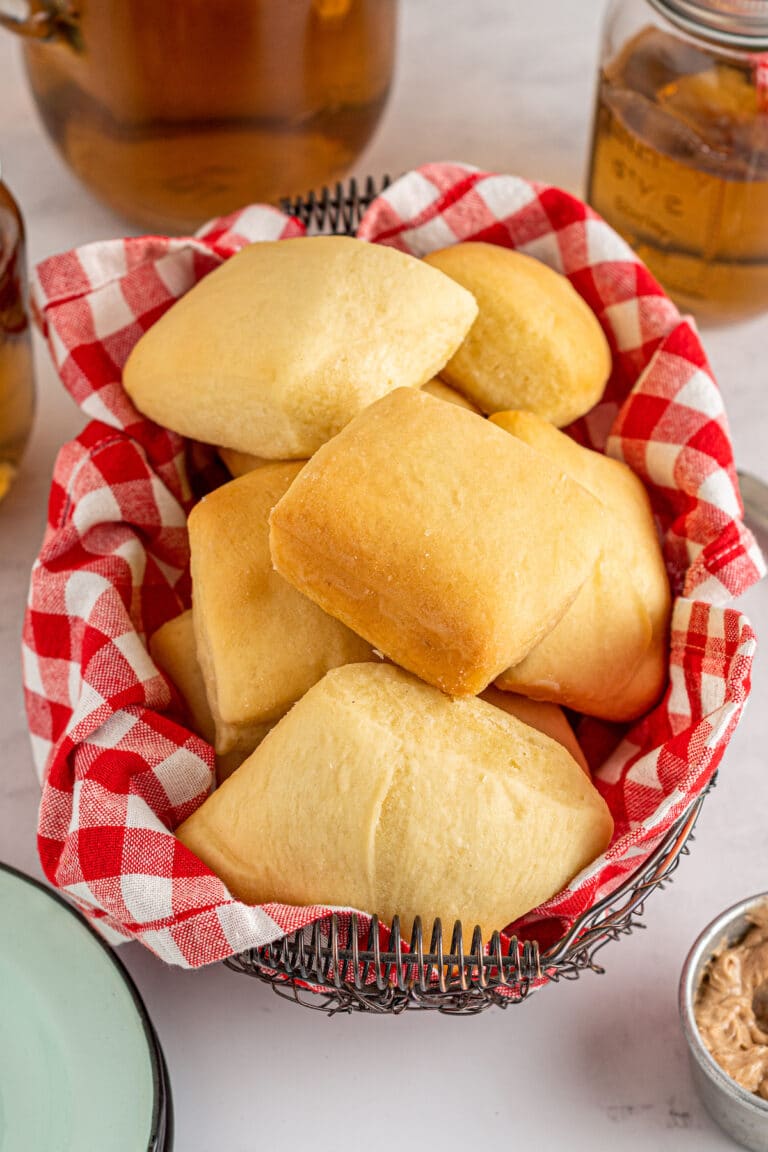 If you've ever dined at Texas Roadhouse, you know how awesome their rolls are. Oh. My. Goodness! Seriously, we'd make a trip just to get the rolls. They are that good.
Now, you don't have to. Instead, Sarah of The Novice Chef food blog shows you how to make them at home with her trial and error tested copycat recipe. They're fluffy, melt-in-your-mouth tender, and she even hooks you up with her cinnamon honey butter. There's just one problem. You can't eat just one.
Visit The Novice Chef for the recipe.
Cripsy Homemade Air Fryer Onion Rings Recipe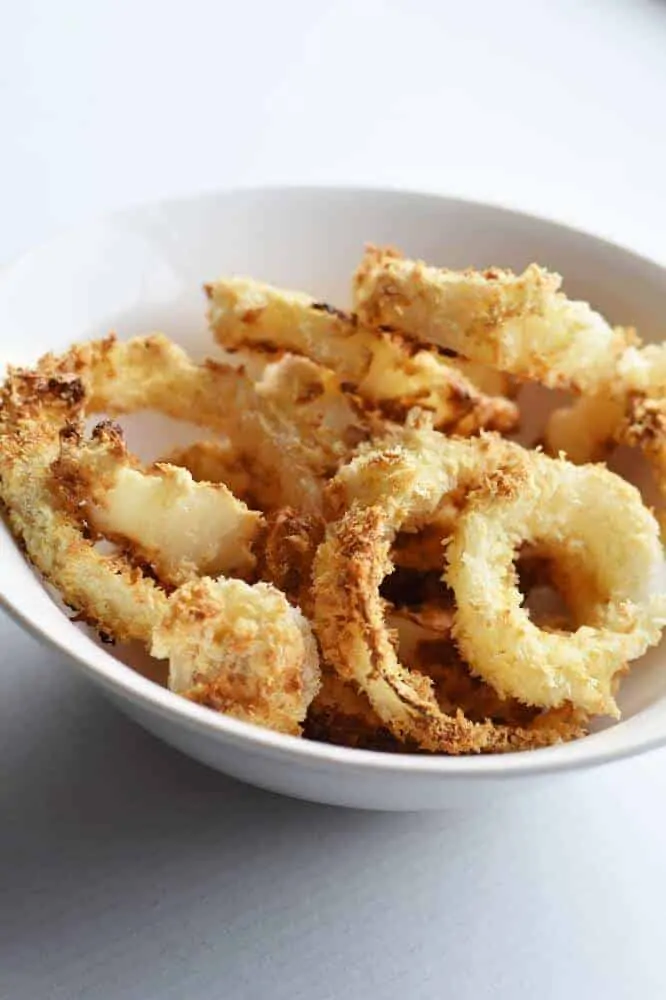 These crispy air fryer onion rings from Holly of Simplify Create Inspire go well with pizza. They are an excellent way to satisfy your onion ring craving without all the added calories or mess that comes with deep frying.
Visit Simplify Create Inspire for the recipe.
Air Fryer BBQ Chicken Wings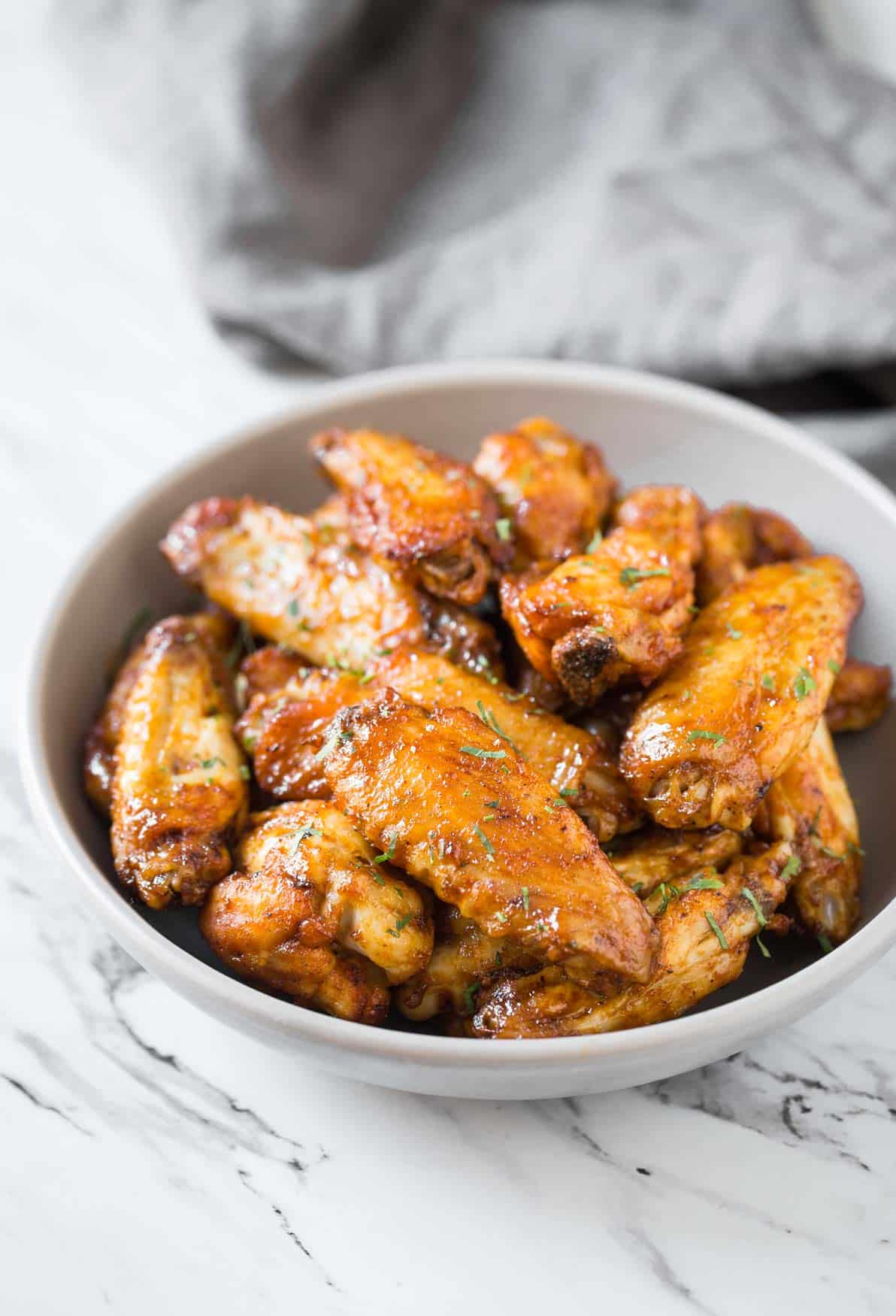 We like quick appetizers and sides that don't take a lot of planning, like these air fryer bbq chicken wings from Watch What You Eat. In this 25-minute recipe, Swati provides excellent tips, like patting the chicken wings dry so they get crispy.
Visit Watch What You Eat for the recipe.
Crispy Cauliflower Bites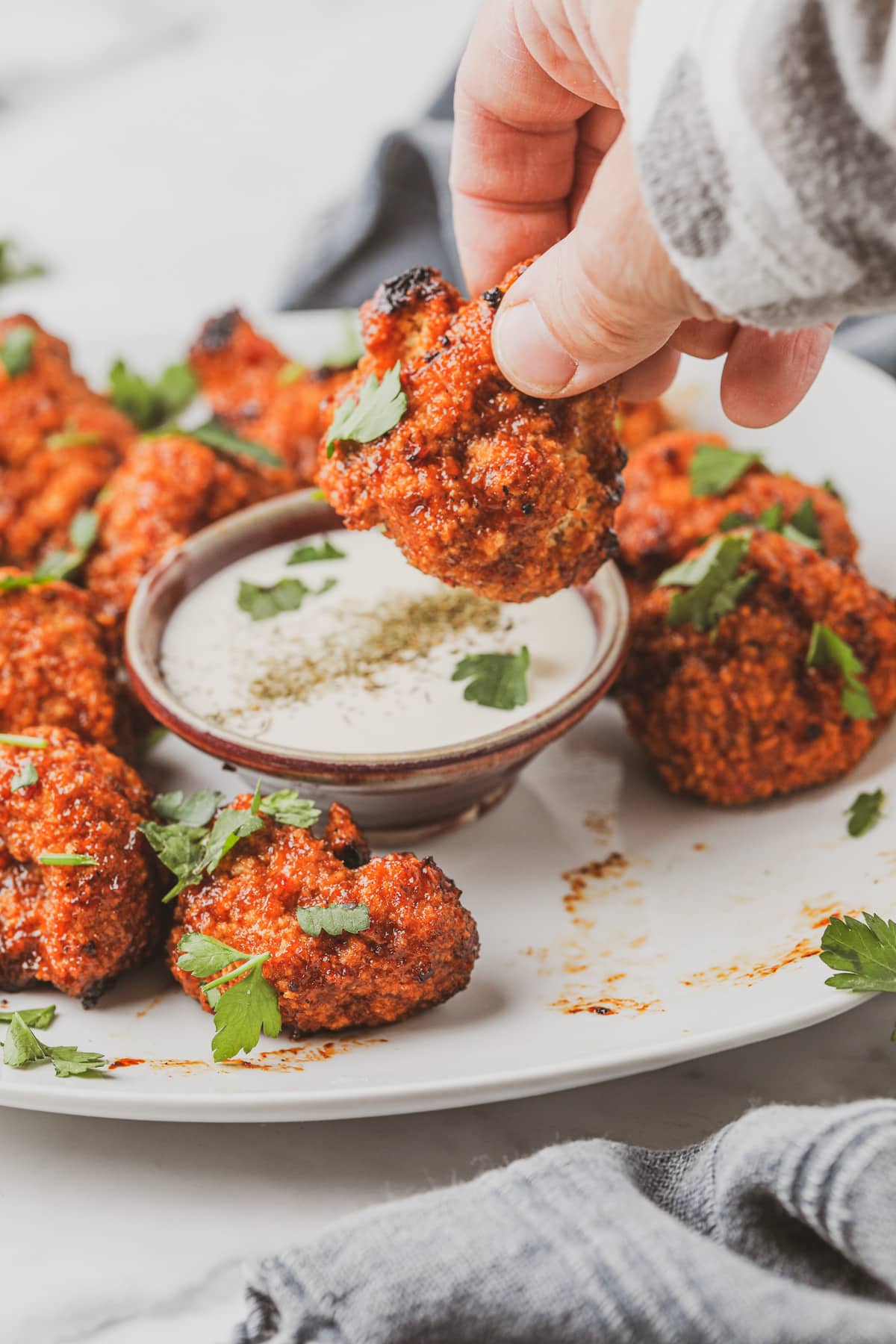 For a healthier appetizer that's addictively munchable, look no further than cauliflower bites from Deborah of Ooh La La It's Vegan. The heart-healthy cauliflower is battered, baked, and tossed in sauce and ready to enjoy in less than an hour. Served with homemade ranch dressing, or chipotle sauce and you've got a side dish to be remembered.
Visit Ooh La La It's Vegan for the recipe.
Garlic Naan – Indian Bread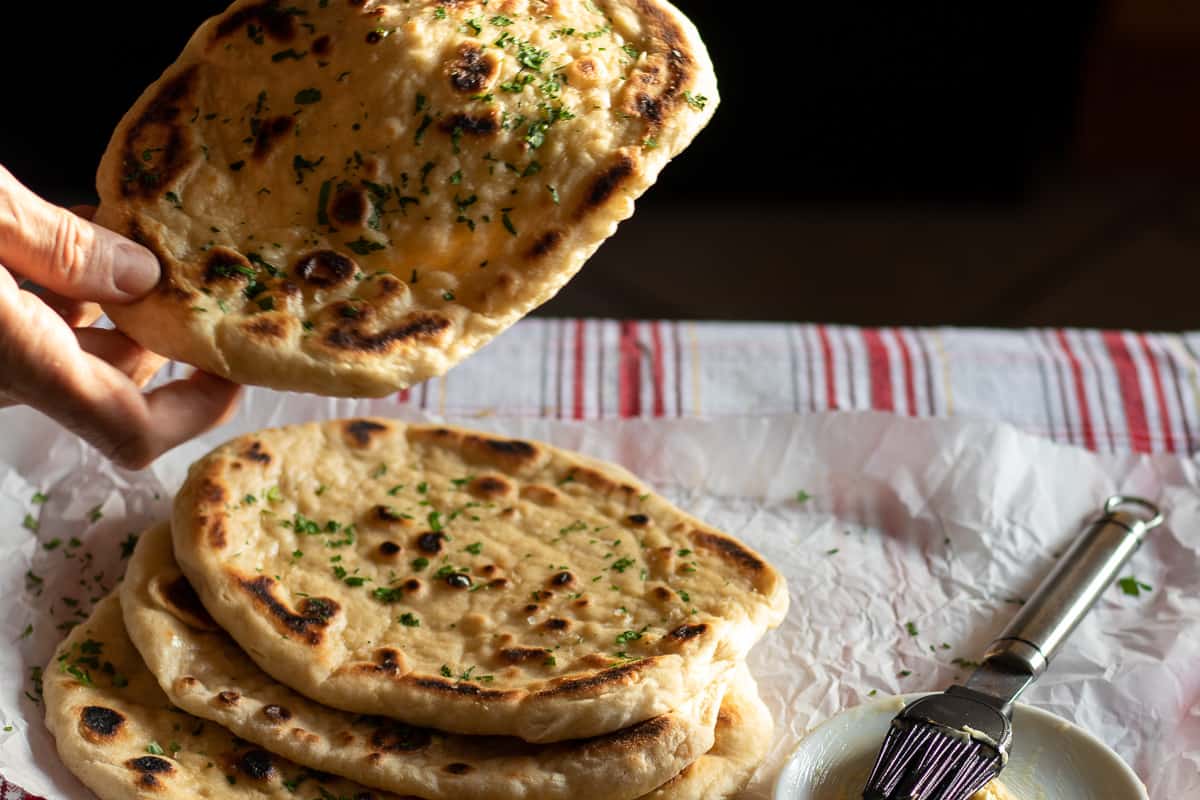 If you enjoy more bread with your pizza, then you will love this tender Indian naan bread. It is an incredible side dish, but we love what Ayla from Cooking Gorgeous does with it. First, she shows you how to make the bread from scratch, including cooking it in a skillet. Then you brush it with herb garlic butter.
Visit Cooking Gorgeous for the recipe.
Green Goddess Salad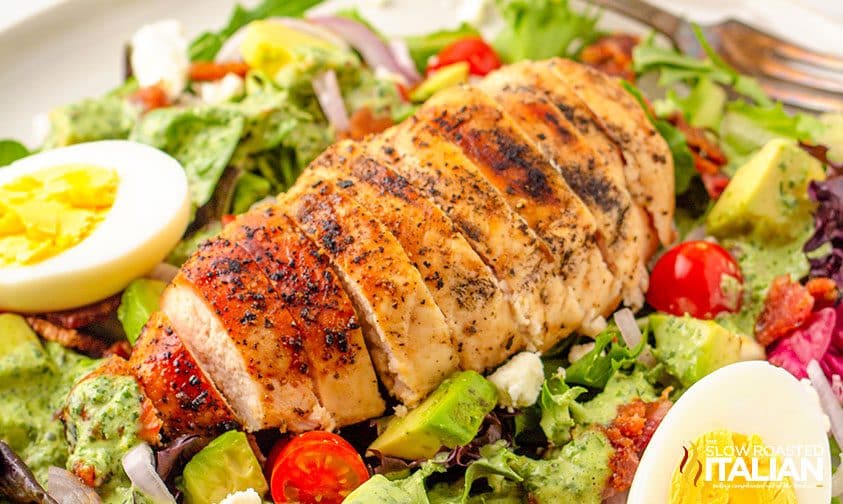 This Panera copy green goddess salad from Donna of The Slow Roasted Italian is a fresh, protein-filled side perfect to serve next to your pizza. It's got grilled chicken, tomato, hard-boiled eggs, bacon, avocado, and herby green goddess dressing. Okay, that's a side, but it could easily be a meal itself.
Visit The Slow Roasted Italian for the recipe.
Roasted Carnival Squash Slices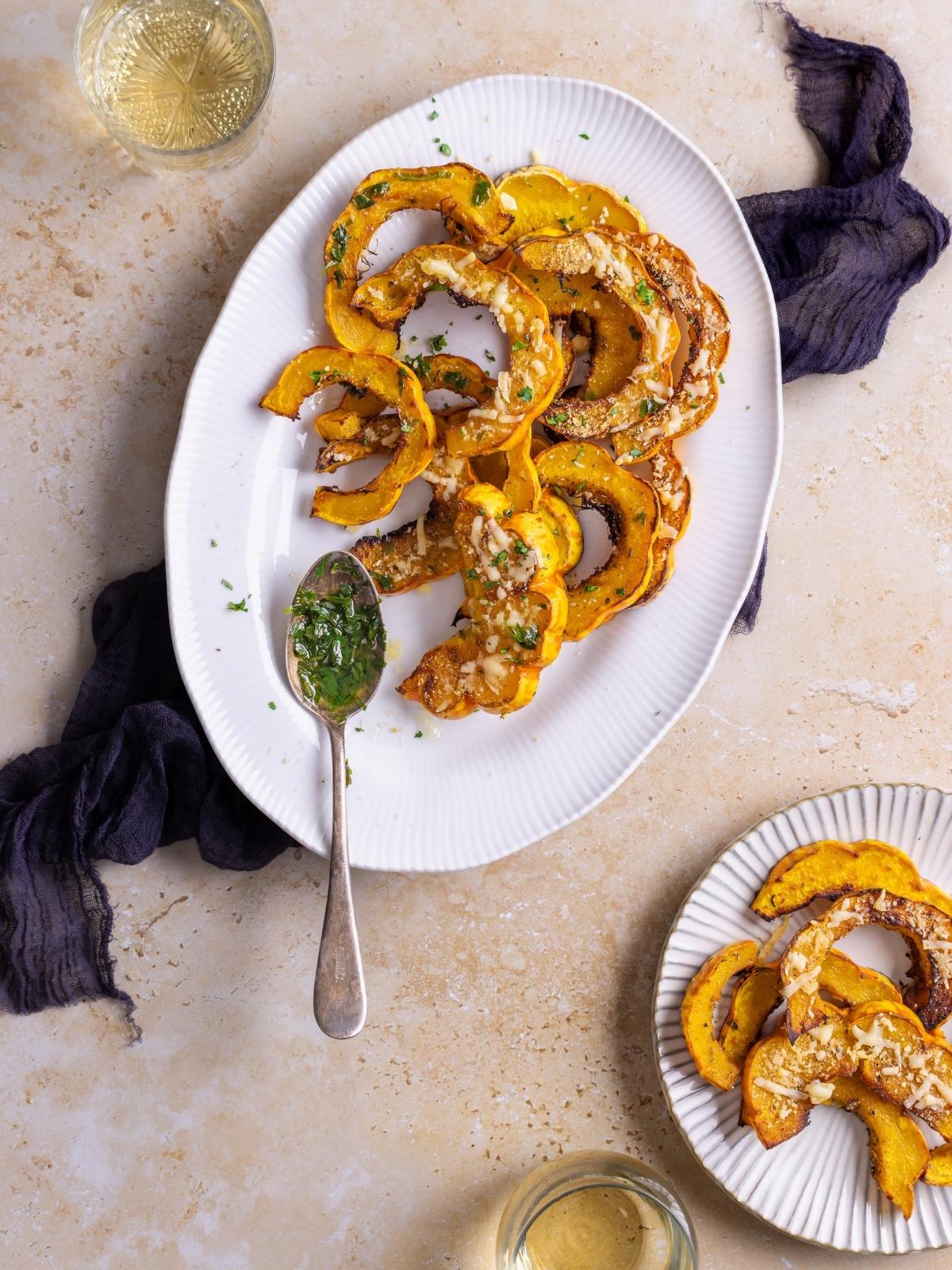 This carnival squash with garlic powder, Italian seasoning, olive oil, and shredded gouda is a delicious side dish from Maureen of Worldly Treat. Sure, it's unexpected, but we're confident all who try it will enjoy it.
Visit Worldly Treat for the recipe.
Which Pizza Side Dish Will You Try First?
By now, you've seen a lot of great options for pizza side dishes. But we're particularly excited about the honey walnut shrimp, the garlic naan bread, and the animal-style fries. How about you?