If you're a big mushroom lover, you have to check out this tasty list of 21 Mushroom Appetizers. These phenomenal fungi snacks will satisfy your umami cravings.
Seriously, save this list for later because you're going to want to come back to it over and over again.
Don't believe me? Just check out a sneak peek of what you can expect. For example, there's an Air Fryer Portobello Fries recipe, Mushroom Pate, and even Three Different Kinds of Fried Mushrooms. So, are you ready to discover the tasty?
Let's dive in!
And if you like this post, you'll love this list of Stuffed Mushrooms.
Air Fryer Portobello Fries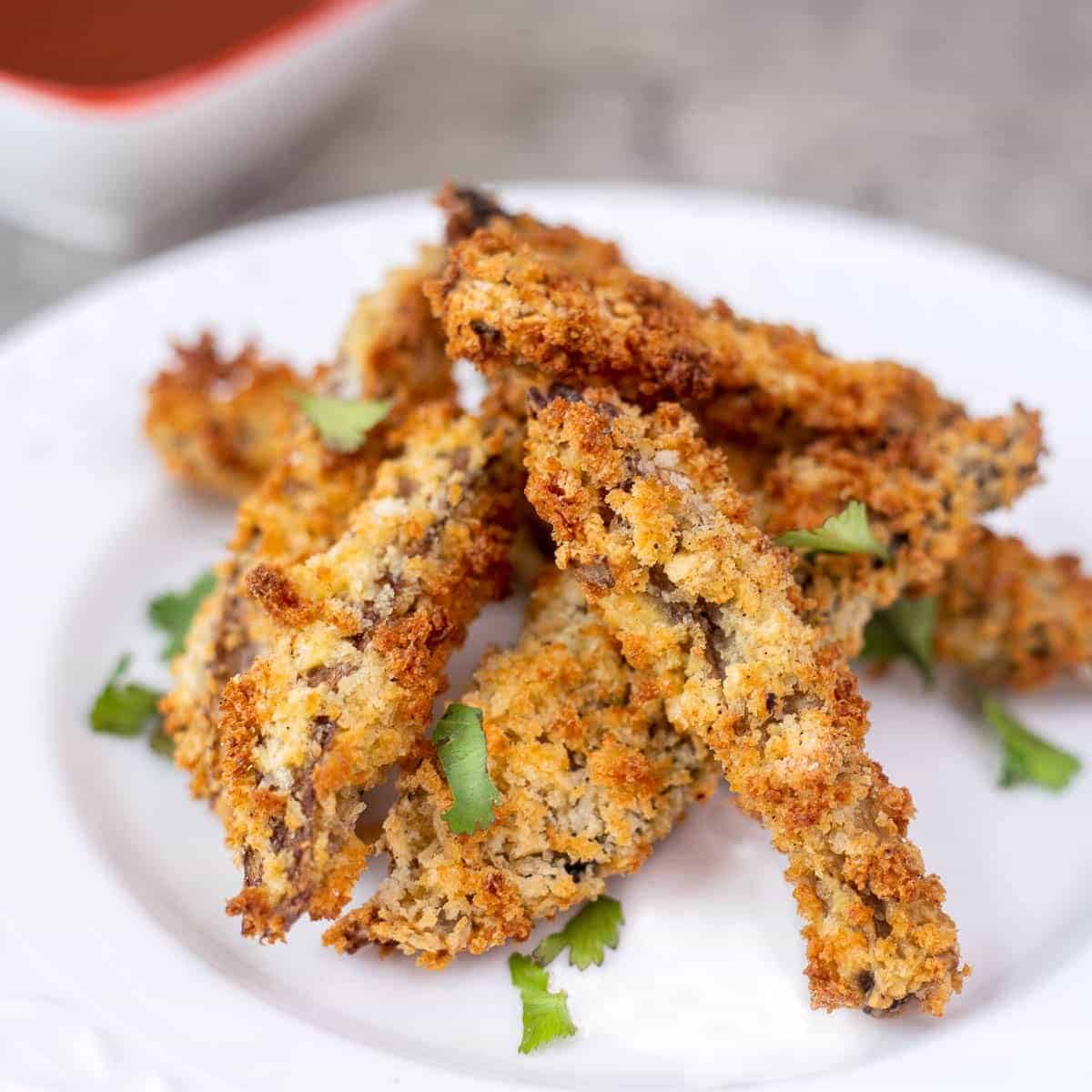 At Hilda's Kitchen Blog, we learn that Air Fryer Portobello Mushroom Fries taste better than their deep-fried counterpart. The legacy cook shows us how to turn the giant fungus into a crispy snack or appetizer. Her process begins with cleaning, removing the gills, and slicing into strips before breading and air frying. This one is on our must-try list.
Bruschetta with Mushrooms and Roasted Peppers
With this Bruschetta with Mushrooms and Roasted Peppers, Lizzie will have us all saying It's A Veg World After All. The quick app sees you top baguette toast with roasted bell peppers and a mix of earthy cremini and shitakes. But that's not all! You'll also taste the distinctive flavors of garlic and fresh thyme.
Breaded Mushrooms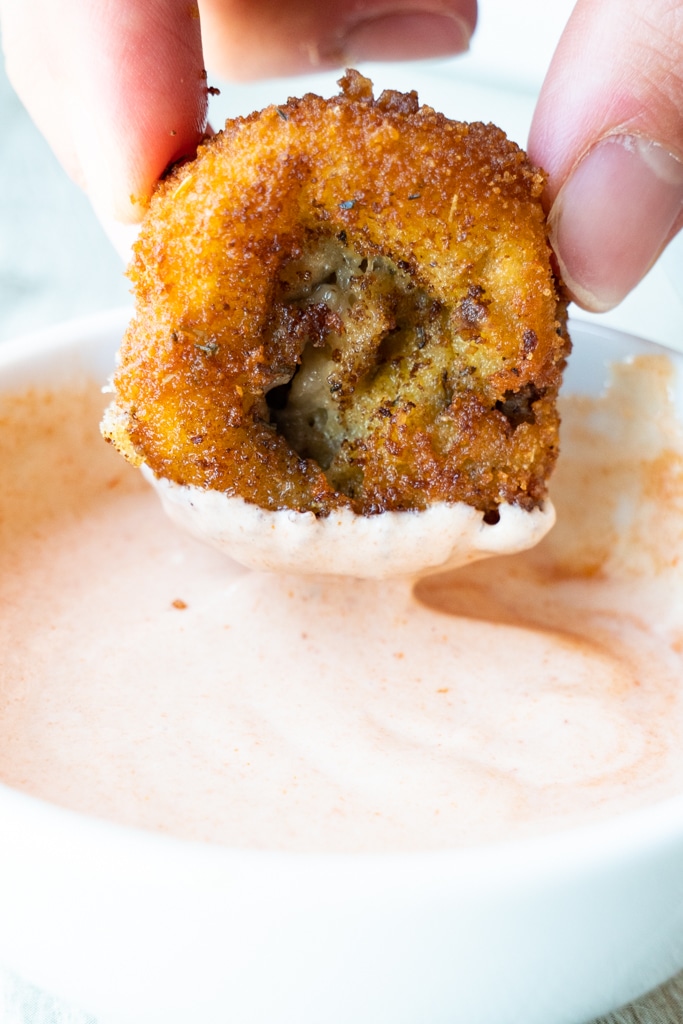 Breaded Mushrooms are one of our favorite appetizers at chain steakhouse restaurants. The crunch and the tender mushroom flesh make it a snack you can't stop eating. So today, we're excited that Maria of The Cookware Geek teaches us how to make them with a simple yet thorough recipe, including what you must do to prevent the batter from falling off.
Mushroom Pate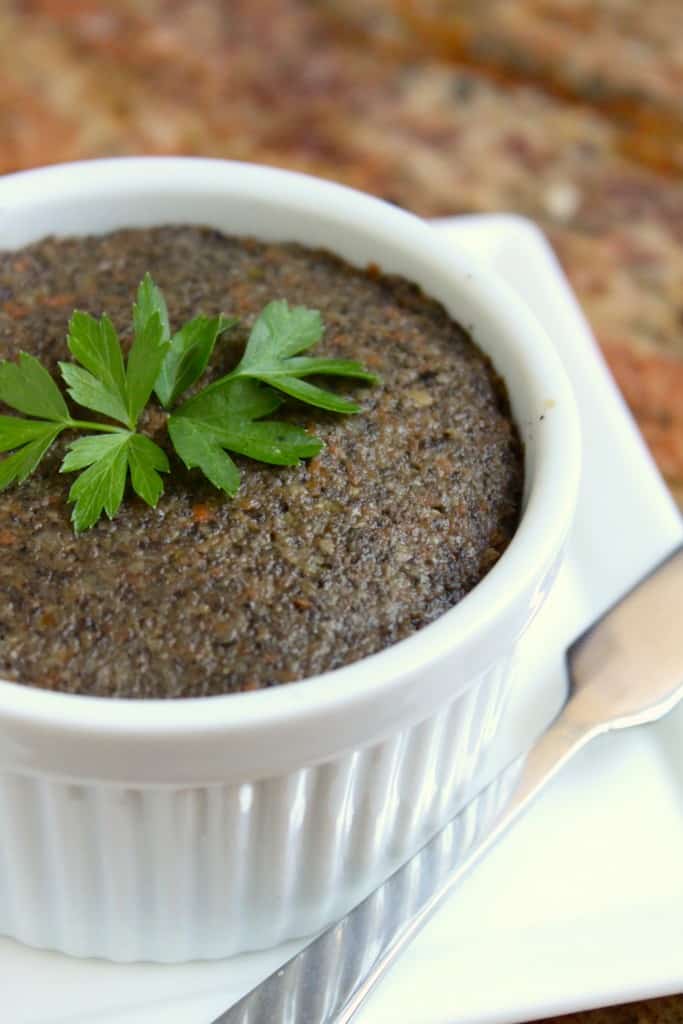 Christina's Cucucina shares a delicious Mushroom Pate that your vegetarian and vegan friends will live for. Admittedly, it won't be the prettiest dish on your snack spread. But what it lacks in looks, it more than makes up for in taste. So here's how you make it. First, you sautee mushrooms with other vegetables like carrots, shallots, and capers. Then, it's off to the food processor for a few minutes, and finally, let the snacking commence.
Creamy Mushroom Soup, aka Mushroom Cappuccino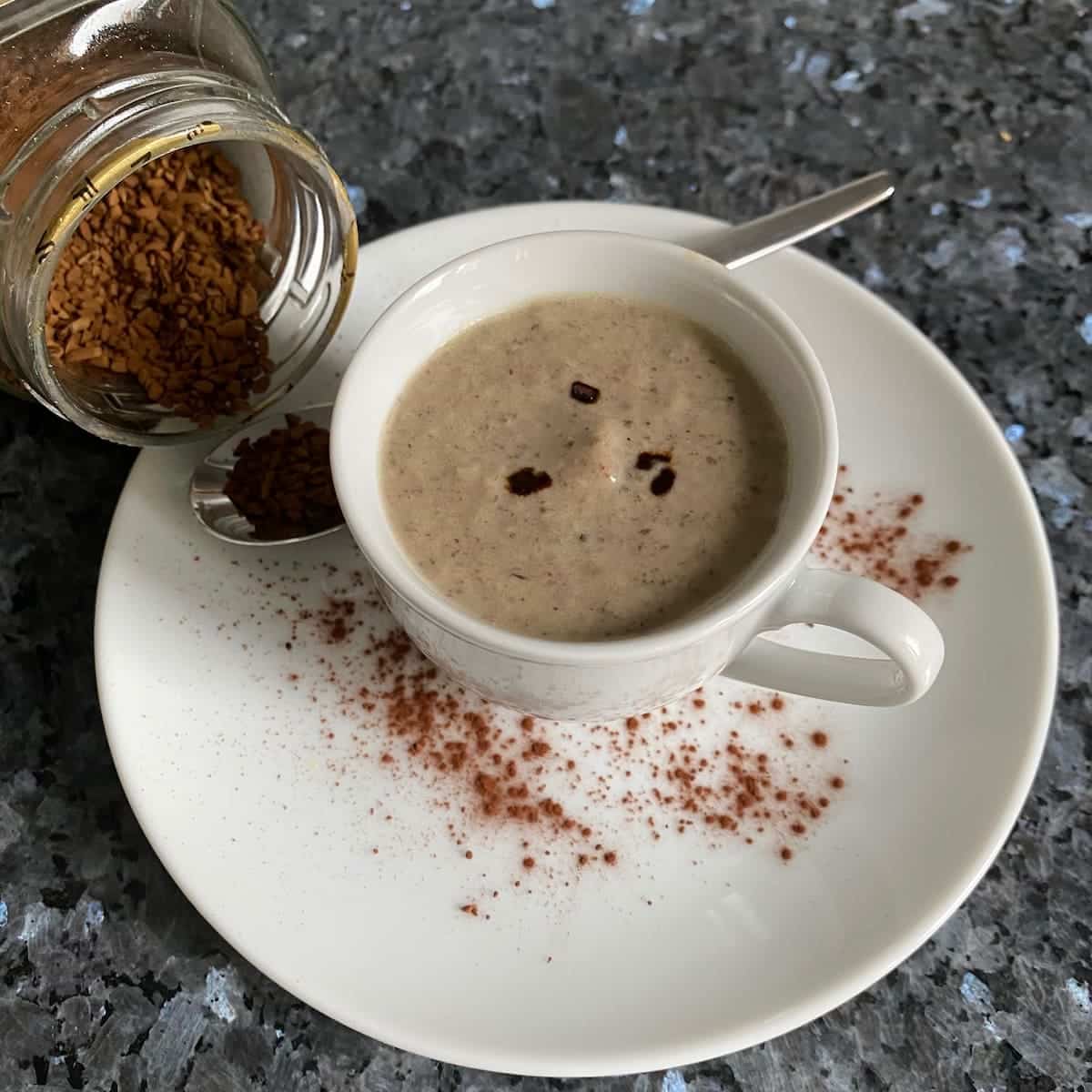 Jill is Mad About Macarons and all things French cuisine. So, Creamy Mushroom Soup, aka Mushroom Cappuccino, is just a taste of the deliciousness you can expect at her site. She makes the soup with cremini mushrooms and thickens it with a roux (she'll teach you how) instead of cream. But it gets fun when she serves it in a cappuccino cup and dusts it with cocoa powder. Yes, you read that right!
Balsamic Soy Roasted Garlic Mushrooms
You know, Ligia of The Daring Kitchen has it right when she says carnivores and vegans both will enjoy this Balsamic Soy Roasted Garlic Mushrooms recipe. That's because the meaty quality of the famous fungus satisfies all palates. Plus, her seasonings, which include soy sauce, balsamic vinegar, garlic, and thyme, are so good together that you could put it on an old shoe, and it would still taste good.
Soy-Marinated Mushrooms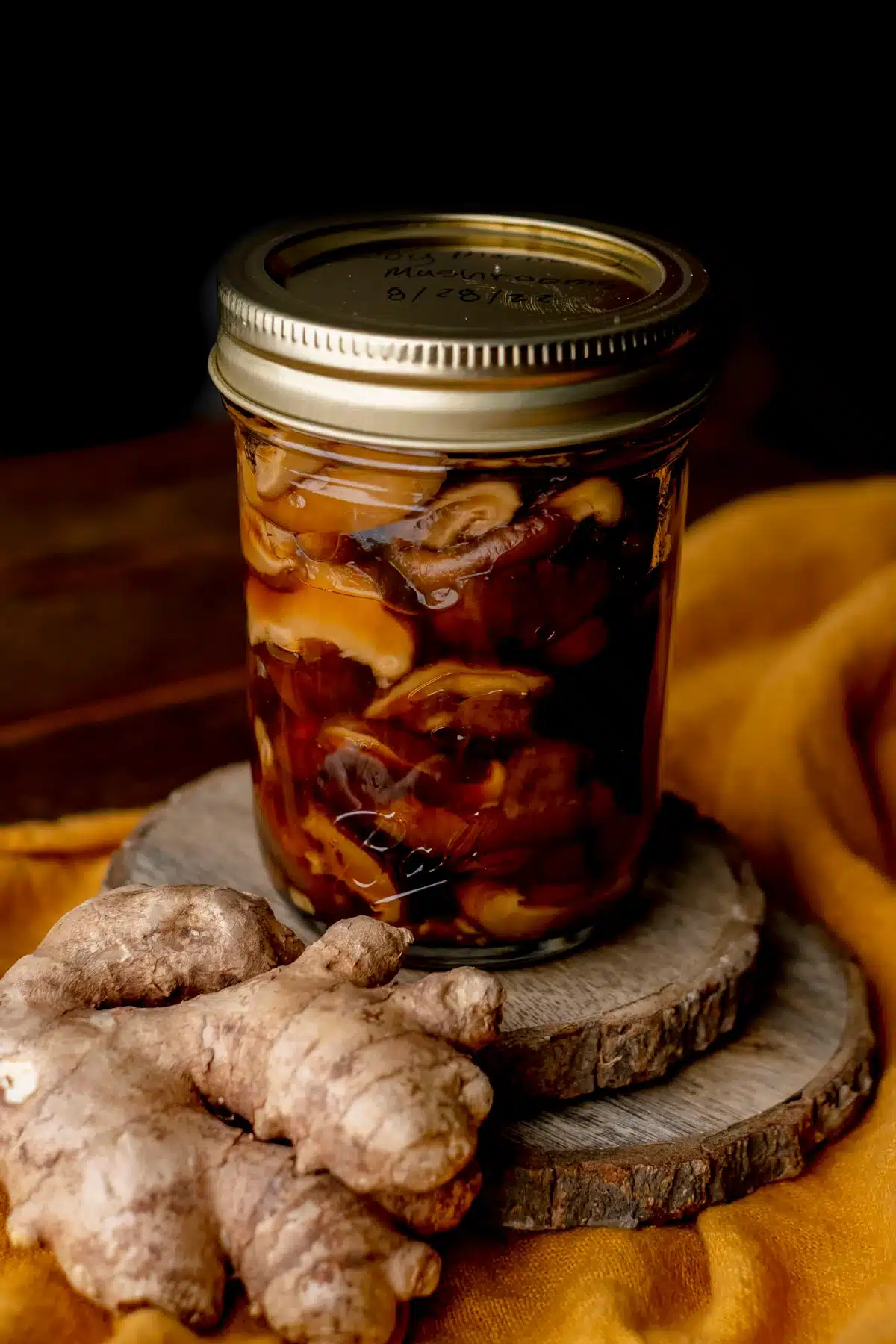 You'll want to put these Soy-Marinated Mushrooms from Annie of Peak To Plate on everything from poke bowls to grilled fish. Here's why. You have the earthiness of the fungus combined with the sweet and salty soy sauce, rice vinegar, sugar, and ginger brine. On second thought, you'll want to eat them straight from the jar.
Pancetta Mushrooms with Mozzarella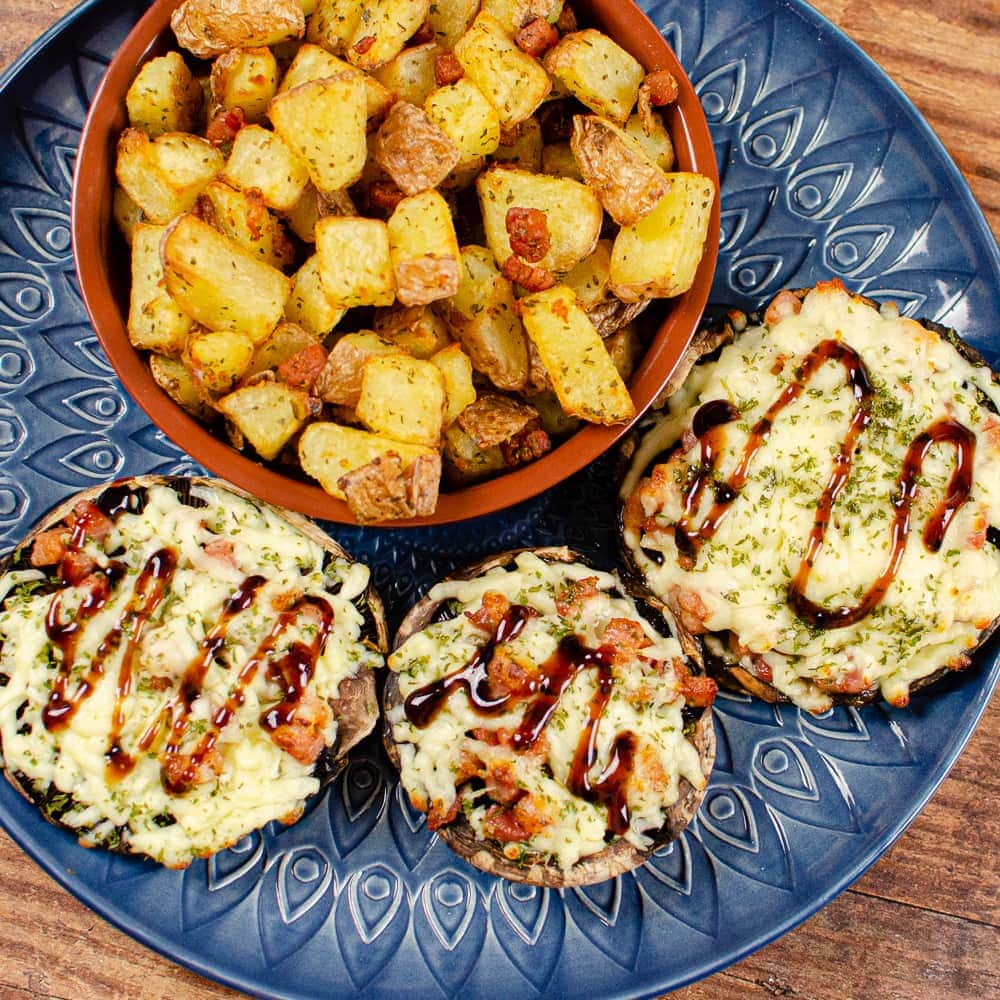 Kay and Luke of Flawless Food developed this Pancetta Mushrooms with Mozzarella recipe using the leftover Pancetta. So, first, hats off to them for having the willpower not to eat it all (I can't say we could've done the same). And with garlic puree, cubed cured pork, herbs, and mozzarella, it's an impossibly tasty dish you'll have a hard time not eating all by yourself.
Cheesy Mushroom Pinwheels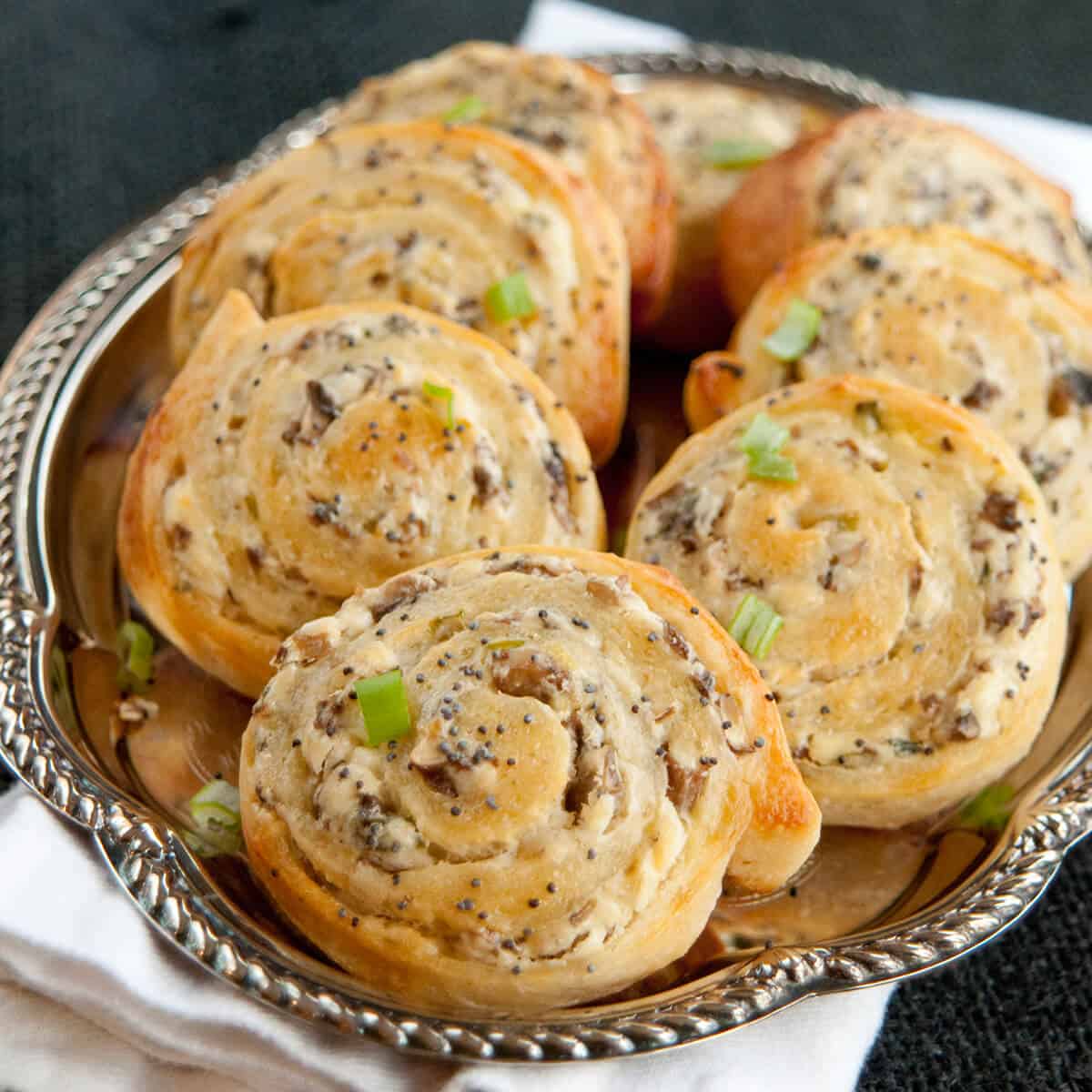 Lana's Cooking is home to this magnetic Cheesy Mushroom Pinwheels recipe. It's a mushroom appetizer ideal for Christmas and New Year's. So while you run around tying up all your loose ends, at least you'll have one less appetizer to worry about. They're super easy to make with sauteed mushrooms, green onions, cream cheese, and refrigerated pizza dough. All you must do is sautee, roll, slice, bake, and serve.
Air Fryer Garlic Butter Mushrooms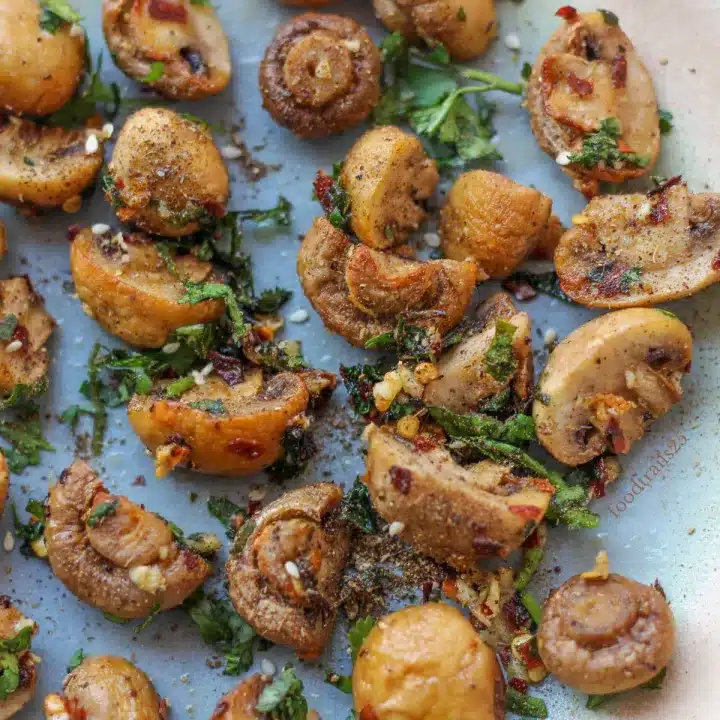 These Air Fryer Garlic Butter Mushrooms by Swati of Food Trails 25 are Keto-friendly, low-carb, gluten-free, and vegan-friendly with a minor substitution. The simple side dish consists of mushrooms doused in a good-sized pat of butter, fresh garlic, and herbs and air fried until nice and tender. Oh, the best part, they're ready in under 20 minutes.
Caramelized Mushroom Puff Pastry Tart with Gruyere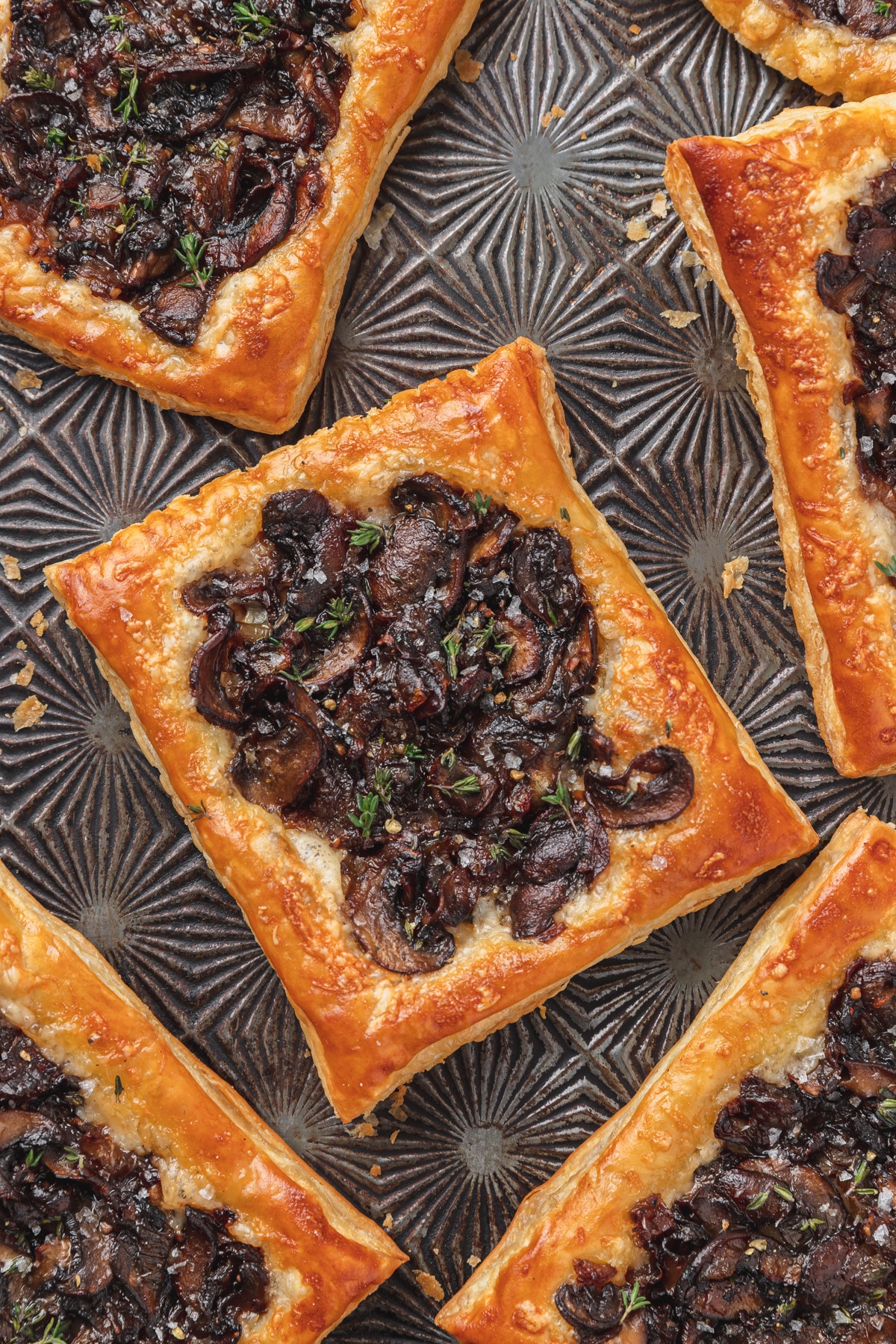 This Caramelized Mushroom Puff Pastry Tart with Gruyere recipe is a simple savory starter that takes less than 30 minutes from start to finish. You'll love it for the mix of intensely flavorful creminis, slightly sweet yellow onions, aromatic garlic, nutty gruyere, and thyme, all in a bed of light yet crispy puff pastry.
Instant Pot Mushrooms with Butter Ranch Sauce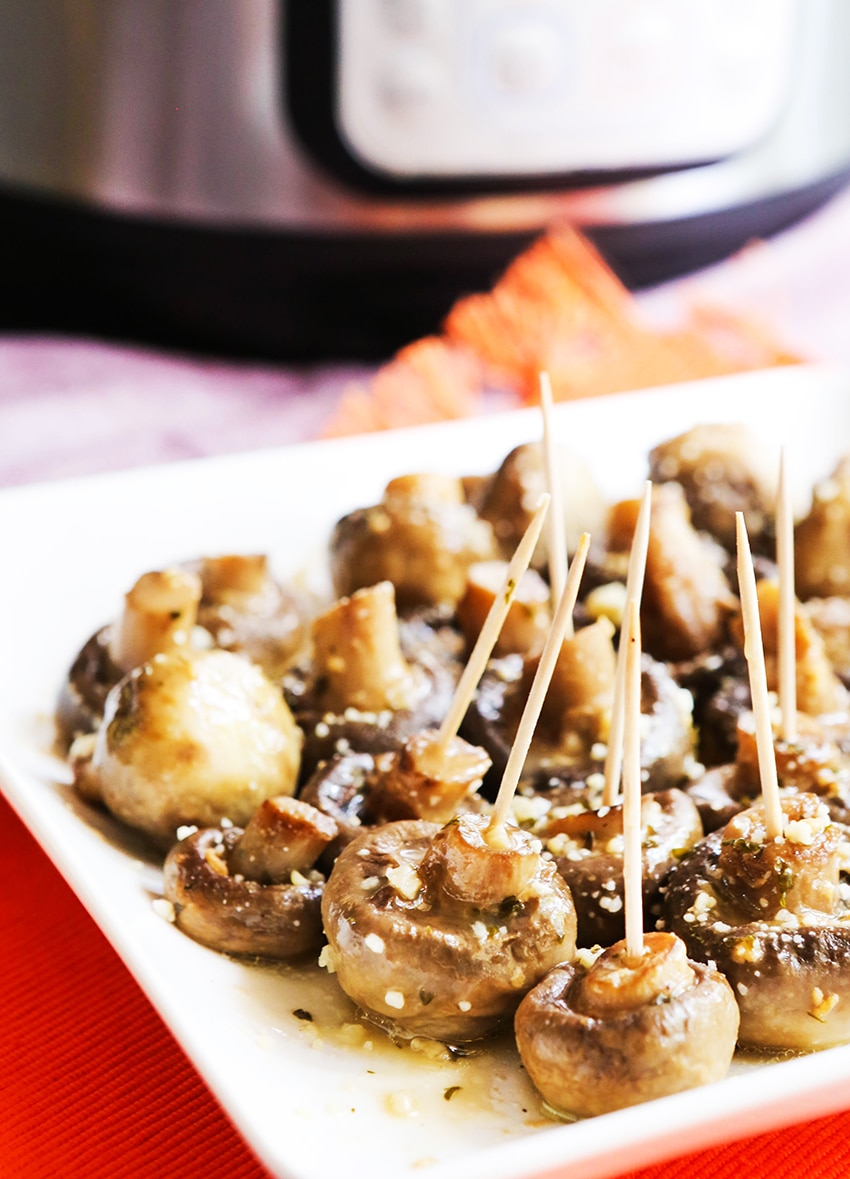 These Instant Pot Mushrooms with Butter Ranch Sauce are just what you need for the perfect party food. But they turn out so consistently delicious you'll want to make them all the time. So here are a couple of reasons to make them tonight. First, you can have them on the table in less than 30 minutes using your instant pot for mostly hands-off cooking. Next, it's just six ingredients, including parmesan cheese, garlic, a ranch packet, and mushrooms.
Fried Morels & Lemon Crema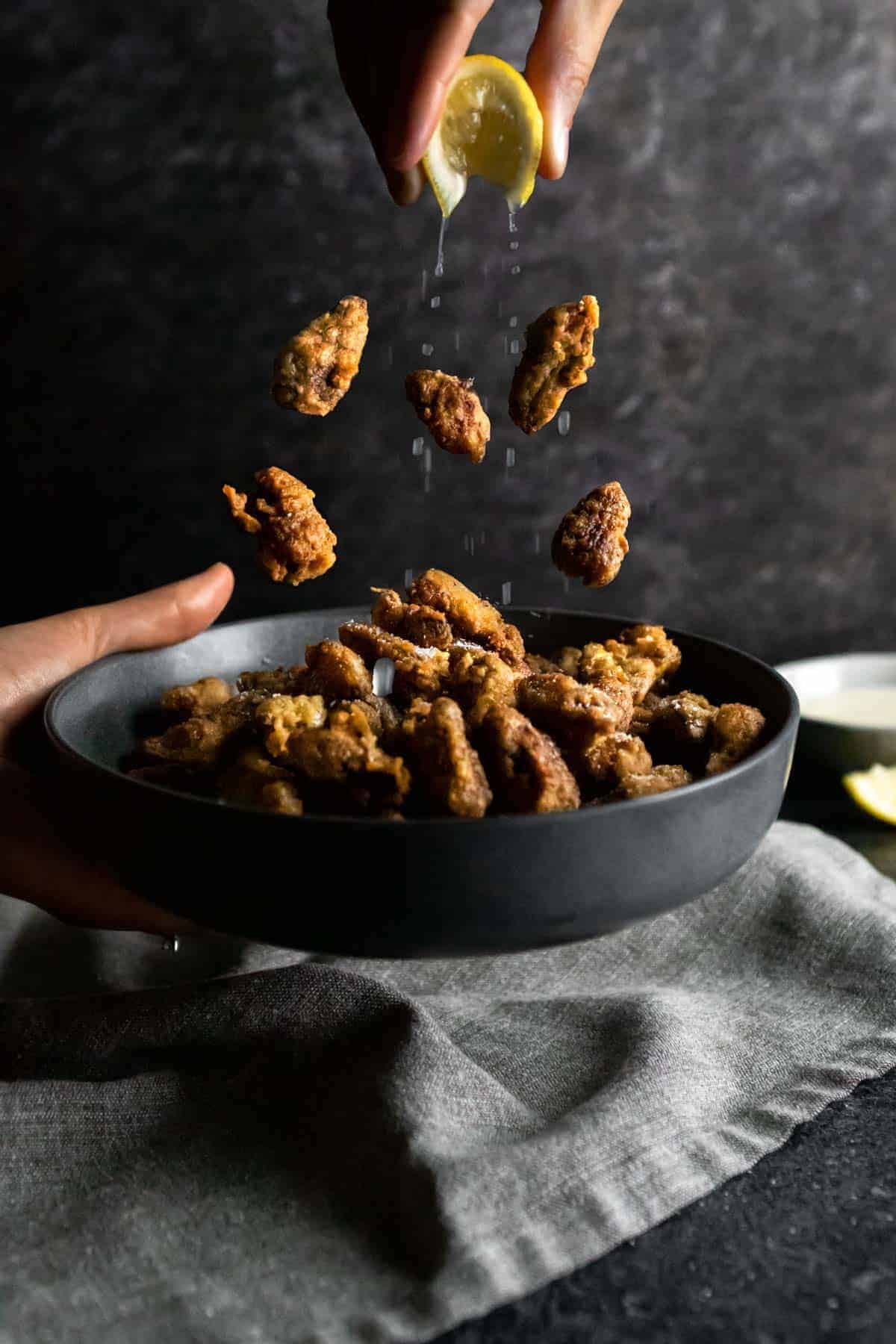 With this Fried Morels & Lemon Crema, allow the dynamic duo, Scott and Taylor, of The Sage Apron to introduce you to one of nature's gifts this spring. The fruiting period for morels runs from April to June, depending on the state. So don't miss out!
As for the recipe, put your trust in this team. They teach you how to find, clean, and fry the crevice-filled fungus. And that's not all. They'll also introduce you to a delightfully simple lemon crema sauce you'll want to dip everything in.
Mini Mushroom Pies with Thyme
It would be irresponsible not to introduce you to these Mini Mushroom Pies with Thyme from The Sage Apron. Inside each little buttery pie crust pocket, you'll discover a savory filling of mushrooms (cremini, shitake, or oyster varieties work well), thyme, and garlic. It's all simmered in red wine and red wine vinegar to add flavor complexity, and acidity. This one is on our must-try list. You can thank us later. 🙂
Mushroom Jerky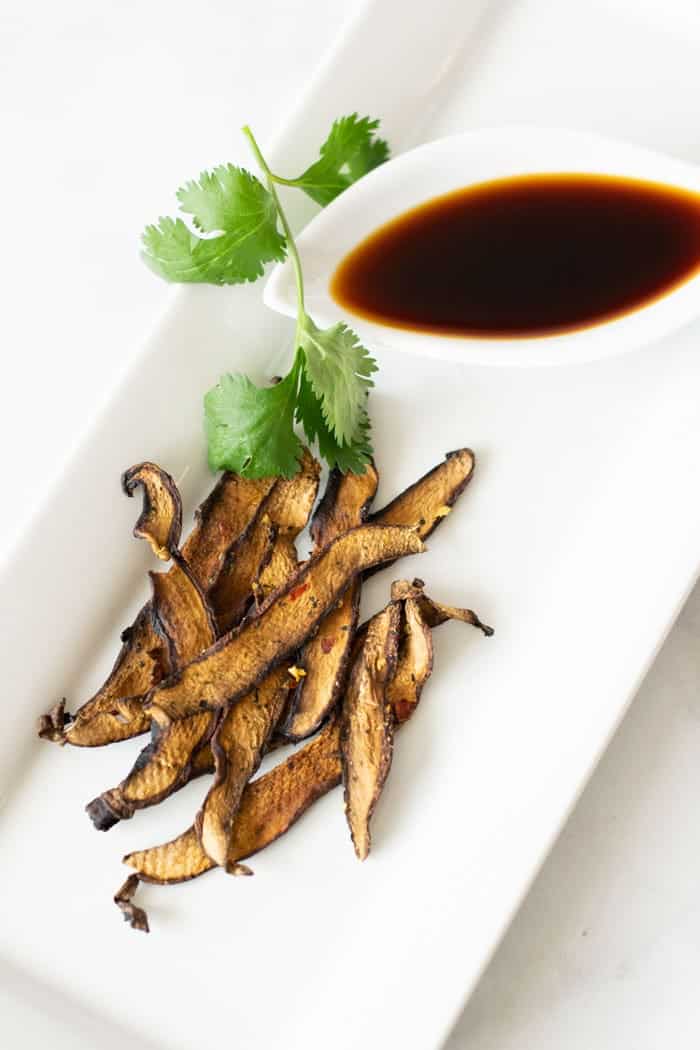 You've been missing out if you've never heard of Mushroom Jerky. Well, that's all in the past because we're bringing you an Asian-flavored version from Jerkyholic. With brown sugar, tamari, rice wine vinegar, garlic, ginger, and red pepper flakes, it's a sweet and sour healthy snack you won't stop eating. That said, it does take about 6 hours to dehydrate. But it's so worth the wait.
Fried Enoki Mushrooms with Chili Aioli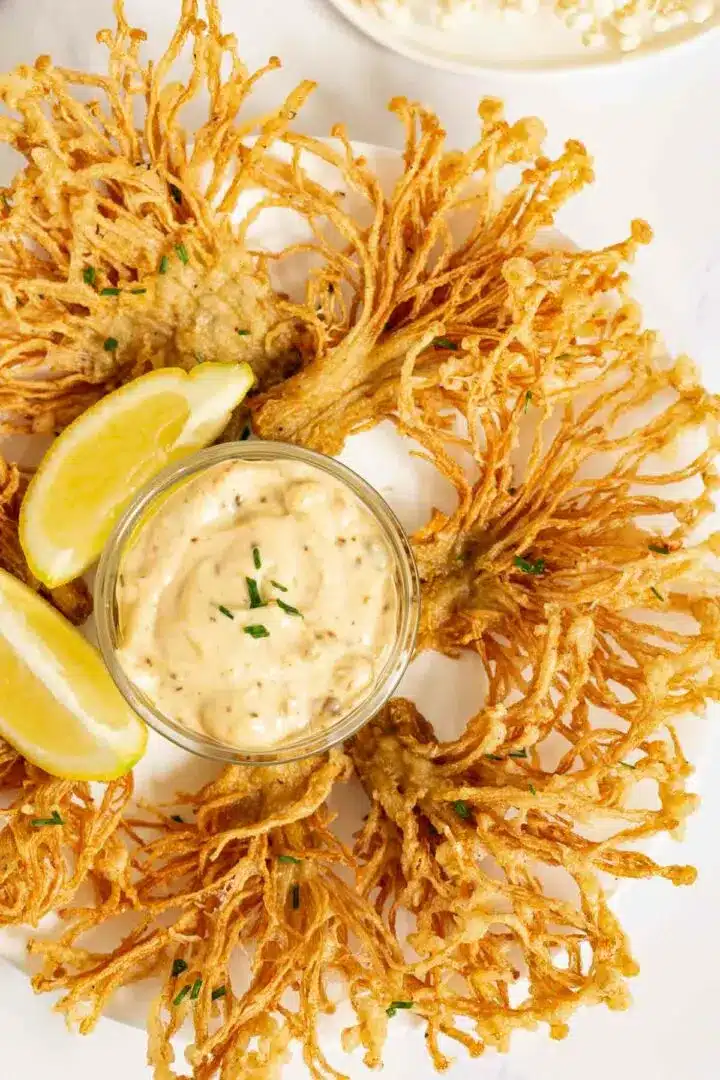 With garlic powder, paprika, ground black pepper, and chili mayo dipping sauce, these Fried Enoki Mushrooms with Chili Aioli by Babaganosh are the vegetarian fried calamari substitute you didn't know you needed. They take less than 30 minutes to make. Plus, they're visually appealing. When you fry the funny-looking fungi, they shrivel up to look like whimsical trees.
Whipped Feta with Truffled Mushrooms Appetizer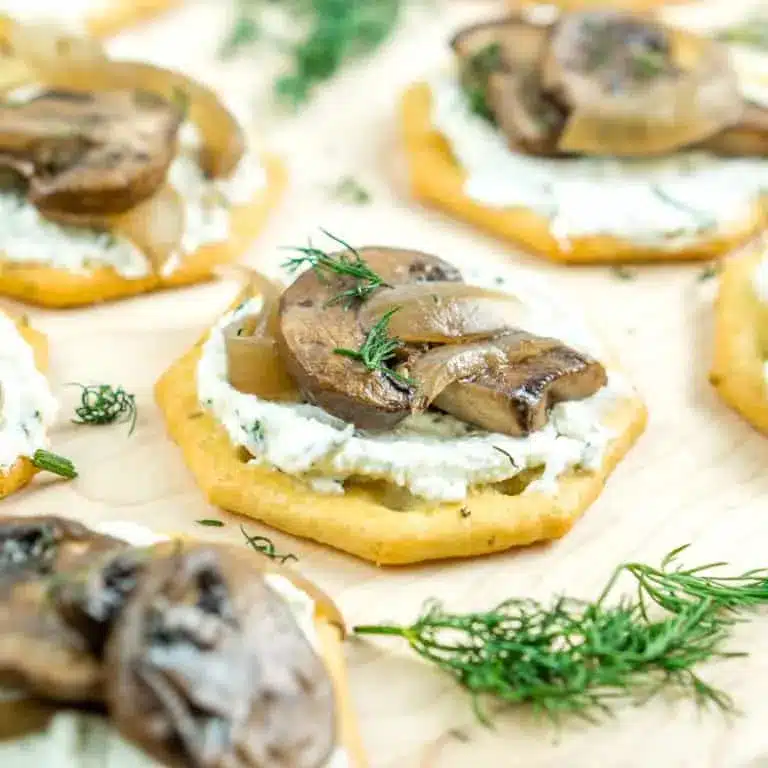 Or save yourself the mess of frying, and turn to this 20-minute Whipped Feta with Truffled Mushrooms appetizer. First, the recipe has you mix the feta cheese, sour cream, and fresh dill in the food processor. Next, you sautee the mushrooms and onions. And finally, add the whipped feta and mushrooms to your favorite crackers or toast.
Queso Flameado with Mushroom Jalapeno "Chorizo"
Certainly, you've heard of chili con queso. But have you heard of the less popular but perhaps tastier queso flameado? If not, you are in for a treat with this Queso Flameado with Mushroom Jalapeno "Chorizo." It's a simple appetizer with impossibly gooey cheese, mushrooms, and a blend of spices like annatto, smoked paprika, ancho chili, and jalapeno that give it that chorizo flavor.
Mushroom Pakoras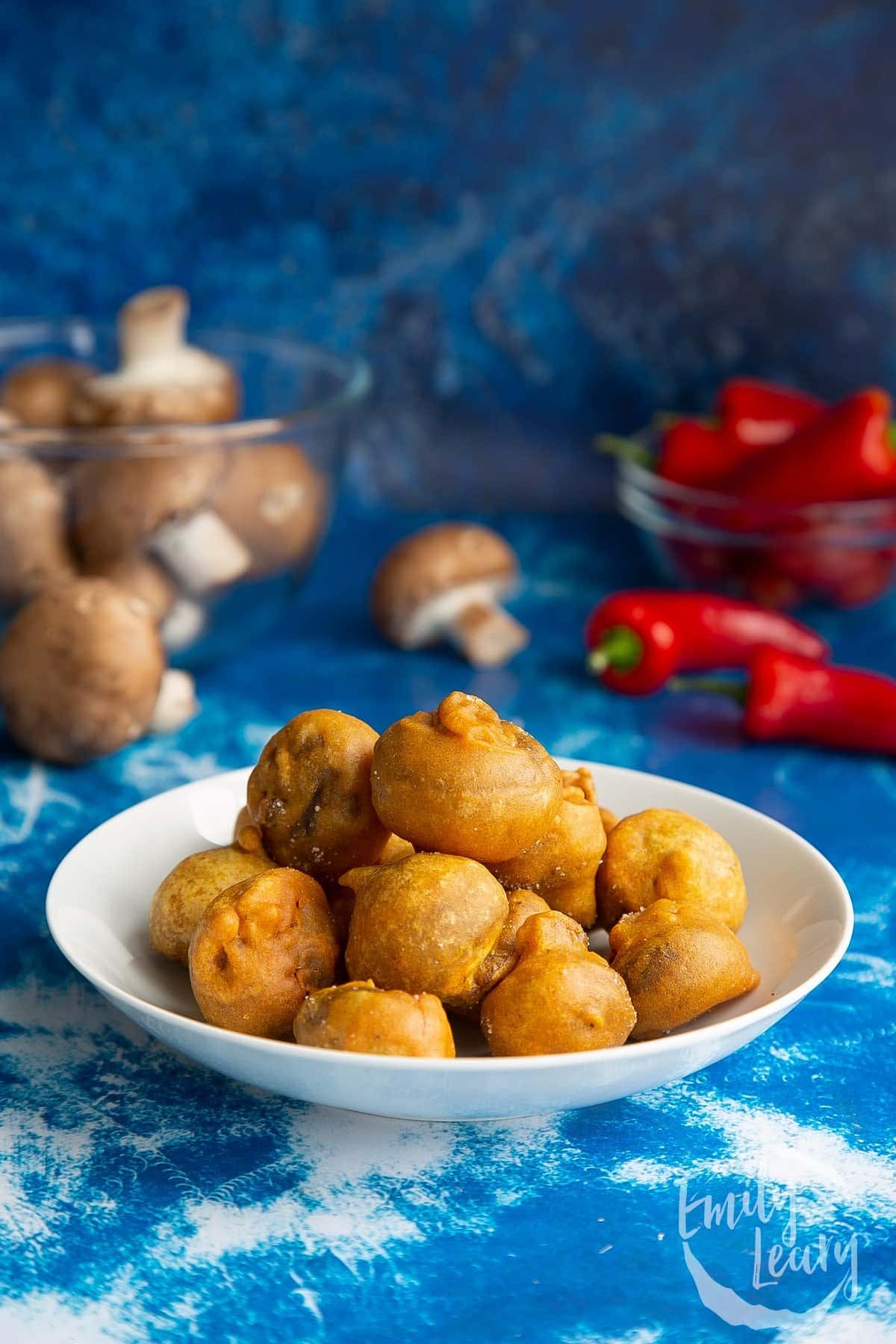 Okay, so these Mushroom Pakoras are the third fried mushroom recipe on this list (so far). But they're all different. Pakoras are a traditional Indian snack made with potato, onion, chickpea flour, and spices, similar to a fritter. However, Emily Leary took a little creative freedom to develop this recipe. We're glad she did, as she takes whole mushrooms and dips them in chickpea batter for perhaps the most delicious fried mushrooms you've ever had.
Keto Chorizo Stuffed Mushrooms
Tino of Midwexican combines Tex-Mex flavors with Minneapolis sensibility for delicious creations like these Keto Chorizo Stuffed Mushrooms. Chorizo is not only a Mexican flavor powerhouse but also in line with Midwestern practicality, as all the seasoning is done for you. Then there's the cream cheese, garlic, and shredded cheese. But it's not just about flavors. For example, to keep it low-carb, a key swap is necessary. Breadcrumbs take a hike in favor of nuts.
Caprese Stuffed Portobello Mushrooms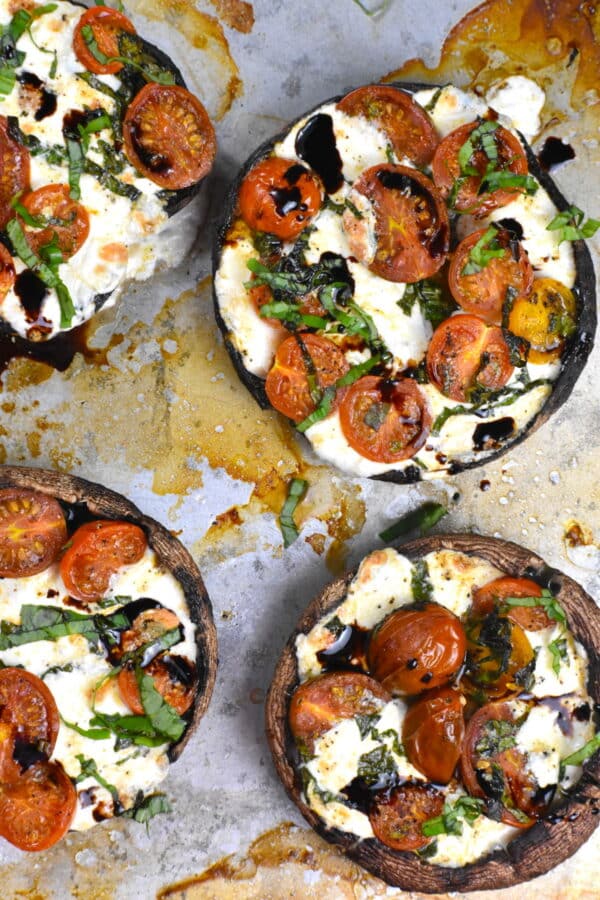 This Caprese Stuffed Portobello Mushrooms recipe by Alpana of Gypsy Plate is a great choice when you're looking to cut down on your meat consumption. The creative food fusion has you top the giant mushroom with tomato, mozzarella, basil, and a drizzle of balsamic glaze. It takes just 15 minutes to make and can be a satisfying main dish or a scrumptious side.
Which Mushroom Appetizers Will You Try First?
At this point, you've seen a bunch of tempting mushroom recipes. To recap, you've options like chorizo-stuffed mushrooms, mini mushroom pies, and even three deep-fried recipes. Plus, many more! So what's it going to be? We'd love to know!