You will love these summer crockpot recipes from talented food bloggers. They are easy, tasty, and, better yet, won't turn your home into a greenhouse.
You'll discover all sorts of deliciousness on this page, like slow cooker Mexican beef brisket, crockpot chocolate lava cake, and bbq chicken sandwiches.
So, are you ready to jump into this tasty list?
Let's get to it!
And before you leave, don't miss our slow cooker caramelized onion bacon dip.
Hatch Green Chile Pulled Pork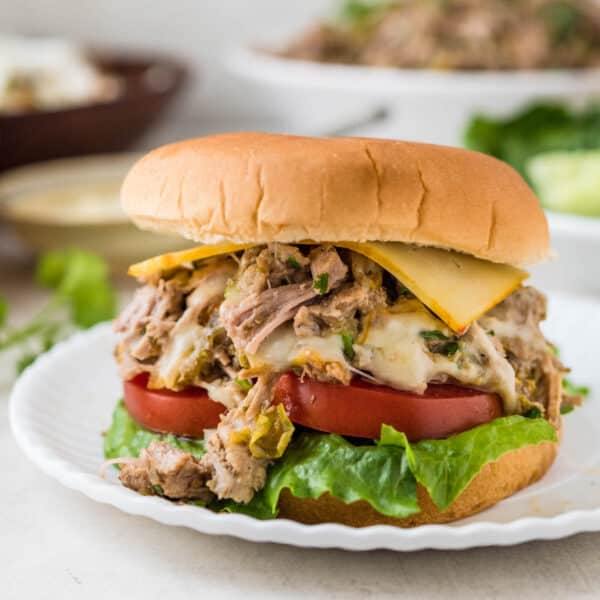 When it comes to feeding a crowd in the summer, it's best to work smarter, not harder. So, of course, with this mouthwatering pot of hatch green chile pulled pork from Lisa of Garlic & Zest, you can do just that. You'll find a simple recipe on her page with complex flavors from beer, green chiles, bell pepper, cumin, and cilantro.
Visit Garlic & Zest for the recipe.
Slow Cooker Mexican Beef Brisket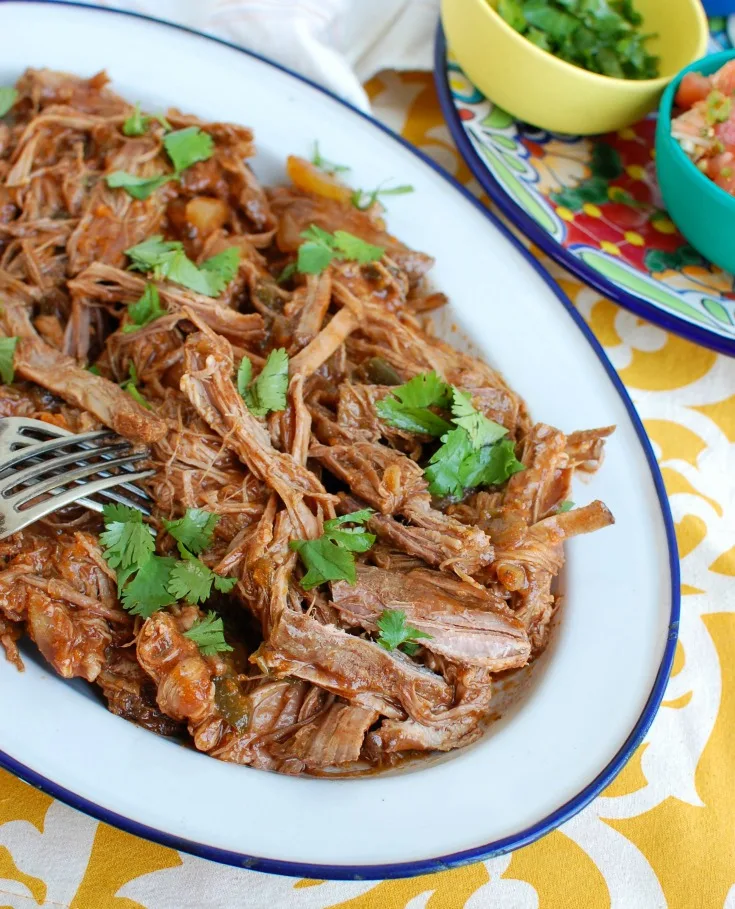 This tender and oh-so juicy slow cooker Mexican beef brisket from Julia of A Cedar Spoon is acceptable any time of the year. Still, you'll find it particularly handy during those unforgiving summer months when dutch oven cooking isn't an option. The shredded beef is seasoned with flavors like garlic, onions, peppers, and cumin and is great for tacos, quesadillas, quick breakfast meals, and more.
Visit A Cedar Spoon for the recipe.
Slow Cooker Italian Beef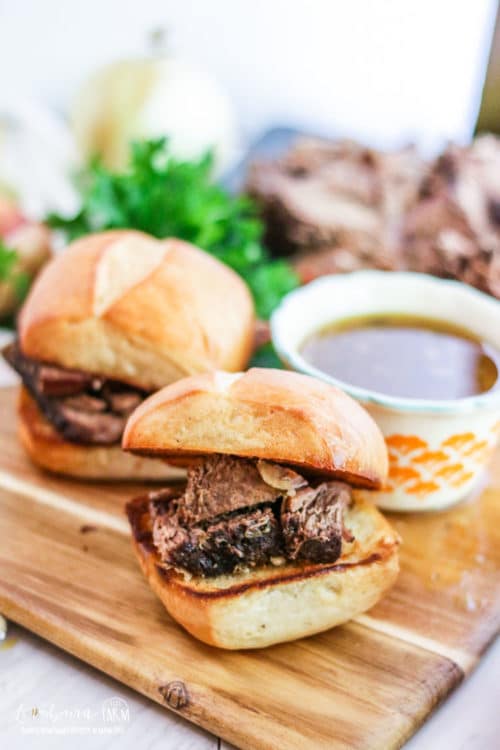 You'll heavily flavor this slow-cooker Italian beef from Alli of Longbourn Farm with pepperoncini, garlic, onions, beef, and more for a scrumptious weeknight meal. However, the best part is you'll get to enjoy the Chicago classic all week long, coming up with one tasty way to use it after another.
Visit Longbourn Farm for the recipe.
Crockpot Chocolate Lava Cake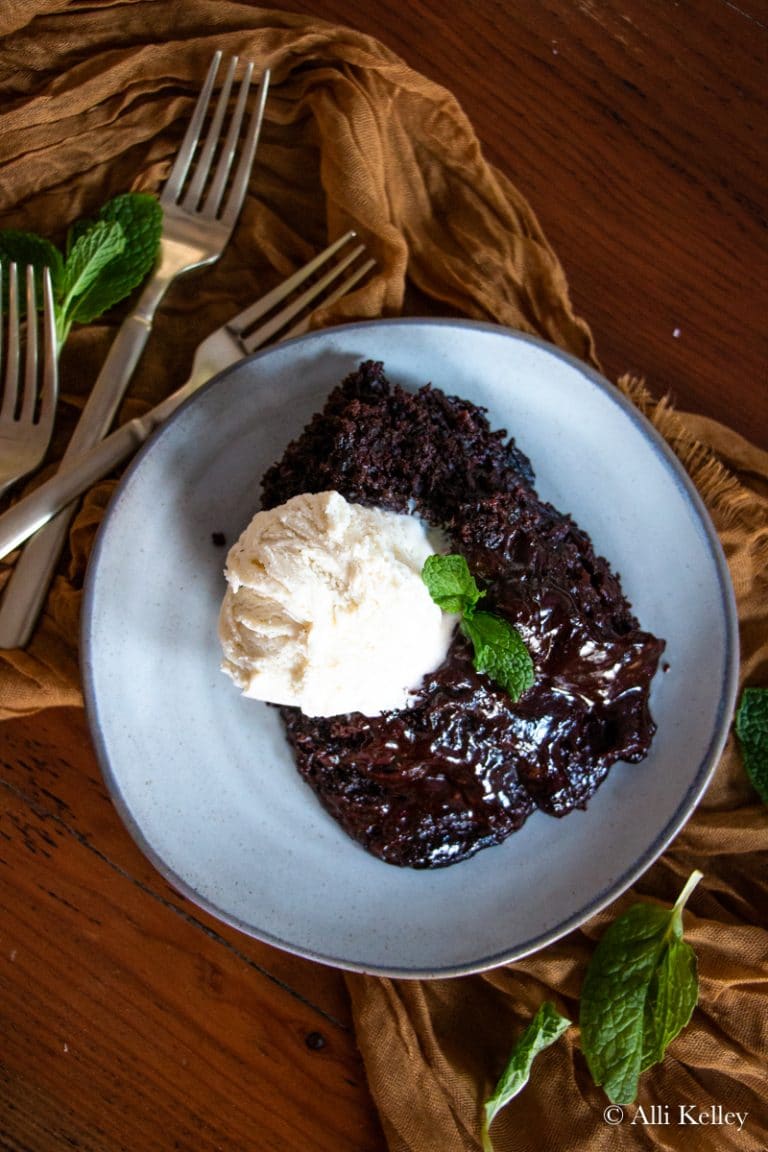 It's pretty illegal to turn on the oven in the summer unless it's at like 3 am. So, making a moist and dreamy chocolate cake is out of the question, right? Well, not with this slow-cooker chocolate lava cake from Alli of Longbourn Farm. It's moist and cakey around the edges and gooey in the center. You really can have your cake and eat it too.
Visit Longbourn Farms for the recipe.
Slow Cooker Summer Beef Stew
Gina of Running To The Kitchen admits this slow cooker summer beef stew isn't a typical recipe she would make during this time of year. But unexpected circumstances led her to it. So instead of potatoes and carrots, her summery version calls for zucchini, bell peppers, and tomatoes. It's a warm weather twist on a fall classic.
Visit Running To The Kitchen for the recipe.
Five Ingredient Slow Cooker Chicken Tacos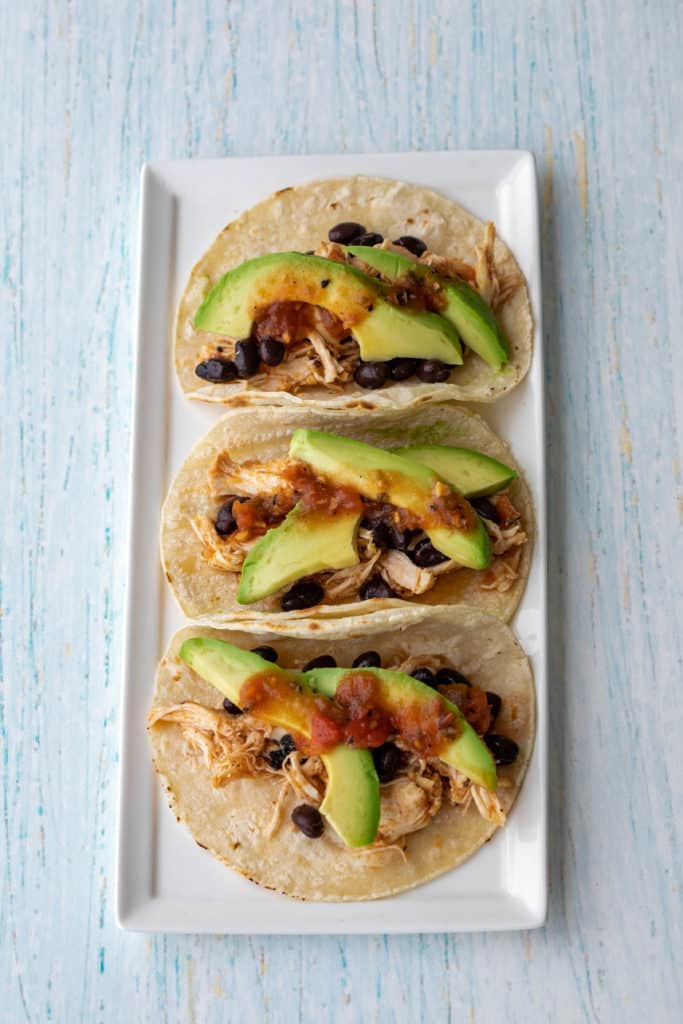 If you're trying to find a delicious dinner that doesn't take all day, see this five-ingredient slow cooker tacos recipe from Chef Molly of Vanilla Bean Cuisine. It's just straightforward, appropriate weeknight fare. But that's the point. Simple is what you need during the busy week.
Visit Vanilla Bean Cuisine for the recipe.
Crockpot Chicken Caesar Sandwiches
Shelly of Two Healthy Kitchens understands that dinner isn't just dinner during the summer. You also have to be concerned about heating the house. So luckily, these slow cooker chicken Caesar sandwiches with homemade Caesar dressing fits the bill. They're creamy, protein-packed, and tasty enough for seconds.
Visit Two Healthy Kitchens for the recipe.
Honey Garlic Slow Cooker Chicken Wings
While we prefer deep-fried wings, these honey garlic slow cooker chicken wings from The Milners of Recipe This are a delicious alternative. Especially for summer days when gameday-style foods harken to you, but frying isn't an option. Instead, it's an easy yet tasty dish filled with flavors of honey, garlic, soy sauce, and spice you'd never think of.
Visit Recipe This for the recipe.
Slow Cooker Key West Crab And Lobster Bisque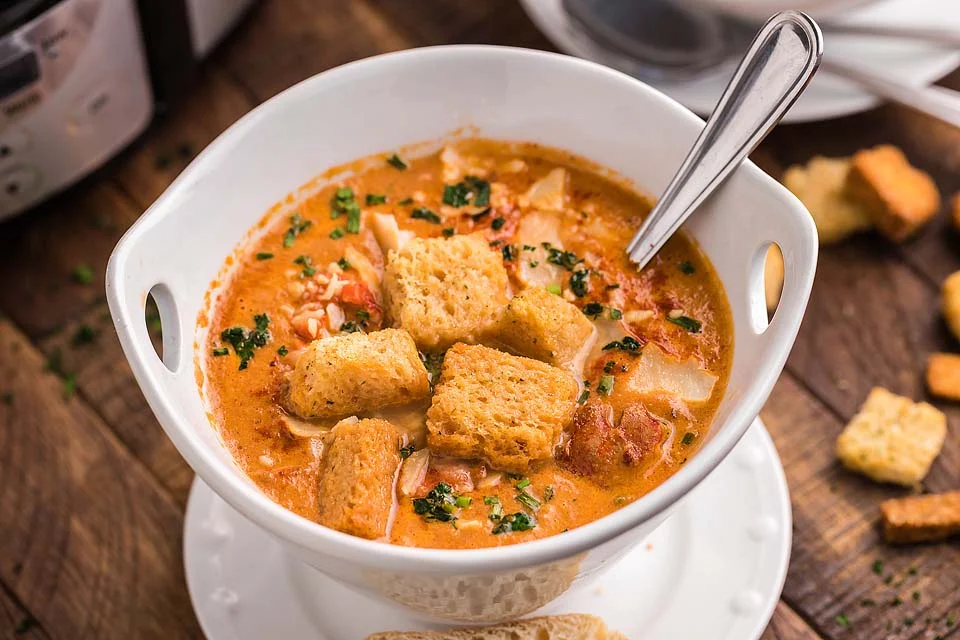 We predict that once you give in to this slow cooker Key West crab and lobster bisque from XOXO Bella, it'll stay on your menu for a while. It's hearty with lump crab, lobster tails, and an assortment of rich flavors. Each spoonful of this mostly hands-off drinkable creamy seafood soup will call you to a tropical paradise.
Visit XOXO Bella for the recipe.
Fall off the Bone Slow Cooker Hawaiian Ribs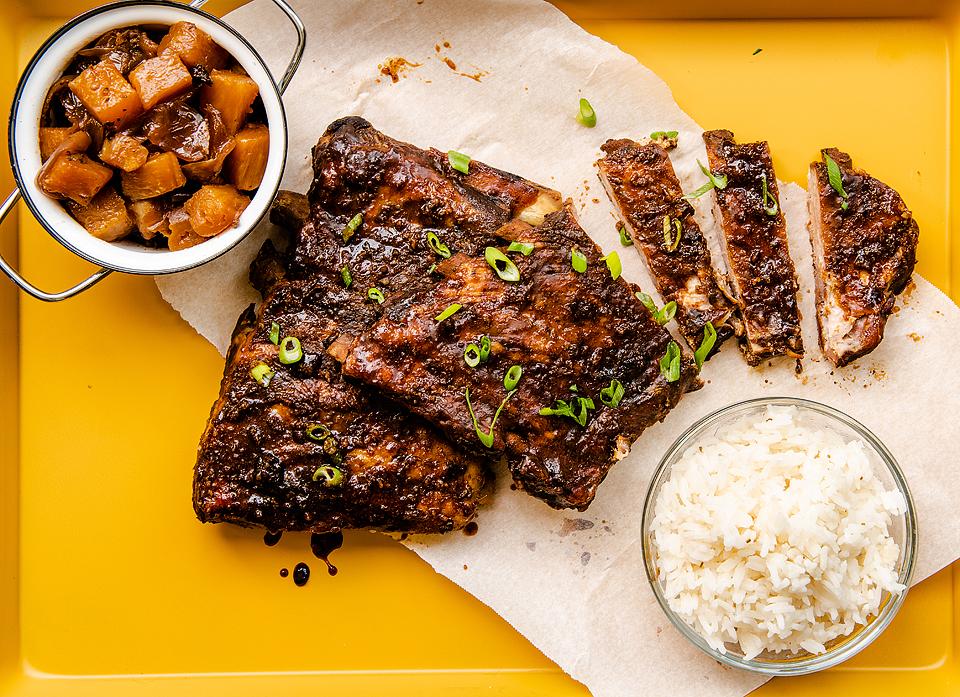 Pineapple, sriracha, soy sauce, and other flavors team up for this fall-off-the-bone slow cooker Hawaiian ribs from XOXO Bella. So after just 15 minutes of prep, including covering the pork with the seasoning mixture, they go into the slow cooker, where they reach their full potential; juicy, succulent ribs with Hawaiian flavors.
Visit XOXO Bella for the recipe.
Crockpot Ranch Pork Chops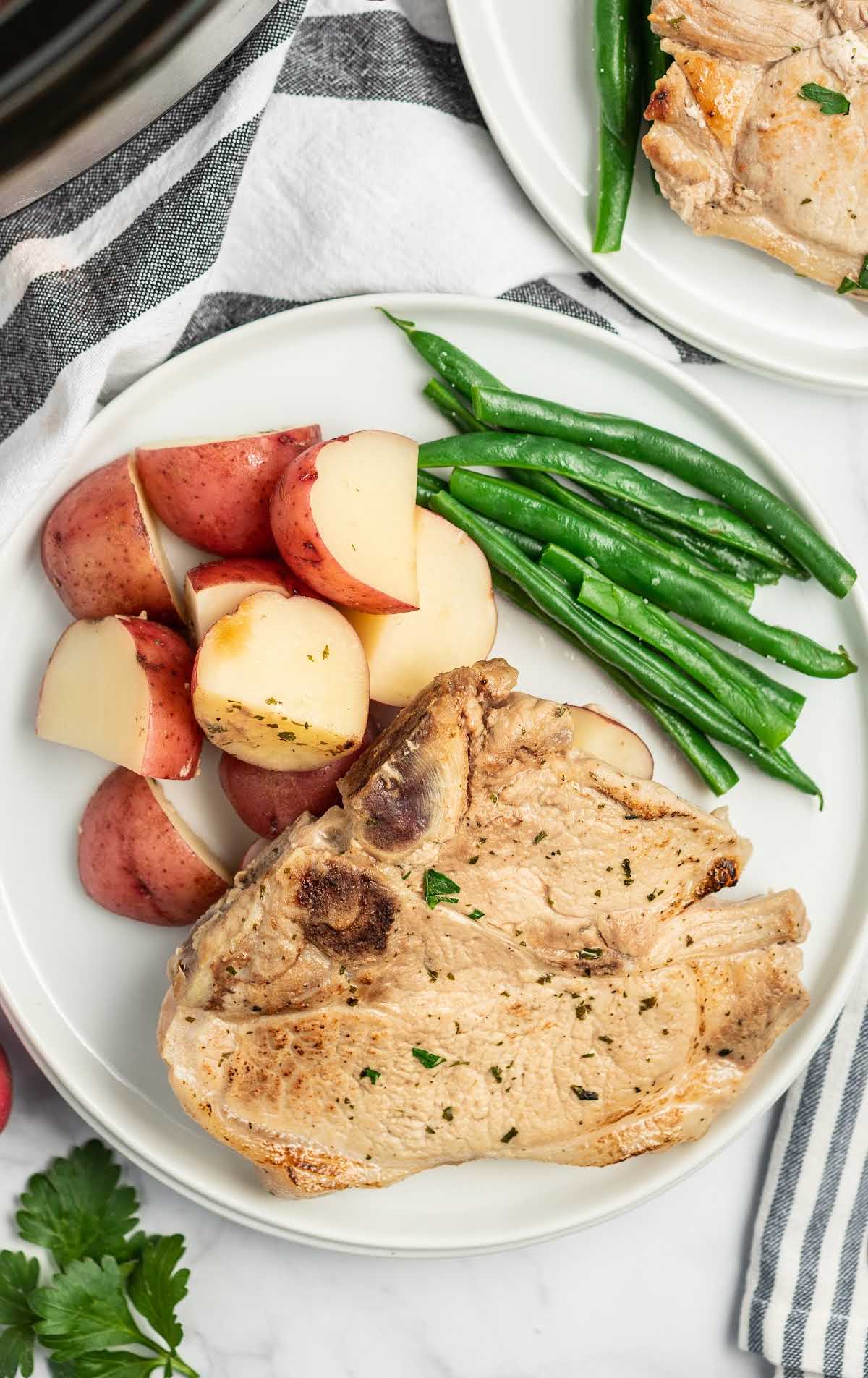 This prep-and-dump, ranch crockpot pork chops recipe from Spaceships And Laser Beams takes just five minutes to get ready for the slow cooker. Then, after hours of teasing you with a tempting aroma, those simple ingredients, including pork chops, potatoes, and butter, become a dinner you can't get enough of.
Visit Spaceships And Laser Beams for the recipe.
Crockpot BBQ Chicken Sandwiches
These BBQ chicken sandwiches from Christi of Love From The Oven are a classic finger-licking slow cooker meal. It's tasty with simple everyday ingredients and a hit every single time. Keep this one around for those busy dog days of summer when you need an easy win.
Visit Love From The Oven for the recipe.
Chicken Slow Cooker Enchiladas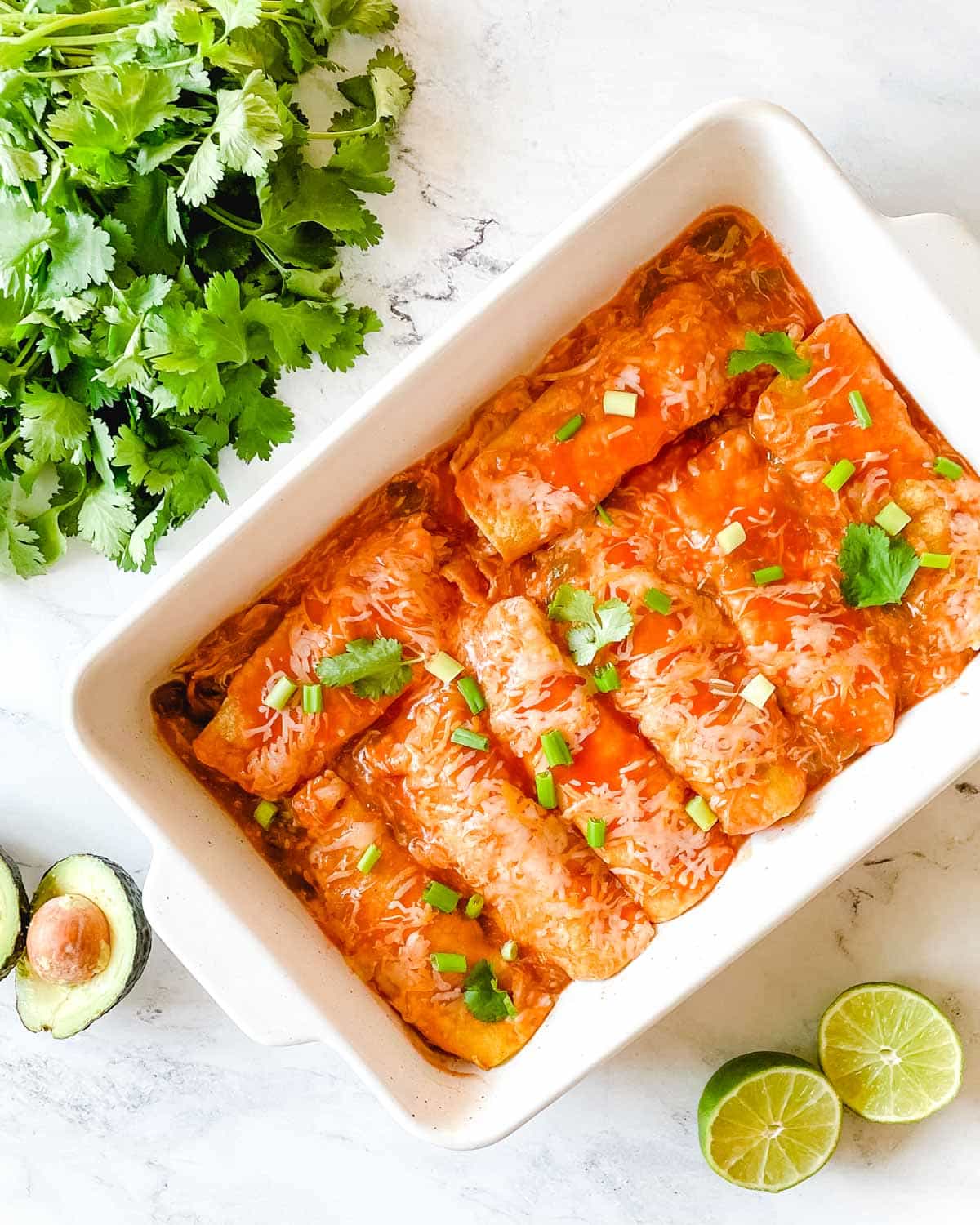 With a pound of chicken breast, corn tortillas, enchilada sauce, and all the seasonings you expect in Mexican cuisine, these inviting slow cooker chicken enchiladas from Two Cloves Kitchen are just what you need for easy summer cooking. They're easy, hands off, won't heat up the house, and hit the spot flavor-wise. Yep, that ticks all the boxes!
Visit Two Cloves Kitchen for the recipe.
Easy Crockpot Chicken and Dumplings
Yes, we know that this chicken and dumplings recipe from Jillian of Food Folks and Fun might not scream "summer recipe," but making it in the crockpot is a different proposition. First, chicken, canned biscuits, and other pantry staples are easy to find and make for a substantial feast. Also, at just $2.33 per serving, it makes for an economic offer.
Visit Food Folks And Fun for the recipe.
Summer Corn Chowder
Although it's a summertime eat, you'll fall for this beautiful slow cooker summer corn chowder from Kadee of Oh So Delicioso. It's a creamy concoction featuring corn (obviously), fresh zucchini, red potatoes, carrots, and a broth for a dinner you'll want to slurp away! Your prep time is but minutes before the slow cooker takes over.
Visit Oh So Delicioso for the recipe.
Pepperoncini Pork Roast
With this Greek slow cooker shredded pork from Season & Thyme, you can make sandwiches or serve it over rice or potatoes. It's great for the summer or any time of the year as it represents simple, hands-off cooking without filling the house with unwanted heat. However, unctuous pork, pepperoncini, and an assortment of seasonings will fill your home with a delicious aroma.
Visit Season & Thyme for the recipe.
Slow Cooker Chicken And Sausage Jambalaya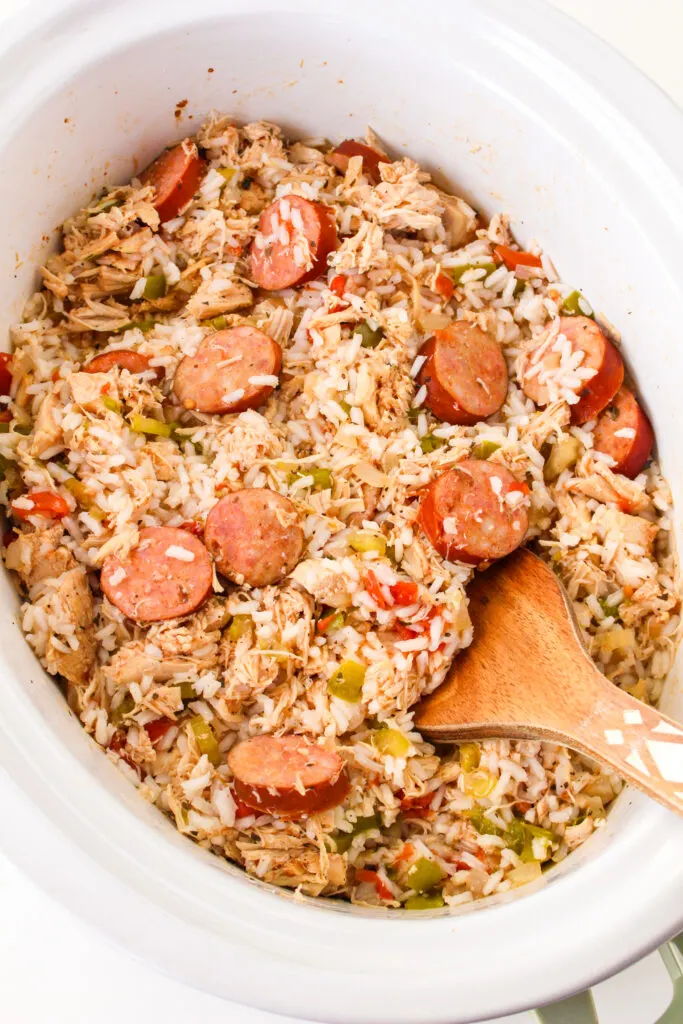 Slow cooker chicken and sausage jambalaya from Lynette of Moore Or Less Cooking represent the kind of down-home cooking we all know and love. But, you know, with chicken, cajun sausage, and a variety of veggies and seasonings, this dish is sure to strike up some "like mama use to make" nostalgia.
Visit Moore Or Less Cooking for the recipe.
Easy Slow Cooker Ratatouille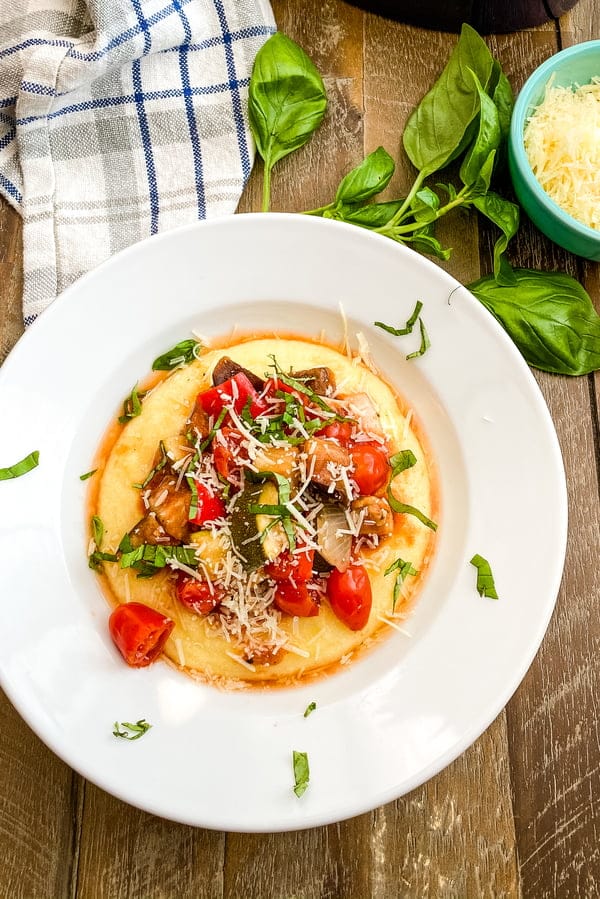 This easy slow cooker ratatouille recipe from Amy Casey Cooks makes for a great meatless Monday meal. It's a dish plentiful in fresh veggies like eggplant, tomatoes, and zucchini and seasoned with onions, garlic, and herbs de Provence. But that's not all. It becomes a complete meal when you serve it over hearty and creamy polenta.
Visit Amy Casey Cooks for the recipe.
Slow Cooker Buffalo Chicken Meatballs
We all love game day foods, but you don't need a rowdy afternoon with the boys to enjoy this slow cooker buffalo chicken meatballs from Mary's Whole Life. The Whole30 offering is great for snacking but transforms into a meal when you add some sauteed veggies and rice and serve it as a bowl.
Visit Mary's Whole Life for the recipe.
Slow Cooker Greek Green Beans
This Fasolakia recipe from Cathy of Herbs And Flour makes for a memorable side dish. For those unfamiliar with the Greek recipe, it's tender fresh green beans, potatoes, and tomatoes stewed in olive oil with mint and parsley herbed tomato sauce. Now, for most of us, that's a brand new and tempting way to do green beans.
Visit Herbs And Flour for the recipe.
Which Delicious Summer Crockpot Recipe Will You Try First?
So, by now, you've seen so many delicious summer crockpot recipes. Which one are you ready to try first? Is it the slow cooker ratatouille, summer corn chowder, or something entirely different? Let us know.