Whether you're a long-time sweet potato lover or this is your first time exploring sweet potato desserts, you're going to love this list of sweet potato dessert recipes.
You'll usually find sweet potatoes as the main ingredient in sweet recipes during the fall time of year. And for many people, sweet potatoes are a must at Thanksgiving dinner and common during winter months. But these confections are so good. You'll be craving them in spring and summer too.
The wonderful desserts listed below were developed by talented and thoughtful food bloggers and are some of the best we've ever seen! So, grab a pen and paper, bring your sweet tooth and get ready to explore.
Let's dig in!
Jump to:
18 Best Sweet Potato Dessert Recipes
Get ready to discover 18 delicious sweet potato treats. They range from indulgent cakes and pies to nutritious treats with very little added sugar. You'll see a fritter recipe (we can't wait to make it), bars, cookies, and everything in between. So you are sure to find something you'll love. And by the way, this is a list, not a ranking.
The Best Sweet Potato Fritters Recipe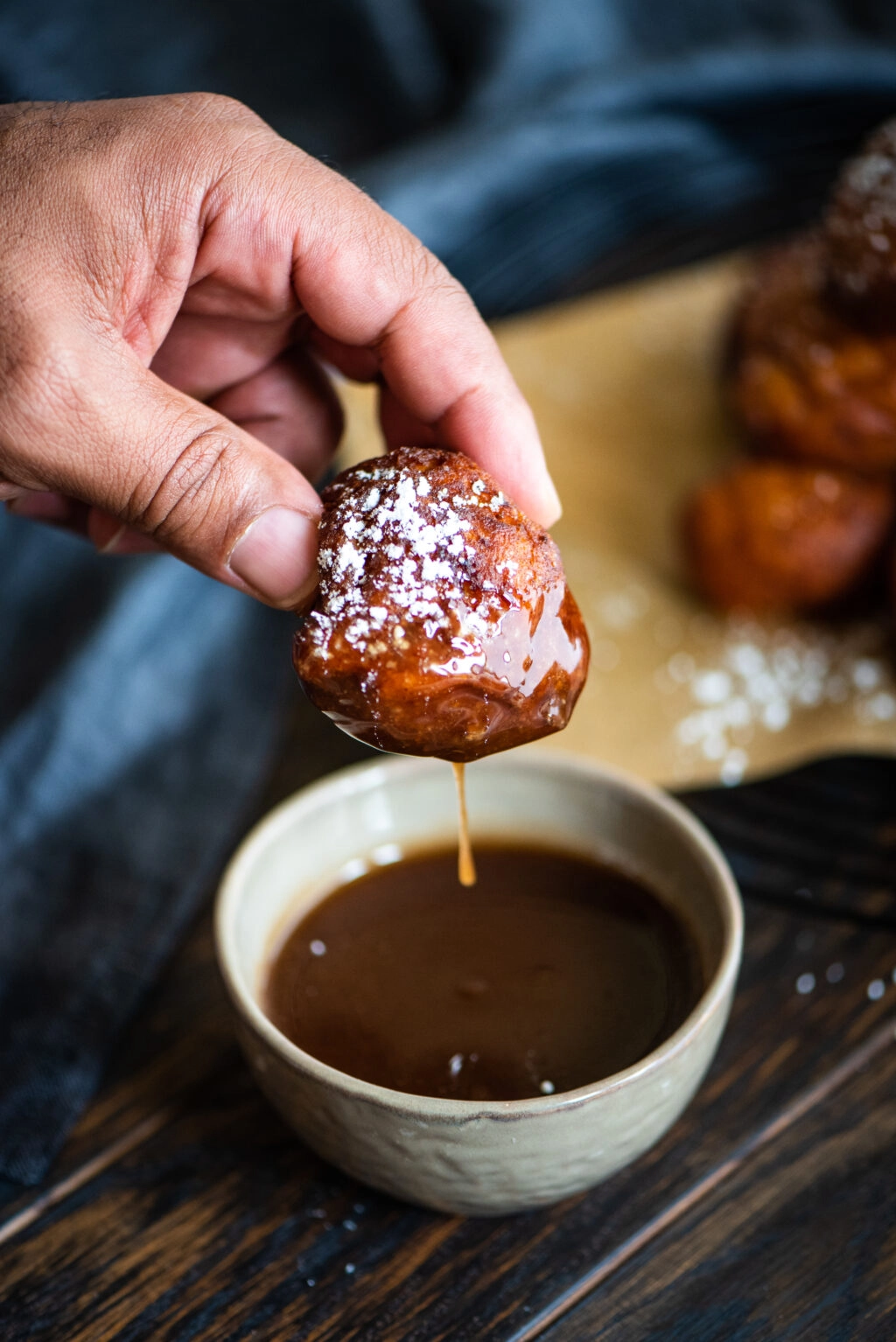 Eric, the Dude That Cookz shows us how to make the most pin-worthy sweet potato fritters we've ever seen. They're a delectable treat, so aromatic with warm spices it has us wishing for a scratch and sniff feature on our computer screens. And just look at that dripping hot buttered rum sauce, mmm!
But luckily, you don't have to fantasize for long. You can enjoy these heavenly little donuts one after another in no time. It's an easy recipe with clear instructions. The hardest part is stopping yourself from eating them all.
Visit Dude That Cookz for the recipe.
Sweet Potato Bars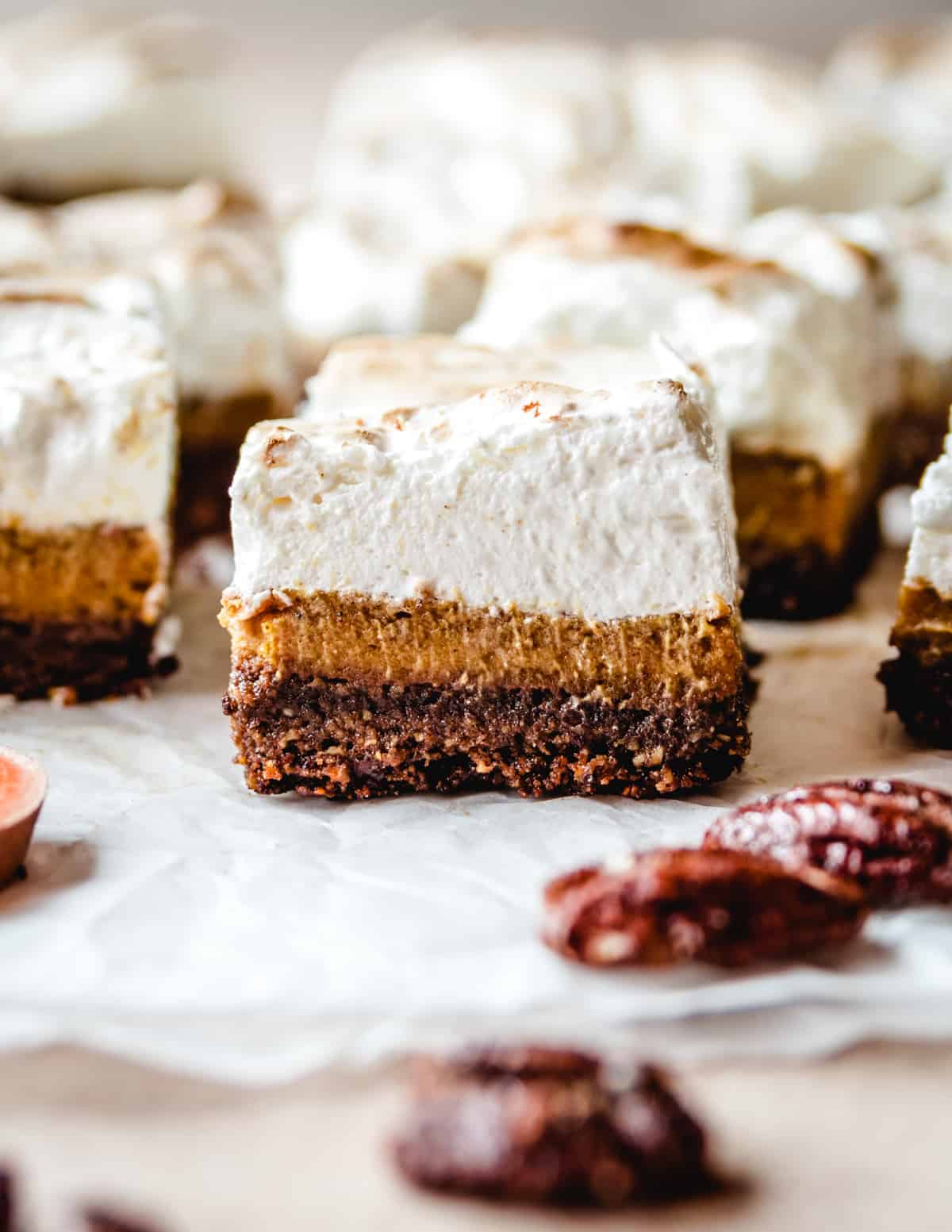 Kim really is a Kickass Baker and a stellar food photographer with a recognizable and consistent style. These sweet potato marshmallow bars add to that legacy. I mean, we were captivated at first glance by this delicious recipe. Weren't you?
They start with a glazed pecan and brown sugar crust. Next is that creamy sweet potato purée filling that we could eat by the spoonful. And finally, the most exciting part is homemade marshmallow fluff, gently torched for an elegant and fun finish. It's a surprisingly easy yet envious treat sure to steal the spotlight at your holiday potluck.
Visit Kickass Baker for the recipe.
Sweet Potato Candy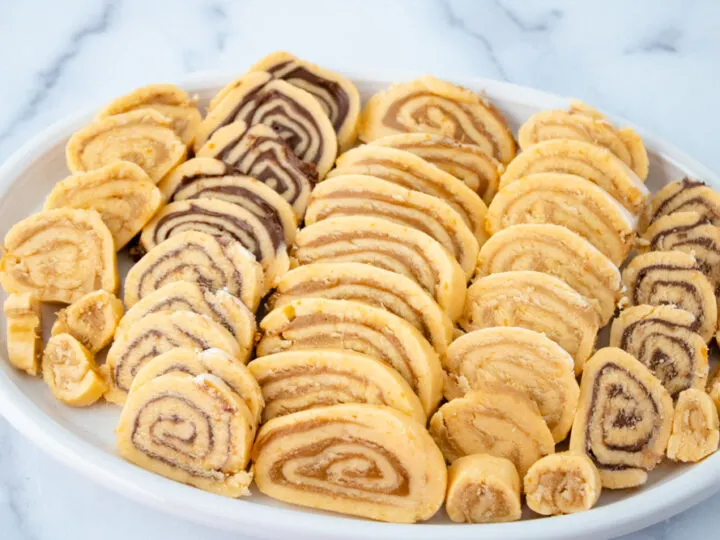 Did potato candy originate in the Great Depression-era South? Or was it the brainchild of an Irish-American immigrant? Who knows. All we know for sure is that this sweet potato candy from Katie of A Mother Thing is a sweet treat your whole family will fall for.
And by sweet, we mean SWEET. Like our classic peanut butter bites, this candy calls for a lot of powdered sugar. Then there are the fillings. Chocolate or peanut butter is her go-to option, but you are limited only by your imagination.
Visit A Mother Thing for the recipe.
Sweet Potato Flan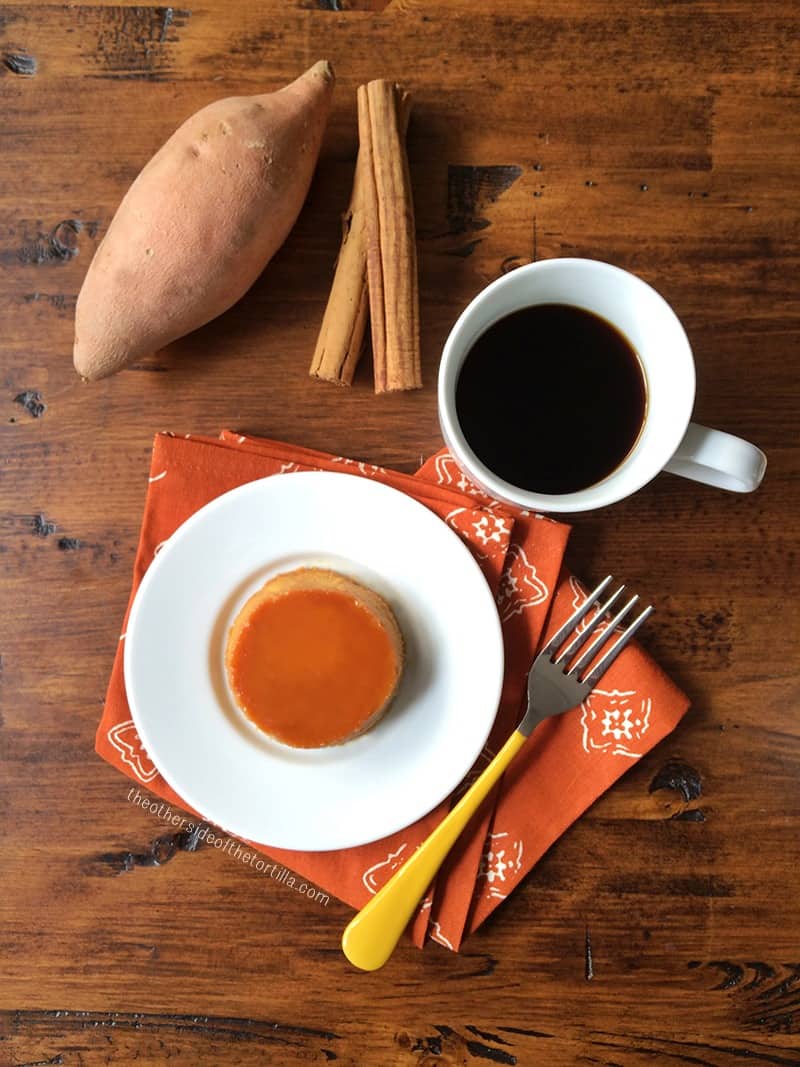 Flan is a delicious custard dessert typical in Spanish-speaking countries. It is a creamy and delicate pudding that we love to the very last bite. But this sweet potato flan from Maura of The Other Side Of The Tortilla is special.
It combines the irresistible flavor of sweet potato with the texture and caramel of flan for an utterly original dessert. The result is a custard denser and coarser than a traditional flan. On the page, you'll find clear instructions and clever tips for serving.
Visit The Other Side of The Tortilla for the recipe.
Sweet Potato Pie Cake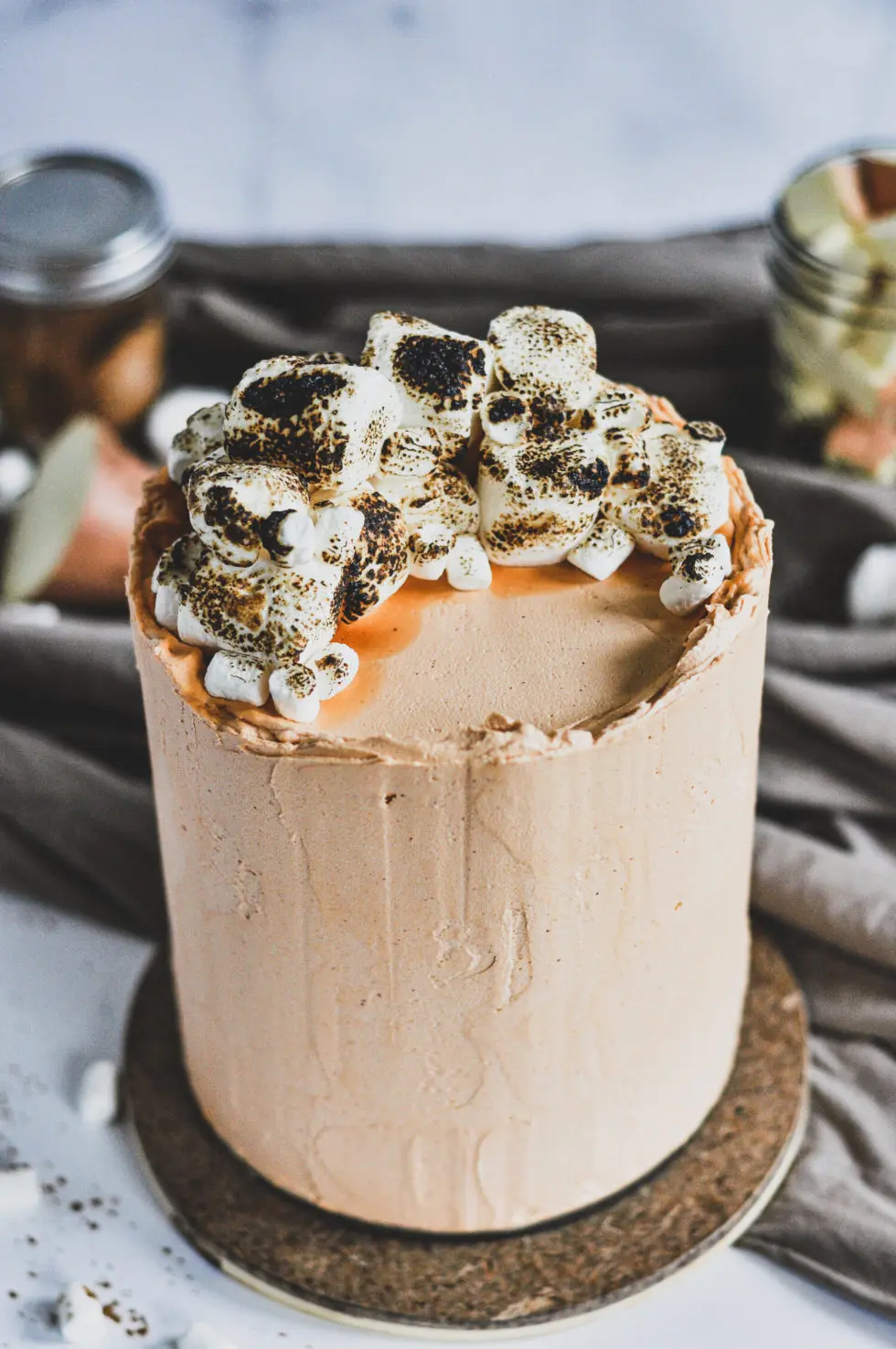 This sweet potato cake from Katie of Caked By Katie is stunning. It's beautifully composed; honestly, we just stared at it and dreamed of making it. But it's not just eye candy.
This cake is intriguing with multiple, well, layers. It is a cake with sweet potato pie elements, including the crust. But it doesn't stop there; to look at it, you'd have no idea that it's dairy-free, including the molasses frosting. And on top, that's honey marshmallow fluff.
Visit Caked By Katie for the recipe.
Sweet Potato Casserole With Marshmallows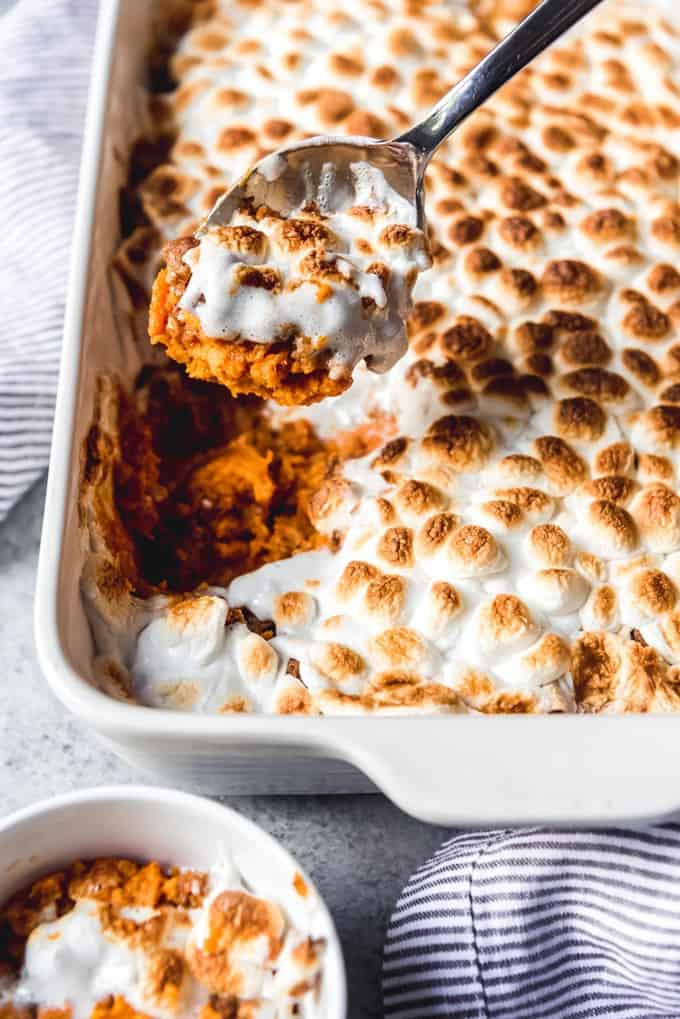 With this recipe, Amy of House of Nash Eats empowers you to evangelize on behalf of the humble sweet potato. A righteous pursuit, to be sure. She claims that even the most ardent detractors will become converts when they taste this pecan streusel, torched marshmallow-topped, mashed sweet potato recipe, for she was once not very fond of sweet potato Thanksgiving dishes herself.
You see, unlike candied yams, this casserole is basically a dessert masquerading as a legitimate side dish.
Visit House Of Nash Eats for the recipe.
Ube Halaya Recipe
Surprise them with this ube Halaya recipe from Chris of Today's Delight. Also known as purple yam jam, ube Halaya is a delicious traditional Filipino dessert. And Ube is a tuber very similar to the sweet potato. It's so similar that you can substitute it for ube.
The recipe is easy, although there is a lot of stirring involved. But once that delicious yam jam sets, you can top it with toasted coconut, toasted rice flakes, toasted coconut curds, or even grated cheese.
Visit Today's Delight for the recipe.
Sweet Potato Pie (With Sweetened Condensed Milk)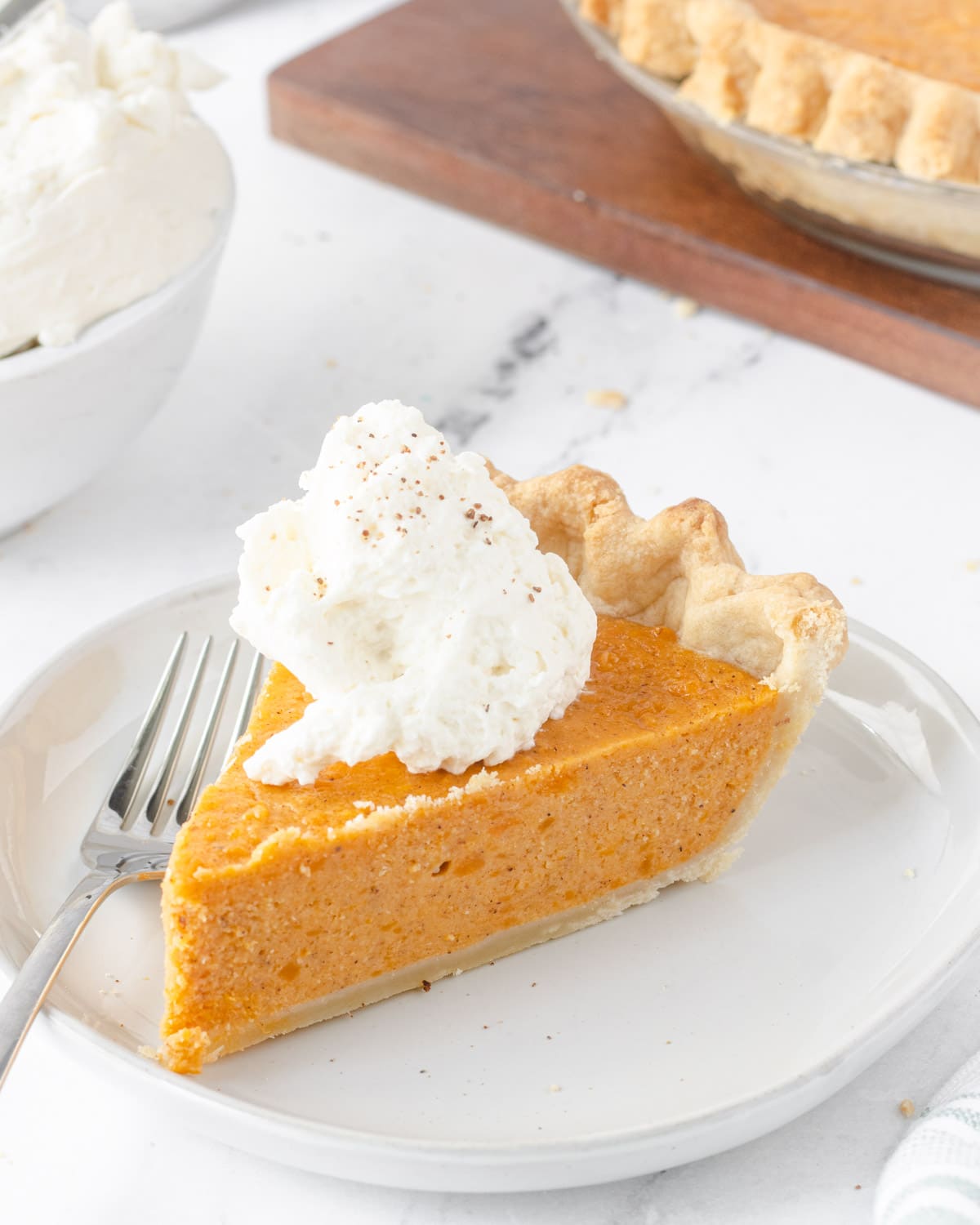 Erin of State Of Dinner brings us this classic sweet potato pie recipe. It's a scrumptious Southern must-have for your Thanksgiving menu. But sweet potato dessert recipes are typical. So what makes this one unique?
Well, we like Erin's take because the sweetened condensed milk makes it creamy, and there's no need for added sugar.
Also, Erin doesn't overdo it with too many spices. So pumpkin pie spice isn't a recommended substitute. In fact, there are only three spices, including vanilla. Finally, the way she cooks the potatoes preserves as much flavor as possible.
Visit State Of Dinner for the recipe.
Sweet Potato Cheesecake Bars
We're no strangers to sweet potato cheesecake bars. But this recipe from Hummingbird Thyme is off the charts! It starts with a layer of crunchy gingersnap cookie crust. Would you have ever thought of that?
Next, you have a creamy sweet potato pie filling. Then more gingersnaps, crushed and sprinkled on top. And finally, to finish it all off, ooey-gooey salted caramel sauce. Just wow! Better still, there are less than 30 minutes of prep time.
Visit Hummingbird Thyme for the recipe.
Sweet Potato Scones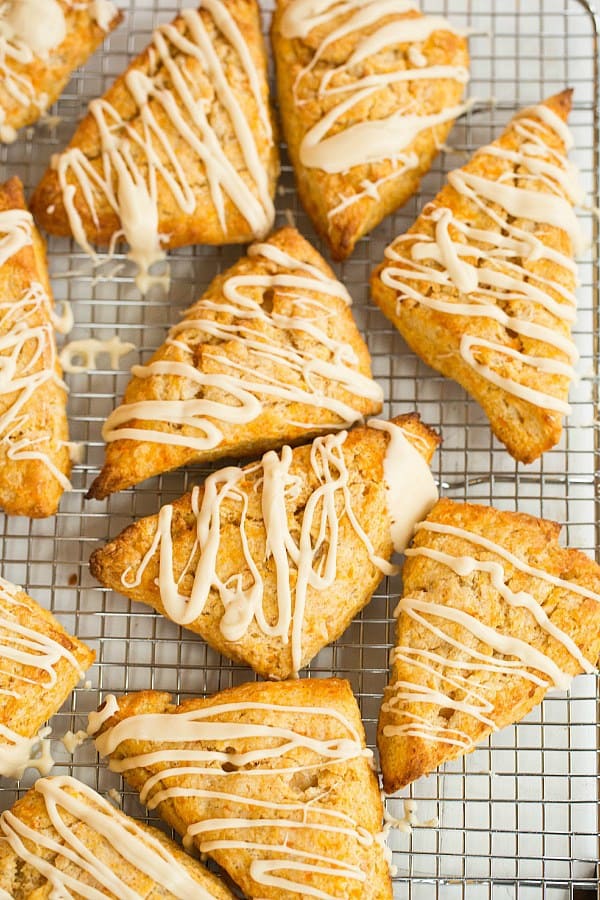 Making these sweet potato scones from Michelle of Brown Eyed Baker could cause you to fall head over heels in love. For these sweets are described as more of a tender and moist biscuit-scone hybrid. Like a biscuit, they are flaky but also have the crumb characteristic of scones.
Best of all, the sweet potato flavor is present, but mildly so, making them a great dessert for those on the fence about the popular tuber. Finally, you finish it with a sweet maple glaze for a breakfast or brunch dessert sure to impress.
Visit Brown Eyed Baker for the recipe.
Simple Ube Ice Cream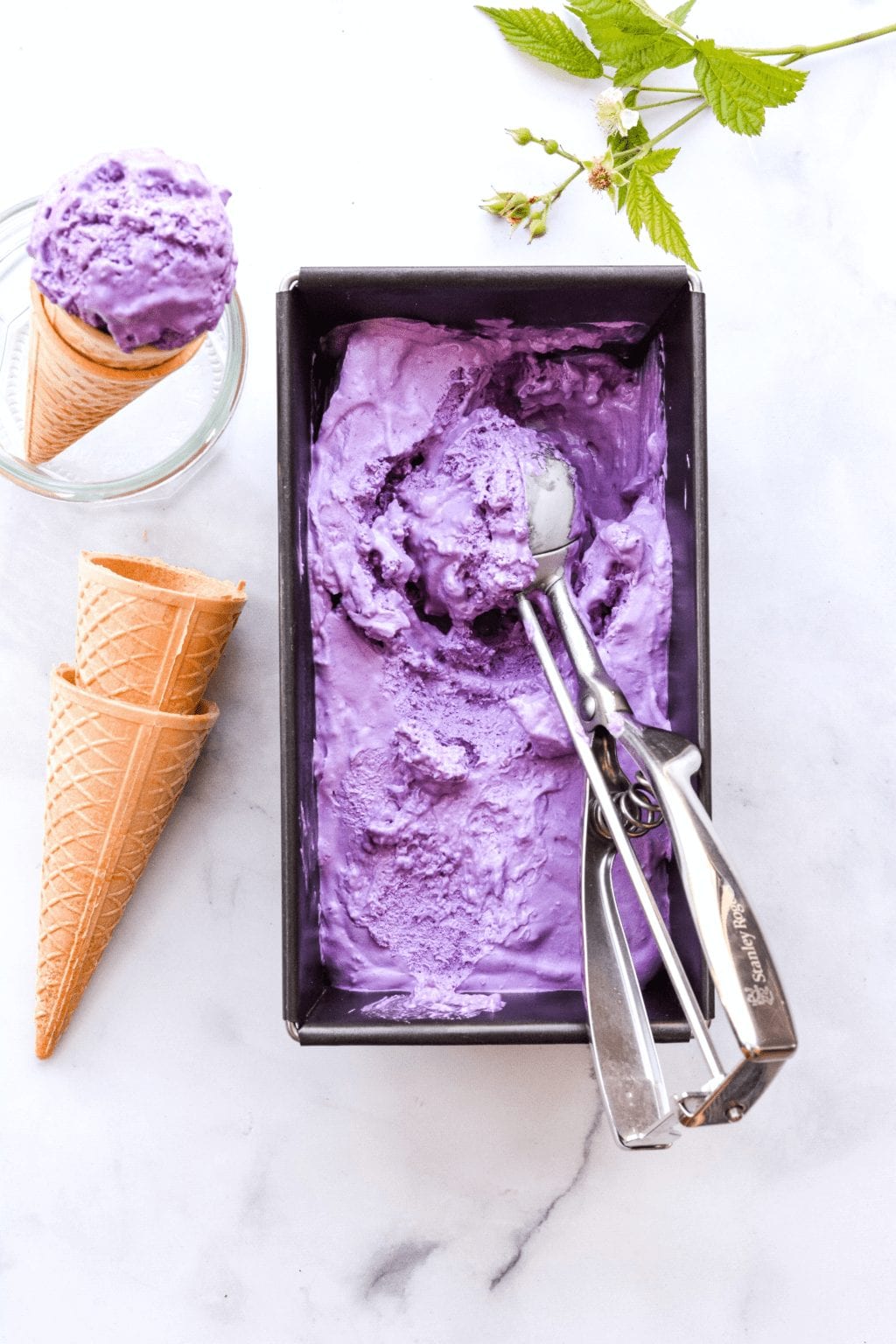 Michelle of Dwell By Michelle brings us this exuberant pastel purple ube ice cream. She grew up eating purple sweet potatoes by the pound. Sure, you can roast it, and it tastes incredible, all gooey and caramelized, but who could resist it in ice cream form? Certainly not us.
And it gets better; this is a no-churn recipe that takes less than 30 minutes to make. First, however, you will have to freeze it for at least five hours. But when it's ready, just imagine the look on everyone's face when they see this brightly colored, super-fun food.
Visit Dwell By Michelle for the recipe.
Easy Sweet Potato Cookies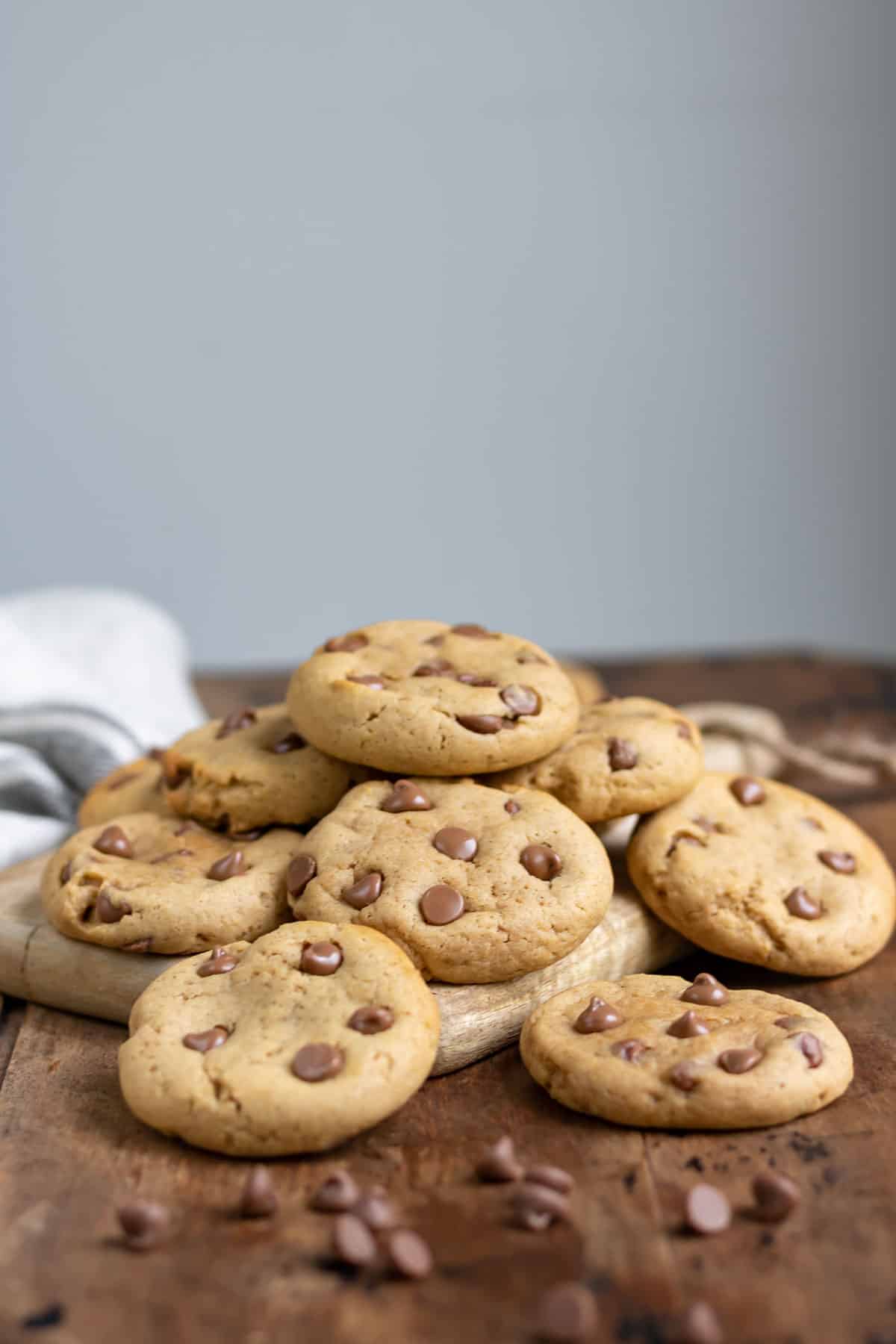 Kate, the editorial leader of Veggie Desserts, is an expert at dreaming up sweet treats featuring vegetables like these easy sweet potato cookies. It's like your favorite chocolate chip cookie, but with a creamier and more moist texture. These chewy cookies don't have eggs in them. But you will find other essential cookie staple ingredients like melted butter, flour, and chocolate chips.
You can use this recipe as a way to use leftover sweet potatoes or as a frictionless way to introduce the orange root vegetable to your family's diet. Better still, on Kate's site, you'll find more vegetarian and vegan recipes to satisfy your sweet tooth.
Visit Veggie Desserts for the recipe.
Coconut-Sweet Potato Custard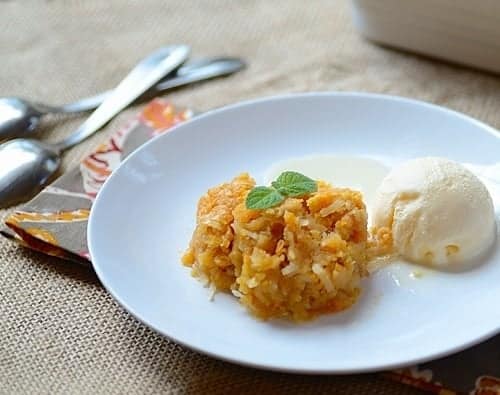 Denise of Easy And Delish is a professional chef with expertise in Brazilian food and a deep fondness for Brazilian music. The music inspired this dish. It's fusion food that combines a traditional dessert from one Brazilian state with the flavor of another.
It's a rich and creamy baked pudding with coconut and sweet potato flavor. Count us in! But the page is much more than just a lovely, well-tested recipe. You also find an incredible story that explores a taste of Brazilian music history.
Visit Easy And Delish for the recipe.
Banana Sweet Potato Bread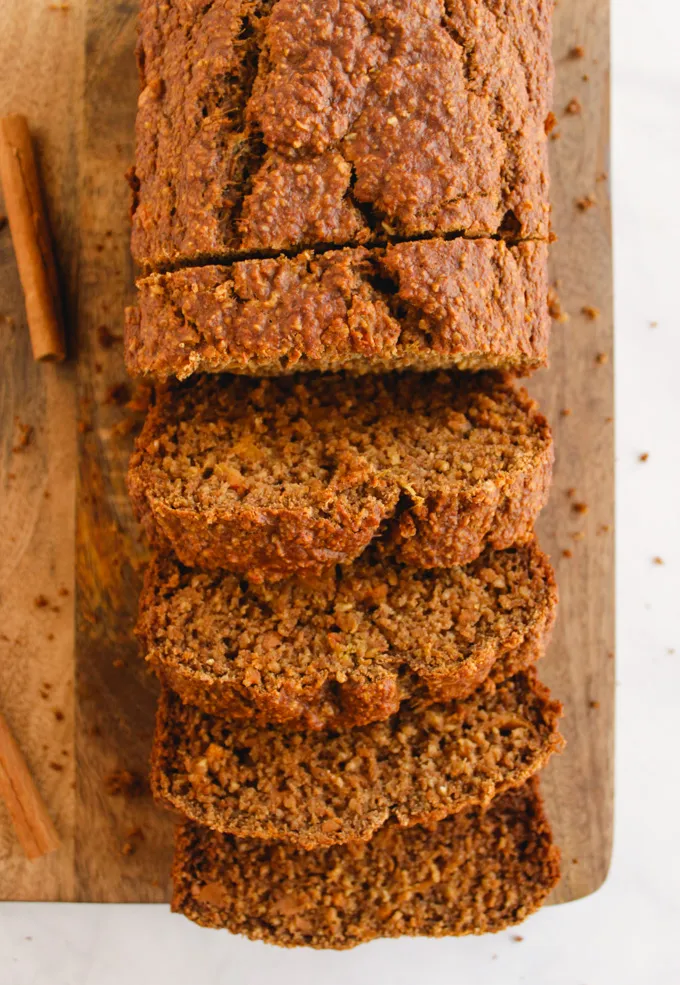 This sweet potato banana bread from Emily of Robust Recipes is a wonderfully healthy snack with just the right amount of sweetness. Each slice is packed full of good-for-you ingredients.
And although it's healthful, it's still a tasty dessert bread perfect for fall with those warming spices like cinnamon and cloves. You'll love it to the last bite! Especially if you're wary of super sweet treats like these lovely little things or most frozen treats. Because who said dessert had to be cloyingly sweet?
Visit Robust Recipes for the recipe.
Pecan Pie Twice Baked Sweet Potatoes
The power of this pecan pie twice-baked sweet potato recipe from Jessica of Real Food With Jessica is that it fools you. You'll think you're eating something far more indulgent than it is. But it's really a nutritious treat.
This recipe starts with baked whole sweet potatoes. You then scoop out the flesh and blend it with butter, maple syrup, and cinnamon. Then you add it back to the skin. Next, you top it with a crumb. And finally, you bake it a second time. So, if you're looking for a guilt-free way to have your pie, and eat it too, head over to Jessica's site.
Visit Real Food With Jessica for the recipe.
Sweet Potato Blondies With Marshmallow Topping
These blondies from Trisha of Stew Or Story are a sweet potato dessert recipe like you've never seen before. They're cakey sweet potato brownies with cinnamon and nutmeg, the warm flavors of autumn. And on top, you'll find toasted marshmallows—a decision made after much deliberation.
The alternative was a marshmallow swirl, which is also a good choice. But how good are they? Well, they were taste-tested by someone who loathes sweet potatoes and was called addictive. That's quite the endorsement!
Visit Stew Or Story for the recipe.
Baked Sweet Potato Doughnuts
With a bit of encouragement from a close friend, Claire of The Simple, Sweet Life warmed up to sweet potatoes. She once despised the orange tuber, but a doughnut from a special bakery changed her mind. Mostly. Just don't try to feed her your aunt's marshmallow-covered candied yams.
Her sweet potato doughnut recipe takes just 20 minutes to make. It's complete with instructions to make your own sweet potato puree, and it even comes with a smart way to refresh stale doughnuts. We wish we had known about that one sooner.
Visit The Simple, Sweet Life for the recipe.
Yam Good! Sweet Potato Sticky Biscuits
This sweet potato sticky biscuits recipe from Rachel, the retro recipe expert of Cherry And Spice, is approved by hundreds of live taste-testers. It's a dessert appropriate for the holidays, potlucks, or Sunday dinners with a big ole scoop of vanilla ice cream.
So this indulgence is effortless to put together as the base is frozen yam patties and canned biscuits. Then you add syrup, cinnamon, and pecans and bake. Serve with a little bit of ice cream or whipped cream and you've got a deliciously simple dessert made with simple ingredients.
Visit Cherry And Spice for the recipe.
FAQs
What is the best way to cook sweet potatoes?
While there are several ways to cook sweet potatoes, we prefer to roast them if making them for pies and other desserts. But according to a Harvard study, boiling whole, skin on, for as short a time possible retains the most nutrition.
How to make sweet potato puree?
Once you cook your sweet potatoes, you can make a puree in various ways, including a food processor, blender, or hand mixer. And what you plan to do with your puree will determine if you add butter, brown or white sugar, and heavy cream or perhaps nothing if you are making baby food.
Which Sweet Potato Dessert Are You Excited To Try First?
Now for the best part! Will you try the baked sweet potato doughnuts, the purple sweet potato ice cream, or the marshmallow sweet potato pie bars? Or something else?
And before you go, if you liked these sweet potato recipes, don't miss our lovely list of sweet potato breakfast recipes.