Big Mac bao buns are our delicious spin on the classic steamed bao (pork belly buns) that originated in China and the iconic McDonald's Big Mac burger. Authentic bao is fantastic, addictive, and satisfying. So, if you get the chance to enjoy one or even five, we encourage you to do so. In fact, go out of your way to have them. They are that good!
If you love this bao bun recipe you might like our birria fries recipe.
Jump to Recipe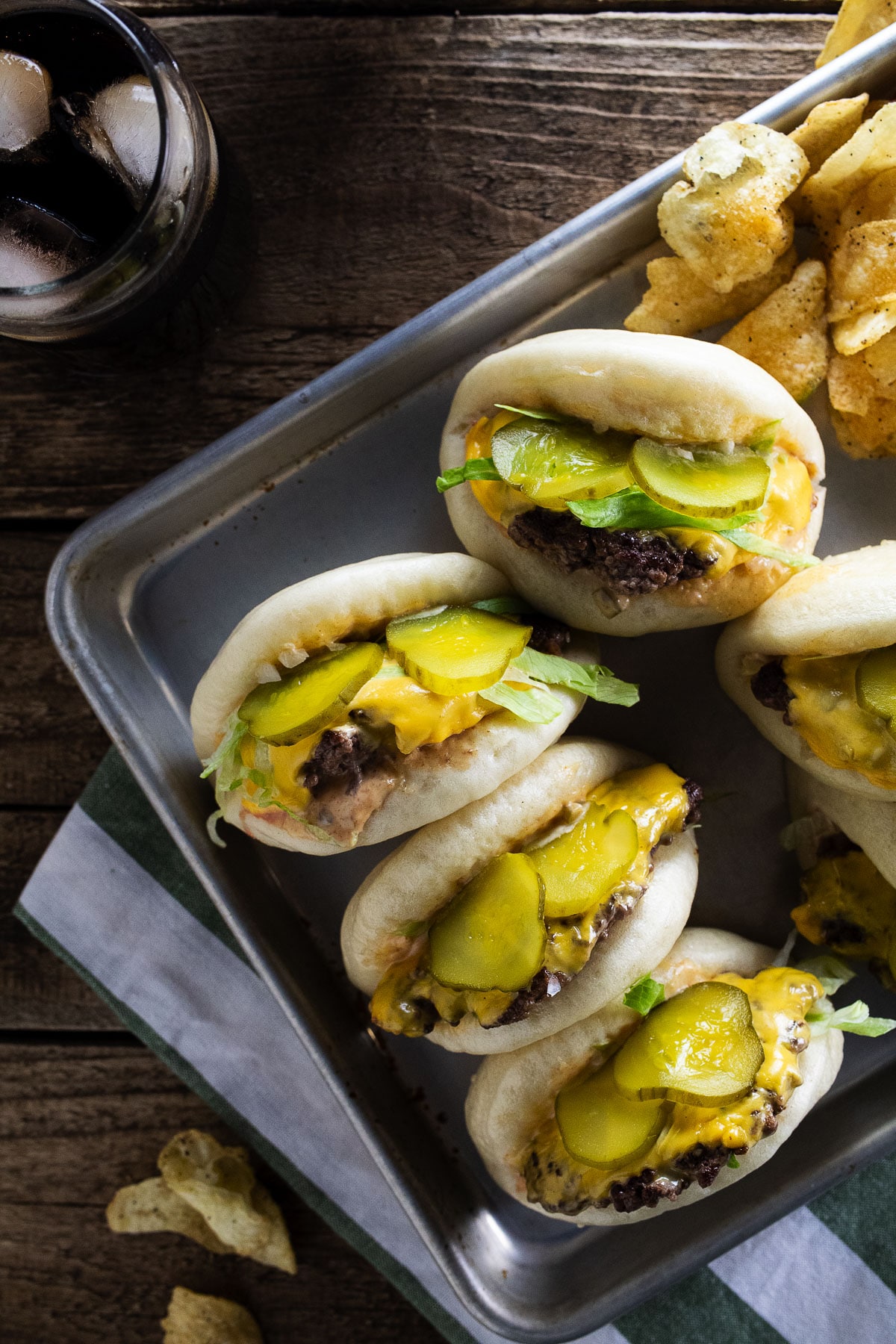 As you could guess, our Big Mac cheeseburger bao recipe is anything but authentic. And while traditional is excellent, it's already been done a zillion times and to the highest level. So we wanted to make something featuring those tasty tiny Chinese steamed buns but differently – a way familiar to those in the States.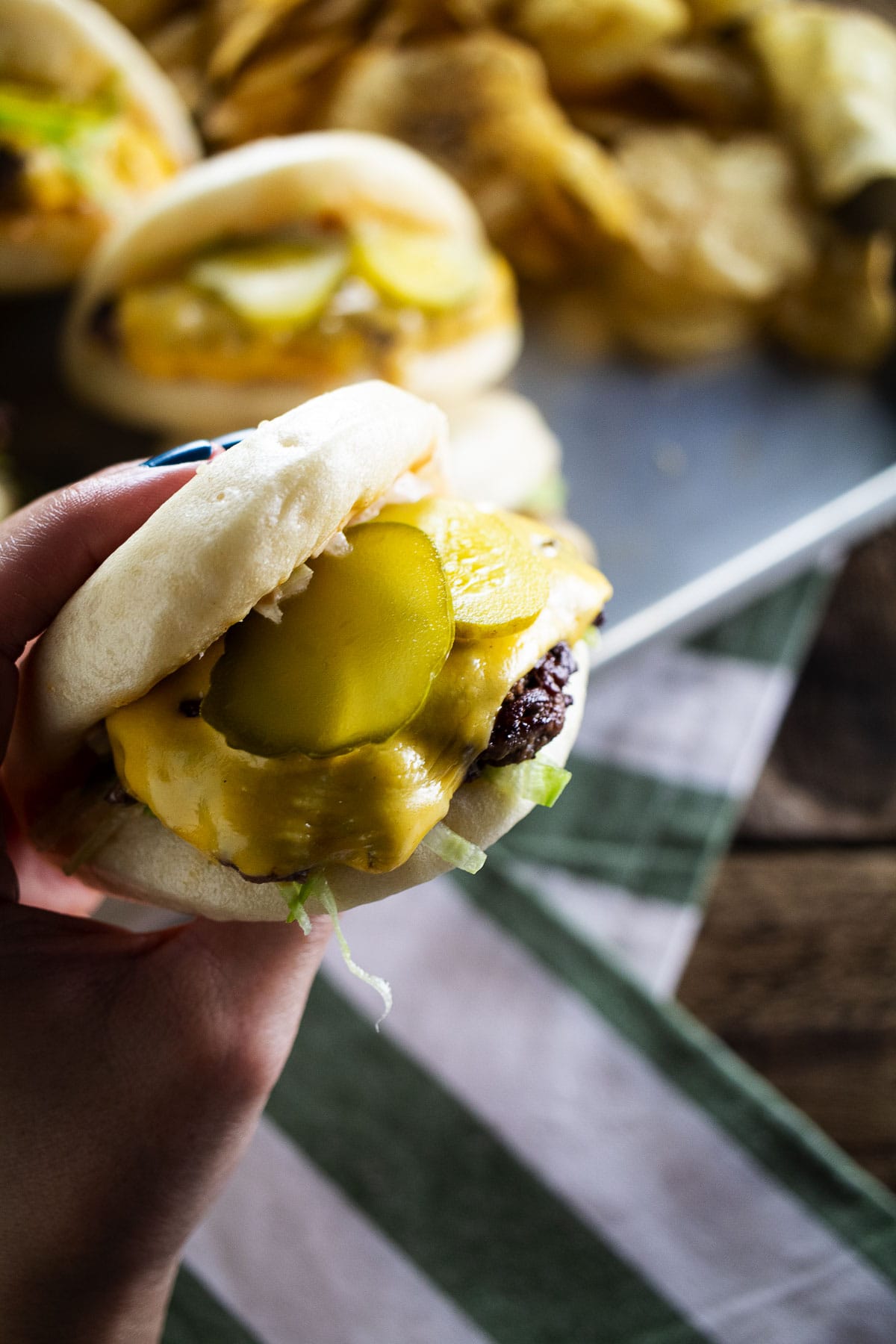 So, we made fluffy, pillowy, heavenly bao buns and stuffed them with a Smash burger cheeseburger, lettuce, onion, pickle, and special sauce. Our resulting fusion food (and what some might call a violation) is Big Mac Bao Buns – A recipe that's simply tasty and actually not that hard to make.
Follow along, and let us help you make something truly memorable for your game day, pot luck, party, or any other special occasion (no occasion at all).
Jump to:
Ingredients
We listed and photographed our ingredients separately for the cheeseburger, Mac sauce, and bao bun to keep everything easy to understand.
Up first is the bao bun.
Flour
Milk
Yeast
Sugar
Water
Vegetable Oil
Baking Powder
Salt
Sesame Seeds
See the recipe card for quantities.
Next, you will find the ingredients for the Smash Burger.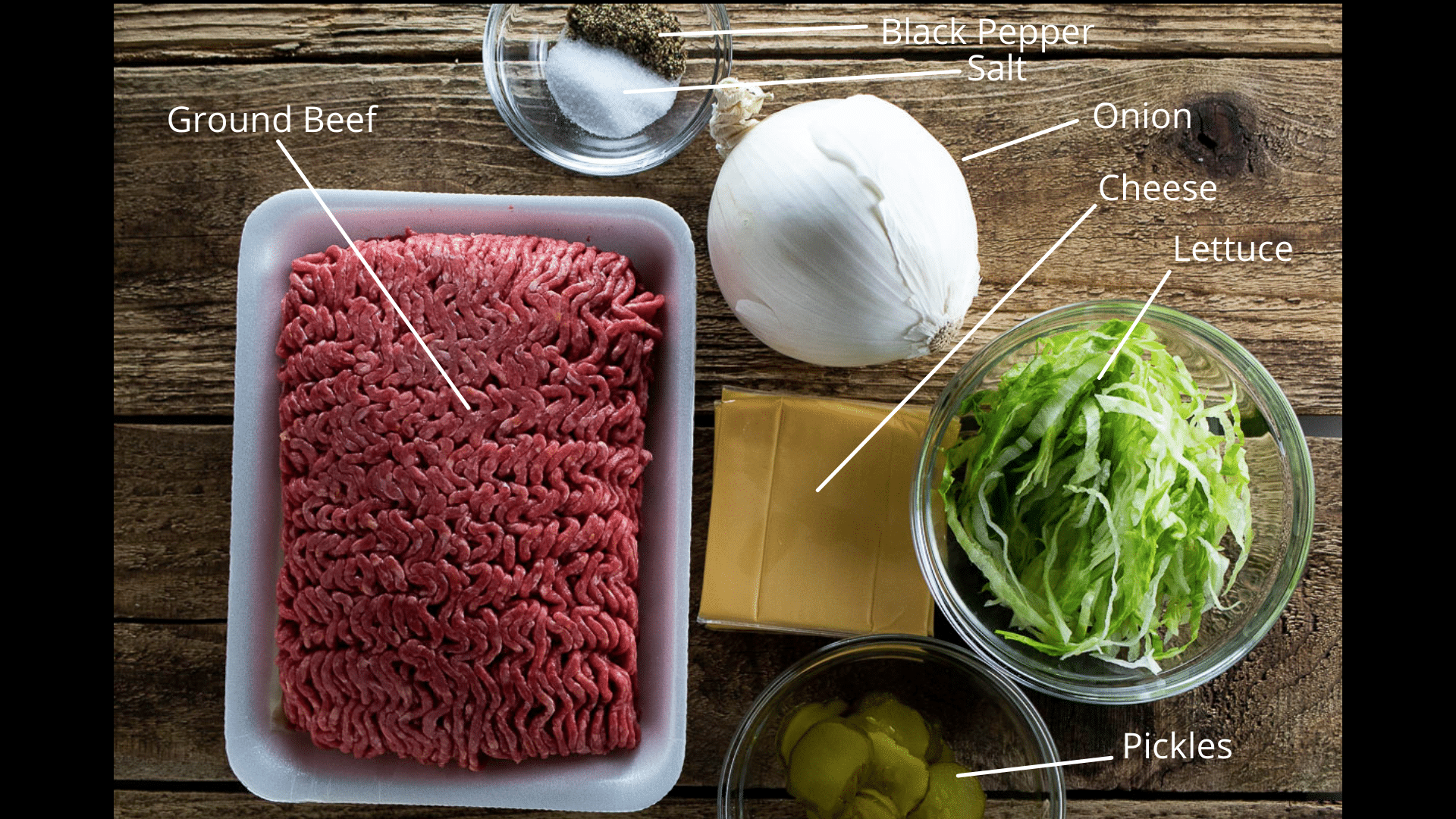 Salt
Pepper
Cheese
Pickles
Lettuce
Pickles
Onion
Finally, here are the ingredients for the Big Mac sauce.
Mayo
Relish
Vinegar
Sugar
Ketchup
Mustard
Salt
Paprika
Onion Powder
Garlic Powder
How to Make the Bao Buns
The first thing that you need to do is make the dough for the bao buns. So, the best recipe I've found was here. Let the dough rise for about two hours. Now, I do have a tip for you if you plan on storing the dough overnight. Take a piece of plastic wrap, and place it loosely around the ball of dough. This step will prevent the outside of the dough from getting tough. Your mileage may vary, but this works for me.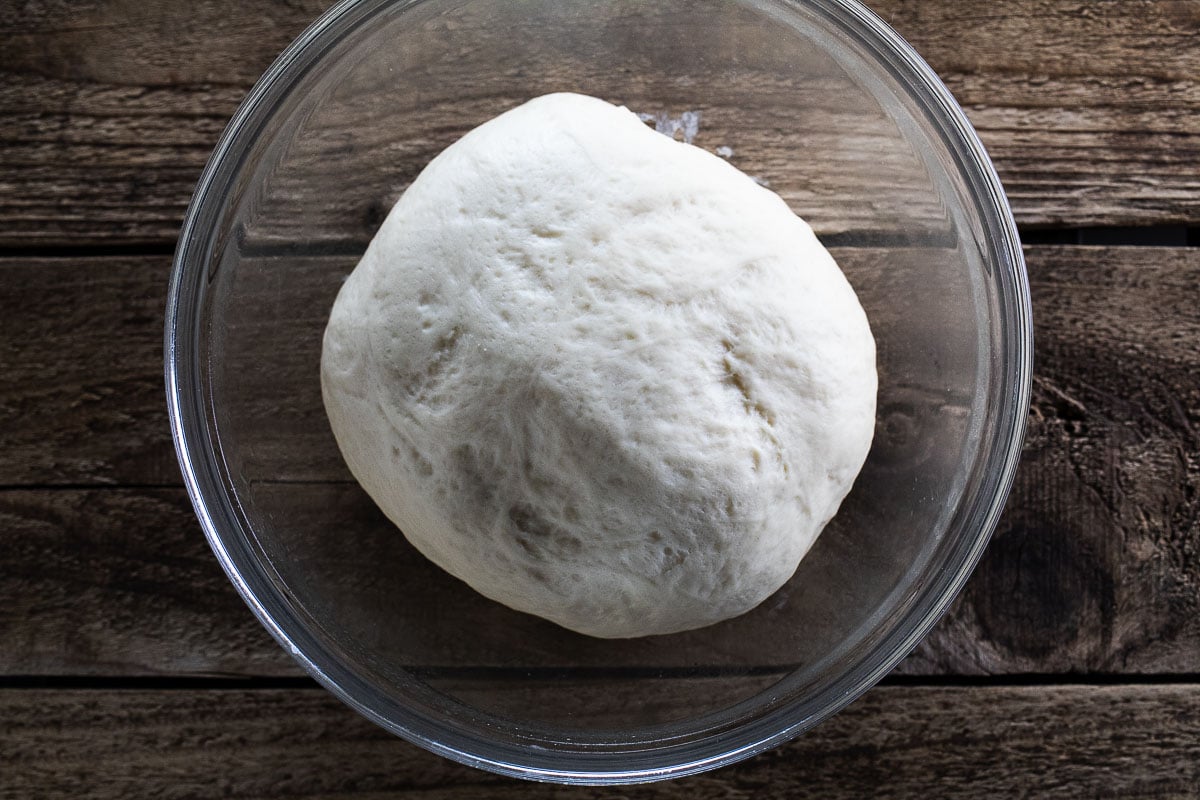 Roll out the dough after it rises and cut out the bao buns using a glass or biscuit cutter. I used a three-inch diameter biscuit cutter because it made for the perfect size to fit half the cheese smash burger.
The next thing that you need to do is brush the dough with vegetable oil or cooking spray. Then, fold the buns in half. This step is crucial because it prevents the buns from sealing. Optionally, you can sprinkle sesame seeds on the top of the buns before steaming them.
Hint: During our research, we found a tip stating to place a small piece of parchment paper between the bao buns. This step works excellent and results in more uniform, easier-to-open buns. Unfortunately, we couldn't remember the site that made this recommendation.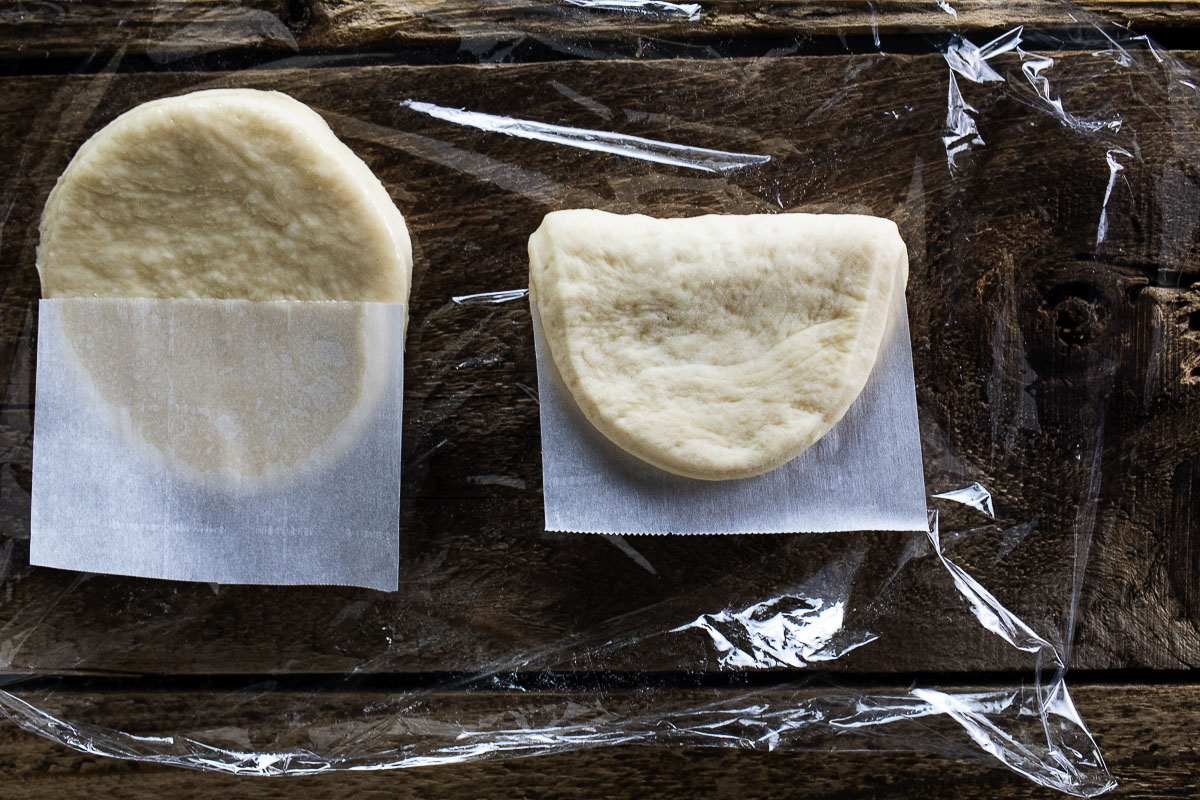 Place the uncooked buns in a bamboo steamer. Steam the bao buns by putting a quarter-inch of water in a frying pan and bringing it to a simmer. Place the steamer on top and steam for eight to ten minutes.
Tip: Line the steamer with parchment paper to prevent the buns from sticking to it.
How to Make the Burgers
Next, you need to make your burger balls. We tried multiple sizes; two, three, and four-ounce balls. But for this specific application, three works best. Loosely form a ball or puck. Do not tightly form the balls, as this will make for a tough burger. And nobody wants to eat a hard burger!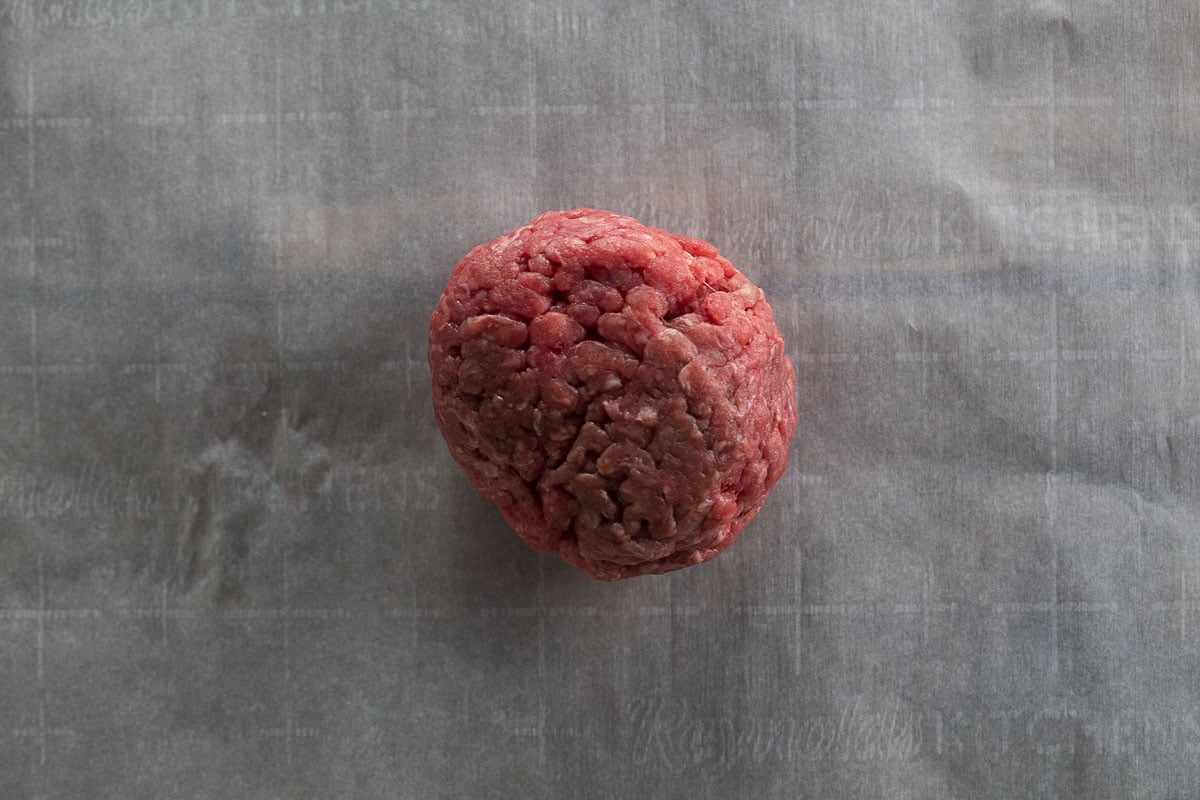 Next, it's time to make those Smashburgers! Before heating your cast iron pan, brush it with vegetable oil. You can use a pastry/basting brush or a paper towel to spread the oil. Then heat the pan on medium for five minutes (Serious Eats), crank it up to high, and keep it there until the pan starts to smoke.
Next, place two of the meat mounds in the pan. Then, place a piece of parchment paper over the meat and then, using a flat metal spatula, smash (hence, Smashburger) into a thin patty. Cook for one and a half minutes on one side. Flip it and cook for 30 seconds to one minute or until desired doneness. We landed at 45 seconds for perfect, juicy burgers.
Big Tip: Sarah used a potato masher placed over the spatula to help smash the burger. This way, she was able to generate enough to force to smash the burgers evenly. Also, if you don't have a flat spatula, you can use a regular spatula with the potato masher.
Equipment
There is some specialized equipment you are going to want for this recipe. Some equipment is optional but recommended.
More Questions About Big Mac Bao Buns
What if I don't have a flat metal Spatula?
If you don't have a flat metal spatula, don't fret, you can still make this recipe! Just use your regular spatula and place a potato masher over it and press down with the masher. Depending on the size of your burger patties you may need to do this in several directions.
Can I make the bao buns without a bamboo steamer?
Yes, there are several ways to steam your buns. For instance, if you have one, you can use the steam function on your instant pot. If you would like other options, check out this page.
What is the temperature to bloom yeast?
Yeast needs to be at 110 to 115 degrees to bloom.
How to prevent the meat from sticking to the spatula?
We used parchment paper to prevent the meat from sticking to the spatula.
How do I make the Smashburger perfectly round?
Don't try to make the burgers perfect round as they aren't supposed to look perfect. Let those edges stay crispy and craggy and delicious!
How to prevent the buns from closing?
As long as you brush the bao buns with vegetable oil or spray them with cooking oil prior to cooking, they will not close. In addition to the cooking spray you can place a piece of parchment paper between the folded ends of the bun (see image above).
Storage and Reheating
These Big Mac bao buns are best if you eat them hot and fresh. So, this is not the kind of recipe you want to make in advance. But, you can make the bao buns in advance and freeze them. You can store leftover bao buns in the refrigerator for up to four days.
Freezing
Freeze cooked buns in a single layer on a parchment paper-lined cookie sheet. You can then store them in a freezer bag for four to six weeks.
Reheating
You can reheat the buns from frozen in a steamer for about seven to eight minutes.
Top Tip
It would be best if you used a timer when you are cooking the smash burgers. If you don't, chances are you will overcook the burgers.
Big Mac Bao Bun Recipe
Warm, pillowy bao buns, filled with the best homemade cheeseburger you've ever tasted. But we're not done yet, spread some of that mothwatering mac sauce, lettuce, onion, and pickle and you have a fusion fun food to be remembered forever. Eat one, or eat four! We're not judging!
Equipment
Bamboo Steamer

Cast Iron Frying Pan

Parchment Paper

Flat Metal Spatula
Ingredients
1

Pound

Ground Beef

80/20

5

American Cheese Slices

Dill Pickles

Sliced

Iceberg Lettuce

Shredded

1

White Onion

Minced
Bao Bun Dough
1/2

Cup

Warm Milk

1/3

Cup

Warm Water

2

Tbsp

Vegetable Oil

1

Tbsp

Active Dry Yeast

4

Tbsp

Sugar

Divided in Half

2 1/2

Cups

All-Purpose Flour

1/2

Tsp

Baking Powder

1/4

Tsp

Salt

Sesame Seeds

Optional
Big Mac Sauce
1/2

Cup

Mayo

2

Tbsp

Sweet Relish

1

Tsp

Sugar

1

Tsp

White Vinegar

2

Tsp

Yellow Mustard

1/4

Tsp

Salt

1/2

Tsp

Paprika

2

Tbsp

Ketchup

1/4

Tsp

Garlic Powder

1/4

Tsp

Onion Powder
Instructions
Mac Sauce
In a small bowl, add the mayo, relish, ketchup, mustard, sugar, vinegar, salt, paprika, garlic, and onion powder. Mix until combined and refrigerate until ready to use.
Bao Buns
Get directions for bao bun dough here. Before cooking the bao buns we added some sesame seeds on top.

In a 10-inch frying pan add ¼ inch of water and bring to a simmer. Place the bamboo steamer on top and steam for 8-10 minutes.
Smashburger
Divide the meat into 3-ounce portions and gently form the meat about 2 inches high. Salt and pepper on both sides.

Brush vegetable oil in a large cast-iron pan and preheat on medium for about 5 minutes. Then increase to high and heat until you see the pan smoking, about 2 minutes. Add 2 meat mounds to the pan and top with a piece of parchment paper. Using a flat metal spatula, press down, turn the spatula and press down again to form a thin patty.

Cook for 1½ minutes on the first side. Using the edge of the spatula, carefully scrape up the patty and make sure to get all the browned bits from the skillet. Cook for 15 seconds then add your cheese. Cook for an additional 30 seconds or until the desired doneness.

Take a cooled bao bun, spread some big mac sauce on the top and bottom, minced onion, shredded lettuce, half a burger patty, and pickle. Continue assembling until you make all of them and enjoy!
Notes
Make sure the liquid for the bao dough is at 110-115 degrees to allow the yeast to properly bloom.
Add a piece of parchment paper to the bao bun circles before folding in half. This made it easier to open after steaming.
We used a 3 ½ inch biscuit cutter for the bao buns.
You can make the bao dough ahead of time. After the rise time, cover the dough with plastic wrap and refrigerate for up to 2 days. Make sure the plastic is touching the dough. This will prevent the dough from getting a hard crust on top.
You don't want to overwork the meat when shaping just enough to keep the meat together.
Use a potato masher to help press the spatula down if needed.
You can store cooked bao buns in the fridge for 3-4 days or freeze them for 4-6 weeks.
You can reheat the cooked bao buns from the fridge by steaming them for 2-3 minutes or 7-8 minutes if frozen.
If you don't have a bamboo steamer, no worries, check out school of wok for other methods.
Nutrition
Calories:
817
kcal
Carbohydrates:
65
g
Protein:
23
g
Fat:
41
g
Saturated Fat:
11
g
Polyunsaturated Fat:
14
g
Monounsaturated Fat:
13
g
Trans Fat:
1
g
Cholesterol:
74
mg
Sodium:
607
mg
Potassium:
383
mg
Fiber:
2
g
Sugar:
15
g
Vitamin A:
136
IU
Vitamin C:
3
mg
Calcium:
59
mg
Iron:
5
mg
Check out these other delicious recipes: