If you're looking for 5-star ground beef recipes, look no further! We've put together this list of some of the tastiest highly-rated ground beef recipes that are perfect for weeknight dinners.
For example, we have a bolognese sauce, beef and onion meat pies, beefy quesadillas, and so many more. How exciting is that?!
So are you ready to discover knock-your-socks-off ground beef meals? Sure you are.
Let's dig in!
21 Five-Star Ground Beef Recipes
Below, you will find 21 protein packed beefy recipes. And these aren't just any old dishes. They are well-received by the folks that tried them. So, the true value of this dish is that you can trust them. The passed independent taste test.
And by the way, this is a list, not a rank. Enjoy!
The Best Chili Recipe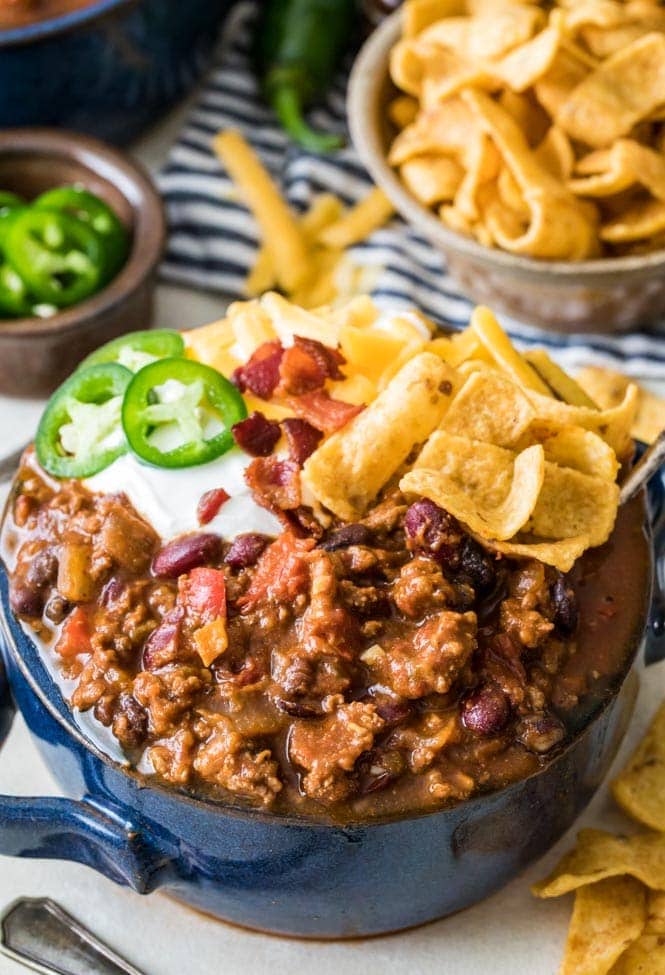 Many claim to have the best chili recipe, but this one from Sam of Sugar Spun Run has won awards. Dozens, actually. So her claim, while bold, isn't without merit. And the people agree. If you look at the post, you'll find a recipe with over 30,000 shares, over 700 comments, and a hair under five stars from hundreds of reviews. Wow!
But what makes Sam's recipe so darn good?
Oh, I'm sure it's in the little details. You know, just the right amount of this or that. And you'll find some ingredients that aren't common to most chili recipes.
So, when the weather starts to take a turn south, you'll want to turn to this tried and true chili, and heck, it might even win you first place in a chili contest.
Visit Sugar Spun Run for the recipe.
Best Homemade Tacos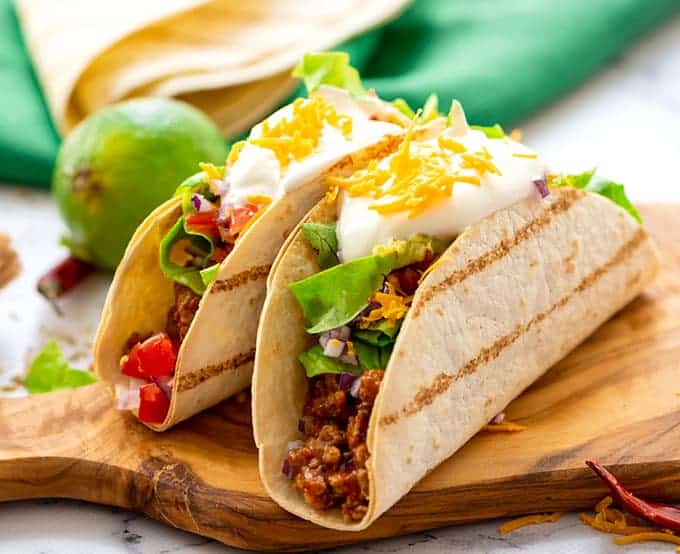 While these homemade beef tacos aren't traditional Mexican tacos, they are what most of us Americans are used to. You know, seasoned ground beef stuffed inside a crispy taco shell with lettuce, tomato, shredded cheese, and sour cream. So, traditional or not, they're delicious.
But why are these ground beef tacos from Amanda of The Wholesome Dish a 5-star recipe?
Well, this easy weeknight meal is rated nearly perfect after dozens of reviews. Also, Amanda shows you how to make her fantastic taco seasoning. Then there are all the little time-saving tips you'll find, like the best ground beef to use to avoid having to drain the meat.
Visit The Wholesome Dish for the recipe.
Grandma's Spaghetti Sauce with Meat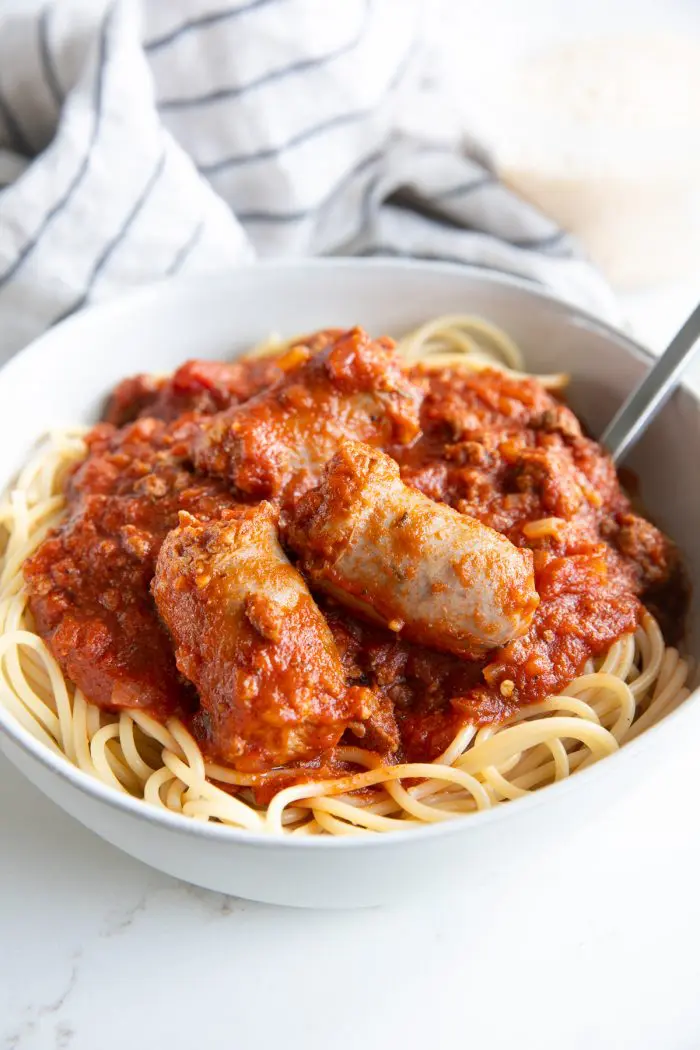 Jessica of The Forked Spoon received this spaghetti meat sauce recipe from her father, who got it from her grandmother. And now she is the custodian of this heirloom, nearly 5-star rated meat sauce recipe. Luckily for us, she's decided to share it with the world!
But why should you make this spaghetti sauce over all the other ground beef spaghetti meat sauces out there?
Well, there's not like a secret ingredient in there or anything. It has all the ingredients you'd expect in a meat sauce. But with a recipe this old, you can guarantee that it's been tweaked little by little over the years to get it just right.
Visit The Forked Spoon for the recipe.
Ground Beef Stroganoff Recipe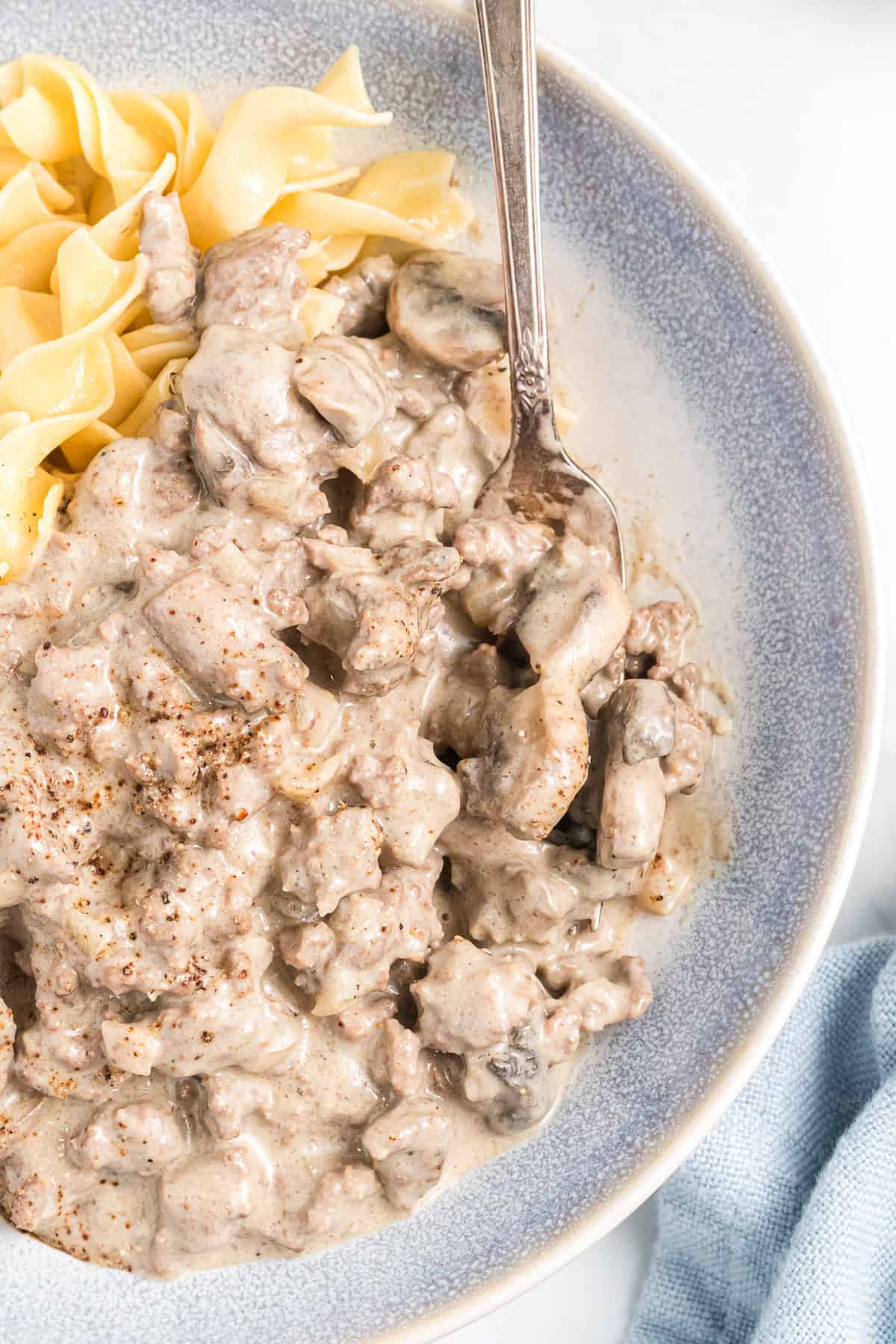 At just a hair under five stars, this ground beef stroganoff recipe from Amy of House Of Nash Eats might well be the best stroganoff you've ever had. And it comes with the ultimate endorsement; whoever tries it will likely want seconds.
After reading through the recipe, we know why it's so highly rated.
You see, while most beef stroganoff recipes call for canned cream of mushroom soup, this one is made entirely from scratch. And trust us, that's a big deal. So along with a tried and true recipe, you'll find tips that make storage and variations guesswork free.
Visit House Of Nash Eats for the recipe.
Shepherd's Pie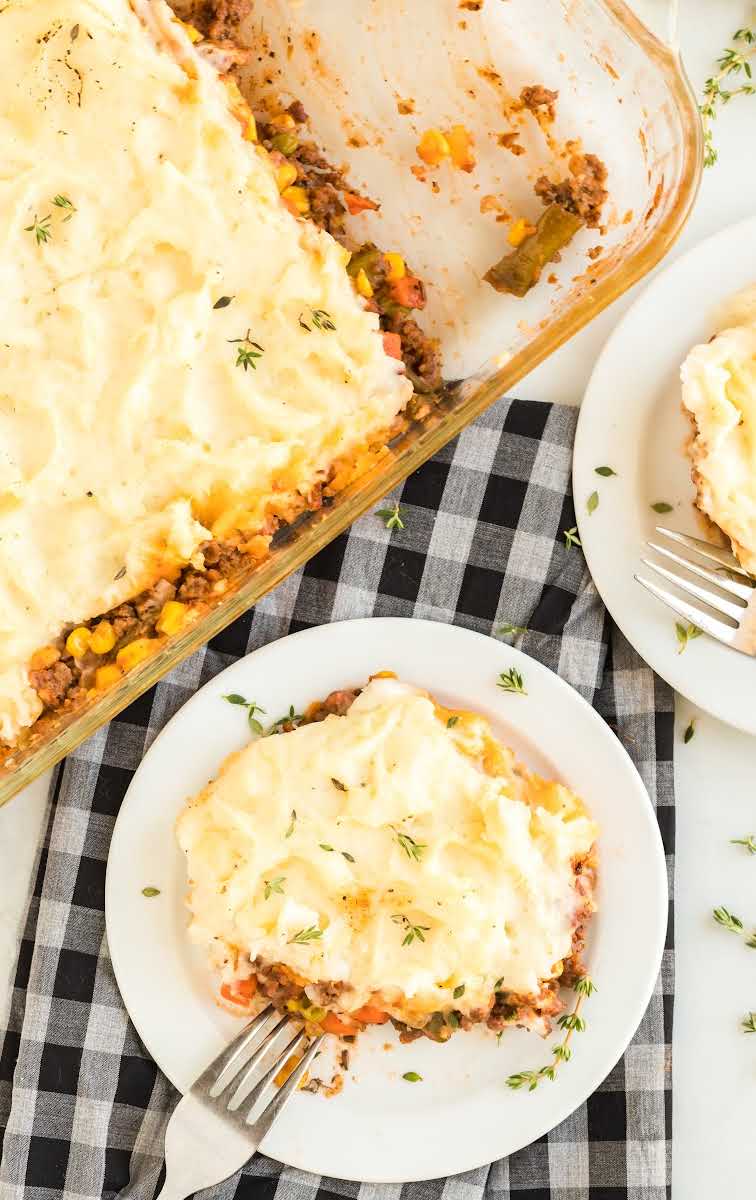 The team over at Spaceships and Laserbeams put together this amazing shepherd's pie recipe rated a near-perfect five out of five stars. We love shepherd's pie for its simplicity, and let's face it, shepherd's pie is quintessential comfort food.
But why this recipe over all the other shepherd's pie recipes out there?
Well, shepherd's pie is simple to make. You take ground beef, mashed potatoes, and vegetables and assemble it. But we like this one for all the tips like how to avoid the potatoes sinking.
Along with a recipe, you will find a beautifully designed page with answers to common questions, storage methods, and ingredient substitutions and additions.
Visit Spaceships And Laserbeams for the recipe.
Creamy Beef Cavatappi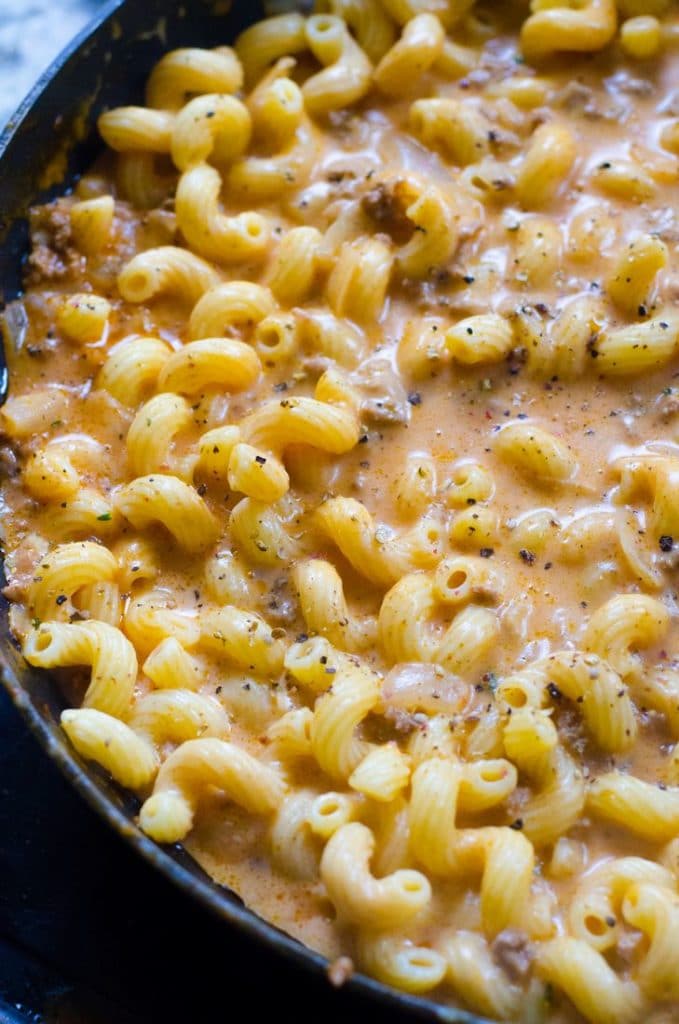 This highly rated creamy beef Cavatappi from Jenne of Mooshu Jenne comes together in just 30 minutes, making it perfect for beefy weeknight meals.
So, you get the beef piece, obviously, but what the heck is Cavatappi?
Cavatappi is a corkscrew-shaped pasta. The ridges on the pasta help it hold on to more sauce for ultimate yumminess in each bite.
This recipe made our shortlist of 5-star ground beef recipes because it is comfort food heaven. It starts with browning ground beef, then you make a sauce (with heavy cream), and add cooked noodles.
Next thing you know, you're chowing down and hoping you made enough for seconds.
Visit Mooshu Jenne for the recipe.
Cheesy Italian Stuffed Shells With Ground Beef Filling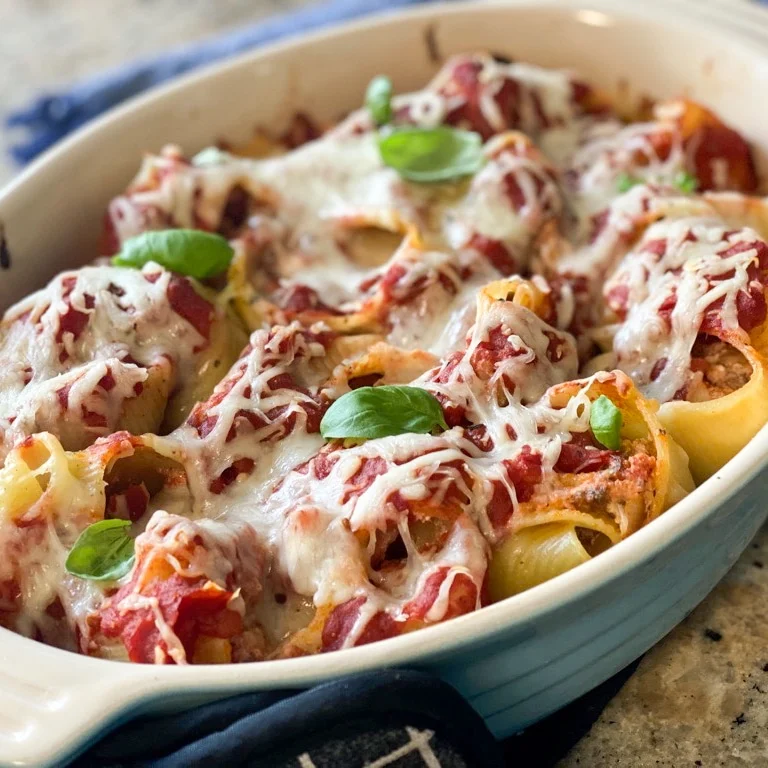 Jenna of Sip Bite Go walks you through this ground beef stuffed pasta shells recipe. It's a simple pasta dish that would make a great main for a Sunday meal dinner party.
But why should you choose this pasta dish over all the others?
Well, Jenna had us at jumbo shells, ground beef, and cheese. But, seriously, everyone who has tried it so far loves it. And how about all of the amazing tips she provides. Like what to do to avoid burning the pasta when it's baking.
And if that isn't enough to convince you, she also offers a bunch of different side dishes options to accompany the recipe.
Visit Sip Bite Go for the recipe.
The Very Best Sloppy Joe Recipe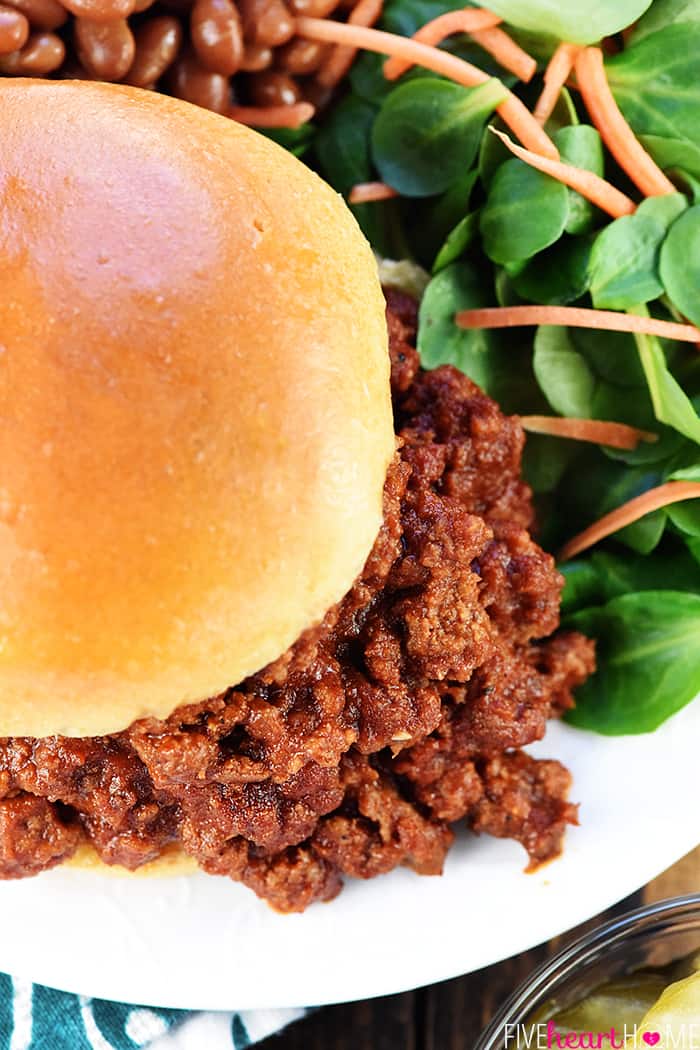 Samantha of Five Heart Home reminds us that sloppy joes are one of the easiest and, equally as important, tastiest meals you can make for your family. Her bold claim is that once you try her version, you won't be going back to any other.
But why should you try her sloppy joe recipe?
Well, for one, she makes her sauce from scratch. So you won't find unpronounceable ingredients or corn syrup. And for two, you don't have to take her word for it. After hundreds of rave reviews, people have decided that it's incredible.
Visit Five Heart Home for the recipe.
Quick & Easy Spaghetti Bolognese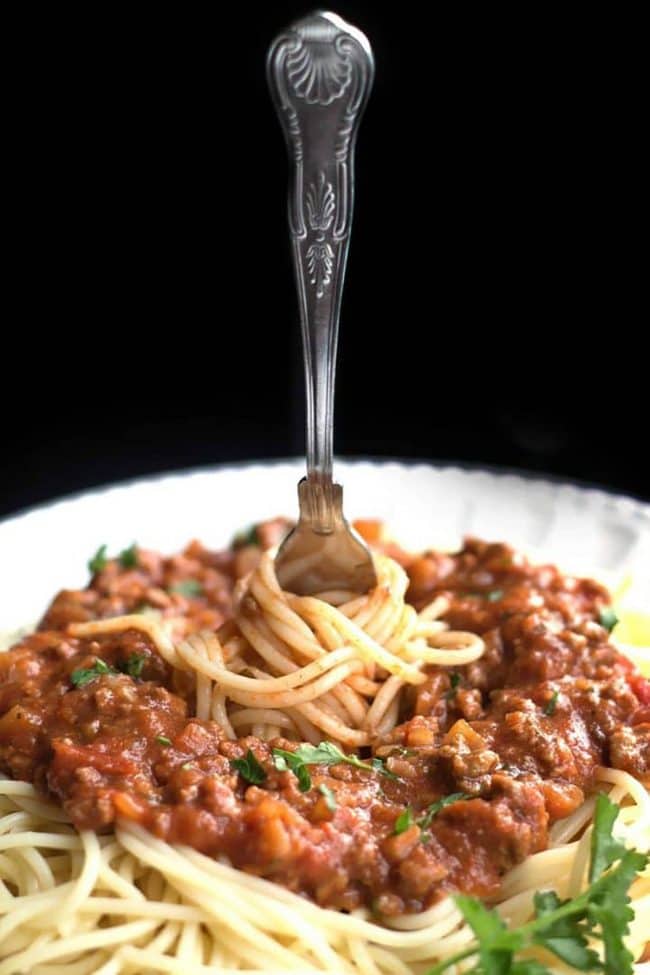 Bolognese is a vibrant, tastebud stimulating Italian meat sauce. And it takes a long time to make, like four hours long for most authentic recipes. But you can have this version from Erren of Erren's Kitchen ready in just 30 minutes.
But how does she do it?
Well, Erren teaches you that the key to fast and flavorful dishes like this one is fresh aromatics and proper seasoning. On her page, you'll find a well-tested and highly rated recipe with lots of secret tips like how to maintain the moisture in ground beef.
Visit Erren's Kitchen for the recipe.
Taco Stuffed Sweet Potatoes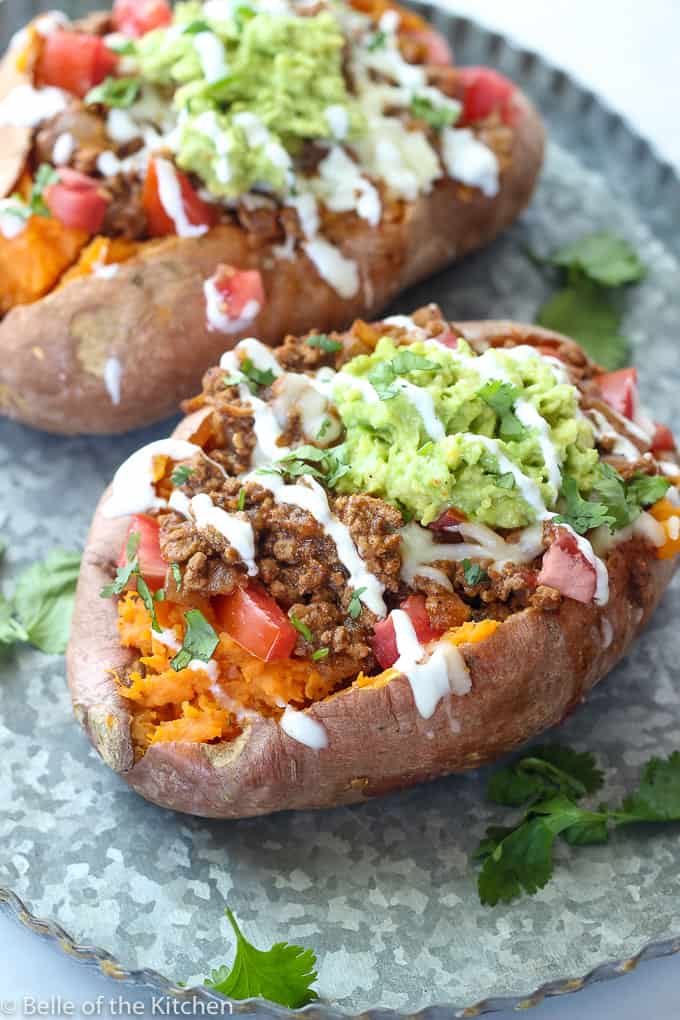 Ah, the sweet potato is bright orange and brimming with many benefits like Vitamin A and C and heart-supporting potassium. They're good on their own (with a bit of butter) and are the main ingredient in our sweet potato ice cream.
But what happens when you stuff them with taco meat and fixings?
Well, you get these Taco Stuffed Sweet Potatoes, a 20-minute midweek dinner from Ashlyn of The Belle Of The Kitchen. It's a delicious meal that even your pickiest eaters will enjoy. So, jump over to the page where you will find a recipe loaded with health benefits and easy instructions.
Visit The Belle Of The Kitchen for the recipe.
Ground Beef Nachos Supreme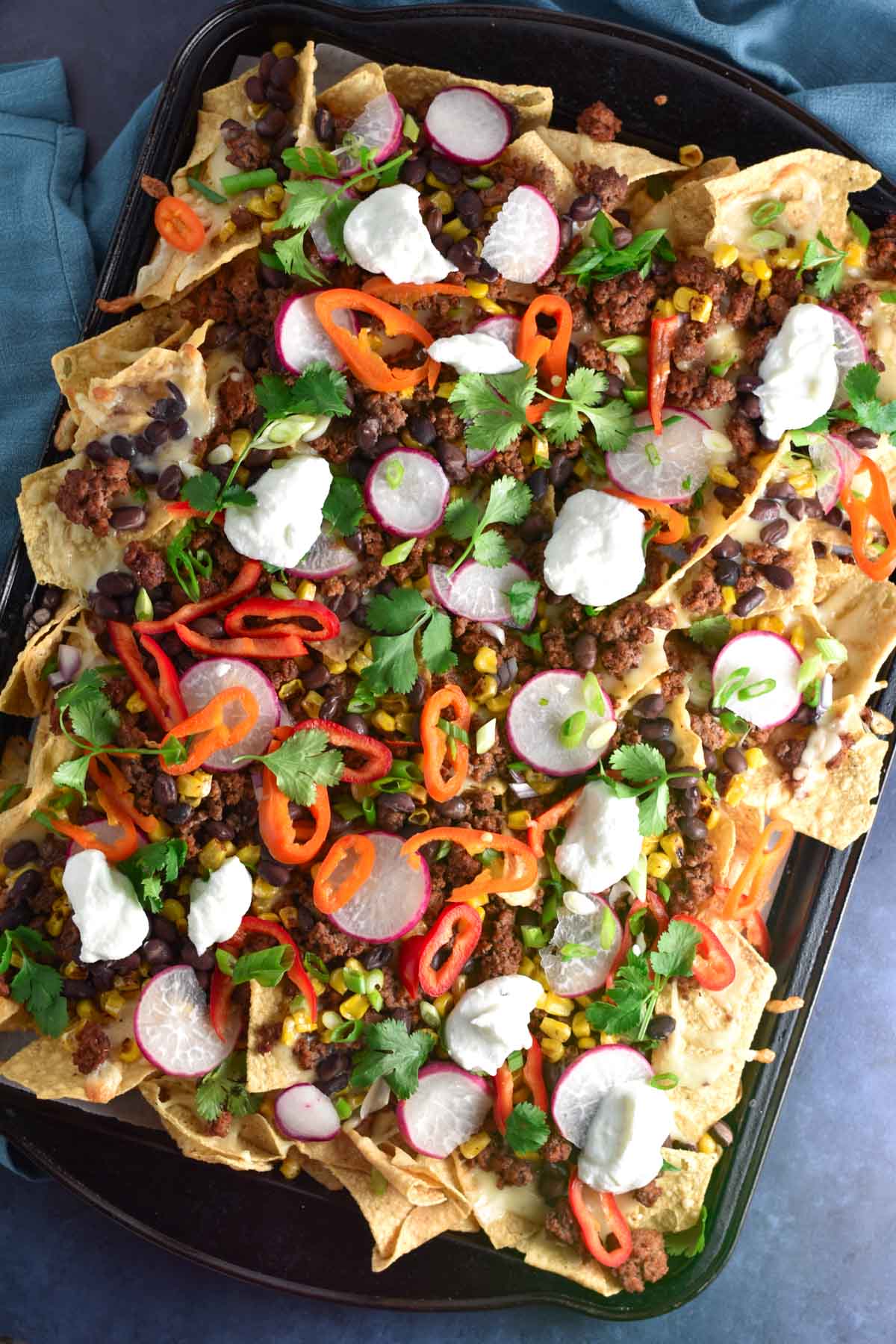 Not only are these ground beef nachos from Alicia of The Dizzy Cook good til' the last bite, but they're also perfect for those following a migraine diet. However, that doesn't mean everyone else can't enjoy them either.
But what makes these nachos so good?
For starters, everyone who's rated the recipe so far has given it high marks. And what really stands out to us is the specific ingredients she chooses. Next, Alicia gives you her brand recommendation and tells you why she recommends it.
Visit The Dizzy Cook for the recipe.
Meatball Mexican Soup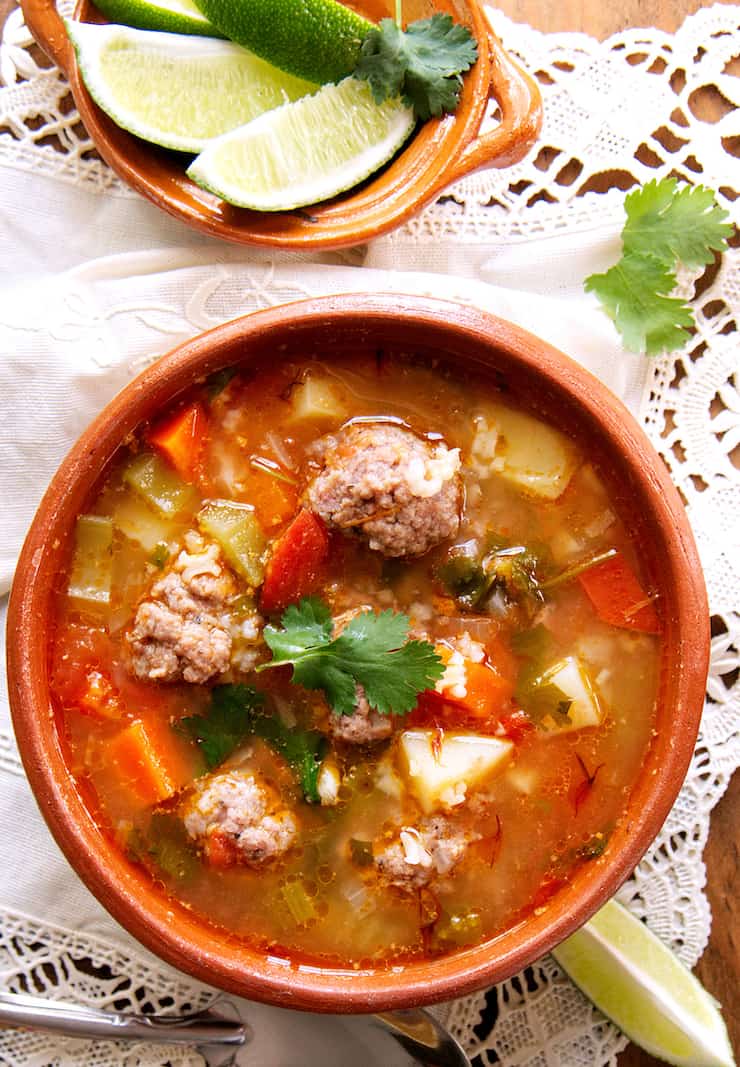 This traditional Mexican meatball soup (Caldo de Albondigas) from Yvette of Muy Bueno Cookbooks is the very definition of comfort food. It's warm and rich, and to say it's flavorful doesn't even begin to do it justice.
But why should you settle on this Mexican meatball soup recipe?
We like that this highly-rated recipe has a storied lineage. As Yvette shares her experiences watching her grandmother make these tiny meatballs, you are transported into those memories with her. This recipe came from Abuela's kitchen, so it's authentic, and you just know it tastes great.
Visit Muy Bueno Cookbooks for the recipe.
Quick And Easy Picadillo Recipe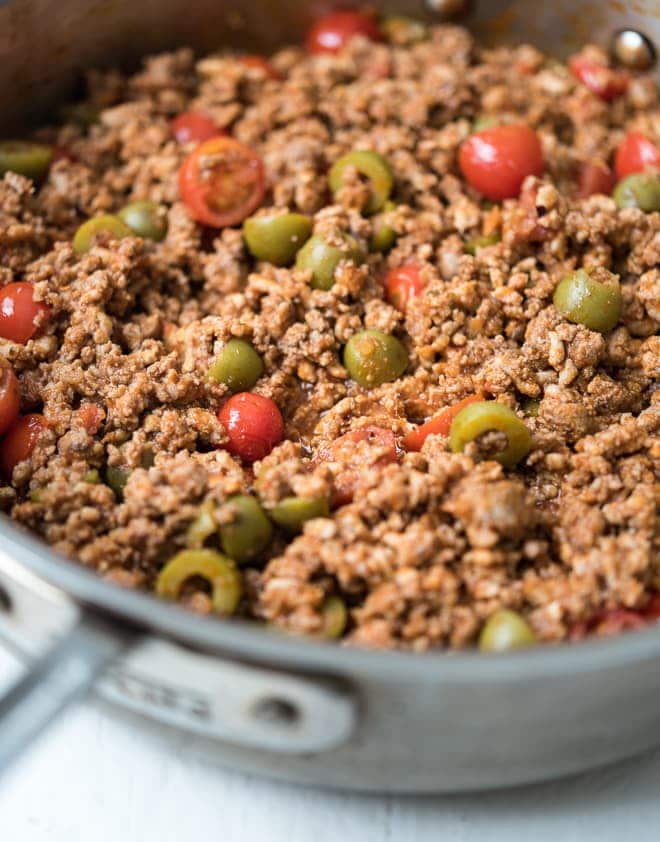 Picadillo is a flavorful and satisfying seasoned ground meat dish popular in Latin America. If you tried it in 10 different Latin American countries, you'd experience it in 10 distinctly different ways; however, you'll usually find olives, tomatoes, and raisins in the Cuban varieties.
Why should you try this version of picadillo?
We like this picadillo recipe from Laney of Life Is But A Dish for its use of ground beef, turkey, olives, and tomatoes. It's a flavorful and healthy meal you can have on the table in just 30 minutes. In addition to the recipe, you will find recommendations for healthful serving vessels like bell peppers or lettuce wraps.
Visit Life Is But A Dish for the recipe.
Cheesy Beef & Kale Pasta Bake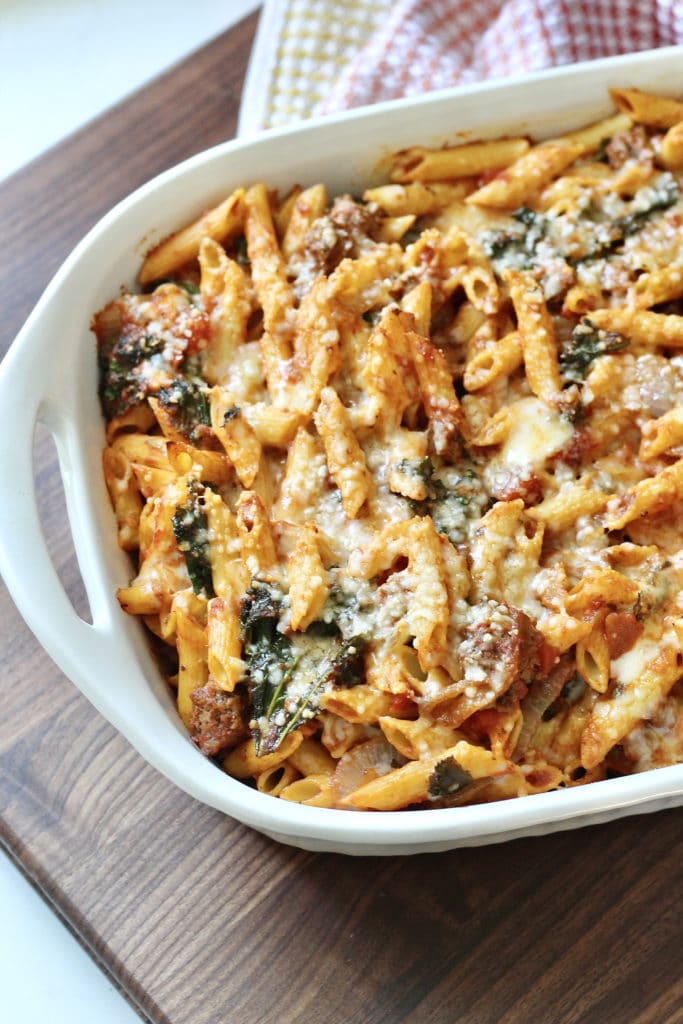 Mary of Milk And Honey Nutrition is a registered diabetes dietician. So, you can be sure this baked pasta dish is nutritionally dense and healthy enough for those watching their blood sugar levels.
But does kale tastes good with pasta?
This tasty meal isn't just for people watching their diet. It's just good. After dozens of reviews, it is a nearly 5-star ground beef recipe. Also, it scores major points for kale. We are in complete support of any recipe that squeezes in leafy greens and still tastes incredible.
Visit Milk And Honey Nutrition for the recipe.
Easy Potato Moussaka With Eggplant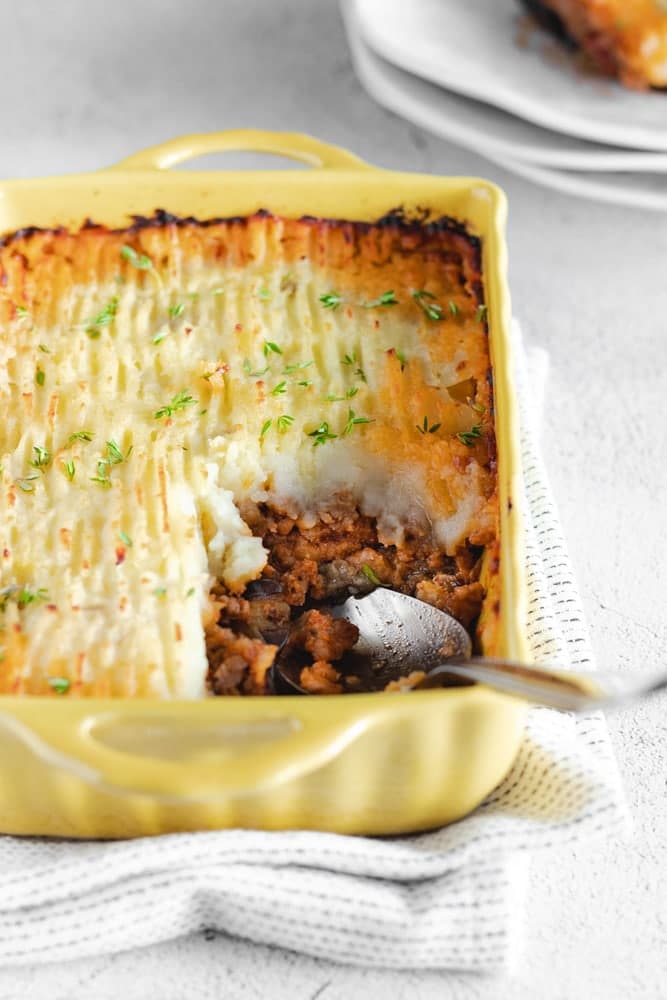 This ground beef potato moussaka recipe from Amina of Hungry Paprikas is a delightful dish full of wonderful flavors. You know, every so often, we discover a new Middle Eastern meal that spends a lot of time on our menu.
But why should you give this Potato Moussaka a try?
You'll love it if you love good comfort food. Each bite is intensely flavorful with garlic, onion, oregano, basil, and cloves. And with the ground beef, eggplant, and mashed potato topping, it's basically a Middle Eastern shepherd's pie. So, are you ready to start your grocery list?
Visit Hungry Paprikas for the recipe.
Asian Beef Lettuce Wraps
Inspired by the chef's chef, Gordon Ramsey, these Asian beef lettuce wraps are a great reminder that you can have delicious, easy, and exotic in straightforward meals. That's right, this ground beef recipe from Georgia of The Comfort Of Cooking has been rated five stars and takes under 30 minutes to make.
We love that this quick meal is inspired by Asian flavors and has everything you need to add a little excitement to a bland dinner menu. And you can find everything you need at your favorite grocery store. Plus, we could never be mad at a tasty dish with loads of vegetables.
Visit The Comfort Of Cooking for the recipe.
Easy Keto Pizza Meatballs (Whole30 + Paleo)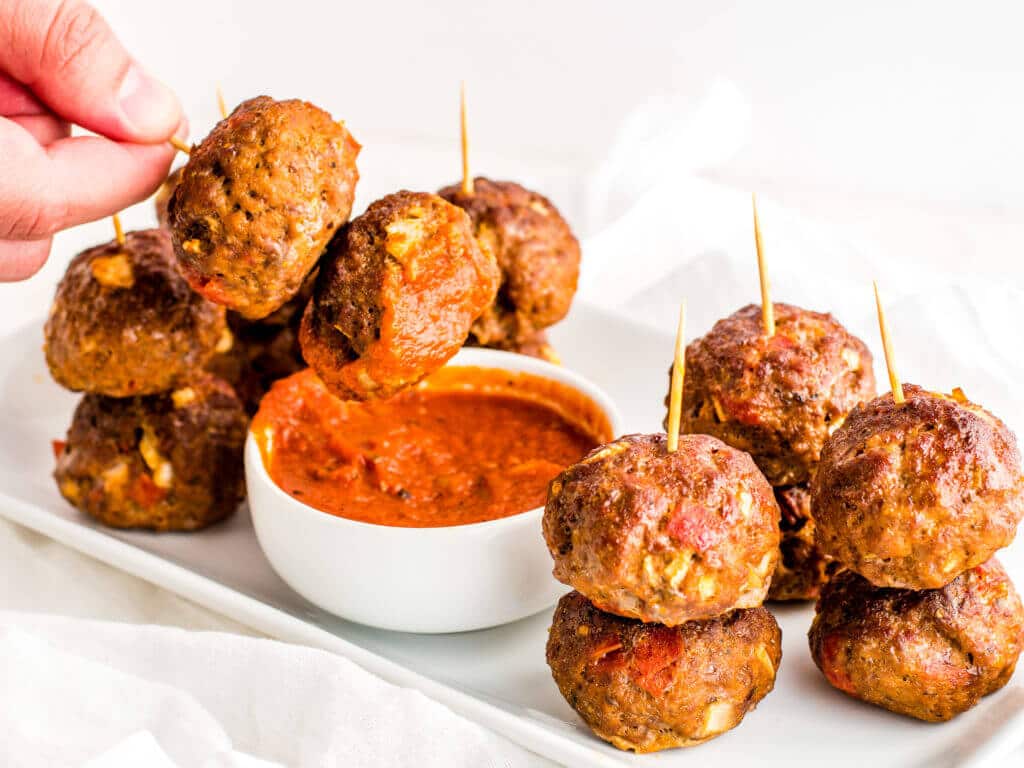 If you aren't following a specific diet like whole30, keto, or paleo, you might think that meals that fit those diets aren't delicious. And in the past, that was mostly true. We know from experience. But recipes like these pizza meatballs are delicious first and diet compliant second.
These meatballs fit into many diets. Are they actually tasty?
Those who have tried this 5-star recipe from Mac, The Healthy Little Peach, love it. It combines ground beef, Italian spices, onions, and pizza sauce (diet compliant). You could even add pepperoni if your diet permits. Also, you'll love that it takes just 35 minutes, making it perfect for weeknights or special occasions.
Visit The Healthy Little Peach for the recipe.
Hamburger Sliders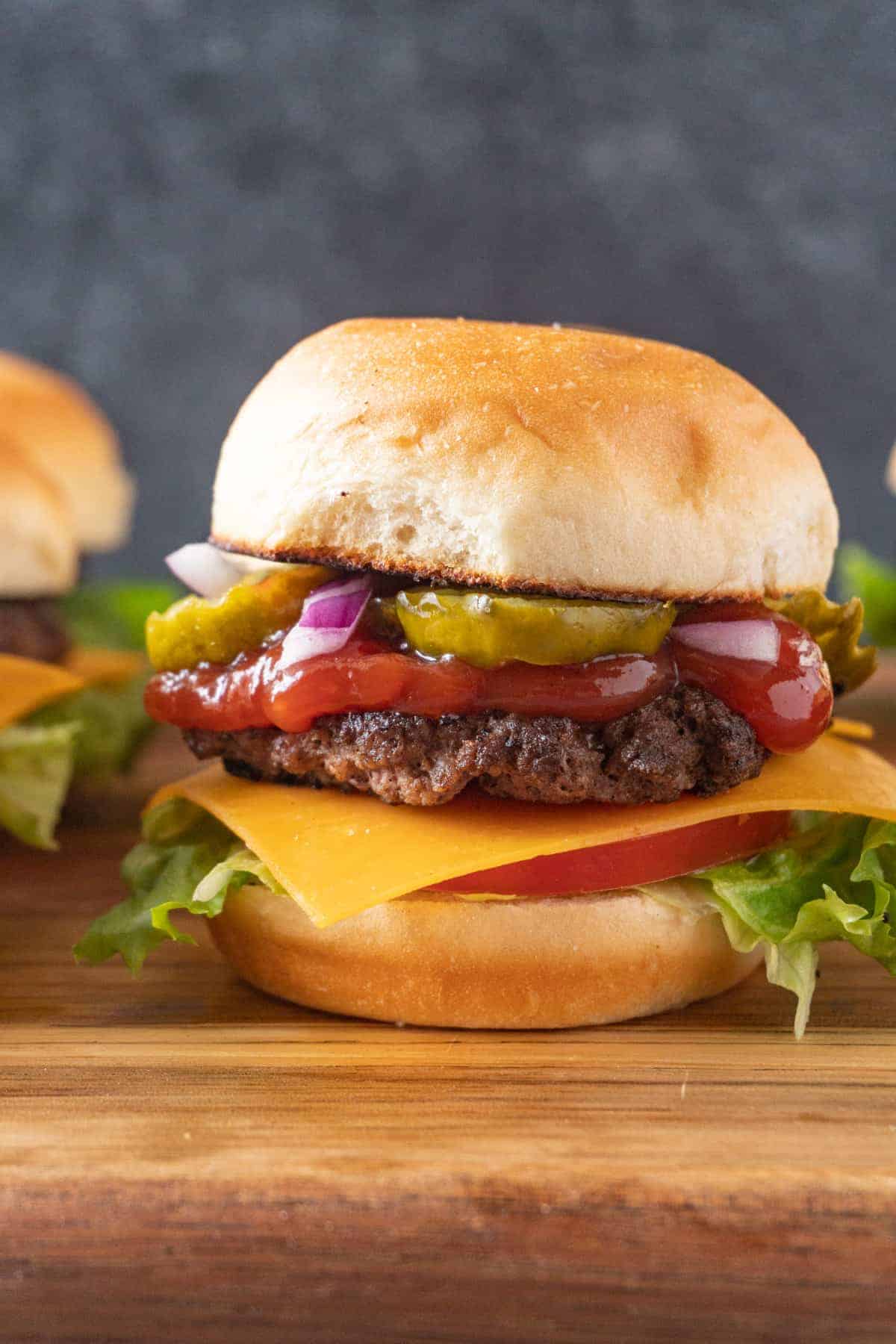 No 5-star ground beef recipe list would be complete without a burger. And this one from Lisa of A Table Full Of Joy certainly fits the bill. Burgers are the perfect fare for a cheat meal, game day, or any time you want something more indulgent.
But what makes Lisa's sliders worth trying?
We like Lisa's recipe because she uses the smash burger method as we do in our big mac bao buns recipe. It's simply the best way to cook stovetop burgers. In addition to the hamburger, you'll also find neat topping recommendations.
Visit A Table Full Of Joy for the recipe.
Minced Beef And Onion Pies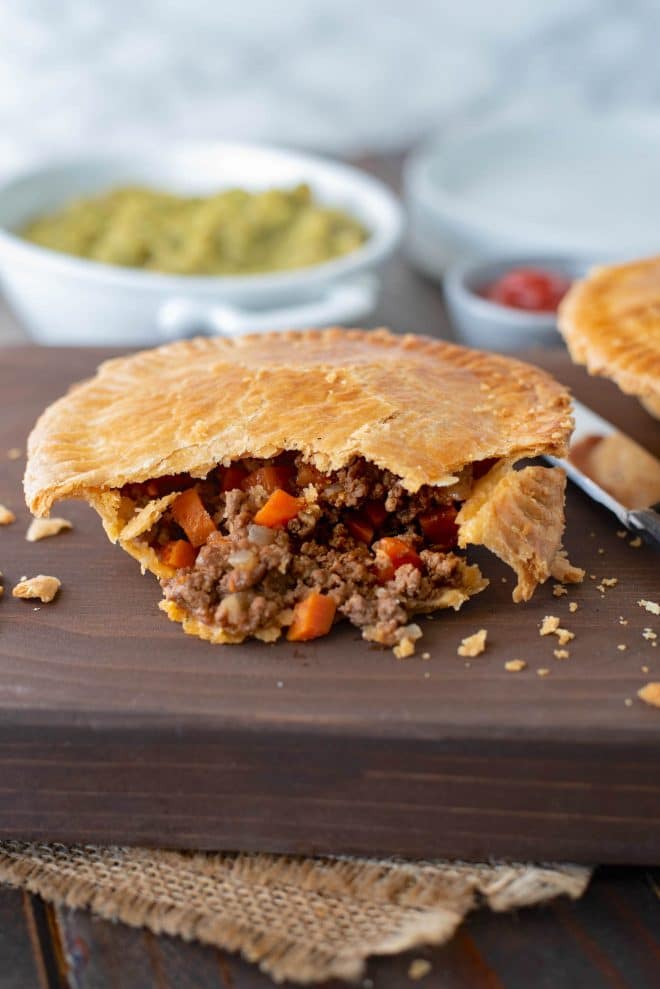 British cuisine specialist Janette of Culinary Ginger informs us of the meat pie preferences of her and her fellow compatriots. The English seemingly love a good meat pie as much as Americans love a good burger.
Why should you make these meat pies?
This savory meat pie recipe is based on what you find in English bakeries. A flaky top and bottom crust filled with seasoned meat and vegetables. It's a satiating, single-serving, self-contained meal to quench your afternoon hunger. And Janette is the perfect cook to teach you how to make them.
Visit Culinary Ginger for the recipe.
Cheeseburger Pasta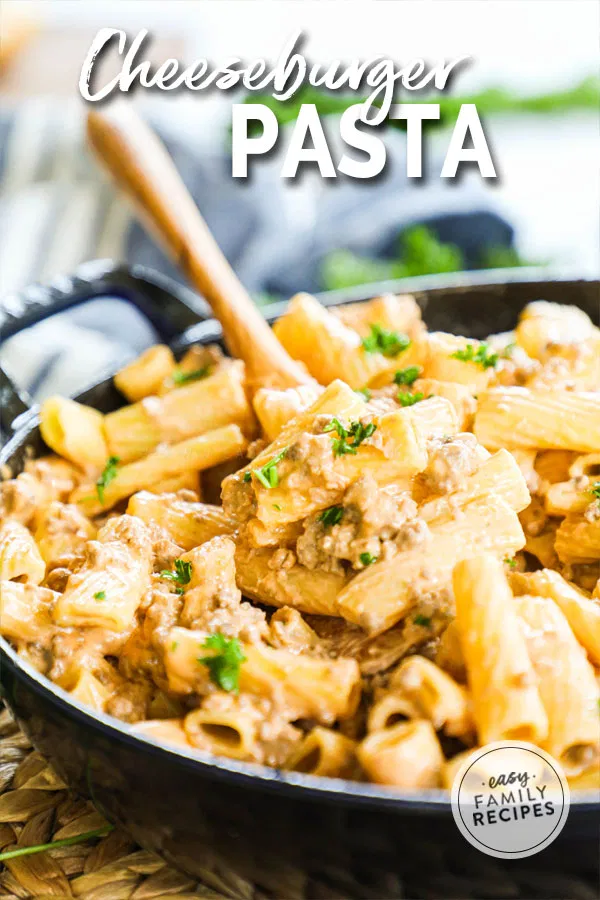 To satisfy a large crowd of hungry children and teens, look no further than this cheeseburger pasta dish from Kimber of Easy Family Recipes. It's a flavor-packed meal consisting of tasty seasoned ground beef, lots and lots of cheese, and belly-filling pasta.
But there are lots of ground beef pasta recipes out there. Why choose this one?
Well, if everything above didn't convince you, how about this? It takes just 15 minutes to make from start to finish. Kimber offers all the tips you need, like making the sauce smooth and "saucier." Also, parents give it the stamp of approval, and kids love it too.
Visit Easy Family Recipes for the recipe.
Cheesy Ground Beef Quesadillas For Two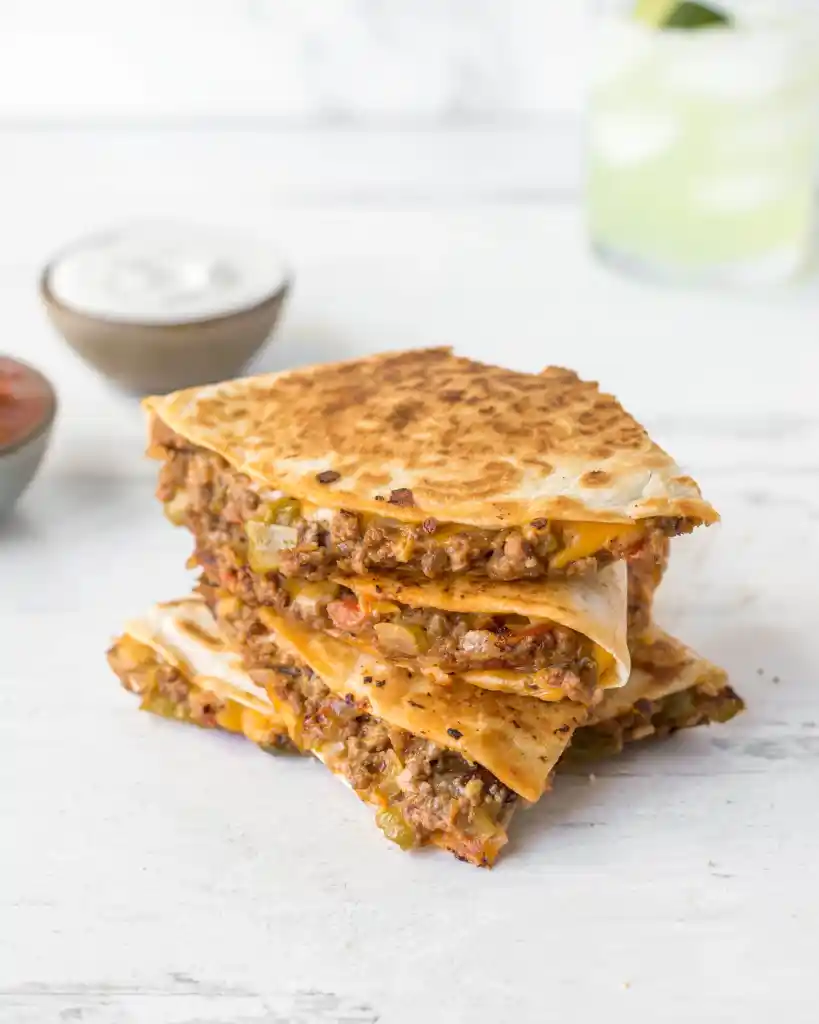 Make these cheesy ground beef quesadillas from Sarah of A Flavor Journal this week, and we can promise you no one will miss Taco Tuesday. They are that good! This recipe is super-easy as prep and cook time take less than 30 minutes.
Are beefy quesadillas really that easy to make?
Yep! You brown the ground meat with taco seasoning, assemble, and cook for a few minutes on each side. Then, serve them with lime, salsa, and sour cream, and watch as hangry faces transform into satisfied, happy ones.
Visit A Flavor Journal for the recipe.
FAQs
What is ground beef?
Ground beef is beef (meat from cattle breeds) that is ground or minced finely. It does not contain any organ meat but only skeletal muscle. And most ground beef comes from the less desire cuts like round, sirloin, or chuck.
How much fat is in ground beef?
The percentage of fat in ground beef varies. But the range that you will usually find can be from 70 to 90 percent lean. For example 80/20 ground chuck is 80% lean and 20% fat.
What is the best ground beef for burgers?
For burgers, you'll want a burger with higher fat content. We like to to use 80/20.
Which Five-Star Ground Beef Recipe Are You Ready To Try First?
Surely you're ready to try one of these mouthwatering tasty beefy meals, but which one? Is it the quesadillas? We tried those ourselves. They're incredible. What about the potato mosusaka? That looks good too. Or is it something else entirely? Let us know.
Don't forget to check out these other ground meat recipes!