Are you ready to see the tastiest 21 Recipes with Hot Dogs ever? They are delicious, easy, and interesting.
So interesting, in fact, that you will never be able to make hot dogs the same way again.
Here is just a little taste of what you can expect. There's a hot dog pizza, a cheeseburger hot dog, a tropical hot dog bar, and many more!
By the way, be sure to see our coney dog pockets and battered sausage recipes.
22 Best Recipes with Hotdogs
Without further ado, we present to you 22 of the most delicious recipes with hotdogs we found online. There are hot dog casseroles and hot dog pizzas. Some are deep-fried, and you know what? There are probably some things you've never seen before. We hope you enjoy it.
1. Campfire Cheesy Hot Dog & Baked Beans Pizza with Crispy Tots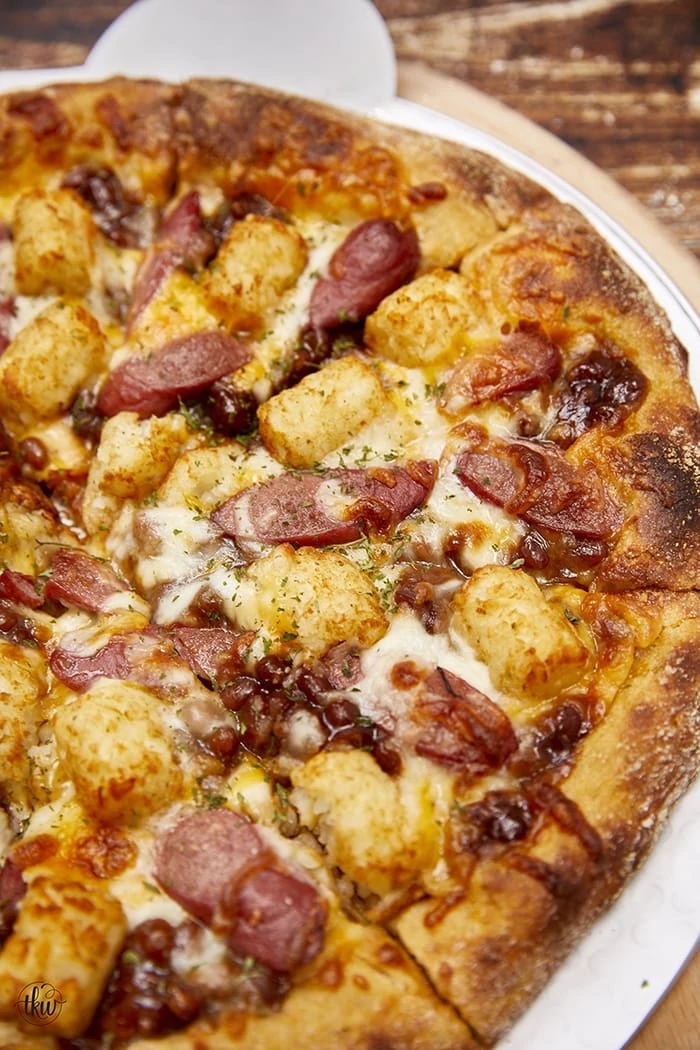 Pizza aficionado Lori of The Kitchen Whisperer made this brilliant campfire fun fare. It's a simple five-ingredient pizza recipe that starts with Lori's easy pizza dough. She then tops the dough with baked beans, cheese, tater tots, and of course, hot dogs. Now, that's a fun and creative recipe that's good even with no campfire in sight. So, are you feeling #pizzadventurous? We are!
Visit The Kitchen Whisperer for the recipe.
2. Corn and Hot Dog Chowder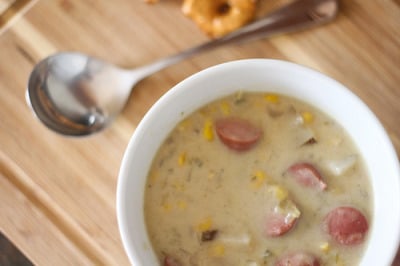 Chowder with hot dogs? Yes! For Annie of Frites and Fries, this filling and delicious soup represent simple midwestern living rarely had in fast-paced environments like New York City. Now, if you're familiar with making a chowder at home, you may think it's a bit involved. Well, this delicious recipe takes away all of that fussiness because you use a slow cooker to make it. There's one catch, though, the delicious scent will torment you long before it's ready to eat.
Visit Frites and Fries for the recipe.
3. Hot Dog and Hamburger Cowboy Beans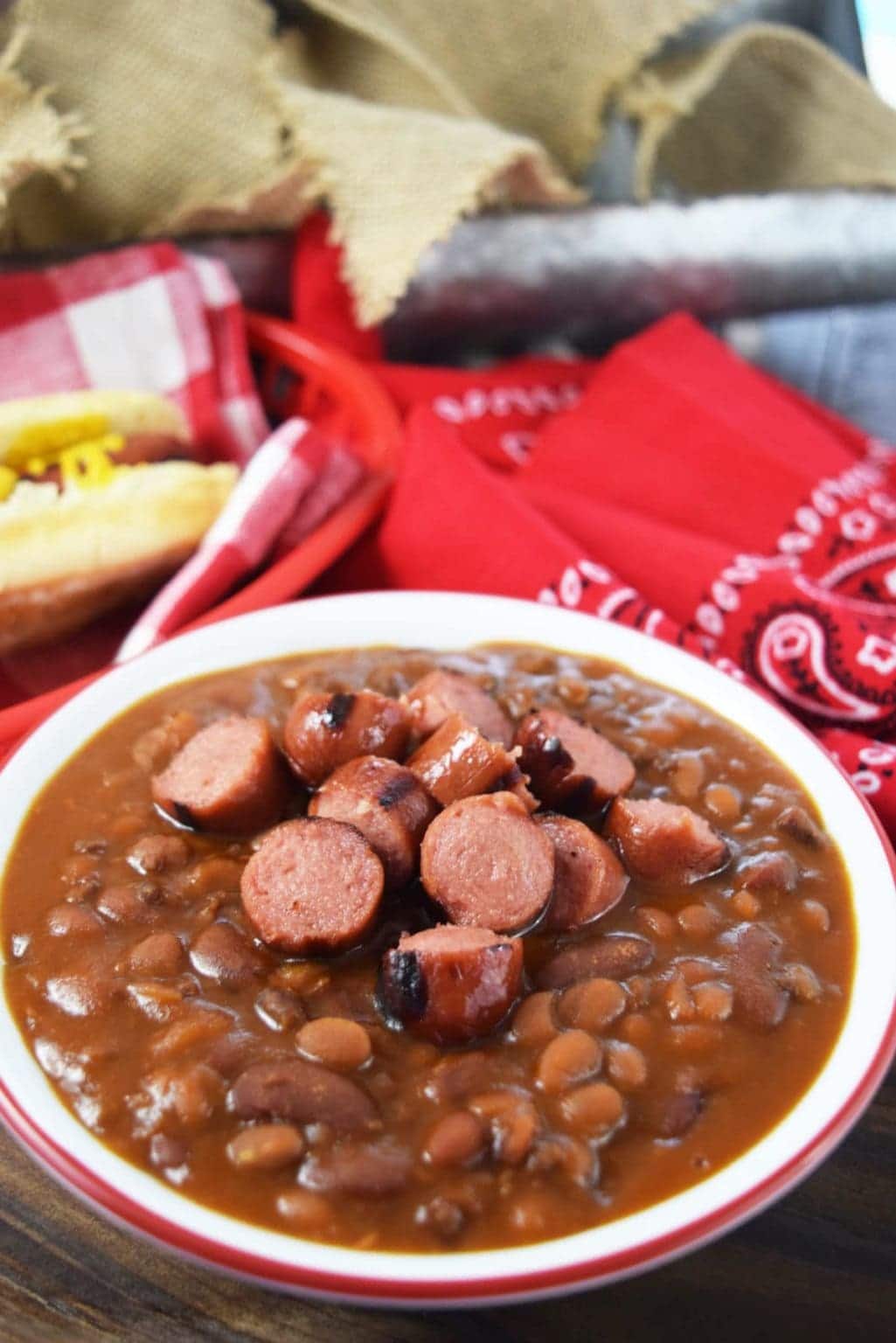 With this hot dog and hamburger cowboy beans recipe, you'll have the table full with all parties accounted for, fork and knife in hand, and napkins tucked into their shirts before you can finish saying, "come and get it." And as you can tell by the name, there are both hamburgers and hot dogs in these cowboy beans—a match made in culinary heaven. And a discovery by Nikki of Soulfully Made when her normal cowboy beans recipe would call for bacon.
Visit Nikki of Soulfully Made for the recipe.
4. The Ultimate Breakfast Hot Dog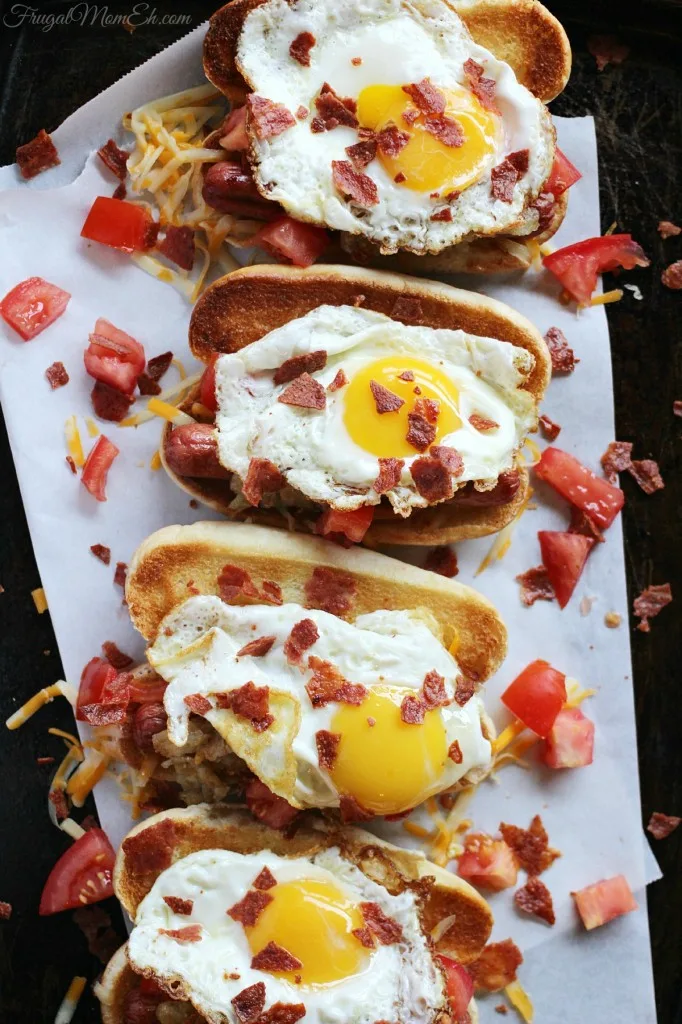 Hot dog, for breakfast? Yes, sign us up! From Elizabeth of Frugal Mom Eh, this hot dog recipe has all the best parts of a breakfast; meat, cheese, and lots of carbs (hot dog bun and hashbrowns). And while this hot dog may seem a bit unwieldy, it's a great way to start your day, especially after a late night of, say, drinks and partying.
Visit Frugal Mom Eh for the recipe.
5. Hot Dog Pizza Pockets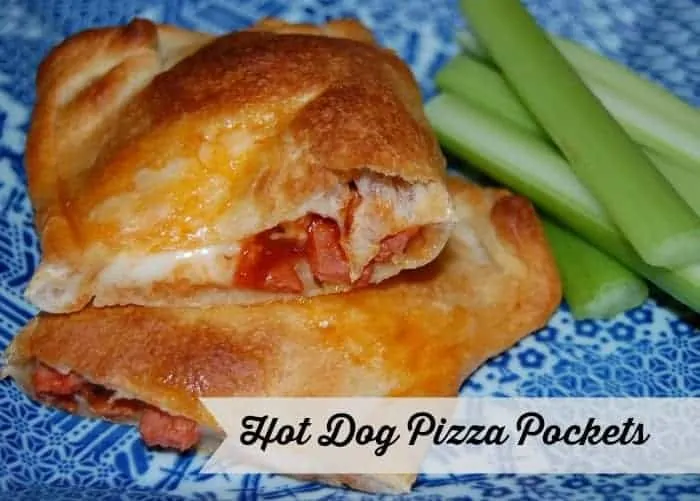 With just a handful of ingredients, you can make these self-contained copycat hot dog pockets. Shasta of Faithfully Free understands that recipes like this are easy, fun, and the kids can help too! They're also highly customizable as you can't go wrong with the toppings. Not to mention they're tasty, easy to eat, and filled with one of America's favorite foods.
Visit Faithfully Free for the recipe.
6. Philly Cheesesteak Hot Dog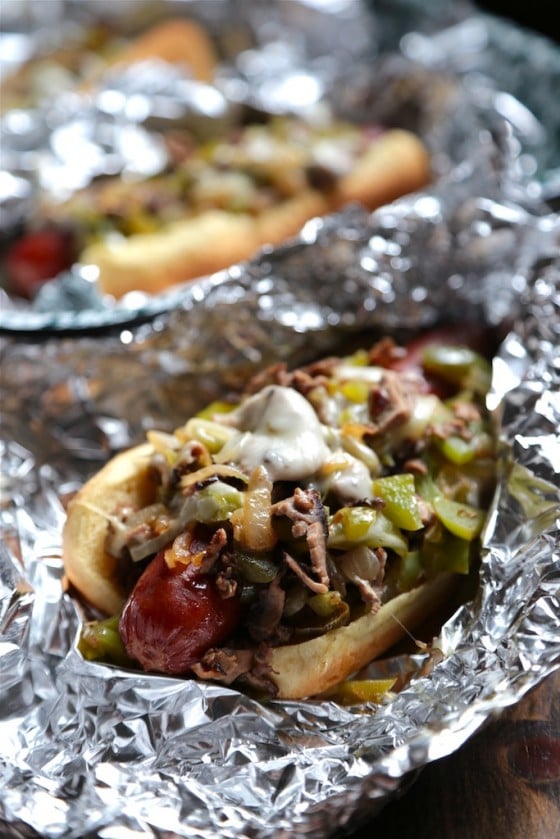 Meagan of Country Cleaver may ruin regular ole hot dogs for you with these Philly Cheesesteak weiners, which are hotdogs topped with bell peppers, onions, and cheese. And while they aren't meant to be a wholly authentic representation of Philly cheesesteak, they are sure to deliver on tasty. There's no controversy there. So give it a try, and this fun fusion food just might steal the show at your next barbecue.
Visit Country Cleaver for the recipe.
7. Pizza Hotdogs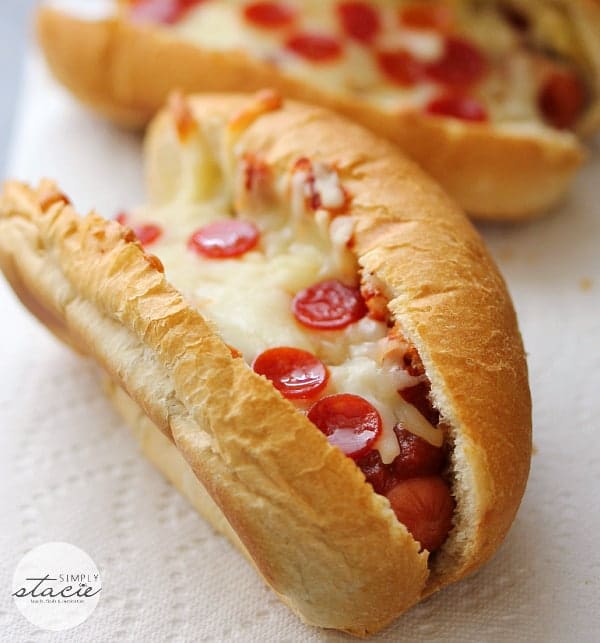 With this pizza hotdog recipe, Stacie of Simply Stacie discovered that curiosity doesn't always kill the cat. Instead, when it comes to culinary discoveries, oftentimes, curiosity opens up a world of possibilities! So, tired of the same ole, same ole, Stacie ditched the ketchup and mustard and introduced her family (and her blog readers) to hot dogs topped with pizza sauce, cheese, and pepperoni. It was a hit!
Visit Simply Stacie for the recipe.
8. Loaded Cheeseburger Hot Dogs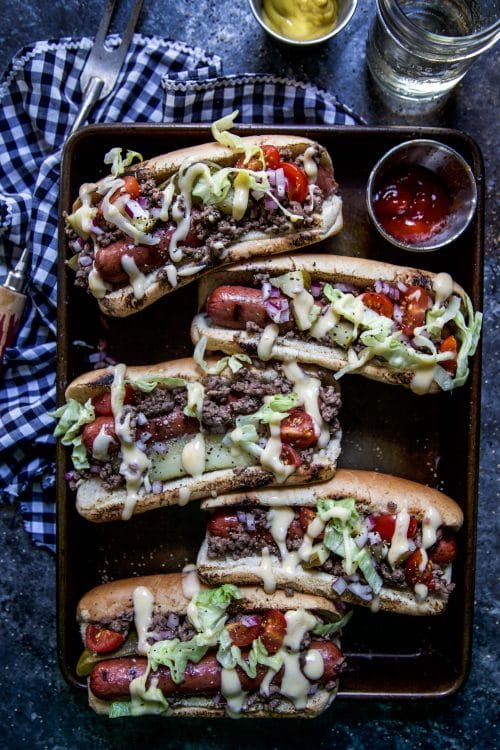 This spark of genius from Lauren of The Curious Plate combines two American grilling season favorites: hot dogs and hamburgers. If the picture above doesn't get you salivating, I'll give you a second to have someone check your pulse. The rest of us take great joy in hot dogs topped with sauteed ground hamburger, lettuce, tomato, pickles, and decadent cheese sauce.
Visit The Curious Plate for the recipe.
9. Vietnamese Hot Dog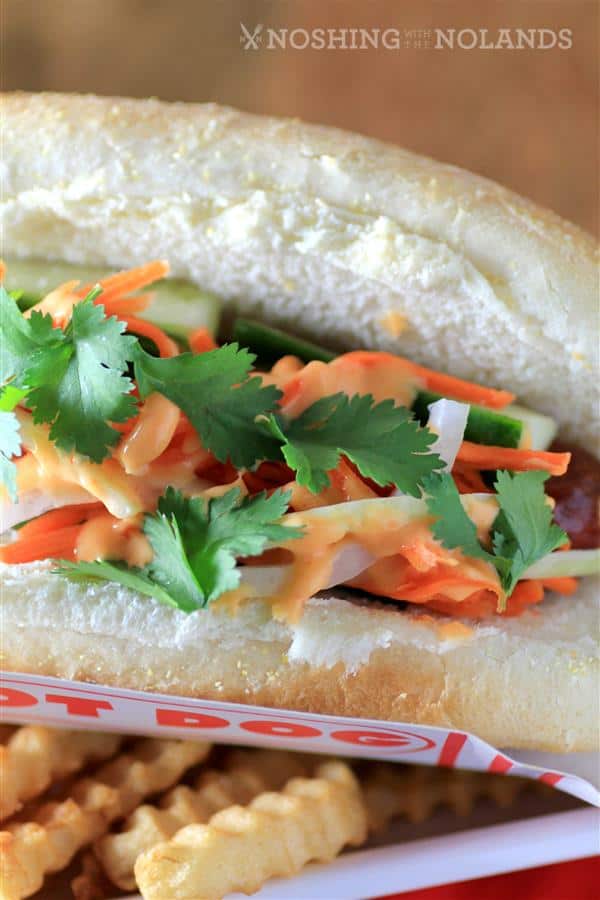 Vietnamese sandwiches are a delicious fusion food of Vietnamese meats and vegetables combined with French baguettes and condiments. Here, Tara, founder of Noshing With The Nolands, made her version of Vietnamese hot dogs that feature tasty grilled wieners atop a hot dog bun with shredded pickled carrots, shredded cucumber, sliced onion, cilantro, and spicy sauce. So, need a break from ordinary hot dogs? These won't disappoint.
Visit Noshing With The Nolands for the recipe.
10. Sonoran Hot Dogs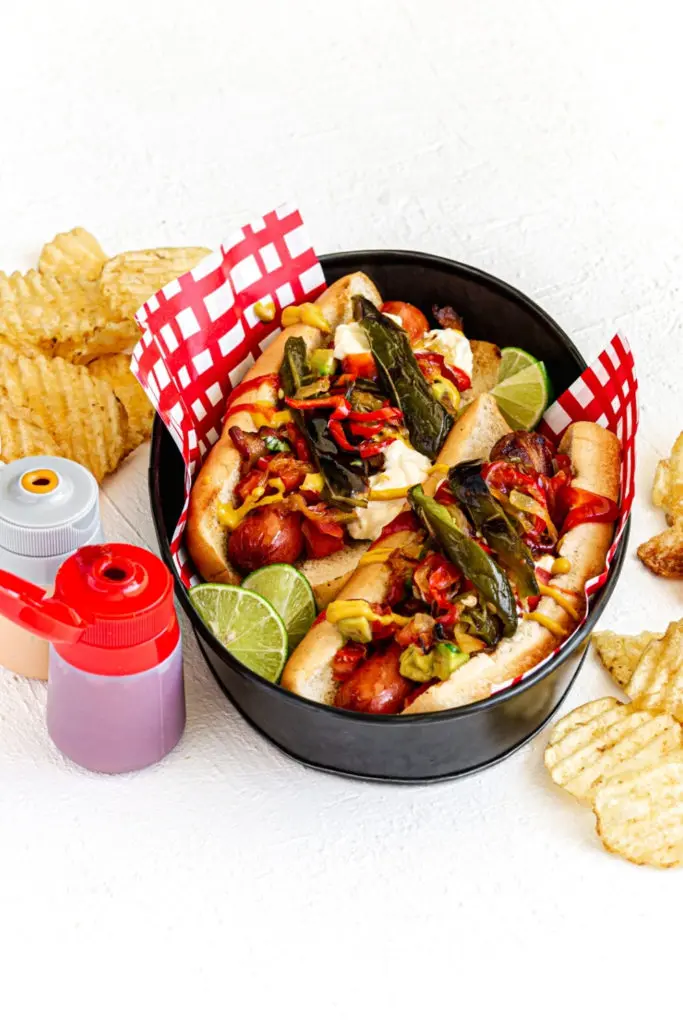 DeNay from Confetti and Bliss says that Sonoran hot dogs (also known as Mexican hot dogs) come with everything but the kitchen sink. And she isn't kidding! It all starts with bacon-wrapped, grilled hot dogs, which is delicious as is. But then comes a mountain of optional toppings that can include diced tomatoes, avocado, and grilled chiles. So what don't you love about that?
Visit Confetti and Bliss for the recipe.
11. Homemade Pretzel Dogs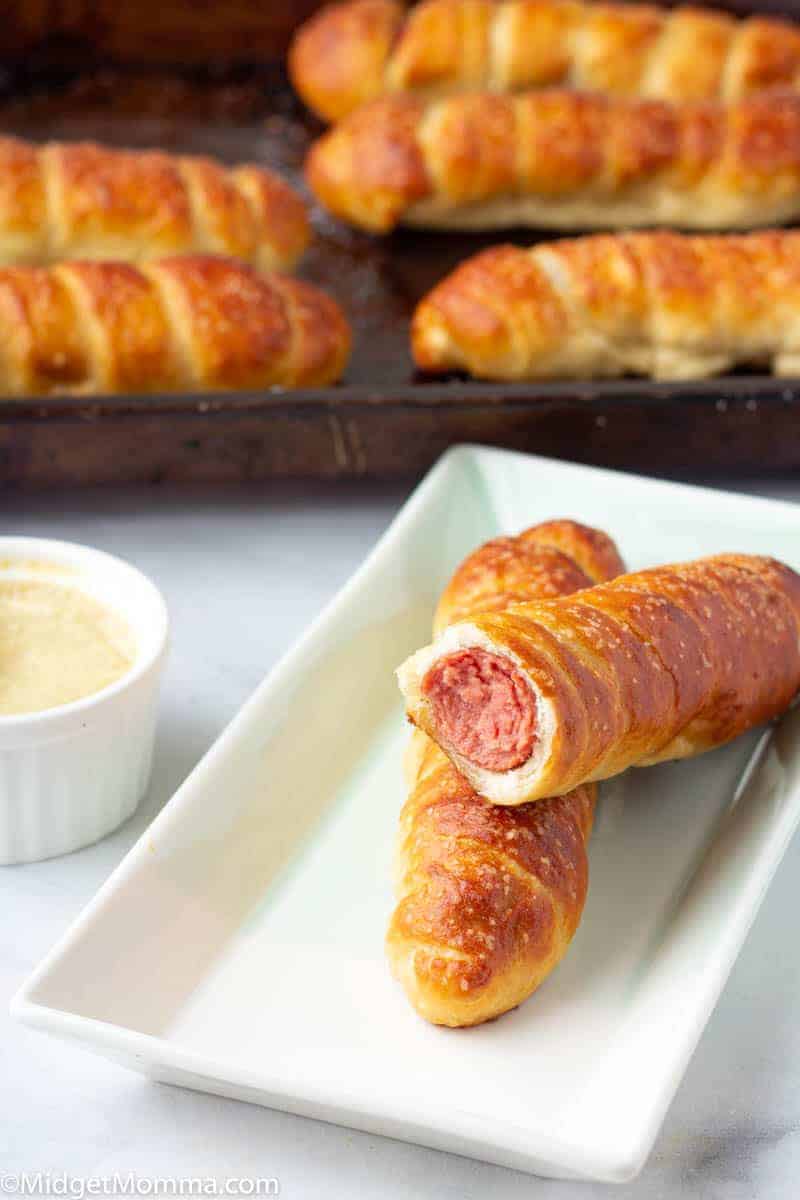 This Auntie Anne's pretzel dog copycat recipe from Lauren of Midget Momma is an easy and satisfying treat. By combining two snack time favorites, pretzels and hotdogs, you're going to score major points and find yourself in the hall of fame. Well, that may not happen. But, make this recipe, and you'll find plenty of smiles.
Visit Midget Momma for the recipe.
12. Hot Dog Nachos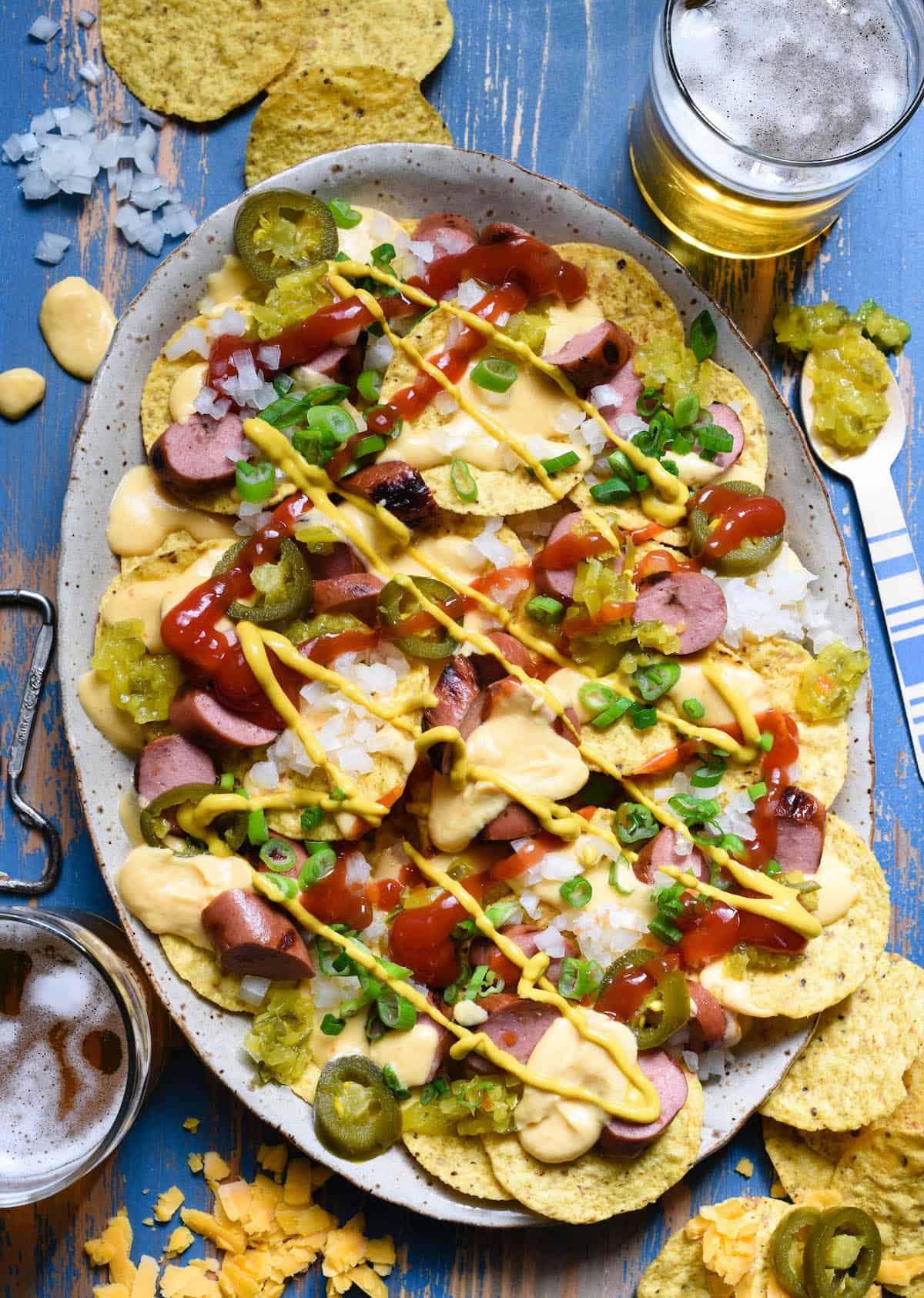 Lori of Foxes Love Lemons draws inspiration from simple times. Sunny days, baseball games, cold beer, and an age-old question: hot dogs or nachos? Well, with this tasty creation, you don't have to choose. Instead, you get two of the best ballpark favorites on one irresistible platter. She even includes her secret to smooth homemade cheese sauce.
Visit Foxes Love Lemons for the recipe.
13. Buffalo Hot Dogs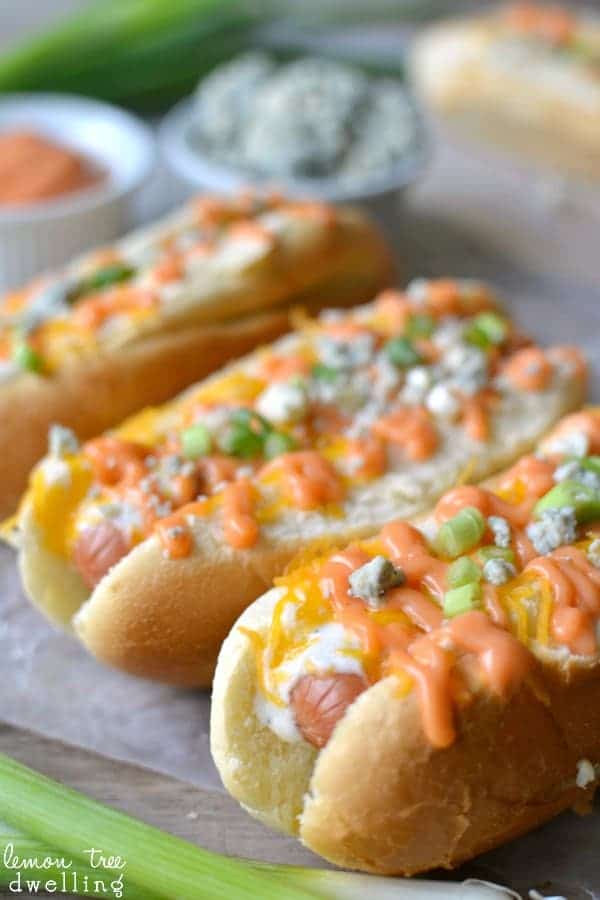 Hot dog critic turned enthusiast Cathy of Lemon Tree Dwelling conjured up this delicious baked buffalo hot dog recipe. She took hot dogs and added shredded cheese, buffalo sauce, ranch, blue cheese, and green onions. And while you can use any kind of frankfurter, Cathy first made this meal with turkey dogs.
Visit Lemon Tree Dwelling for the recipe.
14. Sourdough Hot Dog Wraps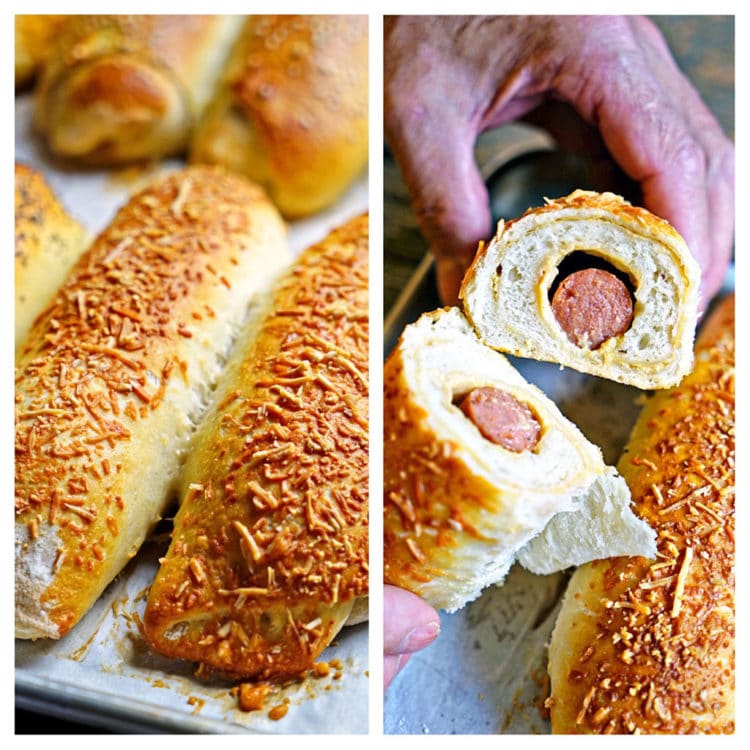 This recipe is part of Kevin Is Cooking's sourdough series. Sourdough bread is so tasty and interesting on its own, but when combined with flavorful hot dogs, what you get is self-contained deliciousness perfect for on-the-go eating. In addition, we love that this recipe is highly customizable. You can choose different hot dog flavors and different seasonings for the exterior of the dough, such as sesame and poppy seeds.
Visit Kevin Is Cooking for the recipe.
15. Cuban Hot Dogs or Cubano Dogs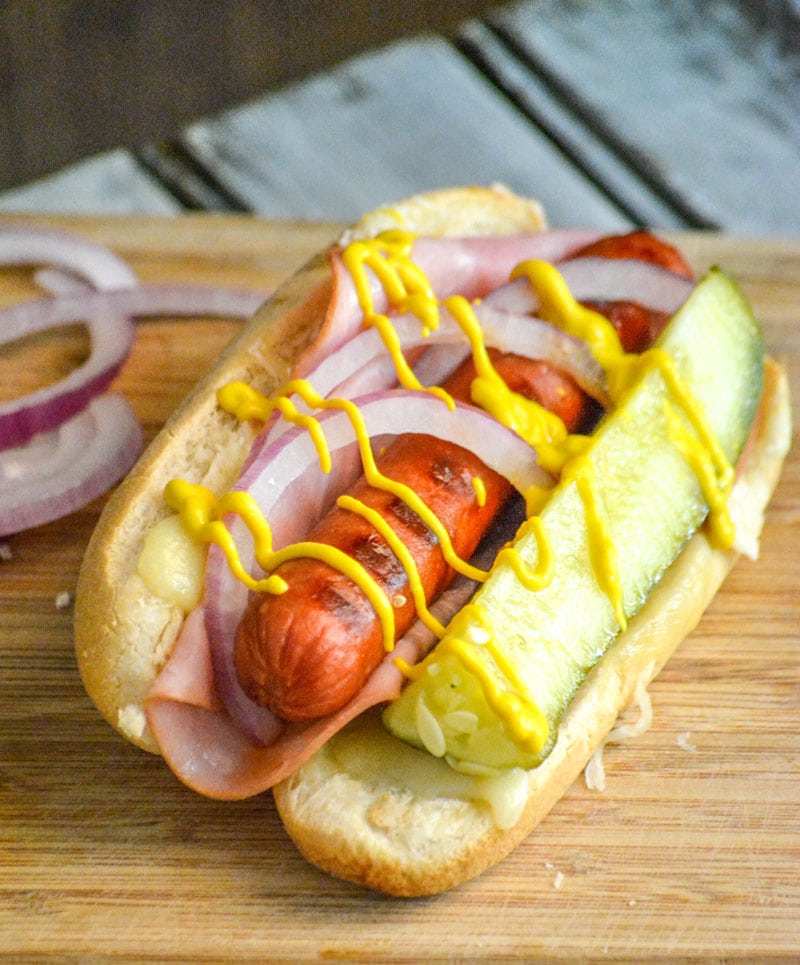 Cubano Dogs from Meaghan of 4 Sons R Us is the perfect riff on the tremendous South Florida classic sandwich. While the original Cuban sandwich has ham and roasted pork, which is kind of like heaven, right? With Cubano Dogs, the pork hot dog is a stand-in for the roast pork. Which is kind of perfect for when you don't have roasted pork available.
Visit 4 Sons R Us for the recipe.
16. Tropical Hot Dog Bar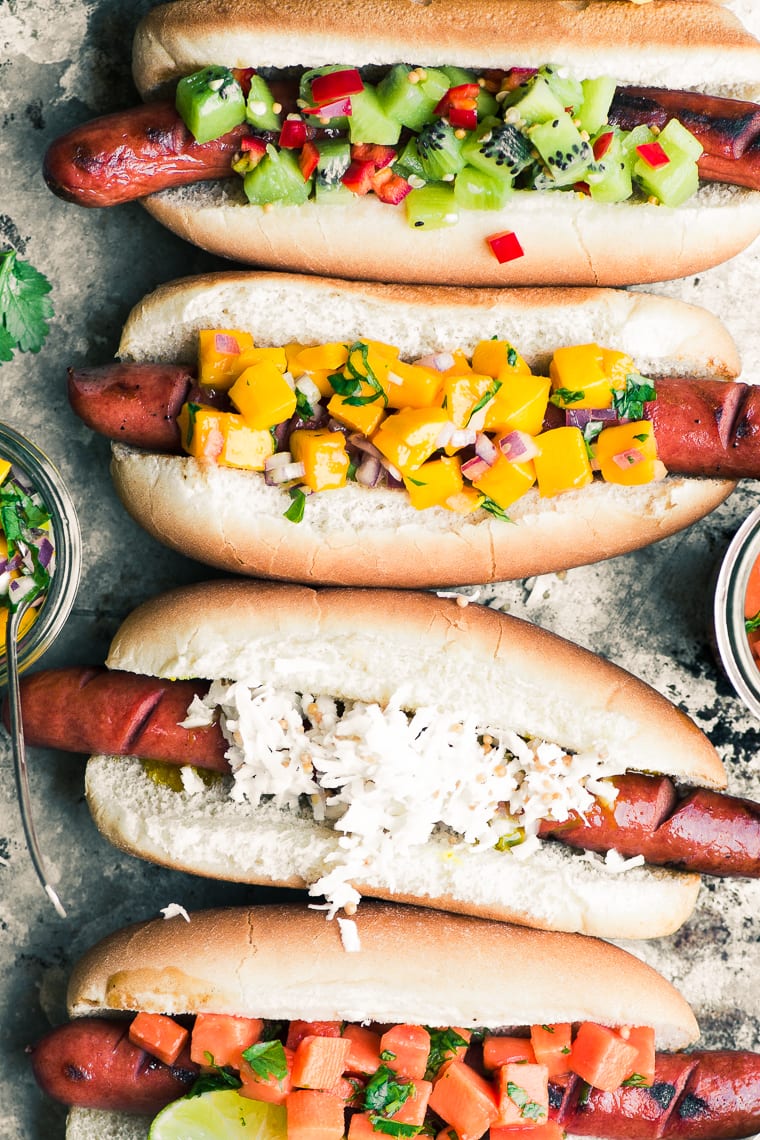 Oh boy! If you're looking for a colorful spread for your next backyard barbecue, this tropical hot dog bar from Sue of The View From Great Island is the ticket. This bar shows that a good hot dog is but the canvas. You're limited only by what you put on your palette to paint a pretty and tasty picture. And Sue's palette is full of delicious tropical flavor and color in the form of mango, coconut, and avocado relishes (to name a few).
Visit The View From Great Island for the recipe.
17. Bacon-Wrapped Cheese Hot Dogs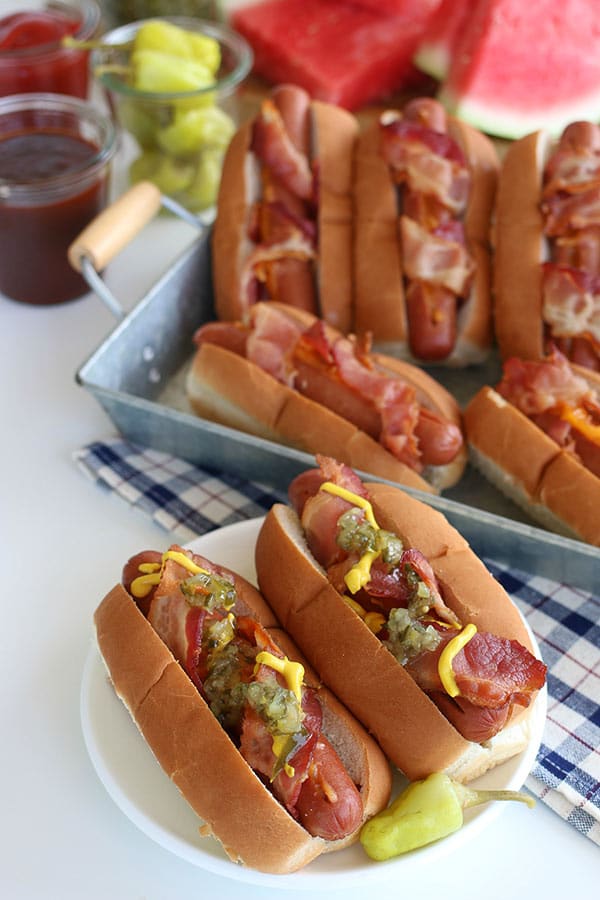 With these bacon-wrapped cheese hot dogs from Barbara of Barbara Bakes, you'll keep the kiddos coming back for seconds and thirds. While we like to deep fry our bacon-wrapped hot dogs, Barbara keeps it simpler (and healthier) by baking them. Also, she slices them open and stuffs them with cheese before wrapping them in bacon. What you get is a delicious cheese oozing frank.
Visit Barbara Bakes for the recipe.
18. Korean Corn Dog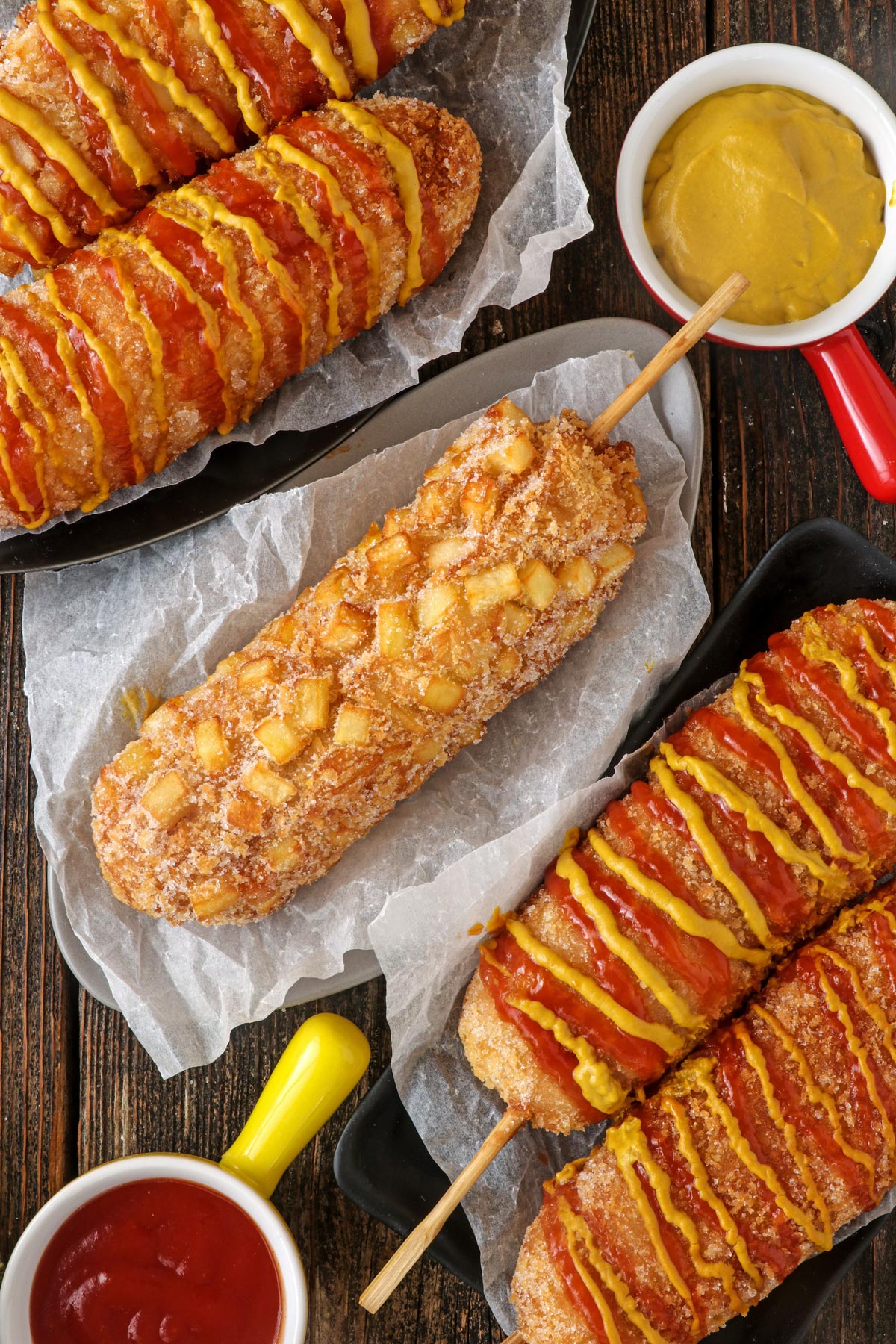 We've been dying to try Korean Corn Dogs for a while now. If you don't know, they are hot dog/mozzarella, or a combination of the two, coated in a yeasted batter, breadcrumbs, deep-fried, sprinkled with sugar and drizzled with ketchup and mustard. Um, yes, two, please! This recipe from Bebs of Foxy Folksy just might be our introduction to this ever-popular and delicious street food.
Visit Foxy Folksy for the recipe.
19. Cowboy Hot Dogs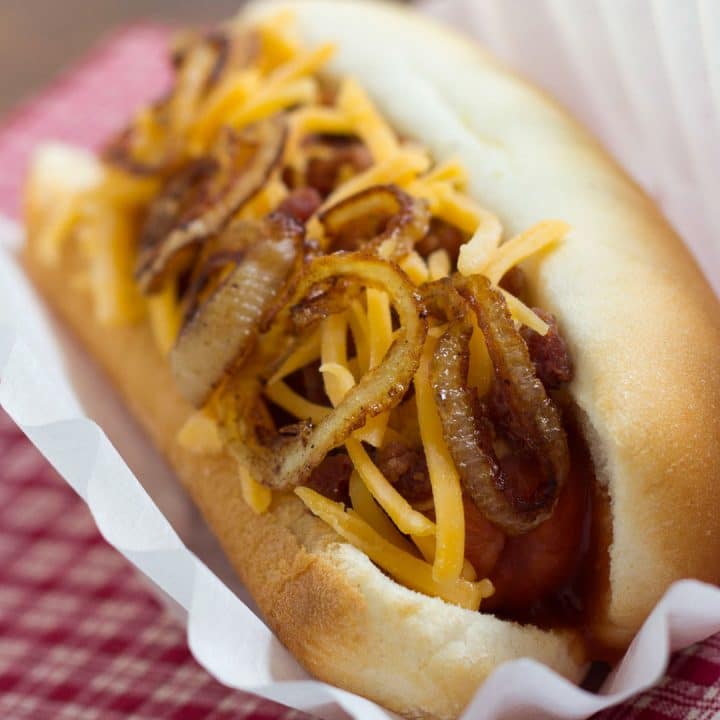 This is a straightforward recipe from Mary Ann Kelly of Add Salt And Serve. And that's exactly what you need for a mid-week quick meal. Cowboy hot dogs consist of ingredients you probably have in your fridge. You've got hot dogs, buns, cheese, sauteed onions, and a bunch of condiments. See, it's simple and tasty.
Visit Add Salt And Serve for the recipe.
20. Crispy Crack Dogs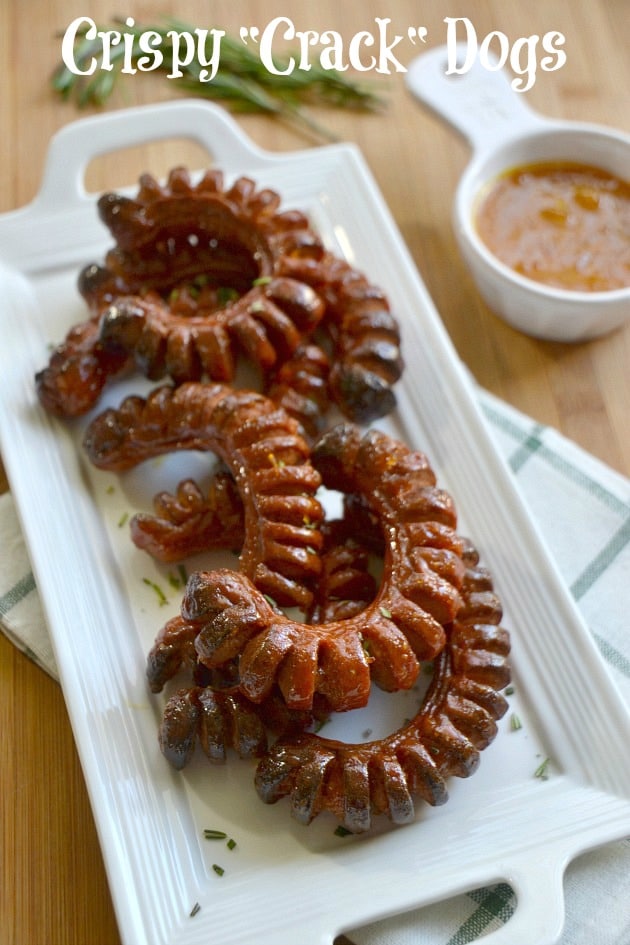 Inspired by good t.v. and a parent's desire to keep children content, Melinda of Melinda Strauss created this crispy crack dog recipe. It consists of hotdogs cut Hasselback style, then brushed with a fruit preserve glaze and baked. The result is a fun and addictive recipe with hotdogs that will be remembered and requested. Often.
Visit Melinda Strauss for the recipe.
21. Hot Dog Pretzel Bites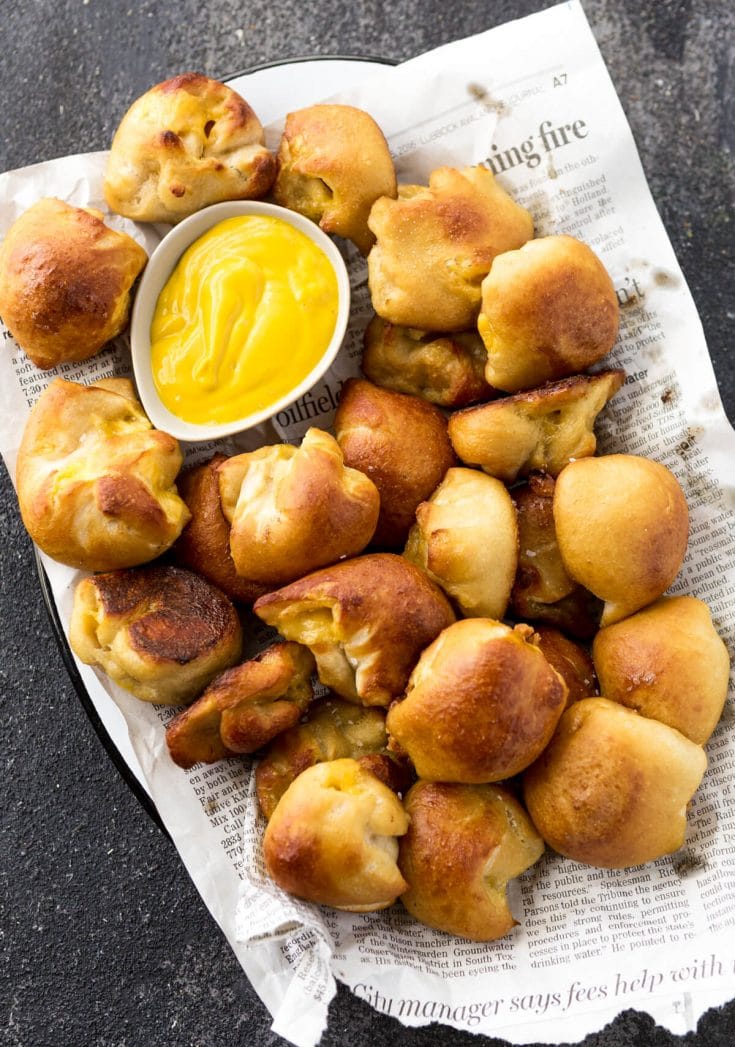 Need a snack for the kids to enjoy after school? Try this hot dog pretzel bites recipe by Meagan of A Zesty Bite. She proves that when you make bite-sized hot dog pretzels, you get food so snackable it'll disappear as soon as you put it out. What's more, this tasty recipe comes together in just 15 minutes.
Visit A Zesty Bite for the recipe.
5 Facts You Don't Need to Know About Hot Dogs
1. By definition, hot dogs are technically a type of sausage. But most people don't think of them as sausages even though they are both cylindrical meat tubes of deliciousness.
2. We Americans love hot dogs (sausages) even more than we love doughnuts. So much so that we eat them to the tune of a staggering 20 billion per year.
3. That 20 billion weiners works out to about 70 hot dogs per person per year. So on average, every American eats more than one hot dog per week.
4. If you think 70 hot dogs per year sounds like a lot, you've obviously never heard of Joey Chestnut, a competitive eater who has the world record for eating the most hotdogs. He ate 76 of the tubular protein-packed weiners (bun included) in just 10 minutes!
5. New York City residents spend almost 100 million dollars on hot dogs each year, more than any other city. However, Los Angeles City residents eat more hot dogs in total, a whopping 309 Million!
Looking for more fun and delicious recipes?