These 17 Food on a Stick recipes are so good you'll think you're at a carnival. Isn't food better when it's on a stick?
Below, you will discover chocolate turtle cheesecake on a stick, Caprese on a stick, pizza on a stick, and so much more! So whether you're looking for a new party appetizer or simply enjoying making food a stick for yourself, you're in the right place.
Let's dive in!
Jump to:
17 Best Food On A Stick Recipes
Food on a stick is perhaps the most fun way to eat! Below, you'll find 17 of the best food on a stick recipes. You'll find potato, pizza, sausage, pancakes, and even salad recipes. They're all delicious! And as always, our lists are just lists, not a rank. We hope this list will inspire you to make some of these delightful meals or even create your own. Enjoy!
1. Chocolate Turtle Cheesecake Pop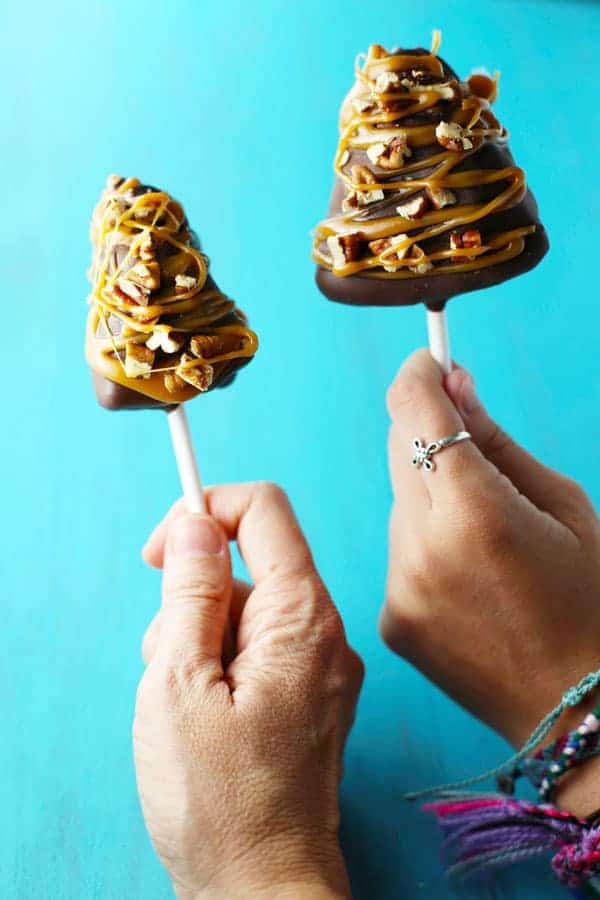 Inspired by a food truck a little too far away, Lise of Mom Loves Baking made these beautiful and delicious chocolate turtle cheesecake pops. You know, there's something magical about taking rich cheesecake, dipping it in chocolate, and crowning it with caramel and pecans. What's more, this delicious dessert is easy to make because you can use store-bought cheesecake as Lise did. I'm blown away! Is your mind running wild with possibilities?
Visit Mom Loves Baking for the recipe.
2. CRISPY ACCORDION POTATOES (ON A STICK)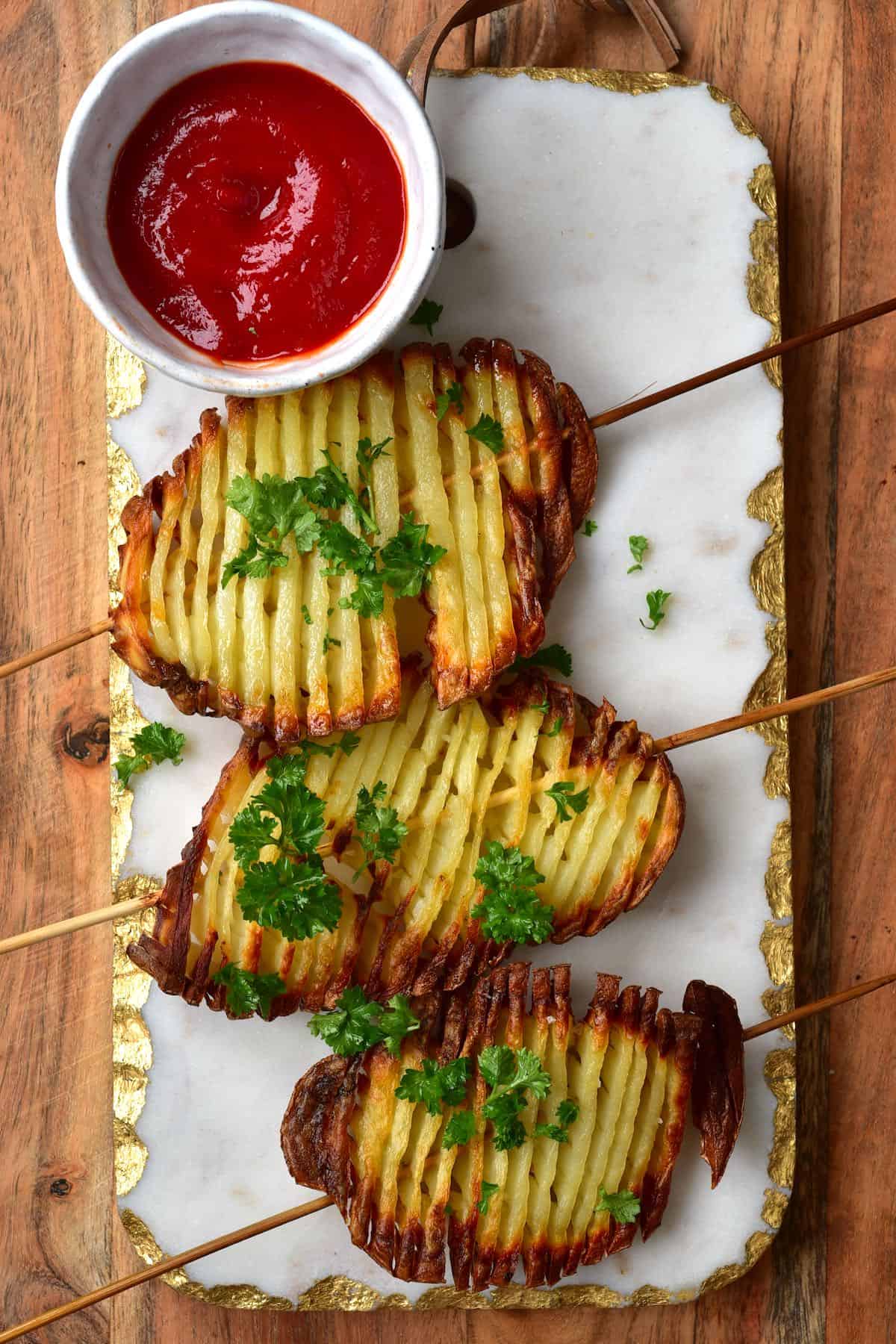 These crispy accordion potatoes from Samira of Alpha Foodie feature a delicious hybrid healthy snack somewhere between tornado, lattice, and Hasselback potatoes. So, regardless of how you classify them, one thing is for sure, they are delicious and crunchy. But how do you season them? Well, with just about anything! Samira even gives you some delightful recommendations you may not be familiar with.
Visit Alpha Foodie for the recipe.
3. Grilled Vegetables Skewers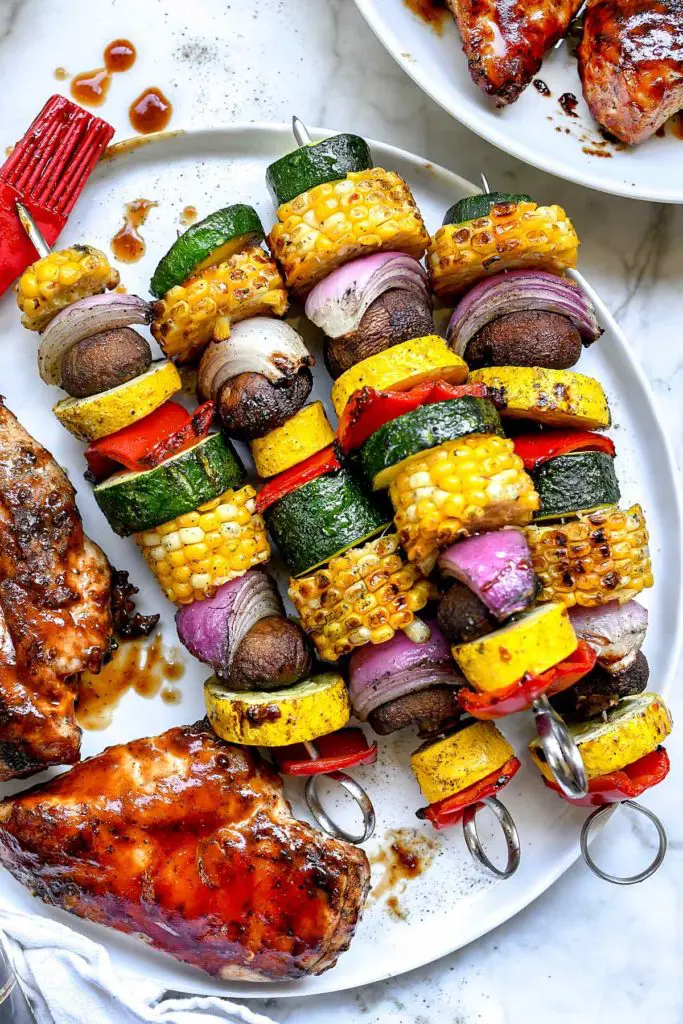 Heidi of Foodie Crush has us crushing on veggies with these beautiful and colorful grilled vegetable skewers. So this entry isn't as much a recipe as it is a technique to inspire you perhaps to eat more vegetables. And Heidi provides you with tips to make these veggies on a stick fantastic. You'll discover which vegetables grill best, marinade ideas, seasoning, and even how to use the skewers. It's an excellent page!
Visit Foodie Crush for the recipe.
4. Caprese Skewers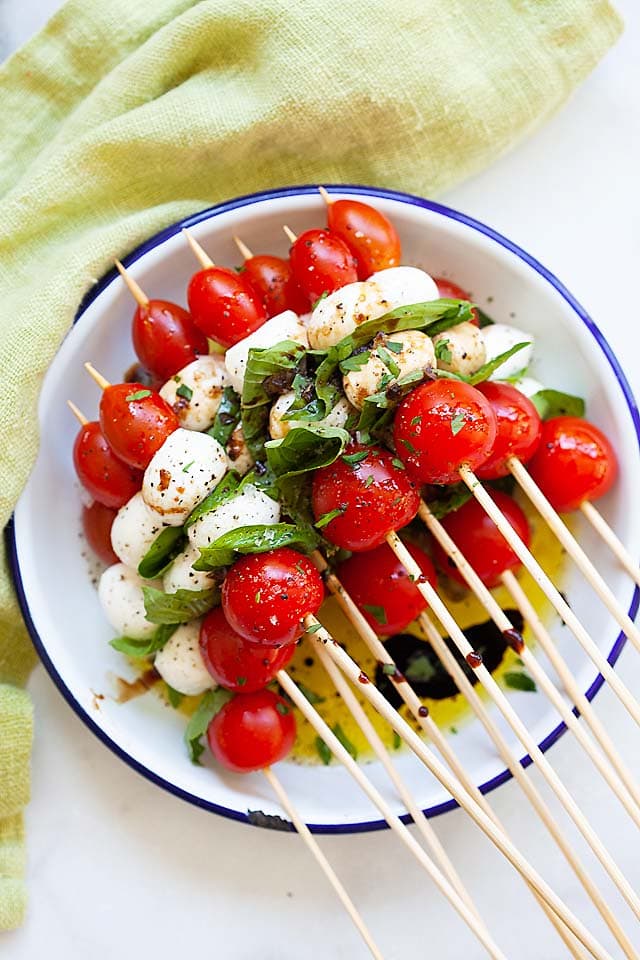 With these Caprese Skewers from Bee of Rasa Malaysia, you can eat a salad on a stick which is hands-down the best way to eat one. In a thorough recipe write-up, she covers the origins of Caprese salad, the pronunciation, and even grilling instructions. What more could you want? Oh, I know, pairing options. In addition, you'll find her recommendations for other recipes to serve with the Caprese skewers.
Visit Rasa Malaysia for the recipe.
5. Grilled Chimichurri Shrimp Skewers Recipe
Chimichurri is an easy-to-make herb condiment sauce from Argentina, and it is delicious on just about everything! Shawn of Kitchen Swagger walks you through his delectable grilled chimichurri shrimp skewers recipe with all the tips you need, and by the end, you'll feel like you're an expert on the magical green sauce. You will, however, wish you knew about it sooner, and you'll be spreading the word to anyone who will listen.
Visit Kitchen Swagger for the recipe.
6. Mango Yogurt Popsicles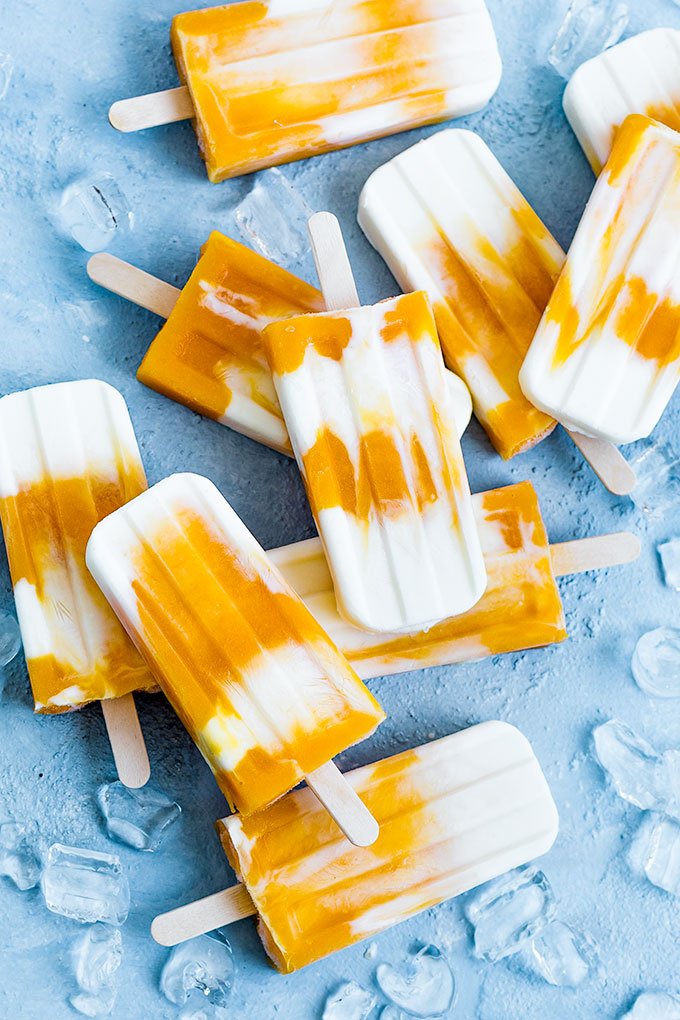 These four-ingredient mango yogurt popsicles from Elena of As Easy As Apple Pie prove that you don't have to spend hours in the kitchen to make a delicious gourmet frozen treat on a stick. Not only are they easy (the freezer does most of the work), but they're also pretty to look at. Kind of like a patchwork of orange and white for a healthy treat the whole family will appreciate (and the kids can help). And if you have an aversion to any of the ingredients, Elena actually provides you with ideas for substitutions.
Visit As Easy As Apple Pie for the recipe.
7. Pizza Sticks with Pepperoni (Pizza on a Stick)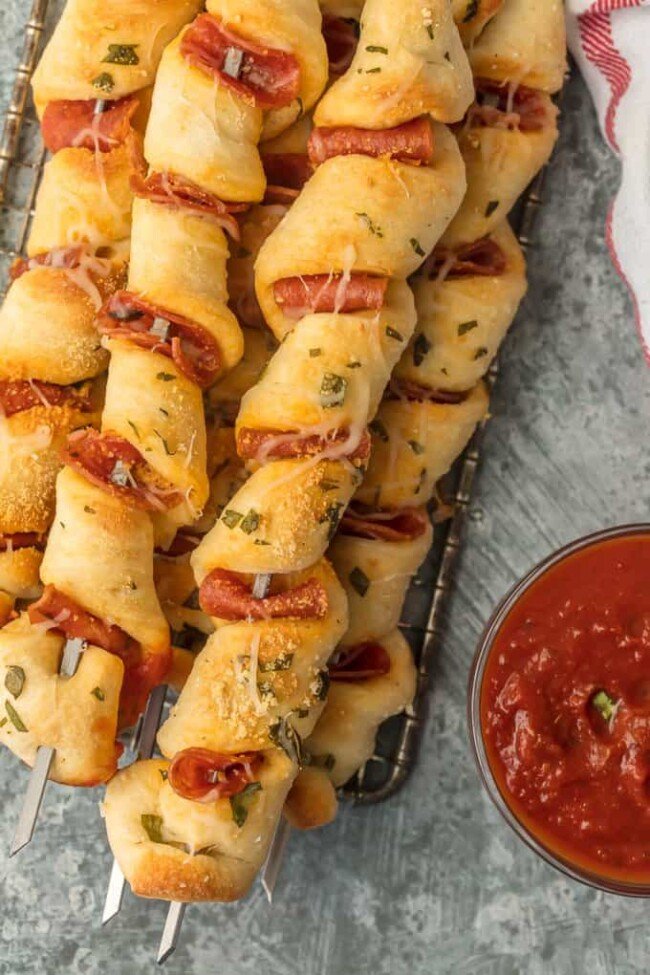 Pizza is a fun food to eat as is, but Becky of The Cookie Rookie makes it even more so with this pepperoni pizza on a stick. There are a few things we really love about this recipe. First, it's incredibly easy, tasty, and interesting. And it gets bonus points because you can get the kids involved. And if that isn't enough, you can always customize your pizza sticks in any way you choose.
Visit The Cookie Rookie for the recipe.
8. Mexican Street Corn
This Mexican street corn recipe from the Nikki of Seeded At The Table is viral with over 60,000 shares on social media (at the time of this writing). That's a testament to this fantastic recipe! But what is Mexican street corn (elotes)? Elotes are grilled corn topped with mayo, sour cream, Mexican cheese, and spices. And it is addictively good. It's the kind of food you have to stop yourself from overeating. Good luck!
Visit Seeded At The Table for the recipe.
9. Banana Split Kabobs
Poolside treats need to be tasty and able to survive the heat. So, trust us when we tell you no one will be missing the short-lived messiness of ice cream with these banana split kabobs from Cathy of Noble Pig. In place of ice cream, you'll find light and airy angel food cake. But don't get your knickers in a twist! There are still bananas and strawberries. Sure, you can customize them as you like, but for a classic taste, you have chocolate sauce, crushed peanuts, and marshmallow cream (in place of whipped cream).
Visit Noble Pig for the recipe.
10. Lamb Kofta Kebabs with Fresh Herbs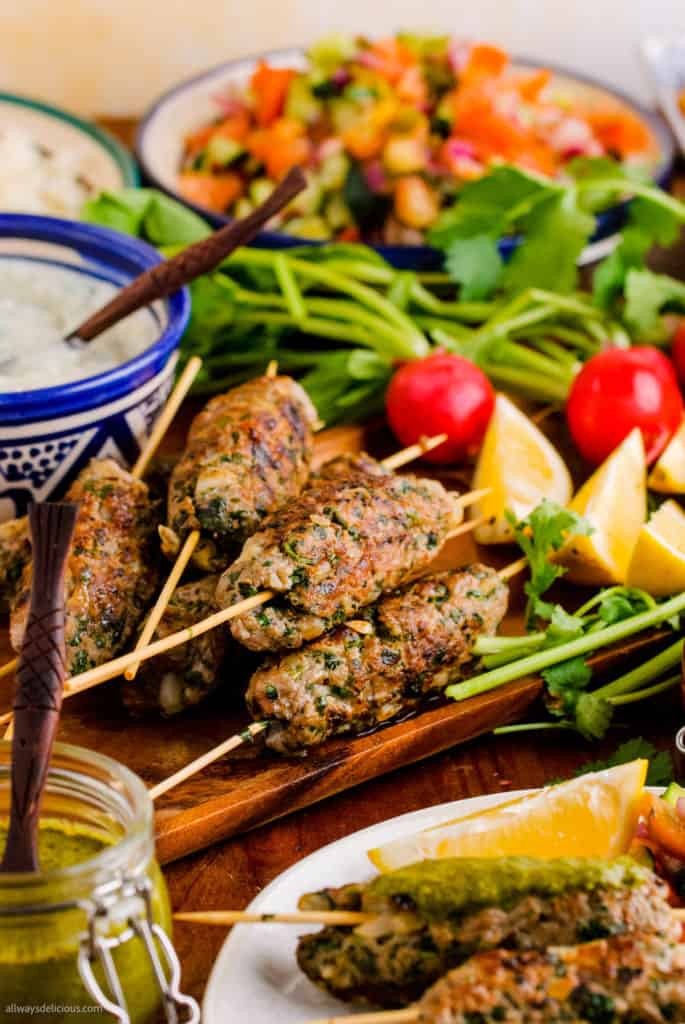 Lamb kofta kebabs are as common in the Middle East as burgers in the USA and filled to the brim with flavor. So, if your tastebuds need rescuing from bland land, look no further than this Lamb Kofta Kebab recipe from prolific author Robin of All Ways Delicious. What with spices like coriander, fennel seed, and cumin seed, as well as mint and onion (and more), it is simply chockful of flavor in the best way possible. Oh, and we didn't even talk about the sauces and garnishes.
Visit All Ways Delicious for the recipe.
11. Easy Candied Spiced Oven-Baked Bacon Skewers Recipe
These spiced bacon skewers from Amy of Mom Spark are the perfect food on a stick appetizer for Thanksgiving and Christmas. First, they're effortless to make and flavored with all the unmistakable scents of the holidays, like nutmeg and cinnamon (with a bit of a kick). But secondly, it's bacon, and just about everyone loves bacon. Oh, and one more thing. Amy promises that everyone will be asking for the recipe if you make it.
Visit Mom Spark for the recipe.
12. Greek Salad Skewers
We're big fans of mouthwatering foods with lots of colors. So we kind of hit the jackpot with these Greek salad skewers from Katya of Little Broken. They're like the most fun way to eat your salad. And better still, they're easy and perfect for a crowd or party of one. We're certainly not judging if you like to eat salad on a stick all by yourself. And to top it off, not including the vinaigrette, you're looking at a super-easy four-ingredient recipe.
Visit Little Broken for the recipe.
13. Banana Fritters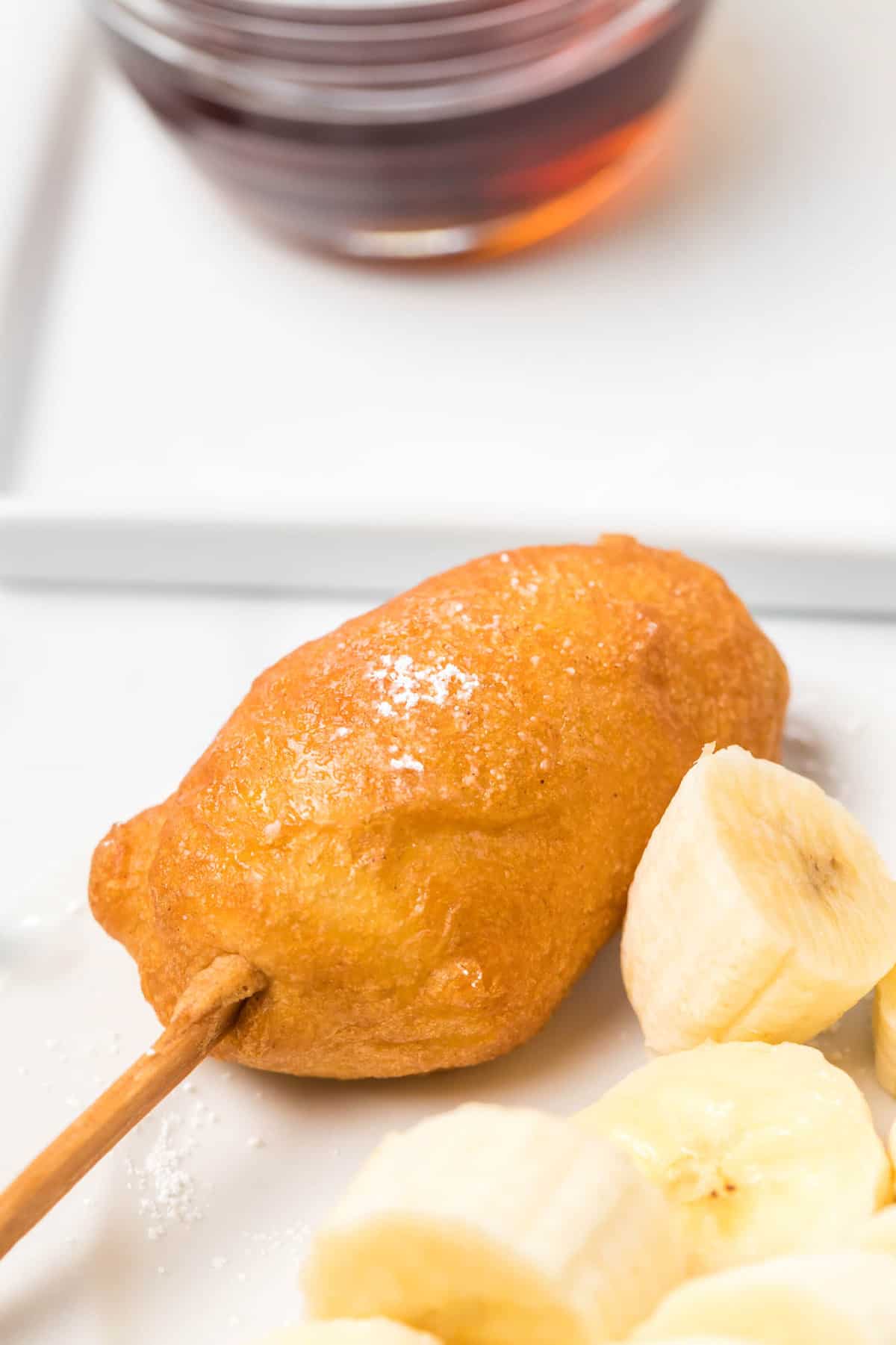 Looking at this picture, I can almost smell it, mmm. Ripe bananas on a stick dipped in pancake batter and deep-fried for the perfect banana fritter, a tried and true recipe from Rachel of Pancake Recipes (a site dedicated to pancakes!). Now, you could stop right there and have a dessert approved by kids of all ages. But no, she recommends that you max out the experience with toppings. How about a lovely drizzle of chocolate ganache, nuts, maple syrup, or melted peanut butter?
Visit Pancake Recipes for the recipe.
14. Cheeseburger Meatball Kabobs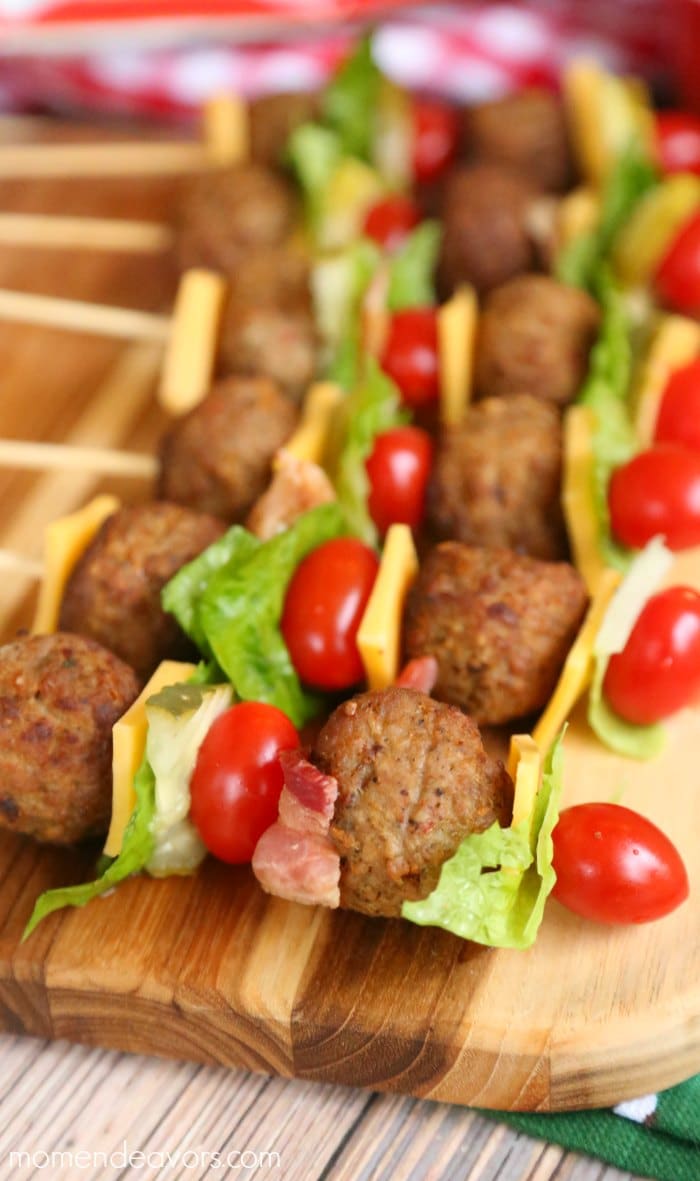 Make this cheeseburger meatball kabob recipe from Sara of Mom Endeavors your go-to party appetizer! It's an easy-peasy kind of recipe that just requires a little prep work and some fun assembly. Can't you just imagine this cheeseburger on a stick bar setup for a birthday party or game-day celebration? And with pre-made meatballs, it just doesn't get any easier. So you can't go wrong here. See how Sara does it.
Visit Mom Endeavors for the recipe.
15. Loaded Tater Tot Skewers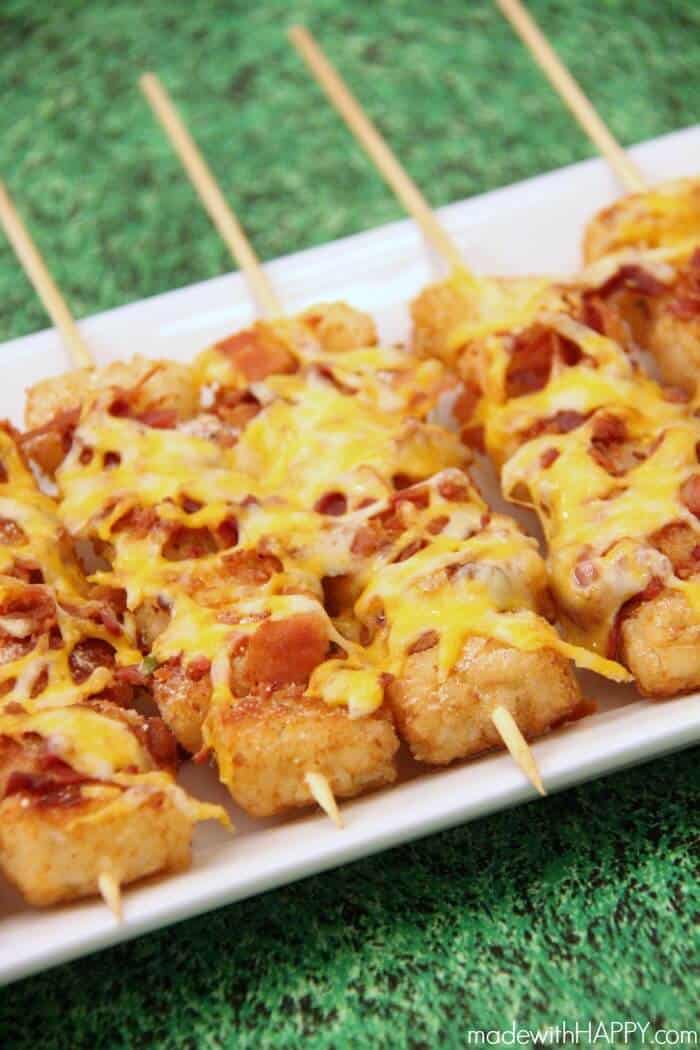 So, Alli of Made With Happy might not know it yet, but we're kind of besties right now because she combined one of my favorite snack foods, tater tots, with the party fun quality of the stick. The magnetic pull of tater tots is irresistible as is, so it should almost be illegal to put them on a stick and then load them up with bacon cheese and serve with special dipping sauce.
Visit Made With Happy for the recipe.
16. Pancake Sausage On A Stick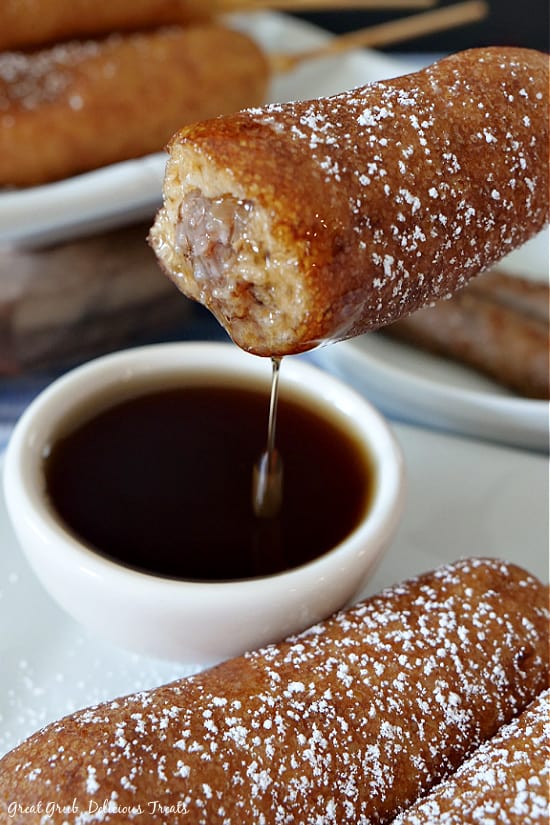 This corndog-inspired pancake sausage on a stick from Terri of Great Grub Delicious Treats is an excellent way to enjoy breakfast. These pancakes on a stick are delicious, but the real magic is that you can make them in advance. Or save this recipe for a fun Sunday breakfast. But not only is it delicious, but it also has a practical purpose. With this recipe, you can have the best of salty-sweet deliciousness on a stick as you prepare for the rest of your day. Make these in advance. Your kids will love them and even look forward to breakfast. For dipping, you could go with your favorite syrup, jelly, or Nutella (thinned, of course).
Visit Great Grub Delicious Treats for the recipe.
17. Rice Krispie Treats On A Stick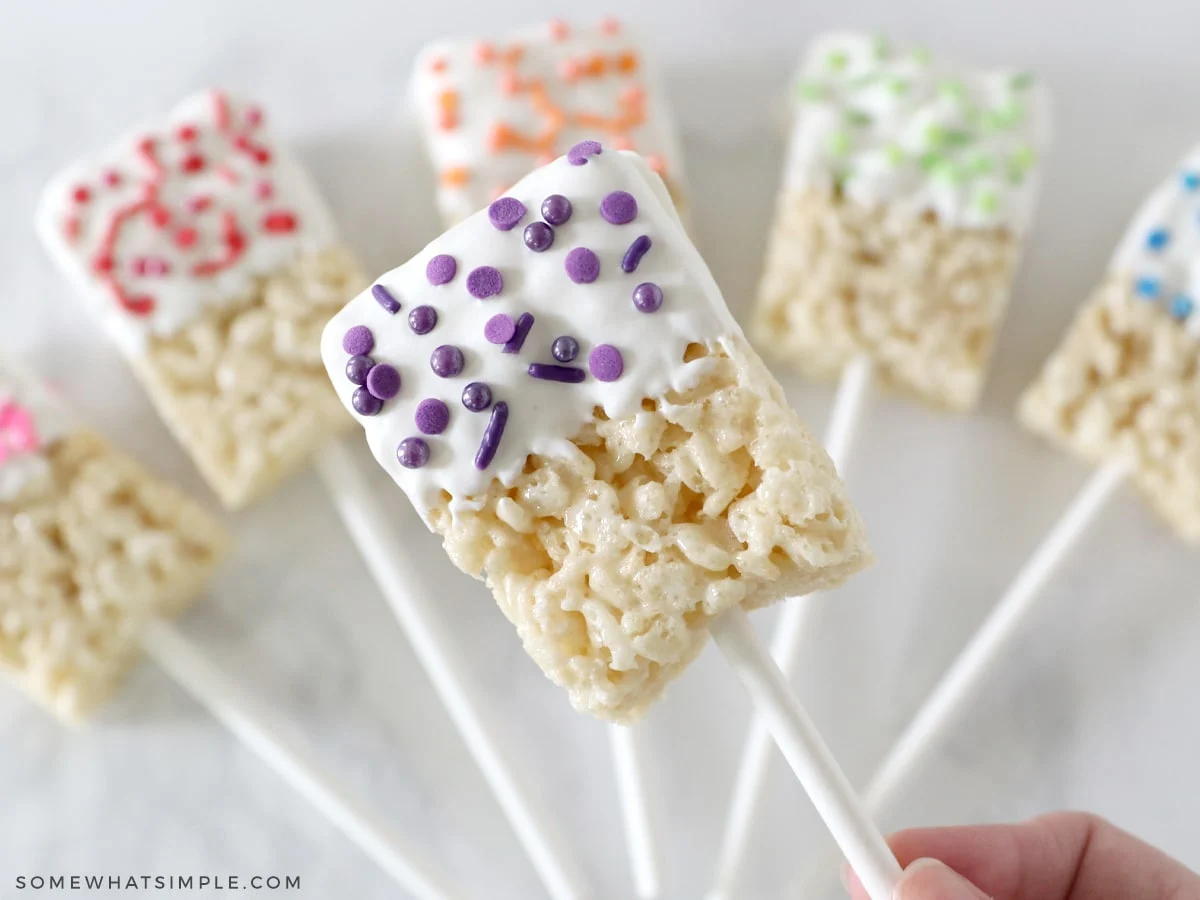 This Rice Krispie treats on a stick recipe from Stephanie of Somewhat Simple is easy yet brilliant. Aren't they just too cute for words? We love desserts that the kiddos can help with. It's a fun way to get the whole family involved with a common goal. Now, these treats are pretty straightforward. However, there are small details you might not think of. But Stephanie has your back with tips and suggestions.
Visit Somewhat Simple for the recipe.
5 Fun Food On A Stick Facts
1. In 1905, 11-year old Frank Epperson left his sugary soda drink outside on a cold night, accidentally inventing the drink on a stick concept, aka the popsicle. And so, sometimes we have to be thankful for accidents.
2. From those humble beginnings over 100 years ago to today, more than two billion Popsicles are sold every year.
3. Although the first roasted meat on a stick was probably a giant chunk of wooly mammoth thousands of years ago, the tasty carnivore-approved kebab (roasted meat on a stick) has origins dating back to 1377.
4. In 1929, German immigrants introduced America to one of the most popular foods on a stick, the corn dog. Danke!
5. Most Iowa state fairgoers attend just for the food. Of that food, there are nearly 70 different foods on a stick. Wowza!