This tasty list of 19 leftover mashed potato recipes, is a great way to save money and give new life to uninspiring food.
So, we are genuinely excited by some recipes, like leftover mashed potato waffles with gravy and mashed potato lava cake. But there are also more traditional options like twice-baked mashed potatoes.
So, are you ready to meet your mash? (sorry, couldn't resist)
Let's dive in!
And you want more moolah saving recipes, check out this list of leftover brisket recipes and this list of leftover ham recipes.
Leftover Mashed Potato Waffles With Gravy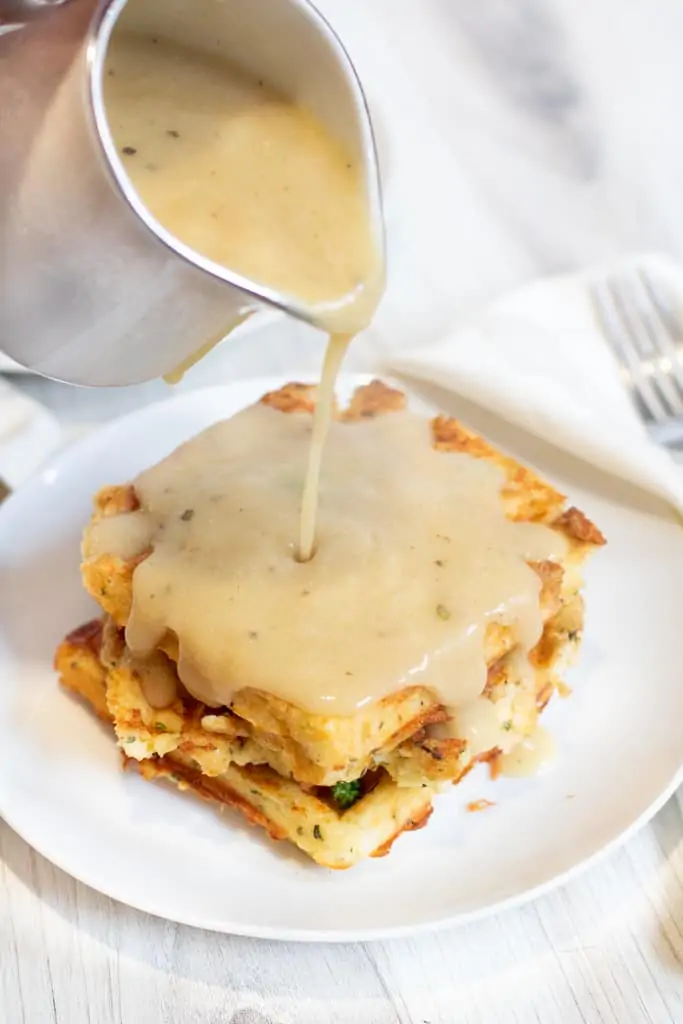 We're starting this list with an absolute hit! We're talking about leftover mashed potato waffles with gravy by Tracy of Served From Scratch. Now, we get it. That's a lot to process here. First of all, waffles are usually sweet. But with cheddar, herbs, spices, and breadcrumbs, these savory bites are sure to excite. Then, the flavorful gravy seals the deal. Is this the best way to have leftover mashed potatoes?
Visit Served From Scratch for the recipe.
Twice Baked Mashed Potatoes
Buttery, fluffy clouds of melt-away potatoes seasoned with garlic, cheddar, Boursin cheeses, and salty bacon. What more could you want from these twice-baked mashed potatoes from Sara of White Kitchen Red Wine? Okay, okay! On top, you add even more cheese and bacon.
Visit White Kitchen Red Wine for the recipe.
Mashed Potato Quesadilla
Tania of Cooktoria understands you don't need meat for a tasty meal. She's proven this concept because this mashed potato quesadilla recipe is a family favorite. And there's no meat to be found. So, she uses leftover mashed potatoes, melty cheese, and flour tortillas to whip up something budget-friendly to satisfy kids and adults alike.
Visit Cooktoria for the recipe.
Italian Mashed Potato Pie Gateau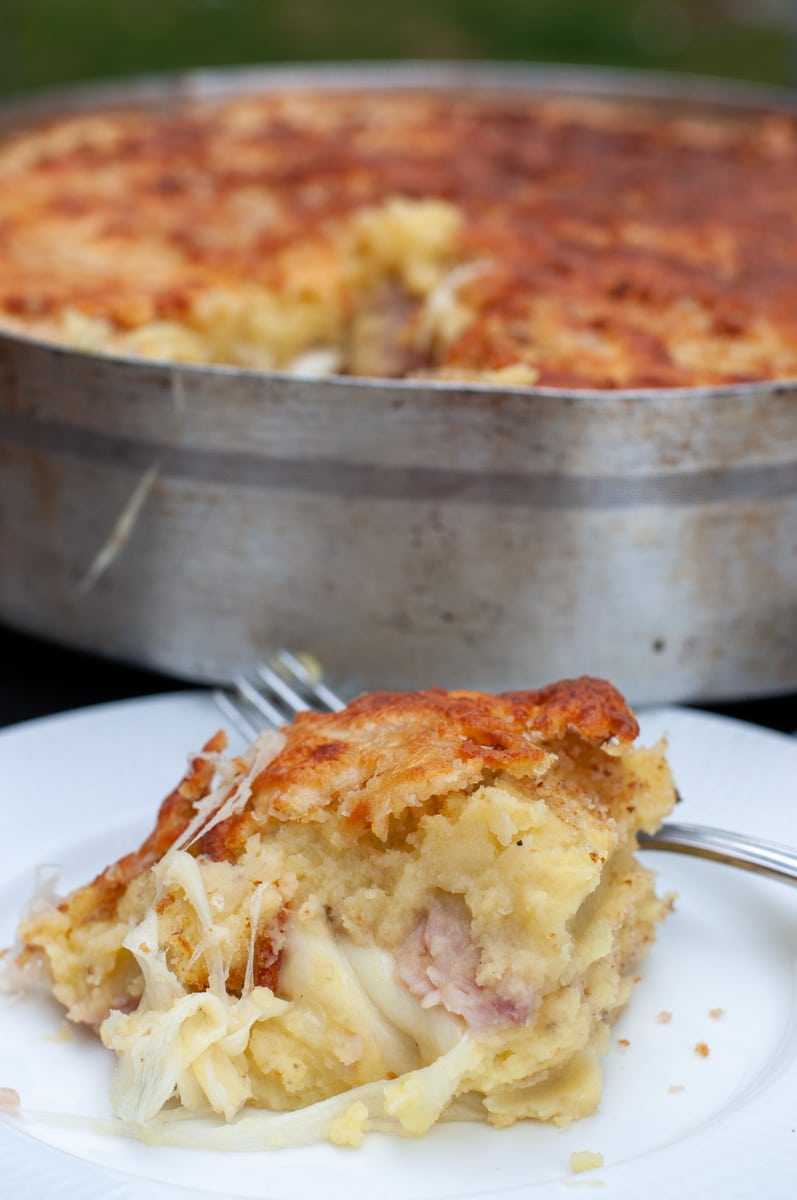 Laura is Your Guardian Chef, guiding you toward authentic Italian cuisine like this Gatto'—a Naples original. It's a creamy mashed potato casserole filled with cheese and ham. But, like soup, or a pizza, there aren't many hard and fast rules. If you have turkey or chicken on hand, you can use that instead.
Visit Your Guardian Chef for the recipe.
Mashed Potato Cakes Recipe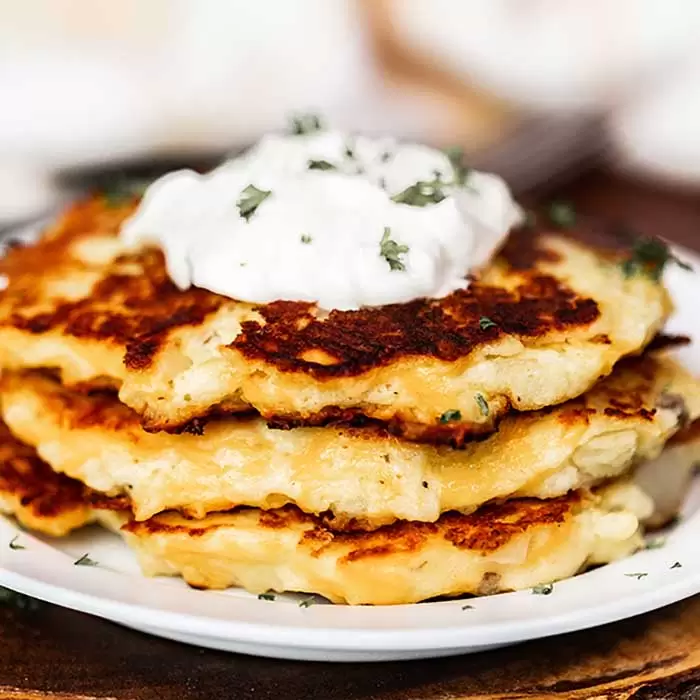 Think of these delicious mashed potato cakes from Carrie of Eating On A Dime as the base for all sorts of toppings like sour cream and chives, apple sauce, or even brisket. The pan-fried, crispy on the outside and creamy on the inside potato cakes aren't just a great way to use leftovers. You'll probably start making more mashed potatoes in a batch so you can have potato cakes.
Visit Eating On A Dime for the recipe.
Soft, Fluffy Gluten-Free Potato Bread
Warm and fluffy bread from Felicia of Gluten-Free Dish By Dish isn't just for those with celiac disease or gluten sensitivity. Nope! Instead, the tender bread, like any other, makes for good toast and jam, and sandwiches. And of course, it's a wonderful way to use up leftover mashed potatoes.
Visit Gluten-Free Dish By Dish for the recipe.
Hamburger And Potato Casserole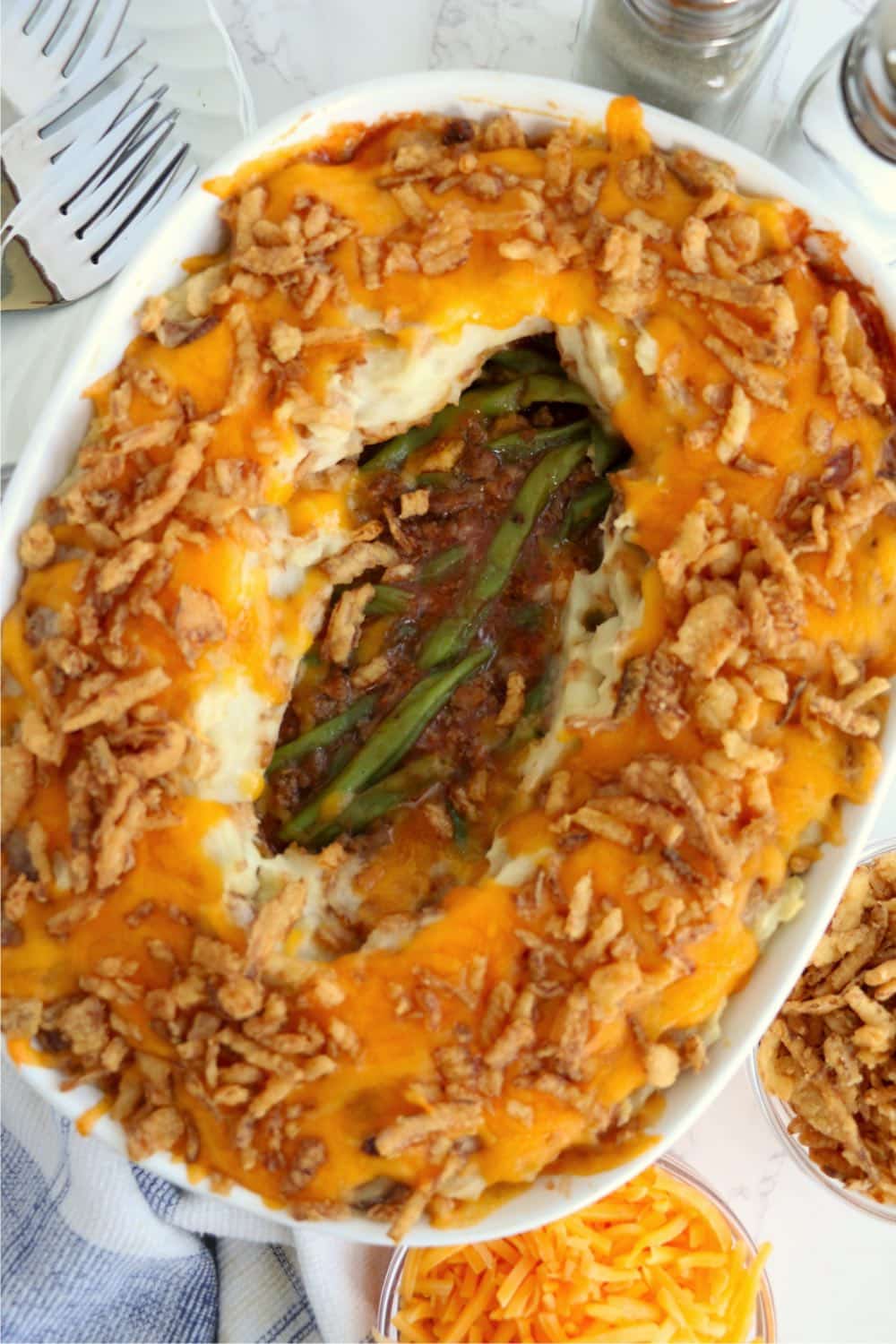 This hamburger and potato casserole from Sara of Bitz N Giggles is a throwback. Think old-school, back-of-soup-can-style recipes. But, it's simple, down-home, comfort food perfect for weeknights when predictability is a must. So, there are cheesy mashed potatoes, ground beef, and green beans topped with crunchy fried onions. You can't miss with this one!
Visit Bitz N Giggles for the recipe.
Leftover Potato Gnocchi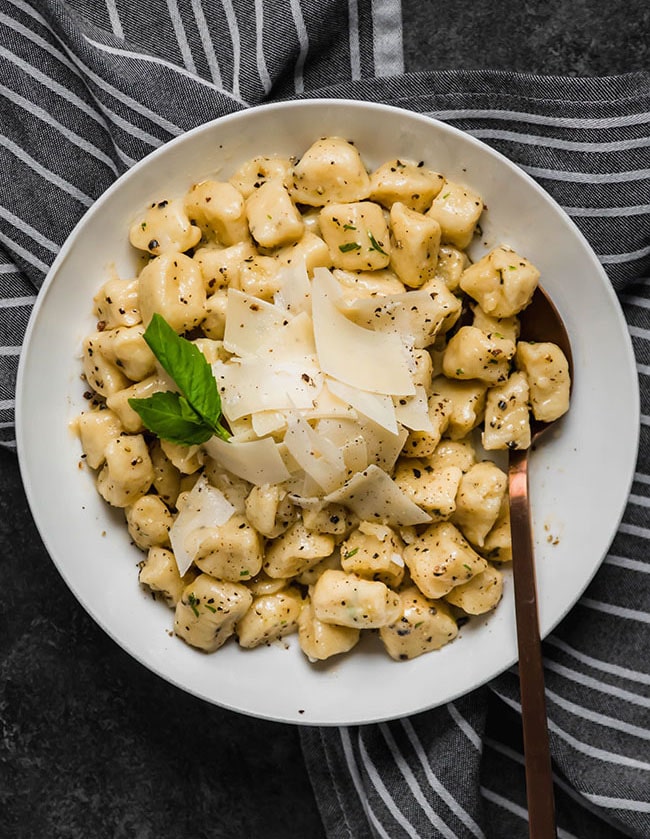 Jessie of Life As A Strawberry reminds us that leftover mashed potatoes are but the canvas. The painting, err food, is limited only by our imagination. So, imagine this. Pillowy soft gnocchi (potato pasta) using just a few simple ingredients. Once you boil them, it's time for the sauce. In this case, a delightful buttery herby concoction.
Visit Life As A Strawberry for the recipe.
Cast Iron Skillet Shepherd's Pie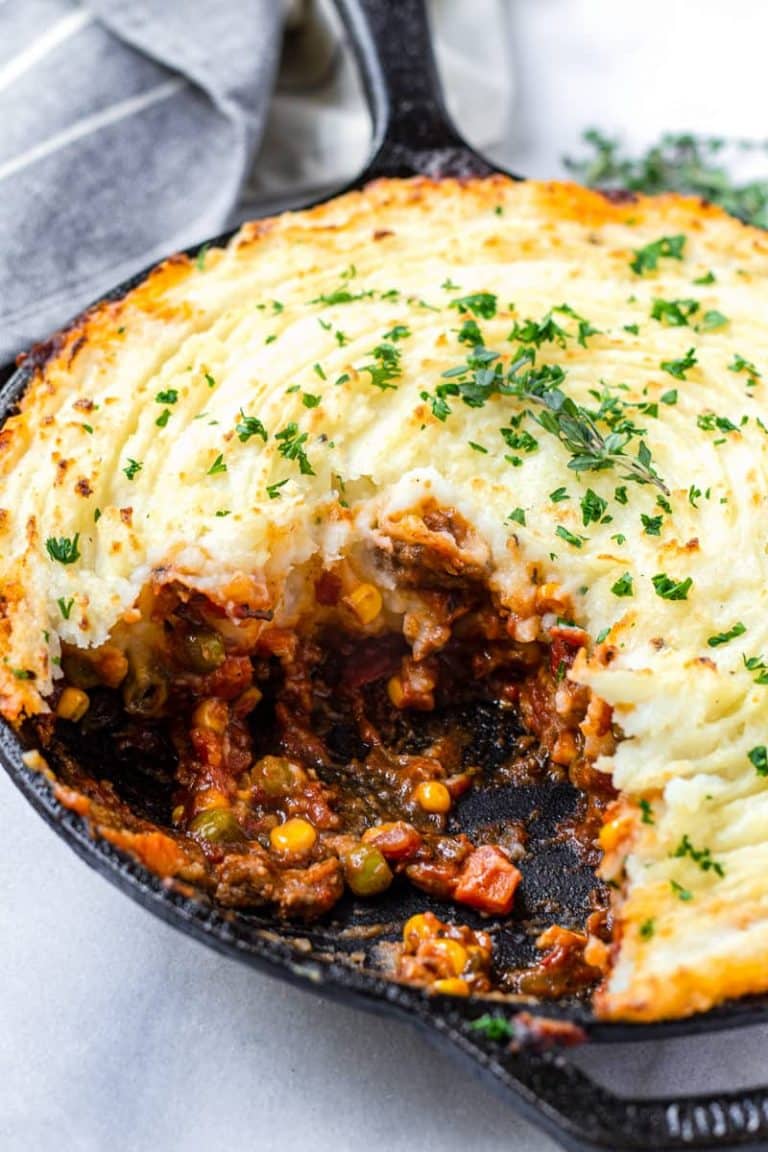 With this cast iron skillet shepherd's pie, Tania is Cooking For My Soul. The beloved dish is shown here with ground beef seasoned to the hilt with paprika, garlic, onions, etc. On top, fluffy mashed potatoes are decorated with fork lines. But the best part; no one will know you used leftovers.
Visit Cooking For My Soul for the recipe.
Muffin Tin Mashed Potatoes
If your best idea for using up leftover potatoes comes down to reheating them in the microwave, give these muffin tin mashed potatoes (or mashed potato cupcakes) from Simply Stacey a try. They're buttery with mushrooms, garlic, and green onions. Place a dollop of sour cream on top and watch the kiddos chow down.
Visit Simply Stacey for the recipe.
Blue Cheese Potato Souffle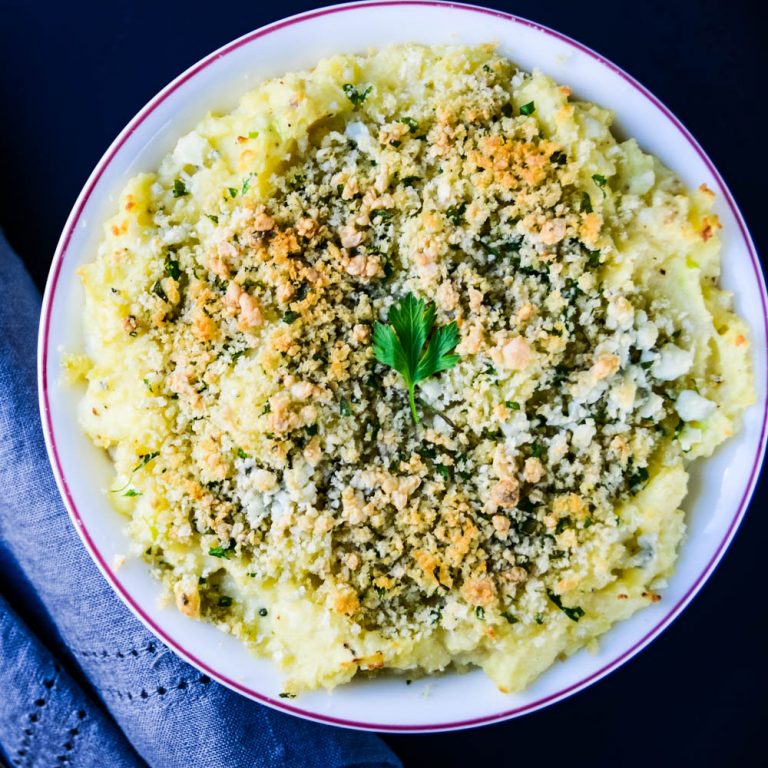 This potato souffle by Lisa of Garlic & Zest isn't just a convenient way to use up leftover potatoes. But rather, it's an extraordinary way to elevate pork, beef, lamb, or chicken main dishes. Here's why. Potatoes, even 2nd day, when combined with blue cheese, eggs, scallions, butter, and breadcrumbs, become transcendent.
Visit Garlic & Zest for the recipe.
Leftover Turkey & Mashed Potato Pie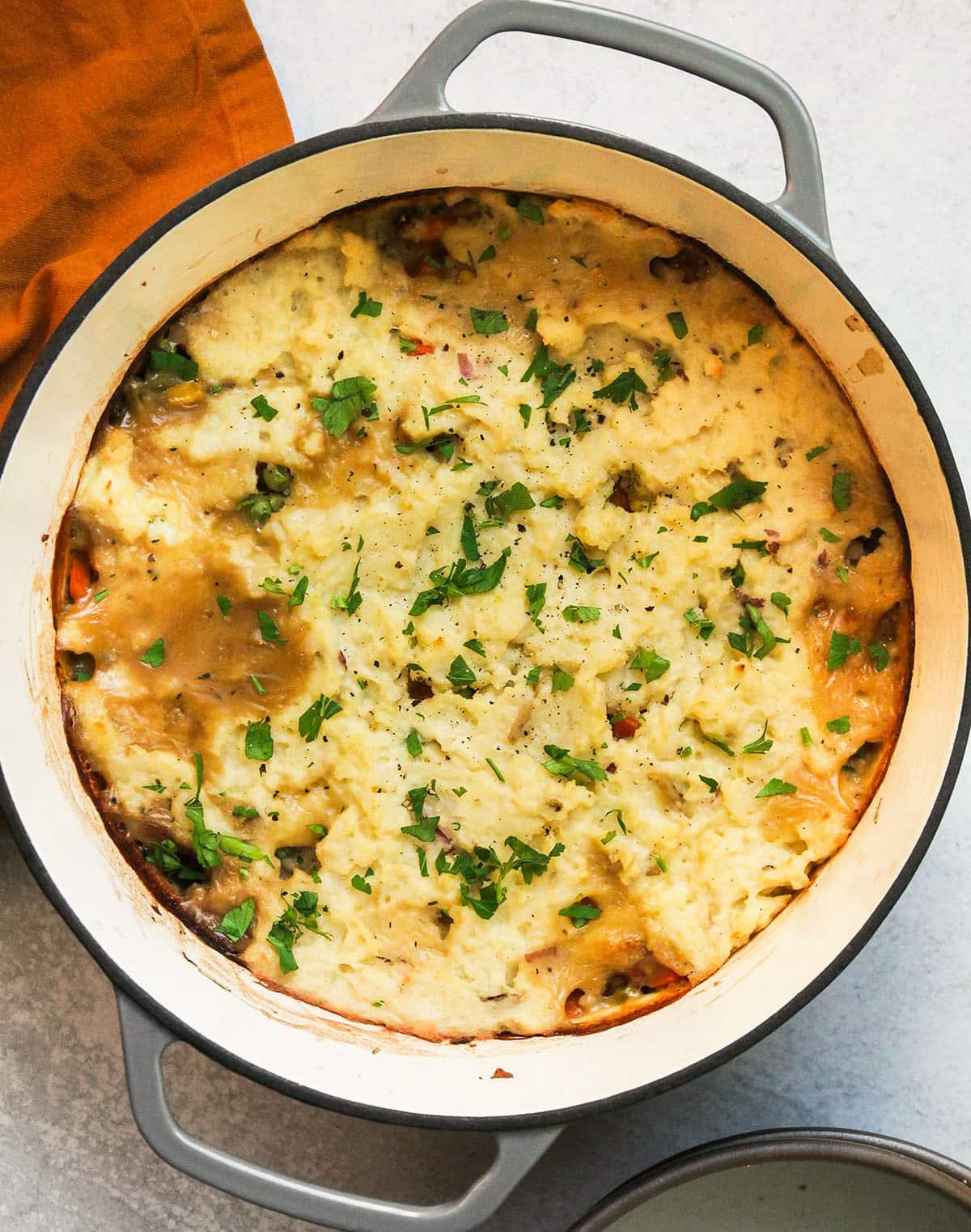 Perfect for the day after Thanksgiving or Christmas, this turkey and mashed potatoes pie by Jessie of Life As A Strawberry is a twofer. Leftover turkey, leftover mashed potatoes, corn, carrots, and peas combine for a no-waste dish. There are lots of flavors from herbs and spices, and no one will guess you used leftovers.
Visit Life As A Strawberry for the recipe.
Easy Homemade Pierogies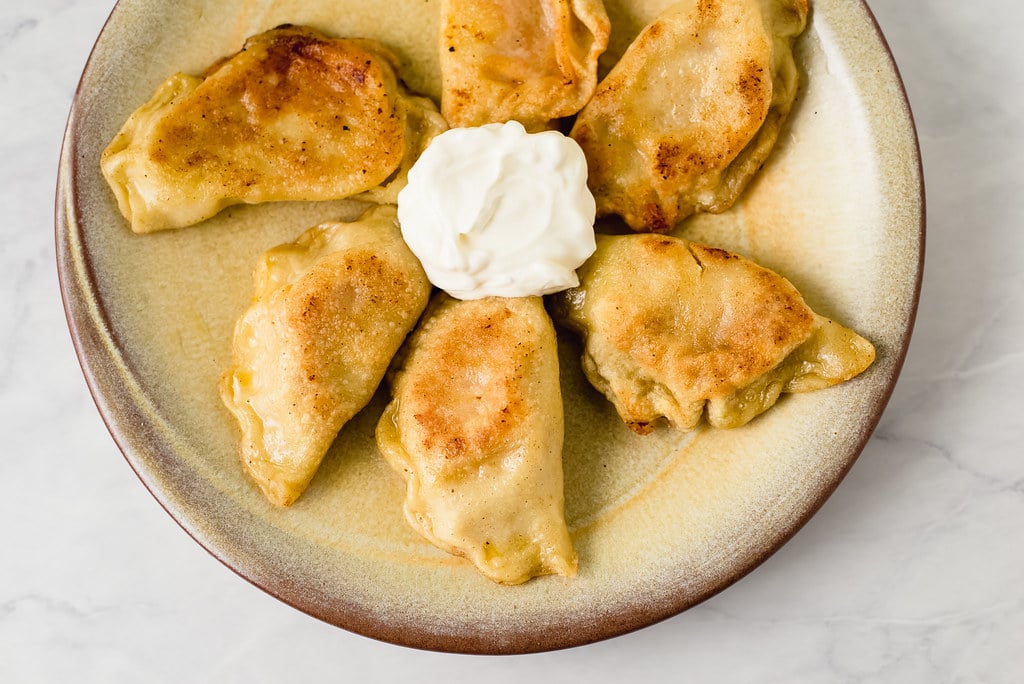 Samantha of Little Ferraro Kitchen shares her pierogi recipe, inspired by the good ole days of east coast living. Everyone ate the little dumplings. The flavors you'll discover today are classic; cheddar mashed potato and caramelized onion sauerkraut. They're easy, and delicious, and you won't have to wait to visit east to have them.
Visit Little Ferraro Kitchen for the recipe.
Potato Croquettes (Crispy Deep Fried Mashed Potatoes!)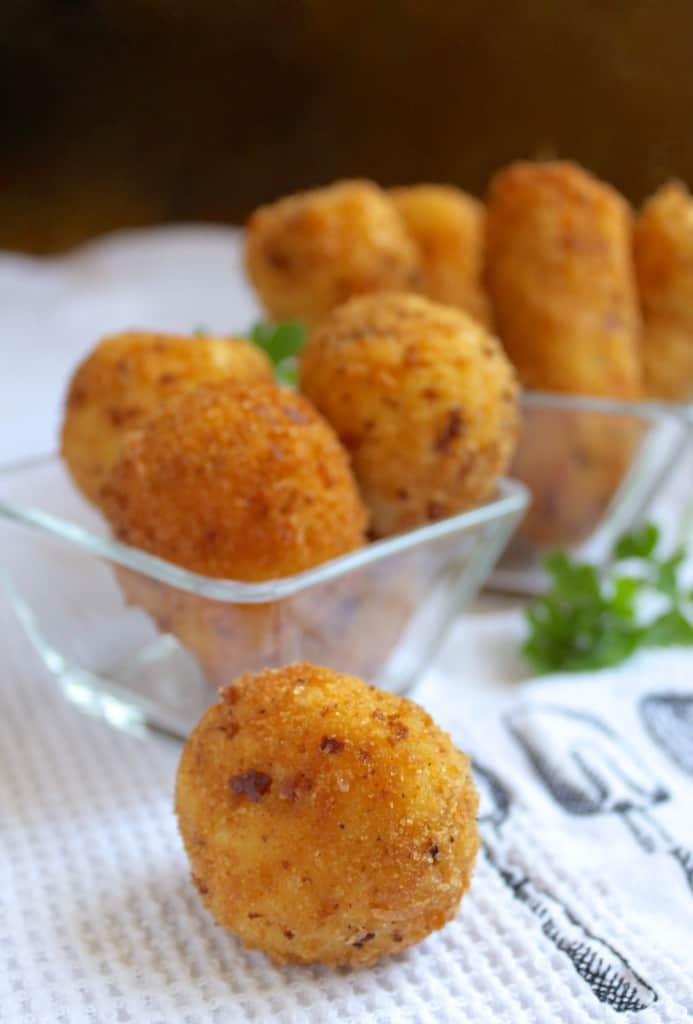 Leave it to Christina's Cucina for delectable, authentic Italian appetizers like these deep-fried mashed potato croquettes. While you can use whichever potato you like, a particular kind will yield the best results, which are fluffy and creamy on the inside with a delicate crispy coating on the outside. Here's a promise. No one will complain about leftovers.
Visit Christina's Cucina for the recipe.
Mashed Potato Toppings & Bar (+ Mashtini)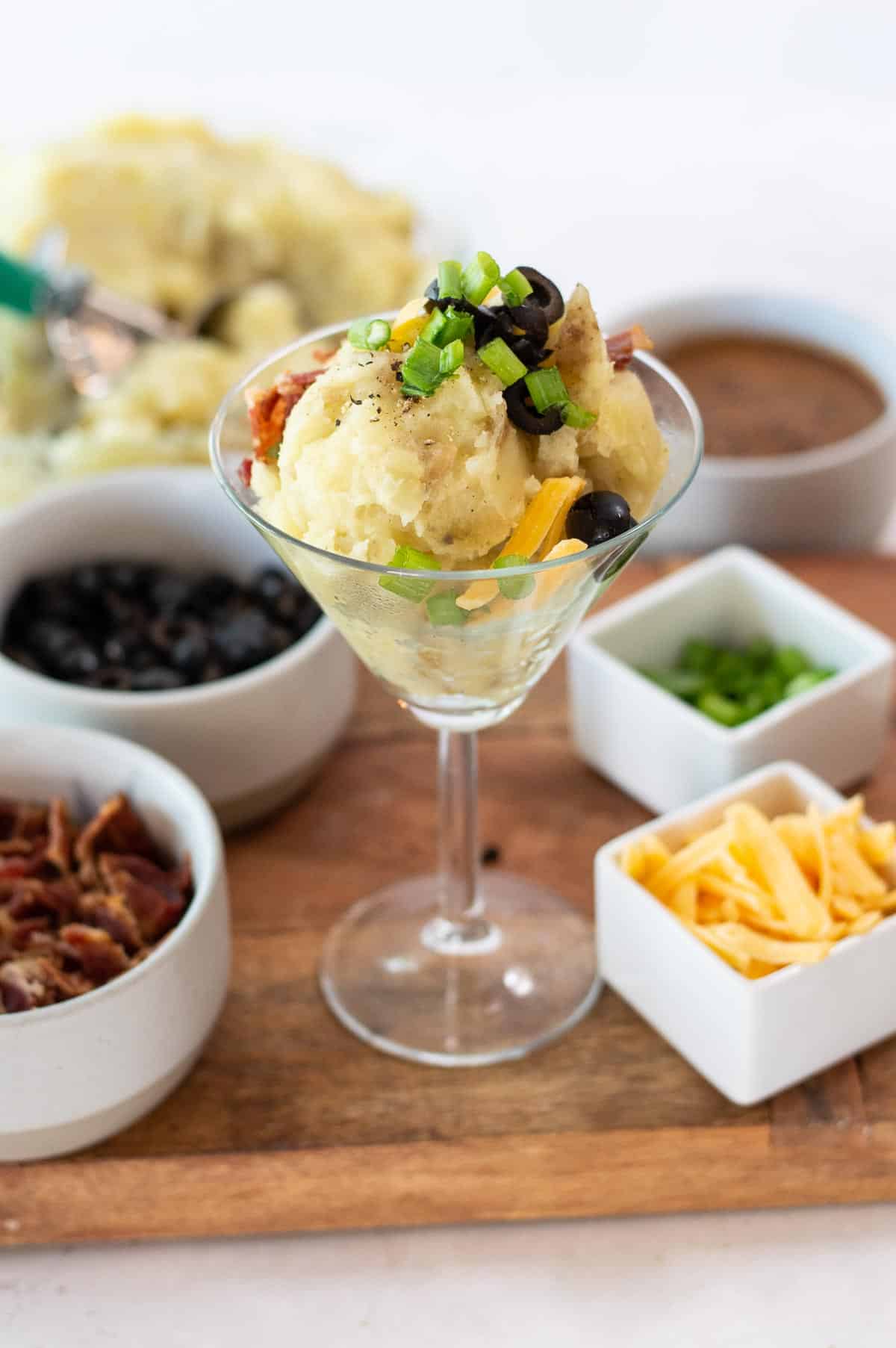 How cute is this mashed potato bar from Chandice of This Vivacious Life? Instead of letting those 3-day-old potatoes go to the trash bin, give them new and exciting life. Just set out the potatoes and accompanying toppings. And the presentation couldn't be more eye-catching, brilliantly served in martini glasses.
Visit This Vivacious Life for the recipe.
Amish Dinner Rolls
Although this Amish dinner rolls recipe from Kate of I Heart Eating is ideal for the holidays, you won't stop at special occasions once you taste the melt-in-your-mouth tender bread. Nah, you'll be looking for any reason to make the soft pillowy rolls. Serve them with butter, and whoever tries will be hooked.
Visit I Heart Eating for the recipe.
Chocolate Mashed Potato Cake
If there's one recipe on this list, no one will guess contains leftover mashed potatoes, it has to be this chocolate mashed potato cake from Kate of I Heart Eating. With the addition of (unseasoned) mashed potatoes, the conversation piece of a dessert is light and fluffy. Topped with a chocolate butter cream frosting, and it just may make your weekly menu.
Visit I Heart Eating for the recipe.
Potato And Salmon Fish Cakes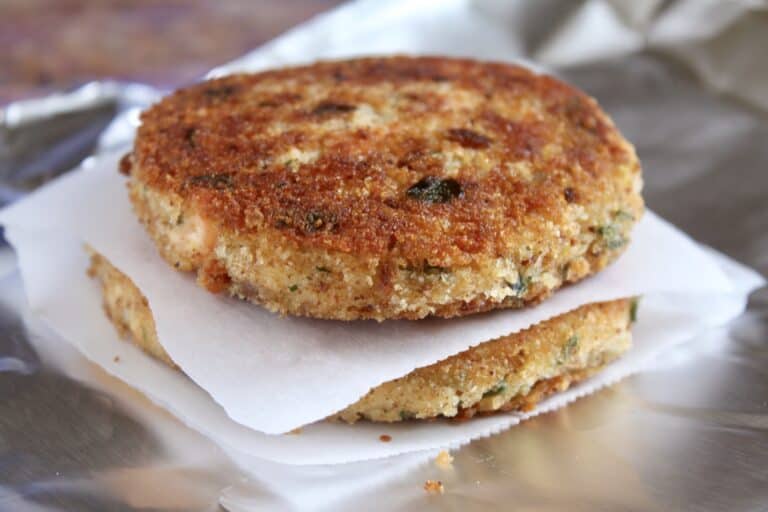 Canned salmon is a pantry staple, sure to bail you out when you can't answer the benign yet sometimes anxiety-inducing question, "what's for dinner?" But one cannot live on meat or fish alone, so in Christina's Cucina, she combines the fish with leftover mashed potatoes for a filling meal.
Visit Christina's Cucina for the recipe.
Vegan Irish Stew with Guinness
Plant-based eating has never been tastier with this vegan Irish stew with Guinness from Six Hungry Feet. But don't worry. There's still all the great taste of traditional Irish stew like celery, a dollop of potatoes, onions, carrots, and dark beer for that malty, caramelly quality. And though there's no meat, it's still a surprisingly hearty soup thanks to meat alternatives like mushrooms and Heura.
Visit Six Hungry Feet for the recipe.
Which Leftover Mashed Potato Recipe Will You Try First?
So, by now you've seen nearly 19 recipes you can make with leftover mashed potatoes. You've seen salmon and potato croquettes, chocolate cake with mashed potatoes, Amish dinner rolls, and so many more. So, which one is it? Let us know.
And please don't forget to check out our list of easy potato recipes.