Jump to Recipe
Chili Cheese Coney Dog Pockets are a new take on an old classic. If you like this recipe, please share it!
Okay, so, who doesn't like a good Coney dog? It's an American classic! I haven't met a single person that doesn't love these fatty, salty, artery-clogging, and just generally bad for you delicious super-hotdogs. On the hierarchy of hotdogs, they reign supreme. I would have one at least a couple of times a week. But I would also like to live to see my grandchildren one day, so I don't. So why are the tastiest foods the ones we shouldn't eat often? Damn (long sigh).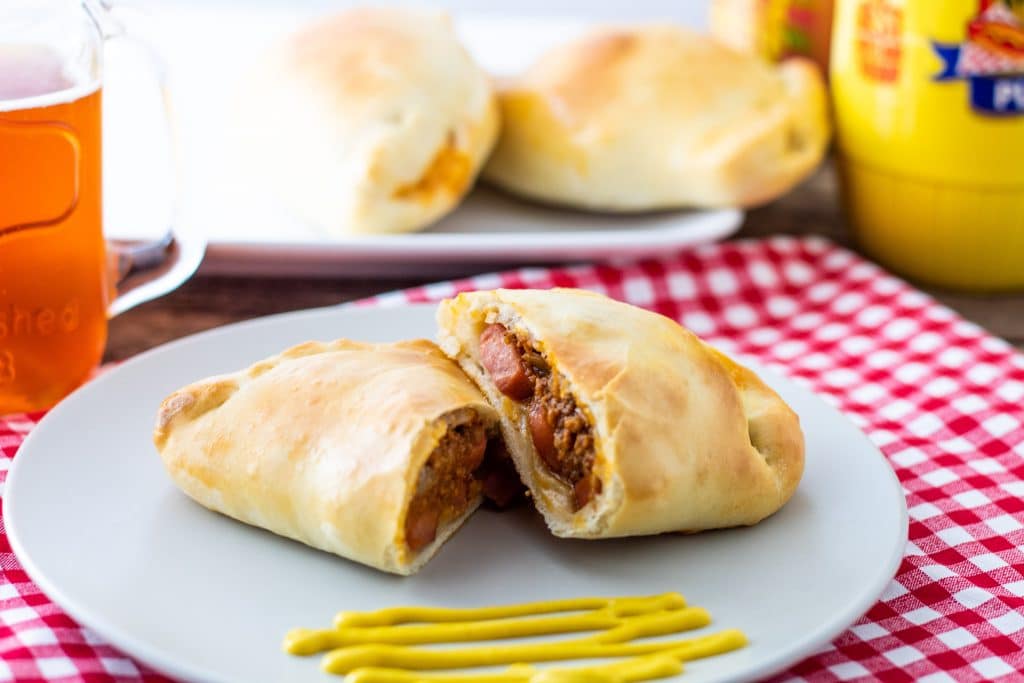 Sarah and I have a love for Coney dogs that is hard-coded in our DNA. Seriously, we checked on 23andMe.
A Midwest Favorite…
In many midwest cities, it isn't hard to find a Coney Island-style diner. These little hole-in-the-wall-looking joints are a good place to find a cheap breakfast, maybe even a burger, but most of all, Coney Dogs! That Coney sauce (chili sauce) is so delicious. You have to put it on the fries too. Add some bright orange cheese sauce, the stuff from the can and, now we're in business.
So, how did we come up with Coney Dog Pockets? We were working out one day when Sarah yelled, "Coney Dog Pockets!" That's generally how we come up with new recipe ideas—we just kind of scream at each other. We might have problems. All I heard was "Coney Dog" at first. Honestly, she could have said "Coney Dog Ice Cream," and I would have at least been down to try it. That's how much we're into Coney Sauce! We're not sure if it's a thing or not yet because we didn't bother looking it up. But we knew we were going to try it anyway! This is an easy recipe, so we just went with it.
Dough Pockets to Avoid Mess…
The dough pocket aspect makes sense, though. It's all the same ingredients but inside a dough pocket instead of a steamed hotdog bun. The other major difference is that the hot dog is chopped into small pieces. The benefit here is that you don't have to worry about making a big mess as you eat it (we made sure that the sauce isn't too wet). Also, and this is a big one, you can make them in advance and freeze them. They reheat beautifully! Although they taste markedly better when they are completely fresh.
Other Recipes to Try:
What Kind of Hot Dogs to Use?
We like Coney dogs that use hotdogs with natural casing like the one's the Koegel brand makes. There's something really satisfying about that crisp bite. In addition, it provides a real crunch as your teeth pierce the hotdog skin, which contrasts well with the soft texture of the Coney sauce and steamed bun. However, for these Coney Dog Pockets, we went with standard ballpark franks as we didn't think the same crunch effect would happen as the hotdogs have been chopped up already. Nevertheless, they still taste delicious.
No additional salt is necessary for this recipe. The chicken bouillon and hotdog will provide you with all of the salt that you need. If you taste the chili sauce before it simmers for an hour, then it might seem as though it needs salt. Trust us, as the sauce thickens, it will be perfect. On top of that, the saltiness from the hotdog will make up for it once inside of the pocket. Enjoy, we sure did!
Chili Cheese Coney Dog Pockets Make Perfect Party Food
These chili cheese dog pockets are a perfect party or get-together appetizer. It's definitely something that your guest will remember, whether it's a kid's birthday party or a football game bash. I wouldn't necessarily serve coney dogs at a party because they are very messy, but these are perfect. If you want, you can even miniaturize them by using half of the ingredients or less. They make the perfect appetizer.
You can definitely make these in advance for your party, but I suggest only a few hours in advance here. Then, really wow your guest, make and bake them fresh on the same day. Then, you can pop them in the oven right before your party starts and have them ready in only 25 minutes.
For your kid's sleepover, these Coney dog pockets will be the star of the show. But you can make miniature versions to avoid waste from finicky eaters.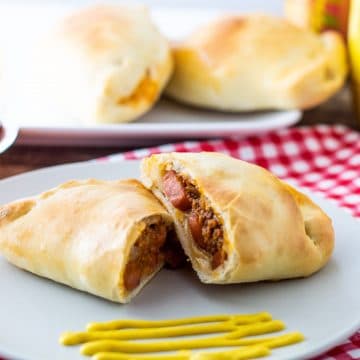 Chili Cheese Coney Dog Pockets
When you have that craving for a Coney dog but aren't close to a good Coney Island restaurant. You can easily make these Coney Dog Pockets at home. This recipe is simple, it freezes well. Make these in advance and you can enjoy this tasty chili dog alternative when the mood strikes you! Looking for something different to wow your guest? This is the perfect alternative to bland deli sandwiches.
Ingredients
1

lb

Ground Beef

We used 80/20

2

Garlic Cloves Minced

4

oz

Onion Minced

1

tsp

Ground Cumin

2

tsp

Ancho Chili Powder

2

tbsp

Tomato Paste

1

tbsp

Prepared Yellow Mustard

2

cups

Chicken Broth

1

Batch of Pizza dough

1

pkg hotdogs

1/2

cup

Shredded Cheddar Cheese
Instructions
Start by browning the ground beef in a large pot until no longer pink.

Put some of the cooked meat into a blender or food processor and pulse a couple times until the meat is small like a grain of rice. Do this in batches to prevent making a meat paste. LOL Once all meat has been pulsed set it aside in a different bowl.

In the same large pot you cooked the meat add the minced onion and garlic and cook for 3-4 minutes or until translucent. Add the cumin, chili powder, tomato paste, mustard and broth. Stir until combined. Add the meat back into the pot and cook for 1 hour on low. Stir occasionally.

While the meat is cooking measure out 4 oz balls of pizza dough and set aside until Coney sauce is done. (See note)

Slice up the hotdogs and set aside. Shred the cheese unless you used already shredded. Make the egg wash by cracking the egg into a small bowl and add the tablespoon of water lightly whisk.

Roll out the dough until it's about a ¼ to ½ inch thick. If you roll it too thin, the filling might leak out while baking. On one half add the sliced hotdogs, about 2 tablespoons of the Coney sauce. (See note). Then fold over the dough so it looks like a half moon. Seal the edges with either some of the egg wash or water. Here is where you can seal the pockets however you like. I folded my edges over each over to create a pretty design. (See note)

Place the pockets on a baking sheet lined with parchment paper or foil. Brush the top with the egg wash. Back at 350 for about 25 minutes or until golden brown. Enjoy!
Notes
You can use prepared pizza dough in the refrigerated section of your local grocery store.

You don't want to over stuff the pockets or they will pierce open while baking and all of that delicious filling will be all over the sheet pan.

You can seal the dough with a fork to make it easier. The kids would really help on this part.
If you like this recipe, please share it! We really appreciate it!