If you are looking for fantastic phyllo dough recipes, you're in the right place. Most are practical. And some, like black sesame chocolate ruffled milk pie, are totally unexpected.
You'll find everything from super simple air fryer brie bites to portokalopita (Greek orange phyllo cake), knafeh, and banitsa. It's an impressive list!
So, are you ready to discover? Let's dive in!
By the way, don't miss our list of puff pastry recipes.
Black Sesame Chocolate Ruffled Milk Pie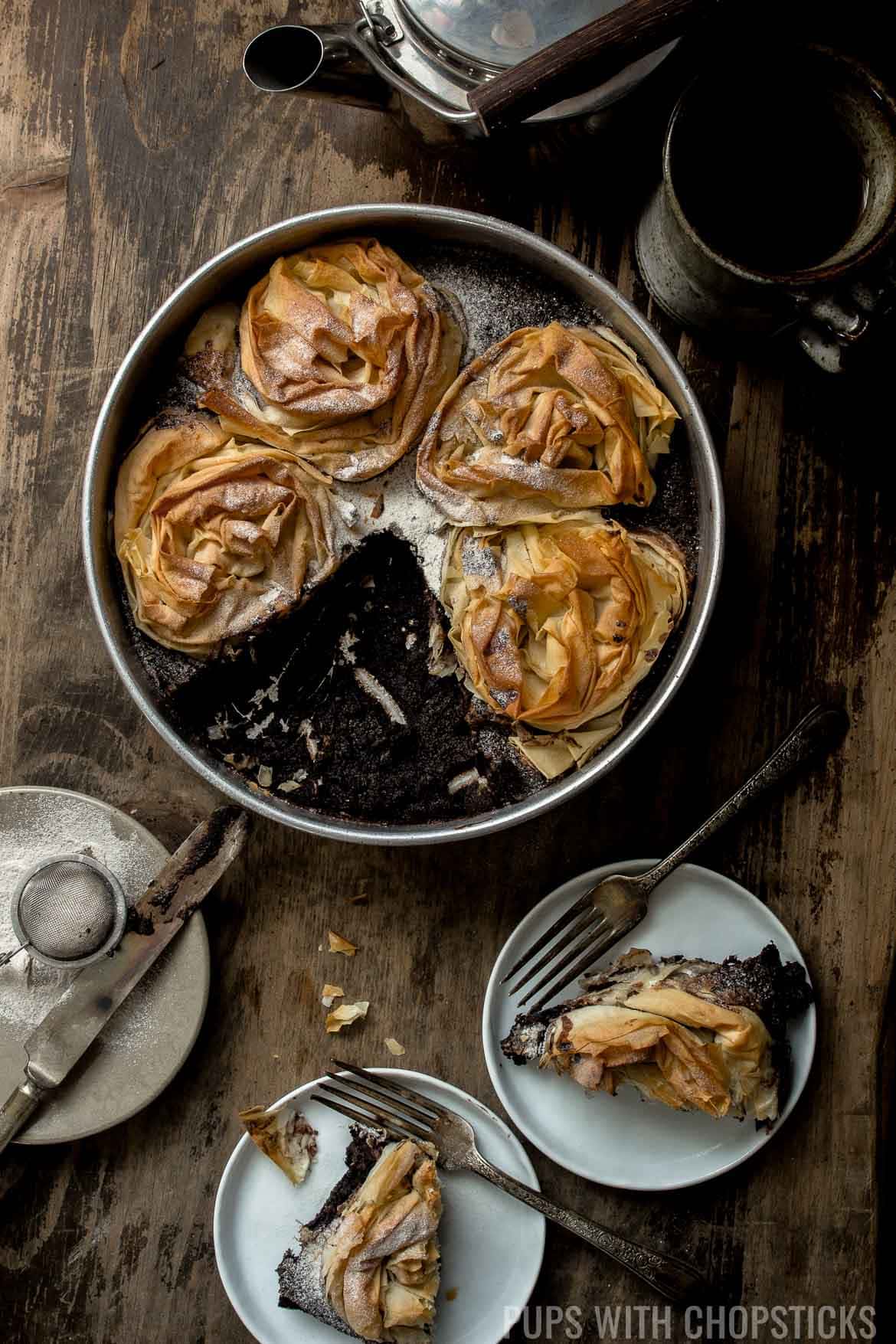 Even for the uninitiated, baking these elegant black sesame ruffled chocolate milk pies from Joyce of Pups With Chopsticks is a breeze.
You start by baking the phyllo dough bundles until they're a light brown color with crisp tops, then you fill the baking pan with the black sesame chocolate filling. It's a rich and decadent blend of sweetened condensed milk, cocoa, black sesame seeds, and a few other ingredients. Then, finally, you bake them again until your treat is golden brown and delicate.
The result is a beautifully elegant and unexpected dessert sure to spark conversation at your next holiday potluck.
Visit Pups With Chopsticks for the recipe.
Air Fryer Brie Bites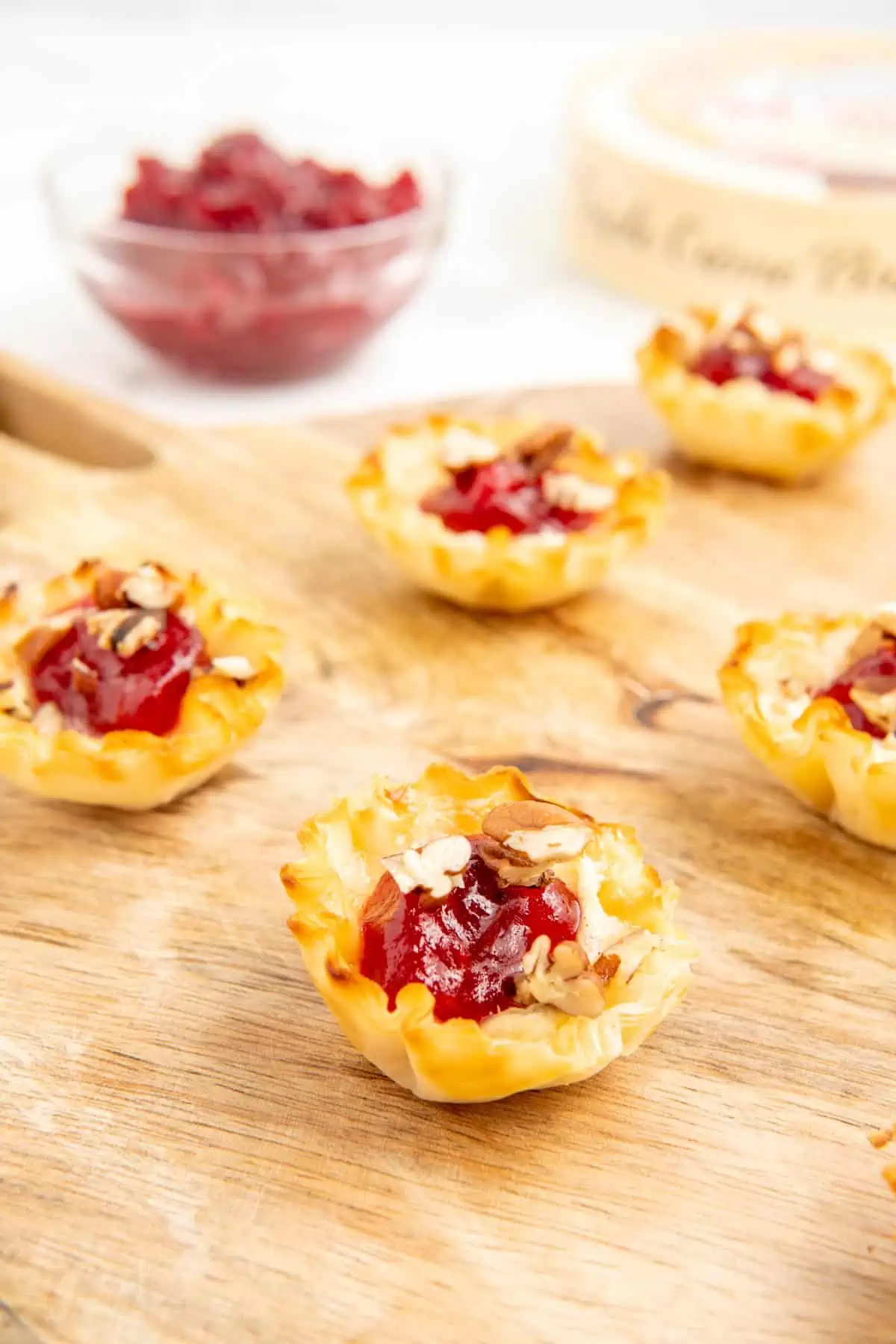 At Salt And Spoon, Jenna is all about simplistic recipes stacked with tremendous flavors, like these brie bites with cranberry sauce. The four-ingredient appetizer is easy to make with phyllo shells, so you don't have to worry about cutting phyllo dough. 
And the filling, brie cheese, cranberry sauce, and chopped pecans are the flavors of the holidays. But for as easy they are to make, they're even quicker in the air fryer.
Visit Salt And Spoon for the recipe.
Cheese And Herb Filo Pie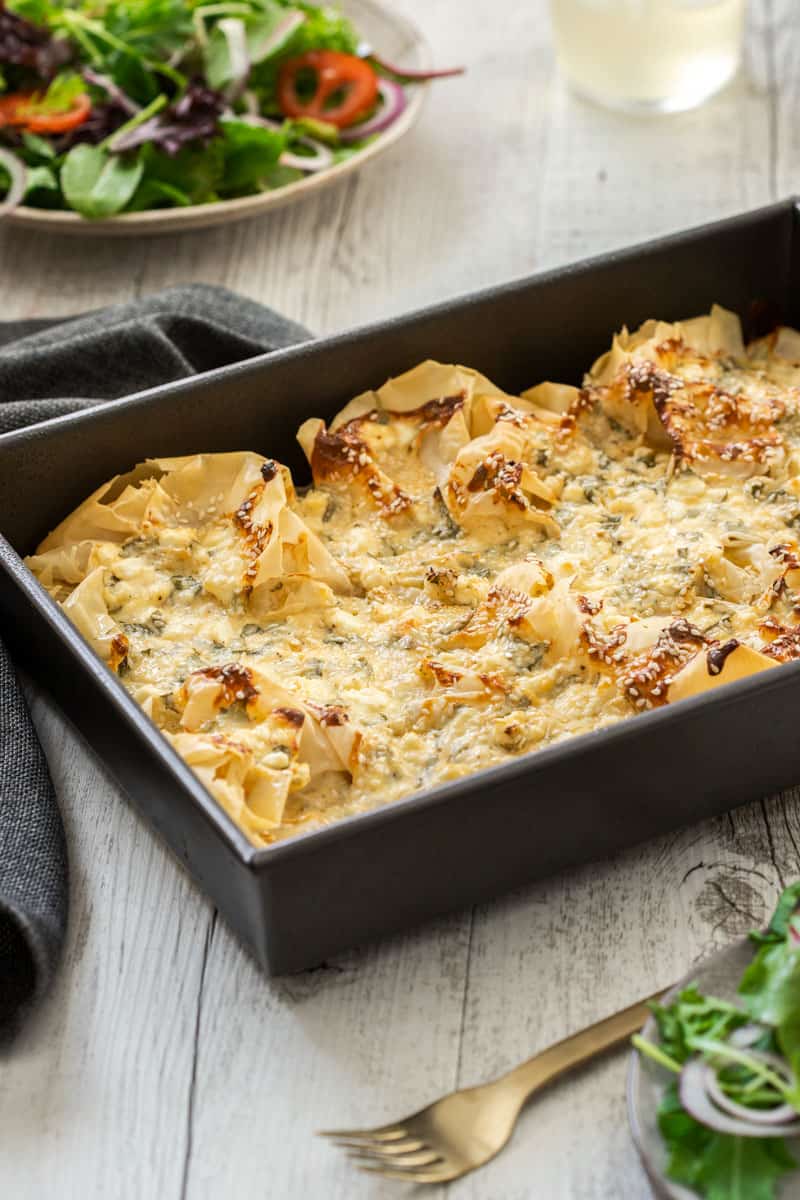 You'd have to try to mess up this cheese, and herb filo pie from Alexandra of It's Not Complicated Recipes. No, seriously, it's that easy! You don't need to carefully place one delicate sheet of filo on top of the other. Instead, you use the "scrunch" method to sort of ball it up for a rustic look.
Those scrunched sheets of dough form the base of your savory pie. Next, you bake it for a bit, add the cheesy, herby, minty mixture, and bake again—what a fun way to use filo!
Visit It's Not Complicated Recipes for the recipe.
Portokalopita – Greek Orange Phyllo Cake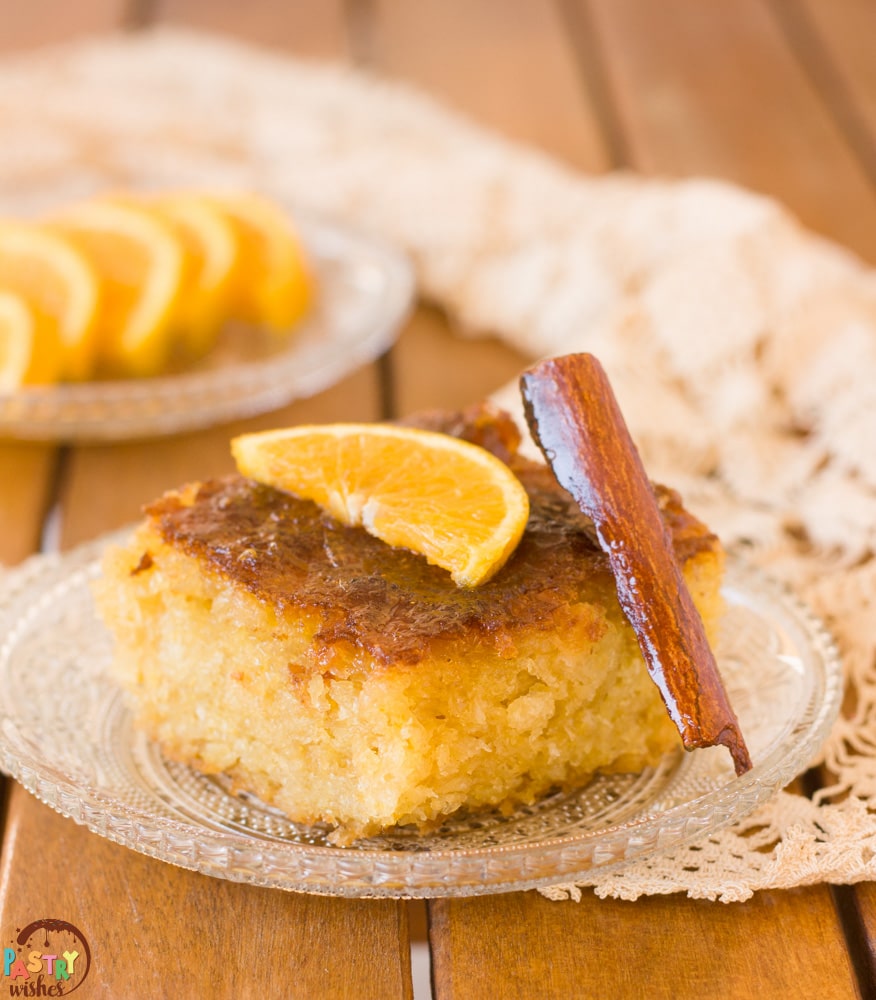 In her own words, Voula of Pastry Wishes appraises her food photography prowess as "…aspiring…" To that, we'd say humility and self-awareness are underappreciated virtues. And she's well on her way.
But when it comes to this fragrant Greek orange phyllo cake, Voula says it's extraordinary. And that's her modest assessment. So, imagine! We're telling you it's unlike anything you've had before!
You make the cake using phyllo dough, but not in the way you'd expect. You don't layer it. Instead, baked and crushed phyllo pieces are carefully combined with eggs, sugar, orange zest, yogurt, and milk to make the batter.
After you bake the cake, immediately poke holes in it and pour the brandy-infused orange syrup all over. Finally, after the cake cools, cover it with a luscious chocolate ganache. Heavenly!
Visit Pastry Wishes for the recipe.
Spanakopita Triangles (Spinach And Feta Triangles)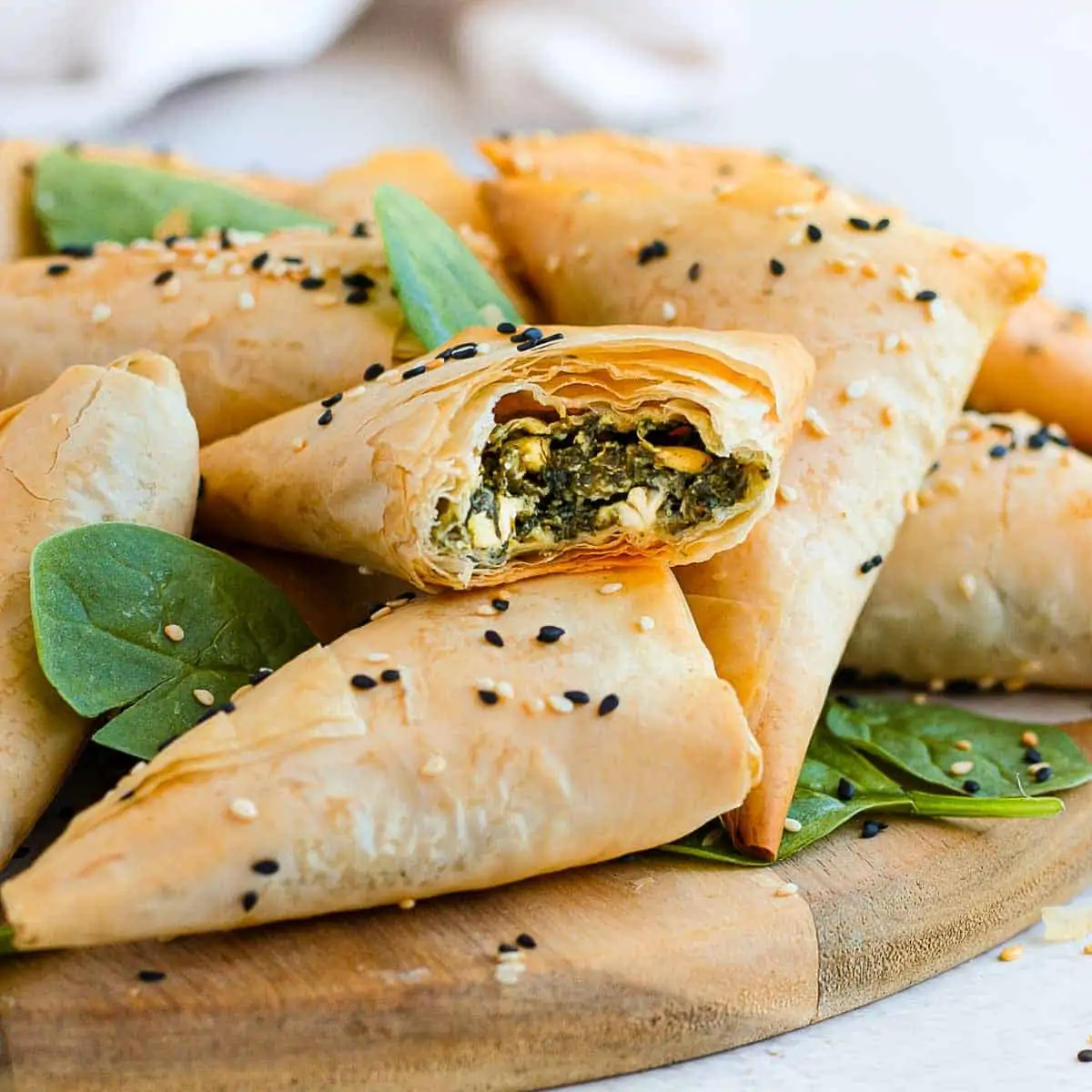 After one bite, you'll be in love, wondering how so much flavor was packed into these little spanakopita triangles from Sylvie of A Baking Journey.
But here's a clue. Each little crispy triangle is filled with spinach, onions, garlic, nutmeg, and of course, the tangy, rich, and salty feta cheese. So the only question remaining is how does one not eat 15?
Visit A Baking Journey for the recipe.
Bourbon Pecan Pie Bites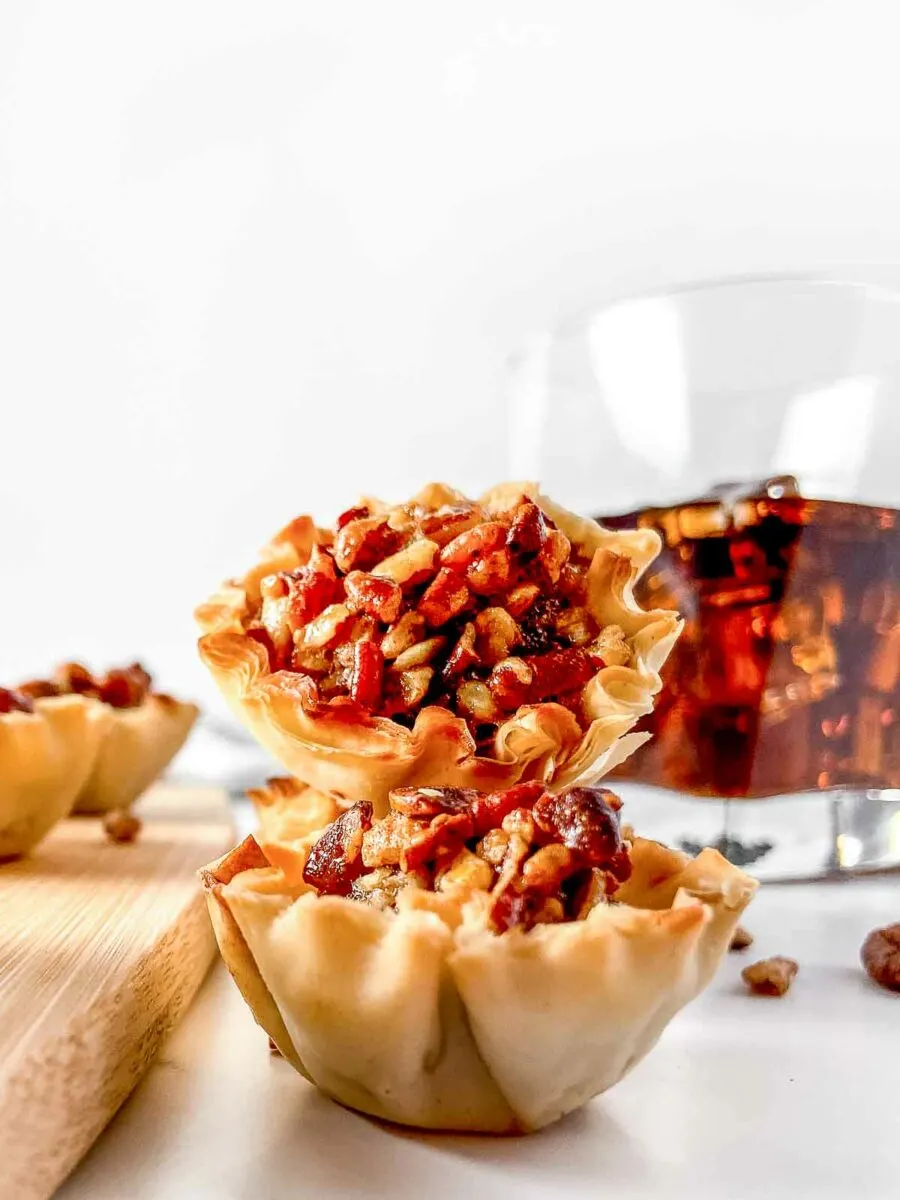 Kate of Babaganoush has a point; pecan pie can be too sugary, cloyingly so. But that's why she created these pecan pie bites, a tiny dessert recipe that let us have a taste without committing to a super-sized portion.
The dry phyllo crust is satisfyingly crunchy, the right match for that rich pecan pie filling. However, a touch of bourbon adds depth of flavor and tames some of that sweetness.
Visit Babaganoush for the recipe.
Jalapeno Beer Baklava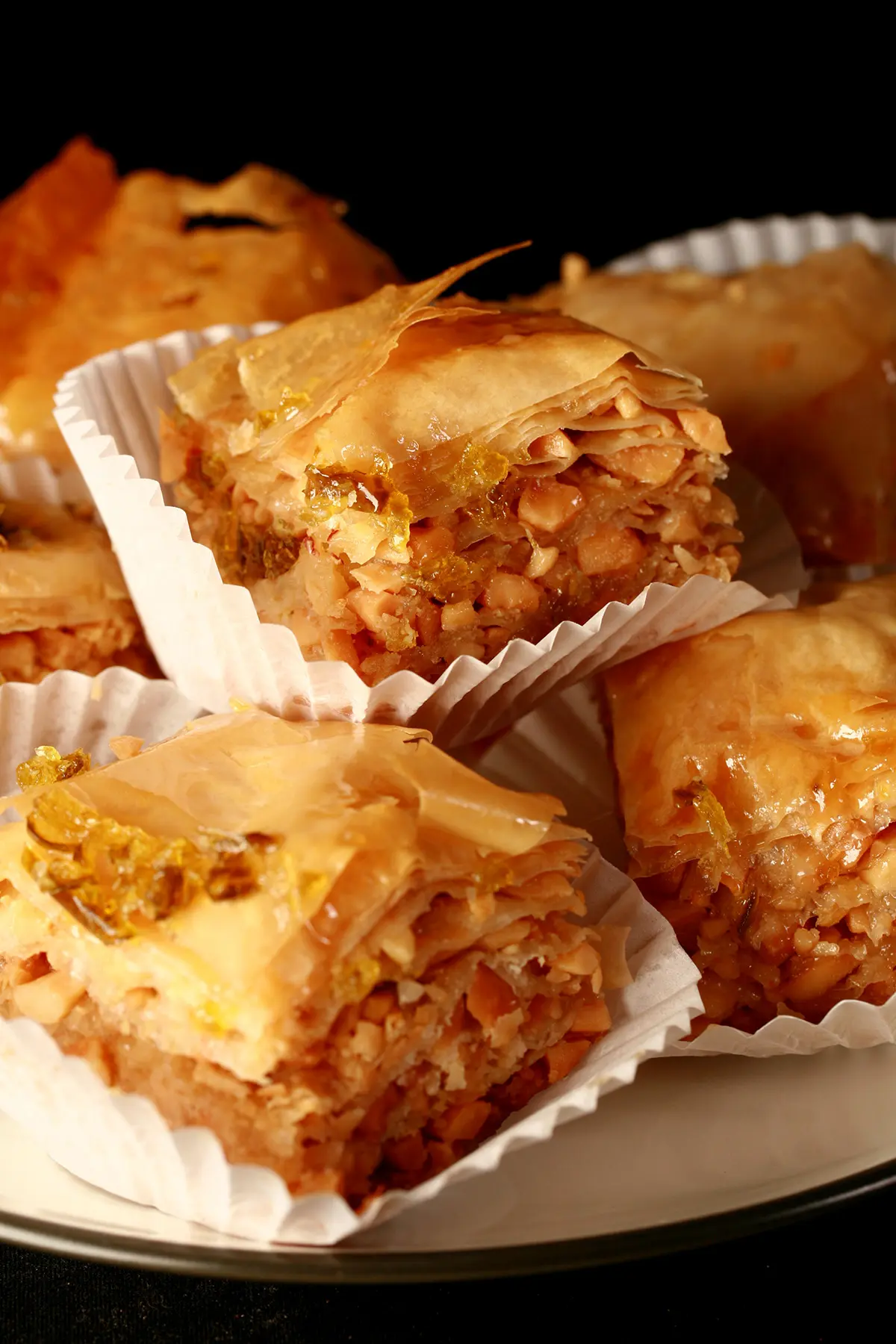 For traditionalists, this jalapeno beer baklava from the ever-inventive Marie of Celebration Generation may seem sacrilege. It's anything but classic, but we love it and encourage it.
The jalapeno in this sweet treat provides not heat but fruity notes. At the same time, the beer adds a layer of complexity that doesn't show up as beer at all.
If you go with Marie on this journey, and we hope you do, she'll hold your hand until the end. She'll guide you on beer options,i.e., lager or ale, as well as complementary nuts to use.
Visit Celebration Generation for the recipe.
Strawberry Tart Phyllo Dough Desserts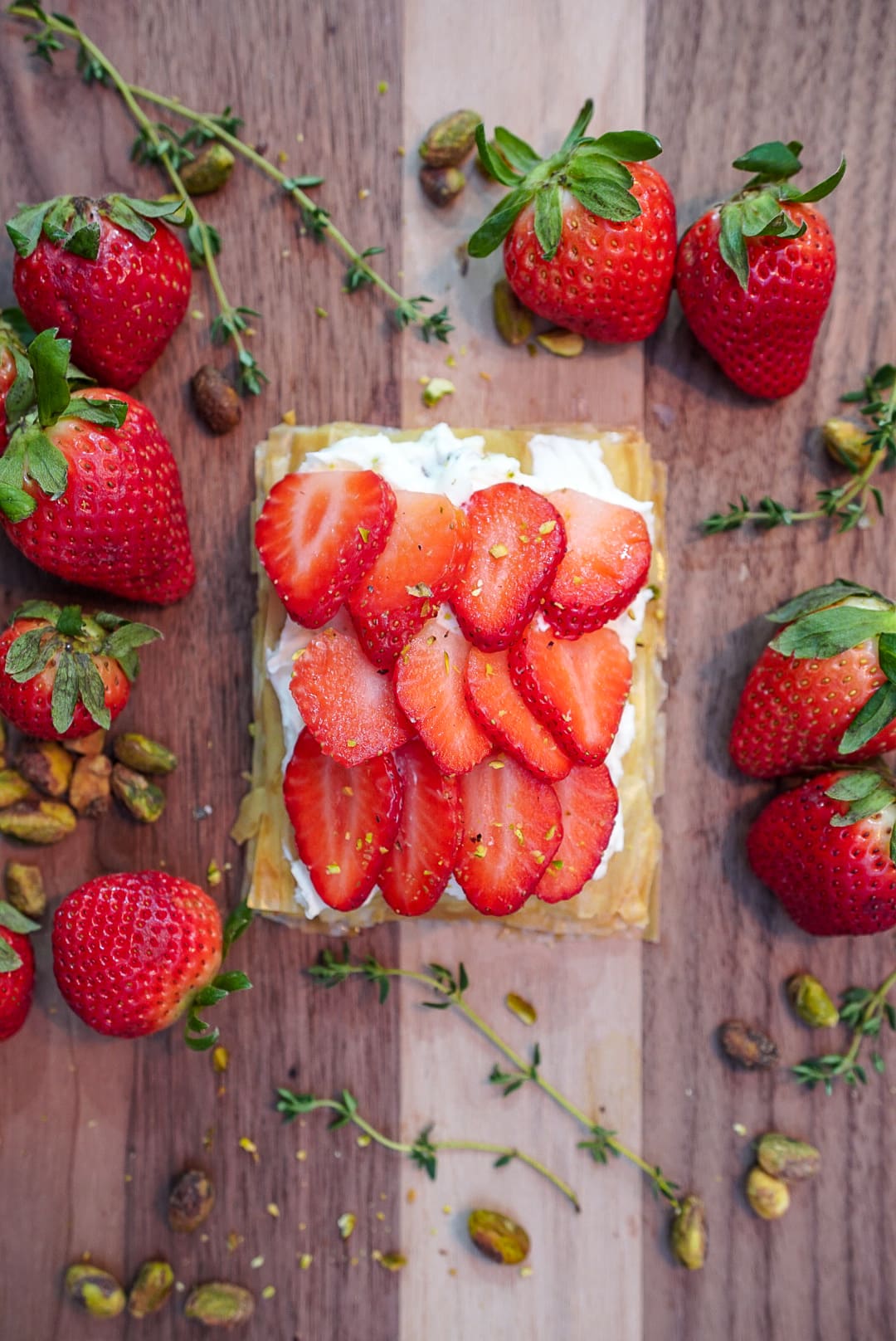 Gavin and Karen aren't just any Couple In The Kitchen. They're the creators of this highly rated and beautifully simplistic strawberry phyllo tart. With it, they continue to remind us of the versatility of the thin sheet pastry.
Spread melted butter over phyllo sheets and layer. Then bake and top with the creamy mascarpone, honey, and pistachio mixture. Finally, top it with fresh sliced strawberries and serve.
Visit Couple In The Kitchen for the recipe.
Knafeh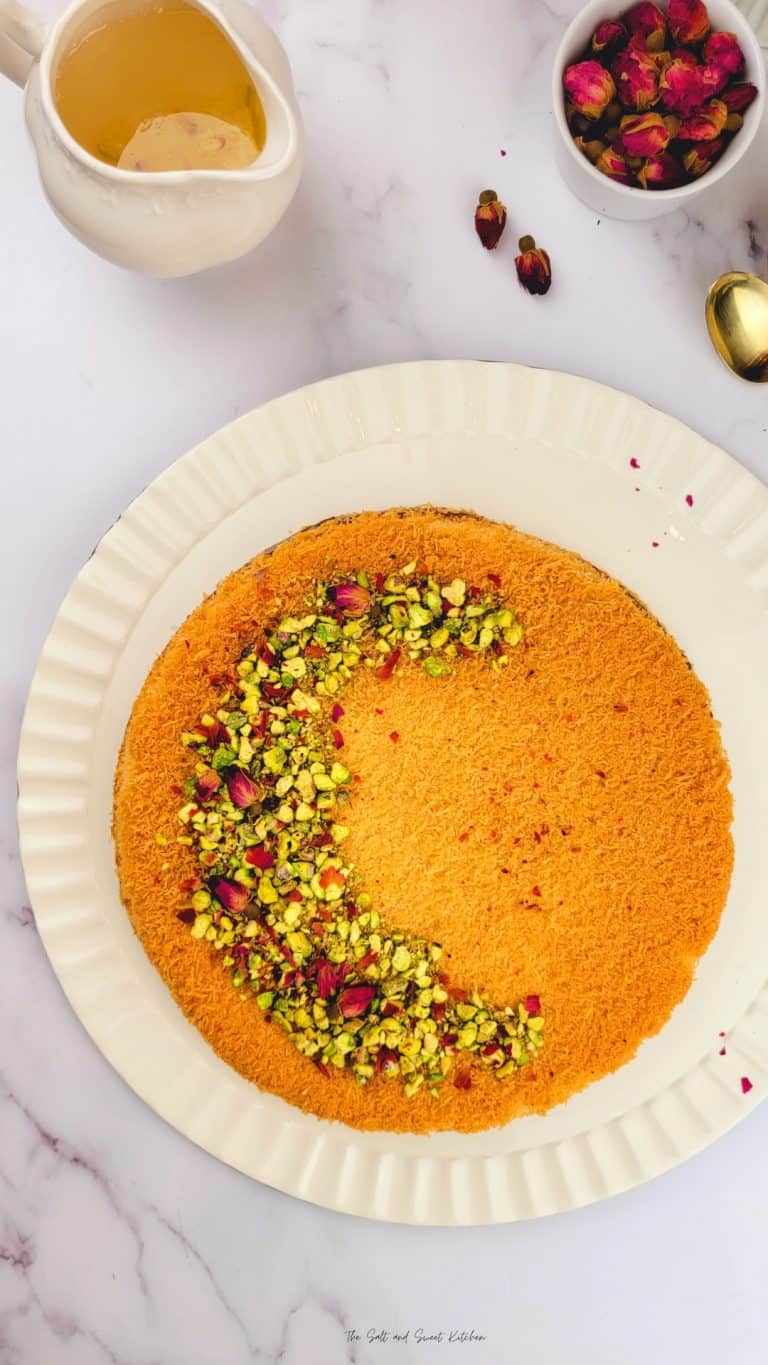 Many Middle Eastern desserts like this Lebanese Knafeh recipe from Rose of The Salt And Sweet Kitchen are beautiful and ultimately intimidating. And sometimes, as with traditional baklava, there is a bit of a learning curve.
But that's not the case with Knafeh.
This sweet and savory breakfast dessert is straightforward, with layers of shredded phyllo dough, ricotta, mozzarella, and rose water syrup. There's little to do in the way of technique. But the taste is incredible!
Visit The Salt And Sweet for the recipe.
Italian Veggie Pot Pie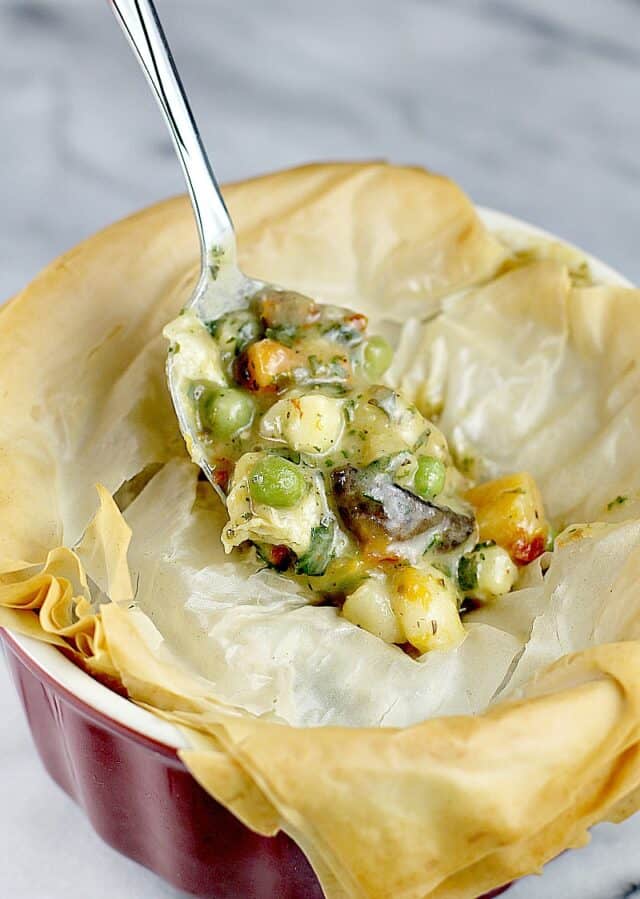 Before you know it, you'll be making healthy yet delicious ingredient swaps with this Italian veggie pot pie from Erica's Recipes. And best of all, you won't miss the meat.
That's because Erica chooses her ingredients wisely. Mushrooms provide that meaty mouthfeel and umami flavor, so you almost believe it's the real deal. But the butternut squash, peas, spinach, and seasonings help to make it a dinner you'll want on repeat.
Visit Erica's Recipes for the recipe.
Banitsa – Traditional Bulgarian Cheese Pie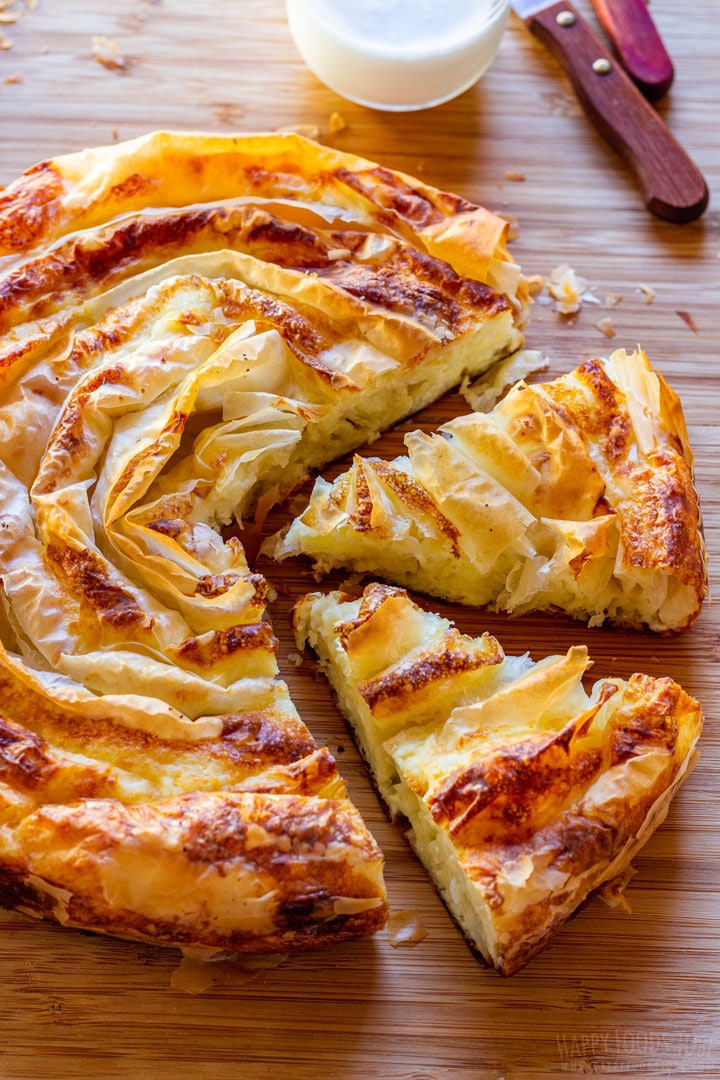 This Banitsa recipe from Julia of Happy Foods Tube is a traditional Bulgarian cheese pie made with delicate phyllo dough stuffed with a cheese and yogurt mixture and gently rolled like a sausage, then spiraled into a snail shape and baked until golden brown. It's often enjoyed for breakfast but also makes for great snacking.
Surprisingly, however, this aesthetic pastry contains just six ingredients, half of which are pantry staples. But you'll have no problem locating the feta cheese, greek yogurt, or phyllo dough.
Visit Happy Foods Tube for the recipe.
Choclava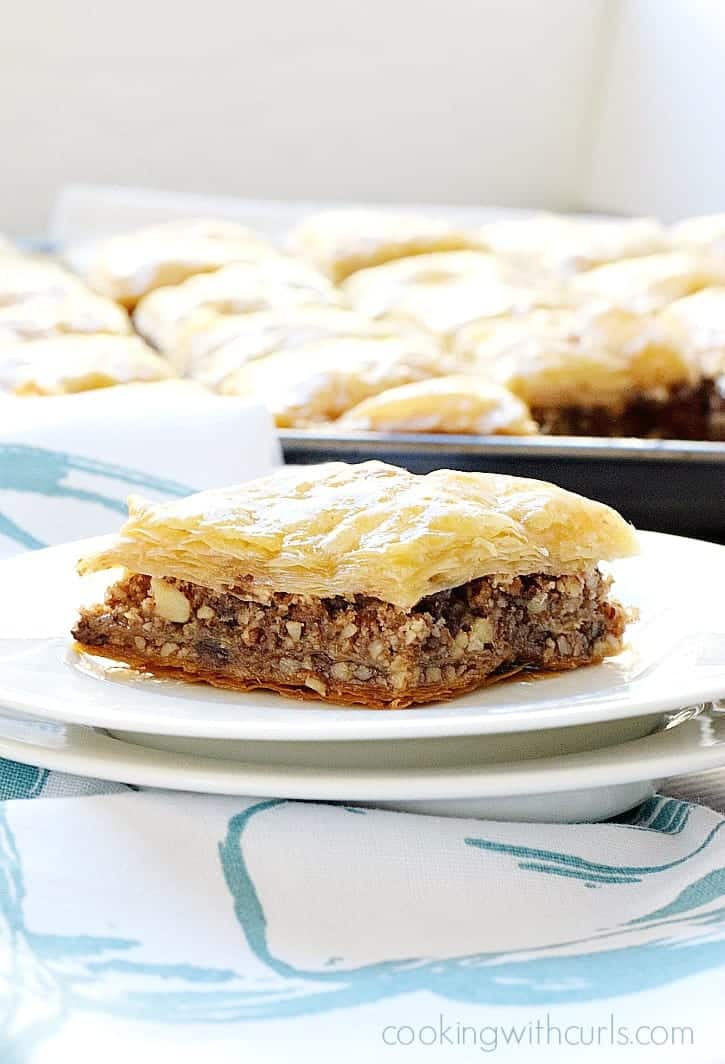 Baklava is a Mediterranean dessert recipe with phyllo, nuts, honey, or syrup. But this chocolate baklava or "choclava" recipe is a fun twist from Lisa, who is always Cooking With Curls. So, while it's not traditional, it is a part of her holiday tradition.
But it's a simple remix and not much different than the original, actually. First, layer the buttery baklava sheets one by one, then add the pecan, mini chocolate chips, and cinnamon mixture. Once it bakes, your choclava will be all chocolatey and nutty with cinnamon and floral notes from the honey. So here's to new traditions!
Visit Cooking With Curls for the recipe.
Caramelized Onion And Brie Bites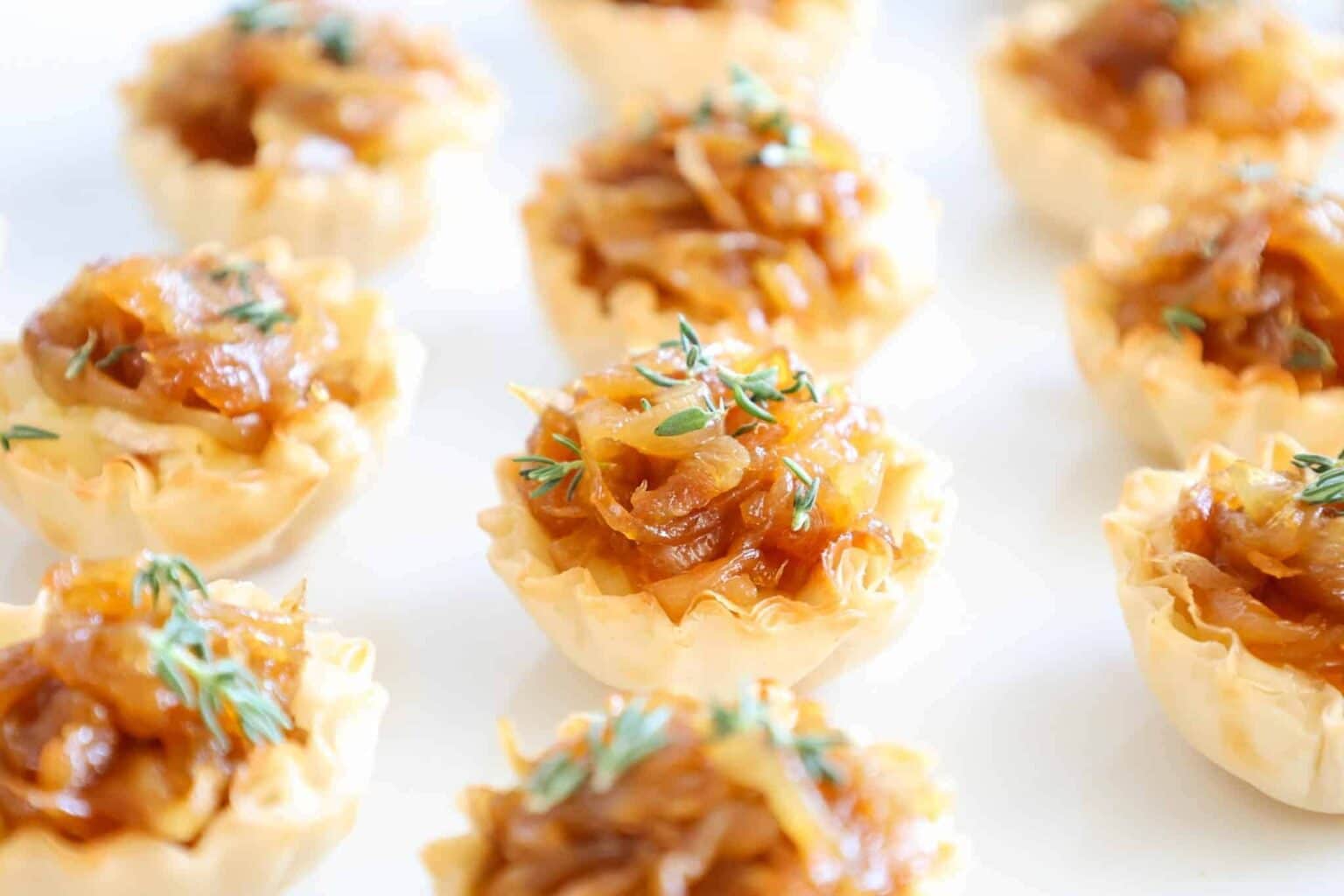 Anytime caramelized onions appear in a recipe, we know it will be worthwhile. Painstaking process notwithstanding. Such is the case with caramelized onions and brie bites from Liz of The Savory Cipolla.
Although, caramelizing the onions is the only tricky part here. The rest is assembly. Before baking, this ridiculously simple appetizer starts with premade frozen phyllo cups stuffed with creamy brie cheese, then topped with sweet and savory jammy onions. Once done, add a sprinkle of thyme and watch them disappear.
Visit The Savory Cipolla for the recipe.
Mini Filo Quiches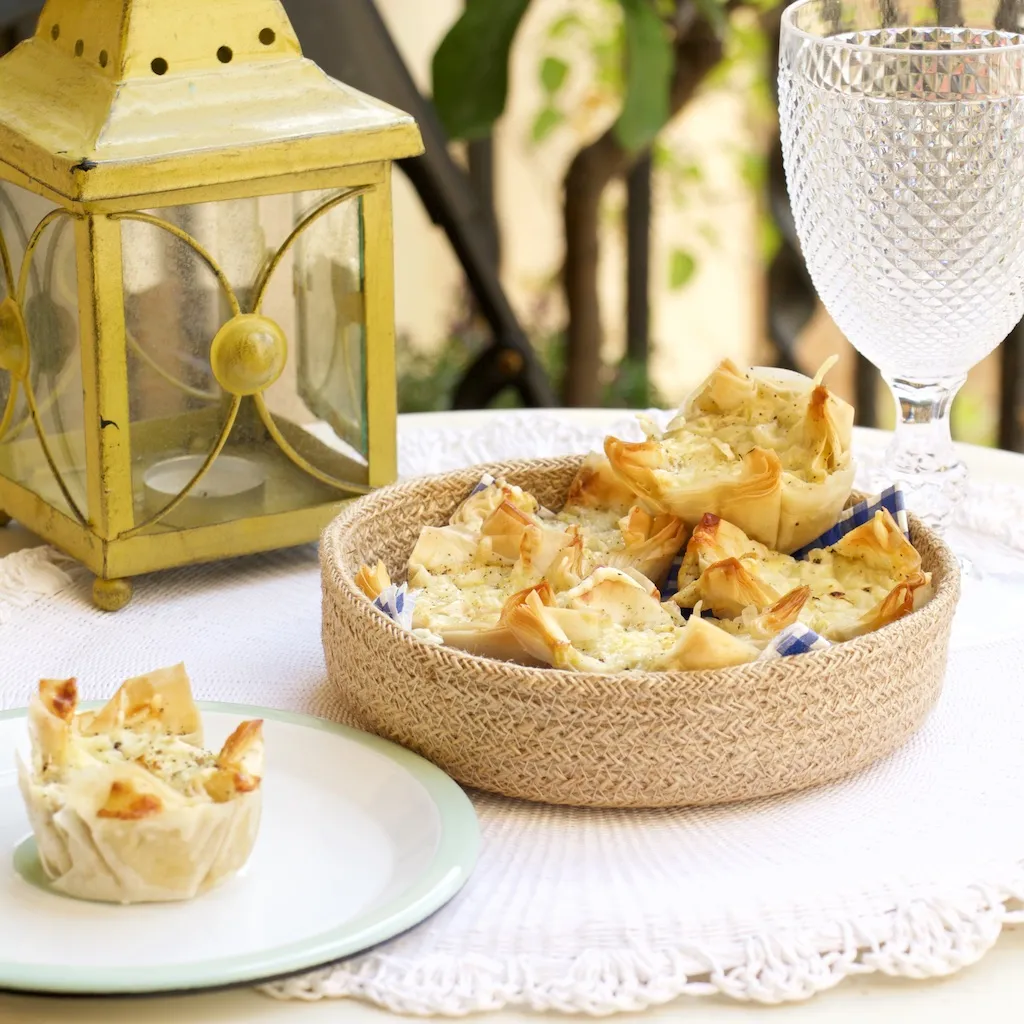 Make Marie's Foodolic your destination for "creative recipes with a healthy touch." In the case of mini filo quiches made with leeks, gruyere, and eggs, she lightens the load a bit.
In a recipe that ordinarily calls for a delicious yet waistline-bulging fluffy and flaky brioche, there's light and crispy filo instead. And in place of rich cream, there's a still delicious velouté—savory sauce made from a roux and light stock.
Visit Foodolic for the recipe.
Cheesecake Phyllo Cups (Topped With Jam)
You won't have to turn on the oven to make these easy and delicious cheesecake phyllo cups topped with a jam from Hilda's Kitchen Blog. It's a 20-minute quick dessert appetizer you can put together with just a few ingredients.
First, mix cream cheese, sugar, and whipped topping, then fill the premade cups. Finally, top them with jam, and voila!
Visit Hilda's Kitchen Blog for the recipe.
Vegan Spanikopita (Greek Spinach Pie)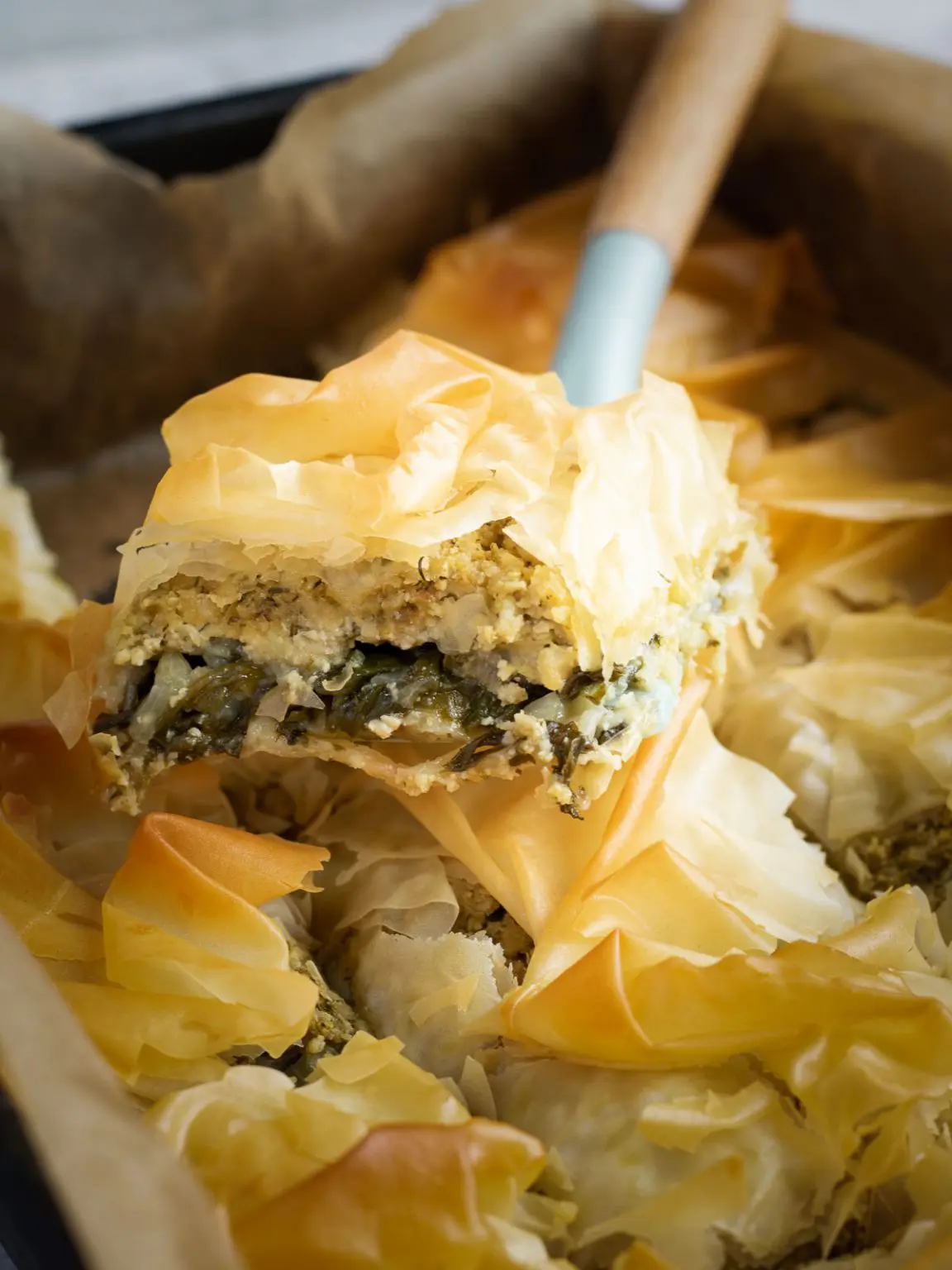 Louise of The Vegan Larder was a long-time lover of savory pastries like Spanakopita – a dish lost to her since making the switch to veganism. However, with an abundant haul of greens from her garden, she revisited an old favorite making a few changes to suit her dietary needs.
The result is a still mouthwatering pie encapsulated with satisfying crispy phyllo and stuffed with a delicious mix of spinach or Swiss chard. You still get tons of flavor from the dill, garlic, and lemon. Obviously, there's no dairy, but the vegan cheese made with tofu, olives, nutritional yeast, etc., is still tasty.
Visit The Vegan Larder for the recipe.
Avocado BLT Pizza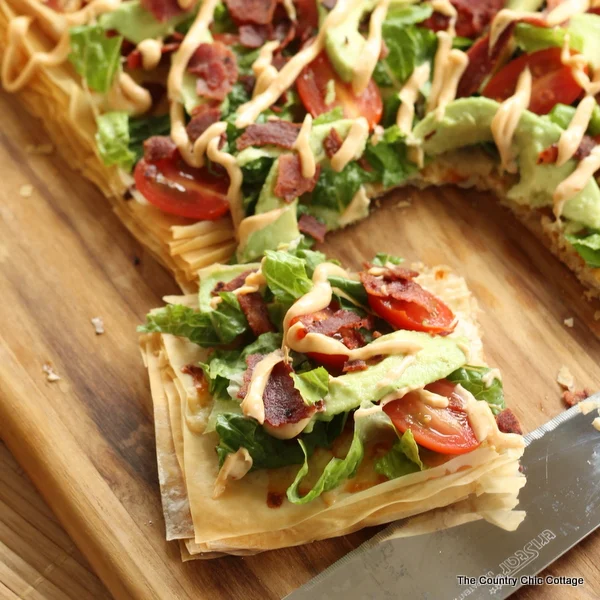 If you love pizza recipes with creative crust, you will go bonkers for this avocado BLT pizza from Angie of The Country Chic Cottage. The inventive mom boss shares her tips to make this healthier-for-you pie.
It starts with extra crispy layers of phyllo dough that you cover with BLT ingredients. She uses toppings like avocado, turkey bacon, lettuce, tomatoes, cheese, and even a chipotle sandwich spread, but like all other pizzas, options are endless.
Visit The Country Chic Cottage for the recipe.
The Best Baklava Cheesecake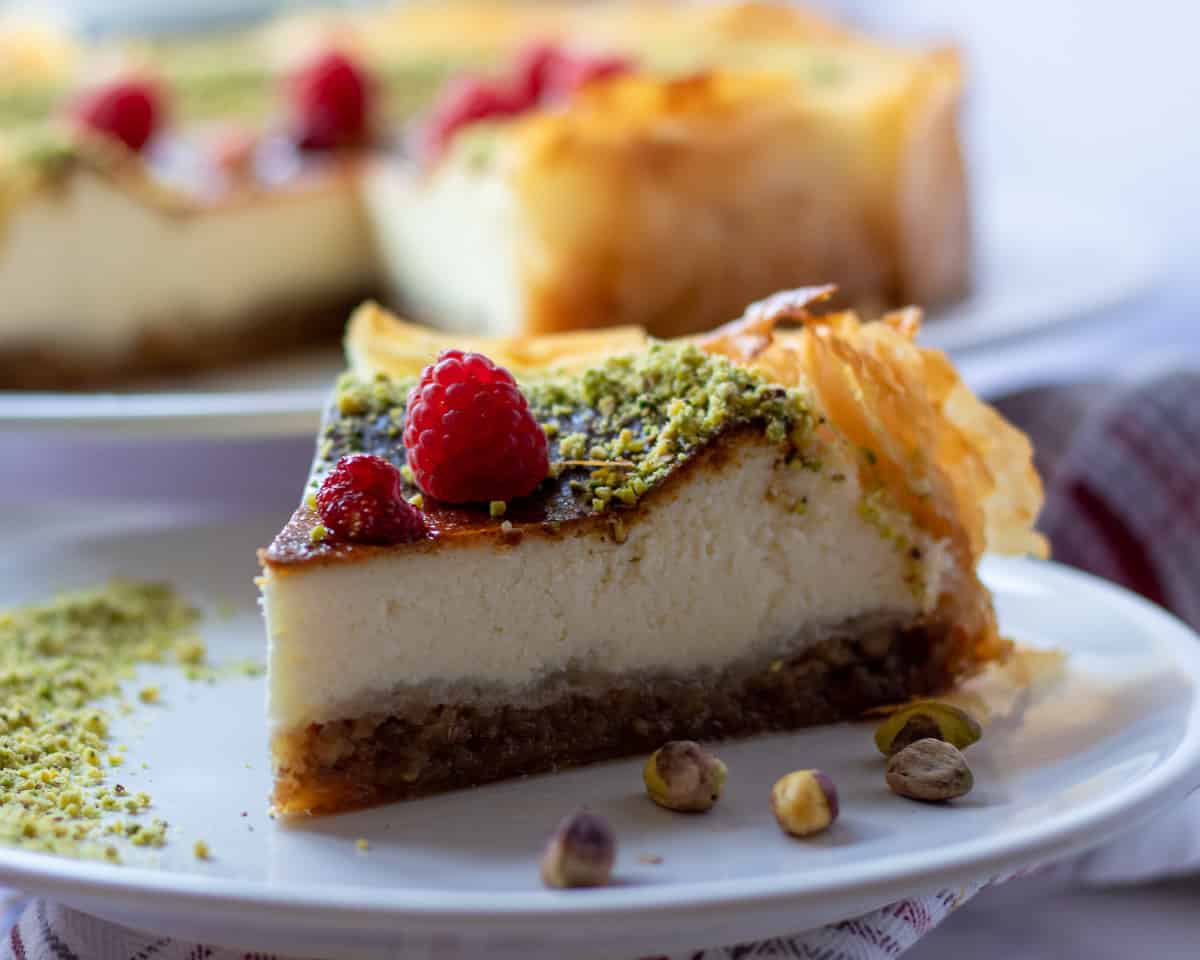 This baklava cheesecake from Ayla of Cooking Gorgeous is what you take your time with and make for those special people you care for most. It's not the easiest or quickest recipe.
There are three different components to this most indulgent of cheesecakes. First, the baklava layer is made with buttery phyllo dough and walnuts. Next, there's an extra-rich cheesecake. Finally, you use a simple lemony syrup to douse the crispy phyllo sheets.
It takes about 30 minutes of prep and an hour to bake, but so worth it!
Visit Cooking Gorgeous for the recipe.
Mushroom Goat Cheese Filo Pastry Parcels
Bernice of Dish N The Kitchen affectionately refers to the holiday season as the "appy" season. We get it. There are so many delicious little morsels to be had this time of the year.
But which appetizer will you bring to the next get-together?
Bernice makes a tasty proposal with these mushroom goat cheese filo parcels. Meaty mushrooms (cremini, white, or brown) combine with leeks, goat cheese, and thyme to make a filling so tempting it'll be hard to stop eating.
Visit Dish N The Kitchen for the recipe.
Roasted Red Pepper Hummus Phyllo Cup Appetizers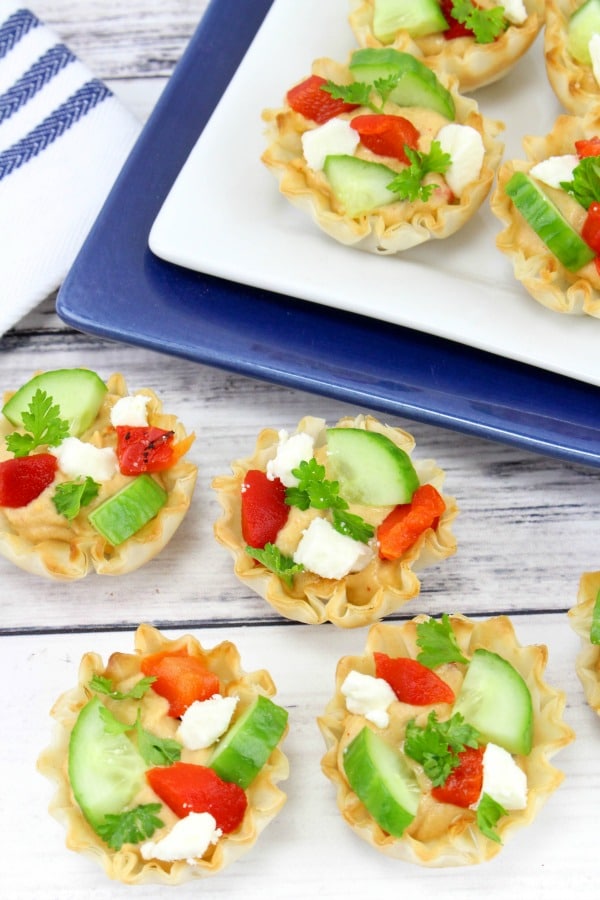 Roasted red pepper hummus cups from Corrine, The Wonder Mom Wannabe, are a delicious and healthy appetizer and incredibly easy to make. The phyllo cups are premade, so that's a huge time saver. And after you chop the roasted bell pepper strips and cucumbers, all that's left is assembly.
Visit The Wonder Mom Wannabe for the recipe.
Bourbon Pecan Sweet Potato Phyllo Casserole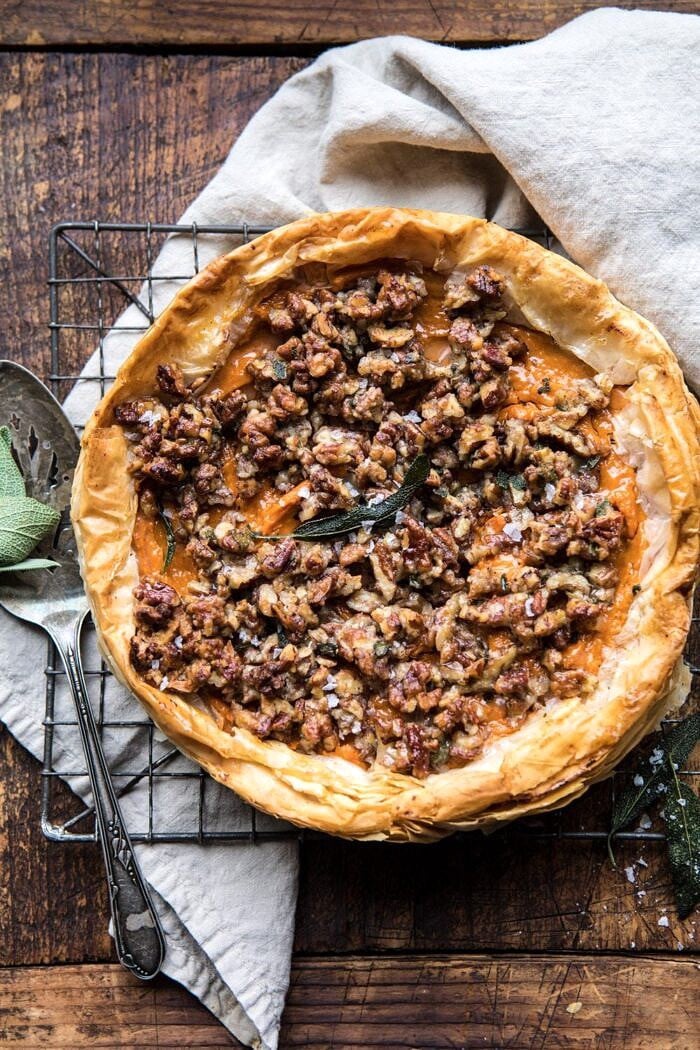 Looking for a modern twist on classic sweet potato pie? Then you want to check out his completely unexpected yet delicious bourbon pecan sweet potato phyllo casserole from Tieghan of Half Baked Harvest.
The crust is, of course, buttery cinnamon-swiped phyllo sheets, while the center is a silky smooth bourbon-laced sweet potato filling sweetened with real maple syrup. And it wouldn't be a Tieghan creation without a spectacular presentation. To that end, the top is shrouded in sweet and savory sage pecans.
Visit Half Baked Harvest for the recipe.
Which Phyllo Dough Recipe Will You Try First?
So, by now, you've seen 21 different recipes using phyllo dough. You've seen baklava cheesecake, choclava (chocolate baklava), spanakopita triangles, and lots more. So which one are you dying to make? Let us know!
If you would like to see more delicious desserts, check out this list of Mediterranean desserts, puff pastry recipes, and even simple yellow cake mix recipes.