We put together an amazingly diverse and delicious list of 20 Strawberry Desserts. Like our No Bake Dessert Recipes, it is simply an incredible list of spring and summertime treats.
But how great is this list? Well, with entries like Old Fashioned Strawberry Shortcake, Chocolate Covered Strawberry Brownies, Deep Dish Strawberry Pie, and many more, you're going to love it. So, are you ready to discover the tasty?
Let's dive in!
For more fruit-based desserts, check out this list of mango desserts.
Old Fashioned Strawberry Shortcake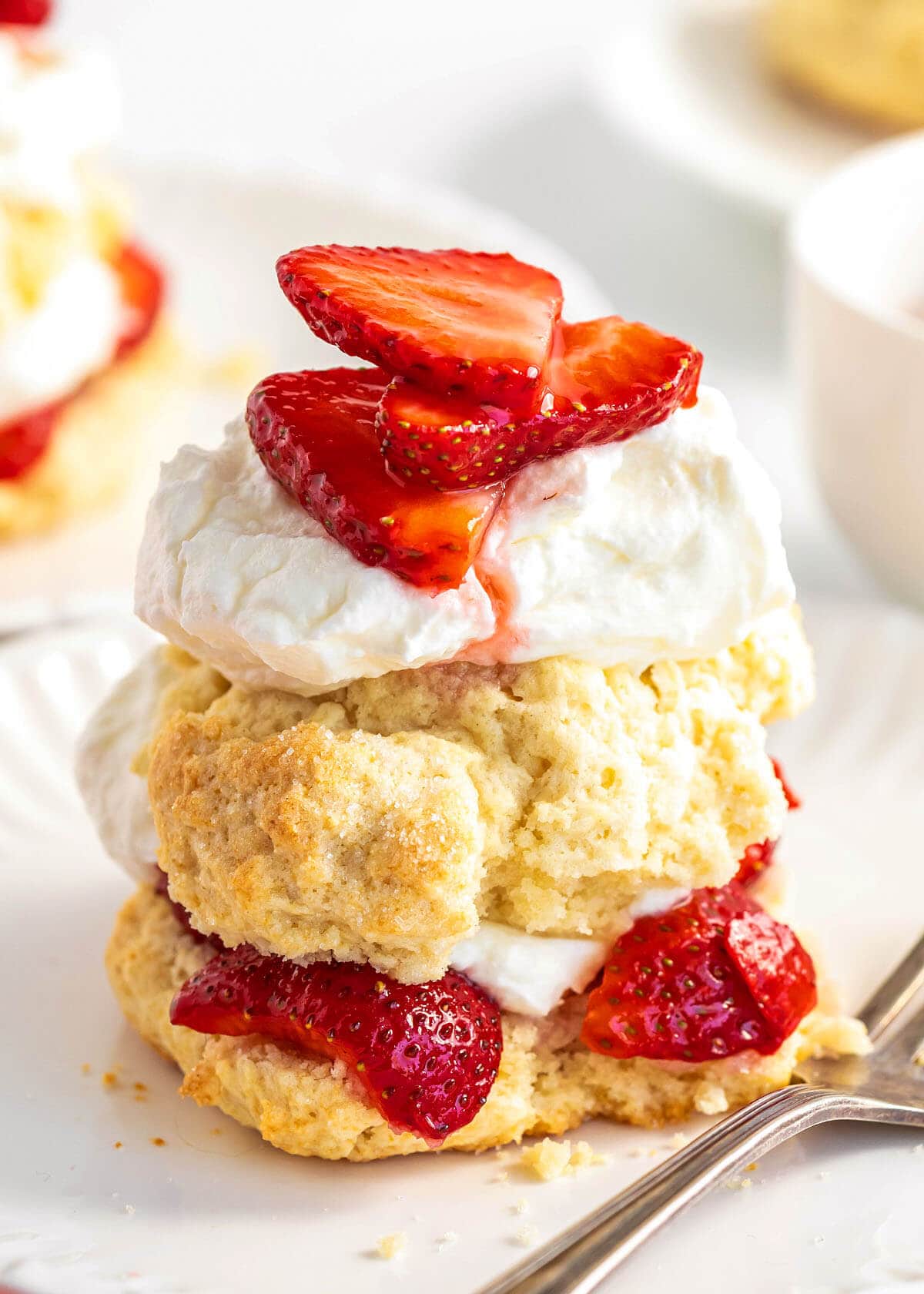 You're going to love this Old Fashioned Strawberry Shortcake recipe from Sandy's Retro Recipe Box. It's quintessential Americana. And so easy to make. The base is a shortcake topped with fresh macerated strawberries and homemade whipped cream. But what we especially love about Sandy's post is that she literally has an image for all of the steps.
Chocolate Covered Strawberry Brownies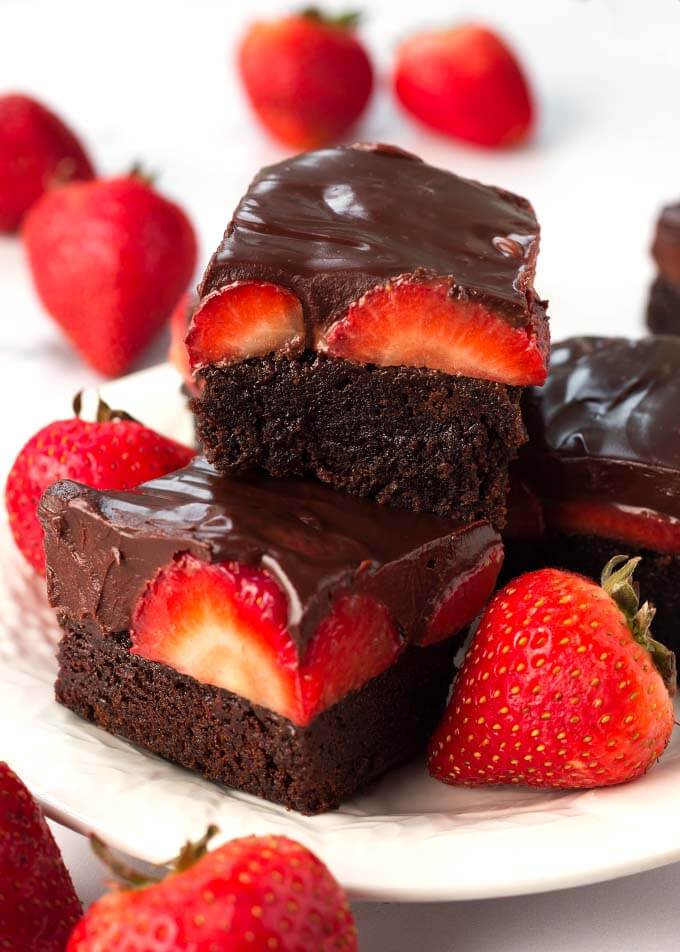 As though it were a magnetic attraction, strawberry and chocolate want to be together. So, Sandy of Simply Happy Foodie obliges, marrying the betrothed culinary pair in one of the most delicious ceremonies you've ever seen. That is her Chocolate Covered Strawberry Brownies. The berries are fresh, cut in half, placed atop a brownie bed, and covered in a rich, creamy chocolate ganache.
Strawberry Dump Cake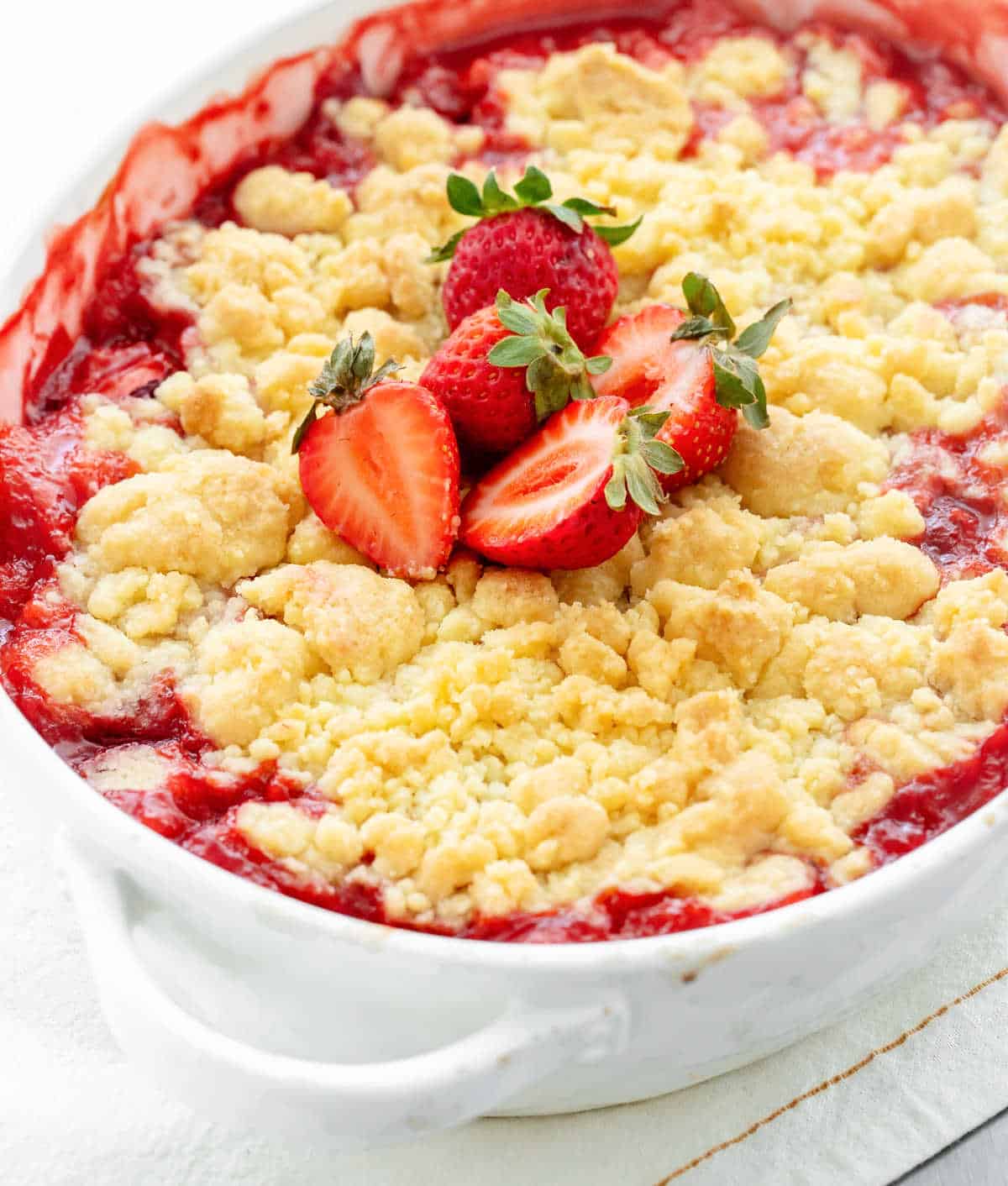 Paula of Vintage Kitchen Notes has an affinity for dump cakes. For example, she shares a caramel apple and chocolate cherry dump cake on her blog, but today we're considering this Strawberry Dump Cake recipe. Deliciousness is a guarantee! But here's another reason you'll go gaga for it. If you opt for storebought cherry filling, there can be as few as three ingredients.
Strawberry Cinnamon Rolls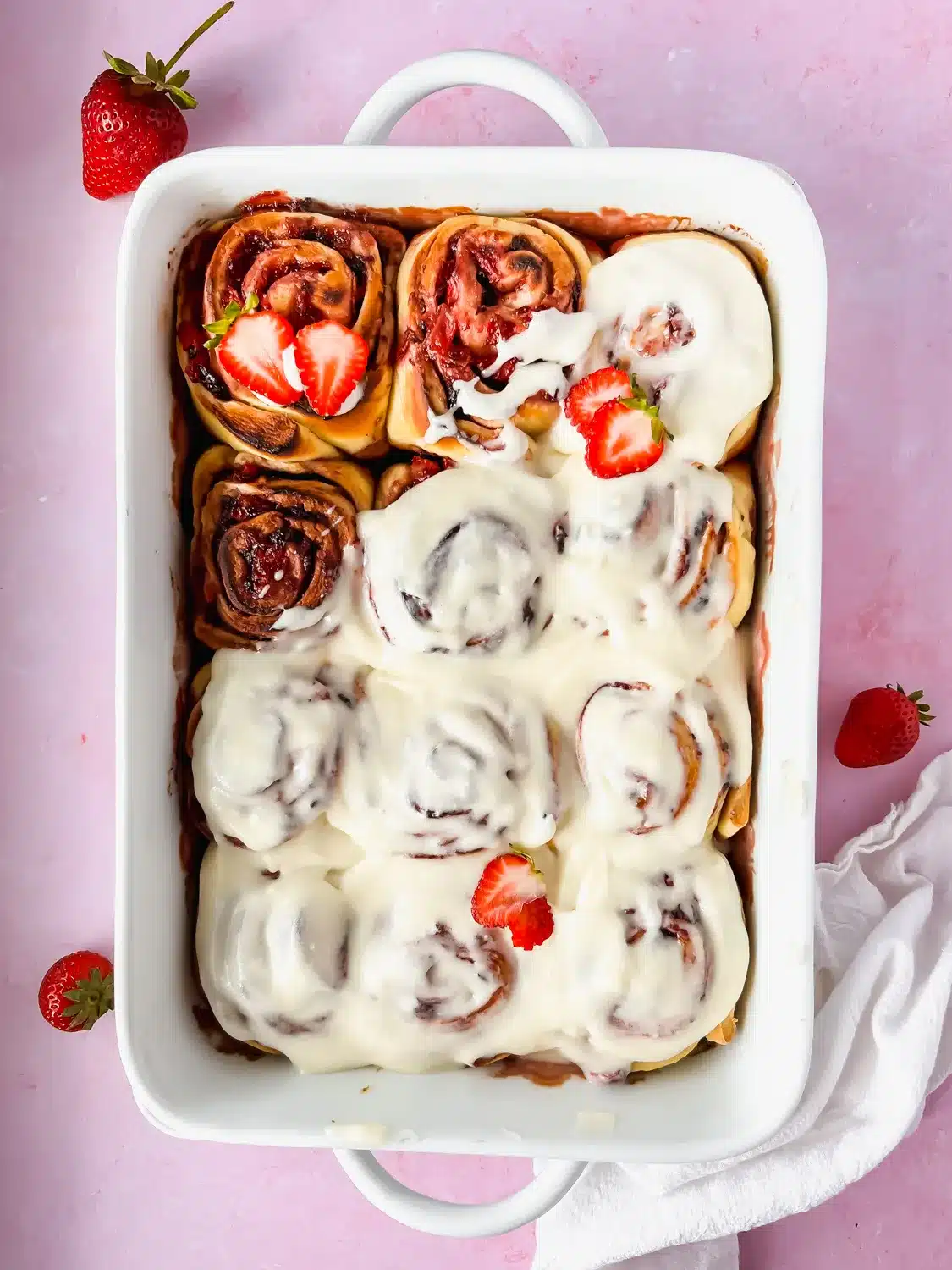 Your favorite Christmas dessert just got a summer berry upgrade with these Strawberry Cinnamon Rolls from A Paige Of Positivity. And we're positive they'll pass that taste test. Why? Because each bite of this chewy and tender pastry is filled with potent flavor from both the strawberry jam and fresh strawberries. And while cinnamon is optional, it could only enhance the flavor.
Strawberry Popsicles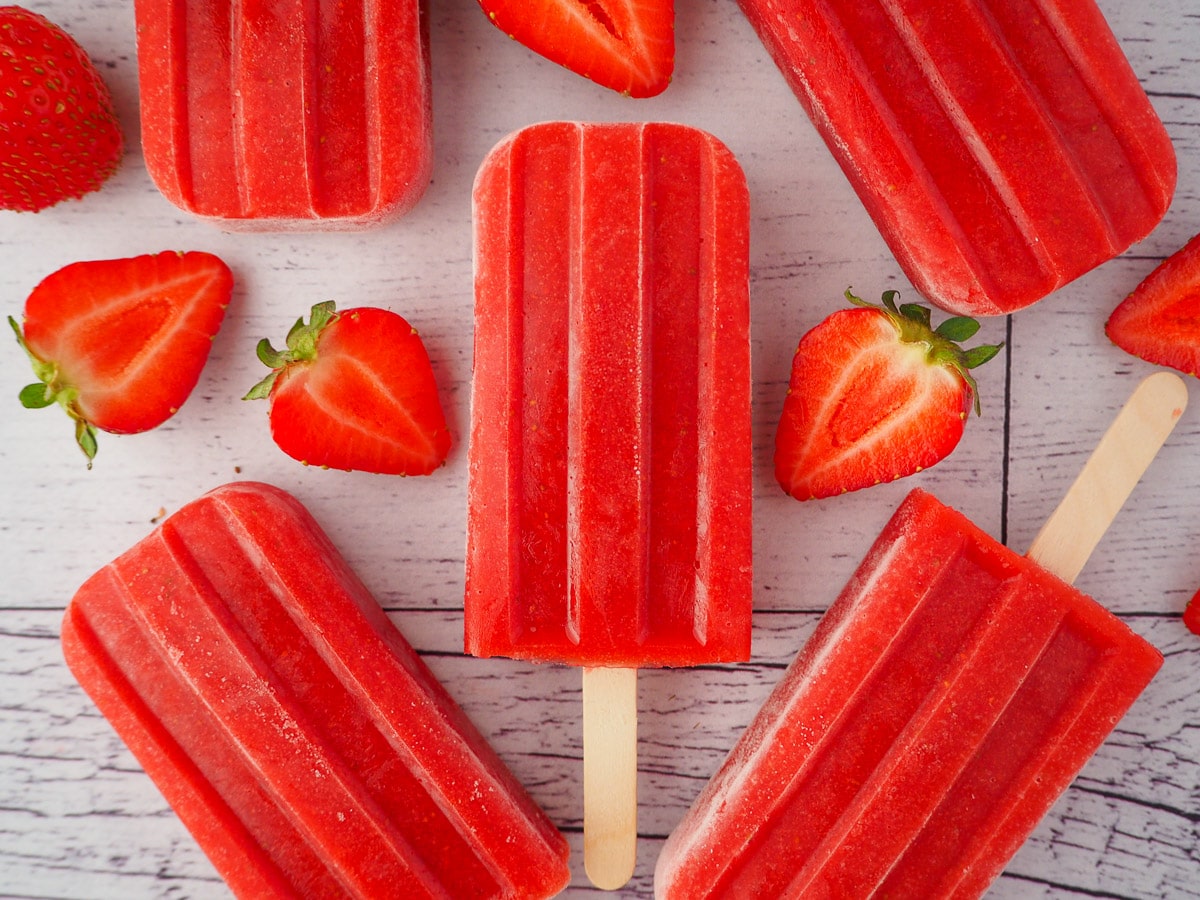 Here's a bet. You won't find a more ice cream obsessed couple than the Keep Calm And Eat Ice Cream folks. The cold-treat-loving duo even visited their favorite ice cream parlor on their wedding day. With that type of obsession, it's needless to say. We trust their recipes.
So we trust this three-ingredient refreshingly sweet Strawberry Popsicle recipe is as good as described. Better still, this recipe doesn't call for refined sugar.
Strawberry Crunch Poke Cake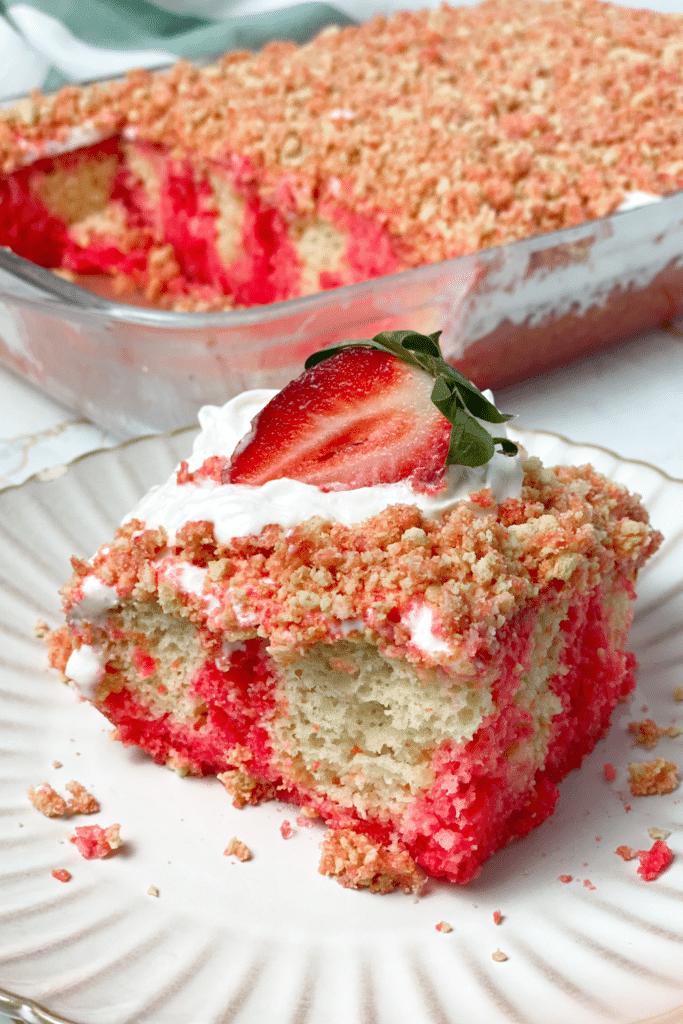 Growing up, Strawberry Shortcake Ice Cream Bars were an ice cream truck favorite. Now, you can enjoy that same flavor in all kinds of treats, from cheesecake to layer cakes and everything in between. Today, however, Rebeka presents, for your consideration, this Strawberry Crunch Poke Cake from Zen And Honey. First, you have a white box cake infused with strawberry Jello. Next, add strawberry crunch topping and whipped cream.
Strawberry Mousse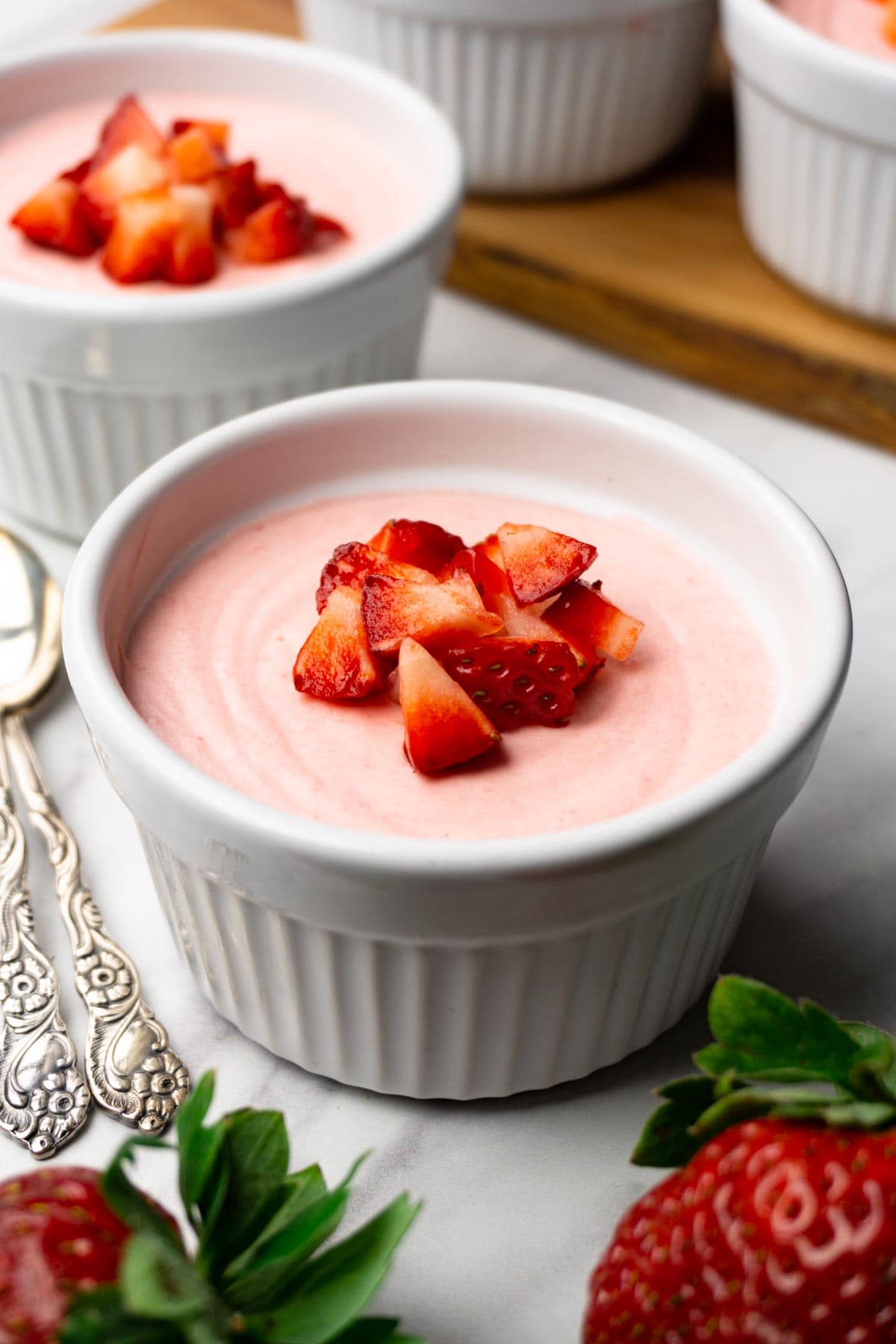 Decorated with whipped heavy cream and fresh strawberries, this Strawberry Mousse by Anna of Sugar Pursuit is a light, airy dessert perfect for capping off a heavy dinner. And while you don't have to look very far to find a strawberry mousse recipe, here's why you should consider Anna's. She gives you tips, like properly blooming the gelatin and preparing the puree, so you get the desired result—a fresh-tasting warm weather treat.
Strawberry Almond Sprinkle Cookies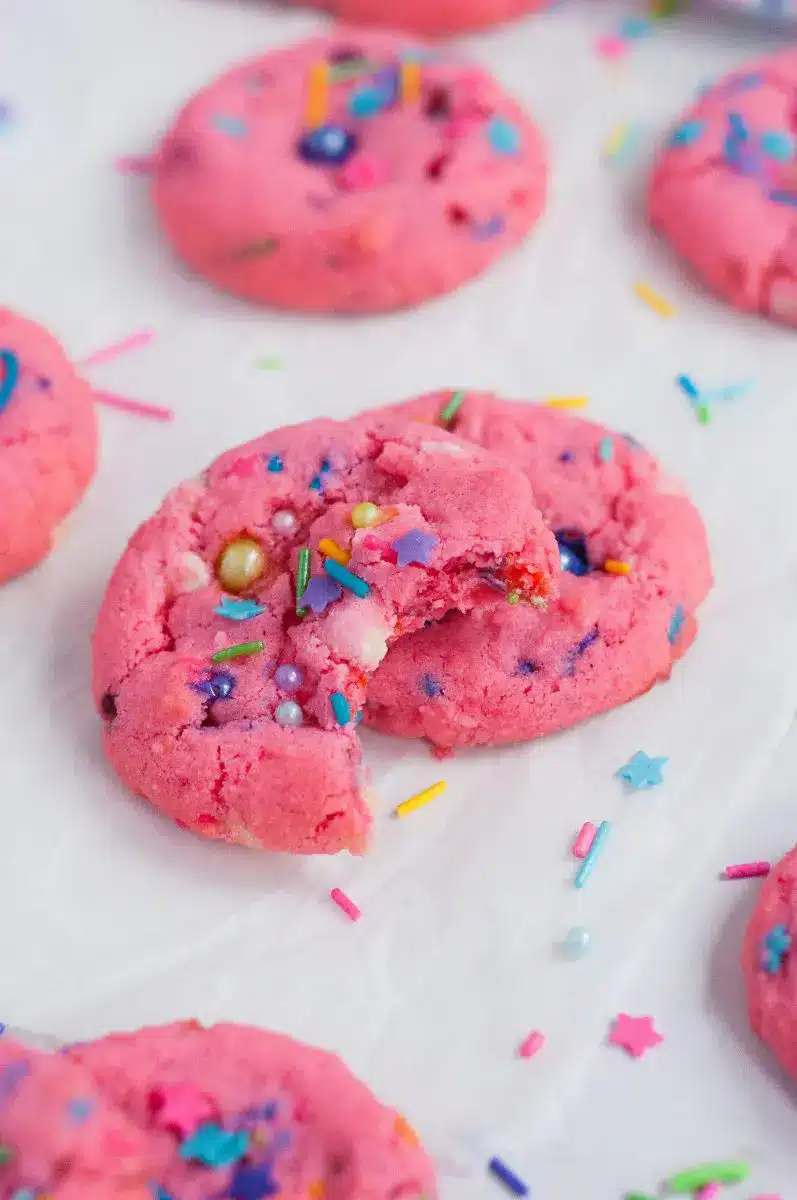 While we've covered several desserts from Caked By Katie, this is the first time we've explored one of her cookie recipes. Today it's her playful Strawberry Almond Sprinkle Cookies recipe. Here are some interesting facts. First, there is no fresh strawberry in this recipe. Instead, there's an extract. And secondly, she recently updated the recipe to include a gluten-free option.
Strawberry Lemonade Cupcakes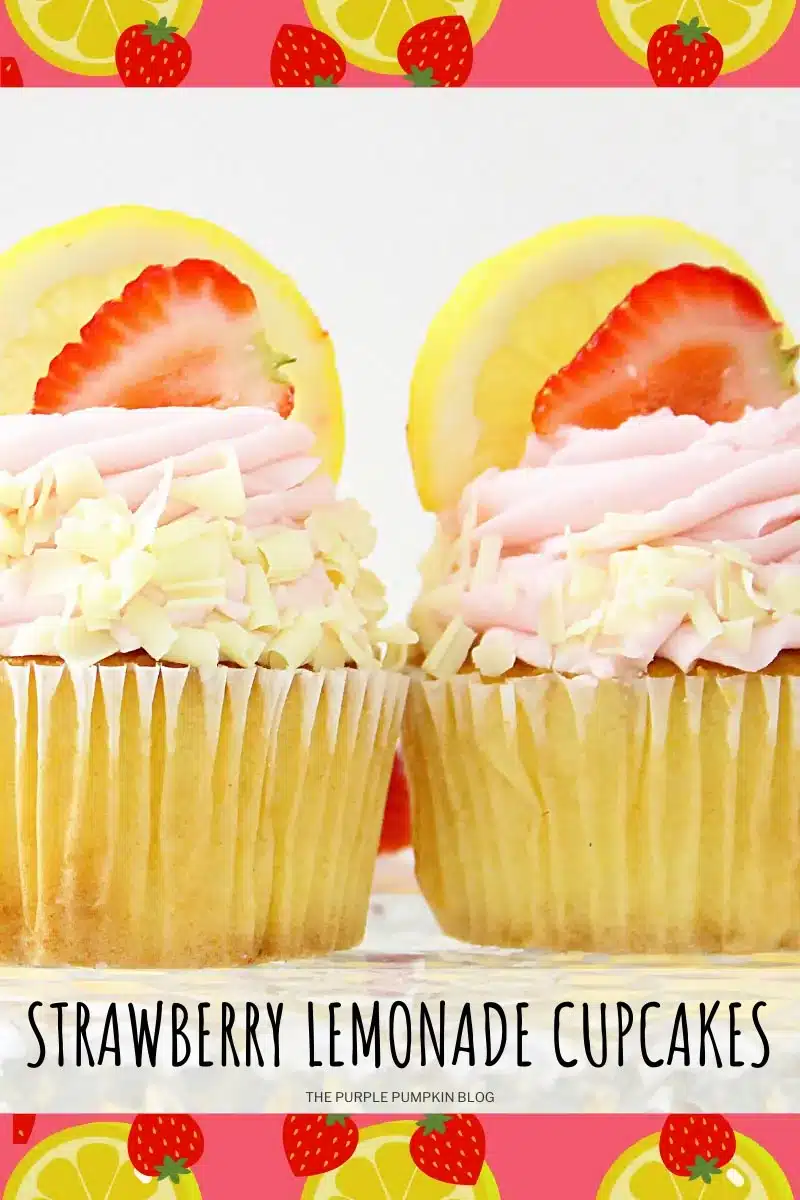 While earlier you discovered dessert featuring chocolate and strawberries, today we're considering another heavenly culinary pairing with these Strawberry Lemonade Cupcakes by Michelle of The Purple Pumpkin Blog. The cupcake is lemon-flavored with a luscious strawberry cream cheese frosting. However, on the inside, there's a surprise; rich strawberries and cream filling. Finally, adorn with sliced sugared lemon slices, a halved strawberry, or both on top.
Chocolate Strawberry Cheesecake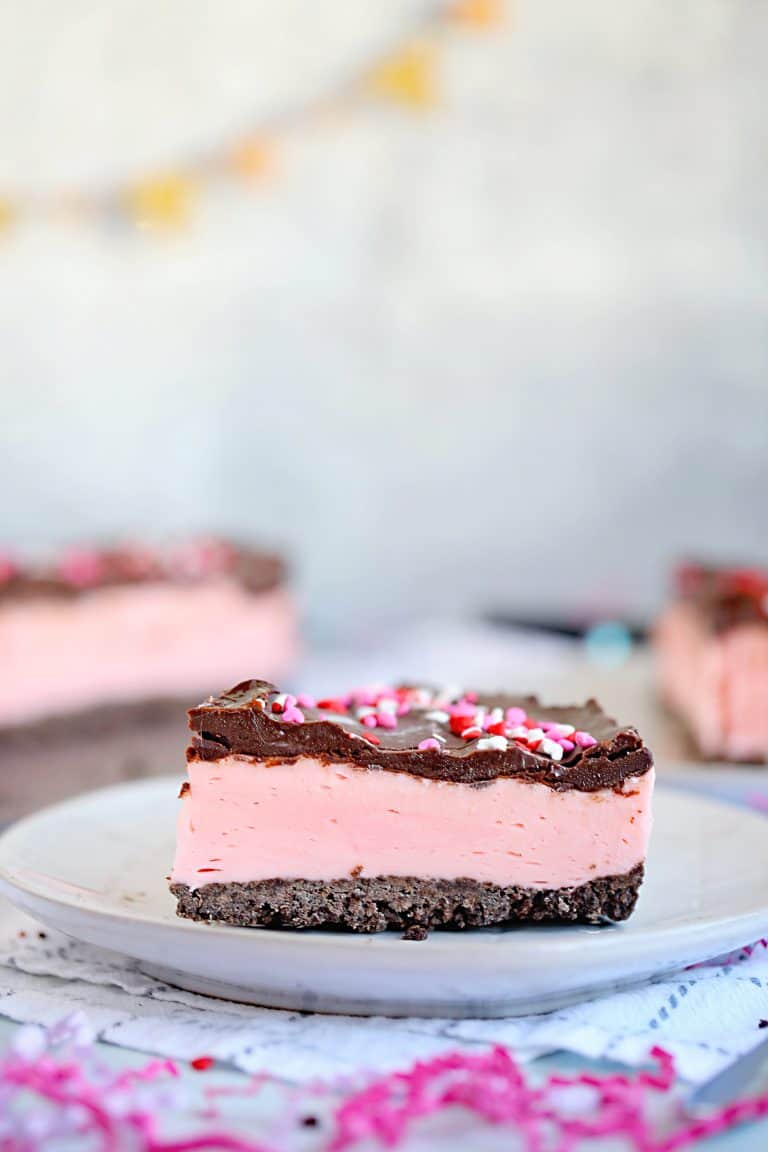 Chocolate Strawberry Cheesecake by Tasty Treats & Eats is yet another example of the heavenly culinary pairing. This time, however, the strawberry is in the form of a quick no-bake cheesecake with a graham cracker crust. On the top, a sinfully sweet milk chocolate ganache envelopes that creamy cheesecake.
Strawberry Crunch Topping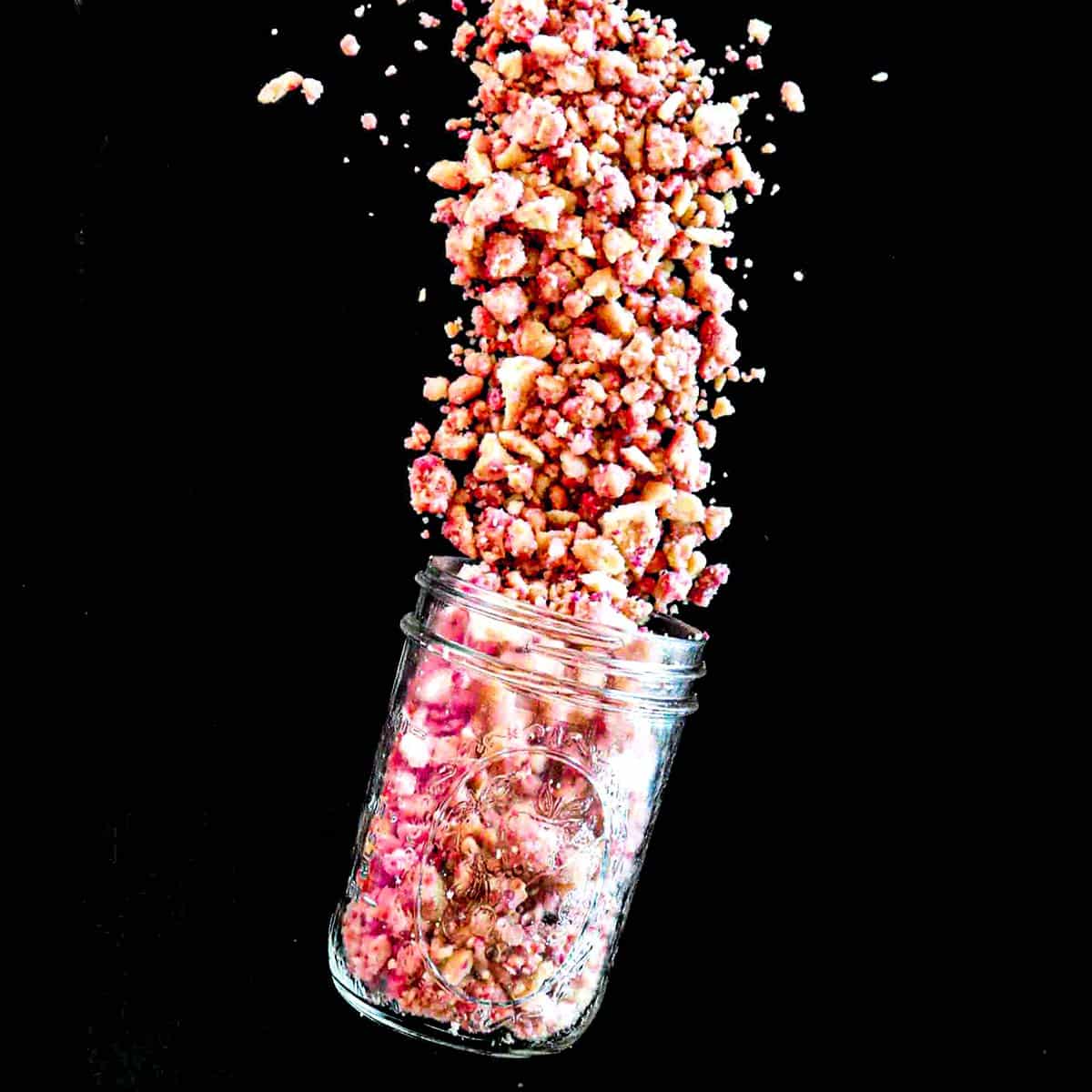 Ruth of Sinful Kitchen shows us how to make this delicious Strawberry Crunch Topping. It's a simple three-ingredient add-on that elevates the flavor and texture of your favorite treats. So, do you have vanilla ice cream in the freezer? Or how about storebought cupcakes? Add a little strawberry crunch for an easy dessert upgrade.
Strawberry Blondies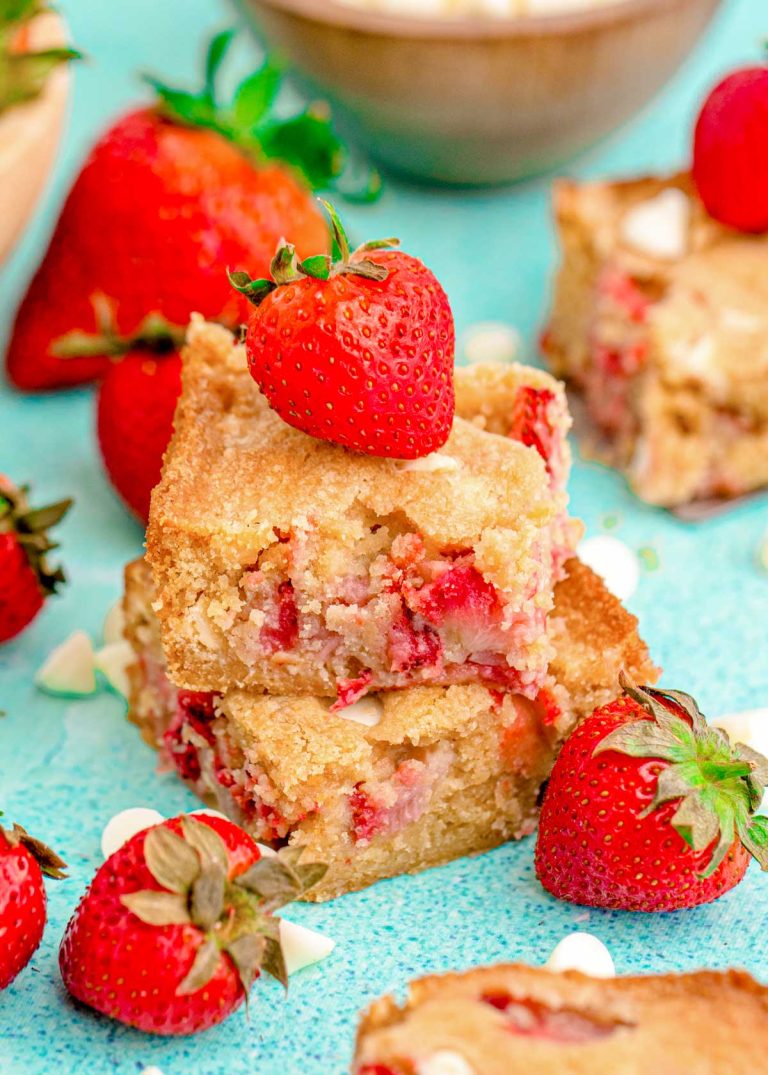 Good news! Because you make these Strawberry Blondies from Sugar And Soul with mostly pantry staples save for the fresh berries, your grocery list will be quite short. Better still, the light-toned brownie cousin takes just 25 minutes to make. But that's all well and fine. The real question is how they taste. Each bite is chewy, moist, and decadent, with the brightness of fresh strawberries. In a word, dreamy!
Deep Dish Strawberry Pie
With less than ten ingredients, including a premade pie crust and a handful of ingredients, this Deep Dish Strawberry Pie from Blackberry Babe is as easy to make as beautiful. It's filled with fresh strawberries mixed in gelatin for a pie so heavenly you'll want to eat it right away. But unfortunately, you have to wait hours for it to set.
Strawberry Cheesecake Donut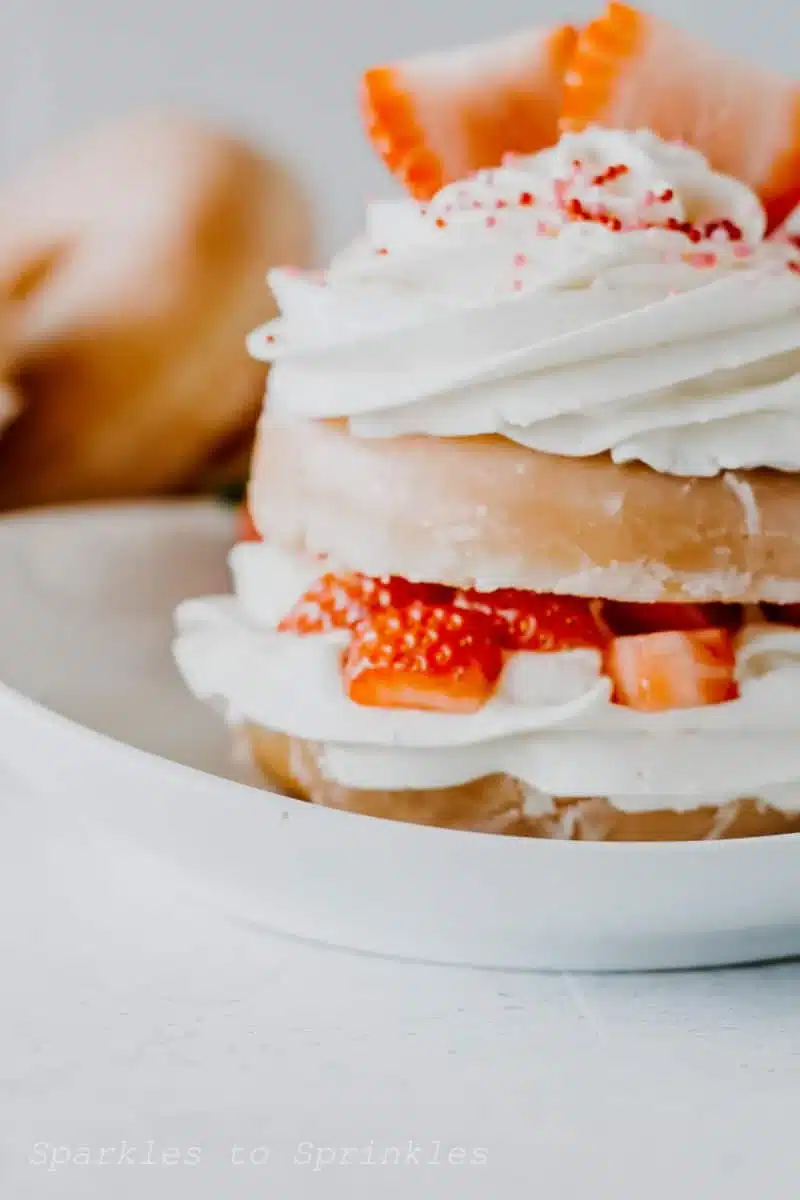 This strawberry cheesecake donut recipe from Sparkles To Sprinkles is a semi-homemade treat you'll keep on repeat. The fancier-than-it-looks dessert starts with a box of glazed donuts. Next, you make your cream cheese mixture and assemble it with fresh strawberries, and you are done. So let's get this straight. In just 15 minutes, you're enjoying an indulgent strawberry sweet that looks like it took all day.
The Celeste Strawberry Pie Recipe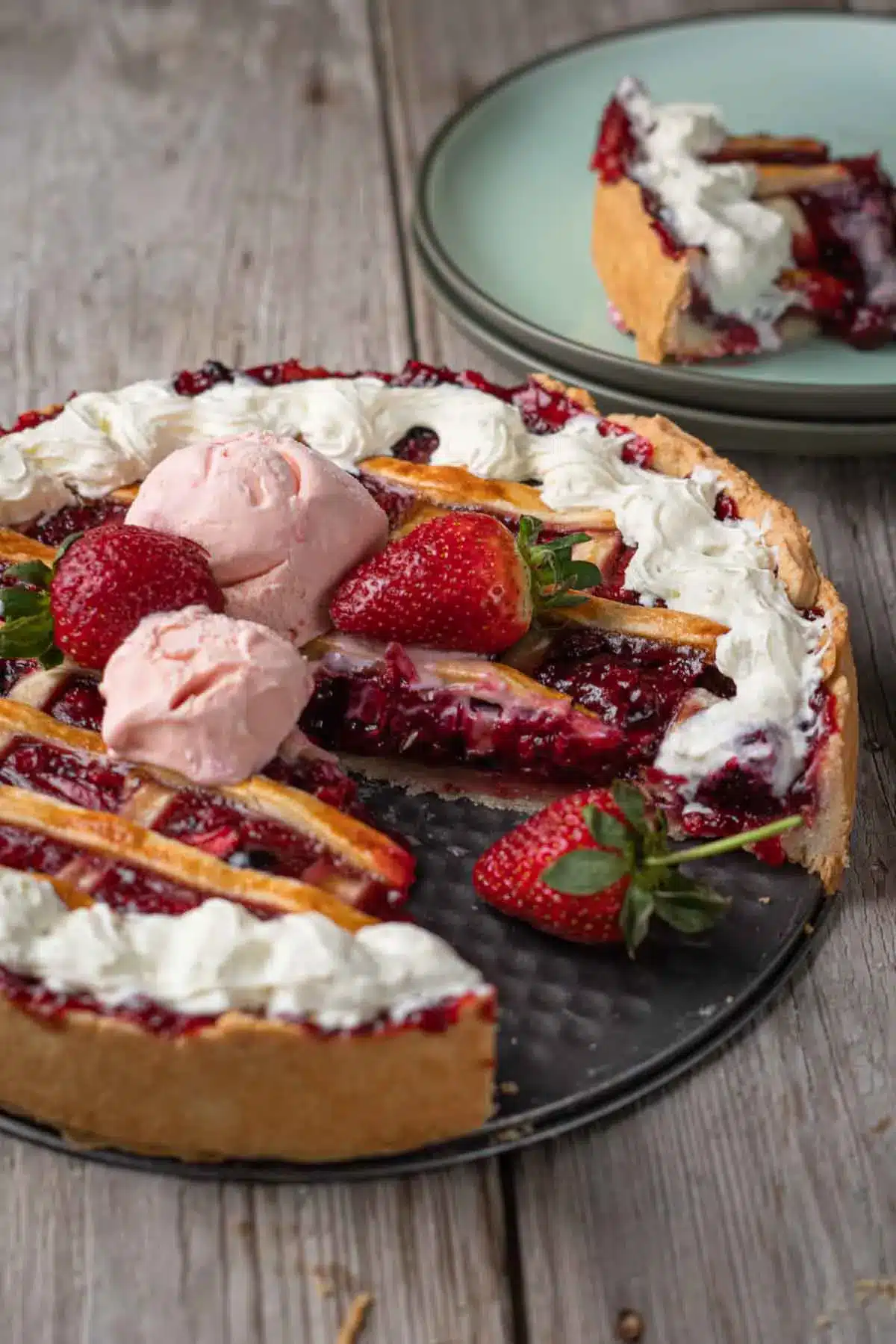 So this Celeste Strawberry Pie Recipe from Riz of Chocolates & Chai was inspired by the 2018 Celeste platforming video game. There's a whole write-up about it on the page. But while you may not know or care about that, what you will care about is how to make this incredibly aesthetic and delicious lattice strawberry pie. In Rizwan, you have an excellent teacher showing you how to make the lattice and the filling and even tips for a gorgeous presentation.
Cannoli Cream Filled Strawberries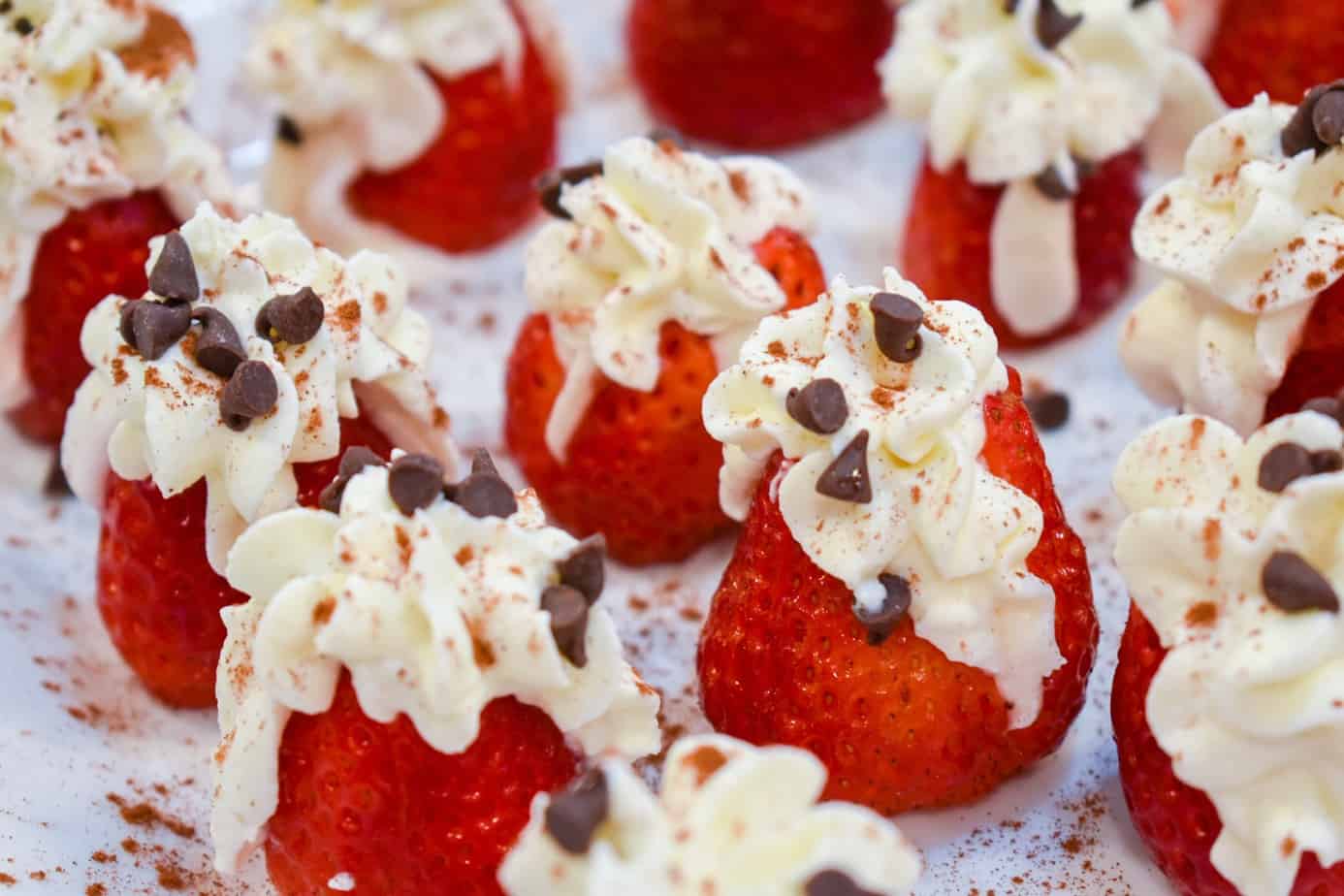 Cannoli Cream Filled Strawberries from Lauren of The Tasty Travelers is an excellent appetizer you can whip up quickly. They're a sweet appetizer to keep the little ones satisfied while you work on the main course. Cannoli cream is easy to make with five simple ingredients, while the rest is strawberries, chocolate chips, and cinnamon. But before you get started, take note of Lauren's strawberry filling technique. It'll prevent waste.
Strawberry Mousse Cake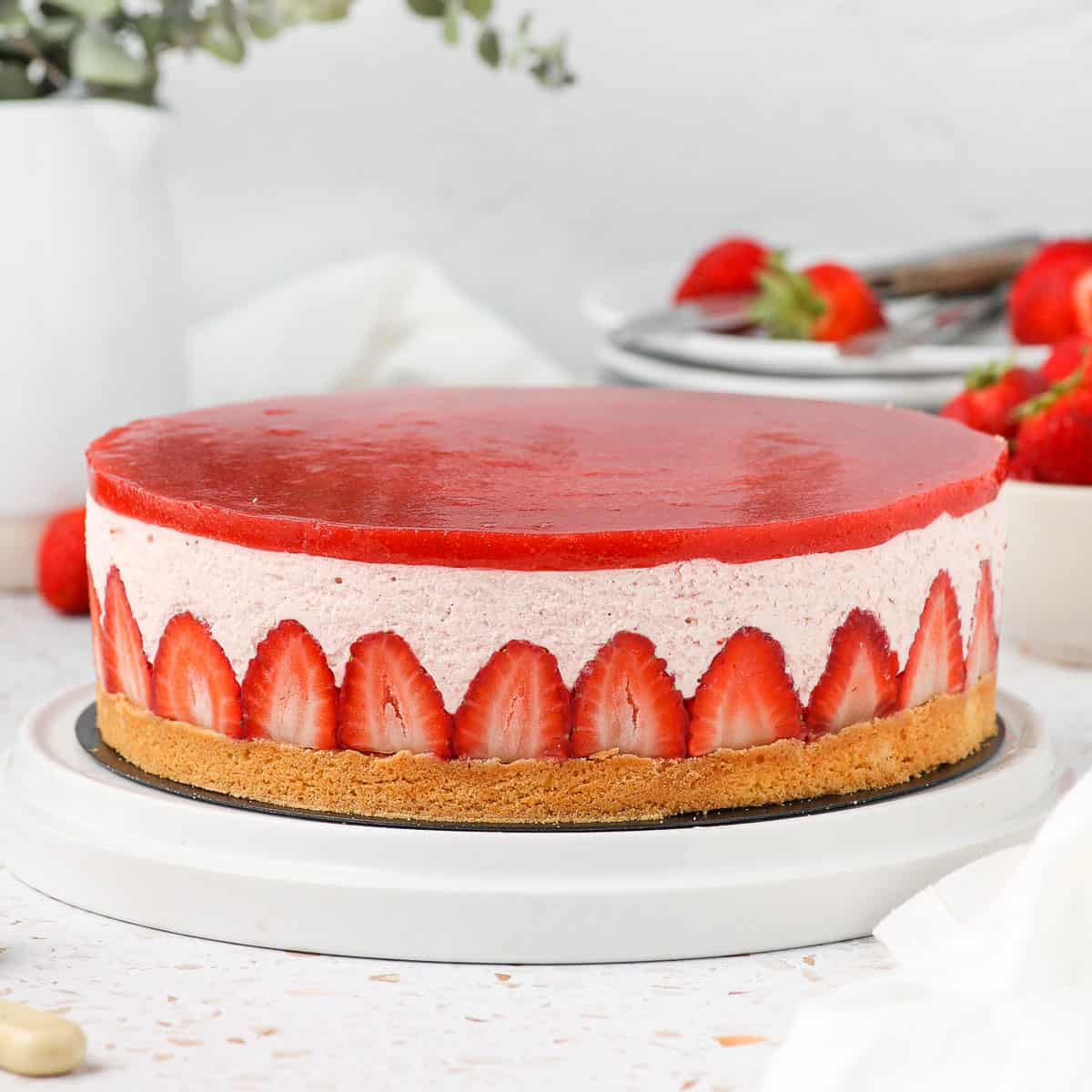 This Strawberry Mousse Cake by A Baking Journey features an airy mousse with a rich buttery French sablé crust base (similar to a shortbread cookie). The sides are lined with fresh strawberries, while the center is a melt-away light mousse. The best part? A strawberry jelly topping.
Easy Strawberry Pound Cake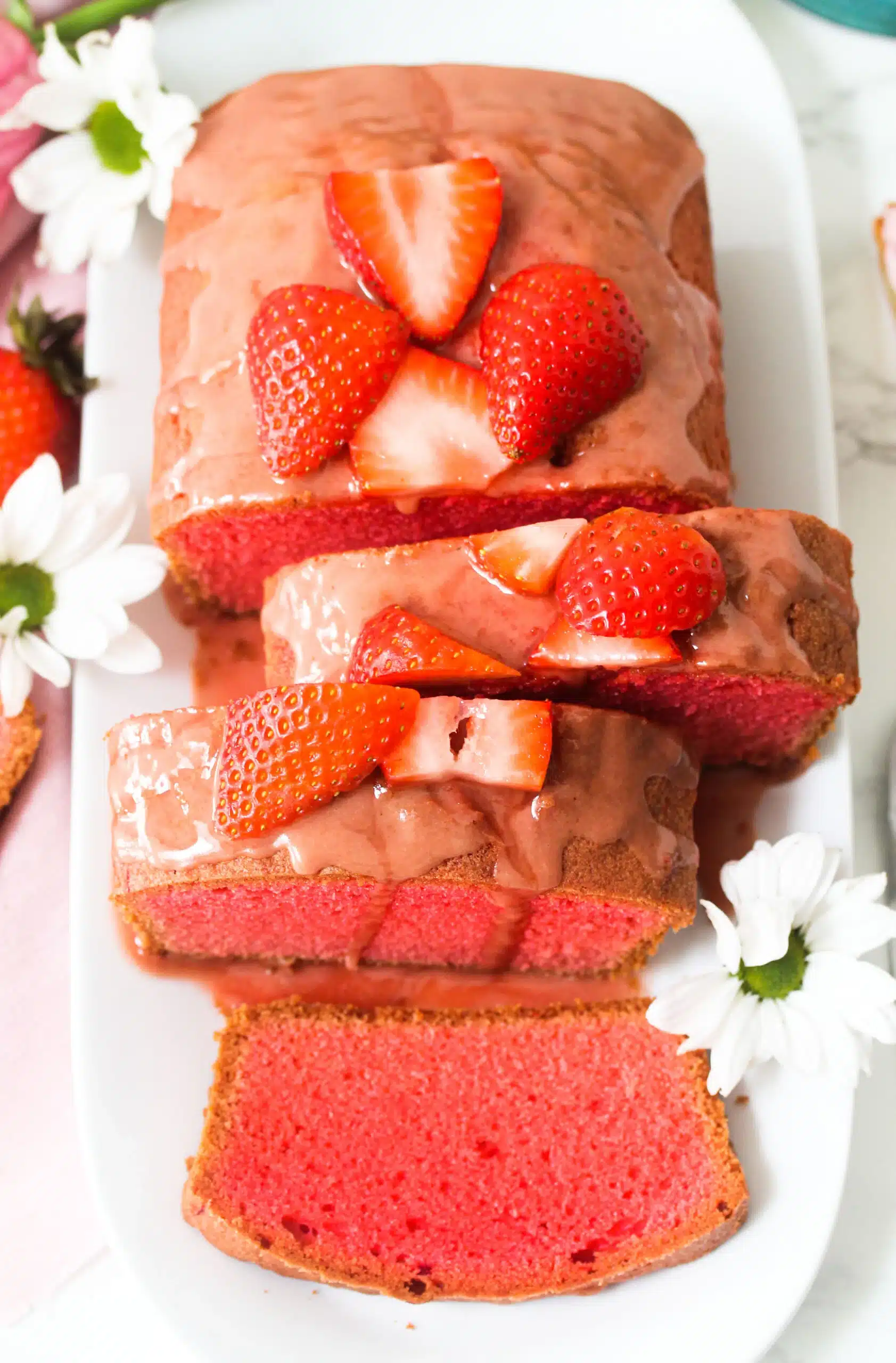 This tastebud teasing brightly colored Easy Strawberry Pound Cake by Sims Home Kitchen is ideal for Valentine's Day or other spring occasions, like Mother's Day, where dessert is a must. It's dense yet moist and topped with an impeccably sweet strawberry glaze. So do you want two slices or three?
Strawberry Charlotte Cake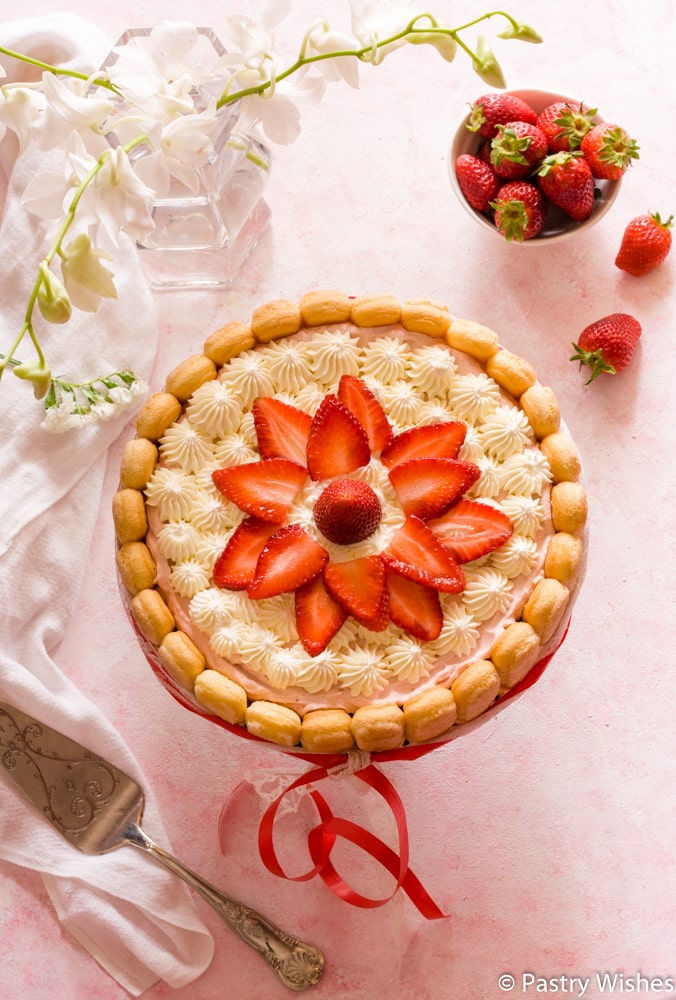 Voula loves this Strawberry Charlotte Cake for its ease and elegantly light quality. Further, it's not bad to look at. No, actually, it's beautiful! But what is a Chatlottle cake? It is one uses bread or, in this case, ladyfinger cookies to line a mold pan.
Next, you add a filling, like custard. But not for this version. Instead, for this version, Voula's Pastry Wishes away from eggs for a no-bake filling. Finally, to achieve the aesthetic seen in the picture, you'll want to carefully decorate with whipped cream, powdered sugar, and Fresh strawberries.
Strawberry Ice Cream Float
Like the strawberry cookies above, this deliciously simple Strawberry Ice Cream Float recipe from The Inspiration Edit is more of a strawberry flavor dessert than a dessert with real strawberries. Also, it strikes up a bit of nostalgia as Strawberry ice cream floats are something we often had growing up. There's no recipe needed. It's just vanilla ice cream with a pour of strawberry soda, but so, so good!
Which Strawberry Desserts Will You Try First?
You've seen so many precious dessert recipes like Strawberry Mousse Cake, Cannoli Cream Filled Strawberries, Strawberry Blondies, Strawberry Cinnamon Rolls, and many more. So which one got your attention more than the others? We'd love to know!