Sit back, relax, and get ready to discover some of the best mini bundt cake recipes you will ever find. Seriously! We hand-picked 22 of the most delicious, beautiful, and creative little cakes (made by talented recipe developers.)
There's a sweet potato bourbon bundt, a funfetti, a banana split bundt, and so many more. So, stick with us until the very end, and you are sure to find something you'll love.
Let's dive in!
22 Best Mini Bundt Cake Recipes
Just below, you will discover delicious mini bundt cakes made with a range of flavors, presentations, and techniques. We were, at times, amazed by the creativity that went into each one.
There is no ranking here. However, we think each mini bundt is a delicious addition to the list, whether it appears first or last.
By the way, if you like this post, you'll love our best Cuisinart ice cream recipes, mini desserts in a cup, and our best cereal dessert recipes post.
Banana Split Bundt Cakes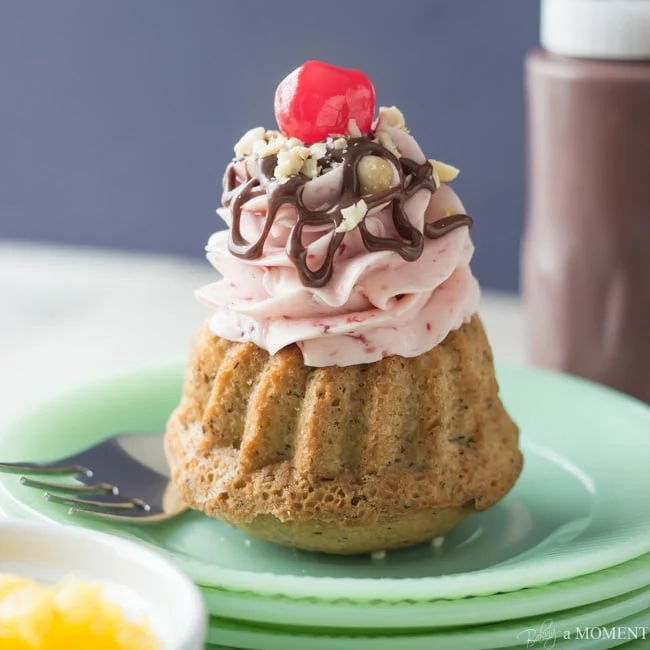 For Allie of Baking A moment, spring isn't just about transitioning from cold to warm weather. And it's not just about burgeoning greenery and long scenic walks. Spring is personal for her. Her sons were born in spring. So, for their birthdays, she always makes something unique.
One year in spring, that special something was this banana split bundt cakes recipe.
Mini banana bundt cakes are adorned with juicy pineapple, strawberry frosting, chocolate drizzle, and salty peanuts. Oh, and a cherry on top because no banana split is complete without one.
Visit Baking A Moment for the recipe.
Coconut Ube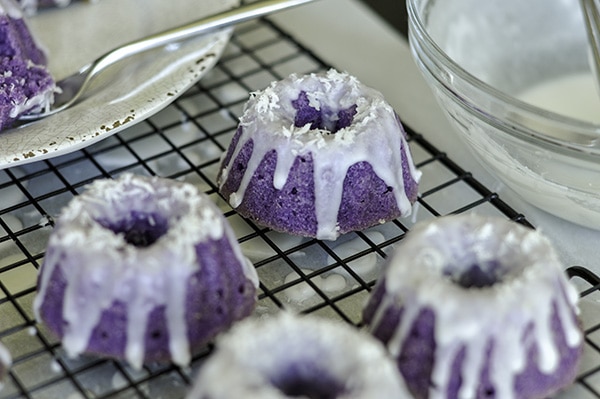 If you're looking for a mini bundt cake recipe to catch the eye, look no further than these coconut Ube mini bundt cakes from The Sweet And Sour Baker. They are striking, novel, tasty, and just plain interesting!
But, what is ube, you might ask? Well, it's a purple tuber from the Philippines, and it tastes like a sweet potato, only sweeter and with a vanilla note. This recipe calls for ube extract and shredded coconut. And to top it off, there's a delicious coconut glaze.
Visit The Sweet And Sour Baker for the recipe.
Hummingbird Mini Cakes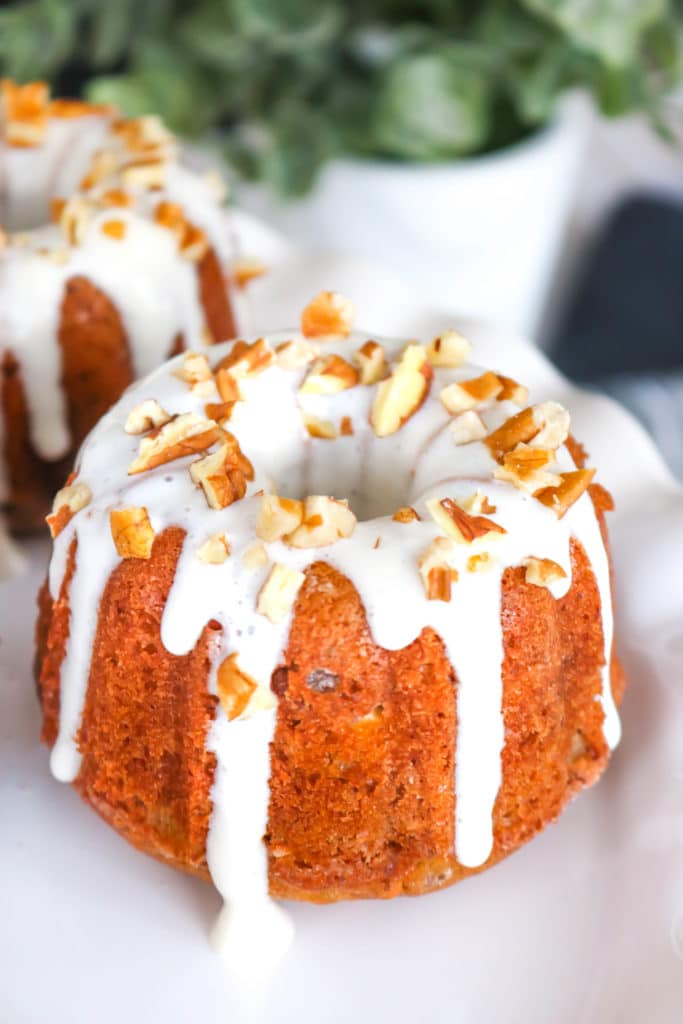 You may have just found your new favorite with these hummingbird mini bundt cakes from Angie of Big Bears Wife. Sure they're scrumptious, but they're also a versatile dessert that will get you noticed. So, make them for Easter, Mother's Day, or even a spring potluck.
But, what the heck is a hummingbird cake? It's a spice cake loaded with basically everything but the kitchen sink. Each heavenly bite will have pecans, bananas, and pineapples. However, the best part is the diet challenging thick cream cheese frosting. Mmmm!
Visit Big Bear's Wife for the recipe.
Mini Meyer Lemon Bundt Cakes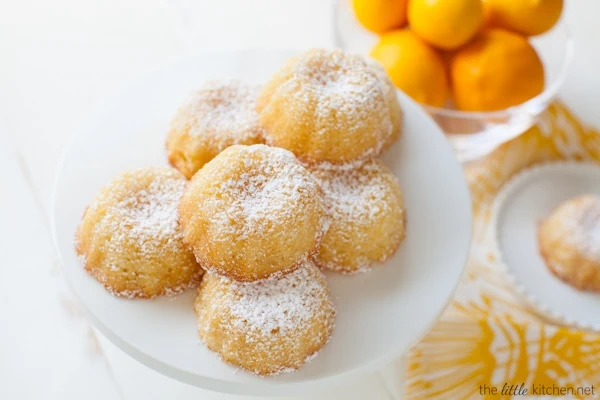 Meyer lemons are smaller, sweeter, and more floral in taste than the most commonly available lemons. Some even say there is a spiced aroma note to them. In short, they are amazing!
So, if you're anything like Julie of The Little Kitchen, you'll be dreaming up ways to use Meyer lemons in your cooking when they are in season. So why not these Meyer lemon mini bundt cakes?
Consider this official notice. These baby cakes may be addictive, as Julie confessed to eating half a dozen soon after making them.
And you won't find any fancy glazes or add-ins: Nope, just lemon and a dusting of powdered sugar. Delicious simplicity.
Visit The Little Kitchen for the recipe.
Mini Cream Cheese Pound Cakes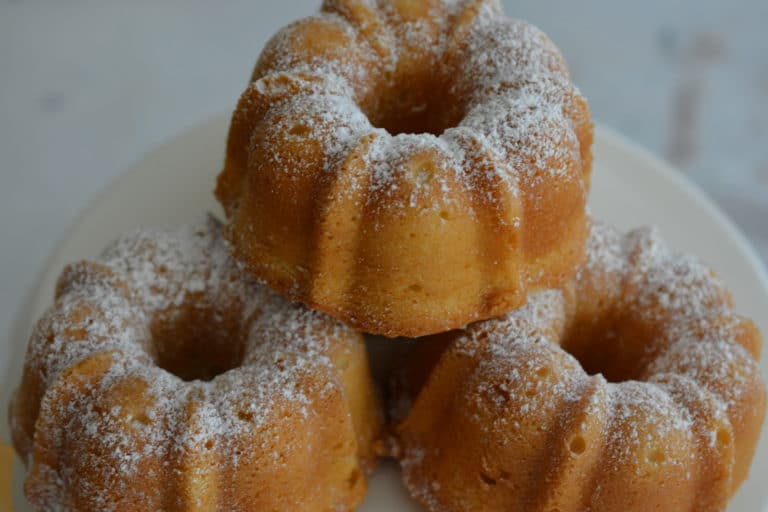 Cream cheese enthusiast Lizzie of the eponymic Sweet Things By Lizzie shares her love of spreadable cheese through these sweet and tangy mini-pound cakes. It's a recipe she's been making for a long while now.
This simple seven-ingredient recipe takes about 20 minutes to prepare and makes about a dozen of the palm-sized confections. Just let them cool and sprinkle with powdered sugar.
Now, you could gussy the cakes up with chocolate chips, a bright, citrusy glaze, or a berry compote. But they are melt in your mouth, tender, moist, tangy, and delicious as is.
Visit Sweet Things By Lizzie for the recipe.
Sweet Potato Bourbon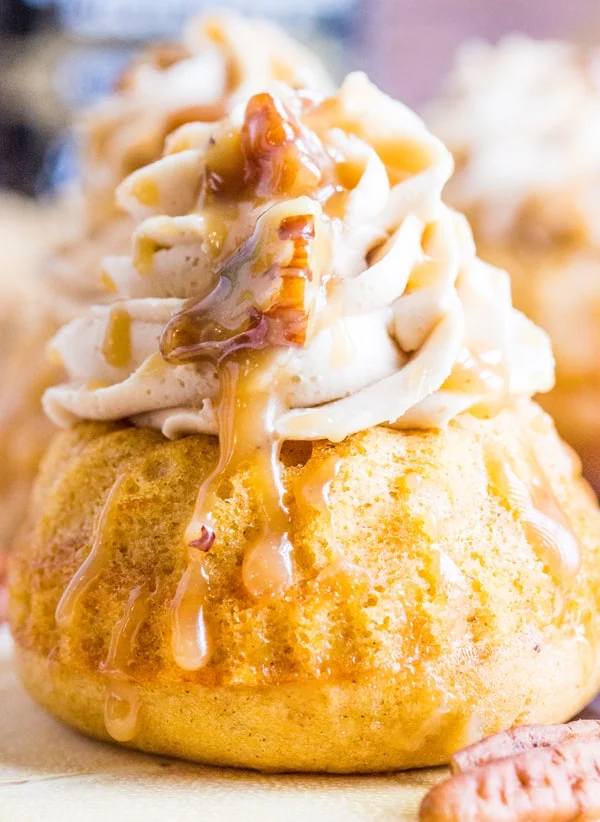 Are you a sweet potato or a pumpkin person? I find that most people fall into one camp or the other, rarely both, and sometimes neither. Well, these sweet potato bourbon mini bundt cakes from Allison of Tornadough Alli may gain some converts.
These miniaturized cakes start with an alchohol-spiked cake batter. They are then topped with a luscious maple buttercream frosting. Now, Alli could've stopped there, and these little cakes would've been amazing. But no, she finishes them with maple pecan glaze to guarantee there are no leftovers.
Visit Tornadough Alli for the recipe.
Guinness Stout with Baileys Buttercream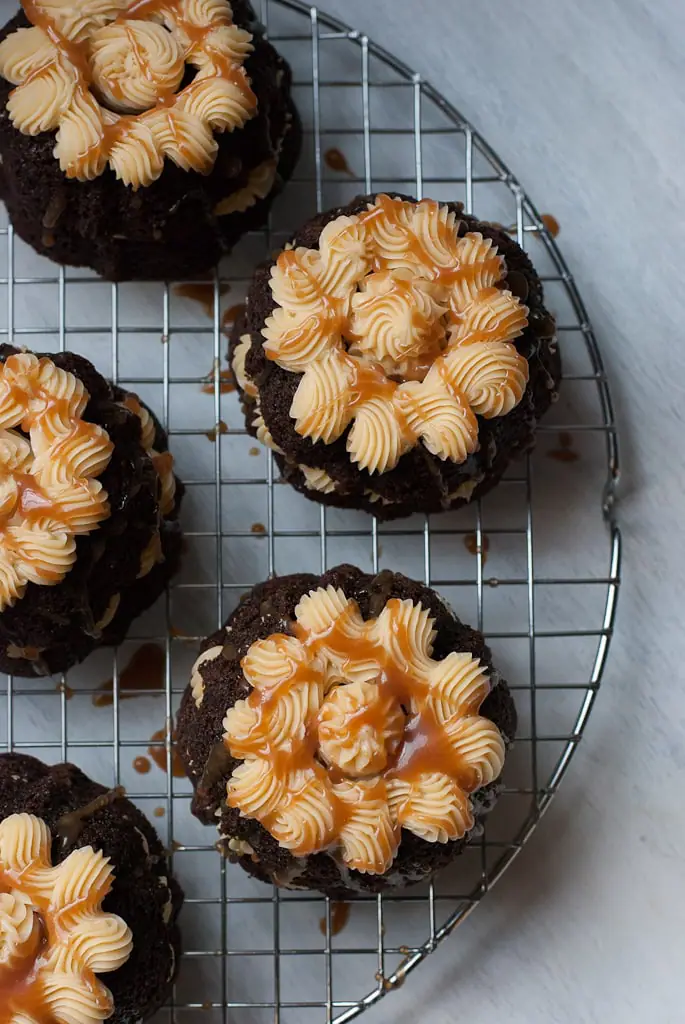 Celebrate St. Patricks Day with these Guinness mini bundt cakes, sure. That's a no-brainer. But there are 364 other days of the year you'll be thinking about these Bailey's buttercream crowned cakes from Shanna of Pineapple and Coconut.
Stout beer brings out the best in chocolate treats. The chocolate becomes more, well, chocolatey.
Stout-infused chocolate bundts are baked, cooled, and sliced. Then boozy Bailey's buttercream frosting is layered between them and added on top before they're drizzled with rich buttery caramel sauce for a beautiful presentation you get to eat with your eyes first. Yum!
Visit Pineapple And Coconut for the recipe.
Funfetti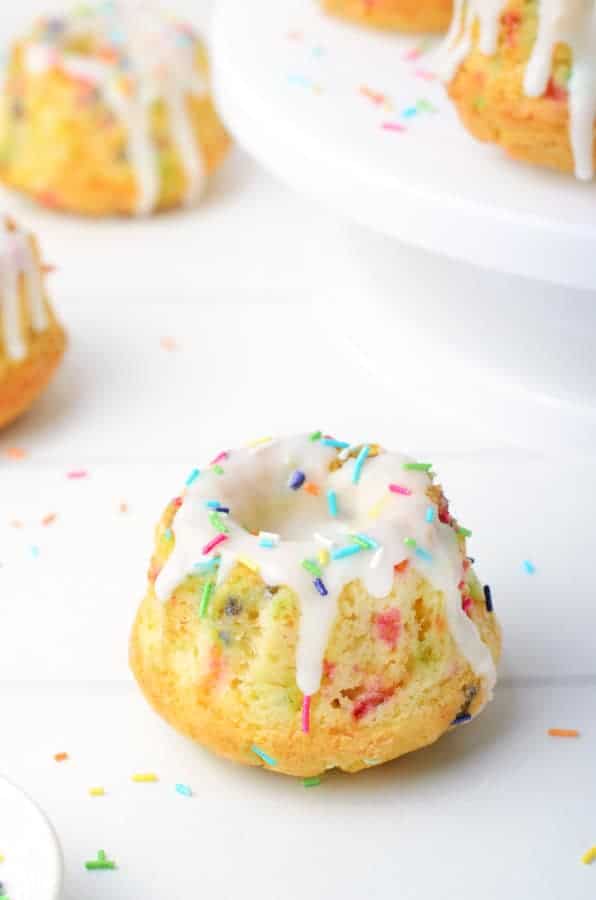 To celebrate the anniversary of her blog, The Bitter Side Of Sweet, Nancy made these festive funfetti mini bundt cakes. Funfetti is always an excellent way to celebrate birthdays, high test scores, or maybe just for making it through traffic without flipping out.
Sprinkle-filled golden brown bundt cakes are drizzled with glaze and more sprinkles for a pretty presentation. And to accompany this 30-minute recipe, Nancy shares links to other recipes made to commemorate her blog's previous "birthdays."
Visit The Bitter Side Of Sweet for the recipe.
Mini French Toast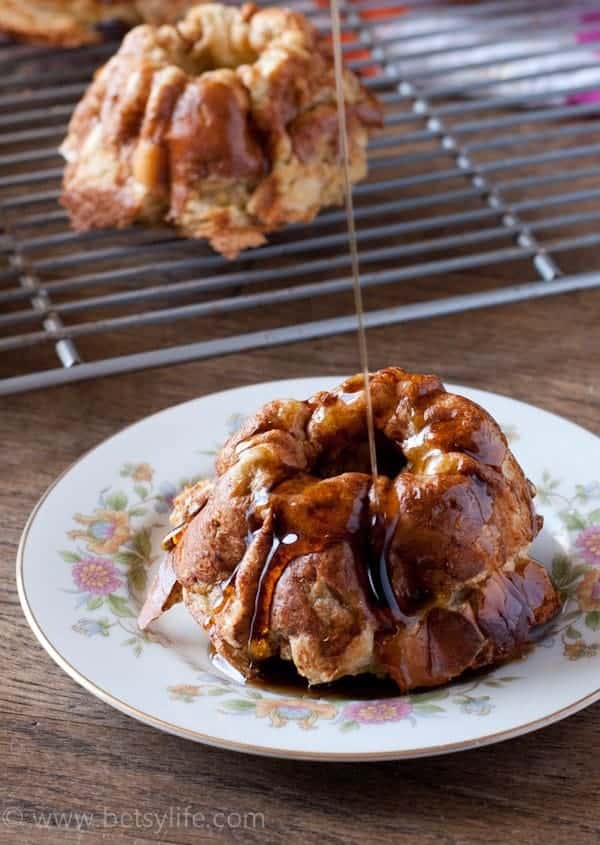 In the eyes of Betsy of self-titled food blog Betsy Life, the meal of spring is brunch. And brunch isn't brunching without champagne. So naturally, she encourages you to enjoy these mini French toast bundt cakes with lots of champagne.
Betsy loves to use gorgeous local Challa bread to make these bundts, but any bread will do, even hot dog buns or the "heel" of the loaf. To assemble, you tear the bread into small pieces, fill the pan with the pieces, then pour the egg mixture over the bread.
Finally, bake. And voila, a breakfast, brunch, or breakfast for dinner fit for a bottle of bubbly. Enjoy!
Visit Betsy Life for the recipe.
Mini Almond and Matcha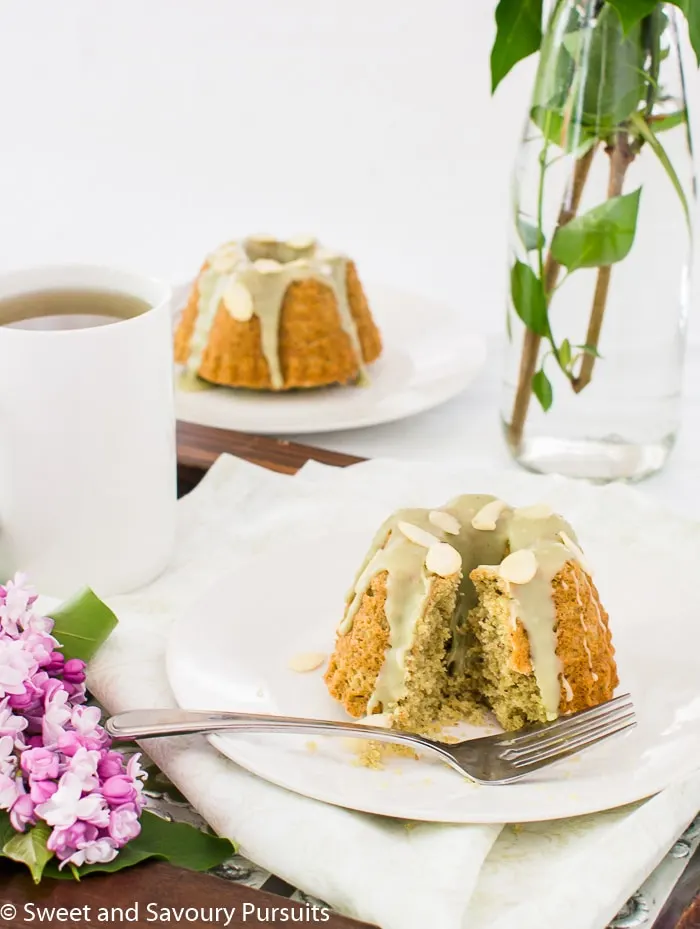 Fida of Sweet And Savoury Pursuits developed this mini almond and matcha bundt cakes recipe inspired by the surge of matcha recipes over the last five years.
Matcha had a nice food trend run and was the star ingredient in everything from tea, doughnuts, and even sports drinks.
Matcha is green tea leaves pulverized into a fine powder for those not familiar. As for the taste, matcha has a mild vegetal and tart flavor.
Matcha and almond flour are the standout ingredients in these tasty little cakes. After they are baked and cooled, you douse them in a matcha glaze. And if you want a luxurious finish like Fida, you can delicately arrange sliced almonds on them.
Visit Sweet And Savoury Pursuits for the recipe.
Mini Carrot Bundt Cakes With Cream Cheese Frosting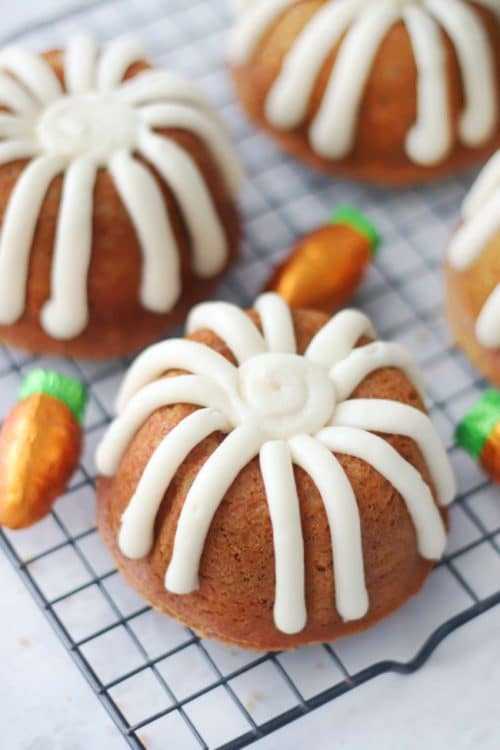 This mini carrot cake from Glue Sticks Blog is not only a delicious riff on the Nothing Bundt Cakes bakeries. But it's also an education in how to jazz up box cake. And if that isn't enough, it also includes some frosting tips.
Good carrot cakes are so tasty, moist, and perfect for Easter. The ginger, cinnamon, and nutmeg give it that signature taste.
But, this recipe is unique because it starts with a cake mix plus two secret ingredients that give that added richness far and away from your typical box cake.
Visit Glue Sticks Blog for the recipe.
Gingerbread Mini Bundt Cakes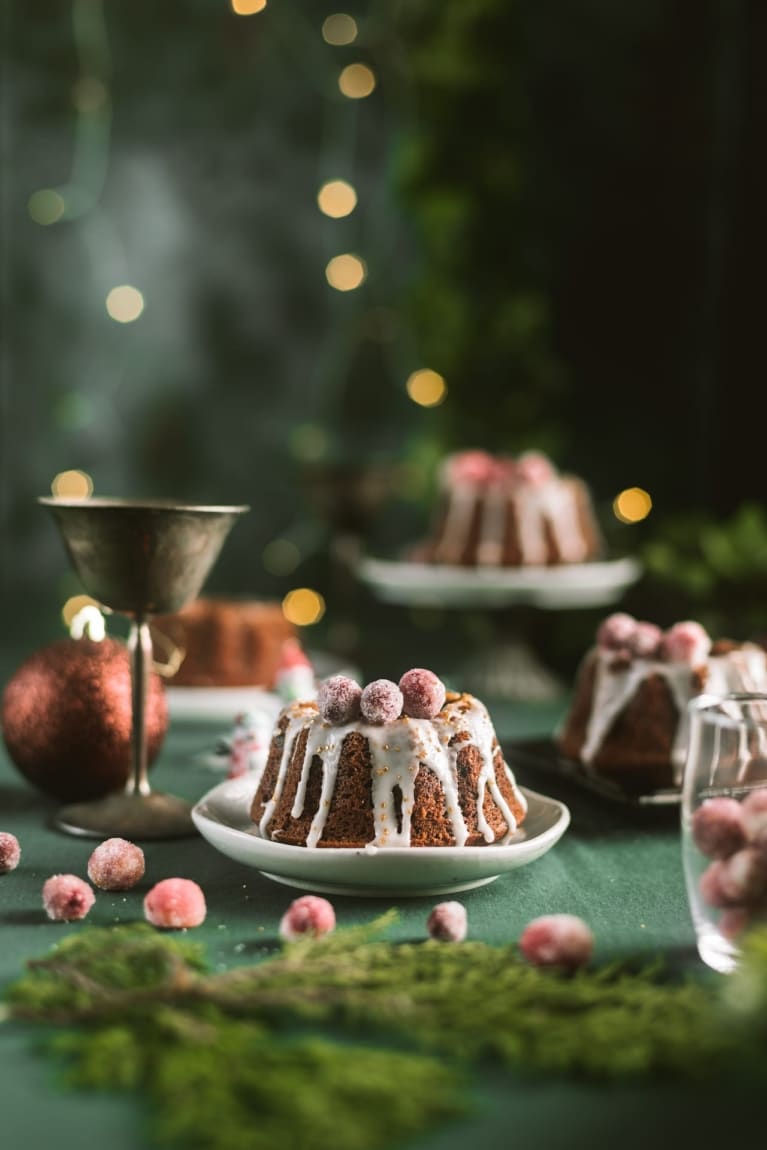 Kankana of Playful Cooking produces exquisite food photography, and this gingerbread is a perfect representation of her work. It's beautifully composed, with amazing contrast and great lighting. Stellar work!
Don't you want to grab one of those mini Christmas cakes from the screen?
Each bite is full of the flavor of Christmas. First, you'll find a recipe with warm spices like ginger, allspice, nutmeg, and cinnamon. Then there's dried fruit; you can go with cranberries or raisins.
To cap it off, drizzle some sugar glaze. And for a sumptuous finish, serve the bundts with sugared cranberries.
Visit Playful Cooking for the recipe.
Caramel Apple Mini Cakes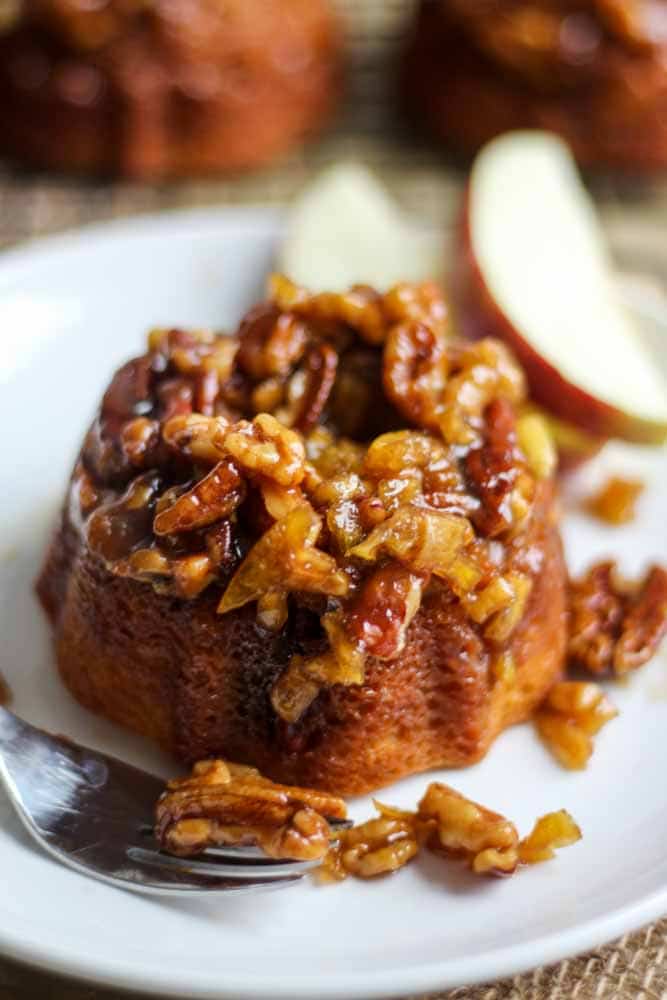 When Molly of What Molly Made isn't busy "Killin' It" at work, she's busy baking. She bakes for others' enjoyment, holiday parties, and coworkers.
She bakes because she loves it. And she loves these caramel apple mini cakes. So much so that even she yearns for more apt words to capture their appeal.
Like pineapple upside-down cake, these mini cakes see the good stuff—pecan and apple mixture—going into the bundt pan first before you ladle in the batter.
This process creates a delightful caramelly topping that seeps into the cake, making it moist and, well, heavenly.
Visit What Molly Made for the recipe.
Cranberry Orange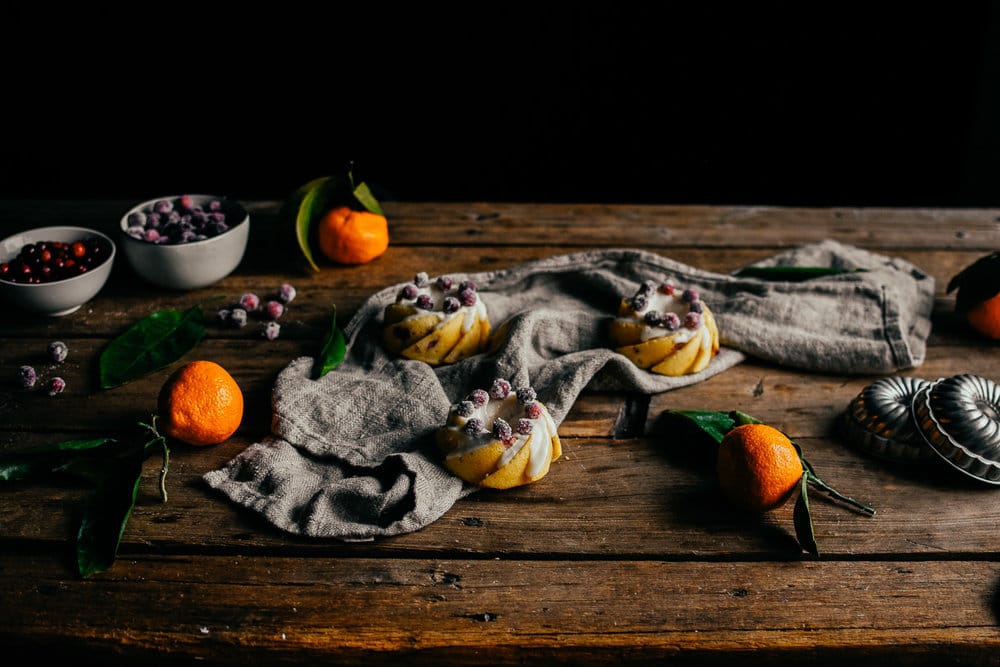 If you're the type to get lost in moody photography that shifts you into deep thought, then have another gander at the image above.
Isn't that scene just so lovely? And that's just a sample of the kind of edible art you can expect to feast your eyes on from Kelsey, The Farmer's Daughter.
Orange juice, orange zest, and buttermilk are the standout ingredients for these bright midwinter treats. But it doesn't stop there.
Top the tiny cakes with a homemade glaze and sugared cranberries for extra fancy points and an impressive arrangement.
Visit The Farmers Daughter for the recipe.
Mini Angel Food Bundt Cakes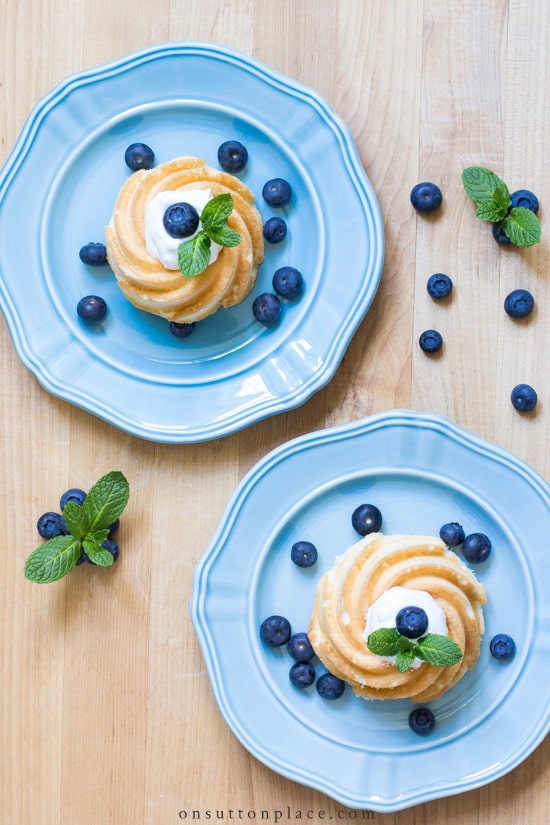 These mini angel food bundt cakes from Ann of On Sutton Place prove that deliciousness doesn't have to be so guilt-filled. Believe it or not, these baby cakes are fat-free. And fat-free never looked and tasted so good!
You'll find a light, airy angel food cake recipe on Ann's page. But when you scan the ingredient list, you won't find whole eggs, and you won't find butter. These bad boys aren't supposed to be dense and super-indulgent. Instead, they should be as delicate as a cloud.
For the toppings, try cool whip and fresh fruit to keep to the theme of lightness and freshness.
Visit On Sutton Place for the recipe.
Pumpkin Bundt Cake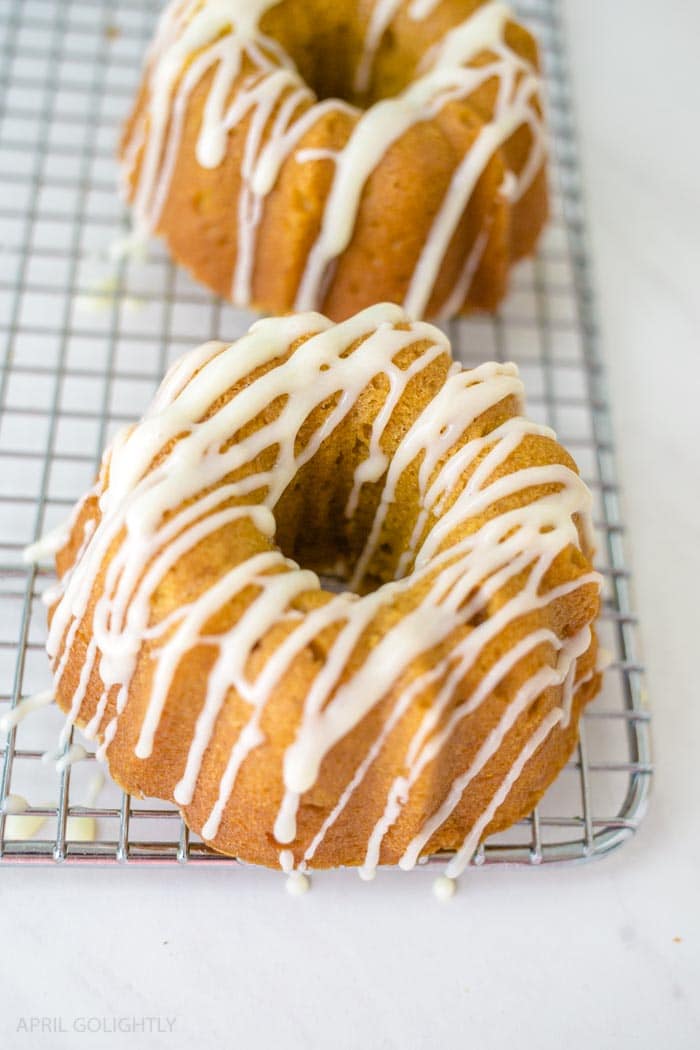 Fall is pumpkin season. When the leaves change color and the air cool, you'll want to enjoy these pumpkin bundt cakes from April of self-titled blog April Golightly.
But no one could blame you for making them in the spring or summer using canned pumpkin to scratch that pumpkin spice itch.
On the page, you have a fantastic recipe with simple ingredients you can find anywhere. Drizzle on the cream cheese glaze, and you will have a delicious and pretty presentation.
Finally, spread the wealth. Box the cakes up and give them to your friends and coworkers.
Visit April Golightly for the recipe.
White Russian Mini Bundt Cakes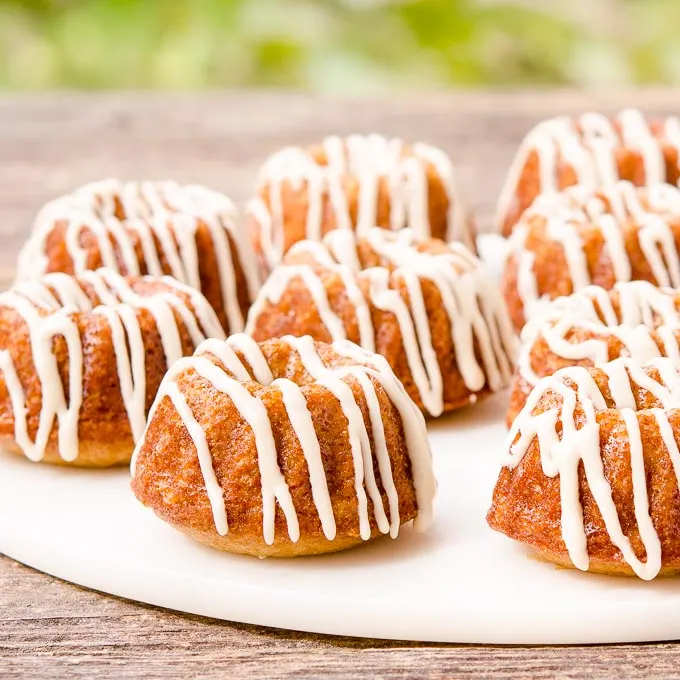 Renee of Magnolia Days combines her love of coffee and cream with her bundt cake obsession to bring you this White Russian mini bundt cake.
By the way, a white Russian is a coffee-vodka cocktail. It's an interesting concept that was part of a beverage bundt cake challenge.
The cake batter starts with the standard stuff, eggs, flour, butter, etc., and takes a fun turn with Kahlua, cream, and vodka. Then it's showered with vodka and Kahlua glaze for an exciting adults-only dessert.
On the page, you'll discover not only a wonderful recipe but also links to other delicious beverage-themed bundt cakes. How fun!
Visit Magnolia Days for the recipe.
Strawberries and Cream Naked Bundt Cakes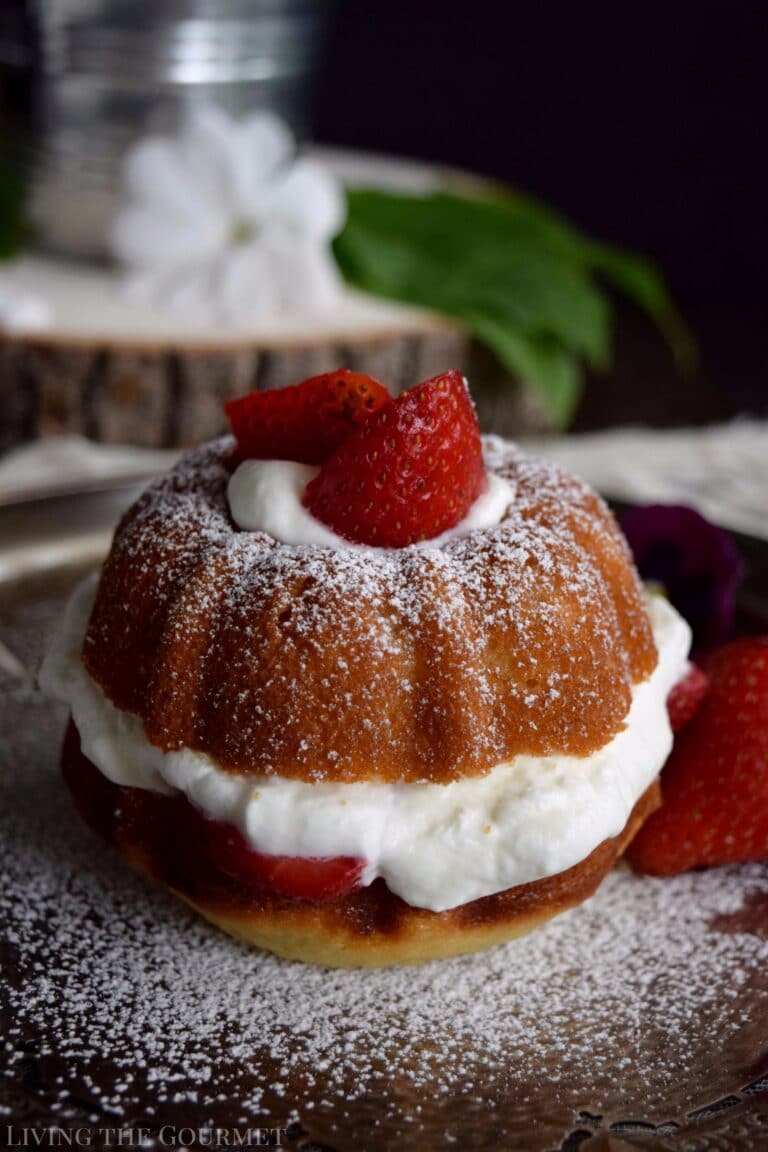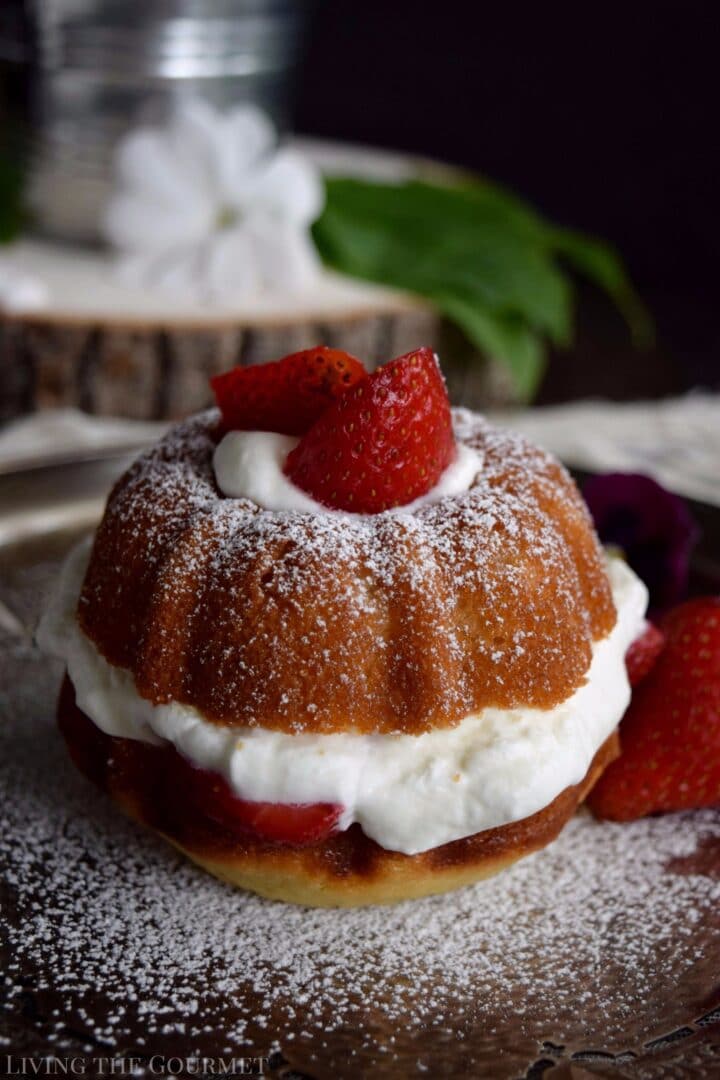 You don't need to venture into the unfamiliar with this bundt from Catherine of Living The Gourmet. Strawberries and cream is a classic dessert everyone's heard of, and this version looks so good that you will want to bite your screen.
Instead, follow this simple yet delicious recipe and enjoy the real thing. While familiar with the concept, you may still pick up some nifty little tips like a particular flour to make pastries with exceptional lightness.
And if that isn't enough, you will also find many links to other strawberry bundt recipes.
Visit Living The Gourmet for the recipe.
Mini Cinnamon Bundts with Dulce de Leche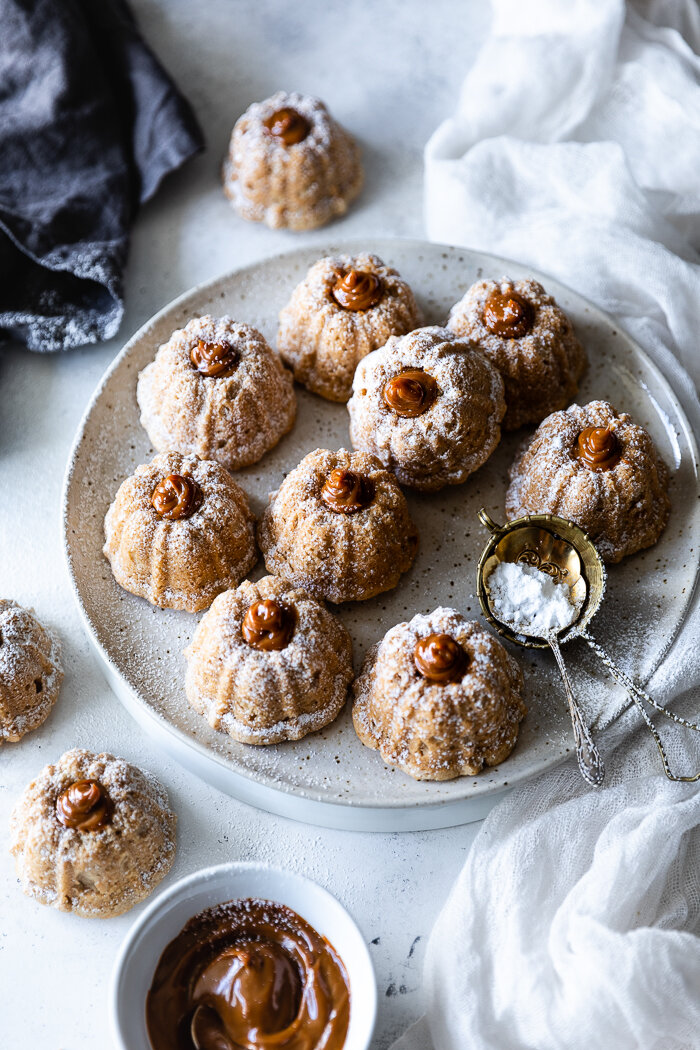 If you ever find yourself short on time or ingredients, you may have to work with what you have.
And that's what Dev, of blog Dev Amadeo, did when she created these cinnamon bundts with dulce de leche using only what she had on hand.
Like most other bundts, these baby cakes start with the ingredients you're used to, like flour, butter, milk, etc. But things get really interesting and tasty with the mention of dulce de leche – an absolutely addictive caramel milk concoction.
Visit Dev Amadeo for the recipe.
MINI STRAWBERRY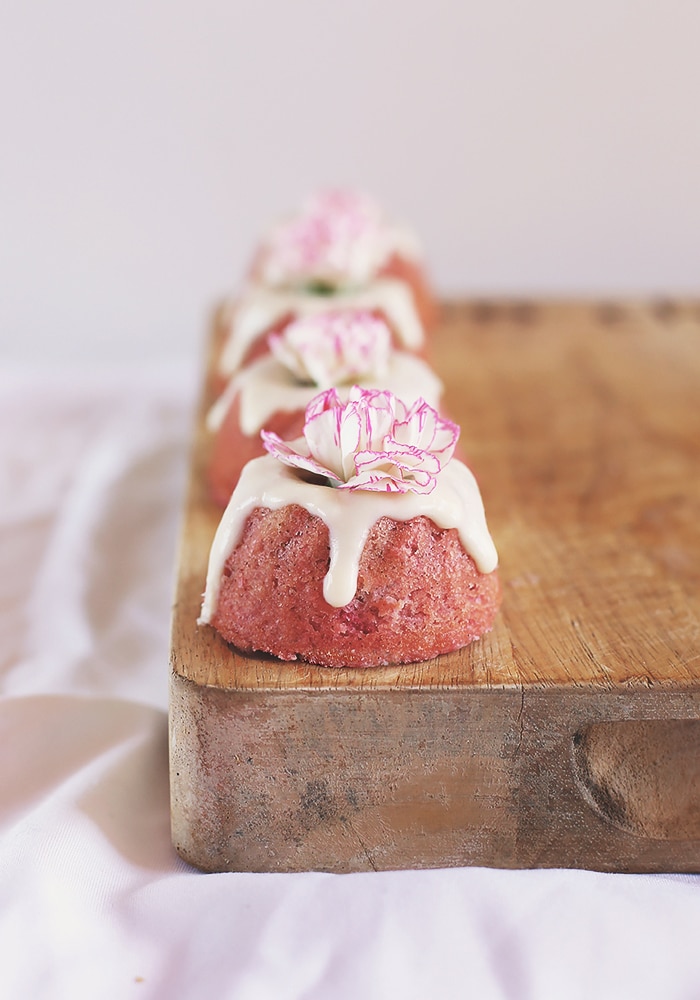 Self-described girly girl, Sarah of Love Swah, created this mini strawberry cake. The soft pink cake is enhanced with edible flowers, making it the perfect treat for Mother's Day and girly birthday celebrations.
On the page, you'll find a recipe complete with precise measurements. For example, flour, sugar, and butter are measured in both cups and grams.
Once those soft pink baby bundts are baked and cooled, top them with cream cheese frosting, and you'll have a dessert perfect for the person who loved you first.
Visit Love Swah for the recipe.
FAQ
What Are Mini Bundt Cakes?
Mini bundts are the smaller and cuter version of bundt cakes. They are perfectly sized for single-portion enjoyment. Think cupcakes, but fancier. And because they are so small and cute, they also make for delicious gift-giving.
Another benefit of mini bundt cakes is testing out new flavors without committing to an entire cake.
How Do You Make Mini Bundt Cakes?
To make mini bundt cakes, you will need a good recipe (like one of the recipes above) and a mini bundt pan.
Where To Buy Mini Bundt Pans?
You can find mini bundt cakes at many kitchen and home goods stores, craft stores, and even fabric retailers online or in-store. We really like this one from Wilton.
How To Store Mini Bundt Cakes?
How you store your bundt cake will depend on whether it is perishable. For example, if you add fresh strawberries to your bundt, you will want to keep in the fridge for up to five days.

If your bundt is a basic bundt with cake batter and nothing perishable, you can store it at room temperature for up to five days.
Which Mini Bundts Do You Like Most?
Is it the Meyer lemon bundts, the banana split, strawberry shortcake, or something else? Let us know in the comments.
And don't forget to check out our other dessert list, like Cuisinart ice cream maker recipes and Mini Desserts In A Cup, and our fantastic family-sized hot skillet cookie.