Are you excited? Because here, we've put together a list of the 15 Most Delicious Mini Desserts In A Cup you can find. And boy, oh boy, are you in for a treat! So just continue reading to the end, and you are sure to find something you want to make.
Desserts preportioned in individual serving vessels can be elegant and inviting. They're perfect for baby showers, the holiday season, or any other special occasion where you have a beautiful dessert table. Plus, there's just something so fun about eating treats this way.
So are you ready to discover the tasty?
Let's dive in!
Jump to:
15 Best Mini Desserts In A Cup
These mini desserts in a cup are awesome for parties or just because it's Saturday, from cookie shooter cups filled with milk to raspberry Jello salad. There's enough variety to keep all mini dessert lovers satisfied. As always, this list is just that, not a rank. Enjoy.
If you like this list, you're going to love our best no-bake summer dessert recipes , or our best doughnut recipes.
Raspberry Jello Salad
Des and Kadee of Oh So Delicioso bring us this raspberry jello salad, a delightful finish to your fancy dinner party or New Years' Potluck celebration. It's a vibrant, fun to look at, delicious little dessert. And while it looks like it could be served at high-rated restaurants, it's made with everyday ingredients. Don't you just want to grab one from the picture? We really do eat with our eyes first!
Using a pan, bowl, or elegant glasses, alternate layers of raspberry jello, whipped topping/jello. Then top each with fresh fruit for a sleek cap on a fun night of food, family, and laughs. And while it does take a while to set, you can put this dessert together in just minutes. So, are you going to add this surprising dessert to your menu?
Visit Oh So Delicioso for the recipe.
Strawberry Shortcake Trifles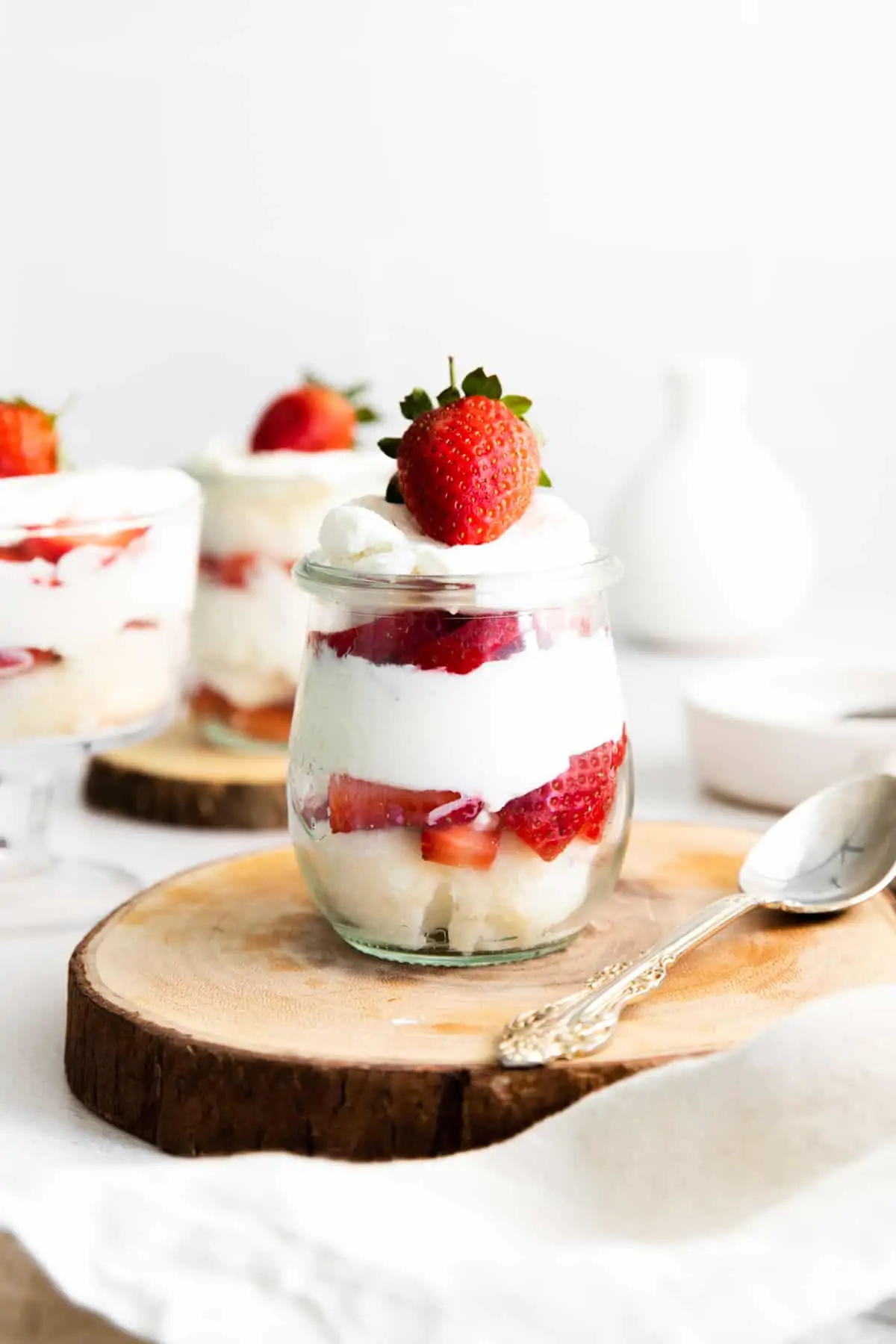 Can you hear that? It's the sound of summer calling your name with these easy yet beautiful strawberry shortcake trifles from Jacelyn of Crayons And Cravings. They're perfect for baby or bridal showers, engagement, or retirement parties. Essentially, anytime you want a simple yet stylish dessert for warm weather.
Add a base of angel food cake (or pound cake), then alternate layers of macerated strawberries and easy homemade whipped cream until you fill your serving vessel of choice. It's an effortless confection that comes together in minutes. Still, Jacelyn shows you how to do it with pointers and explanations of terms you may be unfamiliar with.
Visit Crayons And Cravings for the recipe.
Individual Tiramisu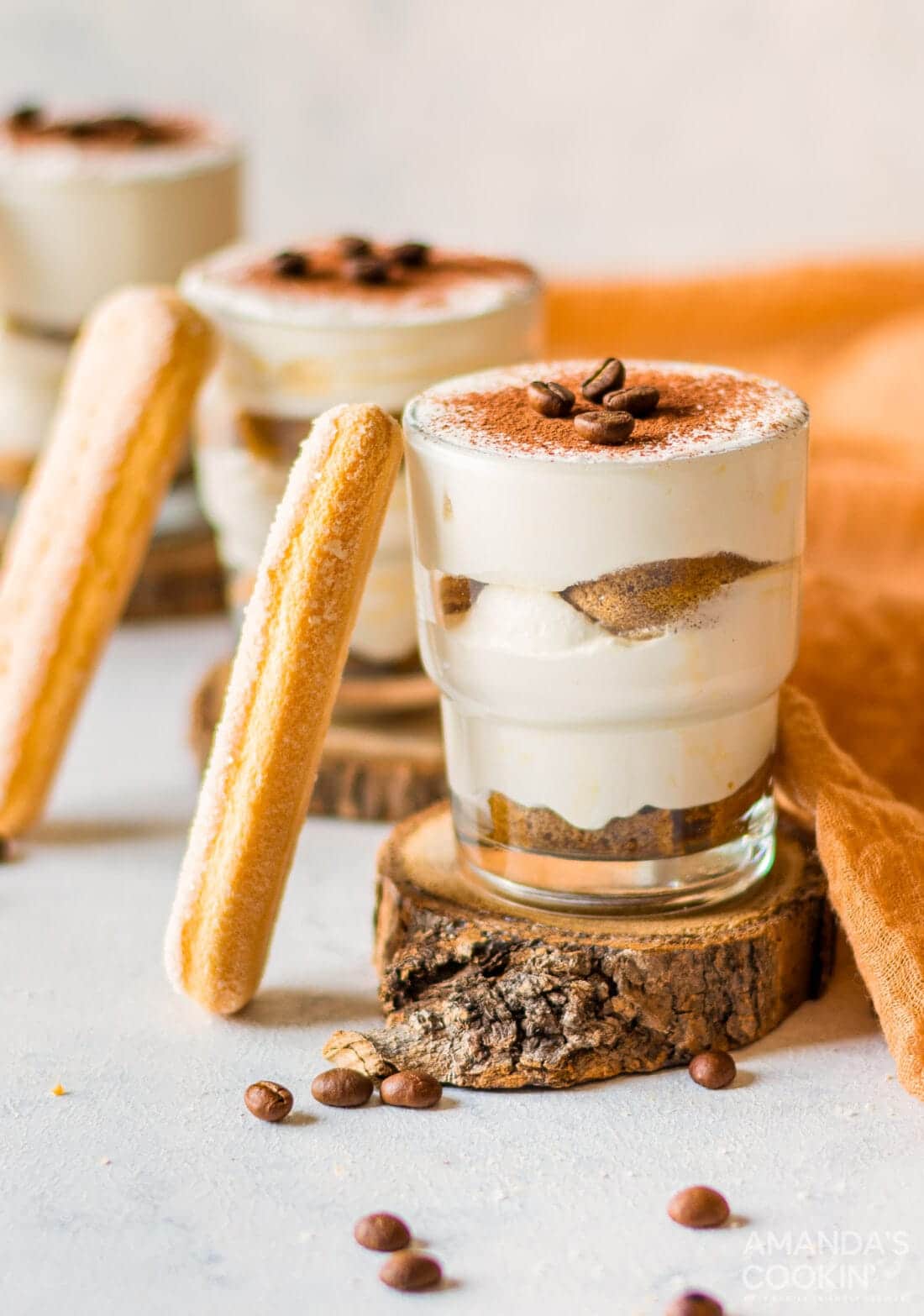 When you make individual tiramisu from Amanda's Cookin, no one has to worry about not getting their fair share. Every portion is divvied up equally as it should be for sweets this mouthwatering. But I wouldn't blame you for trying to steal an extra serving.
Mascarpone cream whipped into stiff peaks envelops espresso-drenched ladyfingers. So grab a cup and add a layer of the coffee-soaked biscuit cookies. Next, a layer of cream, alternating until you fill your serving cup. Each spoonful has everything you need; a sharp coffee flavor tamed by the delicately sweet cream. Irresistible!
Visit Amanda's Cookin for the recipe.
Oreo No-Bake Cheesecake Cups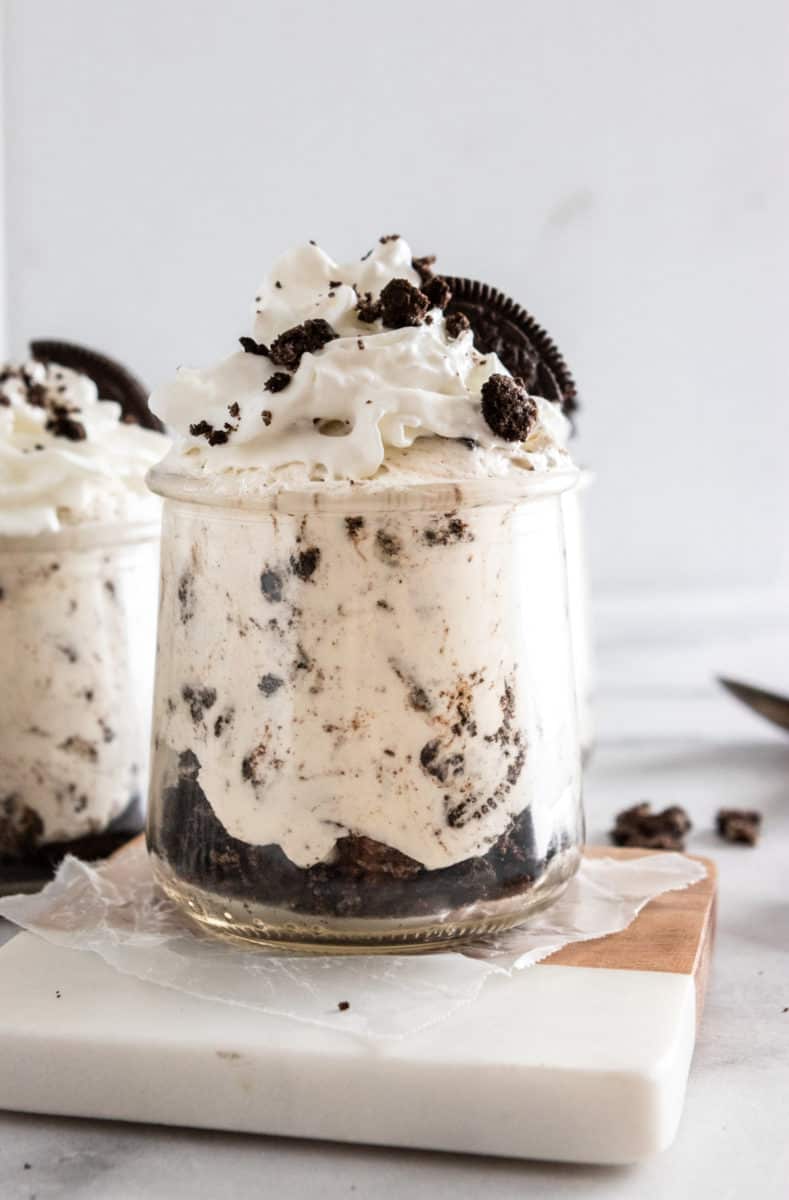 Lemons And Zest's proprietor Lorie has us stoked with this easy no-bake cheesecake cups recipe. It's one of those 20-minute easy individual desserts that features perhaps the most popular cookie in the world. And to say that Lorie loves Oreo cookies would be an understatement. She's downright obsessed! Admittedly so. On her site, you'll find her many oreo recipes, and at the time she published this one, there were four different Oreo flavors in her pantry.
Putting this mini dessert in a cup together is easy as pie. You crush the Oreos, make the cream cheese filling, and assemble. It starts with a layer of cookies. Then you pipe in the whipped cream cheese cookie filling. Finally, you have an easy dessert to enjoy anytime, especially in the summer.
Visit Lemons And Zest for the recipe.
Strawberry Dark Chocolate Mini Dessert Cups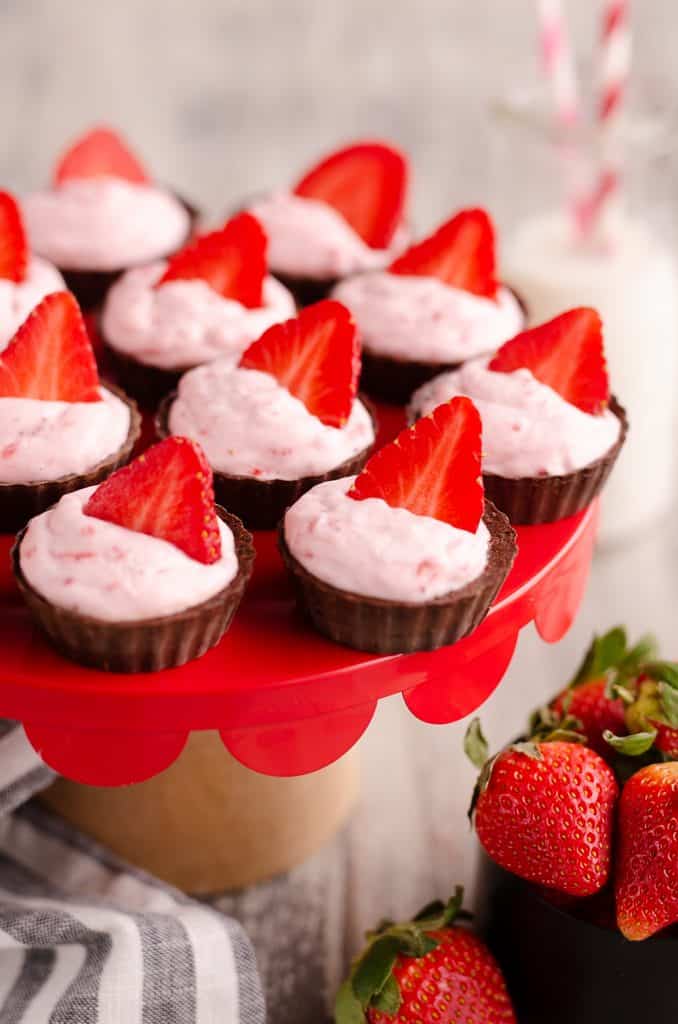 I'm sure you've heard of the old saying, a moment on the lips, a lifetime on the hips, right? Fear not. With this light, airy, self-portioned, bite-sized treats recipe from Danielle of The Creative Bite, you can indulge a little without feeling guilty. Each one is just 125 calories.
It begins with small milk chocolate mini cups that you fill with strawberry whipped cream. Never made whipped cream from scratch? No problem, it couldn't be simpler. You simply mix heavy cream and sugar (with an electric mixer) until you create stiff peaks. It's that easy and tastes lightyears better than the premade stuff. It's silky, rich, and just melts away in your mouth. Now, be careful. These desserts disappear with two bites, so it's easy to overindulge.
Visit The Creative Bite for the recipe.
Cafe Mocha Rice Krispie Treat Cups
What could be better than an afternoon with friends and coffee? How about friends, coffee, and these cafe mocha rice Krispie treat cups? Beth of Hungry Happenings dreamt up this impressively easy no-bake dessert idea to surprise her pals.
While the final product looks impressive, with Beth's explicit instructions, you'll be able to reproduce her results. You start by forming Rice Krispie treats into the cup shape per her directions. Next, you make the decadent mocha chocolate ganache. Finally, fill the cute desserts with the ganache for a sweet treat that resembles hot chocolate.
Visit Hungry Happenings for the recipe.
Mini Apple Pie Trifle Dessert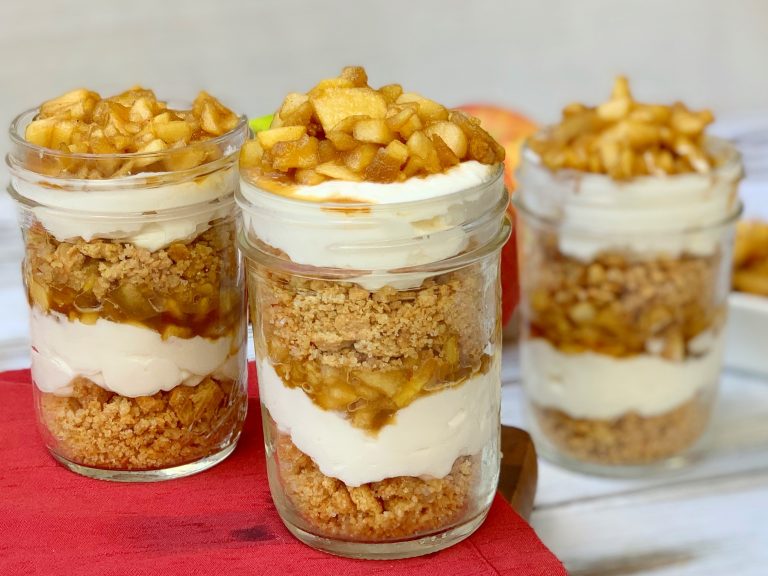 Kimberly of Savvy Mama Lifestyle understands that the key is presentation when it comes to mini desserts in a cup. Part of the allure to these single-serving desserts is that they are easy to make, but you must ensure they look good. So, Kim provides you with plenty of pointers to do just that.
These Mini Apple Pie Trifles start with a layer of graham cracker crumbs. Then there's a layer of cream cheese and apple pie filling. And it ends with more apple pie filling at the top of each cup. Mmmm! Each layer is easy to make and full of delicious indulgence. It's a dessert option your guests will really appreciate. So, choose this easy, make-ahead, giftable apple pie trifle dessert for your next party or get-together.
Visit Savvy Mama Lifestyle for the recipe.
Mini Cannoli Cream Pastry Cups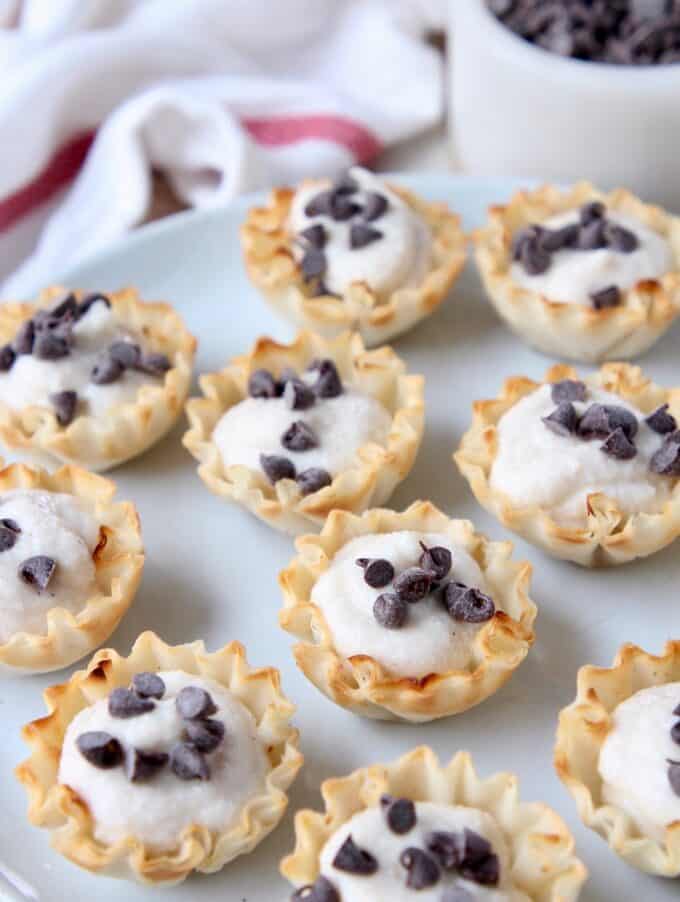 Love at first bite! What you'll likely experience with your first taste of one of these mini cannoli cream pastry cups from Whitney Bond—a dessert she's been making for nearly ten years! But seeing as they're two-bite treats, you'll likely reach for another and another.
It starts with freezer aisle phyllo dough cups, so you know you've got a recipe that will come together quickly. Next, you have that rich, slightly tangy ricotta goat cheese cream filling. Yum! Then, you fill your cups, sprinkle on some mini chocolate chips, and have an unexpected appetizer for your next party. So, head over to Whitney's recipe page, where you'll find tips, tricks, and links to other tasty mini pastries.
Visit Whitney Bond for the recipe.
Turtle Cookie Cups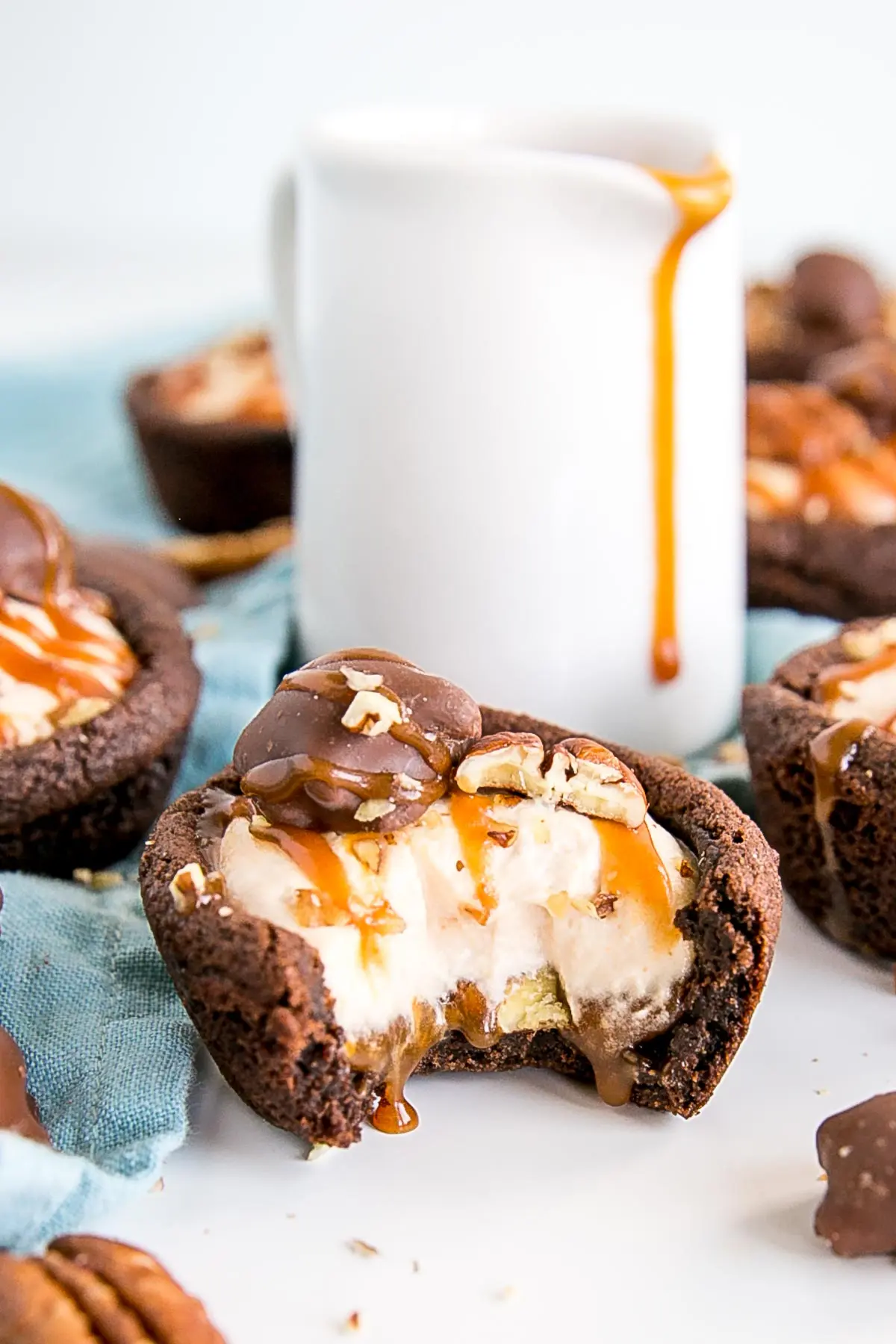 Prolific cookie cup maker Liv of the Liv For Cake blog made these heavenly treats as an ode to the classic turtle—chocolate, caramel, pecan candy. A year-round treat, sure, but certain to spark holiday nostalgia. Ah, yes, I can nearly hear the sound of Christmas classics playing gently in the background.
Chocolate cookie cups are filled with her otherworldly caramel whipped cream, ooey-gooey caramel drizzle, and chopped pecans. It's a perfect mini dessert made even easier with her expert advice, like pans to use, removing cookie cups from the pan, and even how to make them in advance.
Visit Liv For Cake for the recipe.
No Bake Butterfinger Cheesecakes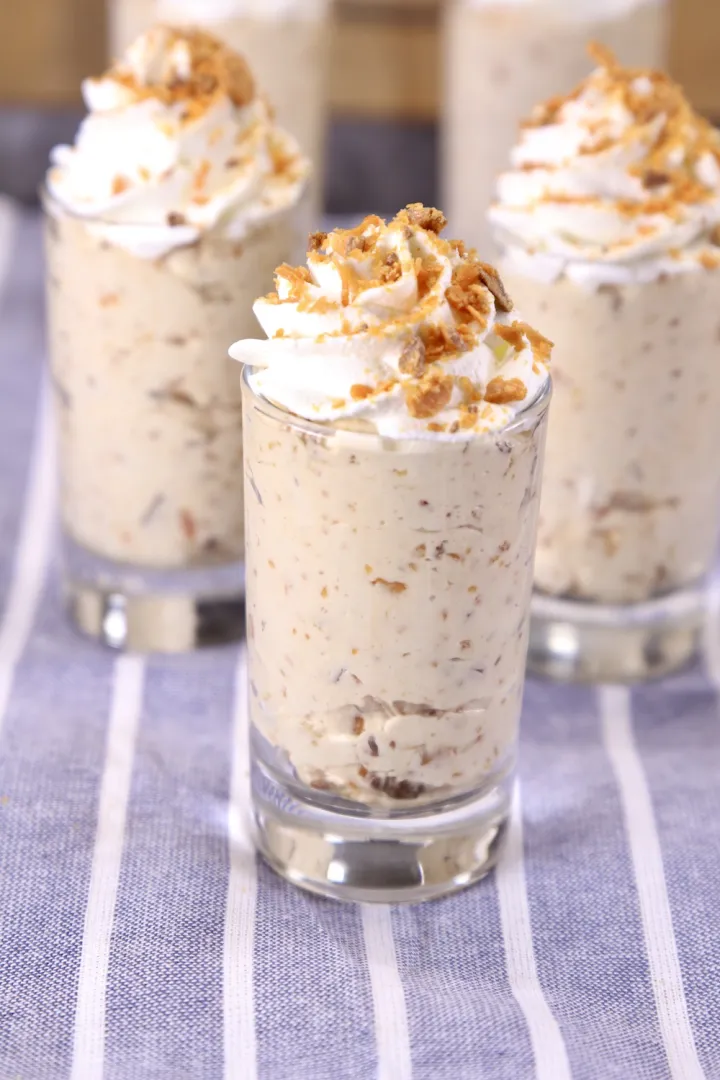 Like our old-fashioned peanut butter balls, Miss In The Kitchen Millisa, presents this Butterfinger cheesecakes recipe as a paradise for peanut butter lovers everywhere.. She's an expert on no-bake cheesecakes, as there are many of these quick desserts on her site, and they're all cute and easy to make.
This mini dessert in a cup begins with crushed Butterfingers mixed with cream, peanut butter, and other deliciousness whipped into an airy mixture. Next, you serve in a shot glasses, serving bowls, or vessels of your choosing for a memorable presentation fit for holidays and special occasions or anytime the urge calls.
Visit Miss In The Kitchen for the recipe.
Mango Panna Cotta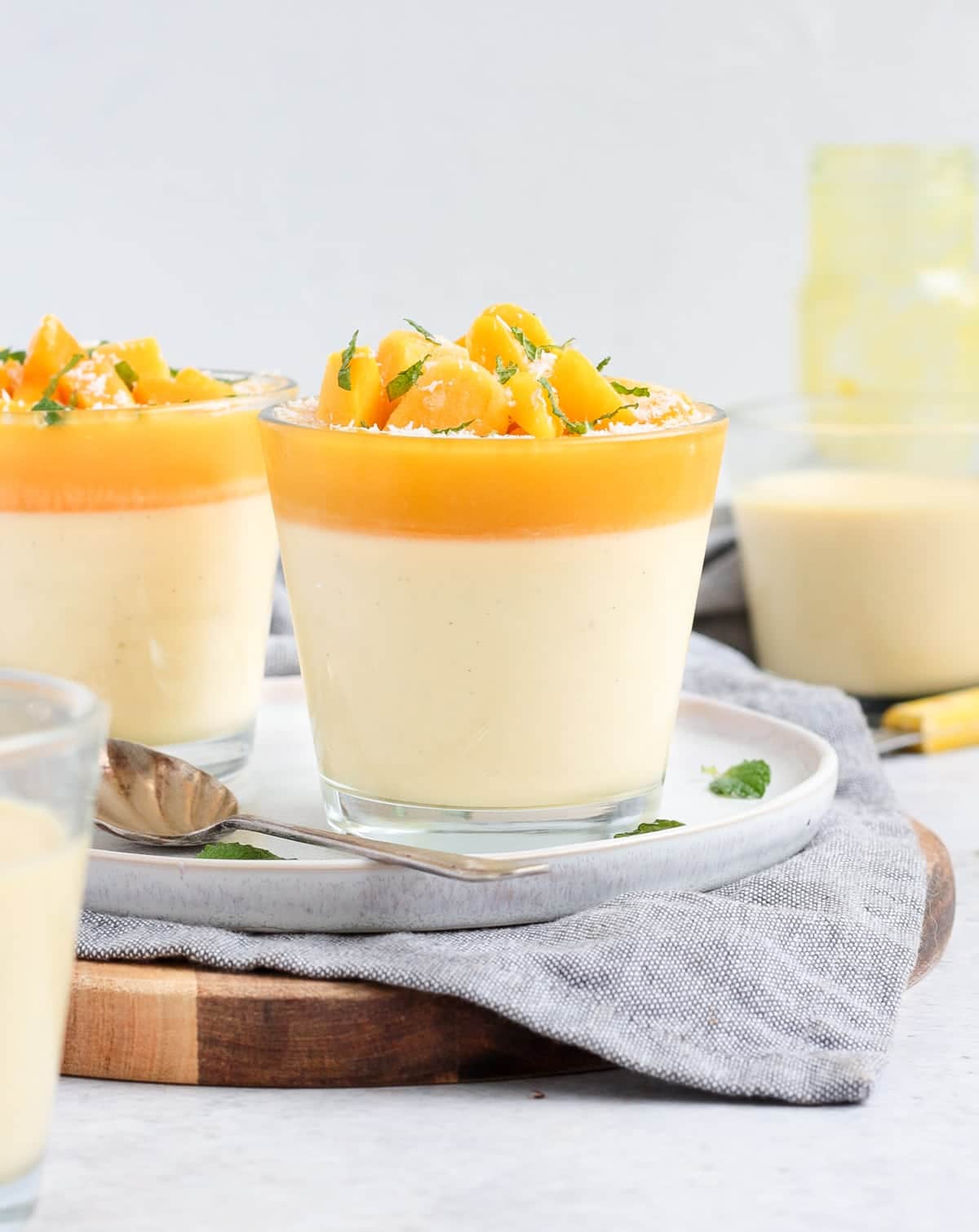 Challenge their expectations with this Mango Panna Cotta recipe from Sylvie of A Baking Journey. Panna cotta is a rich and creamy Italian dessert with an air of elegance. This version is made with mango for a tropical treat. So, elevate any dinner party with the addition of this easier than it sounds confection.
It starts with milk, cream, sugar, and coulis. But what is a coulis? It involves pureeing the mango, but we'll let Sylvie teach you the rest. She includes many pointers, including answers to common questions and appropriate substitutions for dietary restrictions. And we love that she provides the recipe in grams for better, more accurate results.
Visit A Baking Journey for the recipe.
Tagalong Peanut Butter Parfaits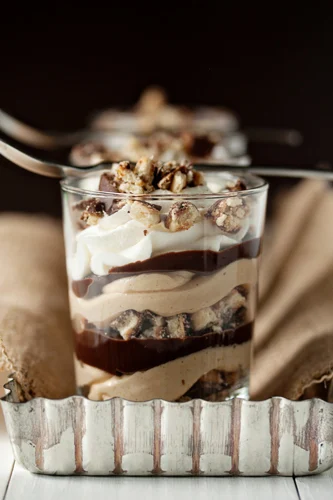 In this entertaining recipe write-up from Jamie of My Baking Addiction, she recounts her short stint as a Girl Scout. Only to realize she'd prefer to be a Girl Scout cookie enthusiast. And like the rest, charity hides her obsession, you know, "Sure, I'll buy another box. It's for a good cause." And supporting a good cause never tasted so, well, good.
First, you make the peanut butter mousse, a mixture of peanut butter and cream cheese mixed with other ingredients for fluffy peanut buttery goodness. Next, alternate layers of Tagalongs and mouse until you fill your cup of choice. Finally, finish it with chocolate sauce and whipped cream for a dessert so indulgent you need only a tiny portion.
Visit My Baking Addiction for the recipe.
Mango Macadamia Fluff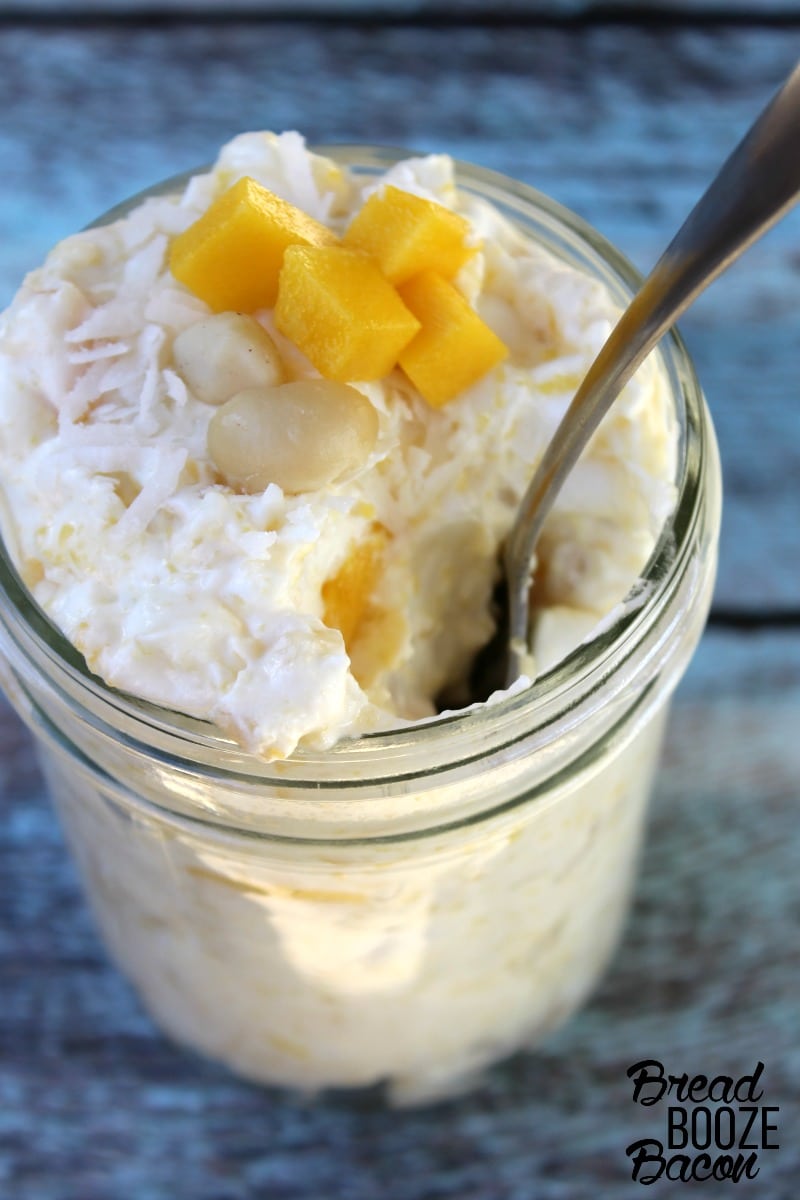 Julie of Bread Booze Bacon reminds us that the oven isn't even an option when the weather is unbearably hot and you want something sweet. So instead, you go with this mango macadamia fluff and instantly transport yourself, if for a moment, to the Caribbean.
Mango, coconut, and whipped cream form the base of this fluff. While diced mango and chopped macadamia nuts garnish the top. It's a quick and easy treat that takes just seven minutes to make. You can assemble it in advance, but it's best if eaten within four hours.
Visit Bread Booze Bacon for the recipe.
Chocolate Chip Cookie Shooters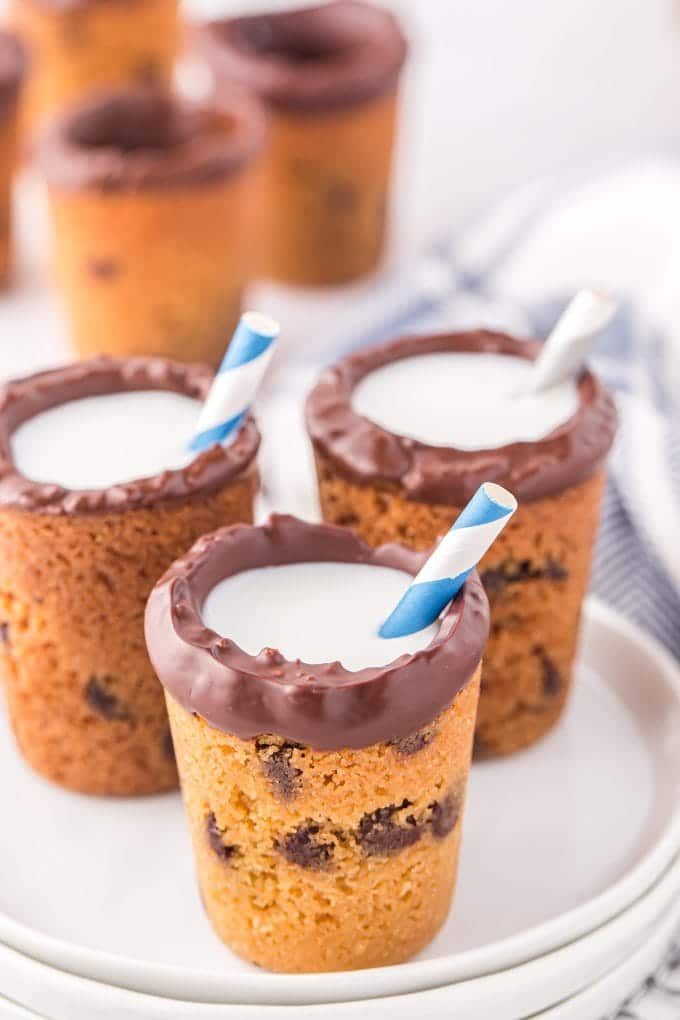 Save your frequent flyer miles. You don't need to travel to NYC for milk and cookie shooters from Dominique Ansel bakery because Jenn of Princess Pinky Girl added her touch to these fun chocolate chip cookie shooters to get the same results at home.
It starts with cookie dough formed into a "shot glass" and then baked and filled with milk. But there's a bit more to it than that. Jenn's page is full of wisdom and pointers for optimal results, like when to press down on the cookie shooter and when to remove the mold inserts. But there's one unique trick that's a game-changer. Being the creative wiz she is, Jenn introduced a step that's nothing short of genius! We'll let her explain what it is.
Visit Princess Pinky Girl for the recipe.
Banana Cream Caramel and Cookie Almond Crunch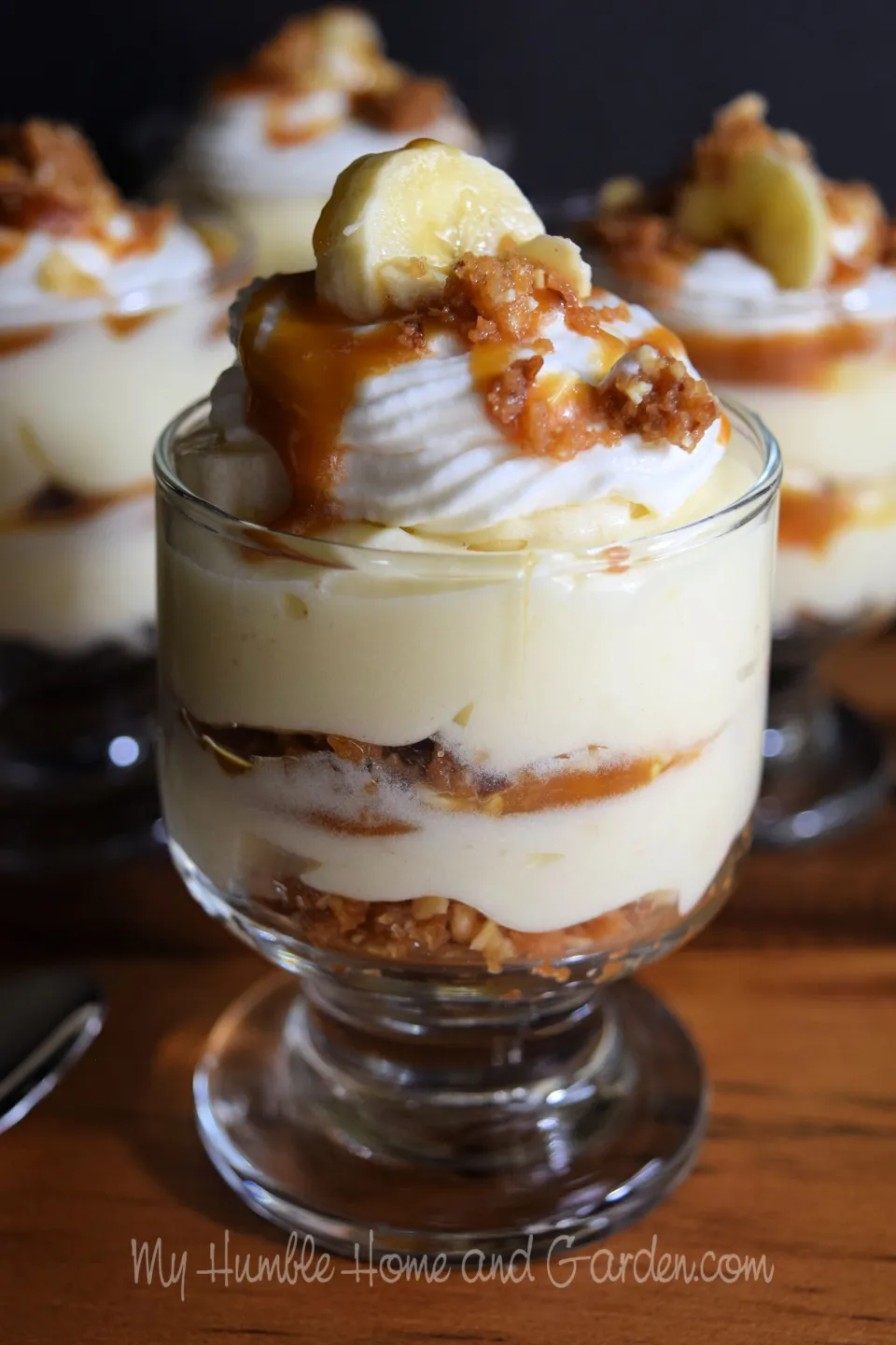 This granddaughter-approved banana cream caramel and cookie almond crunch dessert from My Humble Home And Garden is super indulgent and easy to make. It comes together in just minutes, but it looks beautifully presented in those mini dessert glasses.
This mini dessert in a cup has four components: pudding, almond crunch, caramel, and bananas. You gently alternate each layer until you fill each glass. And if you're unfamiliar, Debra introduces you to stabilized whipped cream, i.e., stiffer whipped cream. So head on over to her page and see how she does it.
Visit My Humble Home And Garden for the recipe.
Pina Colada Pie Jars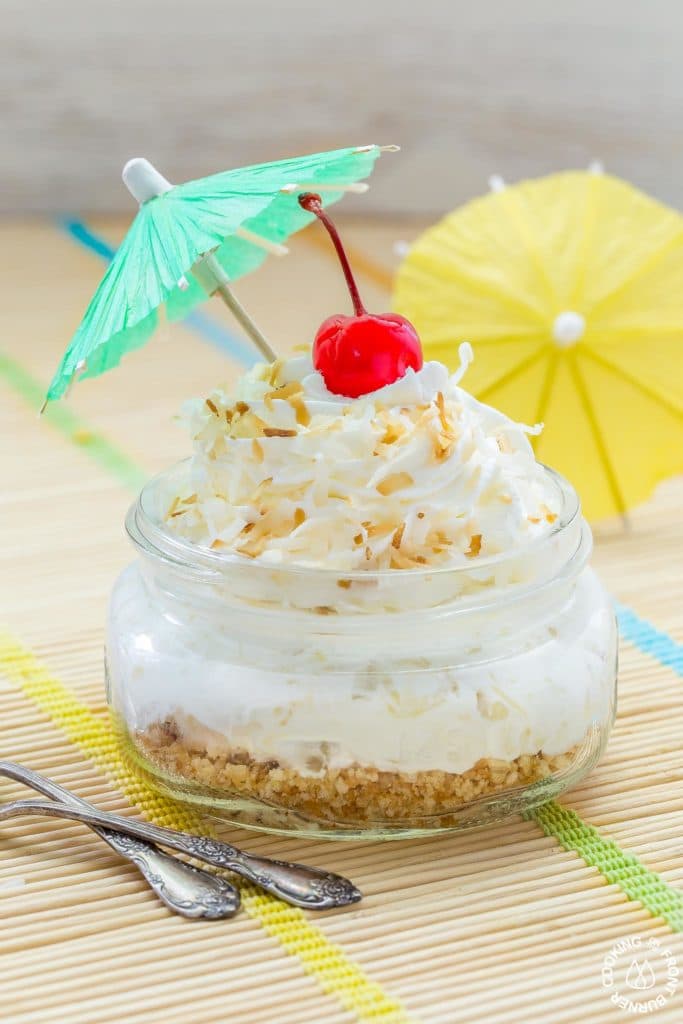 How do you celebrate after a long construction project? You do it all the way up with these pina colada pie jars from Deb of Cooking On The Front Burner. Serve them in a pretty mason jar, and make sure you add the cute little drink umbrella for a nice touch.
It starts with a crumb crust, then a creamy fluff that includes pineapple chunks, coconut, and sugar. Then, add it to a jar and go to town. It's the perfect dessert to be enjoyed poolside or picnic at the beach. So, head over to Deb's recipe when you want a tropical treat.
Visit Cooking On The Front Burner for the recipe.
FAQ
What are some popular mini dessert recipes?
There are so many, but you'll definitely find mini cheesecakes, parfaits, and trifles on your search.
What are some common ingredients for mini desserts?
You will definitely come across lots of different flavors and ingredients for this dessert category. Most often they use simple ingredients, but some of the more common ones are vanilla or chocolate pudding, cream cheese, marshmallow fluff, pound cake, and graham crackers.
What are some common serving vessels?
There are lots of cool ways to share your mini treats! Shot glasses, elegant dessert glasses, and even spoons!
Which Of These Mini Desserts In A Cup Do You Want To Try?
So, which dessert do you want to try first? Is it the cookie-cup shooters? How about the Mango Pana Cotta? Or something else entirely? Please let us know in the comments.
Don't Miss These Other Fun And Delicious Dessert Recipes!