These Honey Serrano Pepper Chicken Wings are some of the crispiest, crunchiest wings you'll ever have. Wings are one of those foods that everyone loves. And, kind of like pizza, even when they're "bad", they're still pretty good. But these bad boys are next level, full of flavor and certainly a crowd pleaser!
Well, these wings are like almost award winning (if I do say so myself). They are super simple to make, sticky, fun and stupid delicious. Almost addictive levels of deliciousness going on here. That crunch when you first bite is out of this world!
Like a lot of folks, we are wing lovers and always looking to try new flavors and frying techniques, i.e. Korean fried chicken. There are several Korean food joints around us. And there's this one that makes the crispiest wings we've ever tasted. We wondered, "how do you make the wings that doggone crispy?" So we asked Mr. Google.
We thought that we would come up with a definitive way to make those super crispy wings, but there are many techniques. And we tried several of them. First, we tried double frying. Double frying is okay, but it makes the process more time consuming. Also, they weren't that crispy. We tried different temperatures, batter, etc. But it wasn't until we sifted through, I don't know how many recipes, that we came across the simplest technique and the one that works better than all others; cornstarch.
Yes, cornstarch!
When you fry your chicken wings in cornstarch an amazing thing happens. You can cook at a higher temperature without fear of the flour coating browning too fast (burning) and the chicken being under cooked. Nothing else we tried left us with that crispy crunchy coating with perfectly moist and tender meat on the inside.
So far this is our favorite way to fry chicken!
First you need to season the chicken. For this recipe, we simply sprinkled on some salt and pepper. We kept it very simple because we didn't want other flavors to interfere with our delicious sweet and spicy sauce.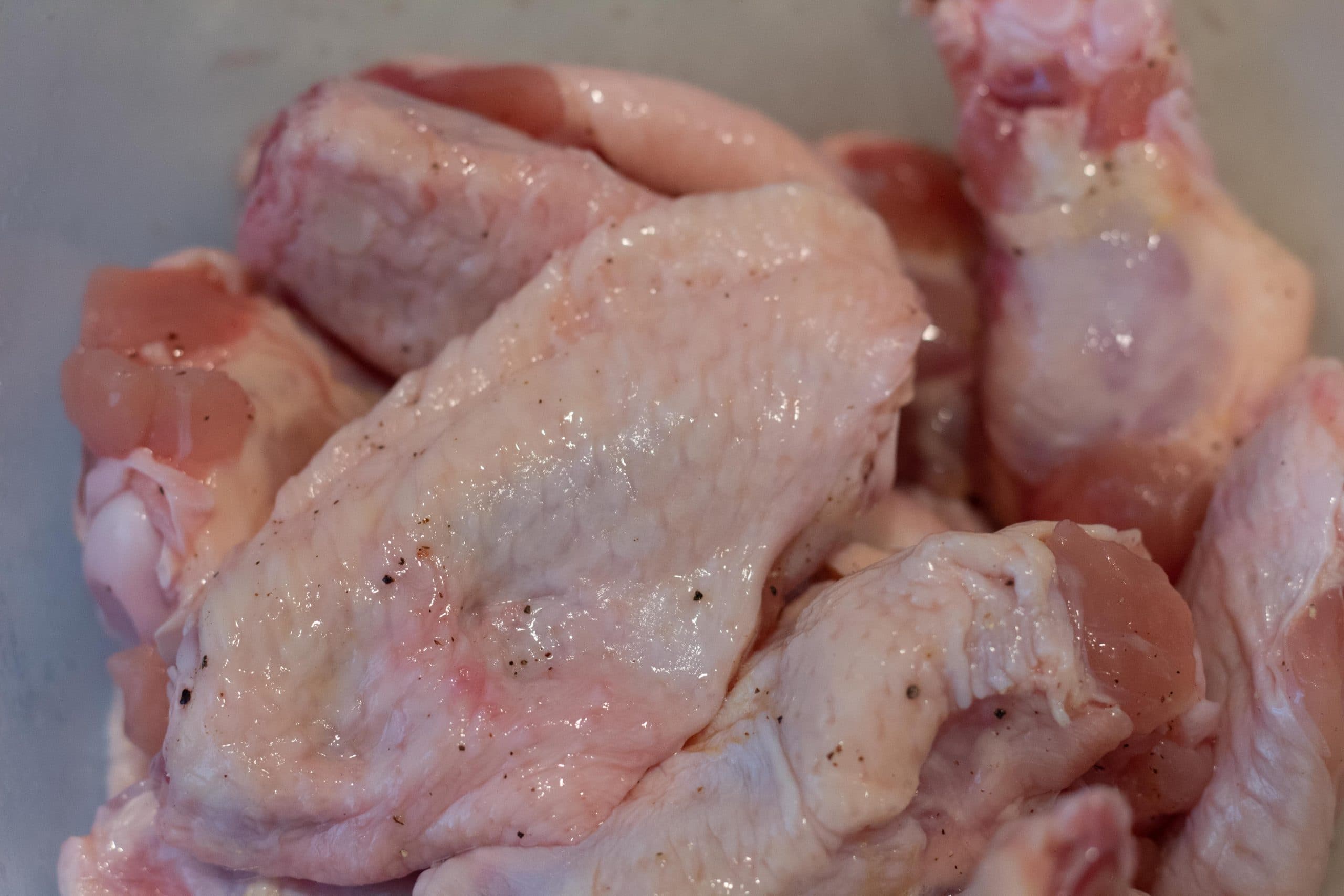 Next, add enough cornstarch to the chicken to fully coat it. This will vary depending on the amount of chicken you are cooking.
Next, we recommend that you get your sauce going.
The amount of sauce you need will depend on how many wings you plan on making. We started by adding the honey and apple cider vinegar to the pot, then the peppers.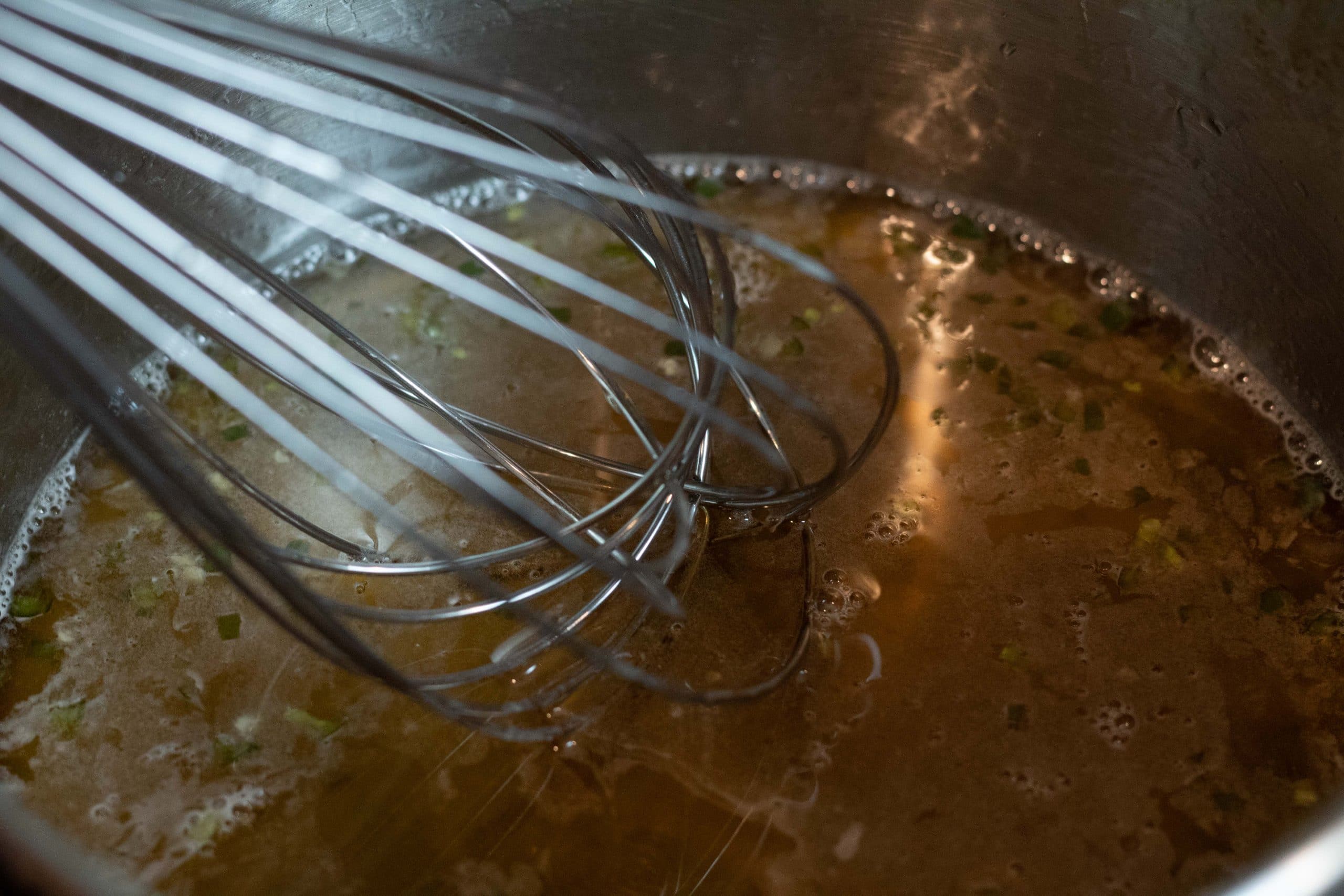 Chop the Serrano peppers (although you can use Habanero, Jalapeno, or even Chili peppers).
A lot of recipes call for removing the seeds and ribs from the pepper. But this often removes too much of the heat. We want spicy. So for this recipe, we recommend chopping the serrano pepper whole to include some of the seeds and ribs. To control the heat, add a little at a time, simmer, and taste until you reach your desired level of spiciness.
We brought the pot up to a boil then let it simmer on low heat.
Next we added oil to our dutch oven. We love using our Dutch oven for frying because it heats up quickly and retains the heat for a long time. We also recommend that you use a thermometer when cooking. The wings cooked at 375 for about 8 minutes. Do not over crowd the pan when frying.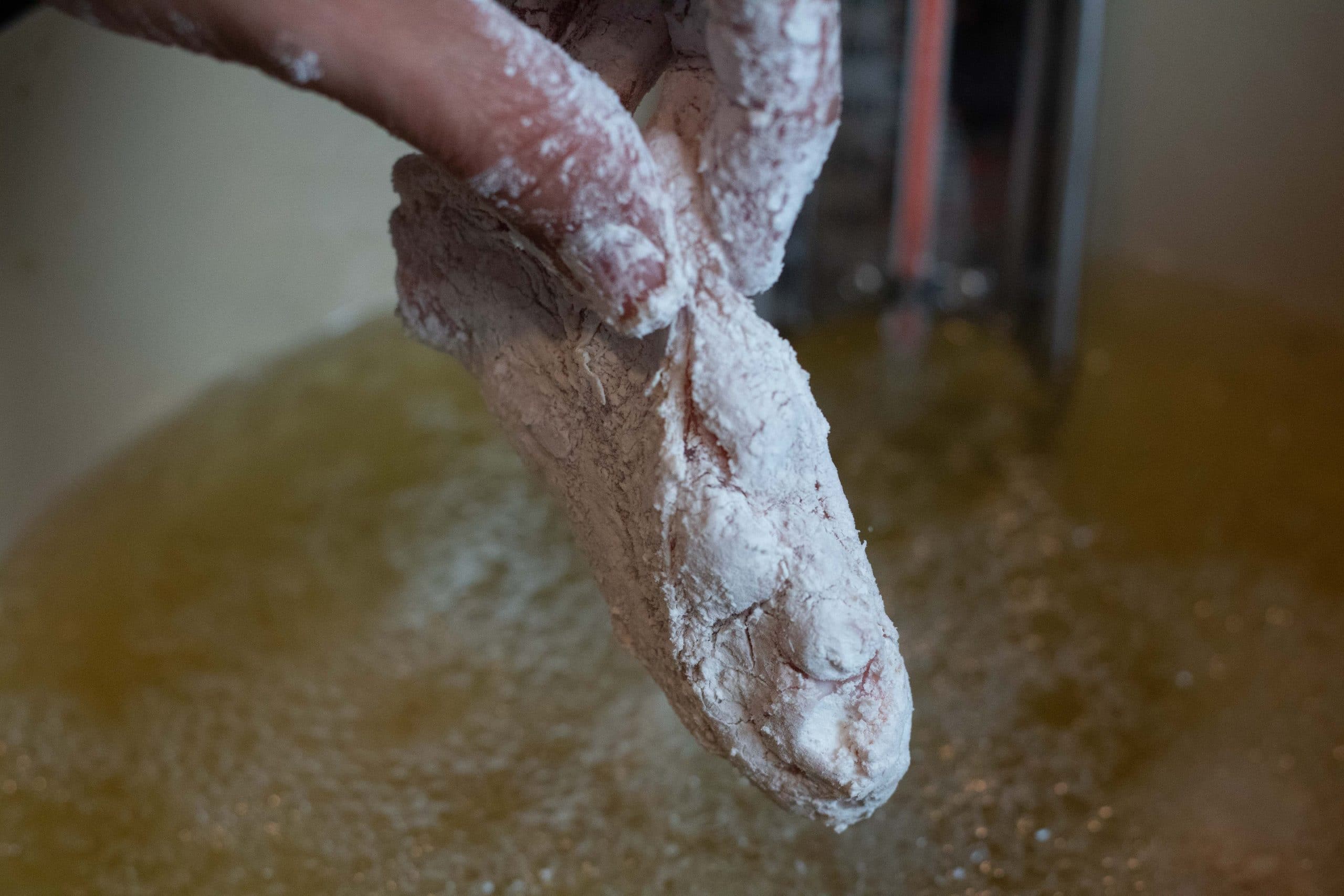 Put those crispy wings on a cooling rack or a pan lined with paper towel to drain excess oil.
Now it's magic time! Place the cooked chicken wings in a bowl and pour on the sauce. Toss to ensure that all pieces are coated.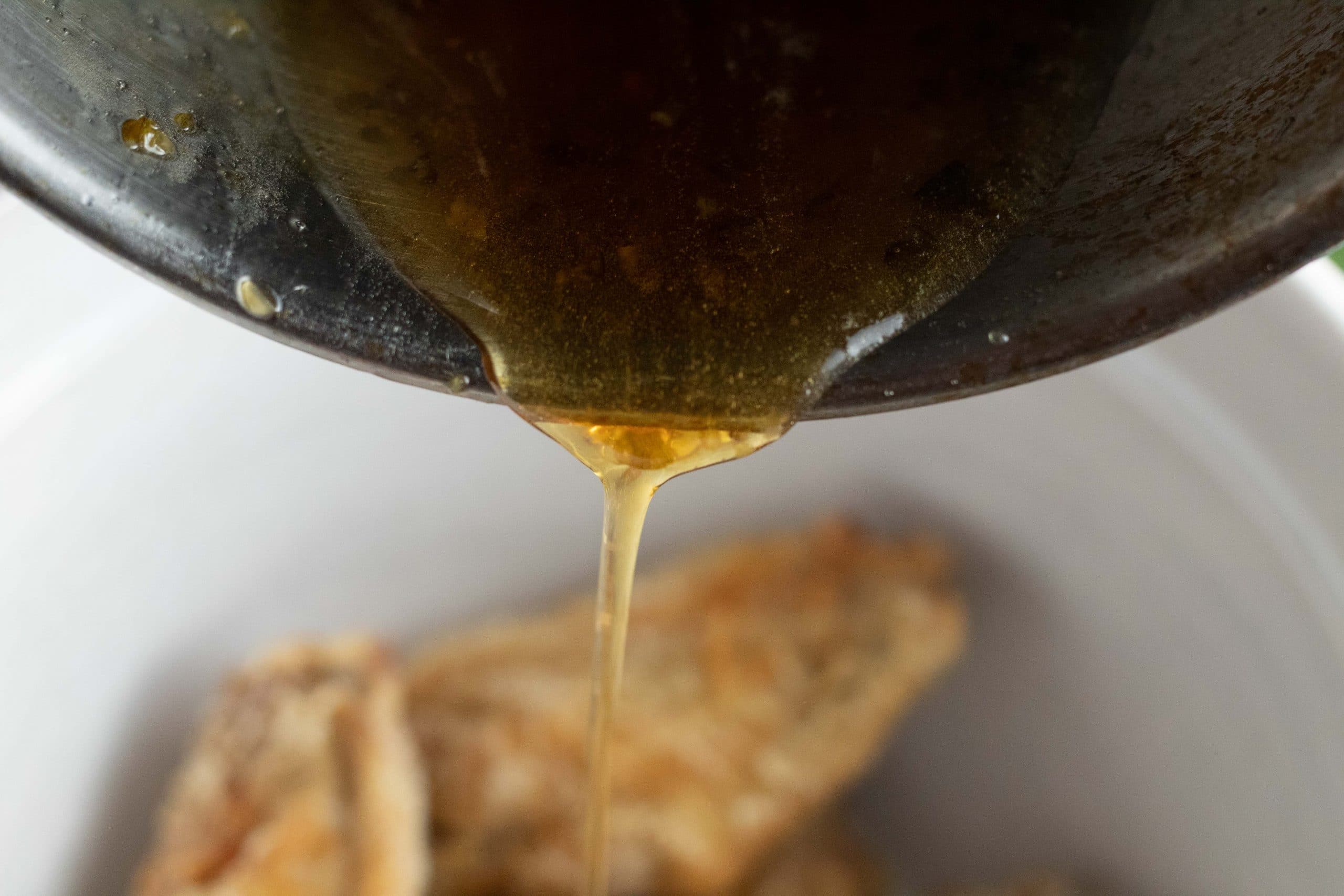 Mmm mmm, so delicious! But, uh, you might need a little milk to deal with the heat. lol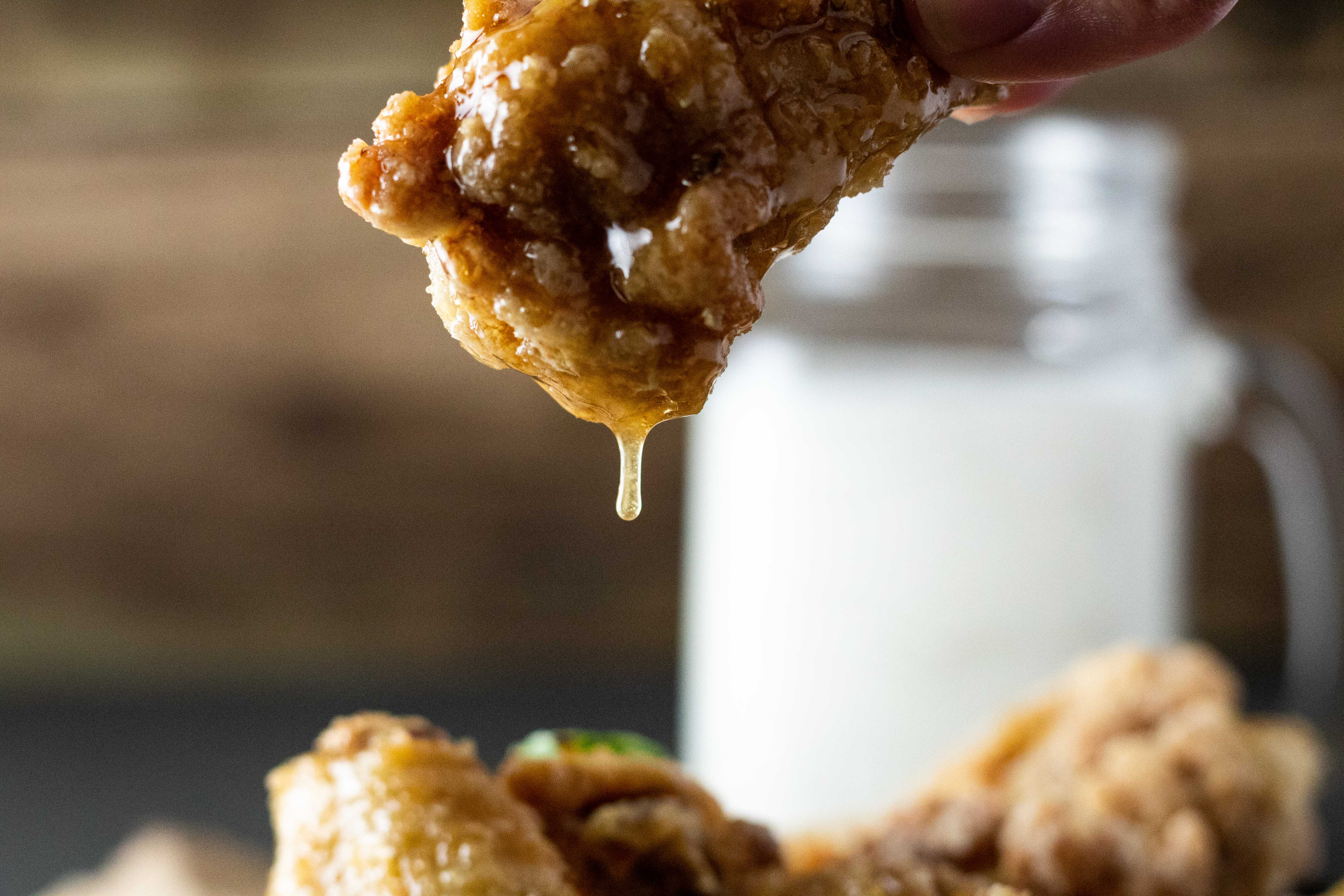 Extra Crispy Chicken Wings with Honey Serrano sauce
These Honey Serrano Pepper chicken wings are the crispiest, crunchiest wings you'll ever have. Wings are one of those foods that everyone loves. And, kind of like pizza, even when its "bad", it's still pretty good.
Ingredients
25

Chicken Wing Dings

(1st and 2nd sections)

1

Cup

Cornstarch

1

Cup

Honey

1/2

Cup

Apple Cider Vinegar

1

Whole Serrano Pepper

Minced

1

Teaspoon

Salt

1/2

Teaspoon

Pepper
Instructions
Start by adding vegetable oil to a large pot and preheat to 375 degrees. (See note).

Chop the serrano pepper with the rib and seeds and set aside. The sauce is supposed to have that kick of heat. If you don't like spicy food then you can remove some of the seeds and/or ribs.

Put the chicken wings in a large bowl and sprinkle with salt and pepper. The amount will vary based on how much chicken wings were in the package you purchased. (See note)

Start with adding a ½ cup of cornstarch to the bowl. You want to completely coat the chicken wings with cornstarch. Add more if needed. Set aside

Once the oil is heated to 375 add some chicken wings and cook for 8 minutes. About 6 or 7. (See notes)

While the chicken is cooking take a smaller pot and add the honey, apple cider vinegar and the some of the chopped serrano pepper. (See note) Bring to a boil then lower the heat to low and simmer until sauce starts to thicken. This would take about 5-7 minutes.

Once the chicken is cooked lay it on a baking sheet lined with paper towel to collect any excess oil. Continue cooking the chicken wings until all are done.

Now comes the fun part tossing the chicken wings in that delicious sauce that has been simmering. Take a large bowl add the chicken and some of the sauce. Completely coat all the wings. Serve while hot and enjoy!
Notes
We love using our Dutch oven for frying because it heats up quickly and retains the heat for a long time and it has a large surface when cooking big batches of food. We also recommend that you use a thermometer when cooking. This will confirm the temperature stays at 375. If the oil is too cold you will have oil saturated chicken. If too high the inside will still be raw. No one likes oily or raw chicken. Lol

We purchased our chicken wings from a warehouse store like Costco. They are already cut and no tips. So you get just the drum and mid-section of the wing.

Before placing the wings in the pot be sure to tap it against the side of the bowl to remove any excess cornstarch coating.

You do not want to over crowd the pot or the temperature will drop causing that oily tasting chicken. I recommend cooking about 6 or 7 wing dings at a time. My Dutch oven is big enough. If you are using a small pot start with 4-5 wings at a time. Also set a timer to make sure the chicken cooks for the full 8 minutes.

Add just one wing at time. Lay the wings in. Do not drop them as this will cause the oil to splatter.

Start with adding a little bit of the chopped pepper. You can always add more you cannot take it out. Lol if you like heat then you can add all that you chopped and more if you want.

Chicken wings can be stored in the fridge for 3-4 days.

To reheat place the wings on a baking sheet and bake at 350 degrees for about 7-10 minutes or until heated through.